Punch Buggy
How does he do it? How does the two-time Formula Drift champion, three-time Global Rallycross champion, former Top Gear presenter, Fast and the Furious stunt driver, enjoyer of boats and eater of food, Tanner Foust, drive all the vehicles he does? It's something a few of us have at least wondered about.
Well, now we know. Donut Media hung out with Tanner and uncovered the secret behind his magical driving skills.
Larry and I also tagged along, and here's a nice look into how it all went down over the course of about two month's worth of shooting. We'll start with Larry's session with the guys…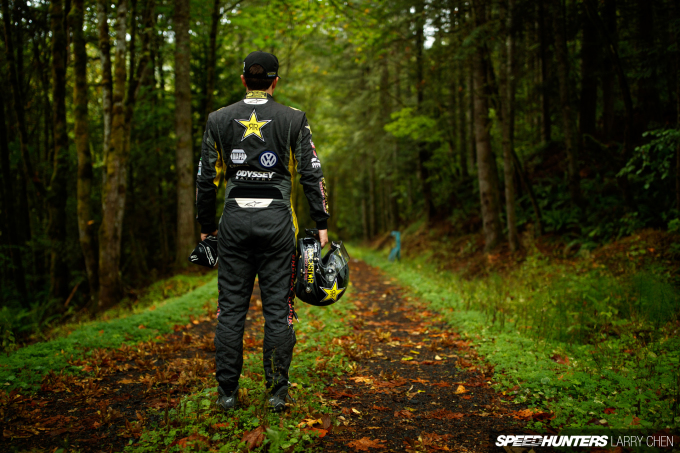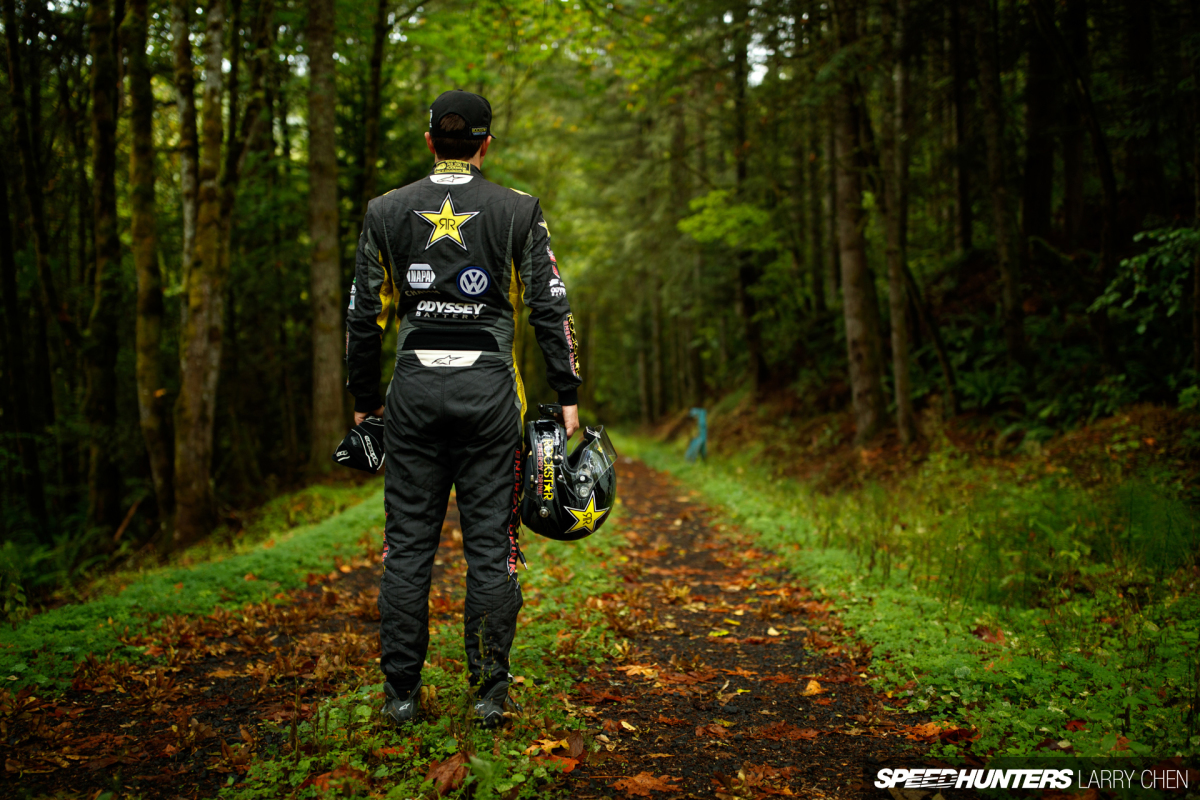 Larry: Tanner and the Donut Media crew invited me out to Portland Oregon to shoot one of the main parts of the Quantum Drift video. Seeing as Tanner does quite a bit of stunt driving for Hollywood films, this would be a walk in a park. Errr… forest.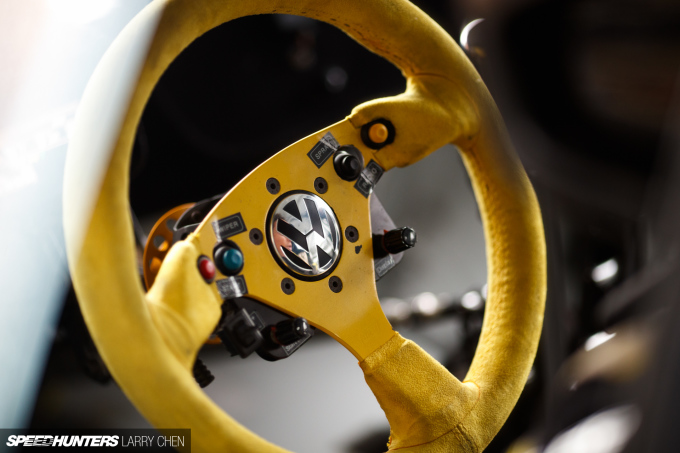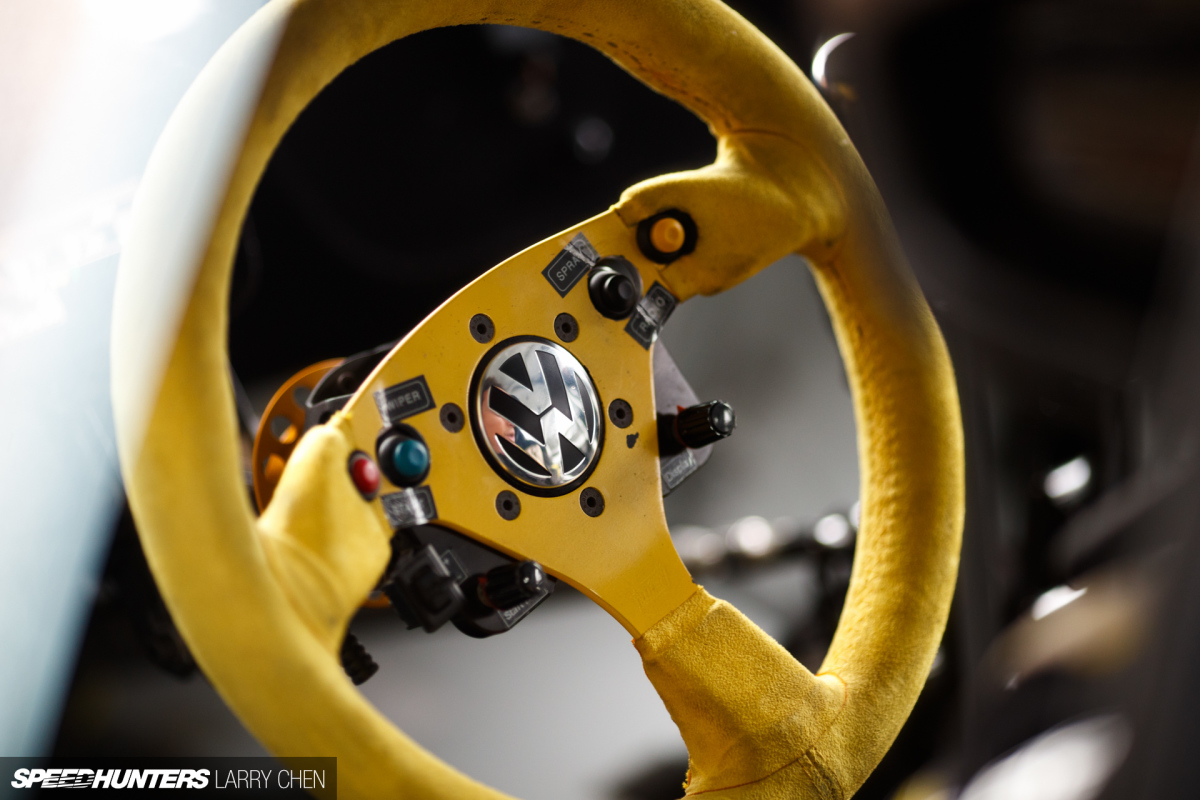 For this scene, Tanner would be using his rallycross-spec VW Beetle on some mountain roads right outside of Portland. Of course, the car was equipped with that magical steering wheel.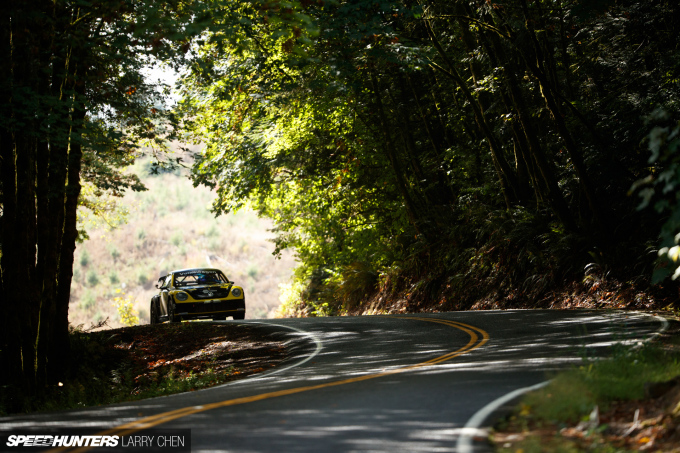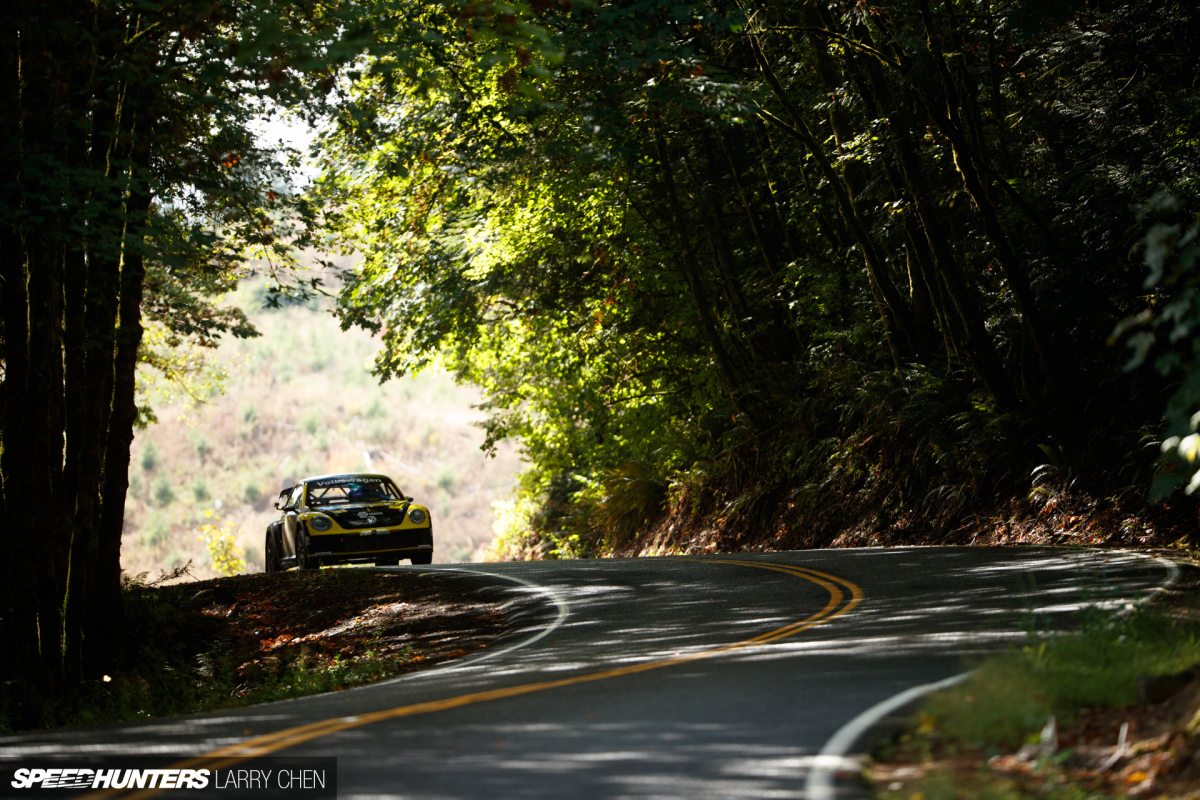 It was the first time Tanner had ever driven his GRC machine on public roads, and he did not disappoint.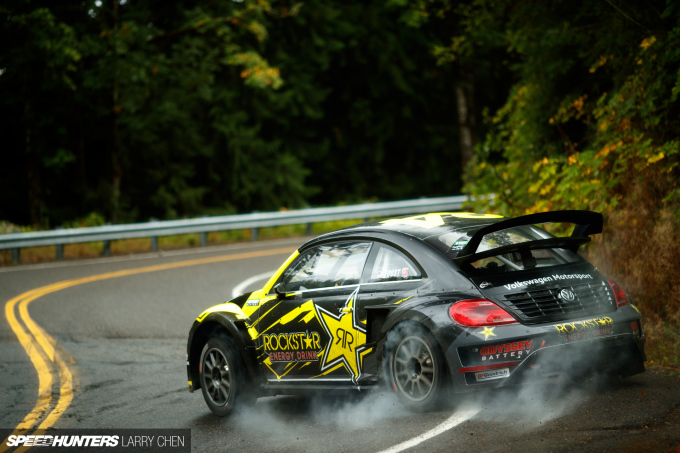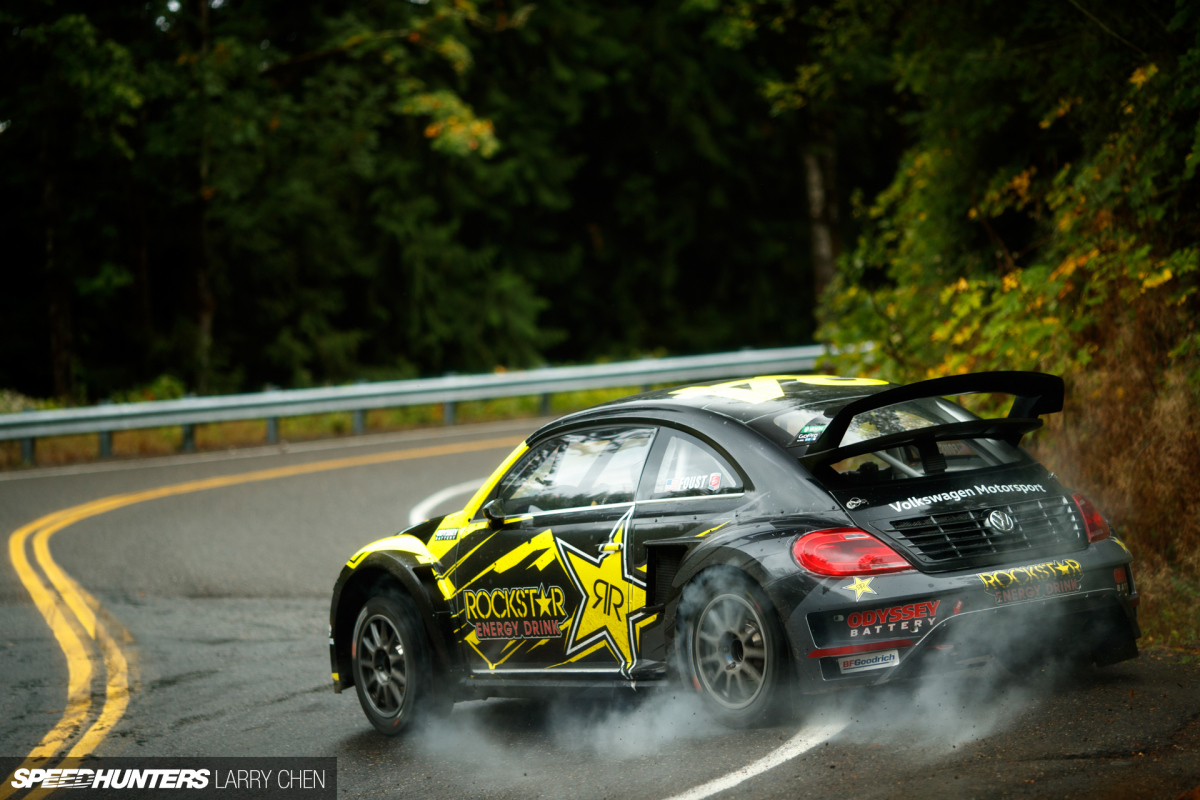 Unfortunately, it was raining on this particular day, but that didn't seem to bother Tanner – he was having just as much fun.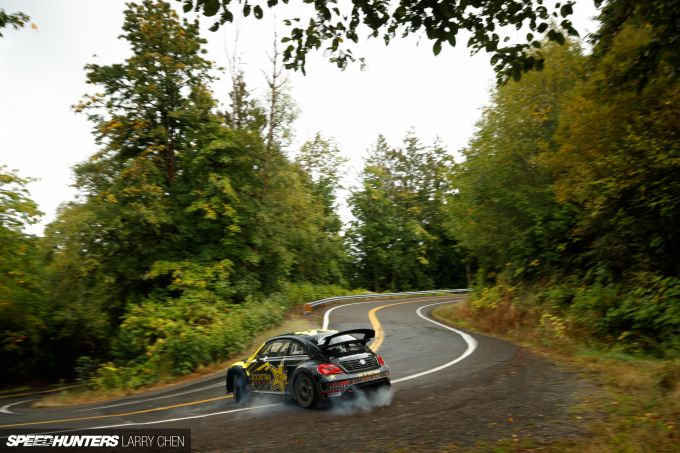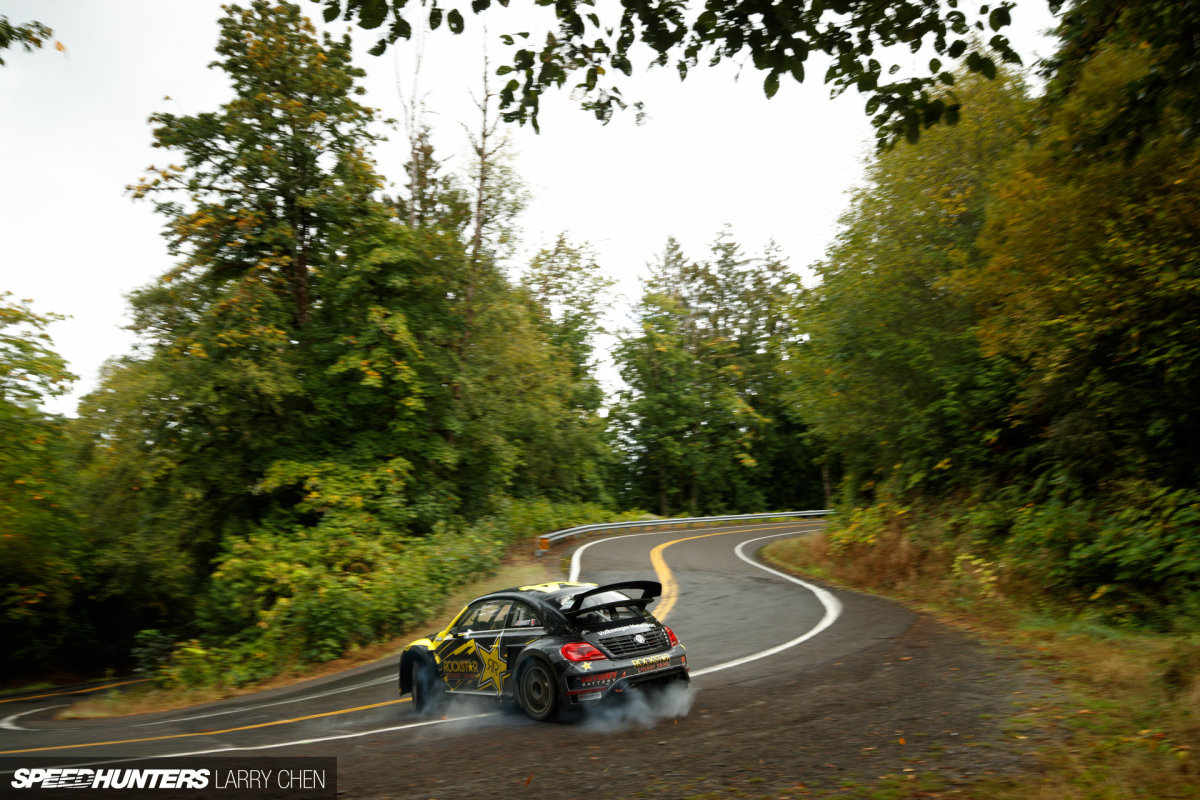 Because we were limited by time to shoot everything in a single day, pretty much every scene was captured in just one or two takes.
It was so insane to hear the Beetle do a full launch in the middle of the Oregon woods.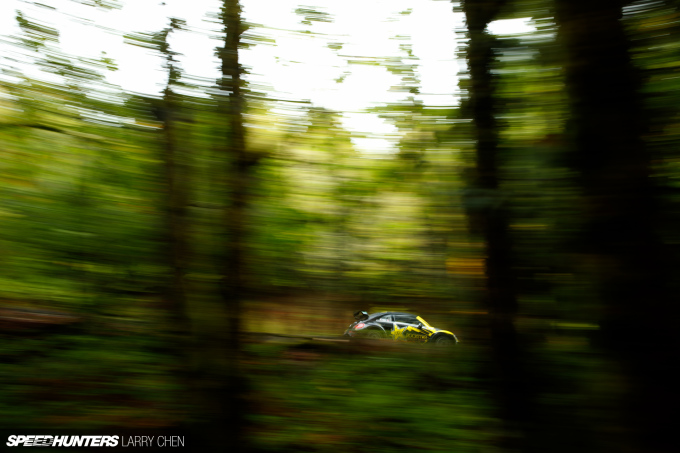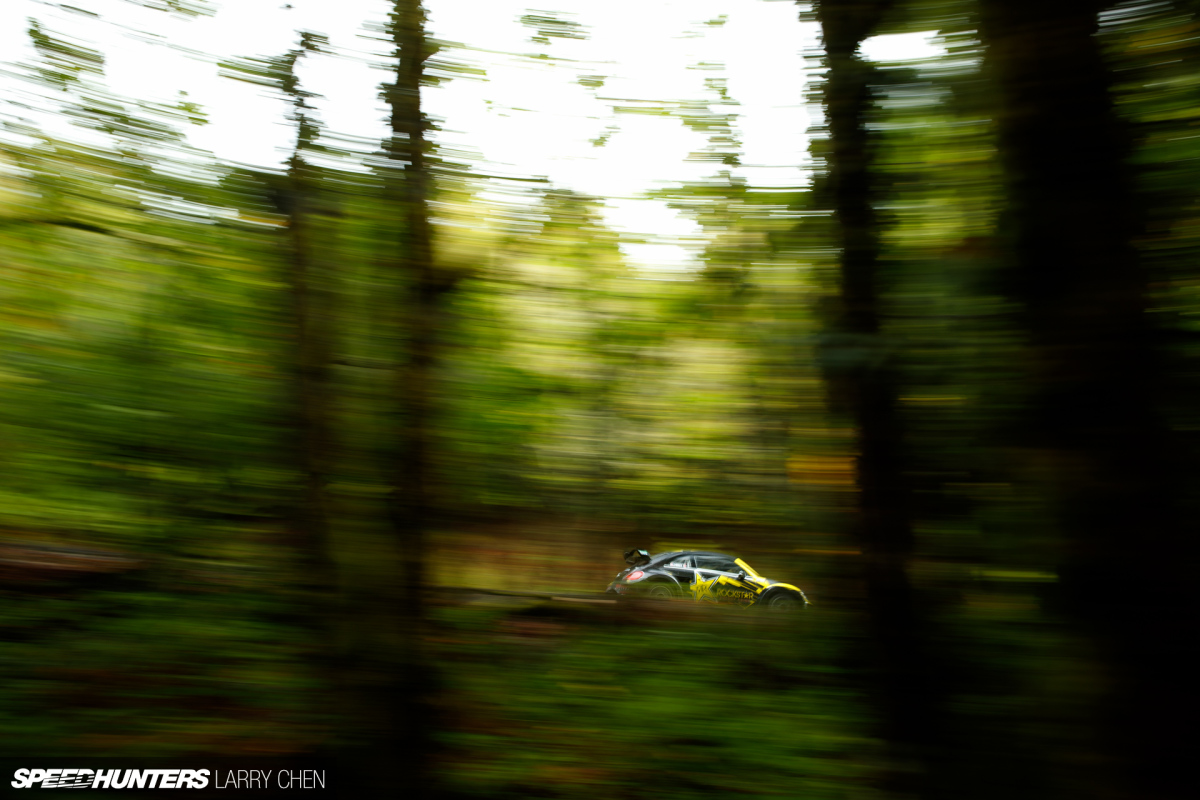 You could hear him coming from a mile away.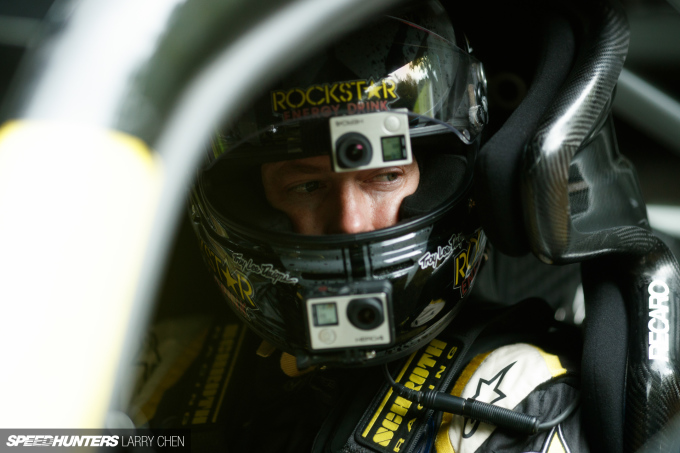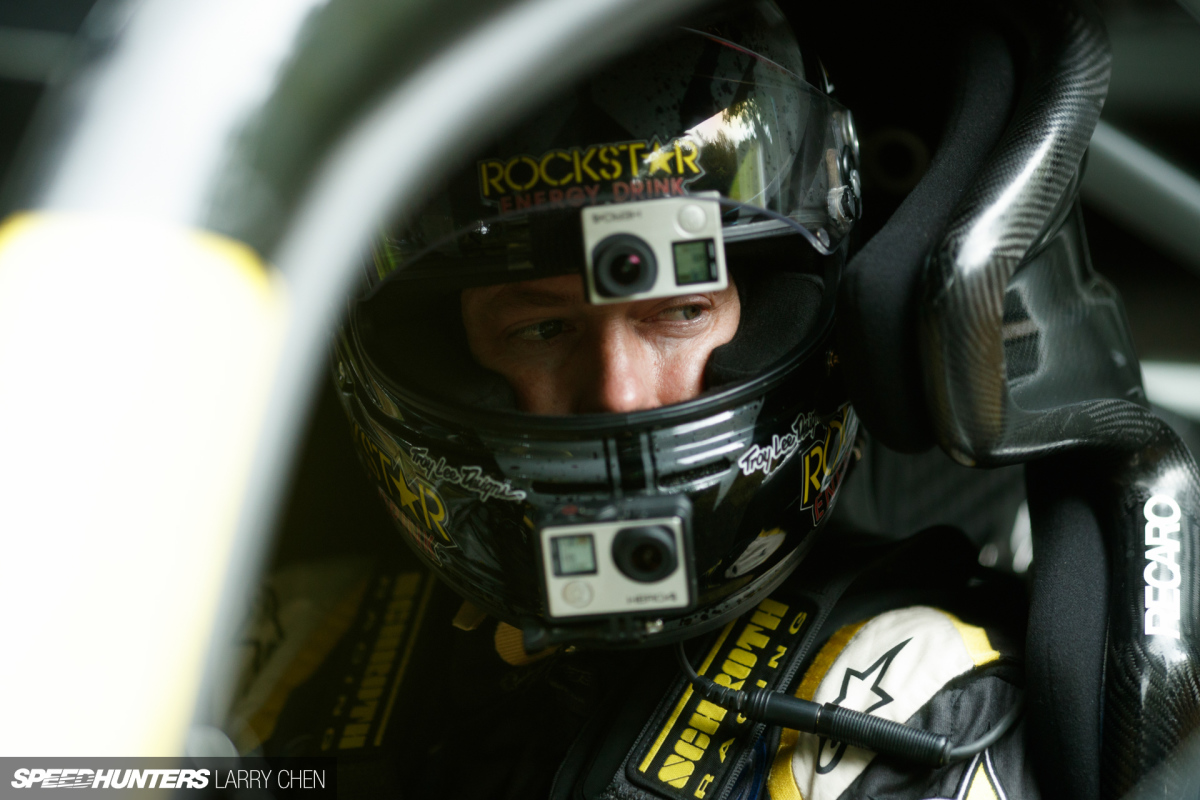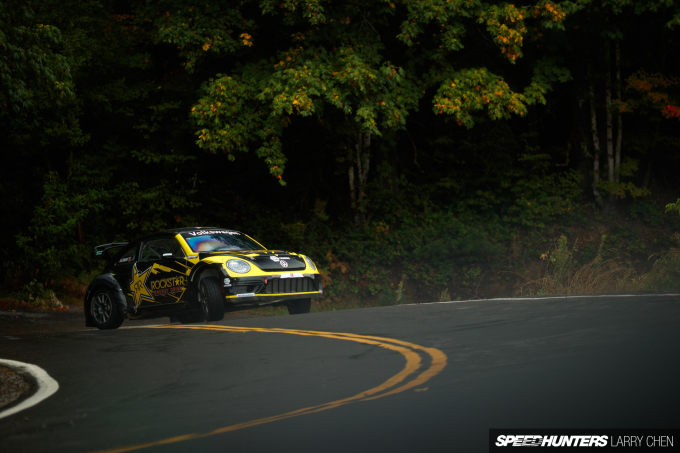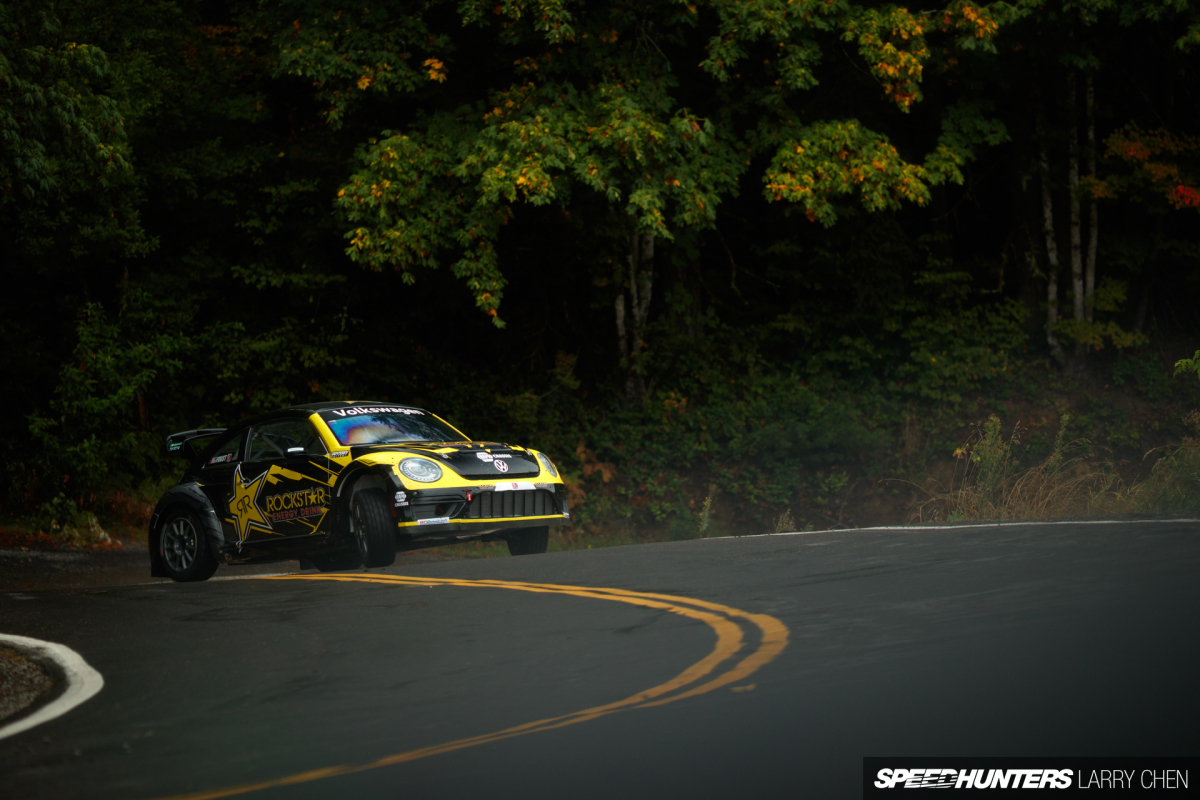 It just amazed me how fast the car looked as it carved through the damp canyons.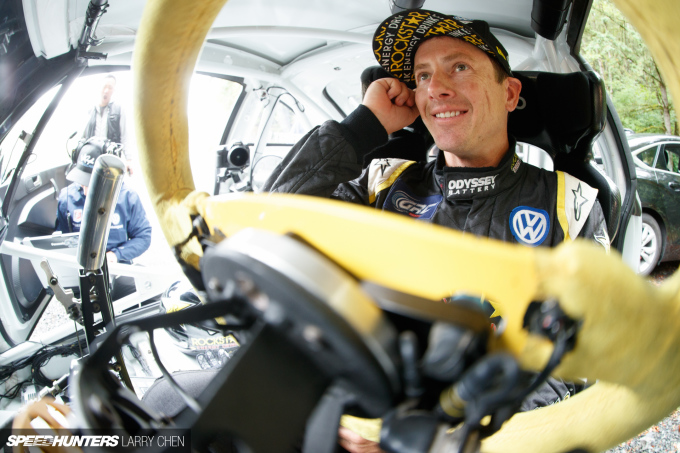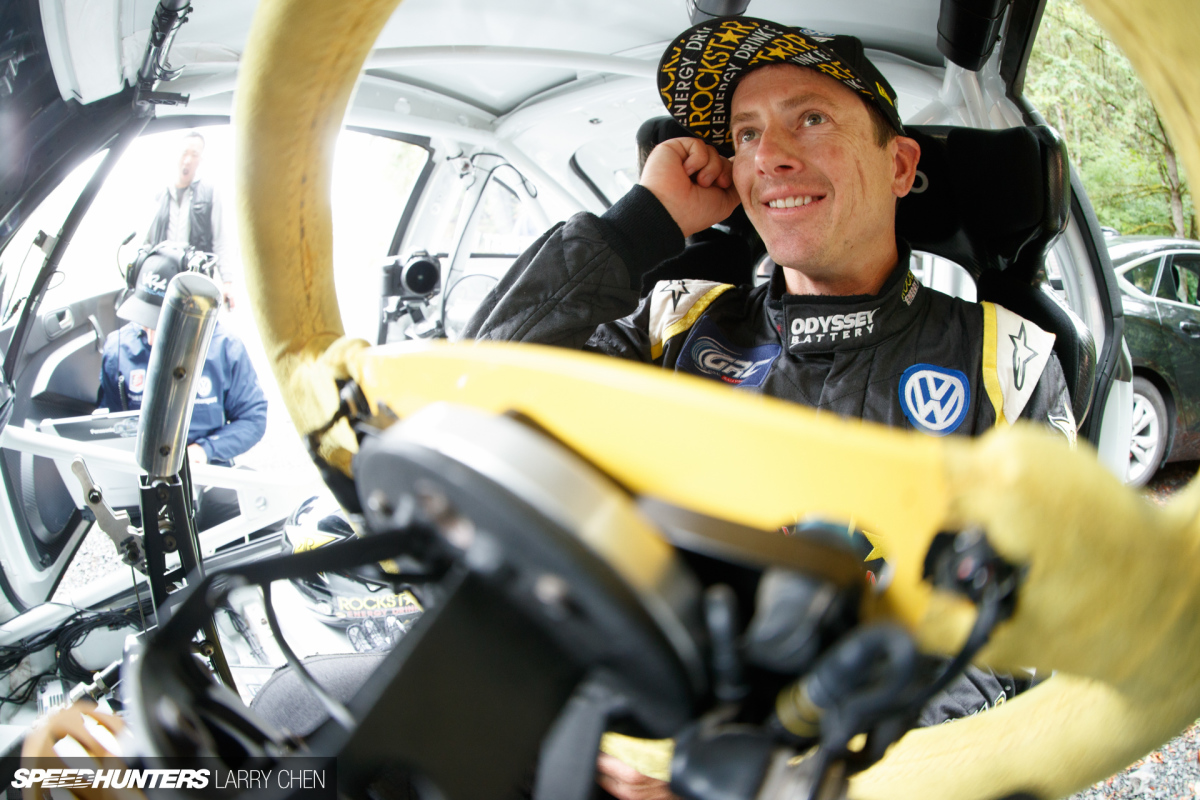 Volkswagen sent out a team of engineers to keep the Bug running in tip-top shape.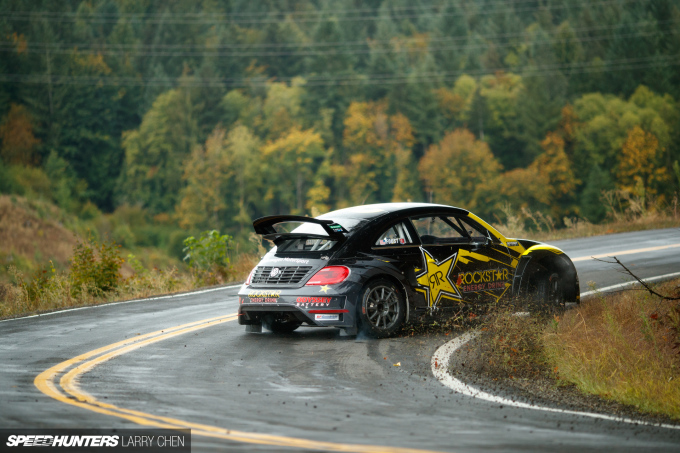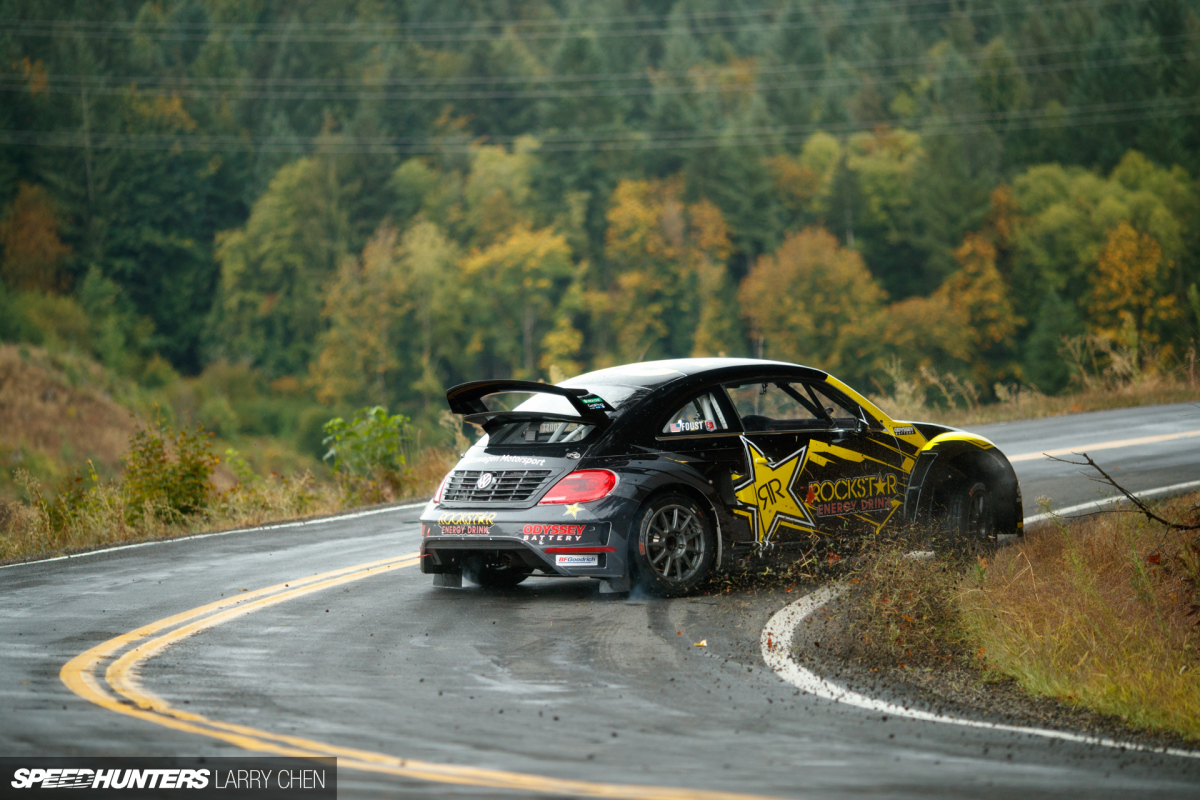 Talk about mowing the lawn! There was absolutely no room for error on these mountain roads. Over the edge means a very rough ride to the bottom of the valley below.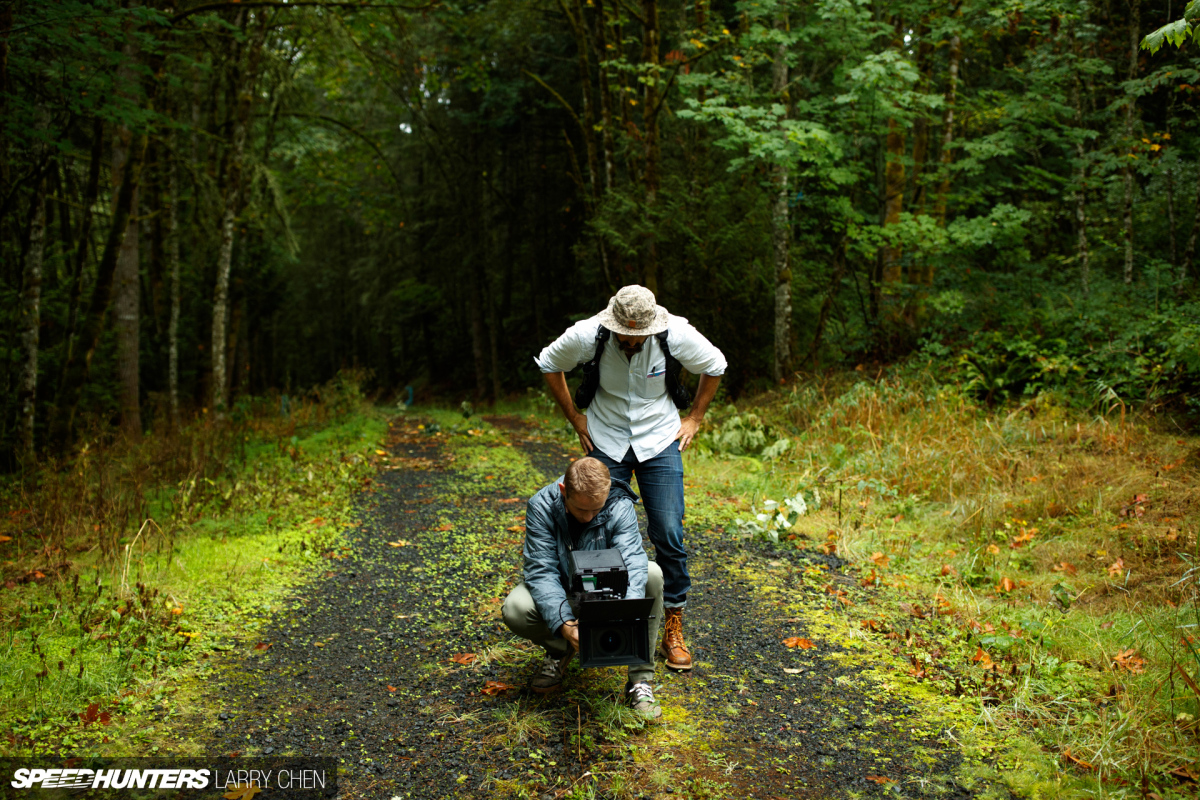 This location looked more suited to a horror film than a rallycross video.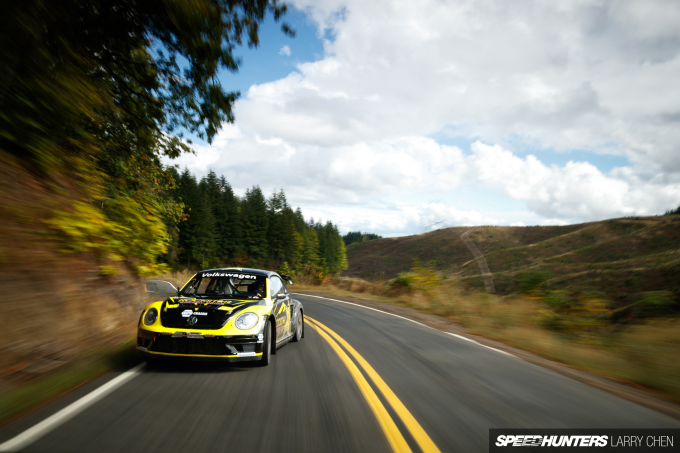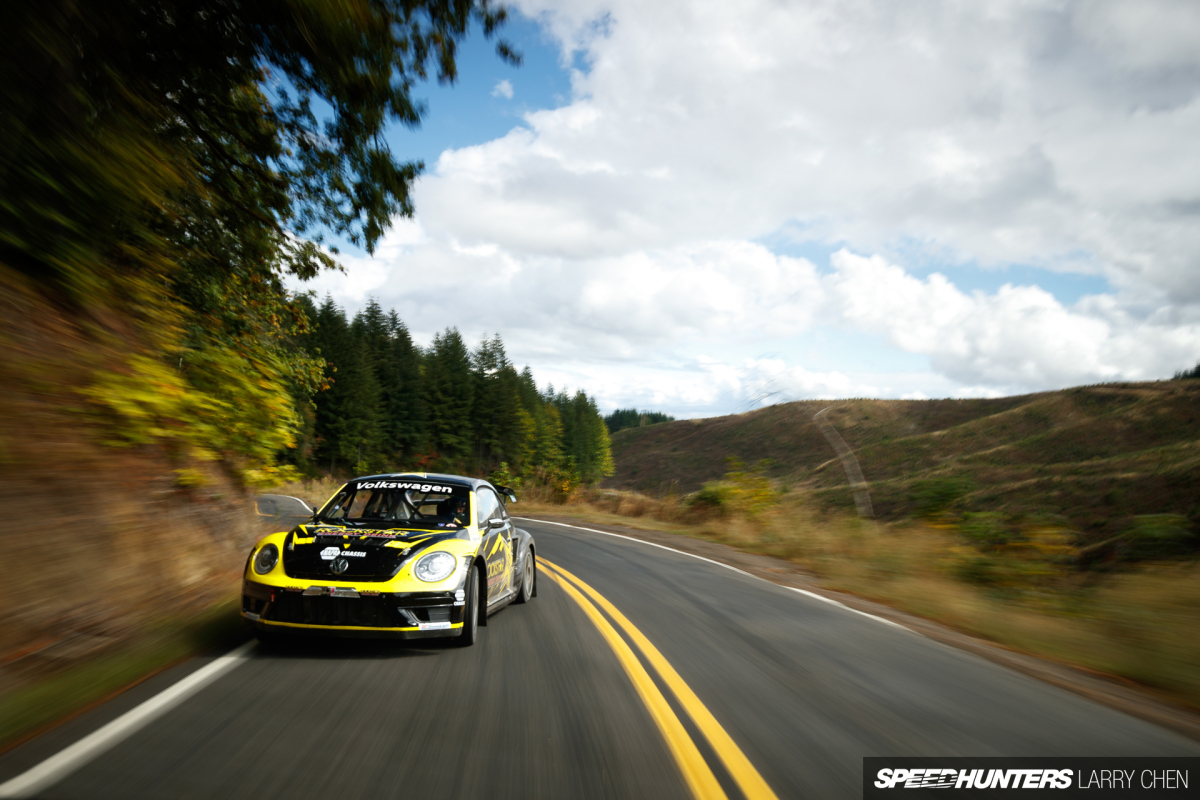 I was stupid enough to ask to get in the back of a Porsche Cayenne with racing driver James Kirkham behind the wheel. Tanner actually followed us at speed.
The next location had everyone a bit nervous as Tanner was going to attempt a very interesting maneuver.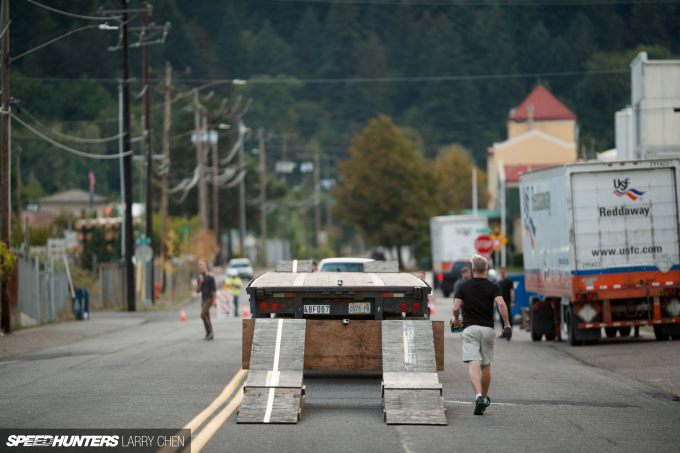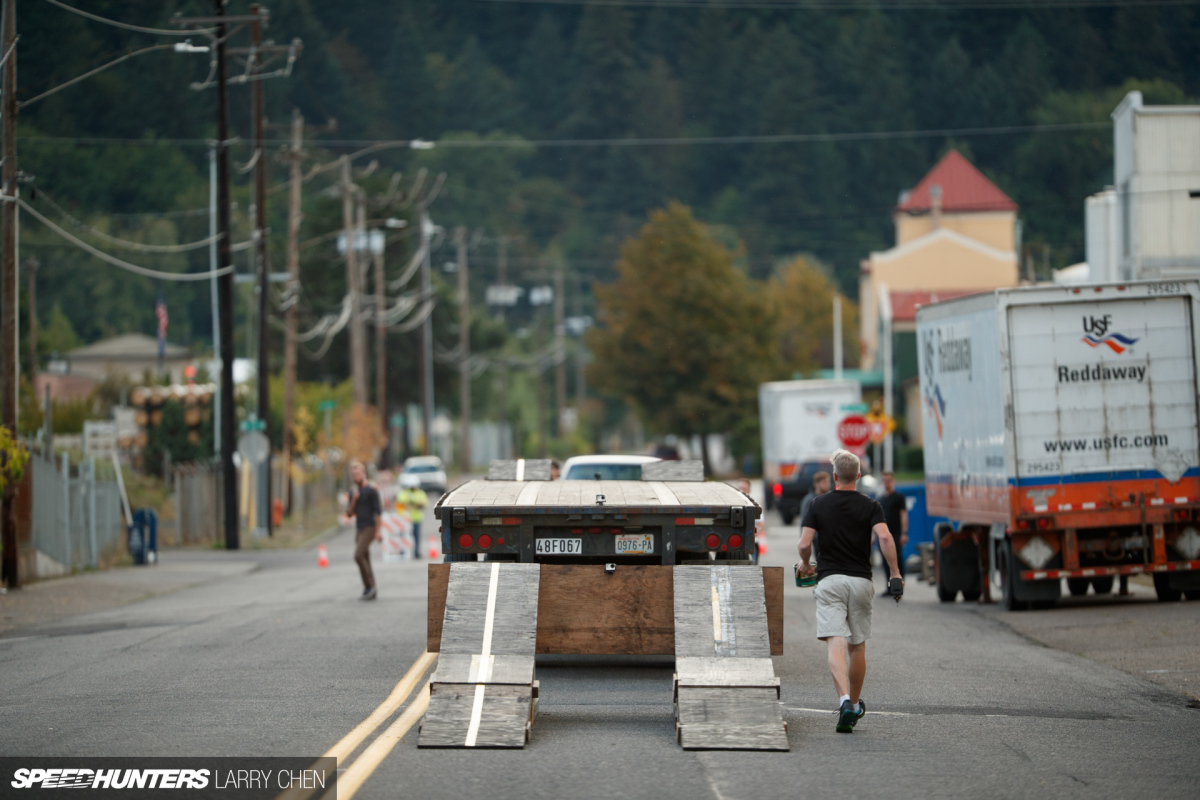 He was first going to jump onto a big rig trailer, then jump from one trailer to the next, before jumping back off.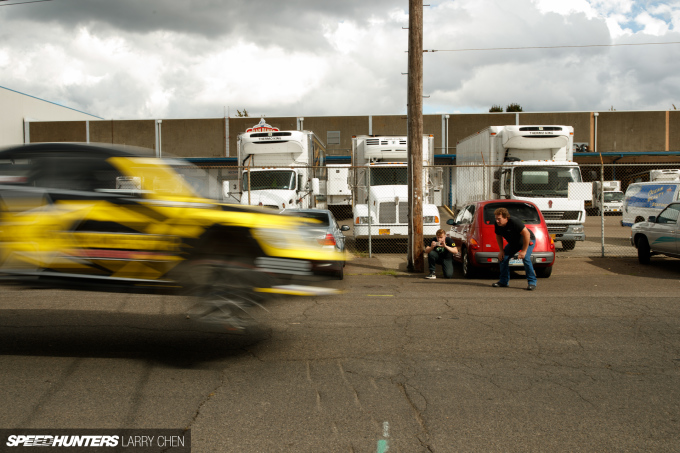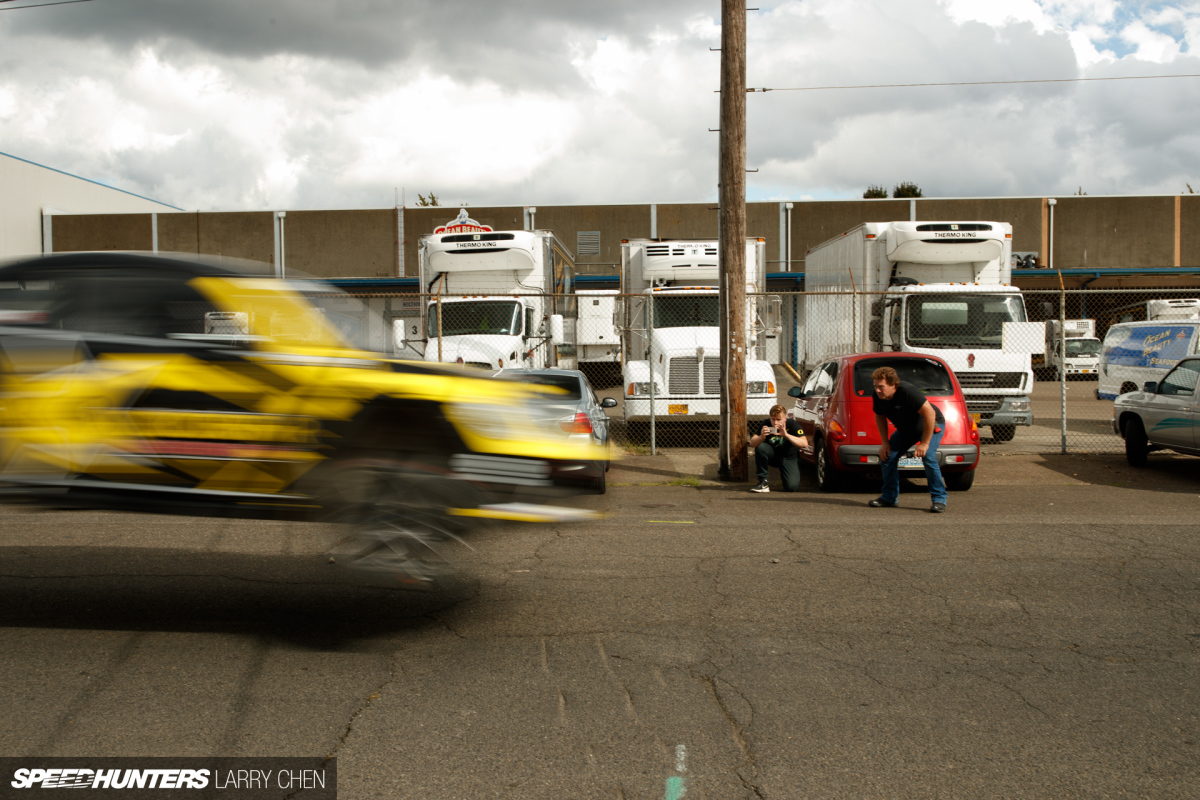 Mike Ryan who drifts the Freightliner up Pikes Peak every year designed the stunt, and as we got closer to crunch time Tanner tested out a few different ramps on the ground at different speeds to get a feel for how the Beetle was going to fly.
With that said, we shot the easy bits first as there was no point risking damage to the car early on. It's always better to save the most dangerous stunt for last.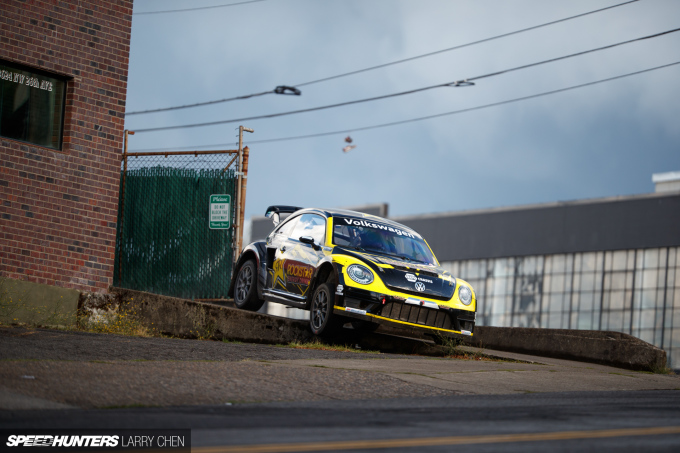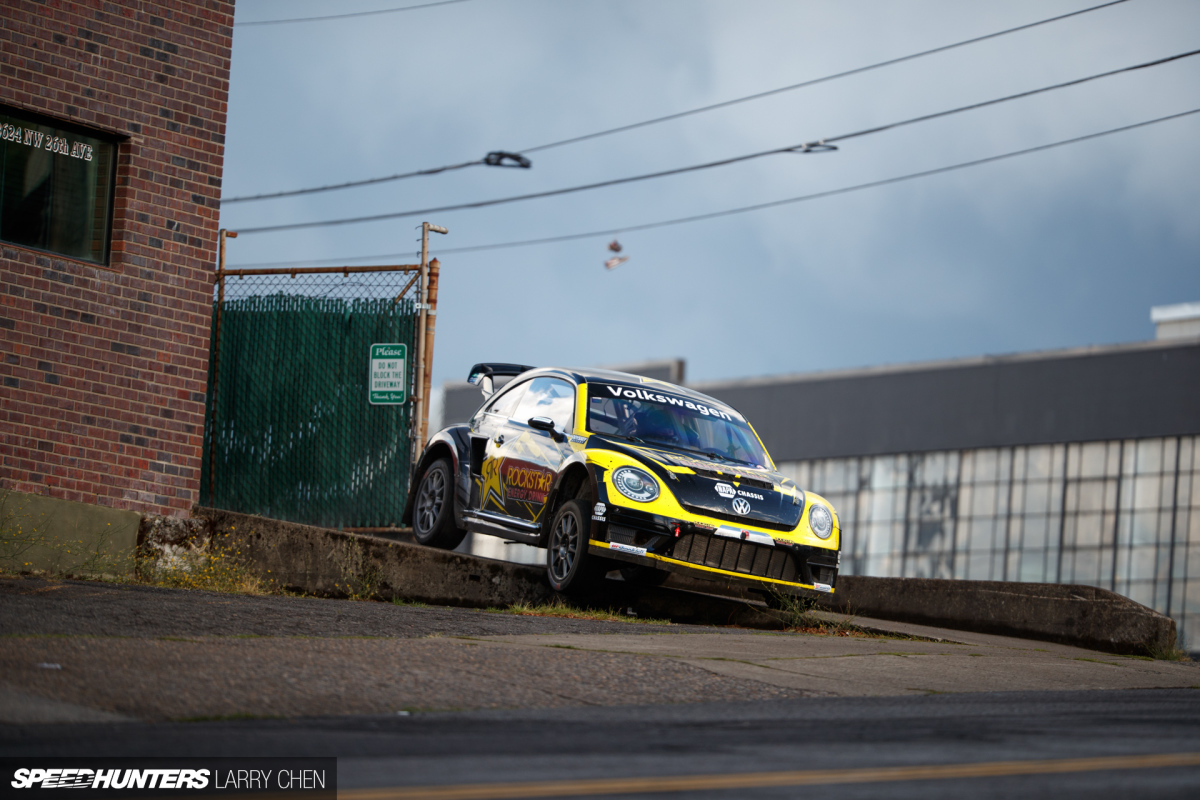 What I thought was fun was the fact that this video broke the fourth wall. This scene was when the actual director makes an appearance in the video.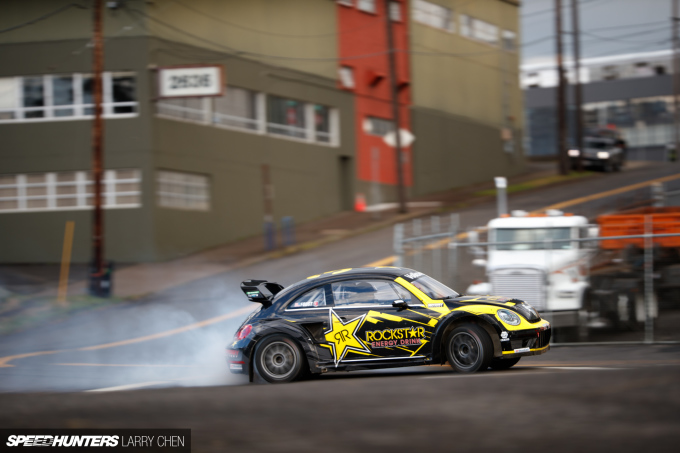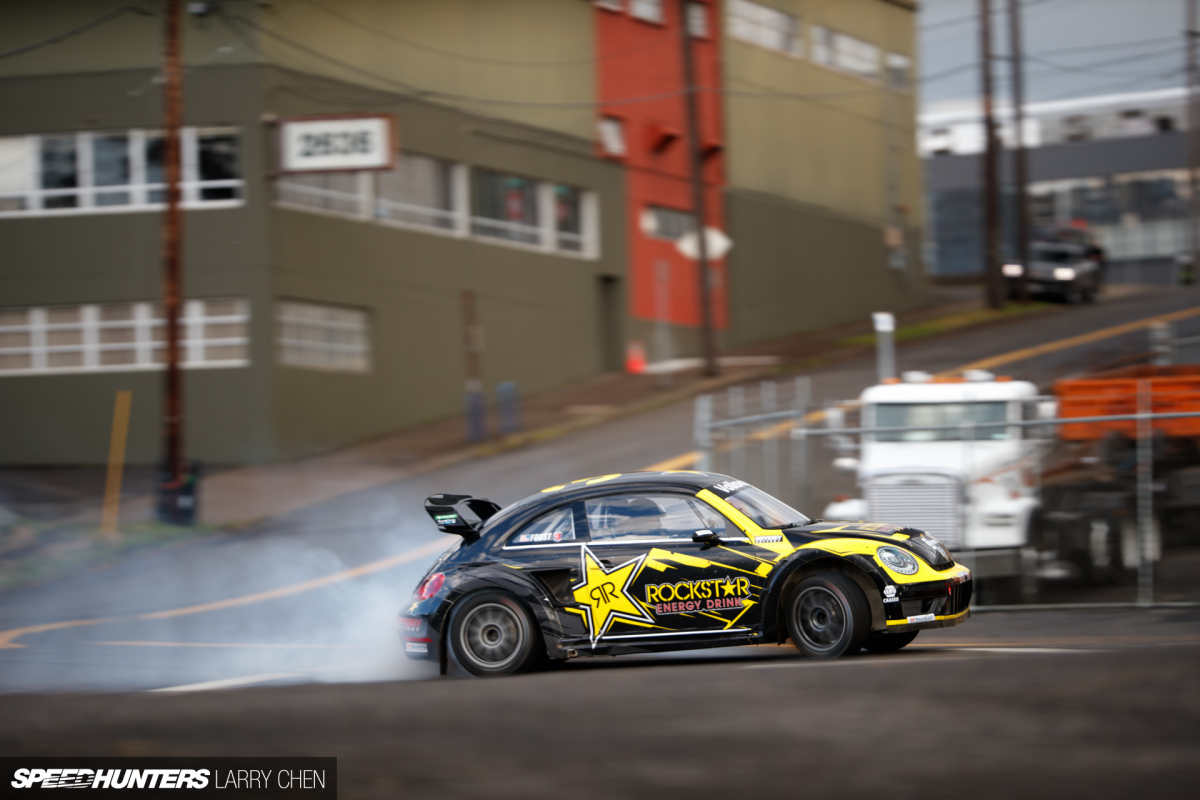 By now the ground had dried up a bit, which allowed for a bit of tire smoke.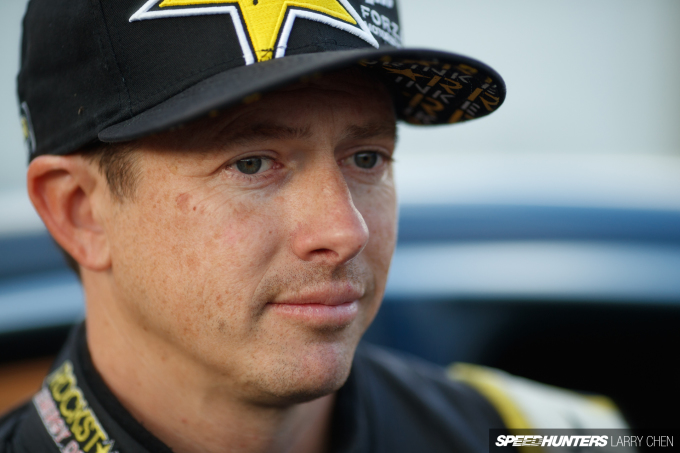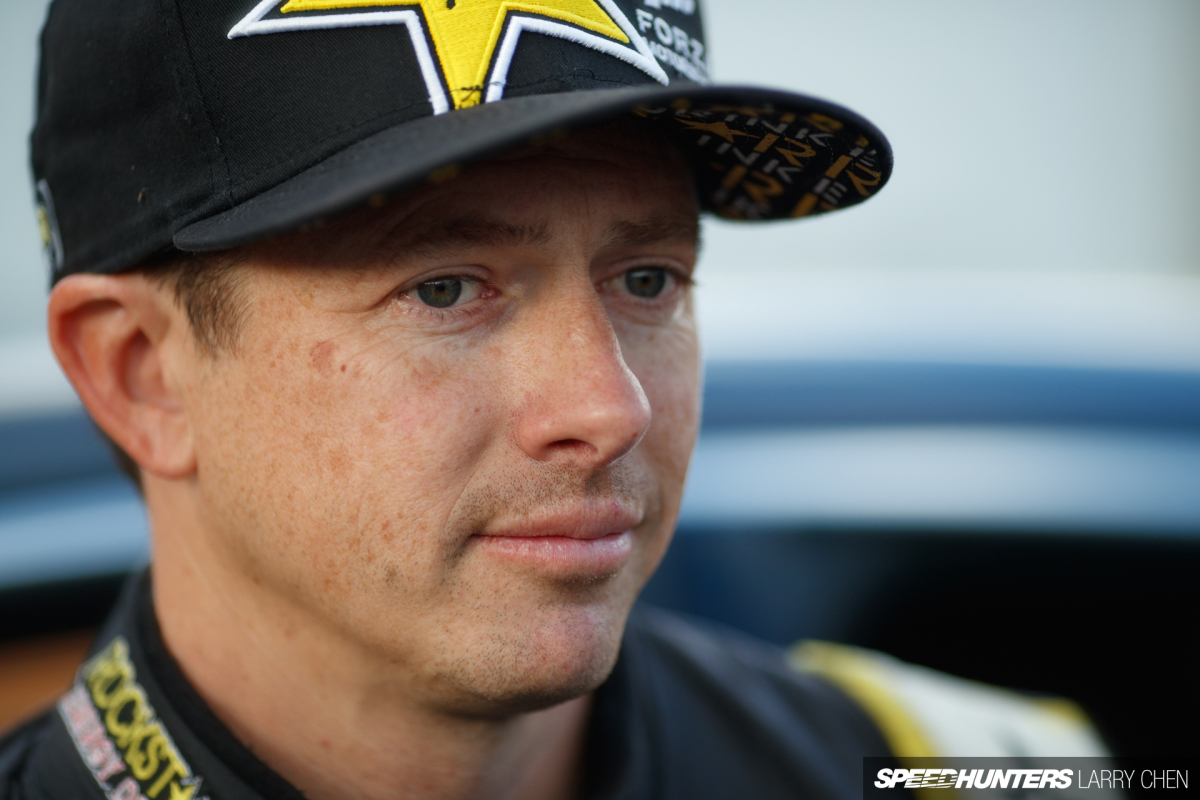 Now it was for the fun part. Tanner would have to hit the ramp at exactly 38mph and hold it steady at that speed to clear all three jumps perfectly.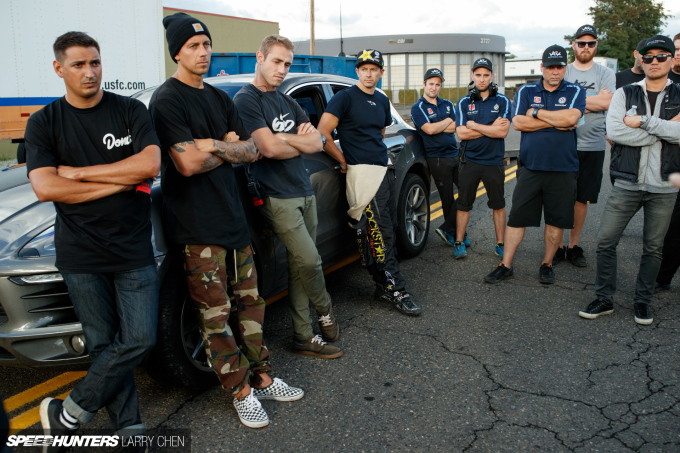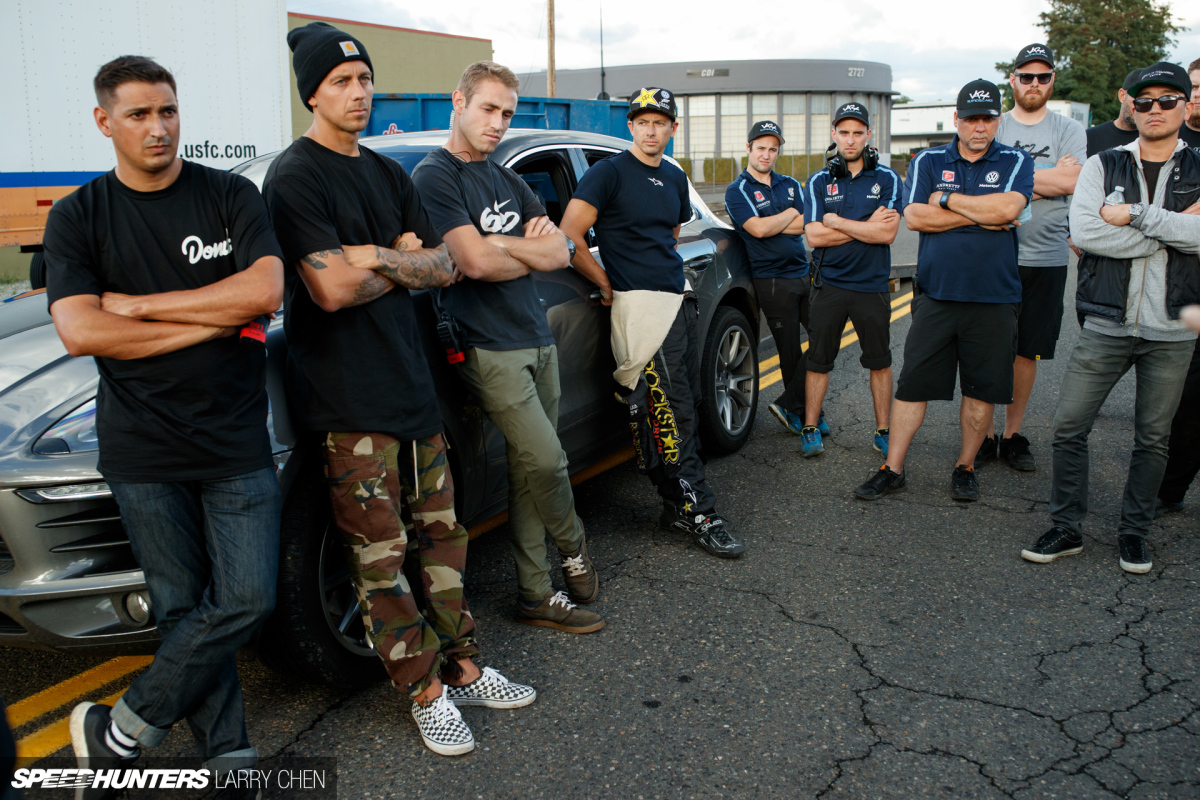 While that sounds slow, the math does not lie. Everything was taken into account, including the weight of the car and the suspension.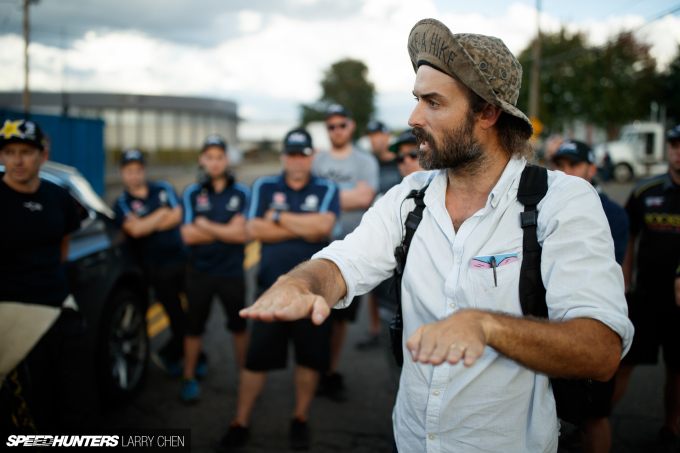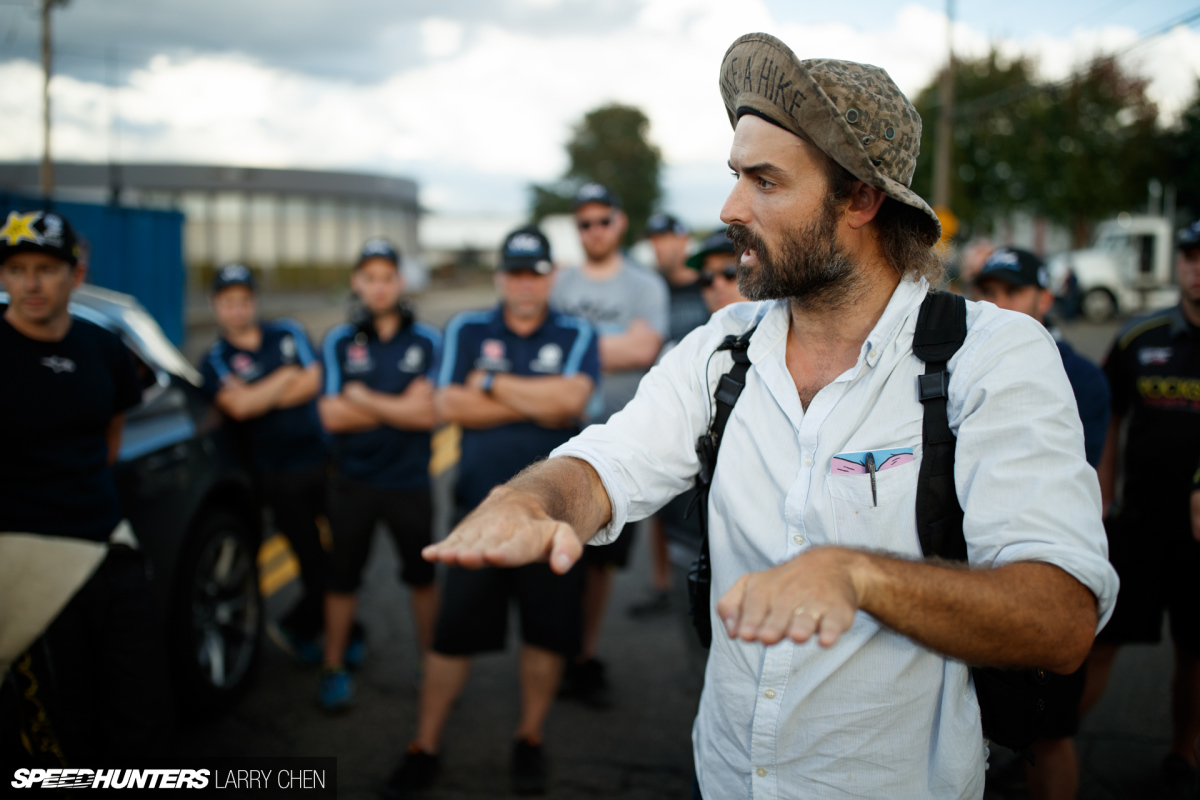 Since there is no speedometer in his race car, Tanner would have to match speed with the camera car as we approach the first jump.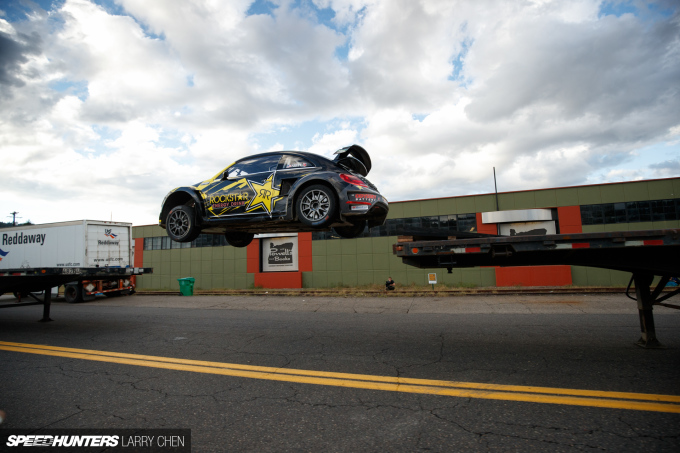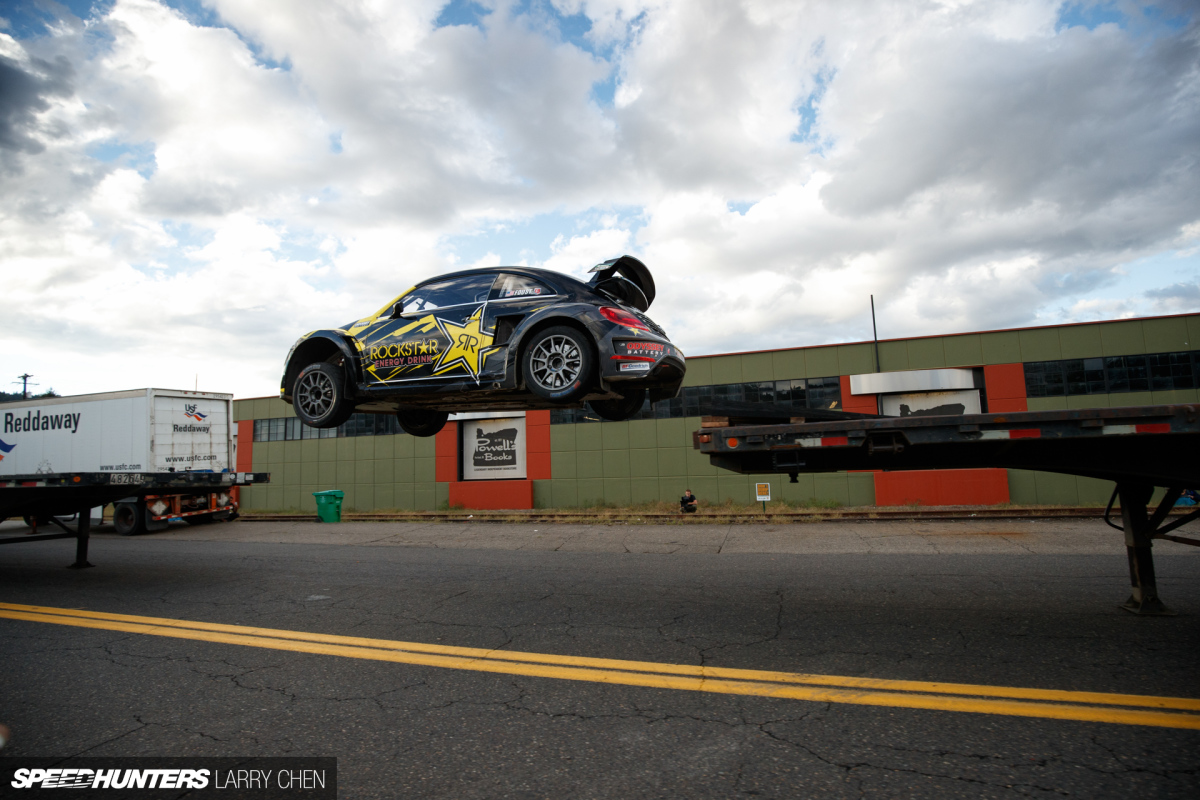 Just as Mike Ryan predicted, the jump sequence worked perfectly.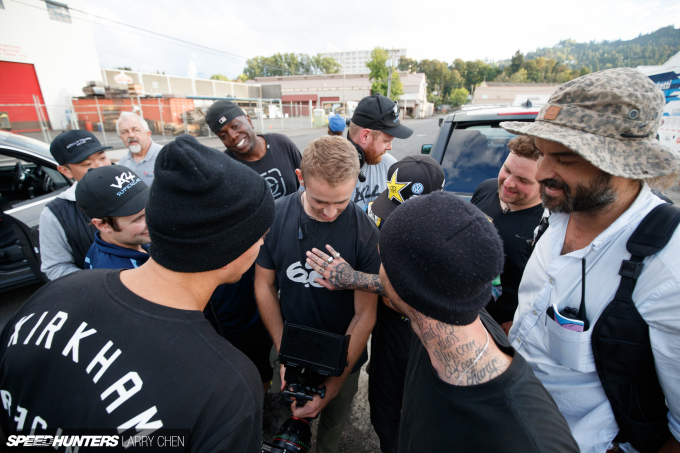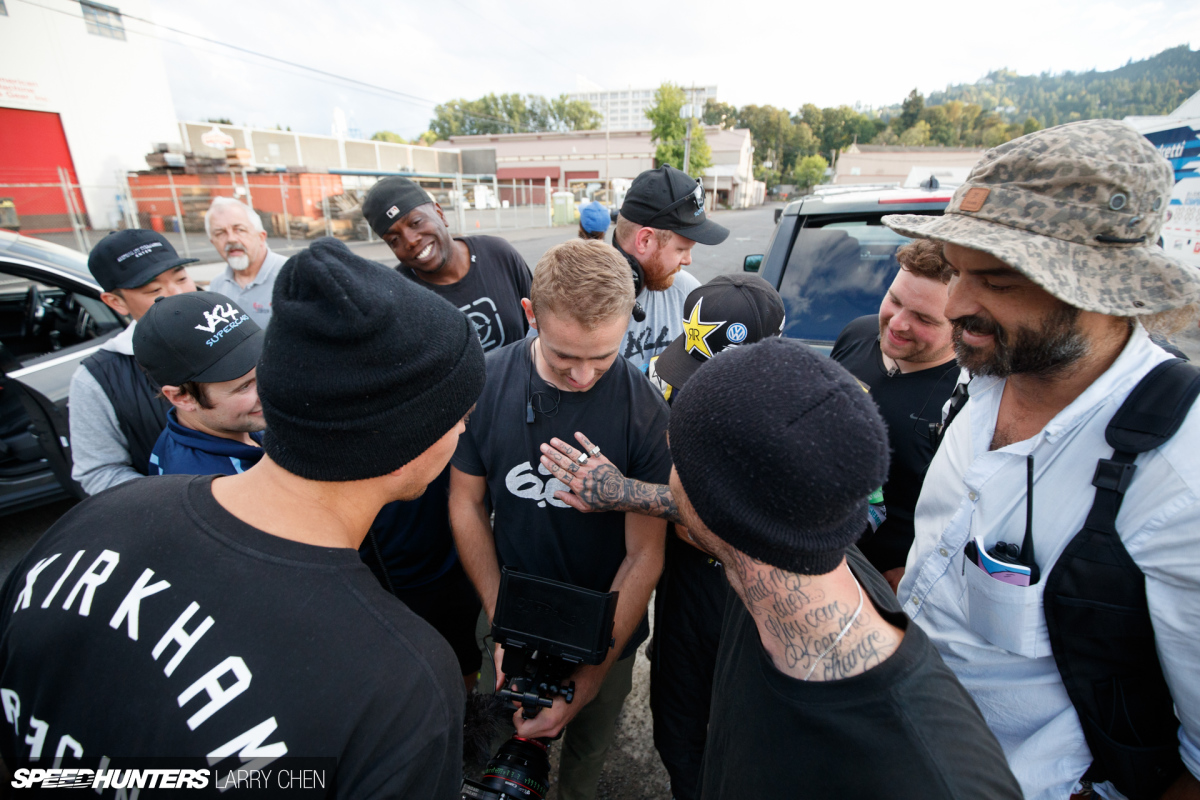 It was definitely a sigh of relief for Tanner and the rest of the crew.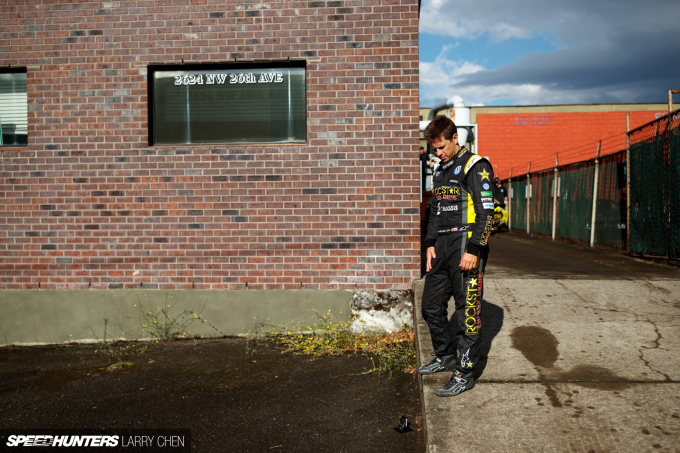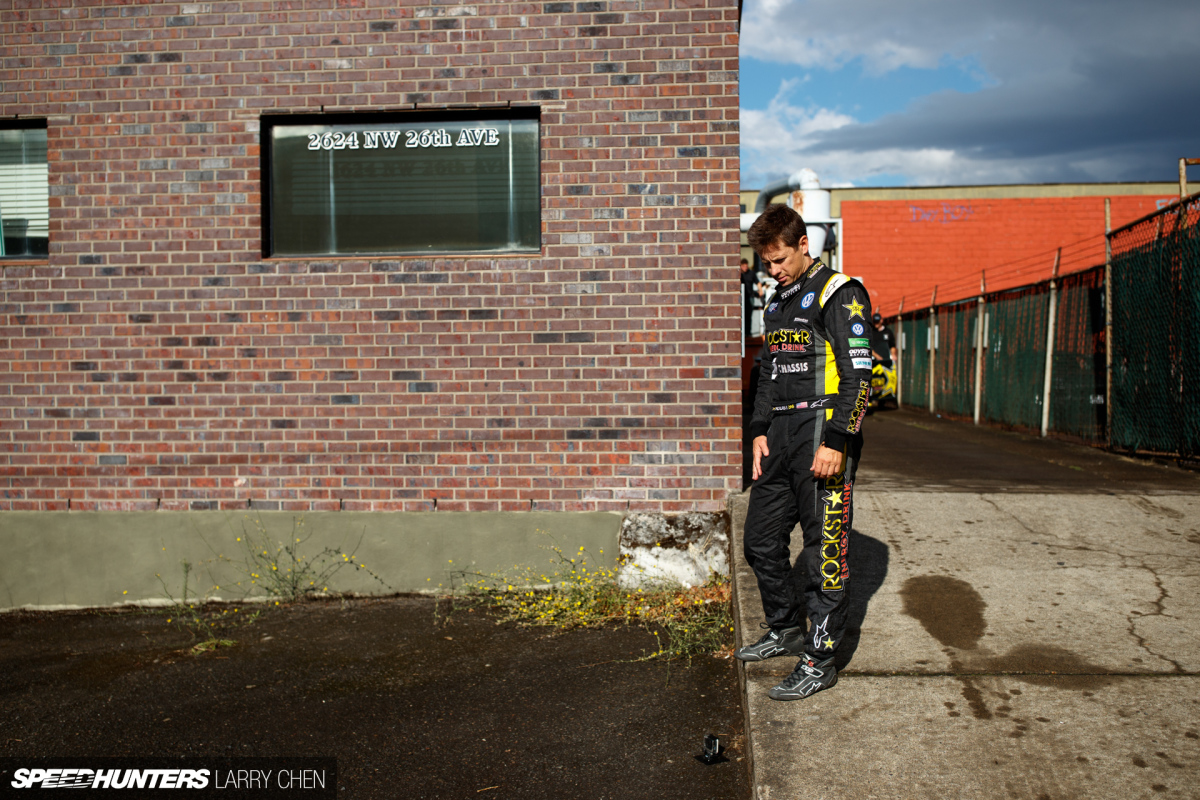 The hard work for this short film had just begun though, as there were many more days of shooting left in bringing it all together.
RZR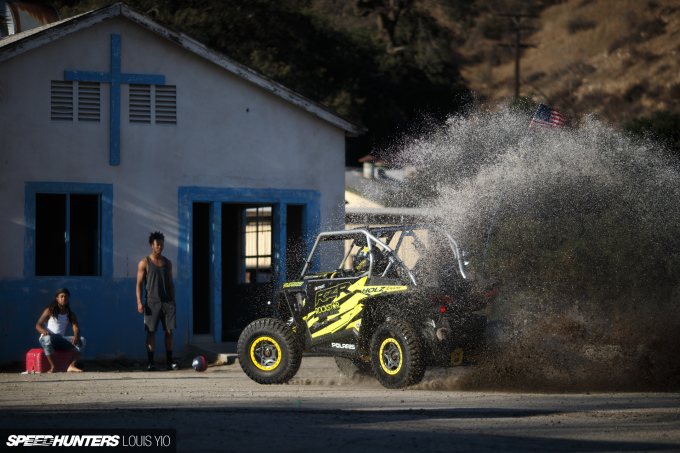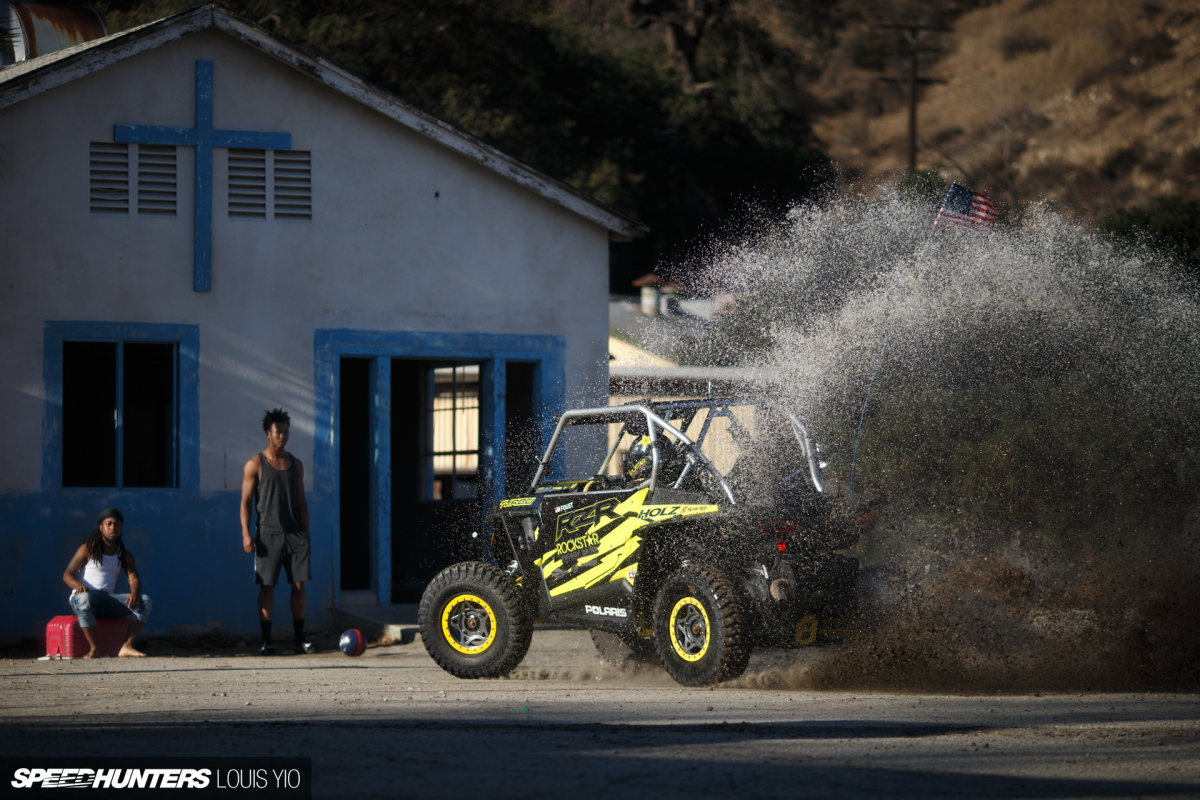 Louis: I've been shooting plenty of UTVs this year, and after seeing them in action at various off-road races and learning just how capable they actually are, I have a newfound respect for them. So, when I found out I'd be tagging along with Donut while Tanner would be thrashing a Polaris RZR, I was pretty excited.
He'd be throwing the RZR around an old rundown industrial park deep in the mountains above Los Angeles.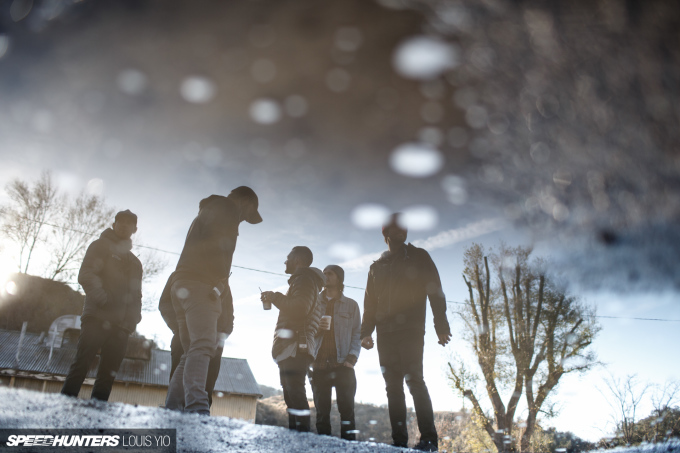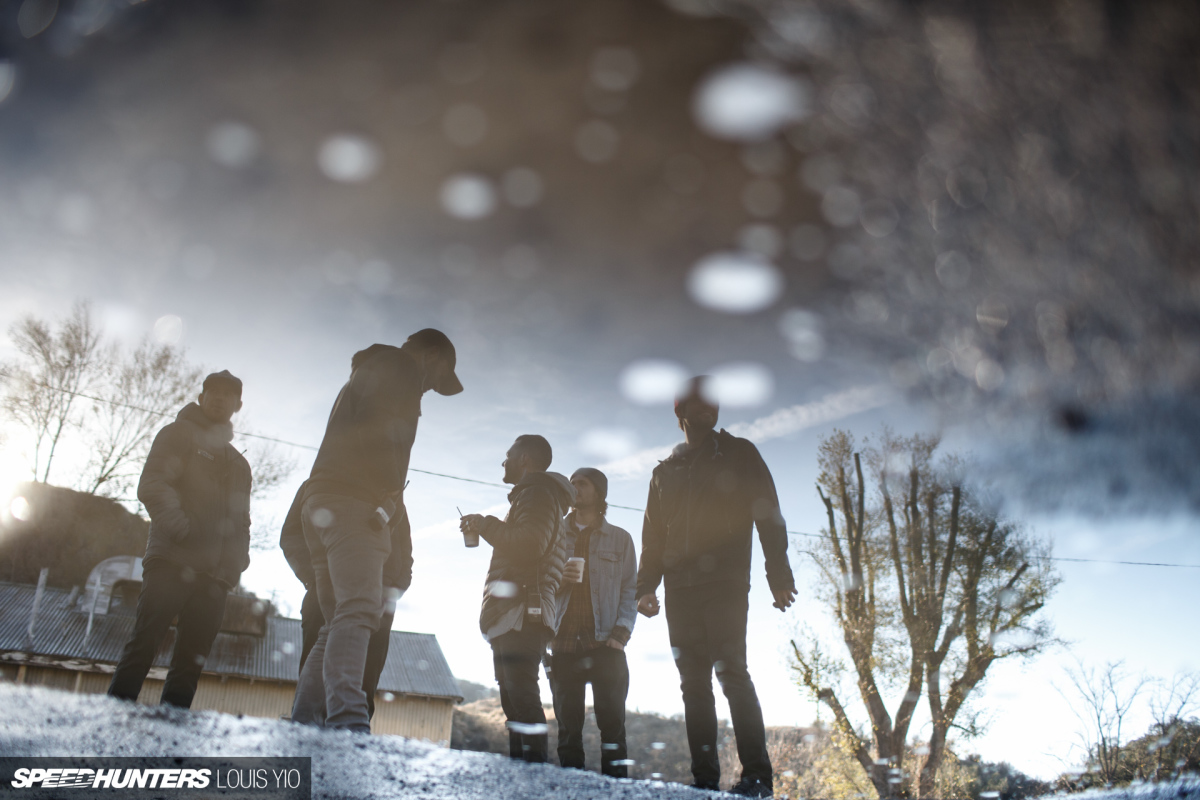 It was just starting to get cold here in Los Angeles, and by cold, I mean 50 degrees (10°C) which I guess is nothing compared to places up north.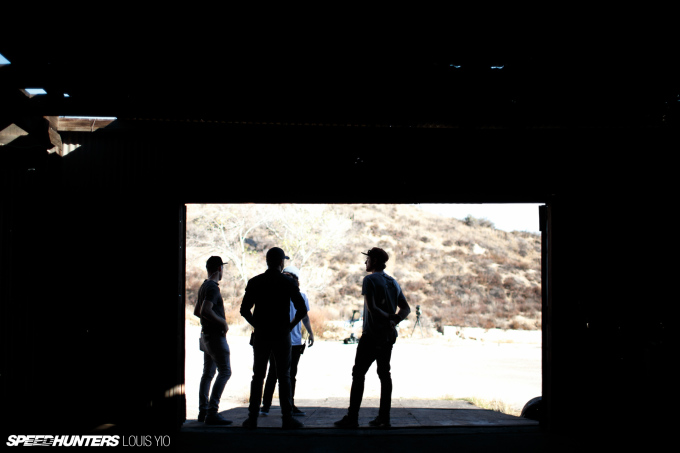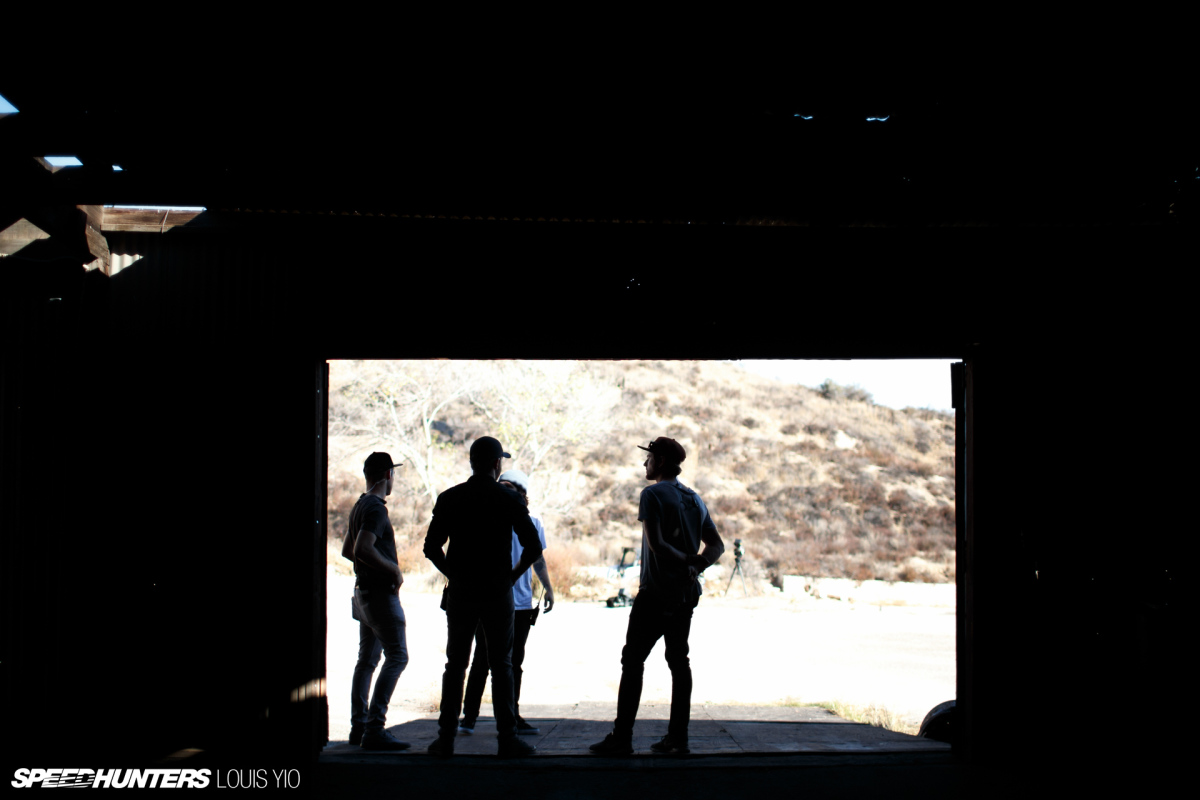 One of the shots required Tanner to blast through a broken down barn with just a few bullet holes through the walls.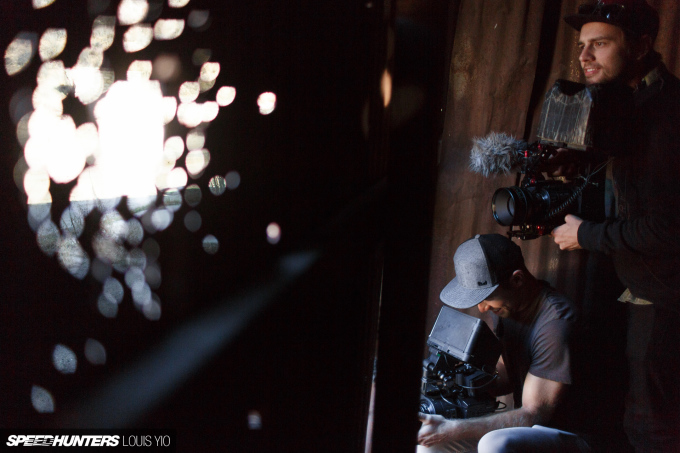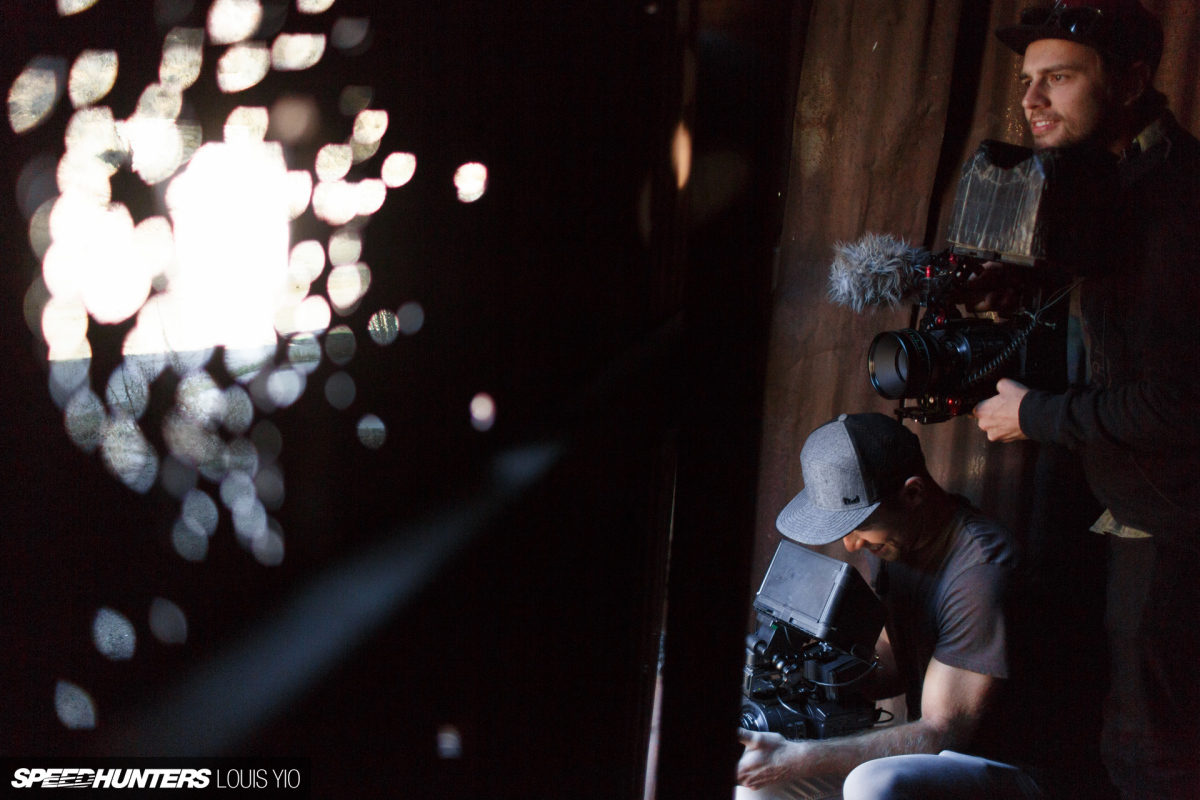 While Tanner was discussing the appropriate line with the producer and director, the camera ops were preparing for their optimal shooting positions. This specific one seemed to be just right.
Before long, Tanner blasted through. Quite often, video guys will be content with a single take as they have multiple cameras shooting the scene. This makes it difficult for us photographers, so it's always great when they do more than one take as it means we too can play with different angles.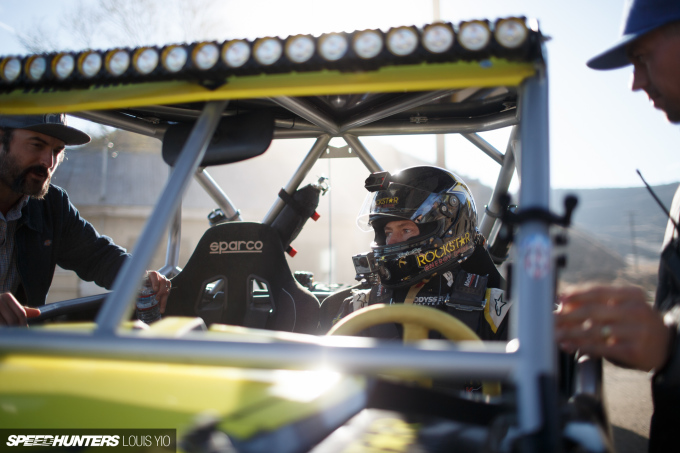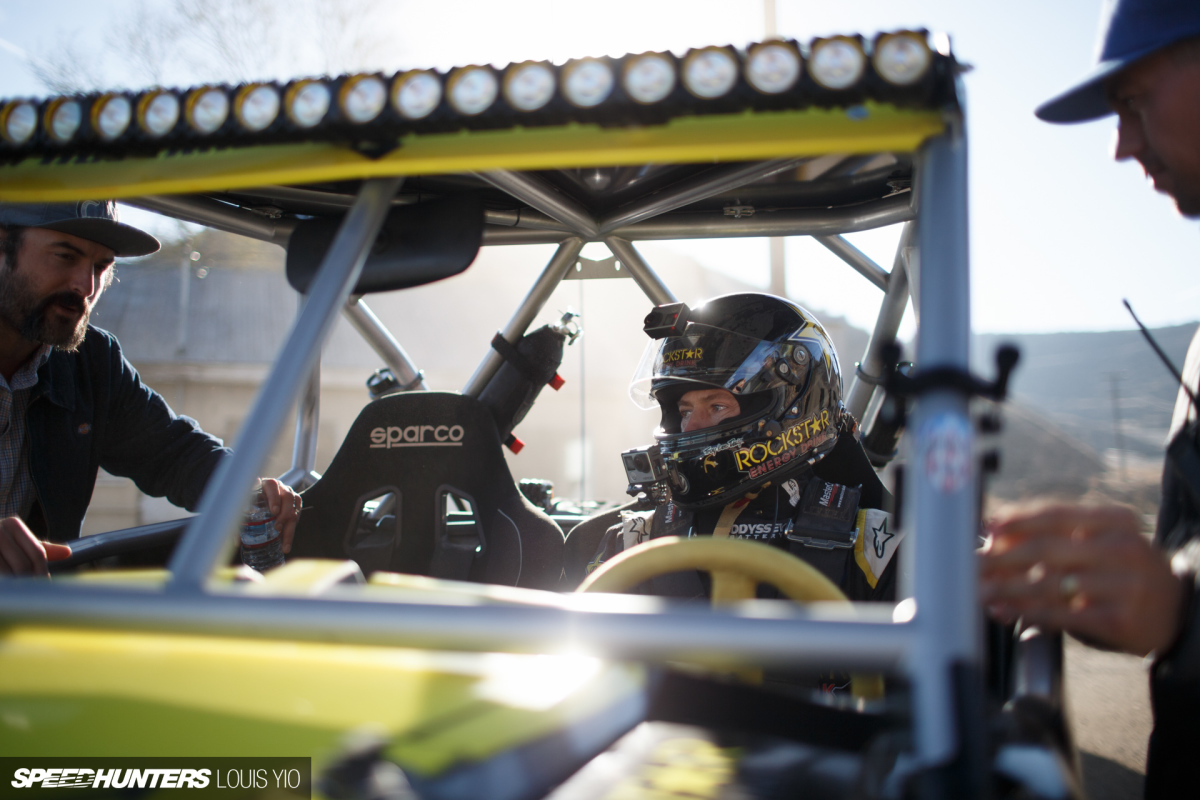 The next stunt was slightly sketchier than the previous, so Monsieur Director spent some time detailing exactly what he needed Tanner to do.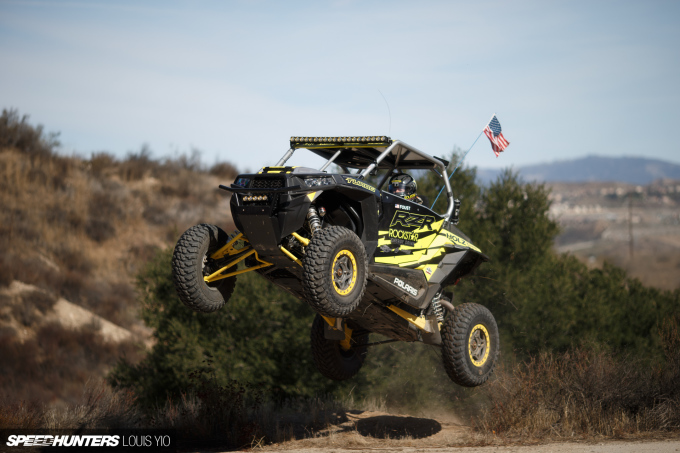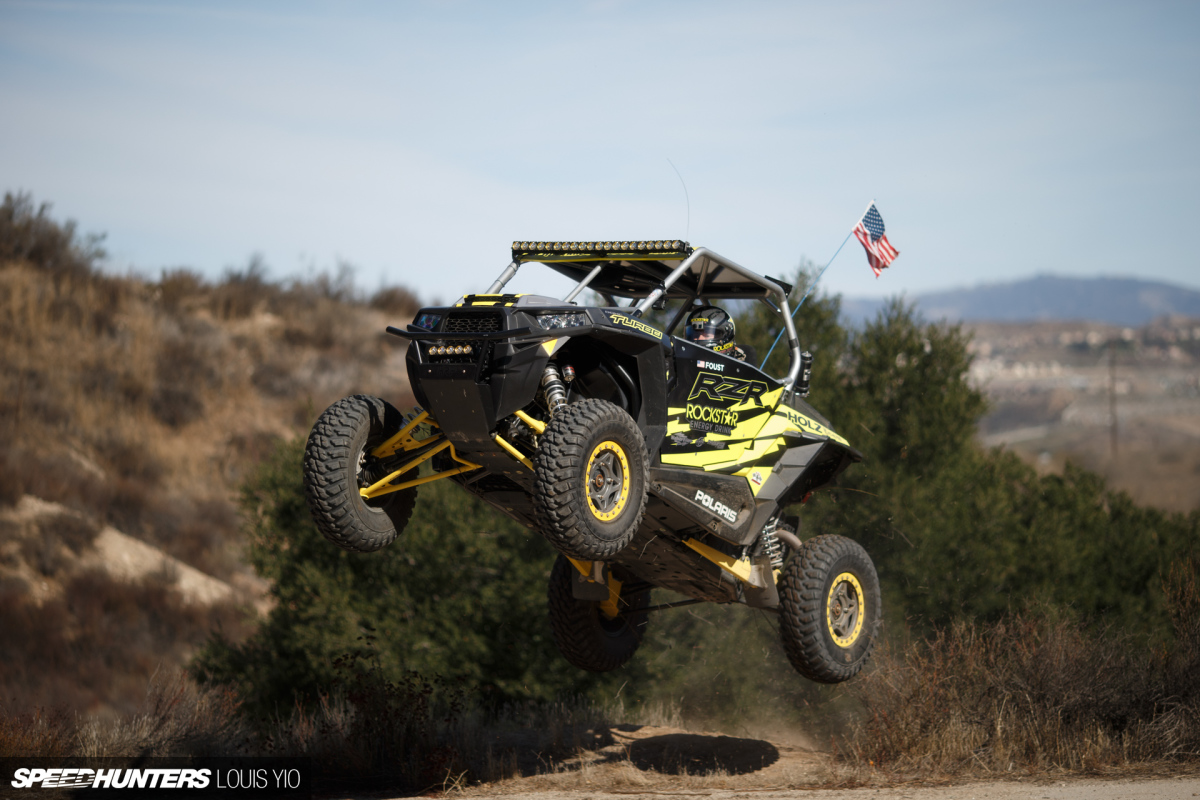 Tanner being Tanner pulled it off in one take and we were off to the next scene.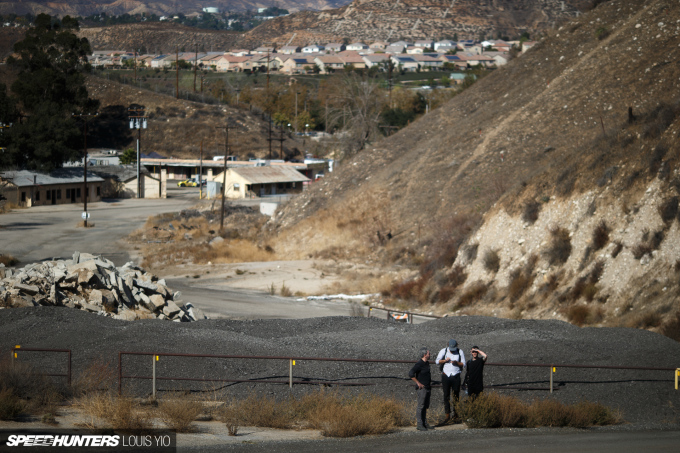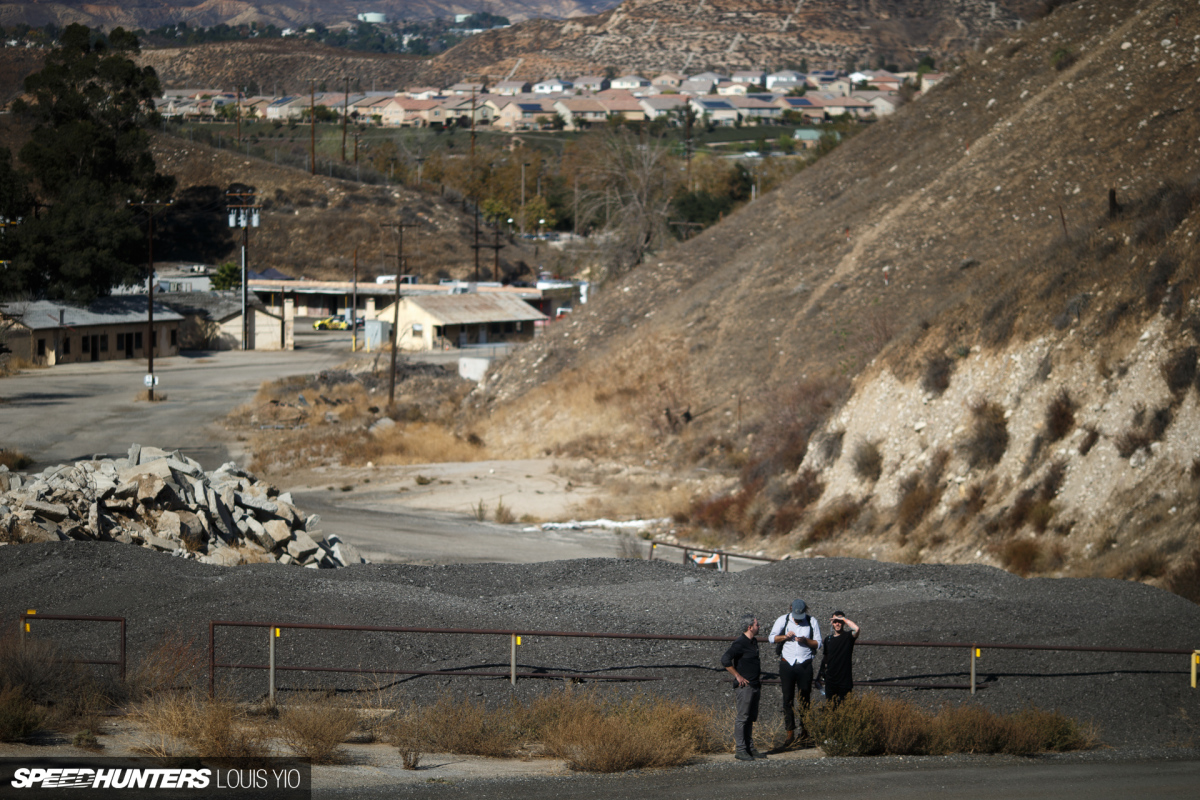 We breaked for lunch while the next shot was finalized.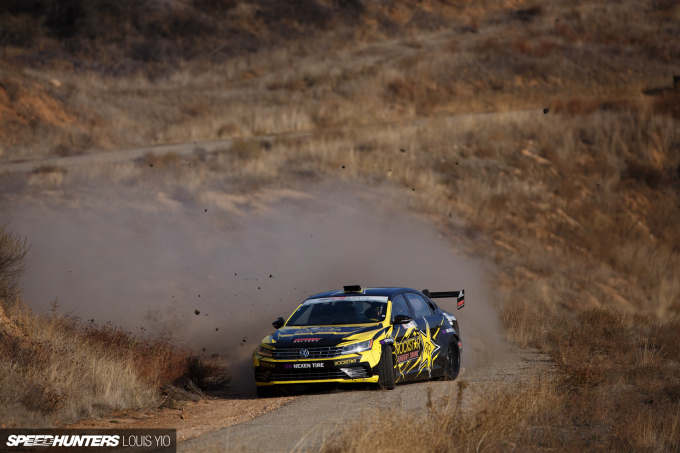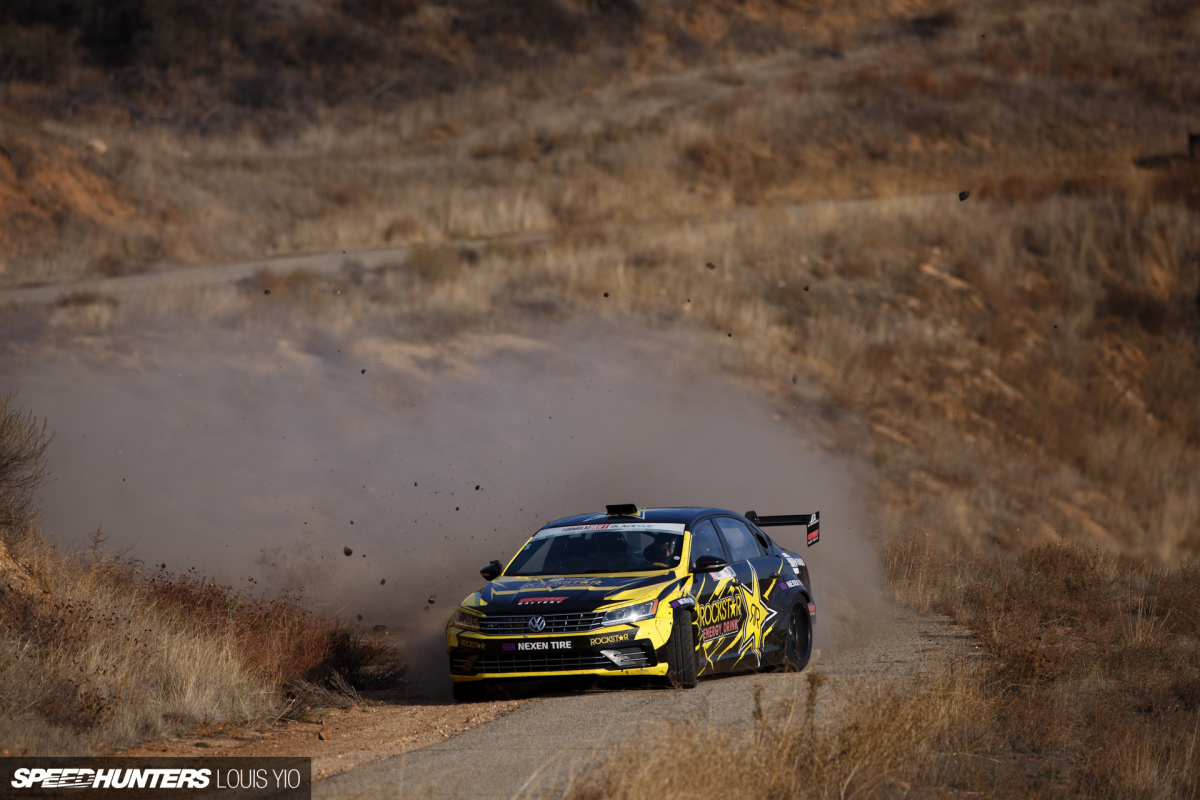 The next scene saw Tanner back in his VW Passat drift machine. At this point, he'd been out of the car for about two and a half months.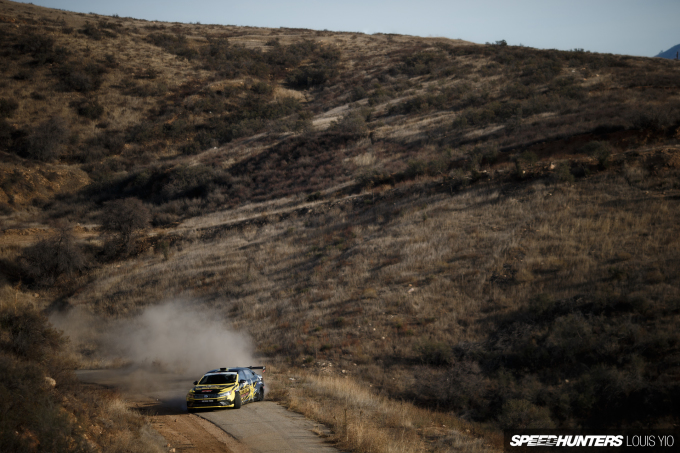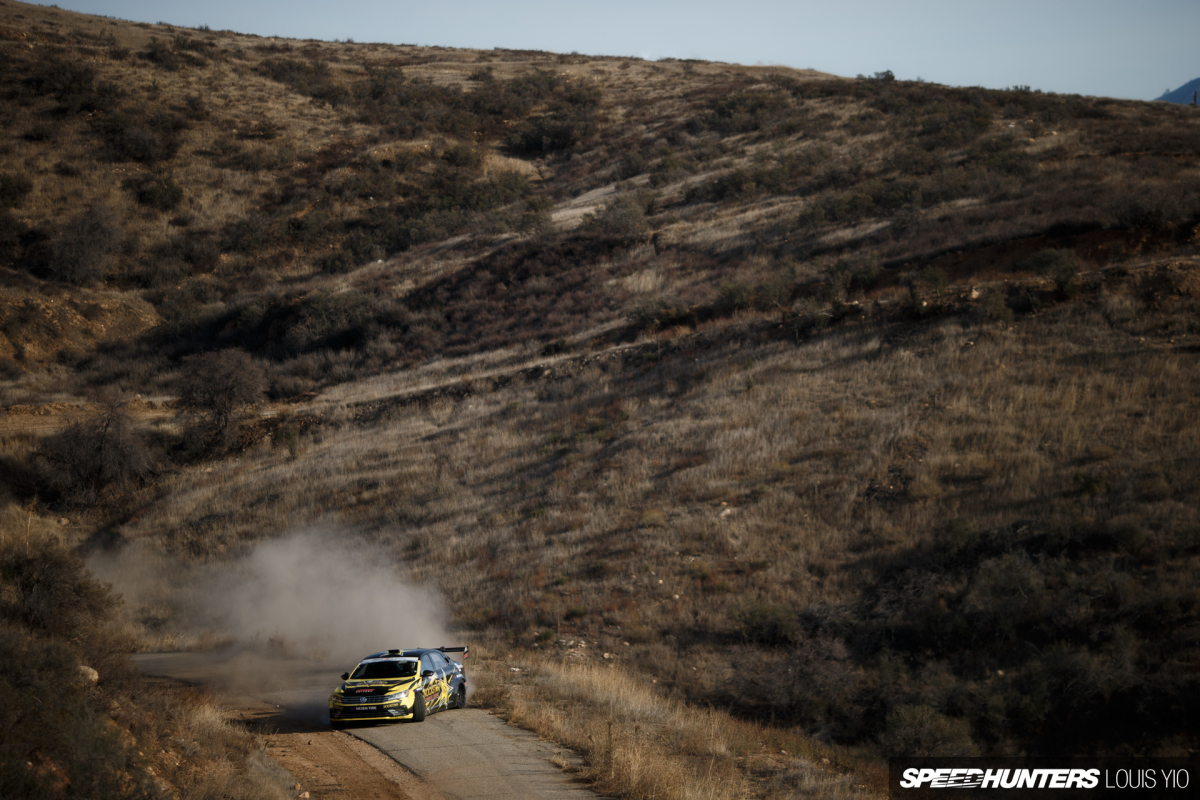 Not that you'd know it though. Tanner looked right at home thrashing through the touge section.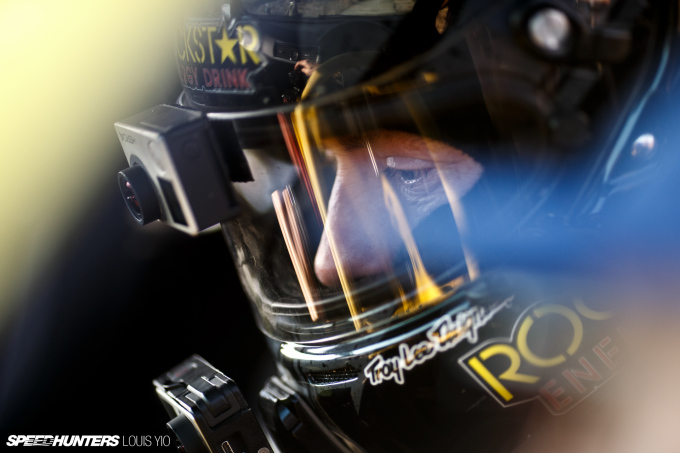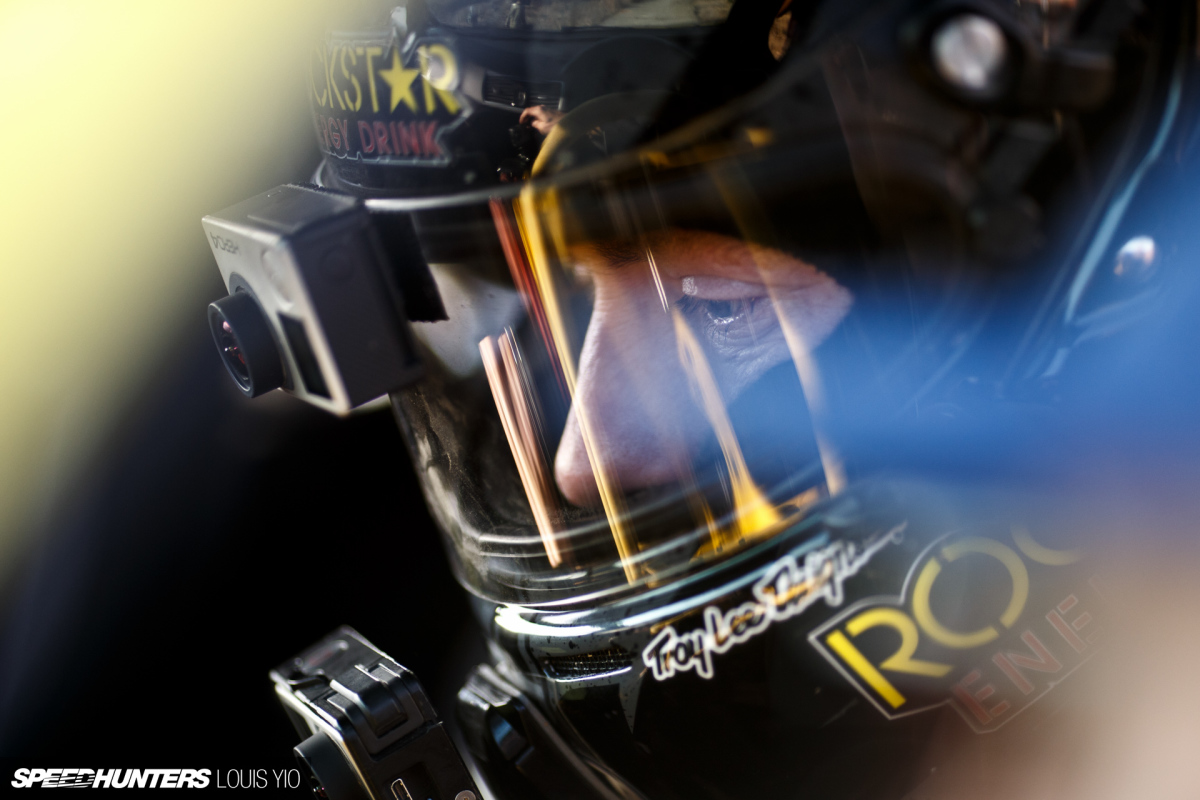 I always wonder what these pro drivers think about when they're seconds away from unleashing their machines. I'd like to think Tanner's imagining himself eating a PBJ right after.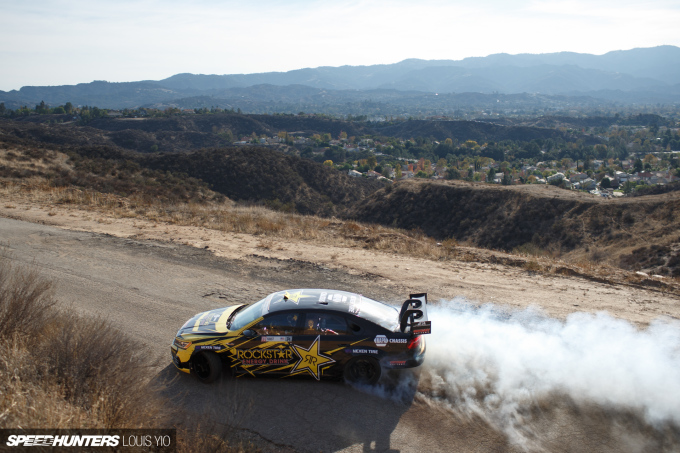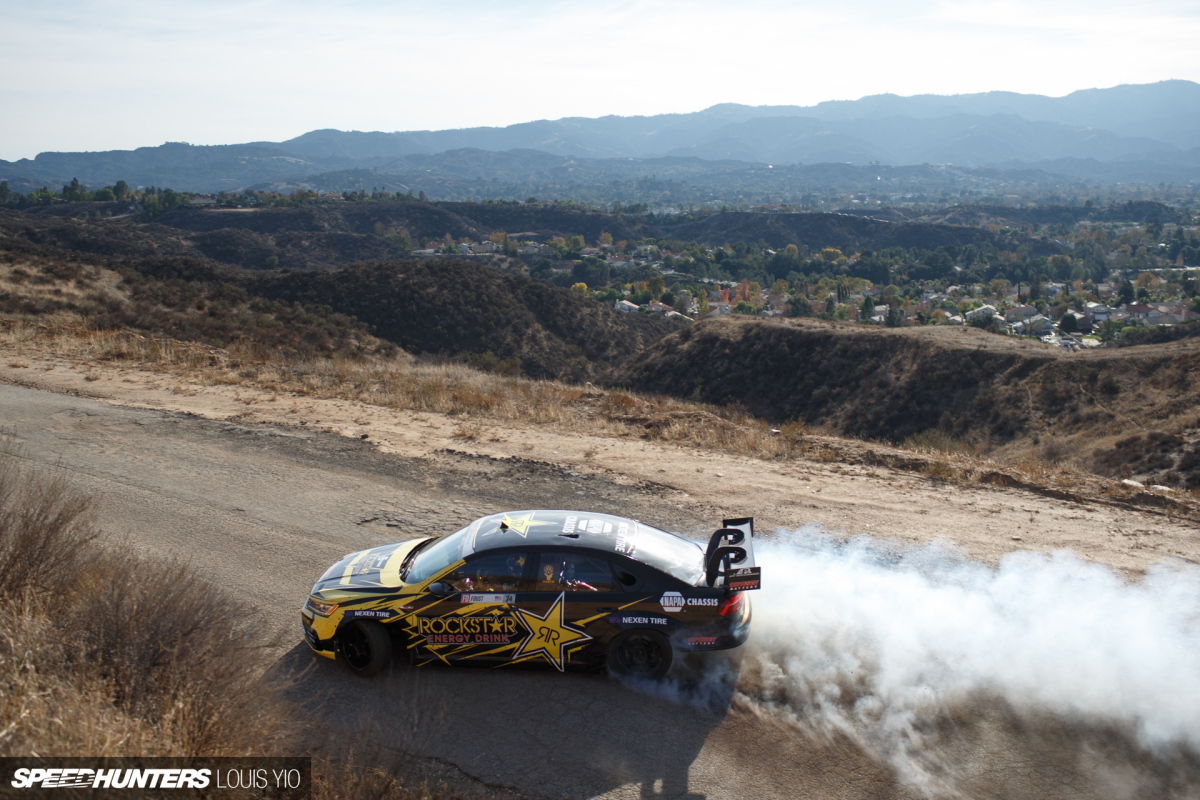 In all reality though, this scene was a little scary as the section Tanner was sliding over had no guardrails and not much room for error. A minor mistake would cause him and the car to fall more than 100ft.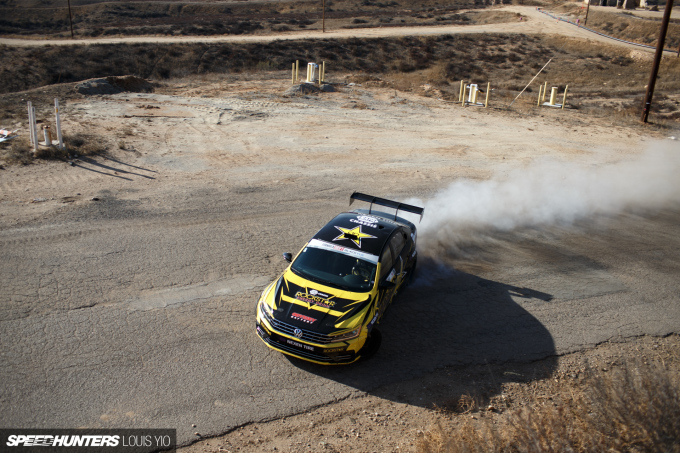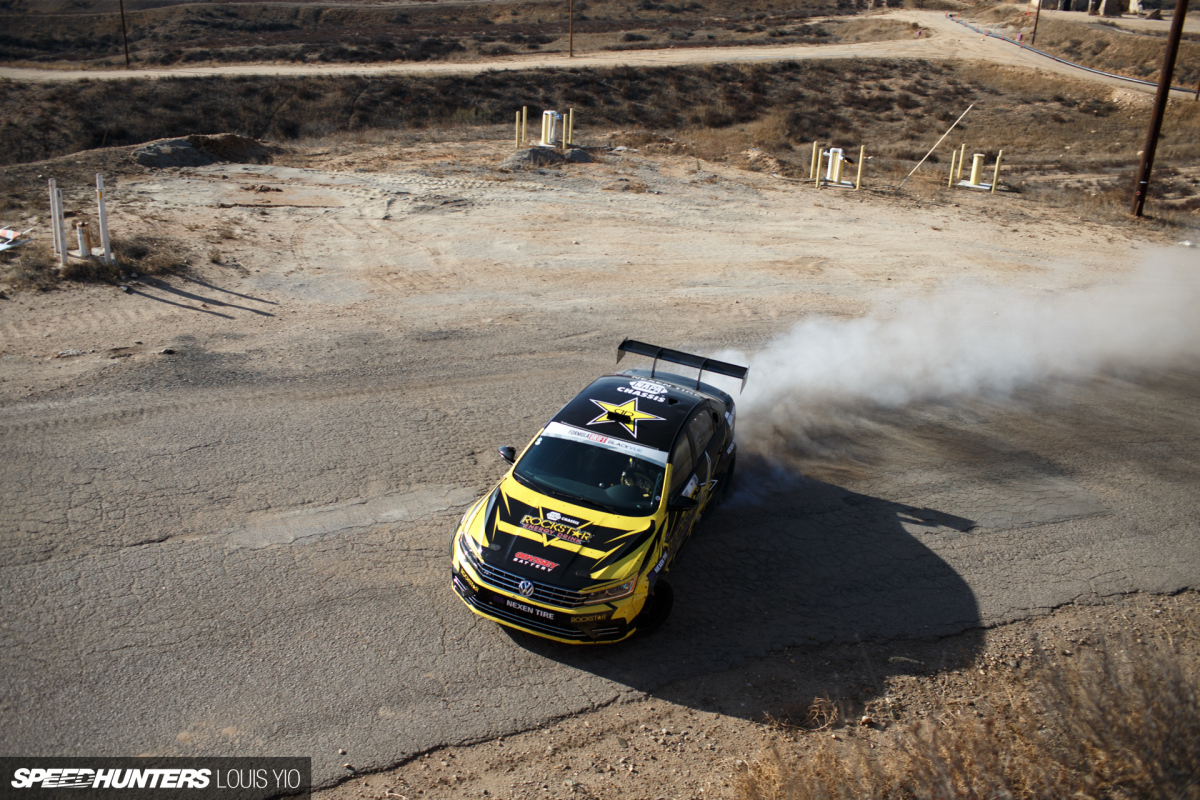 It's a good thing he's not just a pro stunt driver, but a pro stunt driver with a mystical steering wheel.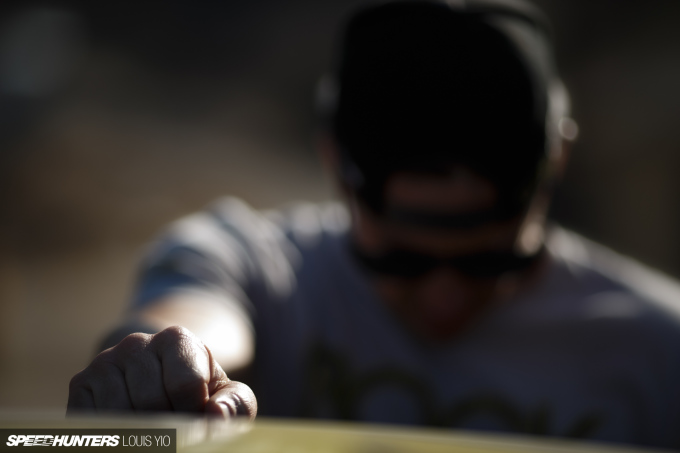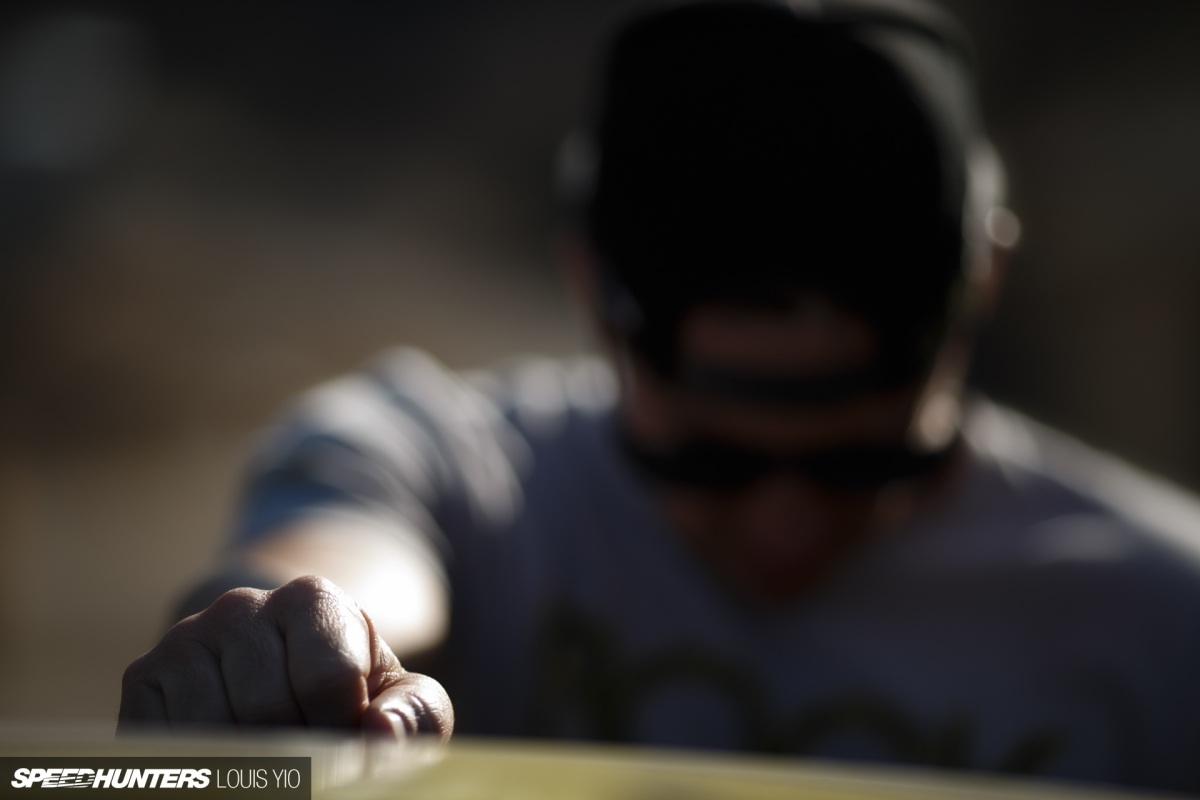 It was cool watching the Passat being slid around. Hopefully we can see a bit more of Tanner in FD next year.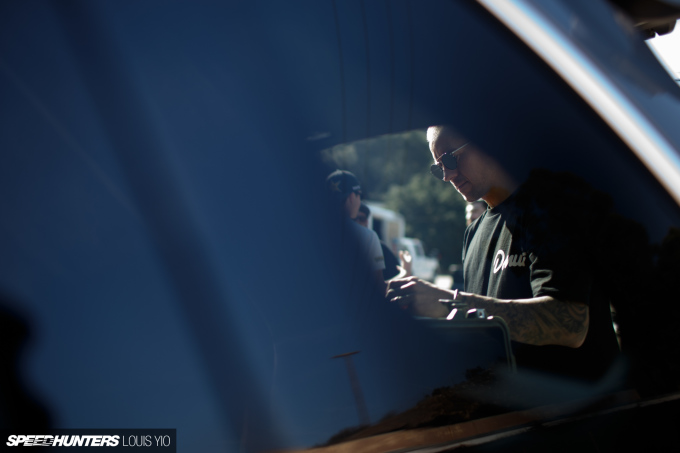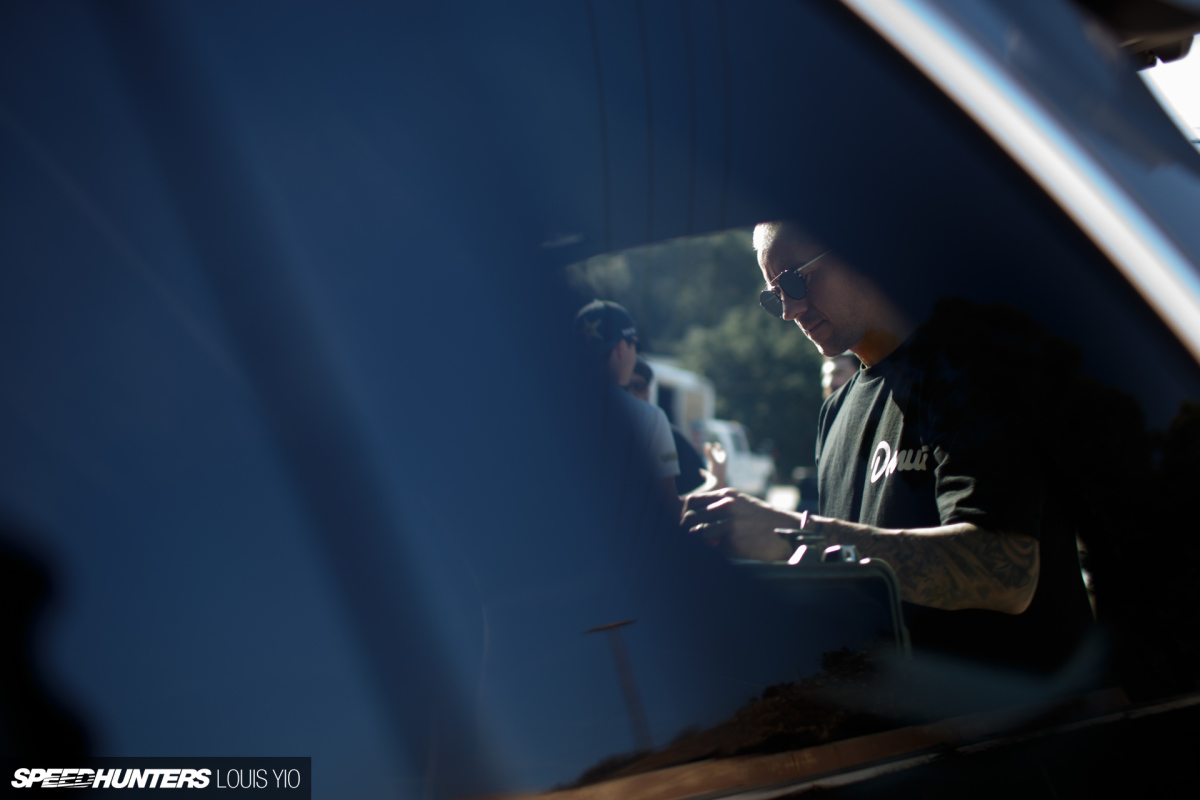 We wrapped up the drift sequence, but since there was time to spare, Director-san decided we should get more shots of the RZR.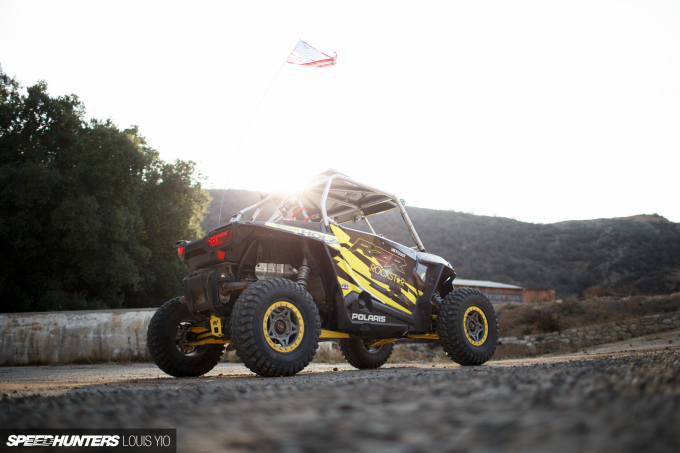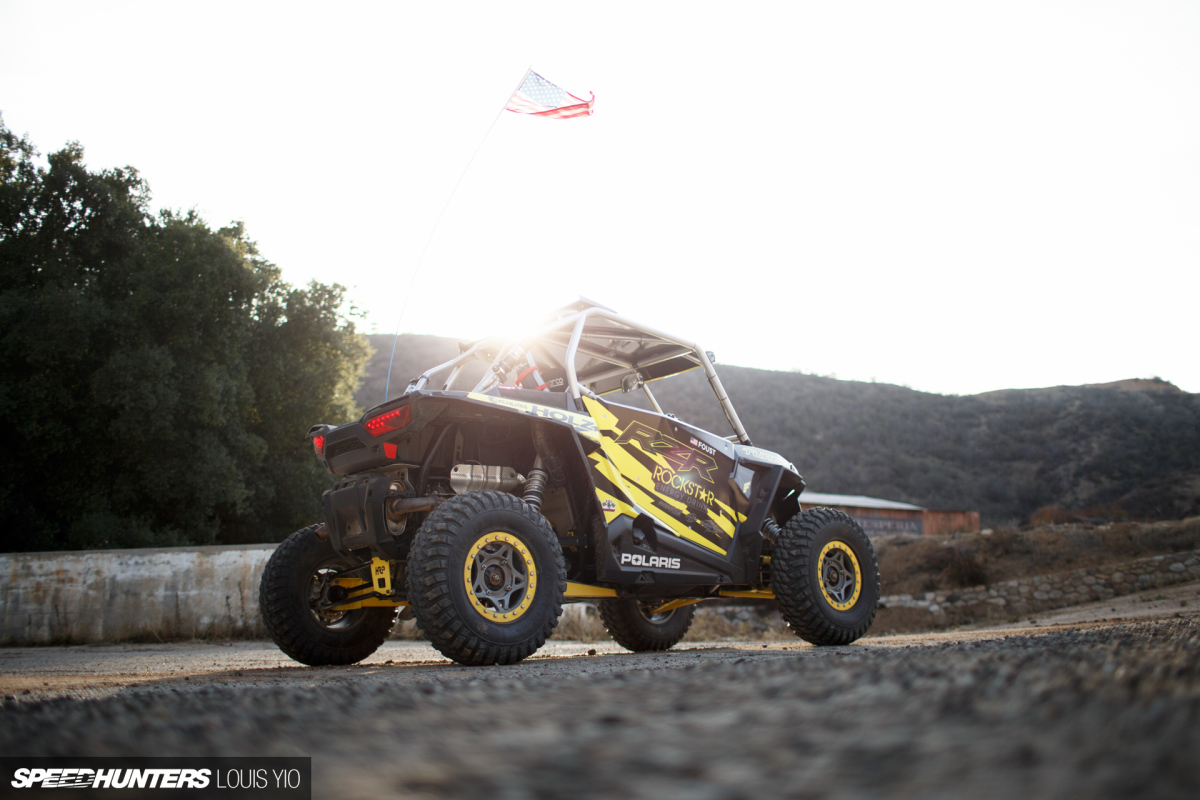 These little RZR XP Turbo EPSs make over 160hp stock, which is more than many compact cars. They also weigh about 900 pounds less than the current-gen Mazda Miata.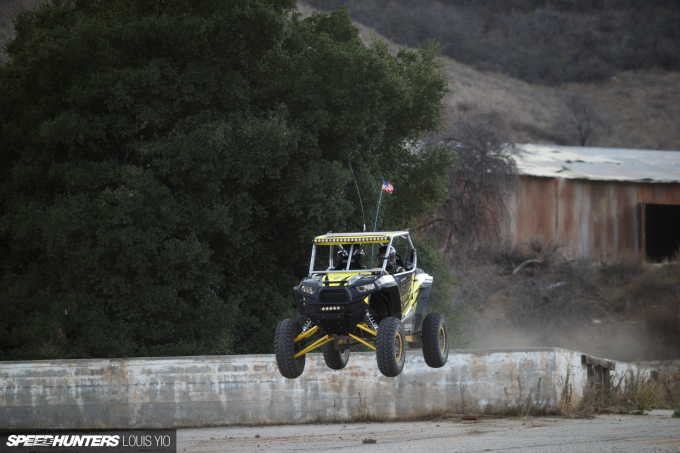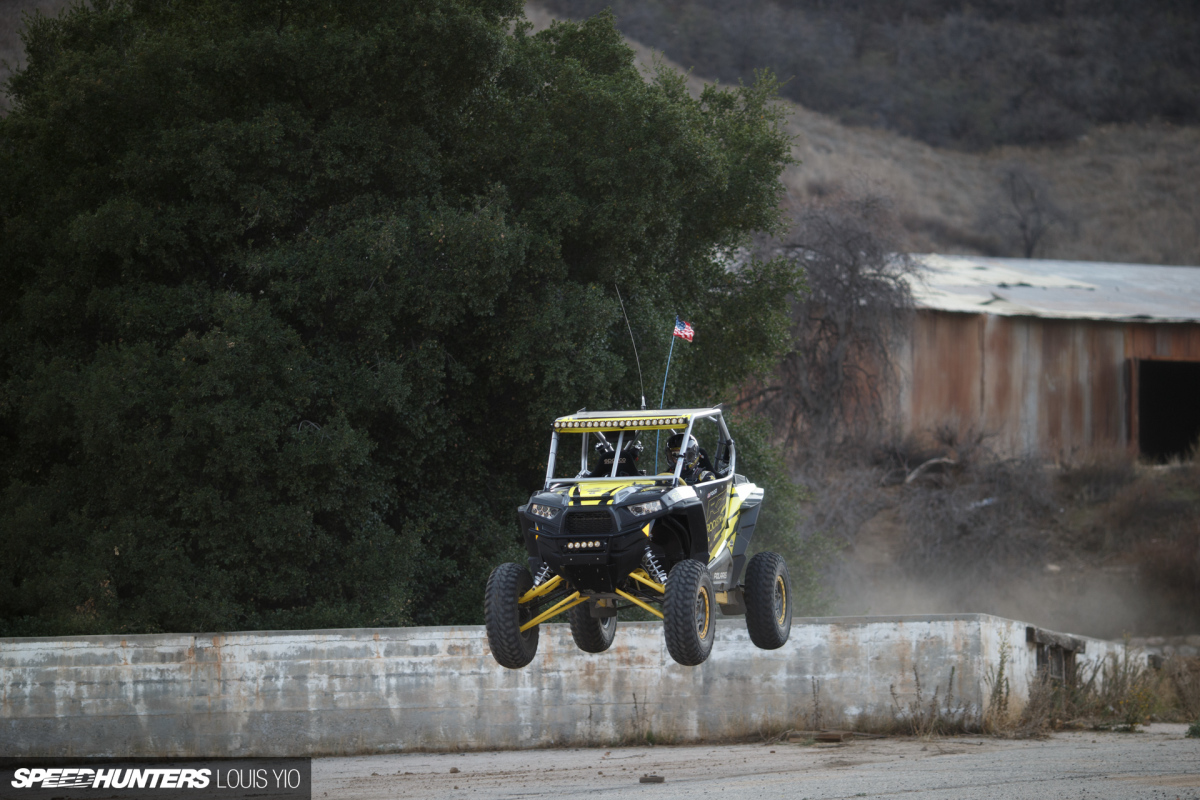 Tanner definitely made use of the RZR's 16-plus inches of suspension travel by flying the thing across jumps and jibbing around the industrial park.
On Track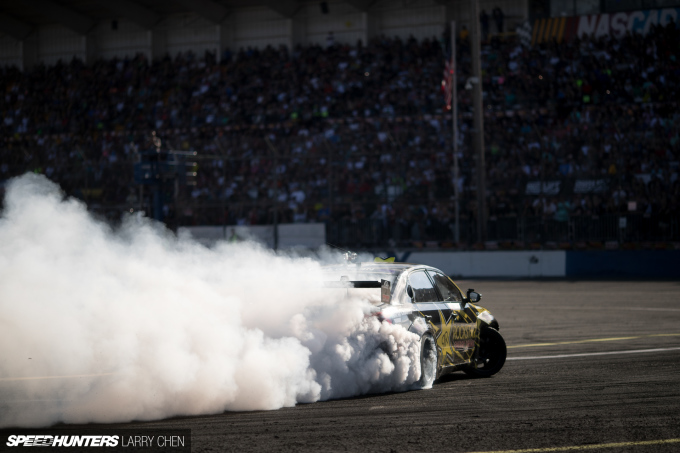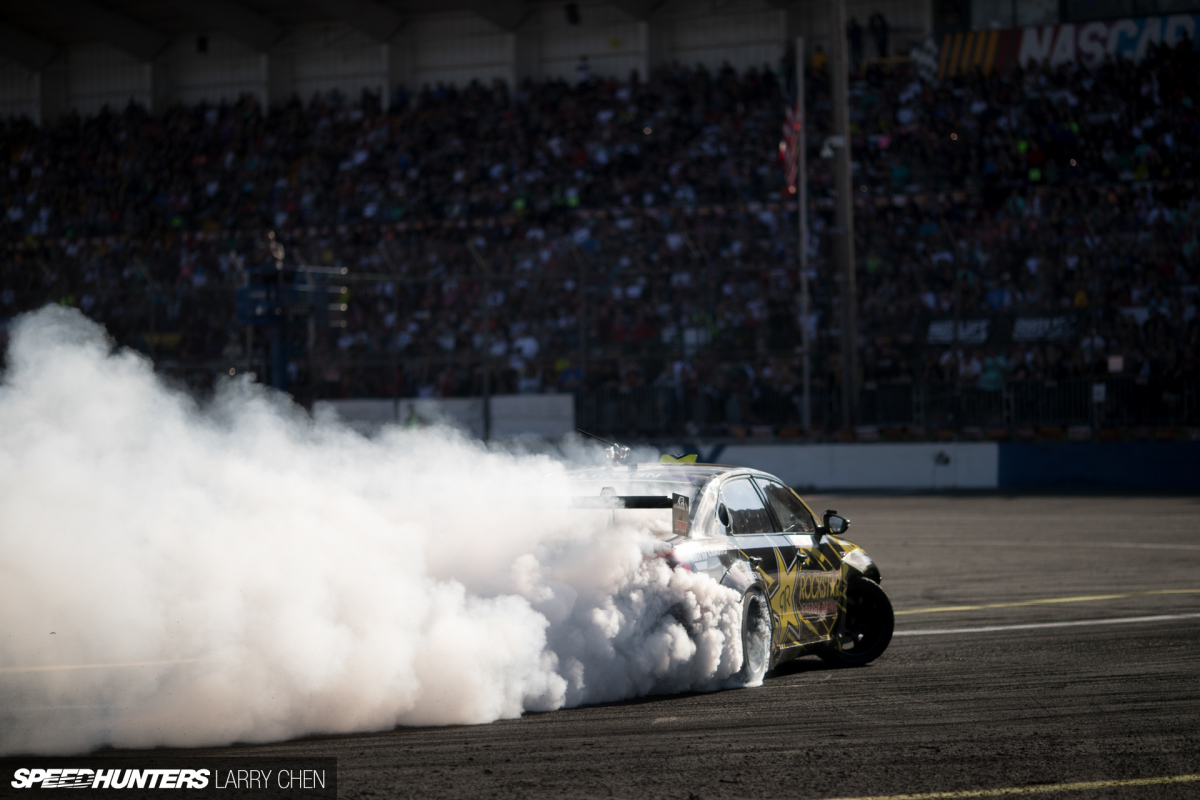 With Tanner's insanely complicated schedule, I'm just glad that he can at least fit in a few Formula Drift rounds.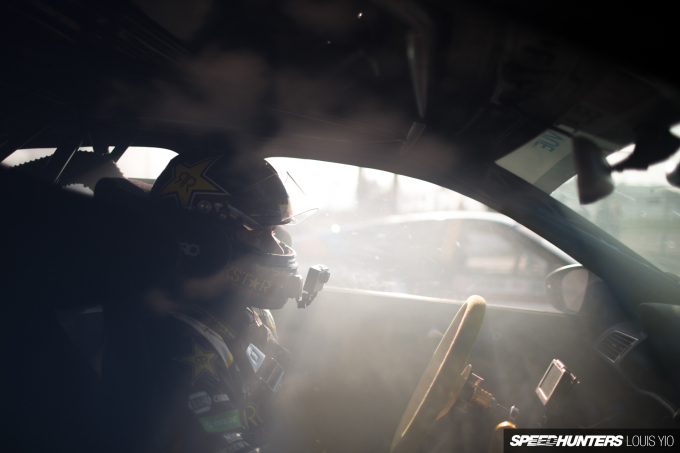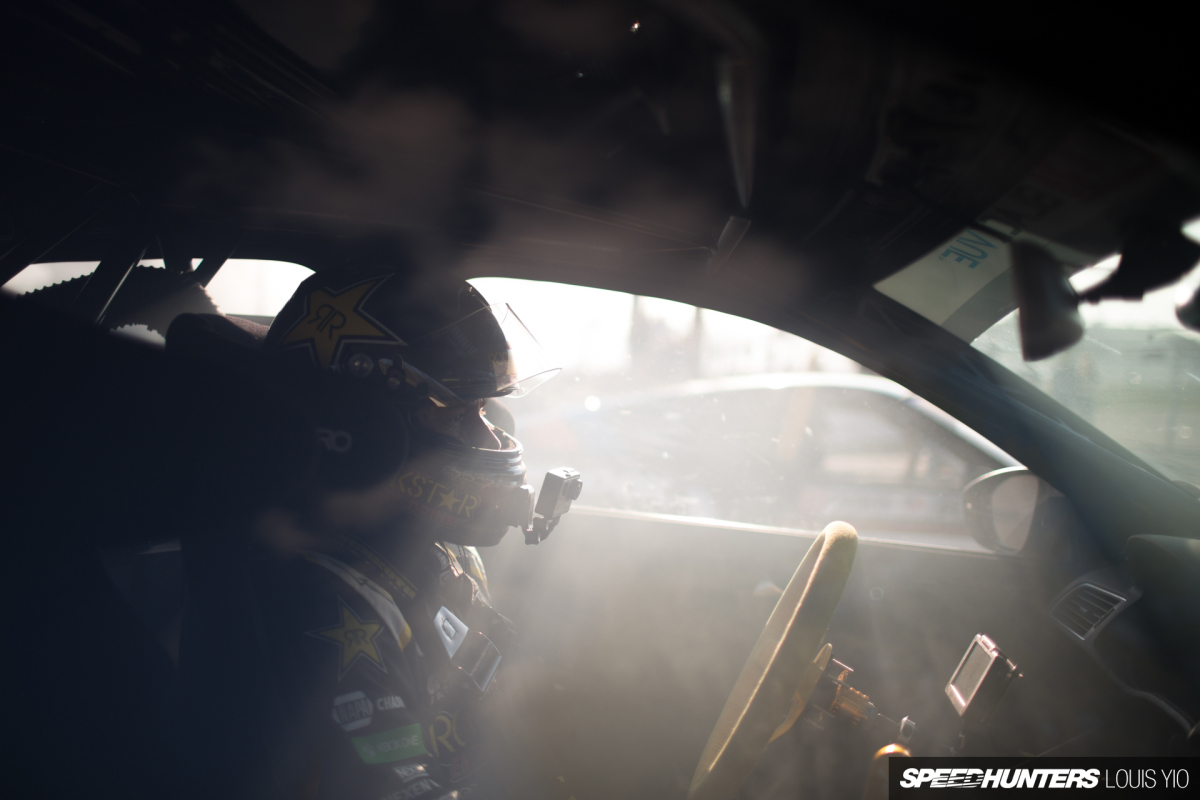 One of the events he made it to in 2016 was FD Seattle, the round where he used the yellow wheel to drive like a boss.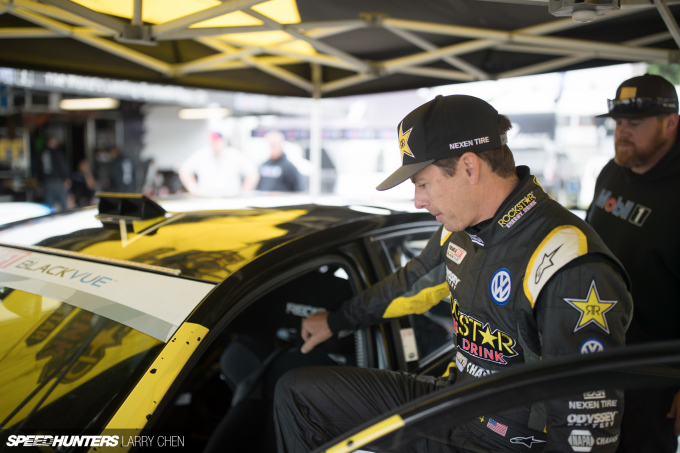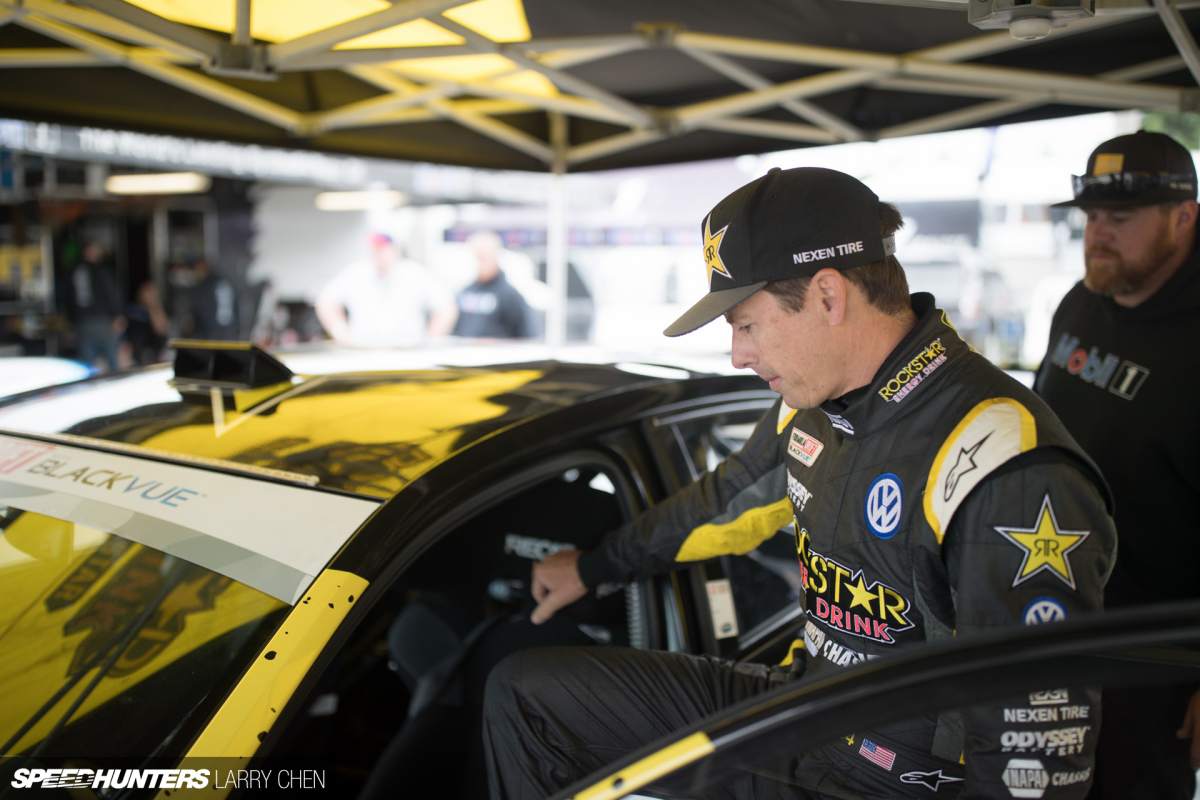 For only being able to compete in three of the eight Pro 1 rounds, Tanner did well to make his way into the Top 8 after defeating JTP and Jhonnattan Castro.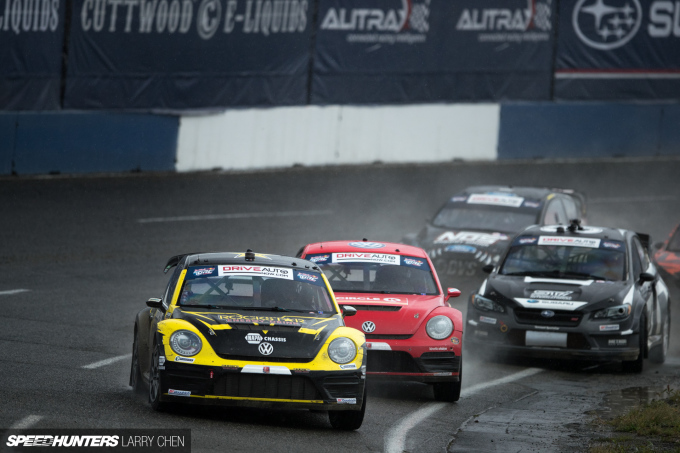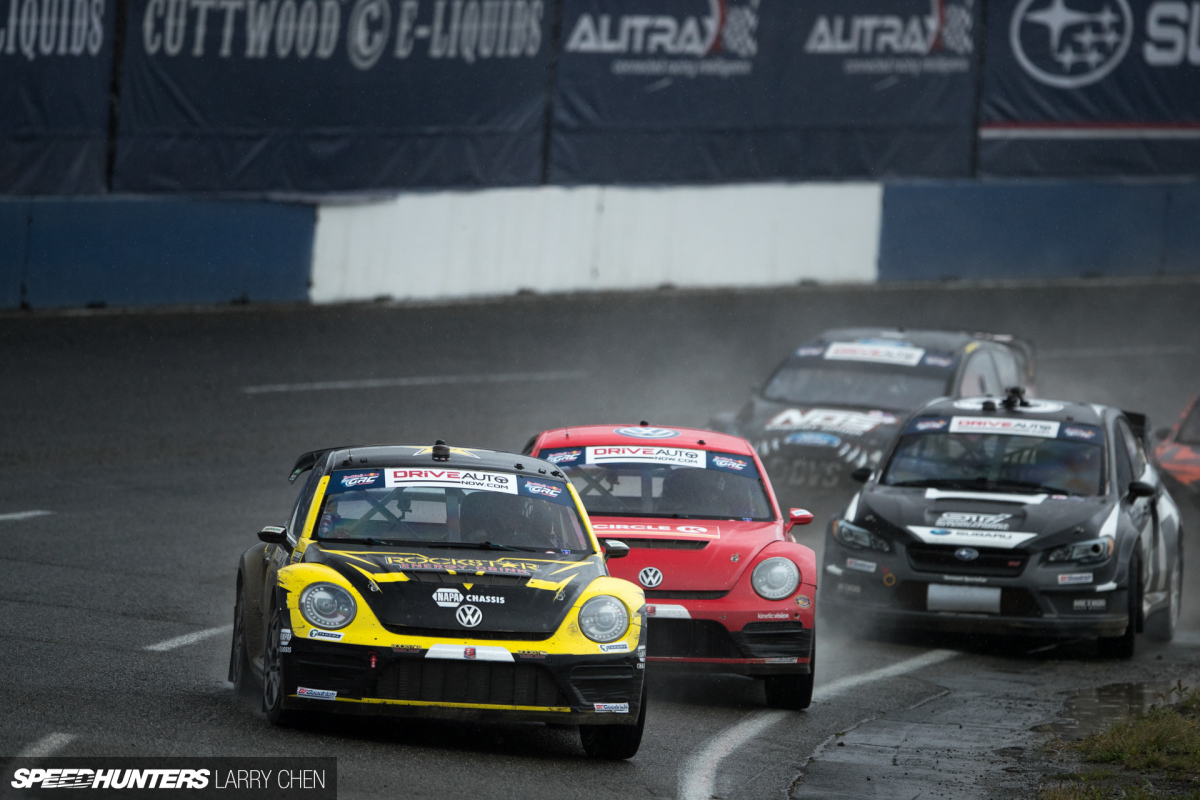 Funny enough, the next time we saw Tanner on track for Quantum Drift was back at Evergreen Speedway, where FD had been just a month and a half prior. This time, he traded his rear-wheel drive Volkswagen for his all-wheel drive Volkswagen and was competing in Global Rallycross.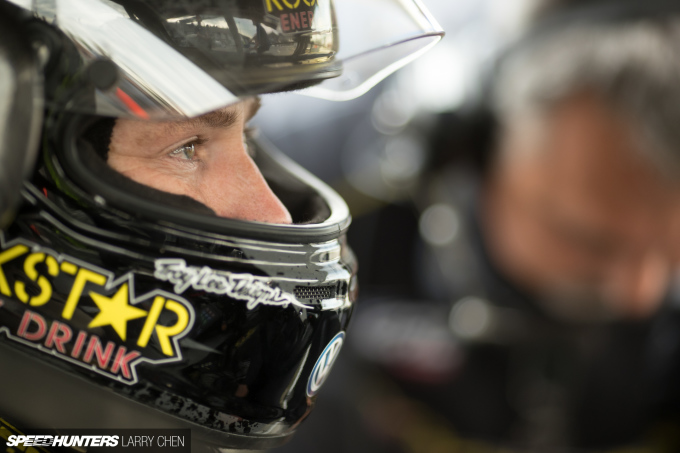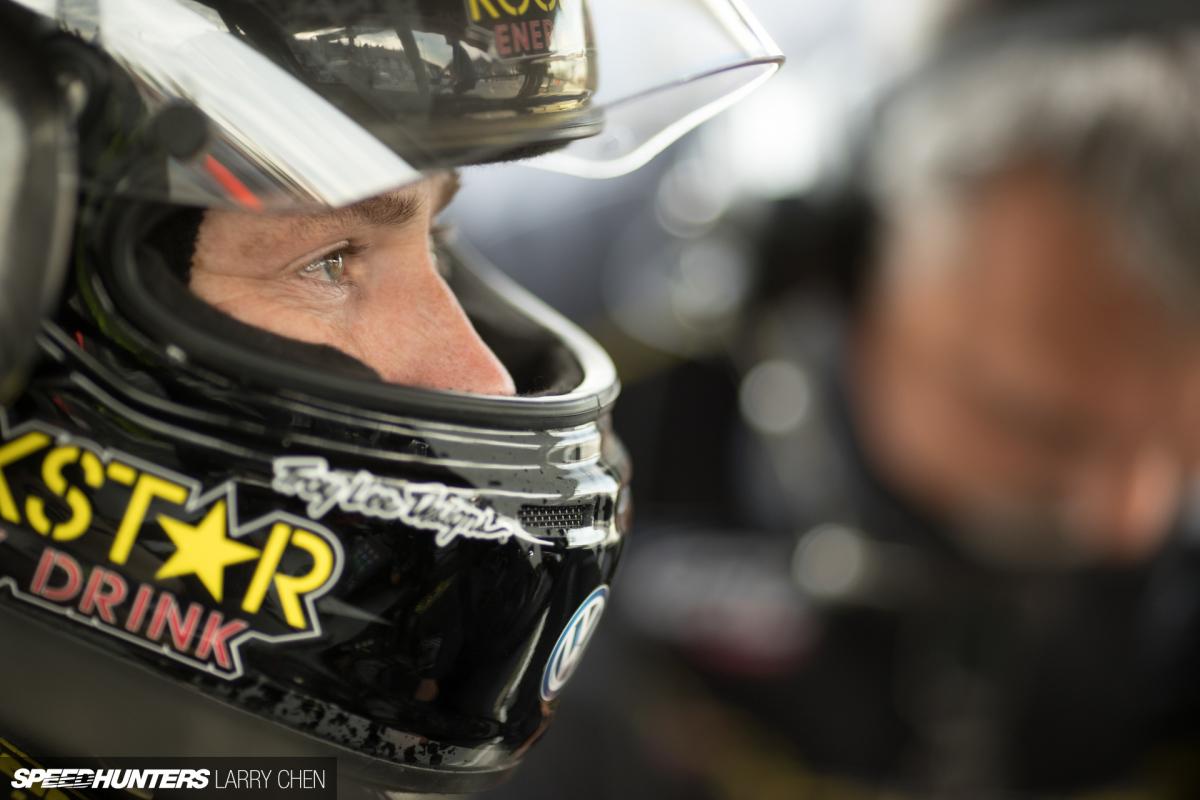 Tanner has been racing on this very track for over 10 years now, so I guess it's safe to say he knows a thing or two about its layout and nuances.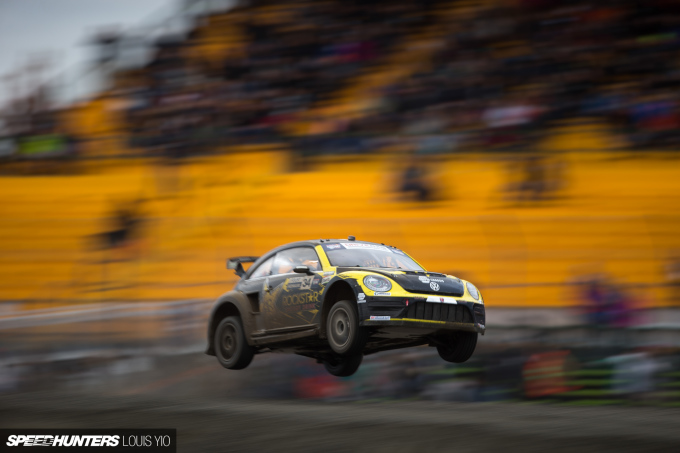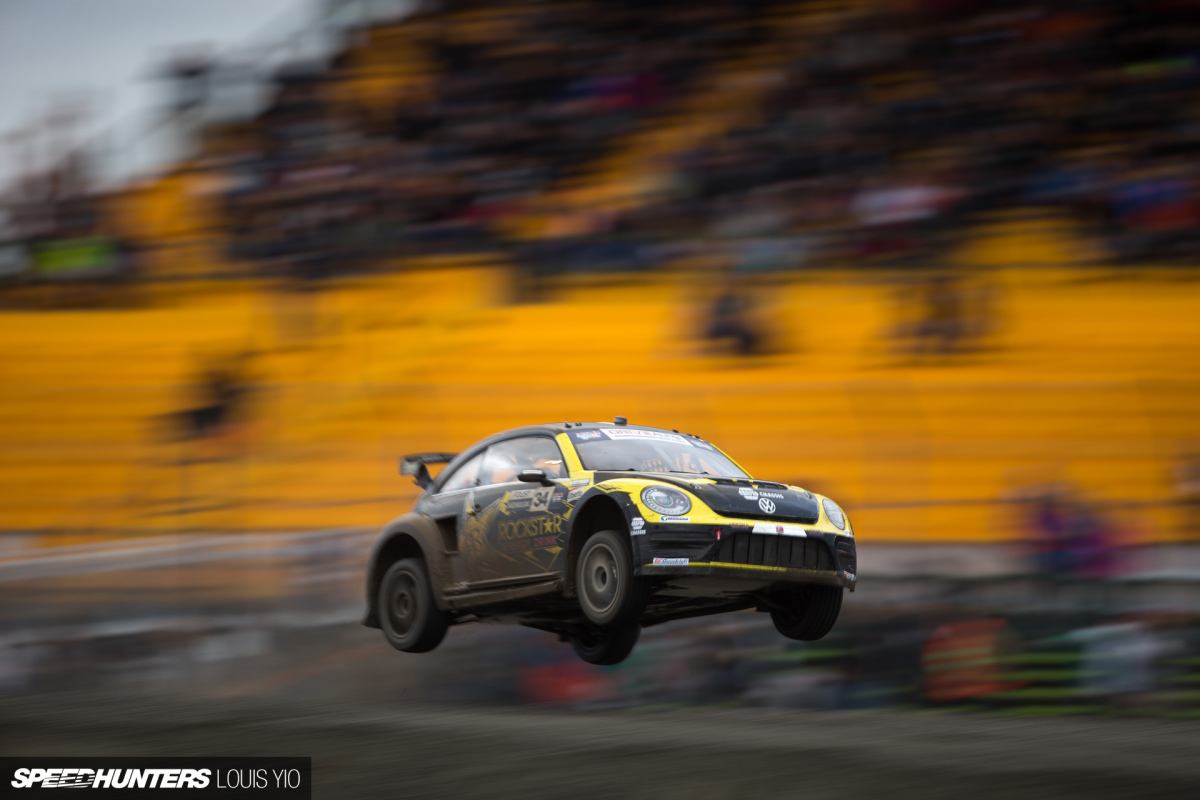 Right from the get-go, Tanner placed high in qualifying and pretty much stayed in 1st spot throughout the heat races.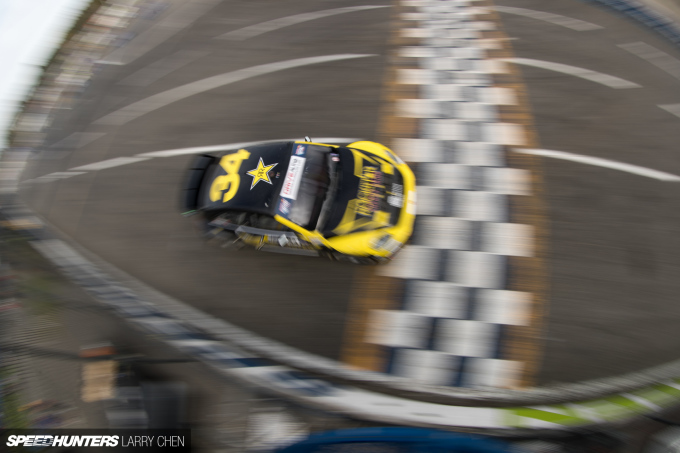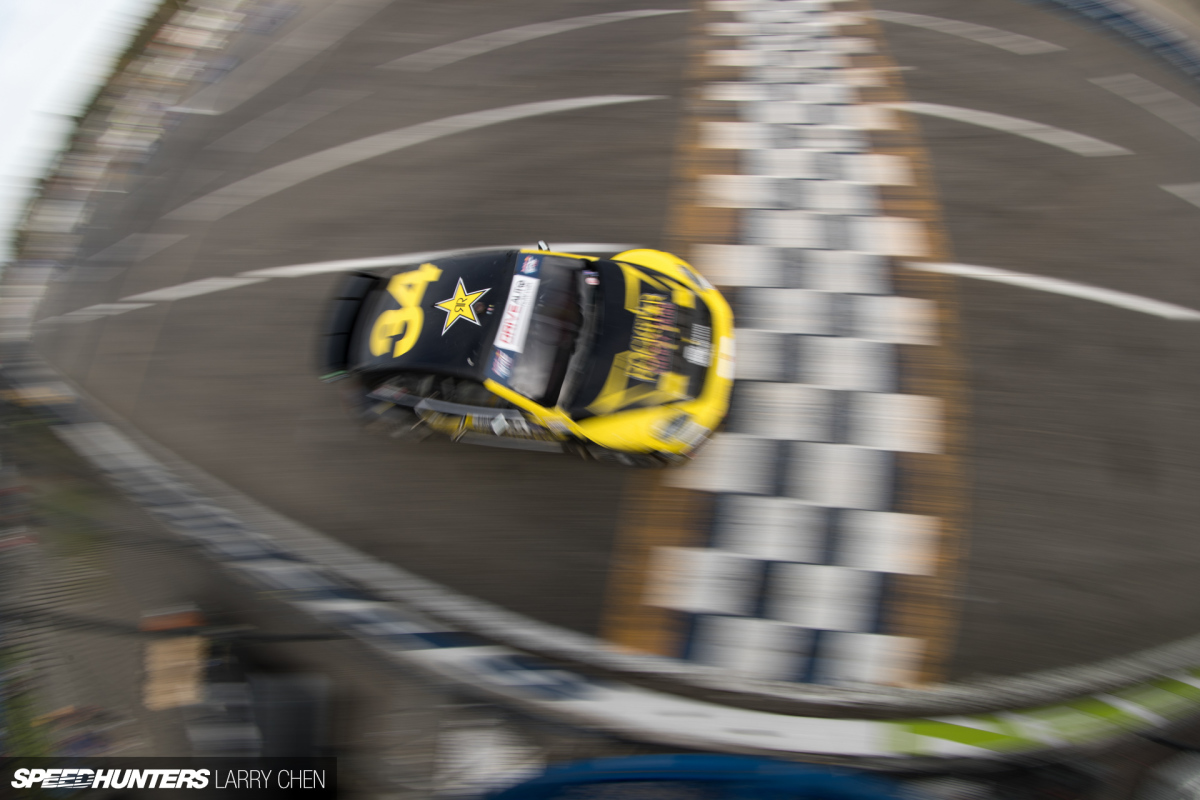 Then he did the most Tanner thing possible and flew to a win at the event.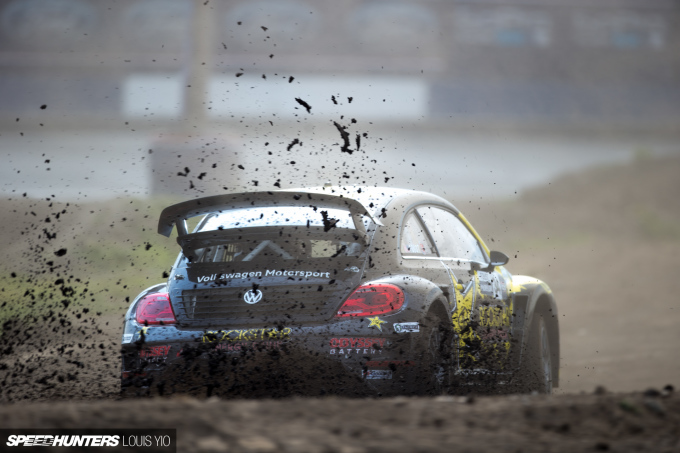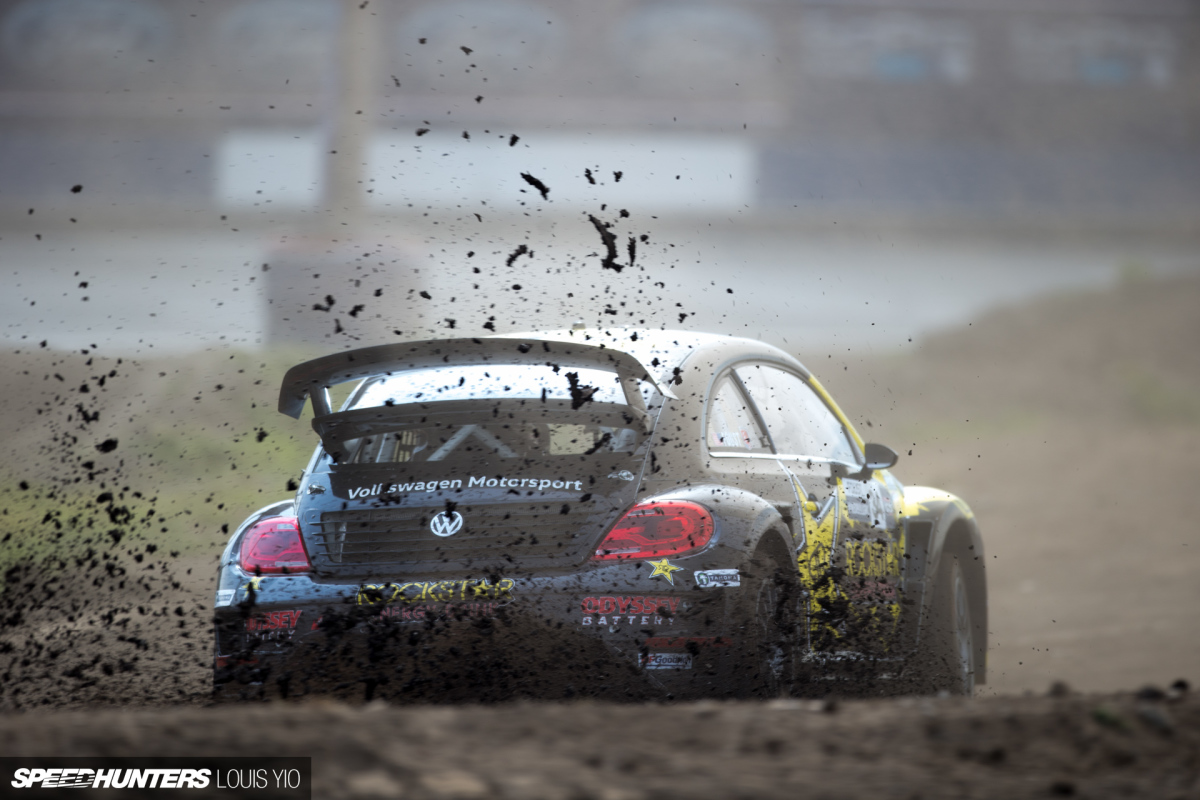 Where else will we see Tanner and his dimensional-shifting steering wheel in the near future? I guess we'll find out as soon as he's unlocked more of the potential that's been hidden away.
Larry Chen
larry@speedhunters.com
Instagram: larry_chen_foto
Louis Yio
louis@speedhunters.com
Instagram: lusciousy
Cutting Room Floor