Over the course of the SEMA week, thousands of new automotive parts and accessories have been officially launched to the industry. One, however, is very close to our hearts: the Renown x Speedhunters 100 Steering Wheel.
This strictly limited edition, hand-finished steering wheel will be available for purchase towards the end of the month, but in the build up to its release we thought we'd have Renown's Scott Woltman share a little bit about himself and everything that went into creating this unique product. Take it away, Scott…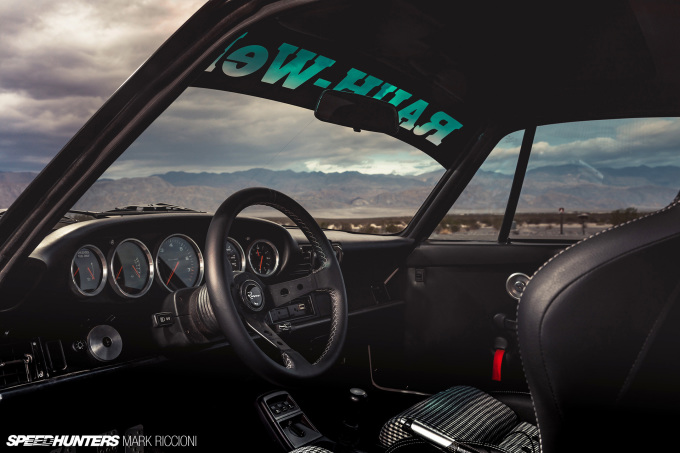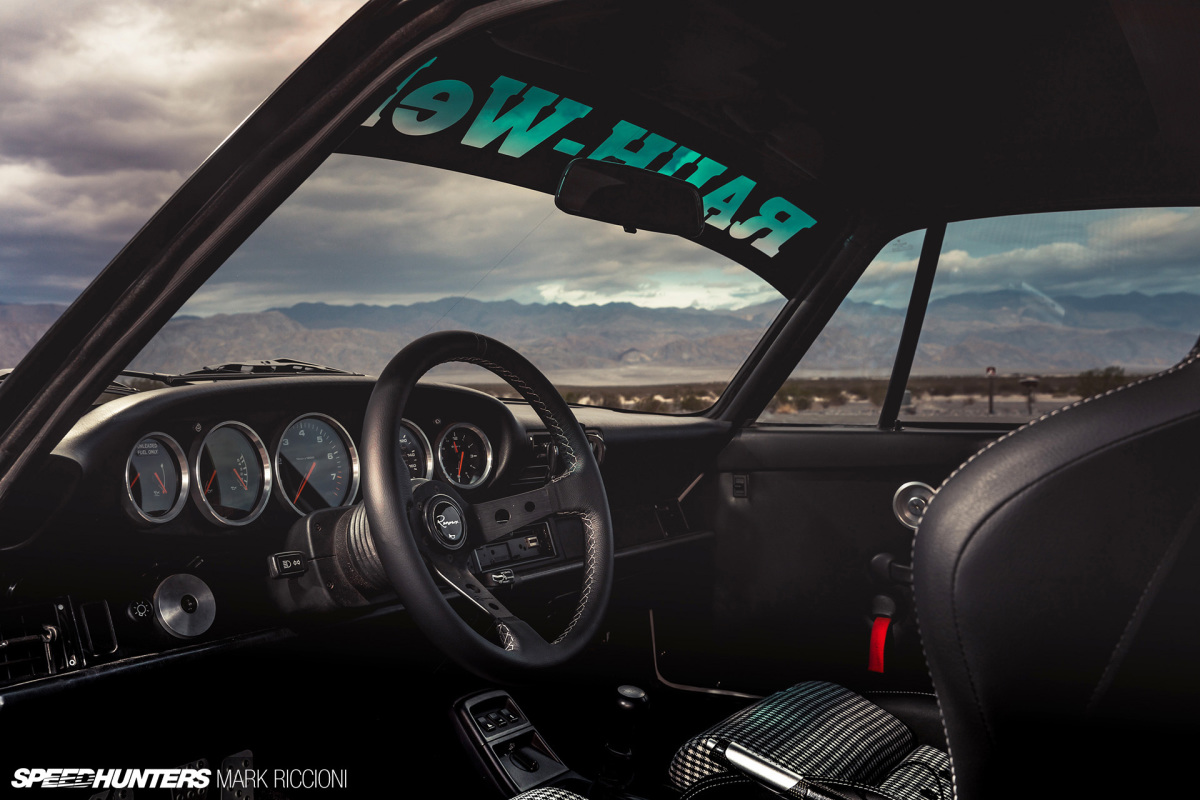 In late September last year, I received an email in the middle of the night from a mysterious person. They explained they were from Speedhunters in Stockholm, had been following Renown and loved what we were doing, and that I should check out the Speedhunters website if I had never heard about them.
My first two thoughts after reading this email was, 1) This is not real, and 2) I am still dreaming? I have been a regular visitor to Speedhunters since it started and it's my favorite way to follow all the incredible machines and events from around the world. To be contacted and receive praise from your hero can be a bit overwhelming, but I quickly realized this was real and that a huge opportunity to collaborate was forthcoming.
Let me back up and tell you about myself and Renown USA. I started Renown in San Francisco at the end of 2014, because I couldn't find the parts I wanted for my cars. I believed there was a niche not being served in the interior of aging classics from the '70s, '80s and '90s. Being a collector of the simple, timeless machines of this magical era of sports cars, I knew first-hand that some of the most wear happens from the driver's seat. I've always been fascinated with steering wheels, and for many of the cars we all love, the original equipment is mundane and aesthetically displeasing. Furthermore, it's definitely not the best choice for spirited driving or driving hard. There was an existing aftermarket offering but it felt generic, outdated and lacking in variety. Instead of a one-size-fits-all approach, I wanted to offer enthusiasts a small number of styles in variations that would match their car perfectly. So my goal was simple: create a brand that would offer products that feel like they belong in the car, have proper aesthetics without begging for attention, and maximize the driving experience. Thus, Renown was born.
We strive ourselves on offering a product that is unparalleled. We spend countless hours in our machines enjoying all the intricacies they have to offer, and that all begins at your fingertips, in your hands, at the steering wheel. Here are some pictures to give you an idea of how our steering wheels are made.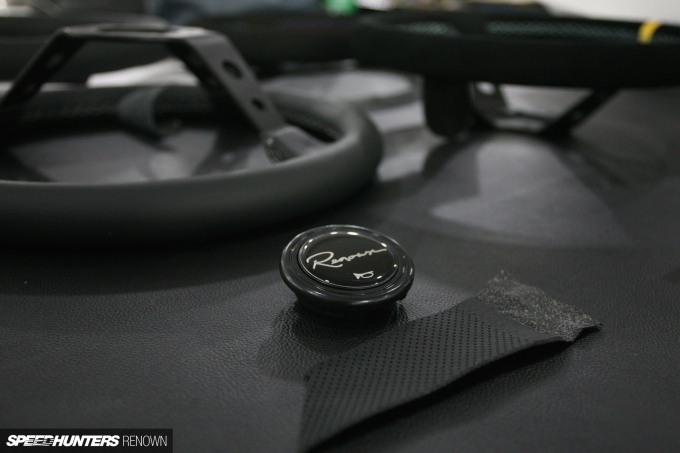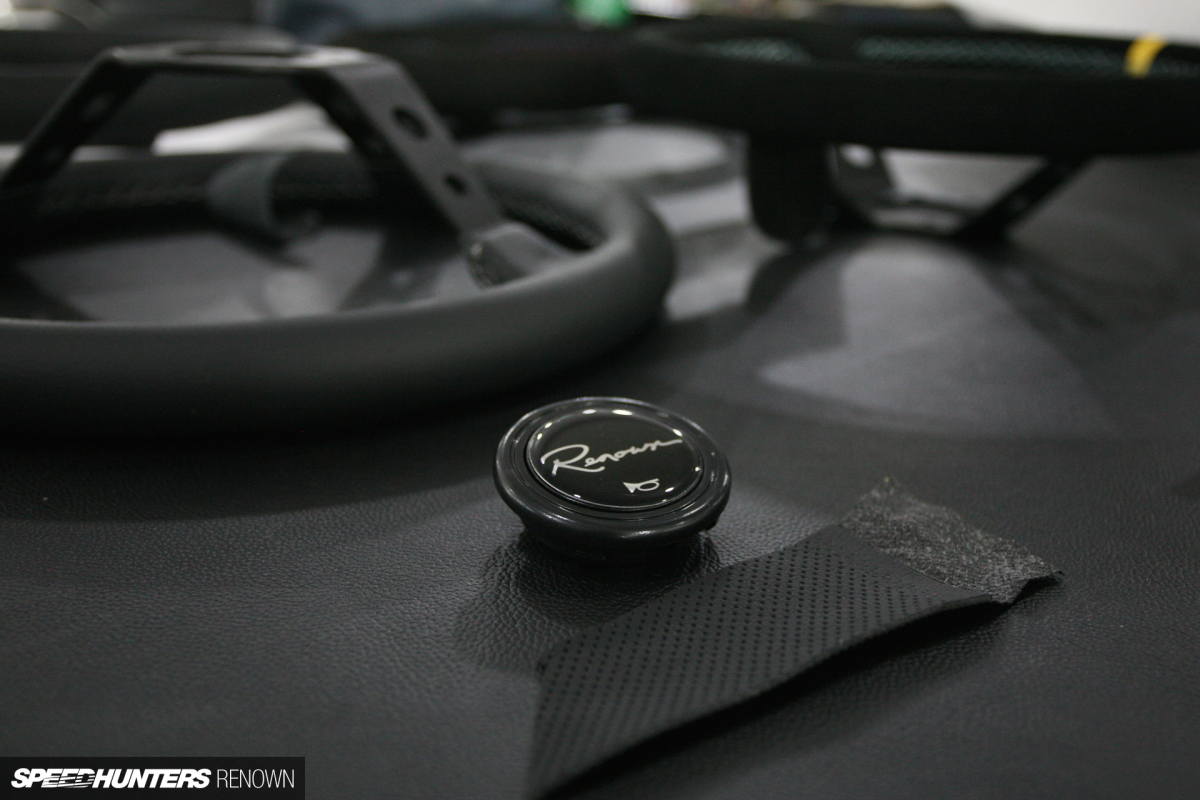 We are constantly evolving our methods and materials to make the products better, stronger, more durable and wear nicely to feel even better the more you use it. We take great pride in offering a personalized experience with everyone who decides to join the Renown family.
To give you a bit of history of my journey with cars, I've loved them my whole life. As a kid, my uncle had an E30 M3, and from the first time sitting in it I was mesmerized. Everything about it was so driver-centric, the dash being angled towards the driver, all of the controls being easy to reach and in the right place, the instantaneous response and the flatness it maintained in the corners. Also, it was very spartan, with just the essentials; everything black. It felt like nothing I had ever been in. My first car was my father's cherished, hand-me-down '87 Supra in metallic brown. While not great in Wisconsin winters, it was still a great GT car nonetheless. To this day, I think the noise of an inline-six is hard to beat. After that I found a clean, one owner, dark gray metallic Nissan S13 240SX, and then one of my dream cars, a Mk2 VW Golf GTI. I've had a dozen Mk2s since, and still have one I love blasting around San Francisco. As I finished college, I got my first E30 and have always kept a few close by ever since. Since moving to California, I've been blessed with being caretaker of many special machines, ranging from my '90s WRC dream car, the GC8 Subaru STI V5, to a few screaming Honda S2000s, and many other old and special BMWs.
But enough about me. After meeting the Speedhunters guys at SEMA 2015, it was clear that we shared the same vision. The best way to give back to the community together would be to develop a unique Renown steering wheel, exclusively for Speedhunters. We quickly got to work in 2016 with concepts, ideas and special elements we wanted to incorporate. One of these elements is combining both the famous Speedhunters logo with the Renown script. Many people ask where the Renown script came from; it is simply my handwriting on a good day. So instead of having too many things on the face of the wheel, which goes against our philosophy of simplicity and discreet elegance, we collectively decided that I would create a Speedhunters script which is engraved on the center spoke of the wheel. Another special feature is the centerline.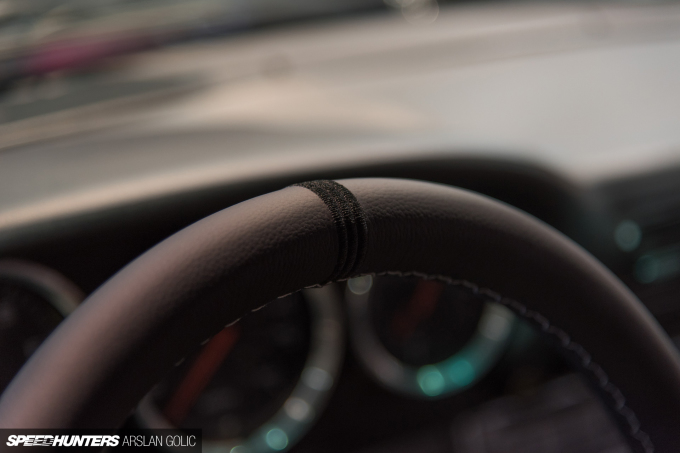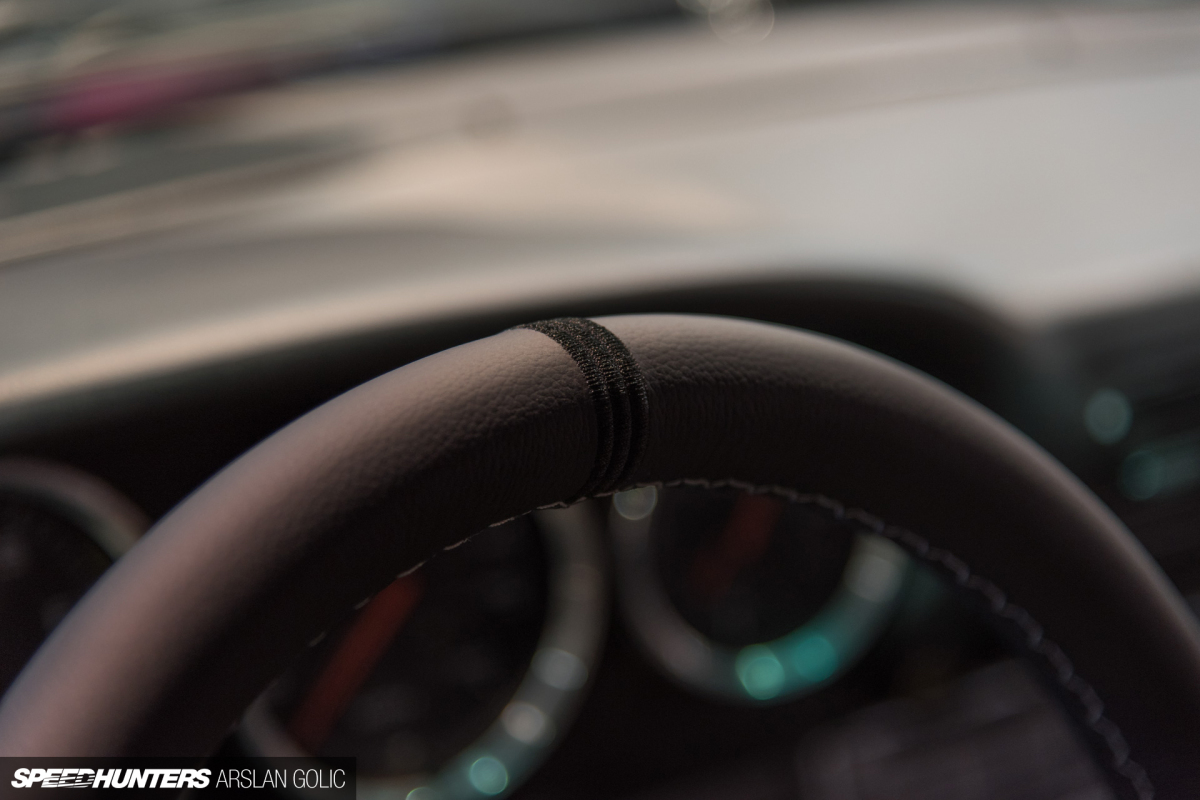 Not wanting to be redundant with anything else on the market or attract any attention with traditional bright colors, we've gone with a sleek centerline in black. So that it's still noticeable for the driver, we chose triple-line embroidery at the 12 o'clock position.
For the stitch colors, we opted for a Renown specialty of using three different colors to create a tricolor weave stitching pattern. An overlying concept for the wheel was to incorporate both our environments of San Francisco and the Speedhunters headquarters in Stockholm, Sweden. So the stitching is silver, gray and black reflecting silver clouds, fog and dark skies.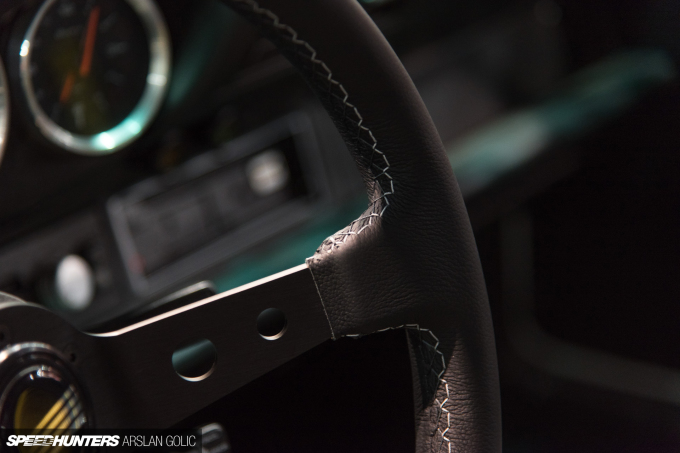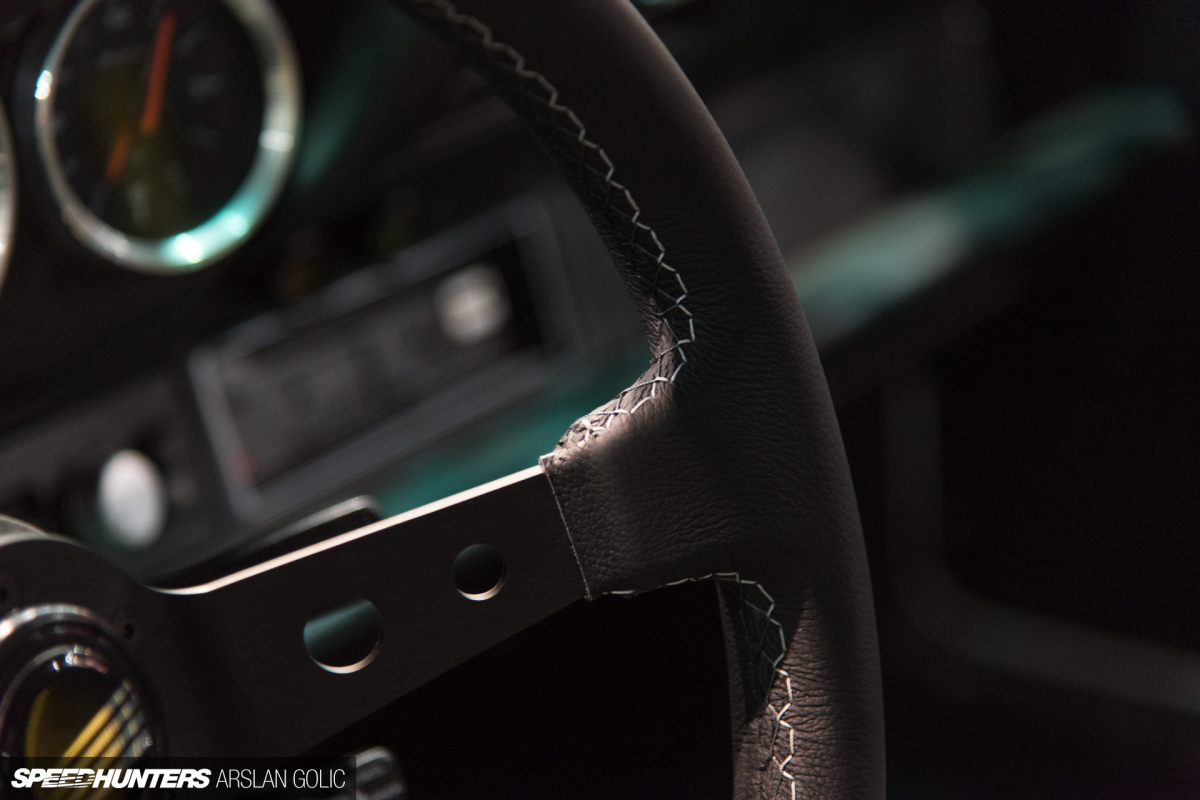 To ensure exclusivity, we have limited the number to 100 numbered steering wheels in 100mm depth, 350mm diameter, all in genuine leather. Creating a new wheel with so many unique design cues takes time, so it has been a goal to show the world our new wheel at SEMA 2016 in Las Vegas.
As mentioned earlier, the Renown x Speedhunters 100 Steering Wheel will go on sale at the end of November, so keep an eye out here for the exact release date. In the meantime, you can keep up to date with my Speedhunting adventures via Renown's Instagram; I look forward to sharing more stories of the amazing people and machines of San Francisco, California, and all across the world with you.
Scott Woltman
www.renownusa.com