Is Being A Speedhunter Hereditary?
Hello fellow Speedhunters, my name is Daniel Covarrubias and I'm a 22-year-old adrenaline-seeking enthusiast who is striving to make building and driving a career. I would like to express a great amount of gratitude towards Speedhunters for bringing me on board as a build partner for 2016. This is definitely one of those moments in life that's made me realize opportunities are usually disguised as hard work. I will be shooting my journey during this process as I am a photographer at heart. Photography is what I live for when I am not behind the wheel, designing, attending shows or planning my next steps.
I must admit, if it wasn't for Keith Charvonia, I am not sure if you would be reading this today. Keith and I were familiar with each other's 86 builds, and as a result we became acquaintances via social networks. I kept in contact with Keith throughout my 86 build, and as I was getting closer to finishing it, I contacted Keith once more. Our last discussion consisted of my plans for 2016, which resulted in him introducing Speedhunters' Managing Director Rob Bullough and I, sparking off a chain of events that would lead to me joining in partnership with Speedhunters. Since then it's been my job to live up to the expectation of what it means to be a Speedhunter… Hopefully there is enough downforce within these images of the 86's GT wing to keep your eyes fastened during this introduction.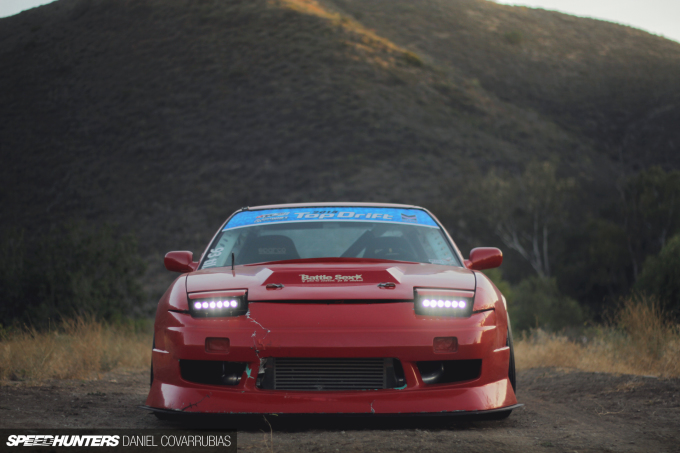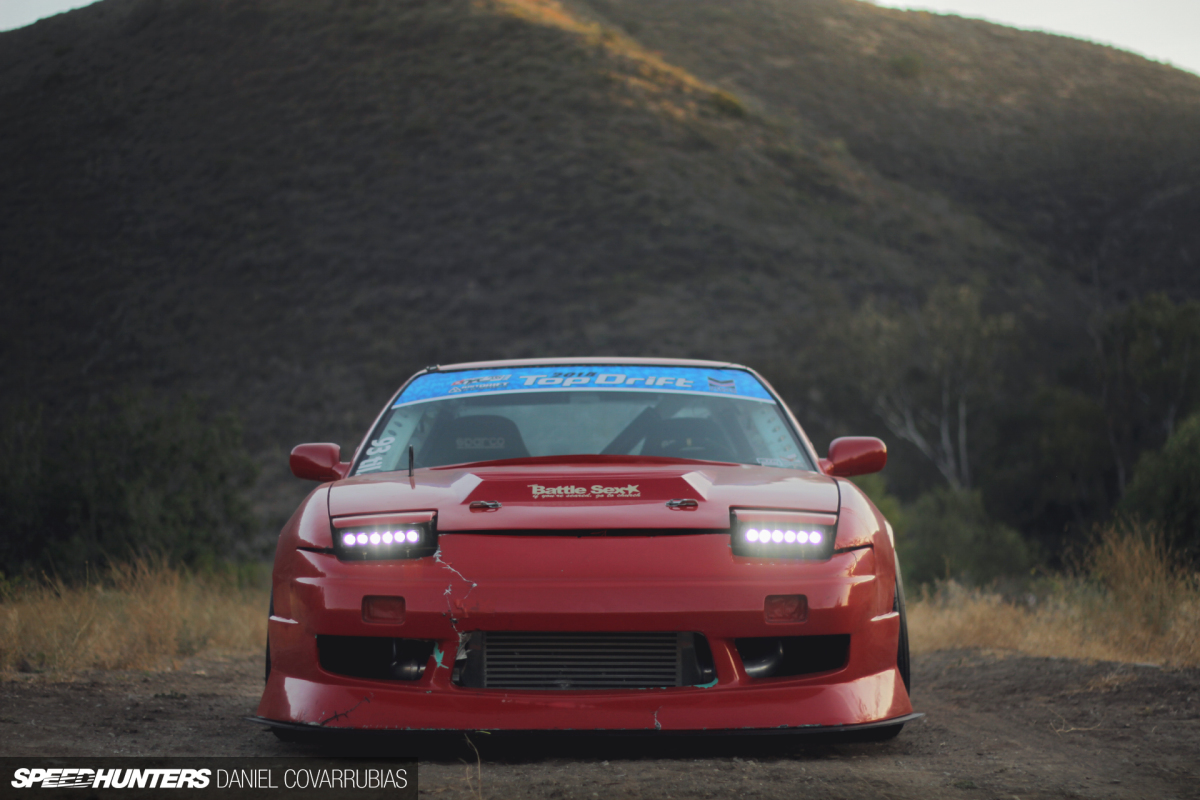 First, a little backstory. Due to the fact I reside in Southern California and in a city that seems to have competitions on who can go to sleep first on a nightly basis, this missile of a 240SX probably should not have been my first car. Driving with a 325hp SR20, 2-way LSD and an ASD hydro e-brake to work is no fun – cough, cough – at all.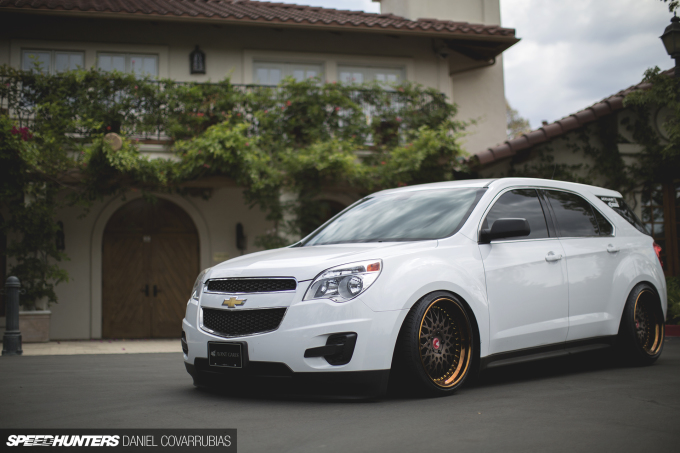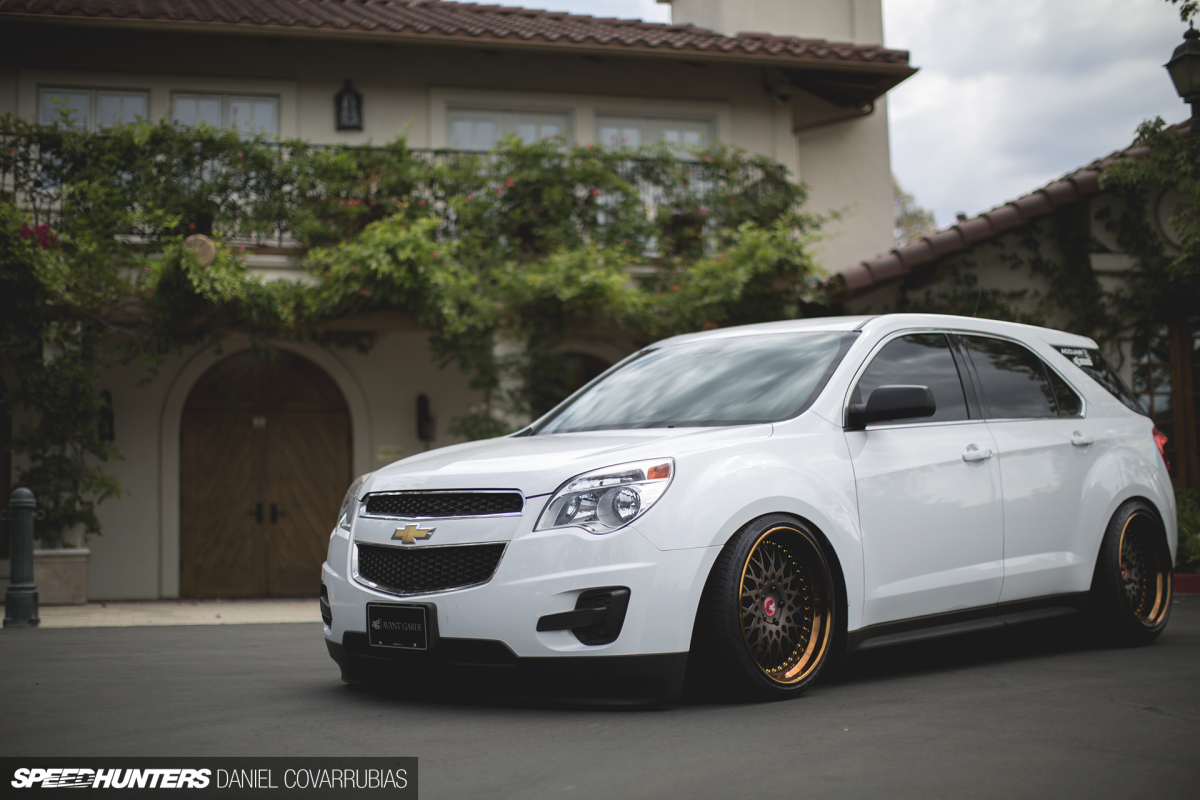 Then, there was this. I'm sure many of you are wondering why this 2012 Chevy Equinox was built, but there's a story behind it. My mom was such a passionate and determined woman who made sure 'giving up' was never a part of her vocabulary. She was an independent woman who rode superbikes in high school and asked my dad to marry her. In my eyes, that's pretty badass. She was also quite an adrenaline junkie herself. Is being a Speedhunter hereditary? I guess only time will tell…
My mom passed away February 28th, 2014, from terminal cancer. She was 42 years old. This build is representing my mom; this was her car. Months down the road I walked outside one morning and asked myself, 'How am I going to keep her spirit alive?' I instantly realized what I had to do: build my mom's Equinox and tour it with her story. Just remember, every struggle in life has shaped you into the person you are today.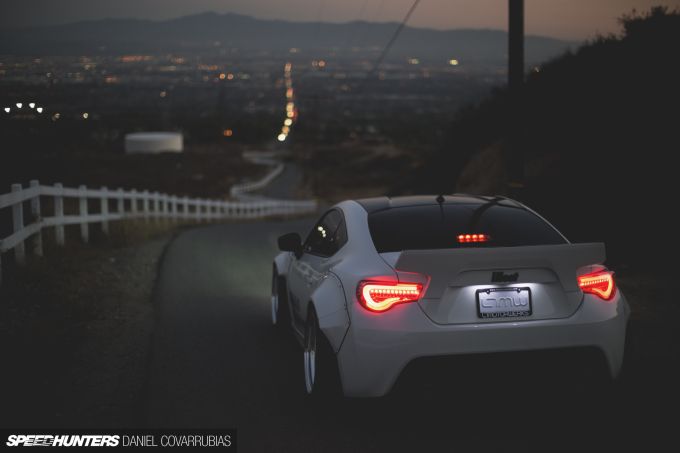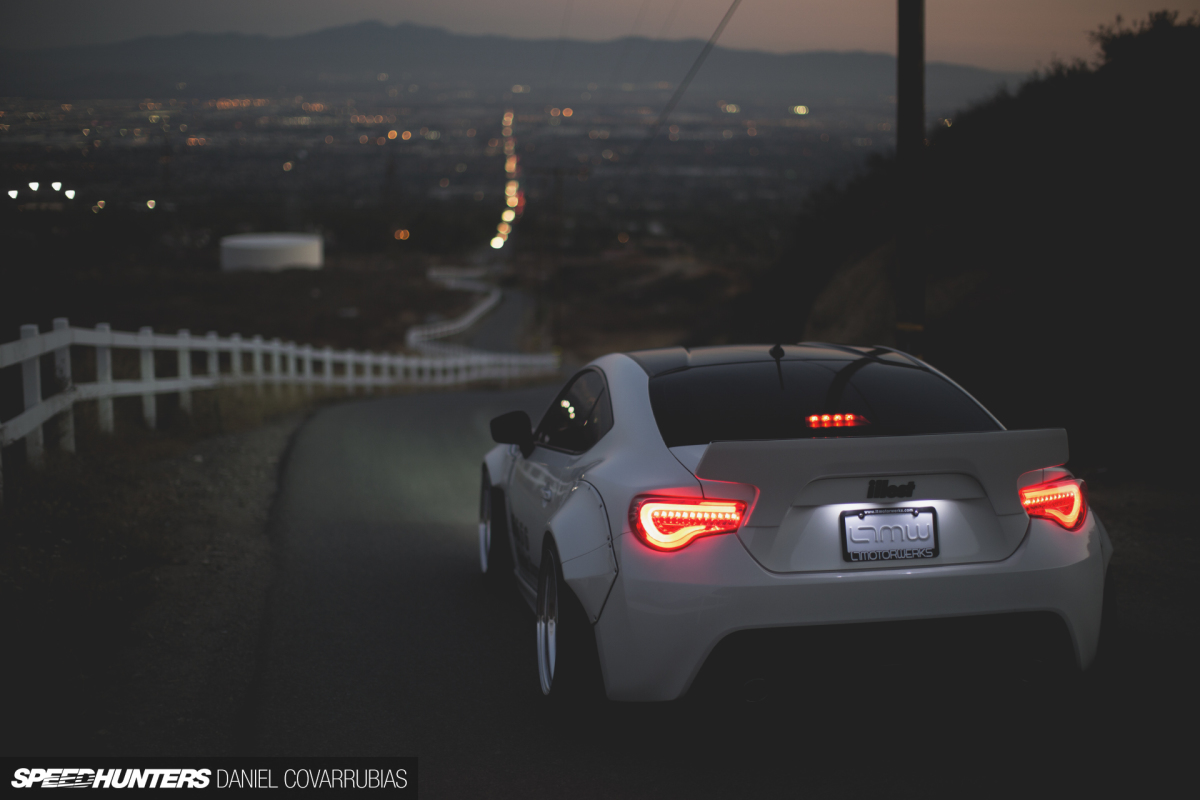 Having started taking my 240SX to Just Drift events, by mid-2014 I was in search of another project. I happened to shoot this fine 86 shortly after it was built by LTMW, and noticed it was up for sale with only 5,000 miles on clock. Following the shoot I had quite a contemplative drive home asking myself; 'Is she the one?' It was probably the same emotions your dad had when he first saw Pamela Anderson running along the beach in the introduction to Baywatch.
She Was The One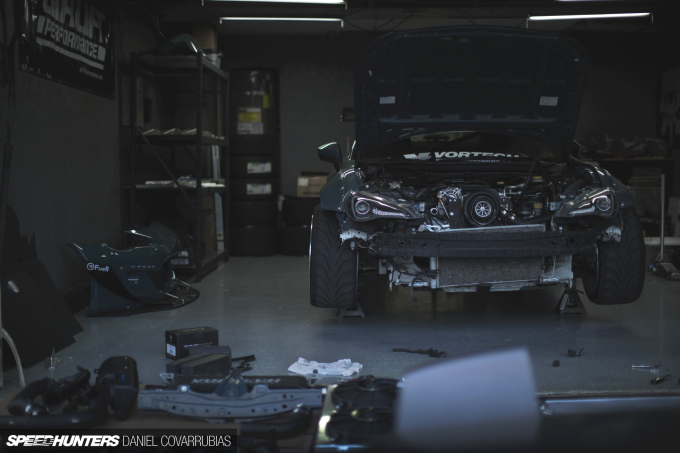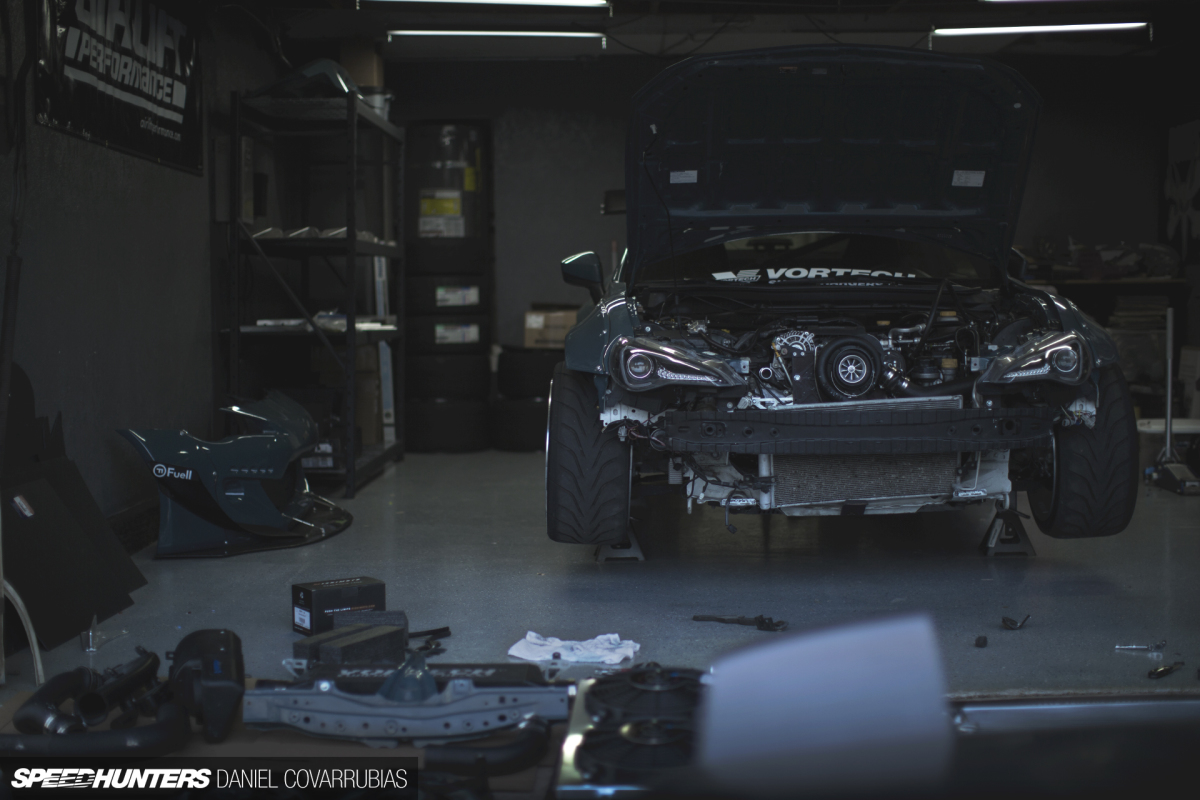 Most jump to a conclusion that this build (most builds, really) was a financial mistake, but in reality this has been one of my most rewarding investments to date. Shortly after bringing the FR-S home, I knew it was time to create a monster. We began this process by adding Vortech Engineering's V-1 supercharger – an oil-fed unit that contains HD high-speed ball bearings ideal for race applications, and utilizes precision ground gears to drive its impeller.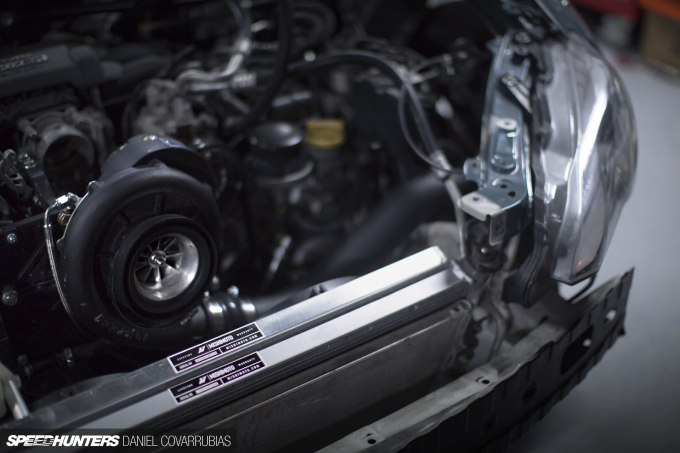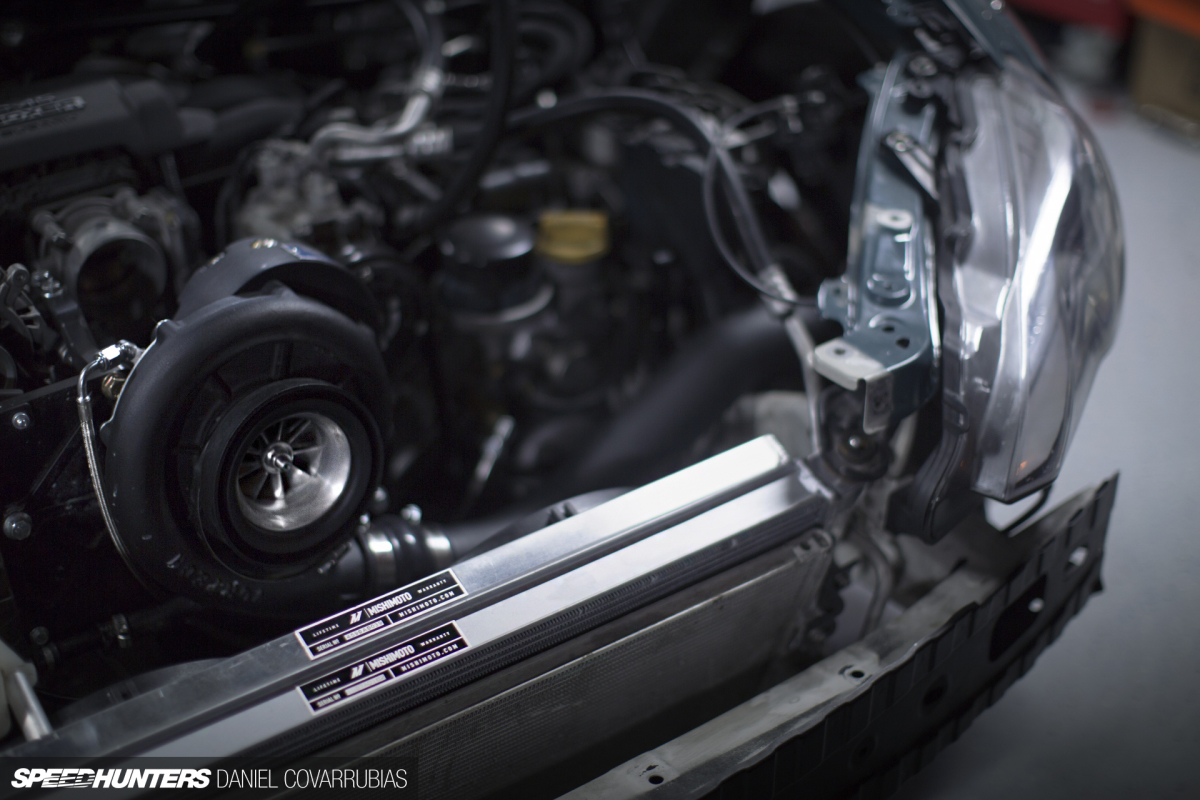 The driving experience and linear power curve my V-1 supercharger provides is just below surreal. This is all made possible by Jim Middlebrook and the engineers at Vortech Engineering.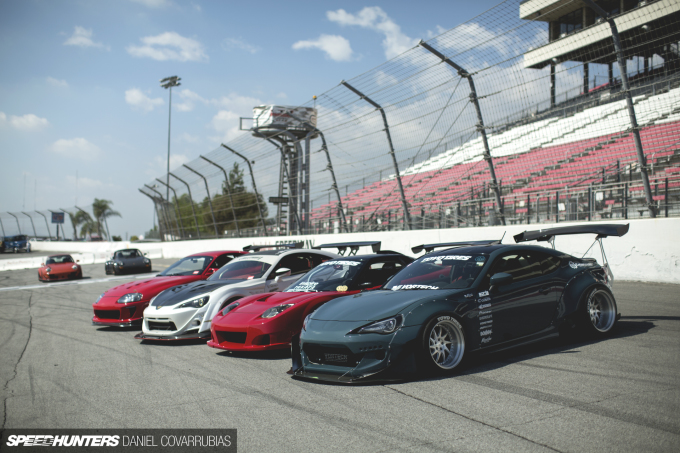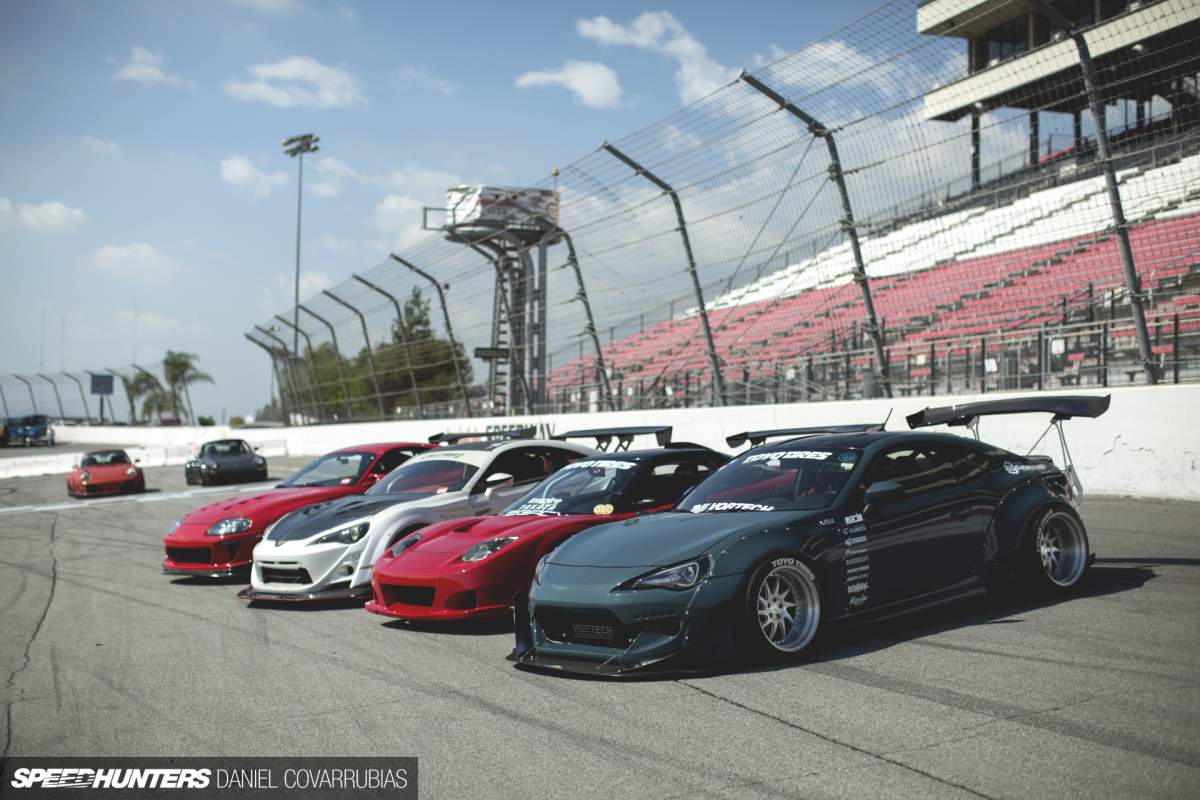 The 86 sits on Air Lift Performance's all-new 3H system. Air Lift's shocks/struts have 30 levels of dampening adjustment and high performance mono-ball upper mounts with camber adjustment. Air suspension has come a long way in the last few years, and the 3H system is a perfect representation of that.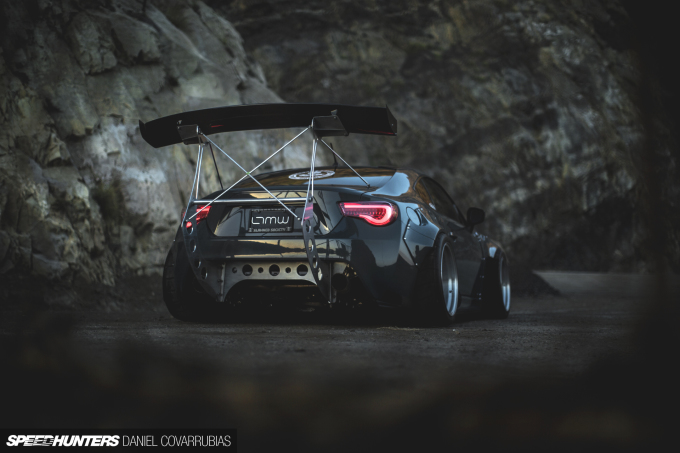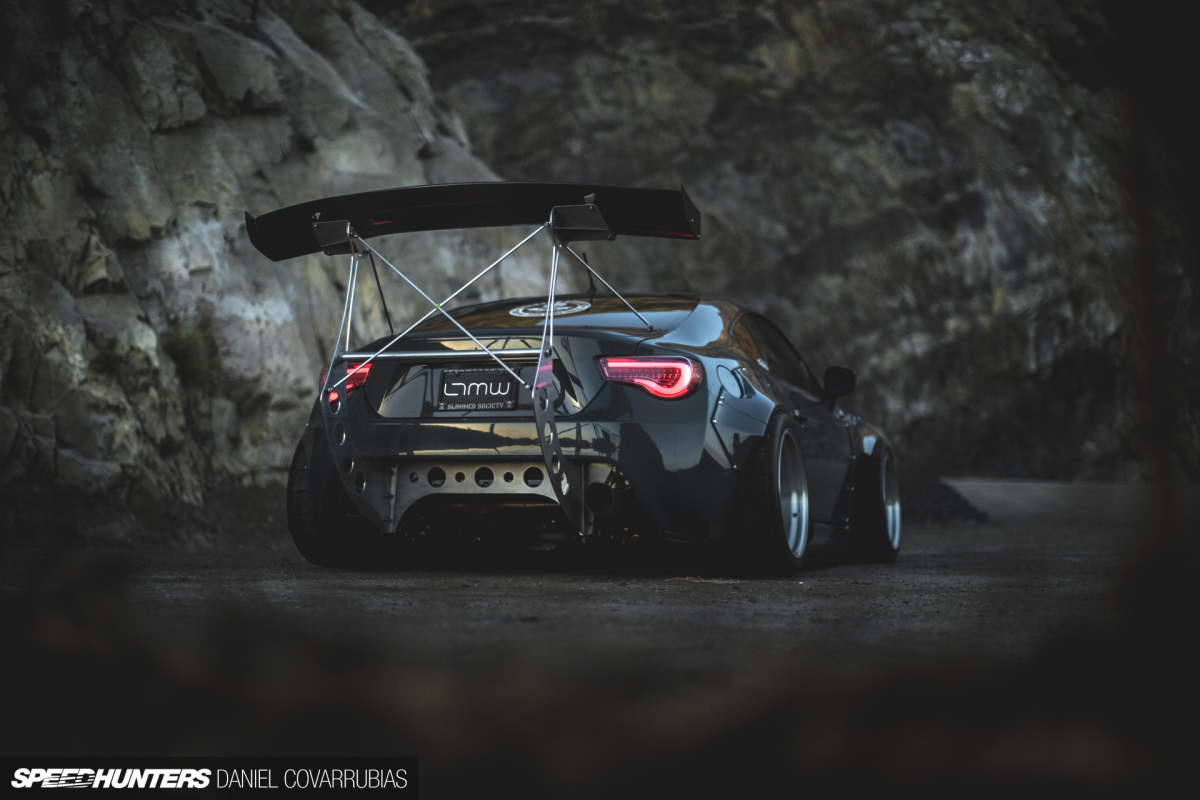 Still contemplating whether this eyesore of a GT wing is a children's jungle gym or not? Well, let's just say I am a very curious individual that does not want to wish I 'woulda, coulda, shoulda…' If you never try, you'll never know. I may have encountered a blessing in disguise while I was driving on the freeway back home from an 86 event in Arizona several months ago. It was then that I heard an abrupt accumulation of cracking, pulling and finally scraping. I then glanced into my rear-view mirror to see my Rocket Bunny rear diffuser dragging on the freeway at 65mph while still connected by my reverse light power wire. By the time I was able to pull over all I had left was a half-devoured reverse light. I have always been a fan of GT wings, so I decided to attack this vision I had with full force. Possibly a bit too much…
People would ask what kind of shape this wing would take, and I would find myself using the same hand motions over and over again. I then took this continuous hand motion shape I'd been describing and sketched it on a sheet of graph paper. Being satisfied with the look, I then made a prototype from Styrofoam. Once the numbers were crunched, I went to a buddy of mine with a CNC machine who took those numbers and produced the first version of my ZN6 GT wing.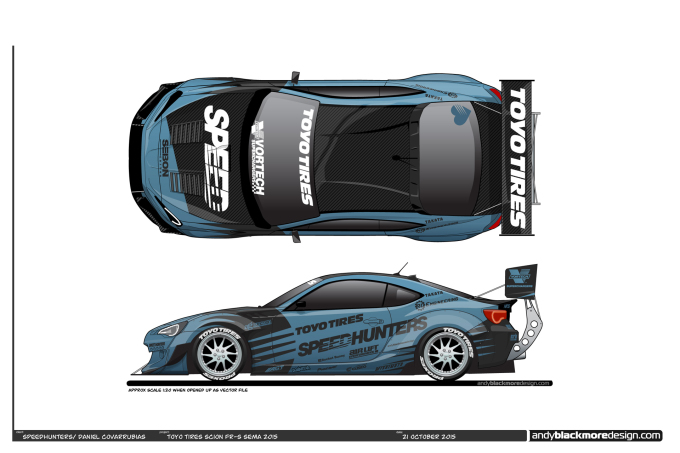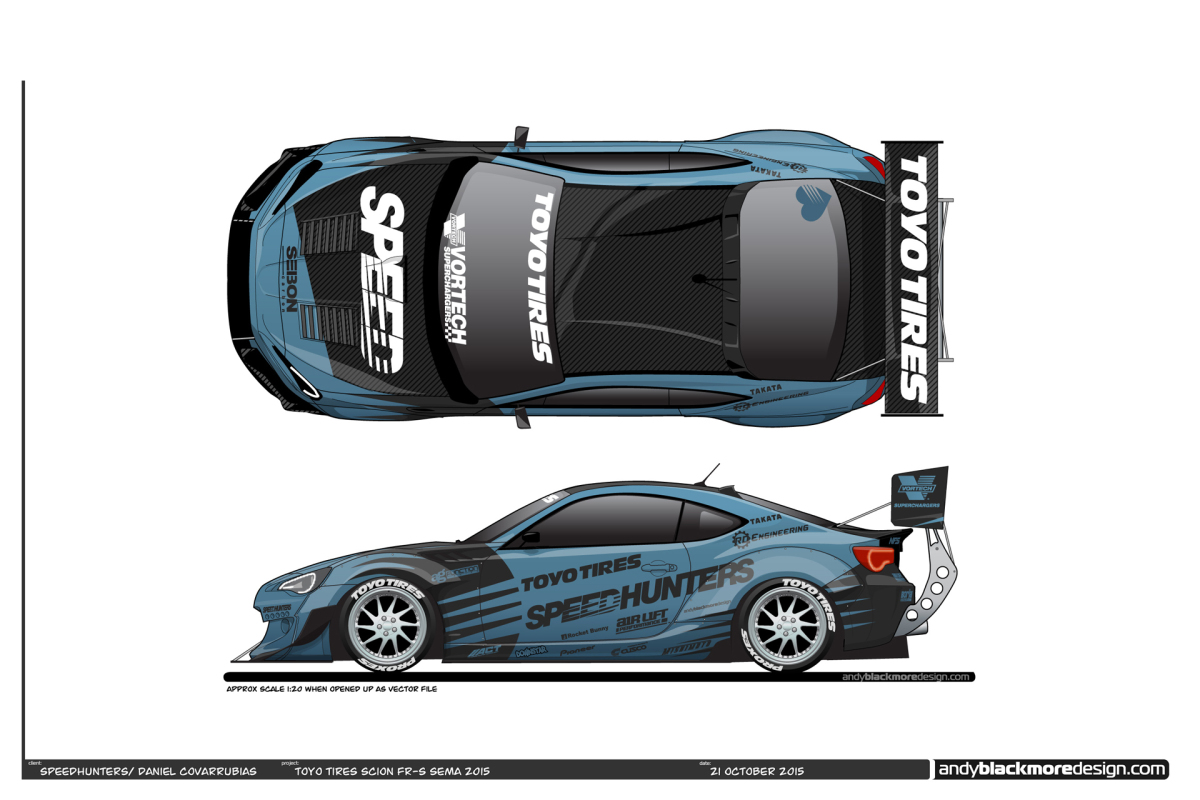 I must say, partnering up with Speedhunters and Andy Blackmore on my livery designs for 2016 was no less than a dream come true. I discovered Andy's work in 2009; I was 16 years old and wanted nothing more than his designs on my future builds.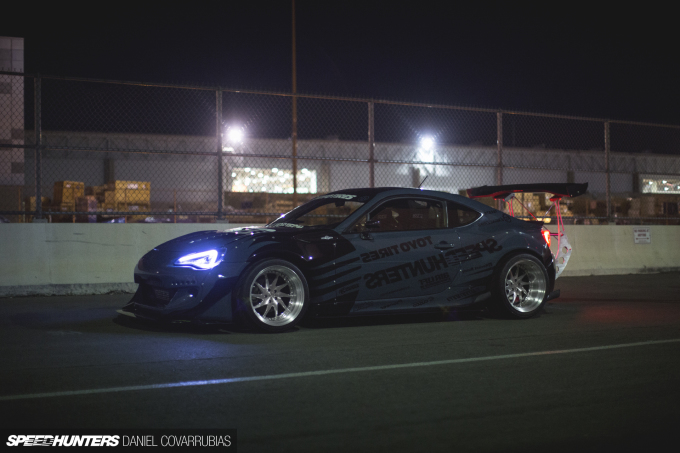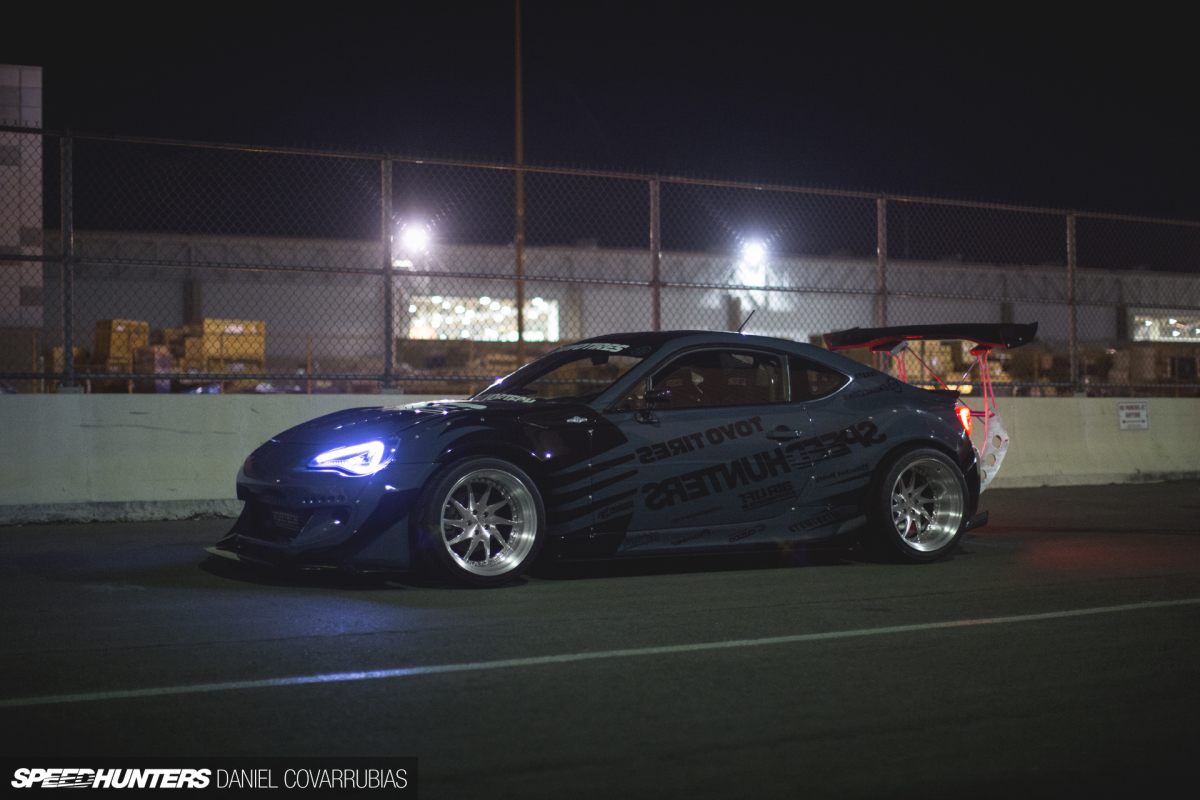 Here we are six years later. We finished two projects and I am sure there will be plenty more to come.
The Hustle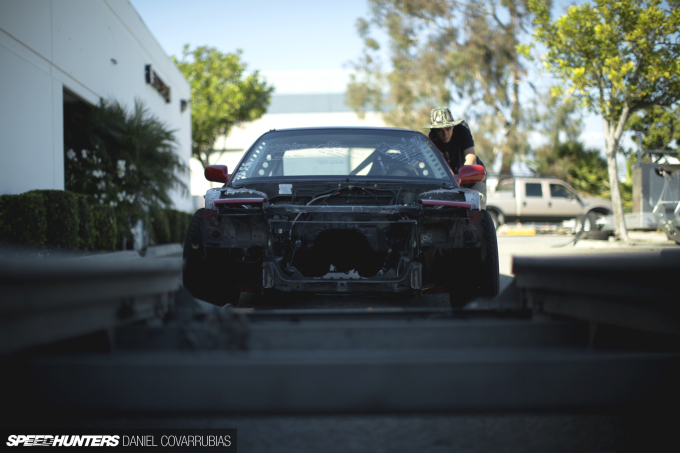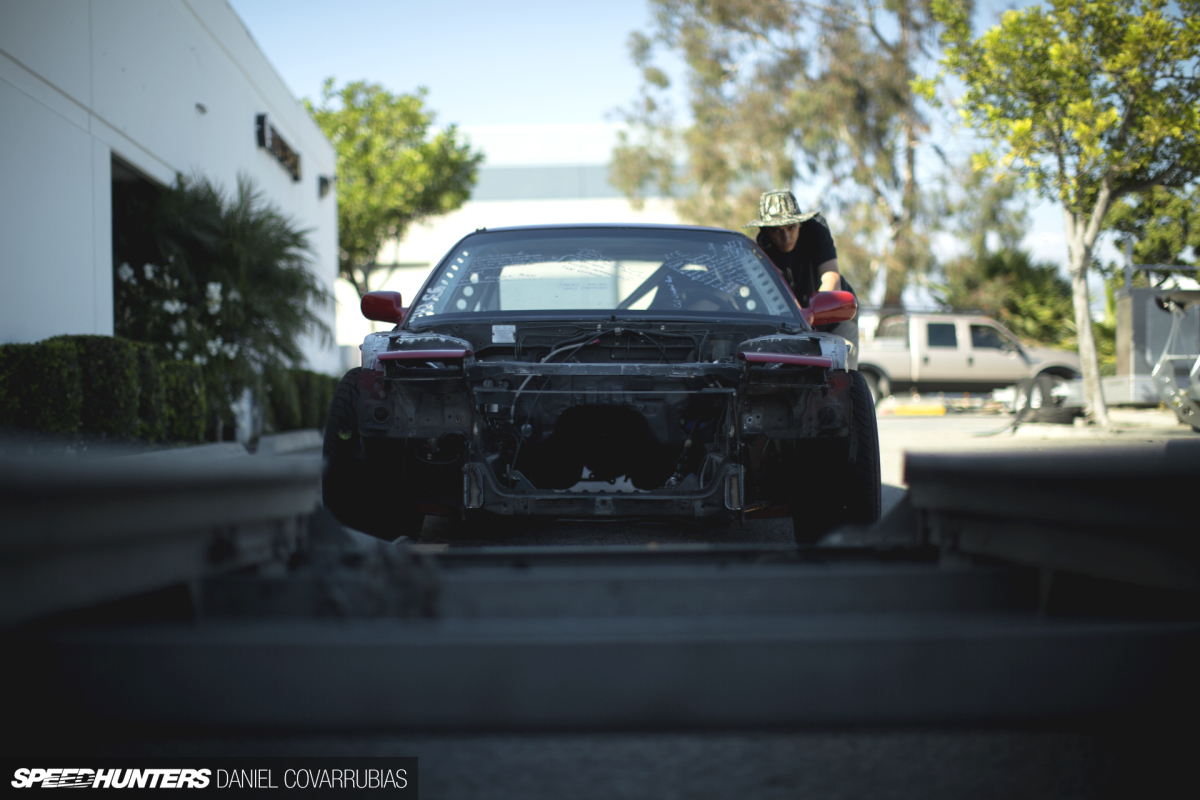 Although I knew that time was not on my side, I made the decision on October 1st to commit and rebuild my Nissan 240SX for SEMA 2015. Instantly, I loaded up the 240 and took her to Ace'd Autoworx for deconstruction.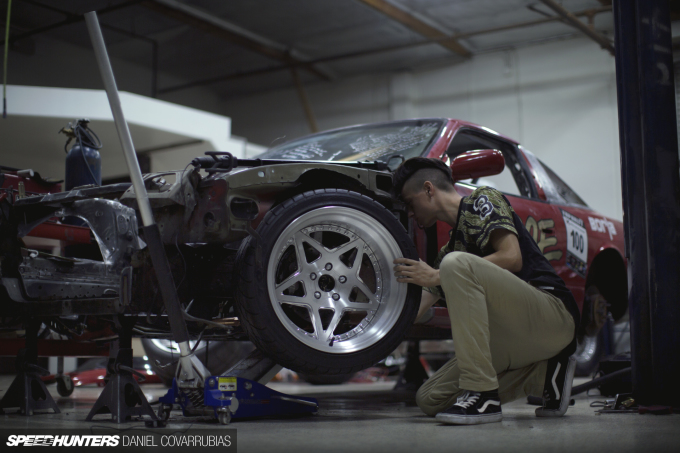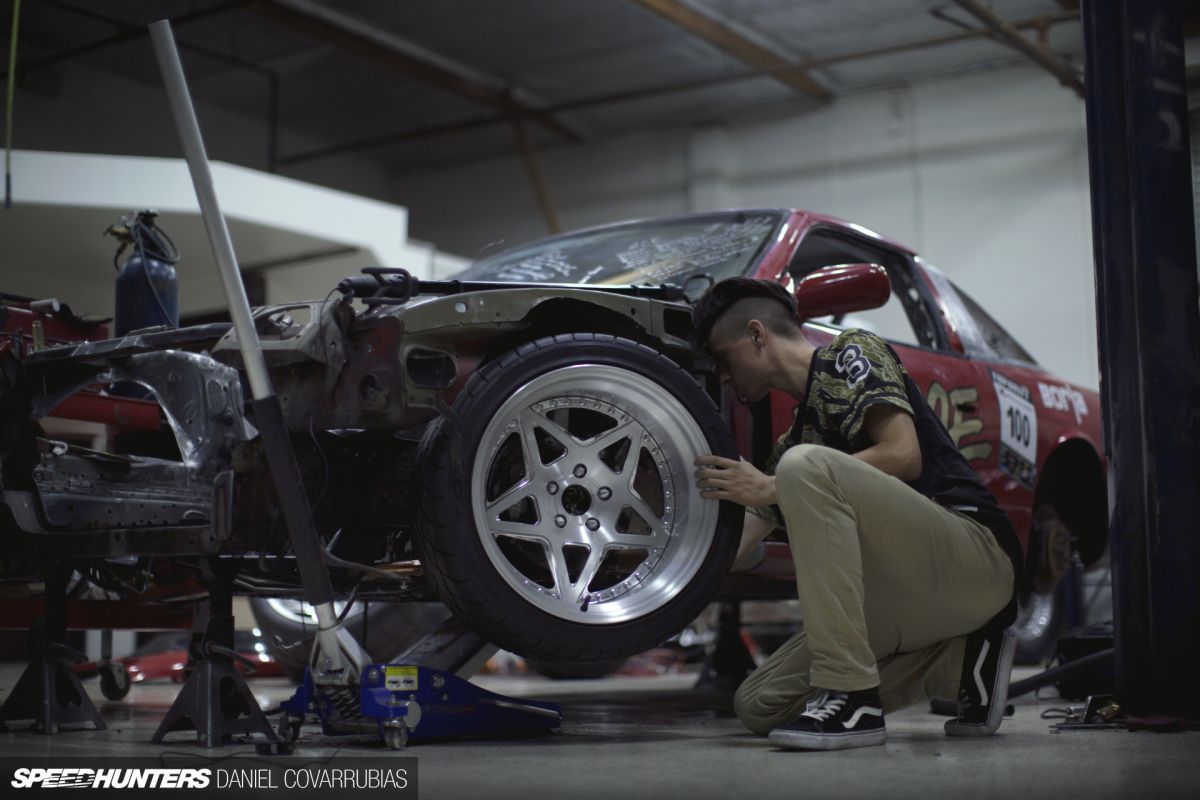 The moment had finally come – it was time to test-fit my Avant Garde F132 wheels. Something magical happens when a meaty tire is fitted on a super-wide deep dish wheel; it honestly gets me every time.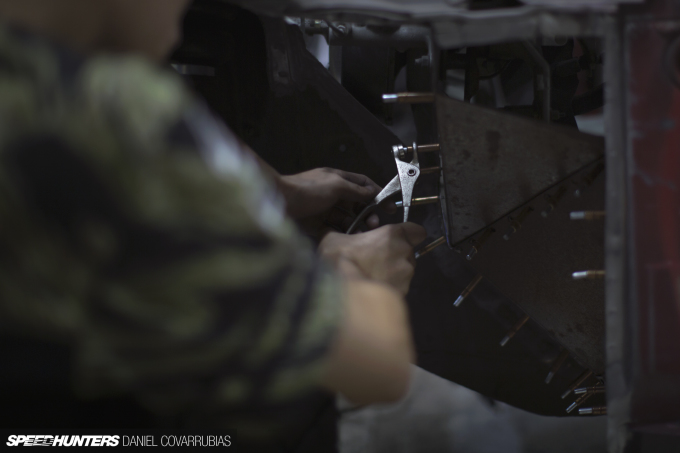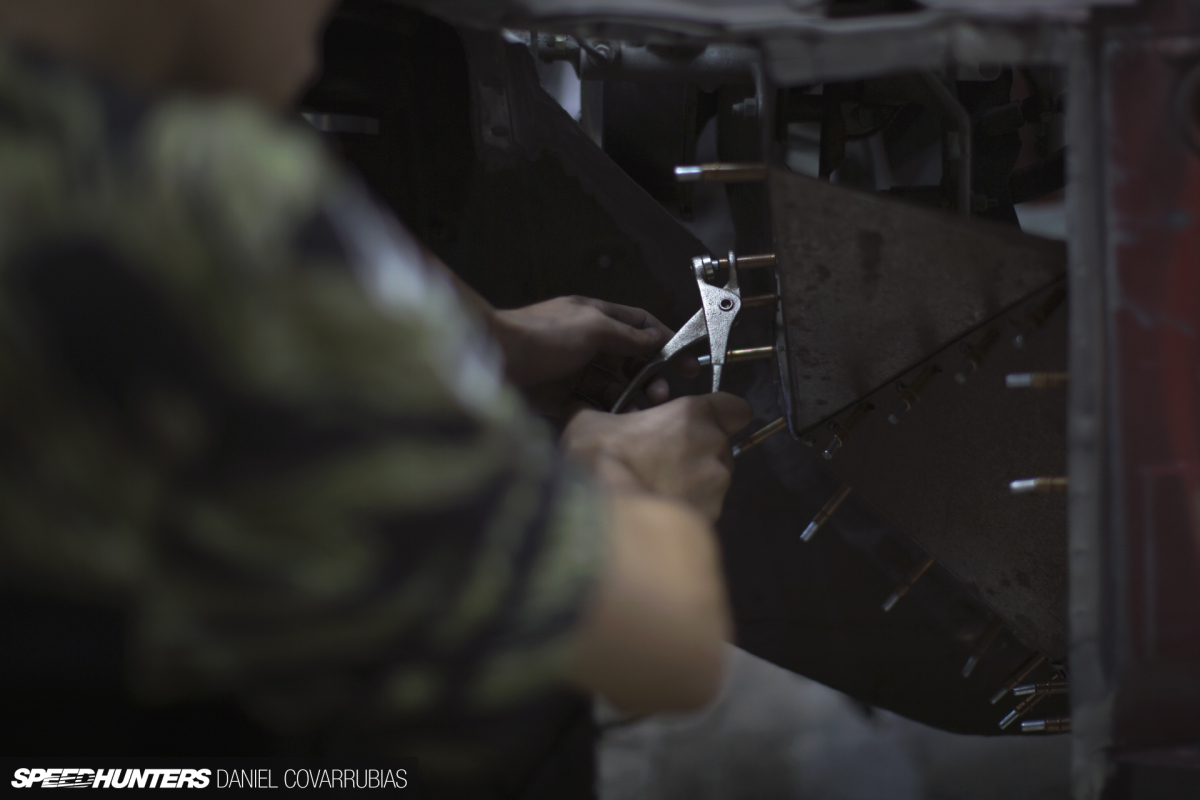 Witnessing an aggressive fitment getting put to work is just short of arousing if you ask me. In order to make an 18×10-inch -39 wheel functional in the front, let's just say I have a free foot rest if anyone is looking for one… And squeezing an 18×11.5-inch -49 wheel in the rear was quite an adventure in itself, too. Before I knew it, we had a rolling chassis ready to obtain an all-new hue by LTMW.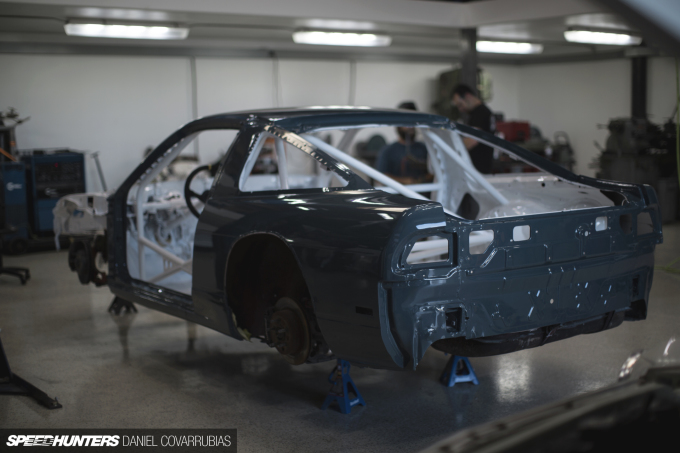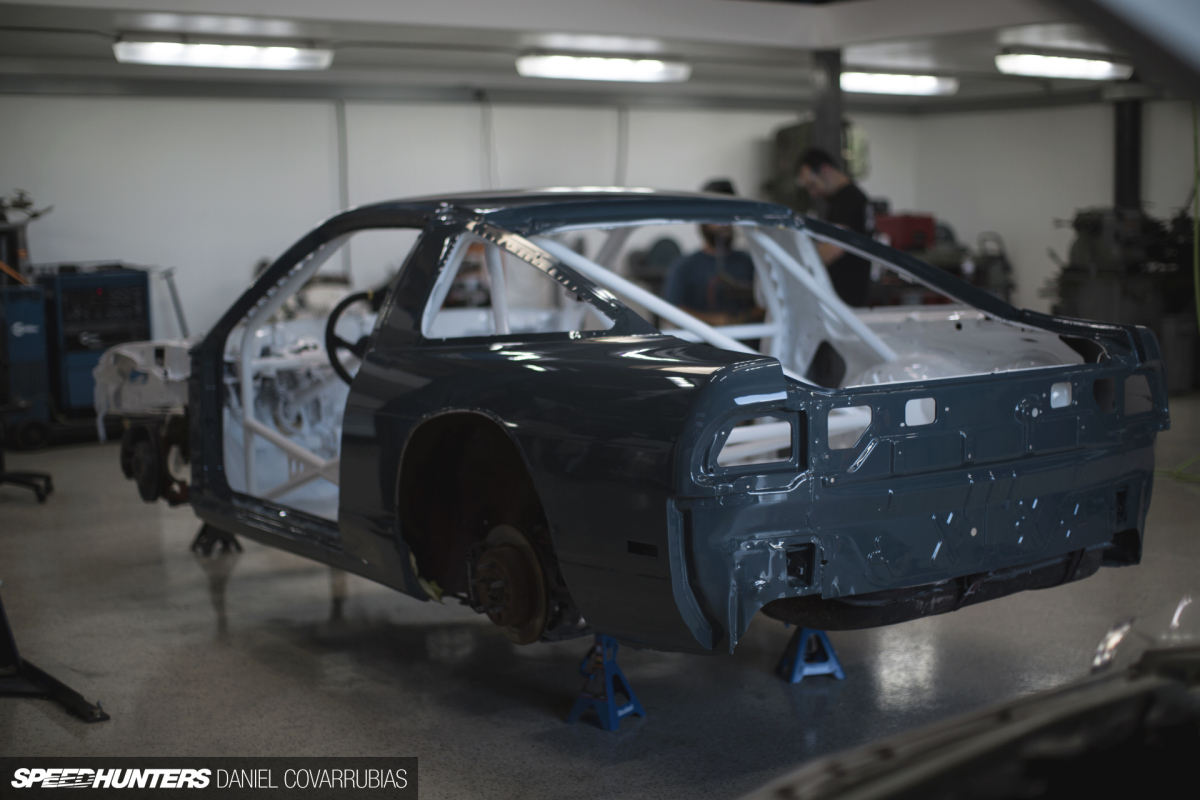 Here we were October 27th, five days until my scheduled roll-in at SEMA.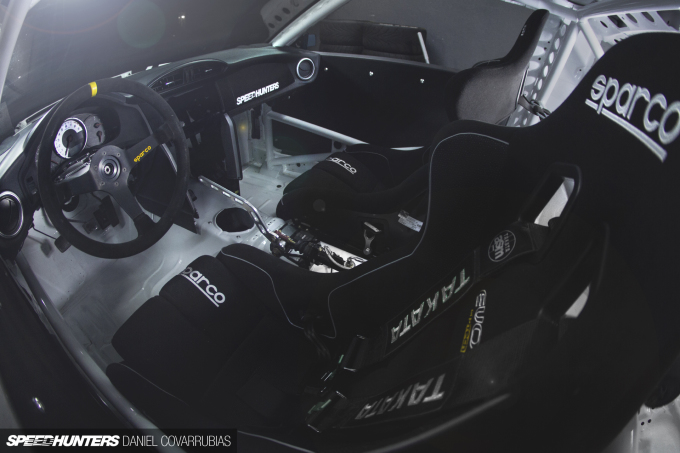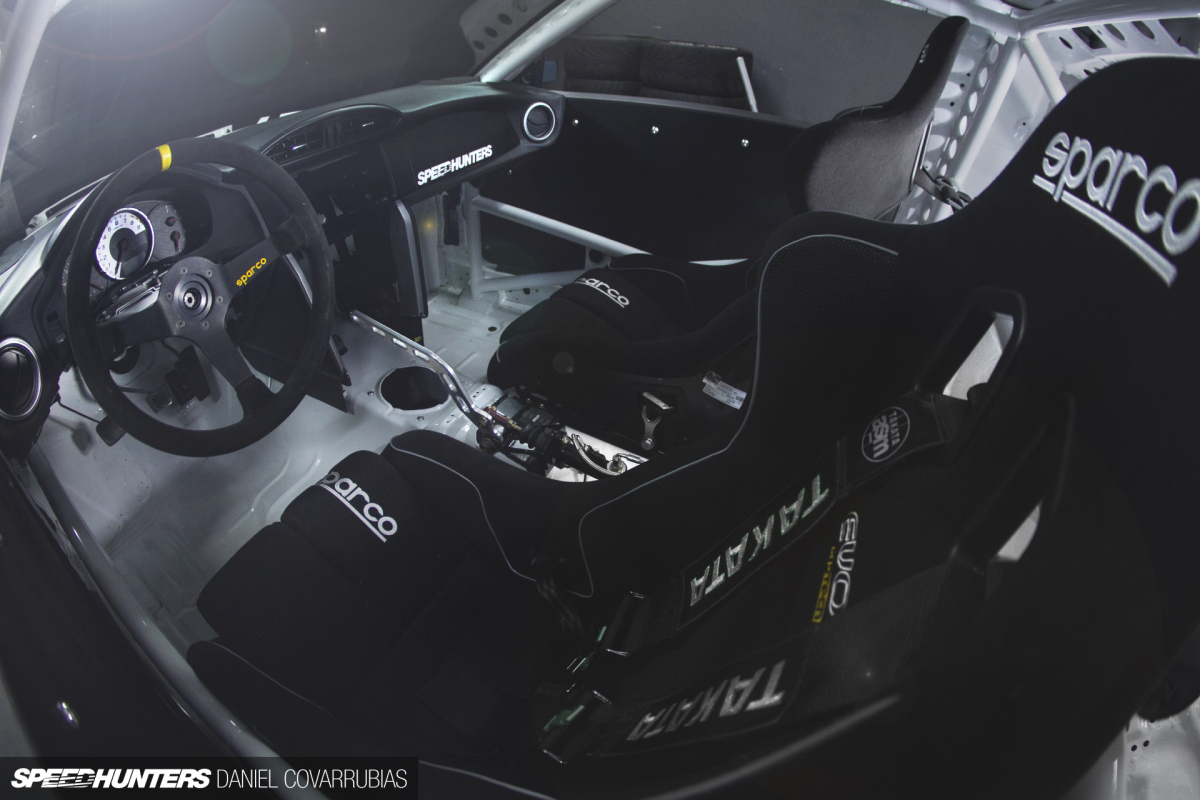 Two days later and I'd remembered how completely cracked and dried out my dash was. I'm sure many of you know the value of a superb 240 dash, so attempting to find a perfect one within three days didn't exactly seem too realistic. So for some insane reason I felt a dash swap would be more realistic; an 86 dash to be exact.
*WARNING* DO NOT ATTEMPT A DASH SWAP WITHOUT A BACK-UP PLAN THREE DAYS BEFORE AN EVENT!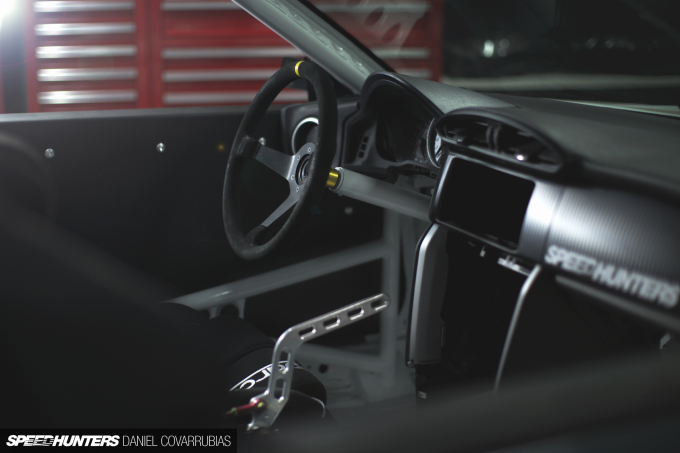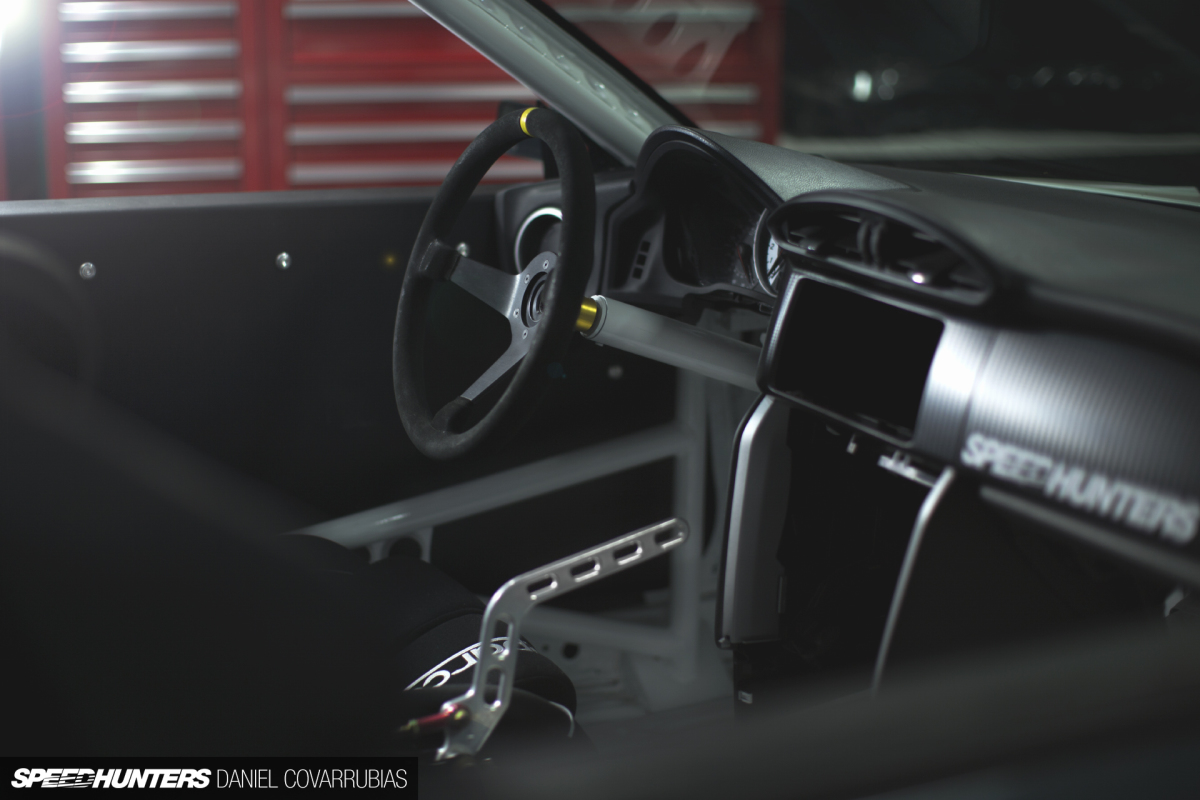 We managed to pull it off, and, quite frankly, it was damn near a direct fit. I will have more interior shots of how we managed to implant this 86 dash within future articles.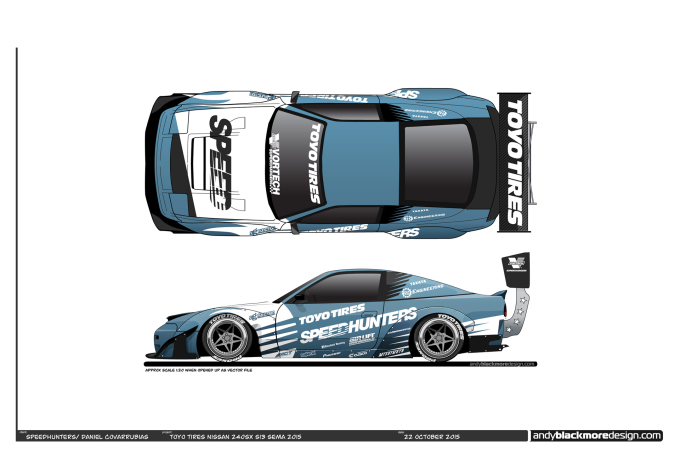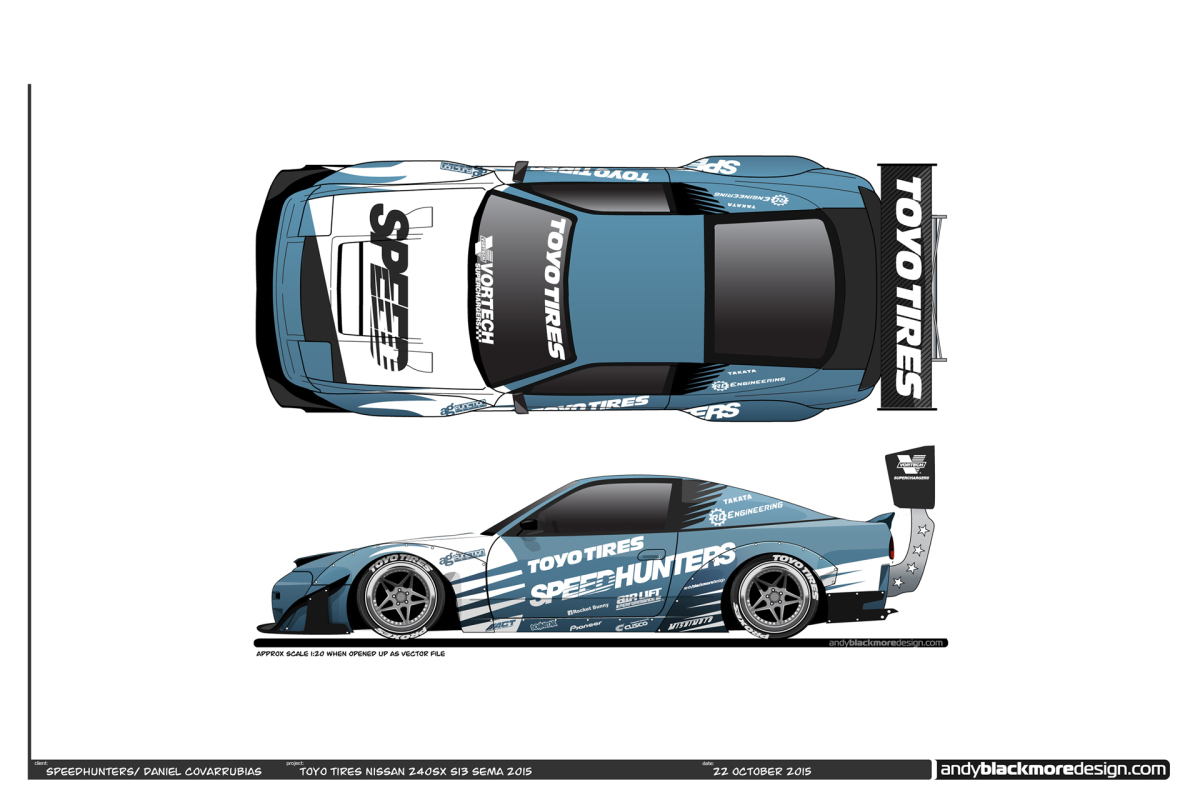 If you are unfamiliar with Andy Blackmore, please be sure to check out his website filled with some of the world's most iconic livery designs and vehicle styling.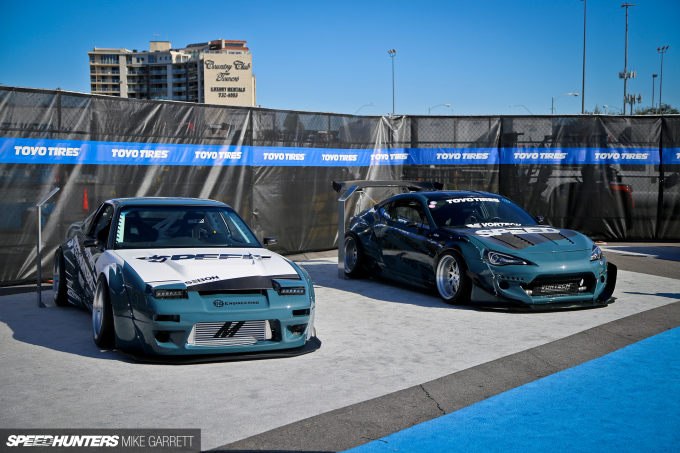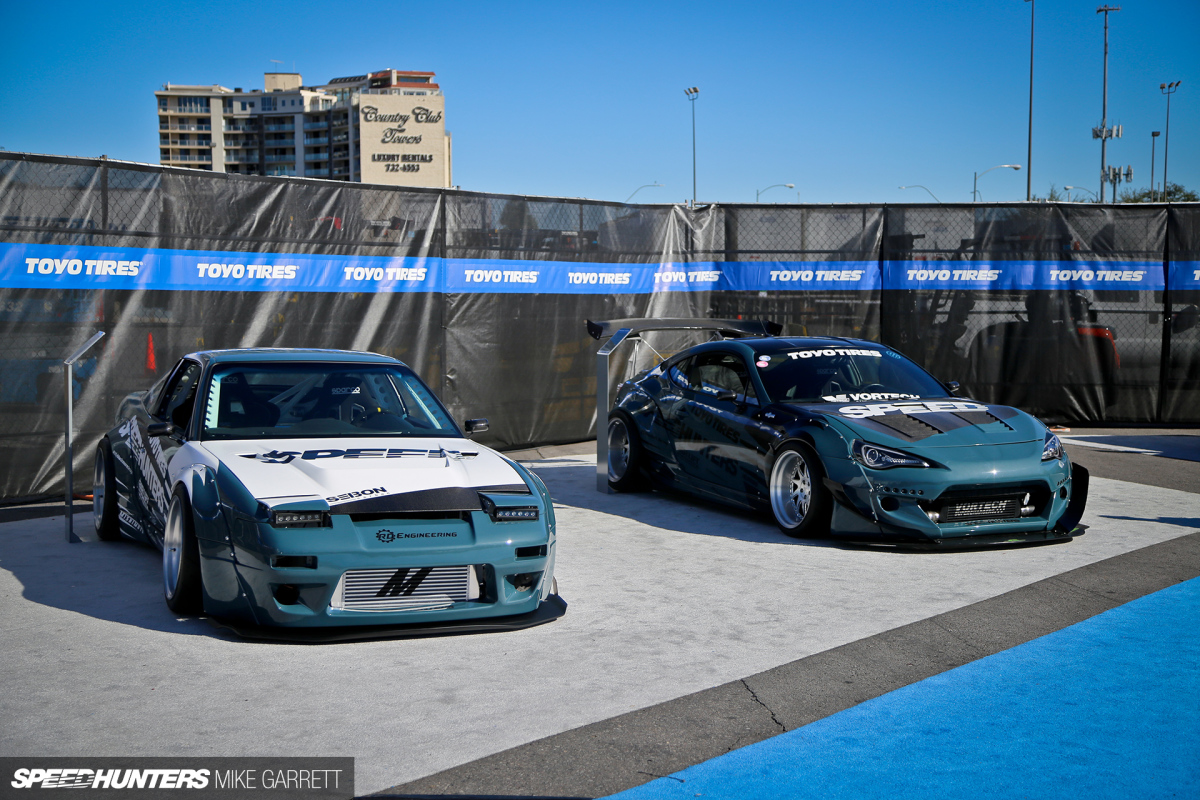 We did make it to SEMA in the end, but this is where the story really only begins.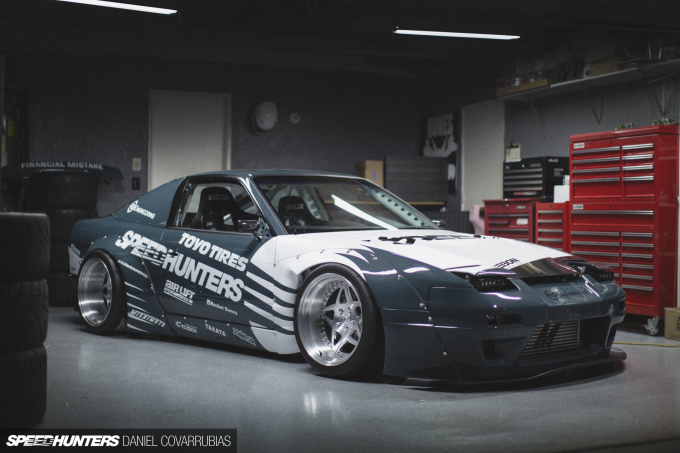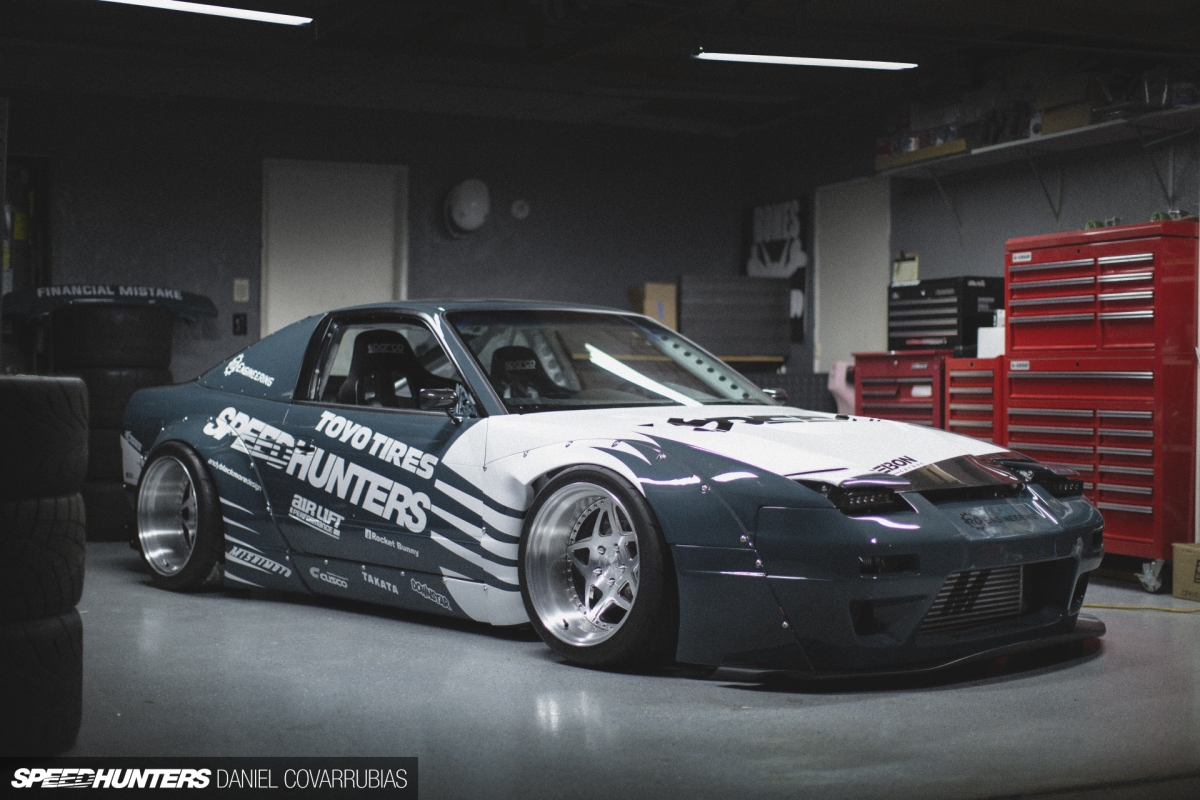 We weren't born to just pay bills and die. We are here to live a life, and we all choose what we make of it. The moment people stop comparing, is the moment they will realize comparison kills creativity… Almost always, the creative and dedicated minority has made the world a better place. I appreciate all builds – especially ones of the minority – because I ask myself, 'why?' prior to ever thinking of what's inside. I have established many relationships within these past two years, and I must say, I am very thankful for the nights that turned into mornings, friends that turned into family and dreams turning into reality.
If it wasn't for RD Engineering and Ace'd Autoworx, 2015 would not have been possible. It is now time to finish these two vessels and get us back on the track. If you want to see some fender-smashing and bumper-flying action, be sure to attend a few Just Drift events this coming year, as this is where we'll be. We are tossing in my overhauled SR for a couple months while we compose our Vortech-supercharged 2JZ. Yup, I said that right. I can already hear the keyboard warriors typing faster than they can think…
It appears there was enough downforce to keep your eyes fastened during this introduction, so stay tuned as the hustle continues.
Daniel Covarrubias
Instagram: killagram
daniel@speedhunters.com