USA's motoring landscape momentarily changed in the early 1960s when new car buyers began being drawn towards smaller, more fuel-efficient European vehicles – like the Volkswagen Beetle – instead of the biggest gas guzzler they could get their hands on. To meet the market, stateside manufacturers were left with little choice but begin rolling out new ranges of compacts with smaller physical and mechanical dimensions. Plymouth had the Valiant, Ford had the Falcon and Studebaker had the Lark. Most important to this story however – Oldsmobile had the F-85.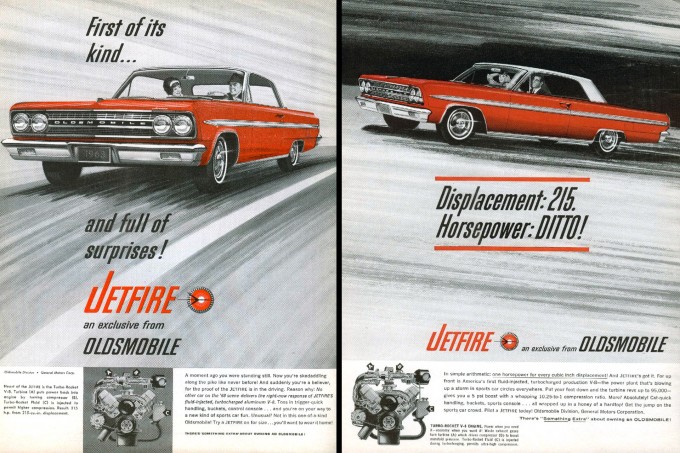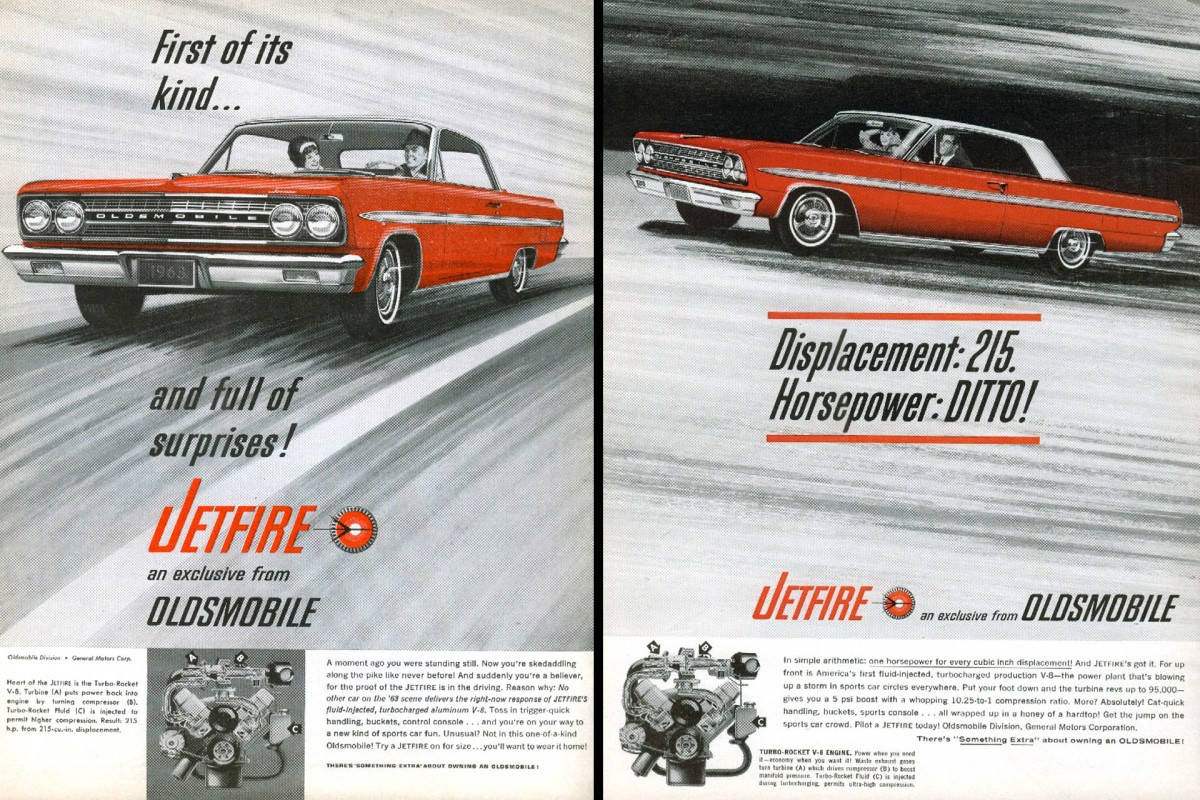 From its 1961 debut the F-85 was made available in two specification levels, both of which used a small 215ci (3.5L) aluminium V8. In basic form with 8.8:1 compression and a 2-barrel carburettor the engine made 155hp. In Power Pack guise, that number was increased to 185hp through 10.25:1 compression and a 4-barrel carburettor. Although performance was markedly better than that of cars like the Beetle, Oldsmobile's engineers saw room for something even more powerful – they just needed to figure out a way to achieve it without increasing engine displacement, or decreasing smooth running and driveability in any way. Gilbert Burrell, Oldsmobile's head engine designer, found what he was looking for in turbocharging – something that had never before been seen on a production passenger car.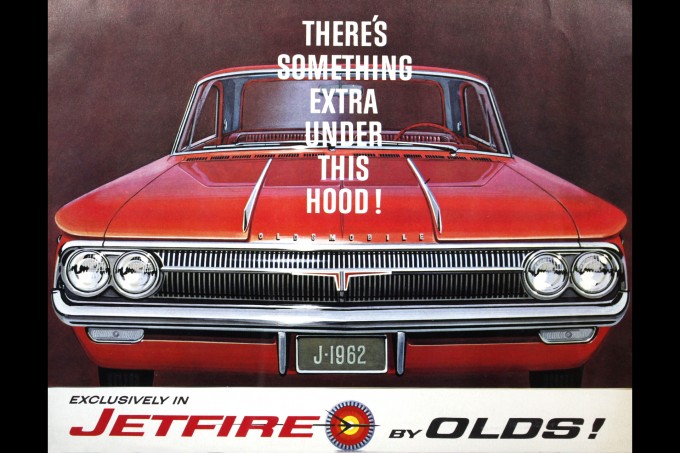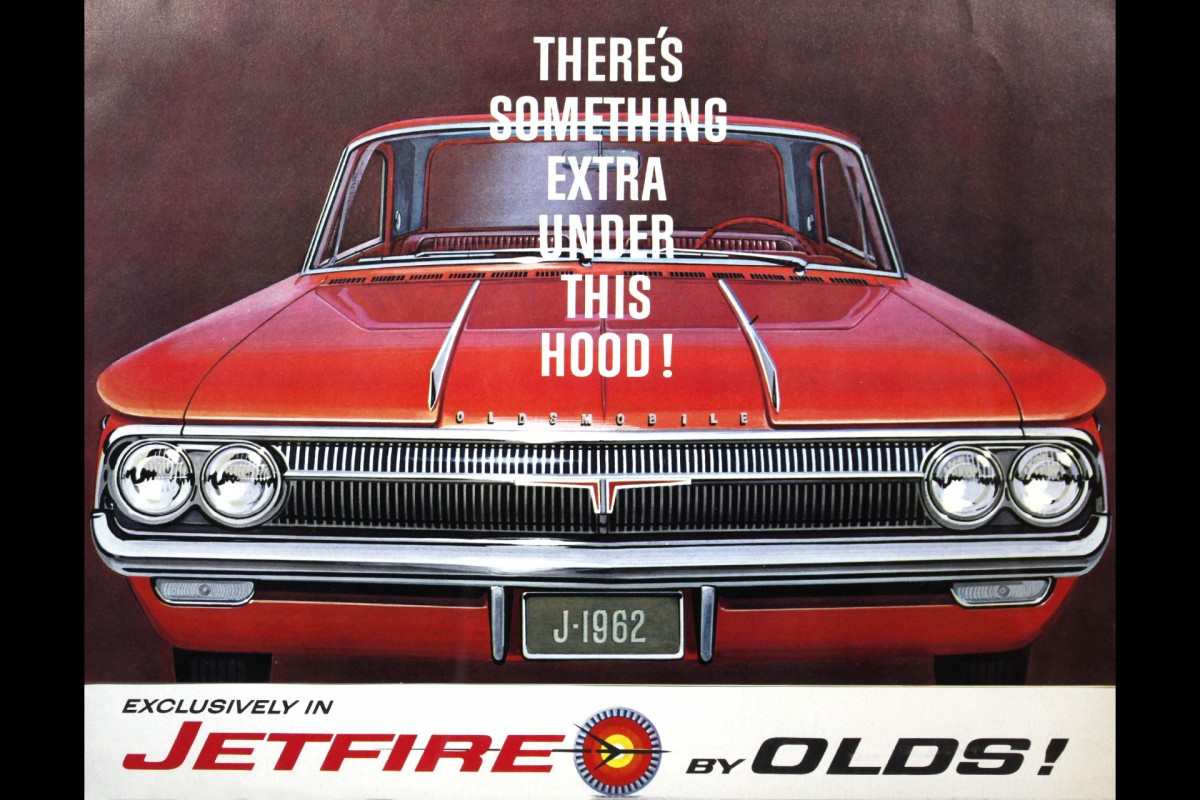 Oldsmobile partnered with the Garrett Corporation – then, a leading manufacturer of industrial turbochargers – and Burrell began working alongside engineers in Garrett's newly-formed AiResearch department – a specialist division set up to develop turbochargers for the automotive industry. Together they developed a small diameter turbo and associated system exclusively for a new, high performance F-85 coupé variant called the Jetfire.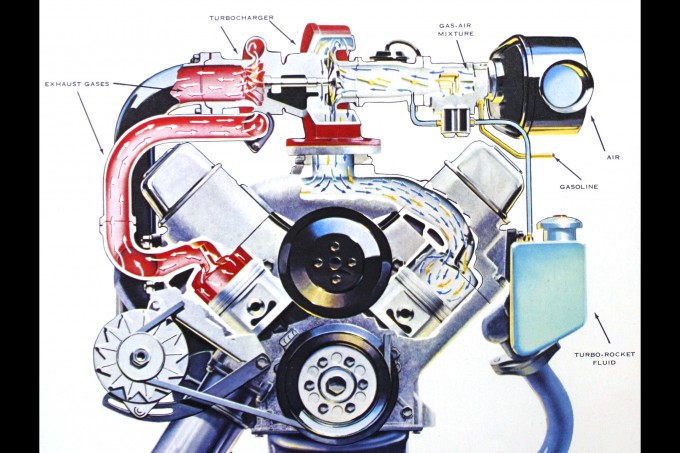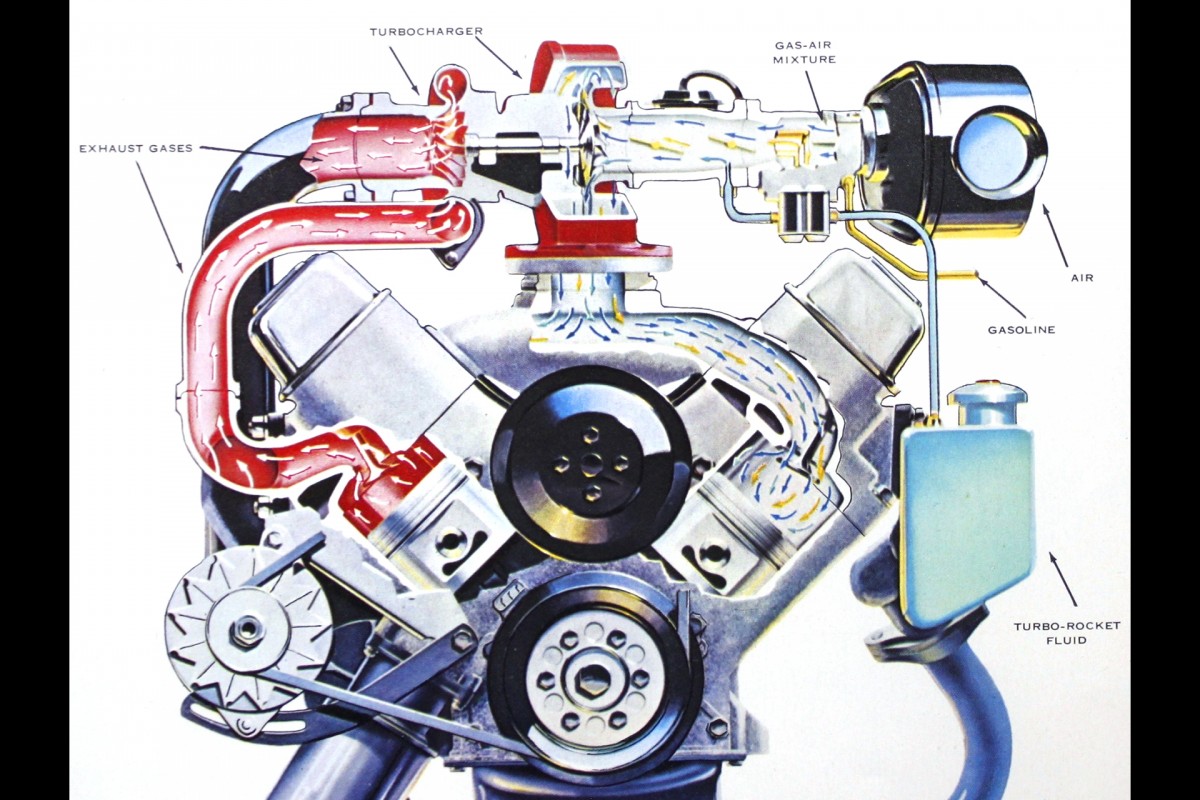 Weighing in at around 35lbs, Jetfire's bolt-on kit was based around a Garrett T05 turbocharger, which attached to the engine's intake manifold as a carburettor normally would. Then, a specially developed, single-barrel Rochester sidedraught carb was positioned ahead of the turbo in a draw-through configuration. Oldsmobile upgraded its 10.25:1-spec 215ci V8 with heavy-duty pistons, conrods and main bearings, and fitted a revised distributor, coil, fuel pump and larger radiator. The transmission was also reinforced. One thing it didn't alter however was the engine's high compression ratio, which of course meant it would be susceptible to detonation under full throttle, or load.
To counter-act this Oldsmobile employed a novel 'Turbo-Rocket' water/methanol injection system, which you can see illustrated above. When the turbo operated it pressurised the system's tank, which caused a proportionate amount of 'Turbo-Rocket Fluid' (a 50:50 mix of distilled water and methanol and a little rust inhibitor) to squirt into the intake system between the carb and the turbocharger and cool the intake charge through heat absorption. While the system did work – albeit crudely – the contents of the 5-quart (4.7L) reservoir could be emptied in just 225 miles if you drove the car like you'd stolen it. When that was about to happen an 'Add Fluid' light illuminated on the car's console-mounted boost gauge, which employed a needle that swung between Economy and Power dependent on how sensible the driver was being with the gas pedal. When the Turbo-Rocket Fluid mixture ran out altogether a complicated double-float and valve assembly in the system would shut, effectively reducing performance to preserve the engine. In another safety measure, dual wastegate diaphragms were employed (the second in case the first failed), as was a pressure-sensitive cap on the Turbo-Rocket fuel reservoir, which would pop off if maximum pressure was exceeded.
On the road boost built from 1,000rpm, and by 2,200rpm 5psi (0.34bar) was achieved. Although peak power was greatly improved, the big news was torque, which was increased by 30 per cent over the naturally aspirated 185hp V8. A massive 300ft-lb was delivered by 3,200rpm, with 280ft-lb available from just 2,000rpm. That output equipped the Jetfire with untouchable-in-class performance and testing by Car Life magazine at the time revealed a 0-60mph time of just 8.5 seconds – an impressive 2.5 seconds quicker than the naturally aspirated 185hp F-85, and almost twice as quick as the regular 155hp variant. Furthermore, the turbocharged Olds' could accelerate to 100mph almost 10 seconds faster than its quickest sibling, before reaching a maximum top speed of 112mph. Check out the video to see how Oldsmobile sold the innovative concept to the public.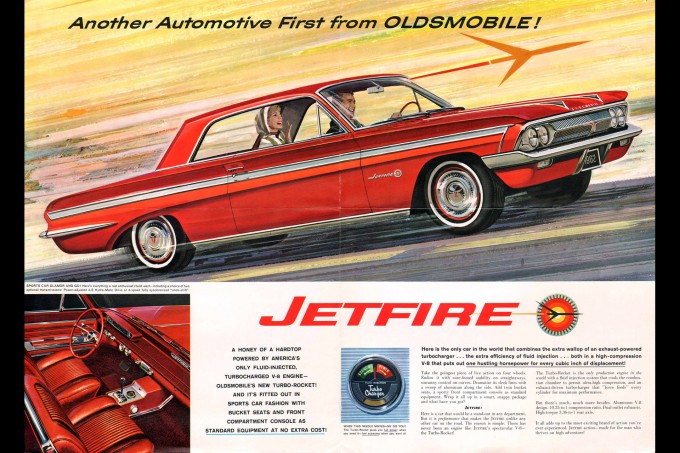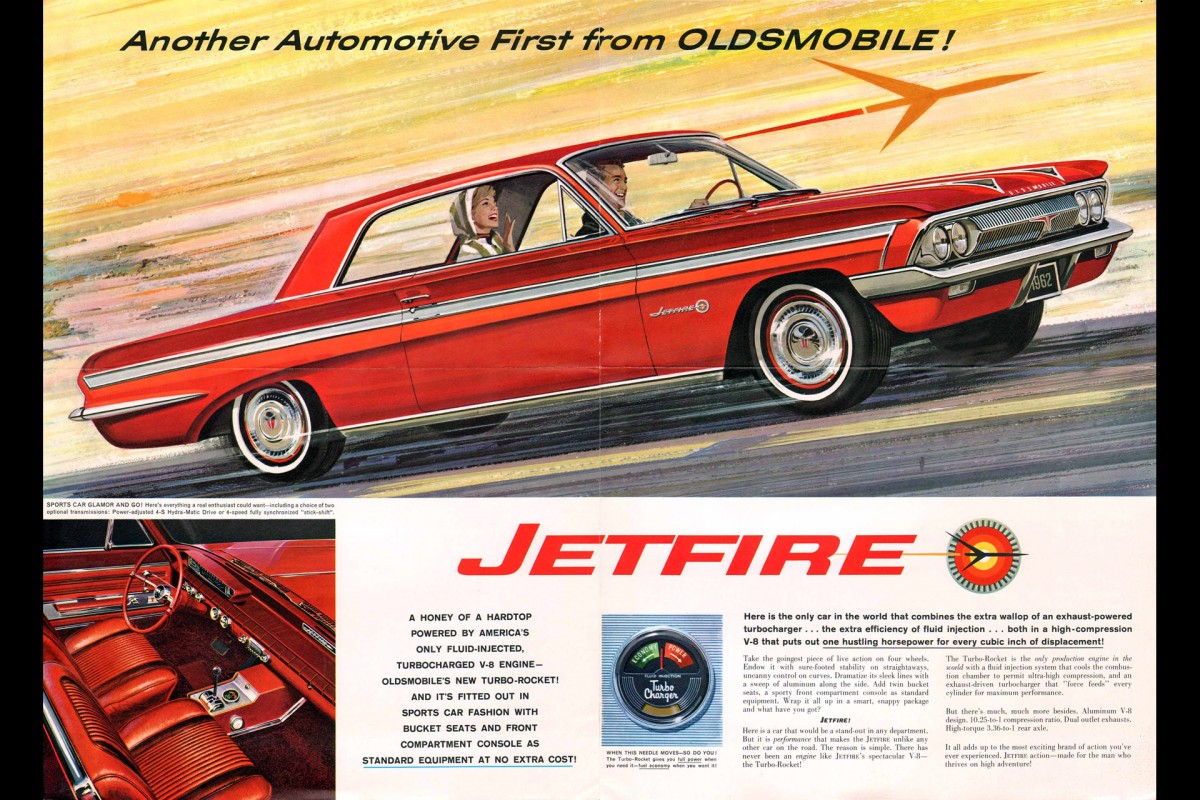 Most of the turbo Jetfires that Oldsmobile sold between early 1962 and late 1963 when it was discontinued suffered from mechanical, and ultimately reliability issues. The boosted engine had cooling problems and the complex fluid injection system proved to be particularly erratic in its operation. Many engines succumbed to detonation too after owners began filling their car's Turbo-Rocket Fluid reservoir with tap water instead of the special water/methanol mixture which was only available from Oldsmobile dealers. In the end the carmaker addressed the shortcomings by offering owners the opportunity to have their Jetfire's turbo system removed entirely, and the intake manifold retro-fitted with a simple, no fuss, 4-barrel carburettor arrangement, at no cost.
By 1964 the compact craze had wavered and big ol' oil burners began rolling off the automobile assembly lines of Detroit once again. Apart from the Chevy Corvair Spyder which arrived in showrooms across the US just a month later, the world wouldn't see another turbocharged production road car until BMW pulled the wraps off the manic 2002 Turbo in 1970.
While you probably won't find the turbo Jetfire on any top 10 American automobile icons list, the car's rarity and collectibility was recently realised on eBay when an all-original, numbers-matching car sold for US$42,100.
Brad Lord
brad@speedhunters.com