Retro Lives
Being one of the biggest annual gatherings of car enthusiasts and aftermarket industry members in the world, people come to the SEMA Show every year expecting to see the latest and the greatest. Thousands upon thousands pack the halls to catch a glimpse of the freshest cars, parts and innovations in the auto enthusiast world, and to uncover the newest trends to hit the hobby.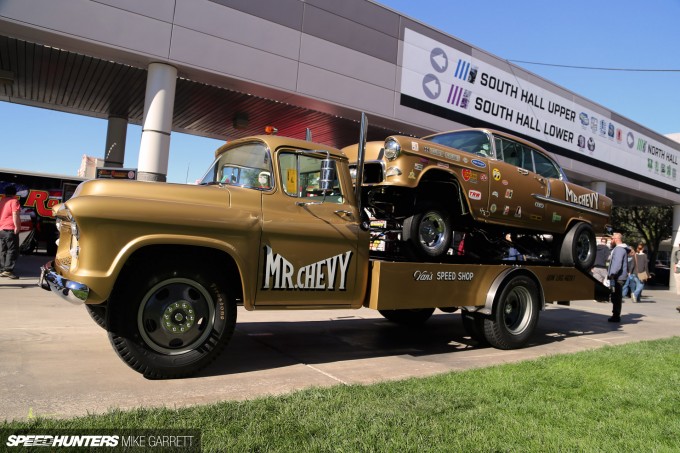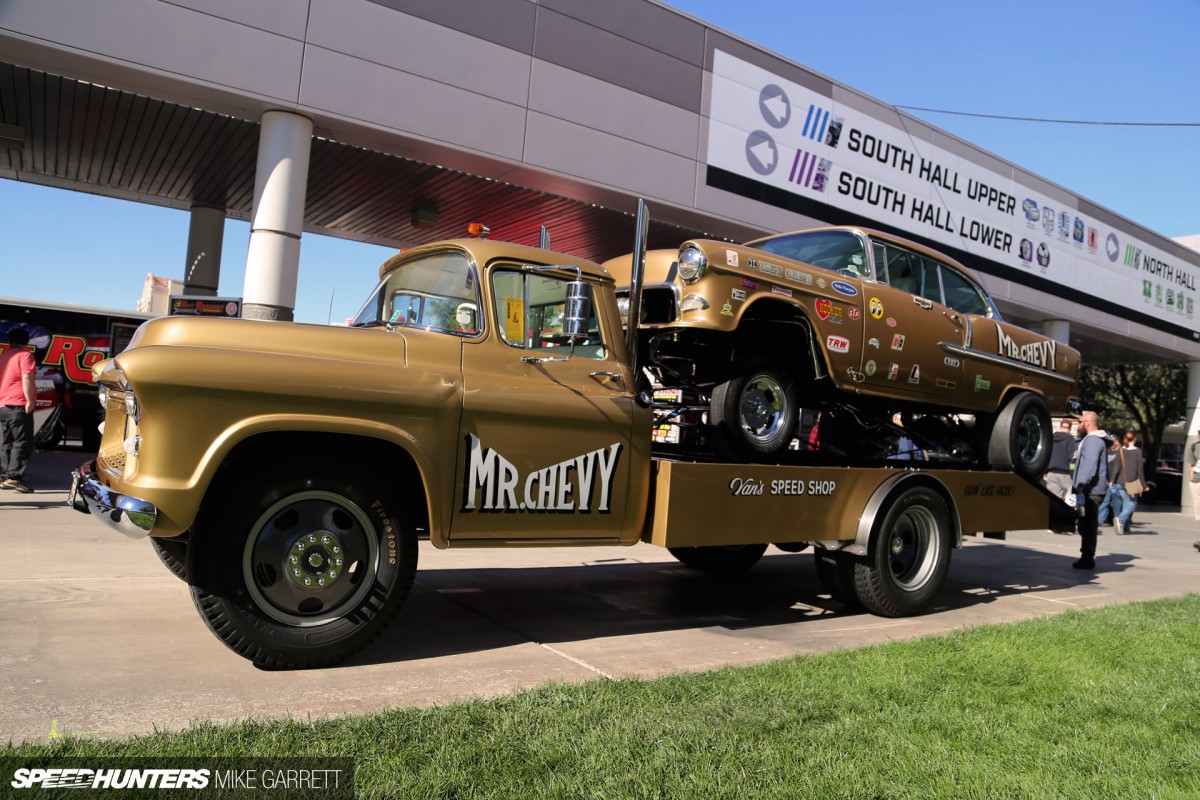 But for all of the hype that comes with shiny new things, I've found that one of my favorite parts about SEMA is the old school stuff – historic cars that have been unearthed and brought back to life, and traditional hot rod and custom builds with period-correct parts that pay homage to the past. So with that said, I thought I'd use this next story to share some of the coolest vintage and traditional-themed builds in Vegas this week.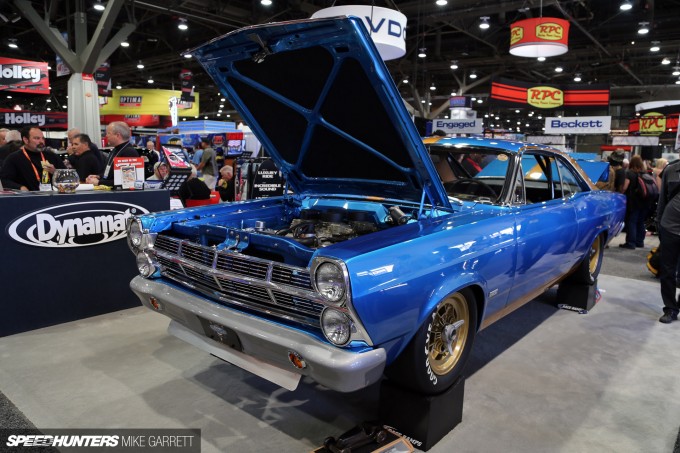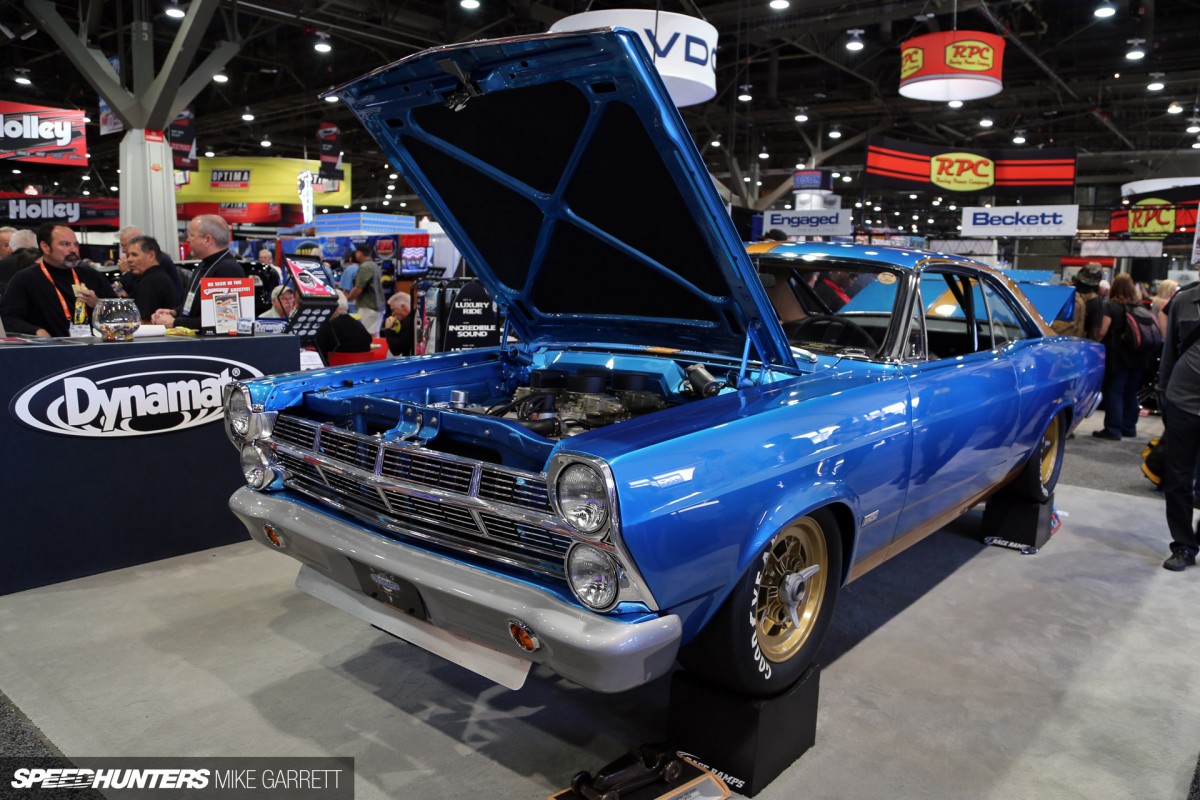 Let's begin with the vehicle that might just be my favorite thing at the entire show: 'Black Ops' – a 1967 Ford Fairlane created by Steve Strope from Pure Vision Design. Steve isn't any stranger to vintage-themed builds as we saw with his awesome Martini Mustang a couple of years ago, and this car was built with a similar mindset.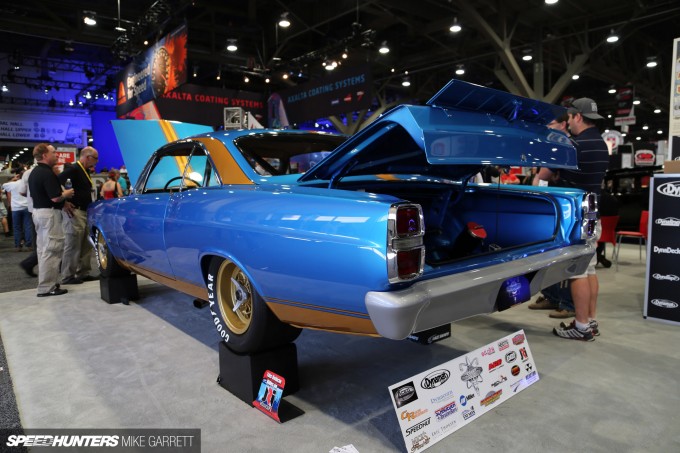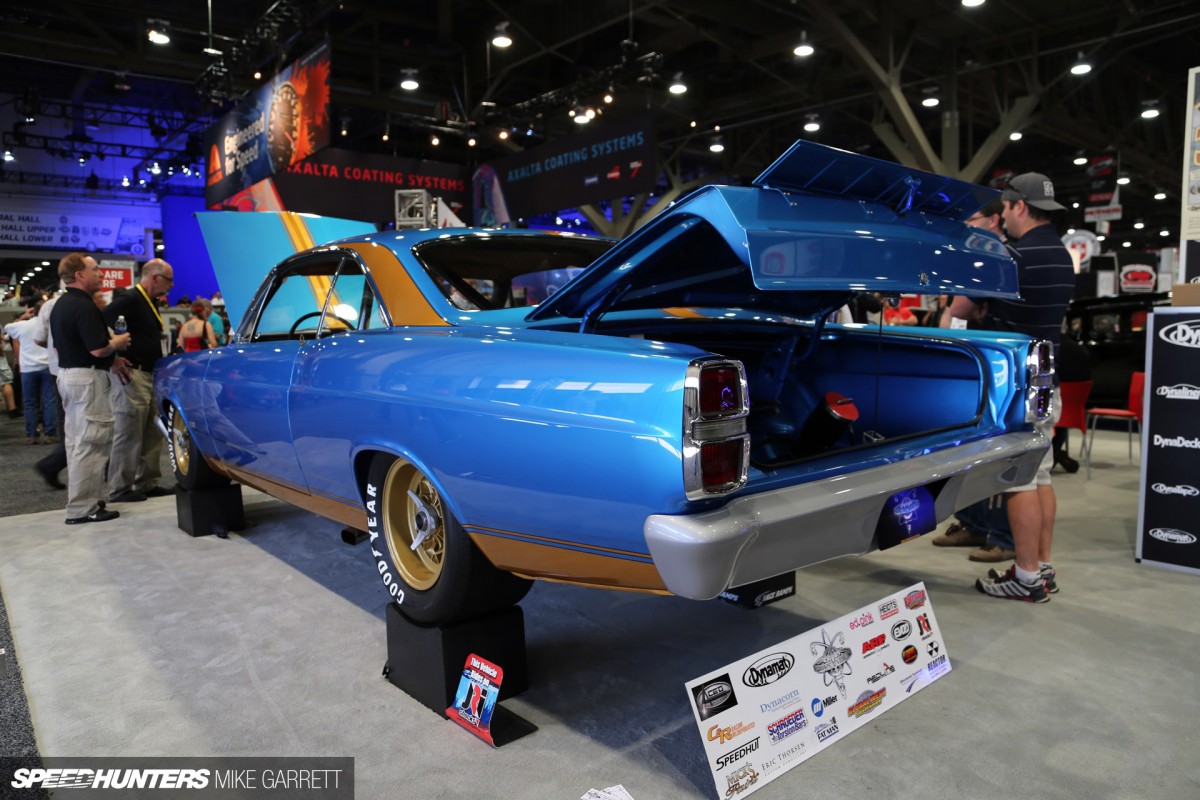 While it's an entirely new project, the Ford has been built as a 'what if?' concept laced with inspiration from 1960s stock cars, sports cars and other machines from that fantastic era. The idea was that Ford could have rolled out this no-rules prototype from a skunkworks-type operation back in '67.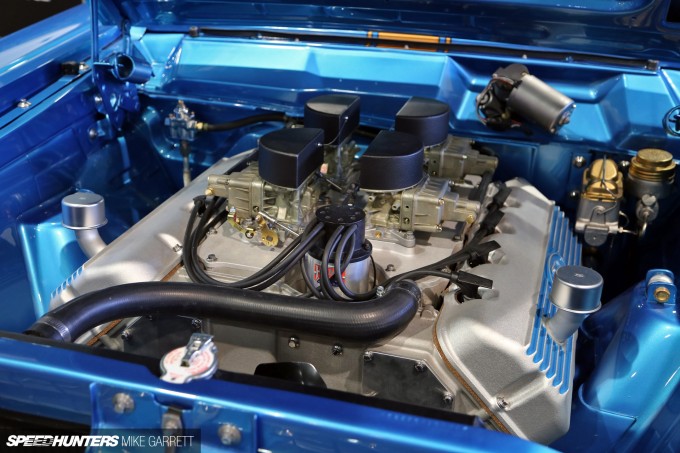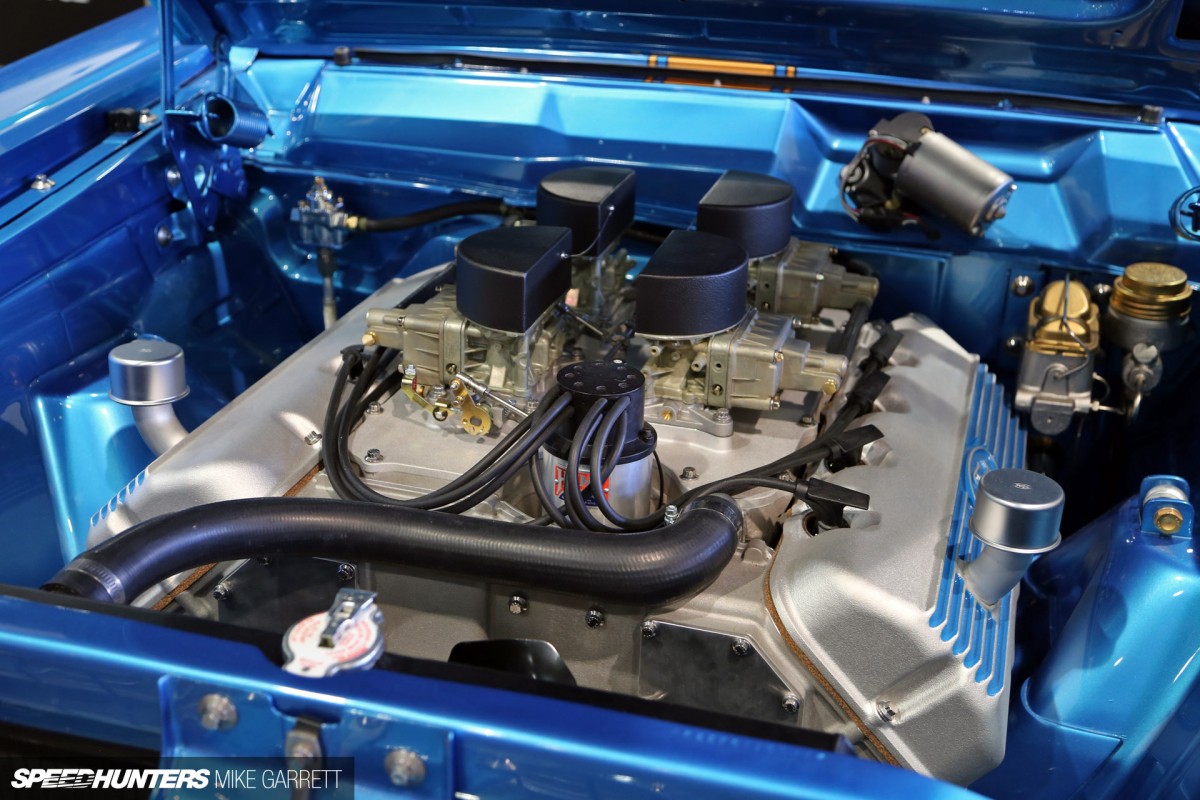 You won't find a turbocharged or supercharged Coyote motor under the hood – that would simply be much too modern. Instead. you'll find a rare and insanely awesome-looking aluminum 427 SOHC topped with a glorious quartet of Holley carburetors.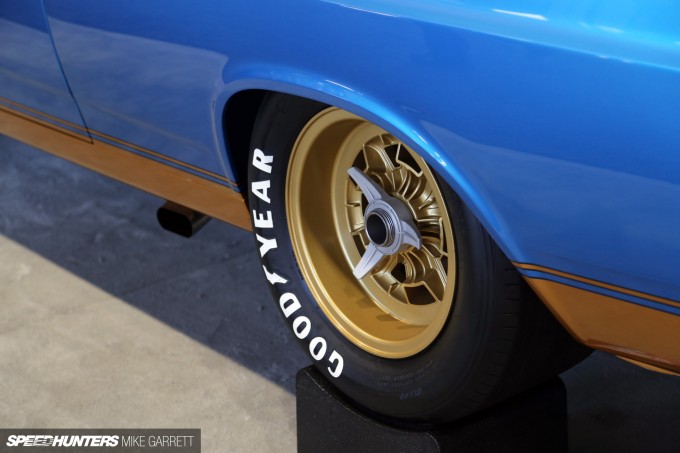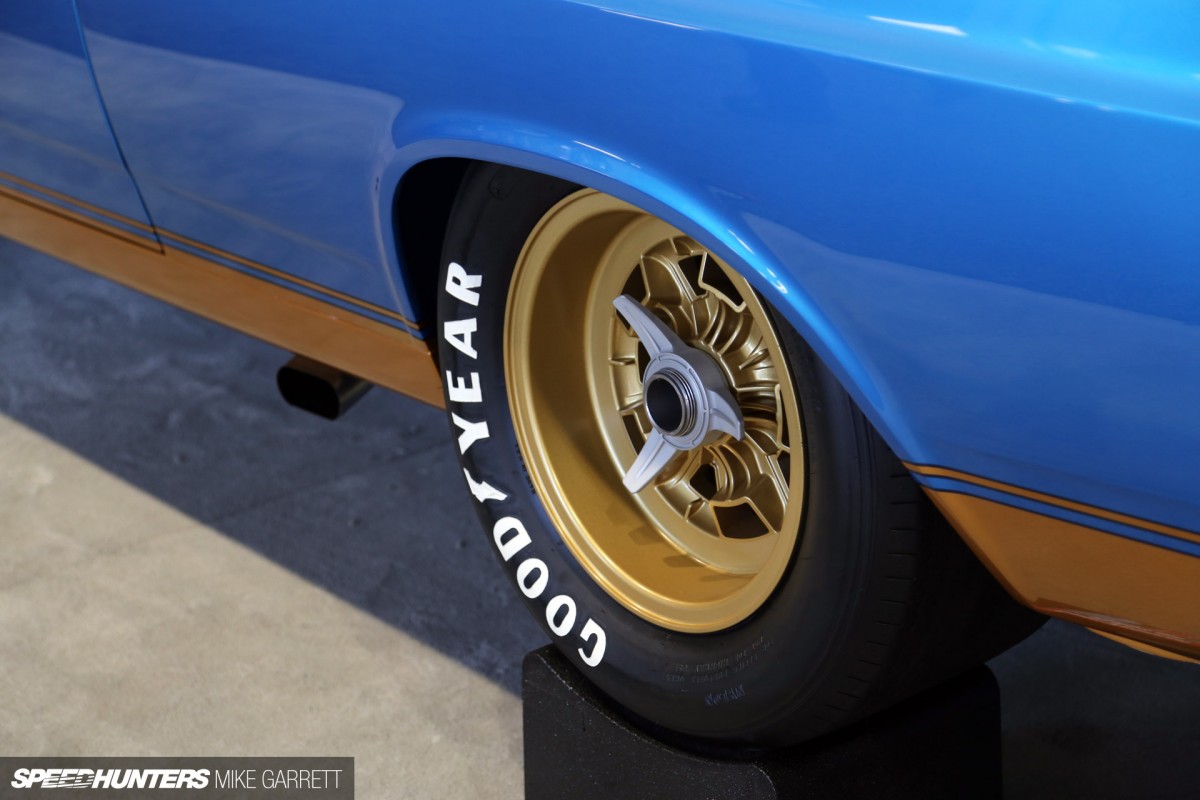 The suspension has also been reworked, but the modern components have been left out in favor of a period-style 'experimental' setup with torsion bars and custom shocks. The era-correct wheel and tire combo looks like it could have been pulled directly off a GT40.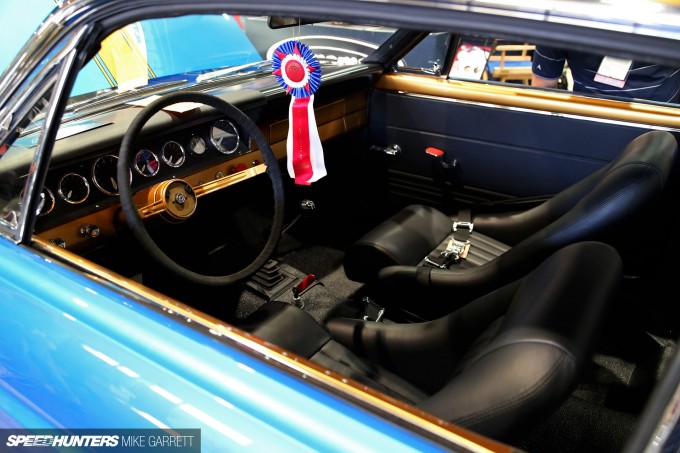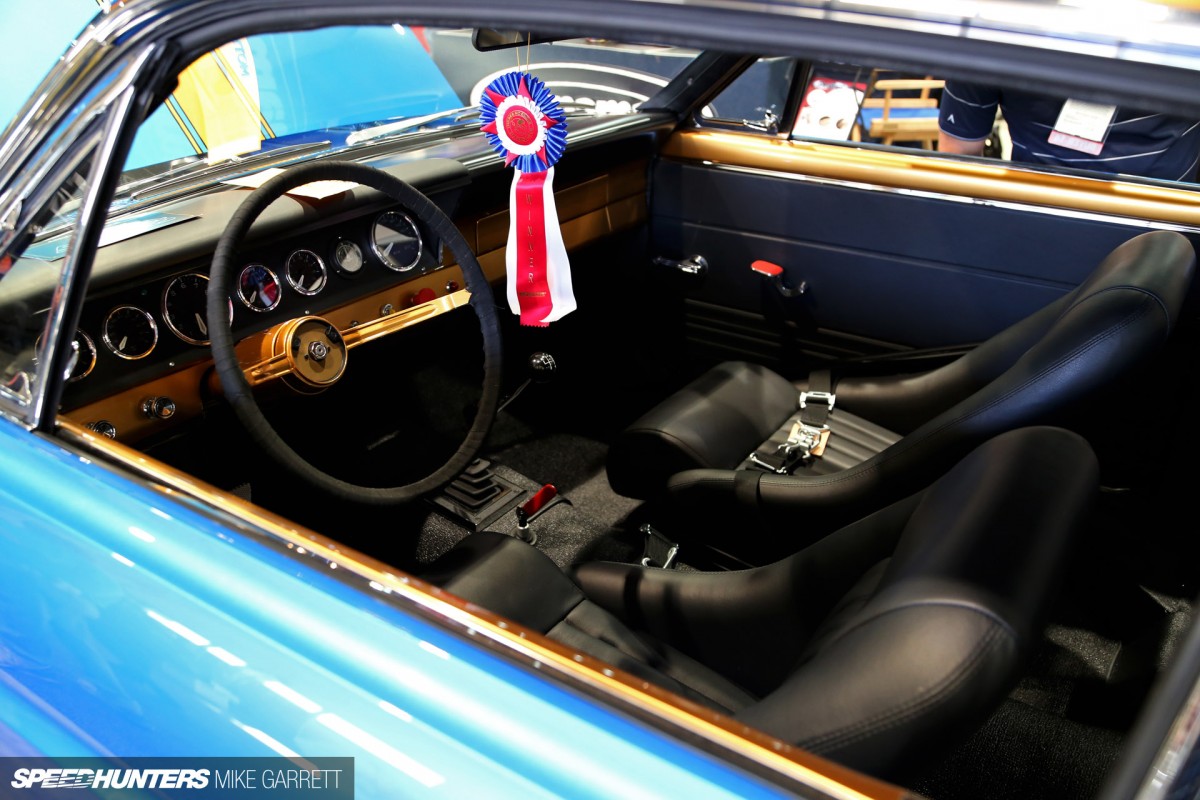 Last but not least is the interior. There's been no fighter jet redesign here, but we do have a stripped down cabin with low-back buckets, a tall shifter and a big old steering wheel. Best of all, everything on the car has been put together with some of the greatest attention to detail you'll ever see. It's builds like this that keep me coming back to the SEMA Show every fall.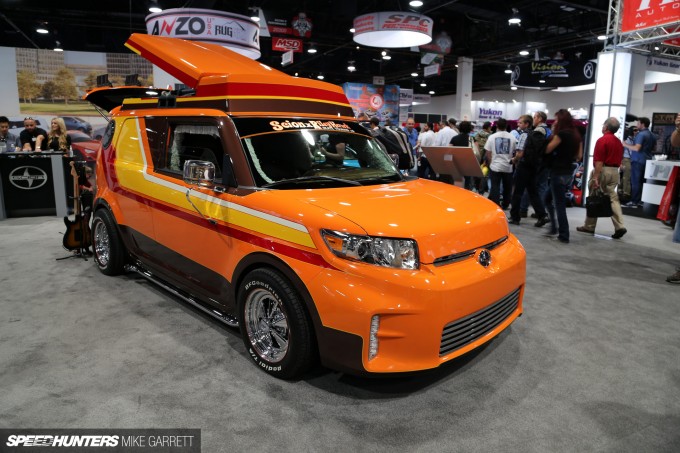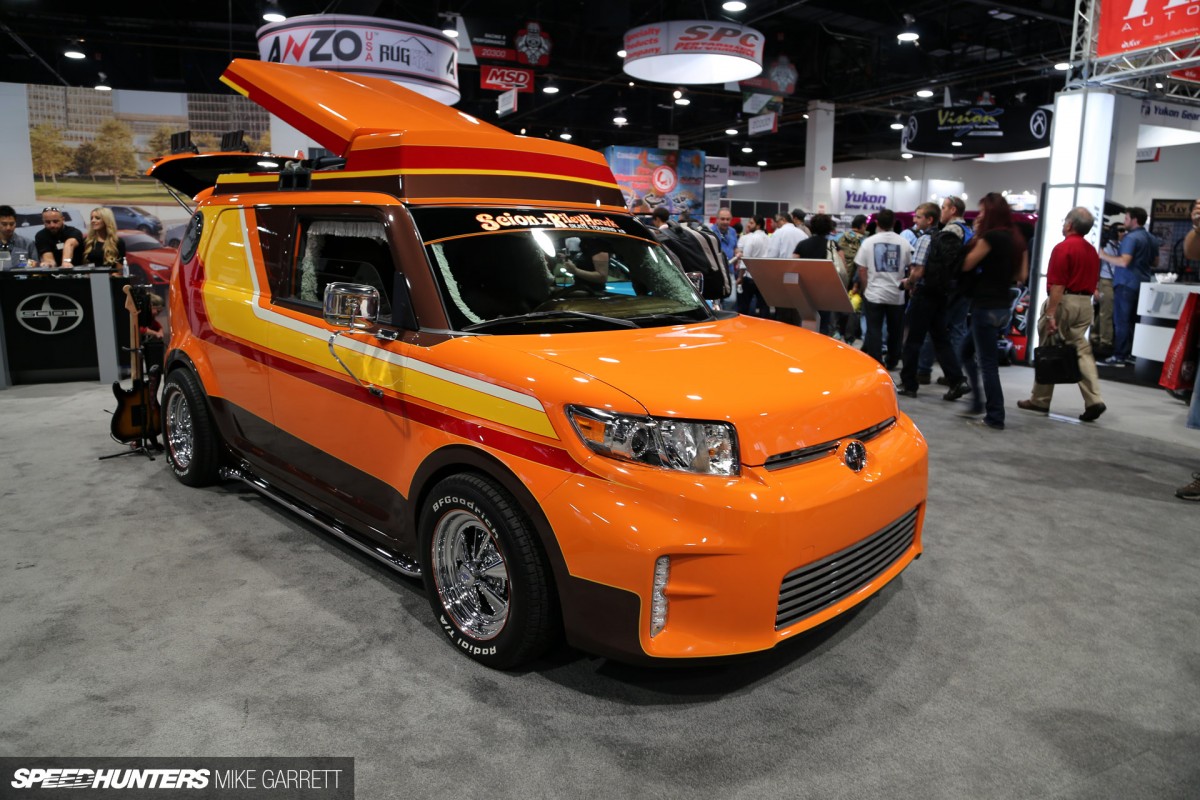 You might be wondering why I've added a brand new Scion to a story about old school style, but once you see what's been achieved with this xB I think you'll get the idea. This far out machine is a collaboration between Scion and pro skateboarder Riley Hawk (son of Tony Hawk) and is easily one of my favorite builds at the show this year.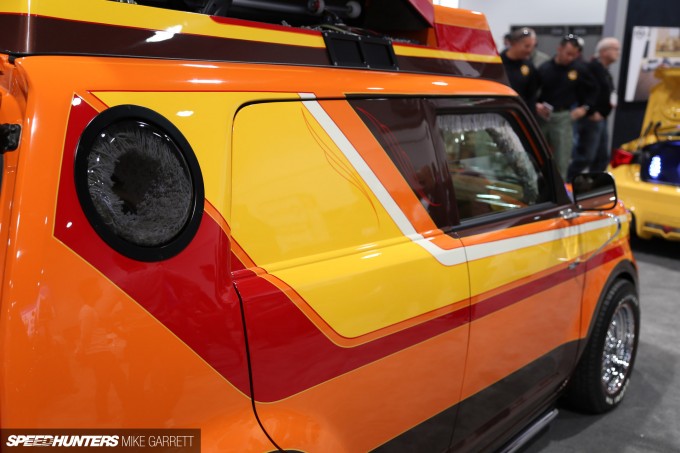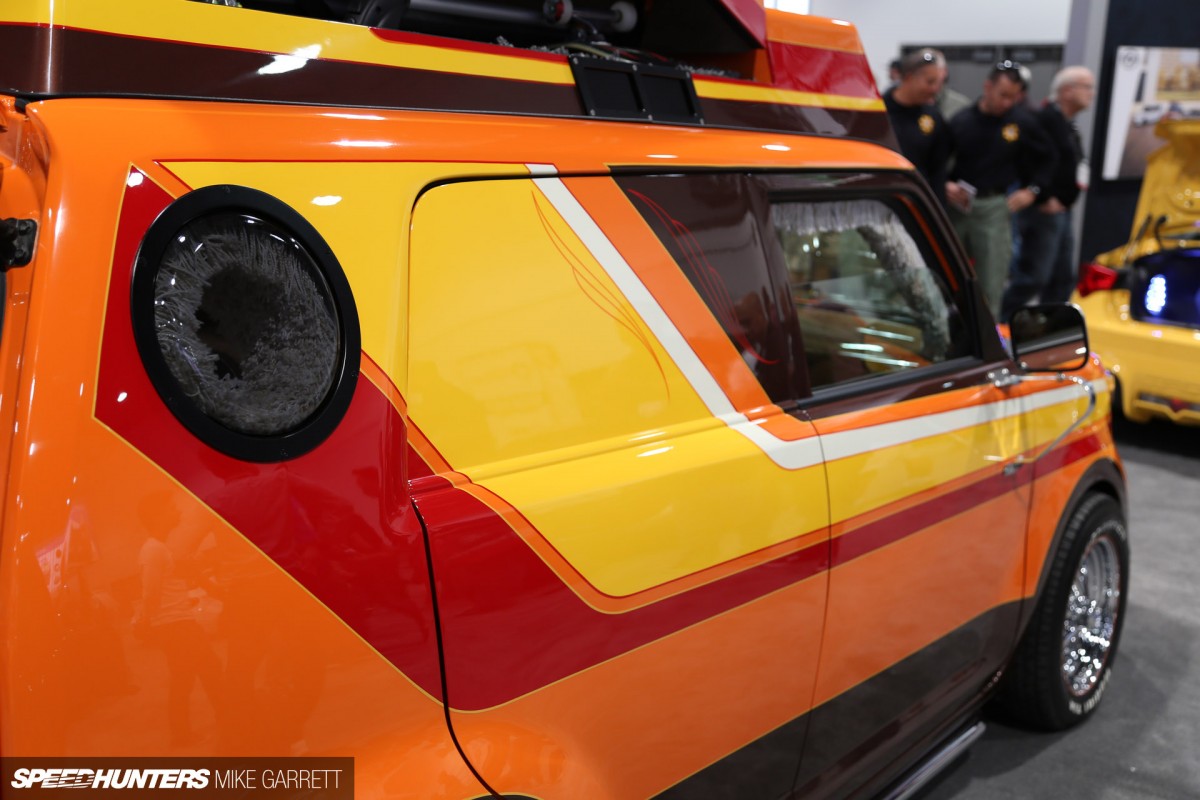 The whole idea was to reimagine the xB as a 1970s custom surf and skate wagon – and the builders have nailed every detail that made the custom vans of the era so cool. Loud graphics? Check. Porthole windows? Check. Sidepipes? You know it.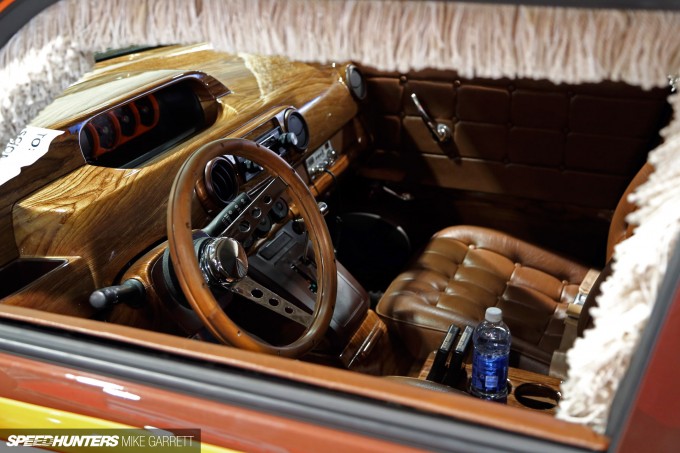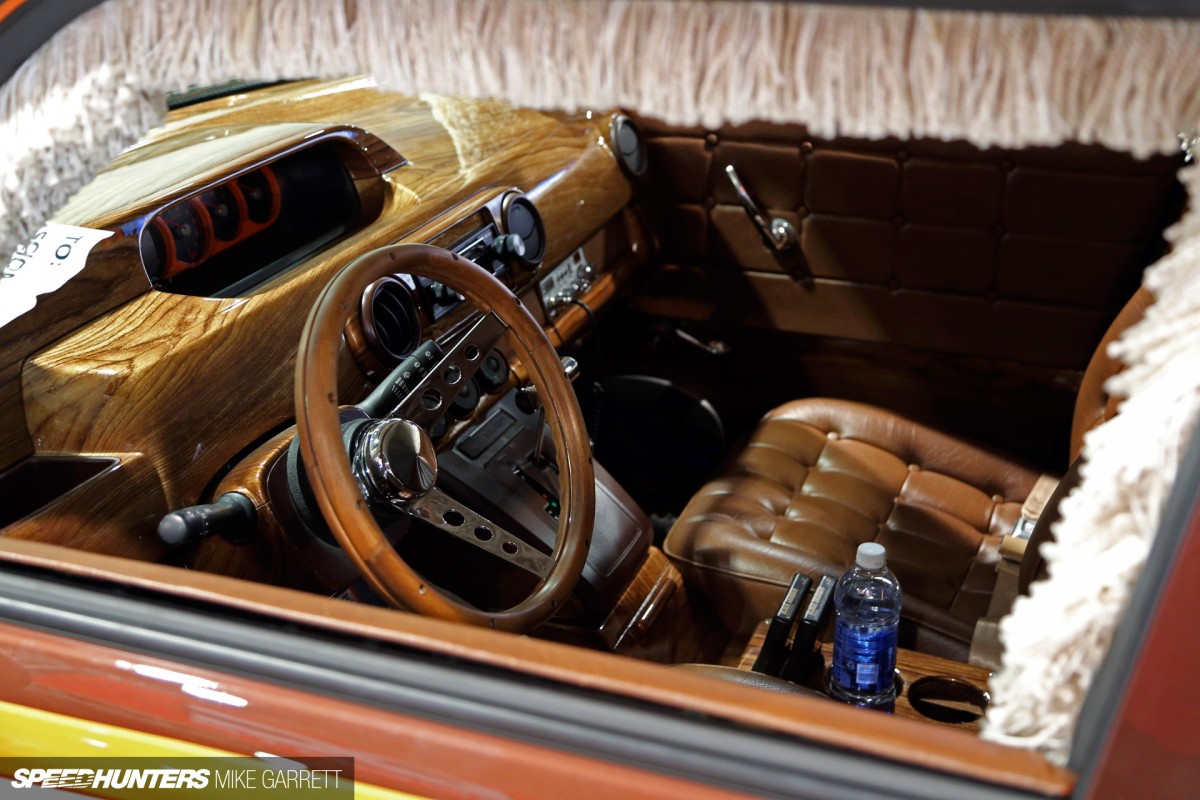 It gets even better inside. The cabin has been completely refashioned into a textbook example of '70s interior styling. There's a wood-rimmed steering wheel, brown leather upholstery, woodgrain dash, CB radio and an 8-track tape player.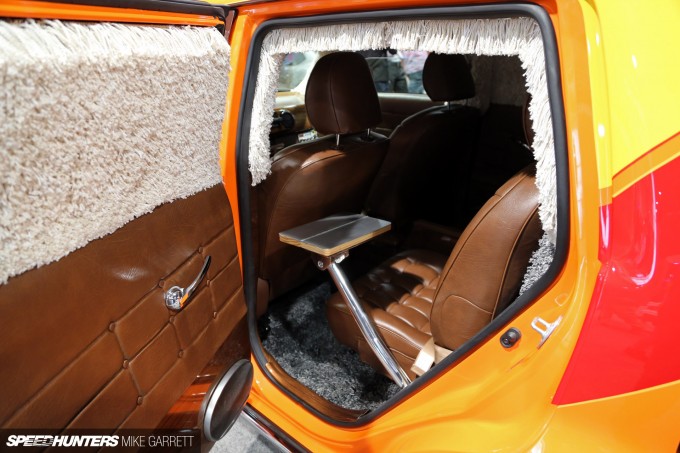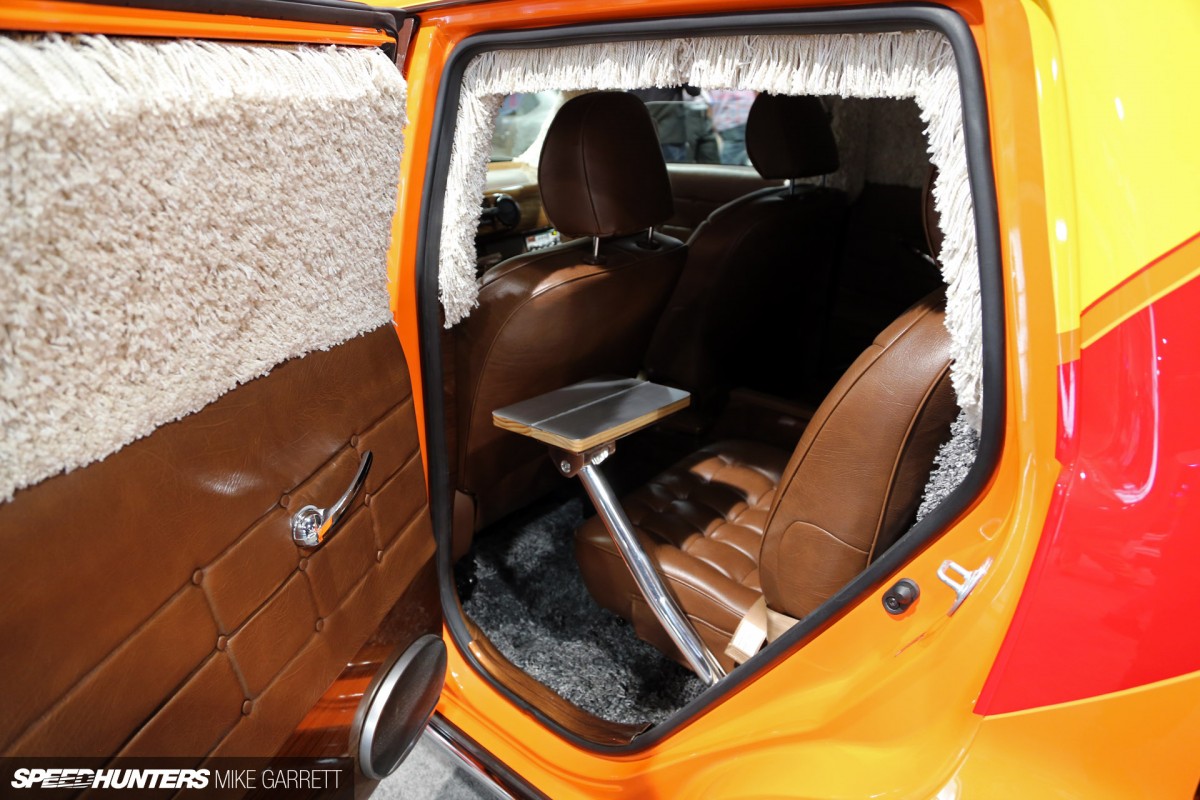 Of course, it wouldn't be a proper throw back to van customization in the '70s without excessive amounts of shag carpeting throughout. It's a shame the interior didn't offer quite enough space for a rotating bed in the back.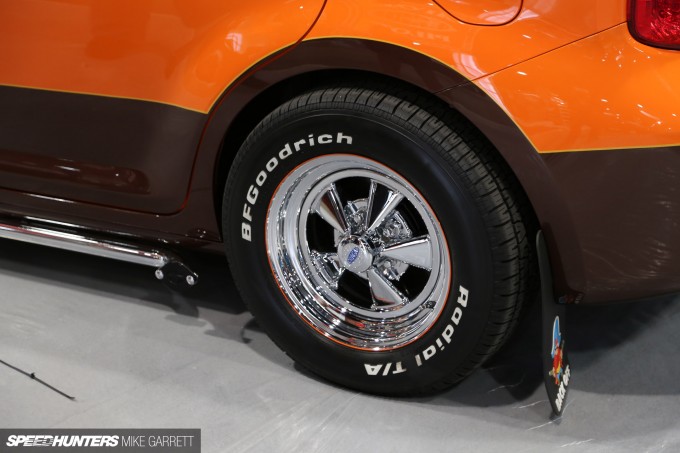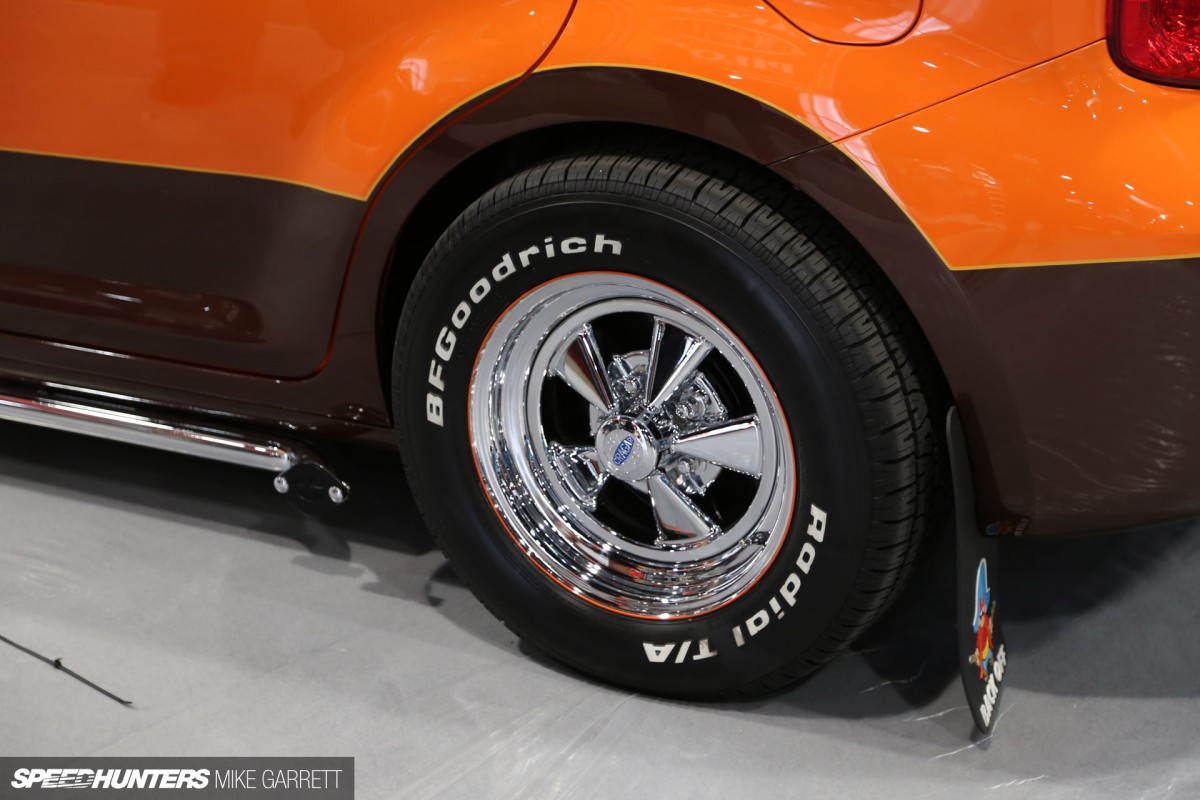 The whole thing is set off by a wide 'n skinny set of 15-inch Cragar SS wheels with BFG tires – and let's not forget the must-have Yosemite Sam 'Back Off' mudflaps. This is retro styling done right!
Big Trucks & Little Cars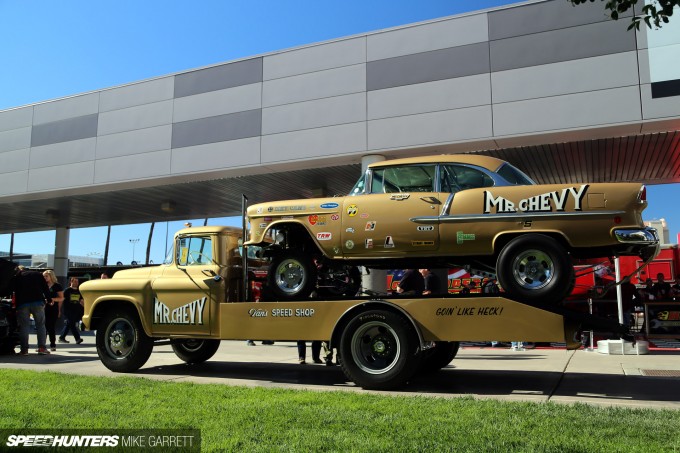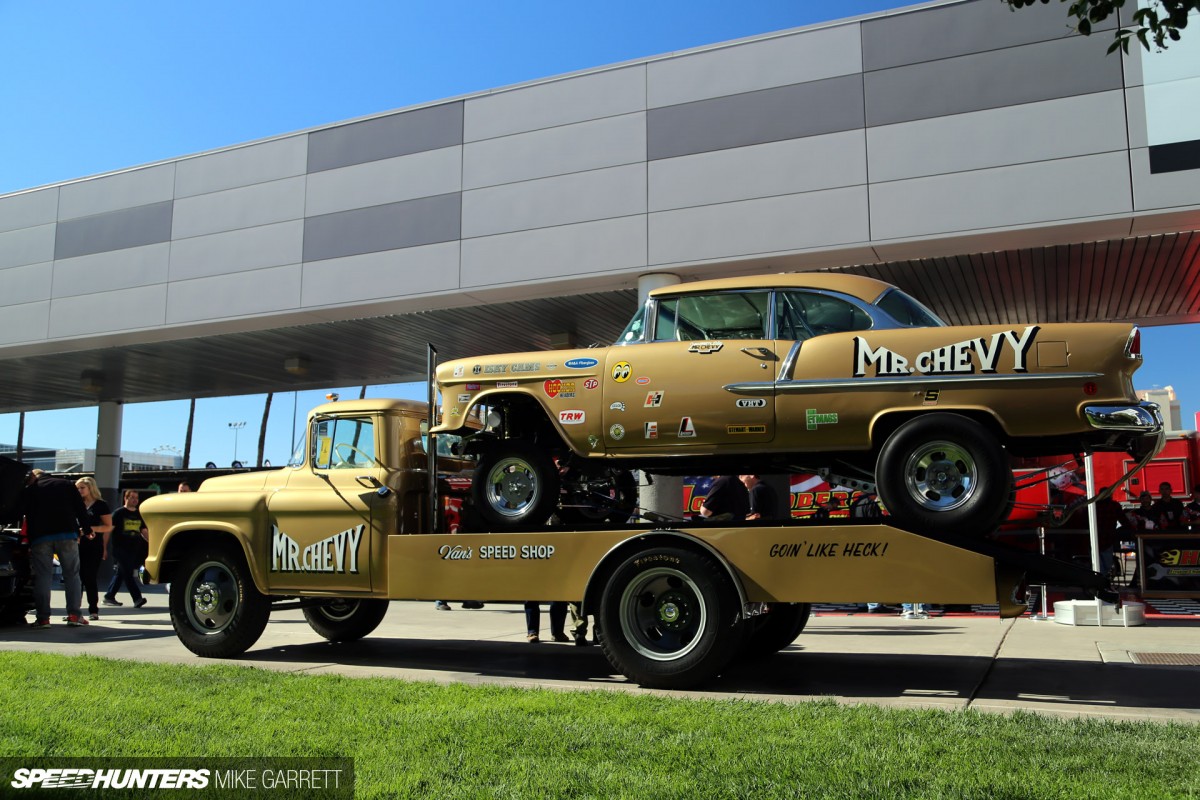 There's always something to be said for a badass car and hauler combo, and this duo, originally built at Van's Speed Shop in Illinois, takes the concept to the next level.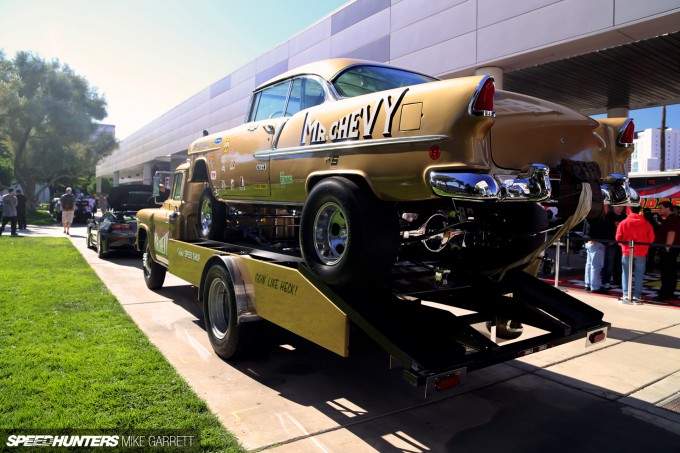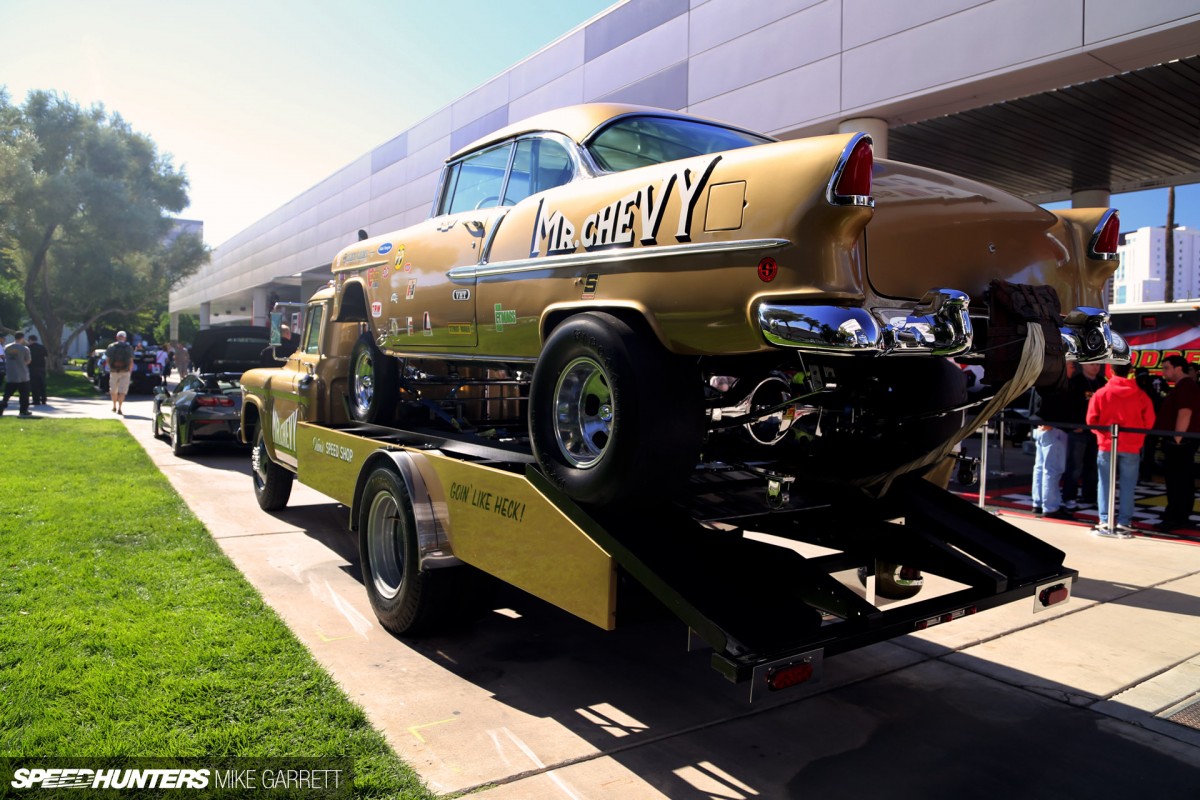 Both vehicles are '55 Chevys – one a genuine '60s-era gasser in full period race trim, and the other a restored 1-1/2 ton ramp truck used to haul the car around to events and races in the day.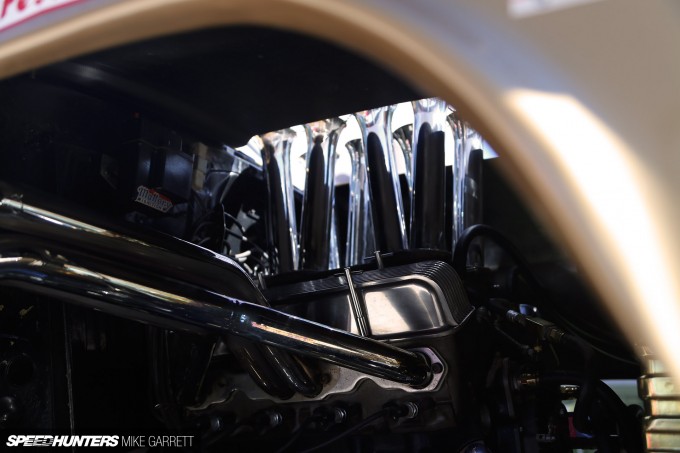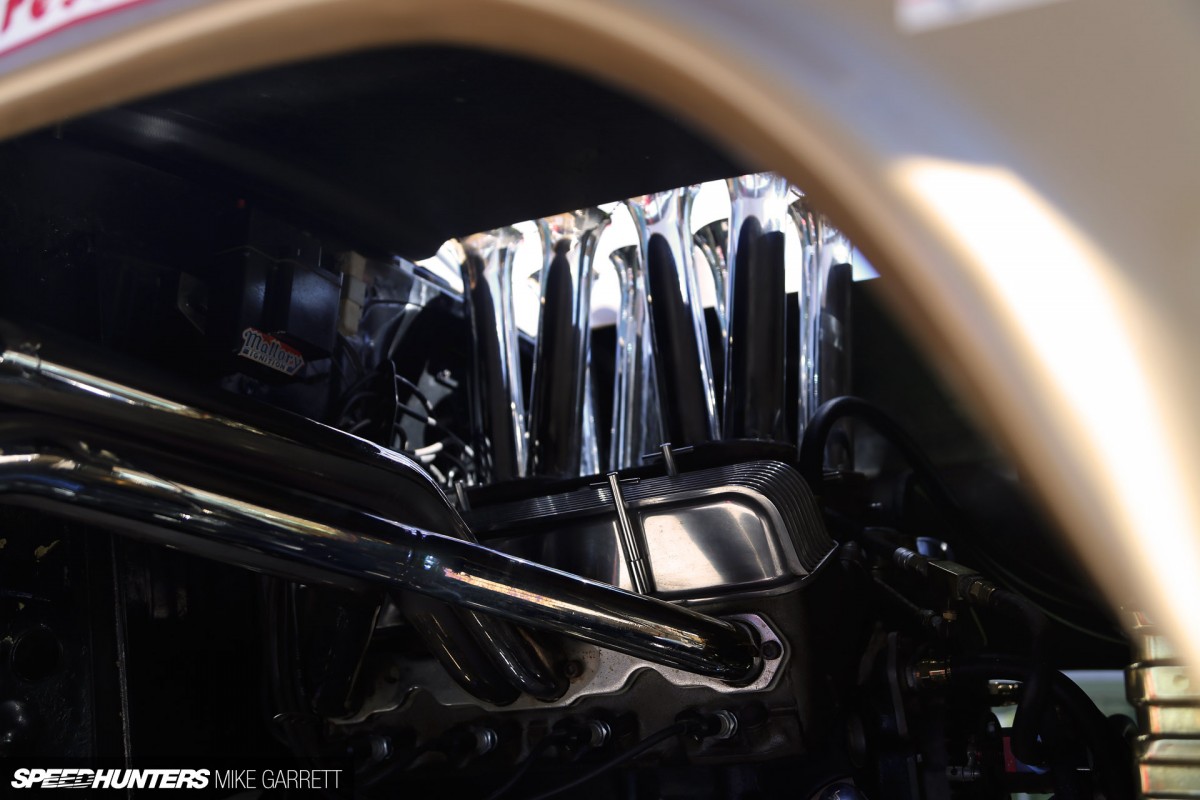 Save for some light restoration work, the car sits exactly as it did when it was last raced in 1976, and it's got all the stuff that makes old drag cars cool – four-speed stick shift and a Hillborn-equipped 327 up front included. Because it was built for both racing and shows, it has some other neat details, like a chromed Pontiac rear end.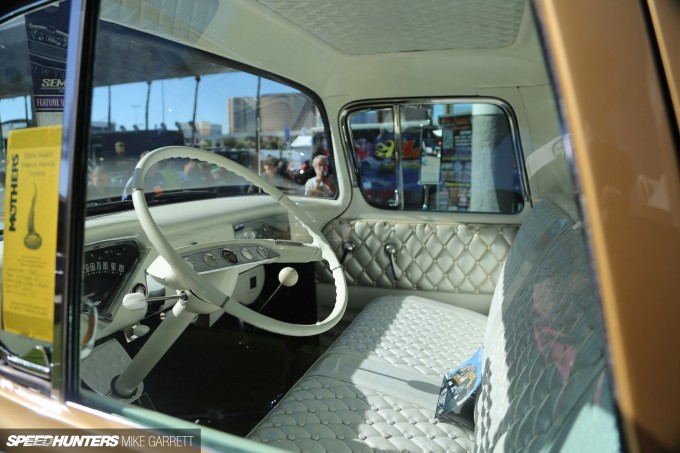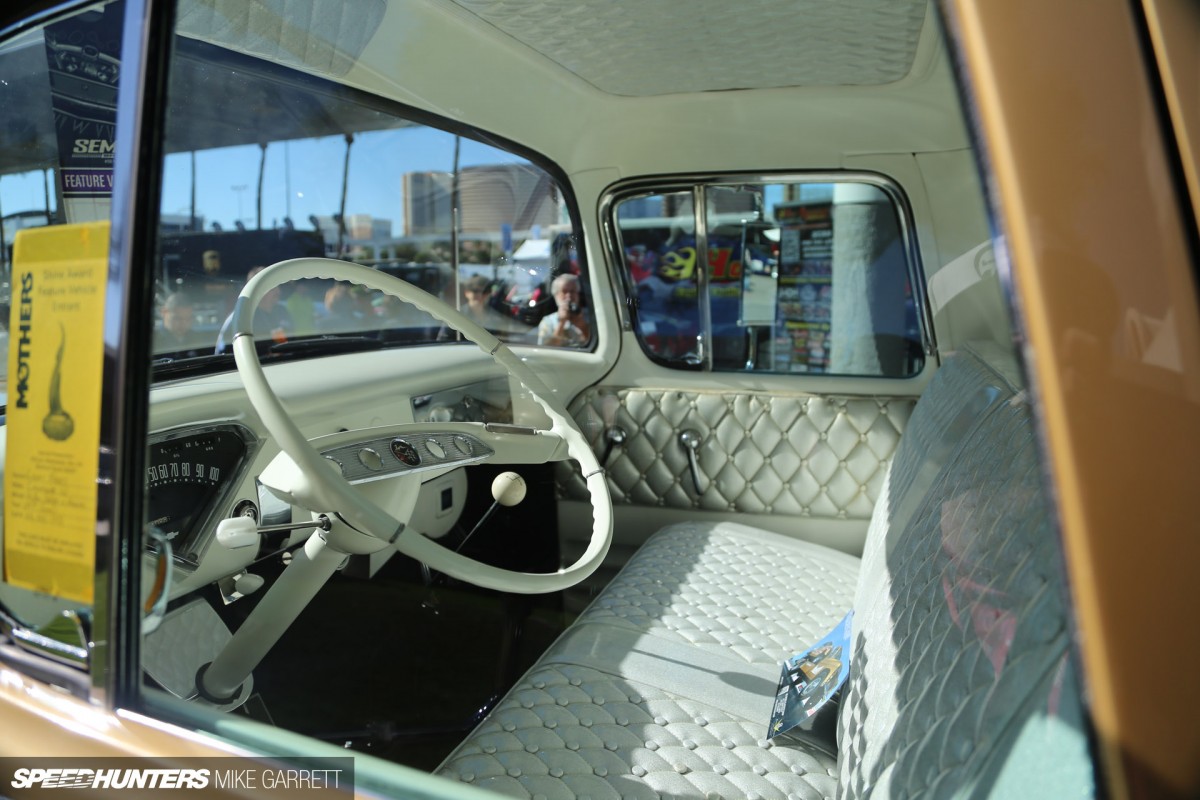 As cool as the car is, the truck might be even better thanks to matching gold paint and period lettering, original wheels, and an interior loaded with tuck 'n roll upholstery.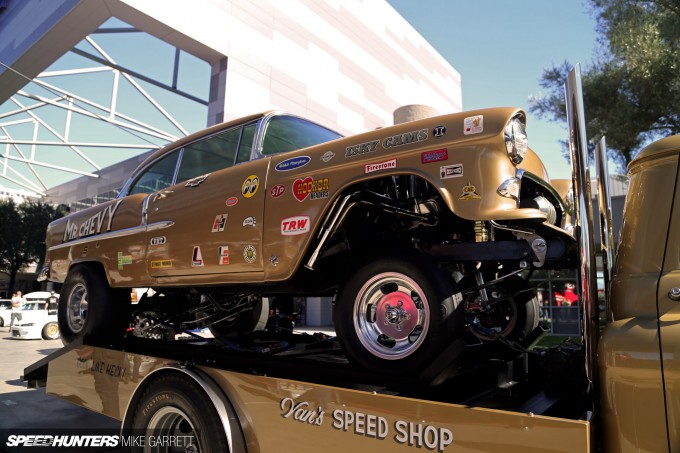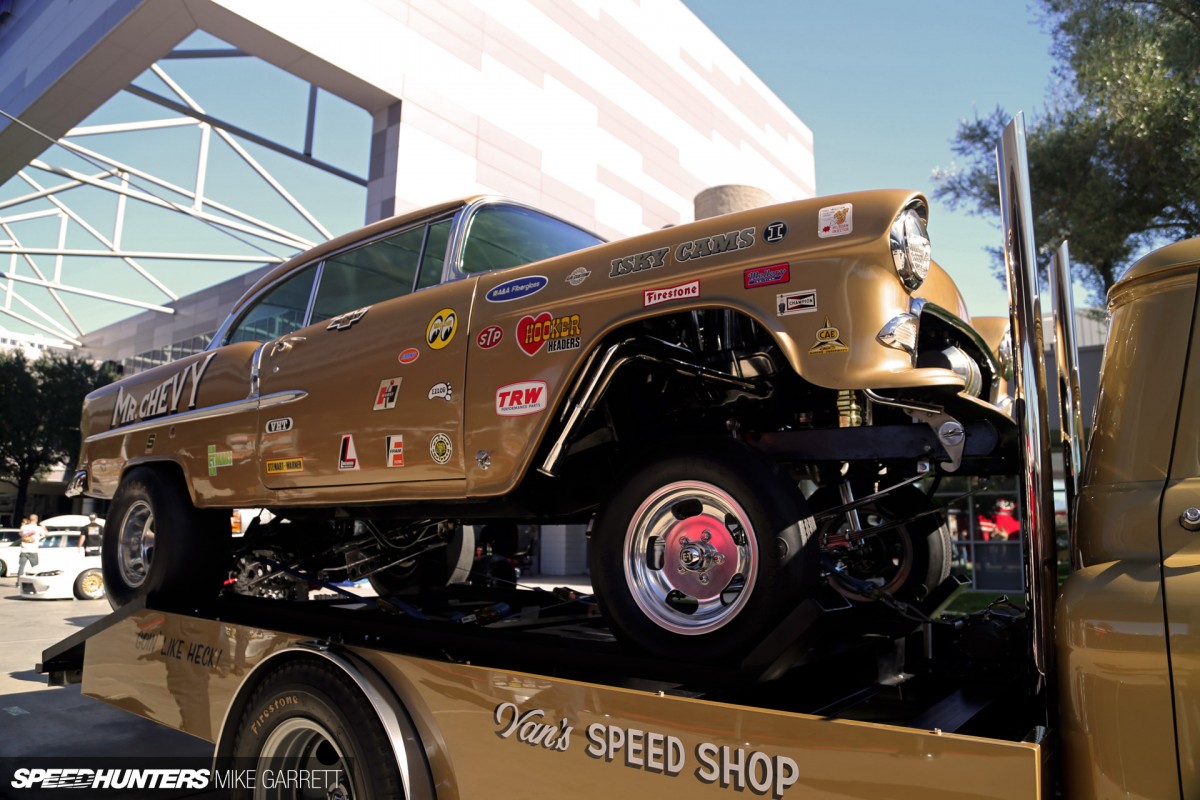 While the covered trailers and transporters of today might be the safer and more protective way to transport a racecar, they just can't match these ramp trucks when it comes to impact. How cool would it be to see this thing rolling down the interstate?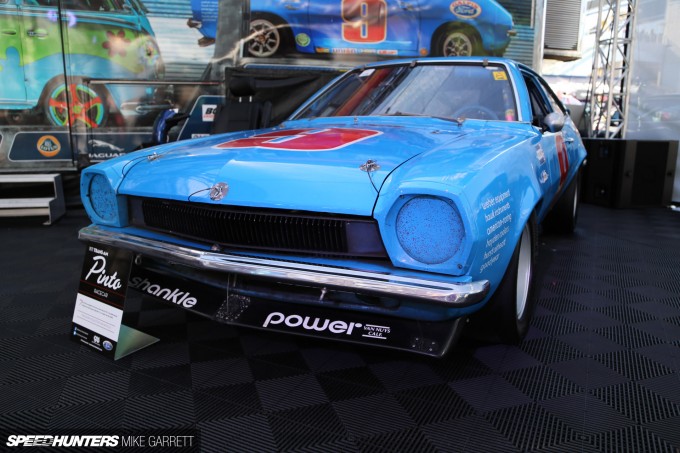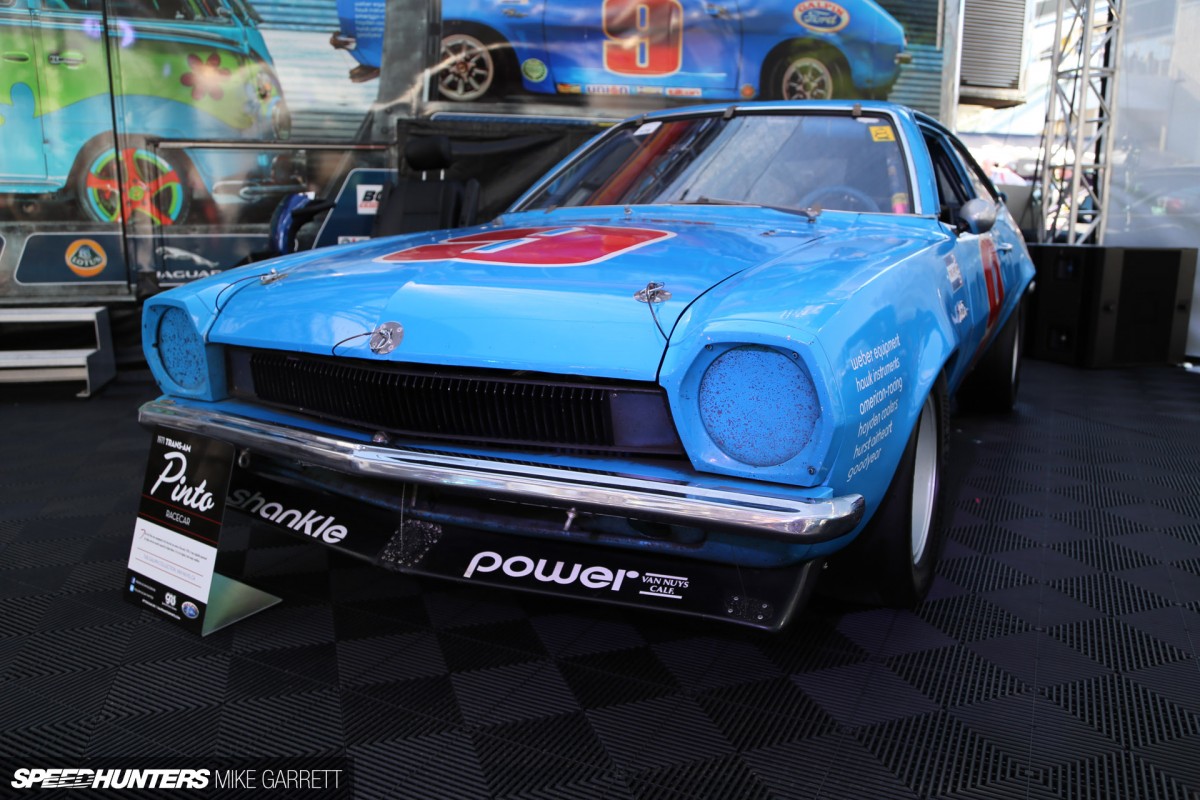 Galpin Auto Sports brings a giant display to the SEMA Show every year with a big selection of custom Fords and usually a few vintage machines for good measure. This year I was very surprised to see this '71 Pinto getting some love in the booth.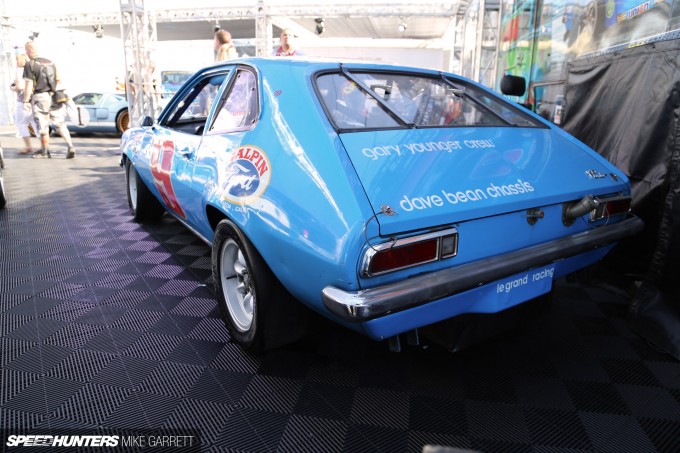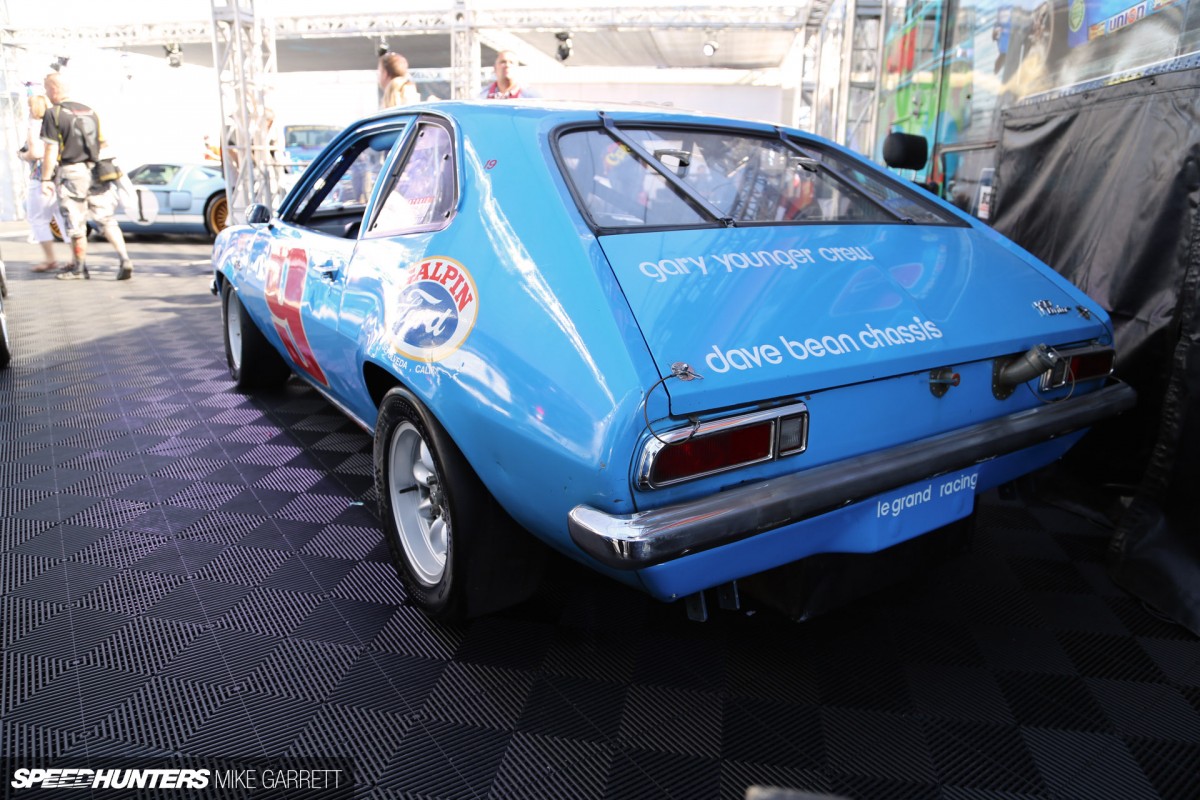 The Pinto is a genuine racecar that was campaigned in the SCCA Trans-Am Two-Five Challenge during the early 1970s with support from SoCal's iconic Galpin Ford dealership.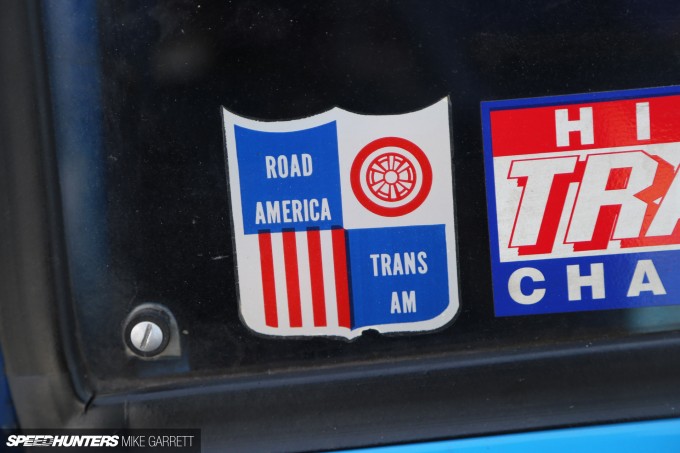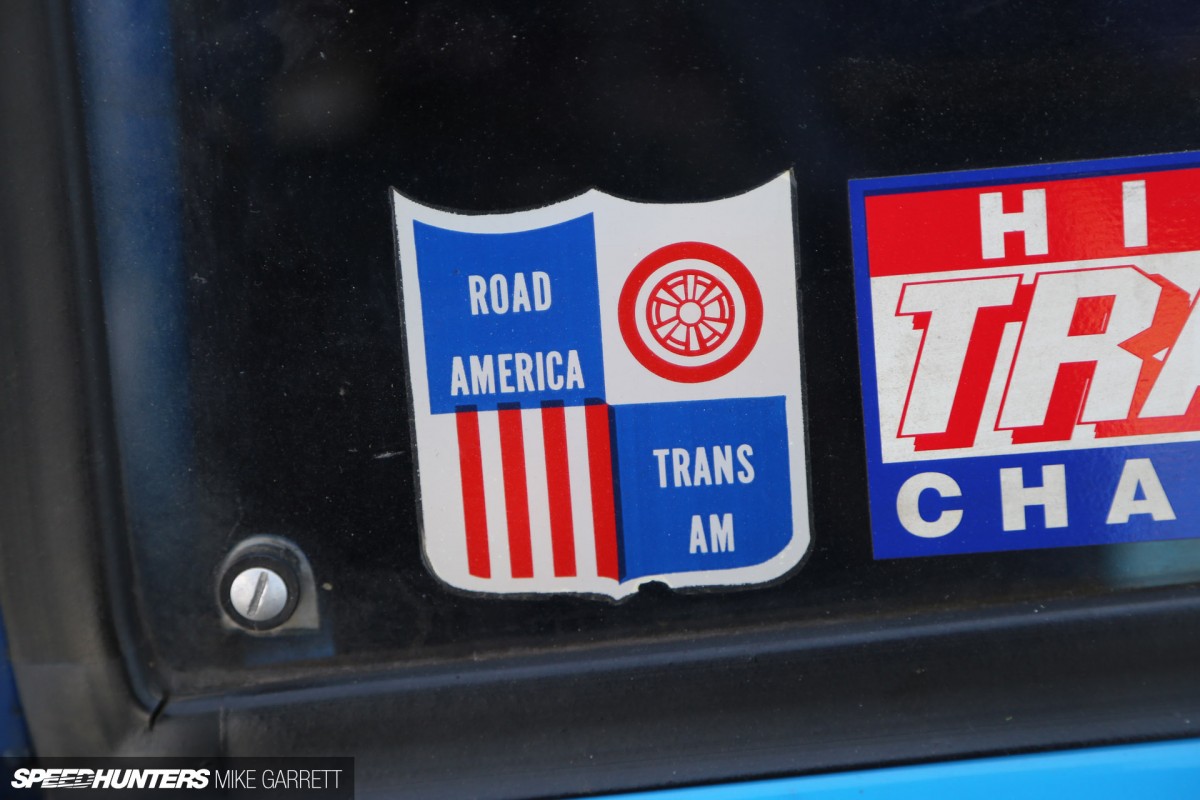 The Two-Five challenge was famous for its battles between BMW 2002s, Alfa Romeos and Datsun 510s – but the little Pinto was able to hold its own against the imported competition at the time. It was about the closest us Americans ever got to the Euro-spec Escort.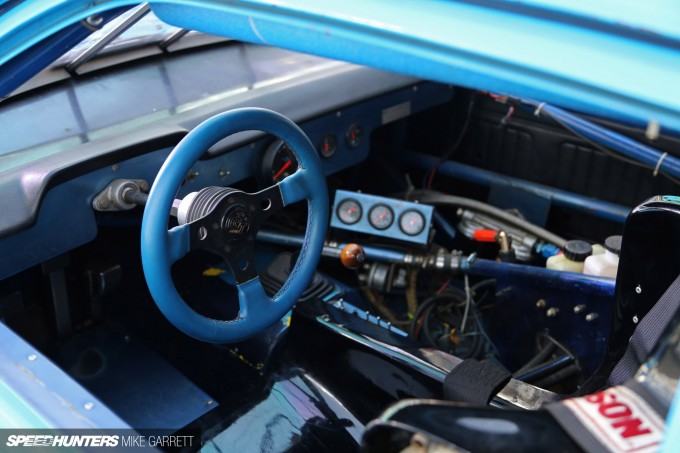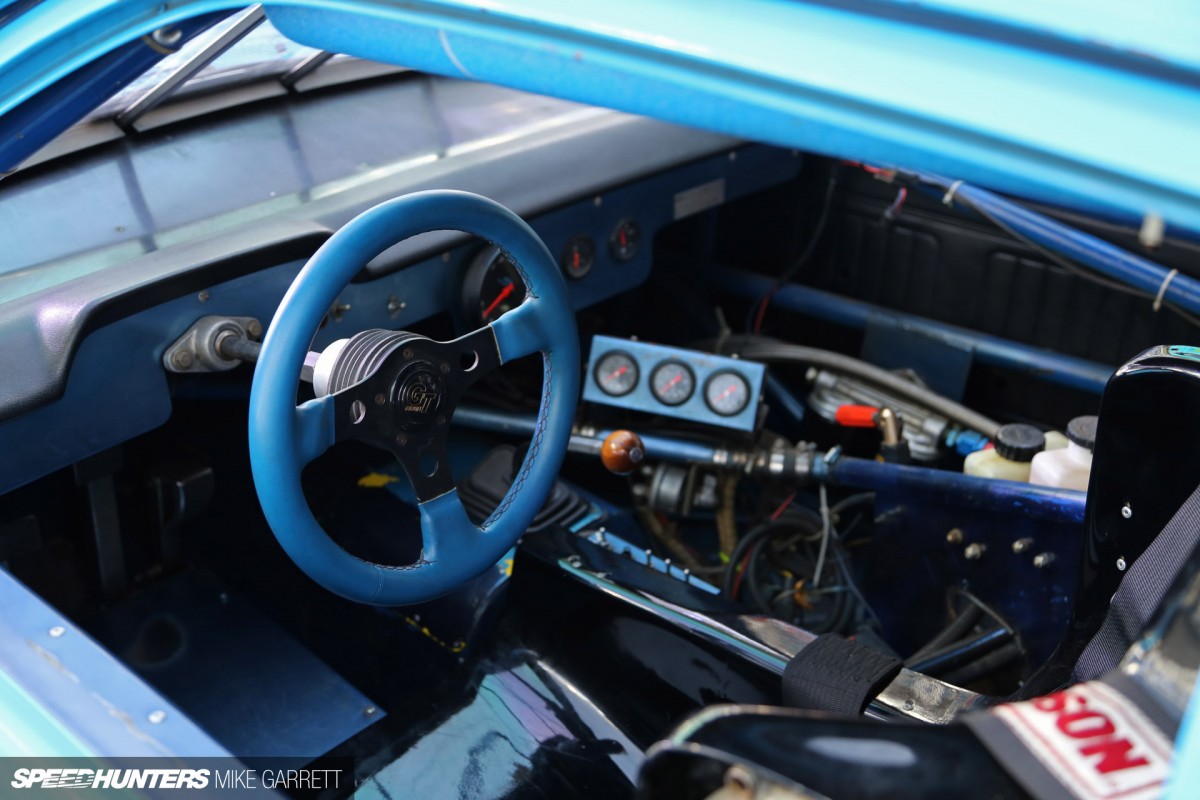 After sitting unused for many years, the Pinto was acquired by Galpin as the latest addition to its impressive collection of historic race and show cars. As you can see, it's been fully preserved in track-ready condition.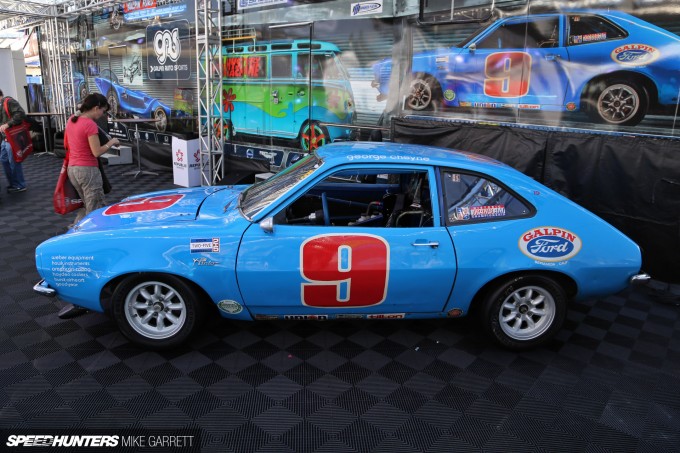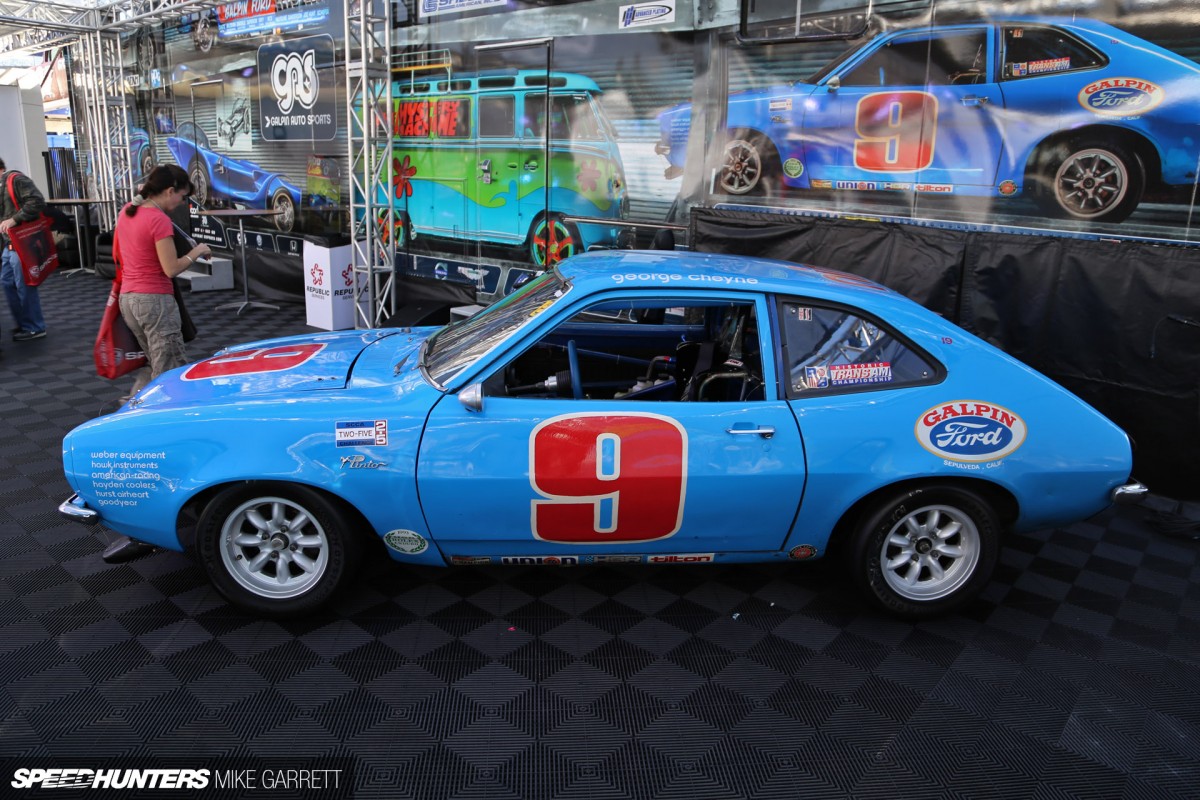 My brother and I actually own a '72 Pinto that's been sitting for a few years, and seeing this example has got me scheming about getting it back on the road. Oh the possibilities…
Time Machines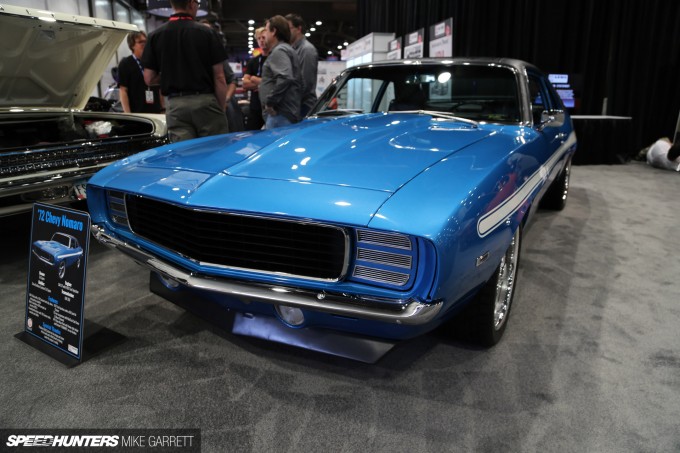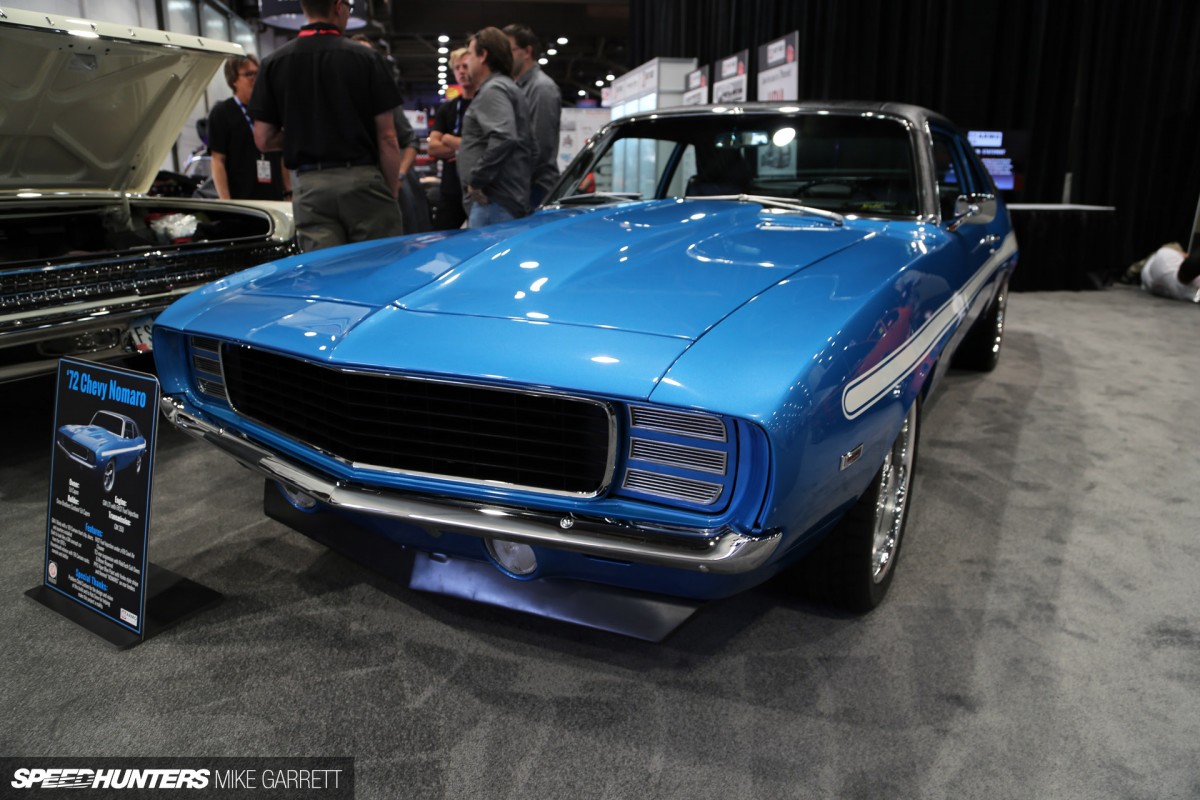 Oh look it's a '69 Camaro – one of dozens that you are guaranteed to find at the SEMA Show every year. Hold on a second though, this one actually looks a little strange…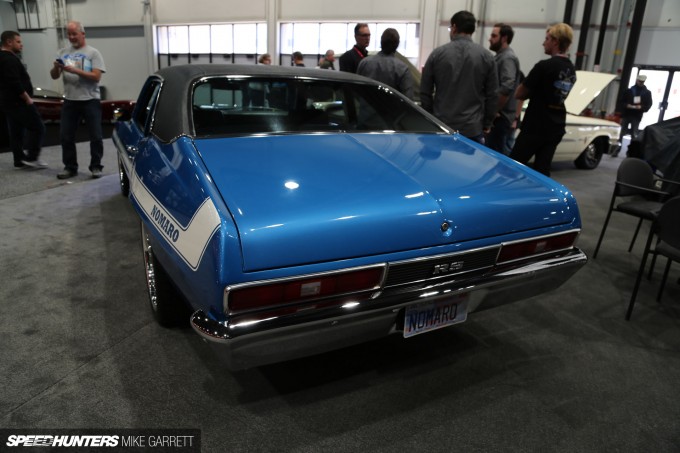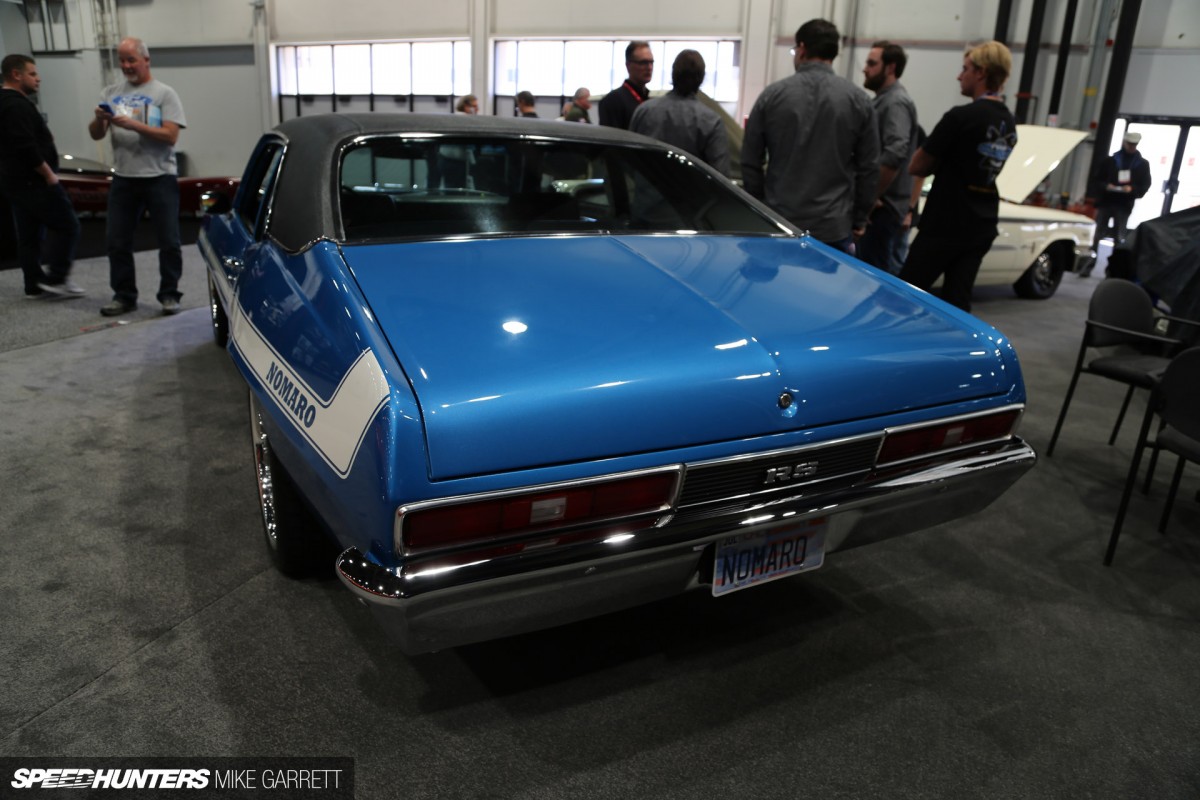 That's because it's actually not a Camaro – it's a '72 Nova that owner Ed Capen modified to look like a concept car that GM might have built during the late '60s or early '70s.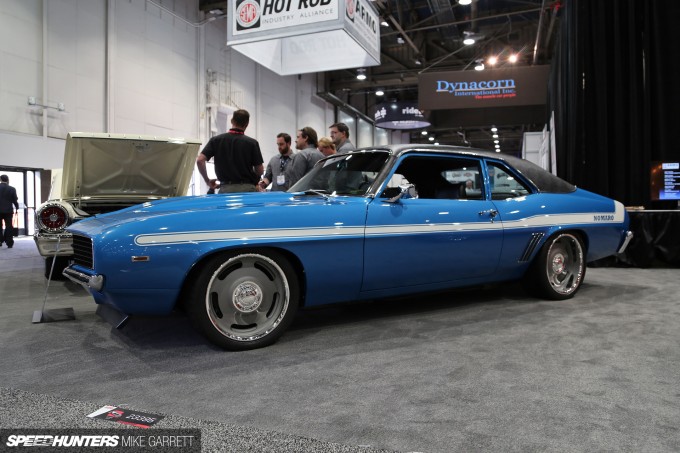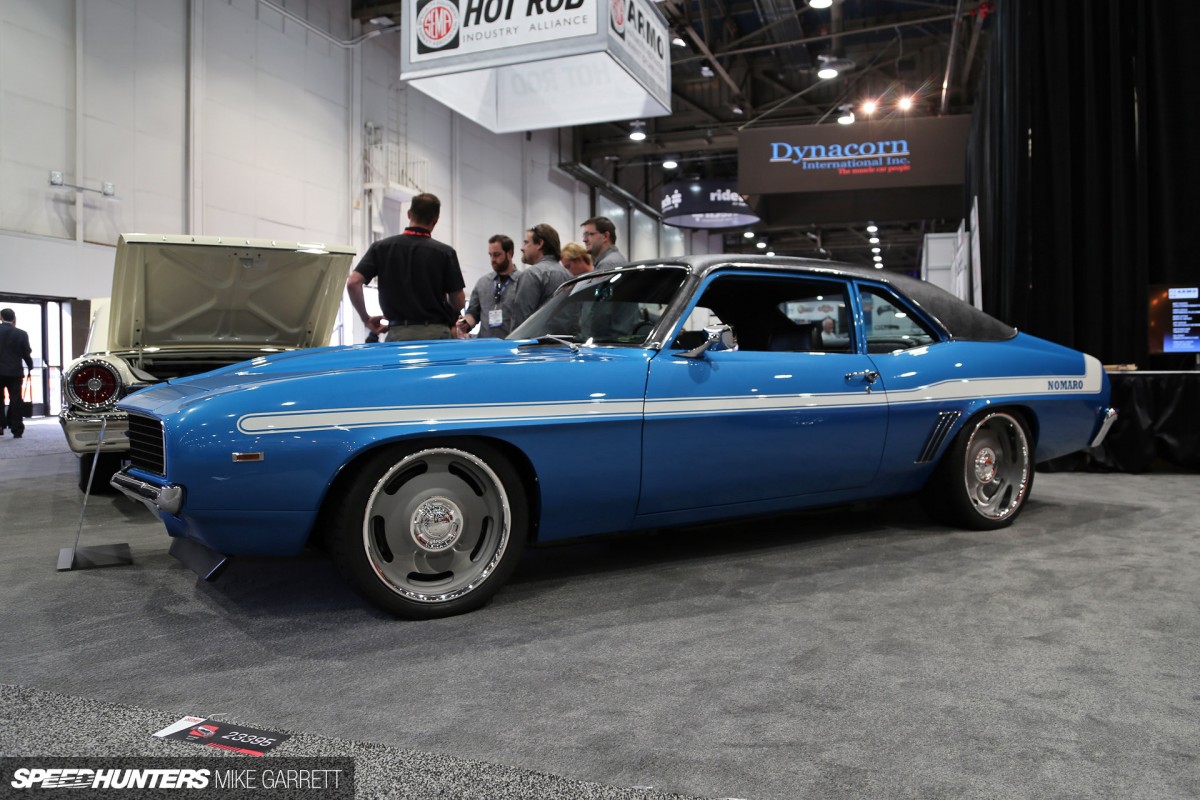 Creating the 'Nomaro' wasn't an easy job. Along with the entire '69 Camaro front end that's been fitted on the Nova chassis, the car also uses Camaro doors and rear quarter panels.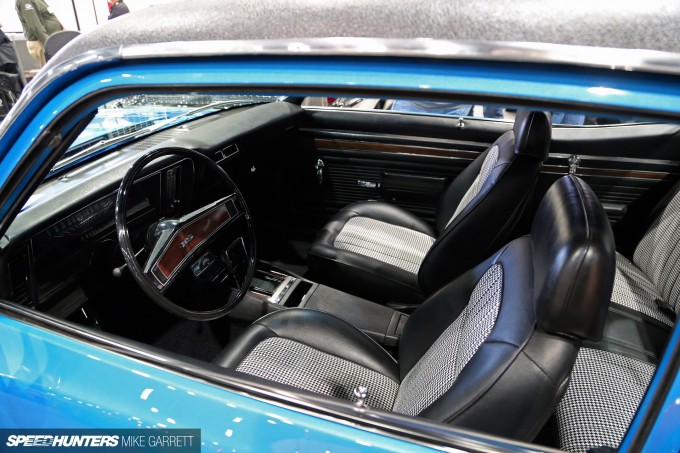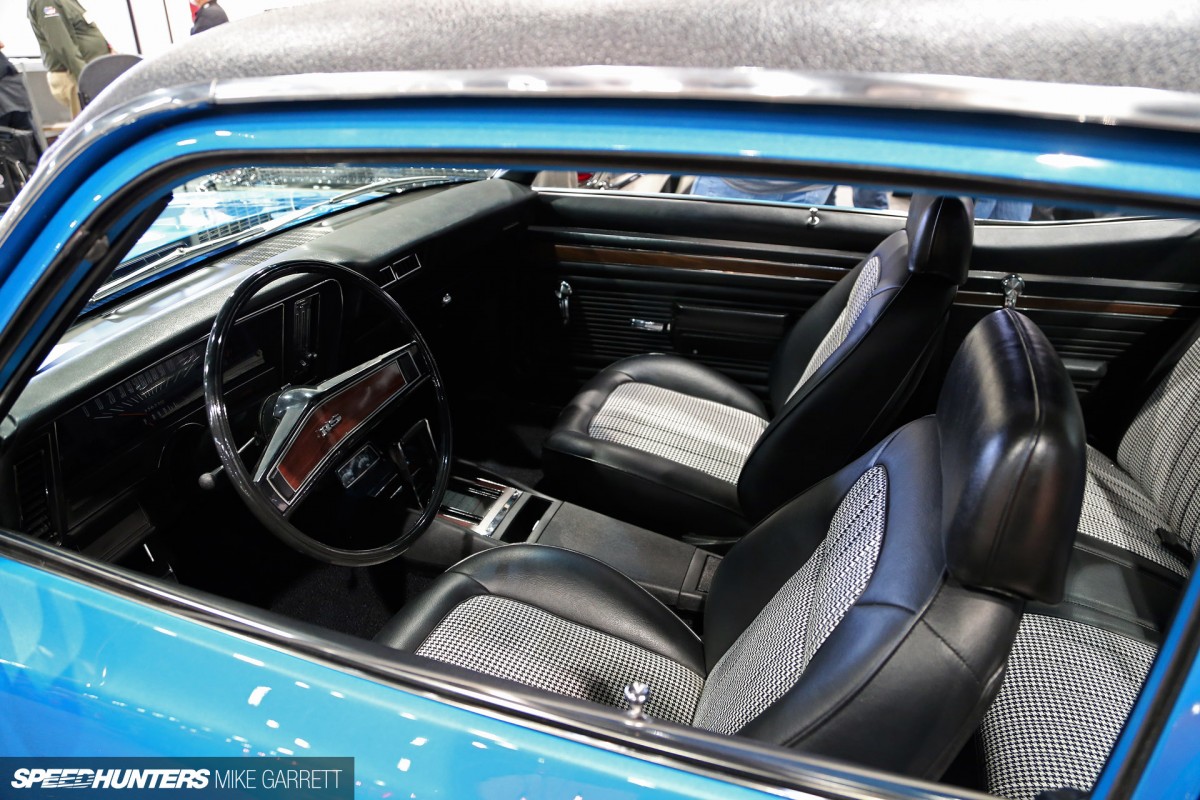 The interior has also been restyled to resemble that of a Camaro, with houndstooth upholstered bucket seats and a '69 Camaro center console and shifter setup.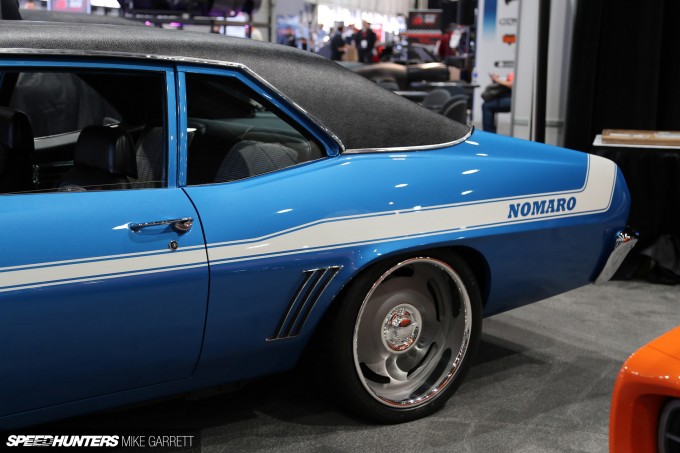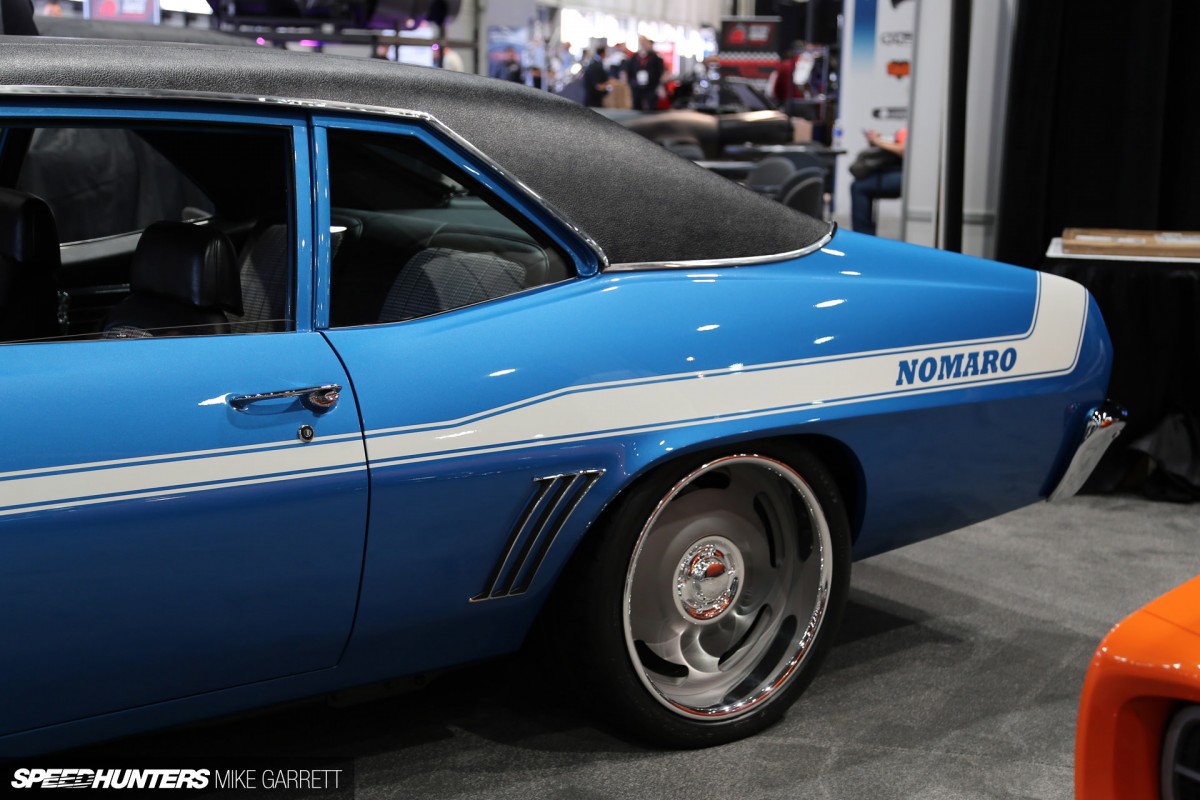 Trying to merge two cars together into one can be a very hit or miss proposition – but I really like the attention to detail and cohesiveness of this one. Nice work.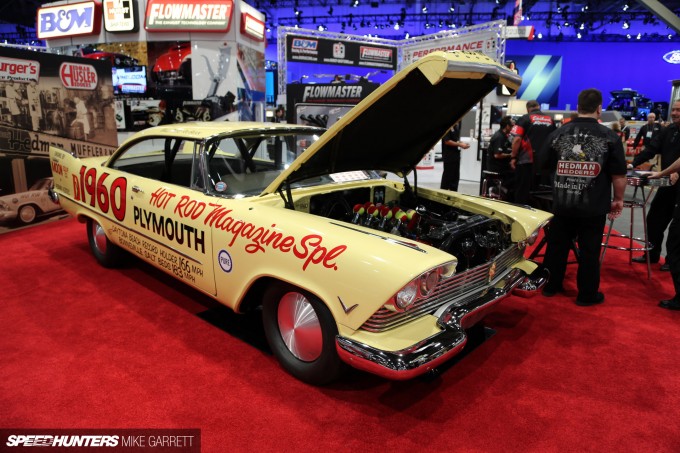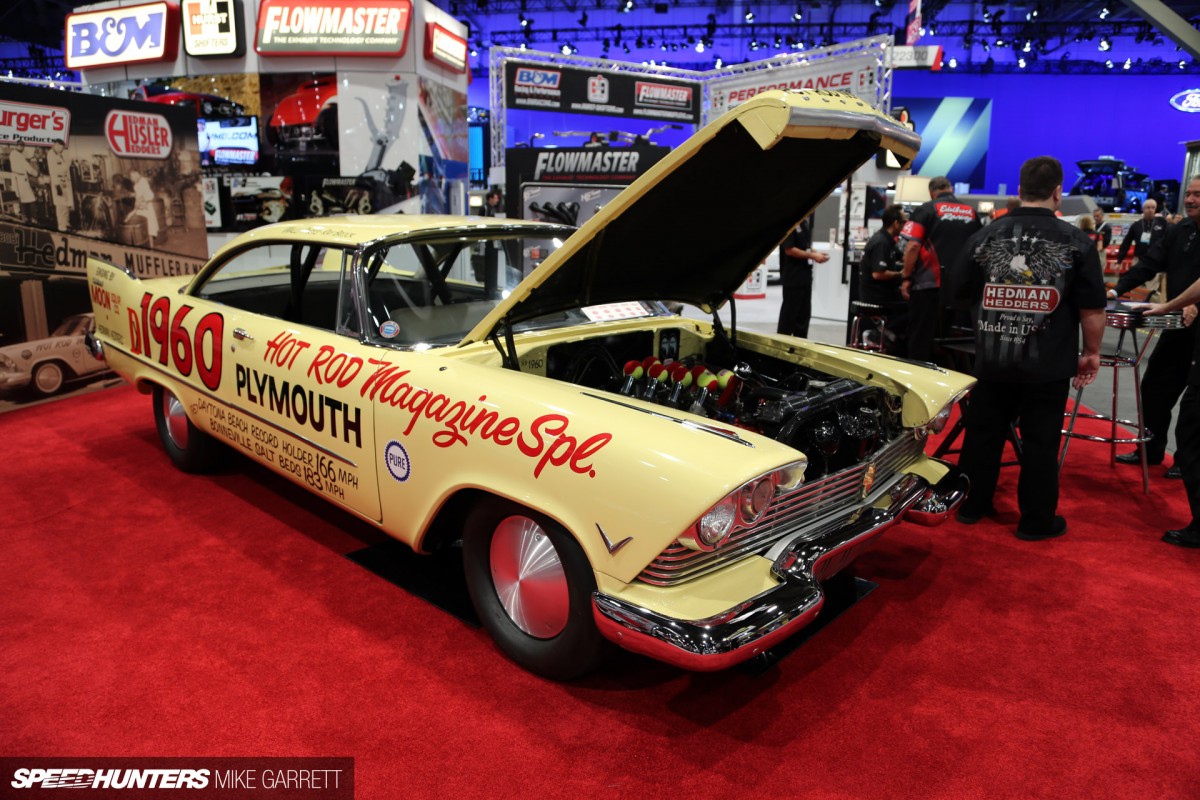 Finally, we get to the centerpiece of the Hedman Headers booth – a perfect replica of the 'Suddenly' Plymouth Savoy originally built by Wally Parks and Ray Brock of Hot Rod Magazine as a special project in 1957.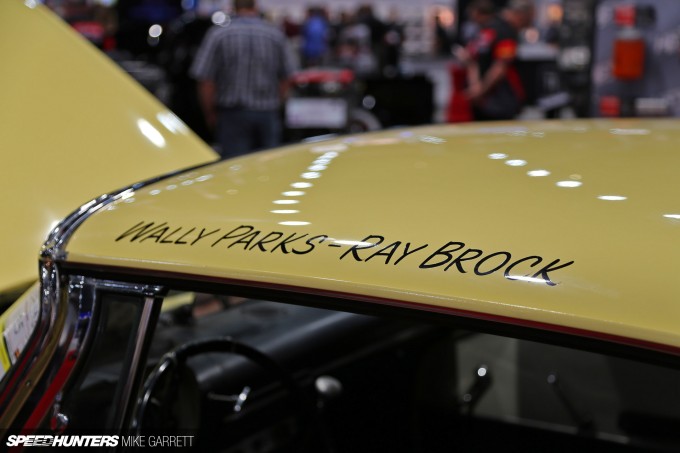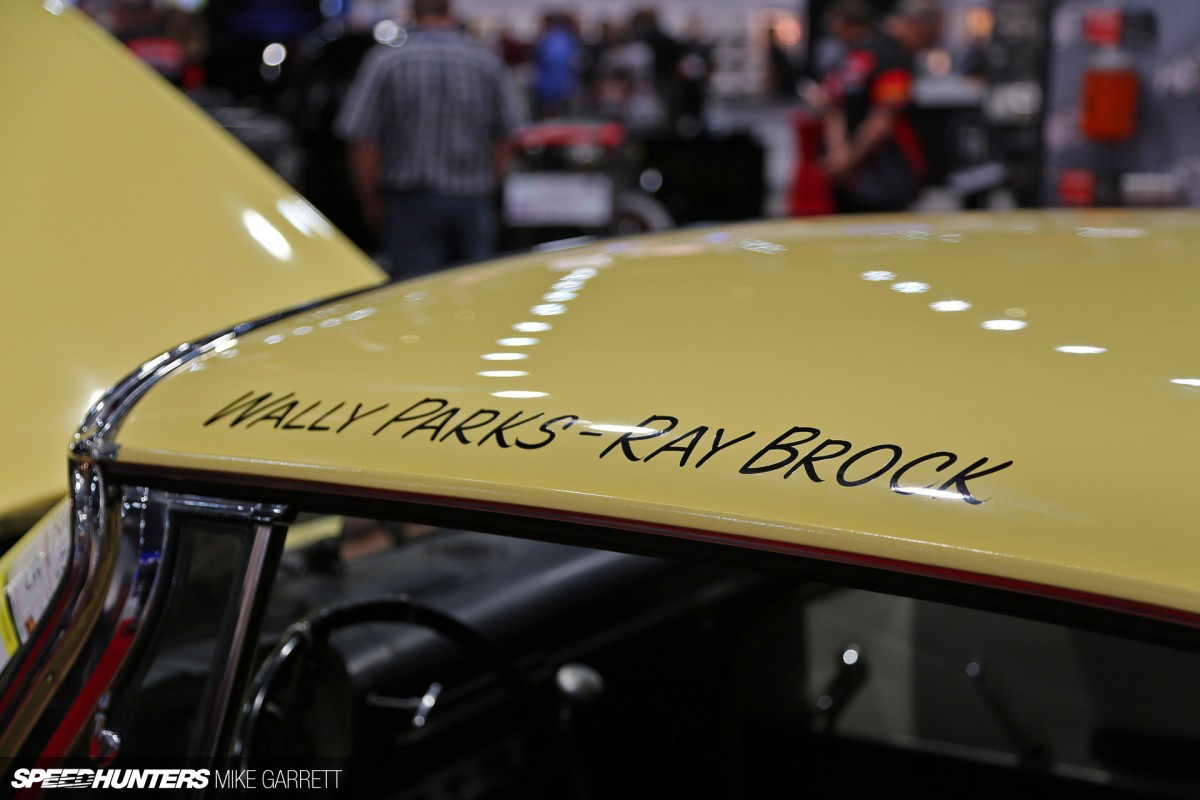 The goal was to modify the brand new Plymouth for competition at NASCAR's Daytona Beach speed trials where it would go on to a record-breaking 166 miles per hour. Later it would hit 183mph on the salt at Bonneville.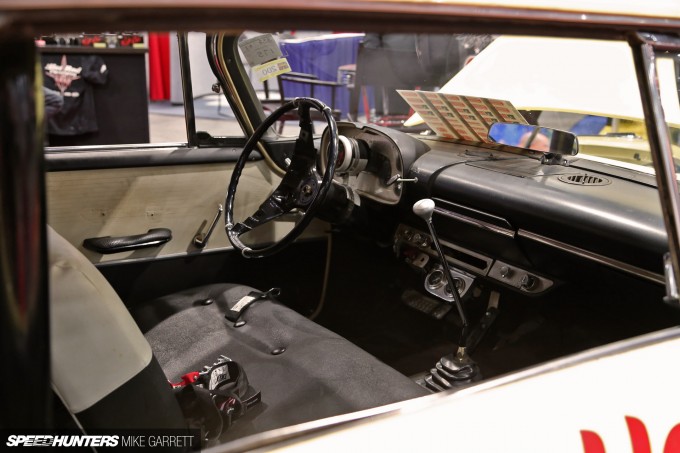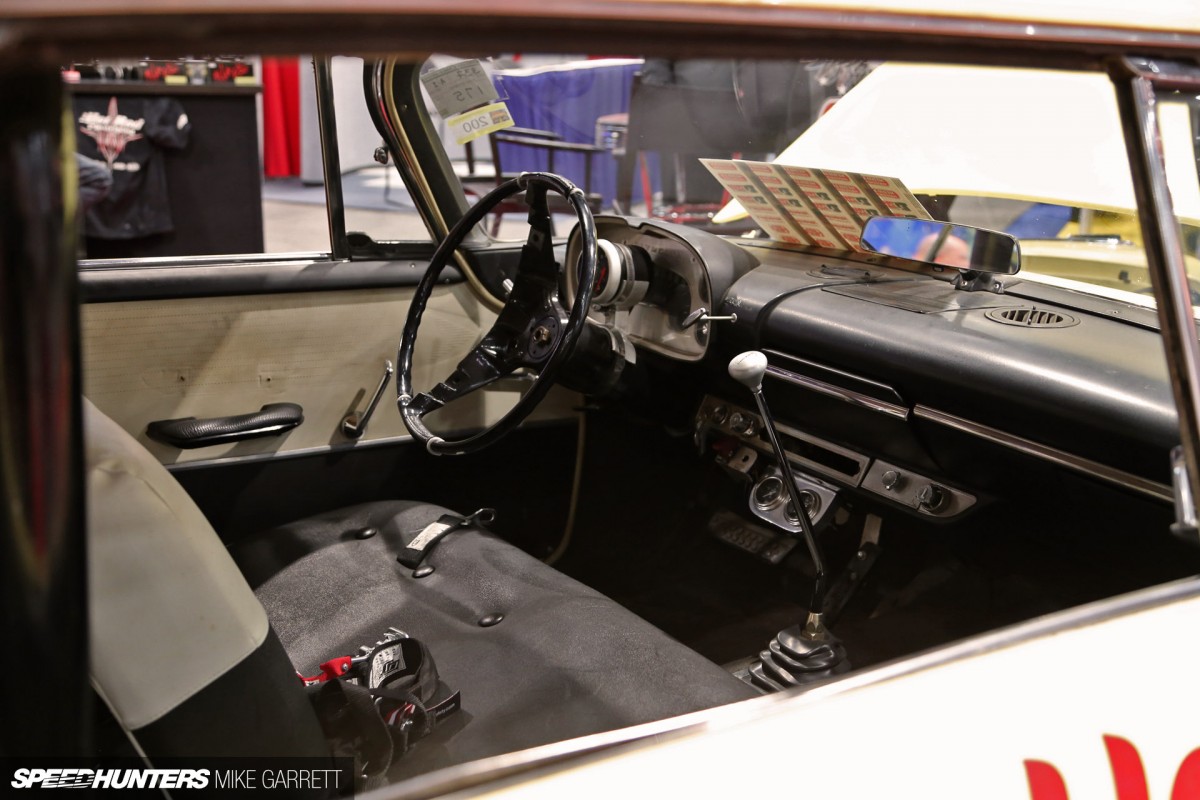 While the original 'Suddenly' Plymouth is long gone, two replicas have been built in the years since, and this car is the second and most accurate of the pair. The recreation has been headed up by Wally's son David, and is true to the original in every way.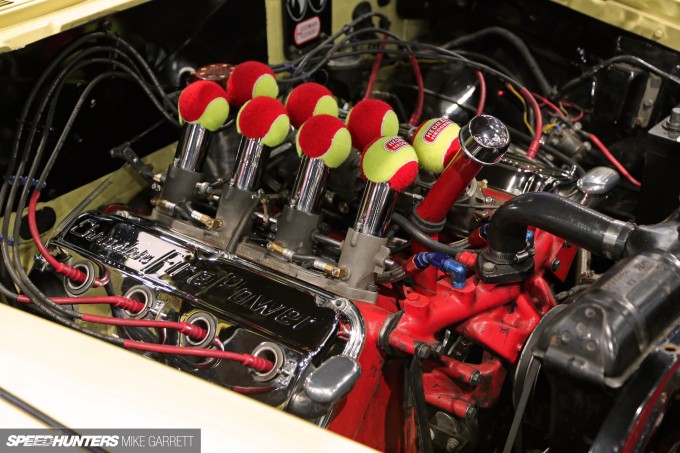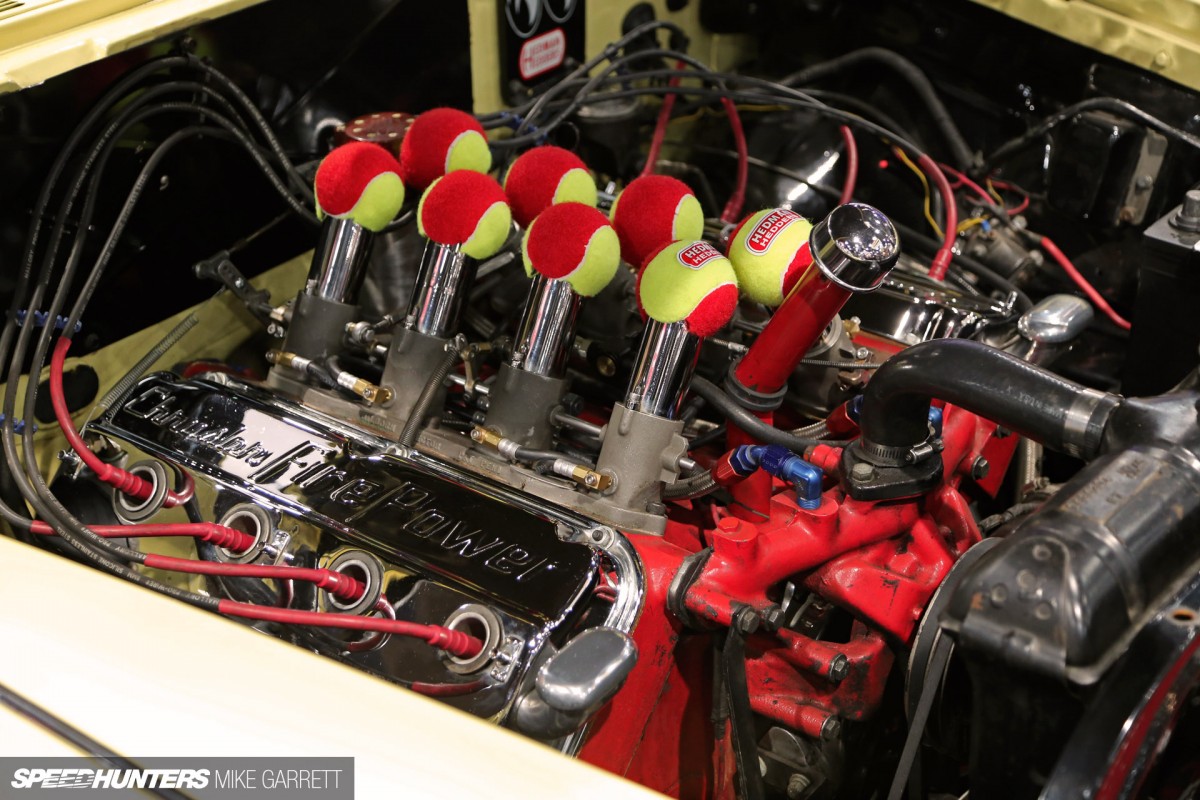 That includes the injected HEMI powerplant under the hood, which at the time was equipped with a set of one-off Tri-Y headers built by Bob Hedman at his Culver City muffler shop.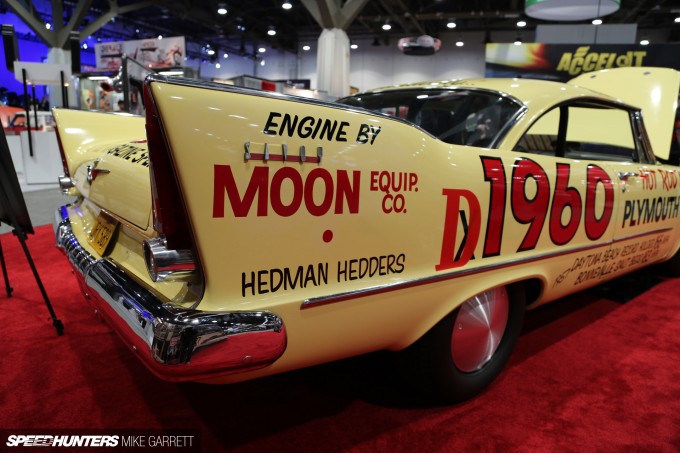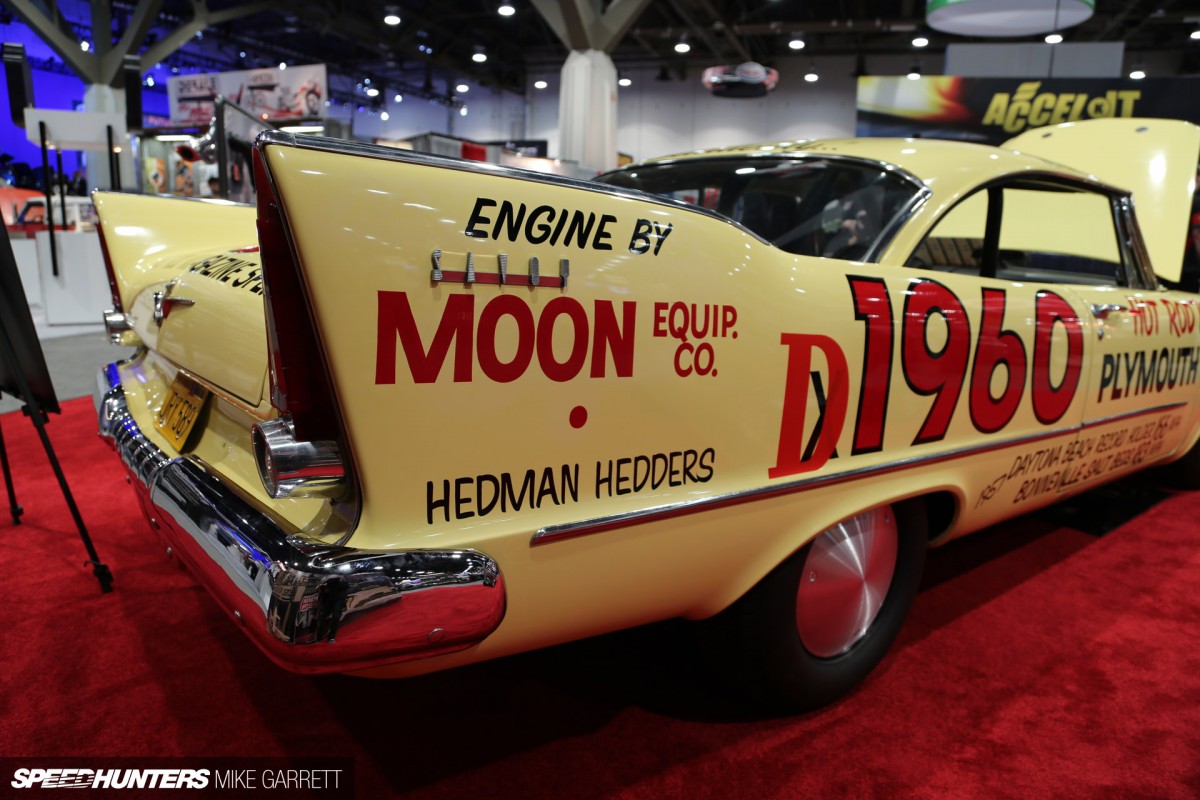 Best of all, the plan is take the Plymouth to the lake beds and salt flats to recreate the record-breaking runs of the original. After all, a project like this is just too cool to be a static showroom piece.
There you have it. From retro-styled concepts and vintage race cars, to traditional custom builds – the past certainly lives on at SEMA.
Mike Garrett
Instagram: speedhunters_mike
mike@speedhunters.com