It's been a busy couple of months with the Speedhunters entry for the 2014 Scion Tuner Challenge. Speedhunters' Technical Editor and expert car builder Keith Charvonia is spending every hour in, on, or under the Scion FR-S, I have been working on the style and aesthetics of the build, and Rod Chong has taken the lead as Creative Director of the project.
We only have a few weeks before Scion will take our FR-S back in preparation for their press event and the SEMA Show in early November. The car is now out of the paint shop and into the final build phase, and we will be sending all the artwork for the vinyl production in the next couple of days… Which is where you – the Speedhunters collective – come in!
We want you to speak out on one of the finer details of the Speedhunters build – our take on the iconic TRD livery which appeared in the IMSA GT championship in the '80s…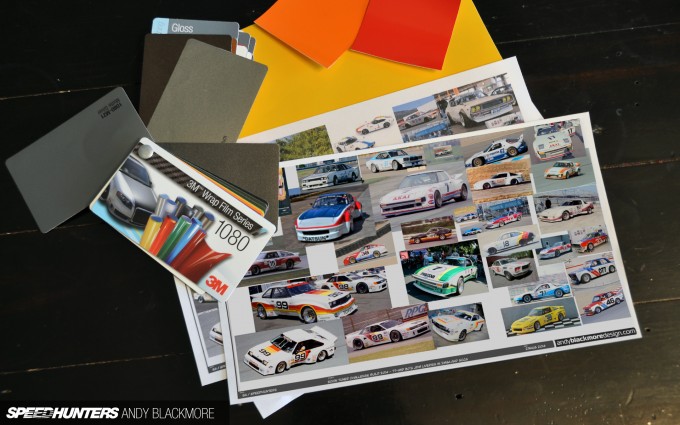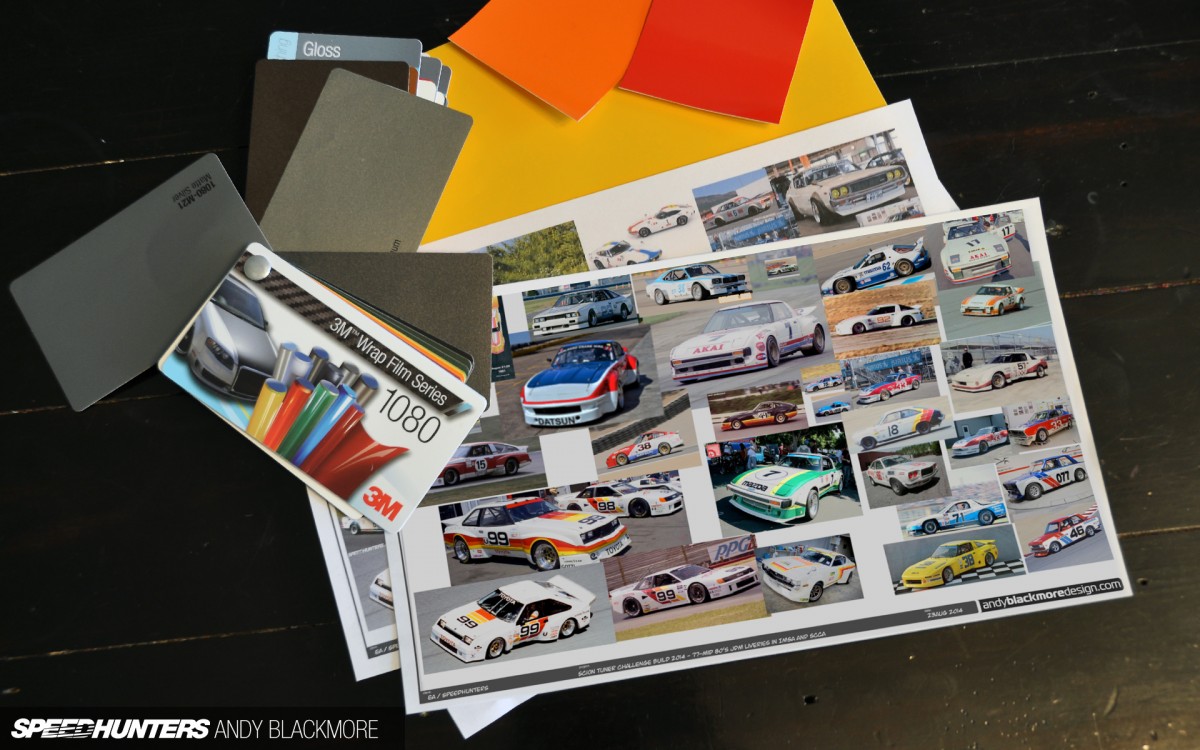 As you can see from the images and the latest Scion video we're creating a racer – or potentially a track day special – that references many styles and genres including the golden era of IMSA GT racing in the '70s and '80s. Along with SCCA and club racing, this was the period when Japanese teams entered and began dominating American motorsport. BRE with the Datsun 510 and 280Z, Mazda with the RX-7, and then into the '80s with the class championship-winning TRD Toyota Celica run by Dan Gurney's All American Racers.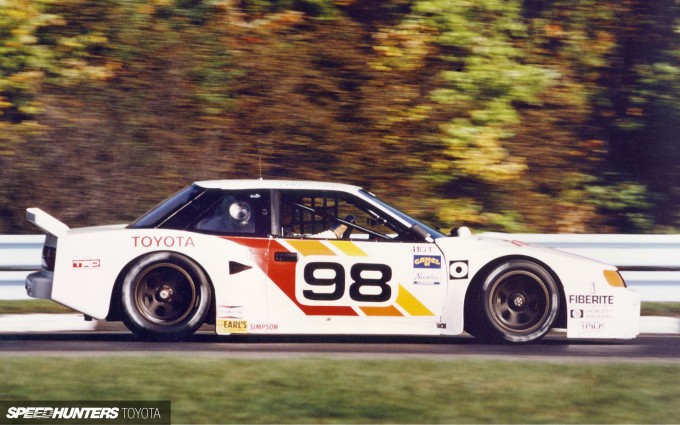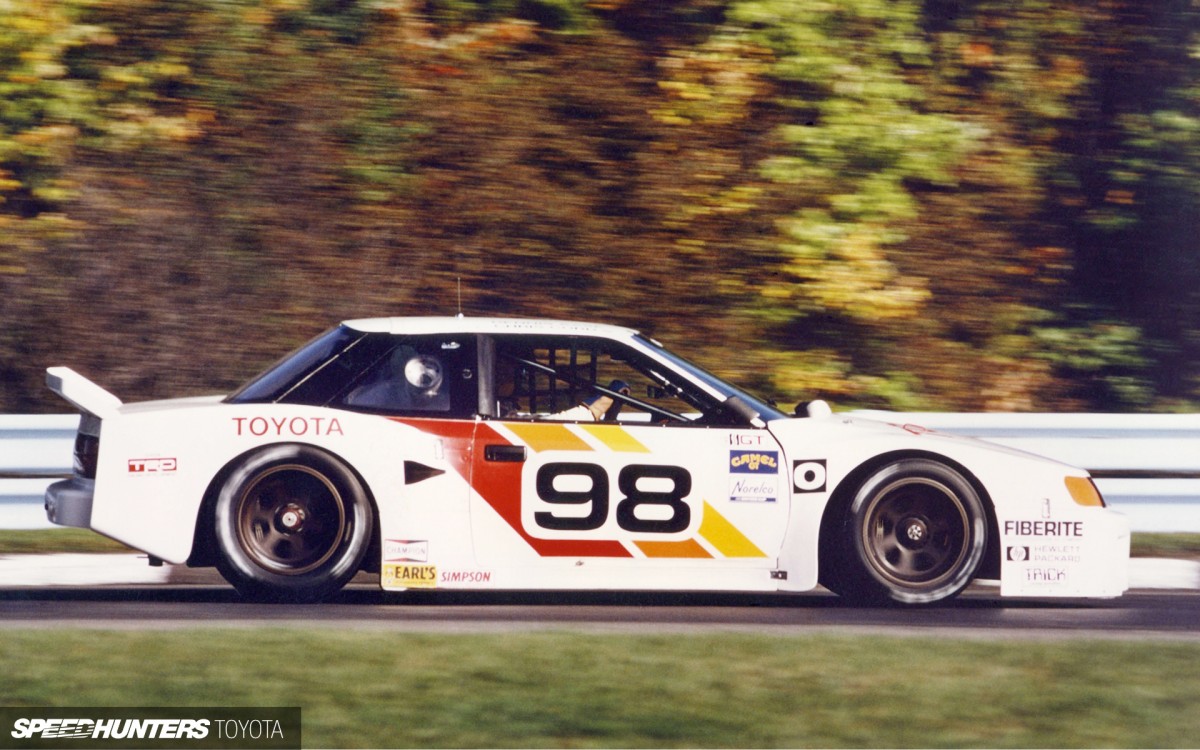 If the FR-S existed in '79, this rear-wheel drive coupe would have been the perfect weapon on the race tracks of North America.
So, now is your chance to be involved. Rather than just copy the TRD livery (which has been done many times before) we're running with a slightly different take on it – and you get to choose the style of striping on the top of our Scion FR-S. The white base color, which is synonymous with early Japanese racecars, will remain with minimal branding – hence the current offset positioning of the #86 on the doors.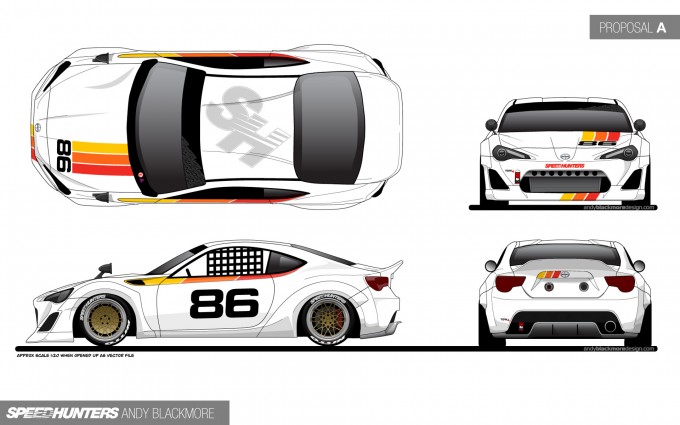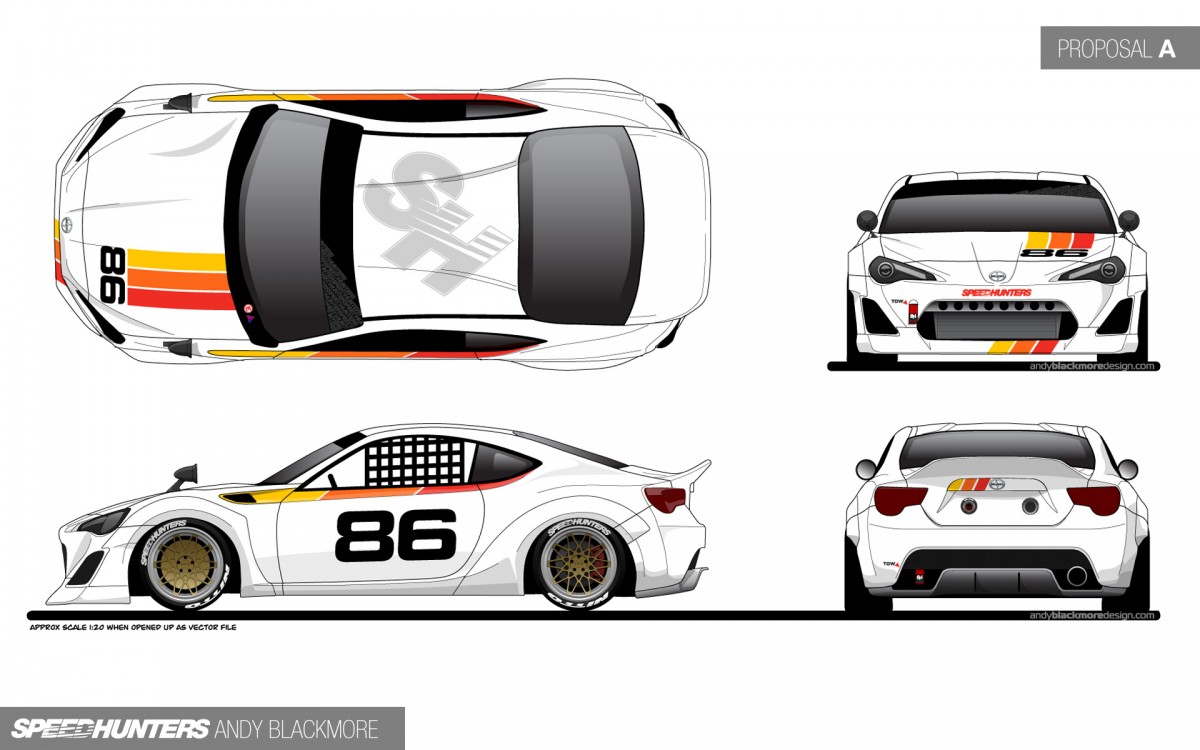 Proposal A: Like minimal and clean? This design uses striping over the hood as per the TRD AAR Celica TA40 and Supra, but rotated and offset with a flash of the diagonal striping introduced a few years later with the Celica ST162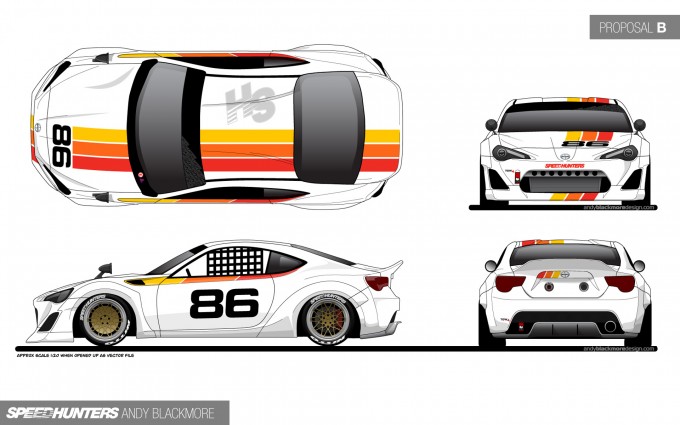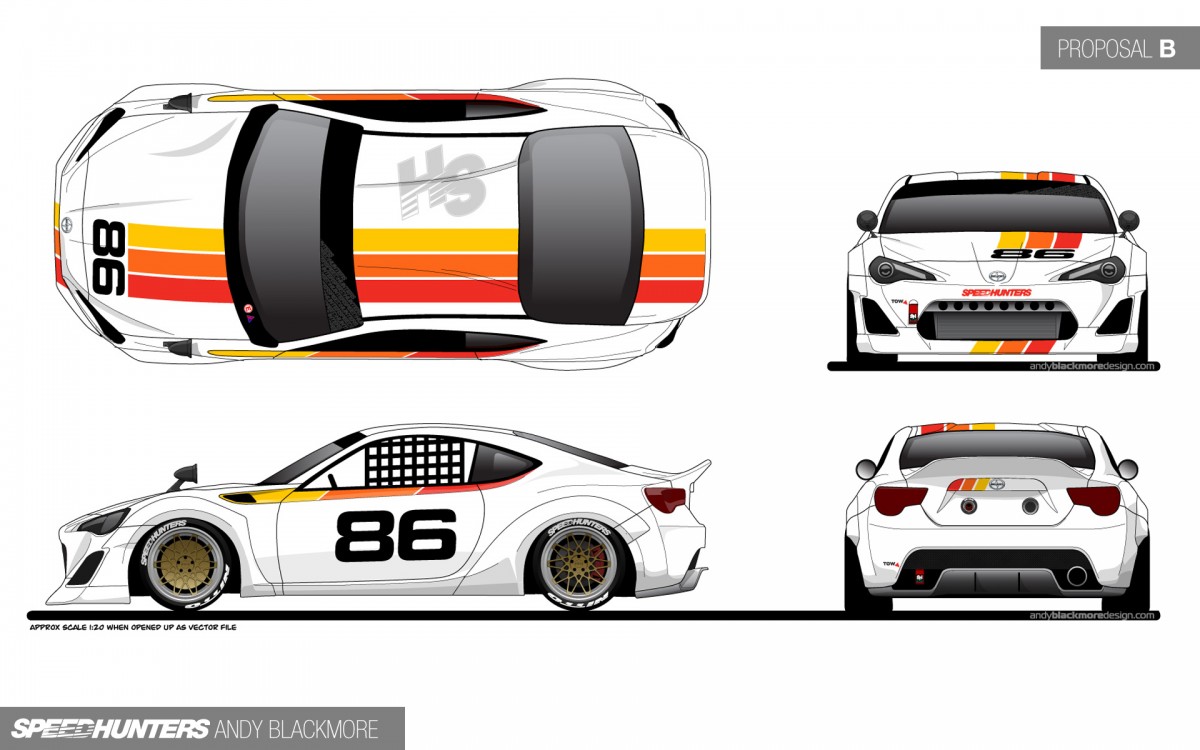 Proposal B: This takes the stripe further over the roof and onto the top surface of the new trunk. Those with good eyesight will see we swapped around the TRD colors on the license plate light cover to match the plan view.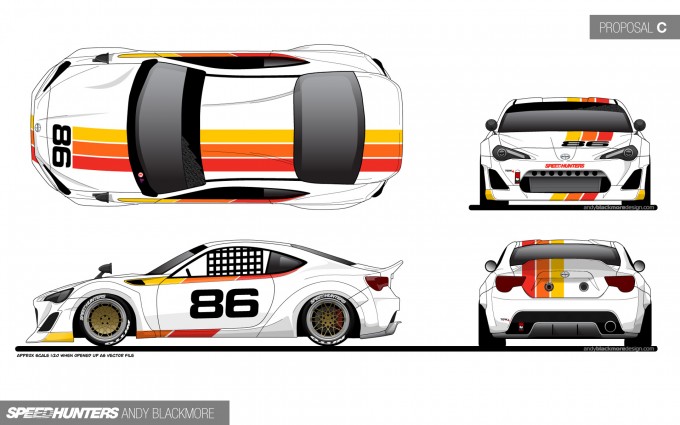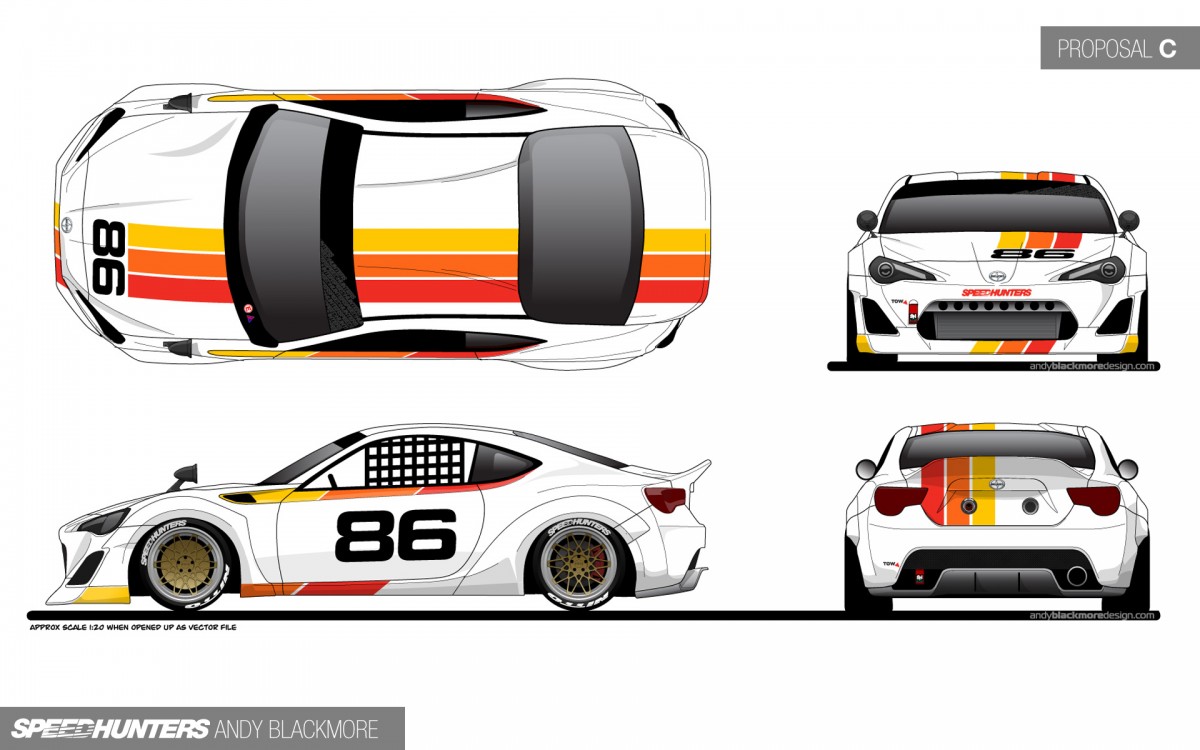 Proposal C: You'd like to see more yellow, orange and red in our design? This proposal continues the historic TRD colors onto the vertical face of the trunk plus the addition of striping on the side sill.
Now it's all up to you. A, B, or C – let us know which style you prefer in the comments section below! And don't forget to keep checking back for more updates and details of our 2014 Scion Tuner Challenge FR-S build as the reveal date gets closer…
Andy Blackmore
www.AndyBlackmoreDesign.com