Joy Of Miniature Machines
Here at Speedhunters we're always looking for exciting new automotive worlds to uncover. This means that occasionally we'll get to see a glimpse into your automotive world through your own eyes or camera lens, and we created #IAMTHESPEEDHUNTER for that exact reason.
When we received an email with these fantastic images from photographer and RC car hobbyist Jay Morales, we really liked what we saw; but more than that, we were inspired, and we knew that we had to spread the love and share that sense of joy we felt. So we sat down with Jay (via the wonderful worldwide interwebs) to discover more about his remote controlled world, and delve deeper into the RC drift scene in the Middle East…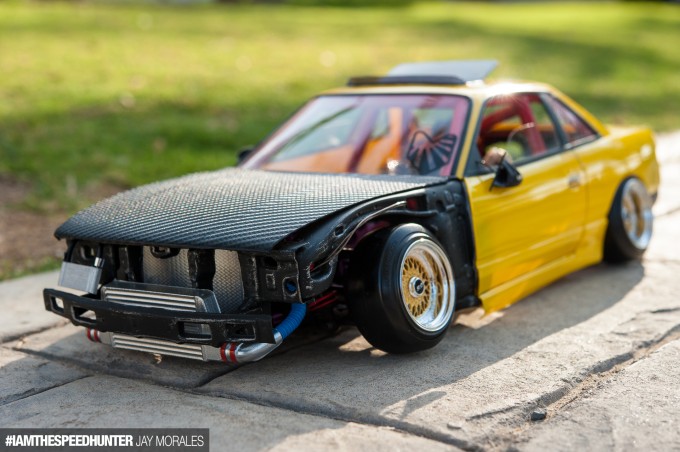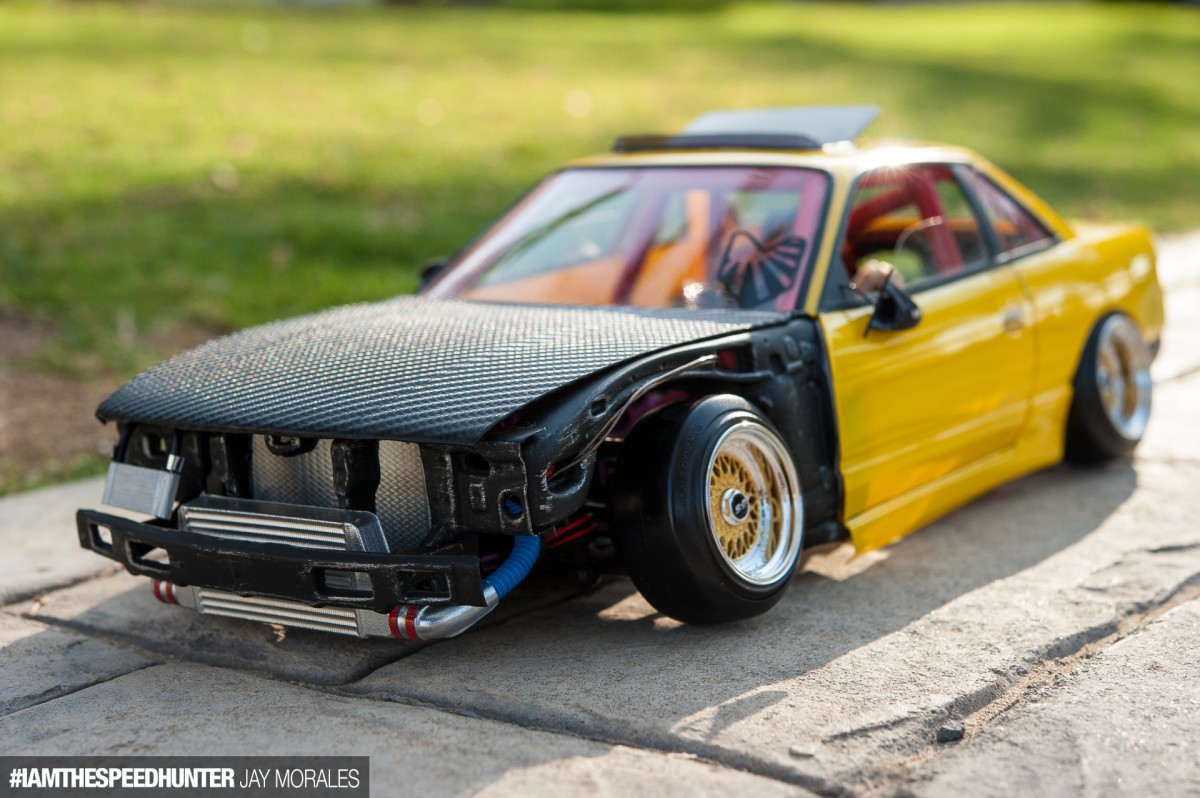 #IAMTHESPEEDHUNTER: Hi there Jay! Please give us a brief introduction and tell us a little bit about yourself.
Jay Morales: Hey there Speedhunters readers! My name is Jay Morales, and I'm a photographer and RC drift enthusiast from the United Arab Emirates. I'm originally from Bulacan in the Philippines, but I've been living and working in Dubai for the past six years. I work as a graphic designer and photographer for an advertising agency here, but photography is also my passion and ongoing hobby.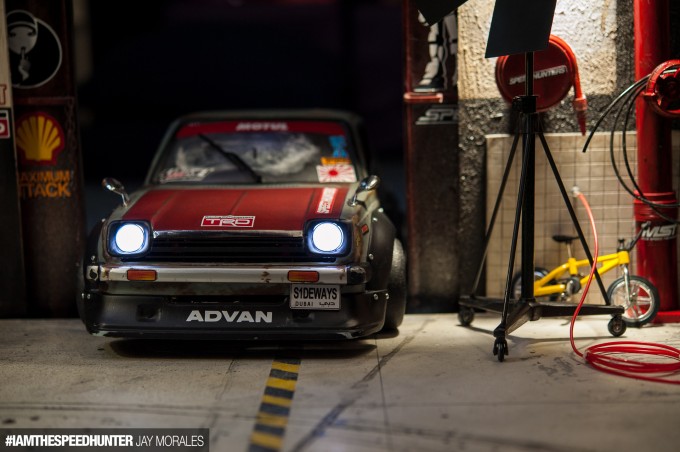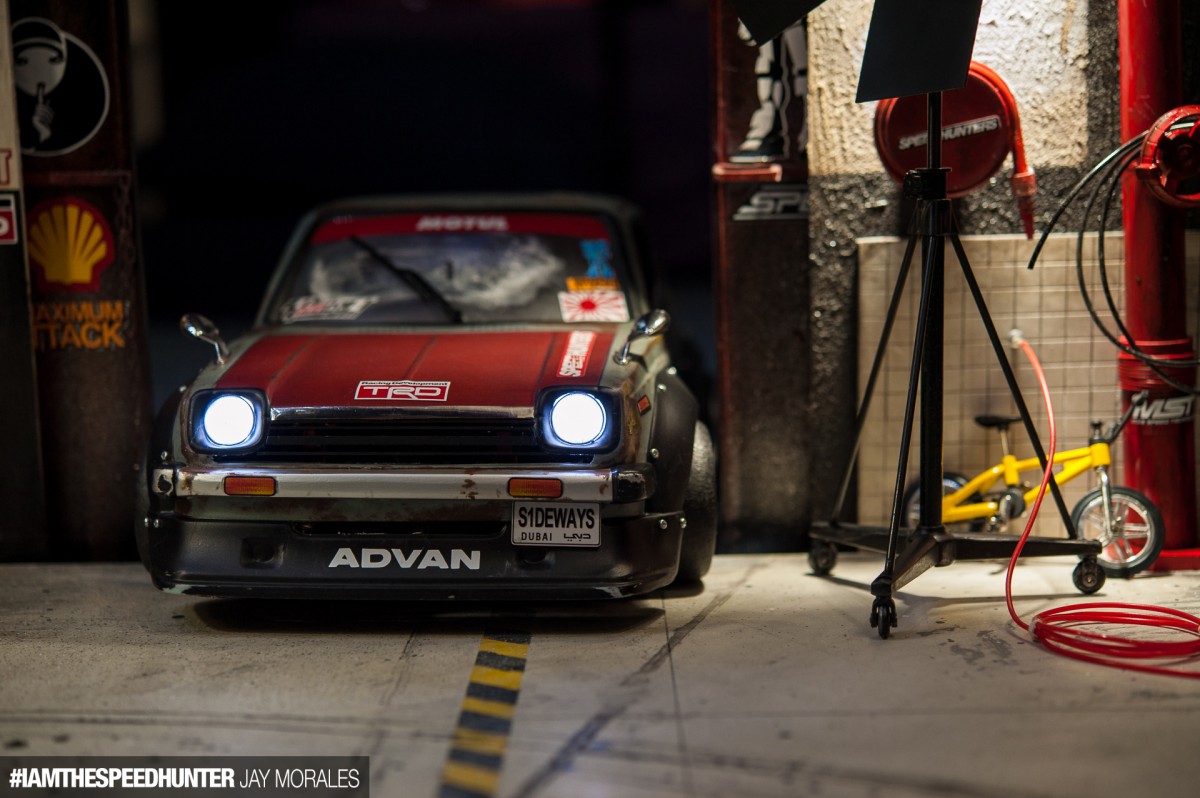 #IATS: Please tell us, how long have you been involved in the RC drift scene for, and how did it all start?
JM: I've been a big fan of motorsports and racing since ever since I was a kid. One day I saw that one of my good friends had bought an RC car, and I started asking him questions; like where did he buy the parts, how long did it take to get things done and so on… and then he ended up selling it to me.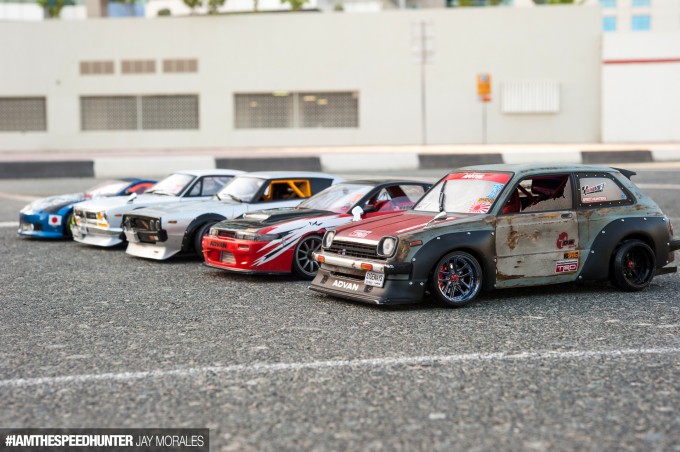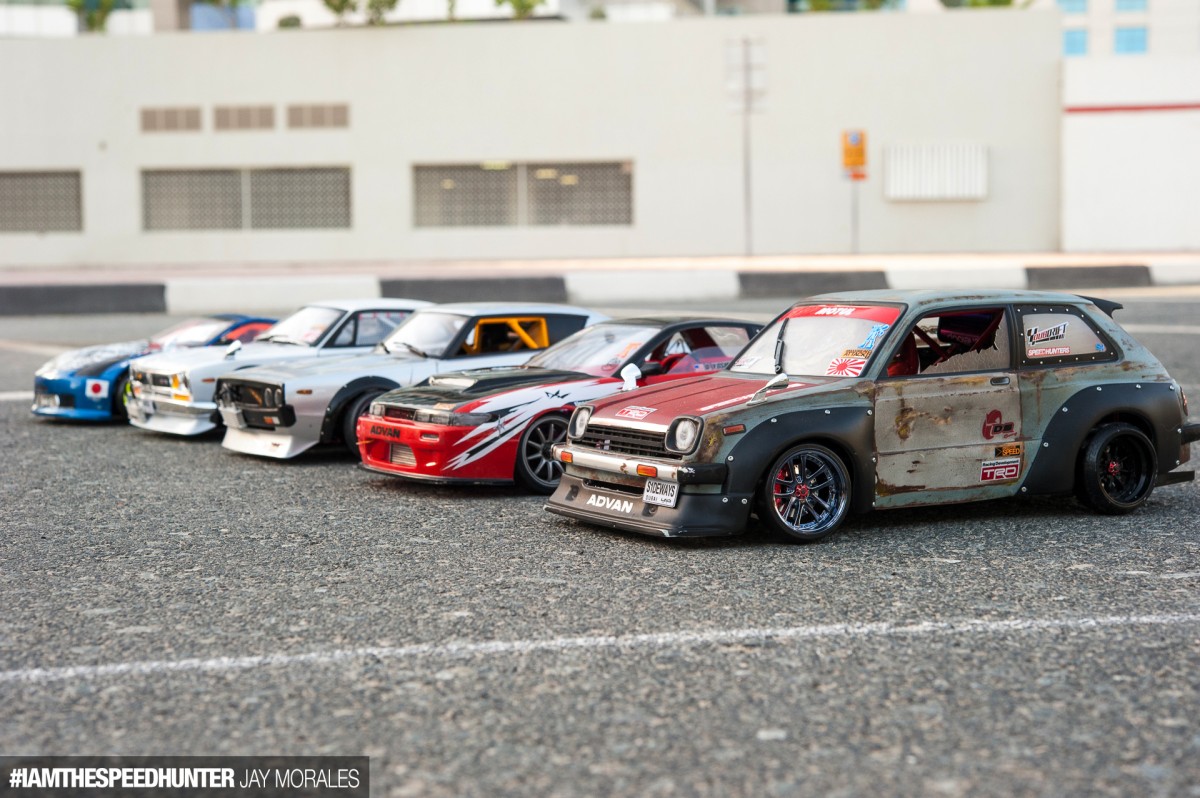 JM: As mentioned, I'm into photography, so naturally I started taking photos and videos of my RC cars. Private messages kept on coming via Facebook asking about my car and my photos, and I eventually got invited to the Dubdrift group and asked to check out their website. This really kick-started RC drifting as a hobby for me. I could say that I have been an active member for almost a year now.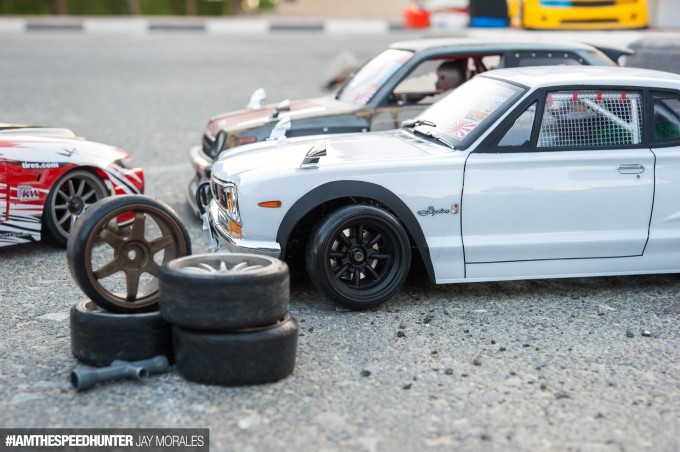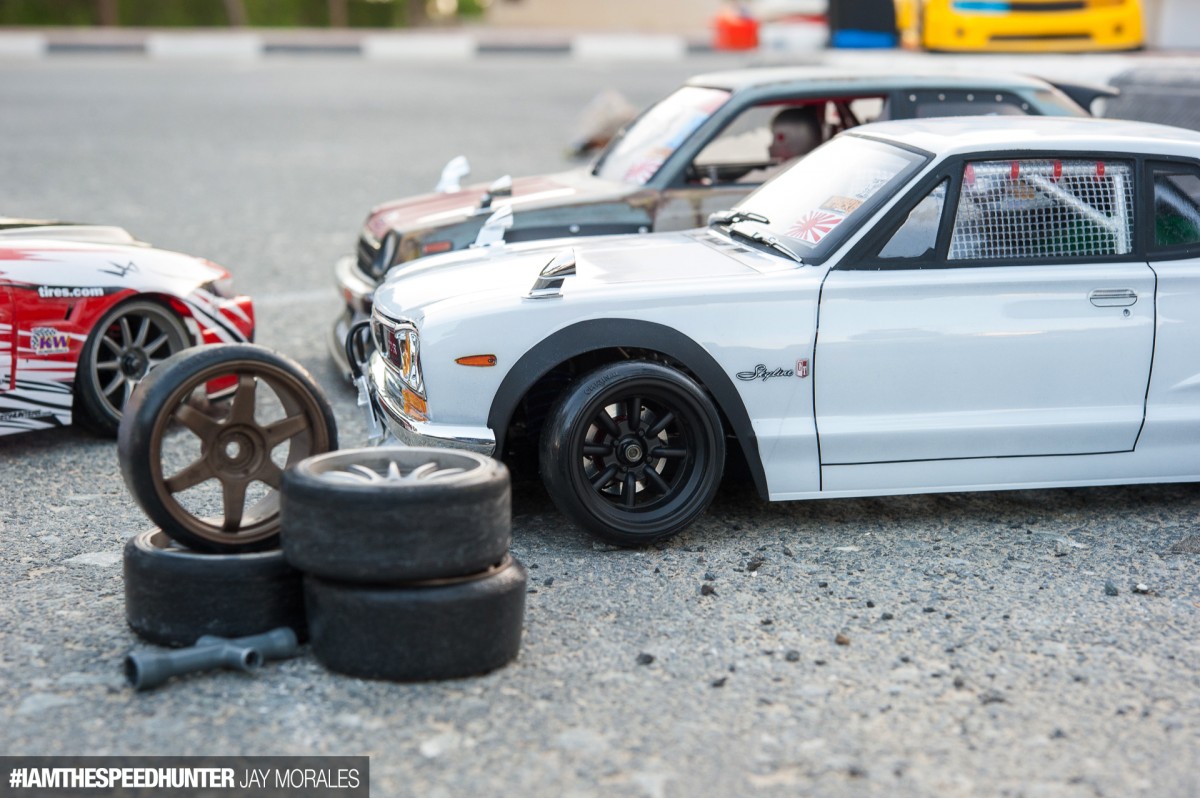 #IATS: Tell us about the group you're involved with; were you friends with any of the other members before you got into RC cars? What sort of activities do you guys get up to?
JM: The group is called Dubdrift, and all of our members are based in Dubai, UAE.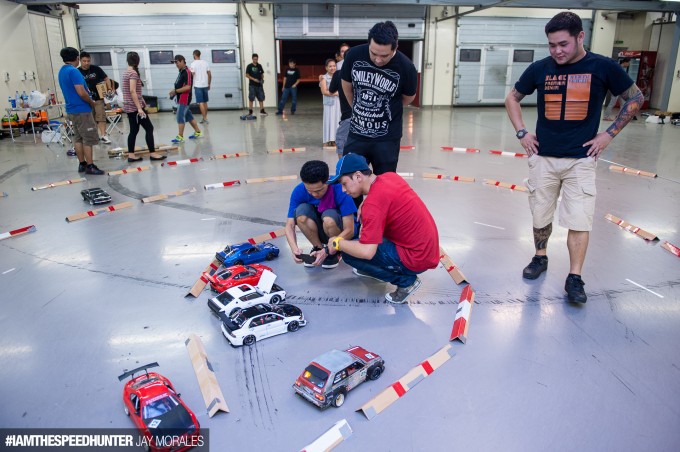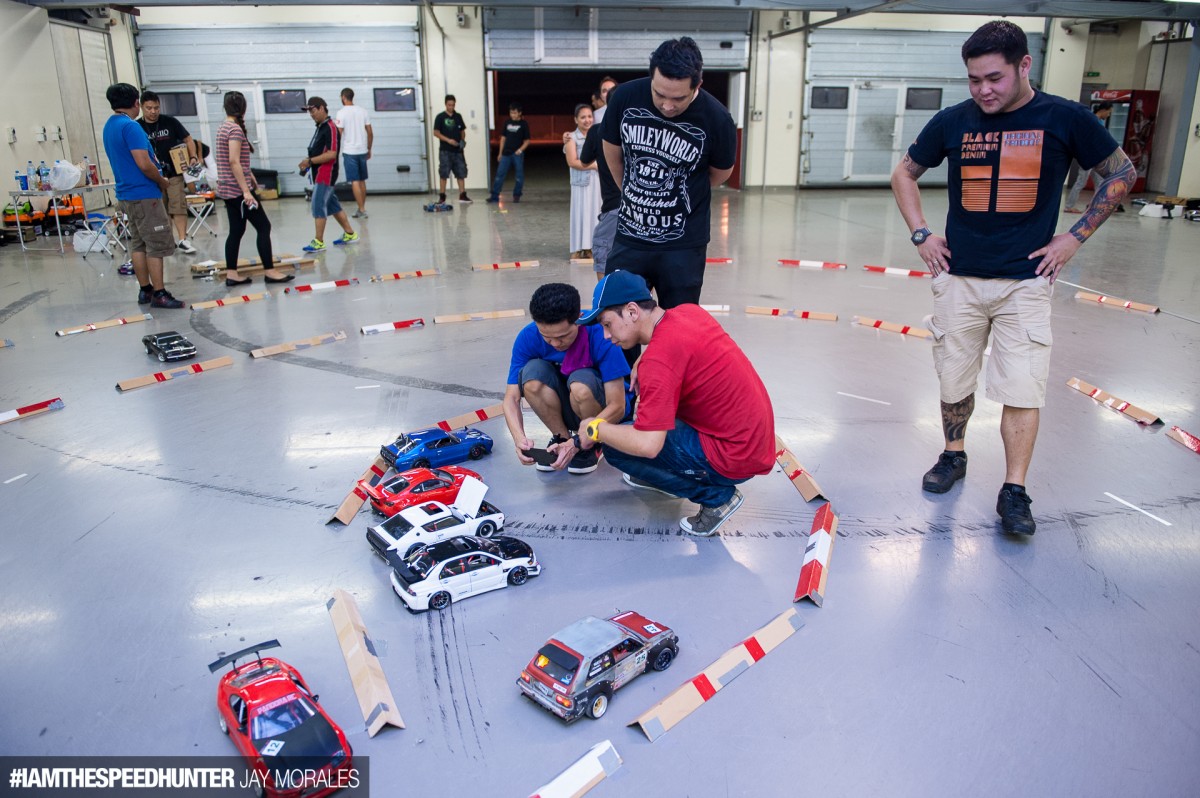 JM: At first we were all strangers, but we've made friends through RC drifting as our mutual hobby. We also have a Facebook page and our forum which we use to stay in touch and communicate on a daily basis. One Friday we decided to have a 'Driftmeet' which has since become a weekly ritual. Now, at the end of every week we meet for Fridrift where we muck around with our cars, share our set-ups and where to buy and order new parts from.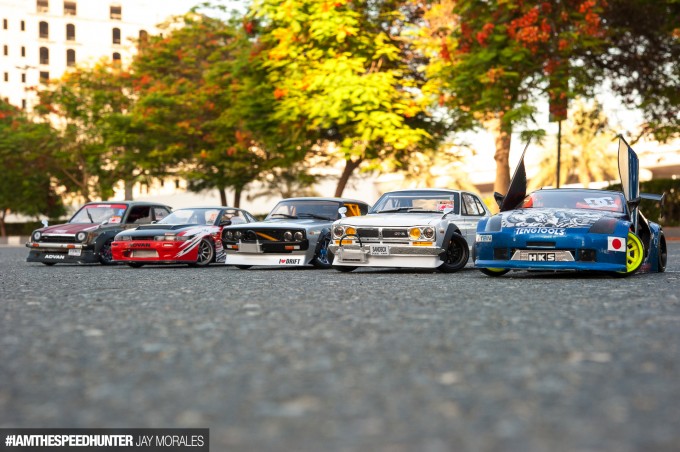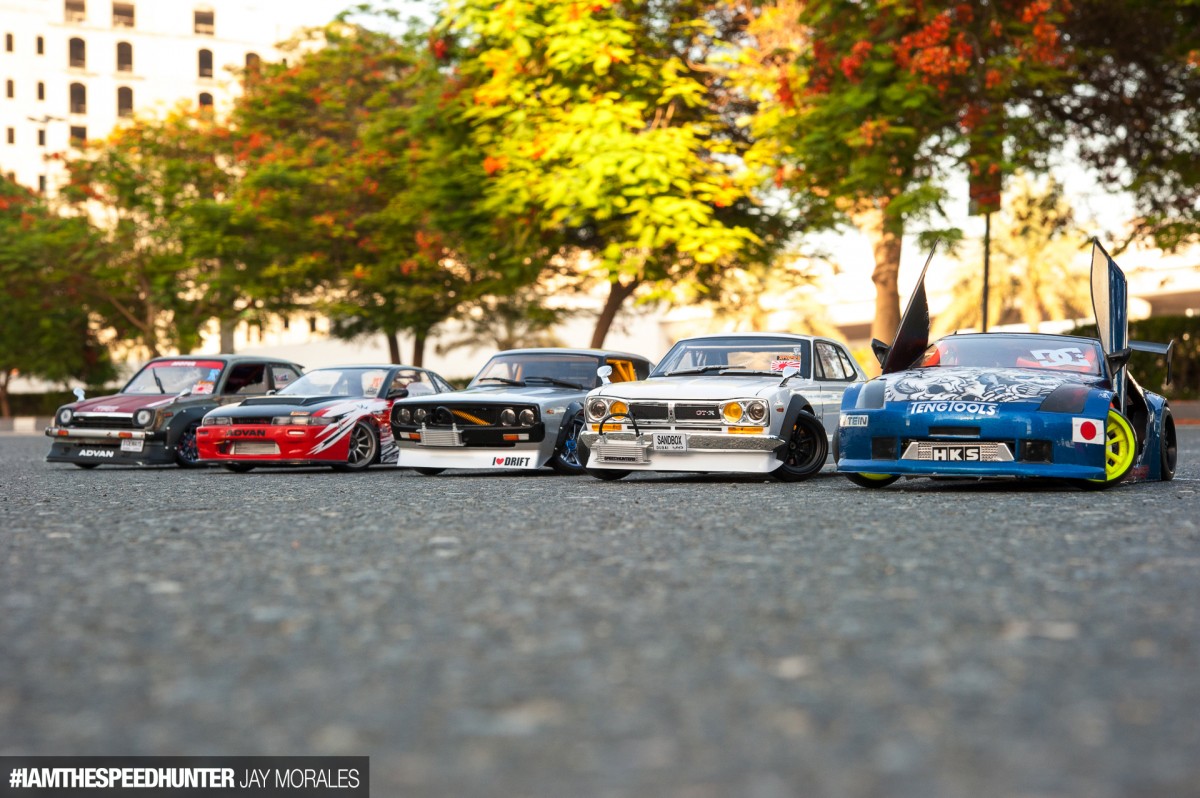 JM: Earlier this year in April, we organized a competition and joined the UAE Drift Club (real cars!) which was a big opportunity to make the community of RC drifting bigger in cooperation with the Abu Dhabi Drift Club. The event was called the UAE RC Drift Challenge 2014 and it was held at Yas Marina Circuit. I was stoked to earn my first trophy for 'Best Customized Body'.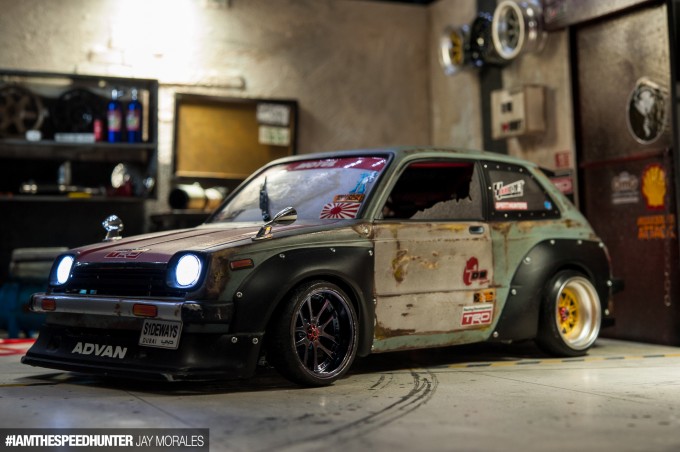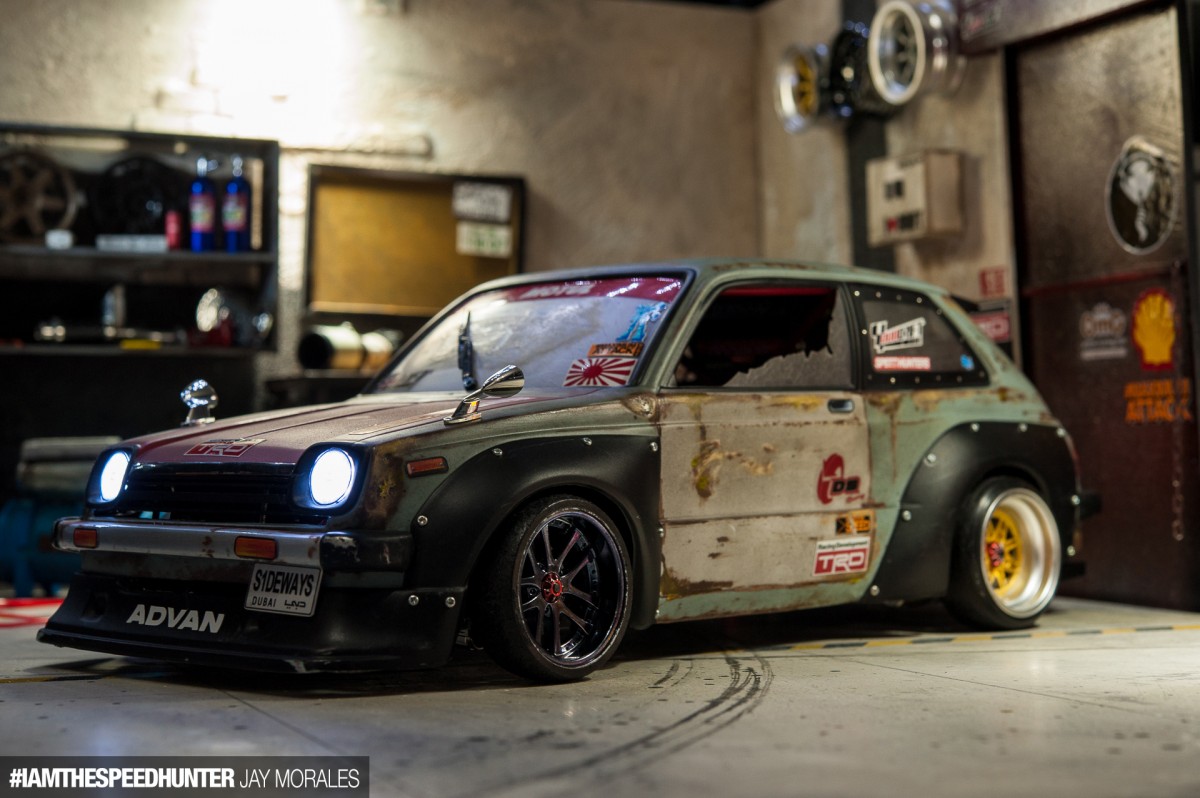 #IATS: Congrats! So which RC build is yours? Or do you have more than one?
JM: My car that won the award is the KP61 Toyota Starlet pictured above, but I actually own a few different body shells. The chassis I run with is an FXX-D VIP – a rear-wheel drive kit with full hop-ups on it, and a recently installed Sanwa Vortex Type-D, which gives the model a more realistic rev limiter sound. I also own the Nissan HT-2000 GT-R body and the yellow S13 Silvia. I should mention too that my friends have all helped me with the actual building and modifying of the body shells, so I can't take all that credit for myself!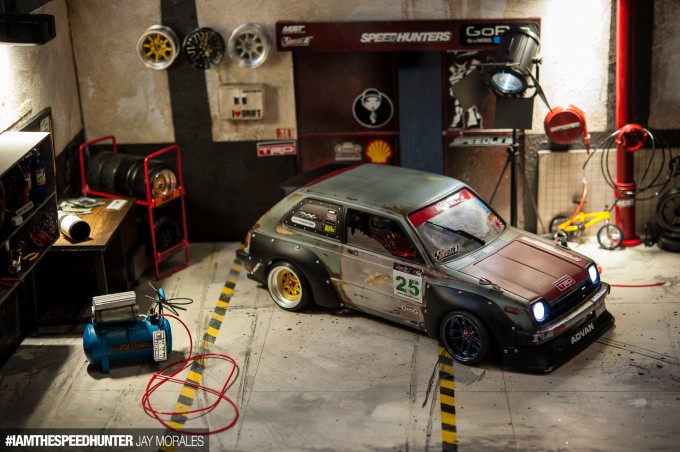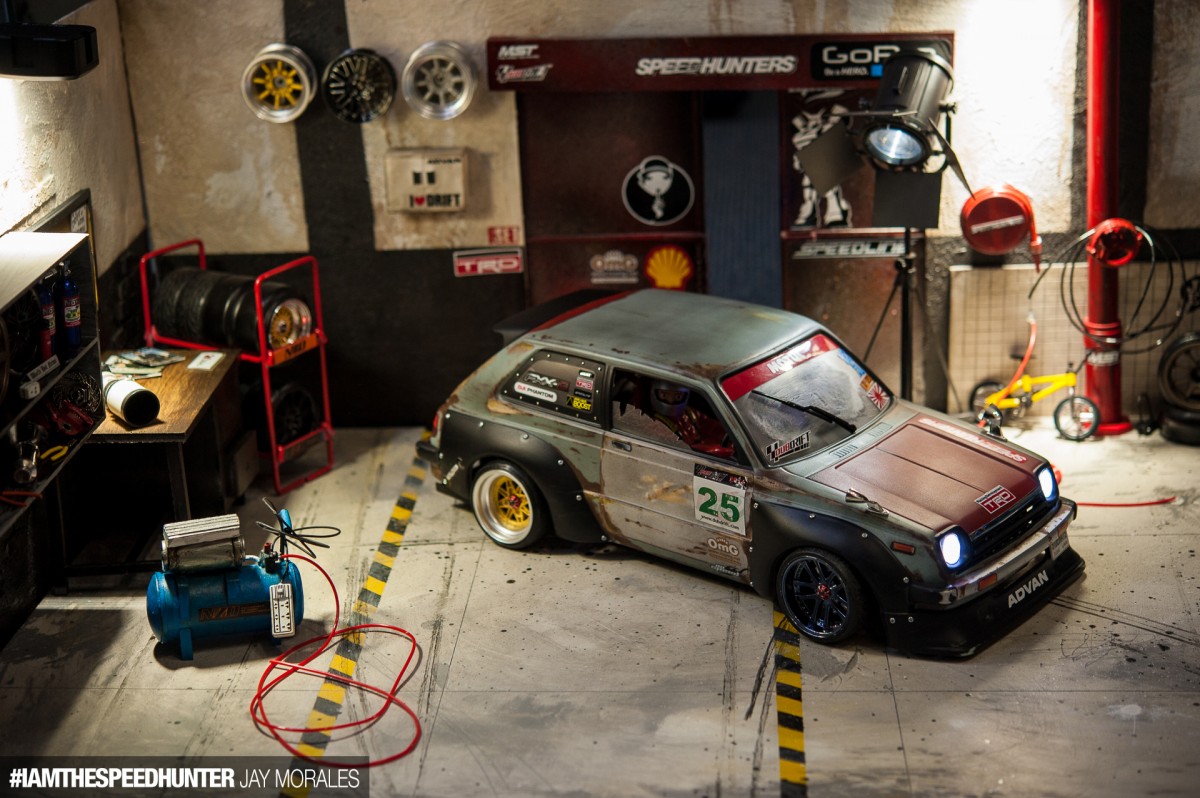 #IATS: You're going to have to tell us more about this incredible garage set-up. Out of interest, how long does it take to build something like this, and what was your inspiration behind it?
JM: I love shooting my RC cars, but I quickly got bored of using the same plain backgrounds. I guess that's where the idea came from, because I wanted the RC builds in my images to look as real as possible.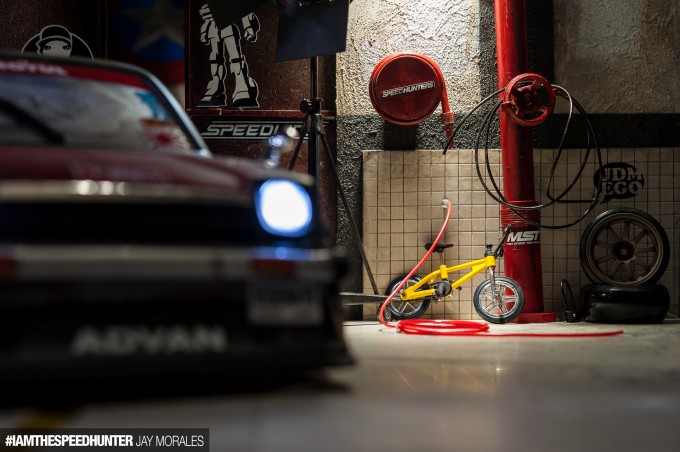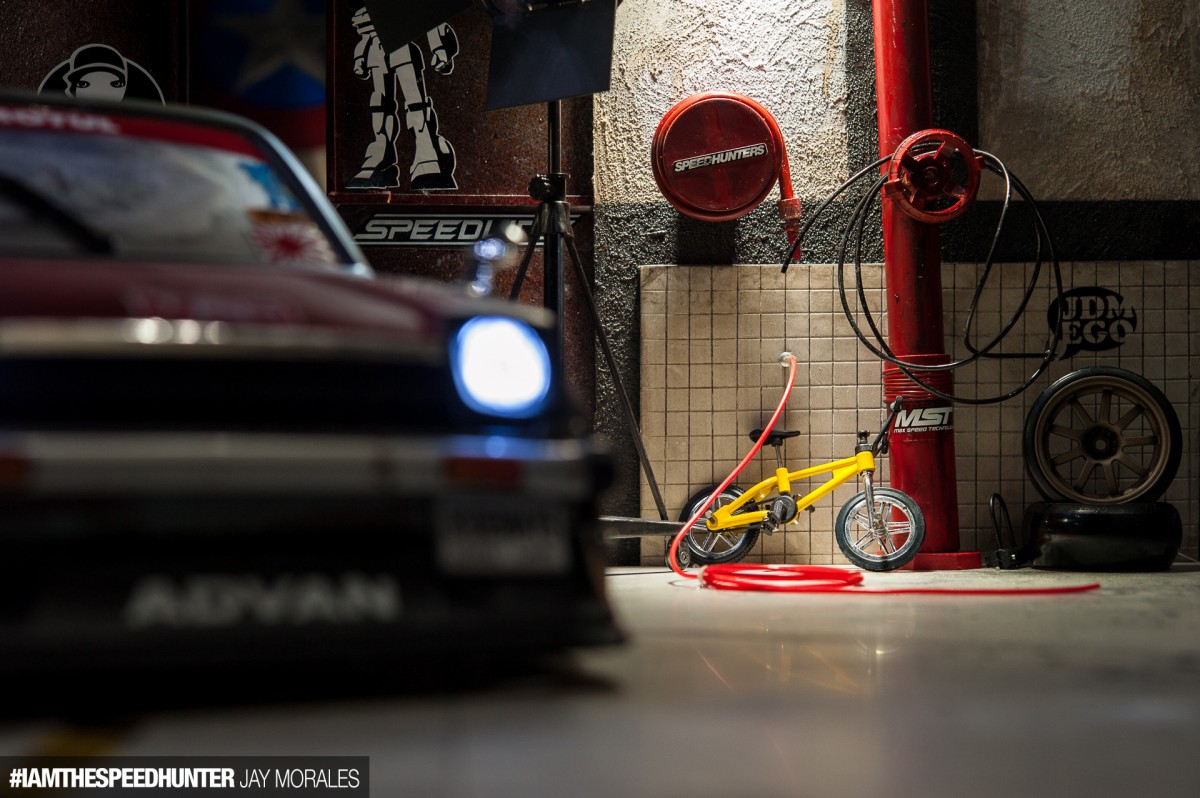 JM: Sandbox Garage was inspired by a real life 1:1 scale nostalgic racing garage, and I enlisted in the help of my good friend Darwin 'Japat' Guevarra – a well known artist here in Dubai – to create my vision and make it a reality. I must say, I'm really lucky that he's a close friend of mine, as he so gladly accepted my request to create the diorama as a project. It took two weeks to complete altogether; I shared with him some photos of the real garage to reference what I wanted and we worked from there. The result was pretty cool and we are both really happy with it!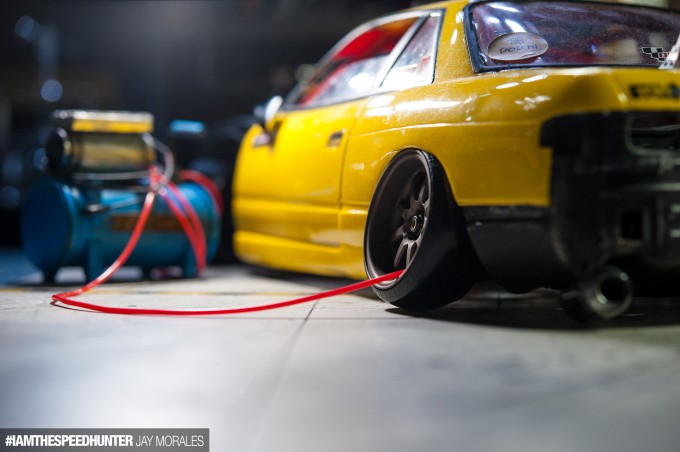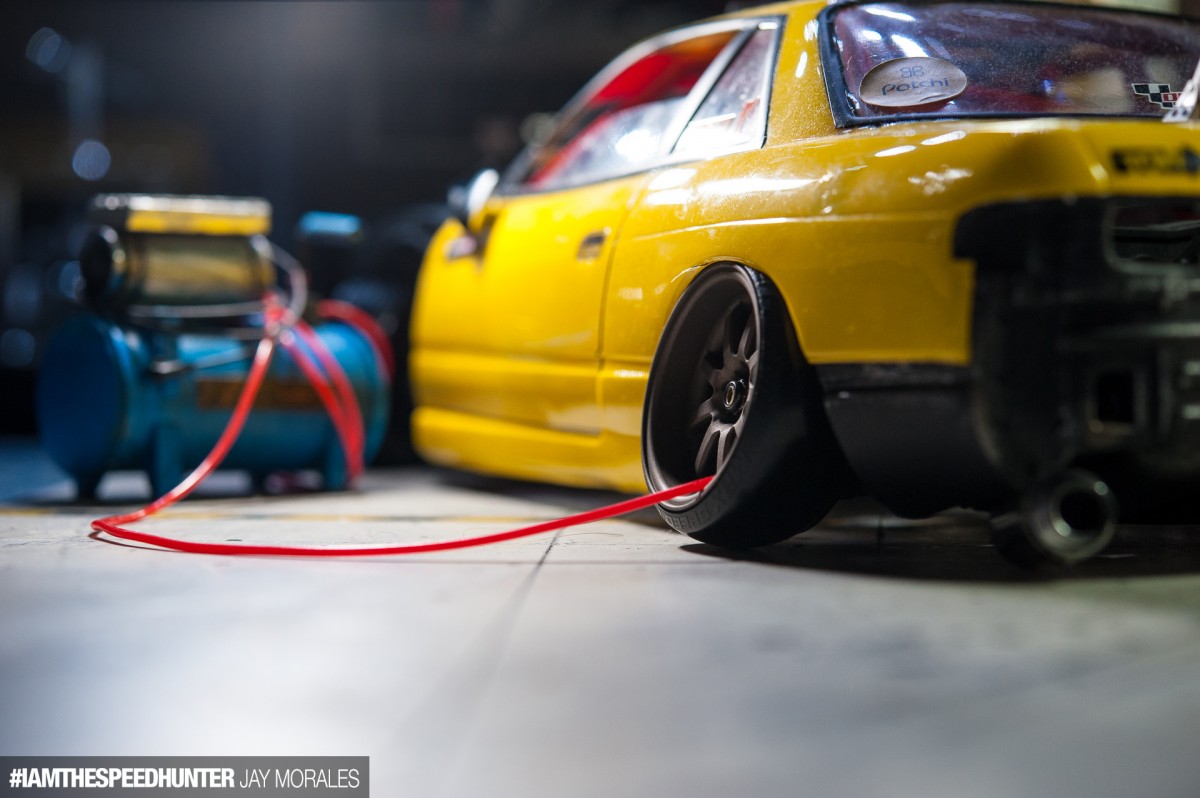 #IATS: I think I speak for most of our audience here when I say that your images are fantastic – you really capture the character and fine details of your subjects from a unique, almost real life scale perspective. Tell us a bit about your background as a photographer.
JM: I've been practising photography for almost five years now. It started as a hobby and eventually became my part-time job as well. I shoot portrait, events, weddings, commercial products and (real life) cars. I love shooting detailed scaled toys – mainly now my RC cars and my 1/6th figure collection.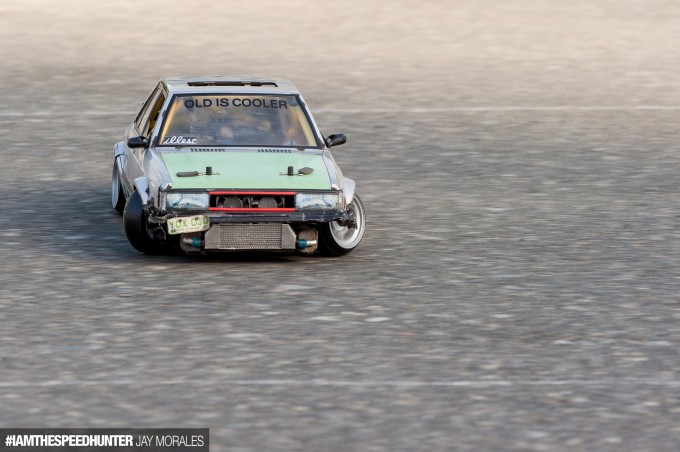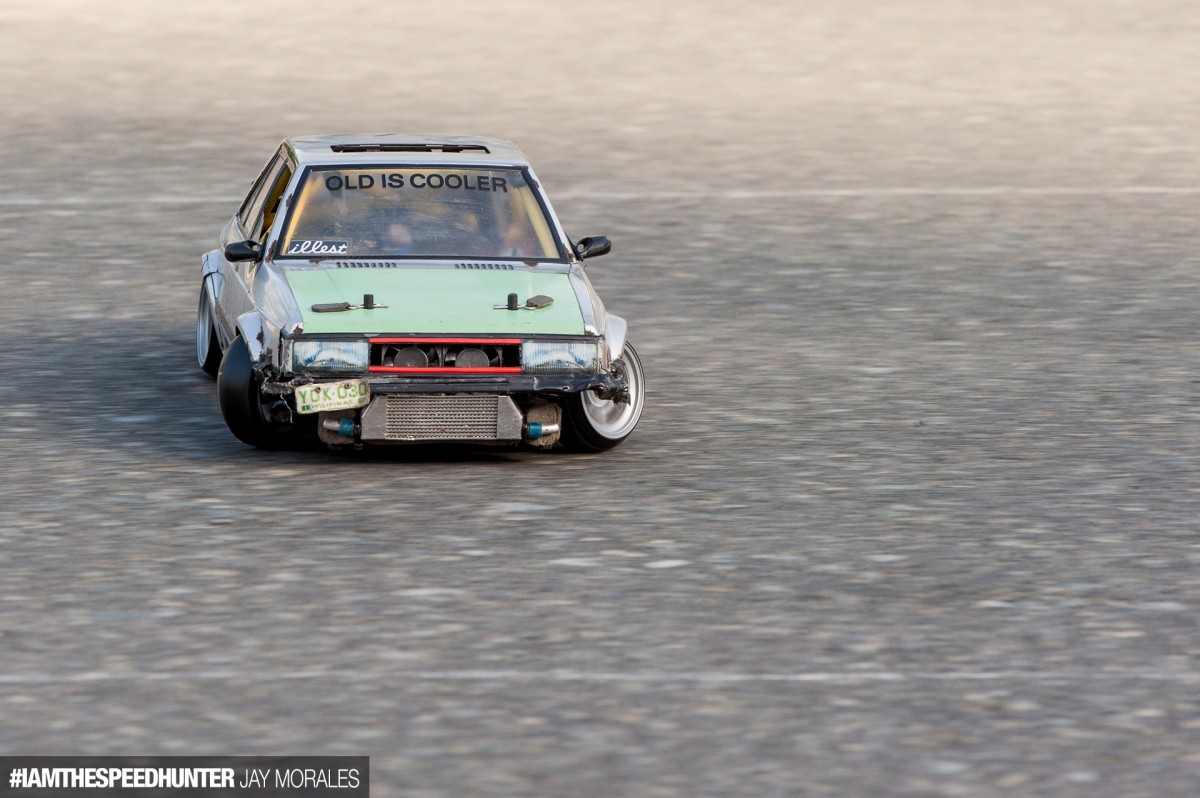 #IATS: What about your personal shooting style? And I'm sure our readers will also be interested to know, what equipment do you currently work with?
JM: I love playing with lights; and I like to give my images a certain feel as if you're watching a movie. I'm also a big fan and follower of Speedhunters. I'm always inspired by Larry Chen, (who isn't?) and I always try to apply the same compositions and techniques to my own shots that he uses to shoot events like Formula Drift. His coverage always seems to give me new ideas on how to shoot RC drifting! Whenever I take photos, the main thing is that I just enjoy the moment, without any pressure or stress. If we love what we are doing, it will always give us a good result.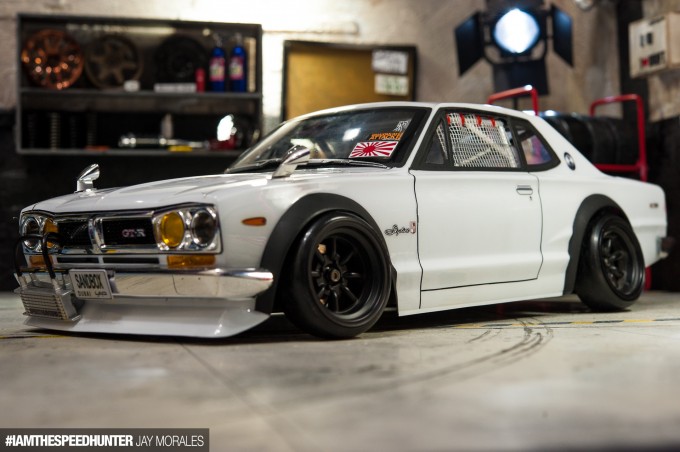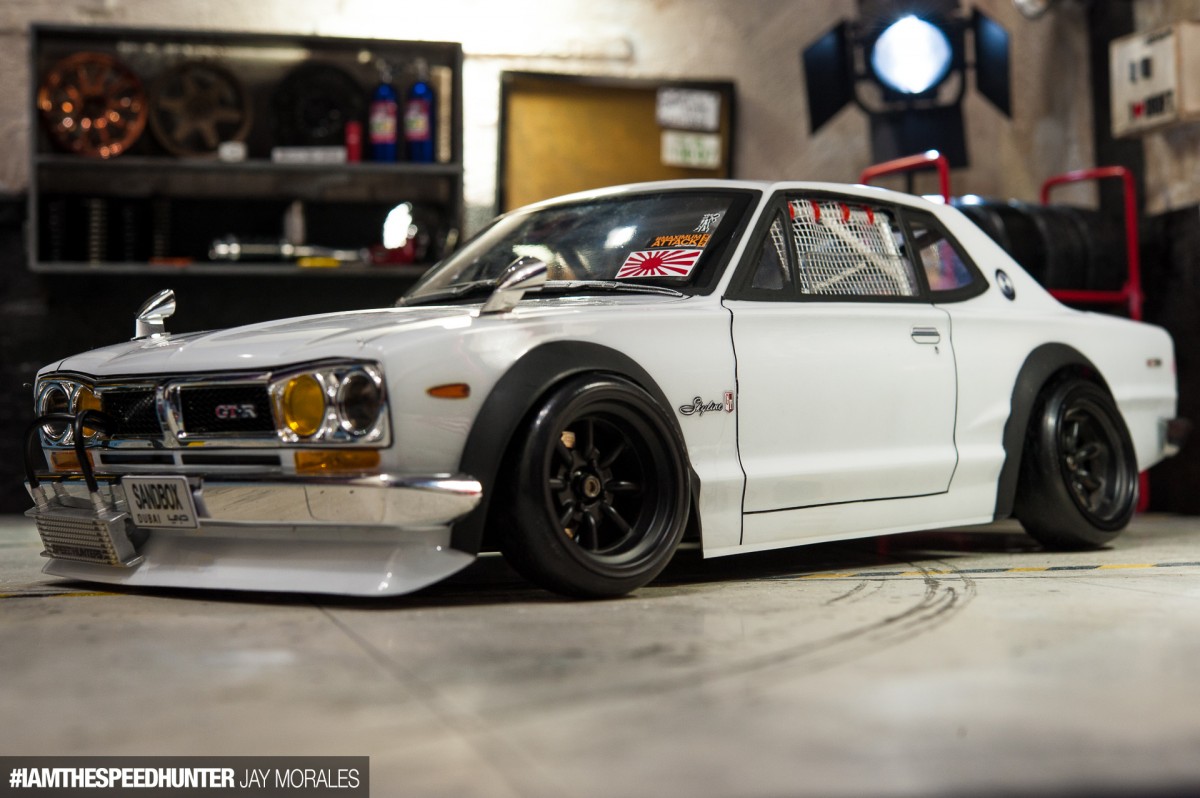 JM: Oh, and when shooting my RC models I use my Nikon D700, along with Nikon SB900 flashes, a Nikkor 60mm macro lens, some LED lights, a softbox and grid.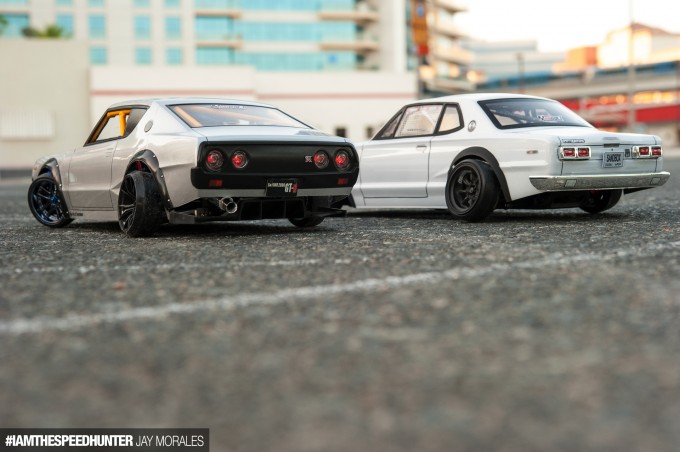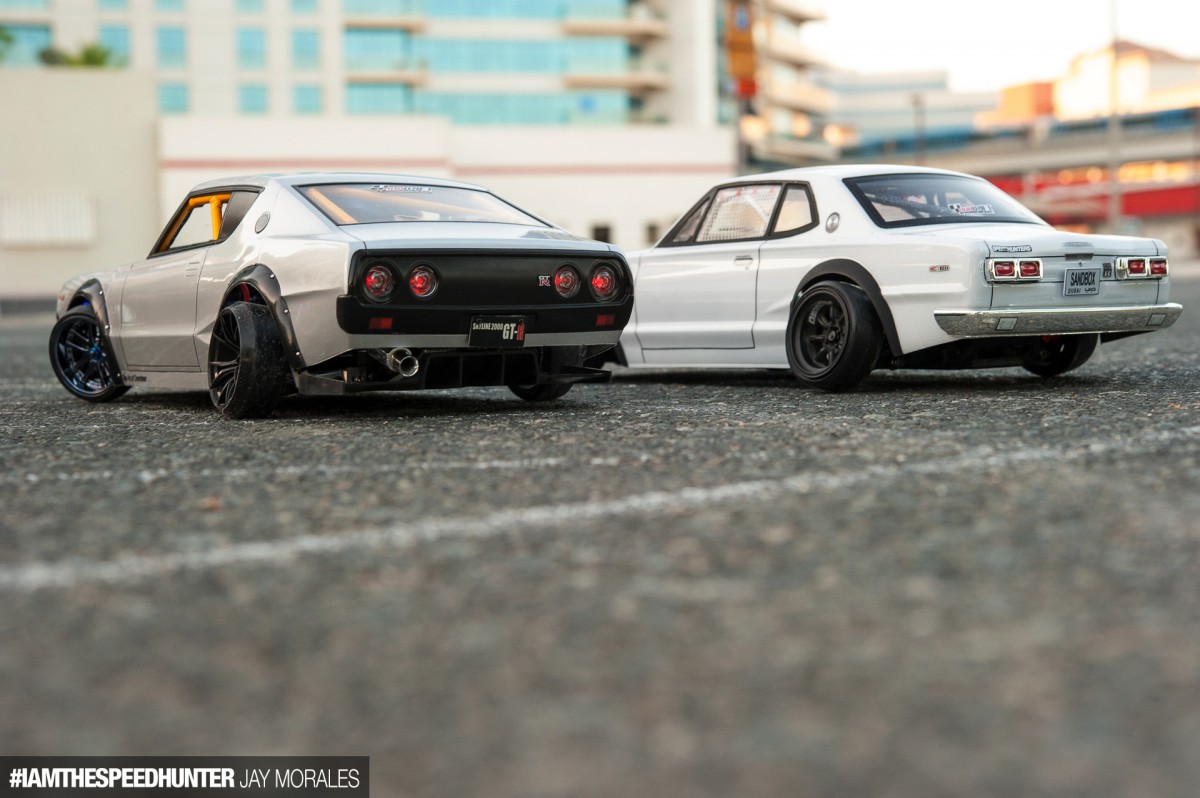 #IATS: I'm seeing some common styling trends with the cars in your group; Japanese tuning culture is obviously playing a huge influence here! Please tell us more about this. Where does this inspiration come from, and are there any particular cars in real life that have inspired these builds?
JM: Being of Asian ethnicity, my friends and I are huge fans of Japanese drift culture, and especially the styling that goes along with it. Even back home in the Philippines, most of my friends and I have always been firm believers in the way the Japanese set up their drift cars and their driving style too, and we were inspired with the way they work on their suspension set-ups. One of my idols has always been Kiyonori Imai, owner of the Japanese tuning brand Bee-R.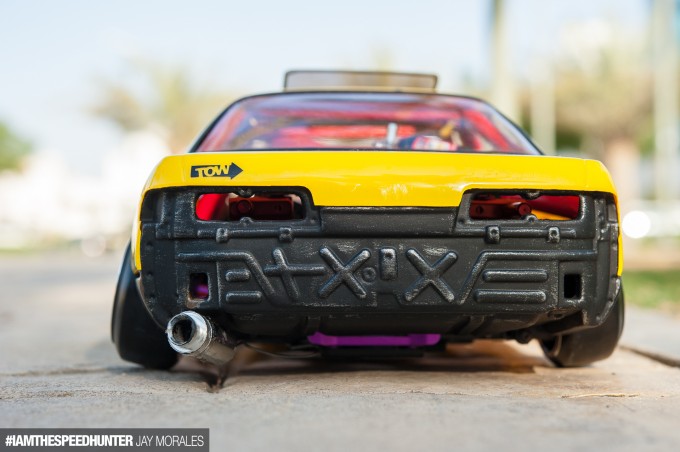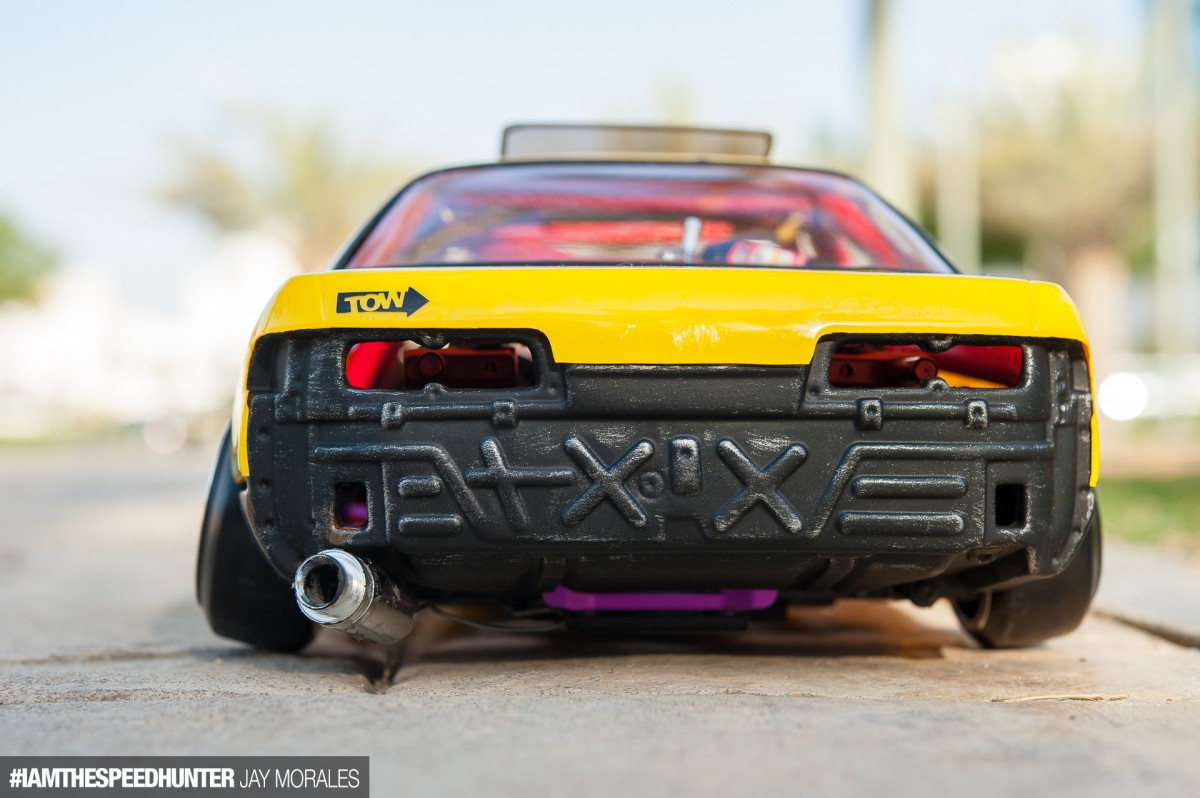 #IATS: Nice, that explains a few things. Next up, I'm sure a lot of people are wondering about this next question…
Form, Function & Friends Unite!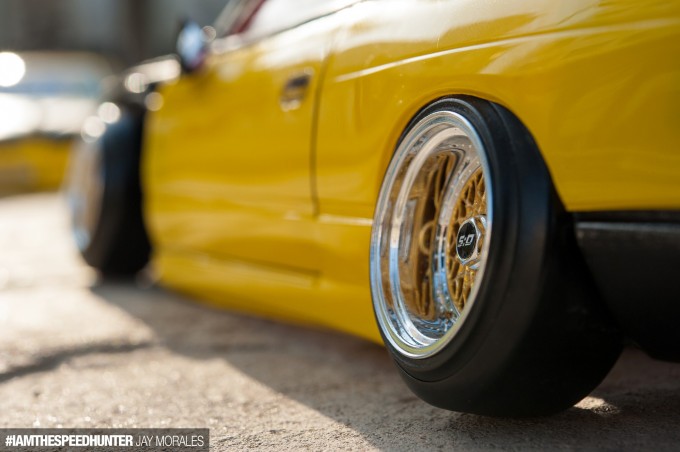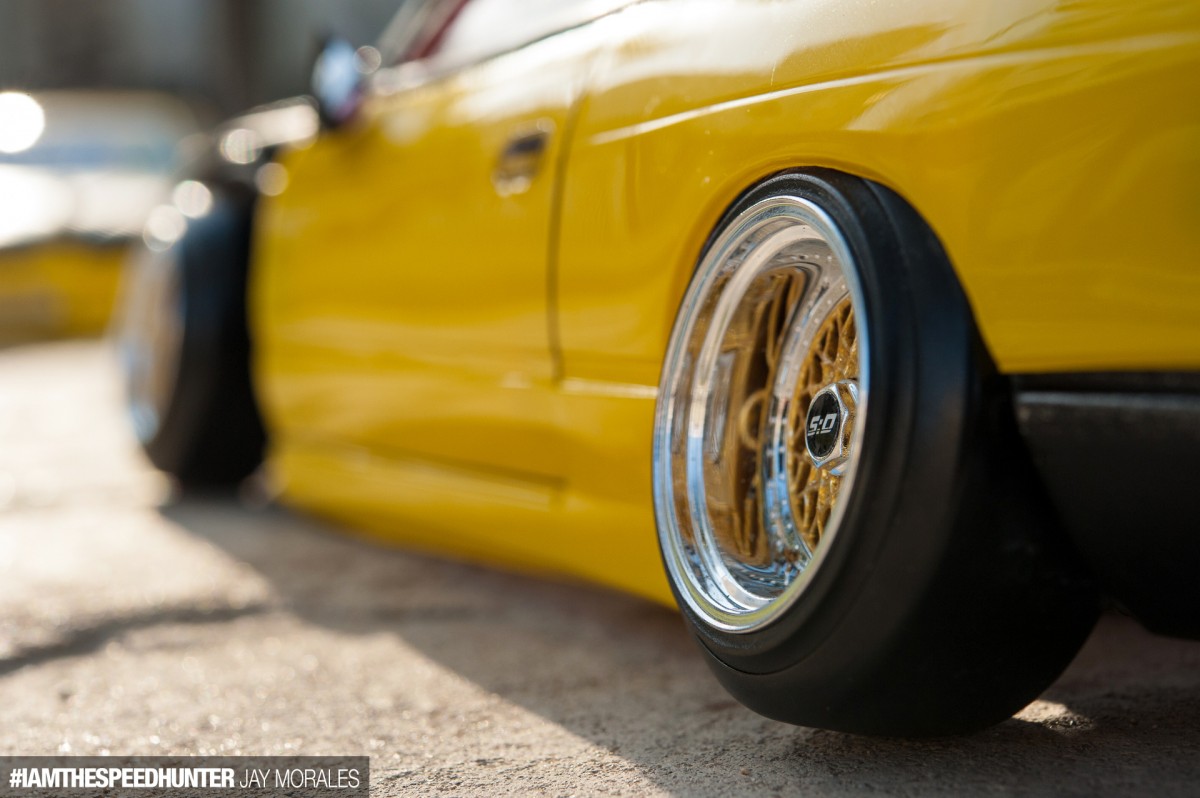 #IATS: Is the wheel fitment aspect of these RC builds just for looks, or is there a functional aspect behind this as well? Is form taking priority over function here?
JM: As much as possible we want our cars to look real, so we build them not only for looks but 100 per cent functionality as well.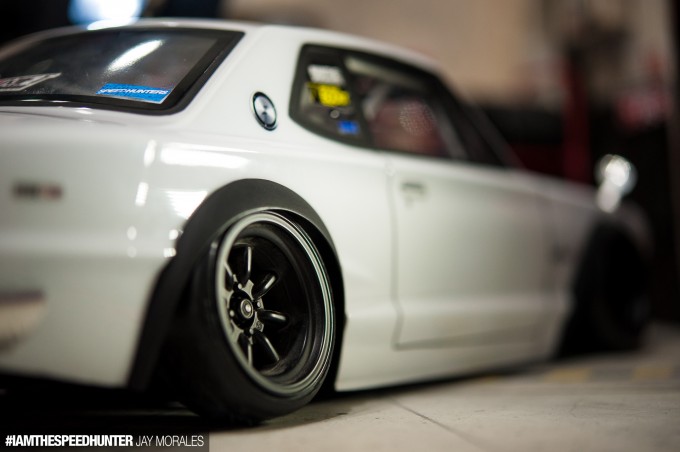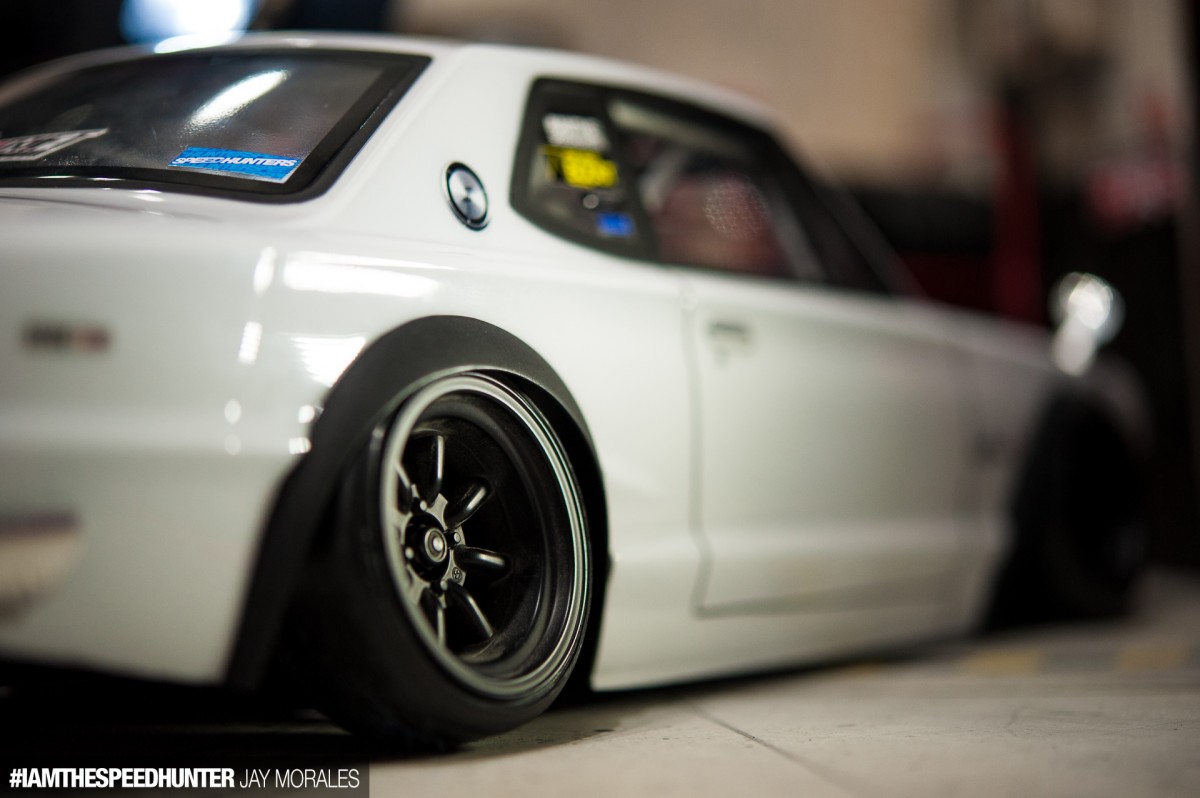 JM: Part of the joy in this hobby is making the cars look cool and driving them, so of course style is important!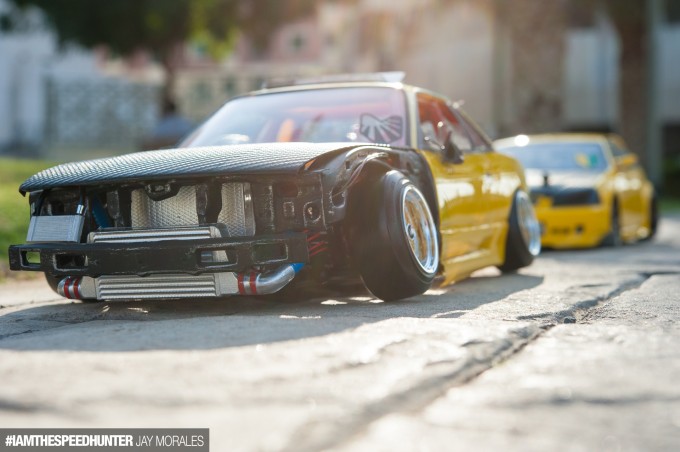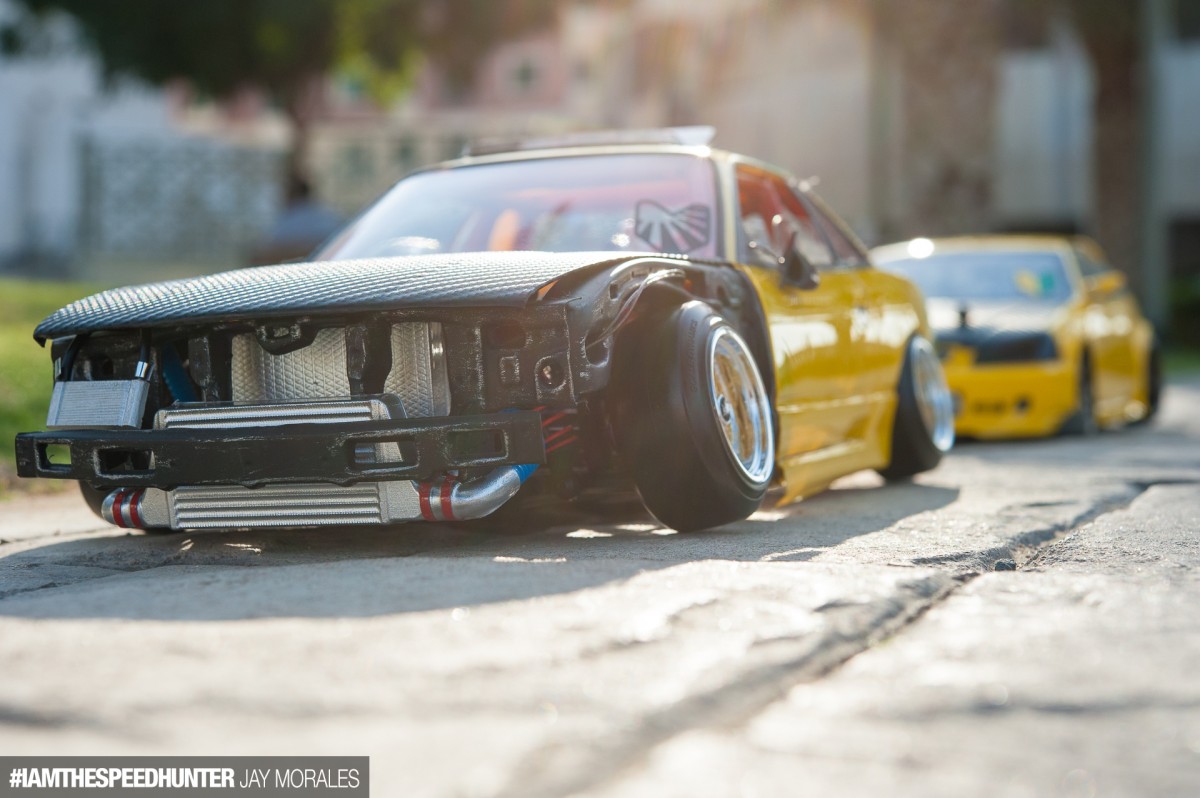 #IATS: We couldn't agree more with that! Is it easy to source parts for your hobby in the Middle East? I imagine you'd have to order everything online from Japan?
JM: Some parts are available locally, but yes, all the newly released items we order online from Japan. Especially the rare parts like wheels and electronic stuff. Hobby Hub Dubai and Speed Hobbies UAE are both good local suppliers.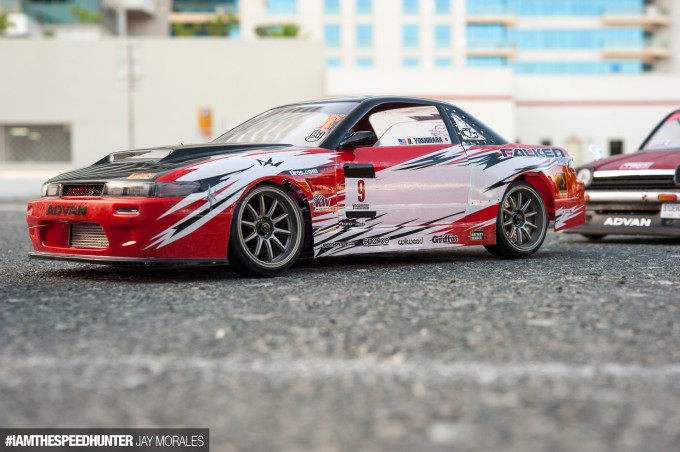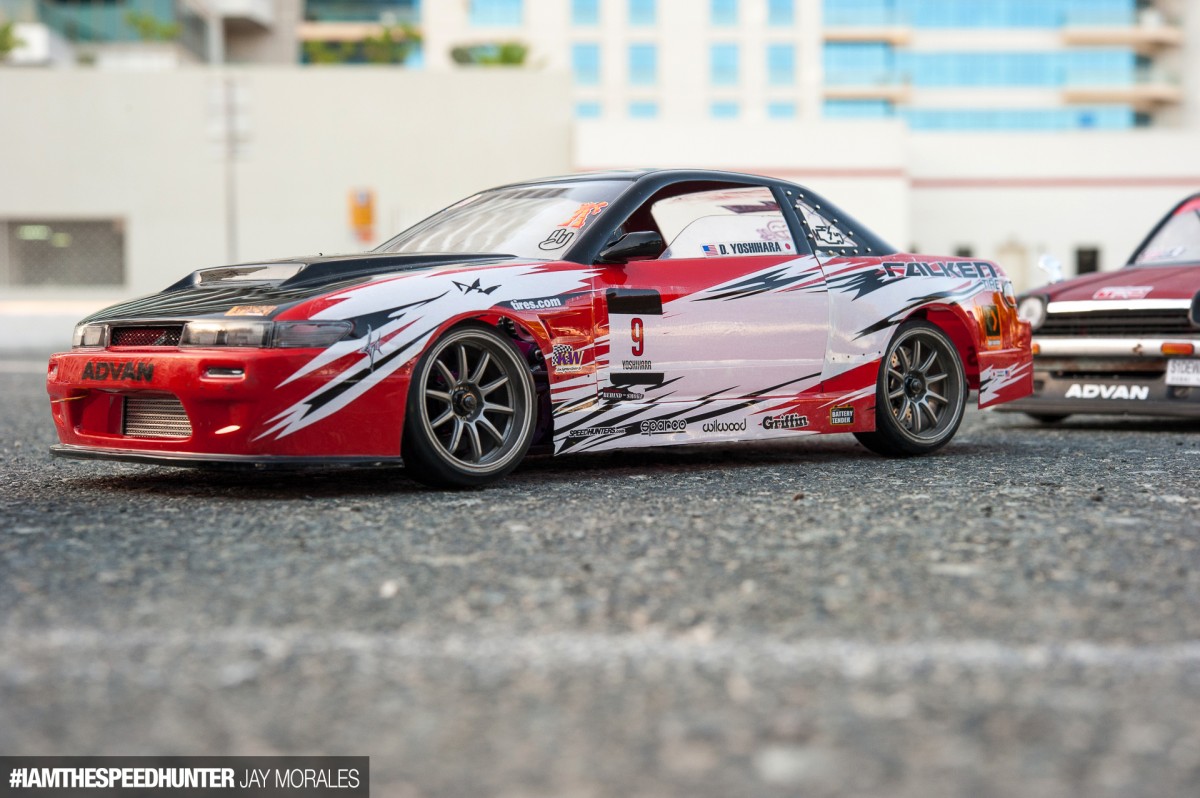 JM: If it helps anyone out there, here are a few more international online shops that we order from: Banzai Hobby, RC Art, RC Race and Drift Japan, Beat1 Racing, RC Mart, OO Speed Drift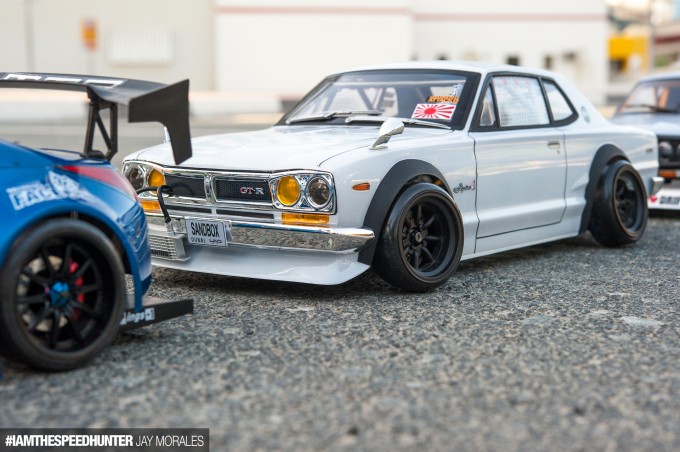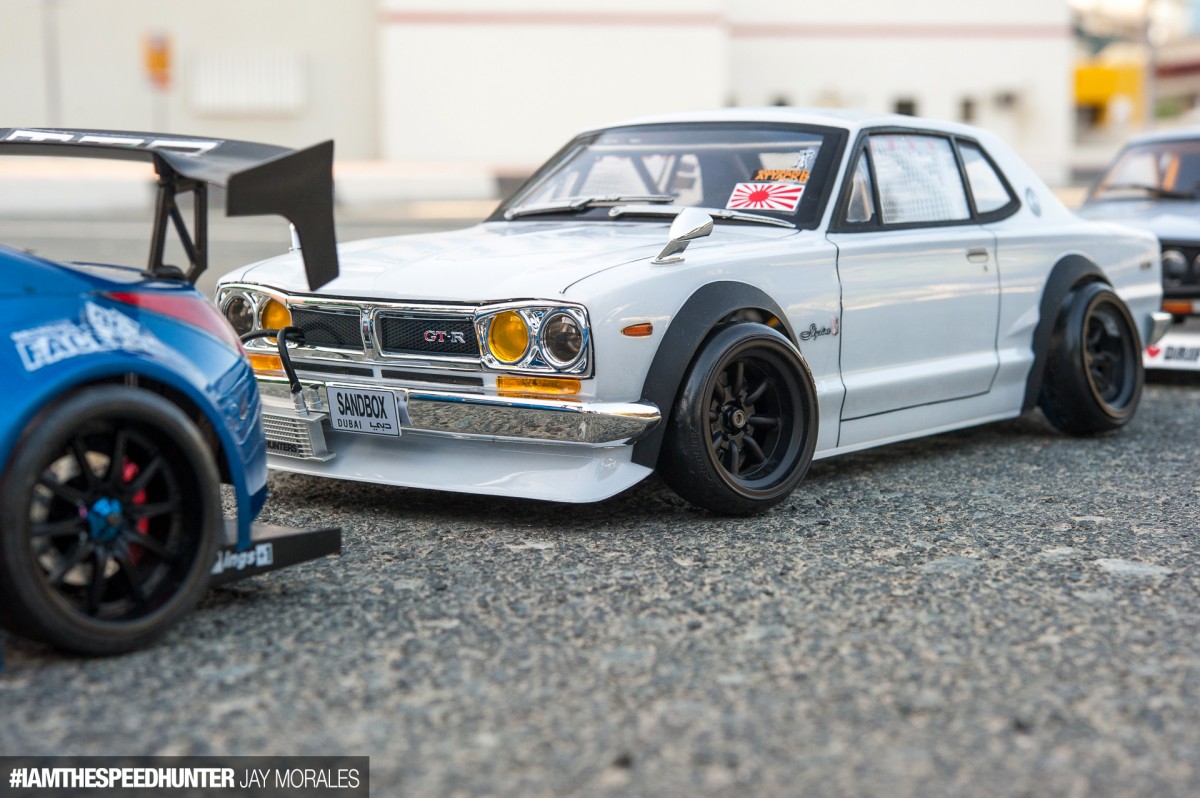 #IATS: I think that a lot of people wouldn't be aware of the costs involved in a hobby like this – can you tell us what would be the average cost of building an RC drift car? And what advice would you give to people reading this that are interested in building one?
JM: It would cost you roughly around US$150 to $300 for starter kit, and USD$1,000 to $1,500 for an advanced kit, but still, it would vary on the kit you want to start with and also shipping costs depending on your area. It's a lot of fun though, and once you start you'll become addicted. What have you got to lose?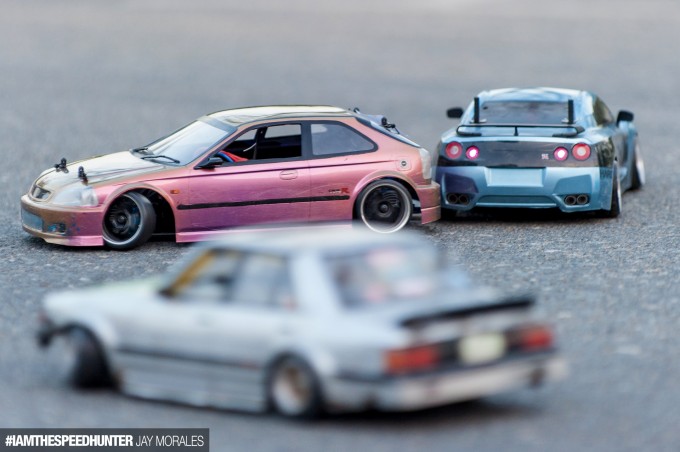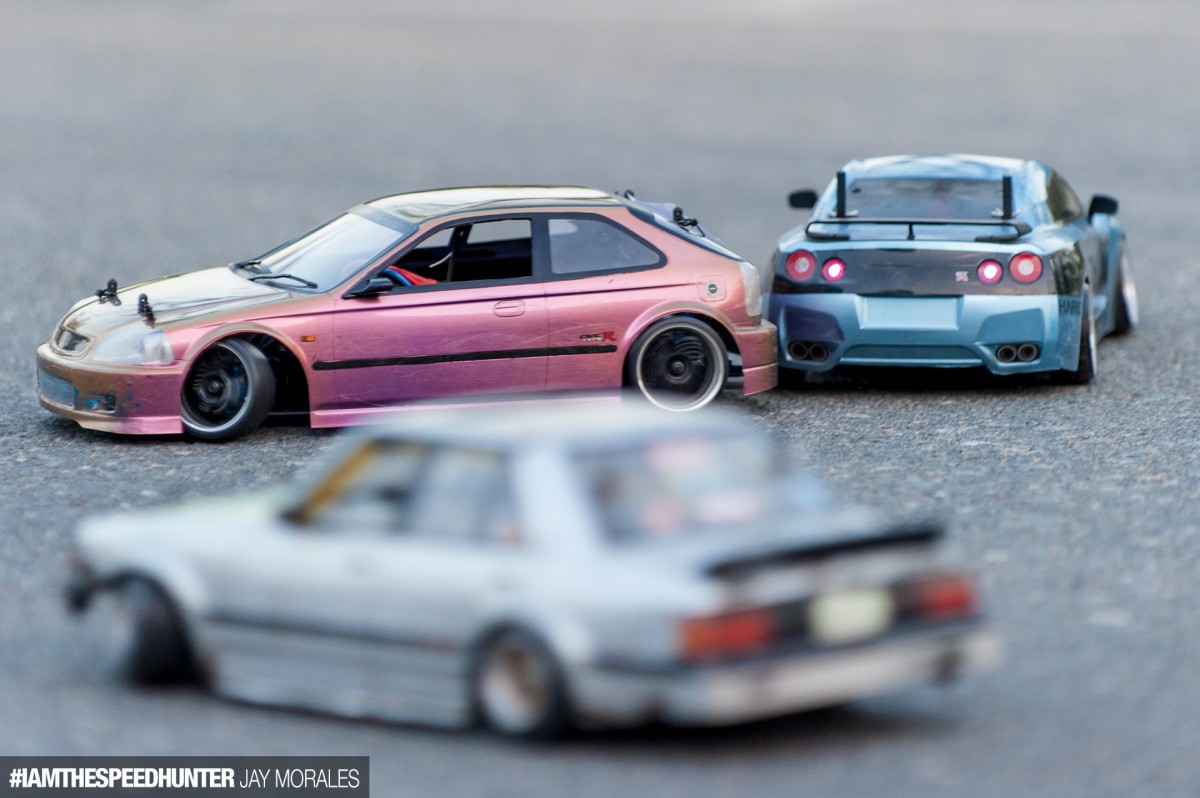 #IATS: So all this is just for fun, right? There's no heavy competition between you guys? It sounds pretty relaxing to be honest, (maybe Speedhunters should start an RC drift team?)
JM: It's true, RC drifting is my stress reliever! Also, since I can't afford to have an actual car right now, it gives me joy to drive and see my RC car drifting with my friends.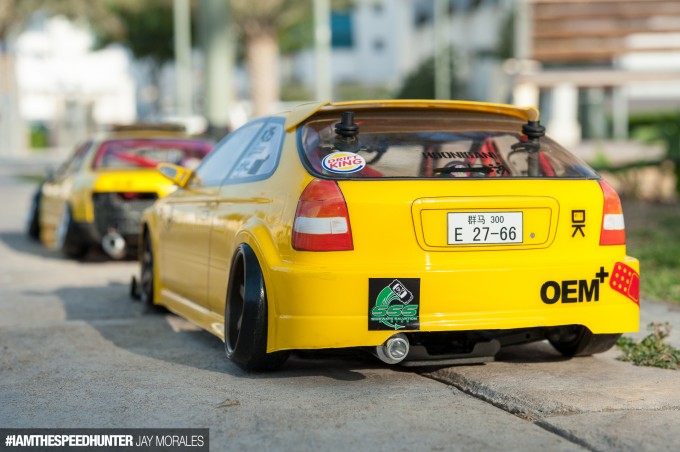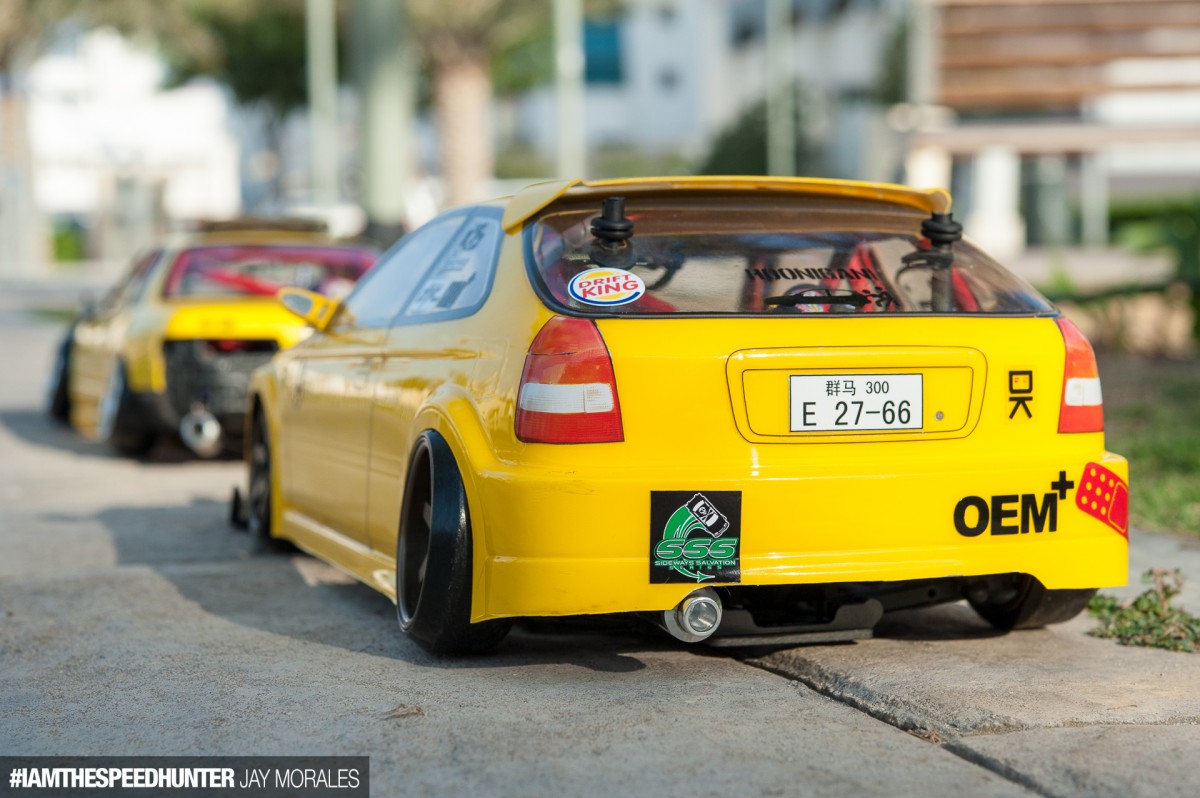 JM: The sense of achievement you get from creating your own set-up, and when you perfectly tune it, is really satisfying. Part of the fun is having to think about it and do your research into the suspension you want and working to perfect your chassis. I guess in a way it's similar to building an actual drift car, and when you achieve the right set-up, you will definitely have a good time sliding with friends. But yeah, this is a lot cheaper.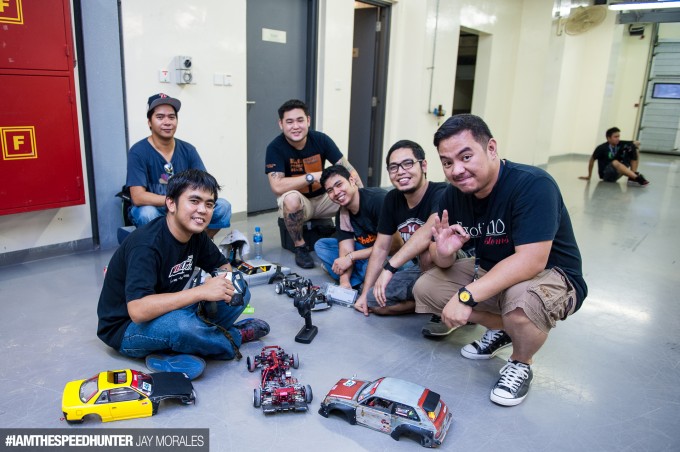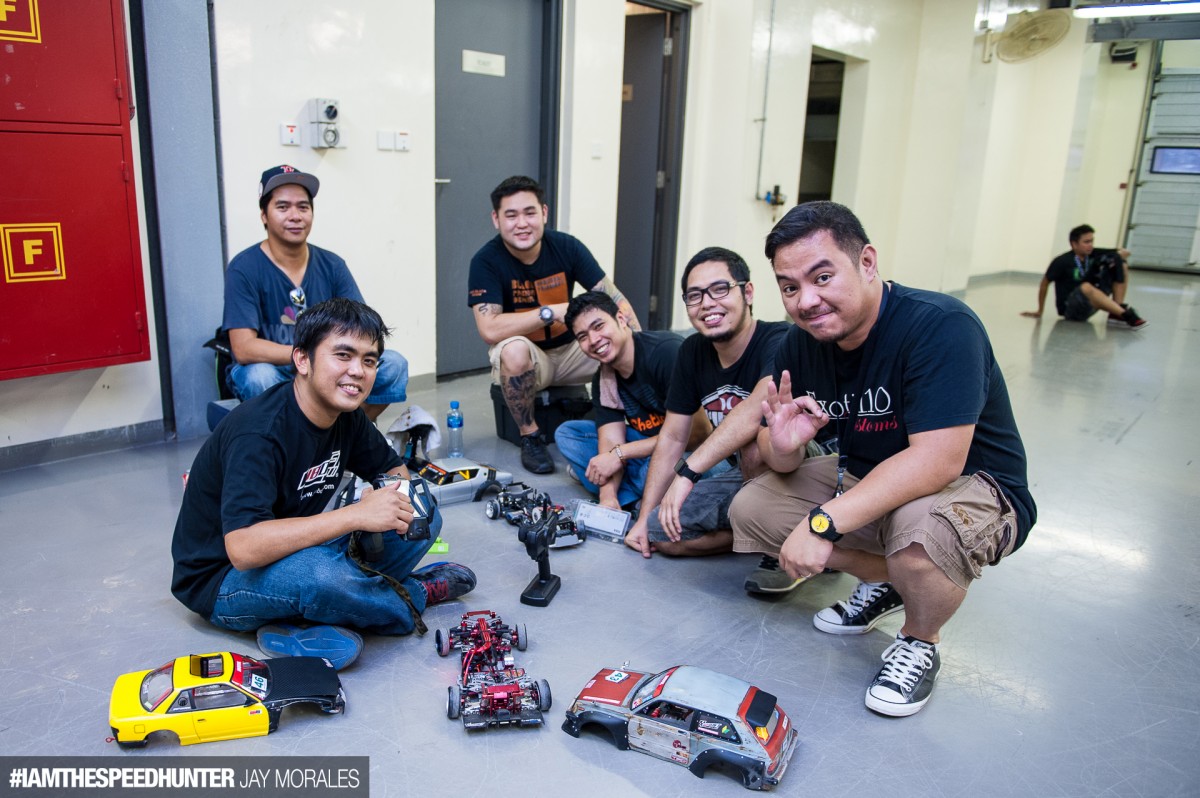 #IATS: Lastly, what's next for Sandbox Garage and the DubDrift group? Do you have any new builds in progress, or any new projects you are working on?
JM: Currently, we are in a process of planning an event to gather all of the RC Drift enthusiasts in the UAE, and we aim to make the RC drift community here bigger and stronger than ever before.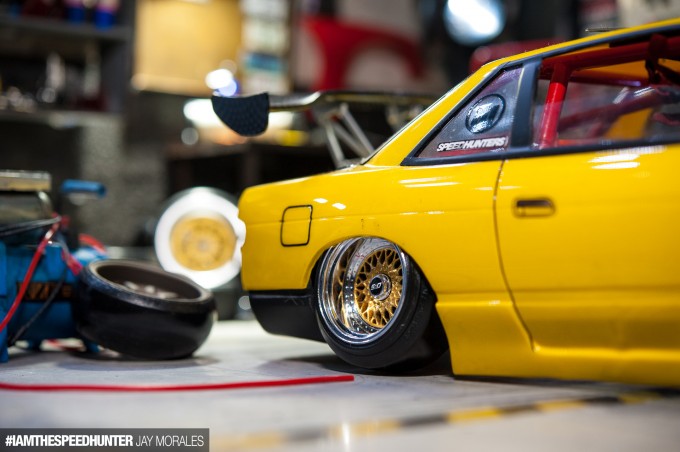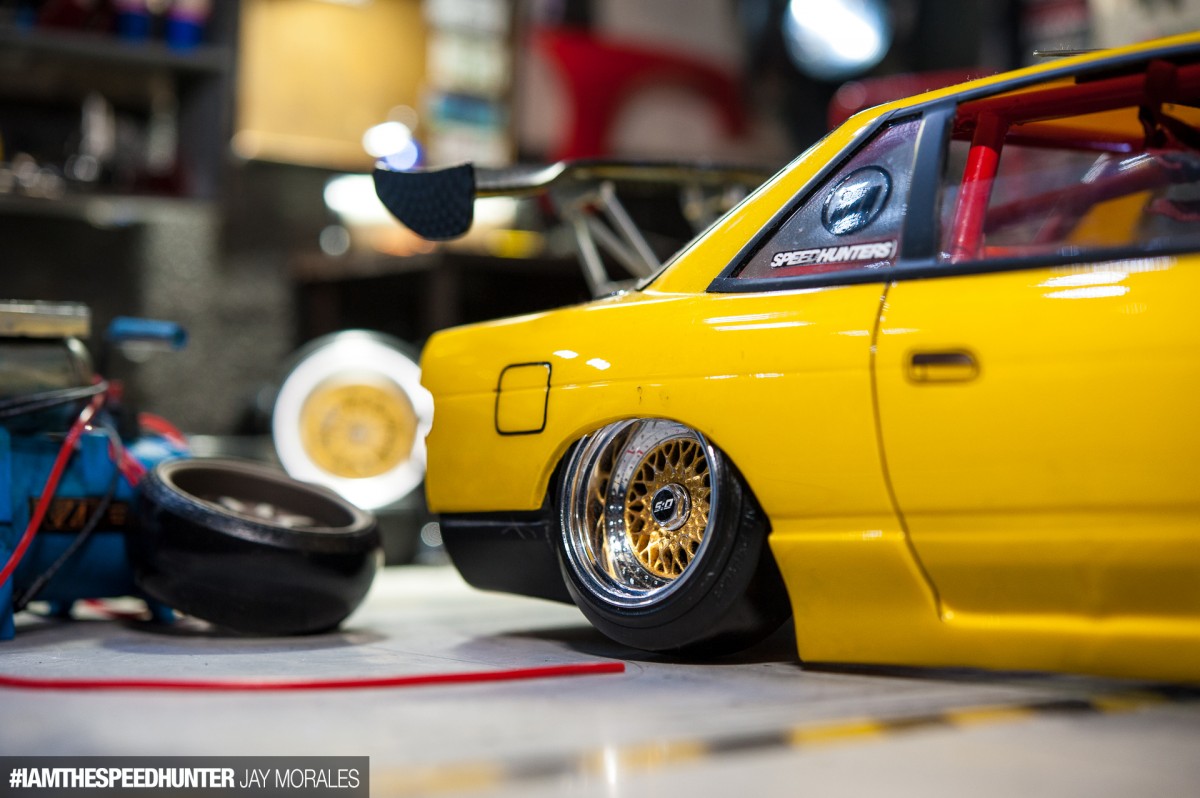 JM: I'm also working on a new car right now, it's an Evo IX with a Voltex body kit. I'm just putting the finishing touches on it this week!
#IATS: That sounds pretty cool. Do you have any photos of it yet?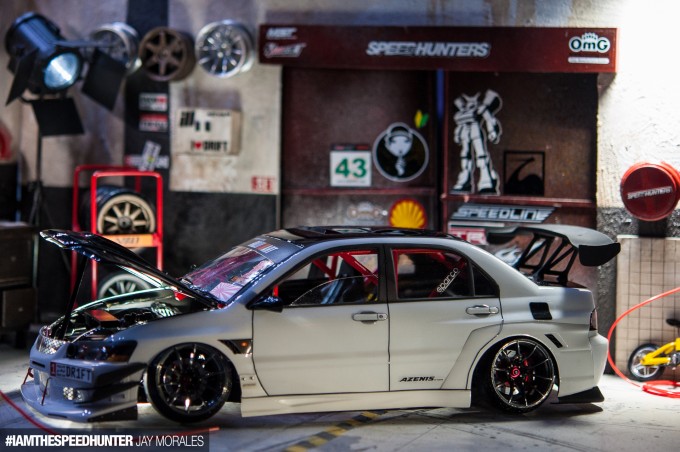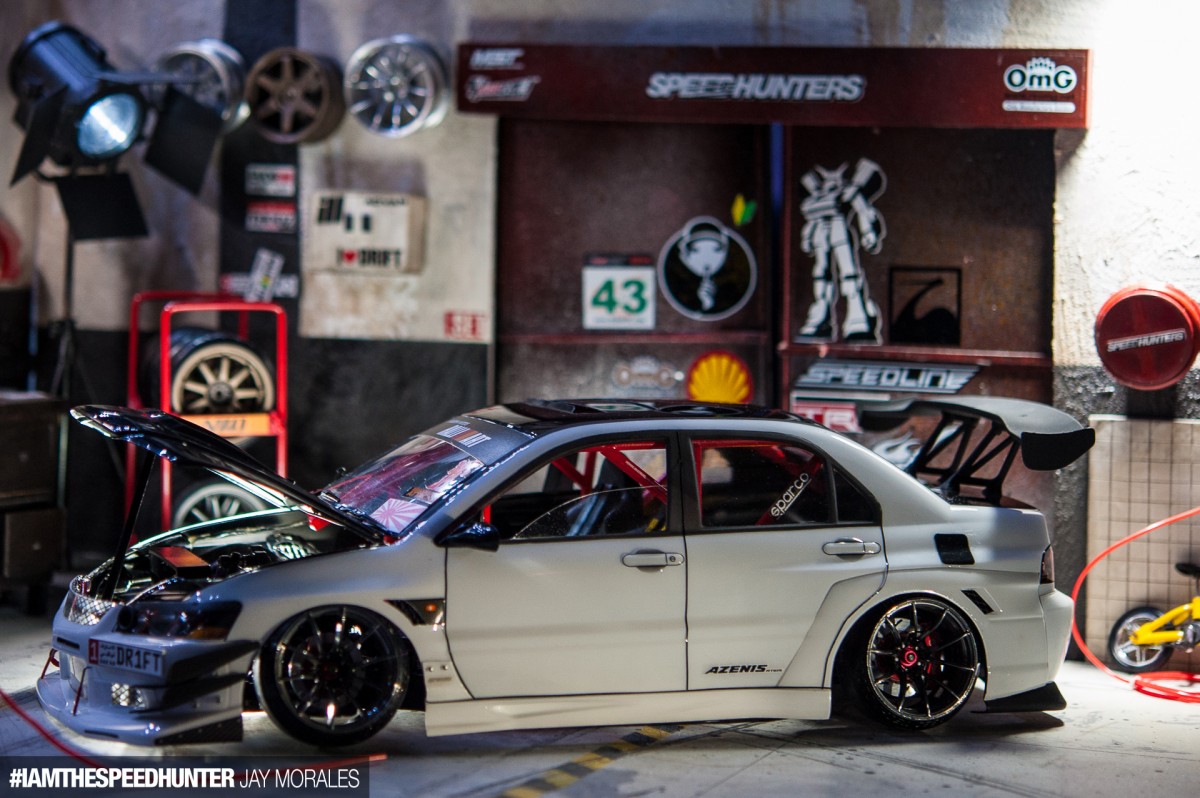 JM: For Speedhunters, of course! Here's a sneak preview.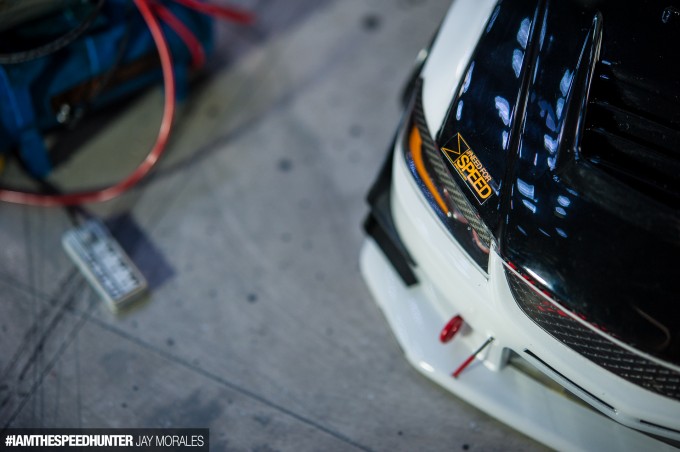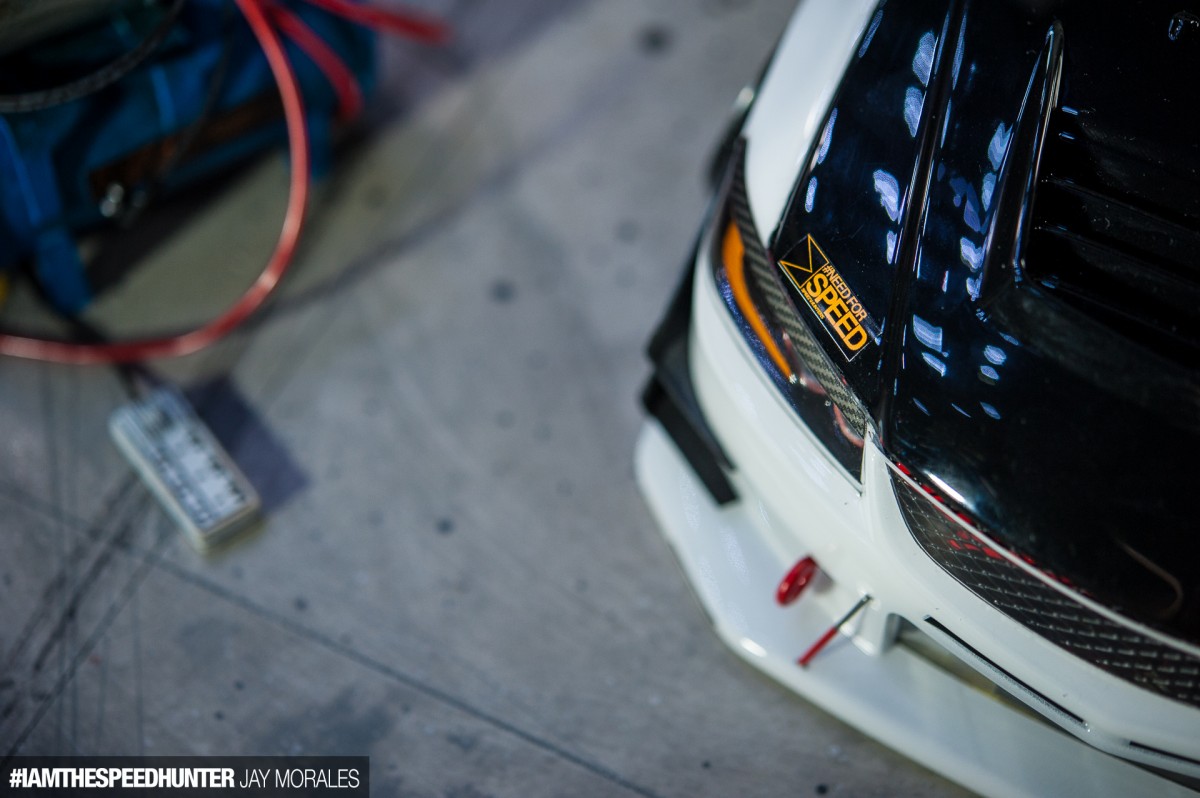 #IATS: Thank-you Jay for taking the time to talk to us and for giving us a glimpse into your world as a Speedhunter!
Words and Photos by Jay Morales
SandBox Middle East
DubDrift.com
#IATS Interview by Taryn Croucher
Instagram: taryncroucher
Twitter: @taryncroucher
taryn@speedhunters.com
About #IAMTHESPEEDHUNTER
We created #IAMTHESPEEDHUNTER to allow you the opportunity to share your skills and car culture experiences from around the globe with the rest of the Speedhunters audience.
How do you get involved? It's simple…
Flickr – Join our #IAMTHESPEEDHUNTER Flickr Group and share your favourite photos with us and others.
Instagram – Follow us on Instagram at @TheSpeedhunters and tag your own car culture images with #IAMTHESPEEDHUNTER
Twitter – Follow us on Twitter at @SPEEDHUNTERS and share your tweets with the #IAMTHESPEEDHUNTER hashtag.
E-Mail – If you've been to a cool event and captured some amazing images, or if you've got a special automotive build or project to share with us, be sure to e-mail iamthespeedhunter@speedhunters.com and tell us a little bit about it!