More Than Transportation
If you're reading this, it's pretty much a given that you know someone who has owned a Toyota Corolla at some point. It's the world's best-selling car after all, and in its nearly 50 years of existence it's been built, sold and driven by millions in countries on every corner of the planet. The Corolla is the ultimate manifestation of Toyota's philosophy of building affordable automobiles that will last a lifetime.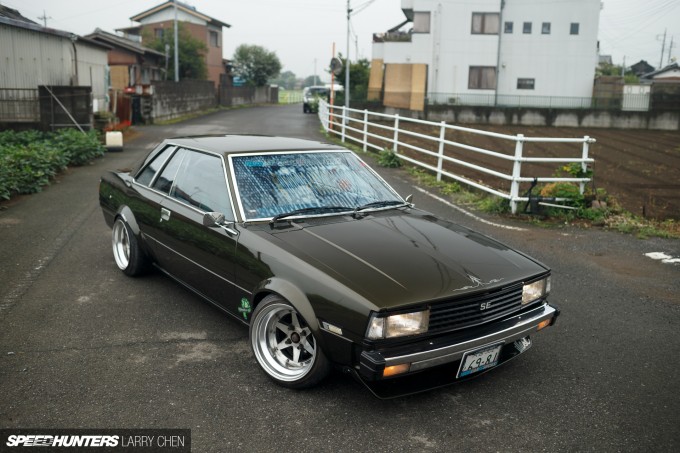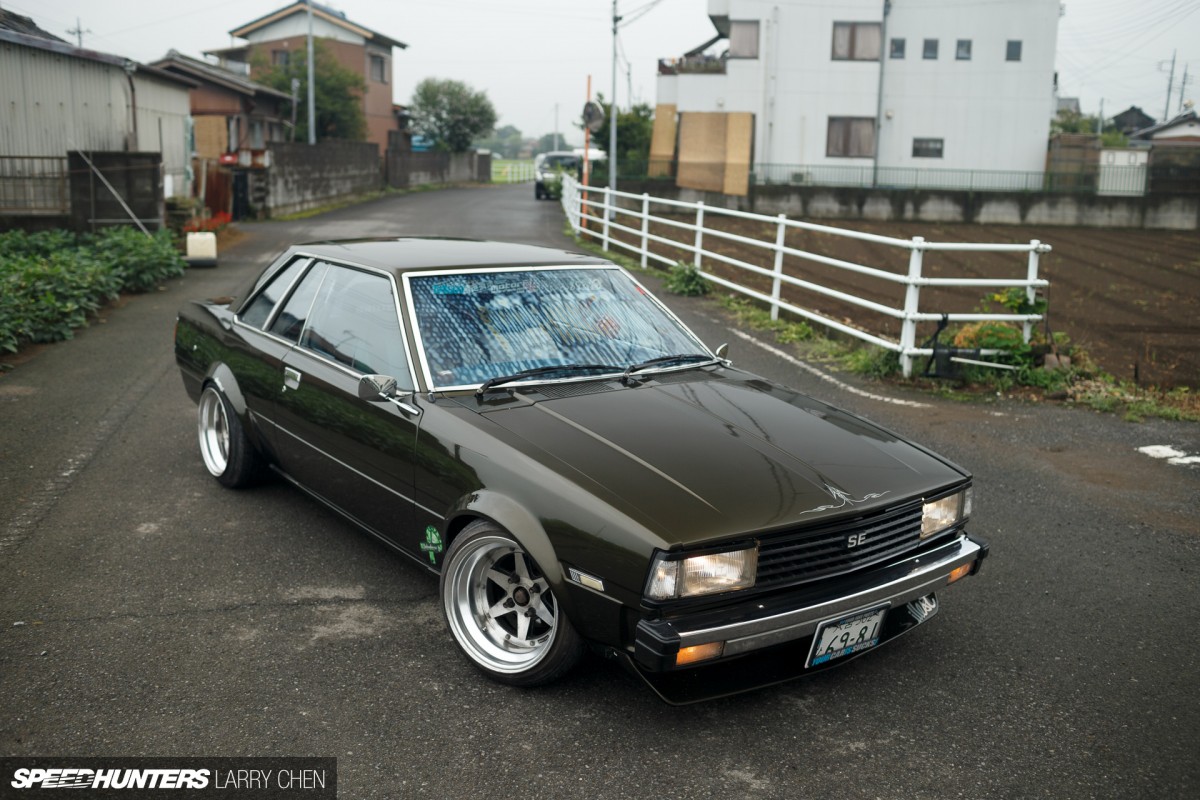 I don't think there's any way you could call today's Corolla a bad car. Go buy one and you'll be sure to get hundreds of thousands miles of reliable service out of it. It's probably the car you'd recommend to someone who doesn't know anything about them.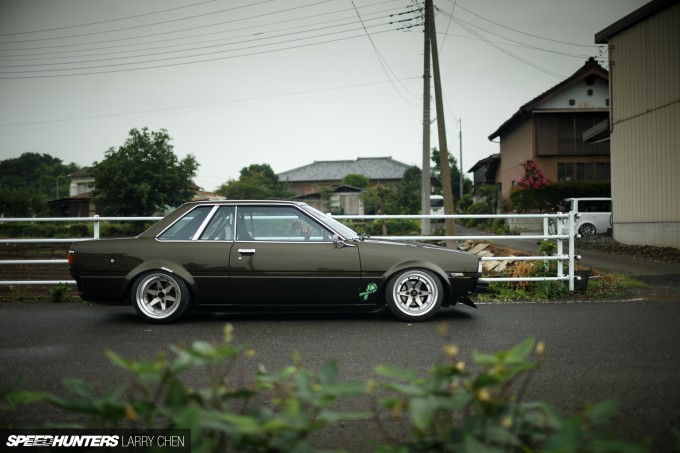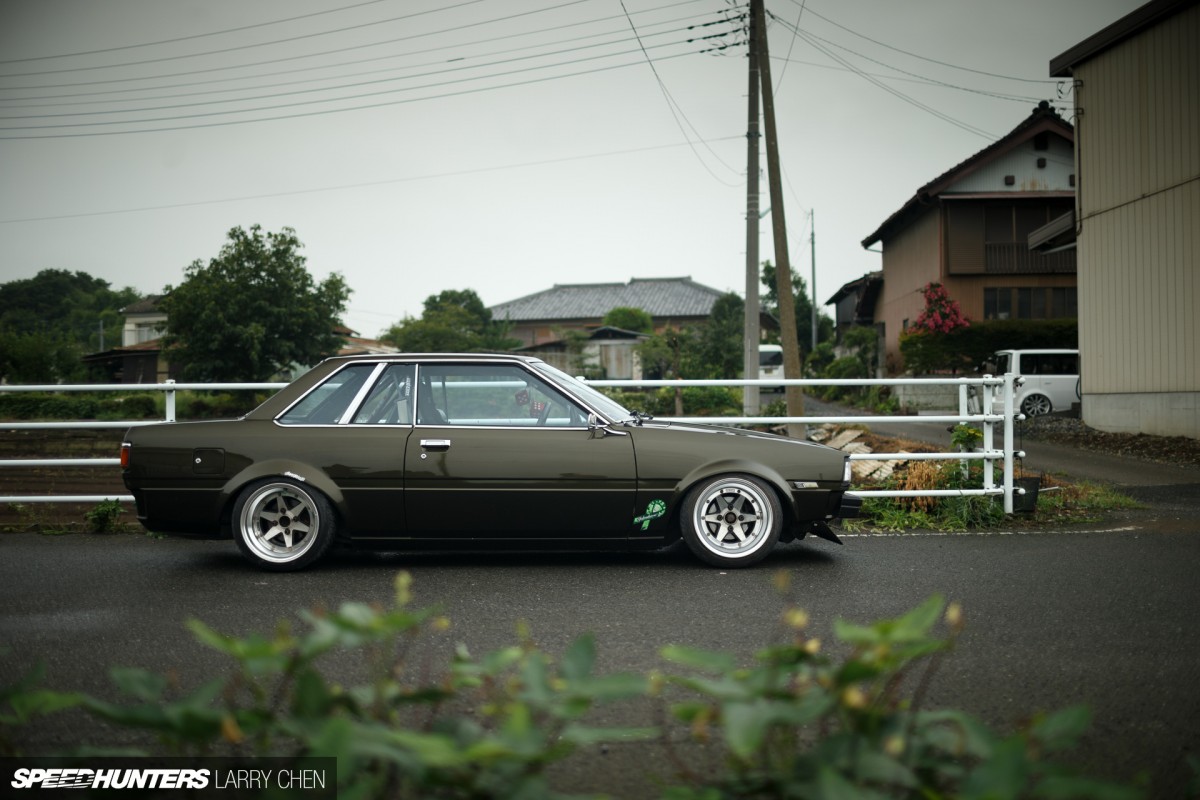 However, if you are looking for excitement during your daily commute a new Corolla probably isn't the car for you. It, like many of the other cars in the current Toyota lineup, is something you buy with your brain and not with your heart. It's for people who consider resale value, fuel economy and reliability scores over performance or emotional appeal.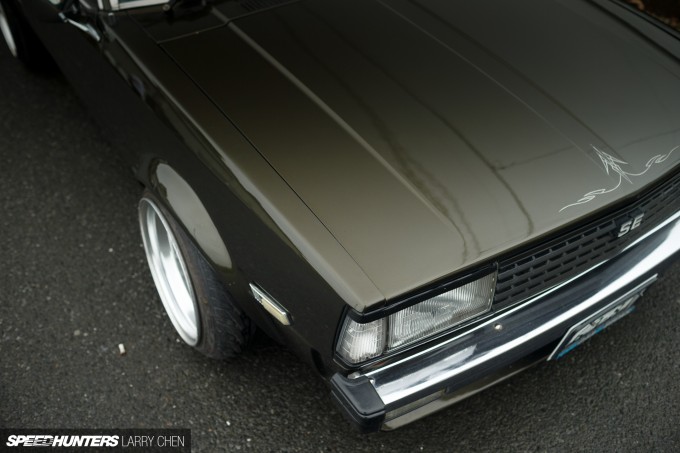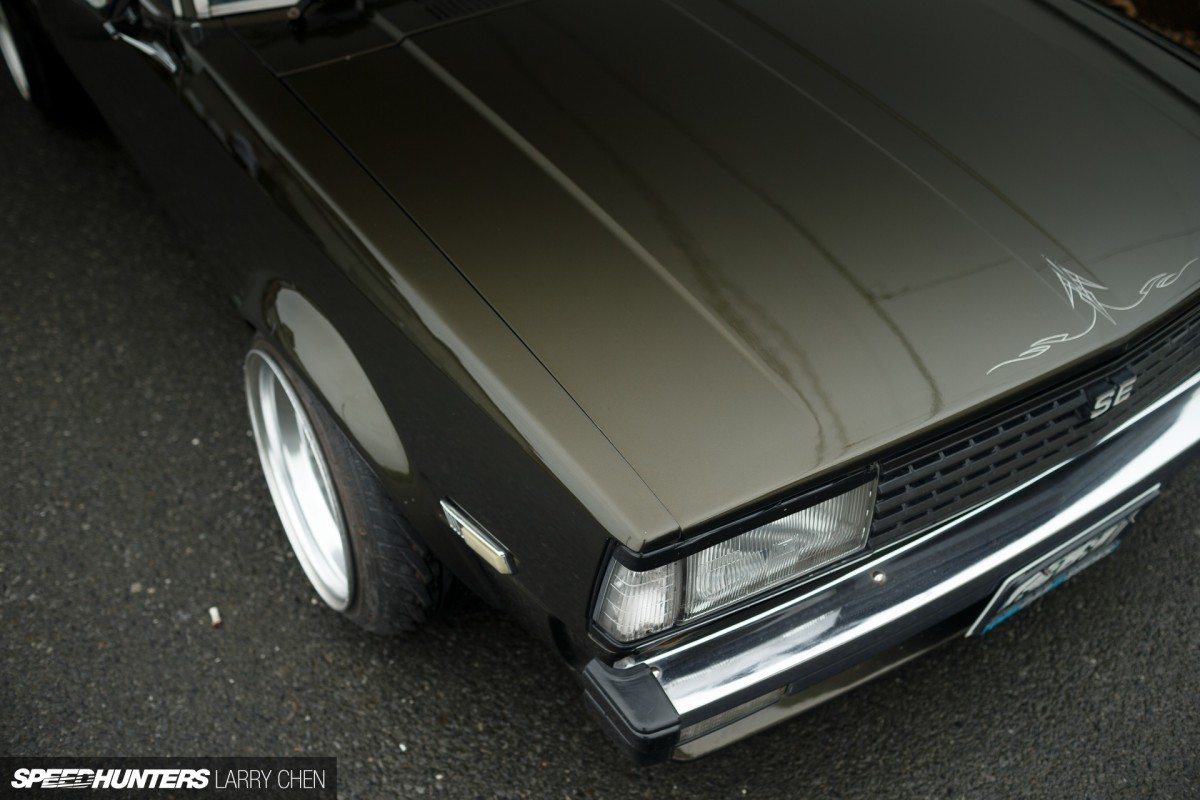 It hasn't always been like that though. Sure, the Corolla has always been about value above all – but within just a few years of it's debut in the late 1960s Toyota was already offering the car with its advanced DOHC four-cylinder engines, and they were starting to pop up in various motorsport competitions around the world.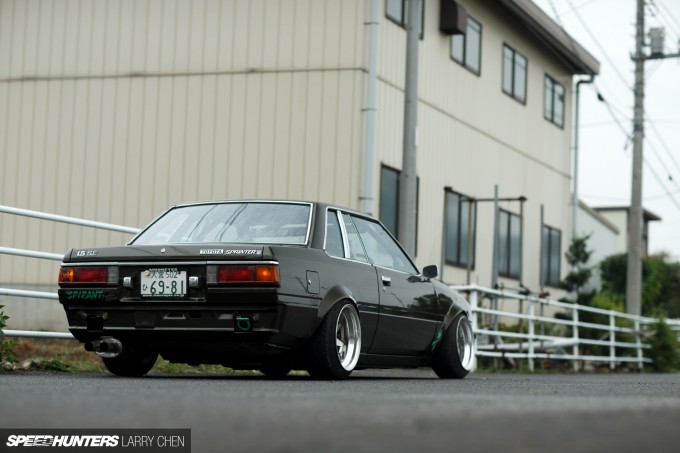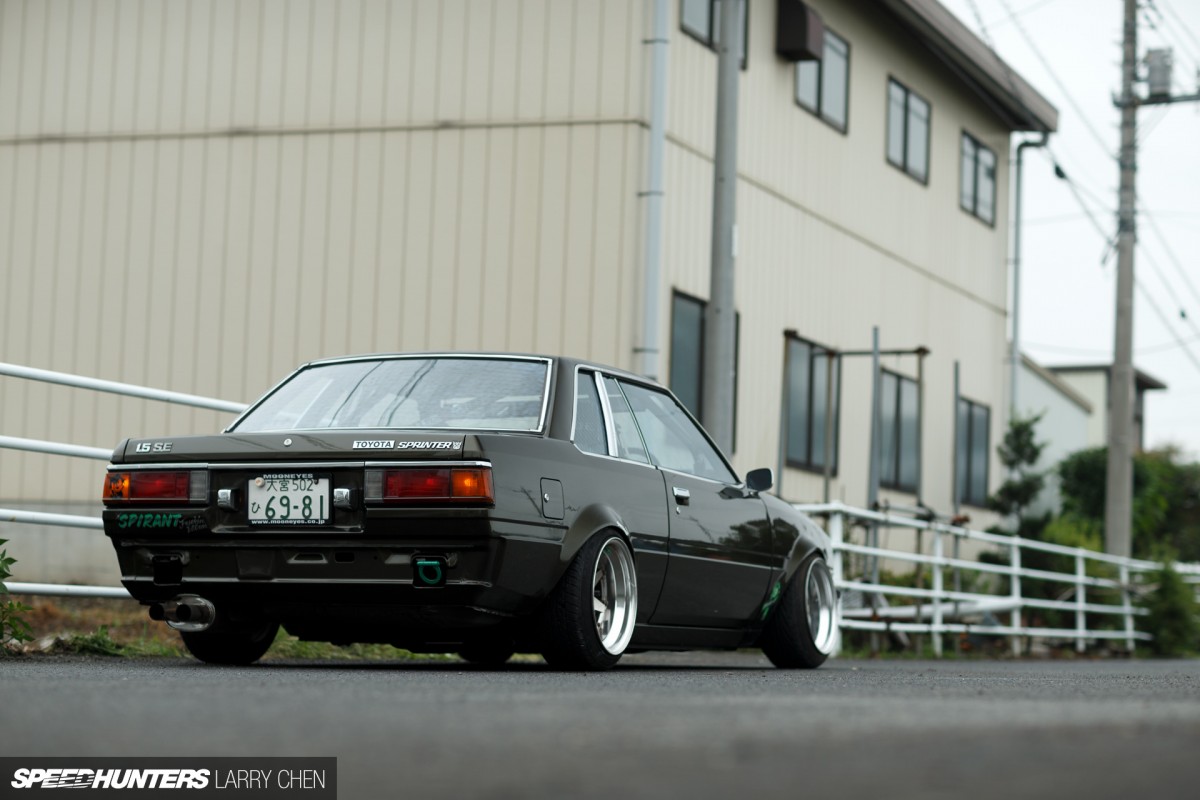 It might not have been the car that young boys dreamed of, but with the right options it was a car that aspiring enthusiasts could buy and enjoy on a daily basis. It was a perfect mix of Toyota's famous reliability and a driving character that was similar to more temperamental European machinery.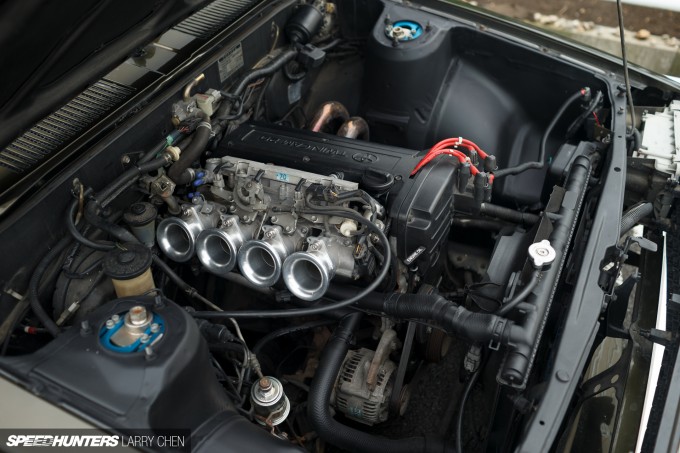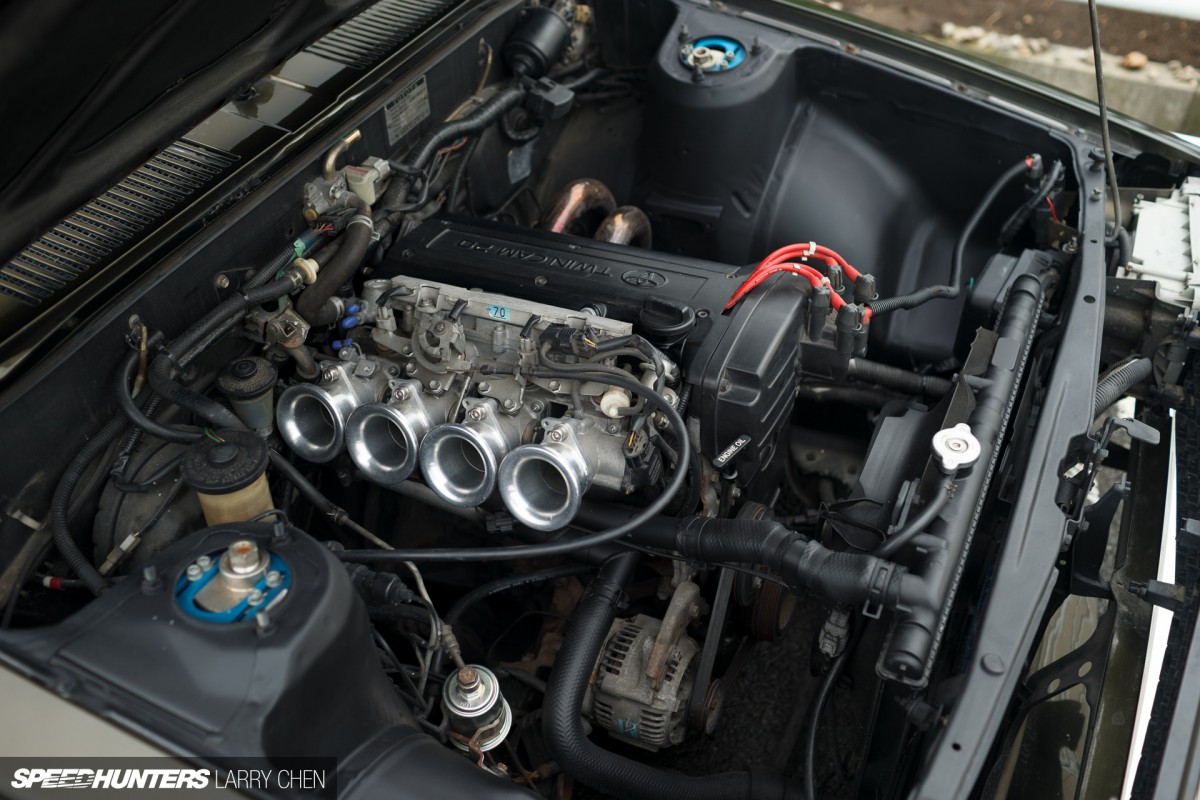 Things got even better in the early 1980s when the AE86 debuted and went on to become a cult icon – not just in Japan – but around the world. Even after the Corolla moved on to a front-wheel drive platform, Toyota continued to offer the car with with hot engines – namely the 20-valve variant of the 4A-GE with factory quad throttle bodies.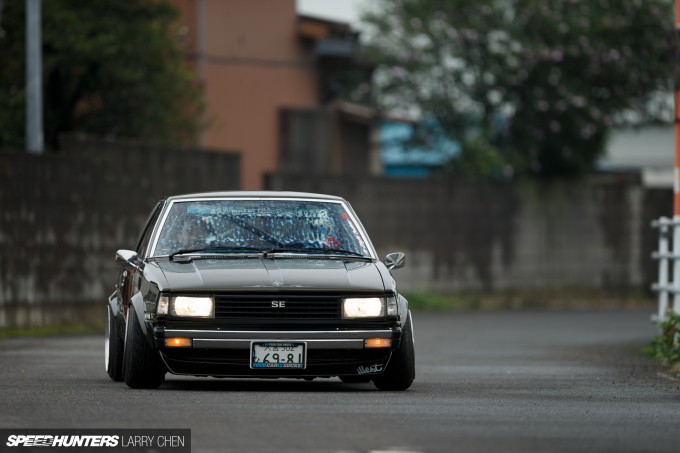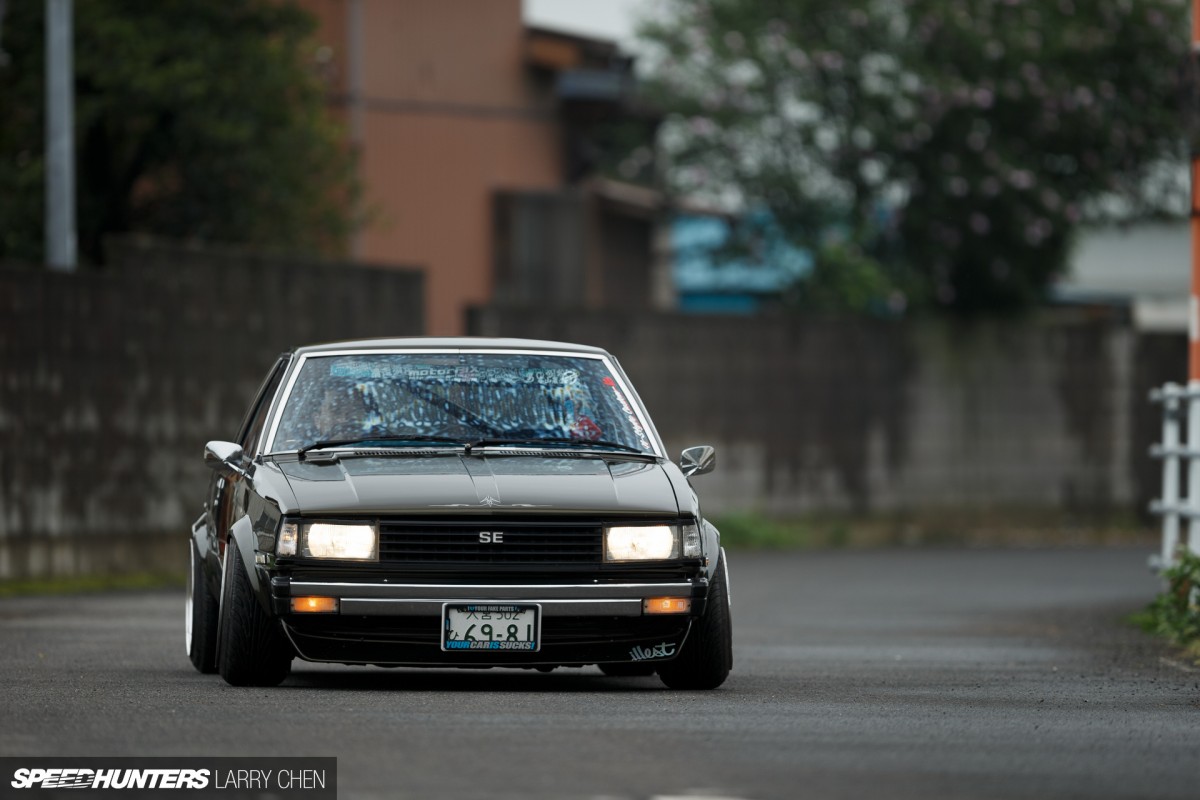 As the years went on and new millennium came, the Corolla lost its luster and seemed to become strictly a vehicle for basic transportation. Today you are more likely to see a unicorn than a Corolla equipped with a manual transmission, and you certainly won't find many sporting aspirations in the current model, despite badges that try to tell you otherwise.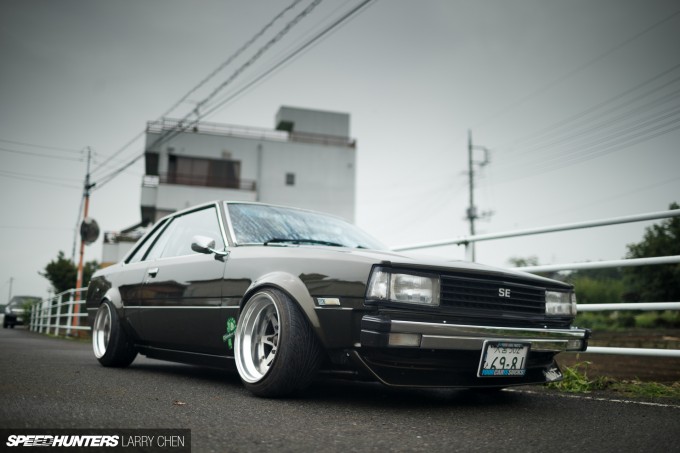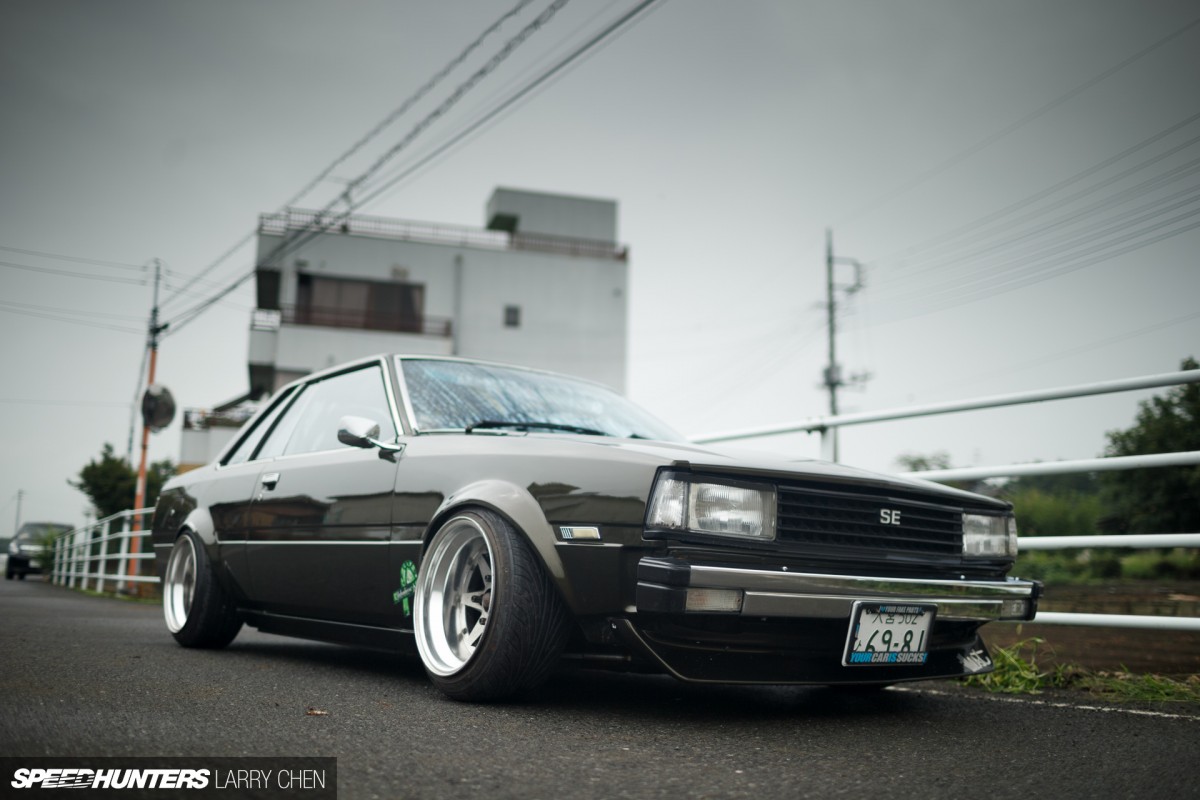 So while current car buyers will probably be looking elsewhere for fun, the passion that people have for old Corollas seems to be growing stronger everyday. Which brings me to one enthusiast from Japan named Manabu Mitsumori.
From Turbo To NA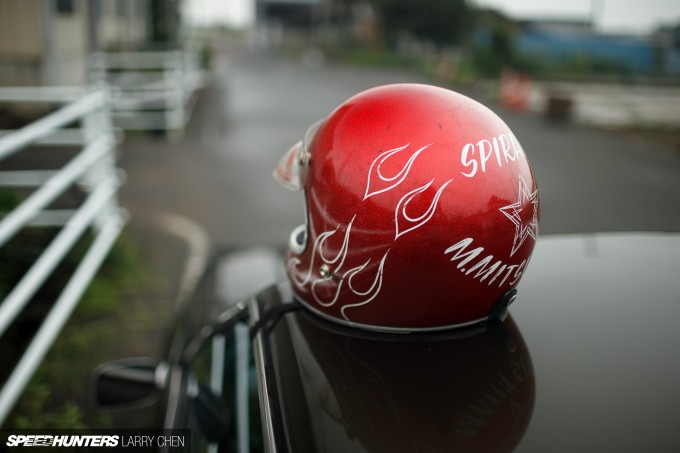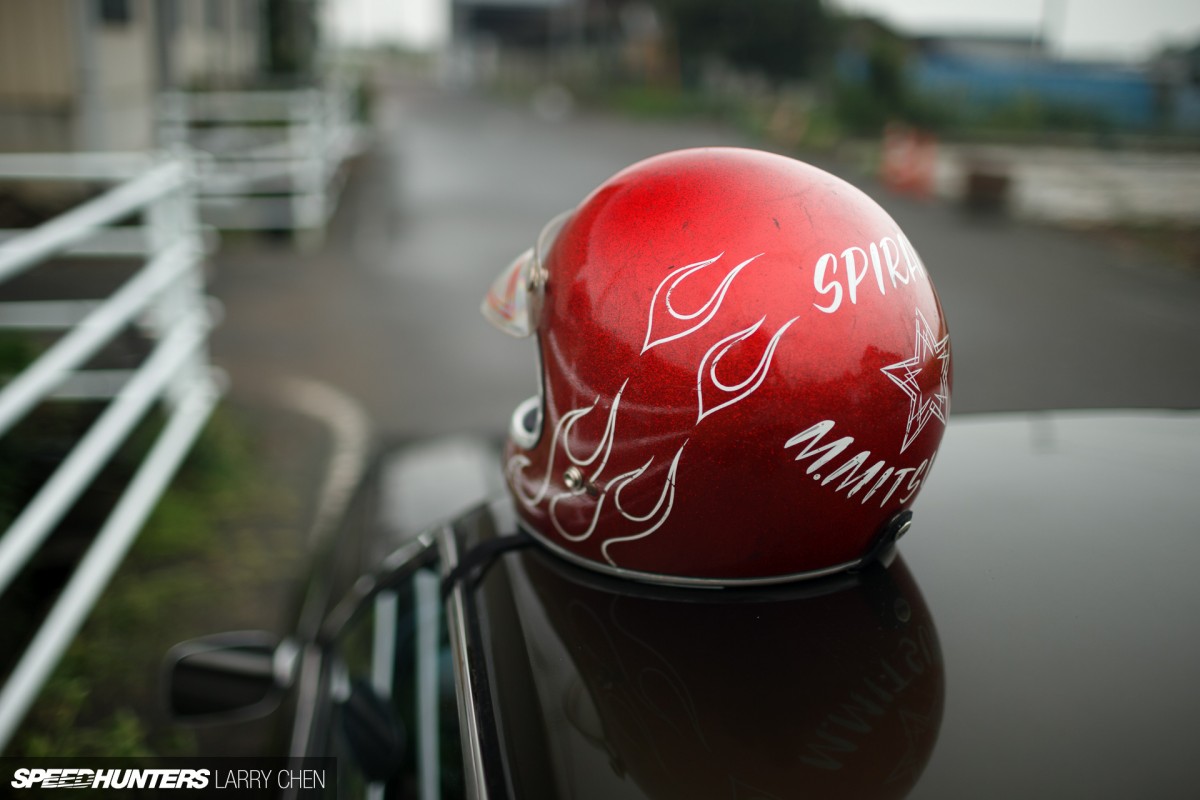 If Manabu's name surrounds familiar, it might because of his affiliation from the Spirant drift team. A few years ago he could be found drifting a rather badass high-powered JZX100 Chaser, but after having his fun with the big turbocharged four-door sedan he wanted to do something different.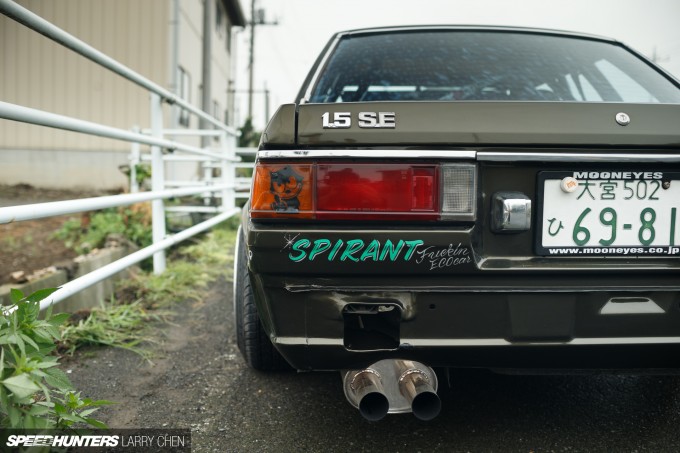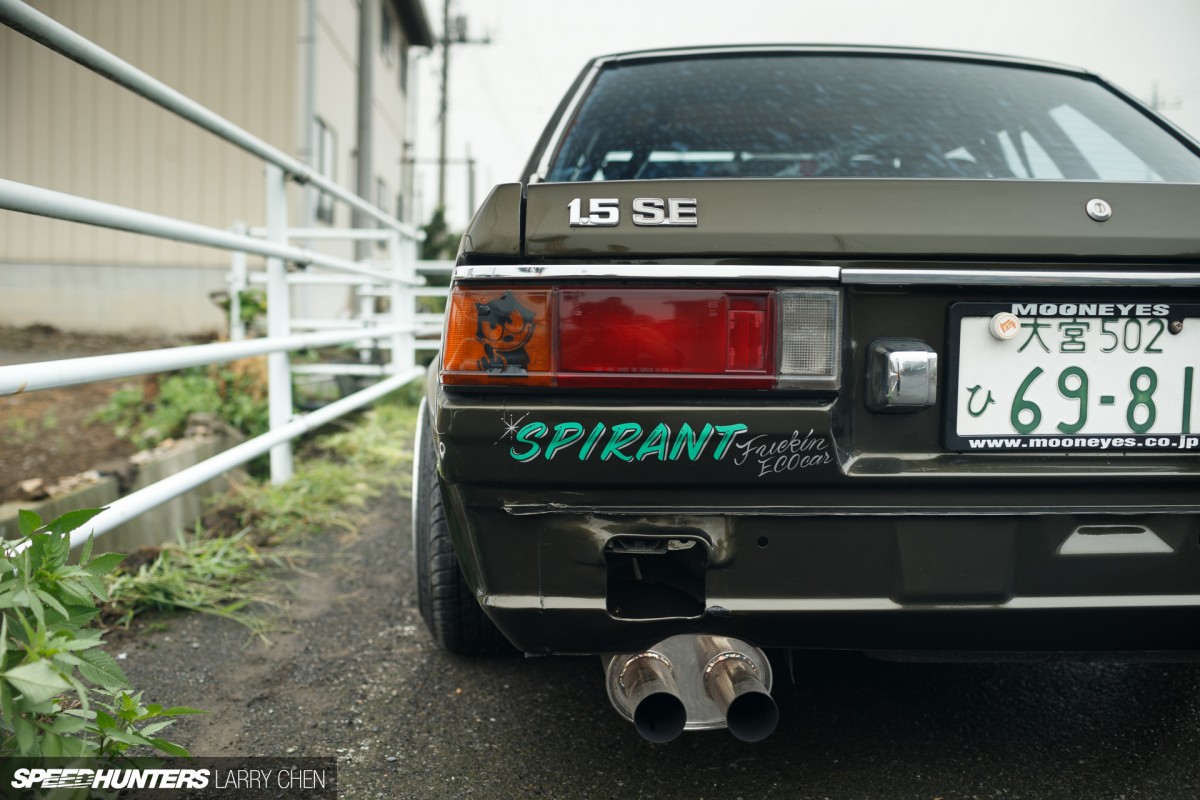 So he traded heavy six-cylinder turbo power for lightweight four-cylinderr NA response in the form of the good old Toyota Corolla. In the time since he's become a bit of a Corolla maniac.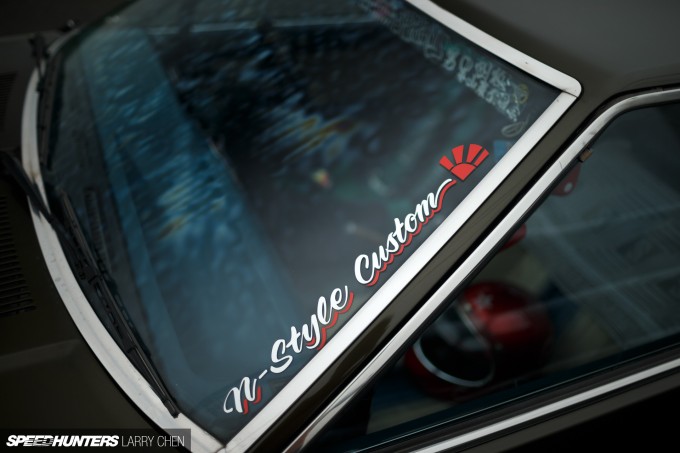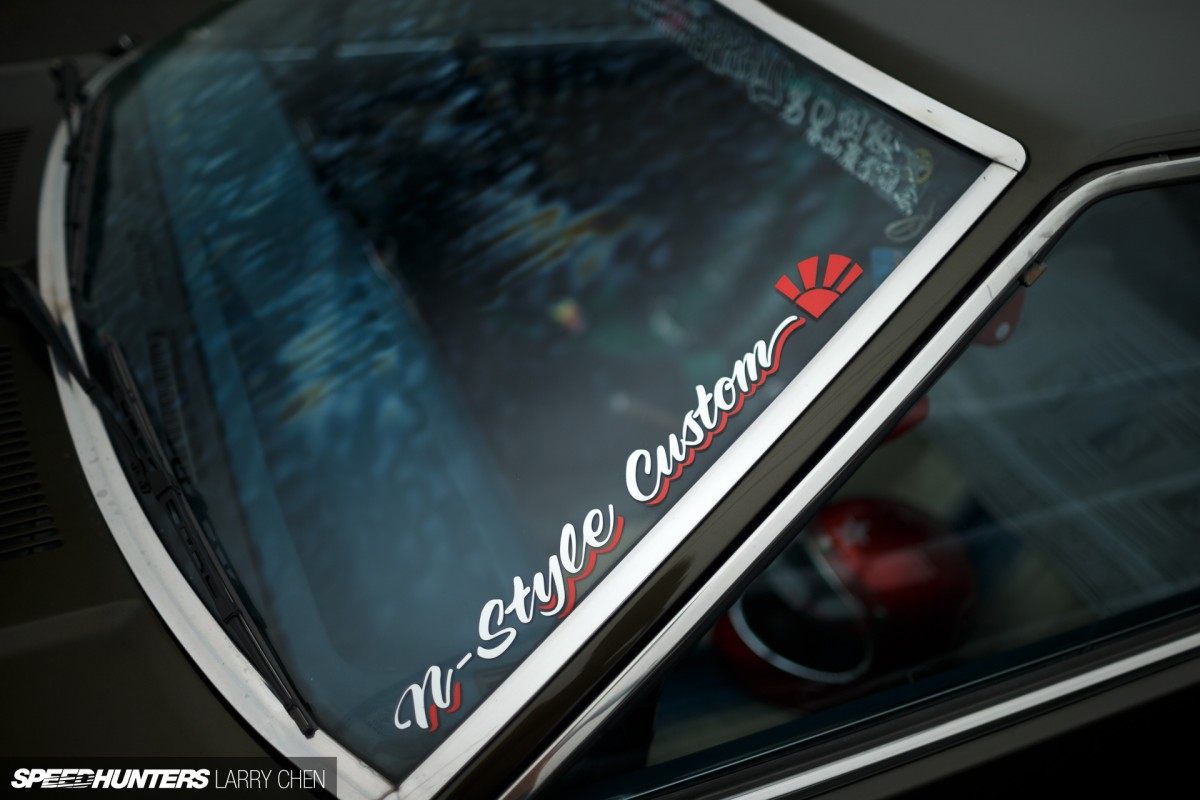 Manabu's owned an AE86 and also has a beat-up Corolla sedan that he trashes on the track, but his pride and joy is this AE70 Sprinter coupe built with the help of N-Style.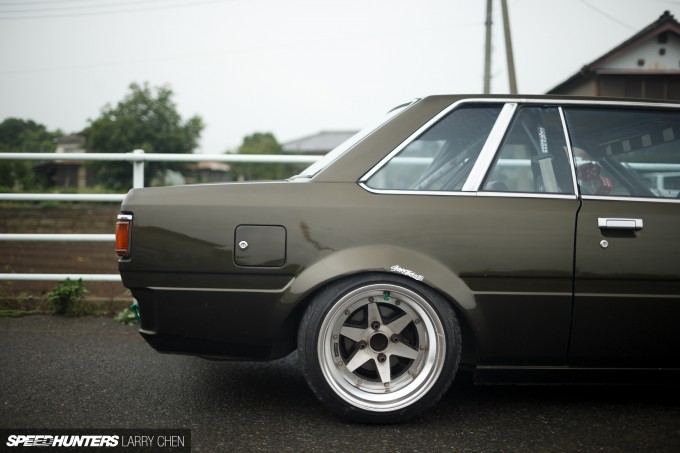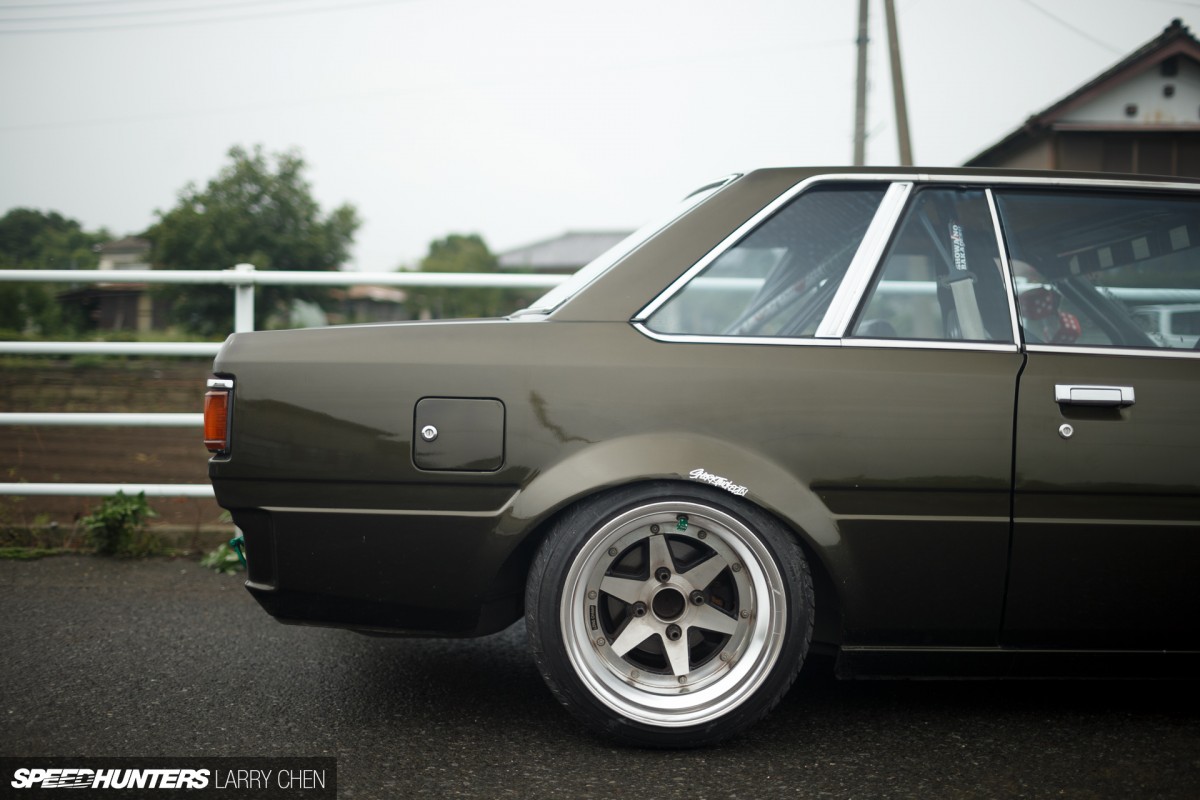 That brings me to another great thing about old Corollas – you could get them in all sorts of body styles. If you were to go the dealer in the early '80s you could have yourself a Corolla sedan, a hatchback, a wagon – with the rarest of the bunch being the sleek looking coupe you see here.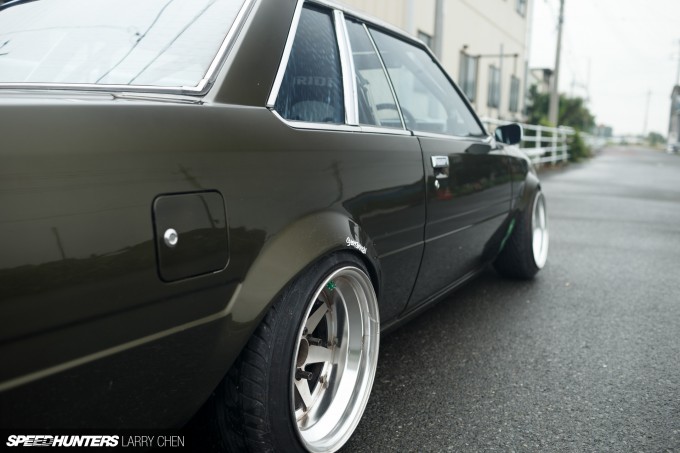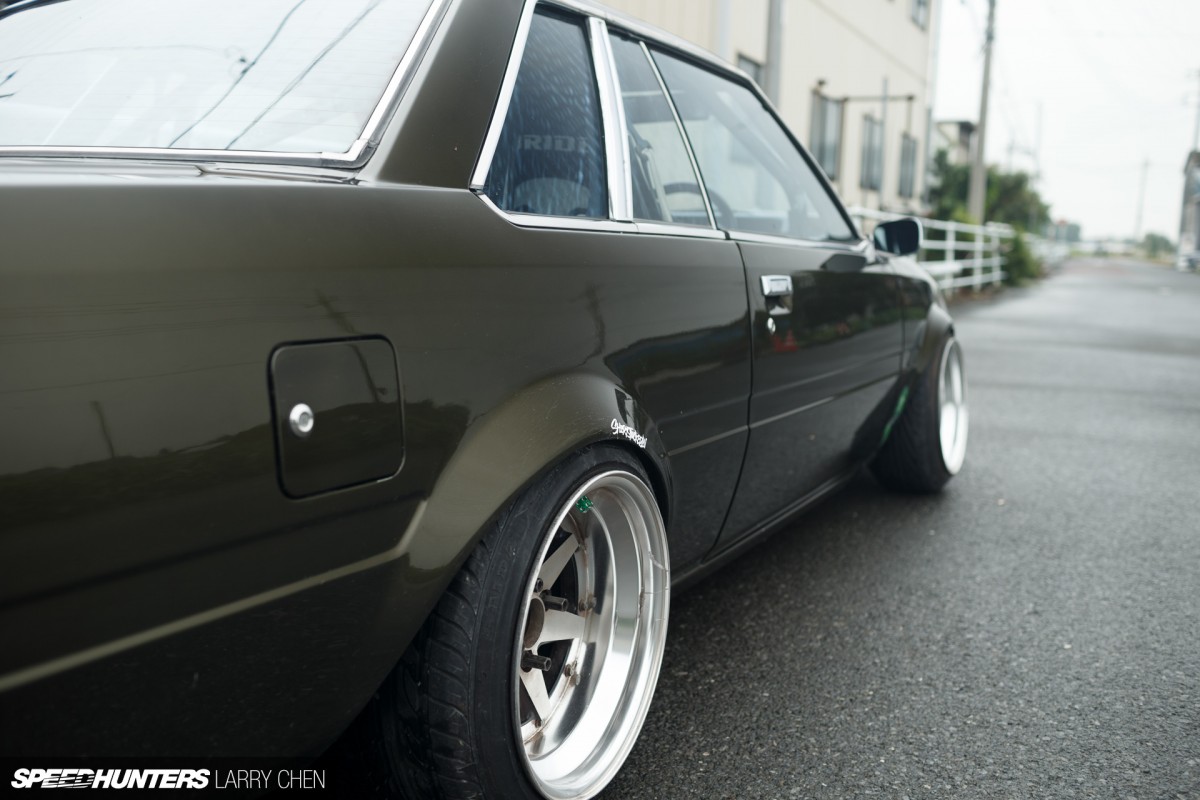 After getting his hands on the rare Corolla few years ago, Mitsumori-san has proceeded to create one of the coolest examples of the 70-chassis Corolla that we've ever seen.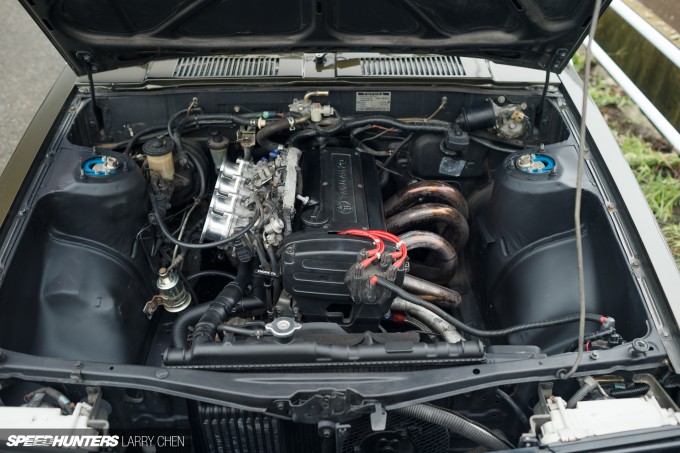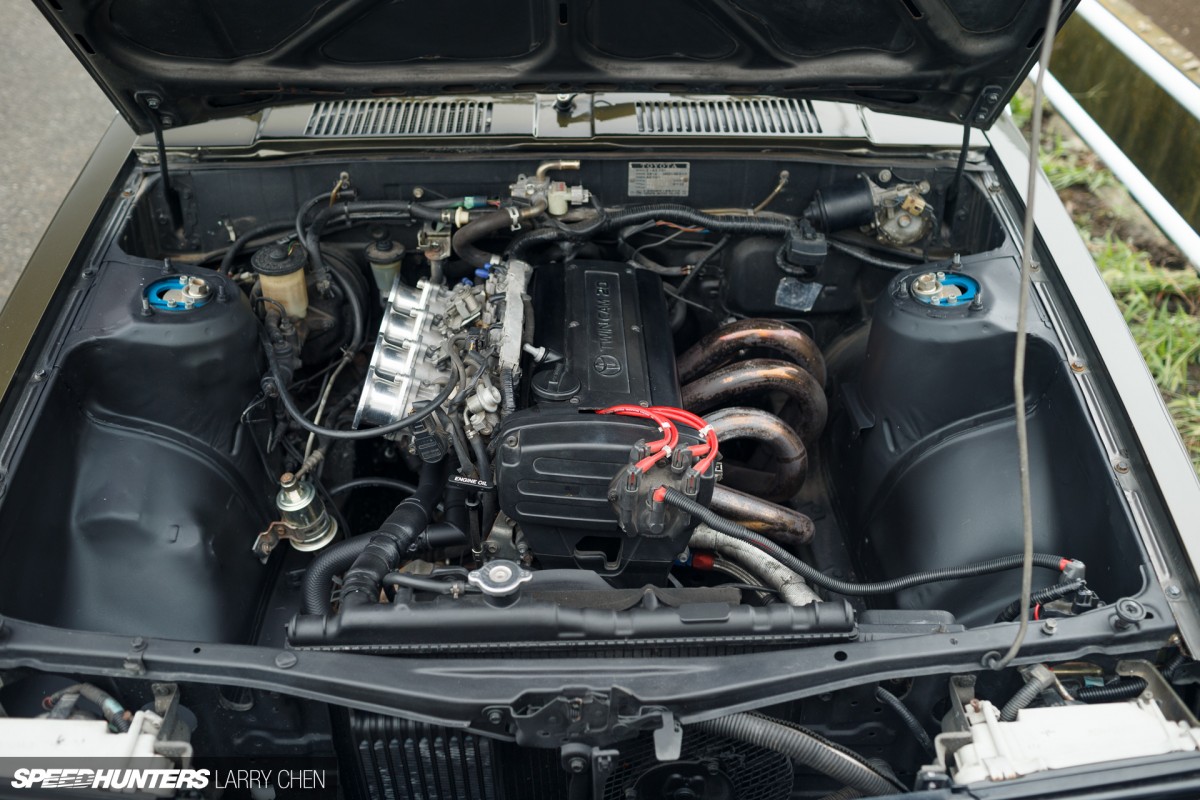 While this particular car left the factory with Toyota's modest 1.5-liter 3A-U engine, it's now equipped with the proven second-gen 'Black Top' 20-valve 4A-GE sourced from an AE111 Corolla.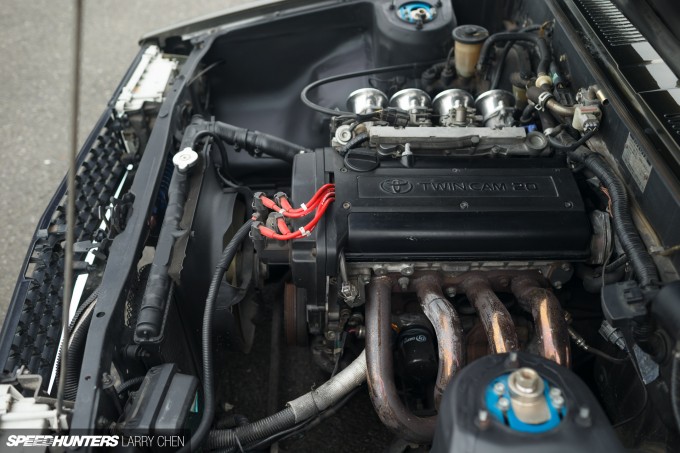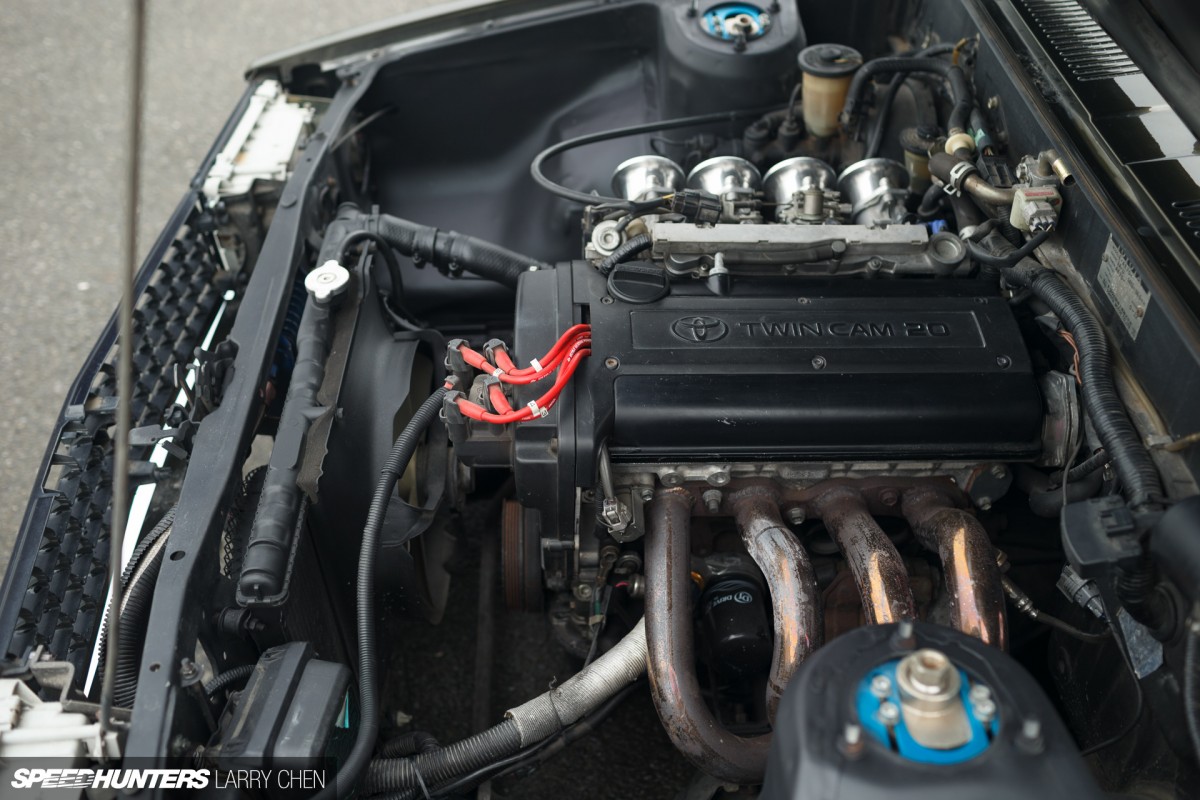 The 4A-GE has never been known as a powerhouse engine, but if you are looking for lots of revs and the ability to drift with your foot firmly planted on the floor, this is the way to go.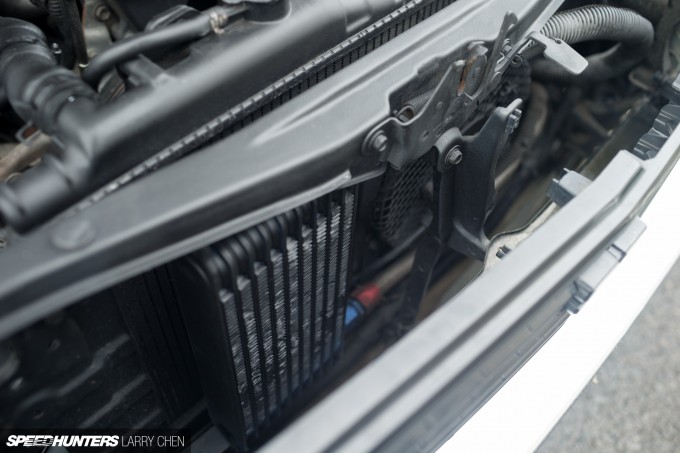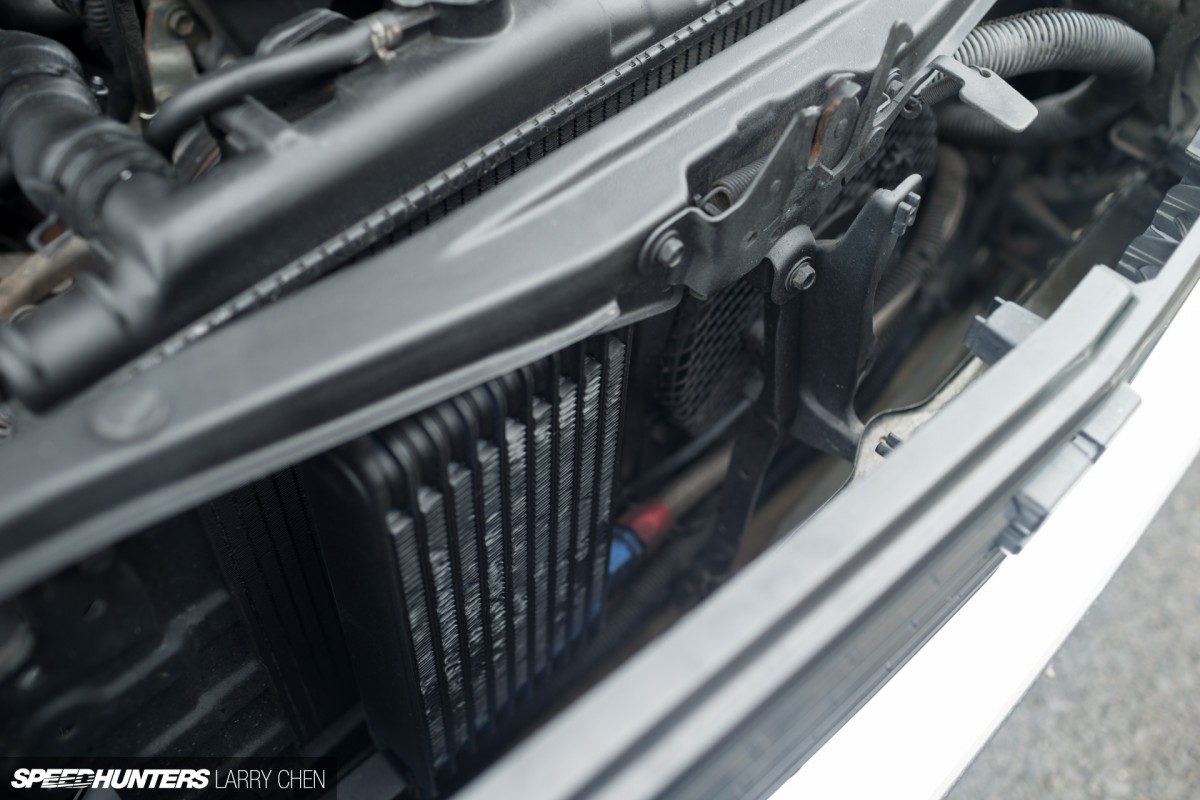 Engine modifications are limited and have been made with response and reliability in mind rather than raw horsepower. There's a stainless header running into a custom exhaust system, and an upgraded radiator and Trust oil cooler to keep things cool during those long drift sessions.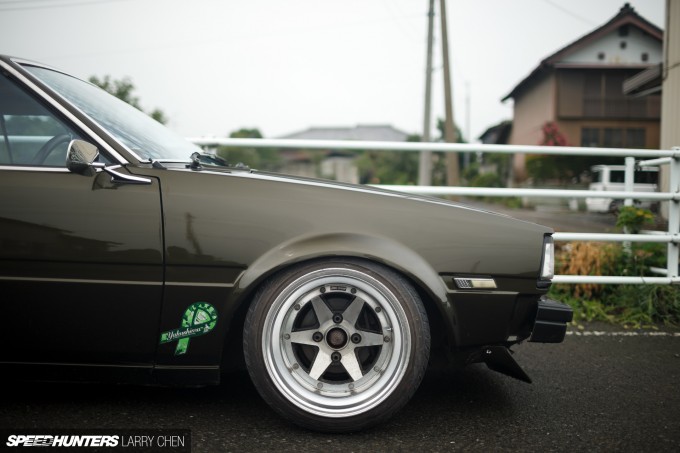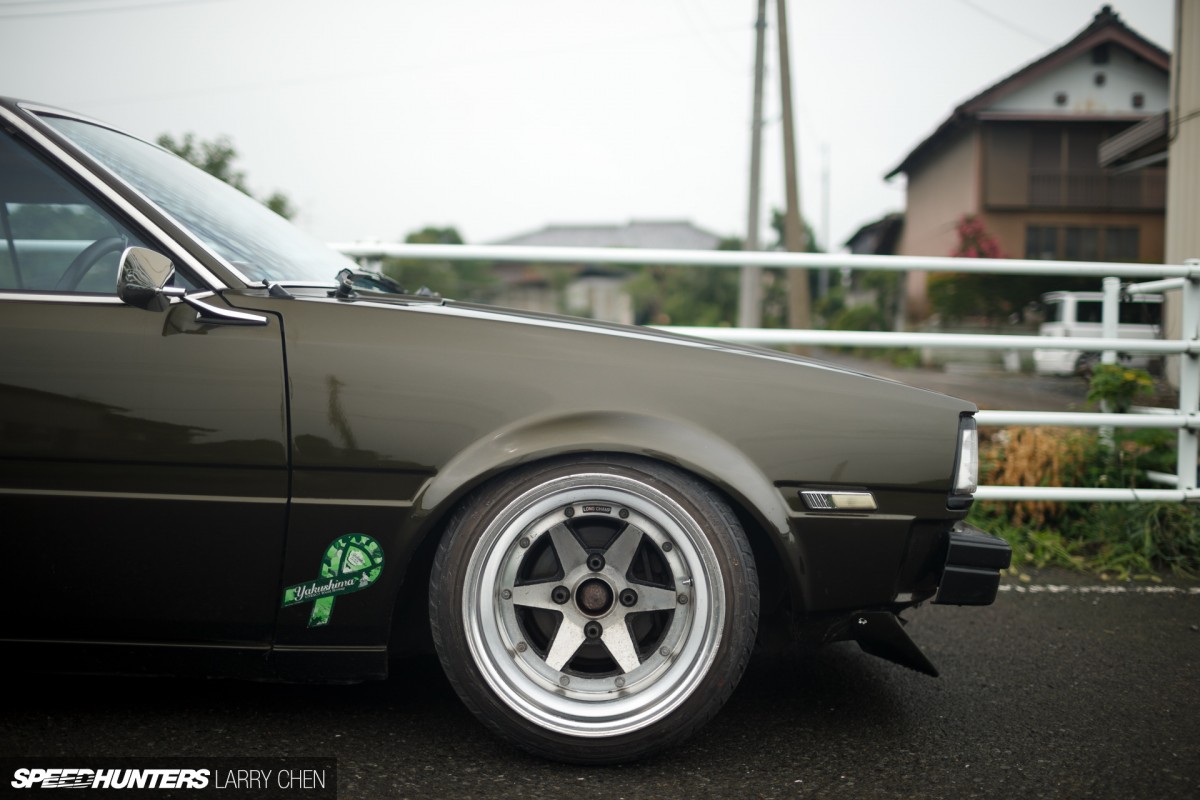 The AE70 shares most of its chassis design with the popular AE86, so that means there's no shortage of options when it comes to suspension. Up front are Kassou Kurabu coilovers with Swift springs, and there's a custom short-stroke shock setup in the rear with 6kg springs.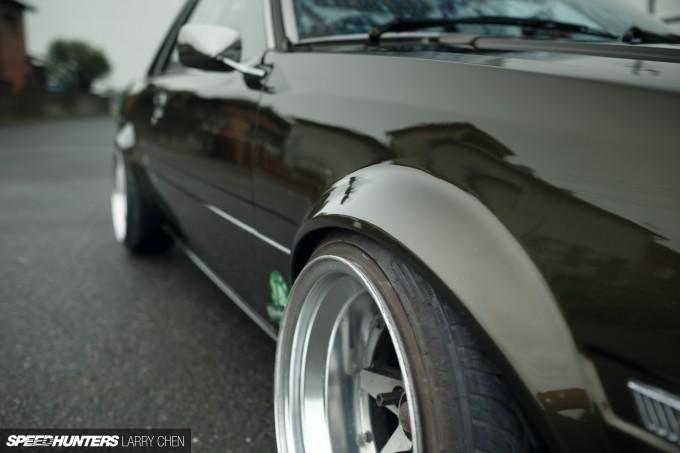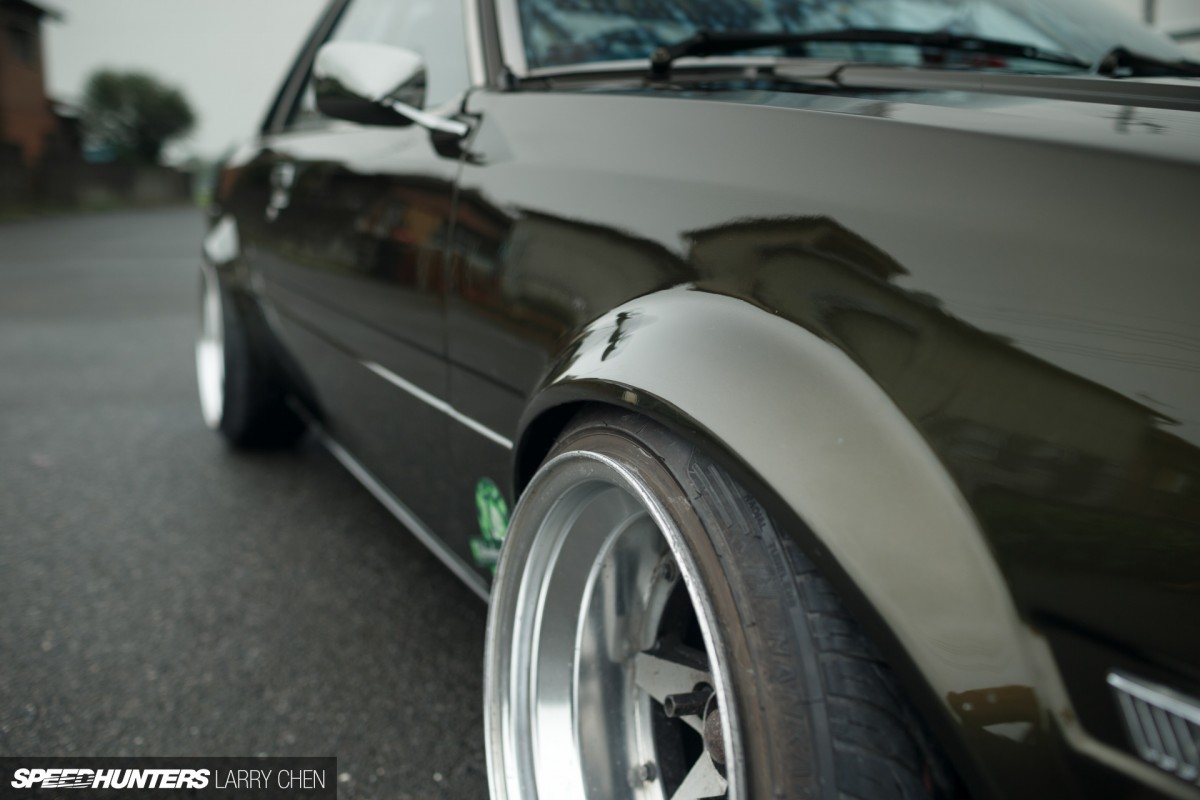 Other chassis modifications include adjustable lower arms, tension rods, roll center adjusters and custom knuckles to provide maximum steering angle when the Corolla heads out to places like Nikko Circuit.
Corolla Otaku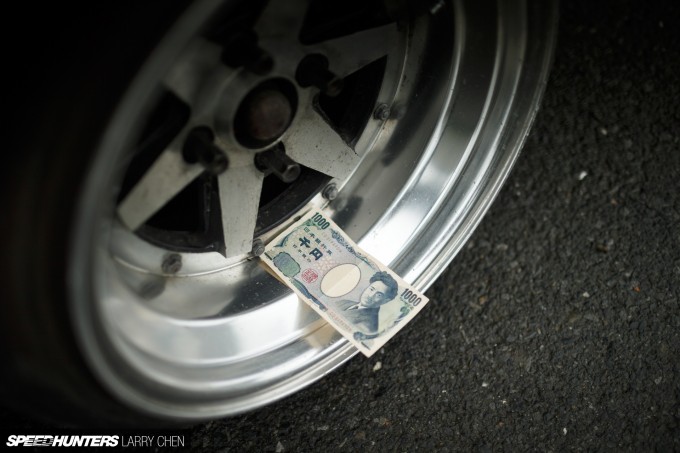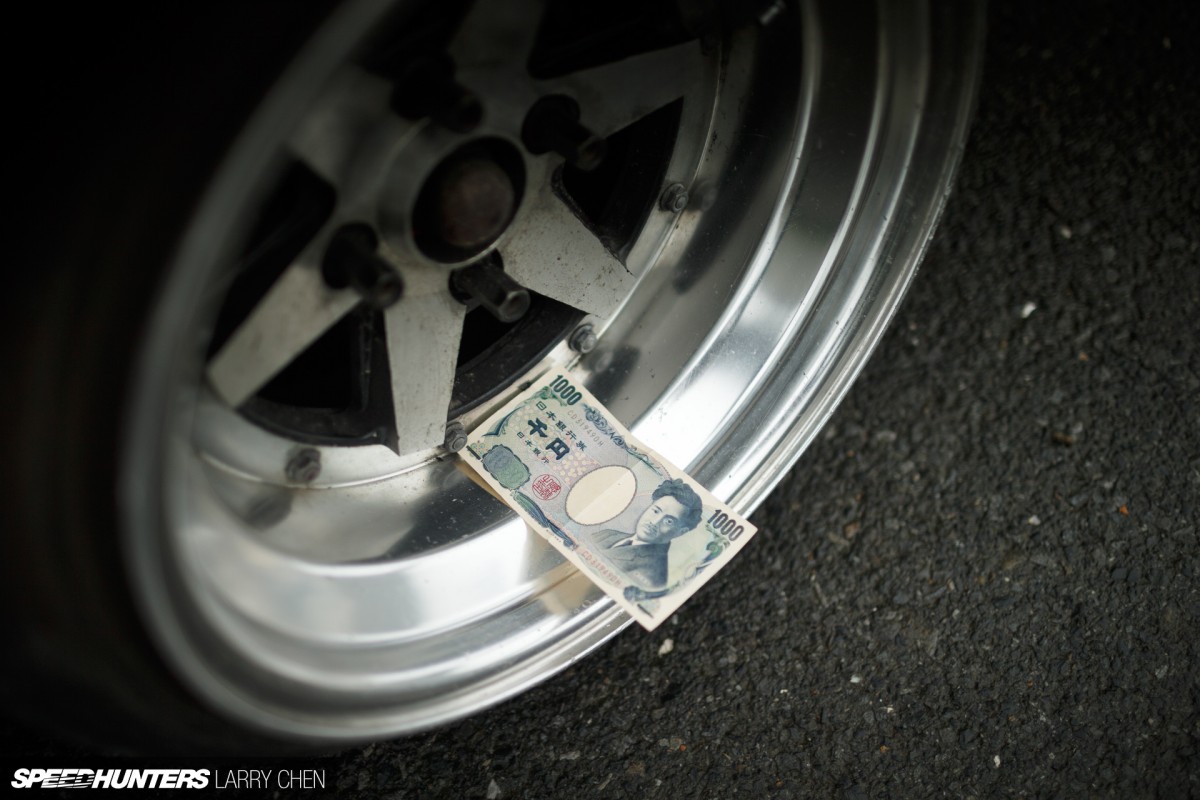 Owning multiple Corollas, Mitsumori-san swaps wheels often. In these photos the car is seen wearing 15×9-inch -9 offset SSR Longchamp XR-4s on each corner with some serious hippari tire fitment. More recently, though, he's changed over to flat-black Work Meisters for an RWB-esque look.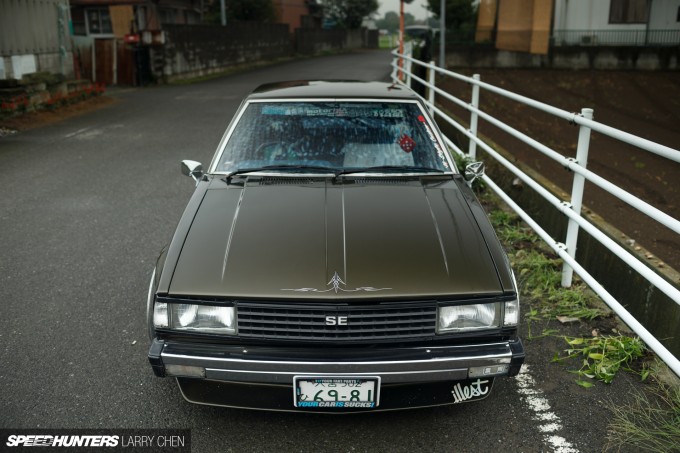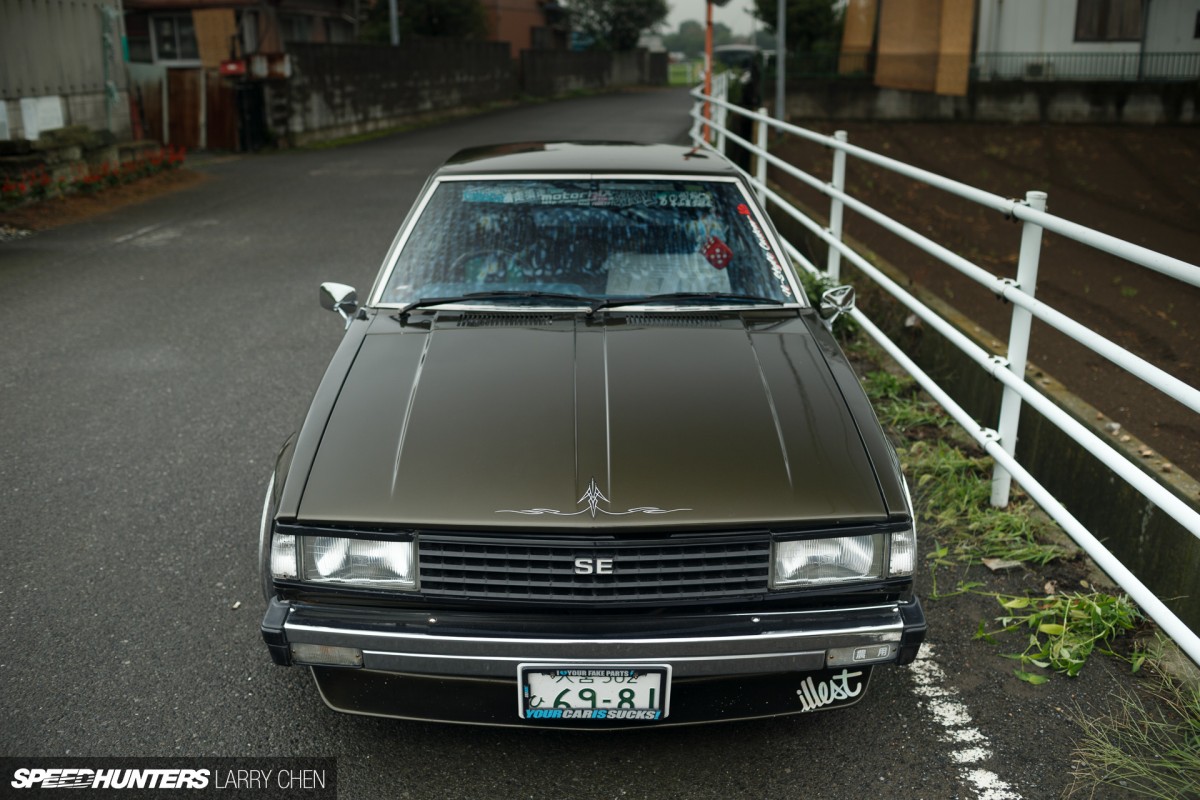 The sleek look of the Corolla's body was a big reason why Mitsumori-san was drawn to this particular car in the first place, so it's not surprising that exterior changes have been kept to a minimum. The front lights and grille are from a TE71 Levin; the front and rear fenders have both been widened by two centimeters and there's also the requisite front chin spoiler.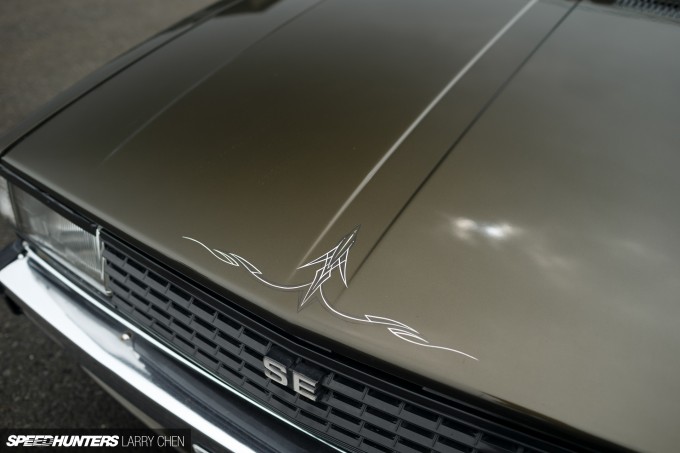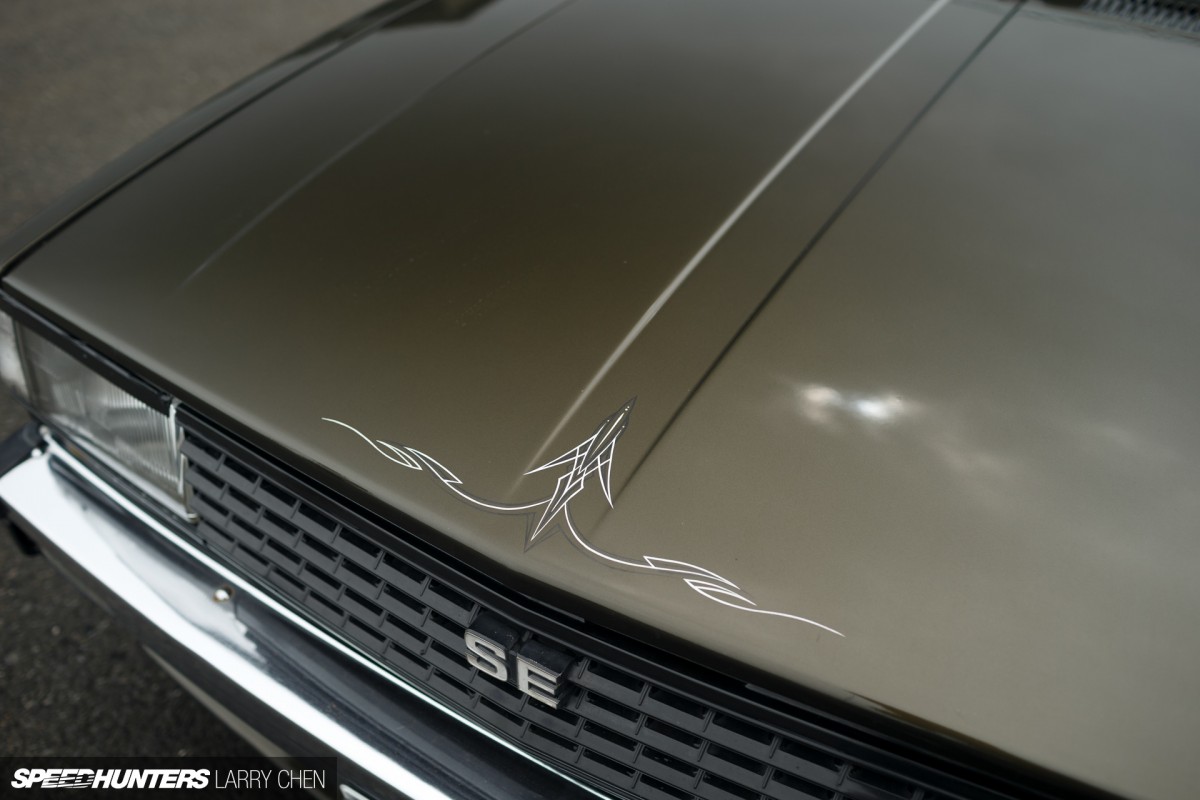 Finally, the Corolla has been coated in a unique shade of dark green with a few added custom pinstripes that give it a bit of a hot rod vibe.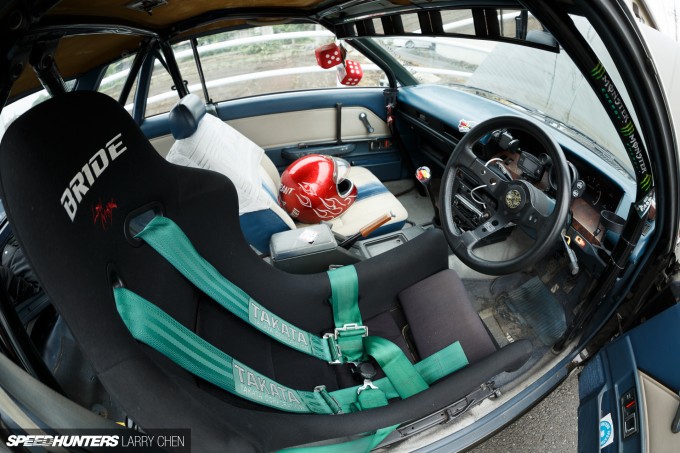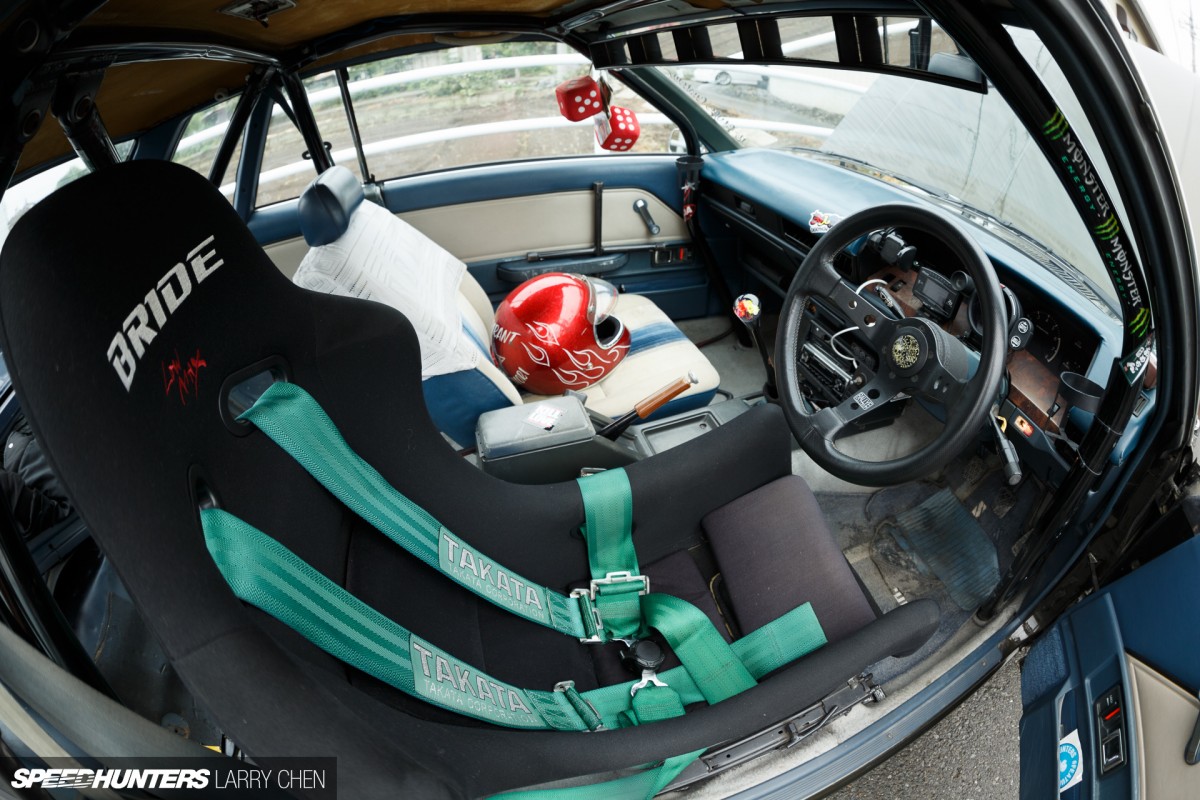 Open the AE70's doors and you'll find a cockpit that's a nice mix of old school styling and functional upgrades for those frequent drift meets.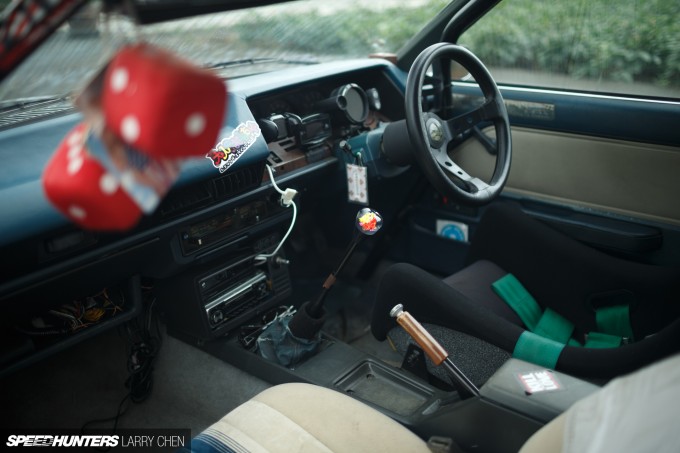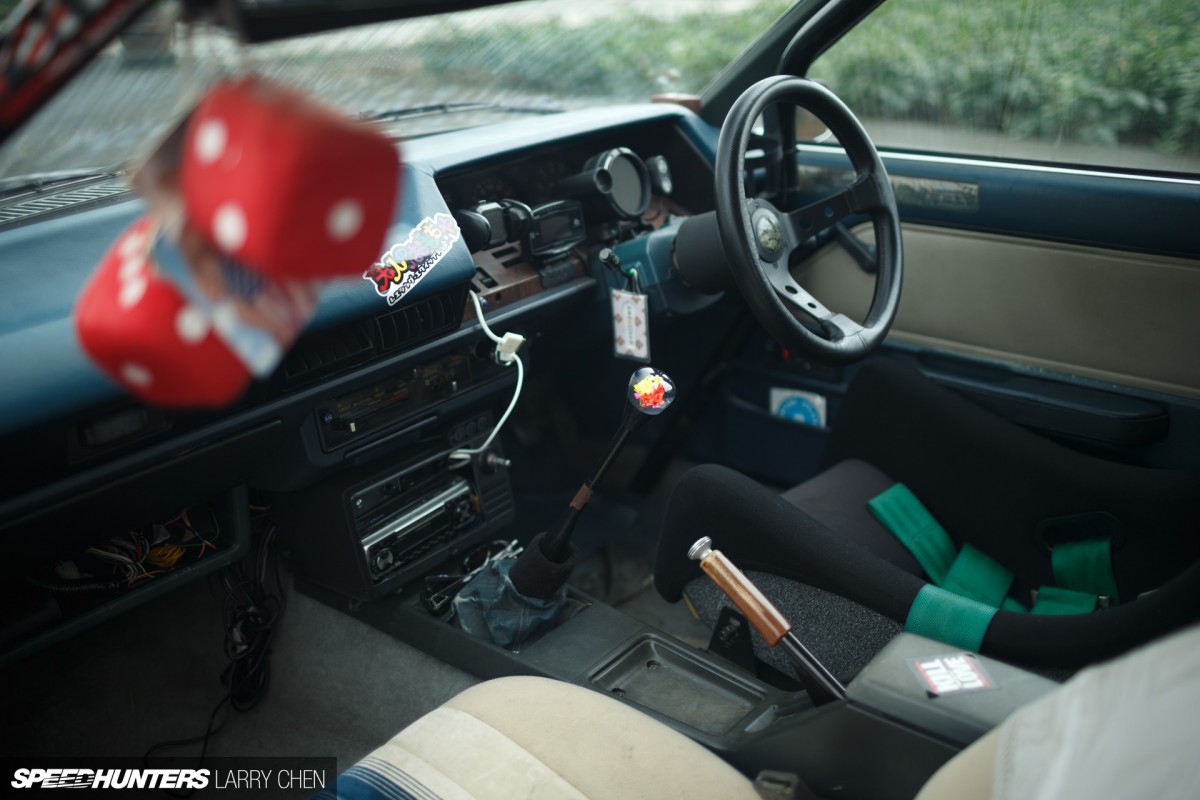 Like a lot of cars in Japan this one gets used on both the street and the track, so along with the functional audio system you'll also find a single Bride bucket seat with a Takata harness for Manabu to buckle up in.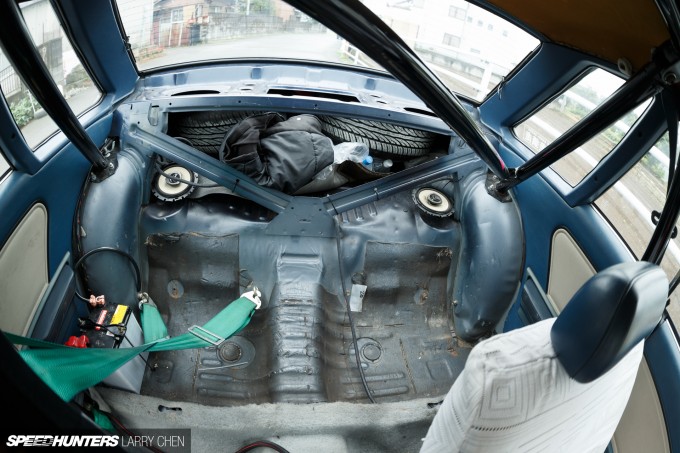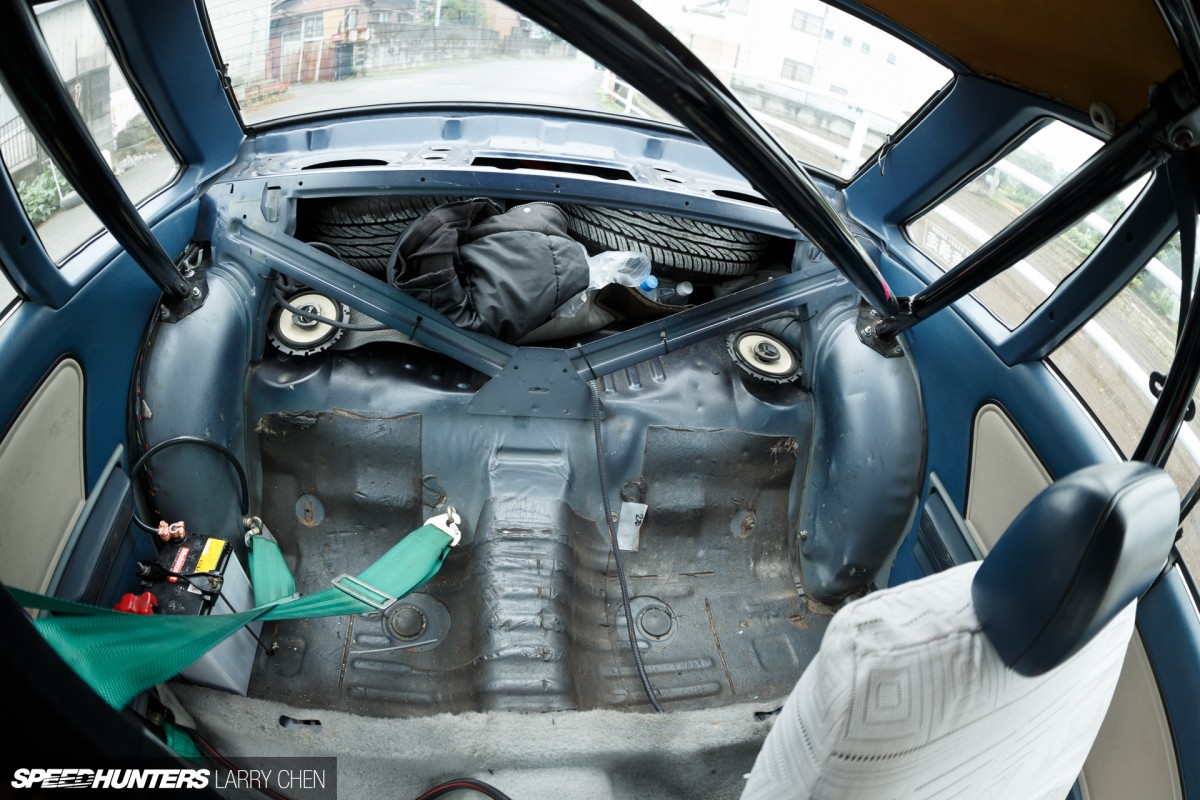 The back seat has been completely removed and from this view you can also spot the full bolt-in roll cage to keep things safe and rigid.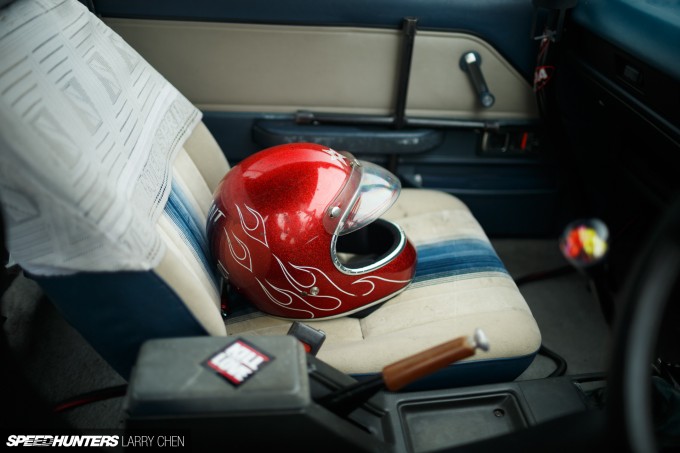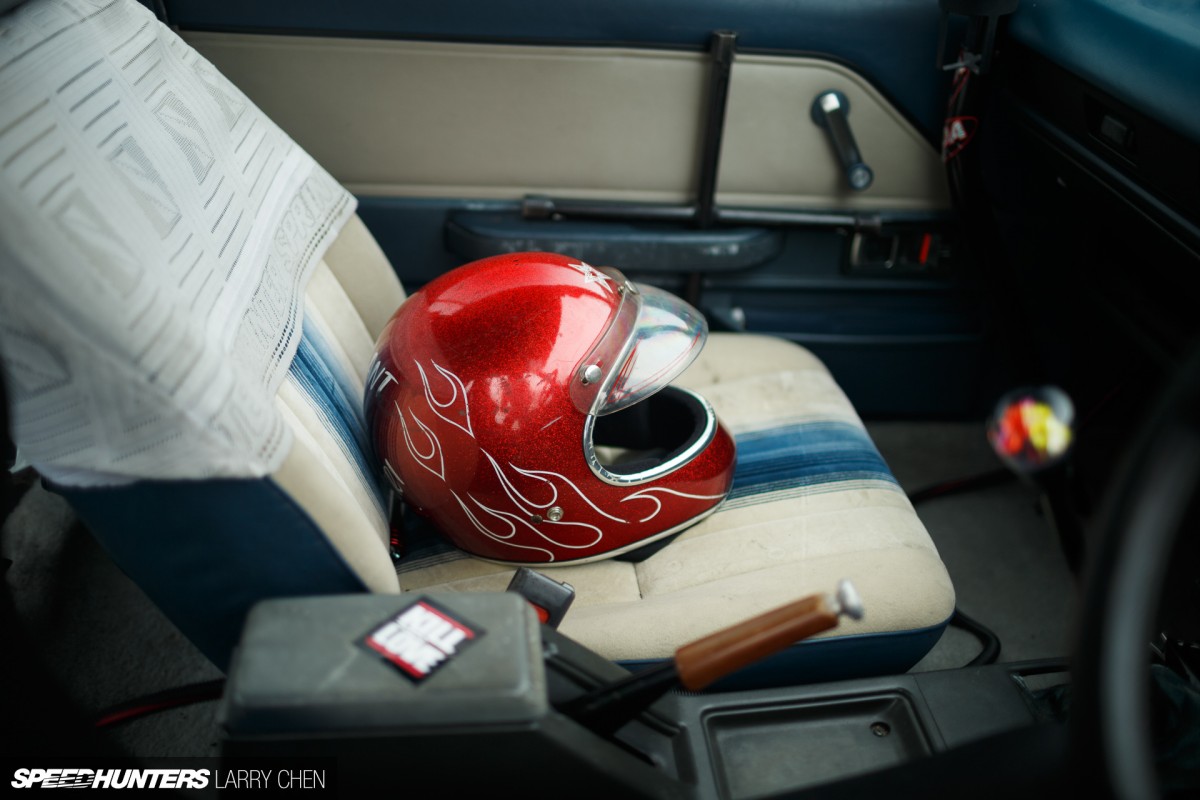 What I especially like though, is the way that so much of the car's original blue interior has been left intact. You gotta love those old school striped seats!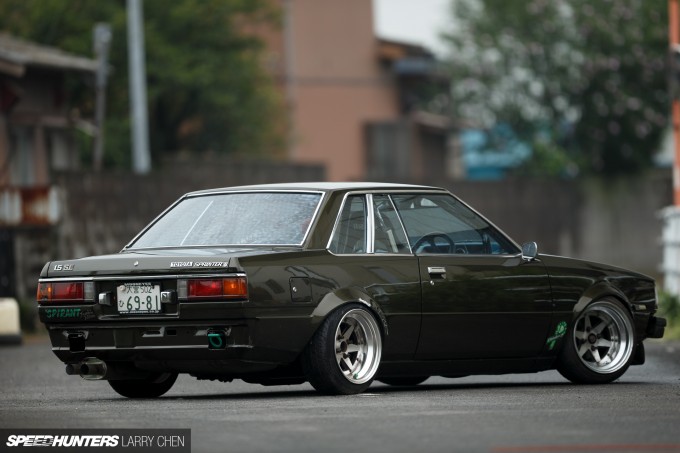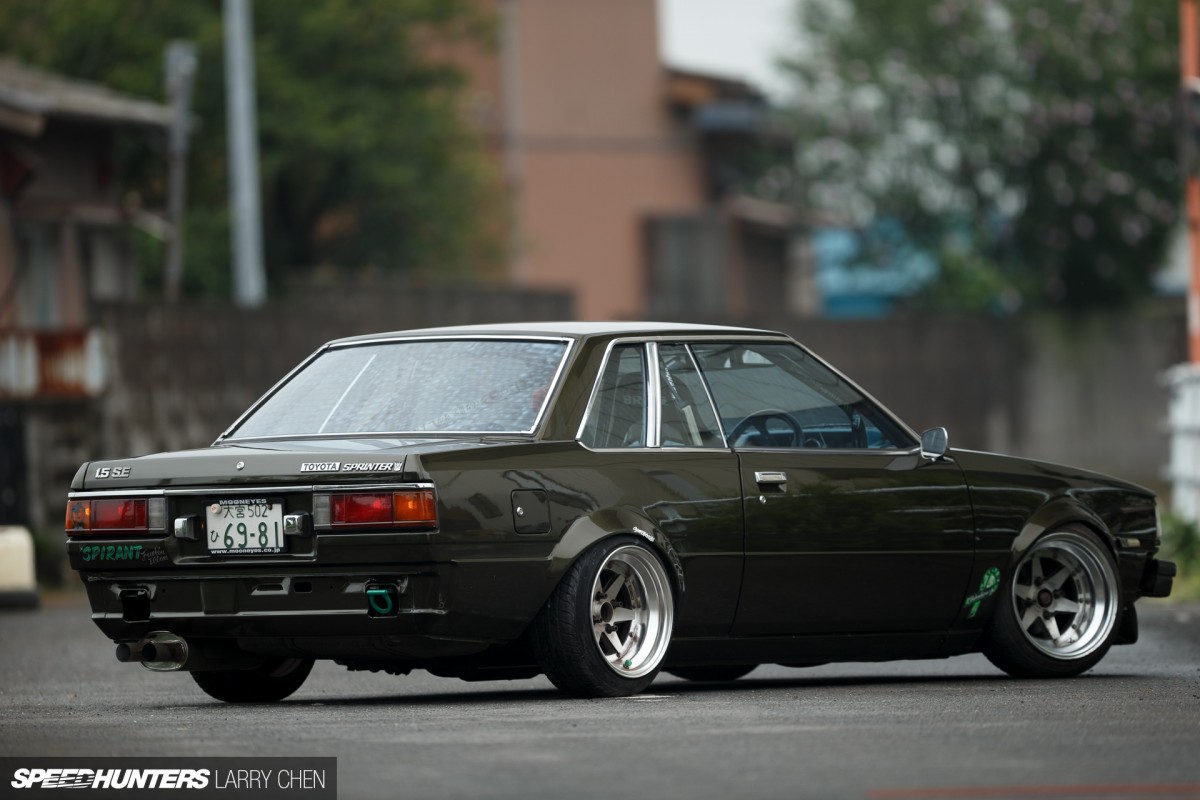 This car is stylish, unique and gets driven to the limit. Most importantly, it has a ton of passion behind it – there's really nothing else you can ask for.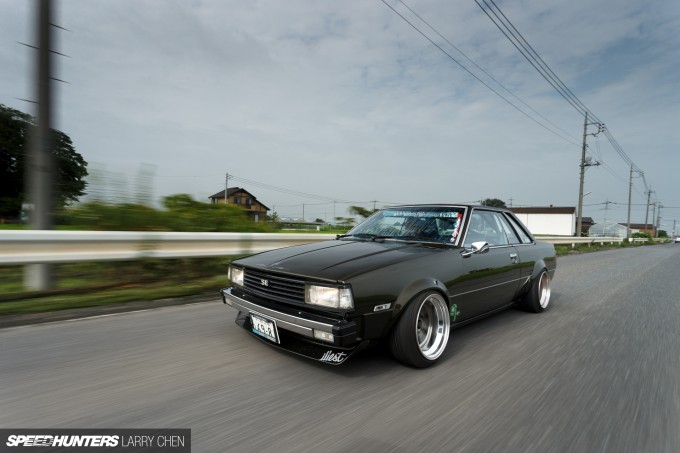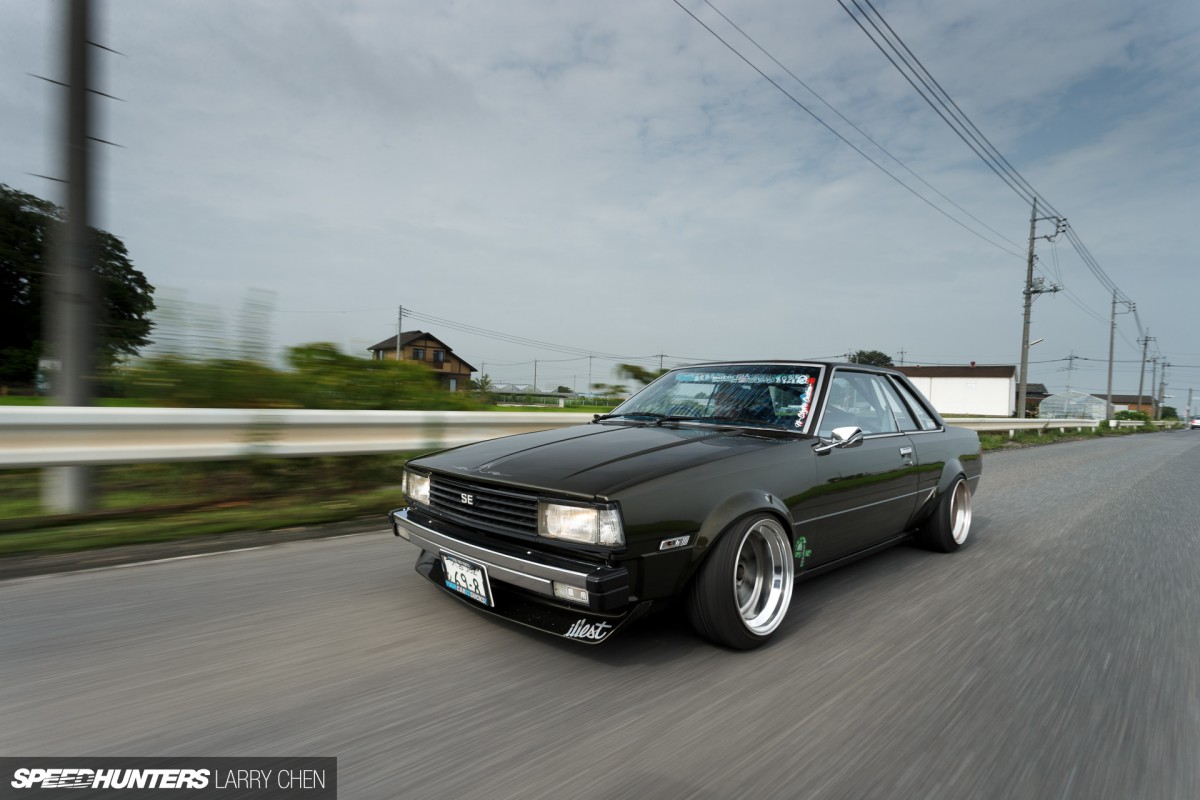 So while the Toyota Corolla of 2014 might be for those who think of driving as an annoying chore, there will – thankfully – always be people like Mitsumori-san out there to remind us of the nameplate's younger, more exciting days.
Mike Garrett
Instagram: speedhunters_mike
mike@speedhunters.com
Photos by Larry Chen
Instagram: larry_chen_foto
larry@speedhunters.com