The Initiation
Have you ever driven across the country? Left everything you've built and hopped in the car and just started driving? Trips like these are something many of us have experienced in our lives, whether for better or for worse. For some, it's a journey of a lifetime; for others it can be the one of the most dreadful things in the world.
The fact of the matter is, sometimes life simply just throws you a curve ball, leaving you with no choice but to get up, pack your belongings and drive. It's the definition of automobile ownership that gives each and everyone of us the first-hand freedom to do so. And that's exactly what I did. Just me, my dog, a trunk full of gear and a disposable film camera for the pure moments I couldn't snap out of.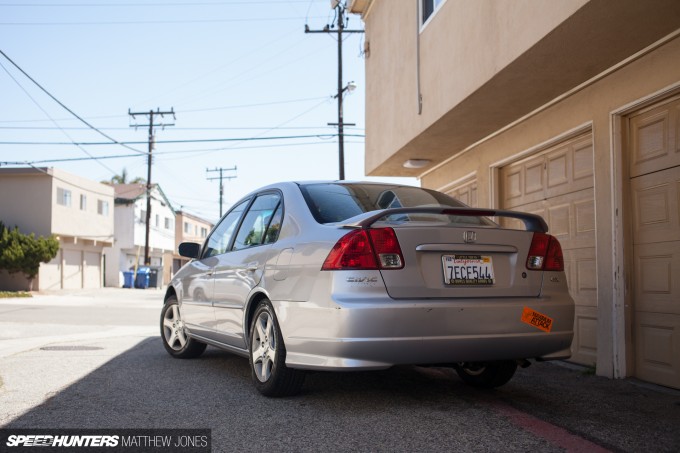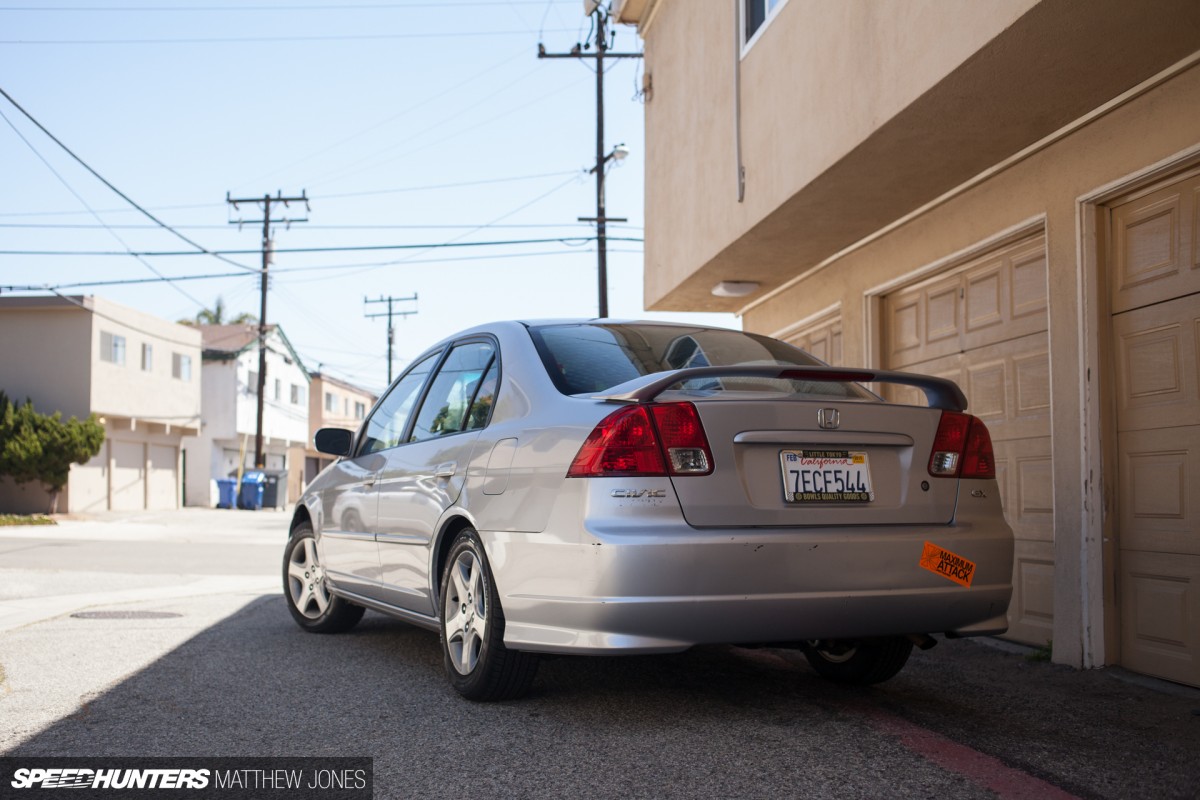 You'd imagine, that with just joining Speedhunters this journey would be made in a completely radical balls-to-the-wall machine, and you're 100% correct. I did the drive in a 2004 Honda Civic… LX! Not only is it pumping out a full 115hp, but it has a solid 140,000 on the clock and has been modified to burn through an entire quart of oil in about 350 miles. Sick, right?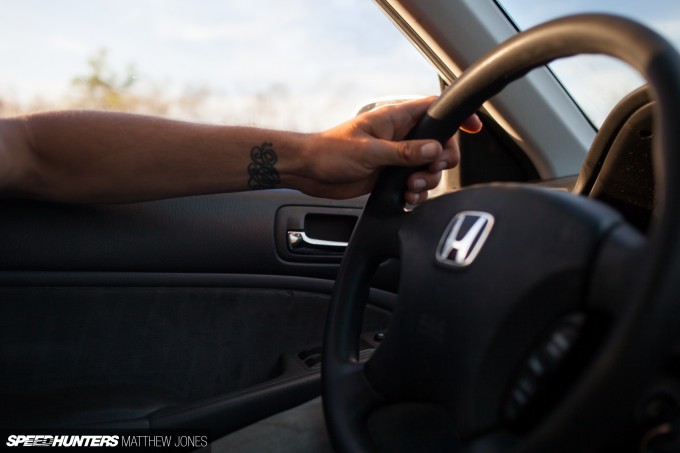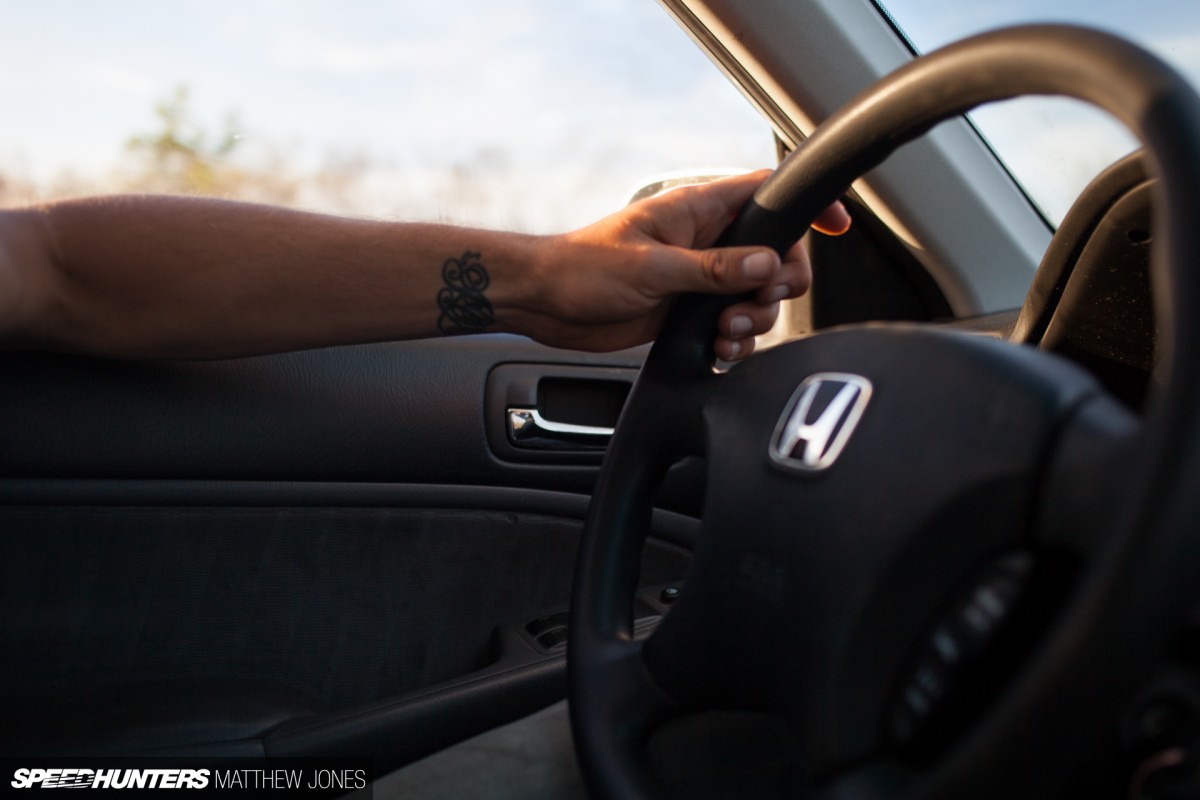 Not at all. In fact, its actually about the most miserable form of transportation possible for a drive like this. But that's what really made it all so significant. It wasn't a highly planned move where I had the time (or finances) to load up a U-Haul and explore the open country. And it wasn't an intercontinental OE test drive where I'd be concerning myself with a machine's long lasting performance and MPG ratings. It was a mission – a goal to get from A to B in effort to begin a new chapter in my life. And when you're trapped in a barely breathing beater for 2,000+ miles your only true escape is to get lost in your own head.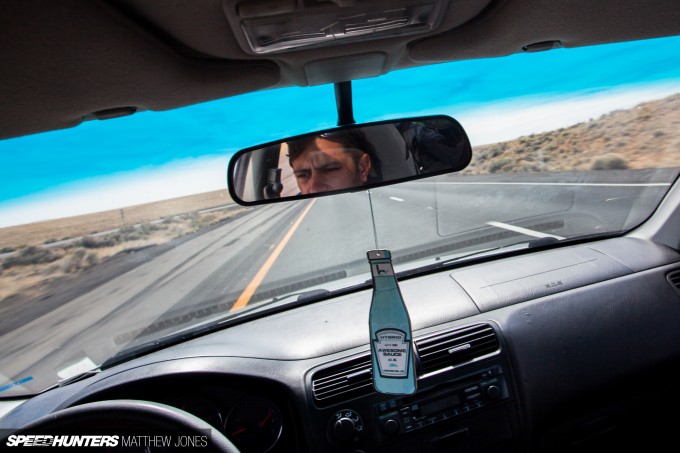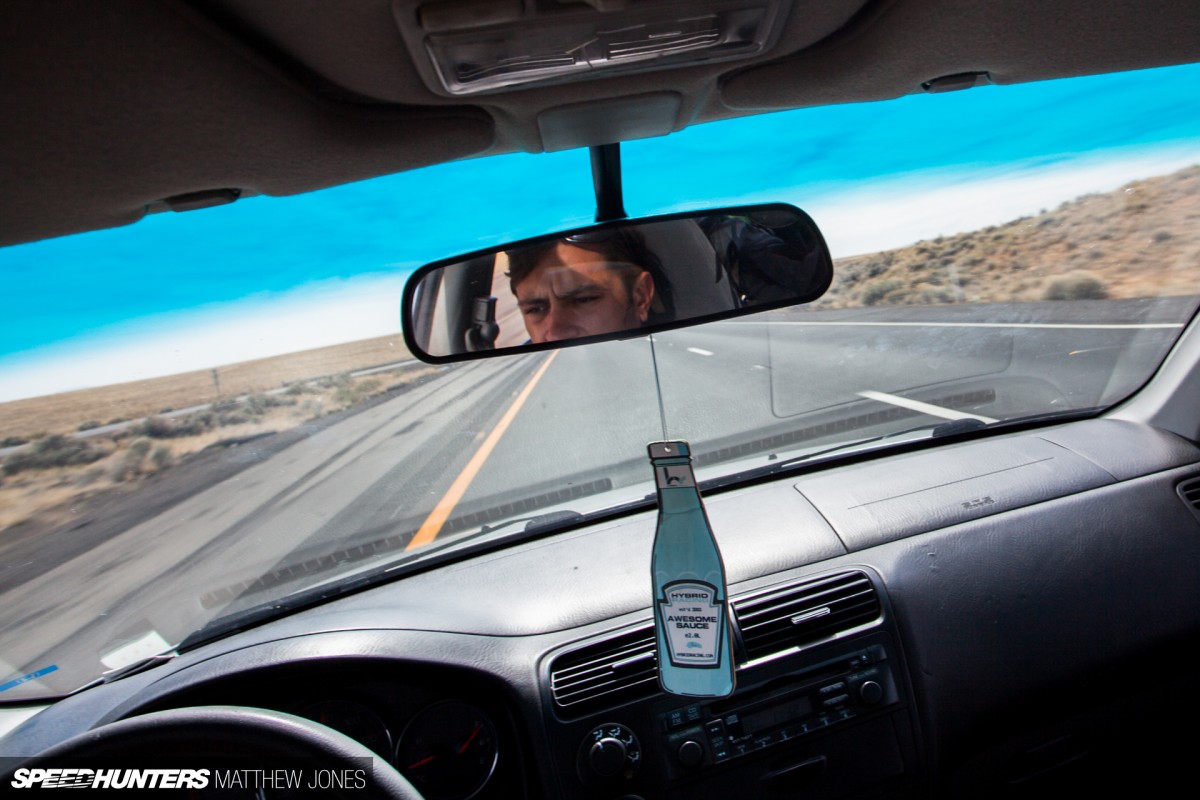 For me, driving in general has always been a place of peace – my temple on the road, no matter what the vehicle. Where no one can bother me, and where its completely understood that I cant immediately respond to emails and requests. Those of you who have done the drive know exactly what I'm talking about… Eventually there comes a point where the scenery fades away, the WiFi is lost, and you're forced to surrender your 3G and space pads. Where it's nothing but you and the open road.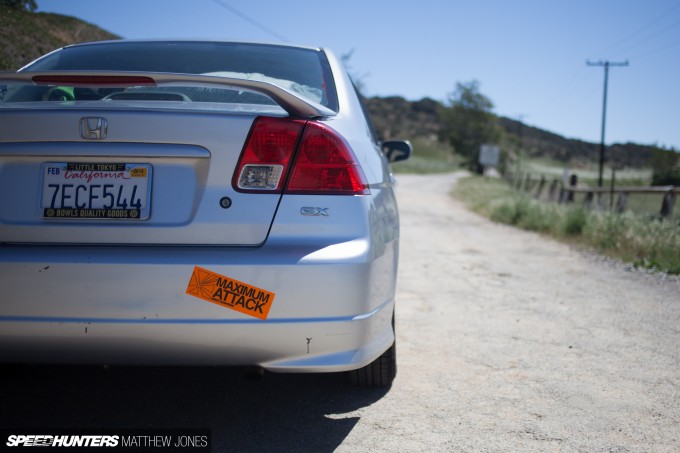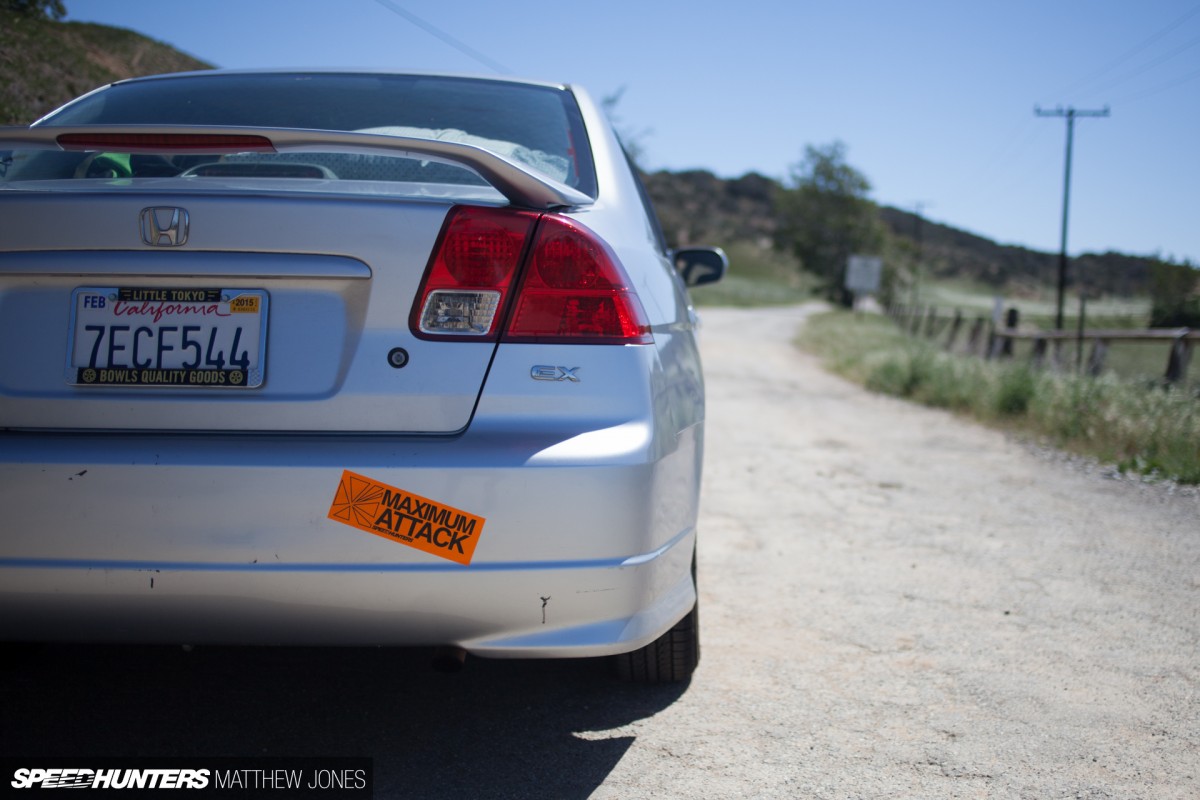 But it seems there's always a great purpose, a significant reason, that one's actually driving rather than flying. Whether it's for an immediate task at hand, a new calling, or just for the sake ticking a silly lil' challenge off the bucket list and exploring all that this vast country has to offer.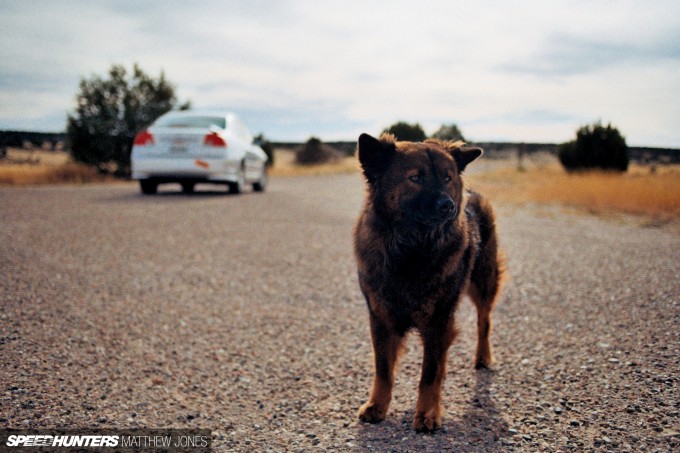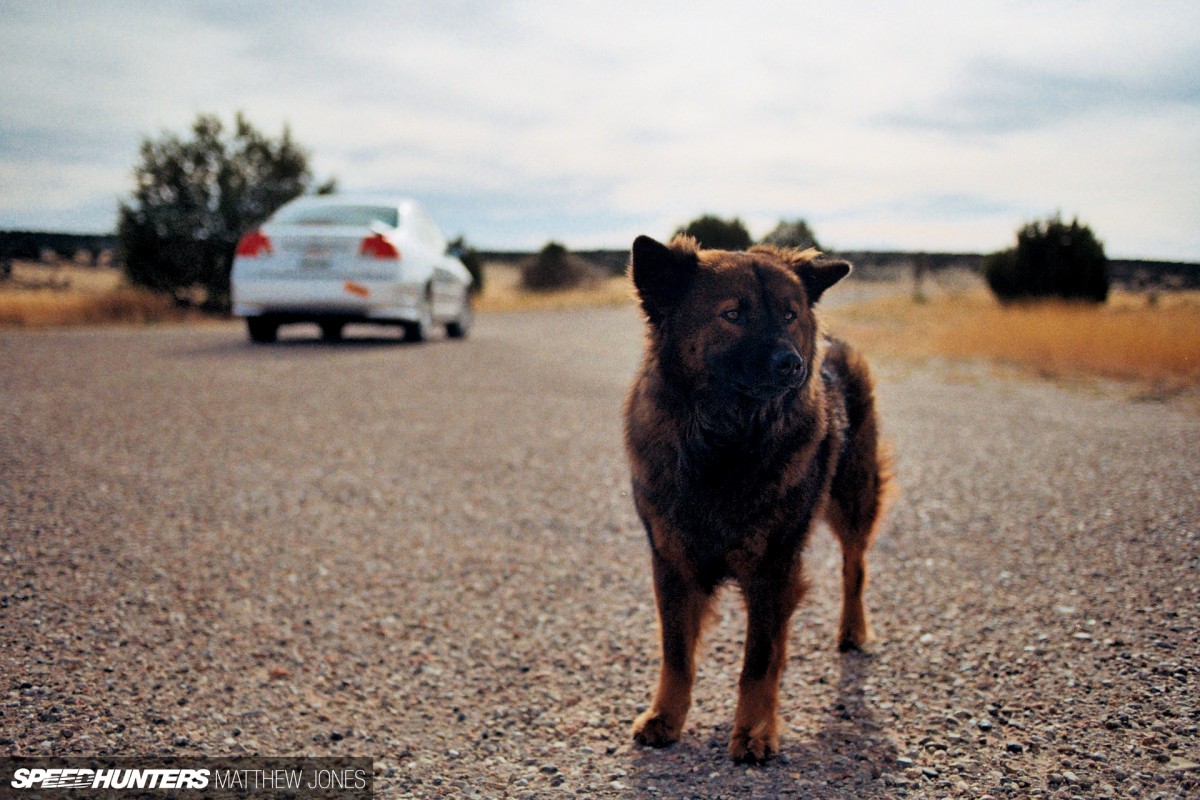 No matter what the reason, for lack of better words, it will forever be noted as an 'epic' experience. Something you'll always be able to look back on and say, 'Remember that time I drove across the country?' Specifically for me, I know this won't be the last time I make the trek with the career path I've chosen, though I can confidently say that this was one that I'll remember for the rest of my life. This was the time I took a chance, moved across the country in a total piece of sh*t with nothing but my camera and my dog, to join this all-star cast of Speedhunters photojournalists.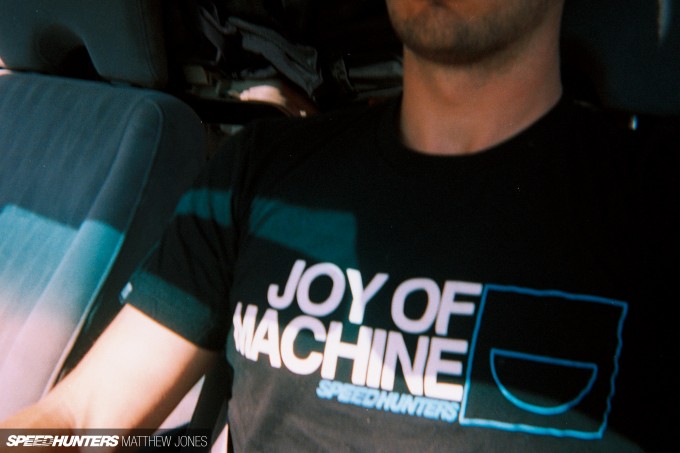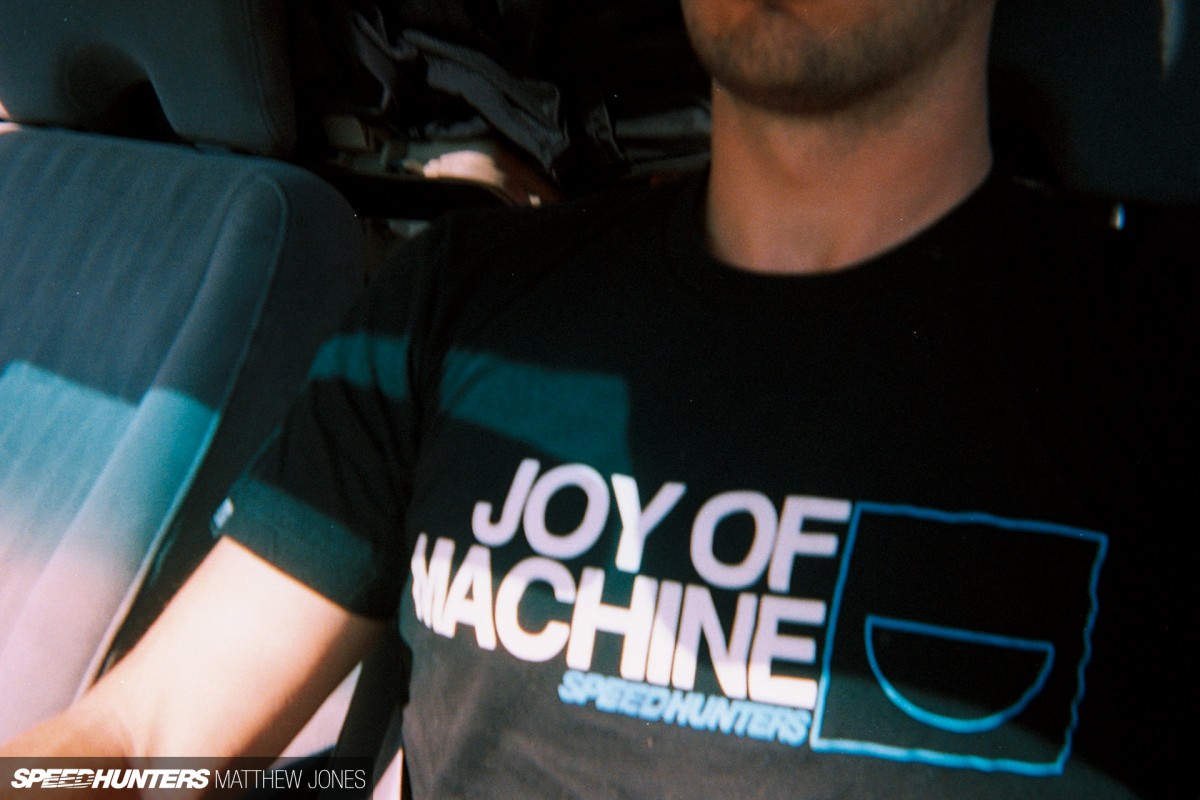 In my eyes, this is the quintessence of #JoyofMachine. It's the ability to hop in the car – no matter what it may be – shut out all the chaos that surrounds you, and simply just drive until you physically can no longer continue. Literally, you can just pick up and go anywhere in the world (with the restriction of your seaboards limits). It's the childhood dream of finally obtaining a license and the ever-so-sought-after right of passage all wrapped into one. And anyone can do it.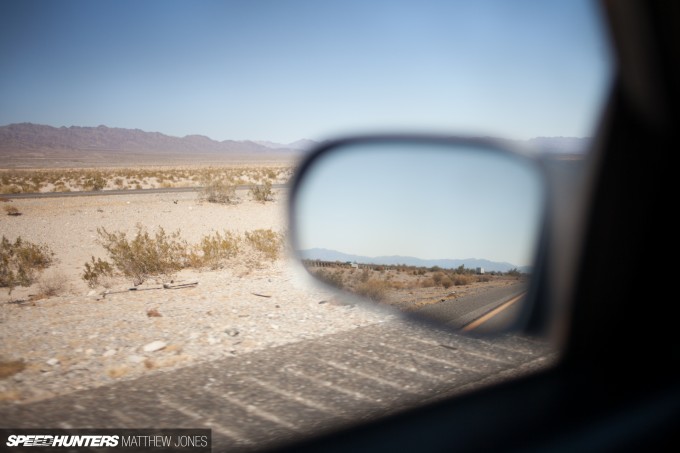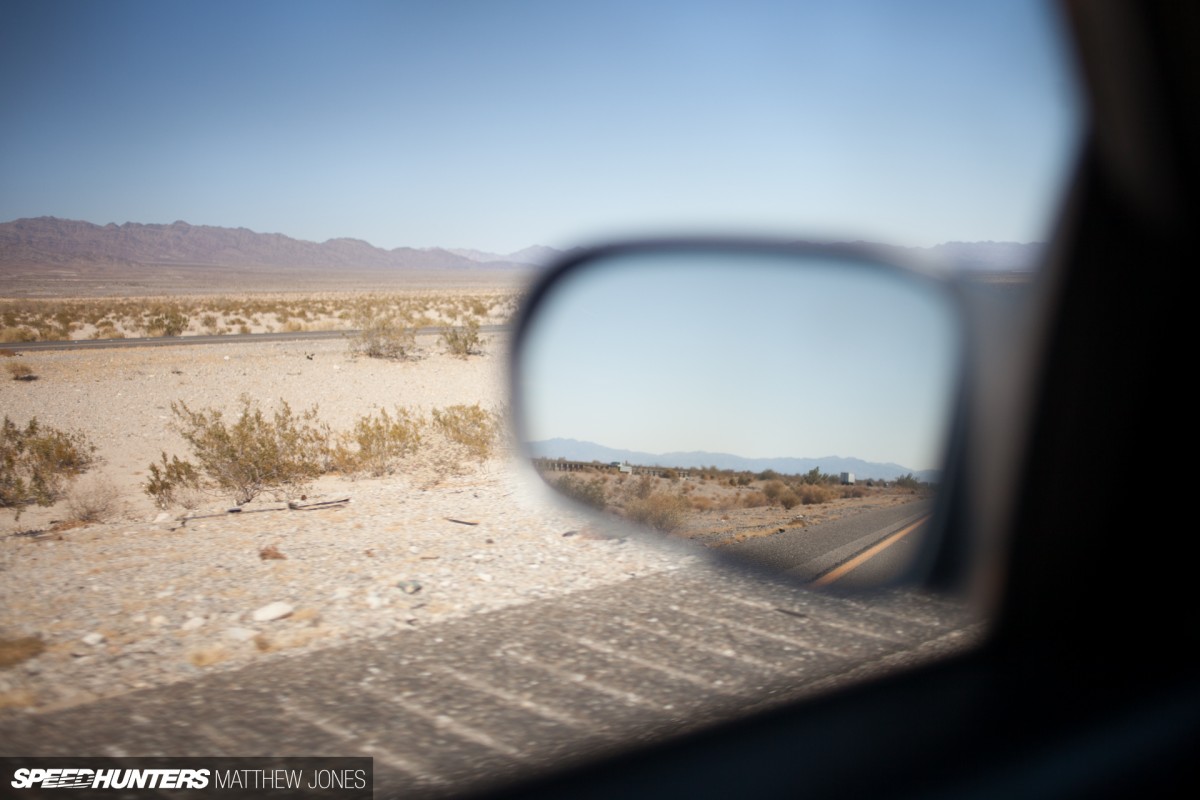 Yet believe it or not, leaving California was actually very difficult for me. My initial move to the West Coast was definitely pretty rough, but in time I finally got it all dialed in. Sure, the people are frustrating and the traffic only gets worse, but you're constantly greeted with a breathtaking sunset at least five nights a week — and you have the ability to drive just a few hours and have your mind blown by the kind of places you would only find in the highest-end commercial productions. And to think I would be leaving all of this to move back to Georgia? But that's what makes every transcontinental journey so significant. There's always a sacrifice involved. There's always a few strings left begging you to stay.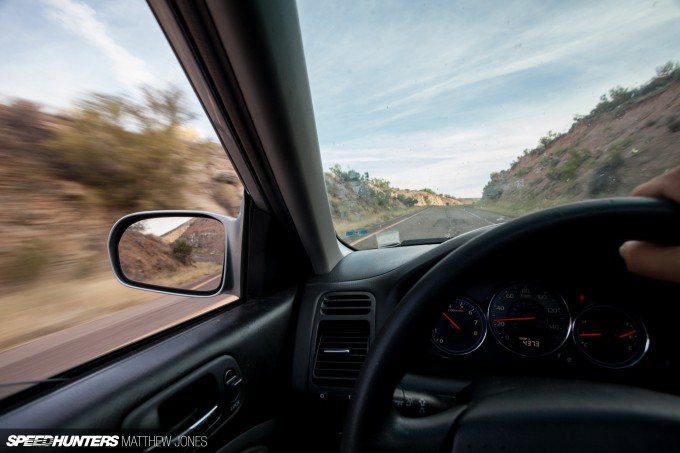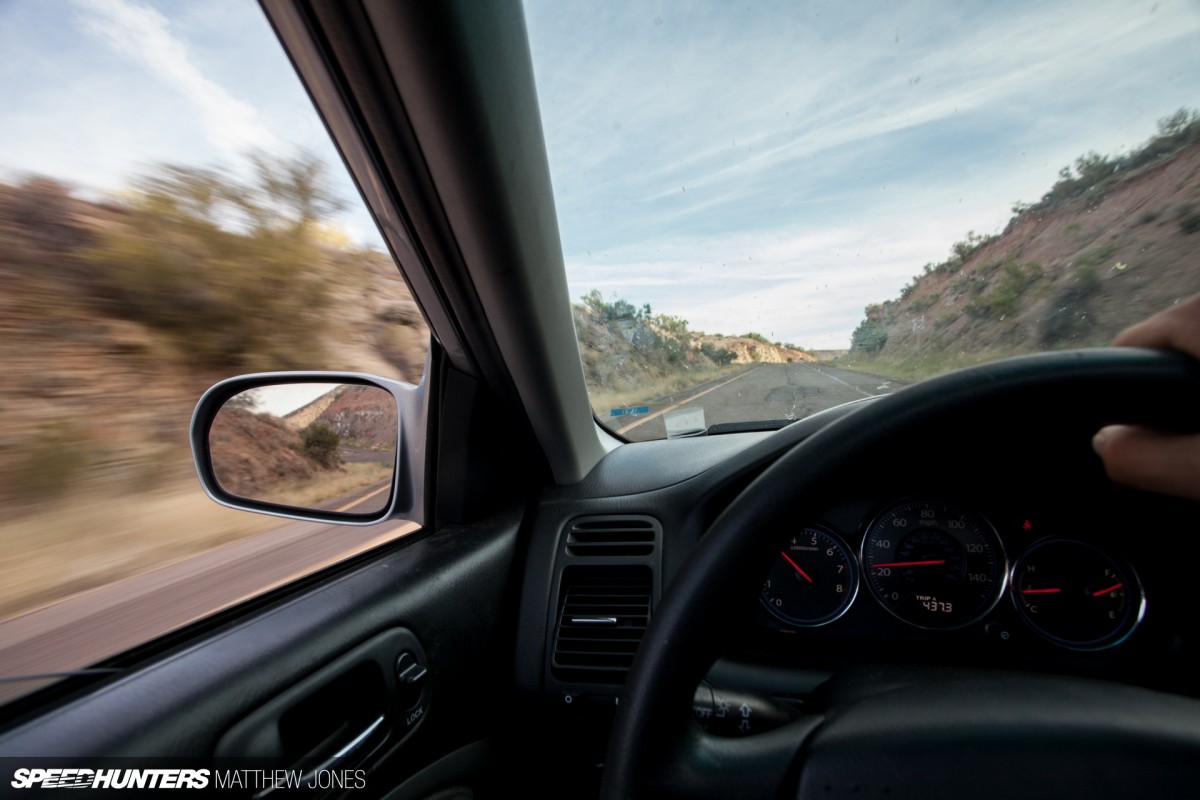 But what can you really do? Pull over and hug the barrier and beg to stay? Not a chance. Just with anything in life, it's these times where you have no choice but to bite the bullet, squeeze the wheel 'til your knuckles turn white and #MaximumAttack the crap out of the pedal beneath your foot.
Middle America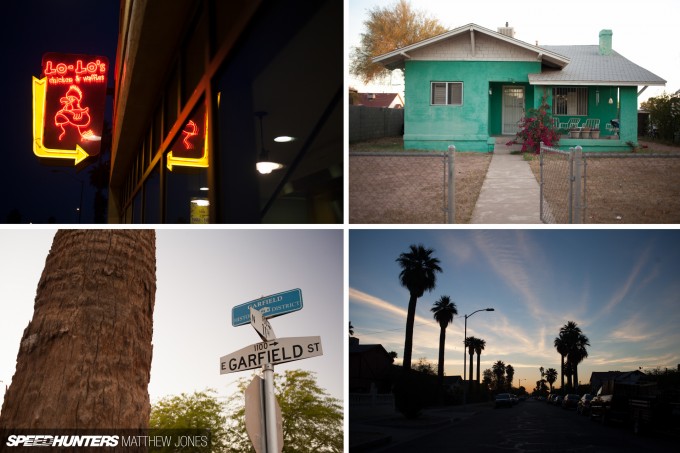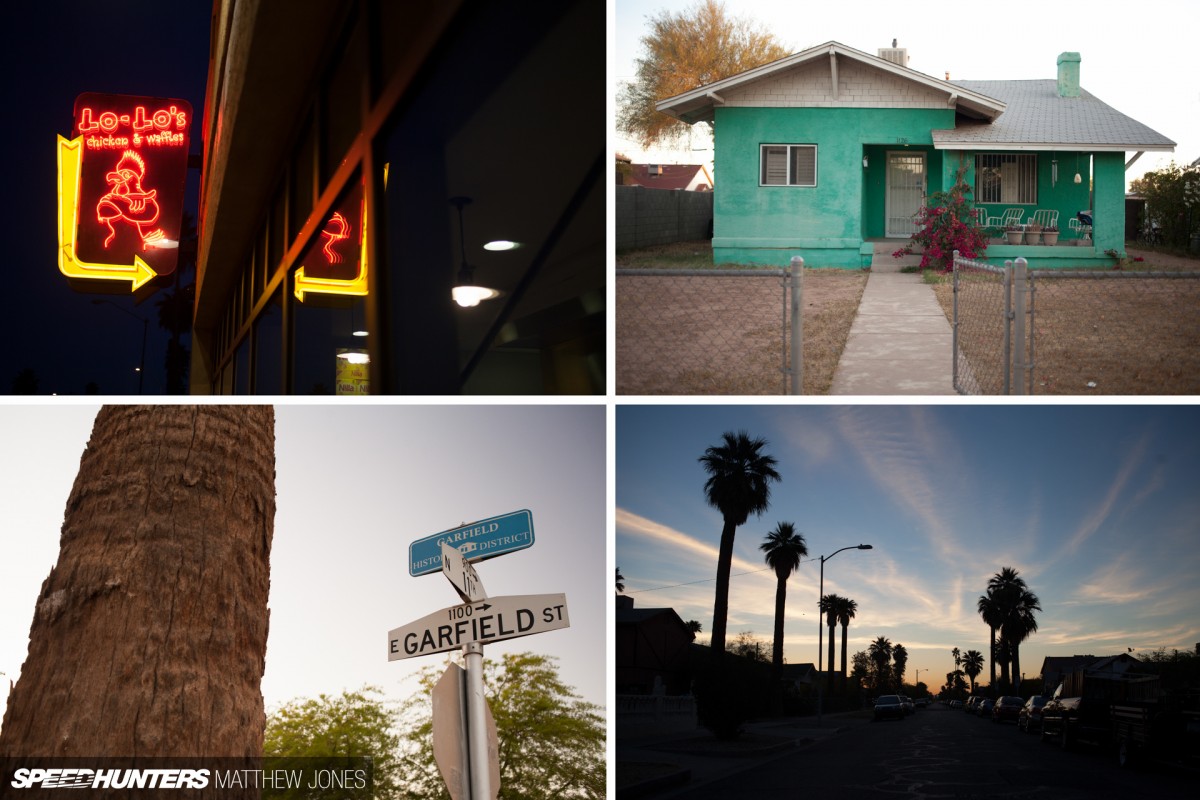 As California slowly disintegrated behind me, it was officially time to start looking forward.  With one of the greatest gems of driving across the country being the fact that you get to experience so many different cultures in such a short time frame, I wanted to make sure I was taking advantage of such as much as possible. Not knowing when I would have the next opportunity to swing through Phoenix, I decided to make it my first stop. It was where I would spend the evening with one of my dearest friends squirreling around the city slamming tall boys and stuffing LoLo's chicken and waffles down my face.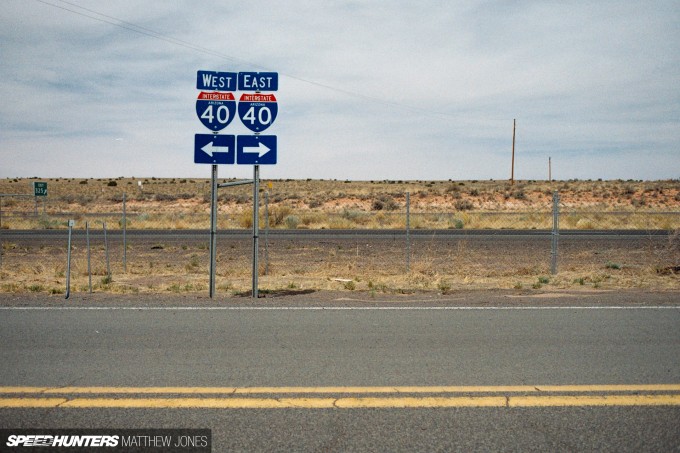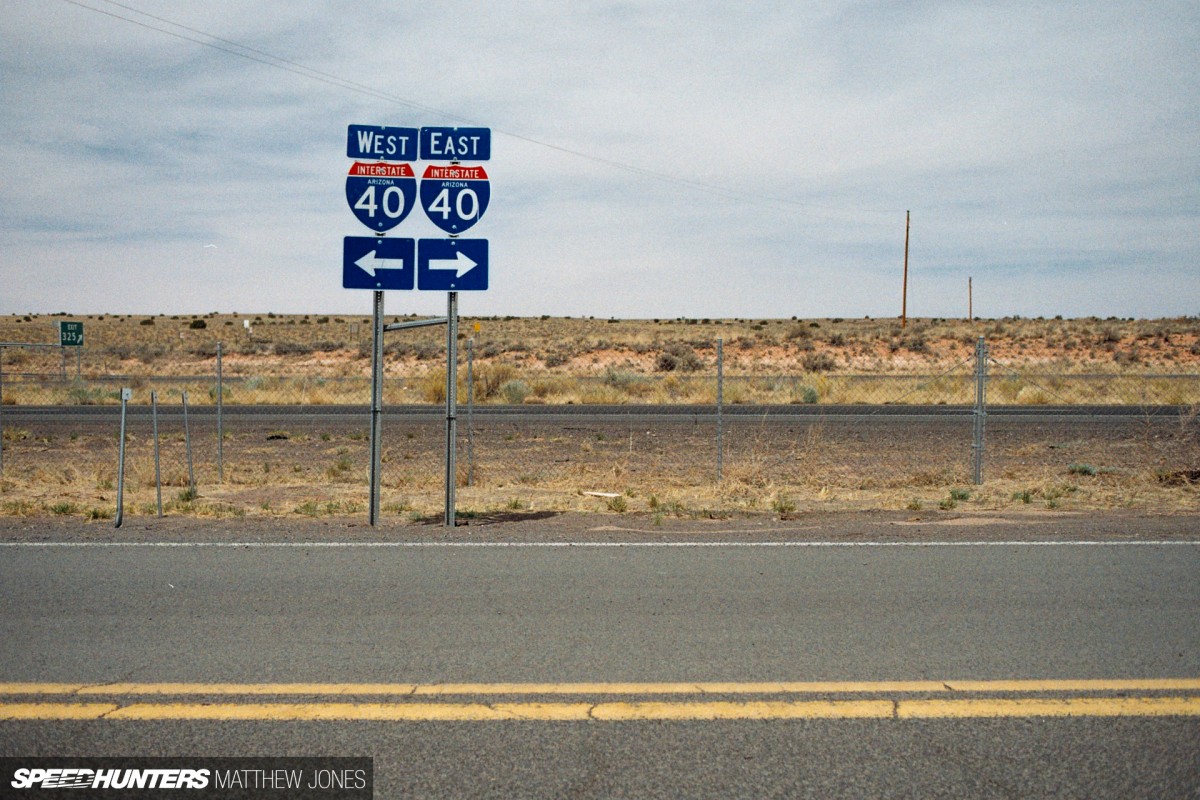 And just like that, I was on the road again. Though it was an incredible time, I'll be the first to admit that initially stopping in Phoenix definitely screwed the agenda, as six hours of driving isn't really much progress. And the raging hangover I had acquired from the night before wasn't helping much either. But I stayed strong — I stuck to the plan and kept on trucking. Weaving through the cactus-engulfed Interstate-15 leading from Phoenix to Flagstaff where I would eventually hop on I-40 and be planted for the next 1700 miles with nothing but poolside.fm blaring through my radio and an imaginary film montage blasting through my skull.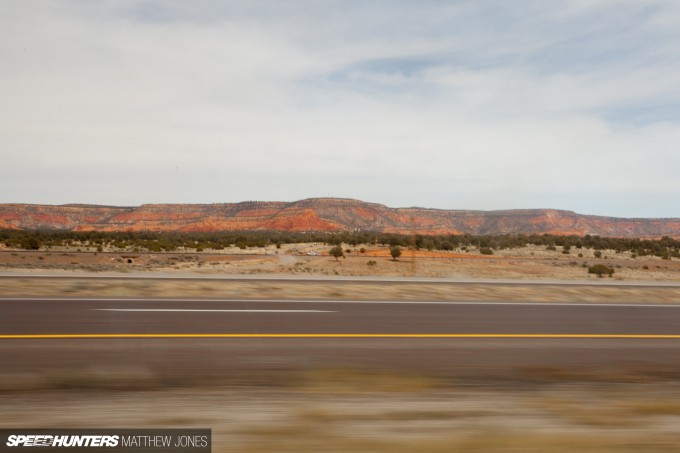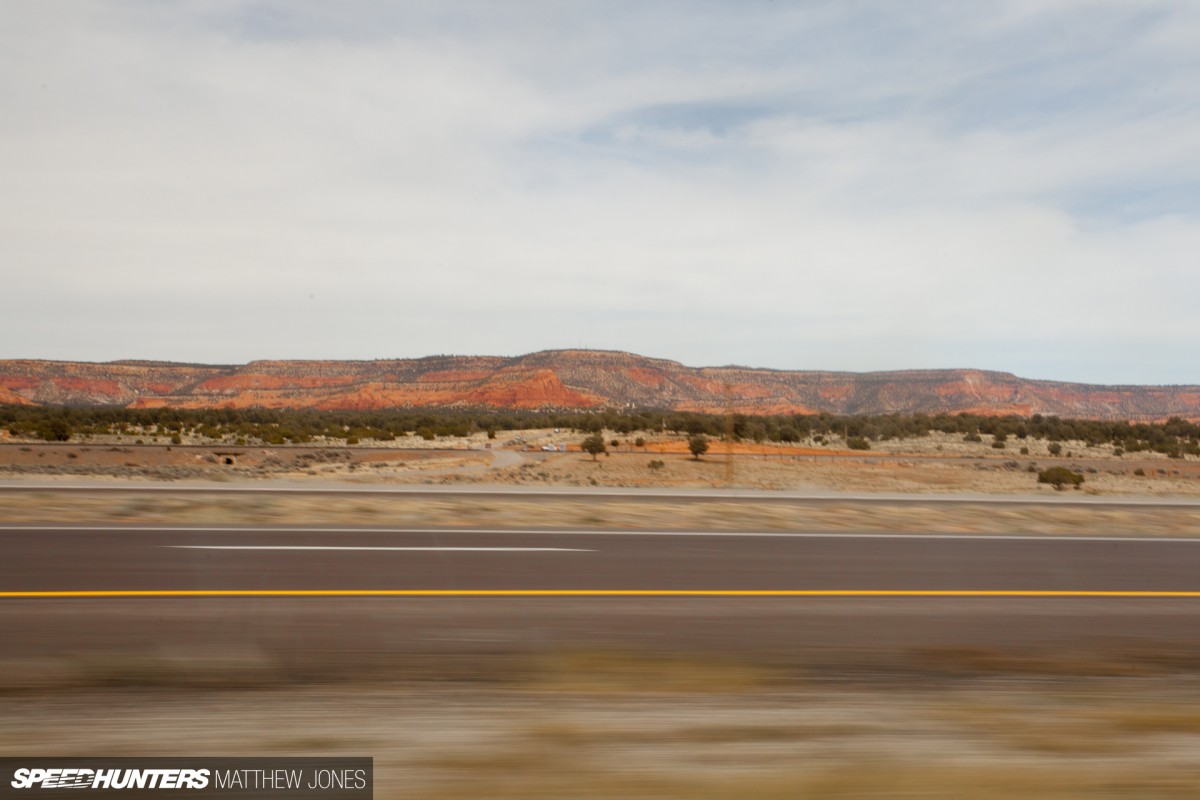 Leaving California and entering Arizona you're first surrounded by a mass of mountain ranges, which eventually flattens out…until you hit New Mexico. To me, this is the most gorgeous section of the drive. The mountain ranges are surreal, the colors are absolutely firing off and everything is simply, beautiful.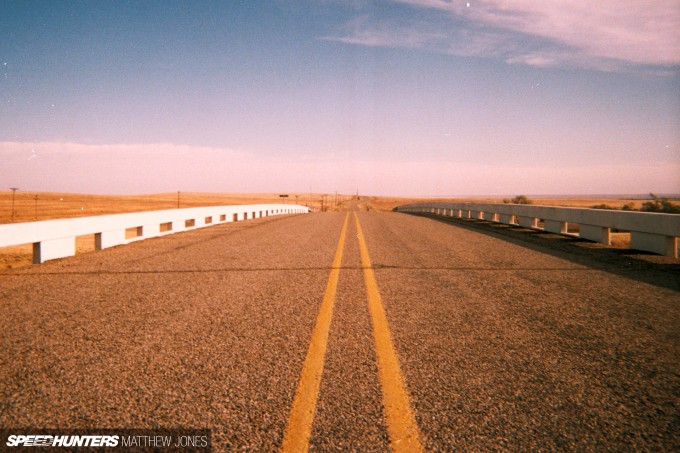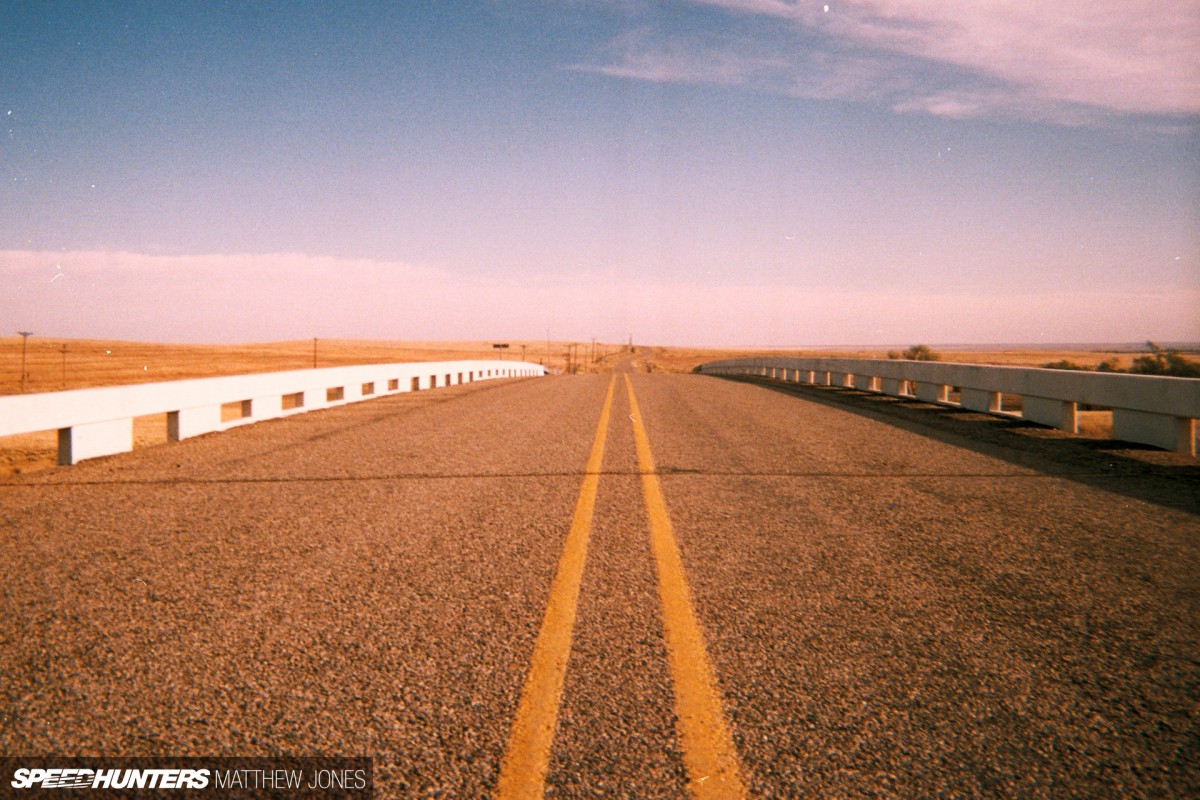 And then you hit Texas, where it all seems to just sort of… die off. And it's at exactly this point where the reality of how brutal the drive truly is begins to set in.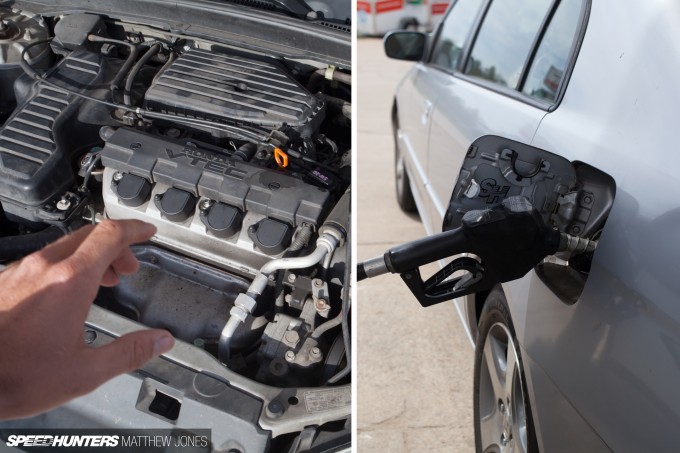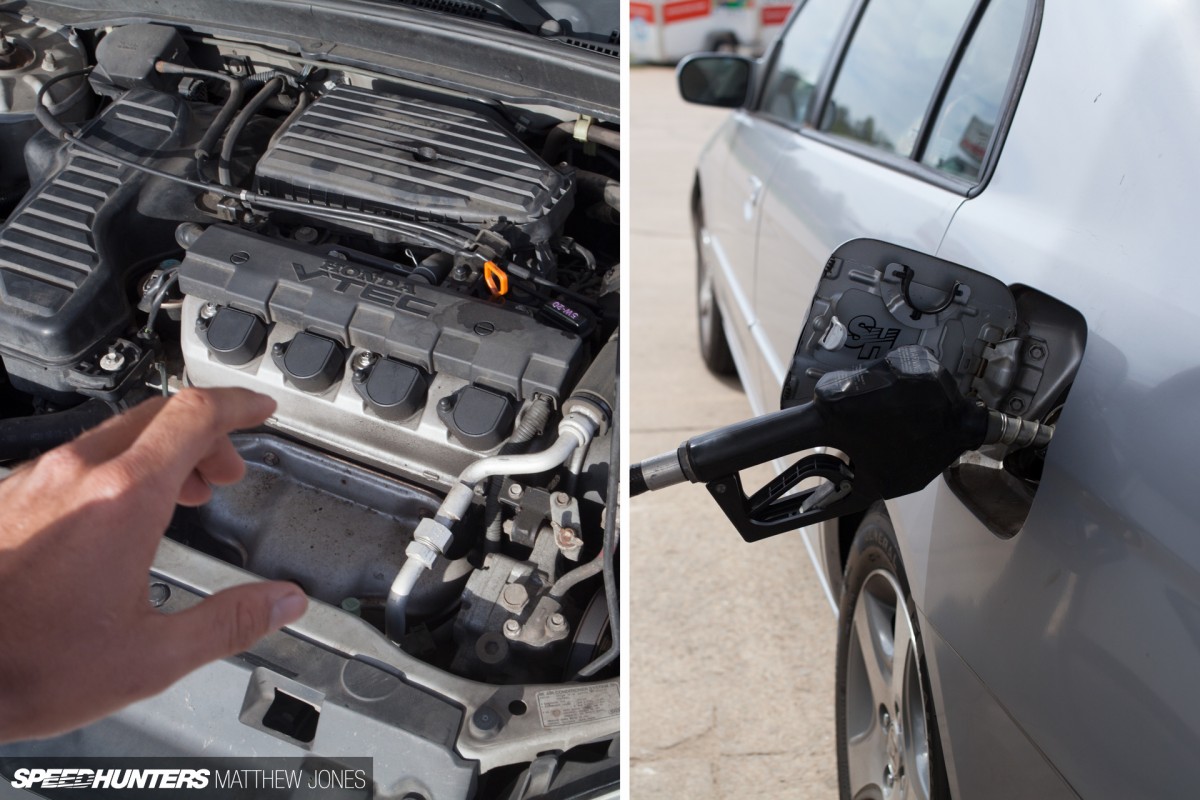 In most cases, folks making this journey tend to avoid these stints of misery by periodically stopping throughout the way, and believe me when I say I had the intentions of doing so. But inevitably – and exactly as I expected – as soon as I got behind the wheel all I wanted to do was plow through as fast as possible; riding the tank from F to E and only really stopping for gas, oil and to periodical snap photos through my windows.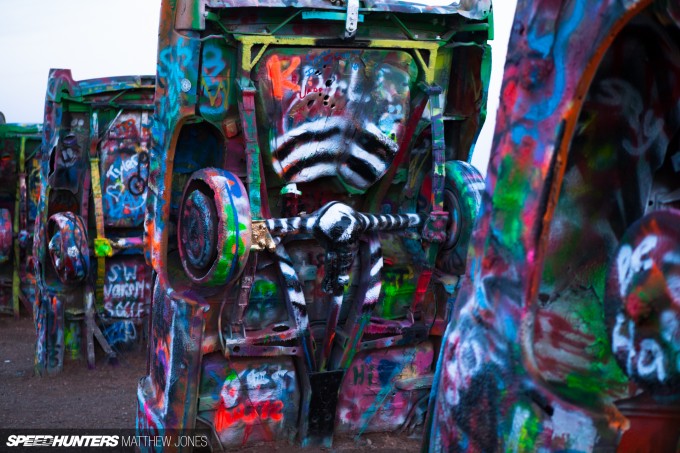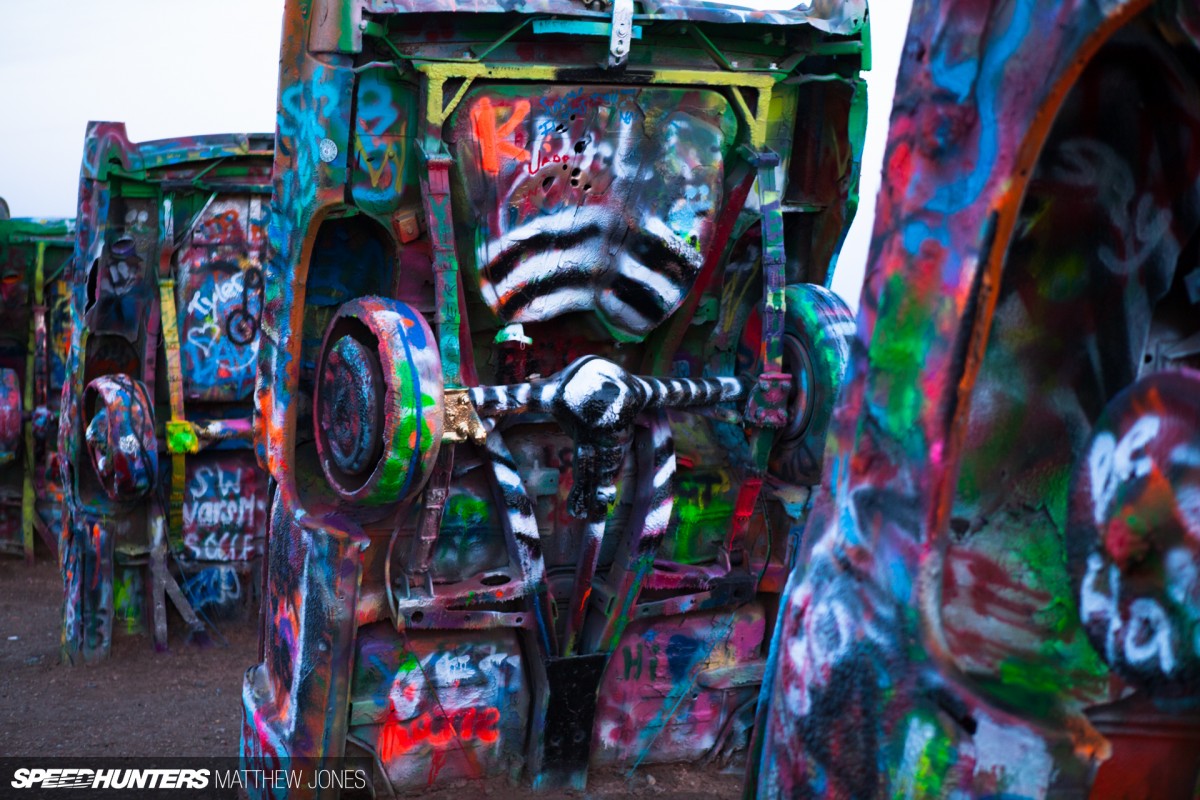 With 700 miles down on a mere three hours of sleep, I decided to call it a night and crash in Amarillo, TX. A pretty uneventful town to say the least aside from the fact that my hotel was just a short few miles away from the acclaimed Cadillac Ranch. This is a public art installation from the mid '70s consisting of various generations of run down Caddys, which I would decide to visit first thing in the morning.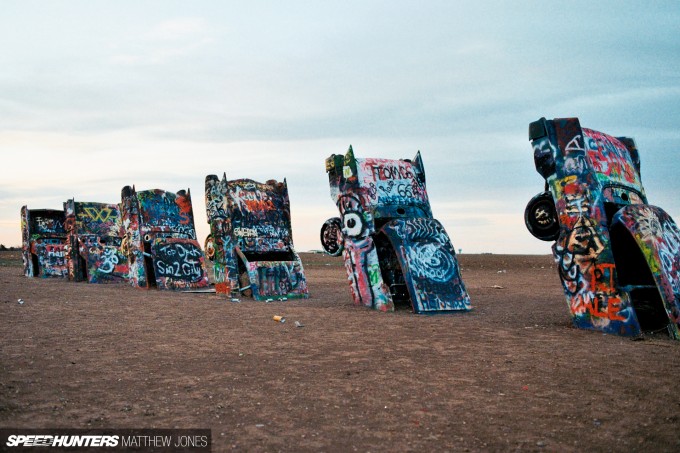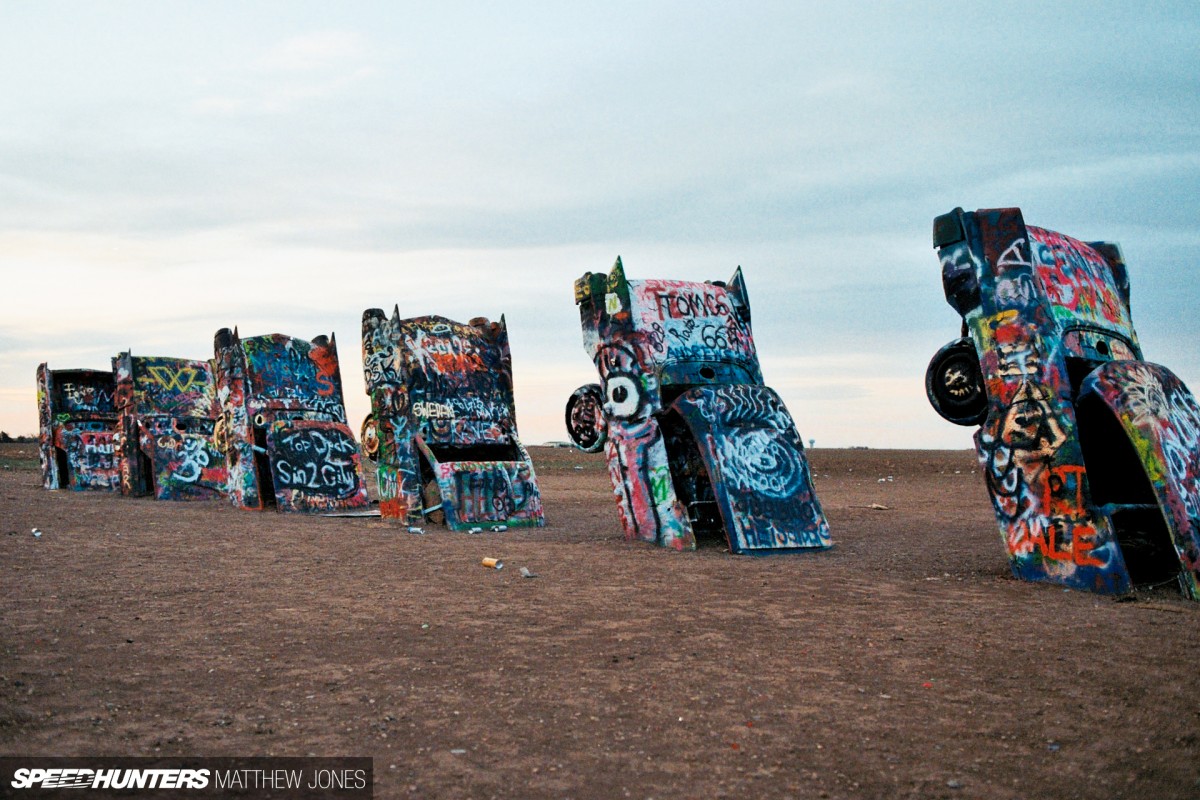 Honestly, it was cool, but not as awe-inspiring as I would've hoped. The graffiti was a bit overwhelming, the weather was miserable and I felt every second I was out on my feet was a wasted second on the road. Don't get me wrong, I'm actually really stoked I took the time to explore the installation, but along with many other things in this region, it's really only one of those joys you'll experience when driving across the country.
A few disposable frames later and just like that, I was back at it: 16 hours and 1200 miles to go, with nothing but a pane of dirty glass separating me from the open road.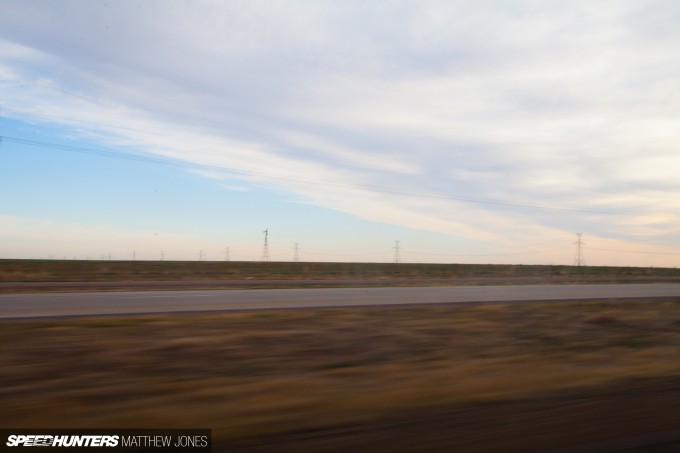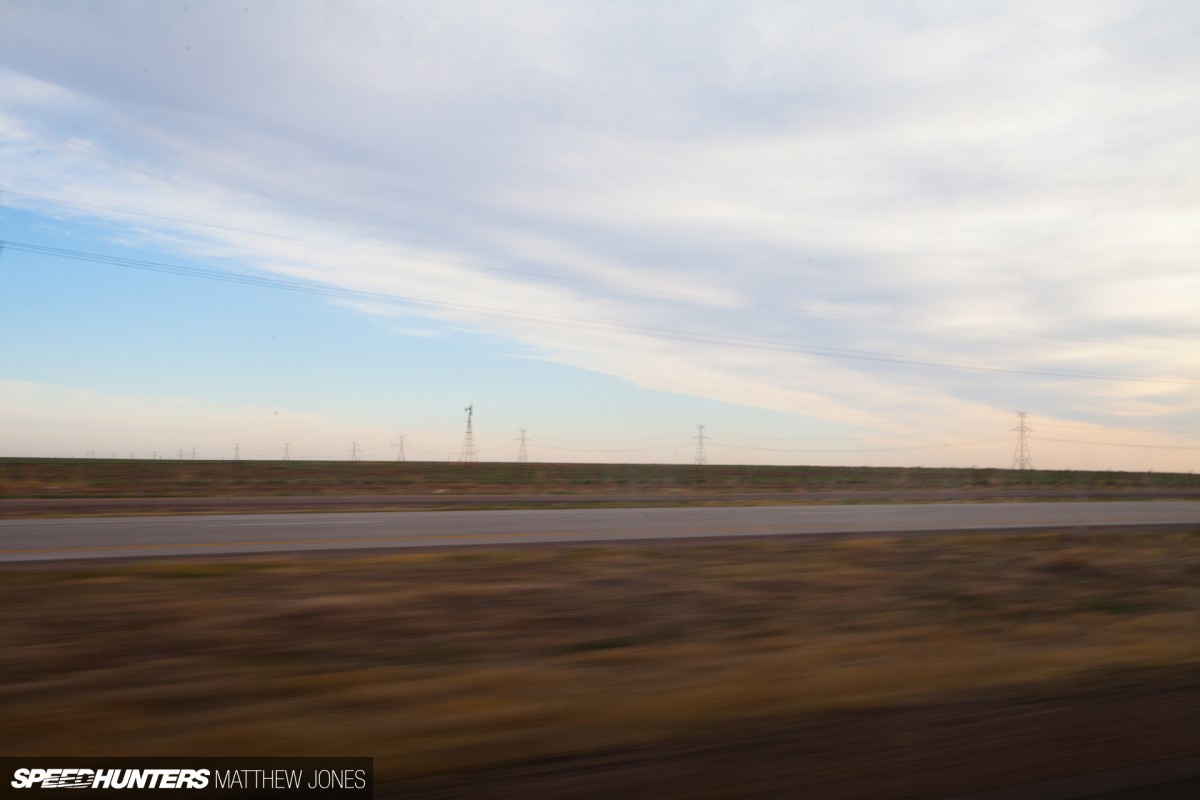 Once you hit western Oklahoma it really begins to be the point of no return (as if there was one in the first place.) It's right about here where you're officially in the middle of nowhere. Where the FM scanner picks up a total of four stations, three of which being incomprehensible, and where you realize the only other cars on the Interstate are semi trucks and a light sprinkle of mini-vanner's sharing your same experience.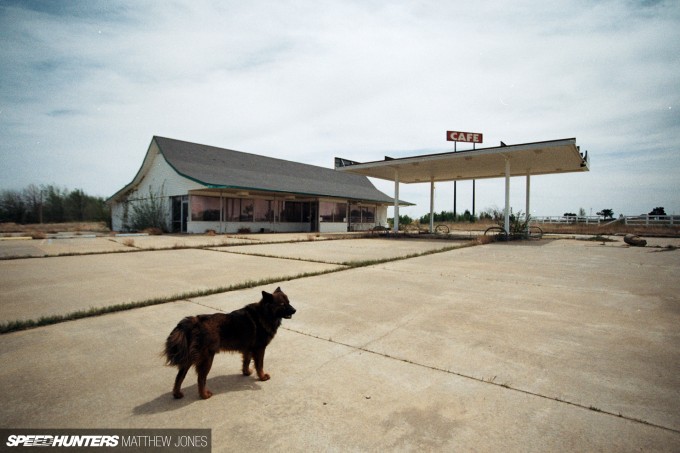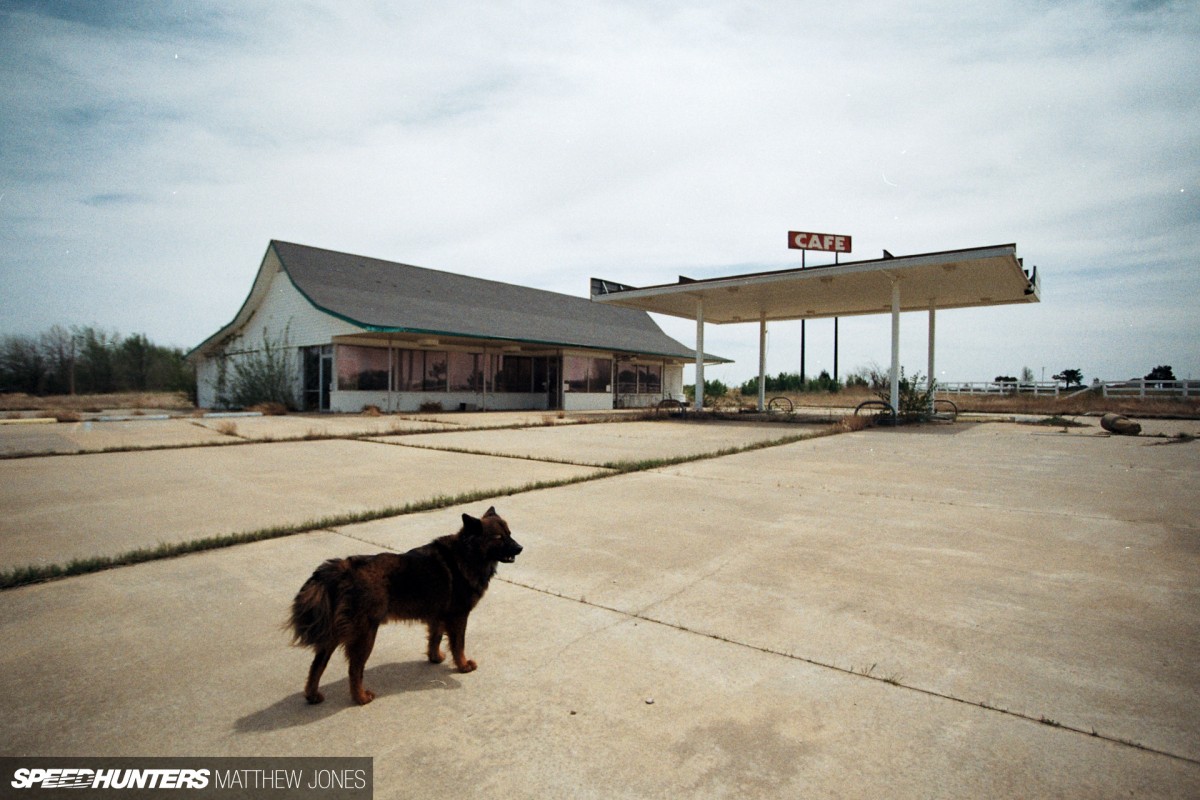 But something truly radical that I found as I was making my way back home through these rural areas was that as you venture across the great open plains exploring abandon rest stations and mingling with the utmost random locals, you quickly find that for some reason everyone simply seems to have your back, and knows exactly what you're going through. Whether they've done the drive themselves, a trip of similar distance, or simply have never left their hometown but have always fancied the thought of conquering the great unknown, there's a common bond. There's a mutual respect shared that makes you feel as if the entire country is on your side, even when you're entirely alone.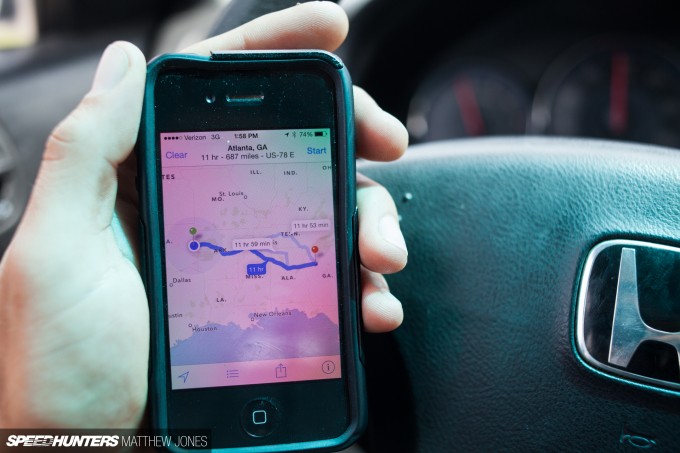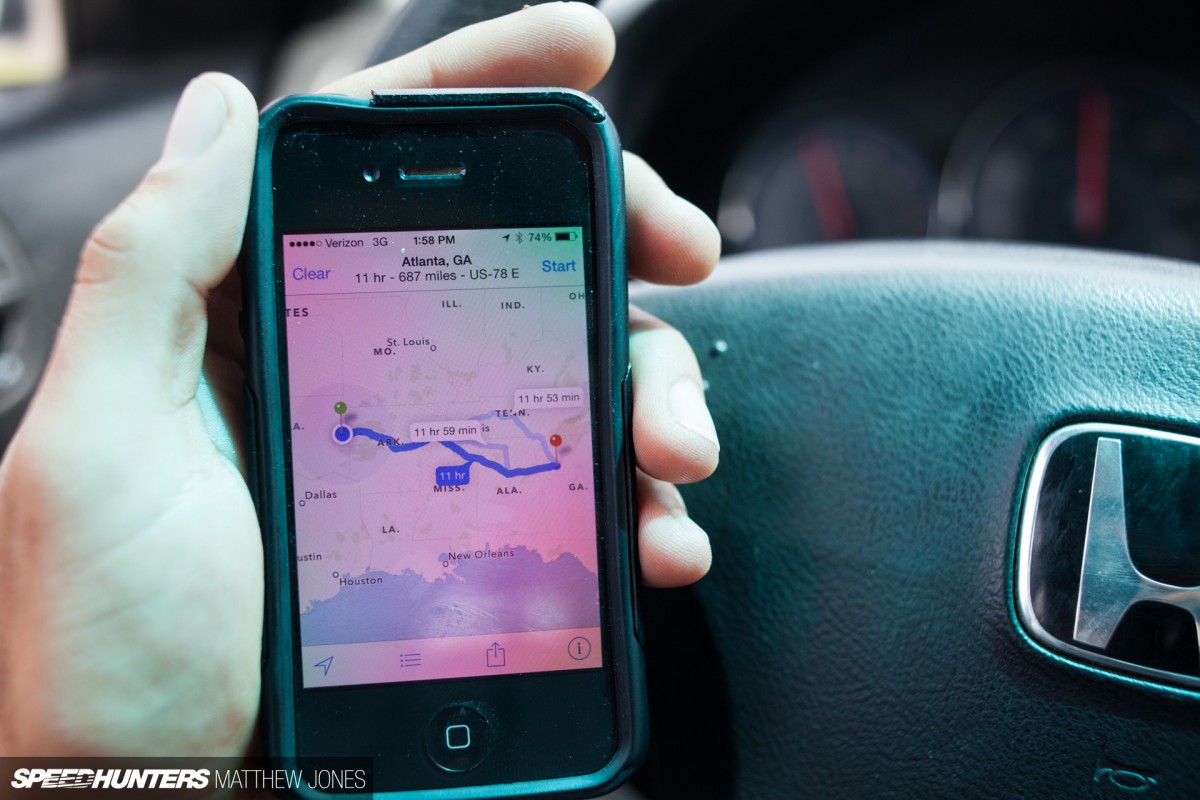 After a quick stretch and refuel in Fort Smith, Arkansas, I was finally able to pick up a strong enough signal to get an update on my progress. I looked down and saw that there was only 11 hours remaining. It gave me the exact confidence I needed to keep pushing through.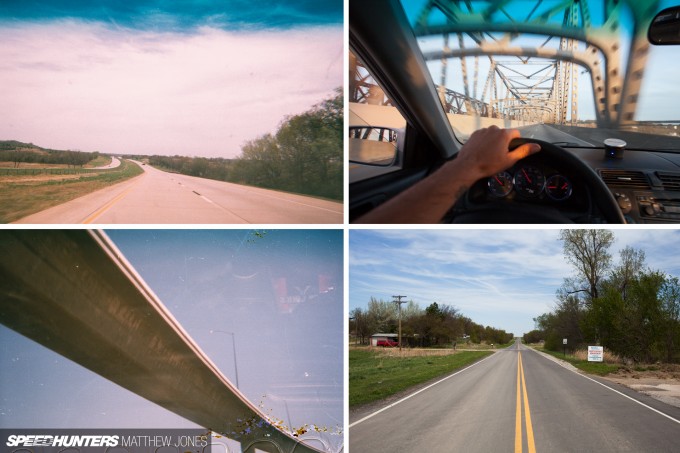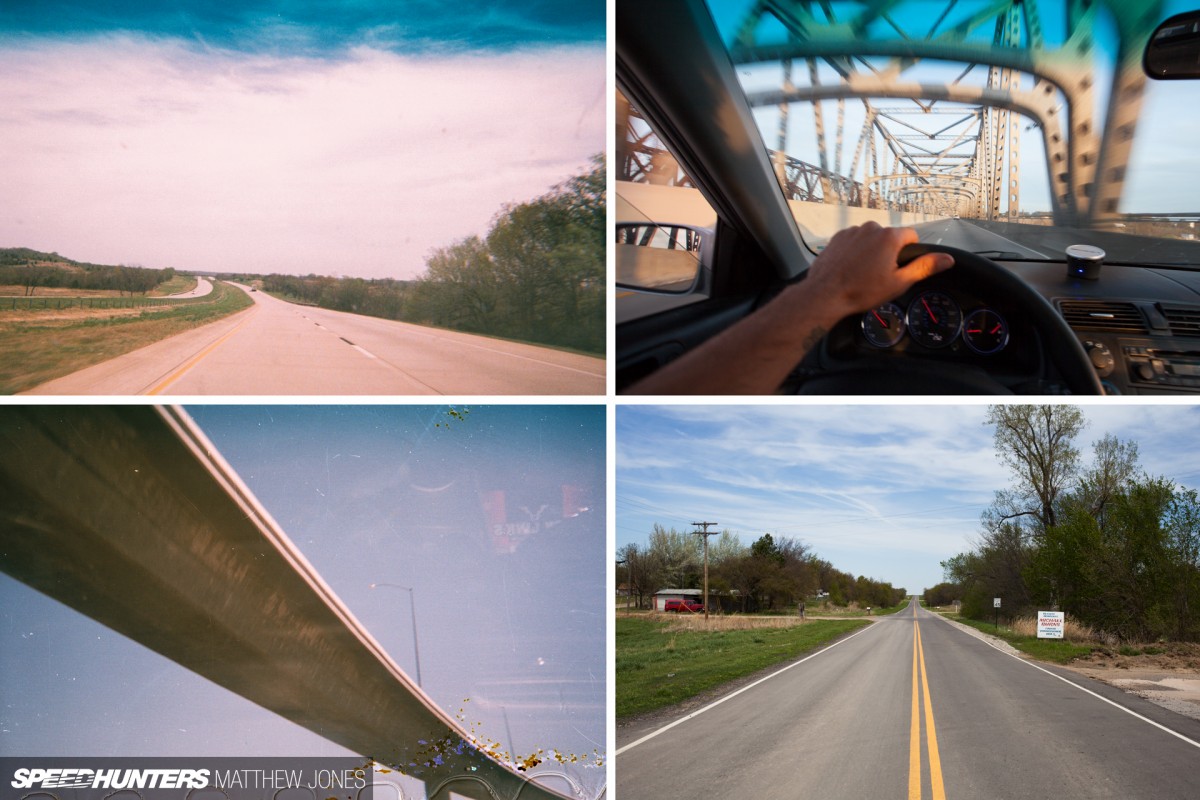 My back was shot, the dog was definitely irritated and my oil temp was creeping higher and higher with every mile — but I pushed on. I blasted through Little Rock, crossed the Mississippi and breezed through Memphis. The closer I got the quicker I drove. My adrenaline was on full blast as I cruised through these familiar areas I had visited so many times in my life. At last, the end was in sight. I could see the finish line and I was determined to complete the drive right then and there.
Home, Sweet Home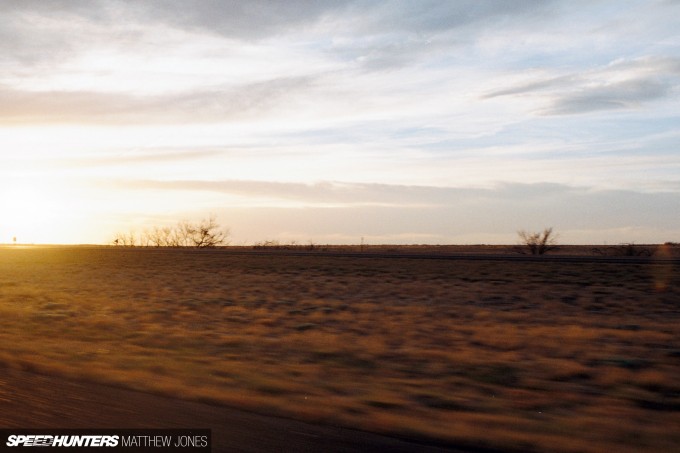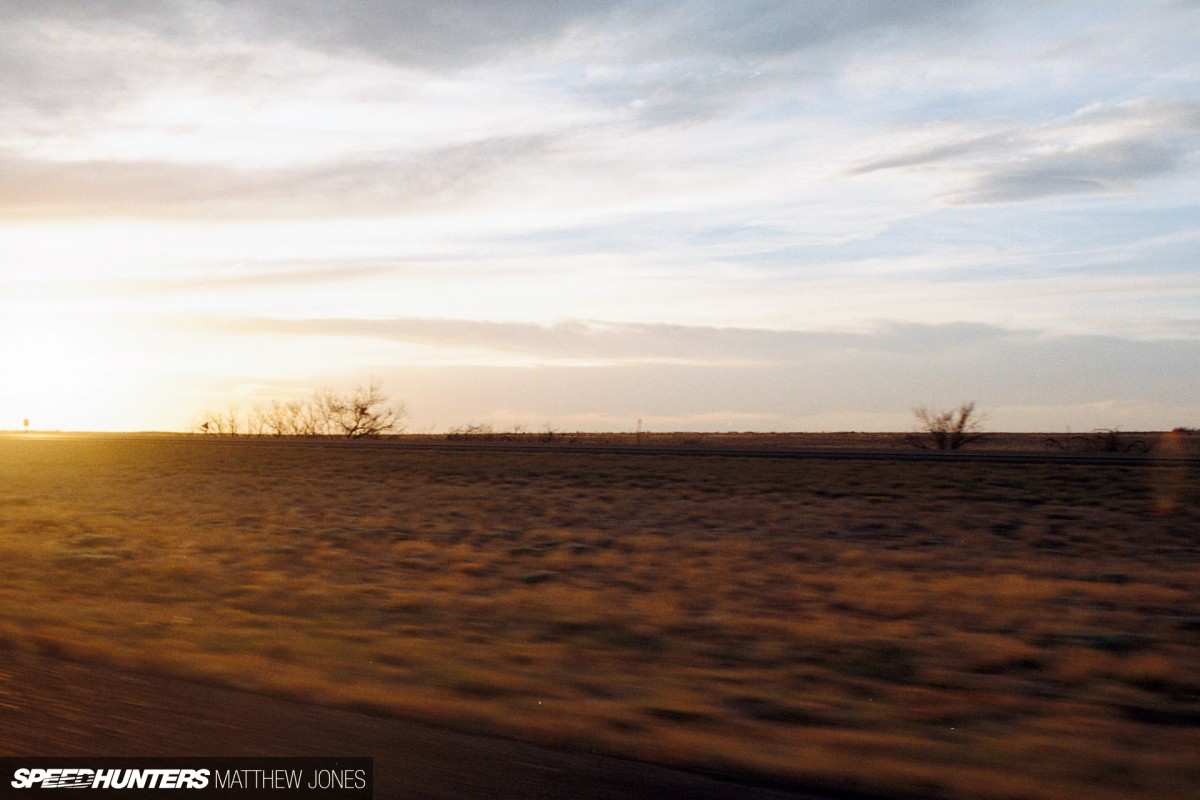 But just as I entered Alabama and the sun finally dipped past the horizon, my body shut down. I had done 1000 miles and 14 hours… in a Civic. I wanted to push on so bad, but I just couldn't. I think dementia was officially setting in as the other cars in the road began to fade into blurred electric lines. And with the dementia also came the paranoia. And if you've ever lived anywhere east of the Mississippi you can probably agree that deliriously driving through middle 'Bama at 1.00am with Cali' tags isn't really the best idea. Or better said – it's freakin' terrifying.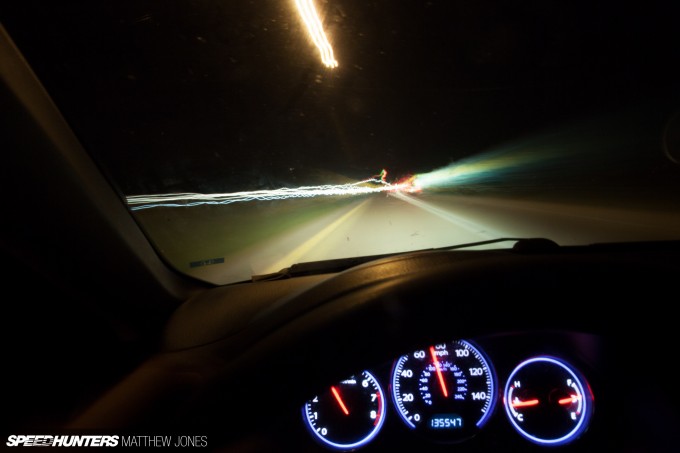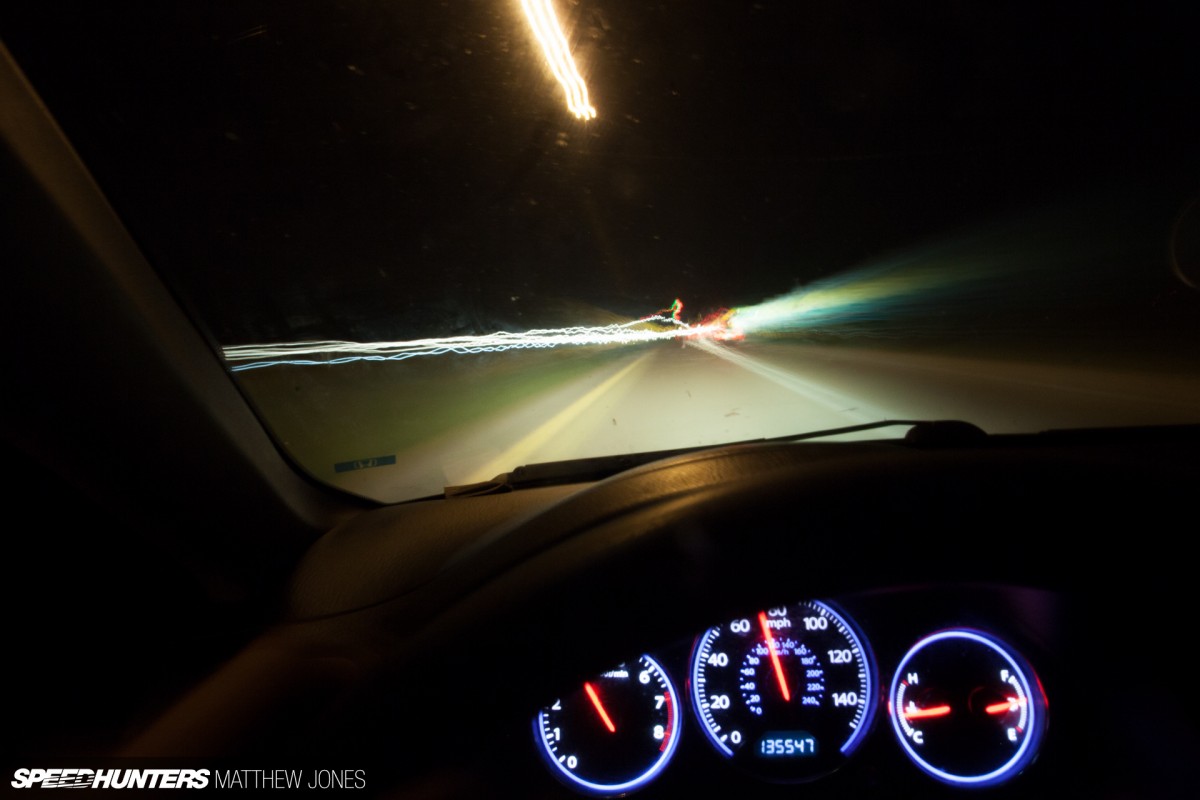 I was so close. But I swallowed my pride and spent the night in Birmingham. What was I going to do if I kept driving anyways? Show up at my temporary home in Atlanta at 3.00am and begin unloading? No. I wanted to do it right. I wanted to enter the city refreshed and ready to conquer with a game-plan on the forefront of my mind.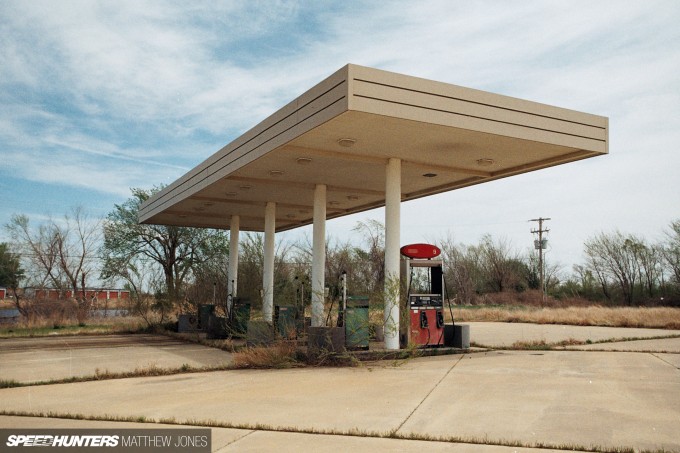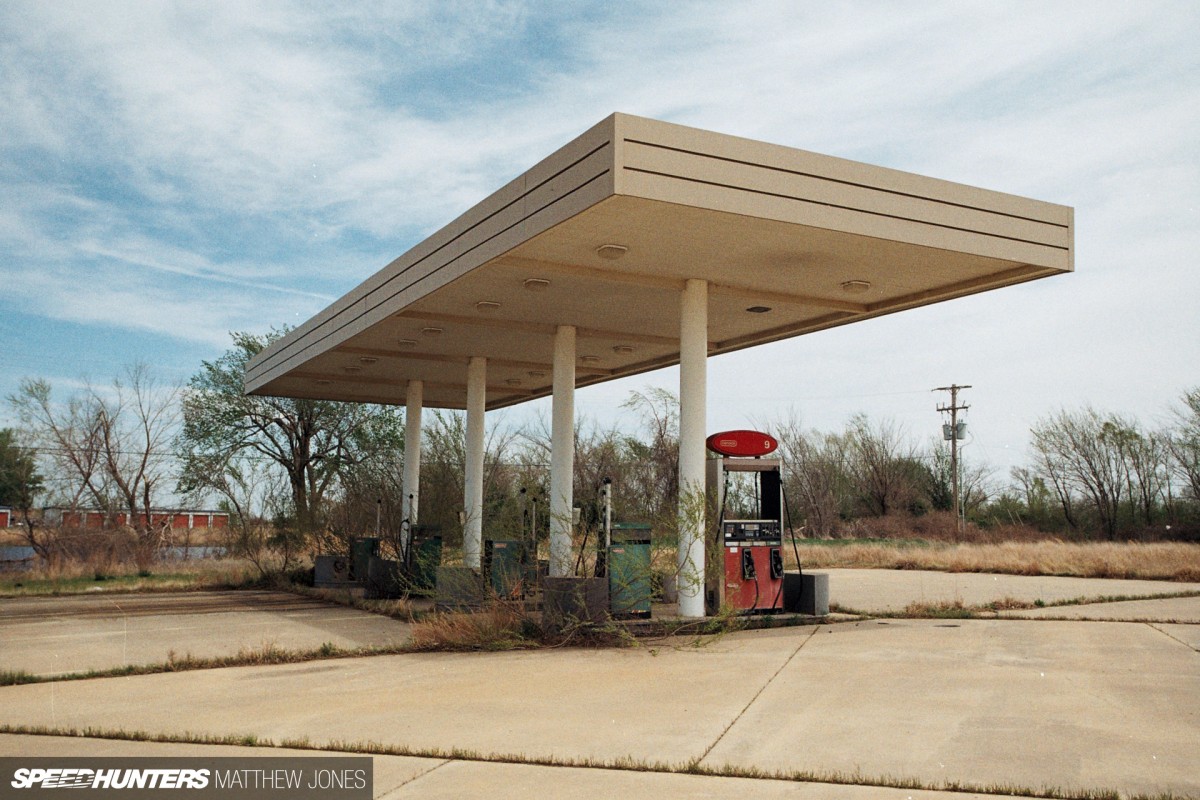 Though, I couldn't really complain much. Aside from the body pains and car troubles, the journey was all pretty flawless. No accidents, no traffic and best of all, no Johnny Law. I also didn't really mind waking up in Birmingham, as I've always been a fan of the city. It's a tough area, but it's real. And everything is beautifully…ravaged, yet still remaining. Not to mention, it hosts a hotbed of radical content just waiting to be exploited, which I will be bringing to you in the coming months.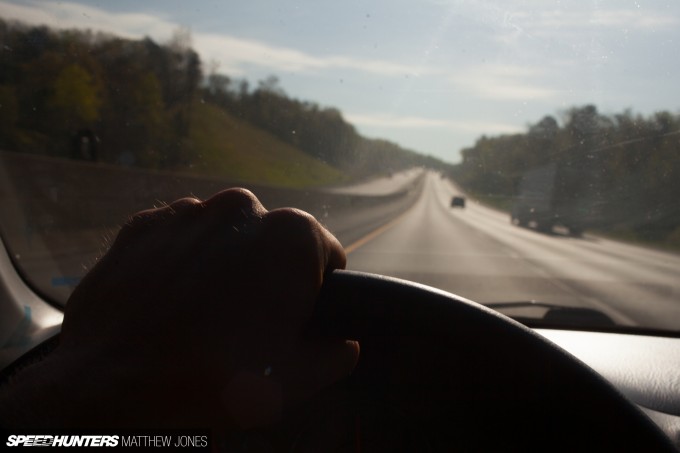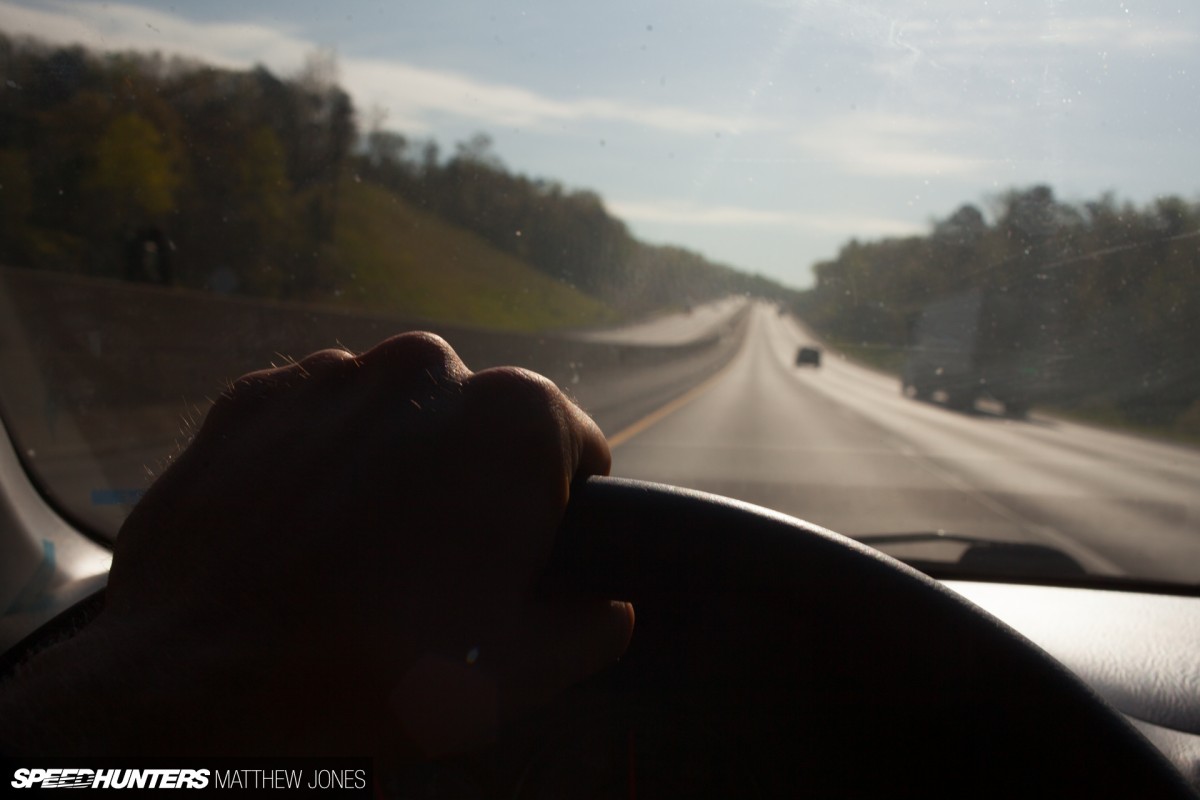 The drive from Birmingham to Atlanta isn't too bad either – a short two hours at worst, most of which is spent driving through the luscious Talladega National Forest till you finally hit Georgia. Finally… Georgia. Sorry to cut it all short but at this point, nothing else mattered. I don't think I could really even feel anything. I had made it.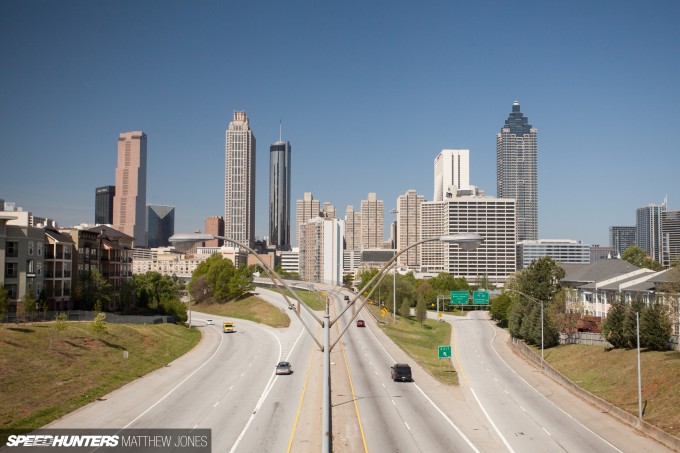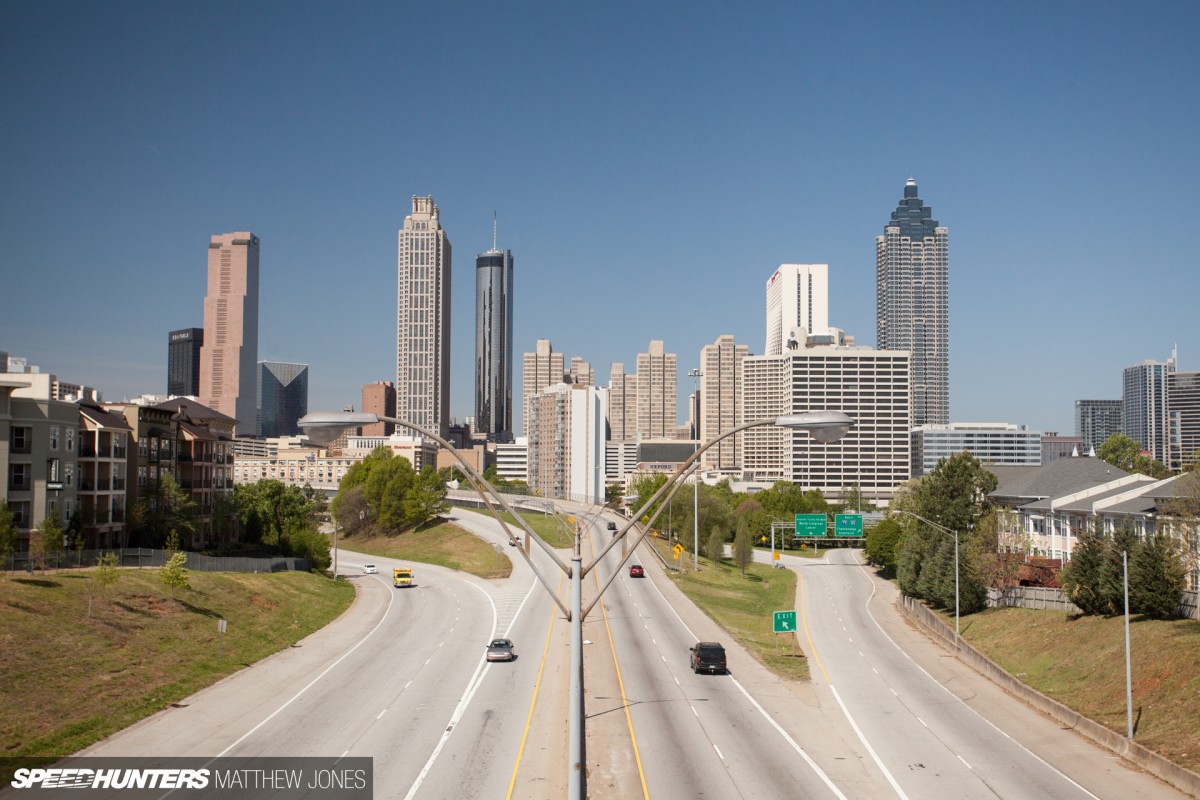 It's hard to describe how it all went down, but just like that, I was home. I was safe. I was amping with excitement as I came prepared to melt your desktops with all the unexposed greatness that is within the eastern region of our blessed land. But more importantly, I was relived. It was finally over.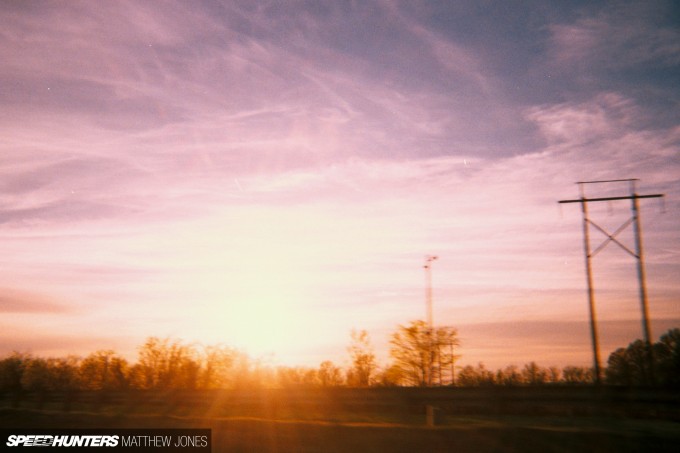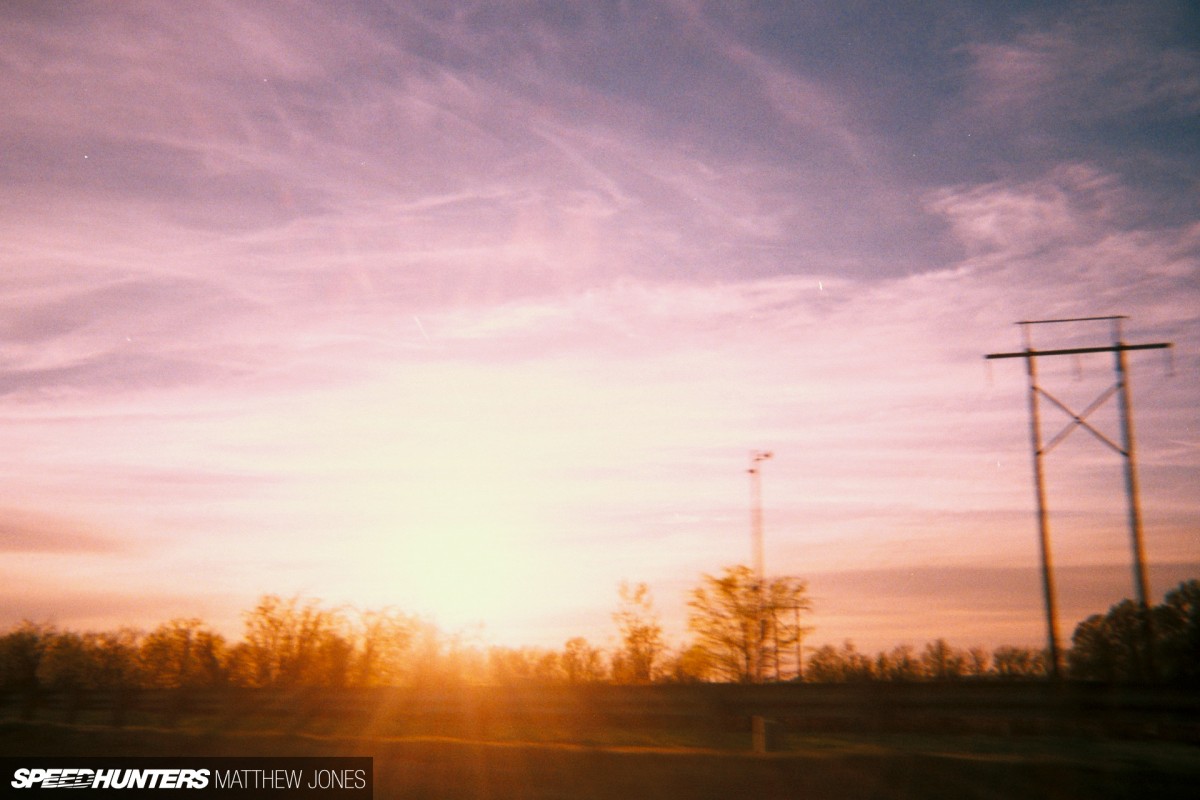 In the days following my arrival I had a friend ask me what I had discovered on my journey. Having spent 30+ hours trapped inside my brain, the question seemed to stop me in my tracks. So I suppose if I were to have discovered anything it would be the fact that my life will be forever evolving; that my immediate environment will not determine my own happiness – but my own outlook will. And if you truly want something bad enough, get in the car and go freakin' get it. As cheesy as it may sound, I really did discover the #JoyOfMachine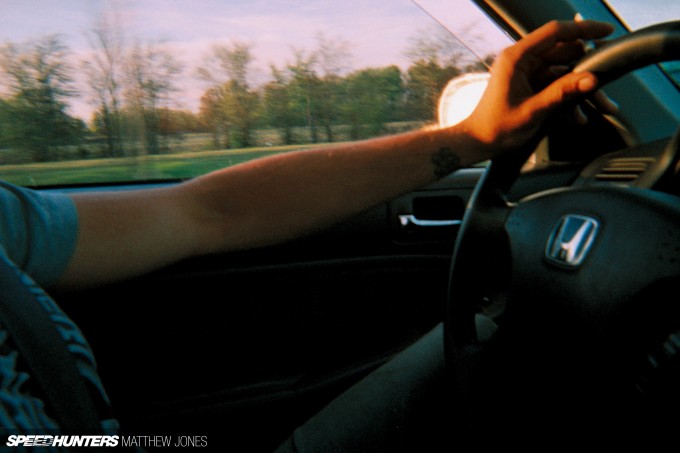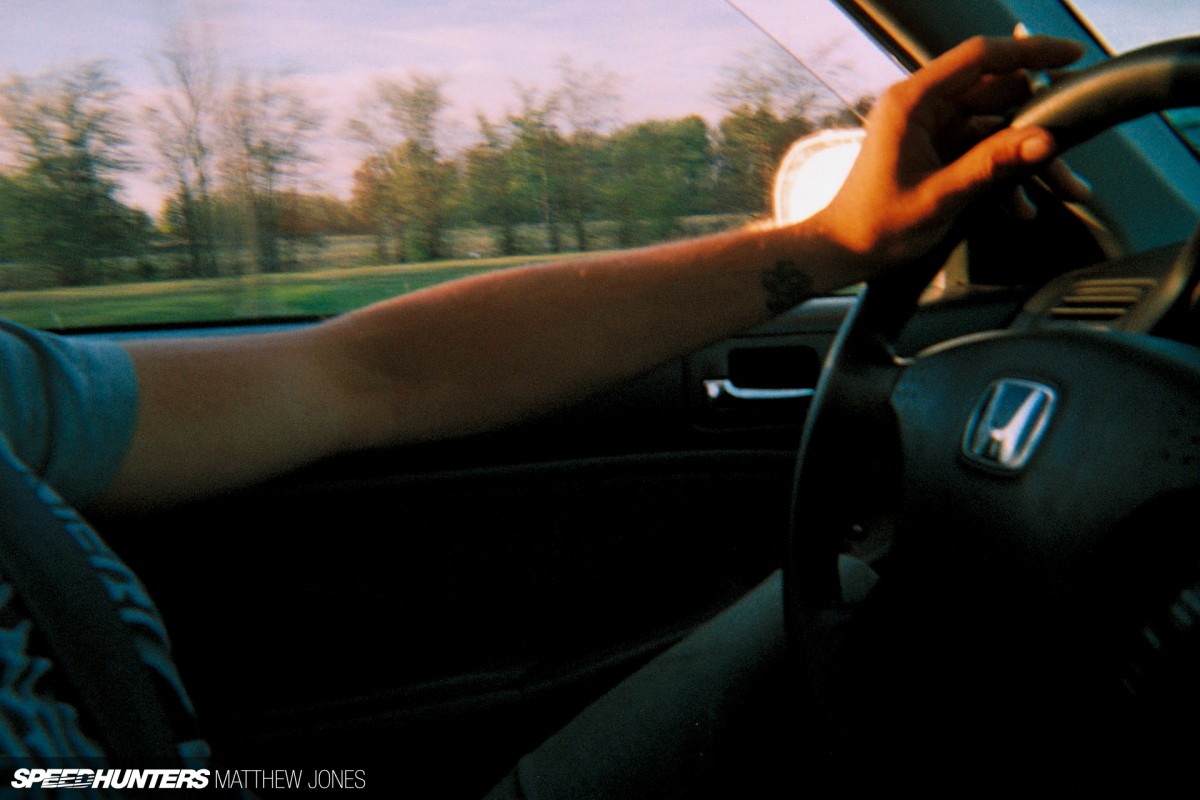 If you've never driven across the country, I'd like to strongly encourage you to do so. Whether it be in a Winnebago, a GT-R or a freakin' Geo Metro, make some cool stops along the way, or do it like me and just plow through as quickly as you can. Whatever the case, Just do it. It's a life changer. Best of all, each and every one of you will have a different story to tell. This was mine. I'm eager to hear yours…
Matthew Jones
Instagram: matthewjonesphoto
matt@speedhunters.com