Inaka hunting
Some of Japan's coolest cars can be found in the most unexpected of places. Case in point, Hello Special's Works-style Datsun S30.
Welcome to Japanese inaka. That's the term used to refer to countryside – rural Japan if you will. Away from the hustle and bustle of crammed Japanese cities, the countryside offers up a far more relaxed pace of life; a little more space to play around and an overall stress-free existence. It's also where Japanese car culture gets, well, real. Actually, let me rephrase that – where it gets more nationalistic. It's in the inaka that there's a much greater chance of running across cool Japanese modified cars and everything from drift cars, to VIP sedans, to drag machines along with your average tuned streeter. In the cities it seems everyone is trying to outdo one another by seeing who can blow more money on overpriced exotics, but in the countryside there's a more grounded feel to car culture. It's why I escape Tokyo a few times a month and literally hunt.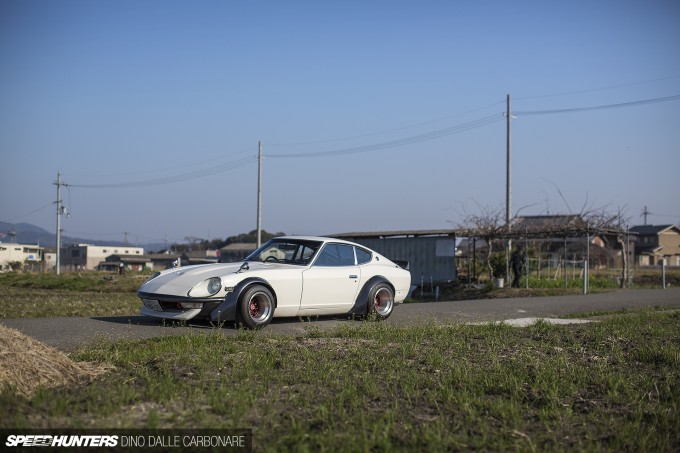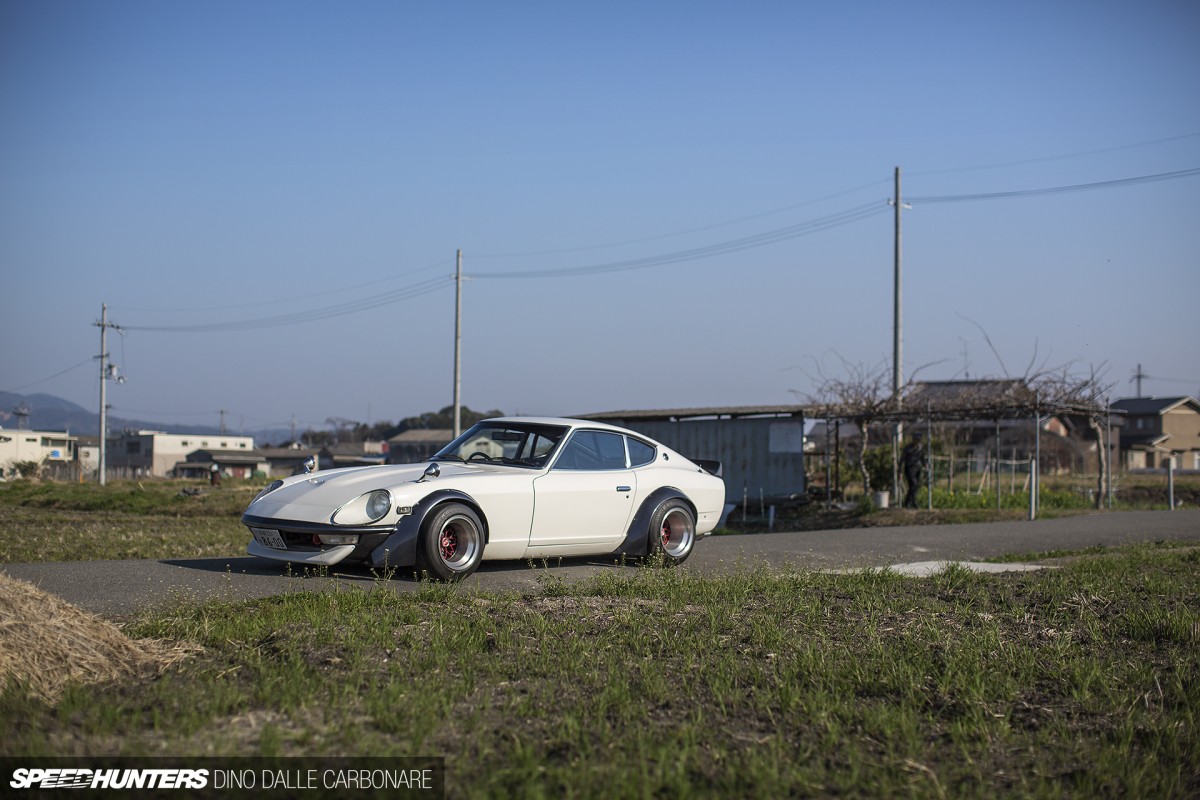 That's how I came to be at Hello Special in the rural outskirts of Kyoto. I was actually visiting for a completely different assignment, but after nosing around in the back of the shop, I came across the owner's pride and joy. It was hidden away by a few parked cars and covered in dust from an obvious lack of use, but aside from that it wasn't hard to see that this was one pretty damn good looking interpretation of an S30. Not to mention, it was sitting on my absolute favourite set of old school Japanese wheels – but more on that shortly.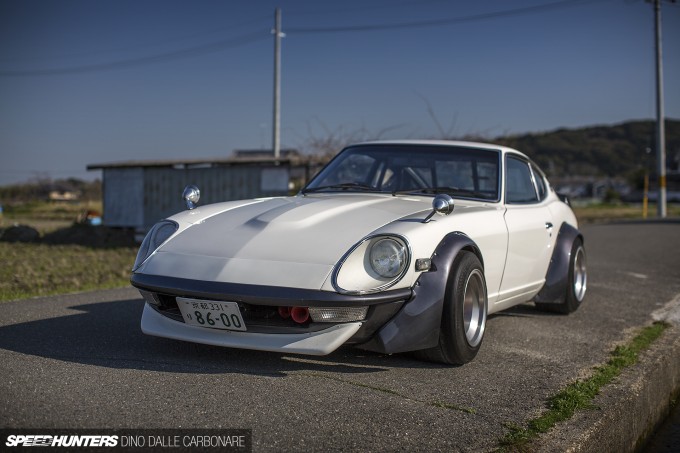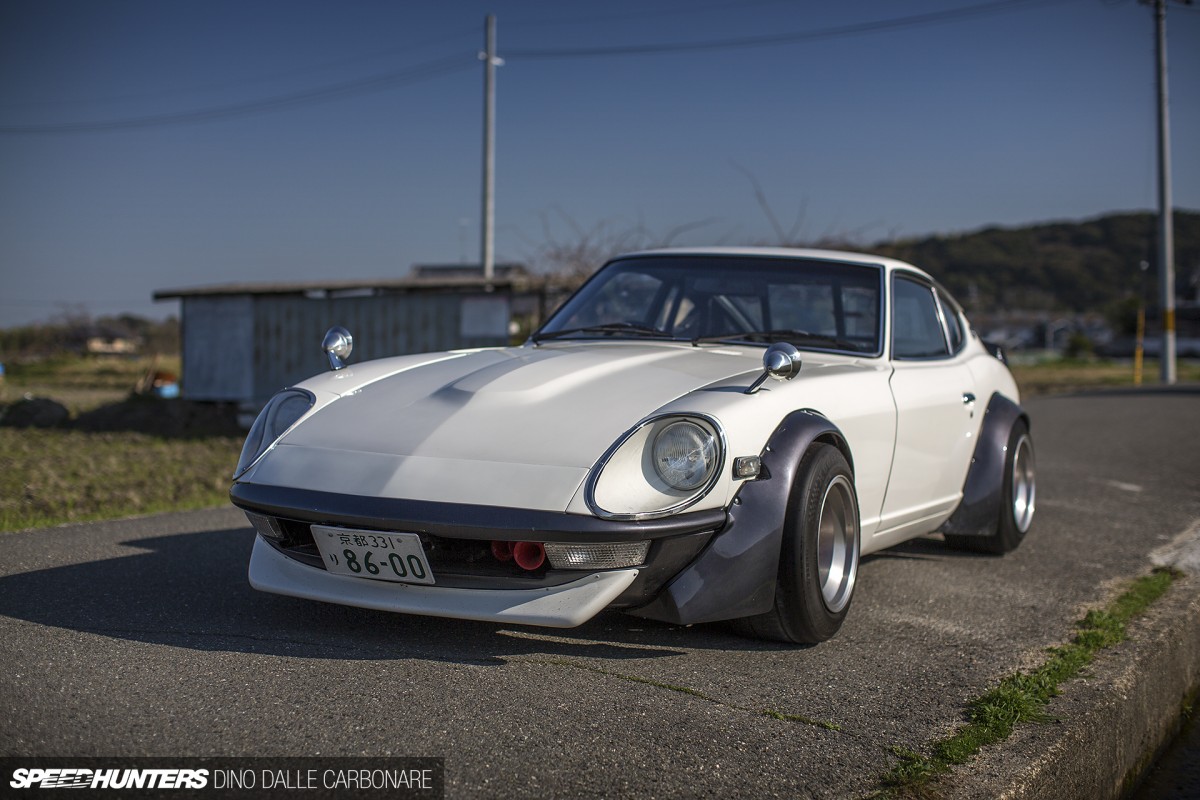 Shakotan is a term you should all be familiar with if you visit Speedhunters on a regular basis. It literally means lowered body height and is used to describe any car that has been visibly and aggressively lowered. However, it's become quite the coined word to use when referring to older cars – kyusha – and most notably when those older rides have had Works-style fenders added on. And that's precisely what Kazuno Oda at Hello Special did with his Fairlady Z.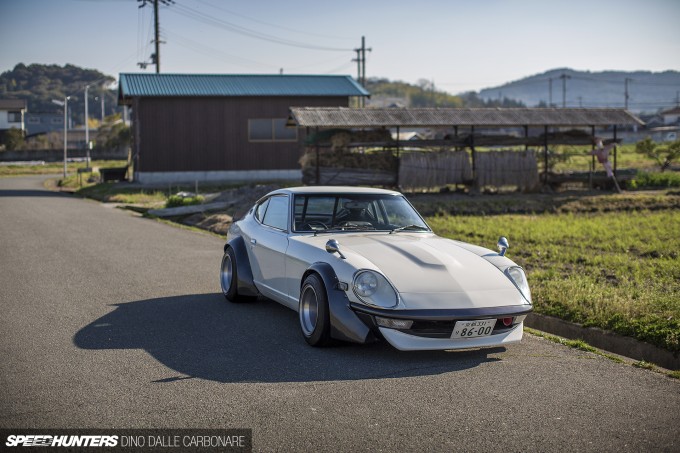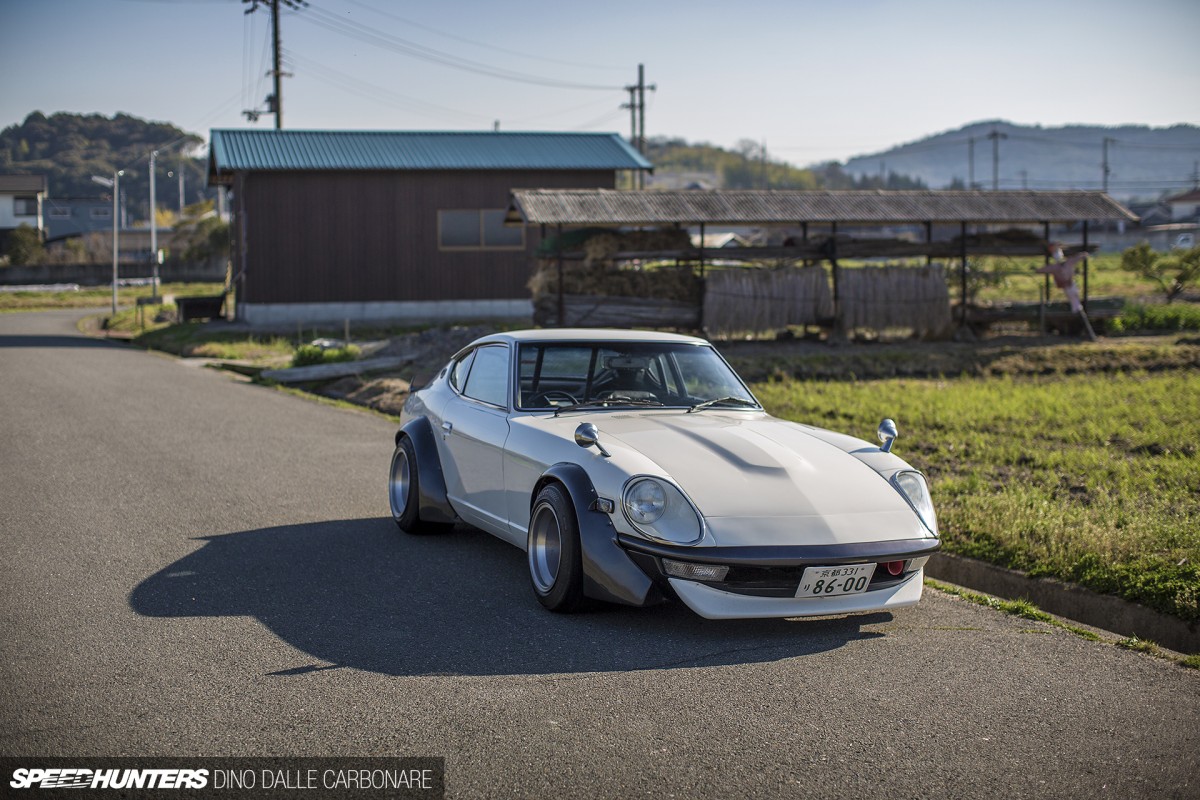 A long time ago, before the name Rocket Bunny went hand-in-hand with bolt-on overfenders, Japanese enthusiasts used to mimic the '70s race car look by fitting fender flares and wider wheels with much more aggressive offsets. It was a pretty easy way to pump up the look of your car and get some handling benefits in the process, and a recipe that obviously still very much works today.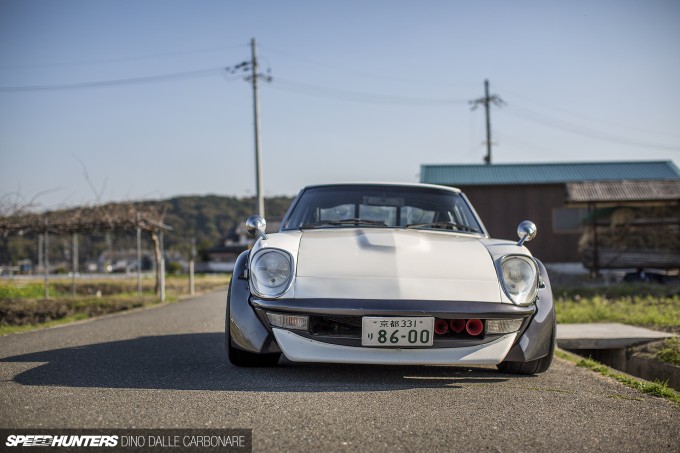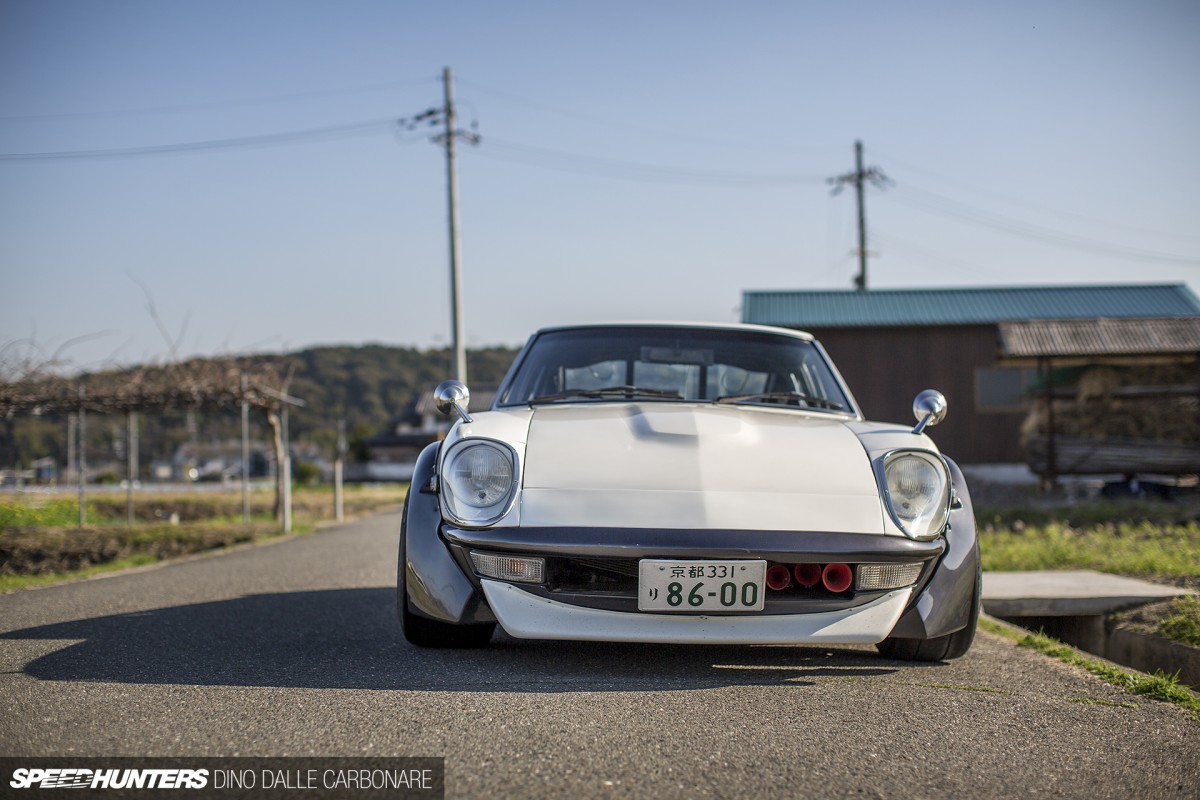 Seeing Hello Special is actually a kei truck and van specialist, I was a little surprised to find this sort of car at the shop, but as it turns out, before tuning little pocket pick-up trucks became a fad, Oda-san used to build kaido racers and shakotan machines. And so the puzzle begins to make sense. The S30 is a car he just takes out for spontaneous drives, and with open countryside all around him, he's definitely spoiled for choice when it comes to fun roads.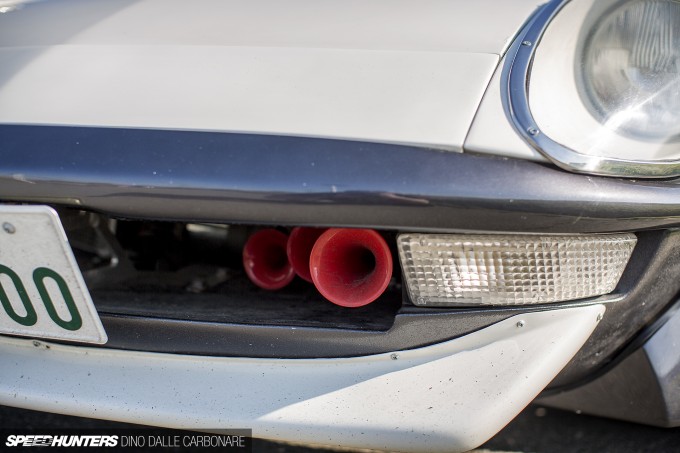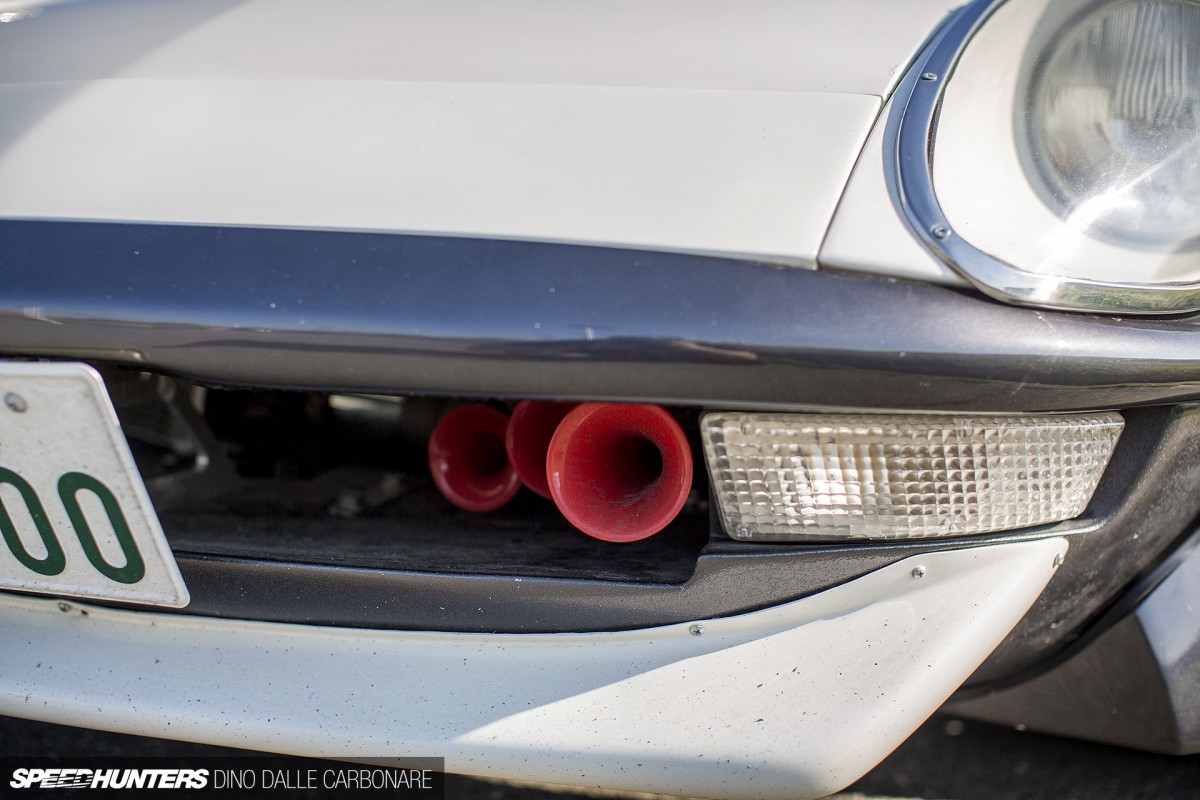 Hiding up front right on top of the bucktooth front lip spoiler, it's hard to miss the three air horns that blare out the Godfather theme song. This is another of those details that comes straight from kaido racer and bosozoku culture – the whole idea behind it, making yourself noticed on the street and at the same time bothering people with noise.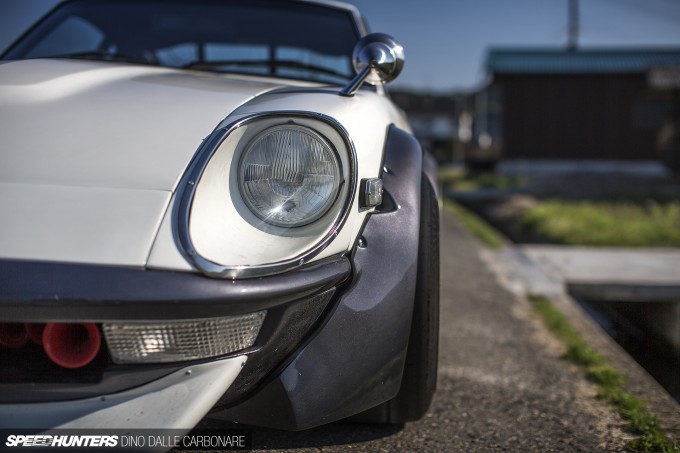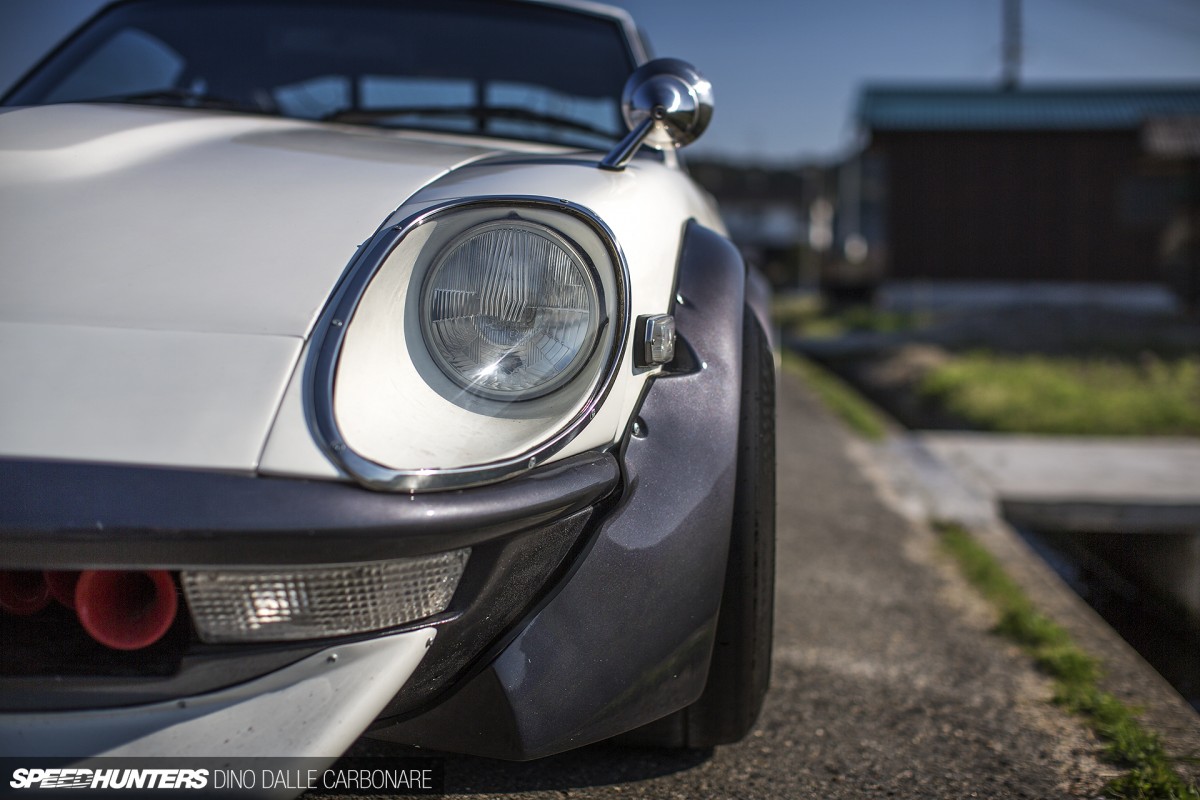 The overfenders have been painted in the same metallic gray as used on the G-nose bumper, which is a great contrast again the flat white of the body.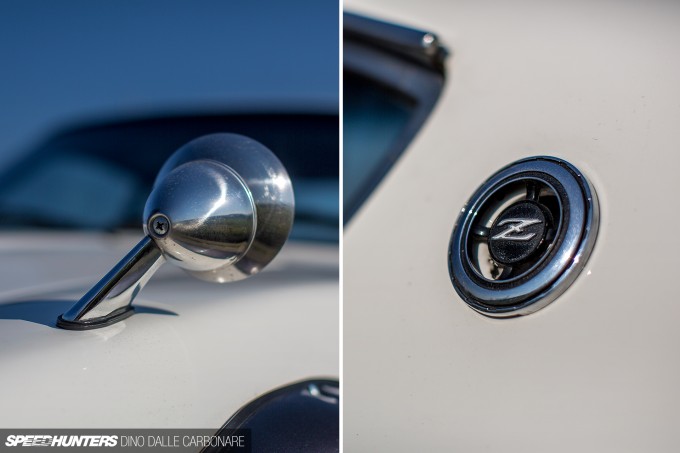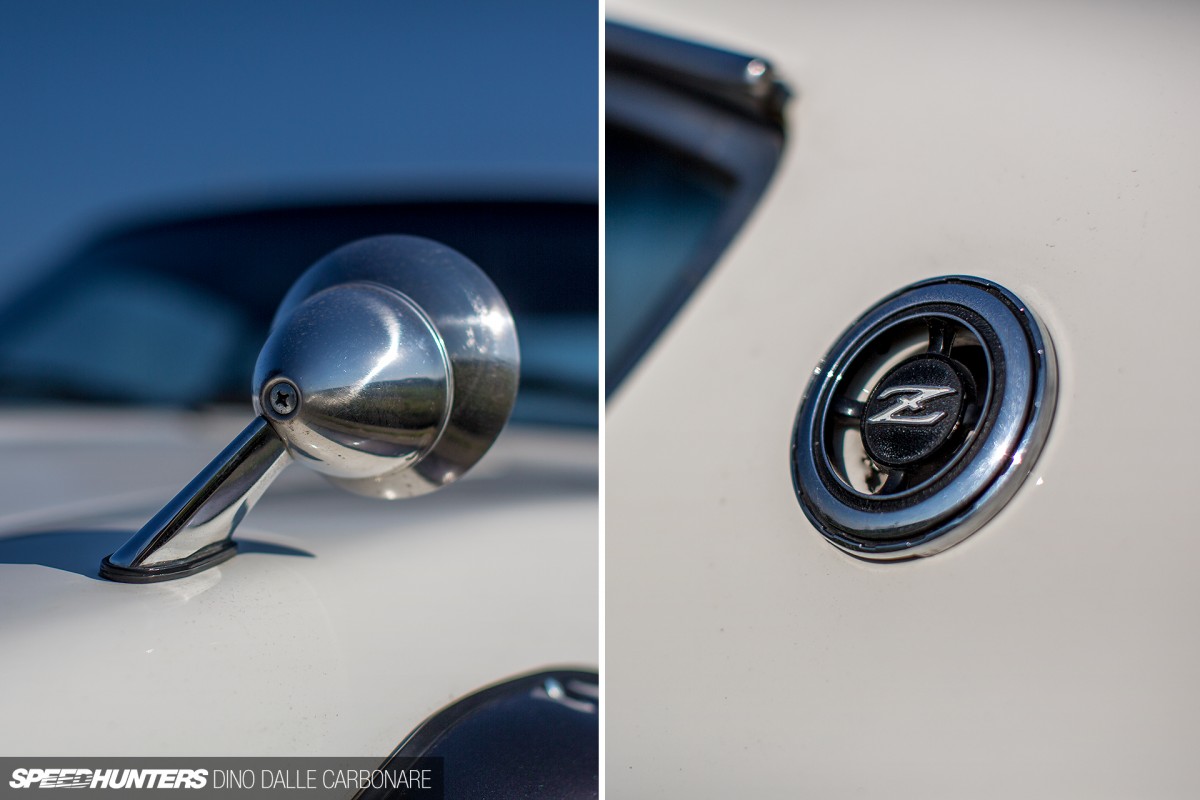 One of the coolest things about Japanese cars of this vintage are fender mirrors. Even the Nissan iDX concept car from last year's Tokyo Motor Show was running some, but this is probably one of those things that we will never see returning to modern day cars; pedestrian safety regulations and all of that…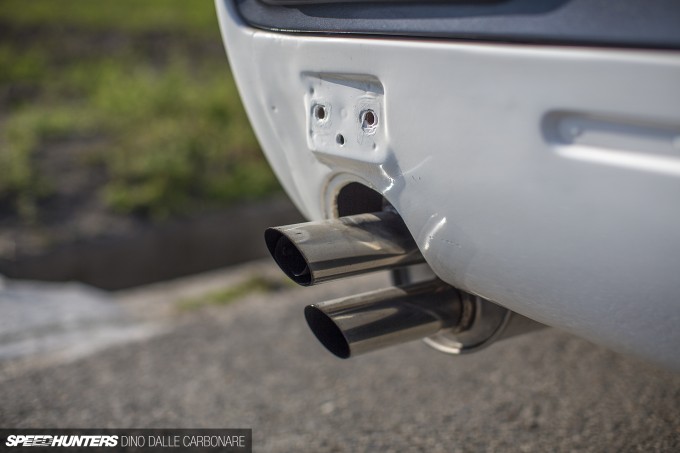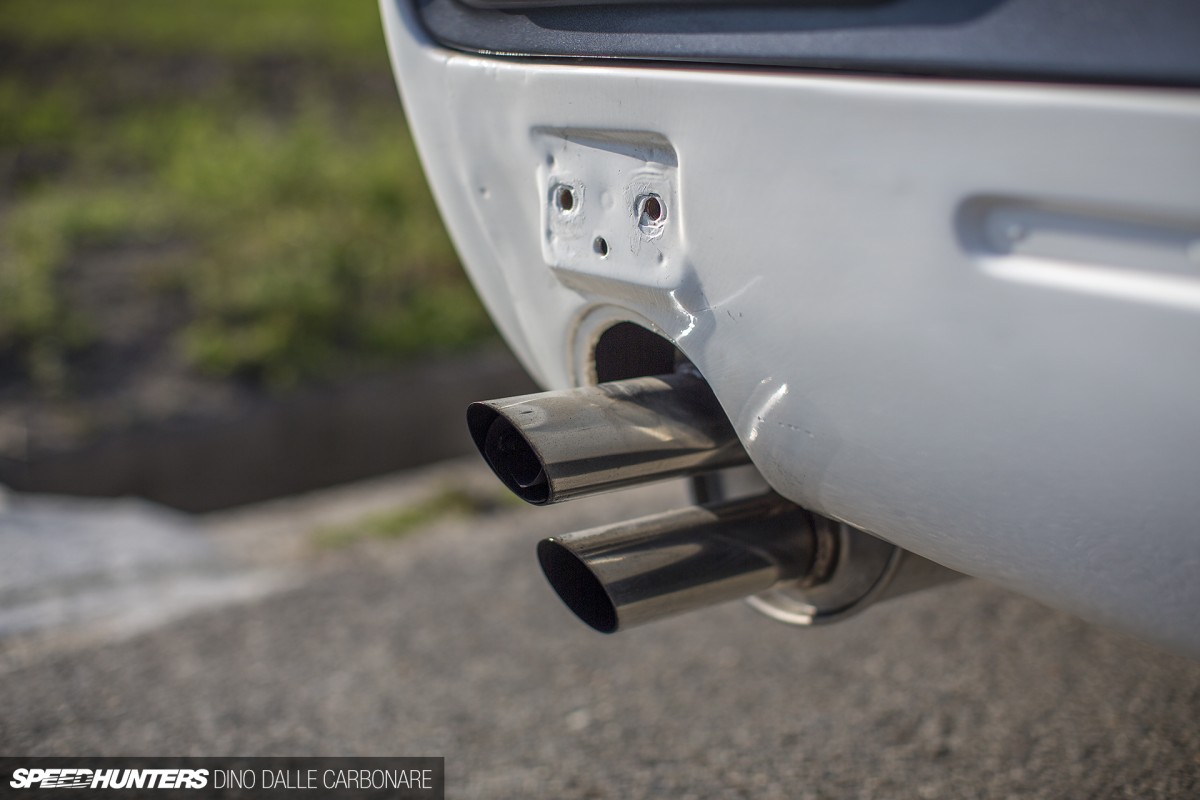 To add a little touch of rawness at the rear, Oda-san removed the bumper to expose the painted white body underneath. The exhaust may still sport the stock stacked tail pipes, but it's actually a custom-built stainless steel system with a far less restrictive design to get the best out of the engine.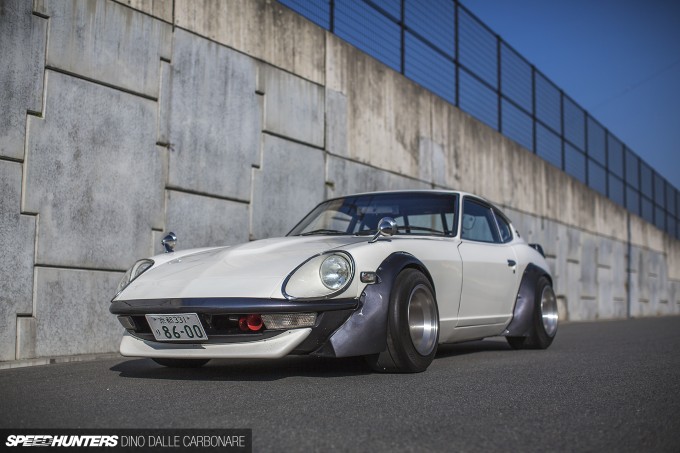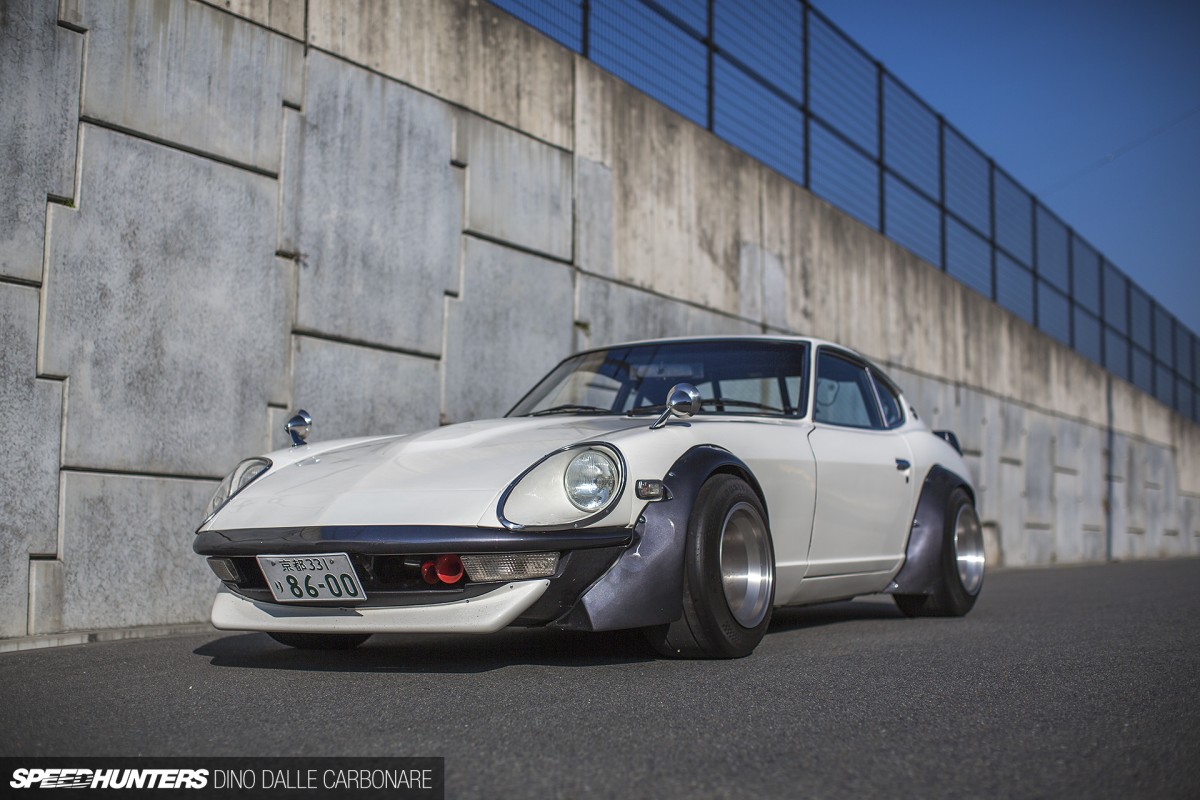 After creating problems for farmers in their kei trucks on the narrow countryside roads we had taken over, it was time to get moving and find a quieter location to check the car out in more detail. Driving around, the S30 sounded like it had a far more raspier engine note and a more immediate response to the throttle when Oda-san stepped on it. So I was curious to see what he had done with its oily bits.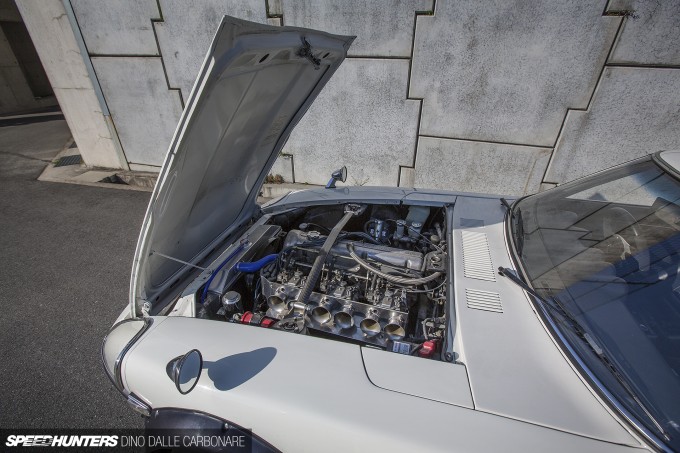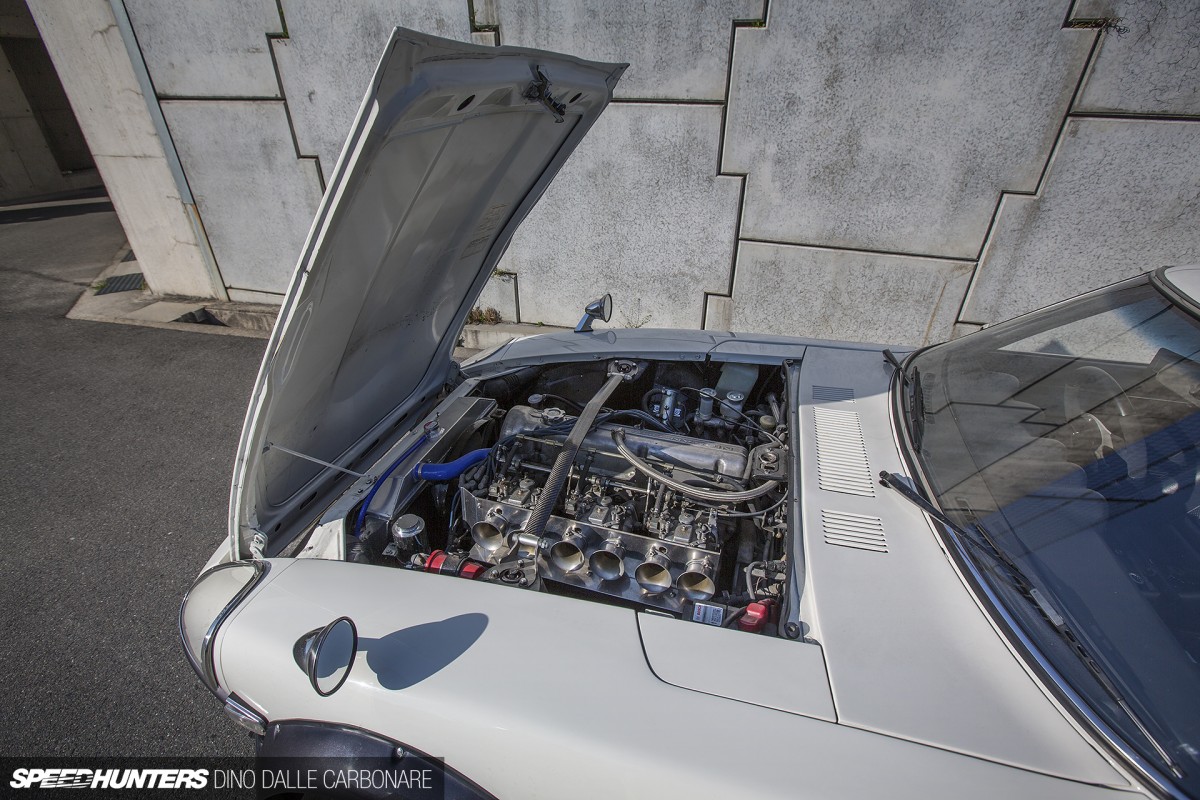 Oda-san described his S30 as a simple street car, but he was being far to humble about it all. In reality, to get the car to where it is now he got rid of the stock L24 and dropped in the larger displacement L28 engine.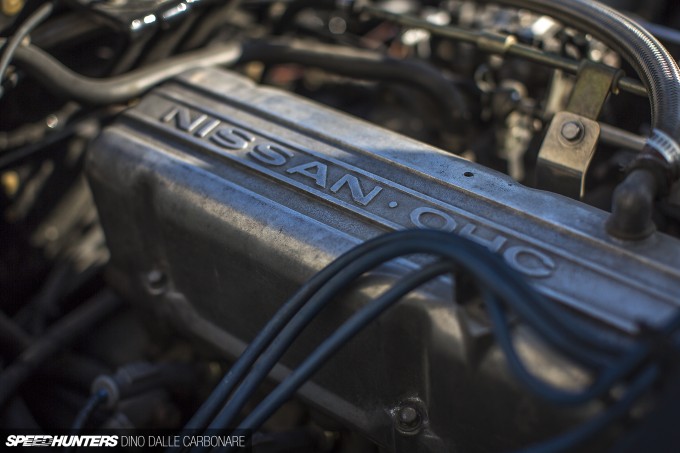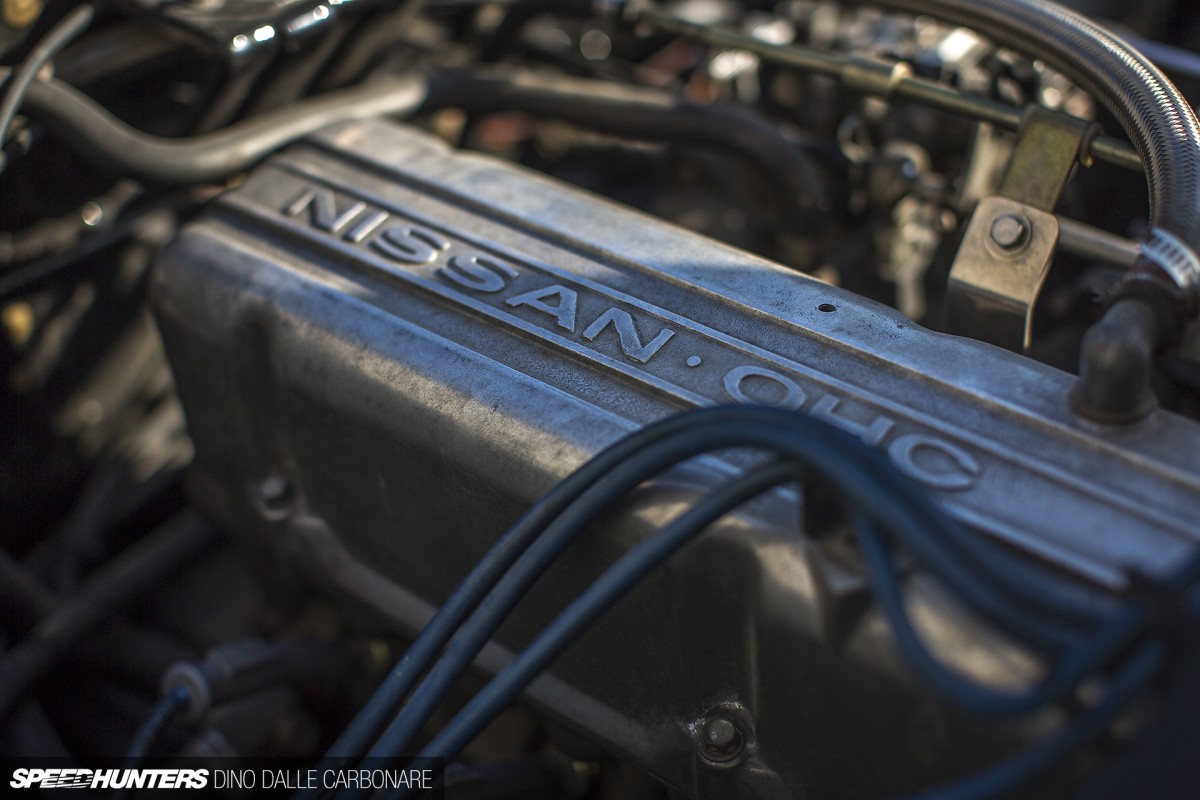 The almost half-liter bump in capacity works wonders for the inline-six, giving the Z a decent increase in torque and horsepower. And if and when the need comes to modify it further, it's the perfect base engine to have siting in there. Aside from the stuff around it, the 2.8L motor is completely stock, and thanks to natural patina very original looking.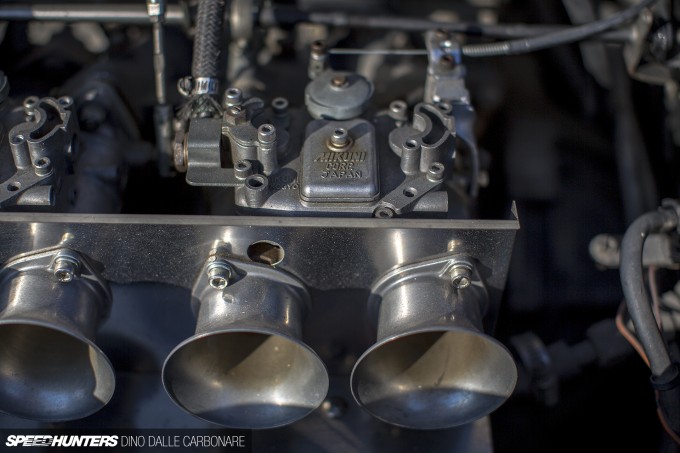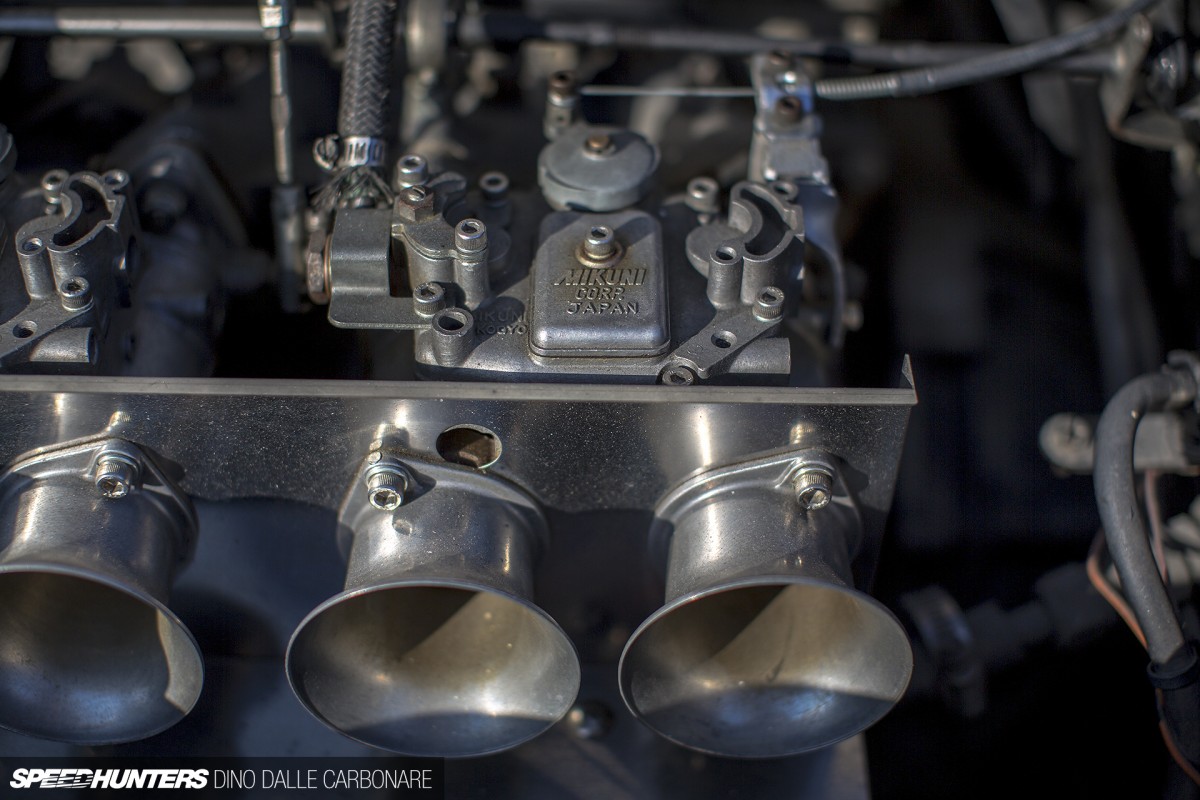 The 44mm Mikuni carbs are fitted with short velocity stacks and sandwiched behind them is a stainless steel baffle that shields heat from custom built exhaust headers. It might be a rudimentary way to stop the engine sucking in too much heated air, but it's effective all the same.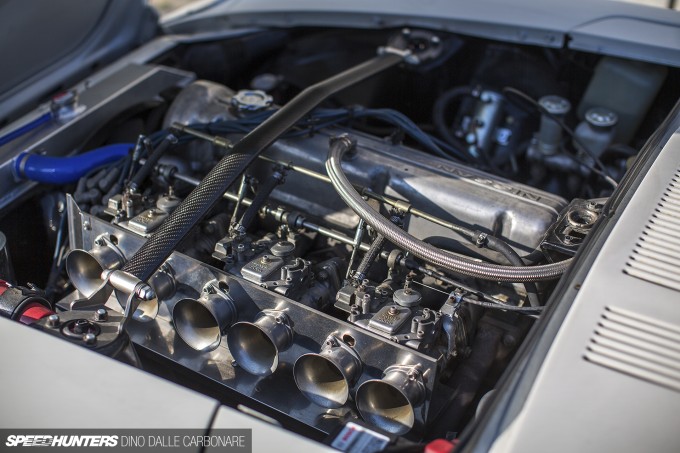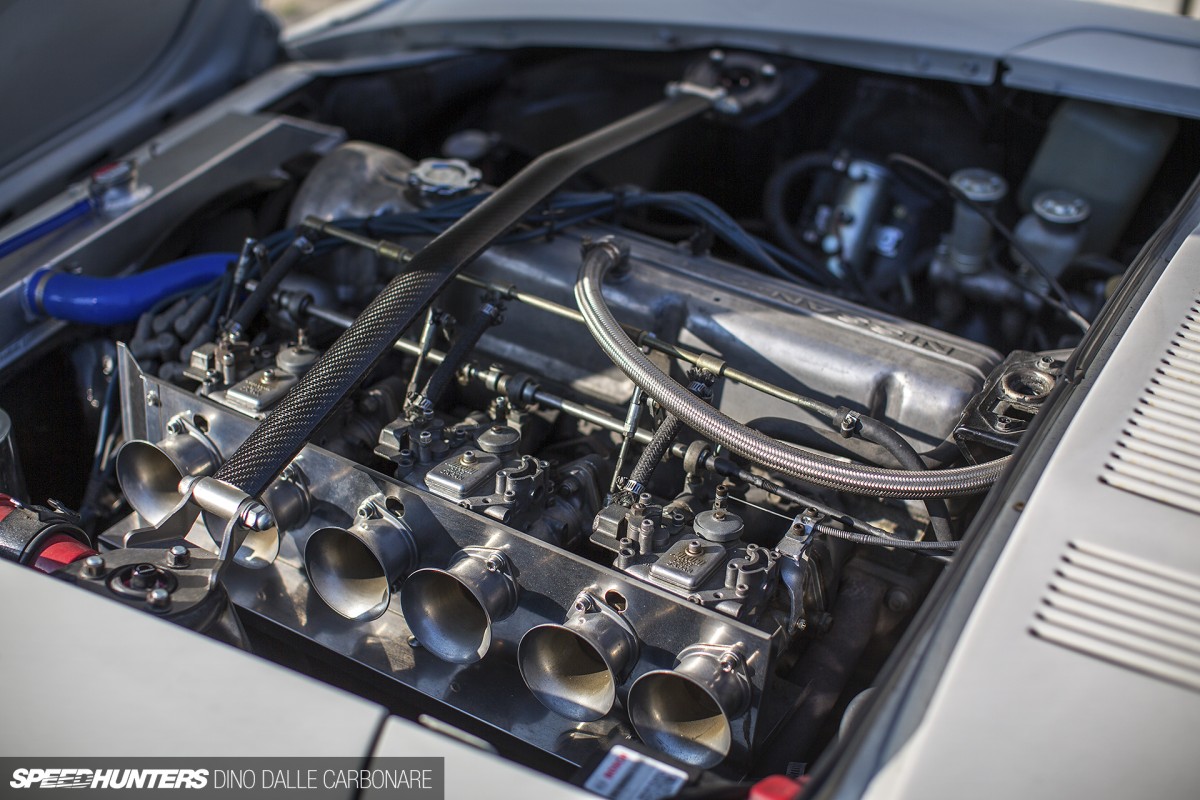 All other modifications have been carried out to make the car more reliable and easy to maintain, so joining the thick-cored radiator is a GReddy oil cooler mounted deep inside the G-nose and a relocation kit for the oil filter to make replacing it an easier job. The S30 and many other older Japanese cars seem to match up very well to the odd modern part addition, which is why the carbon fiber strut tower bar fits in seamlessly. Oda-san tells use the S30 is not the stiffest of cars, so any bump in torsional rigidity is a good thing.
Cherry blossom wheels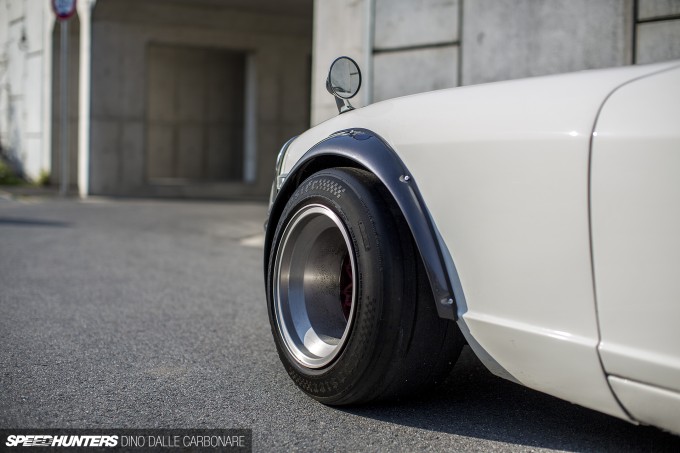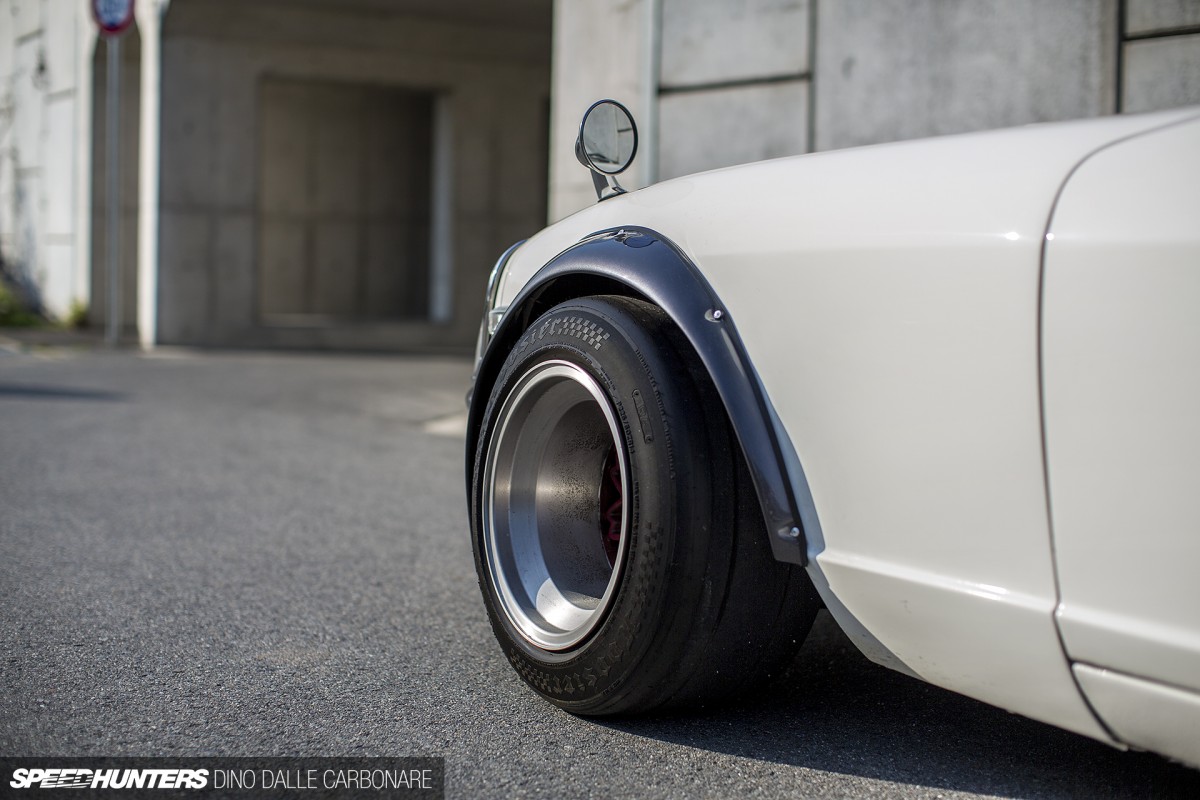 Oda-san seemed to have completely forgotten what kind of dampers were fitted to the car but they are fully adjustable and are set a little higher up front to make the car easier to drive around. When he takes it to meets and shows the front end gets slammed down as far as it will go.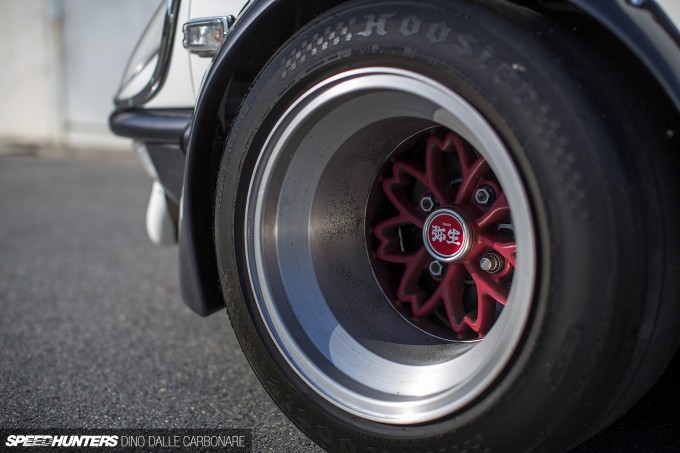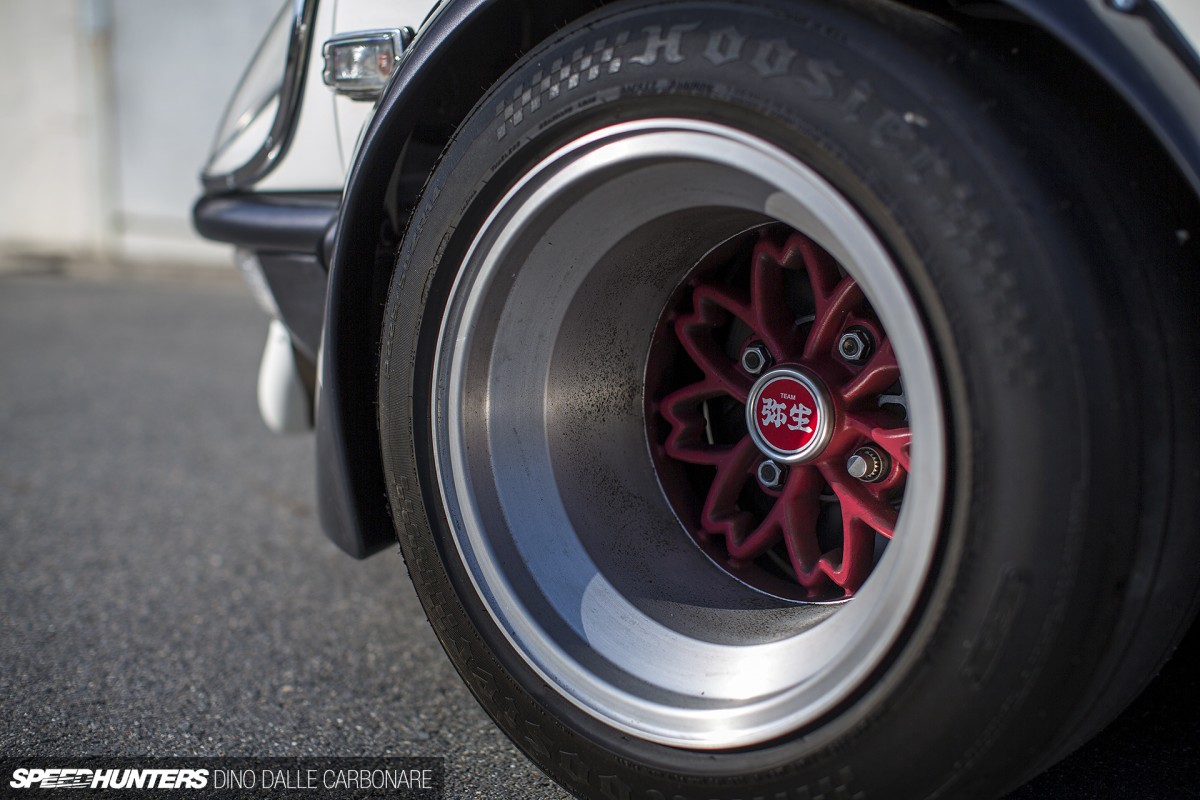 And then we get to the wheels. Yes, I almost lost it when I saw what the car was running, after all, original and unrestored Team Yayoi Sakuras are some of the rarest and most sought after vintage Japanese rims around.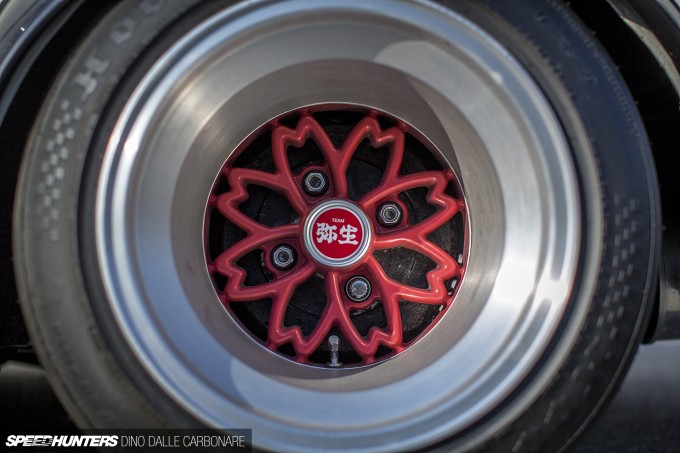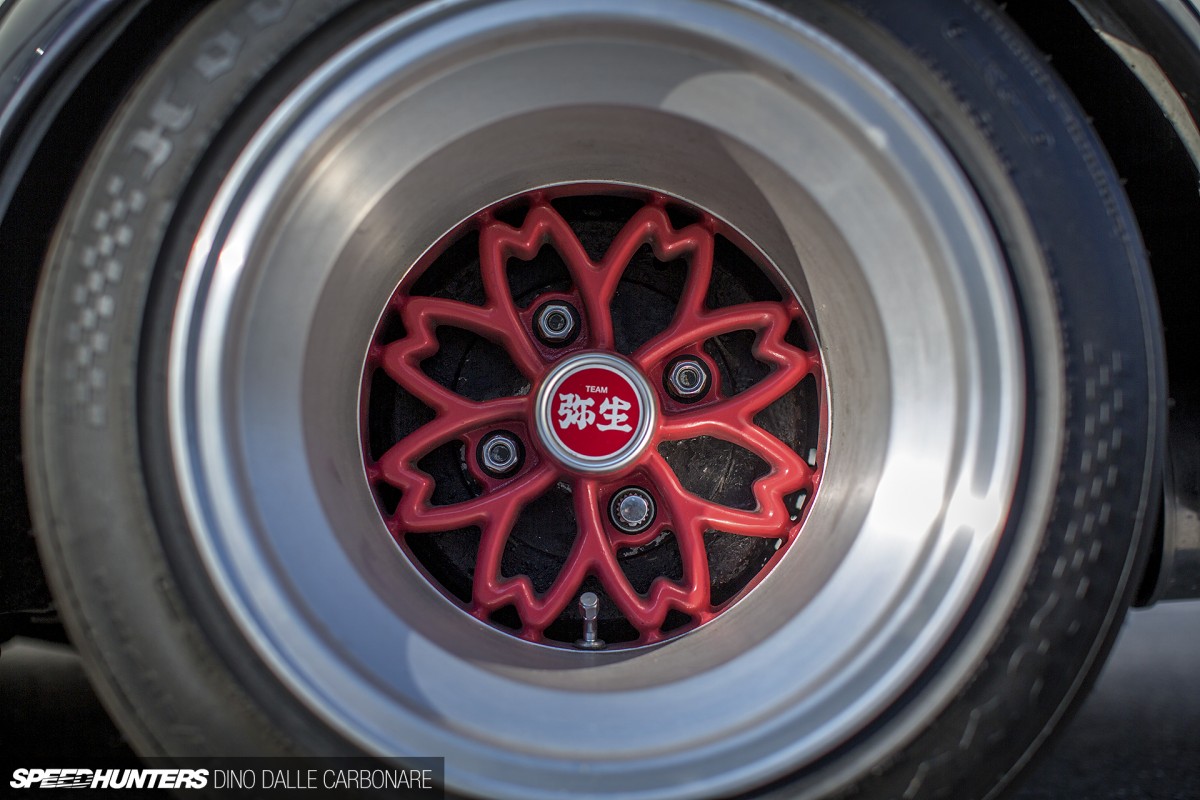 These 14-inch badboys measure 11 inches wide at the front and 12 inches across at the rear, and are all fitted with suitably-stretched Hoosier R6 semi-slicks. Hayashi Racing has started making this model again in a variety of widths, but of course original awesomeness like this does not come cheap.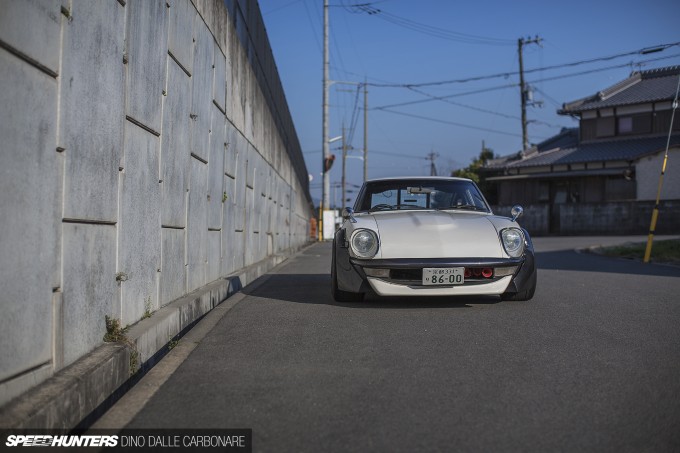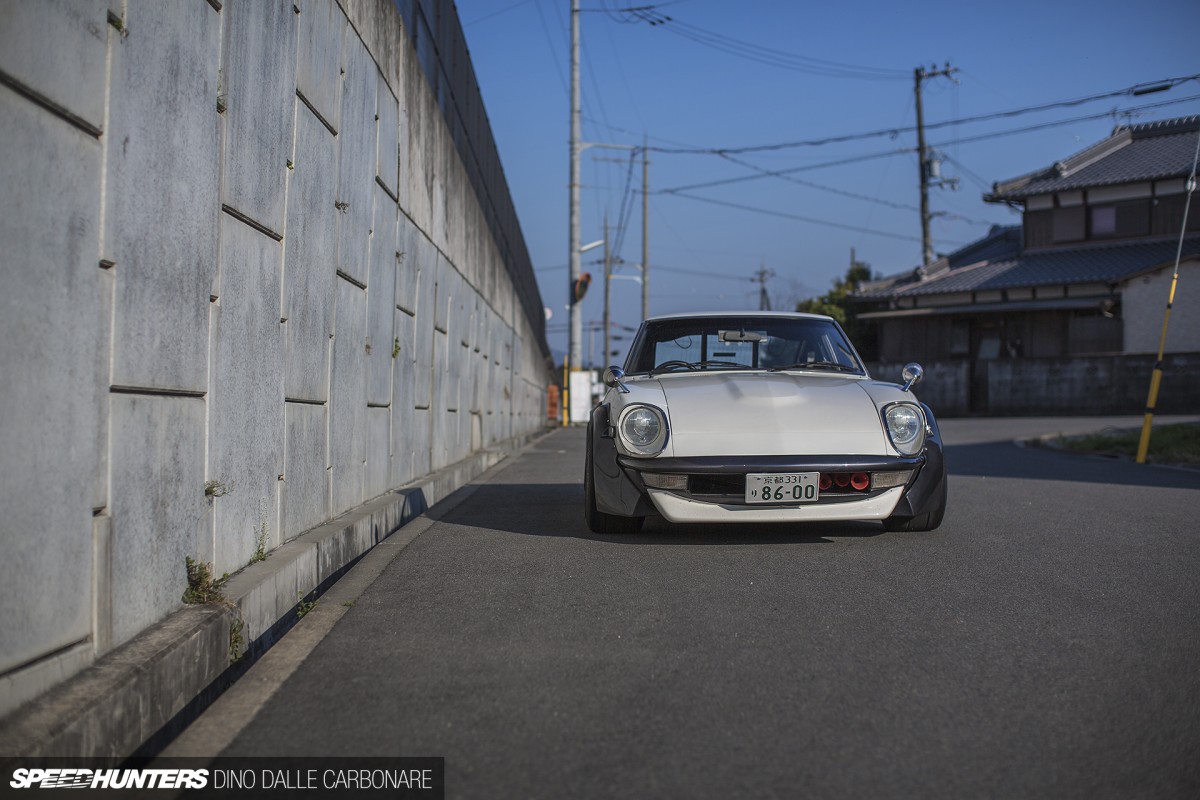 The idea to create a usable shakotan ride has really worked out. The Fairlady has plenty of presence, yet doesn't really cause many issues when it's being driven around. As long as you watch out for the steeper shop access rams, it's fine.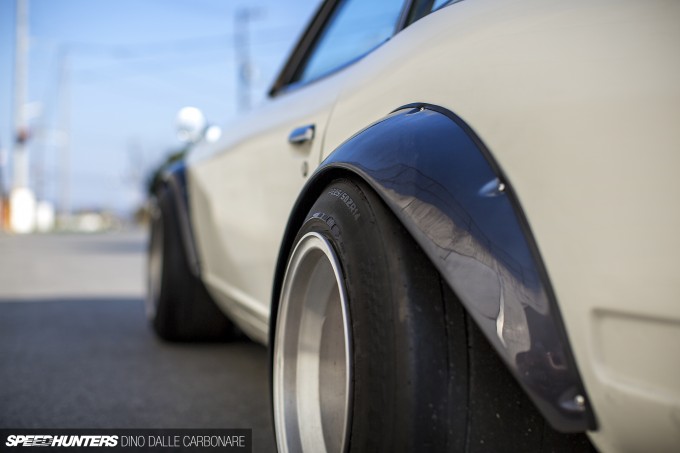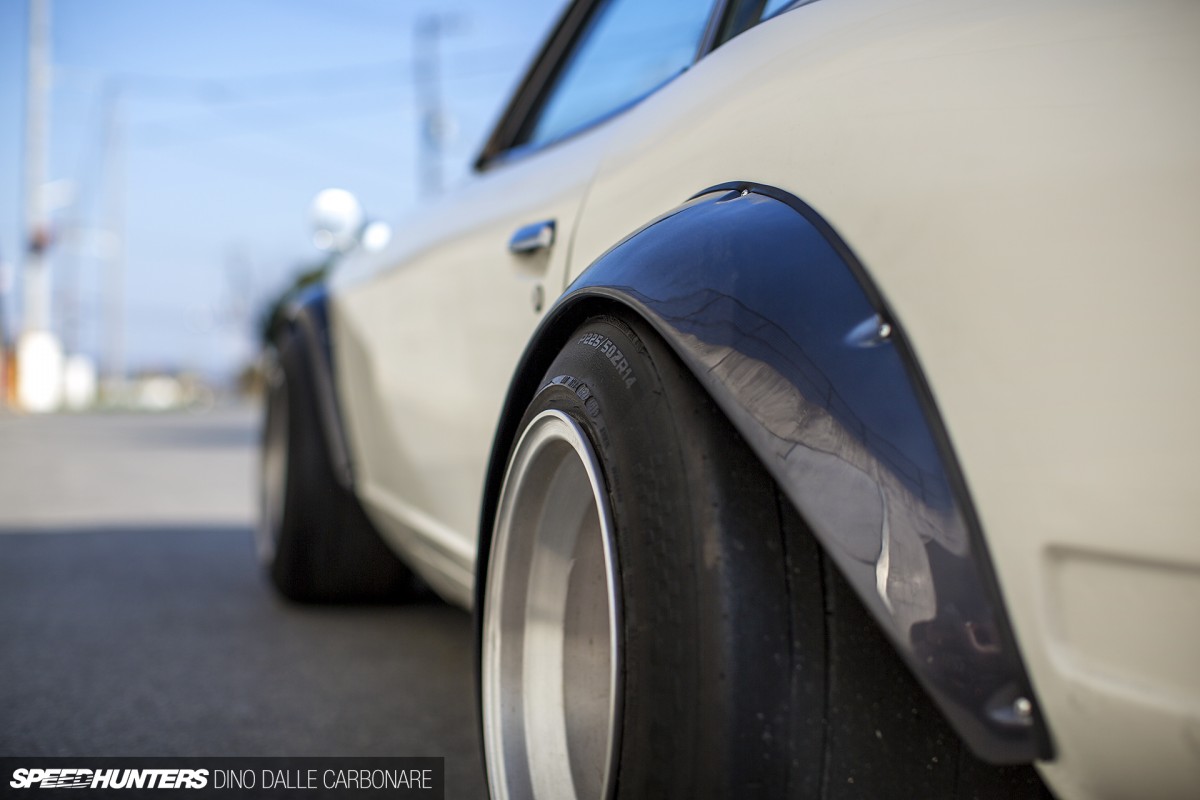 The rear sits a little lower and gets a more defined tayazuri look. This is a common term used in the VIP and stance movements and refers to the sidewall on fender lip look. To get it right you obviously need the right sort of offset, stretched tyres and appropriately sized fenders. It's then down to the ride height to define how extreme you take things.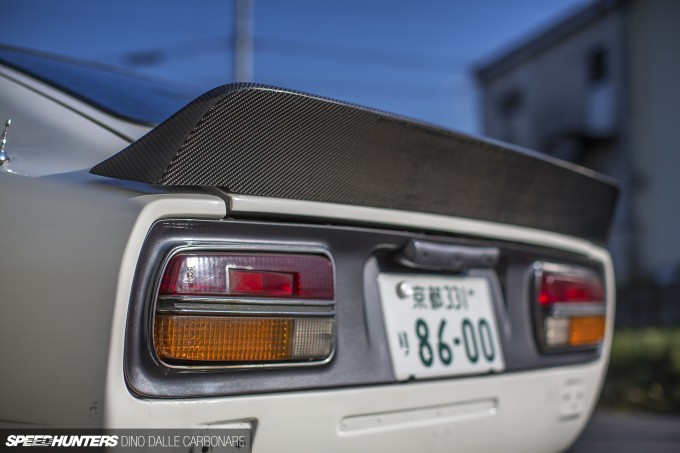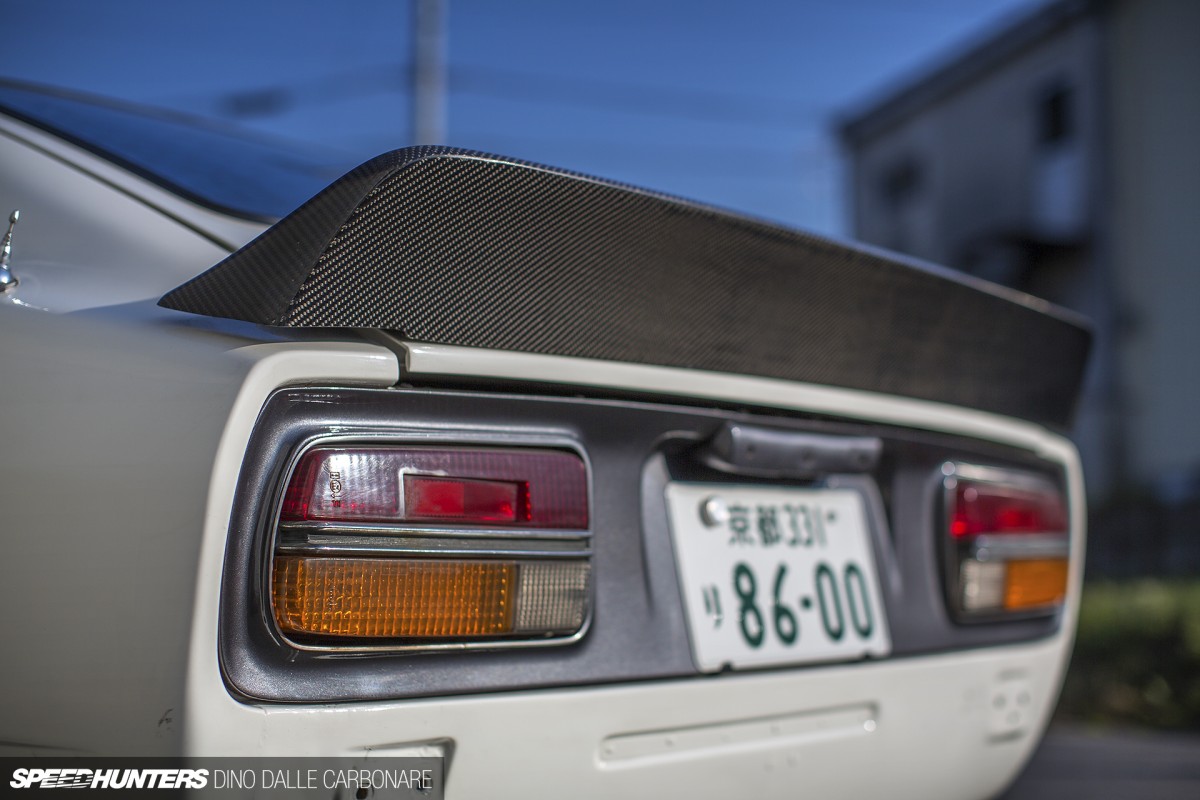 At the rear a carbon fiber ducktail spoiler complements the car's lines and adds another small modern touch to an otherwise authentic old school exterior.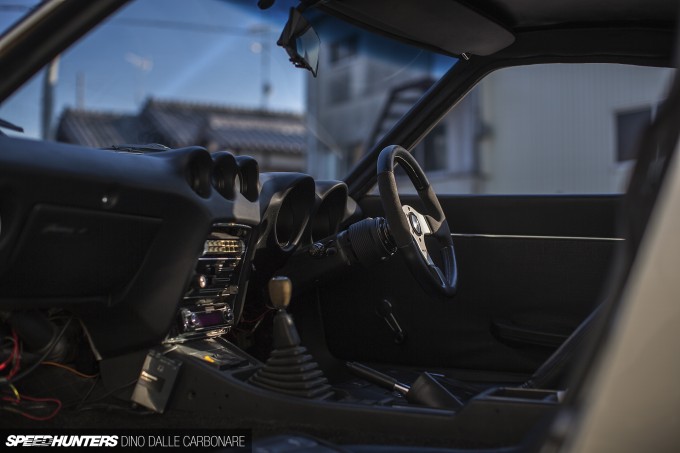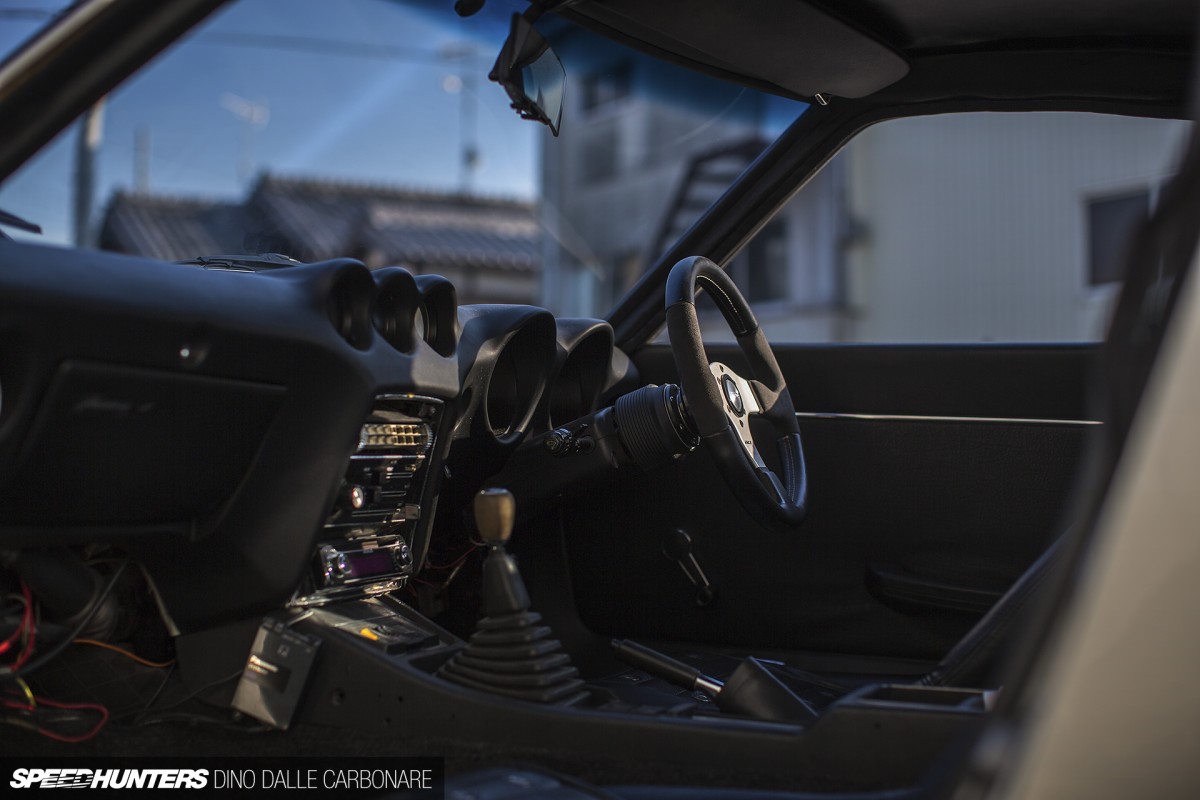 The interior is still a work in process; Oda-san still in the midst of properly wiring in a set of new speakers that will hook up the CD headunit. Aside for the addition of an ETC machine, which allows you to pay highway tolls automatically without stopping, a MOMO steering wheel was fitted together with a Works Bell snap-off boss which is a great theft deterrent.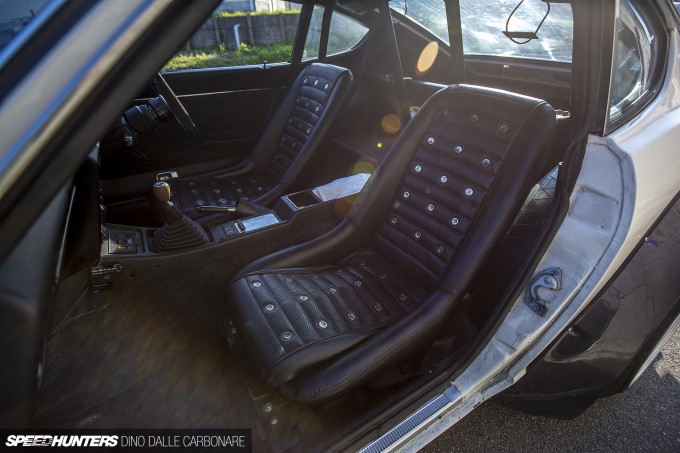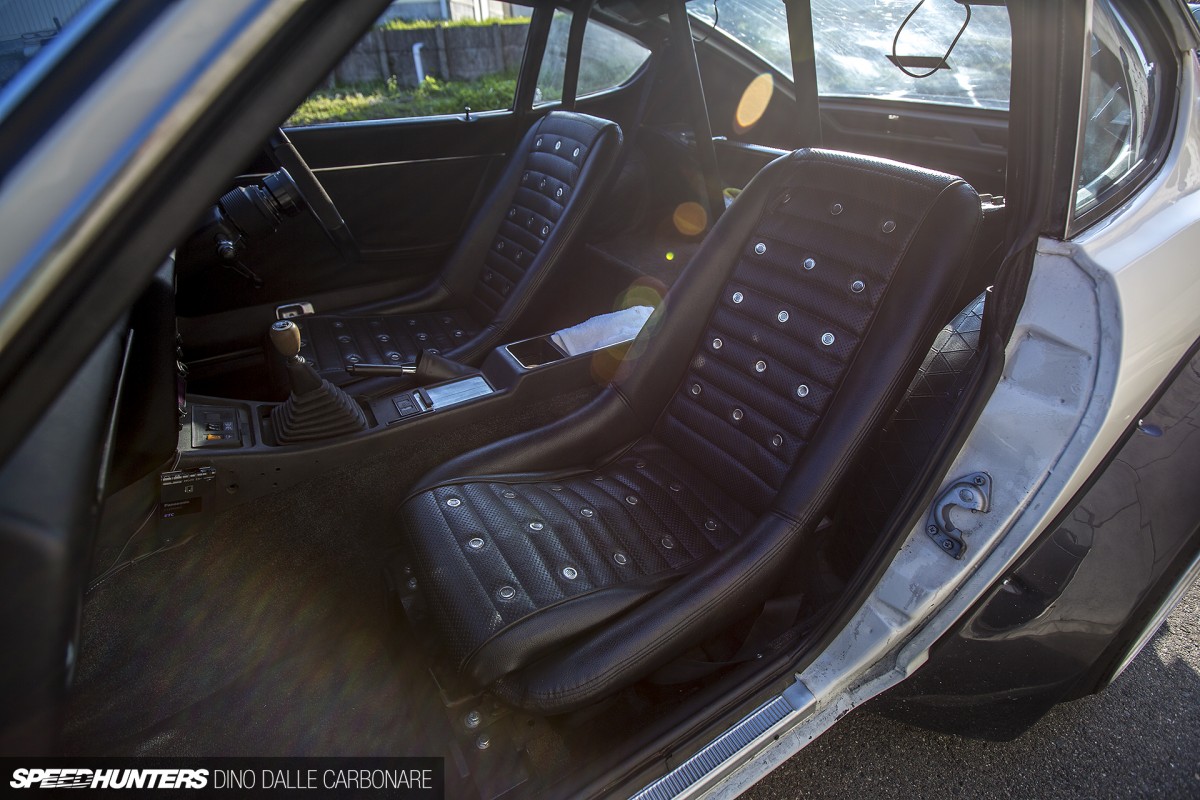 Along with a half cage, Datsun Sport seats are a must-have for any vintage Fairlady, Sunny or Skyline of this nature. What they lack in support compared to more modern race buckets, they more than make up for with an unmatchable level of period authenticity.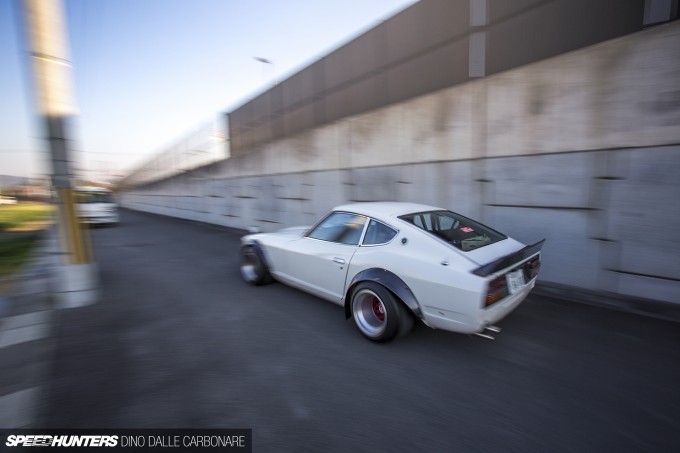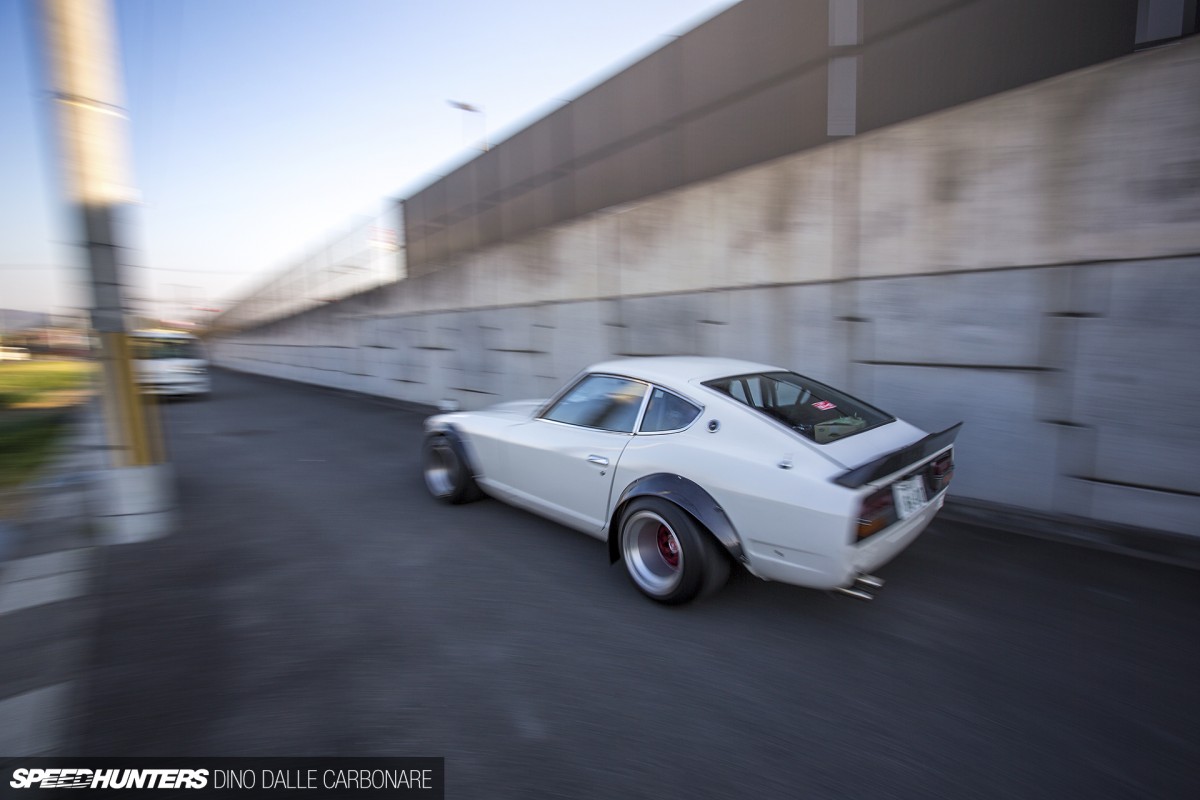 To me, these sort of finds are always the most exciting. The whole notion of stumbling across stunning examples of interesting tuned Japanese cars is something that makes my Speedhunting adventures across the country even more worthwhile. Japan's inaka certainly has some true treasures hidden away!
Dino Dalle Carbonare
Instagram: speedhunters_dino
dino@speedhunters.com