We've got it in for air
The internal combustion engine seemed to be doing fine on its own in the 1970s. After all, its dense fuel and explosive nature was pumping out previously unthought of levels of power. We're talking about something that was measured against the previous standard method of transport, the muscle and sinew of a horse, and power levels were already being reached that were the equivalent of dozens of squadrons of flesh and bone. But still people wanted more. And there was an atmospheric technology on the cusp of being perfected that could take things stratospheric, if only the challenges could be surmounted: turbocharging.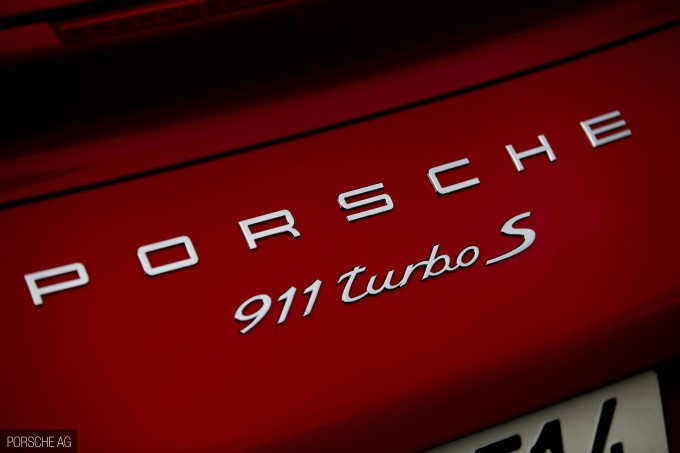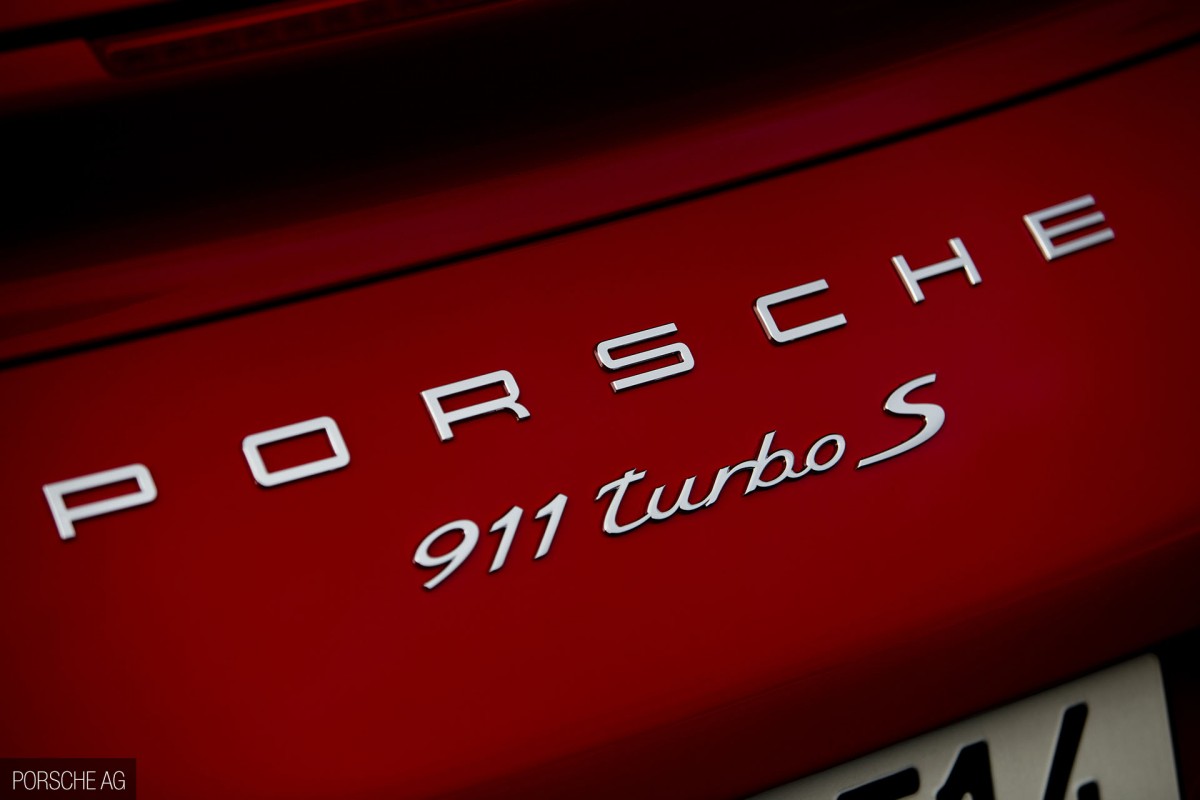 The 1970s saw turbocharging break out into the mainstream. Horsepower numbers went vertical: hundreds became a thousand and more. The age of the turbo had arrived, and ever since then, if you've had a street car with a Turbo badge on the back you know you'd made it.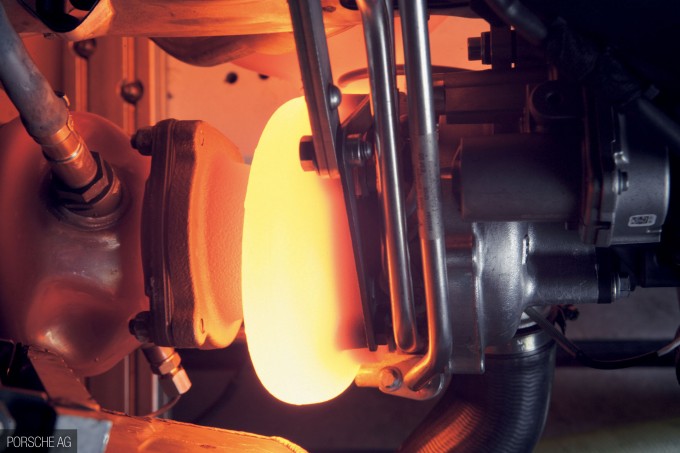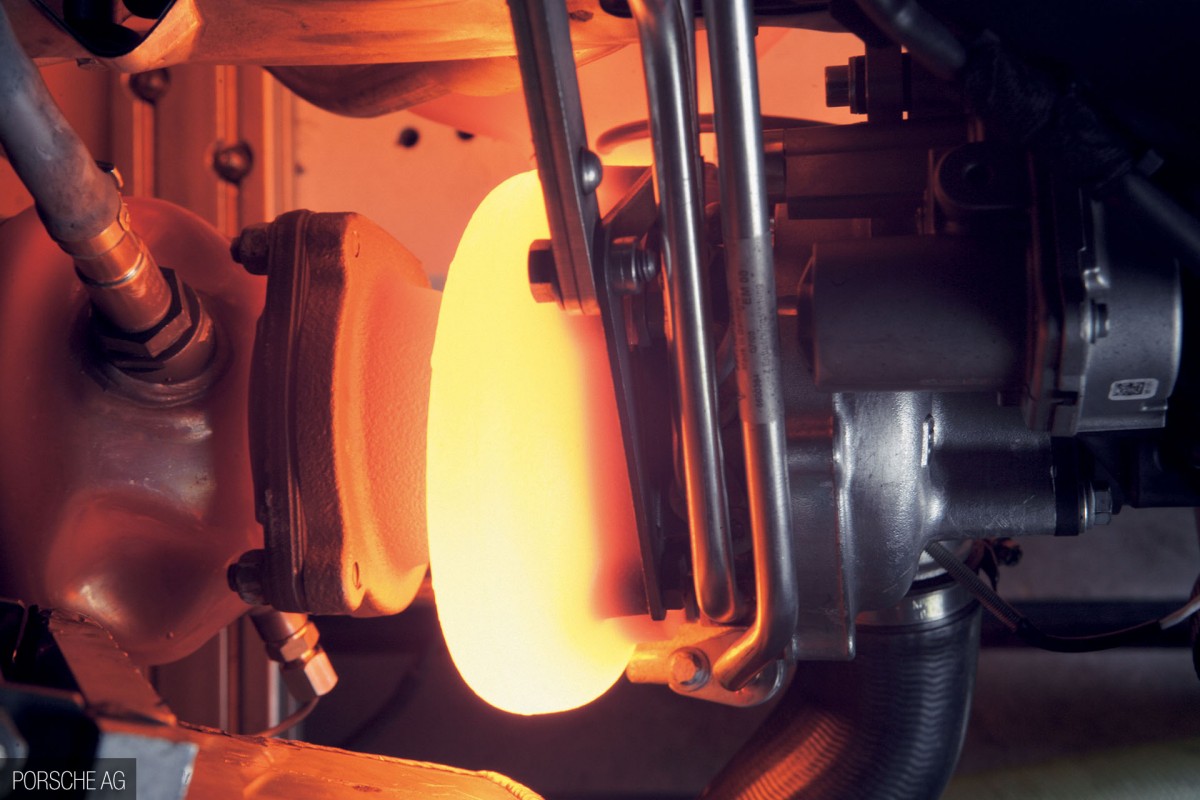 It could almost make you pity the air. It's not like air wasn't already having a hard time of it: sucked in, soaked in fuel and then blown up. Turbos added to the torture: what remained would now be compressed, spun and injected back into the engine to reach new levels of fantasy power numbers.
The story of boost has ebbed and flowed, varying in application and moving between the benefits of economy and the stuff we're more interested in: raw power. All tuned engines have a mystique about them, whether a grunty V8 or howling V12, but the additional whistle and whine, pops and bangs of a turbocharged engine are quite magical. The sound is one thing, but it's really what your backside feels when driving a boost-laden car that makes the difference.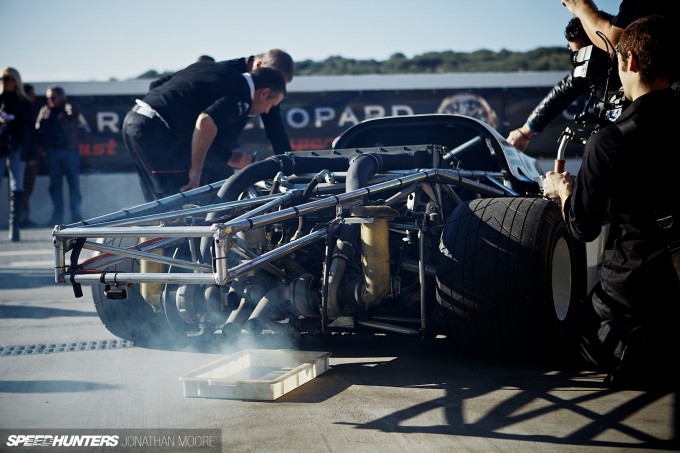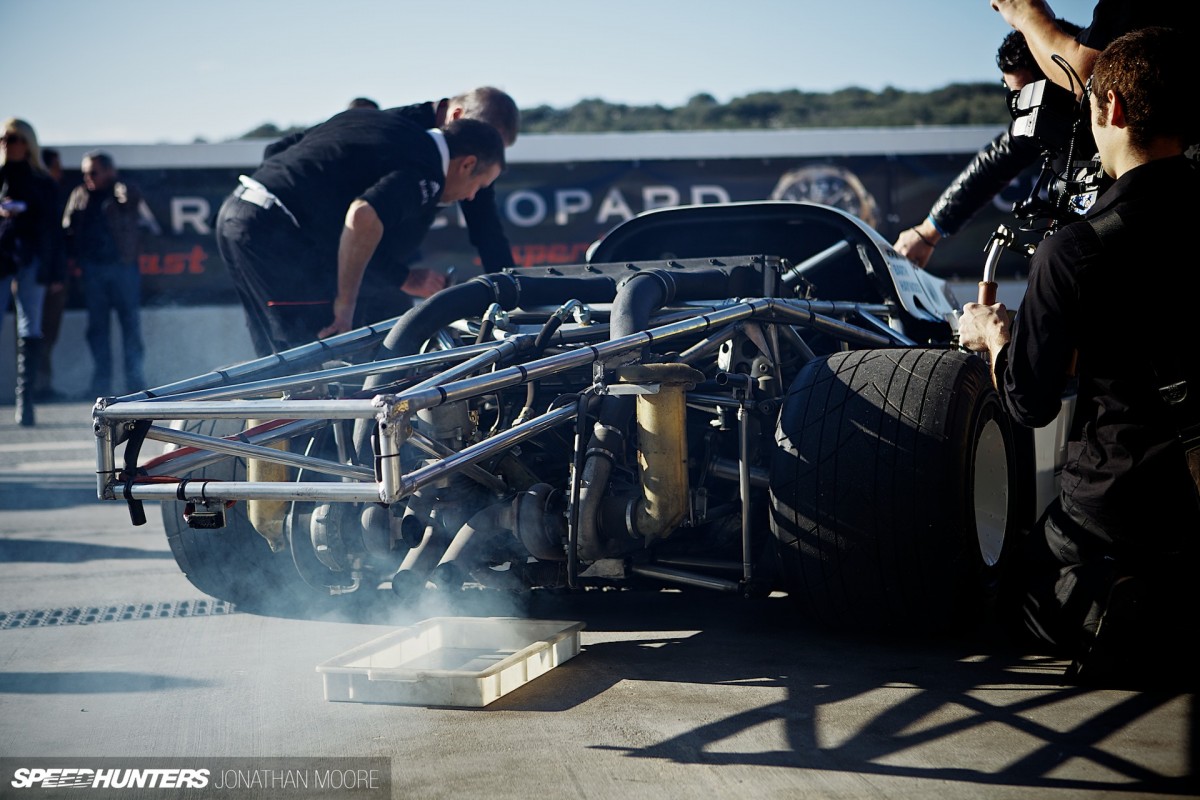 So it's a relatively modern invention then? Of course not. As is so often the way with the automobile, boost's roots (if you'll excuse the pun) go right back to the dawn of the motor car. Remember that in the beginning – as in, the turn of the 19th century – there simply wasn't a single method of motivation that had been settled on. It was the age of discovery. Internal combustion (and its various ancillary hop-ups) was just one of a number of dangerous-seeming options: steam, electricity, gas and more were other avenues of investigation. Proof, as ever, that nothing under the sun is new.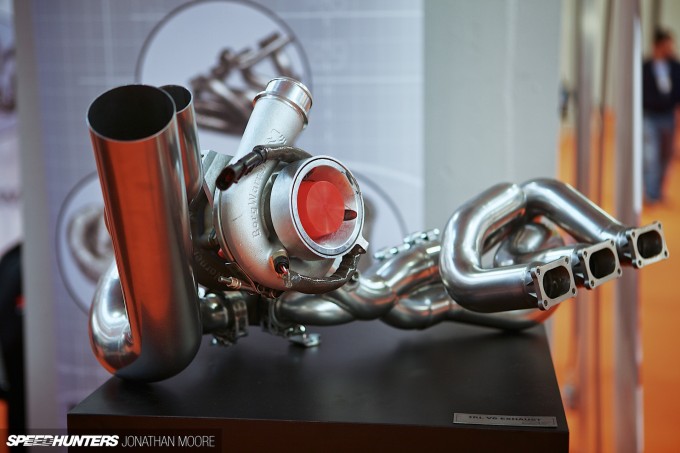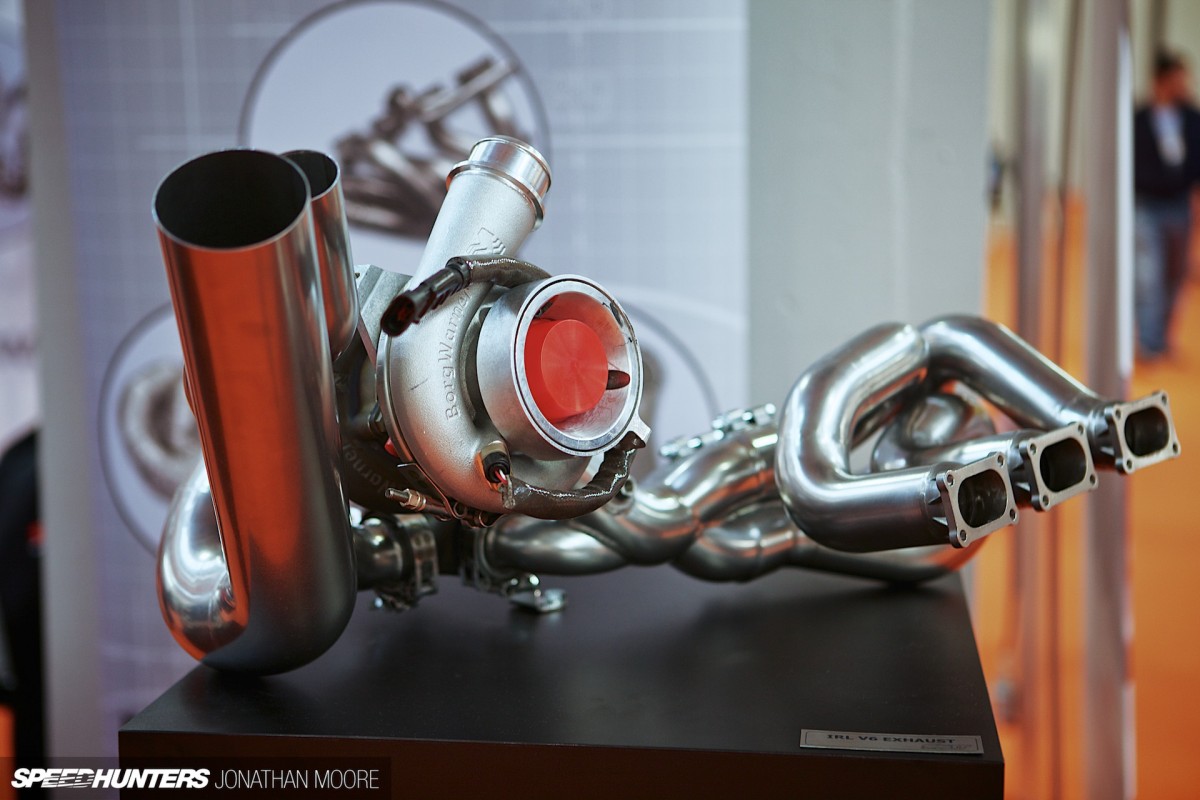 Turbo's exhaust-driven methodology had split off from its original line of development, the mechanically driven supercharger, and therefore its original epithet was turbosupercharging – proving that anything with 'super' in the title always sounds good.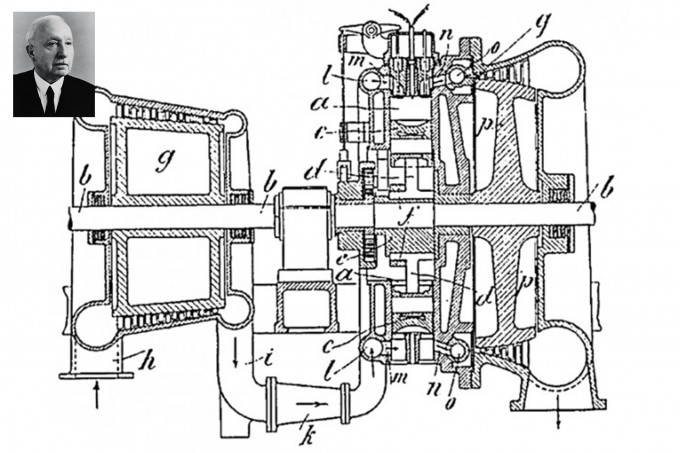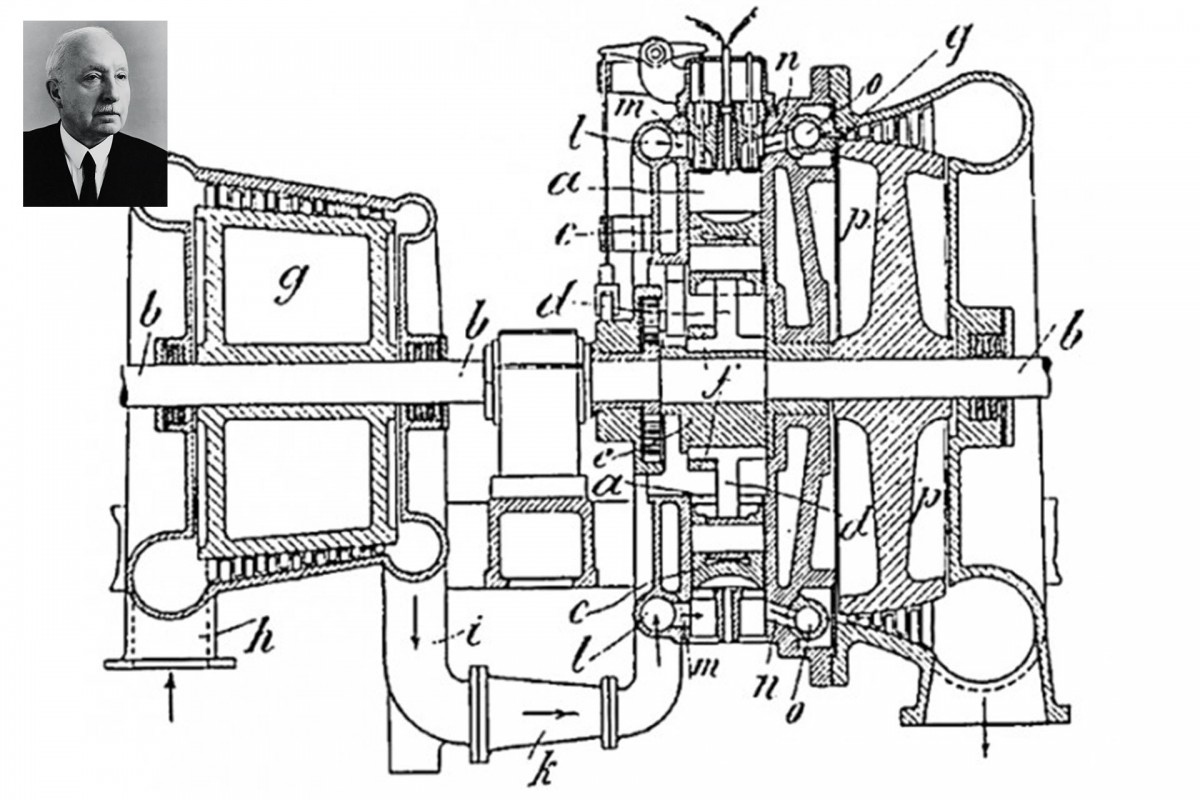 Almost predictably it's our old friends Gottlieb Daimler and Rudolf Diesel who pioneered the concept of turbocharging right back in 1885, by using pre-compressed air to increase power and reduce fuel usage. 1885! A Swiss engineer, Dr Alfred Büchi, then refined the process, finding 40 percent power increases during testing. He pushed through commercial patents in 1905, but the technology only stuttered along before finding an appropriate environment in which to gestate: a world war.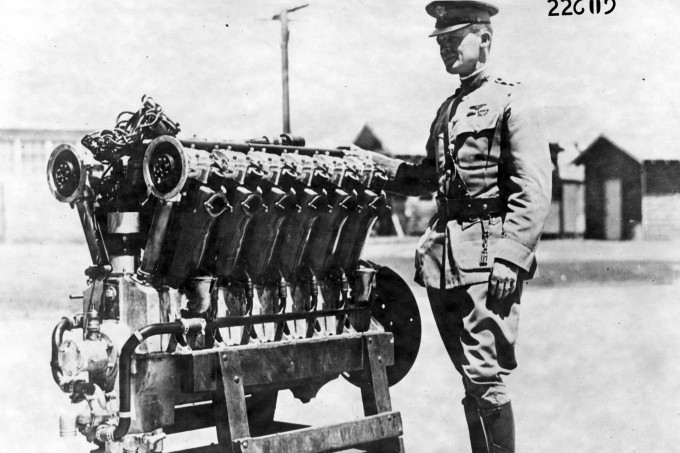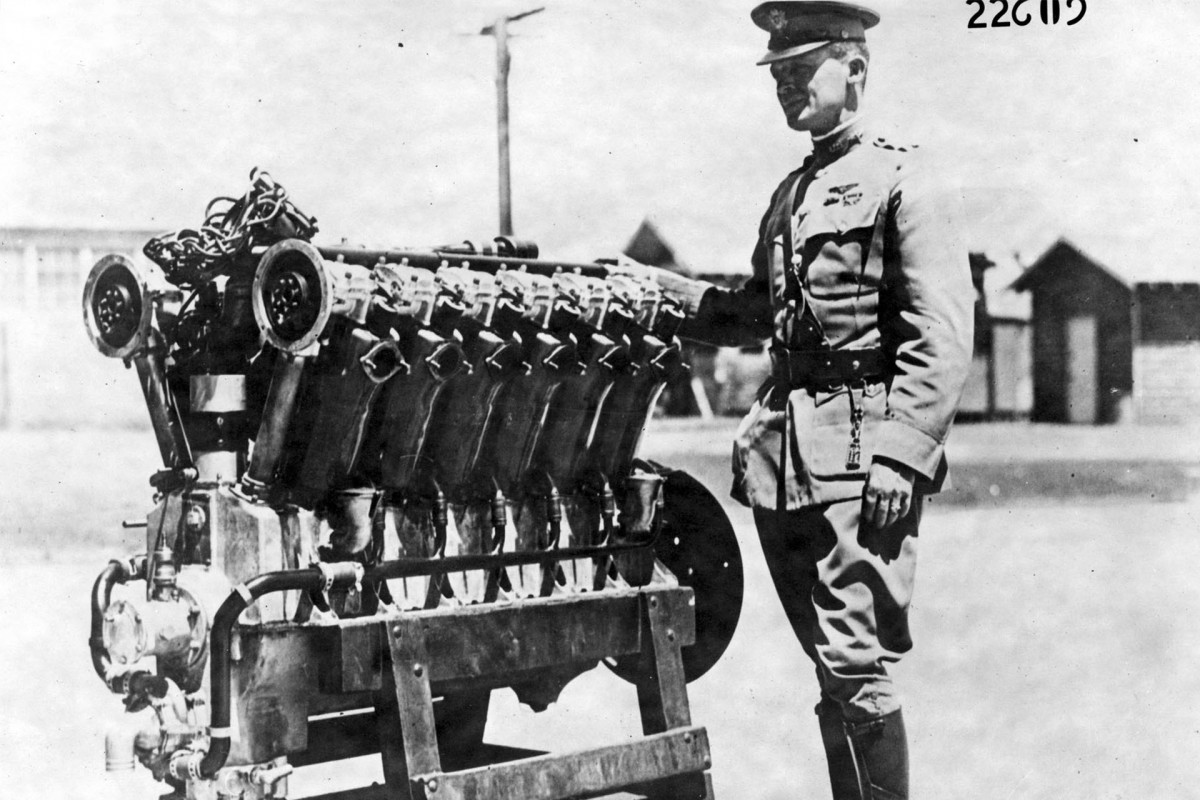 From the beginning, turbos were associated with diesel engines, but this period also saw turbocharging's primary use diverging from its origin: it seemed that everything but cars would be avenues for turbocharger experimentation for almost the next half century. The French used turbos to increase the power of their WW1 fighter plane engines, and then as the conflict drew to a close the Americans applied a turbo to their V12 Liberty aero engine.
The interesting factoid here is that the engine was tested at Pikes Peak in Colorado, where it could be proven to compensate for the loss of power that engines would experience in high altitude, low air pressure environments.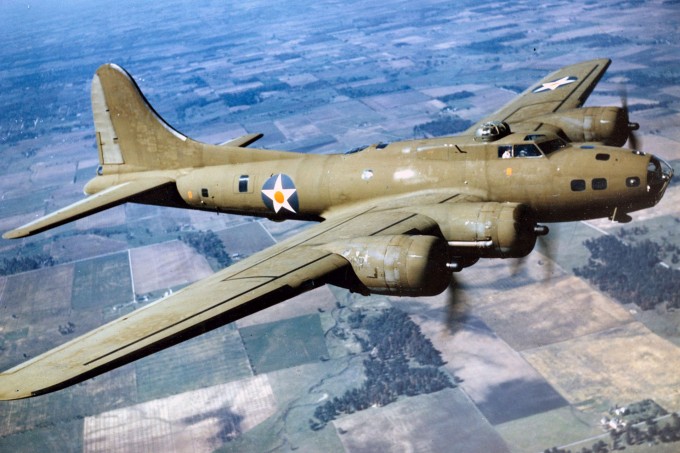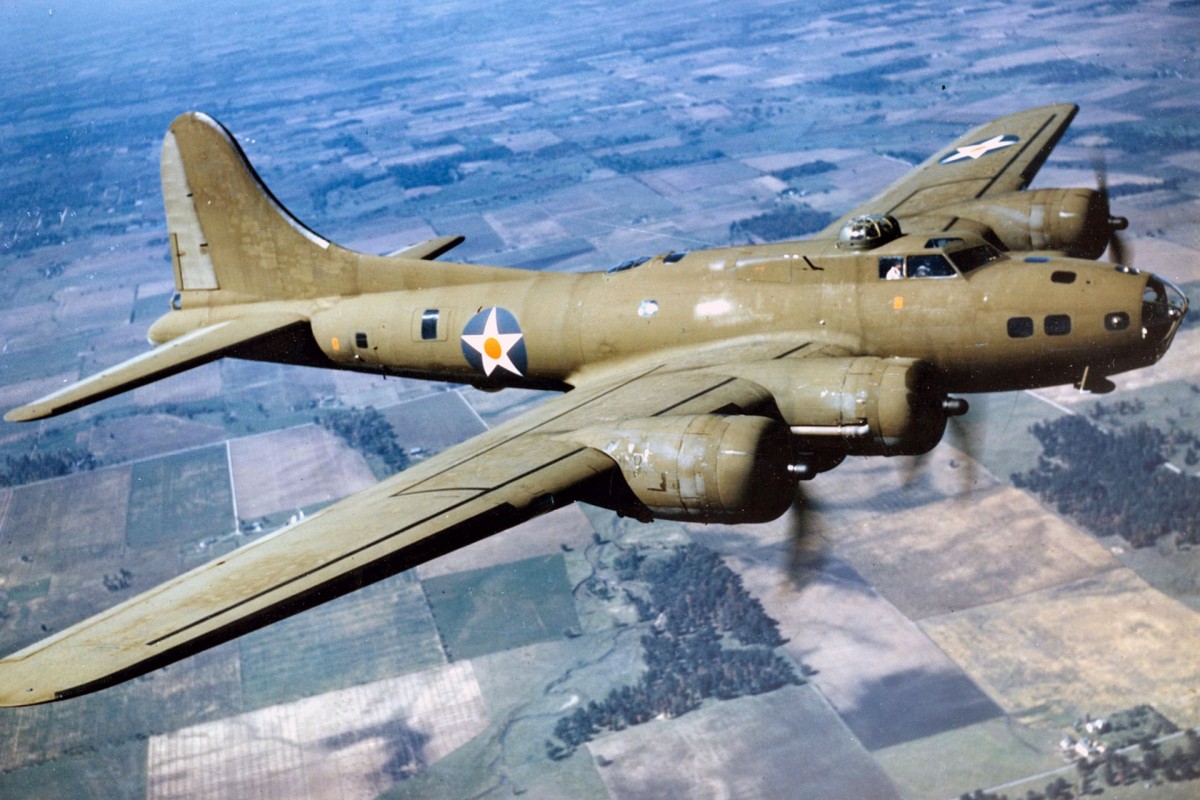 Ships and trains also saw turbos added to their vast internals in the 1920s to produce serial units producing some tens of thousands of horsepower, and then some of the most iconic fighting machines of the 20th century were amped up in the same way: the B17 Flying Fortress and P47 Thunderbolt amongst many US planes, and the Focke Wulf FW190 on the German side.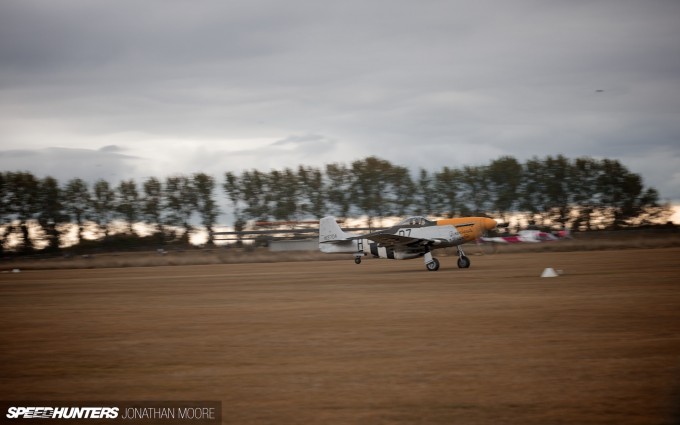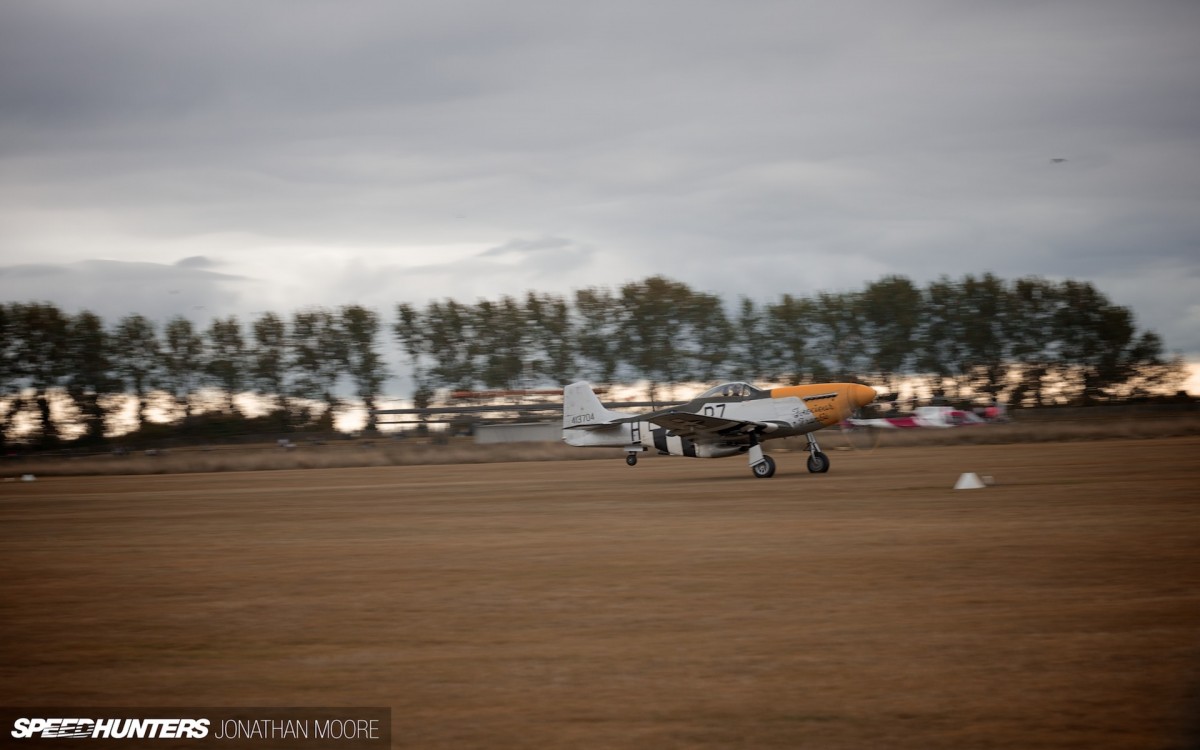 Without wishing to go off on a tangent about classic fighter planes (much as I'd like to, I have to admit), this period also demonstrates one of the biggest differences between turbo- and supercharging – just where the power is created – as both methods were heavily exploited in period.
Supercharging (such as used on the engine of the P51 Mustang) directly affects the internals of the base engine: mechanically connected to the engine's crank it soaks up horsepower to run, and then throws a multiple of that back at the engine to cope with. The power is also more predictable and controllable, but doesn't have the same level of power hike that turbocharging can potentially provide.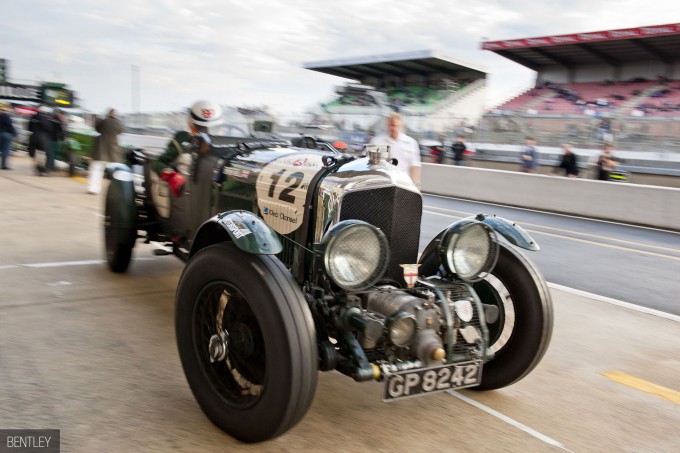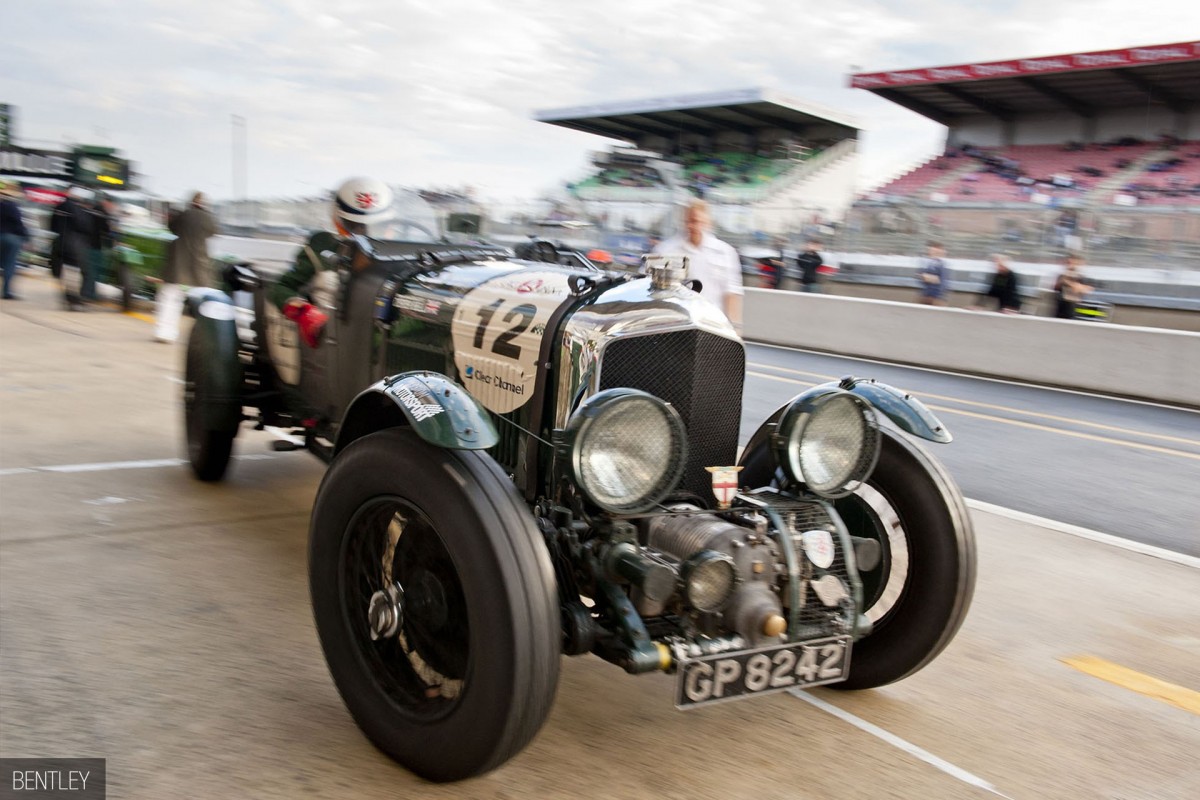 Then we get onto lag: along with materials, the main reason why turbocharging hadn't really made it into the automotive industry so far. From their use on planes and ships, turbos were mainly seen as ways of overcoming the inertia of massive engines or balancing power loss due to extraneous conditions.
Rapid changes in power delivery were not really possible, plus the idle speed of an average car at the time just wouldn't provide enough exhaust gas to keep the fan spinning effectively. It's why supercharging had remained the predominant boost technology in the automotive world throughout the inter-war period, with cars like the epic supercharged Blower Bentley powering to multiple successes in the early 1930s.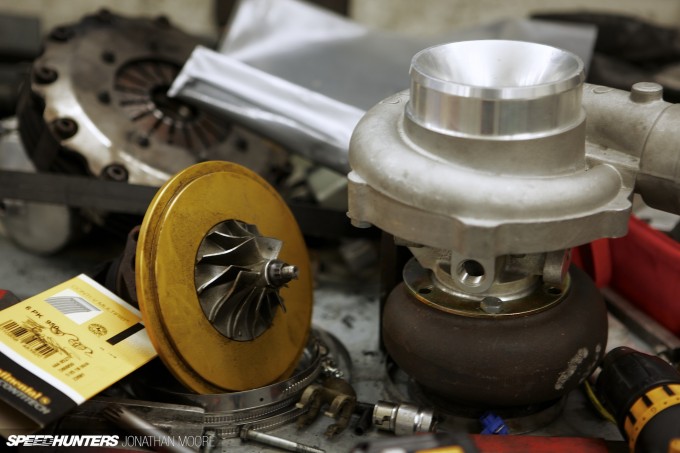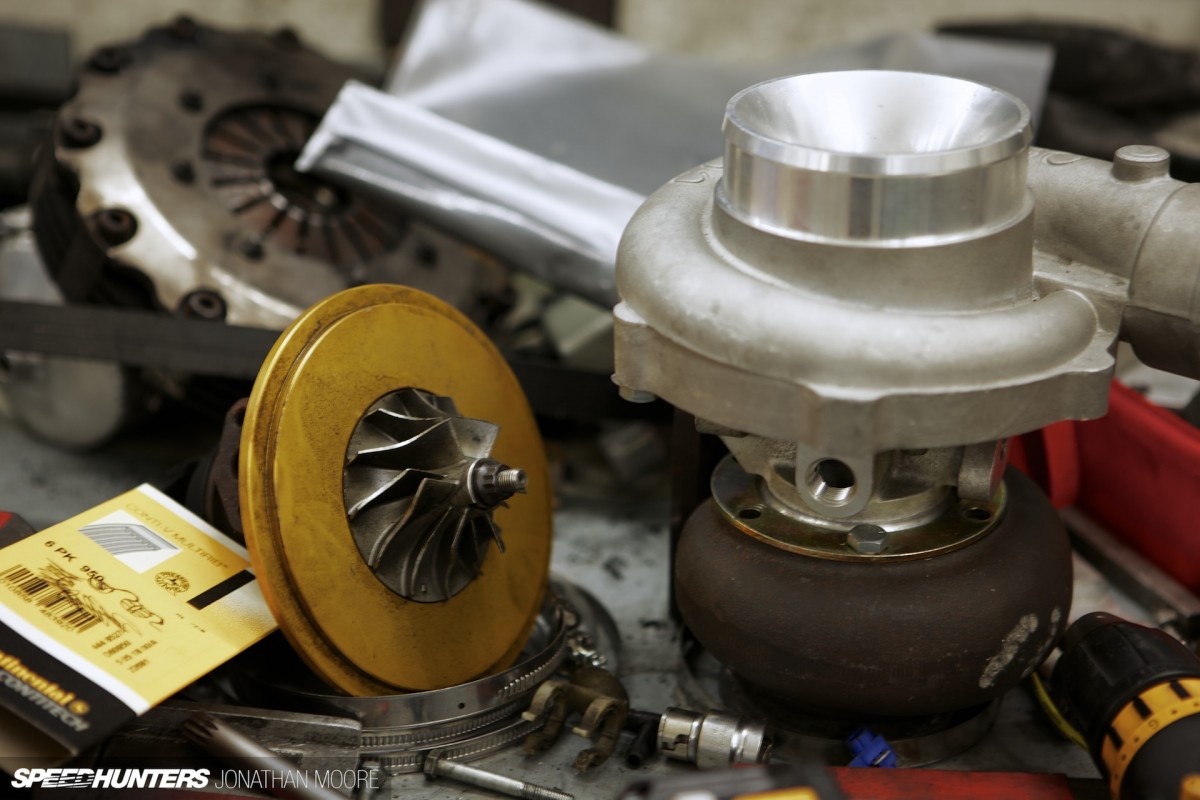 Because turbocharging acts on the exhaust gases it could be more powerful and more efficient, recycling spent energy from the core engine. Aside from lag, the other problem through this period was the difficulty of preventing the components detonating under load…
But the exponential rate of development caused by two world wars overcame many of the issues: improvements in metallurgy and other sciences would permeate down to the previously frivolous automotive industry. It would still take time though. In the immediate post-war era, the only automotive outlets for turbos were still in the commercial arena, for example, trucks and industrial vehicles.
From interstates to racetracks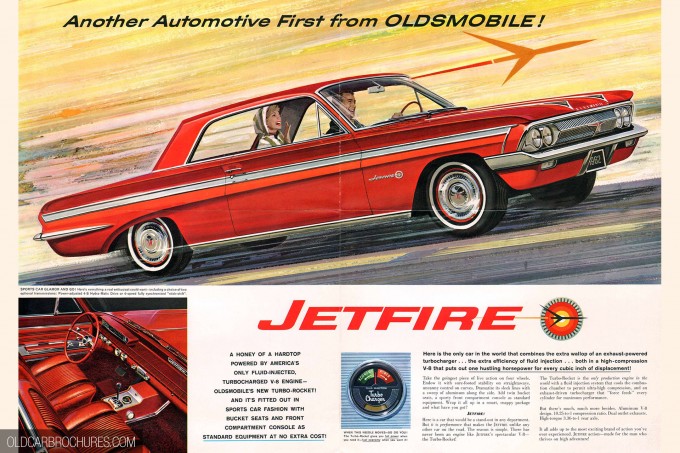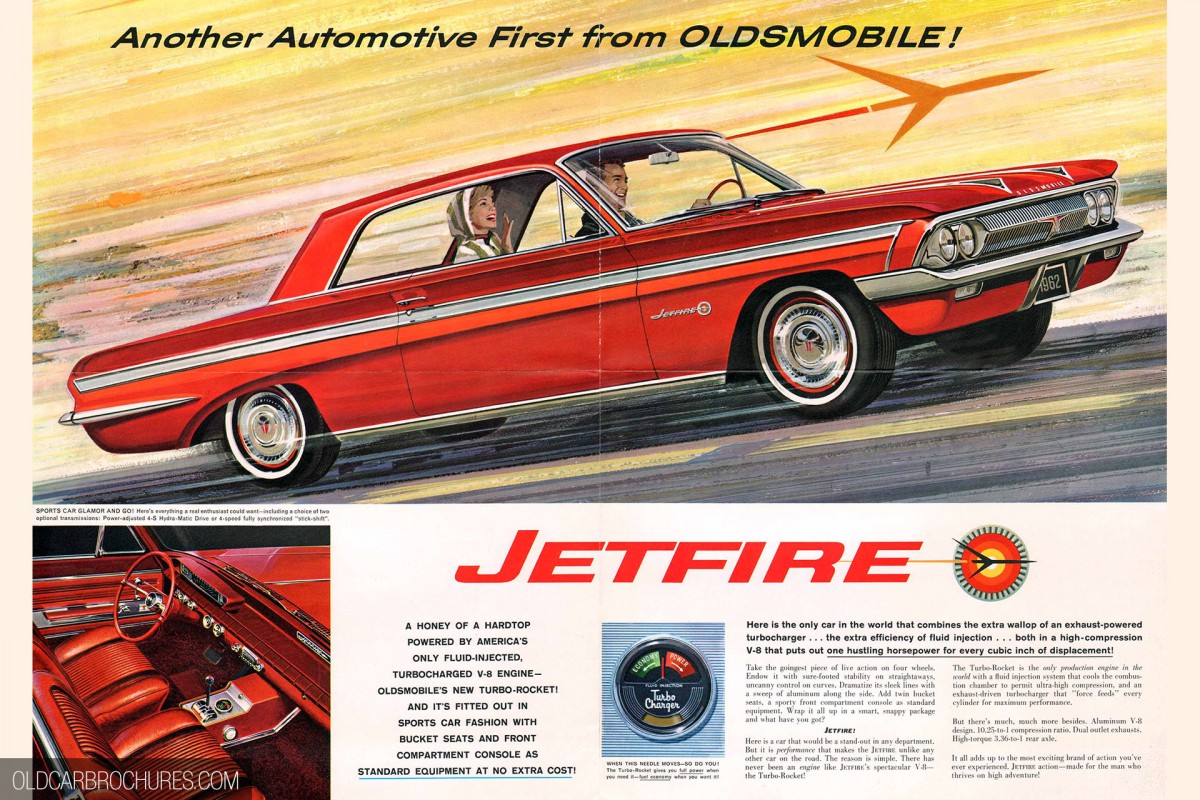 Caterpillar can be credited as one of the firms that helped bring turbos to the mainstream. Power-hungry machinery required a constant quest for horsepower, and a collaboration with Garrett (who had made intercoolers for planes like the B17 and the turbine for the P80 Shooting Star jet) showed that turbocharging diesel engines was a viable – and indeed optimal – way forward. Improved metals and alloys radically changed what was possible: now the housings, seals, turbines and compressors could be made much smaller and stronger – they actually had a chance of surviving the pressures created.
The big T15 commercial turbocharger of 1955 took Garrett down a path that would lead to their involvement with one of the world's first turbocharged production cars, the Oldsmobile Jetfire Rocket of 1962.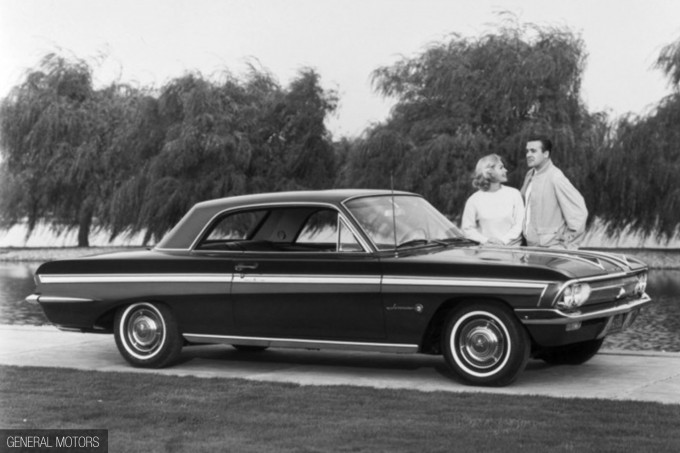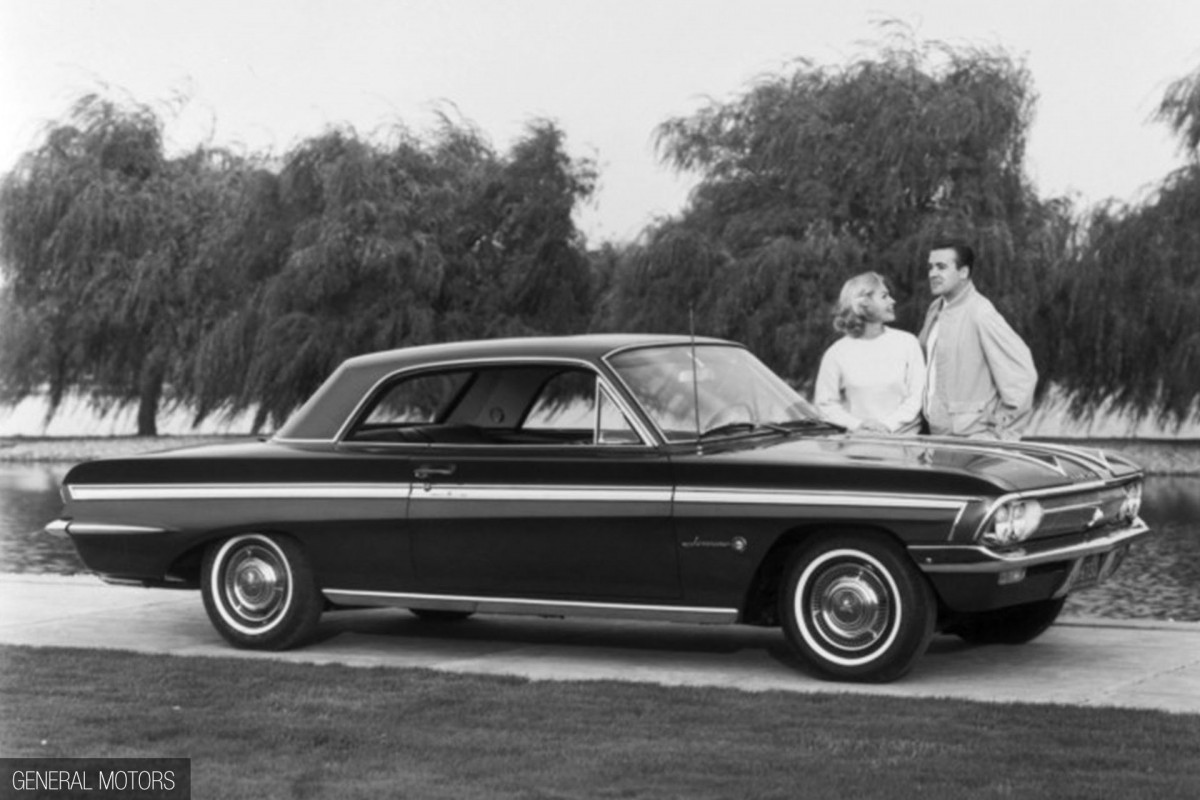 Who wouldn't want to own a car with than name? All it needed was Super in there somewhere. Unfortunately that was the best thing about it: the turbo on its V8 had a hilarious compression ratio of 10.25:1, it suffered from severe knocking and enormous lag. Not helping things was the single side-draft carburettor's unpredictable fuel delivery and the overly complex water/alcohol mix injection system.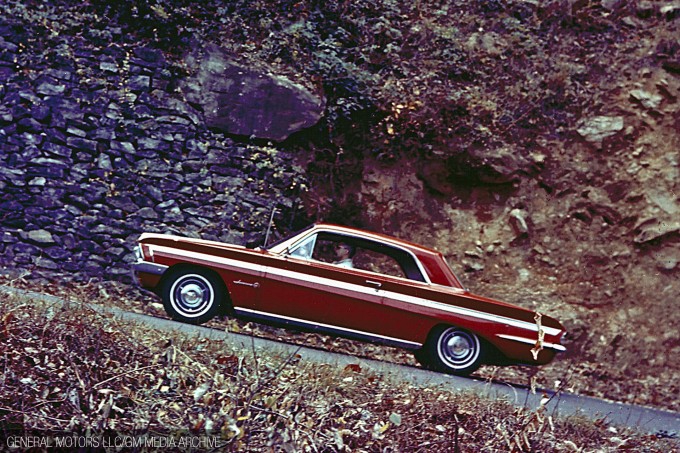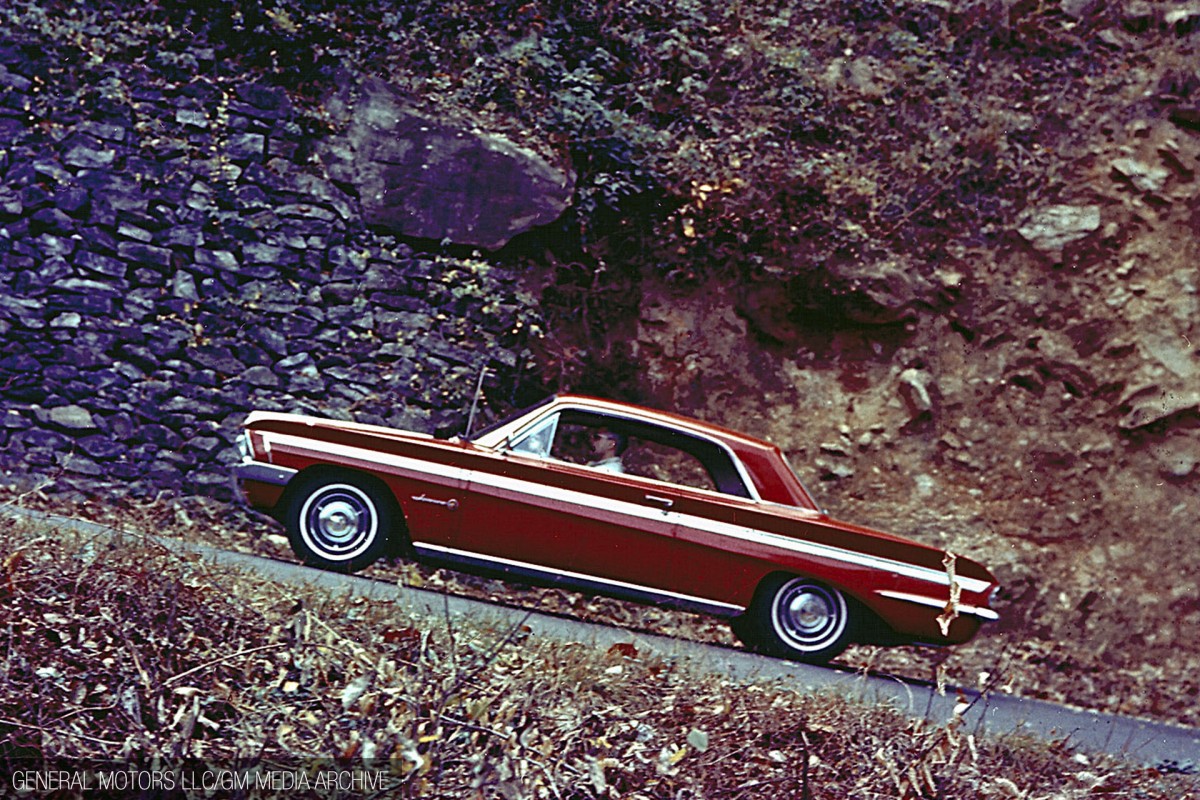 The latter was the Turbo Rocket Fluid: a marketing man's dream and driver's nightmare. Most people didn't drive the car hard enough to generate the necessary boost, resulting in a lack of lubrication for the turbo's compressor shaft and frequent jamming…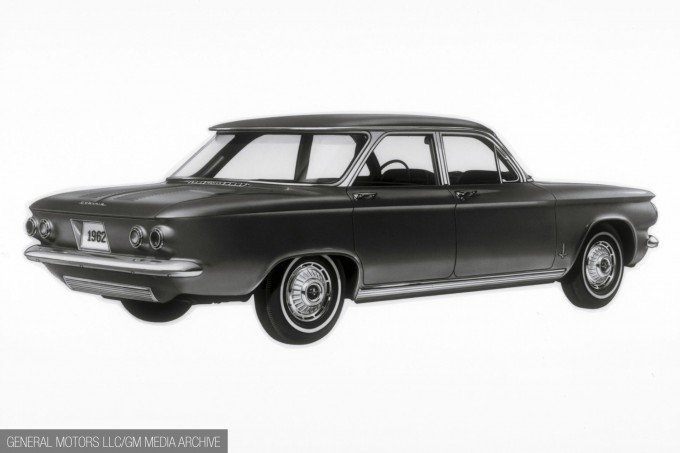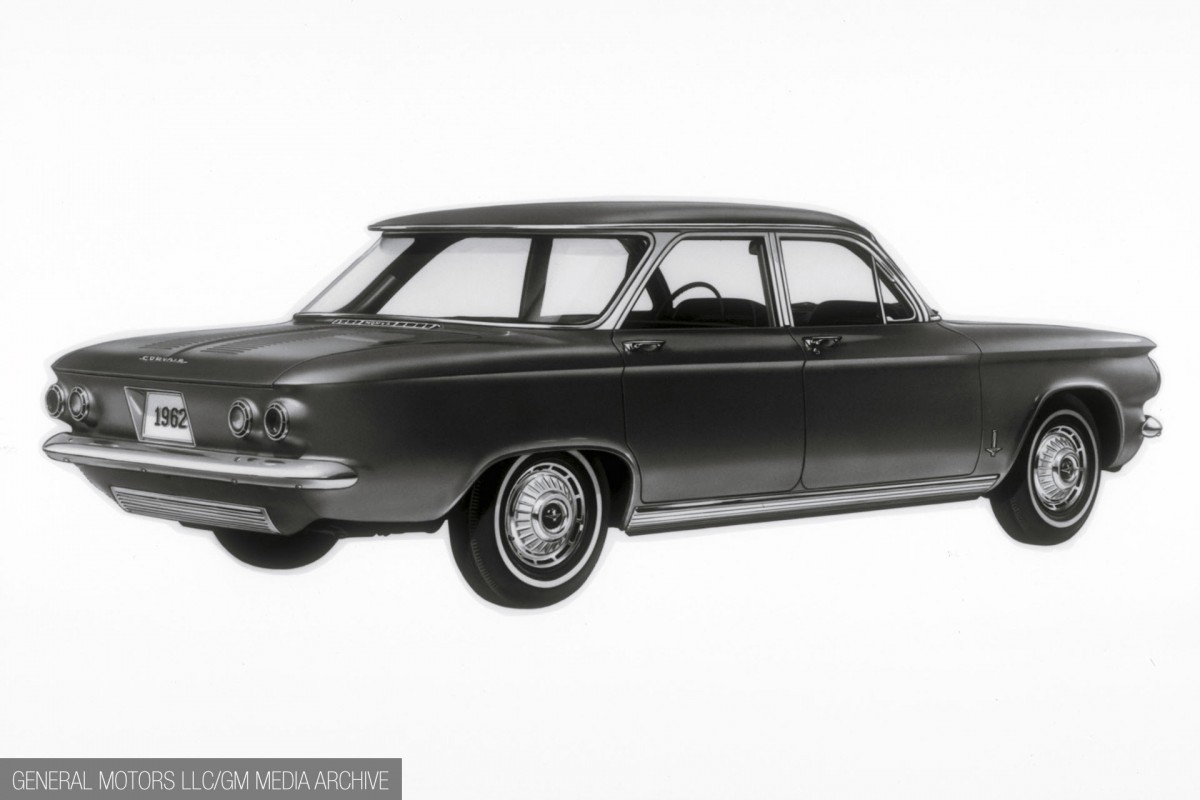 Chevrolet's Corvair Monza of the same year was a little better, with a simpler and more effective turbocharger, but it wasn't enough to ignite the passion of the masses.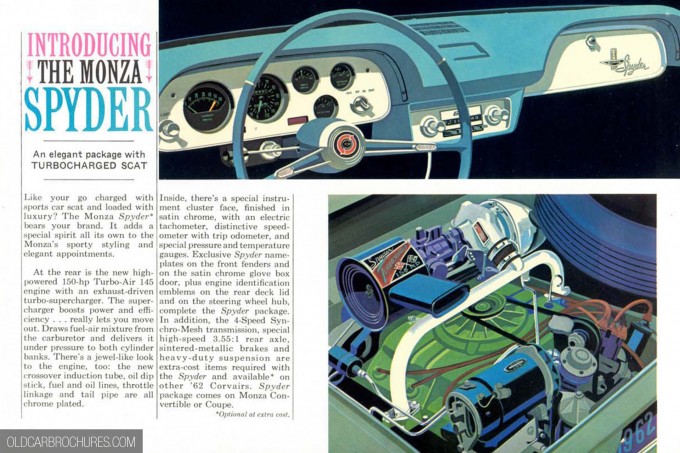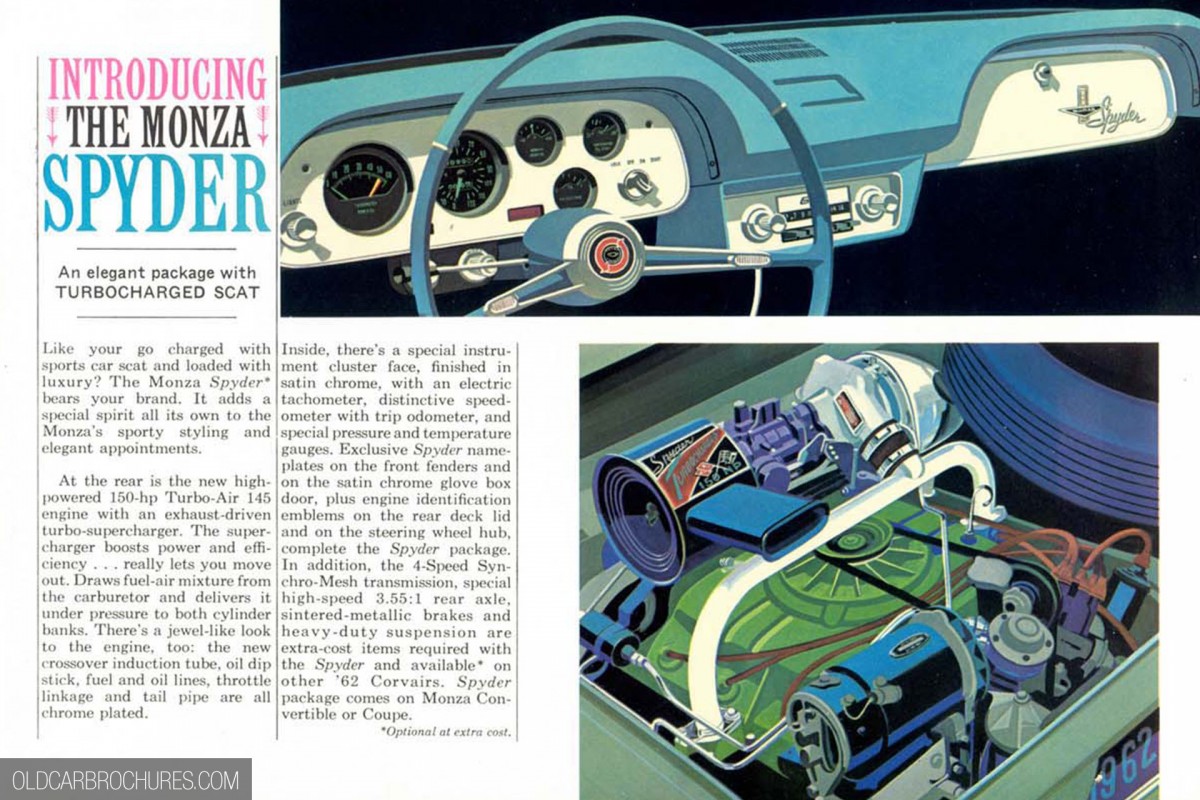 Continued reliability (both perceived and real) and the relative commercial failure of these early cars meant that turbos lapsed back into the hinterland for almost a decade. As with so many strands of automotive history, it would be the 1970s that would have the biggest impact on turbocharging.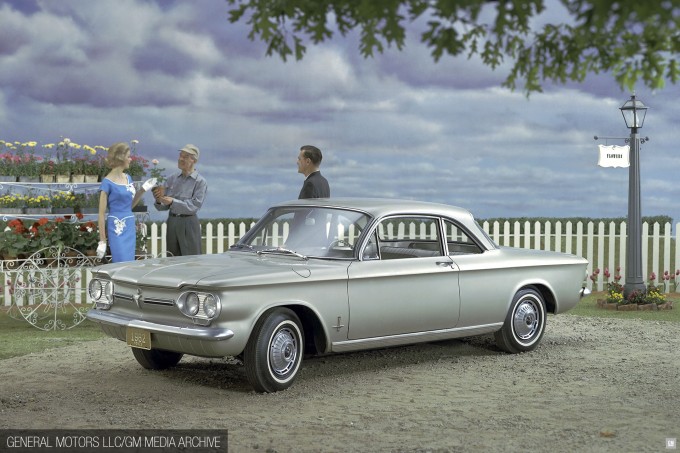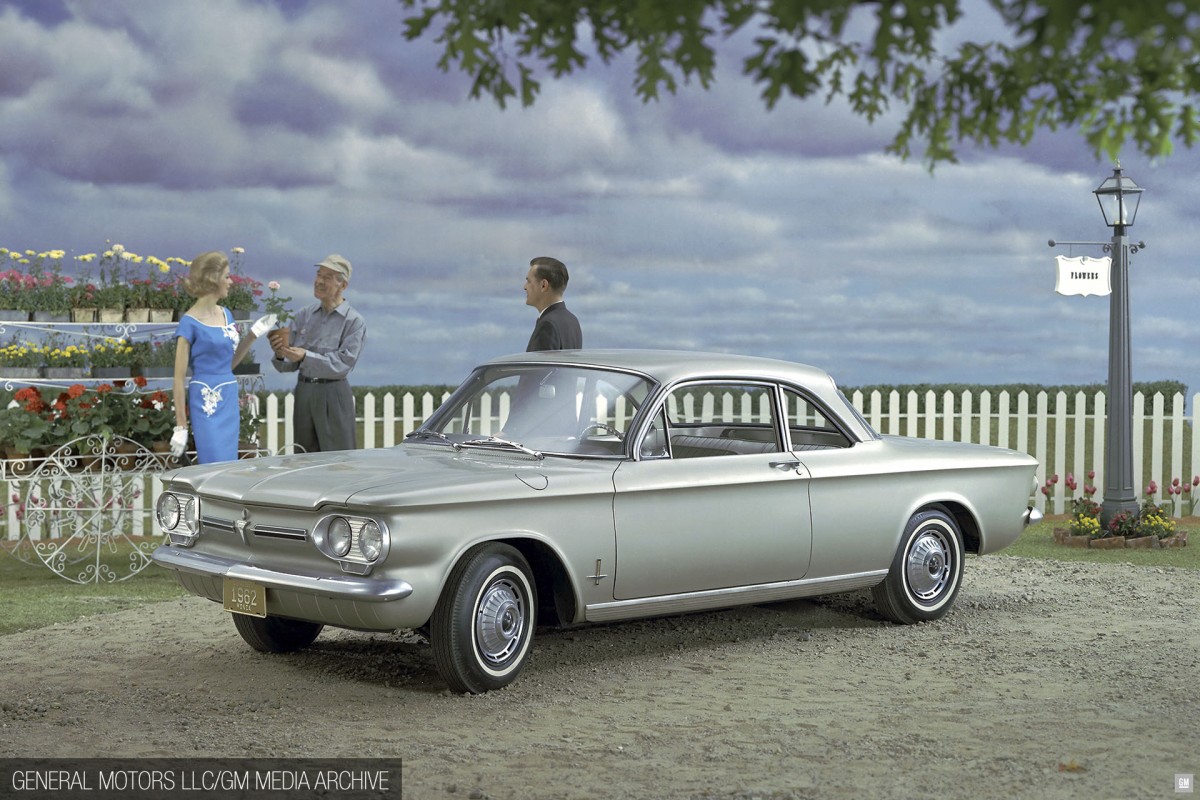 By now the keys to a turbo car weren't high on people's lists. Perhaps this advert shows someone trying to swap their Monza for a potted plant… The 1973 oil crisis put a premium on gas prices globally, and even in the previously profligate US an awareness of what could happen at home caused attitudes to change. First, commercial use of turbo-diesels rocketed, with the cost saving of fuel finally offsetting the high development costs being incurred.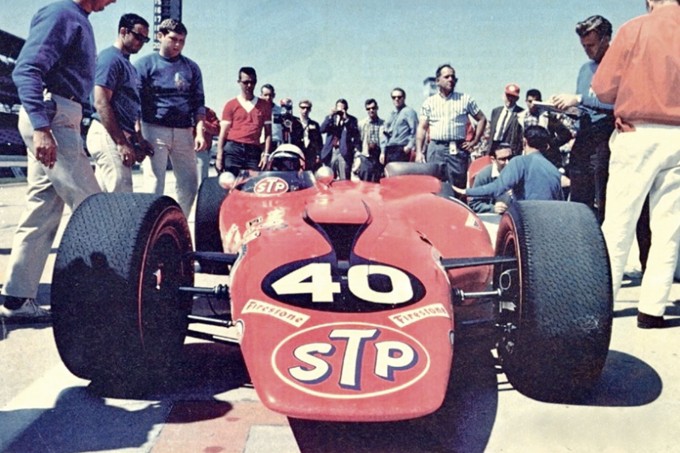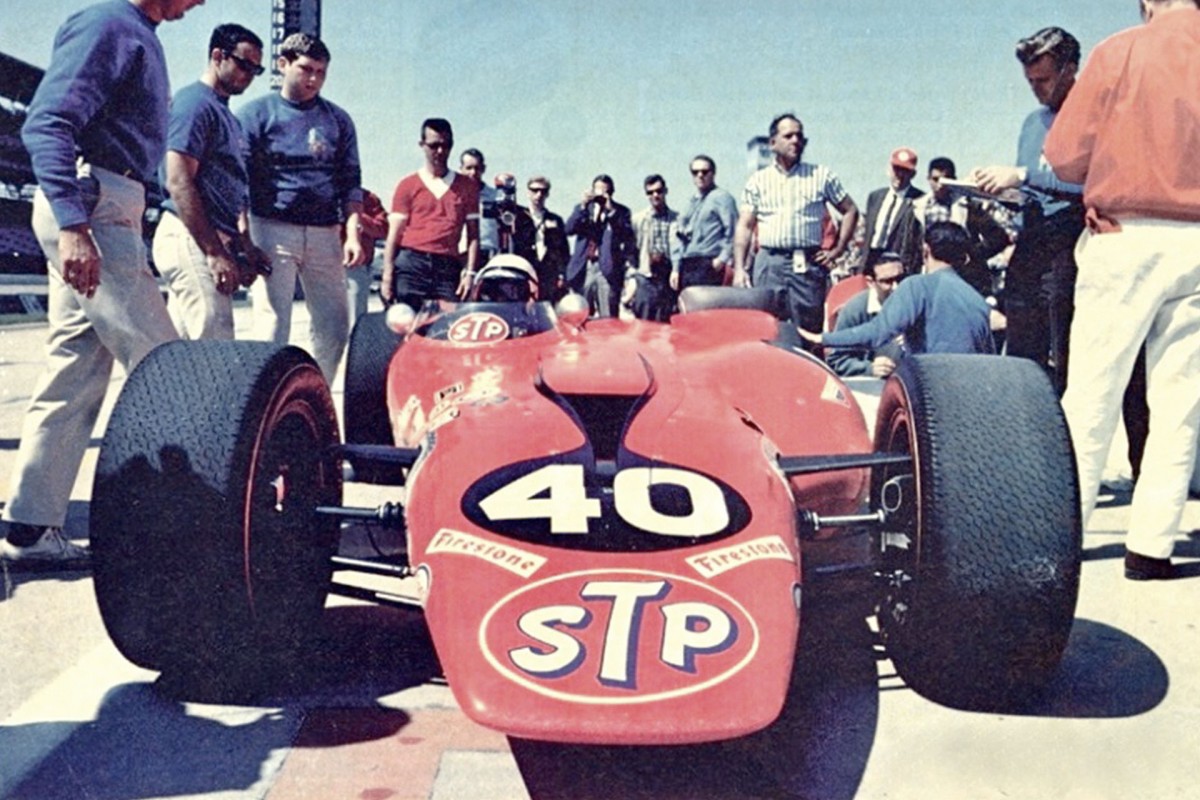 But even if you couldn't find turbos in mainstream street cars during this time, there were still two arenas where turbos were being taken up: specifically hot rodding and racing. Turbines and turbochargers made their way into USAC racing in the mid-'60s (although a diesel-turbo had been entered into the Indianapolis 500 as far back as '52, and in Europe a Rover-BRM gas turbine also raced at Le Mans in '65).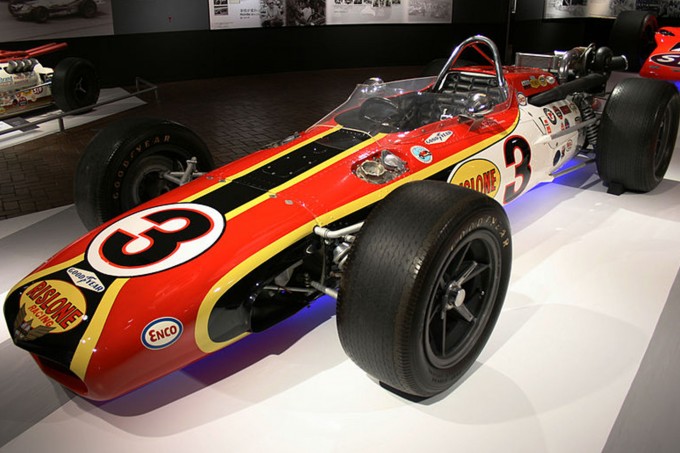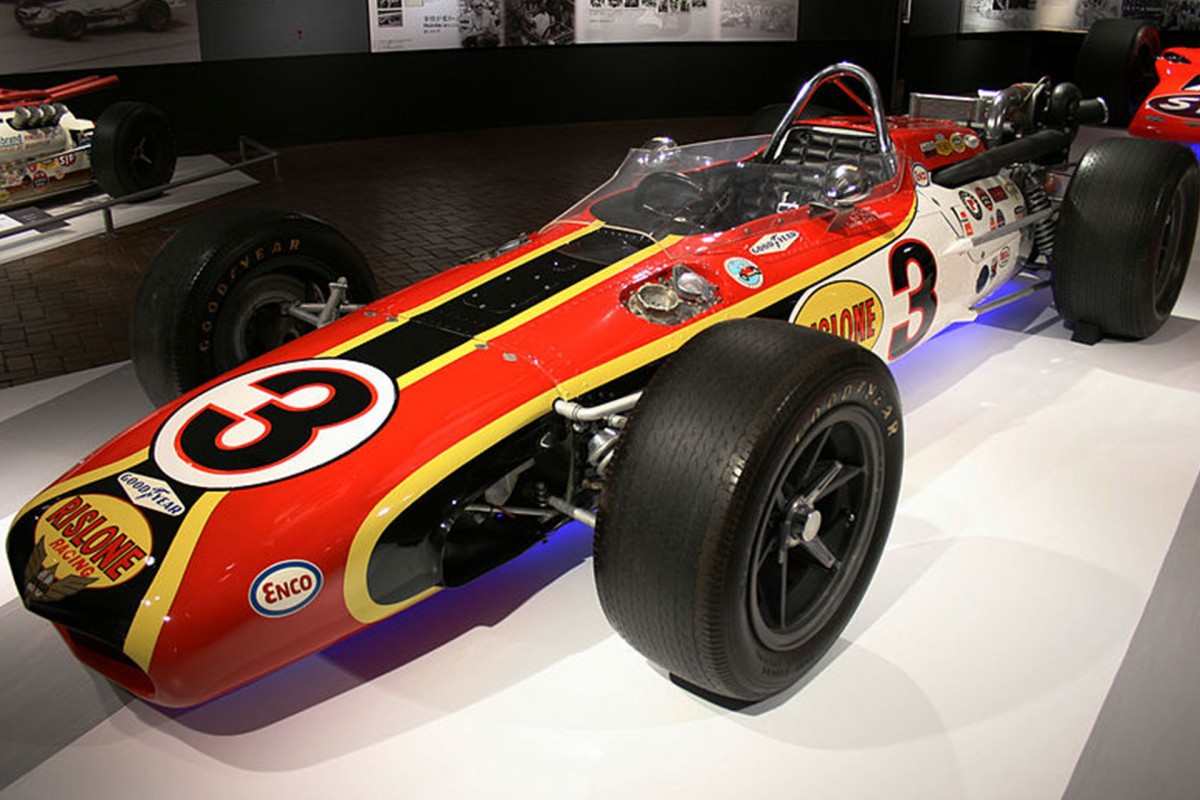 A Garrett/AiResearch-enabled Offenshauser Eagle won the 1968 Indy 500, hot on the heels of the famous STP-Paxton turbine car performing strongly the year before. It's said that some of these early Indy cars had up to three seconds of lag before the power kicked in! So things were still far from ideal.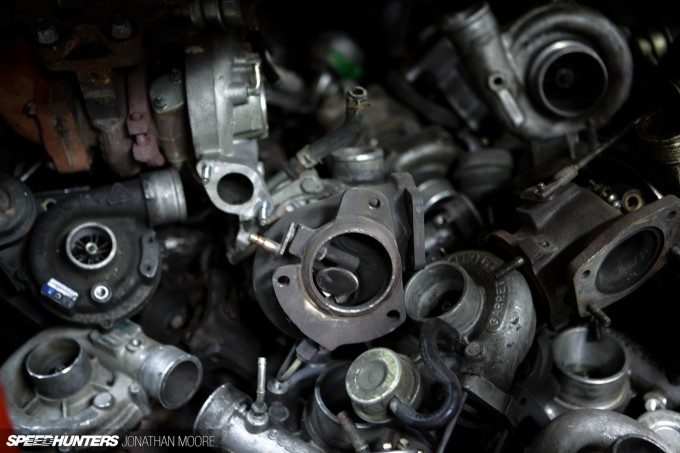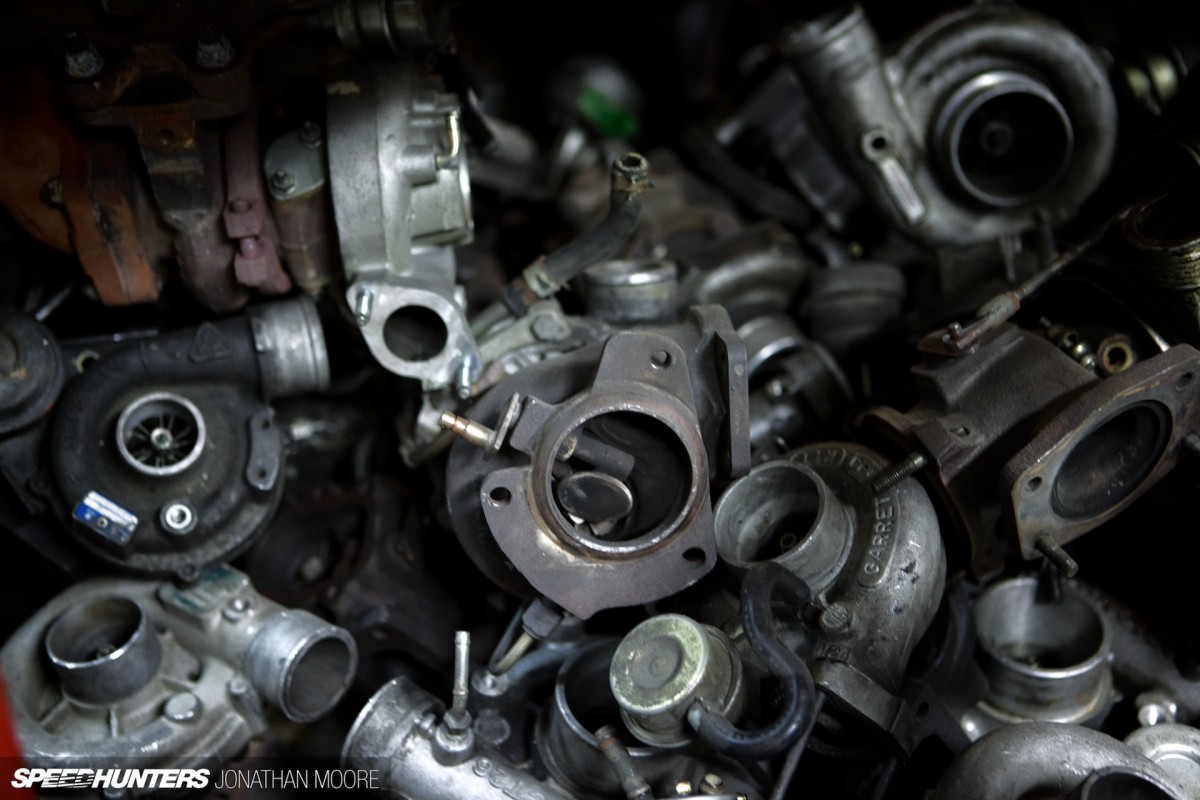 Something that changed the hot rodding landscape in the US was the TurboSonic range of retrofit turbo kits: I loved this refrain from a book on turbos, that this put 'thousands of turbochargers into the hands of energetic consumers who knew nothing at all about what turbos were, how they worked, or how to install them.' But install them they did. So, returning to the '70s, and all these strands came together: a changing environment, the development of automotive turbos as a viable, reliable technology, their taming by motorsport and adoption by the tuning hardcore. The floodgates (wastegates?) were now open for wider adoption.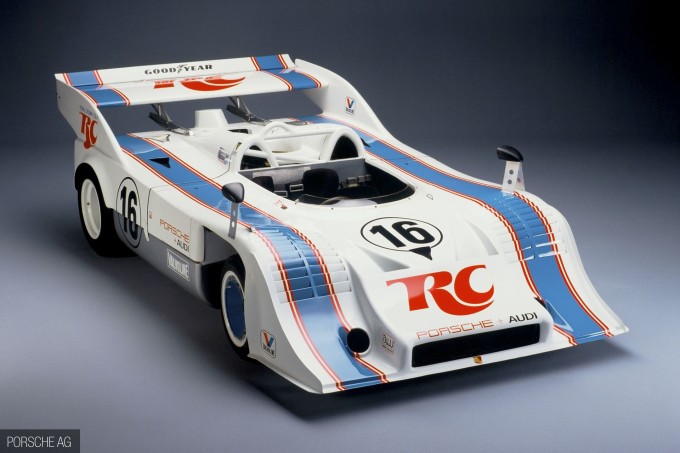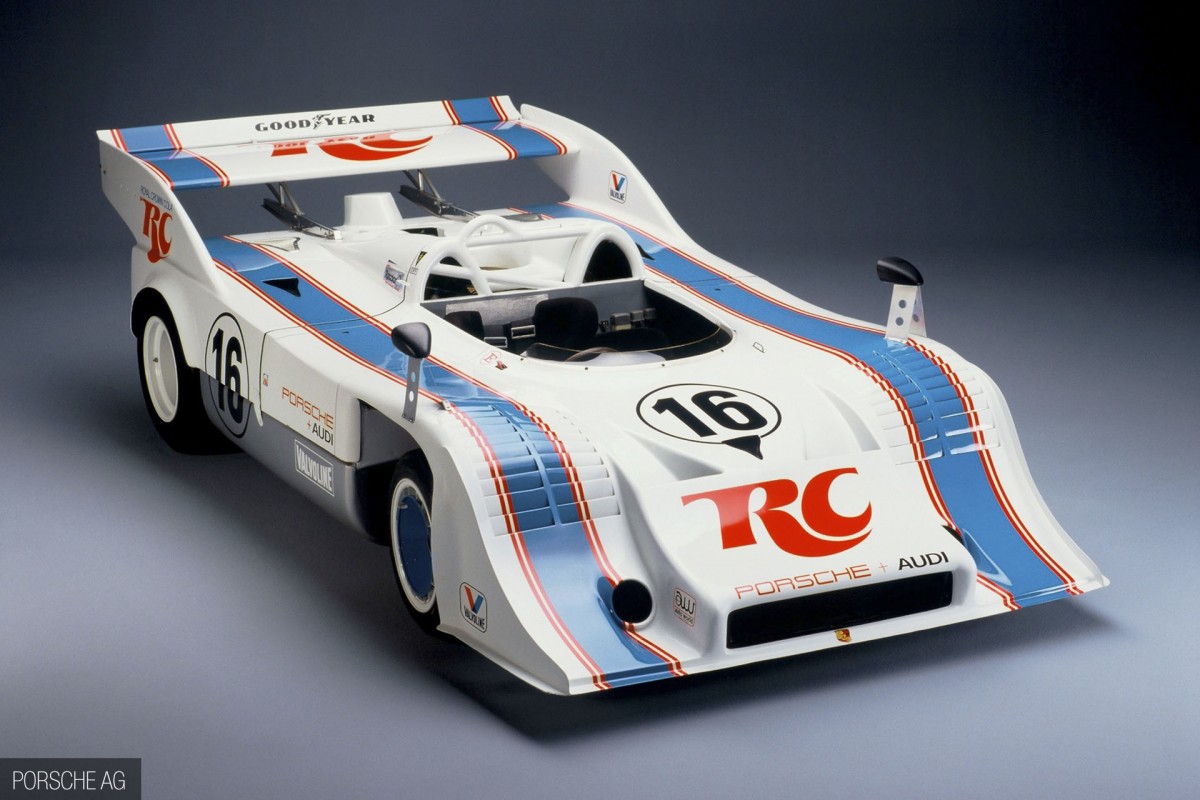 The focus now changed to Europe: initially a Europe looking back at America (and an American sorting things out). In a story which continually ticks so many boxes of things I love, this gives me the excuse to mention Can-Am. This is where turbocharging was unconcerned with efficiency and instead unleashed in the search for pure, unadulterated, volcanic power.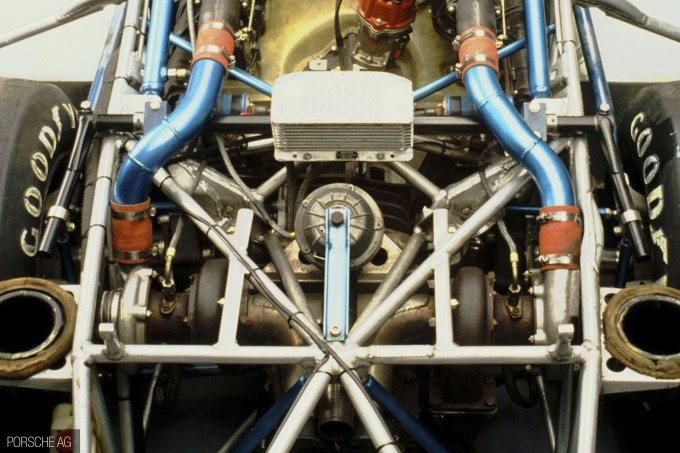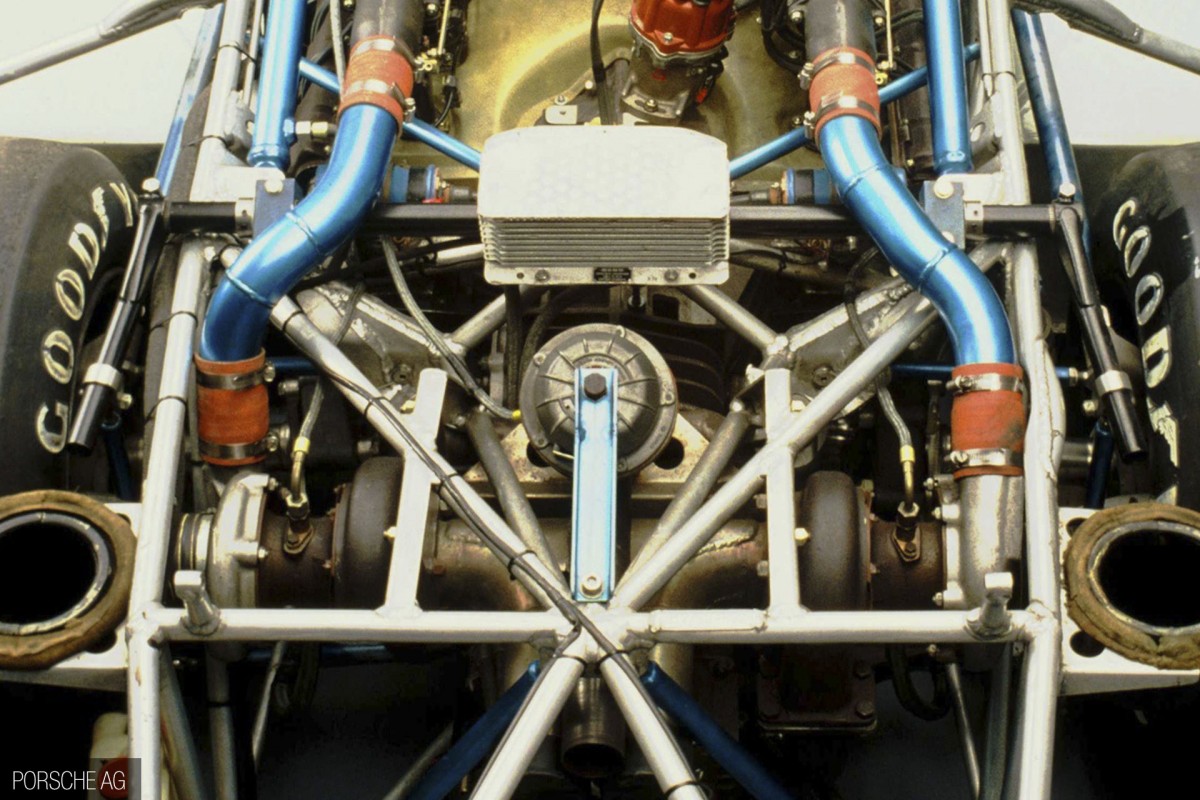 Porsche's developments of the Le Mans-winning 917, the fearsome 917/10K and /30K, pulverised the CanAm series in 1972 and '73. The former produced 900hp, the latter anything up to 1,600hp – levels of power that previously couldn't be dreamed of and are rarely achieved now. Not that it was initially very useable. We can still complain about lag on modern cars, but it's nothing – absolutely a different world – to the first iterations of Porsche's brutal turbo racer.
This was no bespoke unit, remember, but a development of Porsche's 350hp eight-cylinder of the decade before; the incremental increases in power expected of the engine were revealing flaw after flaw. Low speed performance was terrible, throttle response ambiguous and the idle poor. But people were learning, and learning fast.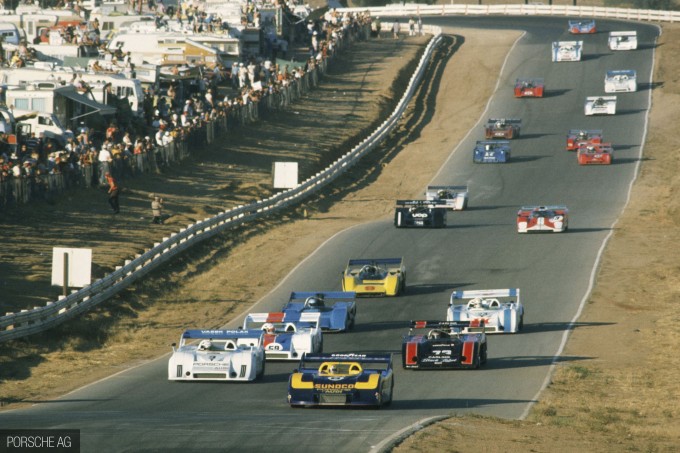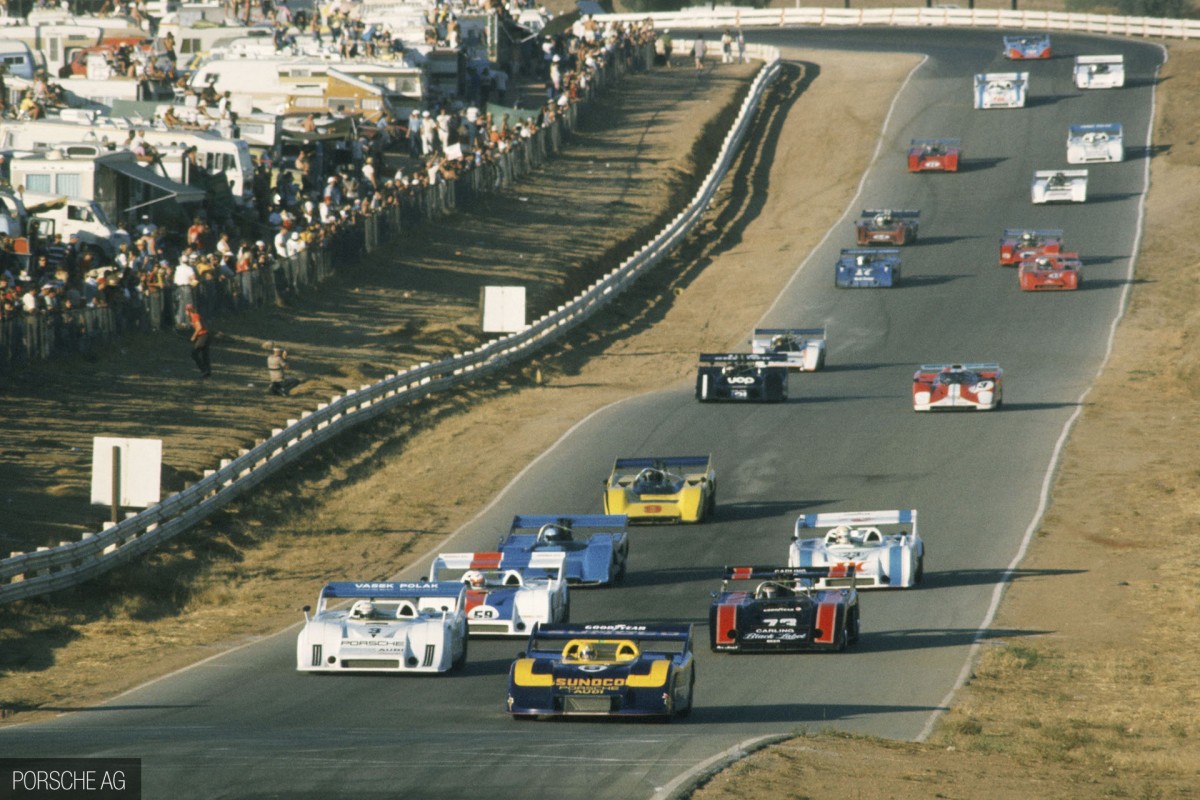 It was the engineering know-how of Mark Donohue and the Penske team that turned things round, making alterations to the induction and fuel delivery along with geometry and aero changes that created a legend. The 917/30 has to go down as one of the most awesome turbo cars ever produced, weighing just 816kg, with its 5.4-litre flat 12 and mighty twin-turbochargers. Porsche would of course figure strongly again in the turbo story, but there was a brief interlude from one of its fiercest rivals – and an important one in terms of bragging rights.
Turbos tearing up the streets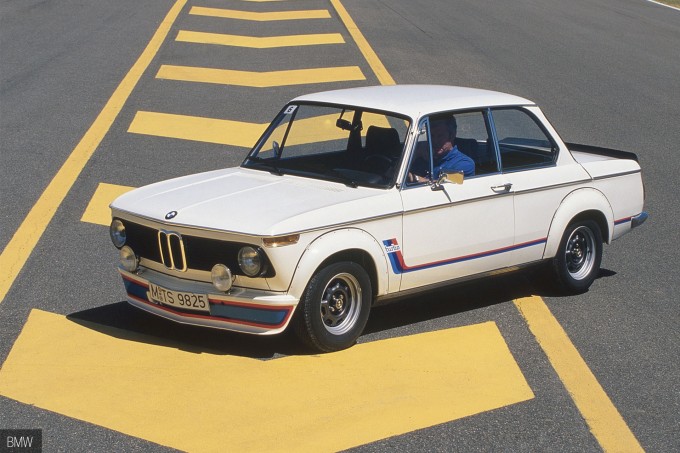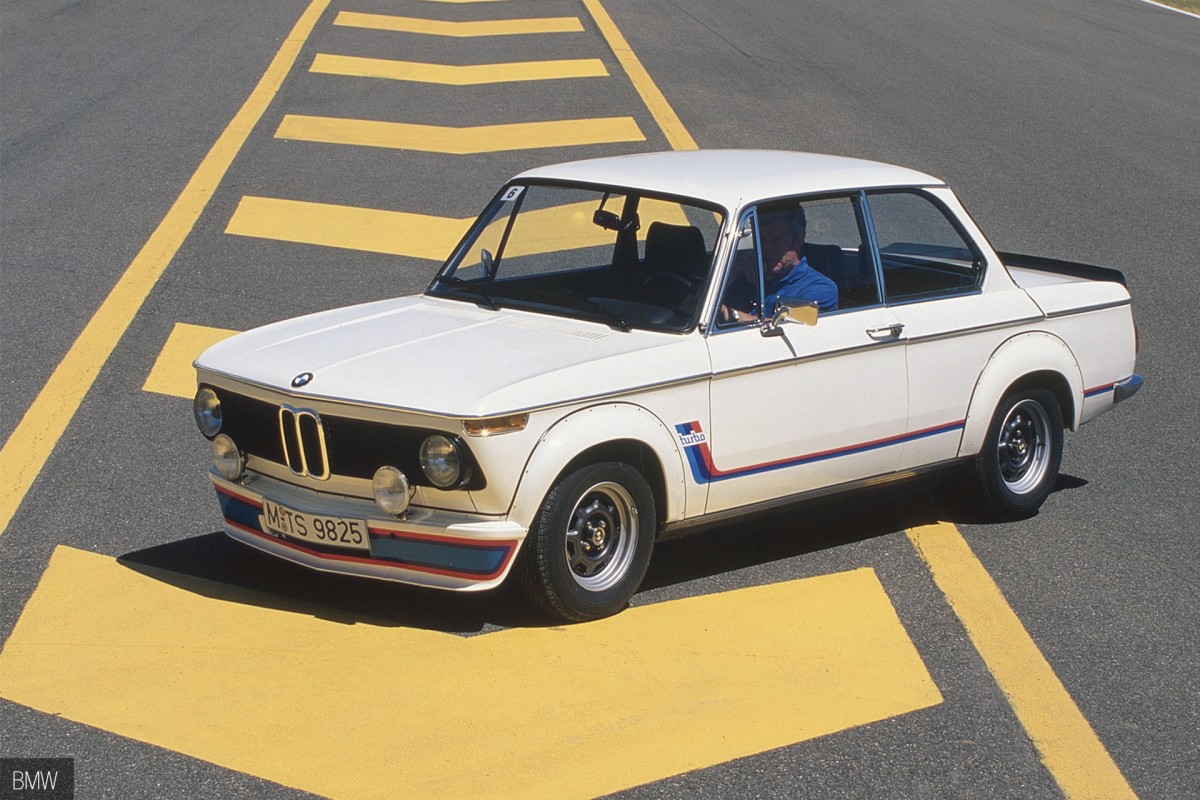 It's actually BMW that can take credit for introducing Europe's first turbocharged production car. Their range-topping 2002 Turbo was unveiled at the 1973 Frankfurt Motor Show: a KKK turbo running at 6.9:1 compression was added to the Neue Klasse's two-litre inline four, to produce 170hp and a commensurate amount of torque.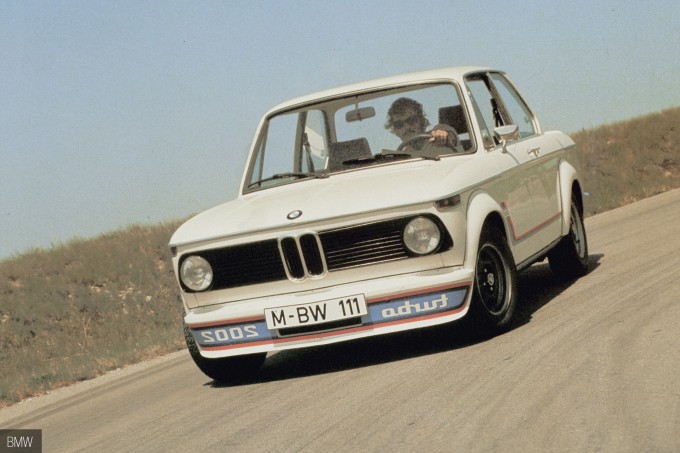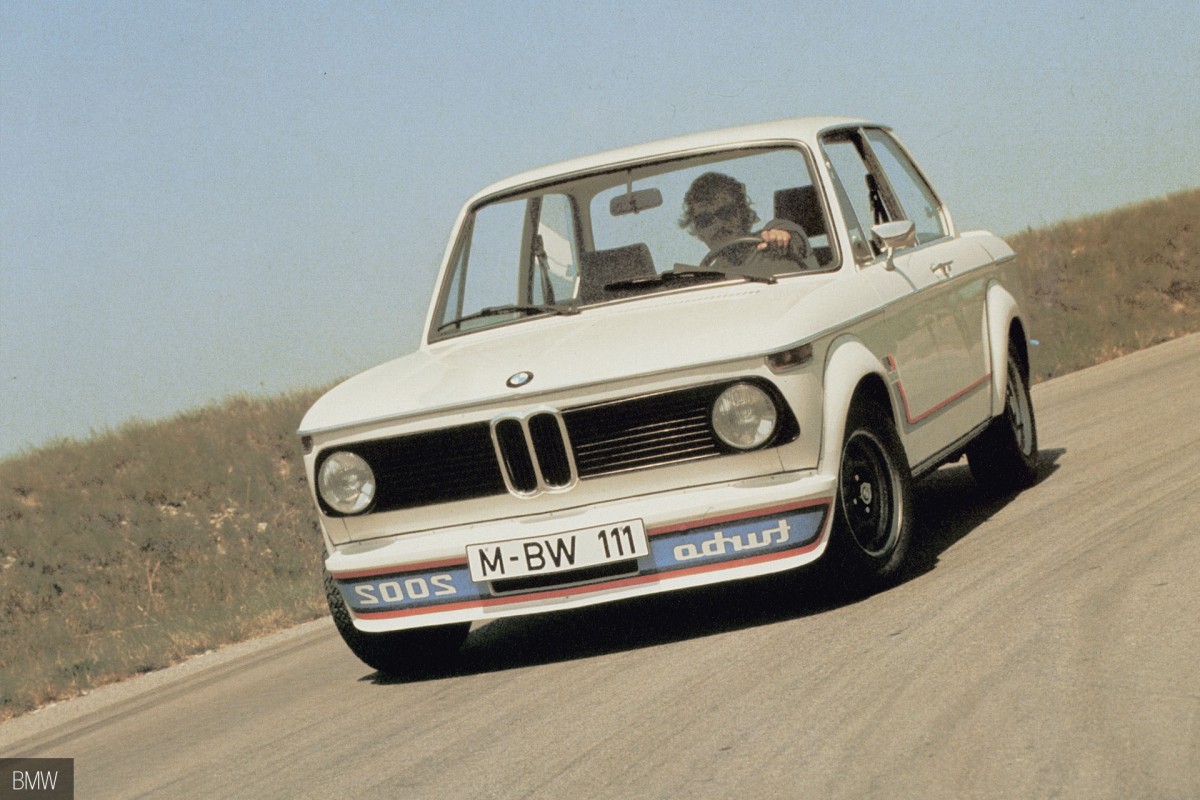 Light boost was used to minimise pre-ignition of the fuel in the cylinders and prevent knocking, and the 0-60mph was a supercar-style sub seven seconds – though lag was still a major factor. The picture above isn't a driver being exuberant, it's just what driving a 2002 Turbo was like.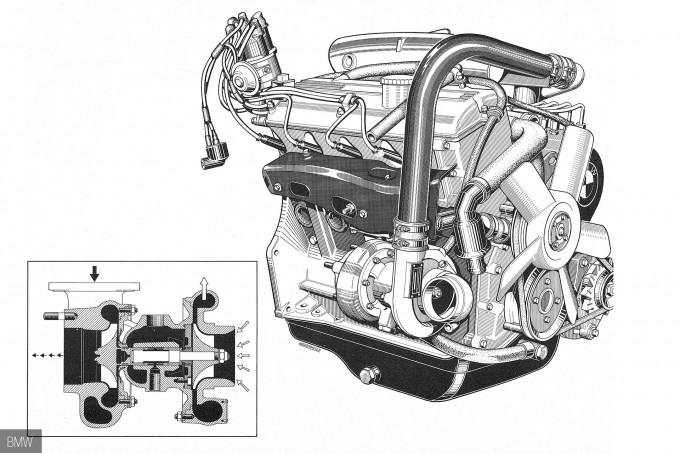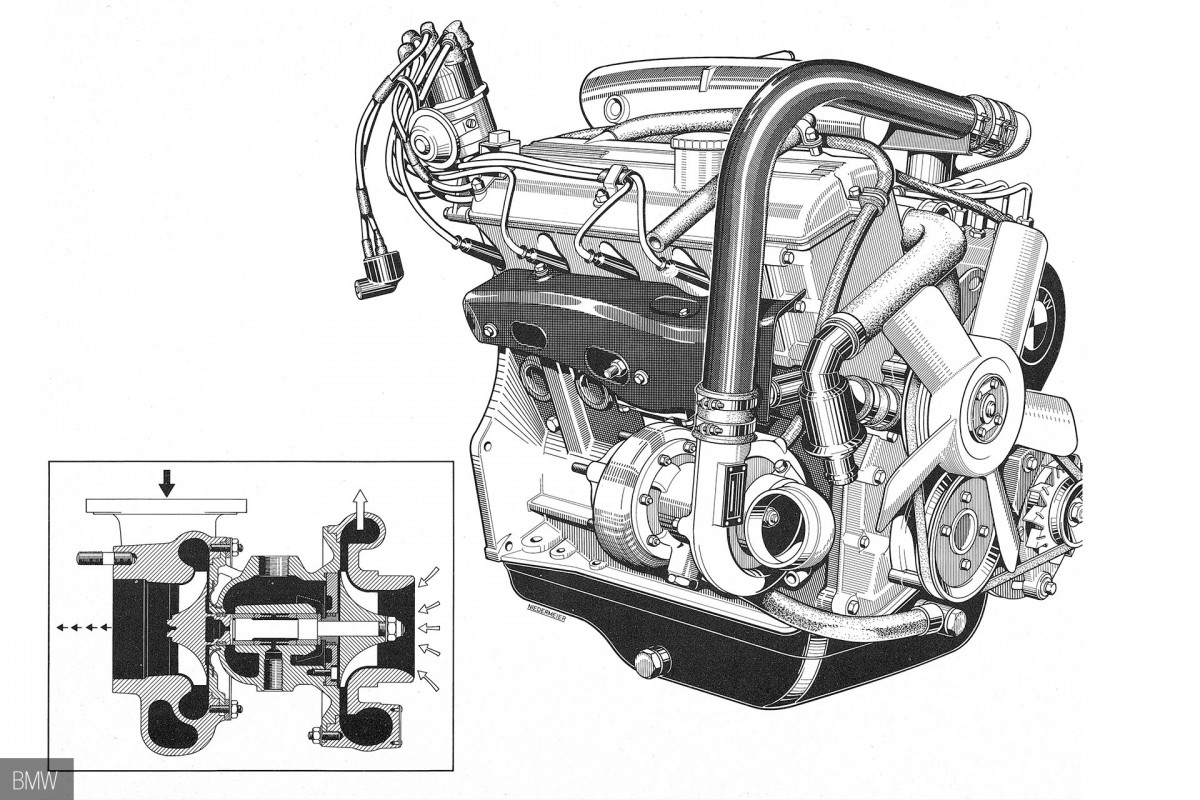 A bigger problem was that BMW were just the wrong side of the oil crisis: just 1,672 were built before production ceased. And that lag? Maybe that's why there are thought to be less than 500 Turbos still in one piece.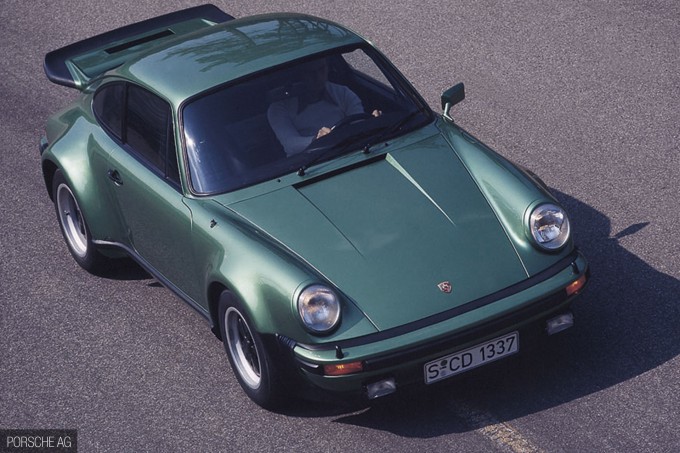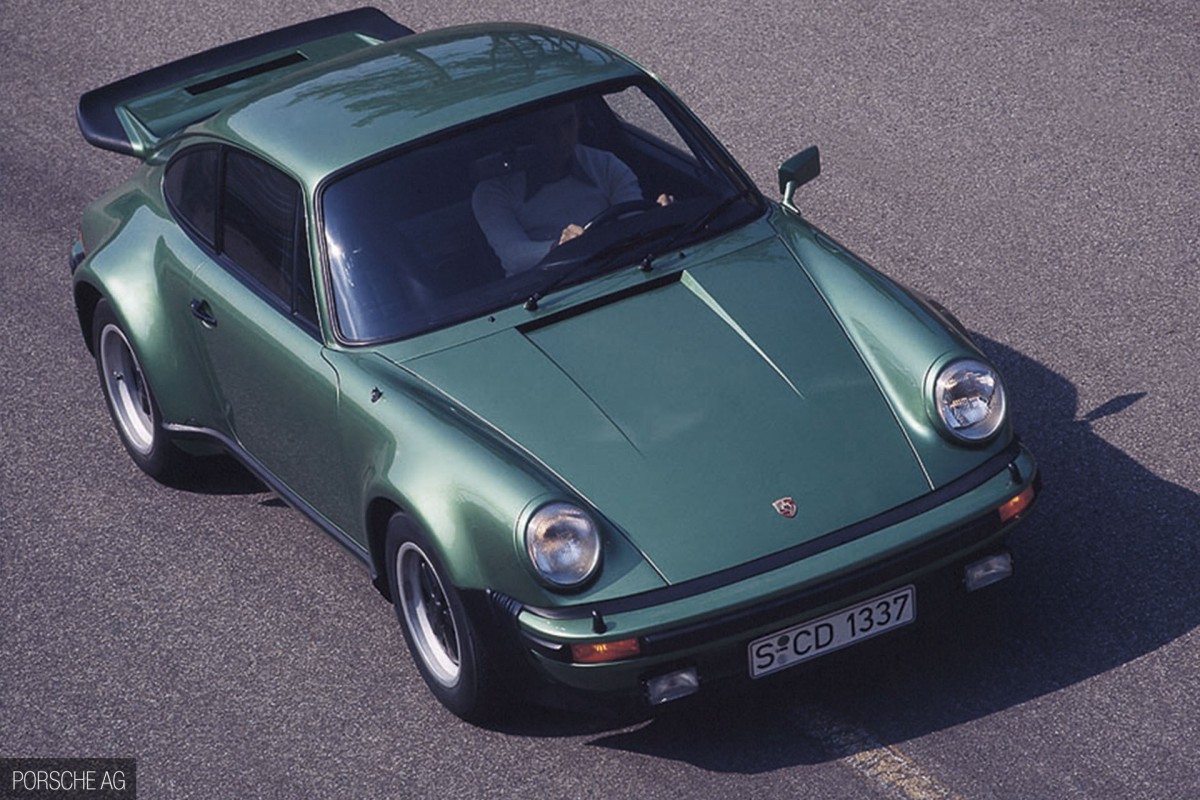 At the same '73 Frankfurt show as the 2002 Turbo, Porsche's stand also featured a turbocharged 911 concept: a 2.7-litre quoted as having 280hp and a top speed of over 160mph. This was the precursor to the legendary 911 Turbo. A pre-production model was shown off in '74 before an all-out turbo attack on the streets of the world the following year. The Turbo had arrived.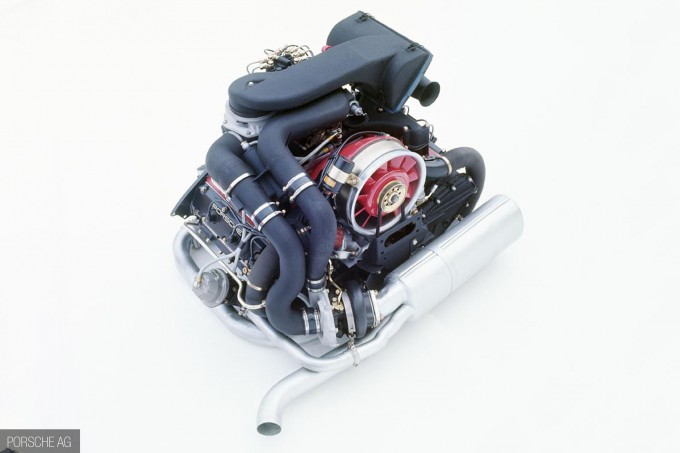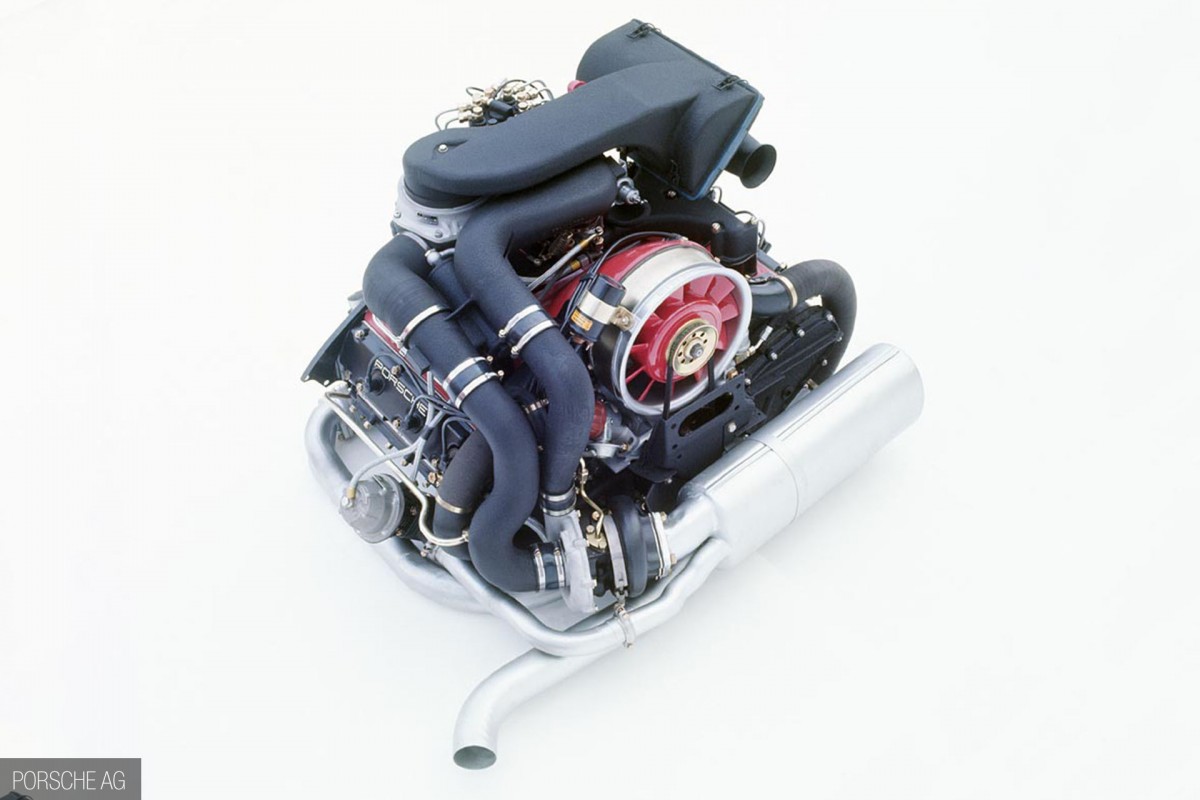 A larger three-litre engine to balance off-boost inertia, and that whale-tail body became shorthand for performance.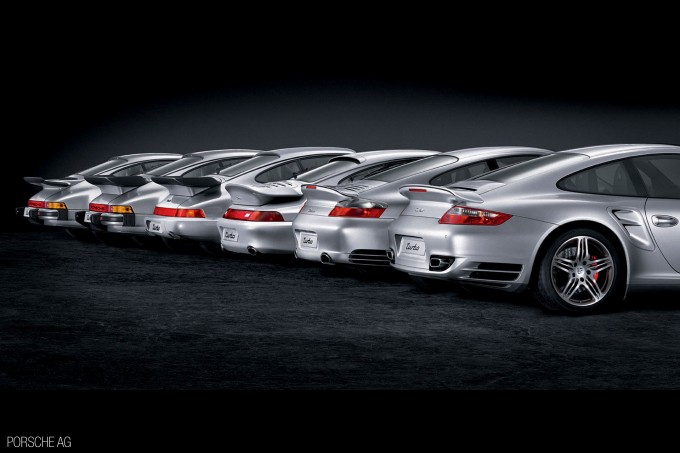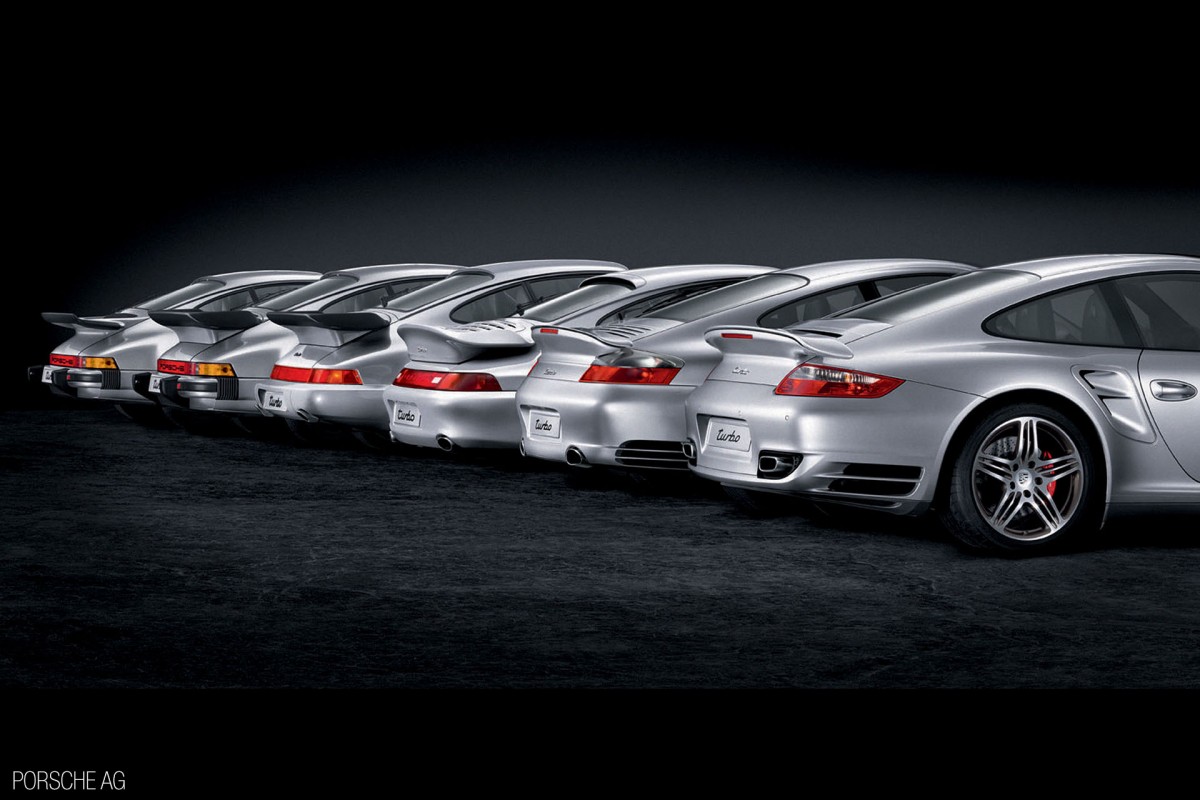 It set the template for turbo-powered sports cars from then on, a high-performance GT with relentless, overwhelming power, and it's certainly something that defined a new benchmark for Porsche themselves.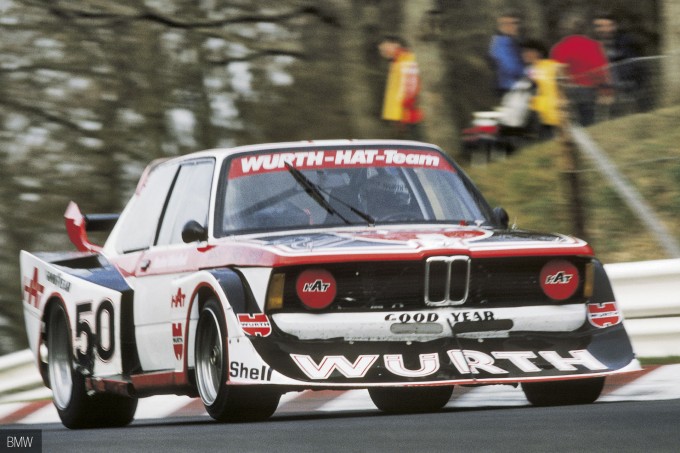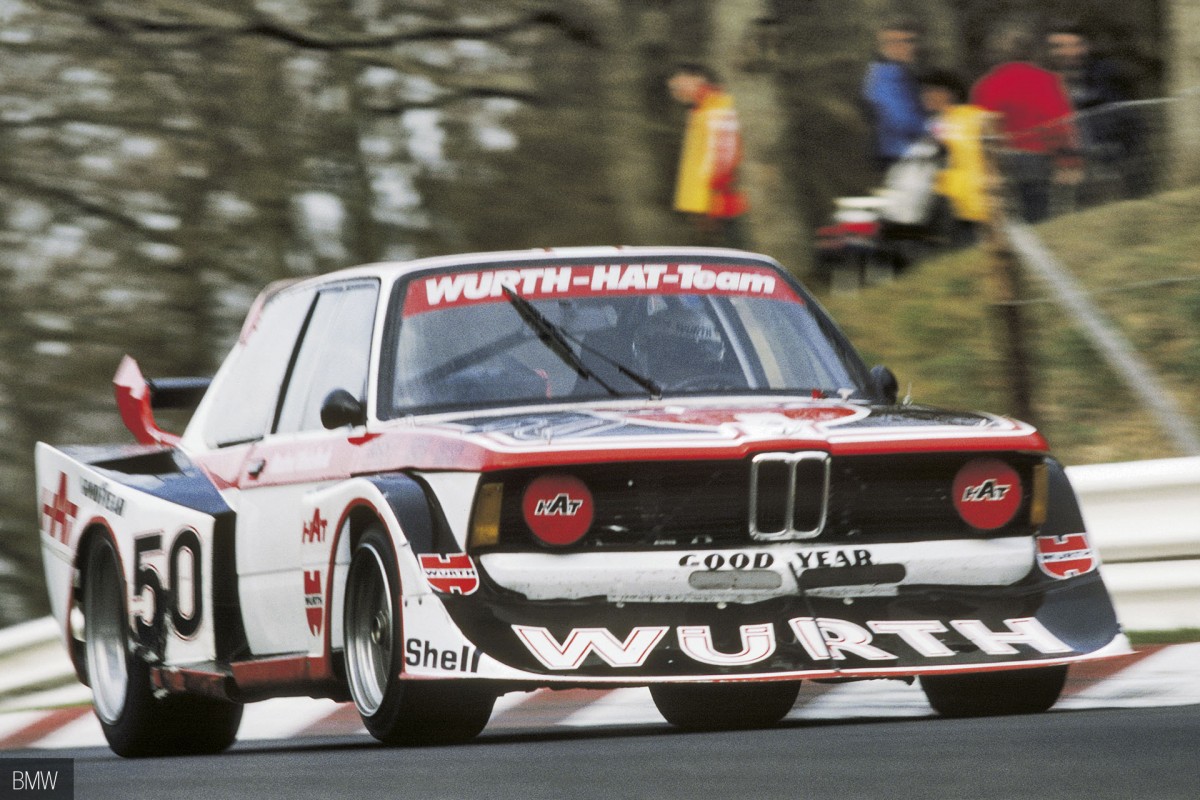 From there, both BMW and Porsche pursued turbocharging in racing as part of an all-out arms race: the former's 320 range topped out with the over-the-top Turbo models, whilst Porsche ramped up through iterations of the 935 to make monsters like the Moby Dick.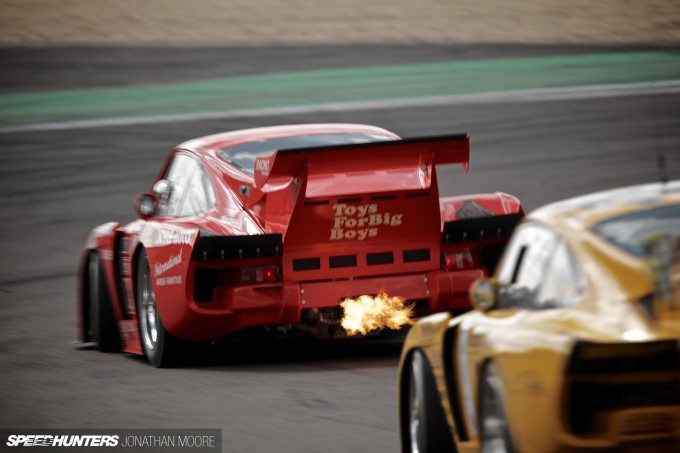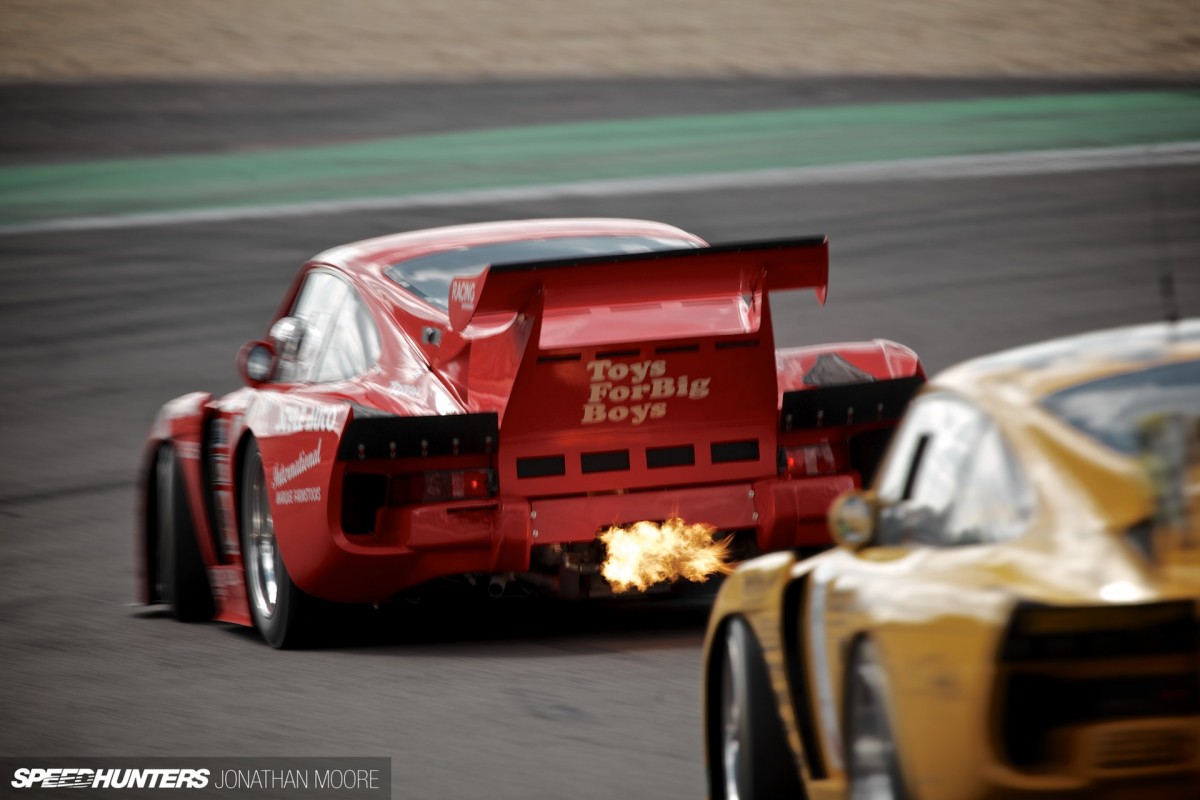 Tuners on both sides of the Atlantic were getting on board with turbos in a big way too, with Kremer and more taking turbo-charged Porsches to even greater levels of beautiful, flaming power. Boost was now hitting the headlines on both the street and track: it was the beginning of something big. Poor old air. It's had a hard time since then, and I'll be taking a look at some key turbo cars from the more recent decades in a following story tomorrow. In the meantime, there's a whole world of boost to be discovered, so welcome to the Speedhunters #WeHaveBoost theme.