Integrity. That's the key thing for me about the Pendine Sands VHRA event that I showed you in my post yesterday. But what does that mean and how do you attain it? Or even measure it? It might seem arrogant on my part to assume the role of an arbiter of taste or style, but this is not my intention. Instead I'm hoping that by having noticed certain things as I wandered the sand and by now presenting them to you, I can communicate what I mean. Hop aboard the detail train and see if you get my point…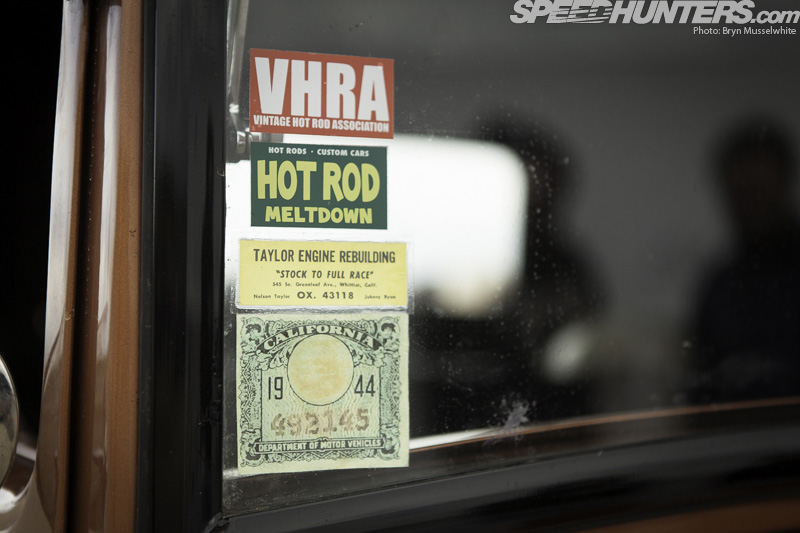 In the last ten years there's been a huge wave of retro-based design sweeping the globe. Any brand with heritage has been riding on the back of it, from VW with the new (now nearly 15 years old) Beetle to clothing emblazoned with 'Zeke's Towing Shop', complete with made up address and logo. As standalone items they might look good, but scratch the surface and there's nothing there, no true history. Which I always think is a little pointless given the availability of the gen-u-wine article. Take these stickers as a case in point – decals and water slide transfers dating back to the '40s all still exist, so why not just go for the real thing? The top two are obviously more modern but give more than a nod to their heritage.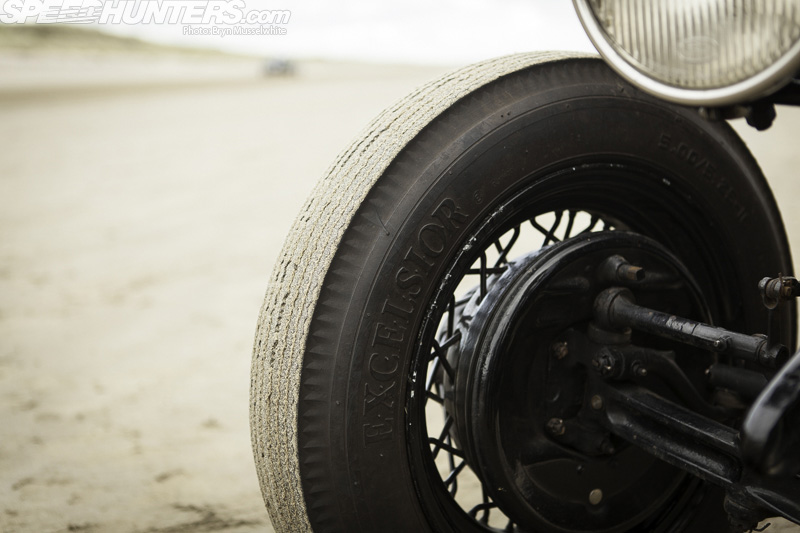 Given that a lot of the rods here today are fenderless, suspension, brakes and steering items all have to be authentic. Too often you'll see modern tyres or coil springs on a supposedly old build. These Excelsior crossply tyres are period correct but of modern construction. I don't think I'd be too happy running on them if they'd been sat on a shelf for sixty years.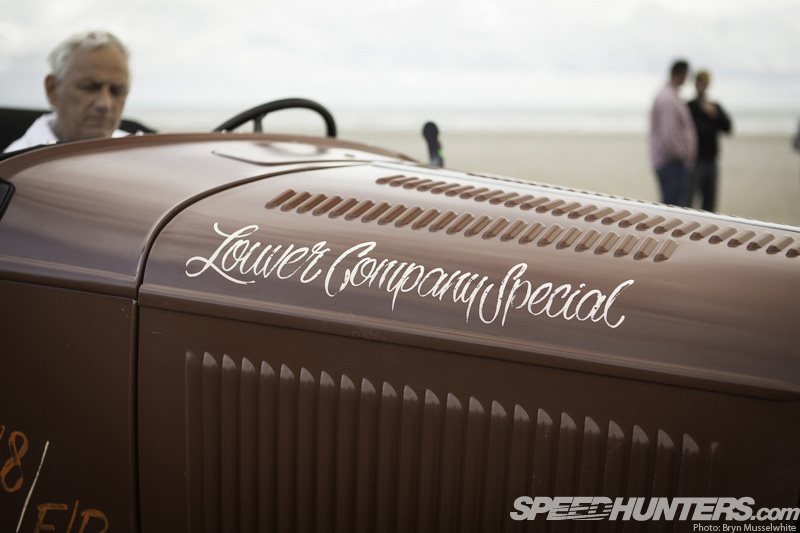 Now obviously race cars have numbers and back when these cars were new they would have had sponsors too, small workshops, maybe a friend who did some head work in the evening. So nipping down the local vinyl cutters just wouldn't be the done thing now would it? I'm not 100% sure if Louver Company Special is because of the number of louvres on this '32, but I suspect it might be – added detail points for using the American English spelling.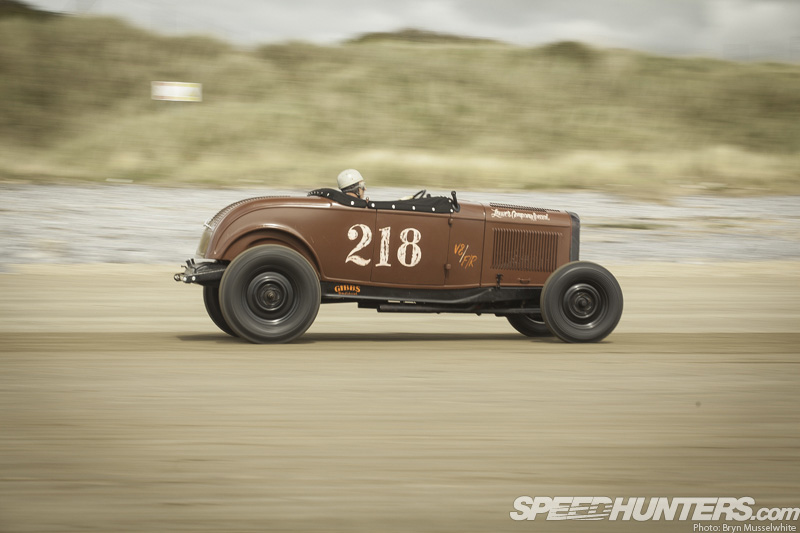 Paul Hobby, who owns it, completed the look with painted numbers too.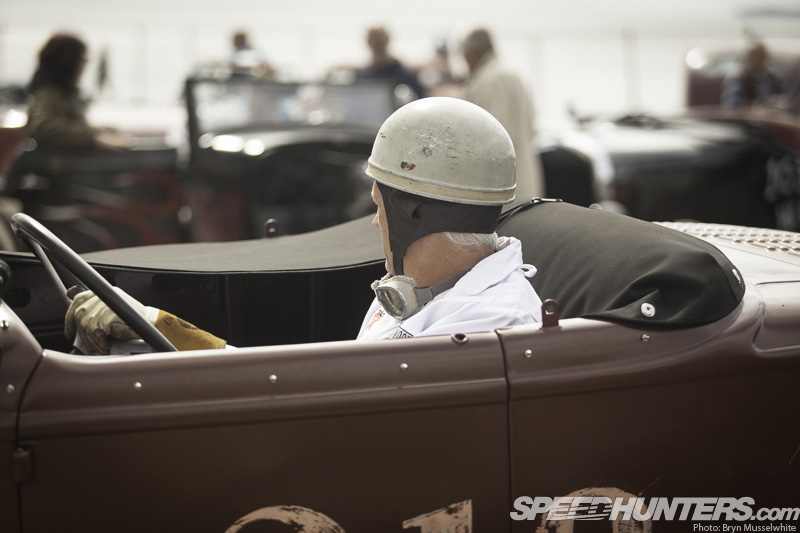 His crash helmet was very much in keeping as well – notice the little leather ear pocket vents and tattered goggles around his neck. It's not going to offer much protection should the unmentionable happen, but you know what that means don't you? Don't crash!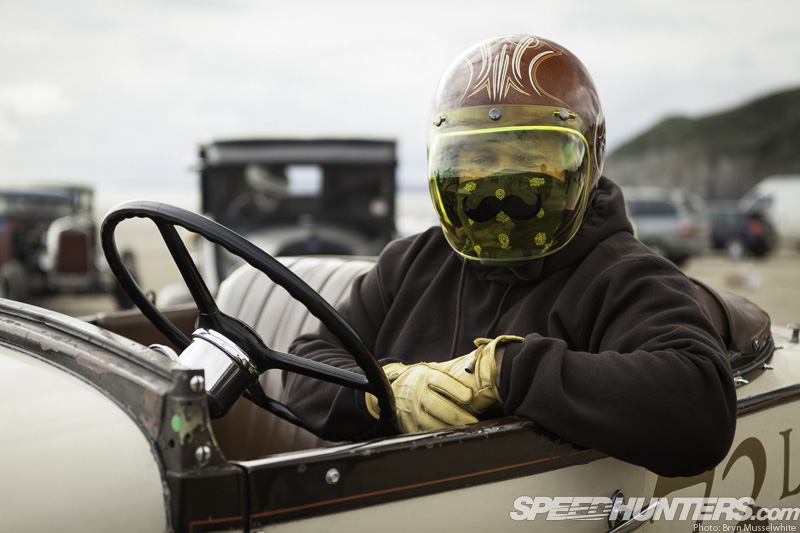 So let's continue with our tour through headgear and headcases. Car #73 is piloted by Martin Grossmith. Who'd gone for a more fetching and sixties-esque combo of the bowl front, yellow-tinted visor coupled with some pinstriping on the open face helmet. Leather ranch gloves were also a popular early choice for motorbike riders and racers given their grip and protection levels, plus availability at most hardware stores and price. I assume the moustache is the model's own.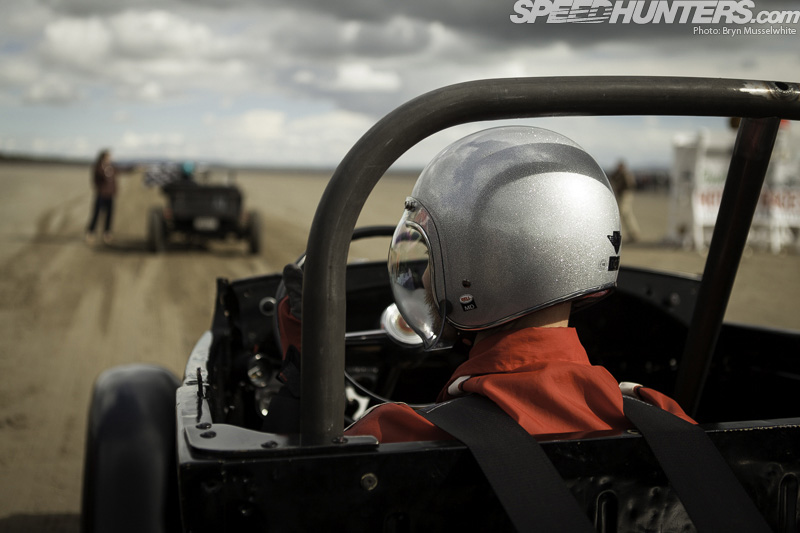 This is the same style helmet from a different angle so you can see the bubble front, as it's also known. This driver adding a decent harness and simple roll bar. I remember father Bryn telling me that you either throw yourself clear of a vintage car in a crash, or under the dash panel. I also remember that the dash panel was a piece of engine turned alloy, so pretty much razor sharp and not really an ideal choice…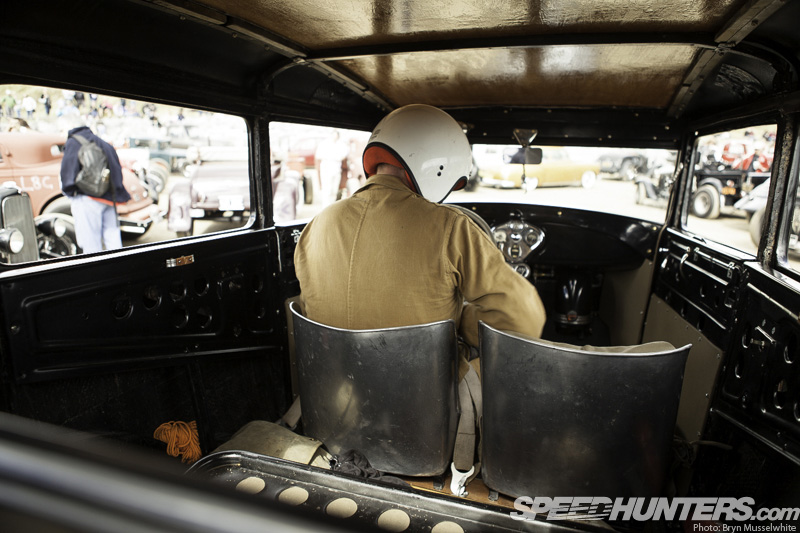 Some people did opt for more modern full face helmets, but it's arguable that in the grand scheme of things you might be just as well off naked. If any modern car manufacturers are looking, turn away now. There's a lot of sharp edges in there, but don't worry, nobody got hurt. Humans don't always need to be wrapped in cotton wool.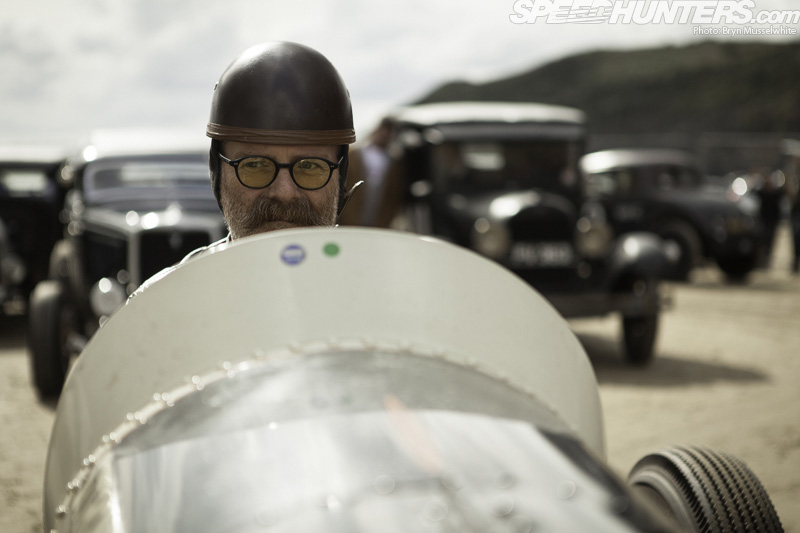 After all, looking like Chris Hosegood does, what possible harm could come to you? Oh and thanks Chris for letting me take the picture – quite possibly the most awkward thing you can do as a photographer is stick your lens in a stranger's face and expect them to just sit there.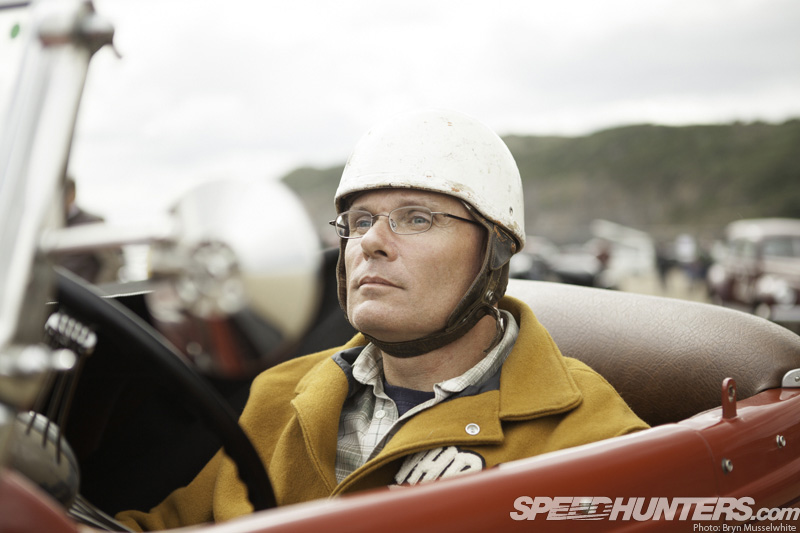 With authenticity comes a certain air of dignity though, and you can see another indicator of cool here. The melton material of the jacket is an old American favourite. Competitors are part of the VHRA but they're also in separate car clubs from around the UK.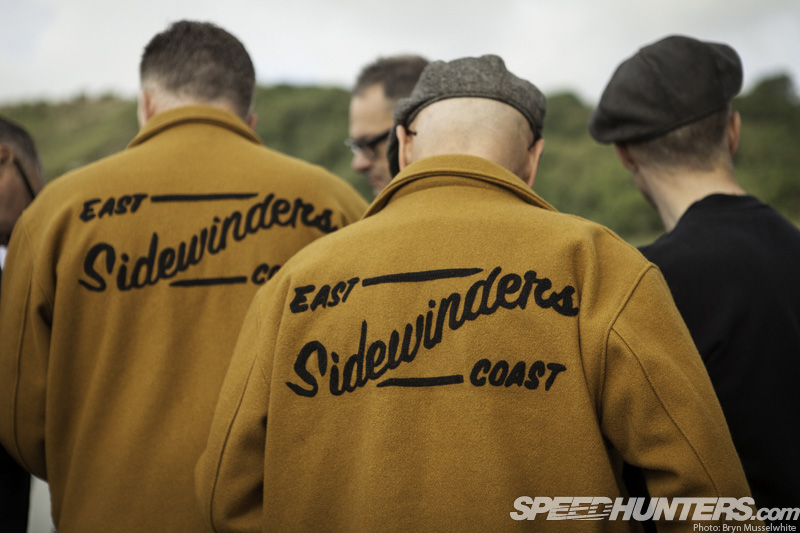 And just like any club, gang or tribe you need to have an identity.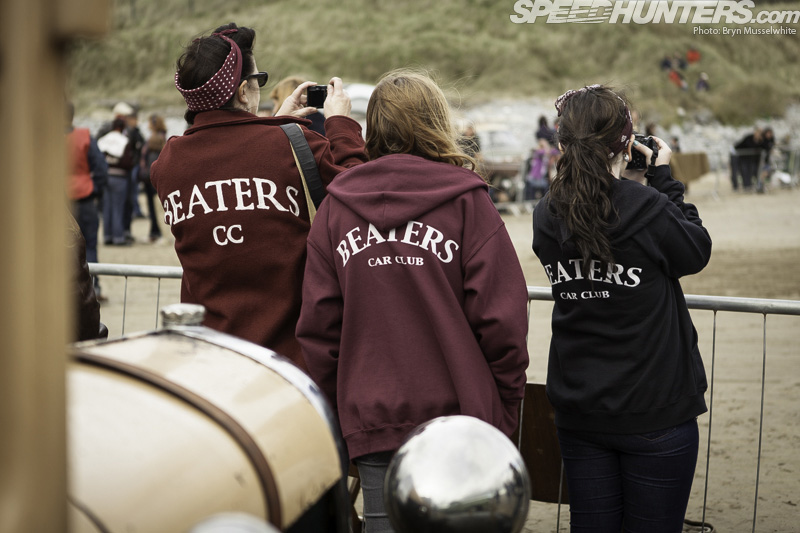 With club members looking on from the sidelines and applauding, whooping and cheering as drivers left the line.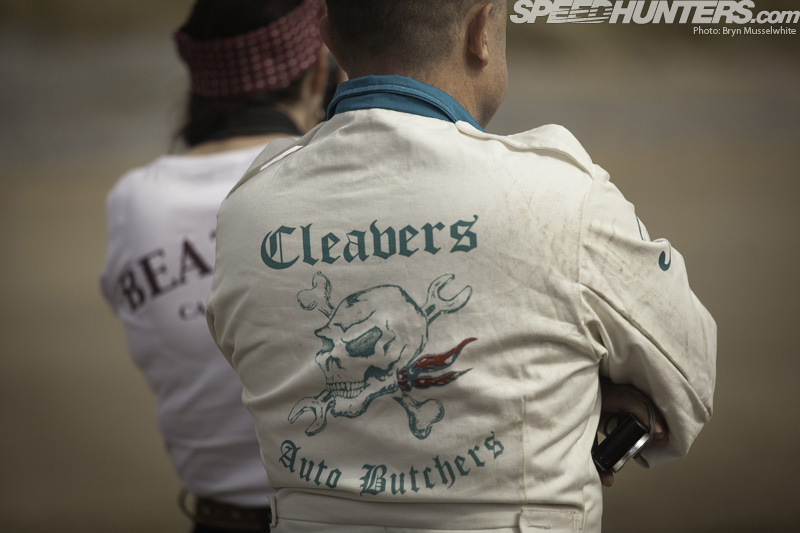 I didn't see any butchery going on during the day, but I'd love to know the origin of the white overall. You see them everywhere in classic and vintage circles and it always strikes me as the worst colour for a mechanic to wear. I'm sure there's some valid history, or maybe it's just because white was cheaper to produce and looks pretty sharp? Logos show up well on it too.
There are also many other ways of showing your allegiance – the Originals being one of the longer established hot rod clubs in the UK. I remember at the Bakersfield Hot Rod Reunion in 2007 seeing more members there than I'd seen at any show in the UK before that. A dedicated lot for sure.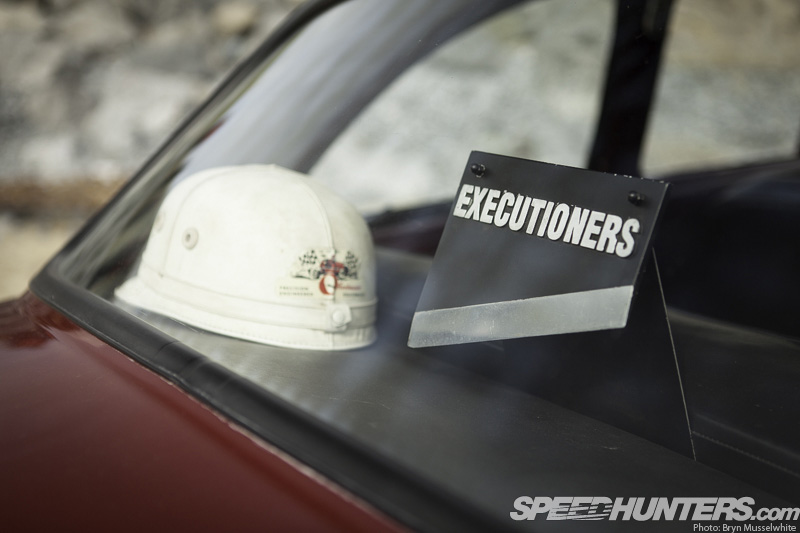 Another marker is the plaque: most are cast and hark back to the early days and the simplicity of melting down some old metal in the backyard and sand casting some plaques up. The Executioners might sound like a nasty bunch, but they're really not and put on a couple of great events at the Ace Cafe, labelled as 'riots'. They're a good night out.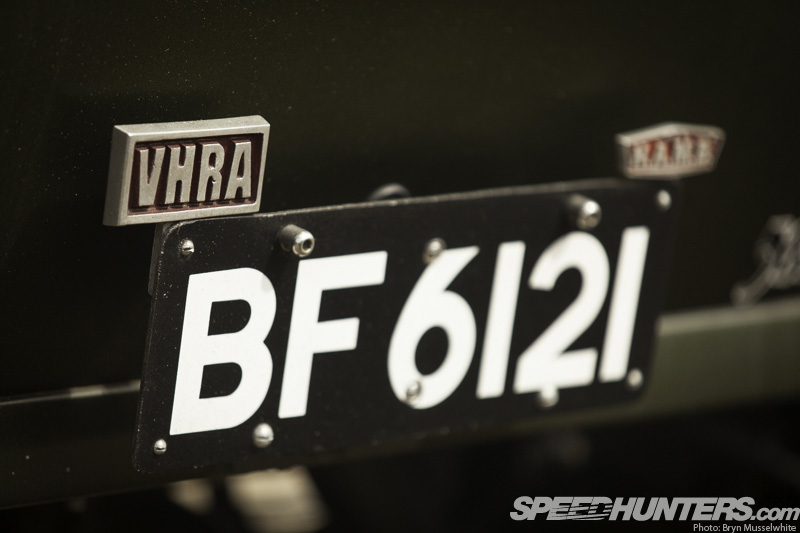 Of course the VHRA have their own plaque, which is usually mounted on top of the registration plate so you can instantly see them as part of the vehicle's identity.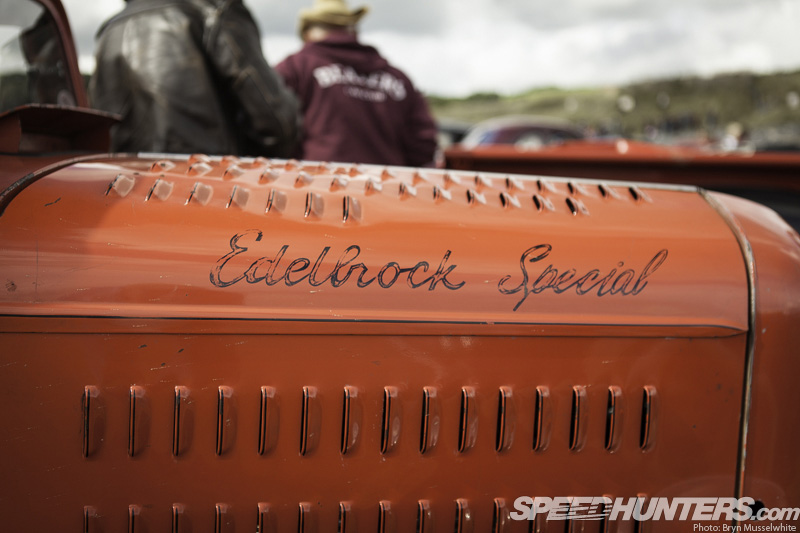 There are some more familiar names here today too, these early tuners pioneering the way power was produced. Edelbrock are still with us today so I guess they really knew what they were doing back then. Notice more louvres…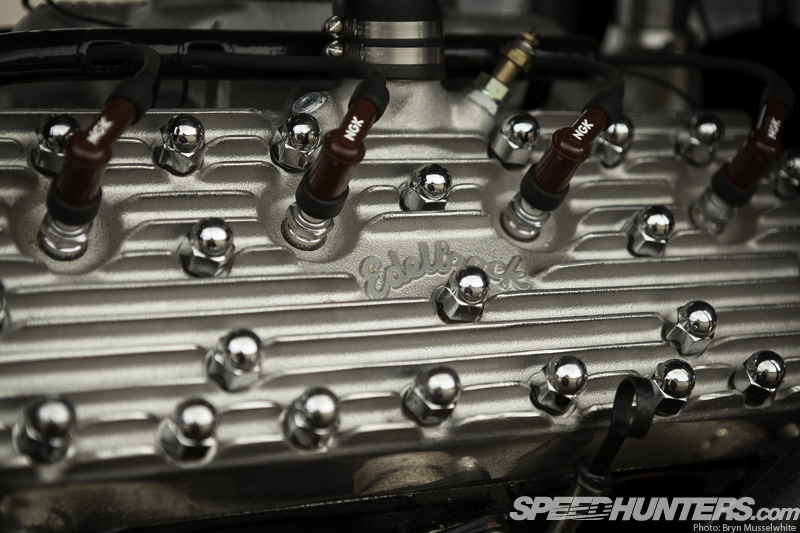 Flatheads are called that because they are, finned covers providing the perfect place for a spot of named casting.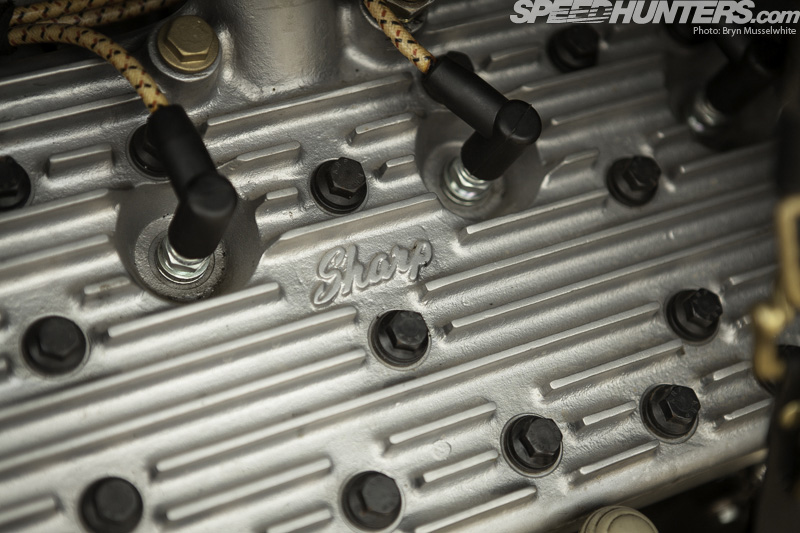 Looking closely revealed some lesser known names from the annals of tuning history, Sharp are a long-established name who have recently been taken under the H&H Flatheads banner – Southern California tuners with another name here today in their stable.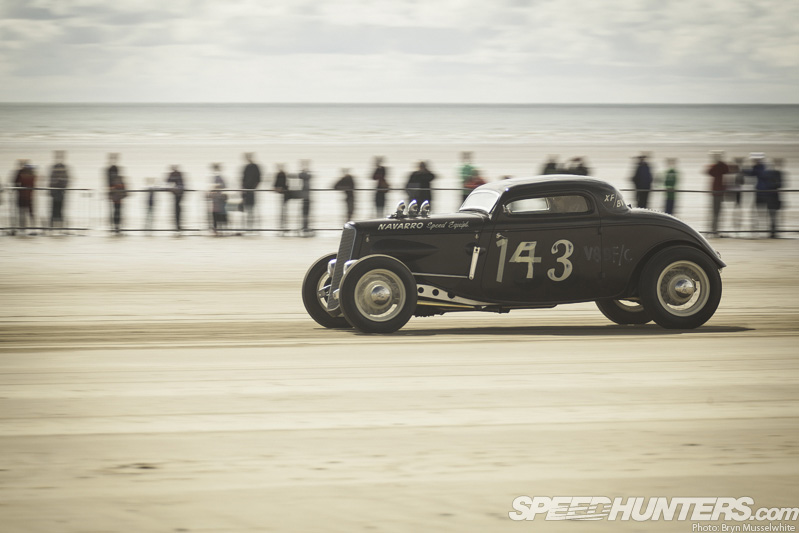 Namely that of Navarro. It's a cool name for a tuner but it's actually one man who it can be traced back to – Barney Navarro. Not as well known as many others on the scene but nonetheless influential, and Paul Beamish's heavily chopped 1934 Model 40 coupe is one of my favourites. Drilled chassis members and an incredible attention to detail really make this racer stand out.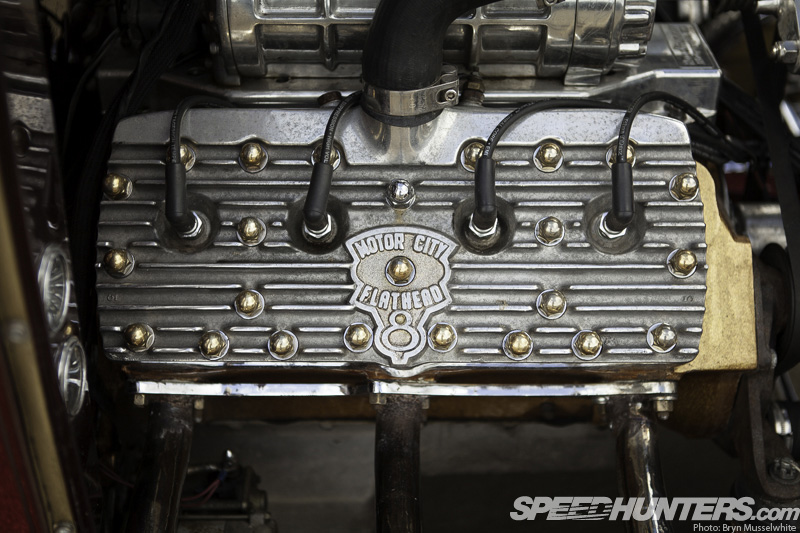 Whilst we're on the subject of tuners and engines, ladies and gentlemen allow me to introduce to you some royalty. Based a little closer to home is the British company of Royal Kustoms '32 Roadster. It's the full package too – regardless of whether it was to your own taste or not, it certainly stopped a lot of people in their tracks to take a closer look.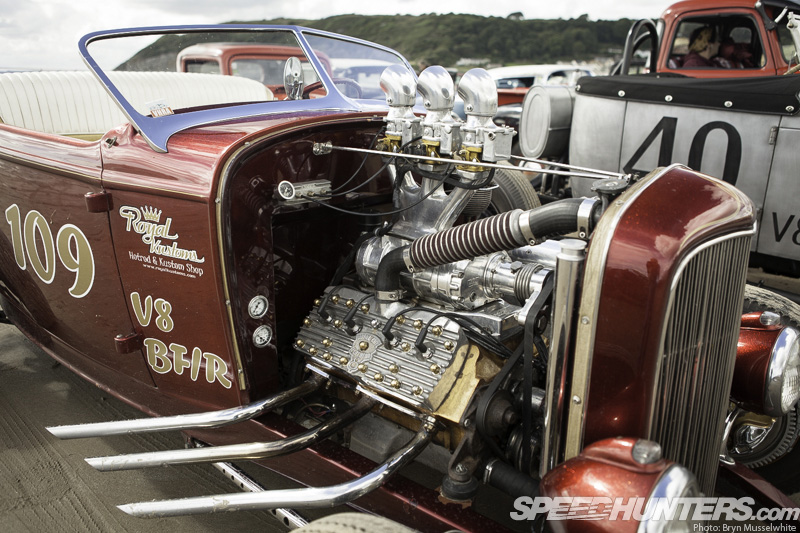 If you could see past the flake paint job, or beautifully trimmed interior then you could take in the rather special engine set-up. This flathead has been taken out to 324ci, then topped with a Weiand supercharger and triple carbs on a Royal Kustom made manifold. What you're looking at here is an engine capable of pushing the '32 through the quarter mile in 12.7 seconds at 109.8mph. Show and go in one very cool package.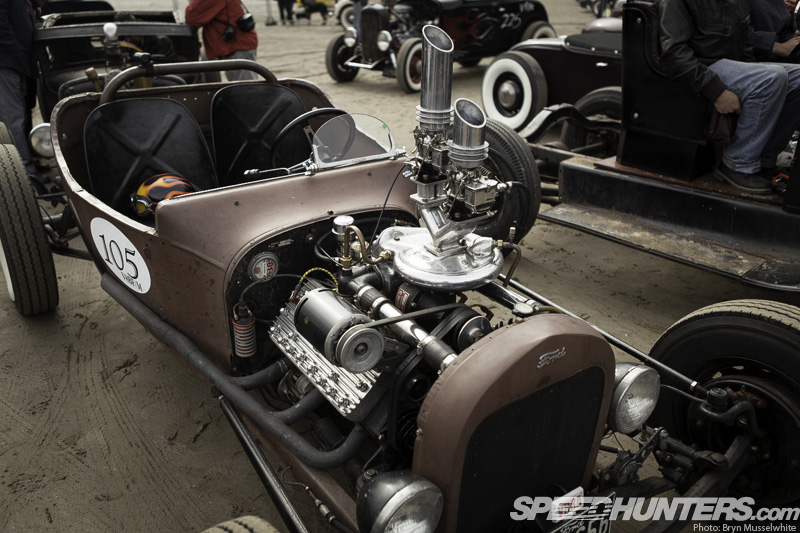 Now as engine porn goes, this really got me going. I don't have hard and fast facts, but as I understand it, underneath that twin carb set-up is a very old McCulloch supercharger, the belt drive hauling air in through the carbs and compressing it. Check out the top hose as it runs through the dynamo belt. Kinky stuff.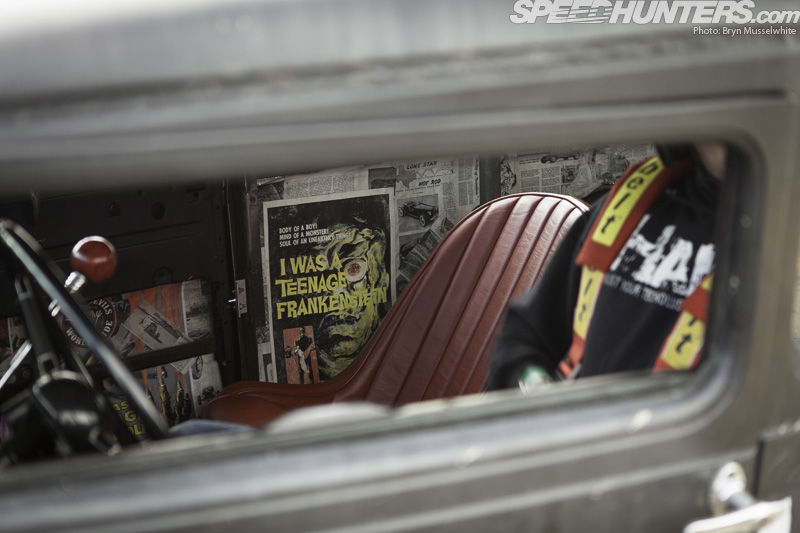 Which brings me neatly on to all the other details that you catch out of the corner of your eye and take a second look. My own beach buggy has pages of old magazines and pictures plastered all over and covered in yacht varnish. It's been that way for well over a decade now and people often refer to it as rat, but not me. It's just cool when you see period correct posters and pages.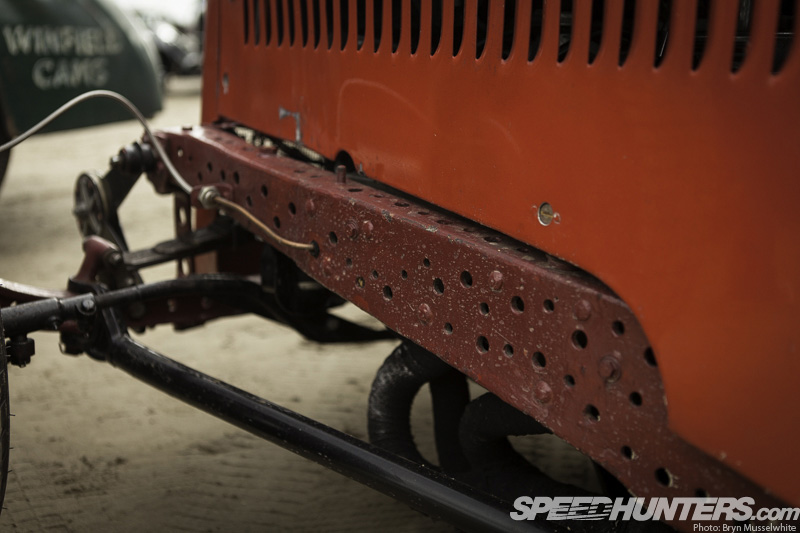 Drilled chassis rails? Again, things that we might all think are crazy are everywhere here. Valuable grams might add up to a kilo or two throughout an entire chassis and that could make a 100th of a second here or there.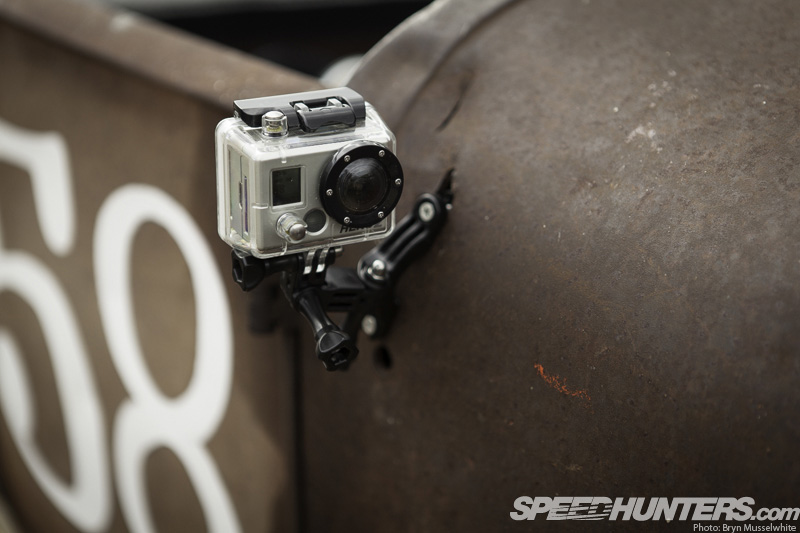 This really made me smile, as is the way these days everything is recorded and on the internet  as soon as it's happened (yes I am aware of the irony of writing this on Speedhunters), but the holes used to mount this GoPro with were probably ripped out in the Arizona desert decades ago for all I can guess.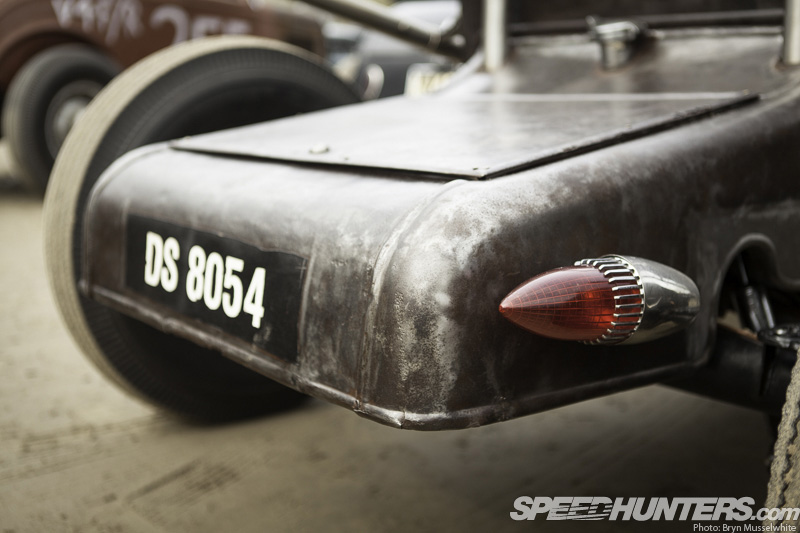 There were some lovely kustom touches around the pits, with this turtle deck T sporting a set of Cadillac type rocket rear lenses.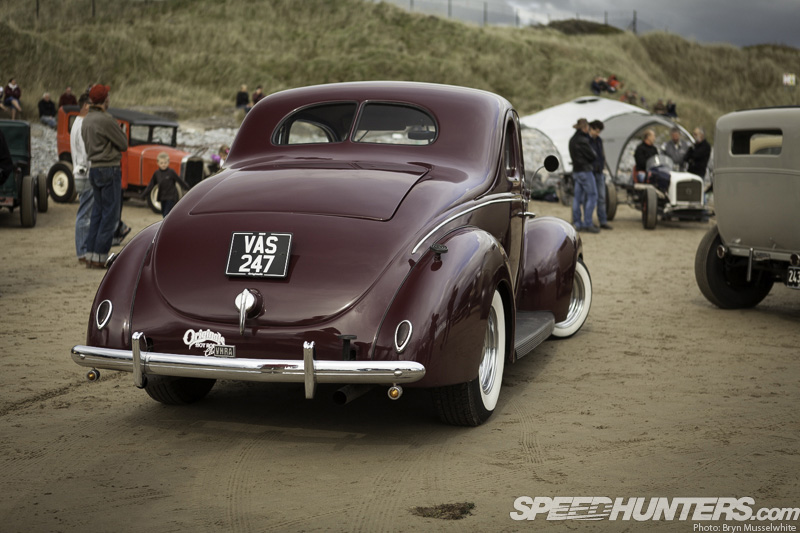 Some are less obvious than others though. What I like here are the two rubber steps on the back of this Ford coupe, that enable a passenger to get up into the dicky seat – that bootlid hinging from the rear so that extra passengers could be carried. Windy ride anybody?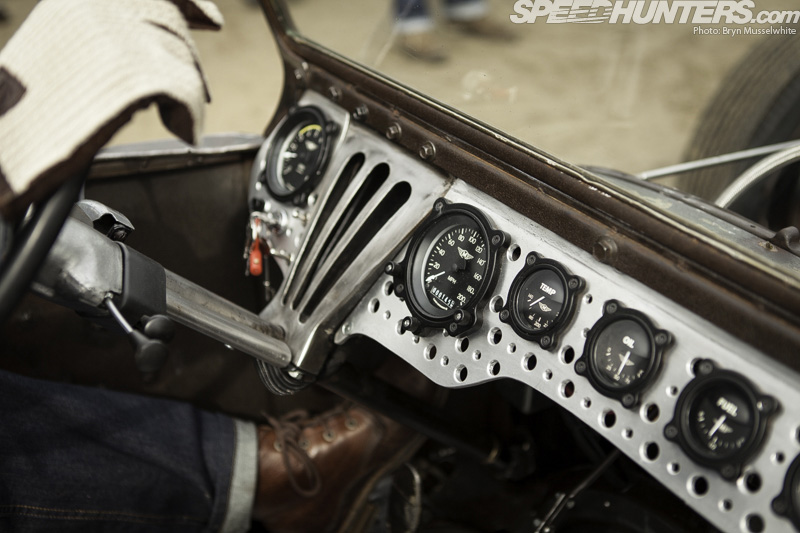 Of course some mods are the owner's own personality coming through – what look like gauges from a plane being used here with some lovely machine and fabrication work.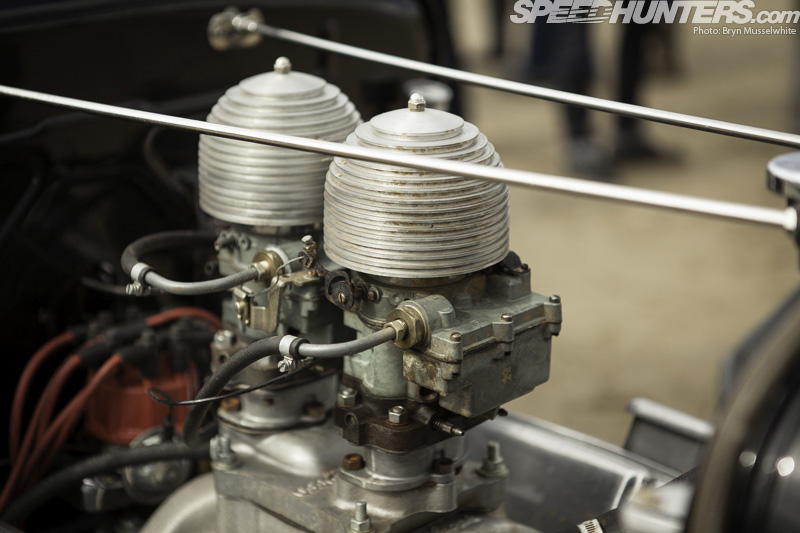 Sometimes parts can be adapted from other sources. These spun carb tops could be replicated by looking around at industrial fittings if you were canny.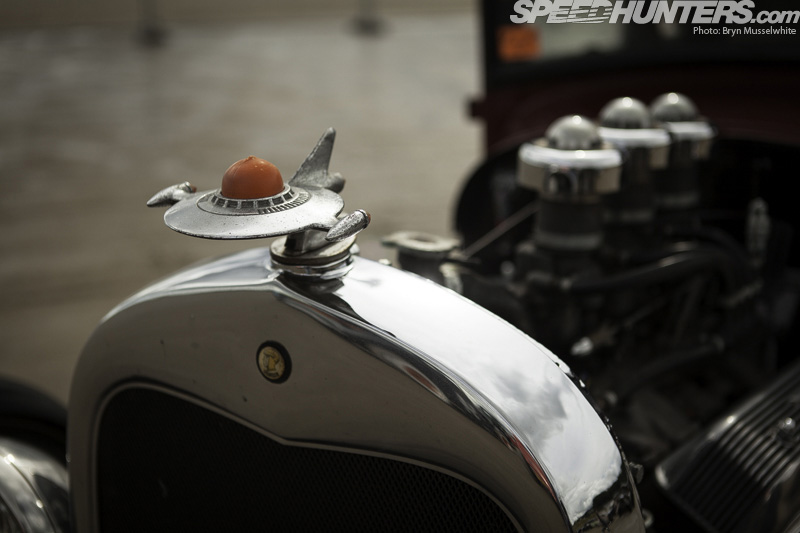 For that truly personal approach though, I give you the Space Cadet. Remember the '50s when these models would have been falling into the hands of rodders were filled with talk of space travel, other worlds, aliens and worlds beyond our own.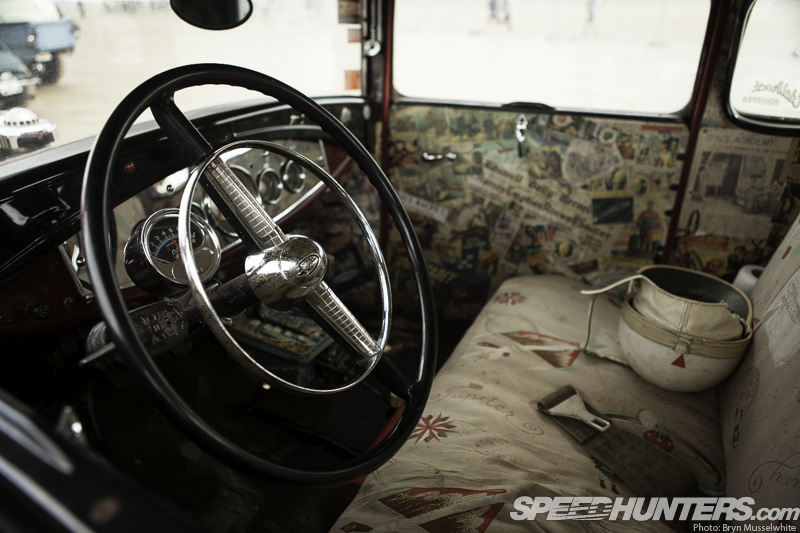 The theme continuing on the inside with some more magazine and comic-sourced material.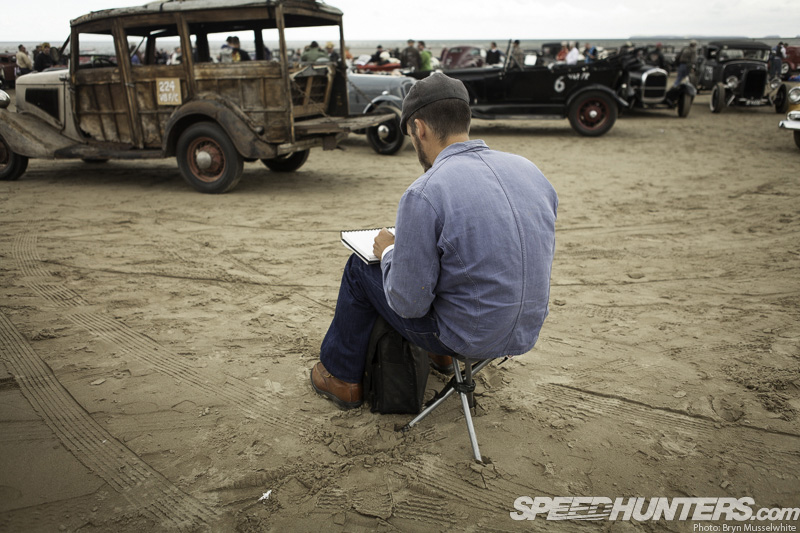 For all of the DSLRs, GoPros and camera phones blotting the period feel, I was glad to see artist Martin Squires sat quietly working away. In fact here's the picture he was drawing when I took this, err… picture.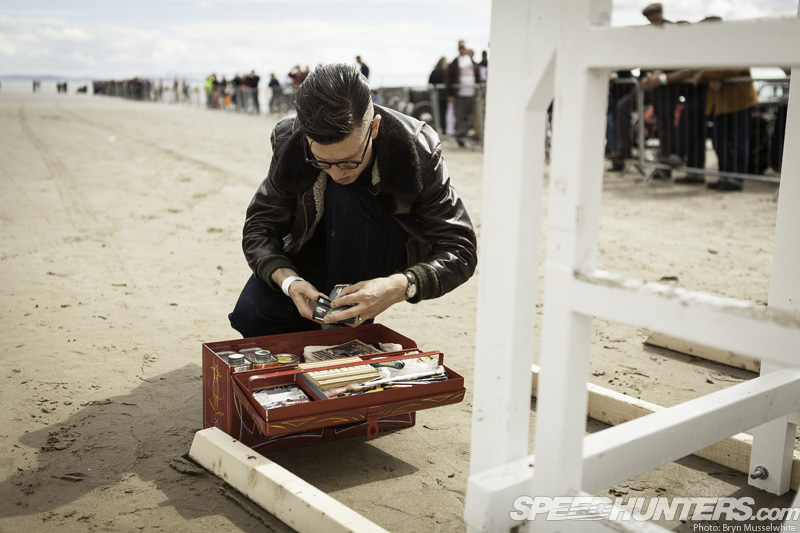 Another artist at work near the results board – Lawrence Belcher of XIII Pinstriping. Judging by his tool box he's a bit handy with the brushes. Having attended art college for five years, I often feel like a cheat when I see work I can only aspire to. My talents never stretched this far.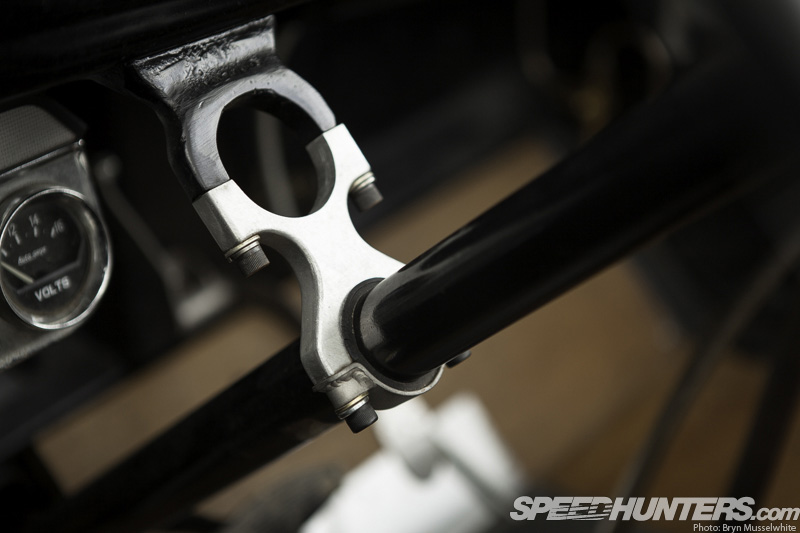 Dropping the steering column means you can lower the seat level, and an old conrod used to work well when welded up to the original mount. This one gives you the option of swapping it back up a little easier.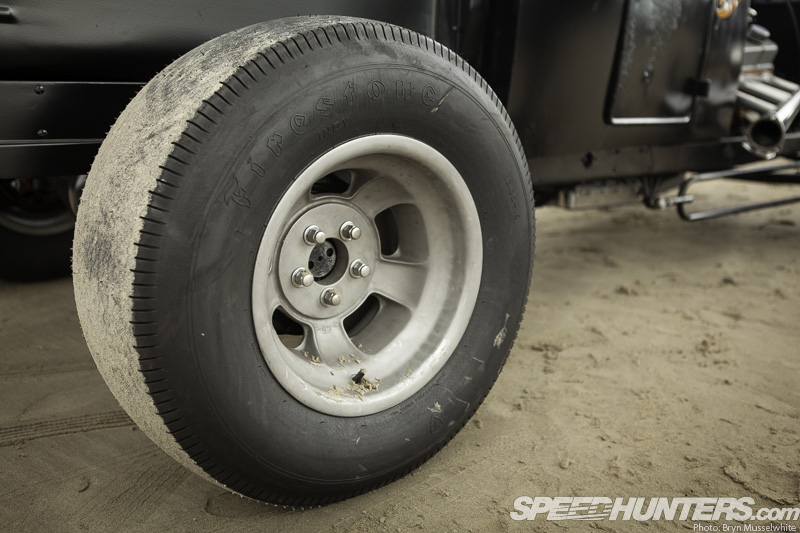 Alloys were obviously a much later development, but these magnesium slots are some of my favourite all-time wheels. Sometimes called kidney bean slots, they were made by companies like Halibrand and American Racing. There are many different permutations and minute differences, but I tend to love them all.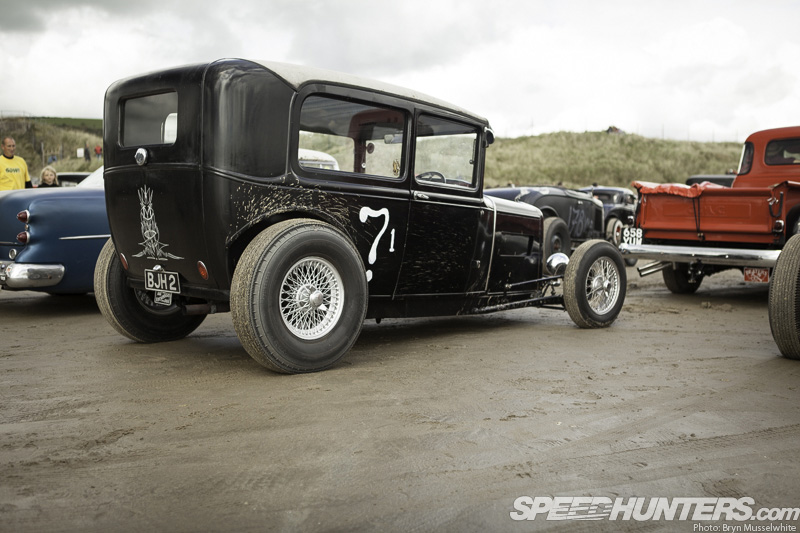 But as much as this is an American inspired event, we're in Great Britain and there's nothing more British here than this Model A. Those are Aston Martin DB6 and Austin Healey wire wheels it's wearing, mixing styles perfectly.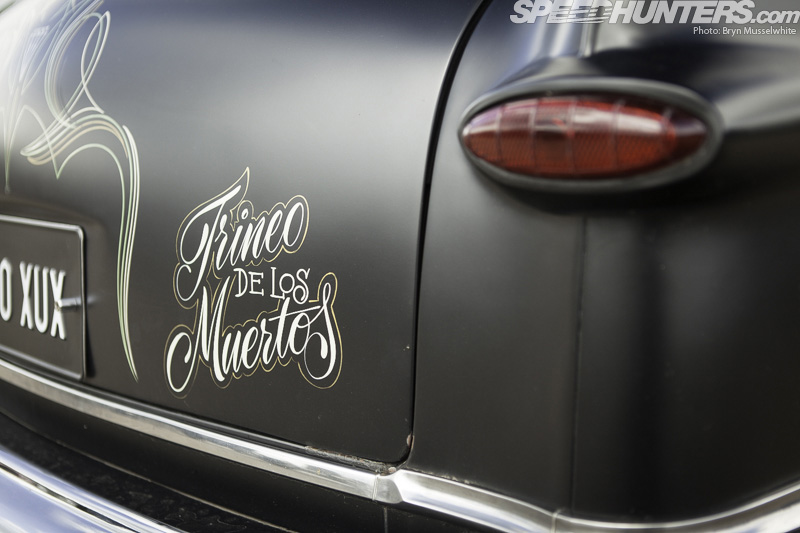 More pinstriping and this time some rather cool script. Roughly it translates from Spanish as Sled of the Dead. Satin black paint being the colour choice of death.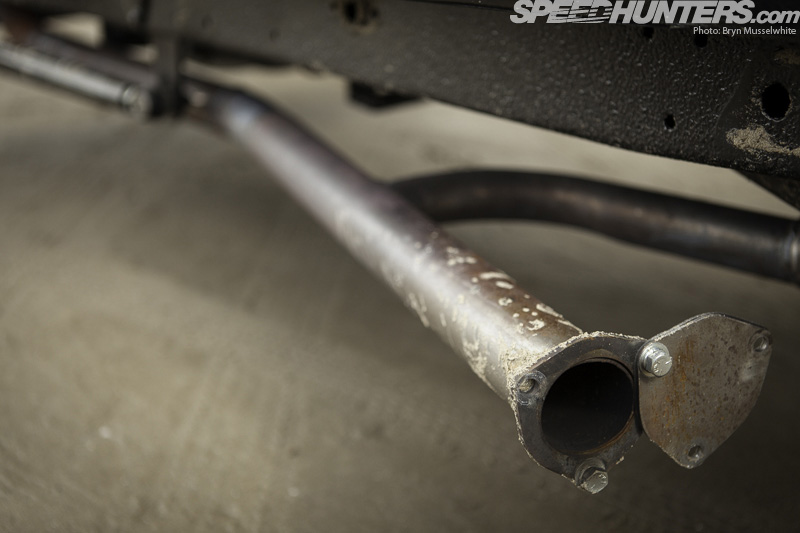 We all know that power creates heat and to help with getting those hot gases out quickly, you can fit a bypass pipe in your exhaust system. So you can see here how the pipe comes from the engine. With the cover back on, the gas passes to the back of the car and presumably through some sort of silencer box. Uncorked pipes sound better too, so why not?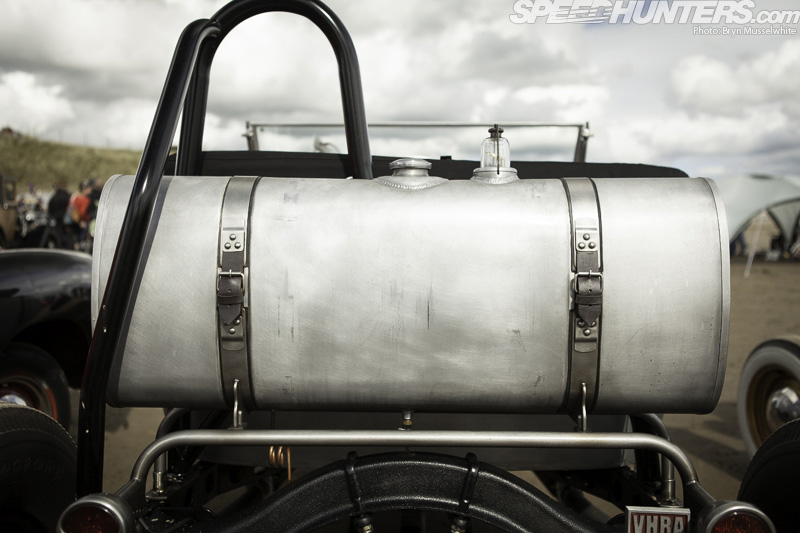 I'd like to start rounding up this article with a finely built back end. There was a lot of lovely fabrication work in this T bucket, but the tank and its mounting straps really struck me as being a good looking solution to the problem.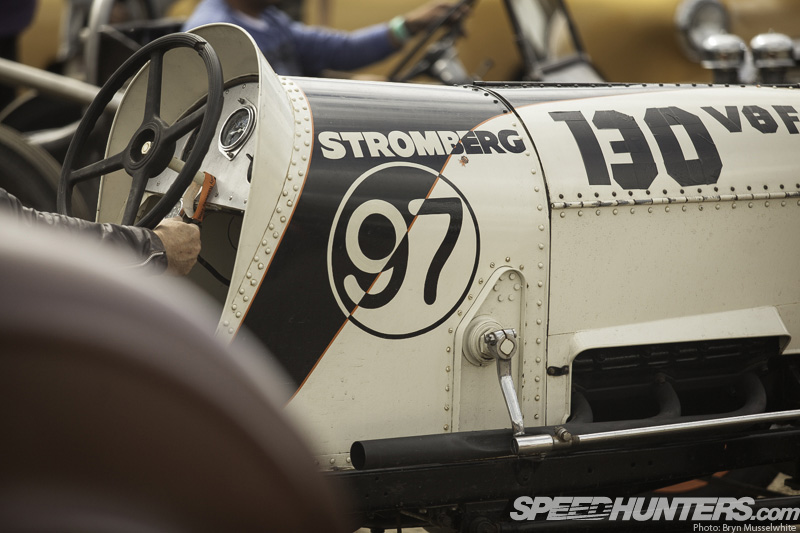 Just one last detail – see how the steering arm has its own little indent in the simple exhaust pipe? Yes it could have been routed elsewhere, but once again a problem is solved with a personal touch and a bit of creative fabrication. Individualism is imprinted on every car in this pit.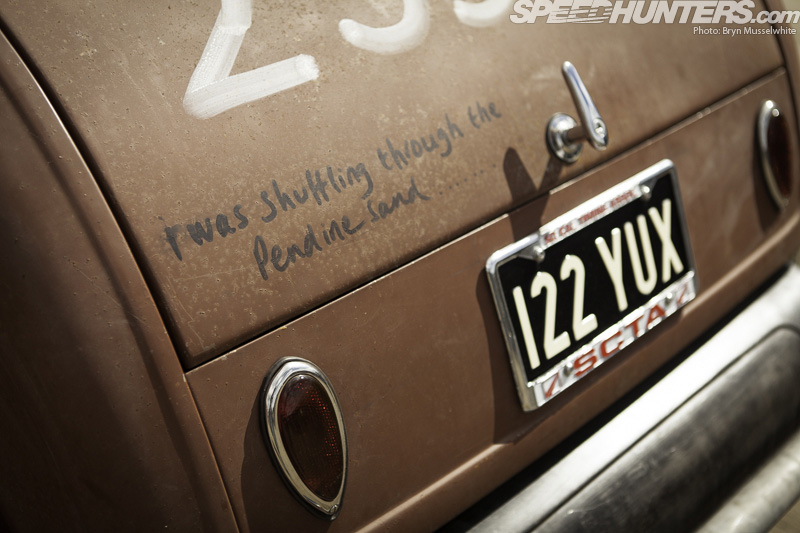 Just as the memories of today will be talked about for a long time too.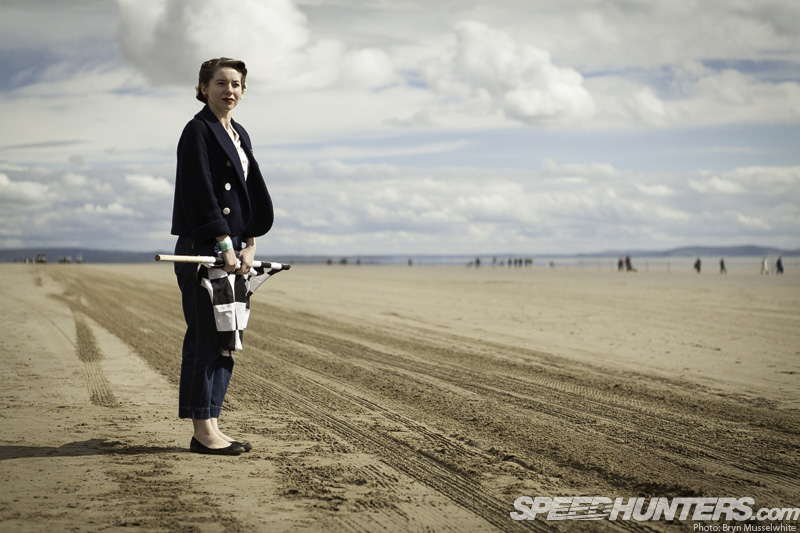 The only problem with all this is we now have to wait a full year until the next Pendine Sands event. Because there will be another one… there has to be.
……………………………………………..
There will be a book available showcasing the exploits of the day available through the Vintage Hot Rod Association website, you'll find the details there from autumn 2013 onwards
Bryn Musselwhite
Instagram: Speedhunters_Bryn
bryn@speedhunters.com
More hot rod stories on Speedhunters
More land speed stories on Speedhunters