I thought I was crazy for standing out there in the pouring rain patiently waiting for the next battle to begin, but I looked around me and saw thousands of other people doing the same thing. Maybe I'm not so crazy after all. Seeing drifting in the rain was absolutely beautiful. It's like time has slowed down for the drivers and we're all watching in slow motion. Since there's no smoke you can see the effect of all the inputs the drivers are giving in the cockpit very clearly. I rarely get to see such a sight in Southern California, but it's common fare at Speed City in Kuala Lumpur, Malaysia.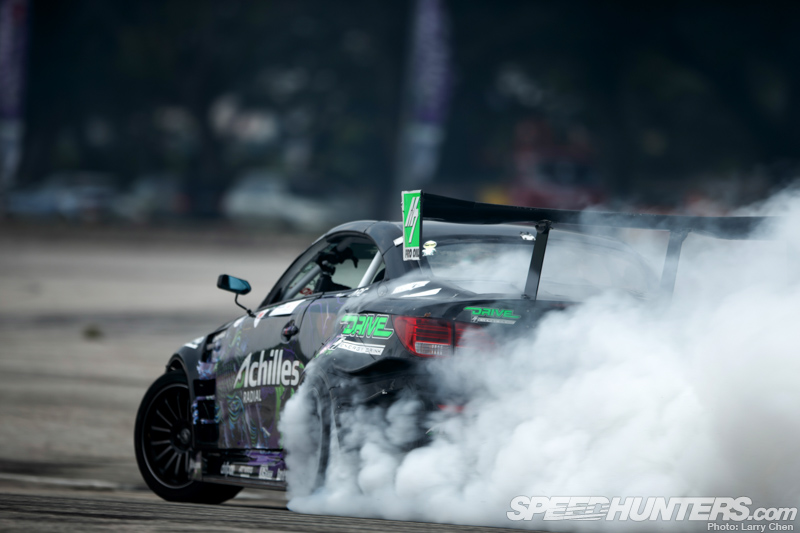 I made the twenty hour trek all the way to South East Asia to check out round two of the Formula Drift Asia series. It was a truly international affair with Daigo Saito leading in points after round one in Melbourne Australia.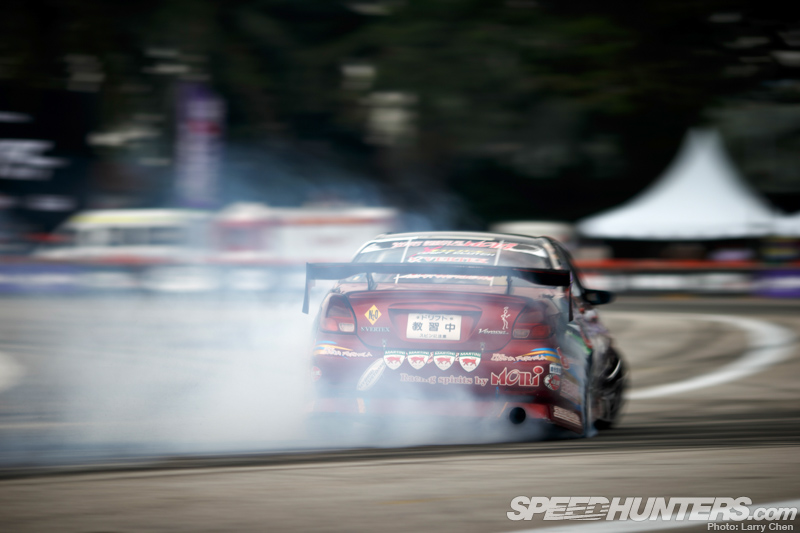 Right behind Daigo was Tom Monkhouse. In Melbourne he got second place in a borrowed car, and now he's back in yet another borrowed car.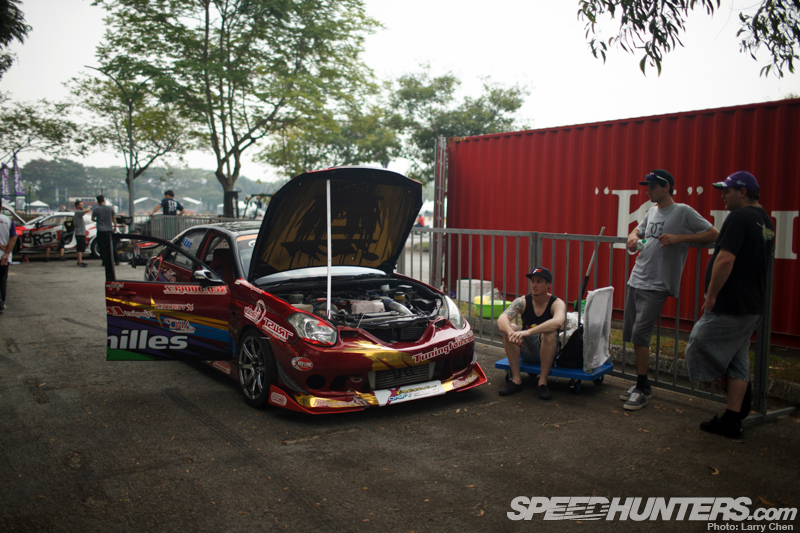 This guy has some serious natural talent to adapting to cars quickly. It would be amazing if he won the championship while borrowing a different car each round.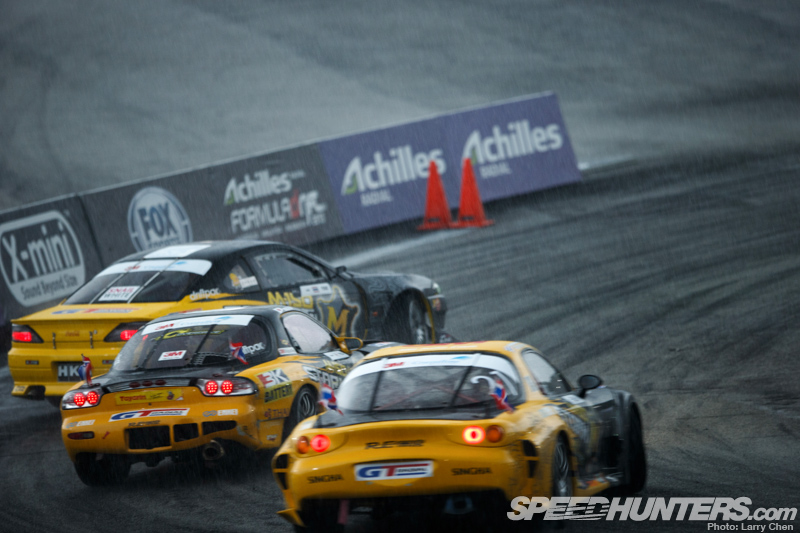 The majority of entrants came from around the South East Asian region. The M150 team from Thailand came with six cars strong.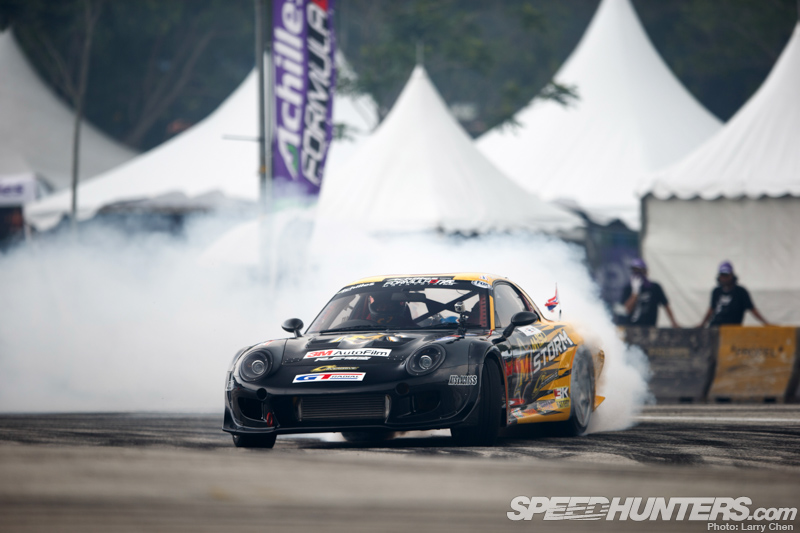 One of the cars that really stood out to me from the M150 team was this newly built FD RX-7 powered by a 20B putting out around 800hp.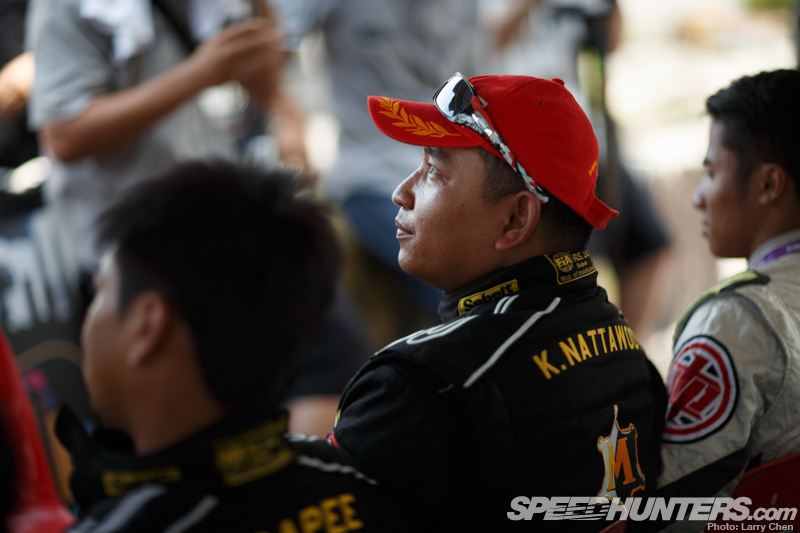 I've been noticing more and more fans from all over the world traveling to North America to watch Formula Drift and Nattawoot 'Oat' Krerpradab is one of those crazy individuals. He was just in Seattle for the previous round of Formula Drift as a spectator.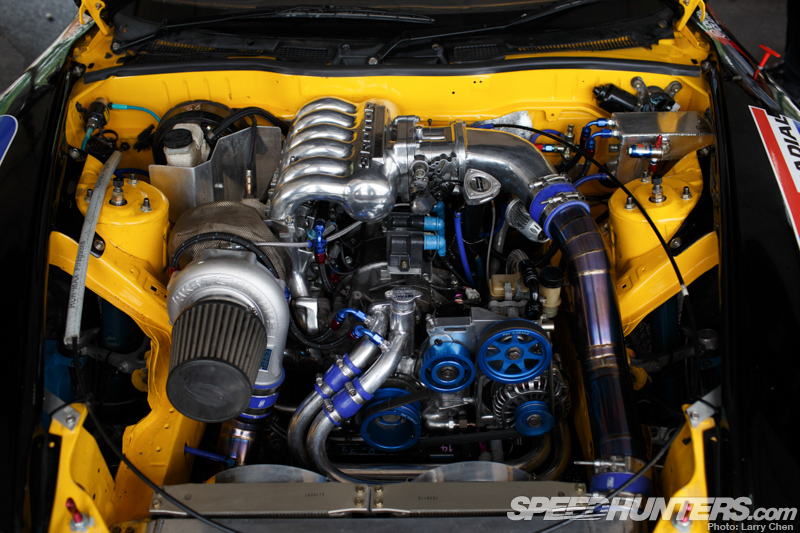 However he has aspirations to eventually compete in the Formula Drift Pro Championship Series, so he built this car as a test bed for many more drift cars to come.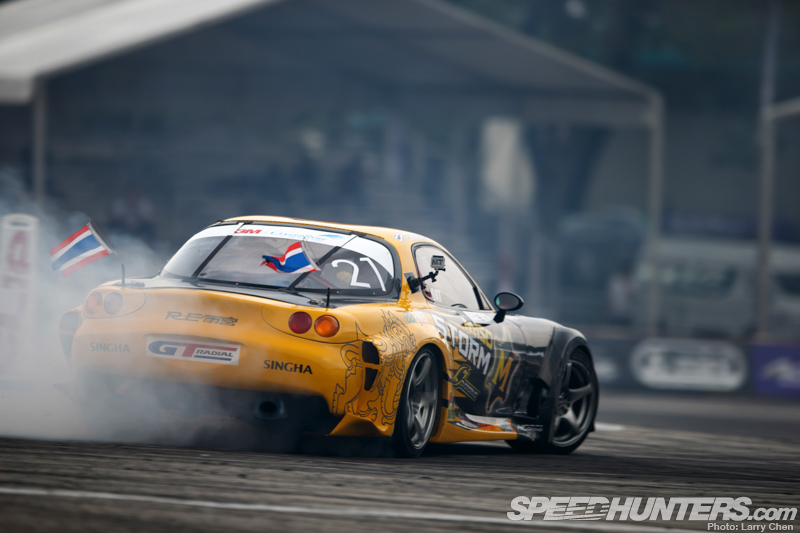 You see this car is built to comply with the FD Pro rulebook, so if Oat wanted to he could ship this overseas and compete any time he wants. But there's still much experimenting to be done, so we'll see what sort of improvements he can make to this platform in the future.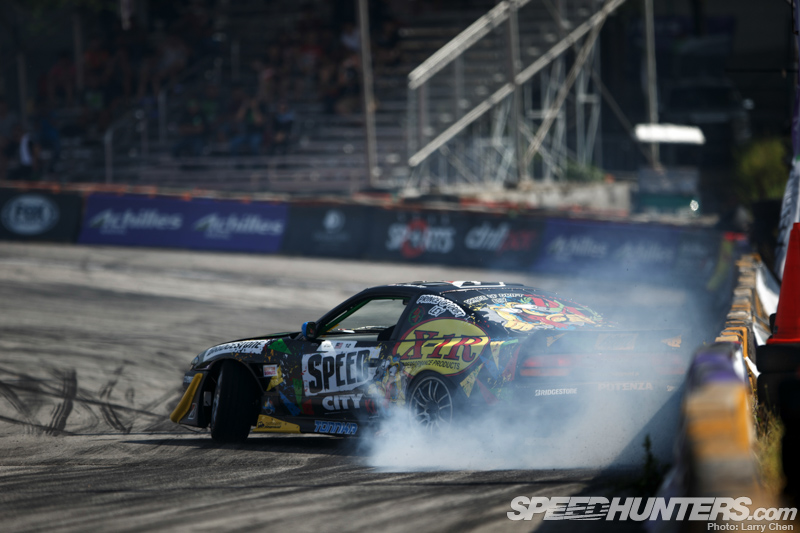 This was my first time to a Formula Drift event in Asia and the level of driving blew me away. Then again, I've seen most of these guys in action before, include Tengku Djan, back in 2008 at the Redbull World Drifting Championship.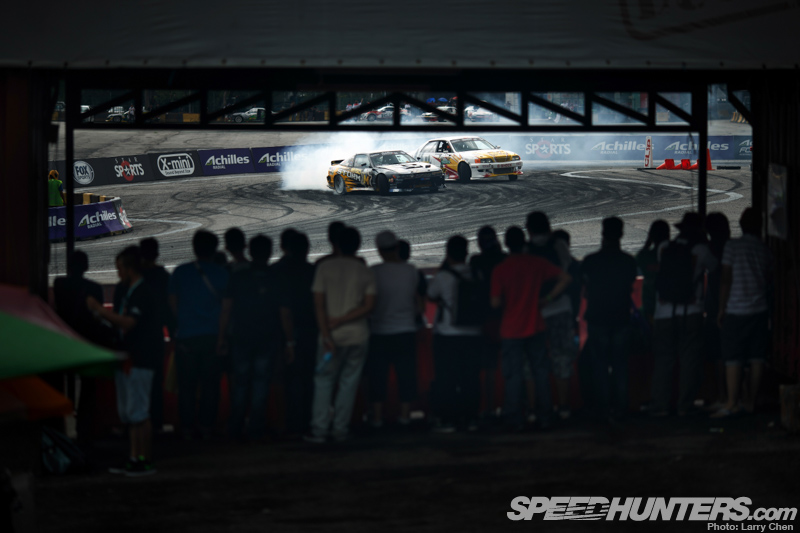 There was just so much going on at the event and there was so much packed into just a small amount of time, so I'm going to do my best to give you guys a little overview of what it was like to be on the front lines.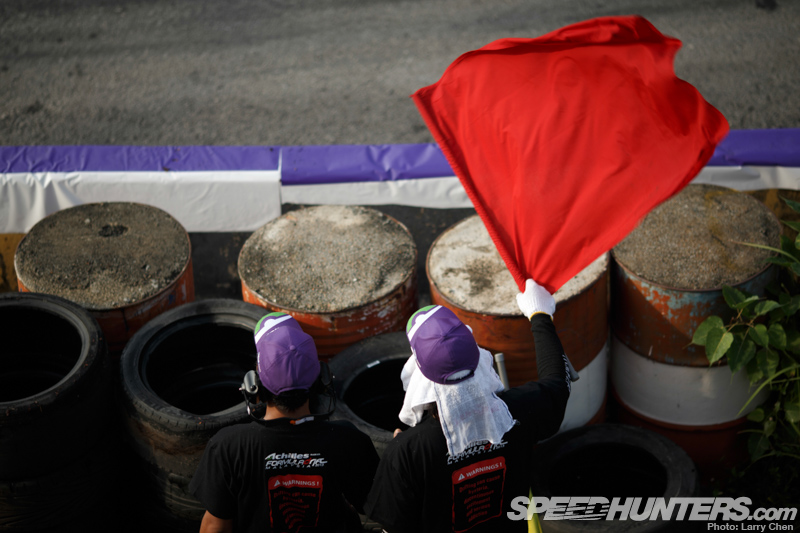 There were the fair share of hiccups, but nothing not seen before at a drift event.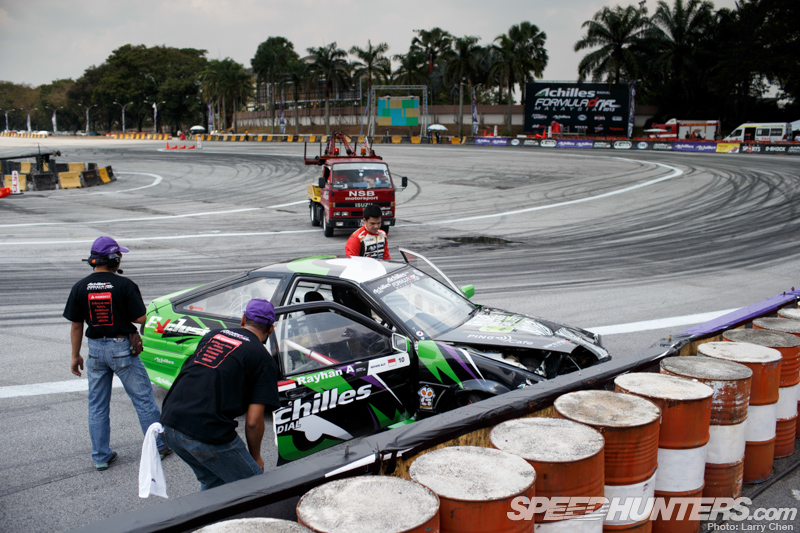 Surprisingly there were very few incidents that involved the K-rail, most of which just resulted in a loss of body bits.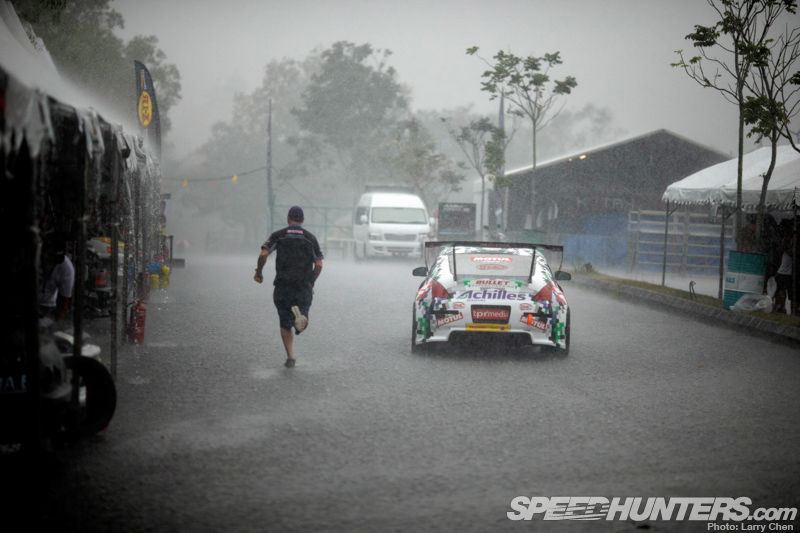 However, I was definitely not expecting the track to flood like it did. Apparently event organisers in South East Asia go out of their way to hire these rain witch doctors, who actually get paid to pray for the rain to stay away during your specific event. How crazy is that?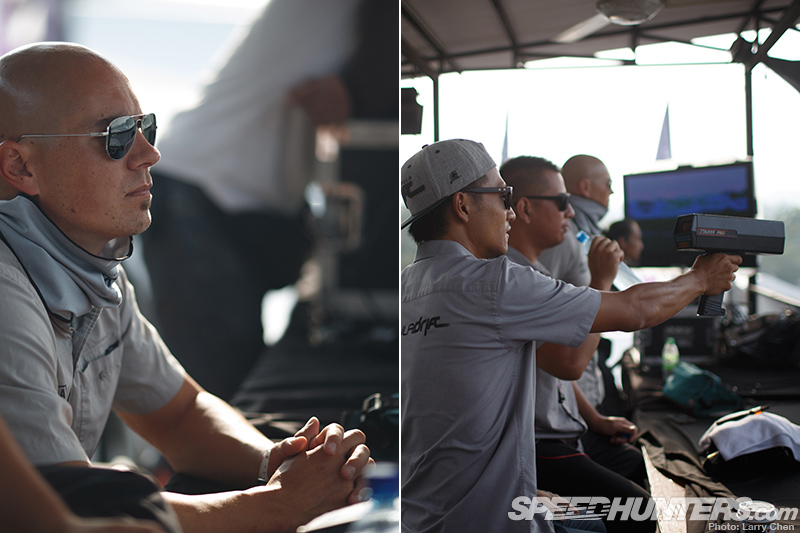 As usual Formula Drift co-founder Ryan Sage and a select few others made the trip across the pond to help out with the production as well as the  judging.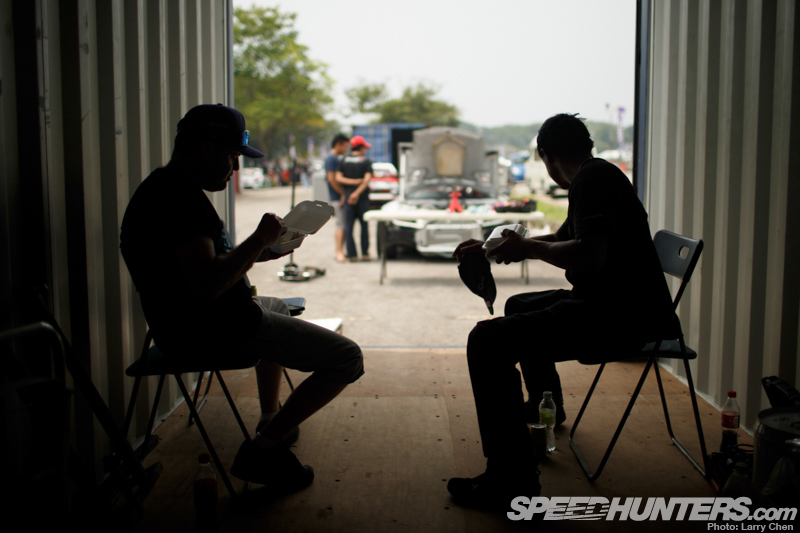 Friday was largely used as a preparation day as the international teams unloaded their cars and prepped them for competition.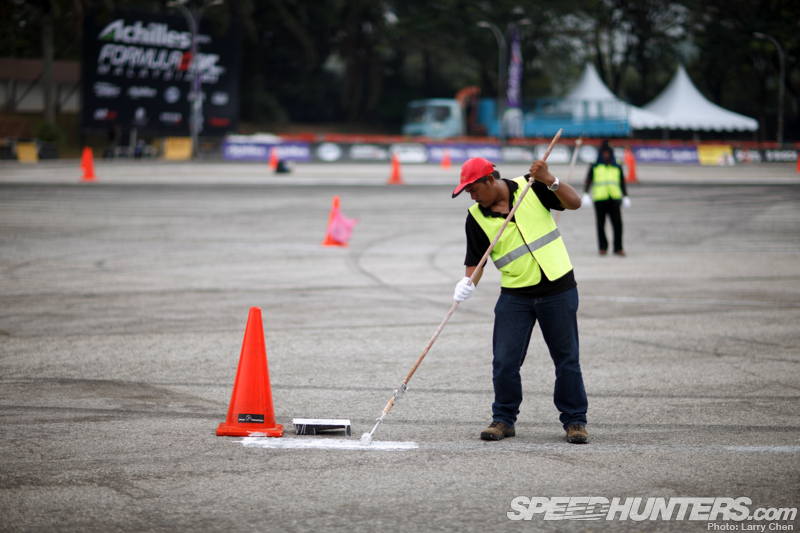 The track lines were painstakingly hand painted little by little. It took quite a long time for it to dry due to the humidity, but the little bit of sun that we had helped quite a bit.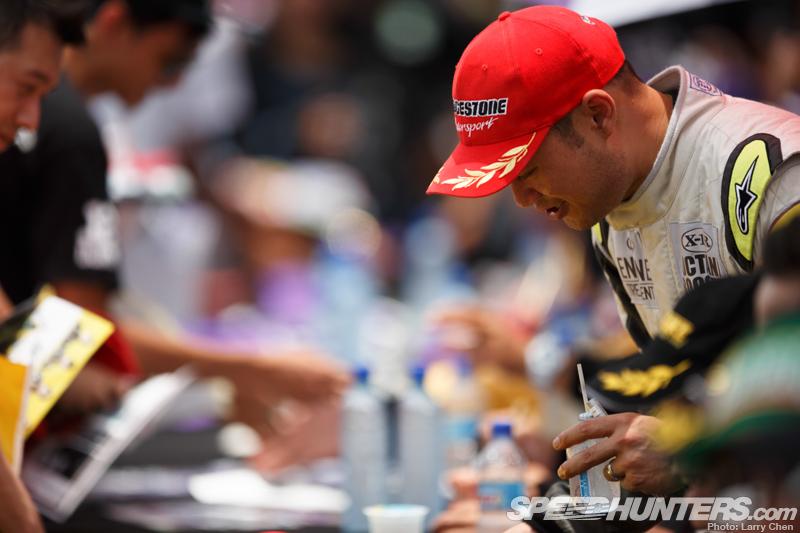 The track is actually owned by the one and only Prince of Drift, Tengku Djan. He is the only only asian in Drift Alliance and he's a real Malaysian prince.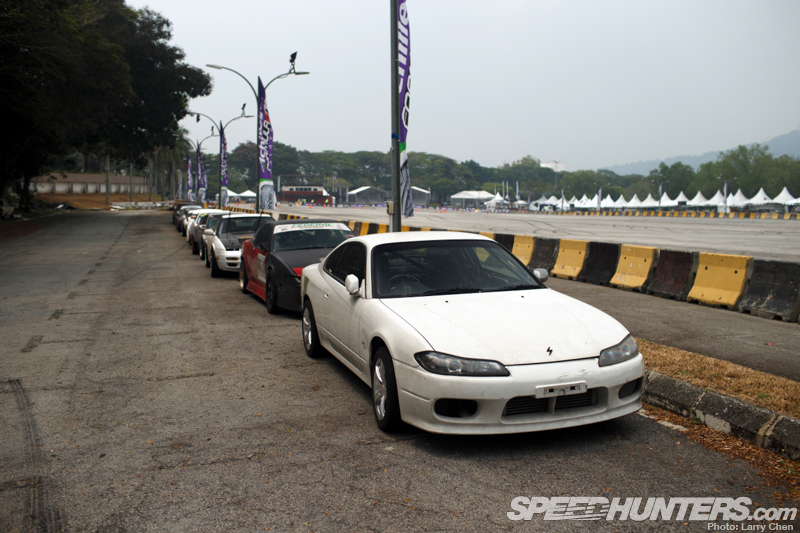 The parking lot used to be a storage place for shipping containers, but now it's a permanent track that holds many events throughout the year.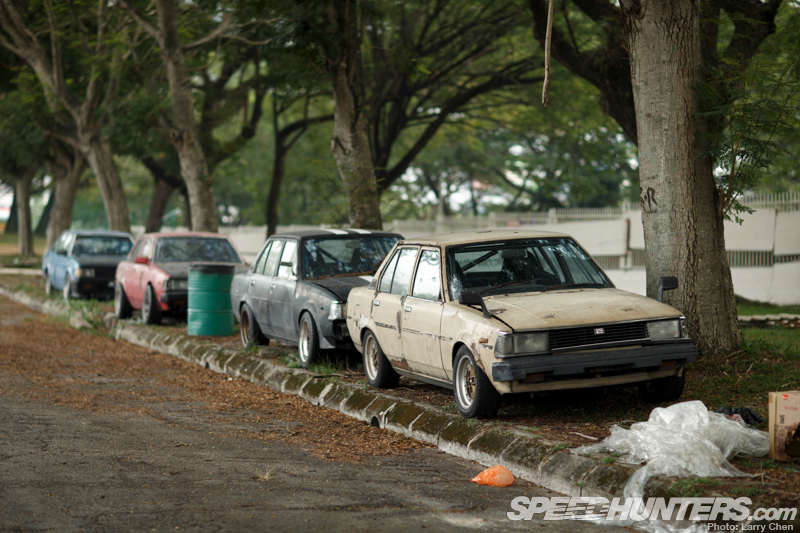 Because it it rains pretty much every day, it's the perfect place to learn and practice drifting without having to spend a lot of money on tires. It also means you can drift with stock AE70 Corollas.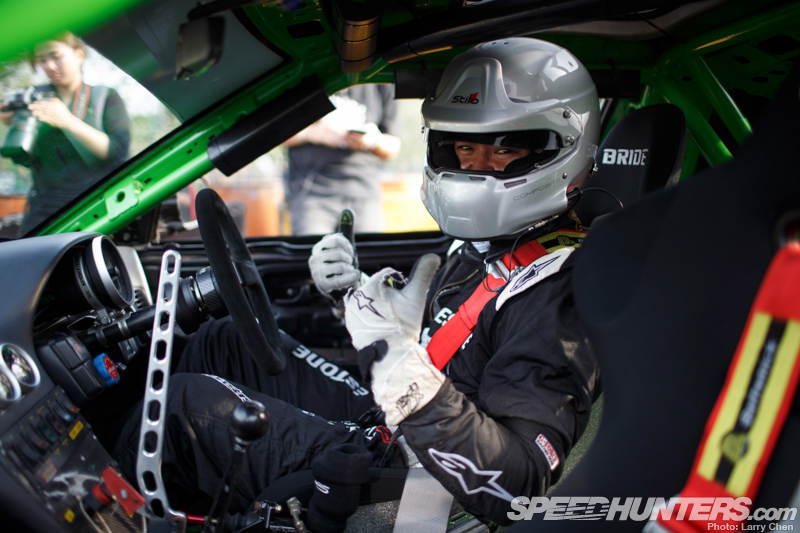 Tengku Djan has been drifting for many years and he's become sort of a hometown hero to the drift fans of Malaysia.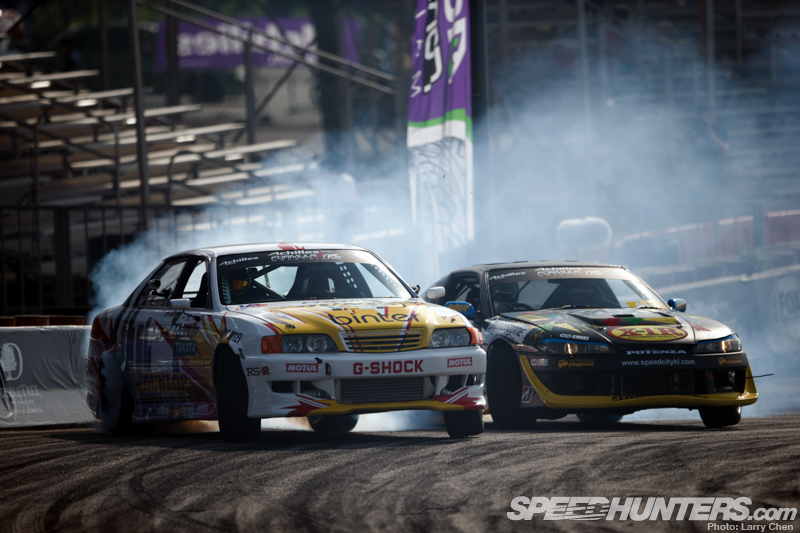 I was convinced that he would take a podium spot for this round as he was doing great during practice. He ended up going against Ken Gushi for the third place. Both drivers put up a great fight but Ken eventually moved on to take the final podium spot.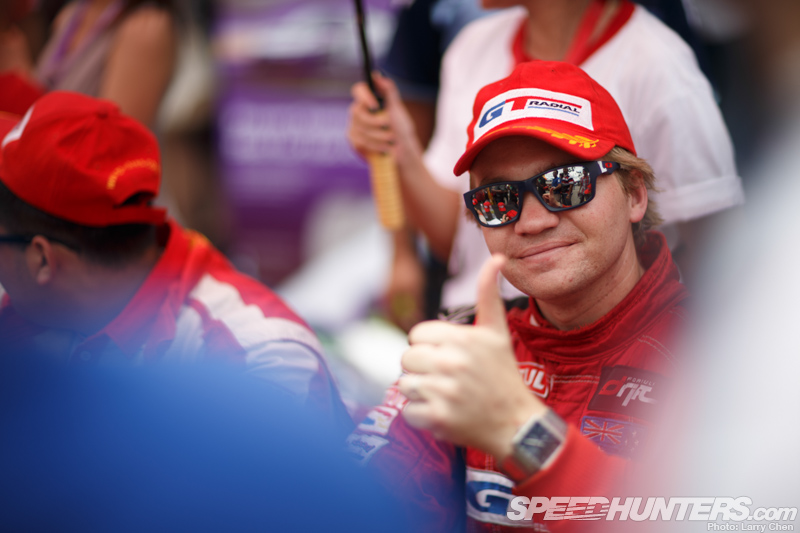 Three Australian teams made the trek including Josh Boettcher in his GT Radial S15. He's been following the FD Asian series for a few years now and with his third place finish at round one in Melbourne, there was no way he was going to miss round two in Kuala Lumpur.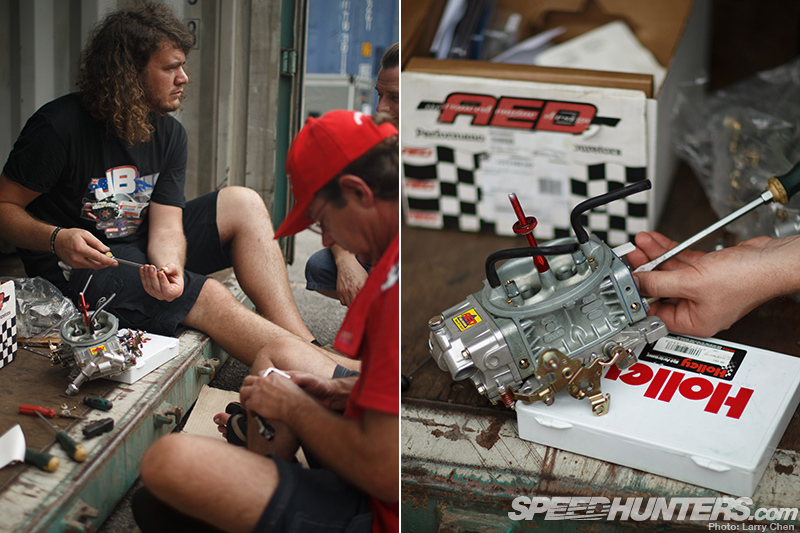 To compete with all the high horsepower guys he swapped in a V8 right before he shipped his S15 out, so the team was still buttoning up the car as soon as it was unloaded.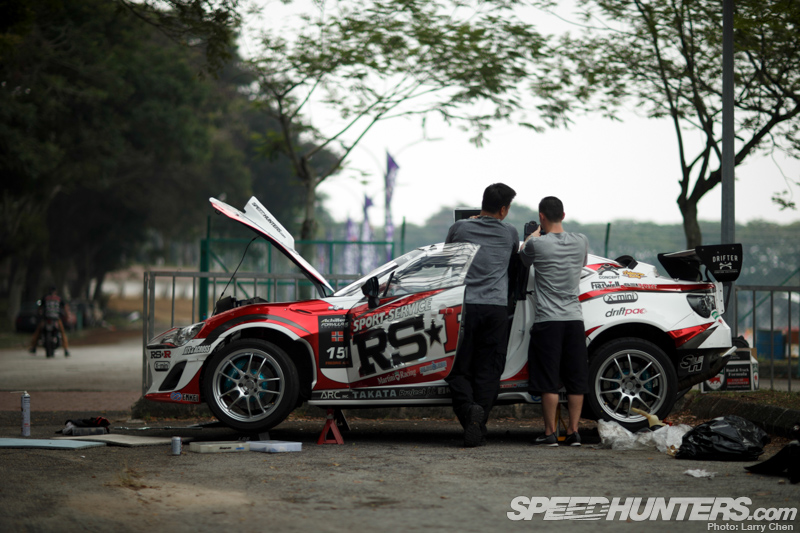 Also busy at work was the RSR team. This was only the second outing of the Nascar-powered GT86 driven by our very own Fredric Aasbø, so there was much more to learn about the car.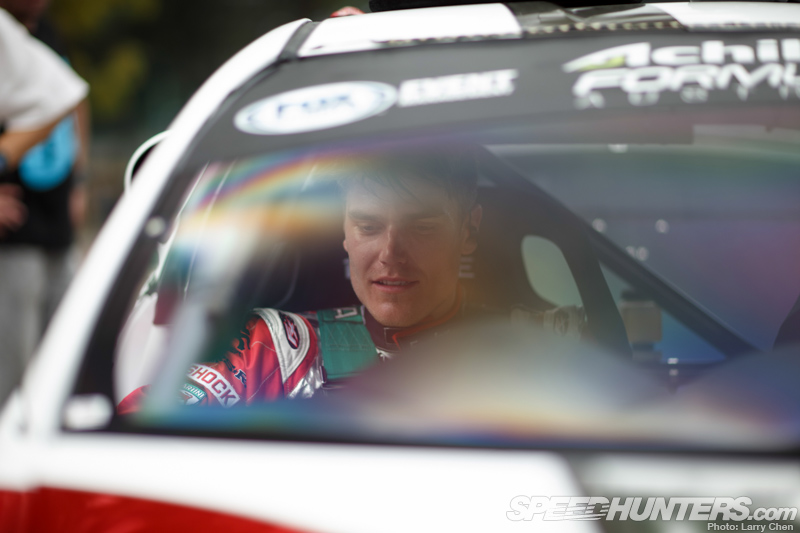 Fredric struggled with the car at round one in Australia, but he still managed to get fourth place, so he was really looking forward to a podium finish in Malaysia.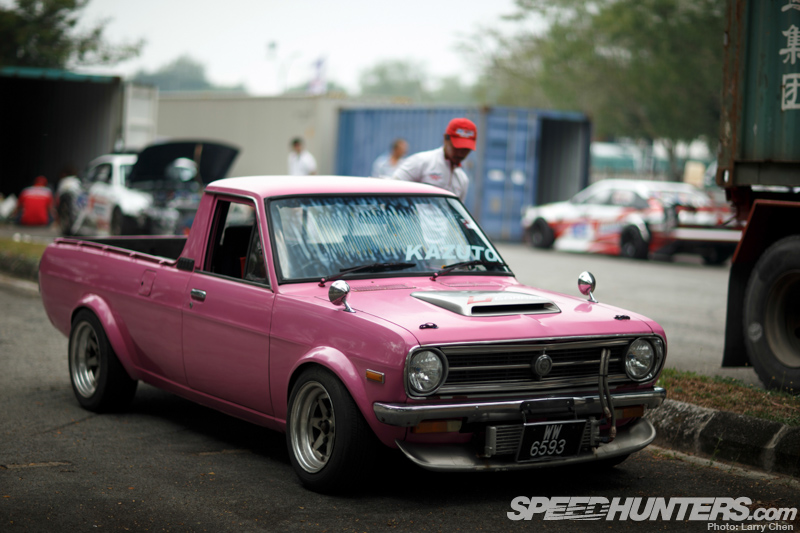 Parked nearby was some local flare in the form of a old school Datsun GB110 pickup. Interestingly enough, the owner has a Japanese wheel importing business in Malaysia.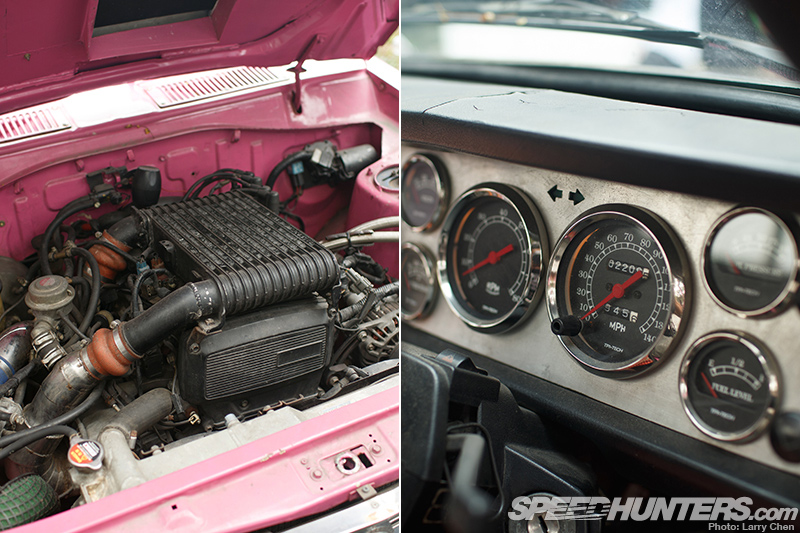 I was very surprised to see a supercharged 4AGZE under the hood. It even had the intercooler from an MR2.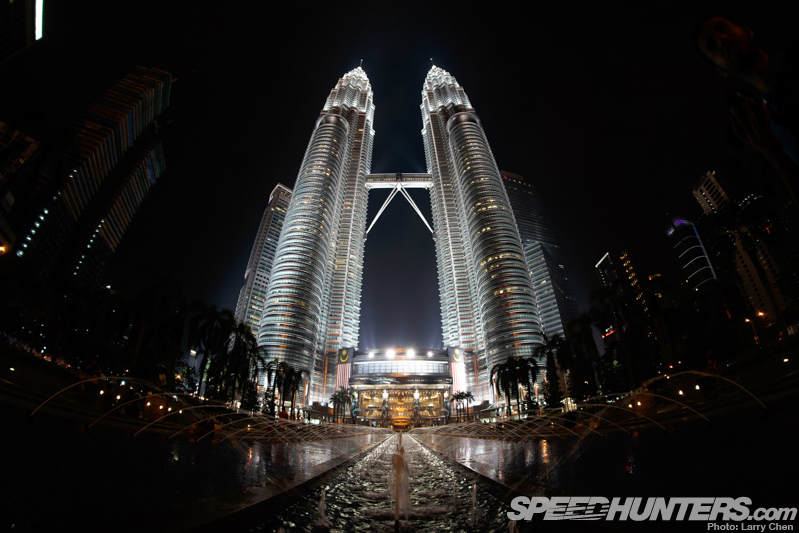 The inner tourist in me went out with the rest of the FD crew to check out a little bit of Kuala Lumpur outside the track, which is always one of my favorite parts of these Speedhunting trips.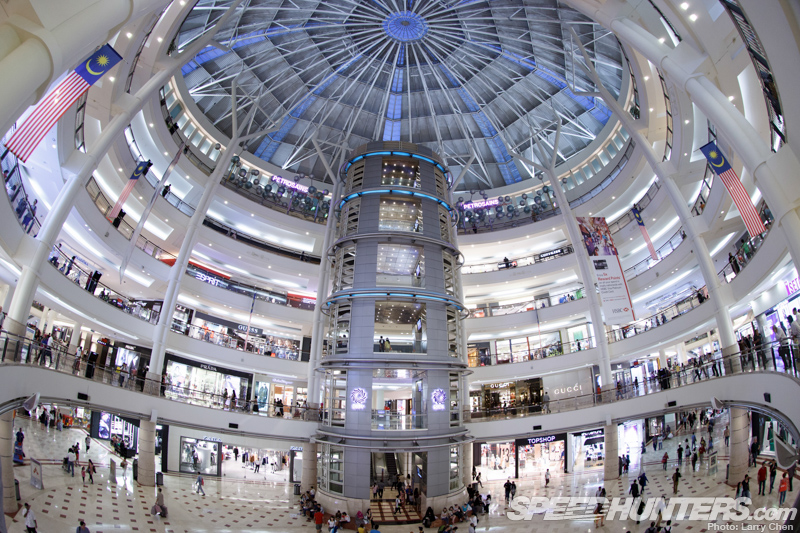 First stop was dinner at the Petronas Towers. Inside was a sprawling network of consumerism. I really wanted to check out the observation deck, but it was closed. Ugh.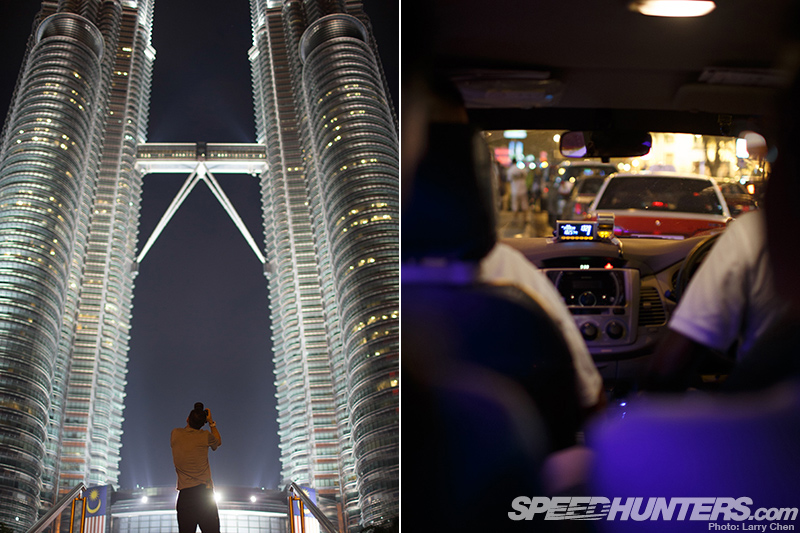 We did as much exploring as we could in one night which means I left plenty for next year's adventure.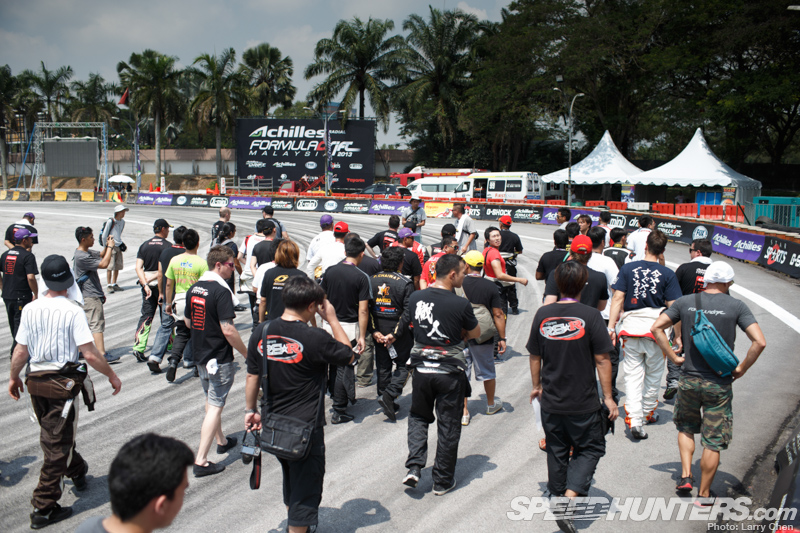 Saturday morning started out with a course walk and of course it was hot beyond belief.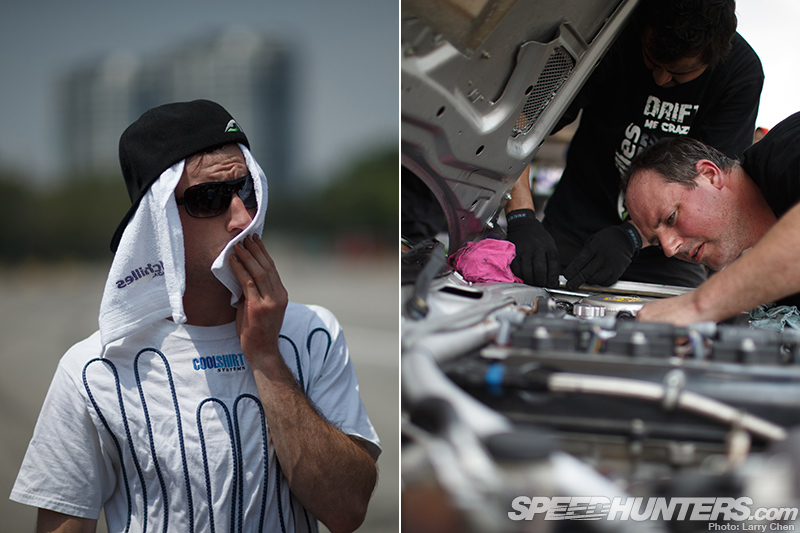 It was unbearable just to stand there, let alone trying to do any physical labor. Some of the drivers came prepared with cool suits, but others just had to suffer.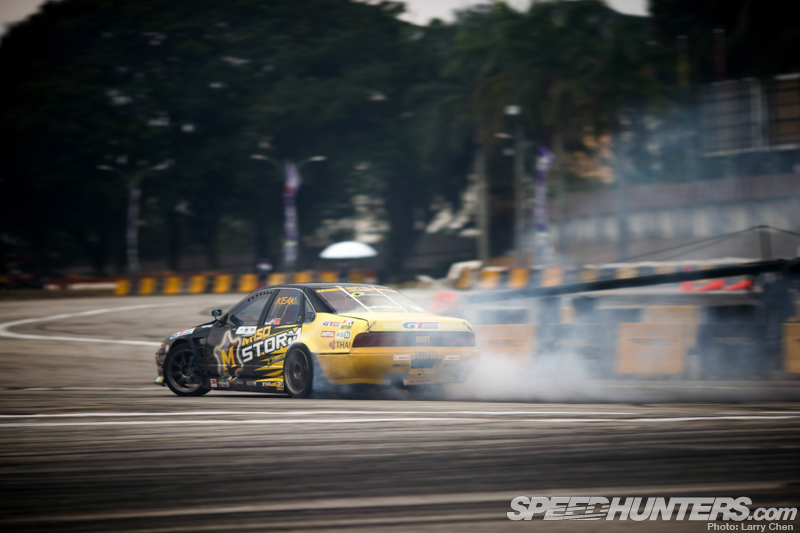 One of the most popular drift cars out there was the A31 Cefiro. They're very easy to come by and cheap to modify.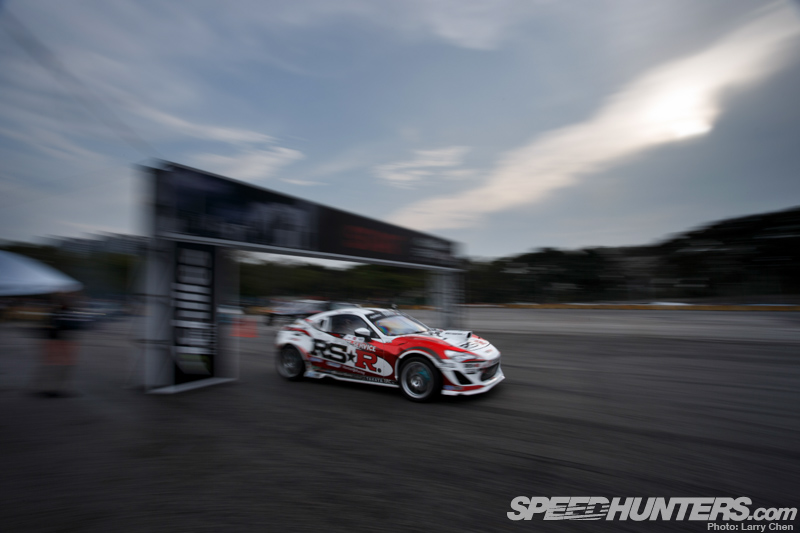 The small size of the course allowed for the drivers to get more practice than they cared for.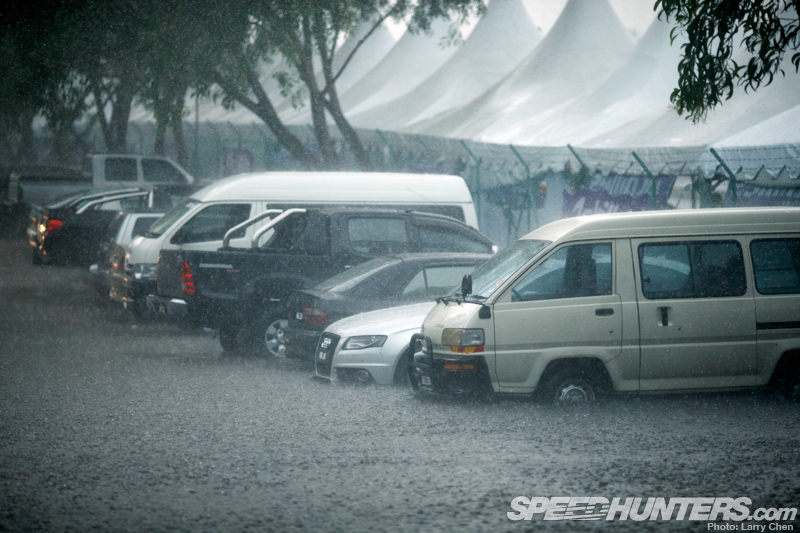 I guess that was ok considering there was a slight drizzle towards the end of practice.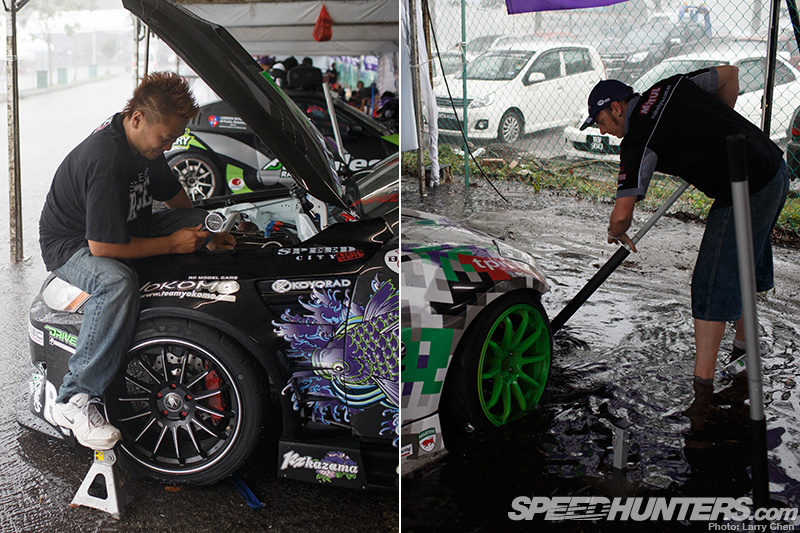 Daigo Saito was smart as he sought refuge on his drift car. Others had to jack up their cars so they would not float away.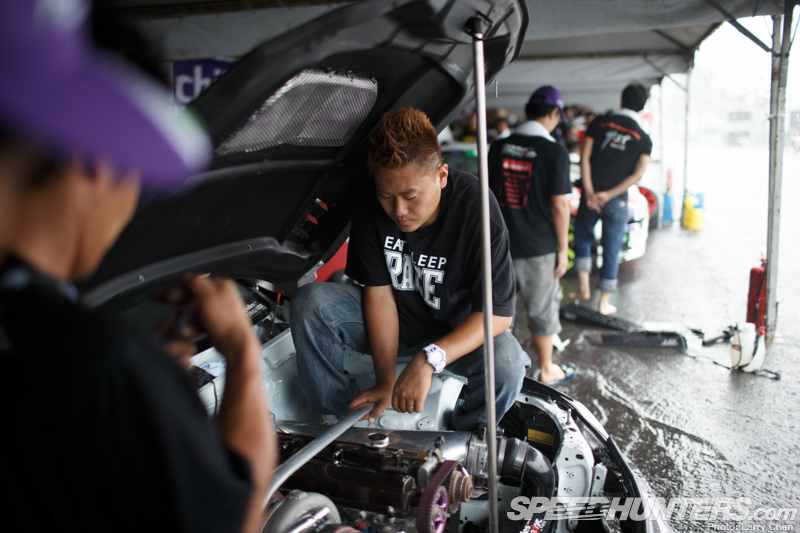 Since he was there anyway he decided to do a bit of work on the engine bay. How efficient!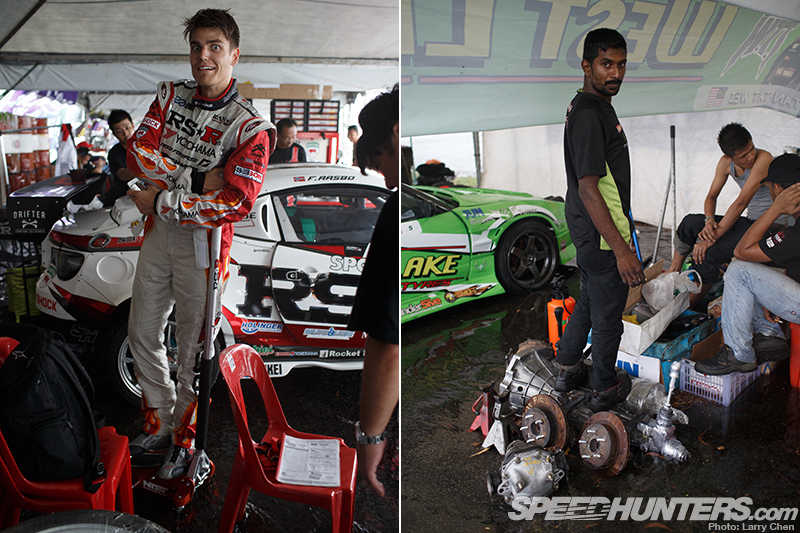 In an effort to keep dry Fredric thought it would be a good idea to stand on his jack; he pumped it up more and more as the water level rose. Others just went straight for high ground in the form of spare parts.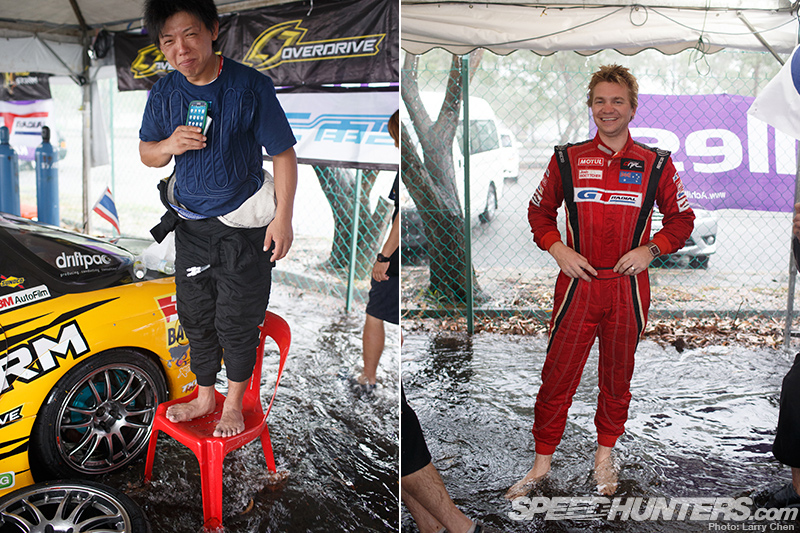 These guys had the right idea – why not use the river flowing through the paddock for a nice foot bath.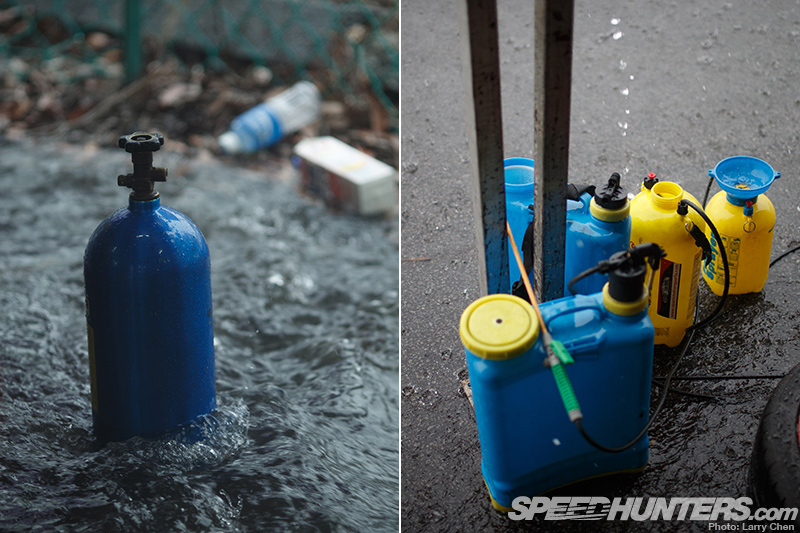 Quick! Fill all the containers with water.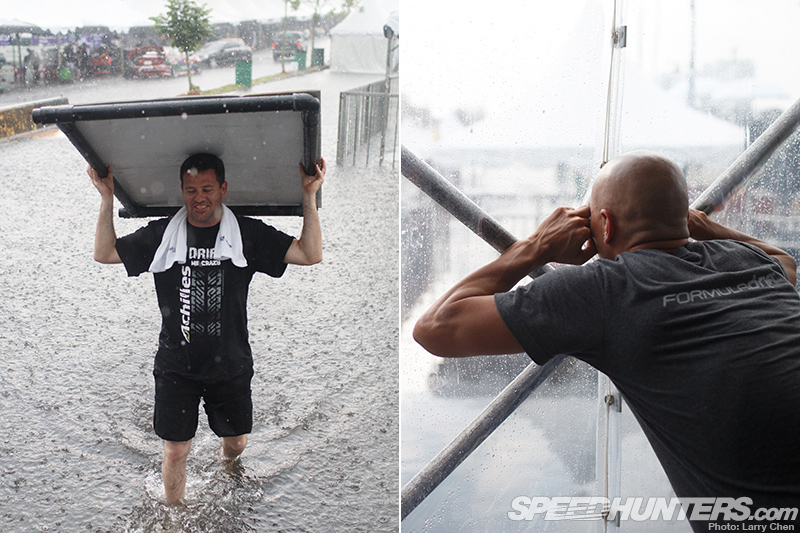 The FD staff took refuge inside an elevated tent, but they kept a close watch on what was going on outside.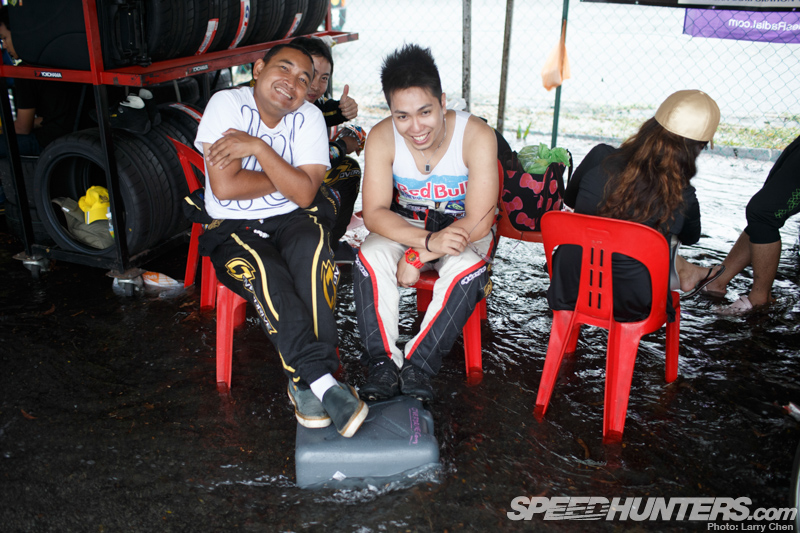 Drivers just pointed and laughed at me for wading around with all my camera gear. Now who's laughing!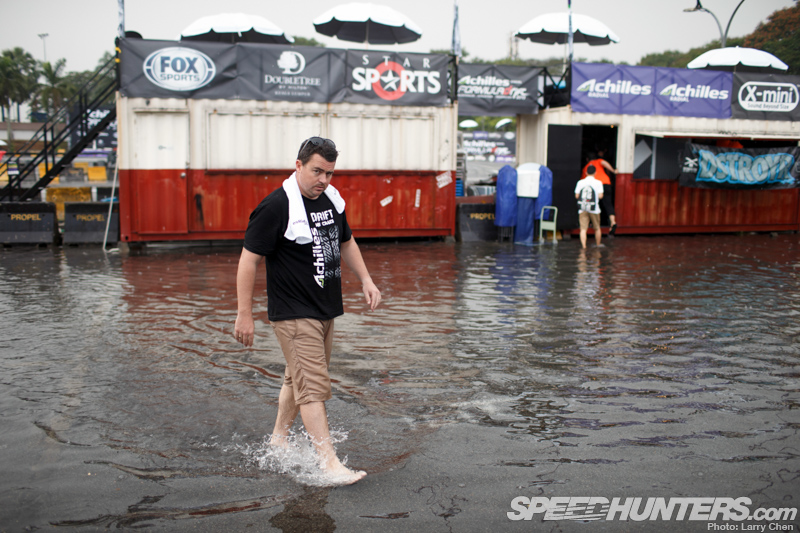 Eventually the rain stopped, but it left a small puddle in the middle of the paddock. I think a refund was in order… those rain witch doctor guys didn't do such a good job!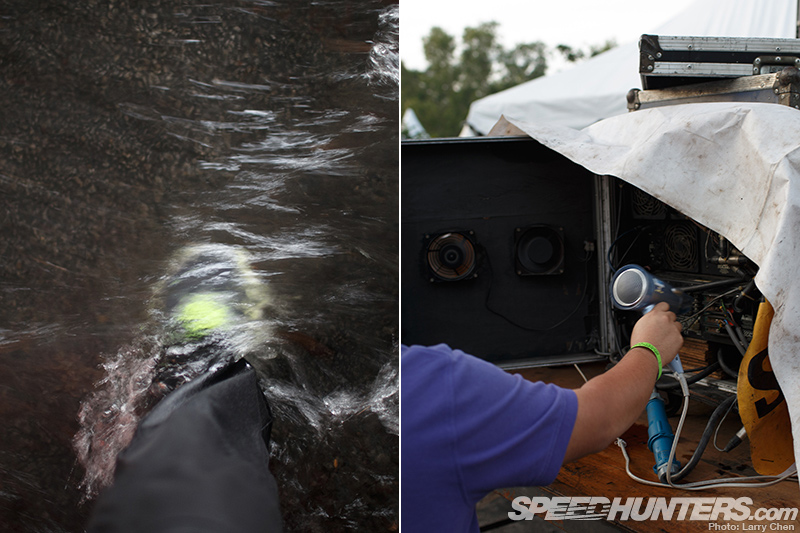 I was just glad my shoes got a nice free cleaning. The production team brought out many hair dryers and began the long process of drying out the speaker systems.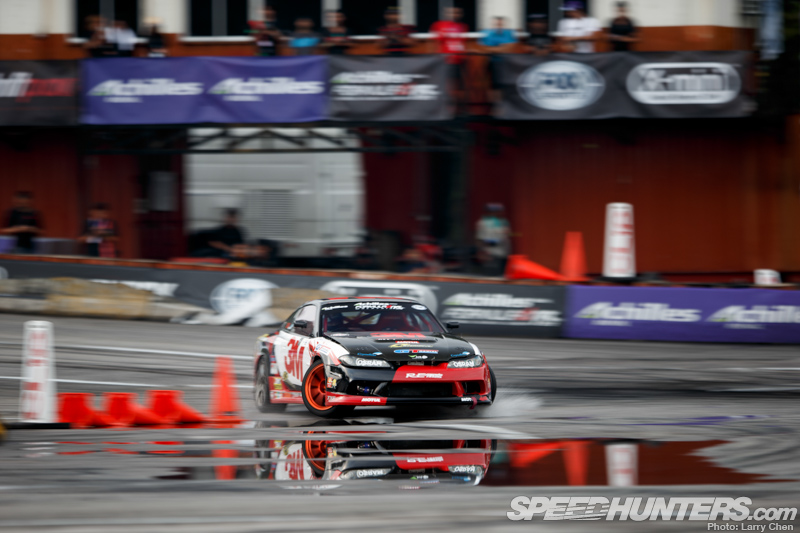 Seeing as there was a one hundred percent chance of rain for Sunday's competition, this was the perfect time for the drivers to get some wet practice in.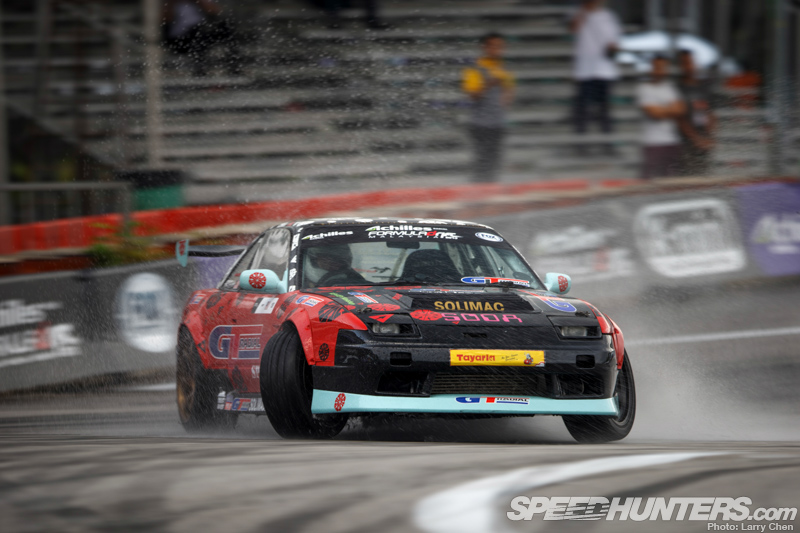 It really changes the dynamic of the entire event as it becomes more of a gamble with how much speed you're willing to carry into the first corner.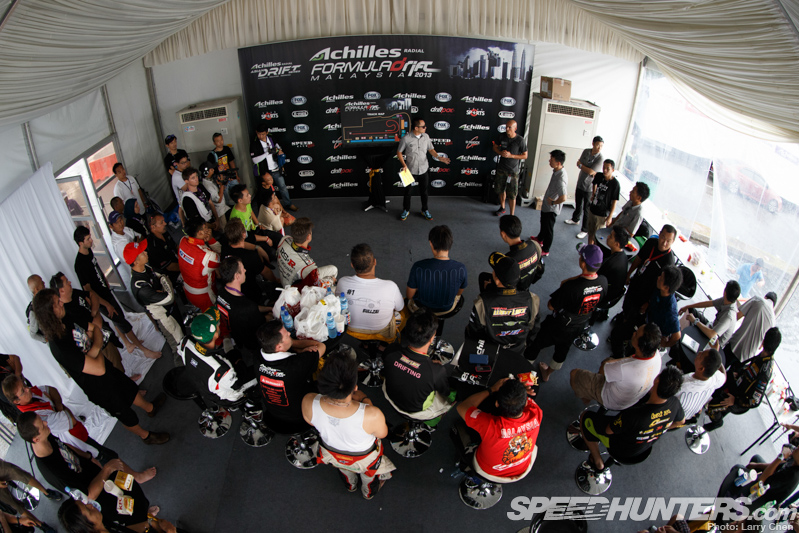 The entire competition portion of the event would take place on Sunday, which includes practice, qualifying, tandem practice, and the top 16 competition. If that's not crazy enough, they also hold a team drift competition afterwards.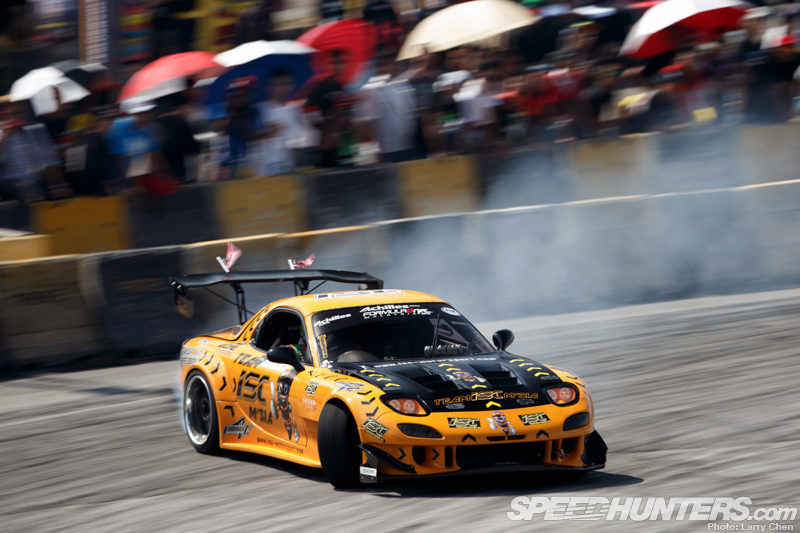 In total there were 33 drivers duking it out for 16 spots in the main show. The sun was out for qualifying and it was beating down on everyone very hard. It looked as if it was going to be a clear day.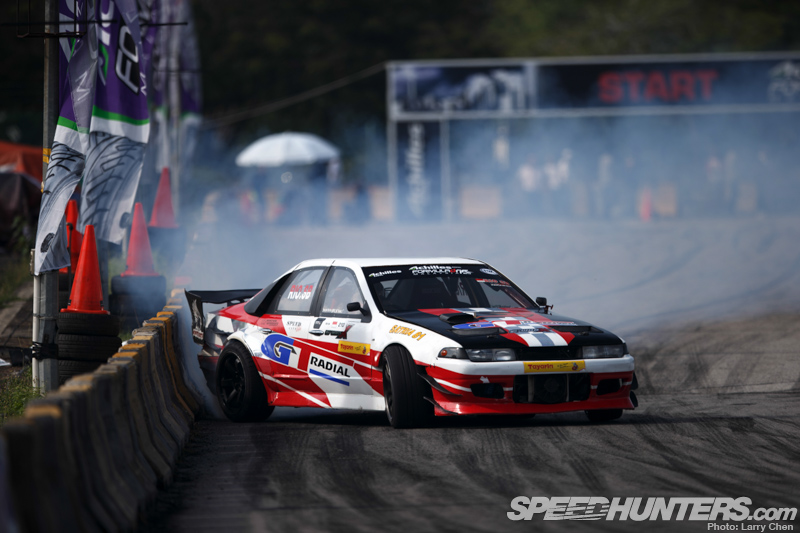 The qualifying format's the same as in North America. Basically you have to run super hard for your first run to snatch up the top eight spots. If you don't make it in then you get a second run to try to get one of the remaining eight spots.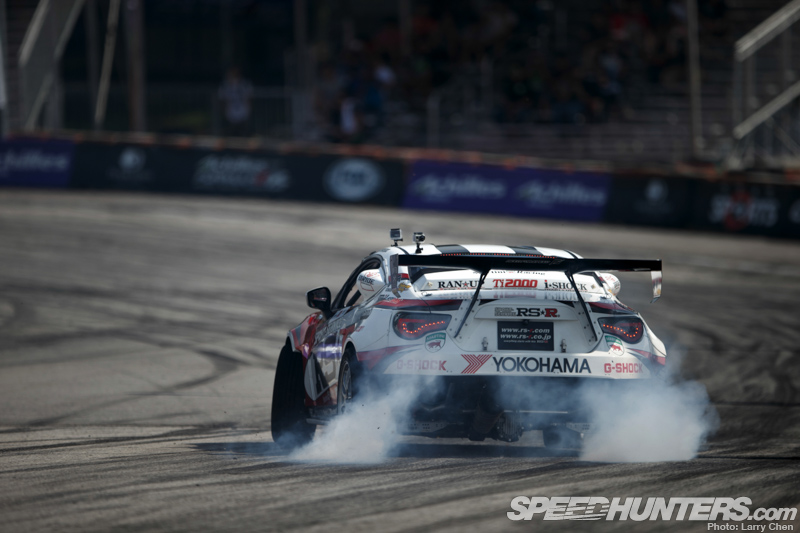 All the drivers, including Fredric, threw it in super hard on their first runs. The Norwegian Hammer ended up in the fourth qualifying spot.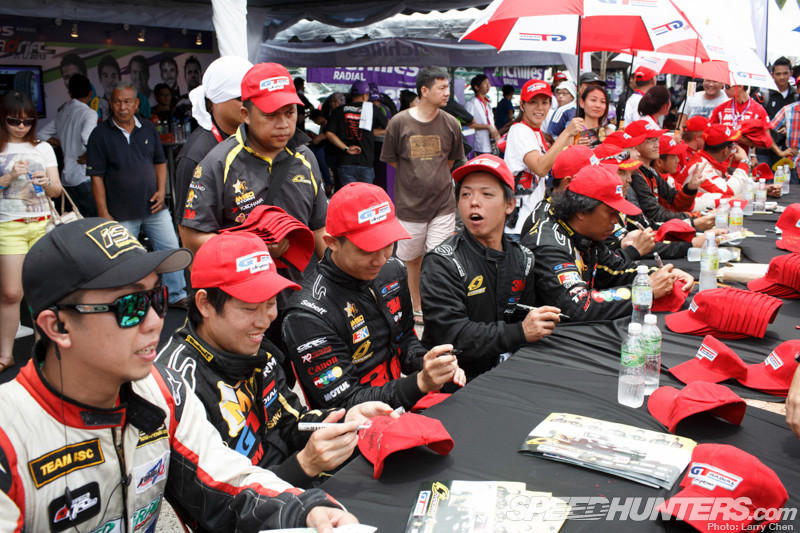 After qualifying, the fans had a chance to meet their favorite drivers. It was 100% humidity and scorching hot, which was perfect weather for wearing a Nomex driving suit.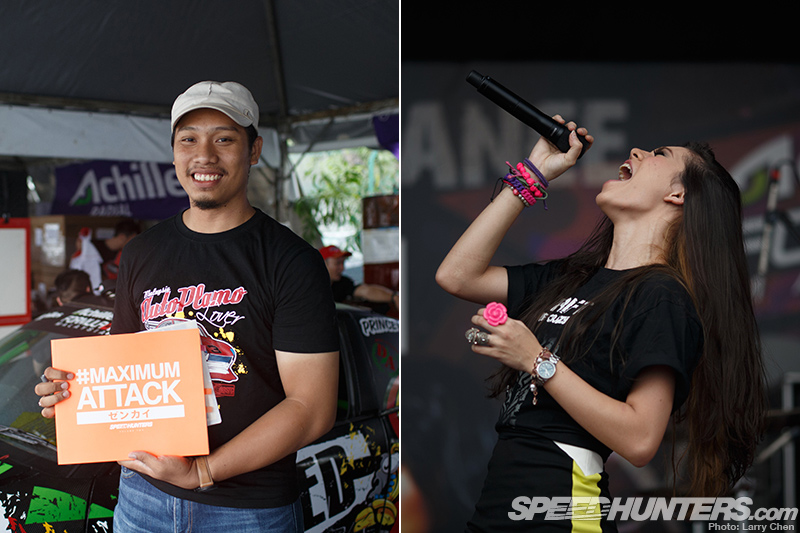 I had the pleasure of signing a few things myself. If you don't already have a copy of #Maximum Attack, make sure you pick it up here. At the same time there was a full on concert going on which blasted everyone's ears with some Malaysian pop music. Wonderful to say the least!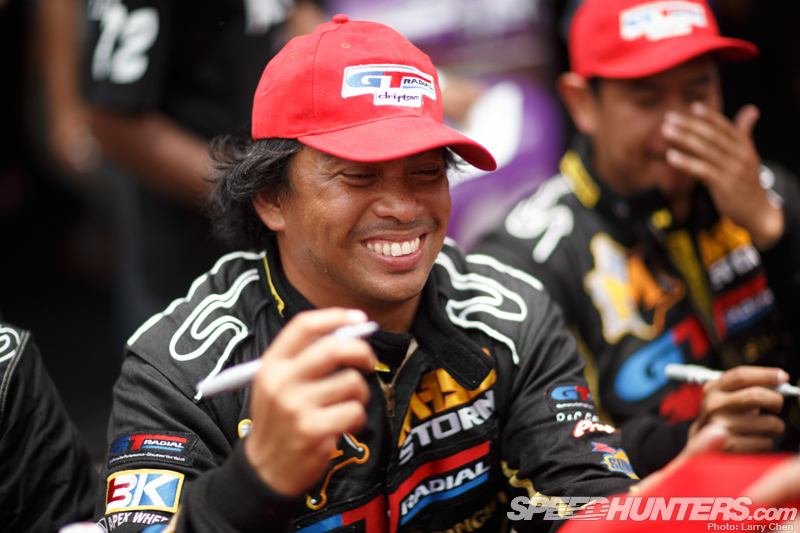 Either way the drivers were having fun. There are not many opportunities to compete with drivers from all over the world in South East Asia, so the drifters loved it.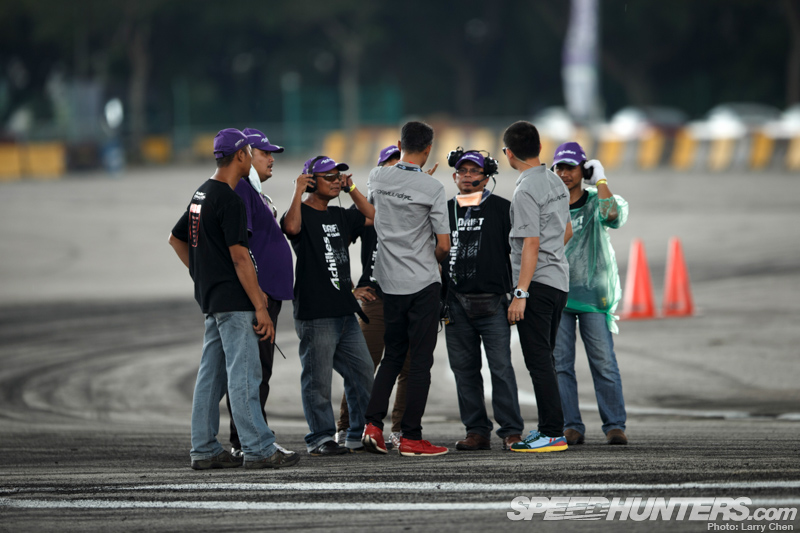 While the paddock was filled with eager fans, the FD Asia staff were hard at work getting the track set up for competition.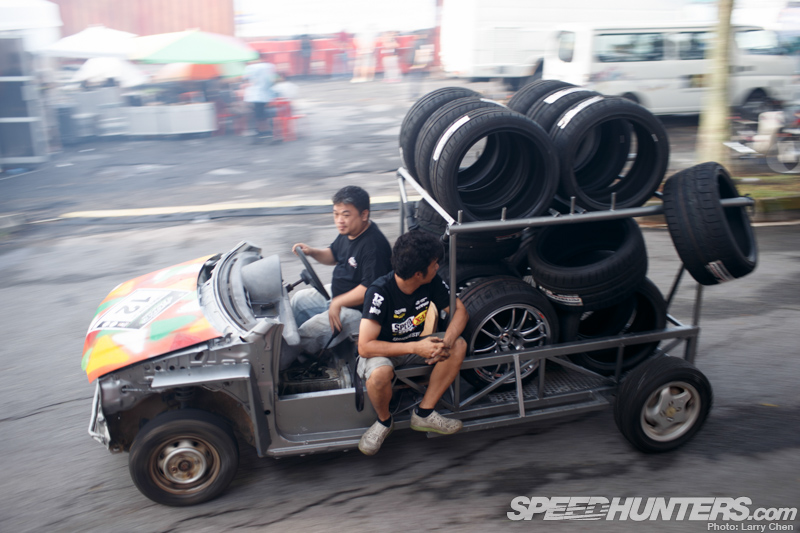 The teams were also busy getting last minute tires changed, or maybe they were just having some pit vehicle fun.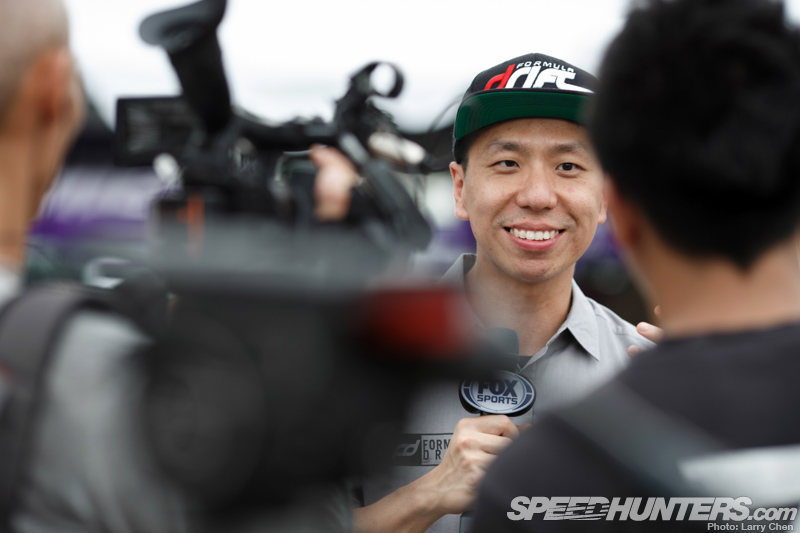 Because the event is broadcast on live TV, the timing was very critical. They could not afford to have any unnecessary delays.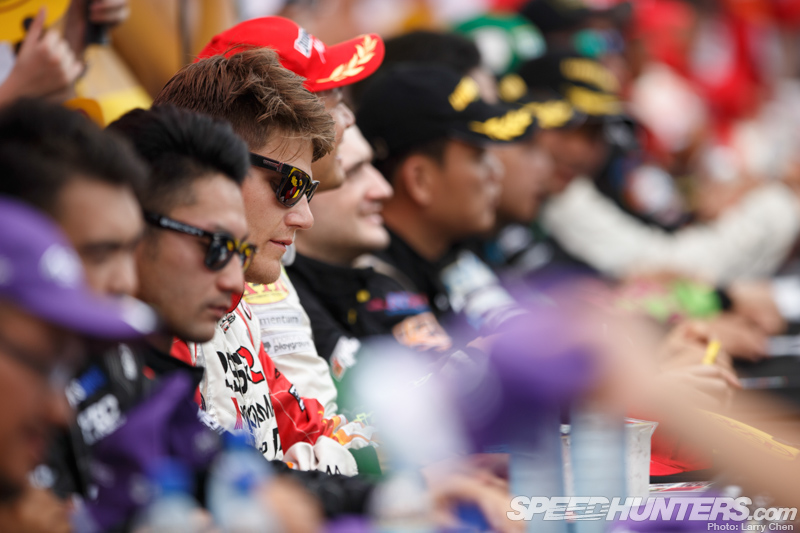 The autograph session was coming to an end, and Fredric just needed to get through practice without a hitch.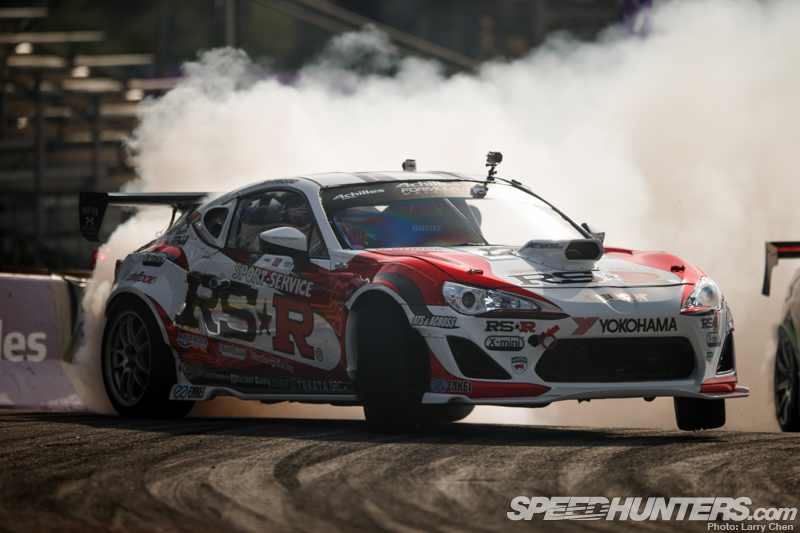 The problem with running such an experimental build is that all the things that can go wrong will go wrong. And so they did. The RSR team have not ironed out the bugs just yet and the car was cutting out. They cut practice short to try to fix the problem.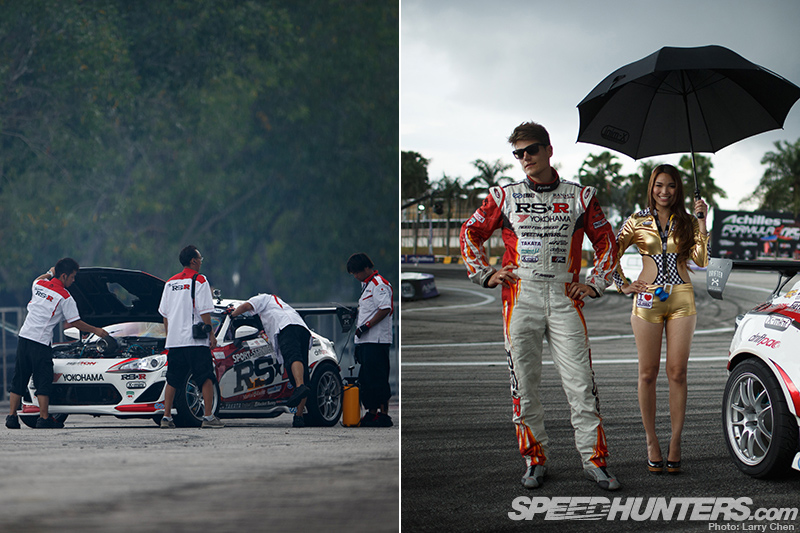 The FD officials were informed that the Nascar-powered GT86 would not make it to the opening ceremony, but seconds before the big show began, Fredric pulled into line.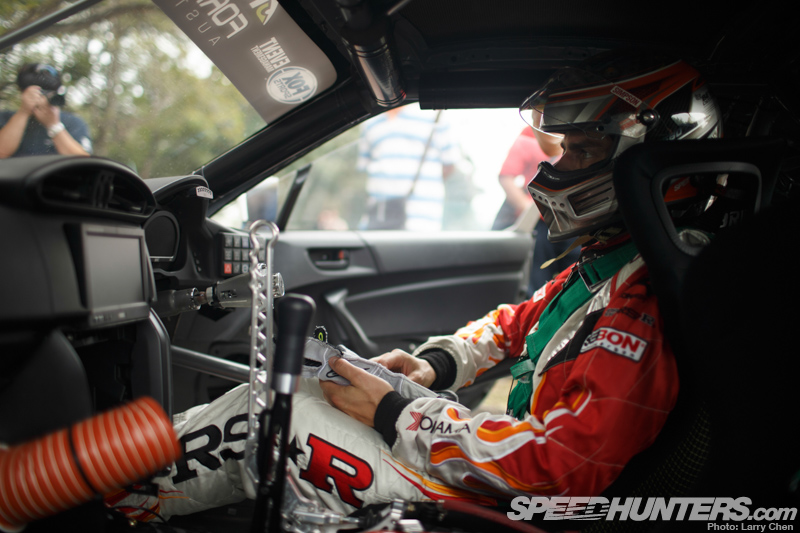 If the car would hold together without any problems, Fredric would have a very good shot at getting the win as his bracket was pretty easy and he would meet Daigo Saito in the finals.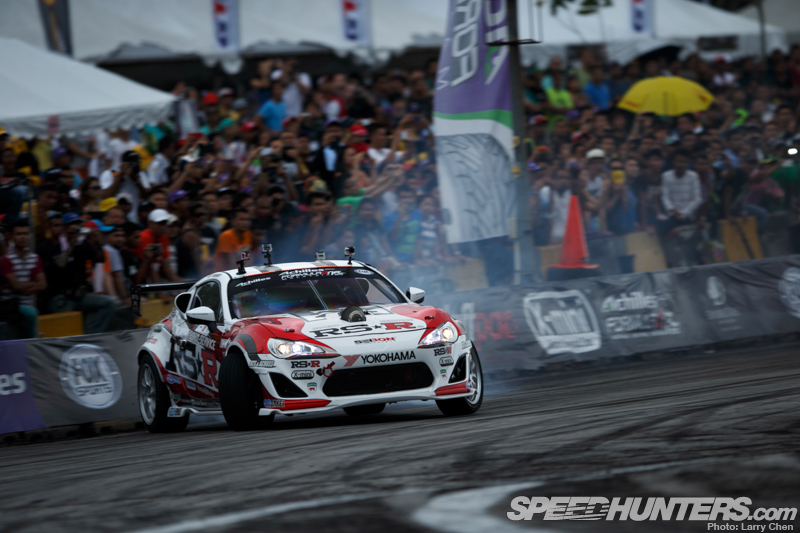 Right off the bat it looked as if he was going to move on from the top 16 bracket as his opponent was so far behind it looked as if Fredric was driving alone.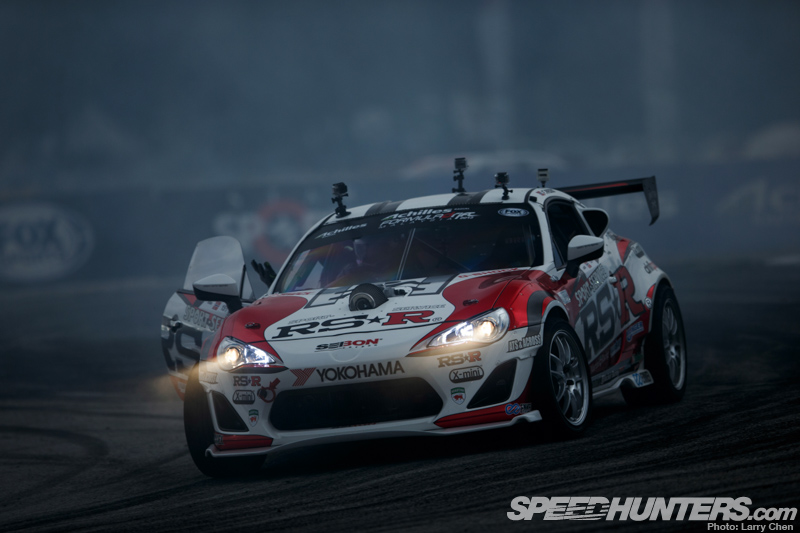 Sadly that did not last very long as the rocketship-like drift car just shut off and slowed down to a crawl.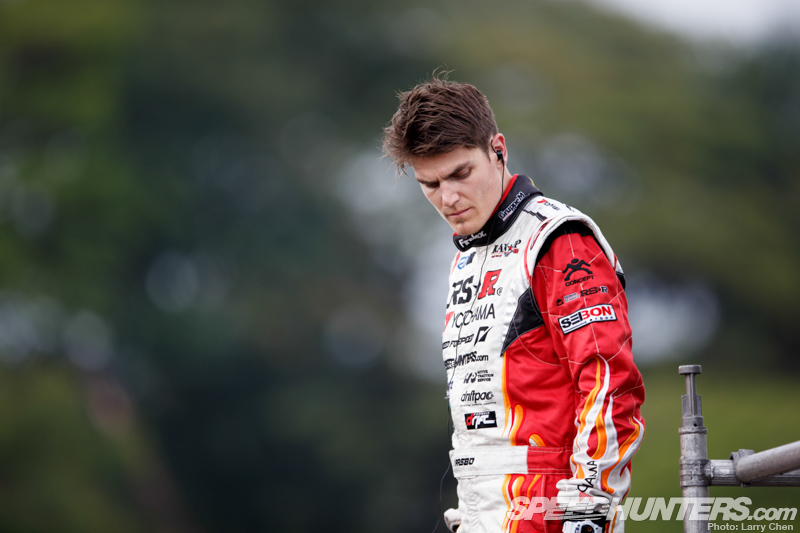 Fredric was absolutely crushed, but now the boys at RSR know they will have to work very hard to get the car running in tip-top shape for round three in Jakarta, Indonesia.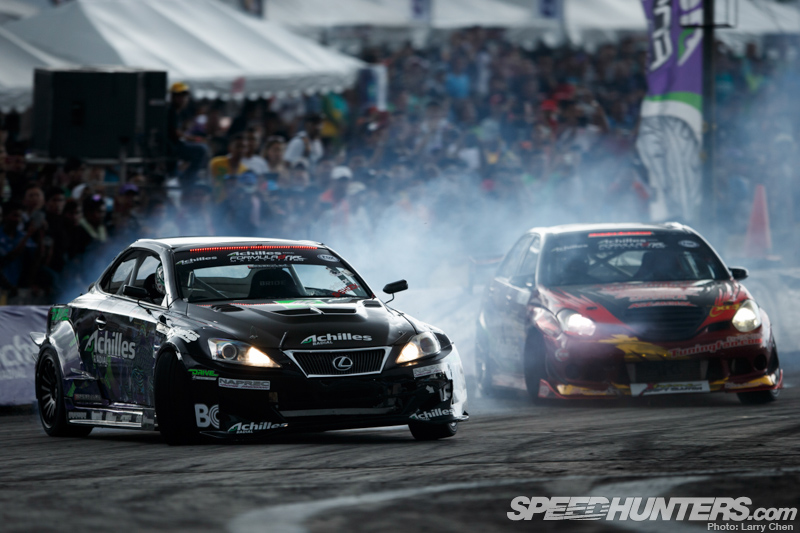 This was the drift battle that was heard around the world. Tom Monkhouse versus Daigo Saito and his unparalleled winning streak. Daigo had not lost a battle since he started competing in Formula Drift Asia, but it all came to an end as he entered in way too hot, colliding with Tom.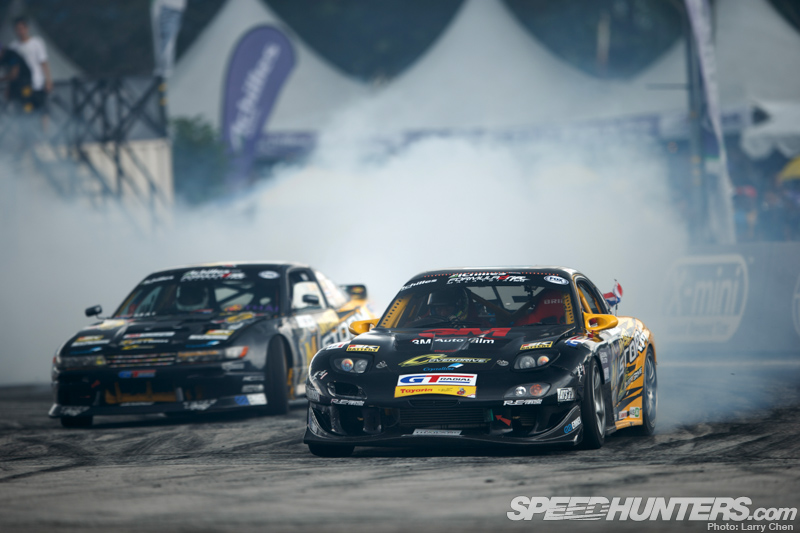 The rest of the battles went mostly without a hitch, but of course it did start to rain just a little bit going into the top 8 battles.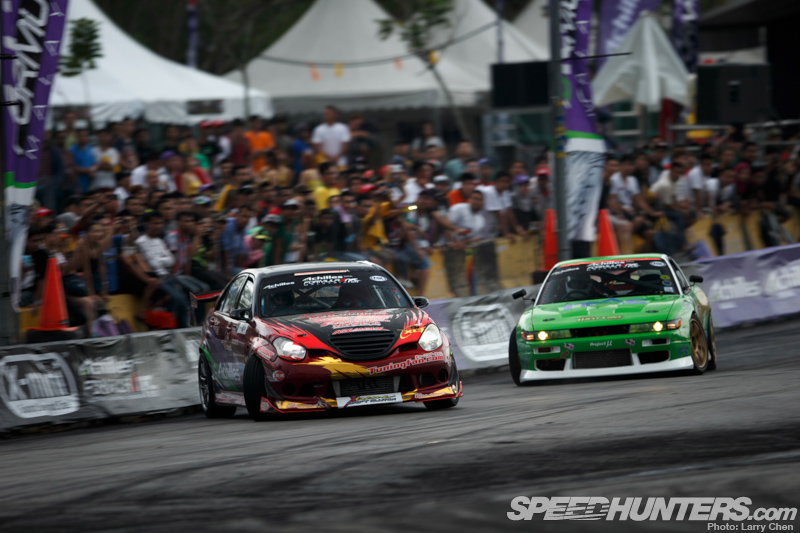 By the final battle the course was completely soaked. The driver of the green S13 was only 19 years old, and he's been driving since he was 16. His friends call him S. That's right, his nickname is just one letter.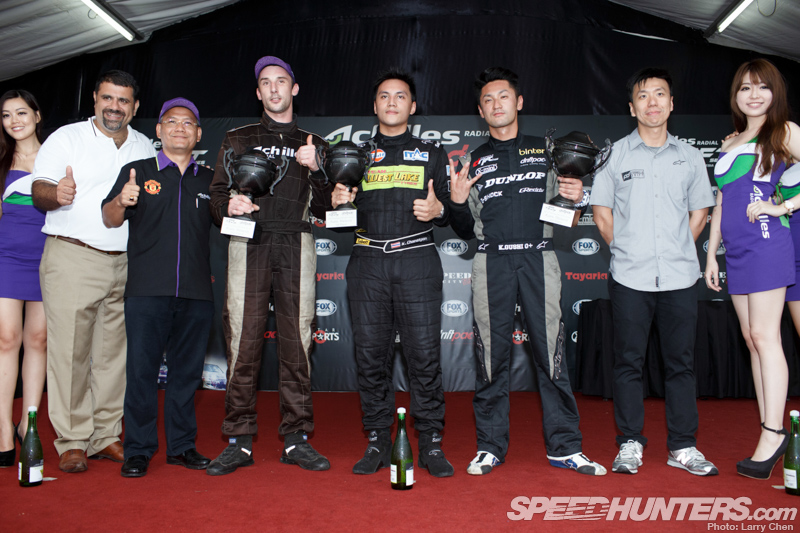 His family owns a similar parking lot in Thailand where he practices drifting and he attributed the win to having practised quite a bit of rain driving back home. Second place went to Tom Monkhouse and third Ken Gushi. Congratulations to all the winners.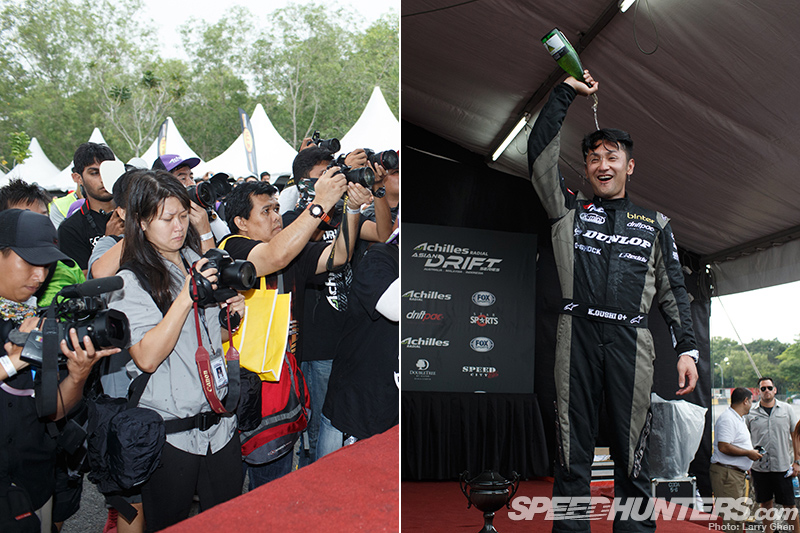 Guest blogger of Speedhunters, Cheryl Tay, was also on hand capturing the action-packed podium ceremony, which included Ken Gushi pouring apple cider all over himself.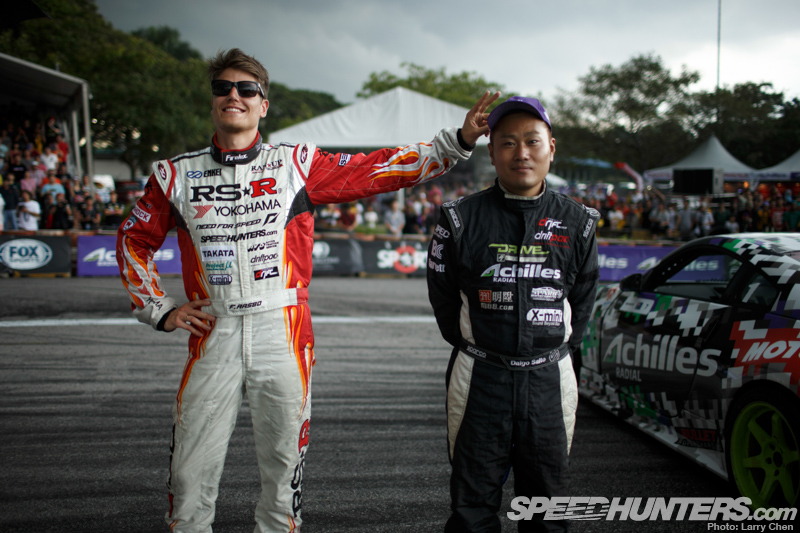 Fredric will just have to wait til Formula Drift Texas to take a shot at Daigo, but until then enjoy the selection of desktops!
Photos by Larry Chen
Instagram: larry_chen_foto
larry@speedhunters.com
More Formula Drift Asia '13 coverage
More stories from Formula Drift on Speedhunters