Hi all, I'm Steve, a long term motorsport fan and general addict of all things motoring. This is my first time on Speedhunters, so please be gentle!
About two years ago, in an effort to try and capture some of the memorable moments from the sports I enjoy watching so much, I decided to buy a DSLR camera and start shooting. Since that day (and thanks to sites like Speedhunters) my interest in photography has steadily grown and I've been trying to better my results ever since. As I'm sure many of you can attest, that's a lot easier said than done!
I generally won't say no to watching anything that involves engines, but if I had to commit to one motorsport it would have to be rallycross. I first went to watch rallycross around six years ago and I was instantly hooked. The thrills of rallying mixed with the intensity of circuit racing and raced with a huge variety of cars – what's not to like?! Consequently, I'm pretty pleased that I'm been given this opportunity to bring a bit more rallycross content to the Speedhunters site.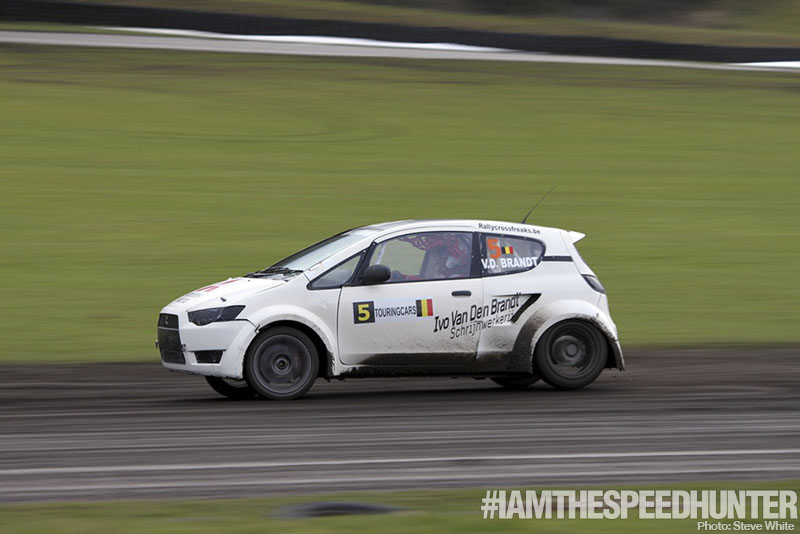 Last month marked the beginning of the 2013 British Rallycross Championship with its opening round held at Lydden Hill Race Circuit in Kent. In addition to the usual British contingent the weekend also hosted the second round of the Belgium Rallycross Championship, meaning the paddock was packed-out with a huge number of cars.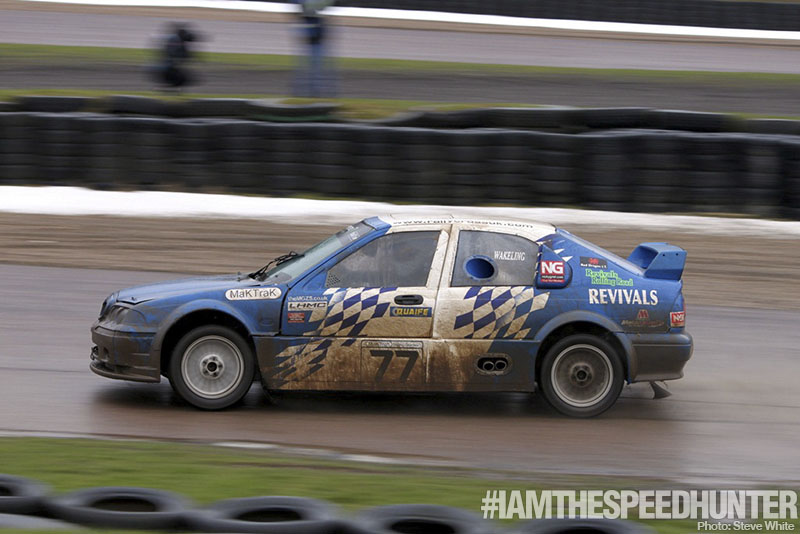 Conditions were rather poor with strong winds and heavy rain, especially on the Saturday. There was standing water everywhere and although the cars were clearing much of it as they raced round, it quickly accumulated between races.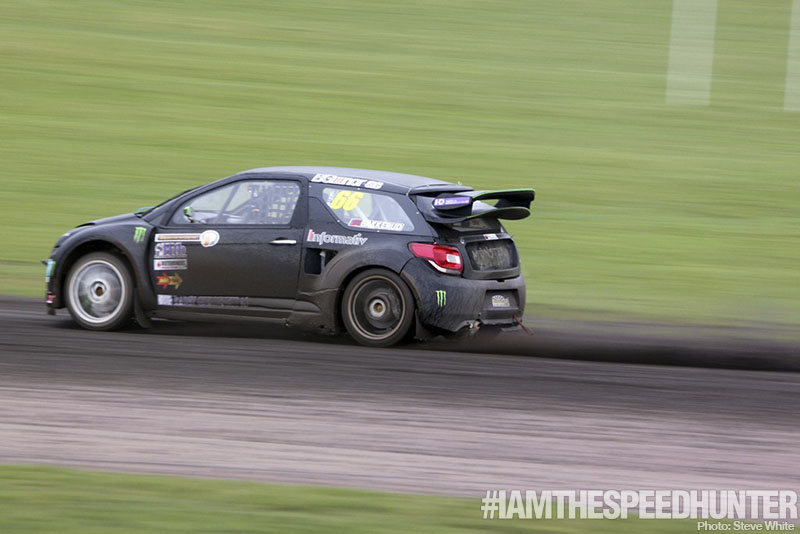 Norwegian driver Andreas Bakkerud made his competition debut in the Supercar class over the course of the weekend running a Doran Motorsport Citroen DS3. Bakkerud isn't in contention for either the British or Belgium National Championship, but given the quality of the entry this was the perfect event to get a feel for the car in preparation for his European Rallycross Championship campaign.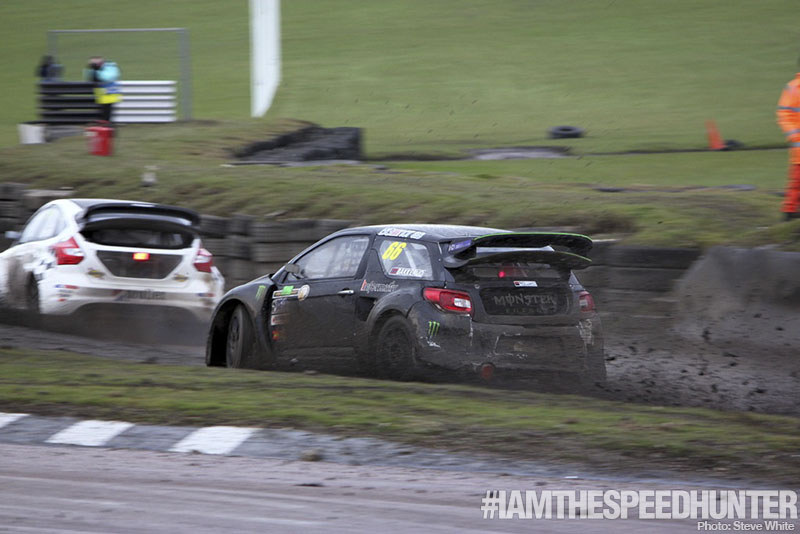 Bakkerud has twice won the S1600 class of the ERC, and after setting some top times in the heats he found himself in pole position for the 'A' final. Sadly, a terminal engine failure while scrapping with the leaders bought his race to an end, but even though he was a non-finisher there was no doubting his pace. He'll definitely one to watch this season!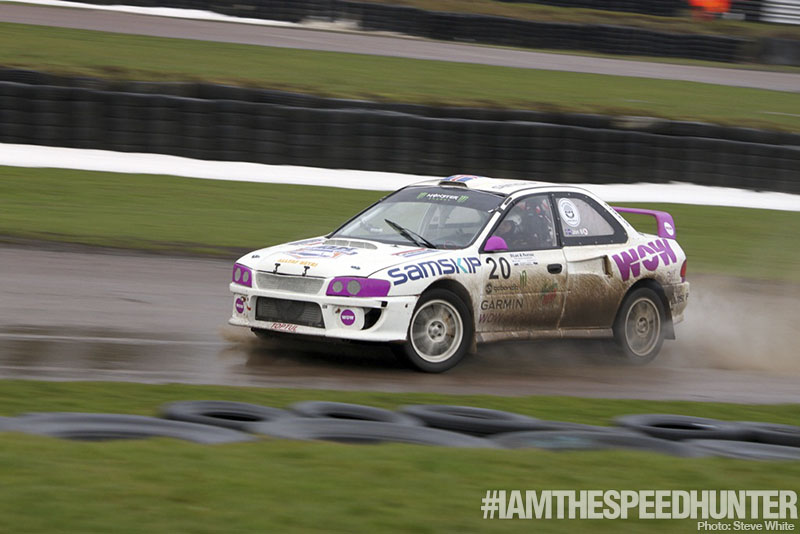 Finnish driver Jon B. Hrolfsson had supposedly bought his Impreza Supercar over to Lydden for a bit of fun, but he ended up giving some of the more expensive machinery a serious run for their money while providing the spectators with a few heart-in-mouth moments in the process.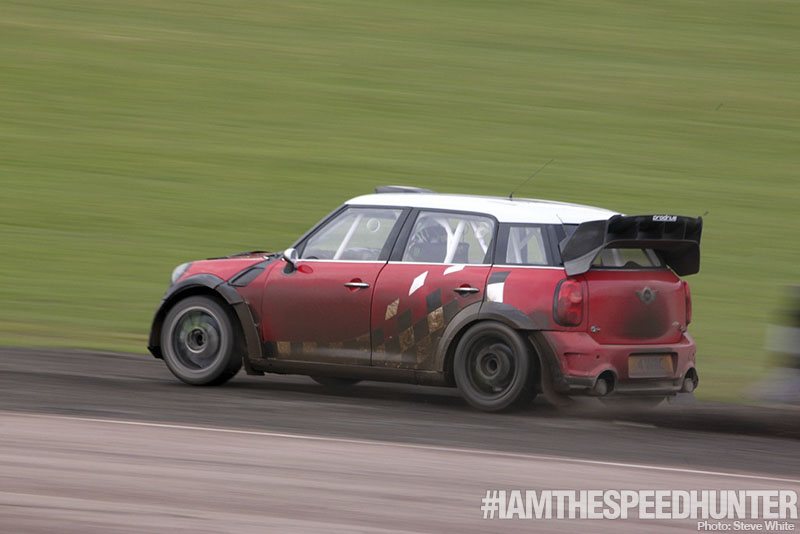 Mixed in between the heats on the Saturday was a spot of on track testing, with Briton Liam Doran putting a Prodrive MINI Countryman WRC through its paces. There was some interesting talk surrounding this car in the paddock, and it seems like it may become a more familiar shape in rallycross in the near future…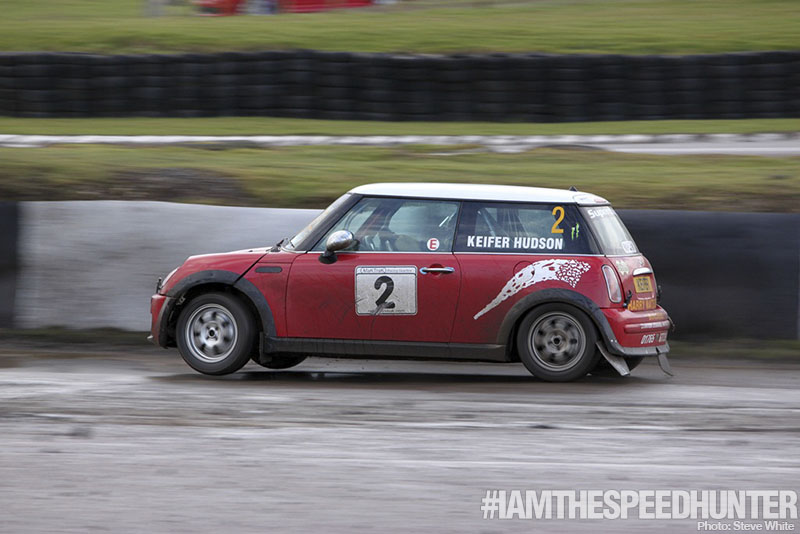 This isn't the first BMW MINI to see action in rallycross though, in fact the cars already have their own one-make class within the British Championship. Top tip for the MINI's though: front wheel drive is generally more effective if you can keep those wheels in contact with the track!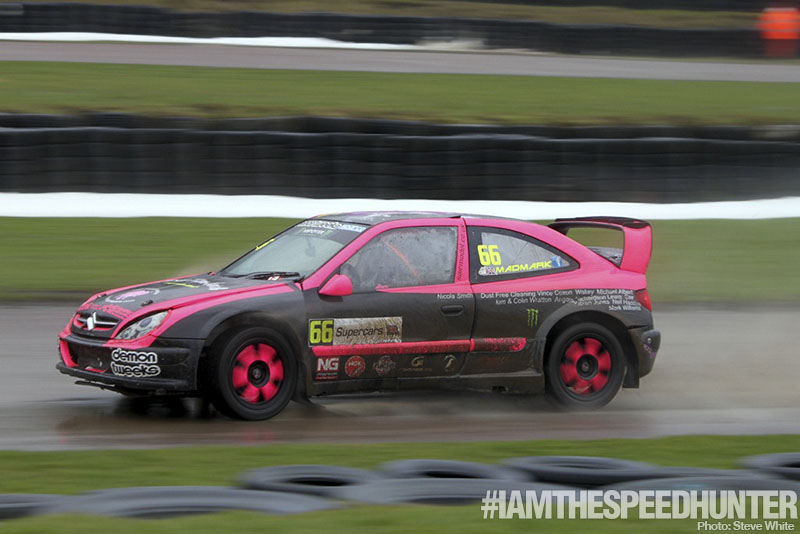 Briton 'Mad Mark' Watson made his return to rallycross after a few years absence, and was back in his faithful Xsara and sporting a lurid new livery. You certainly wouldn't lose this in the paddock, would you?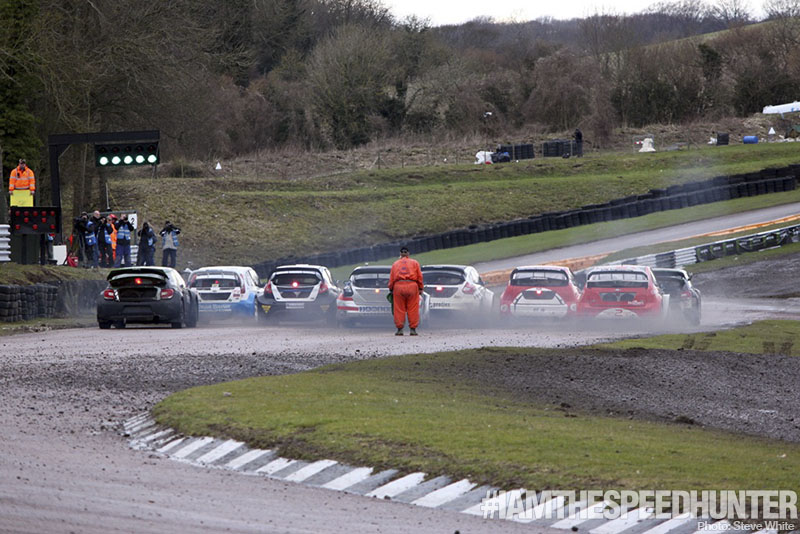 It's hard to pick just one thing that best describes the appeal of rallycross to me, but if I had to choose, the moments as the Supercar final gets underway would top the list. They say a picture can say 1000 words, but I don't think any picture can fully convey these moments in time. No matter where you are standing you don't just hear the cars leaving the line, you feel it. Rising revs, the snap-crackle of anti-lag, then green light, a cloud of smoke and a collective 4500hp is fired toward the first corner.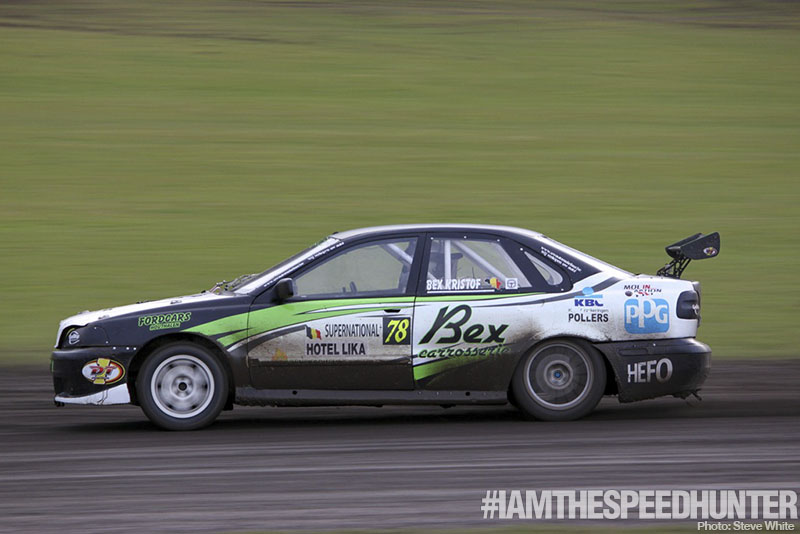 It's not all about the mighty Supercars though. There are a multitude of classes within the British Championship covering a multitude of car types; from highly modified 2wds to the humble hot hatch. Racing is close in all the classes and rallycross attracts a truly eclectic mixture of machines. Some national classes have lost their diversity in recent years, but Belgium clearly didn't get the memo as they continue to field – and remain highly competitive in – a number of unlikely racing cars.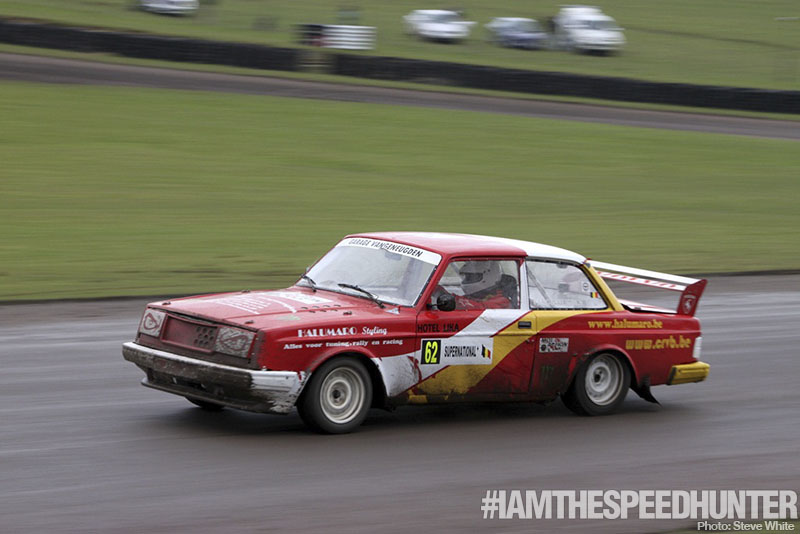 I still get a little kick out of seeing these old schools Volvos on track. Despite knowing that they are quick, I still have to suspend my disbelief when they line up against much more modern machinery. The paddock also contained a new Volvo-badged surprise for me this weekend…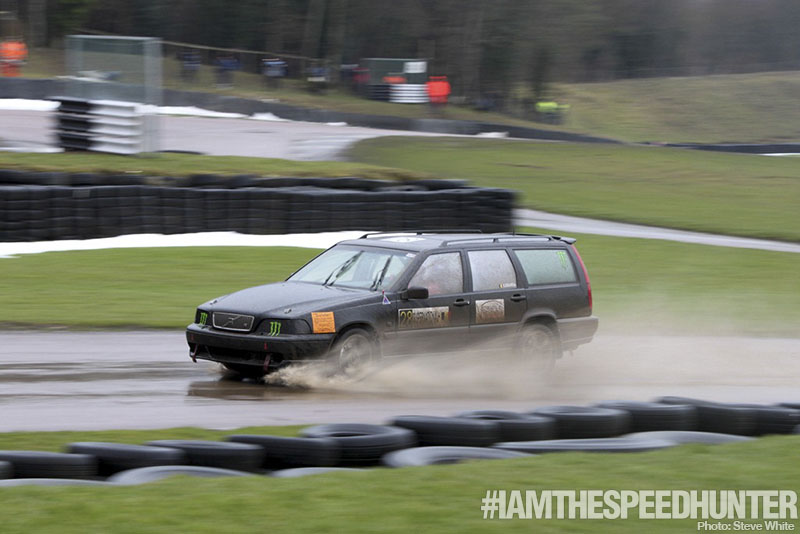 No, this isn't a wayward local who got lost and ended up on track, but another of the drivers from Belgium bringing something a little bit different to the rallycross mix.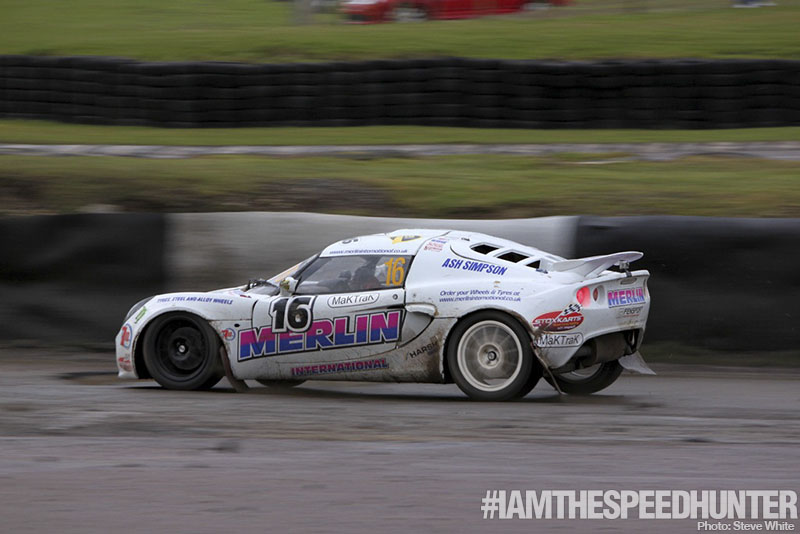 It's not just the Belgium drivers who have the monopoly on weird and wonderful racing cars. The little Lotus Exige isn't the first car that springs to mind when you think of off-roading, but Ash Simpson has dominated the British Championship Super Modified class in this car. You can't deny it makes for a good looking rallycross machine!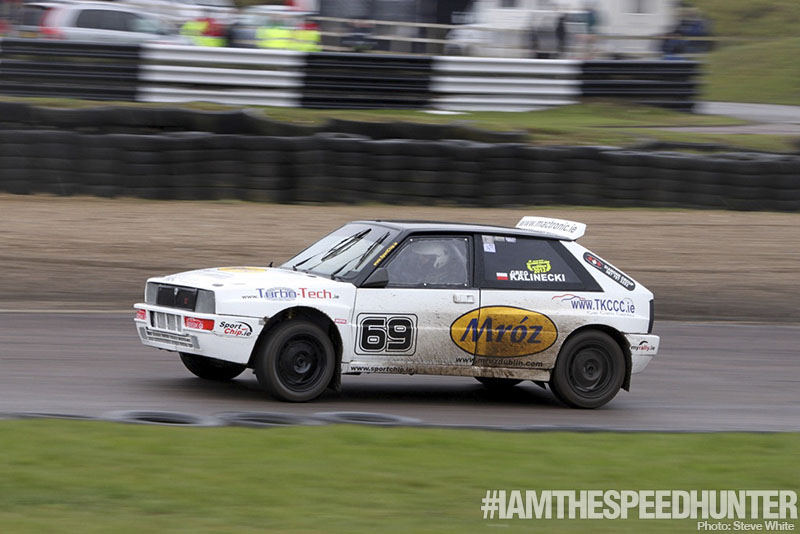 If the modern cars don't do anything for you then the machinery that makes up the Retro Rallycross Challenge probably will. This series really hit its stride last year thanks to a very broad set of regulations which allow older cars to return to competition again. Grzegorz Kalinecki in his Delta HF Integrale are joined on track by a Metro 6R4, a Porsche 911 and a host of other classic rallycross cars, with more expected to join the series throughout the year ahead.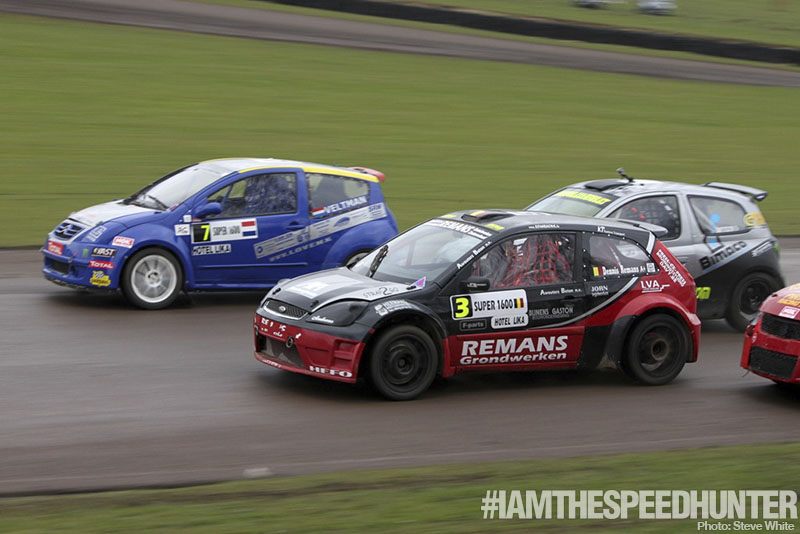 No matter what class is racing, a tight pack of cars jostling for position and charging two, sometimes three-wide into the first corner is a common sight.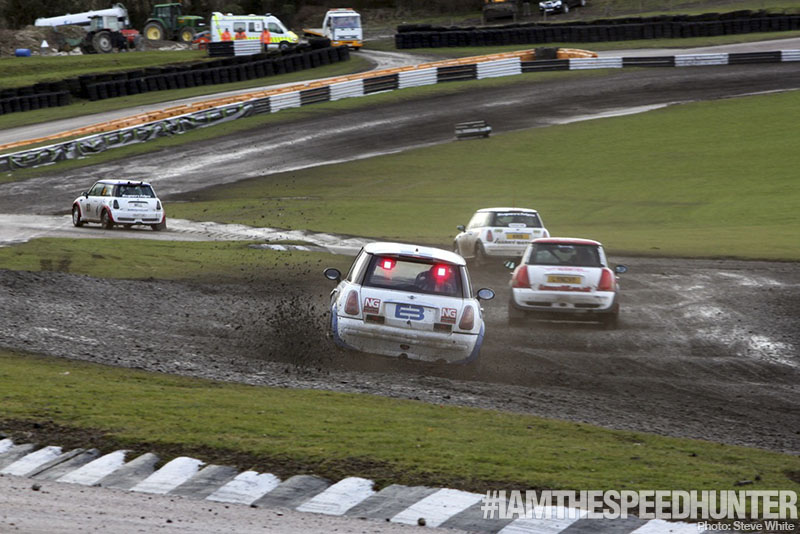 The sprint nature of the racing means that the pack is never separated by more than a few seconds and drivers have to push hard throughout the race or risk getting left behind. Few types of door-to-door racing can claim to produce such close outcomes.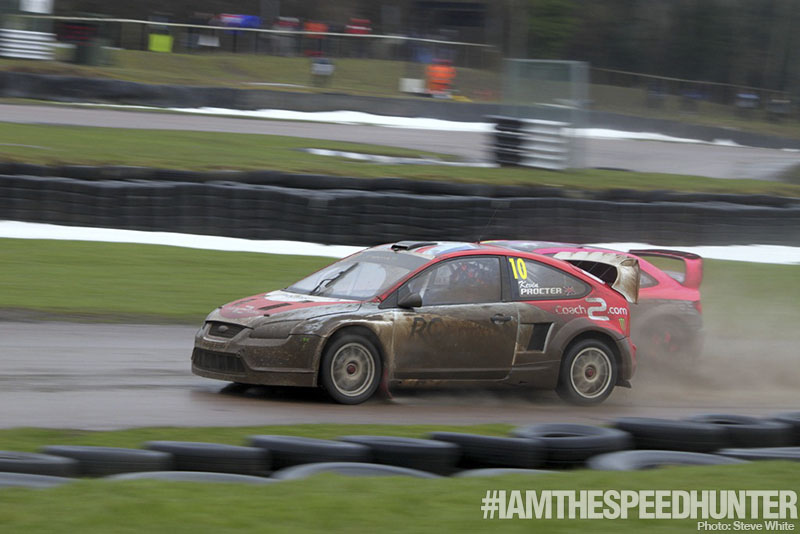 Overall glory in the Supercar class belonged to Kevin Procter, who fought off strong competition from both Belgium and British drivers to take a well deserved win. The final was easily one of the best races of the weekend and a superb pay off for enduring two days of cold weather. Procter is running in the new Rallycross Challenge Europe series in 2013, but I hope he manages to find time to fit in another British Championship round or two.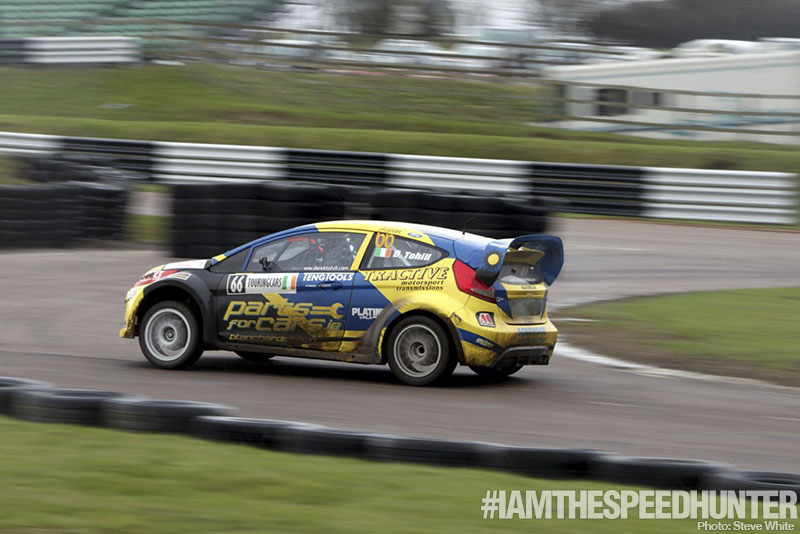 And so that brings you to the end of this guest post. I hope you guys (and ladies, should you be reading!) have enjoyed my whistle-stop tour of a rallycross weekend. Many thanks to Speedhunters – in particular Paddy McGrath – for this opportunity. Hopefully I'll be allowed back again in the future!
Steve White
About #IAMTHESPEEDHUNTER
We created #IAMTHESPEEDHUNTER to allow you the opportunity to share your skills and car culture experiences from around the globe with the rest of the Speedhunters audience.
How do you get involved? It's simple…
Flickr - Join our #IAMTHESPEEDHUNTER Flickr Group and share your favourite photos with us and others.
Instagram – Follow us on Instagram at @TheSpeedhunters and tag your own car culture images with #IAMTHESPEEDHUNTER
Twitter – Follow us on Twitter at @SPEEDHUNTERS and share your tweets with the #IAMTHESPEEDHUNTER hashtag.
Tumblr – Visit our Tumblr page to view the latest #IAMTHESPEEDHUNTER tagged images.
E-Mail – If you've been to a cool event and captured some amazing images, be sure to e-mail them to us on iamthespeedhunter@dev.speedhunters.com and tell us a little bit about the event. The images need to be a minimum of 800×533 pixels.
Have you submitted already but yet been featured? Here are some tips to help you…
DO – Submit your best work, regardless of when it was taken.
DO – Take your time shooting and consider each detail
DO – Try to submit each image no larger than 1000PX wide.
DON'T – Put a huge watermark on it. We'll make sure you're credited!
DON'T – Send us huge image files that kill our e-mail system!
日本のSpeedhunters読者にお知らせです。
Speedhuntersでは、週一回#IAMTHESPEEDHUNTERにて、読者の皆さんから寄せられたカーシーンの投稿写真を紹介しています。
投稿写真は、カーレース、カーショー、イベント等、車に関するものならなんでもOKです。
Speedhuntersで皆さんの撮ったカーシーンショットを世界中のファンに紹介して、あなたもSpeedhunters記者の仲間入りしましょう!
#IAMTHESPEEDHUNTERには、ツイッターかインスタグラムにて簡単に写真を投稿していただけます。
上記方法で写真を投稿する際は、写真に#IAMTHESPEEDHUNTERのハッシュタグを付けてください。
また、メールアドレスiamthespeedhunter@dev.speedhunters.comでも投稿受付しています。
写真は、800×533 ピクセル以上のJPGのフォーマットでお願いします。
上記サイズより小さい写真ですと、すばらしい写真でもサイトの写真サイズの関係上掲載できないことがありますのでお気をつけください。
投稿された写真は世界中のSpeedhunters読者とシェアされますので、あなたのベストショット写真を投稿してくださいね!
また、写真に併せてどういった写真なのか、どこで撮られた写真なのかの説明と投稿者様のお名前を明記の上投稿お願いします。
皆さんからの投稿お待ちしています!