I've got a little confession to make here. Over the last several years I've had the chance to witness a great amount of Japanese car culture – the legendary race tracks, shops of all sizes, events big and small, museums, mountain roads and more. Surprisingly though, one thing missing from that list was a visit to one of Japan's most well known car spots – Daikoku Parking Area.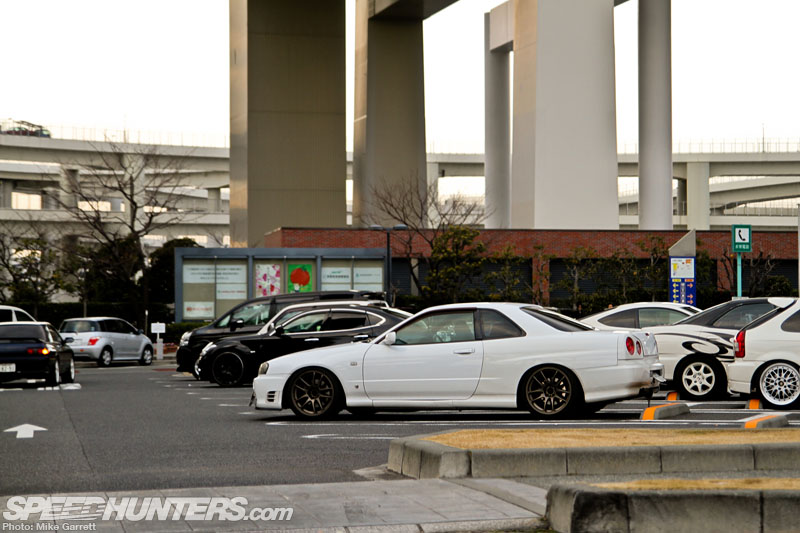 How could I have missed out on Daikoku for so long? A few reasons actually. When I lived in Japan back in 2008-09 I was based in Ibaraki and never had the chance to drive out to Yokohama and check it out. On subsequent visits to Japan, I was often without a car – and unlike many places in Japan, Daikoku is not easily accessed via public transportation.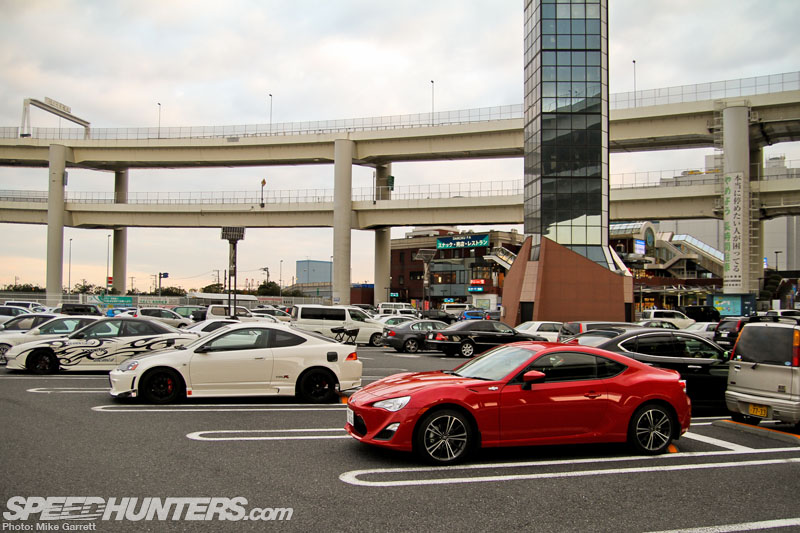 Finally though on my most recent trip I was able to experience Daikoku Parking Area for myself. Not just once, but on a pair of occasions. This is all thanks to my friend and fellow auto otaku KAGE-san, who provided both his red Toyota 86 and his local expertise on a couple of my shooting expeditions. When he found out that I had yet to visit Daikoku, he insisted that we check out. No complaints were raised.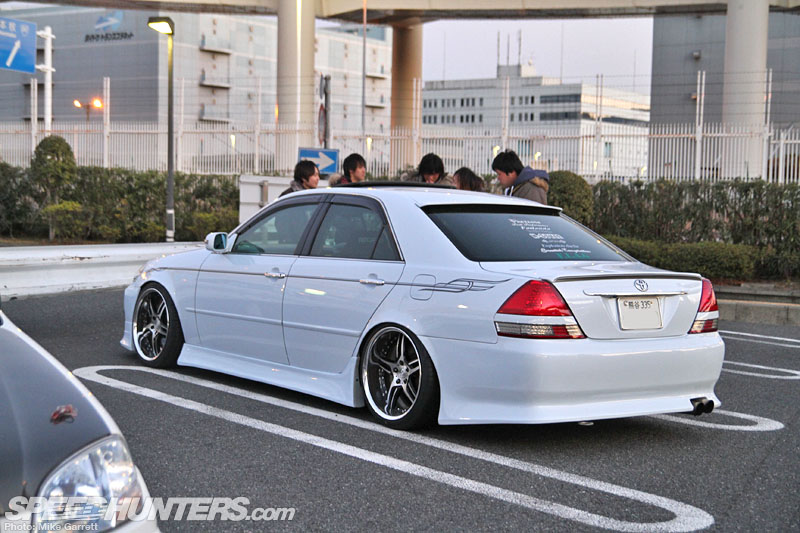 Now Dino has covered Daikoku's famous meets countless times here on Speedhunters, but since this was my first time visiting I thought I'd post some impressions and observations on this magical place in a Temple of Speed story.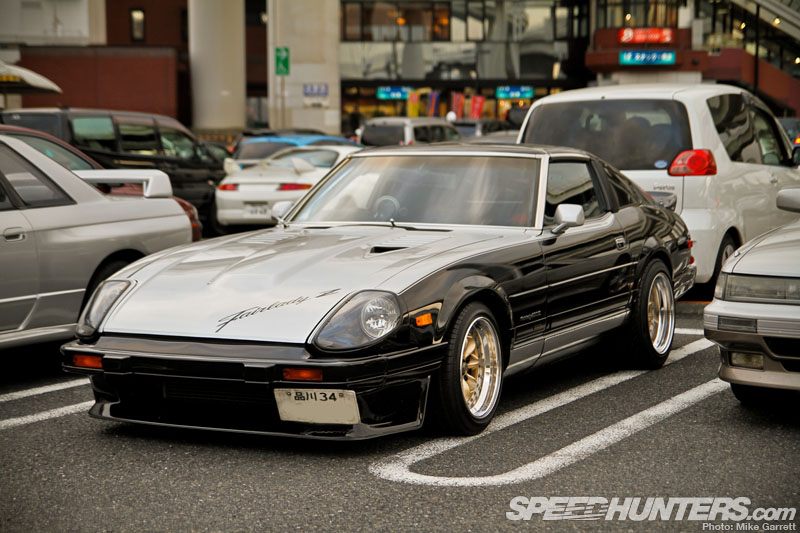 Wait a minute? A "Temple of Speed" story about a place that's pretty much a fancy parking lot? Don't cars stand still in parking lots? Sure they do, but for car lovers this just might be the world's best parking lot.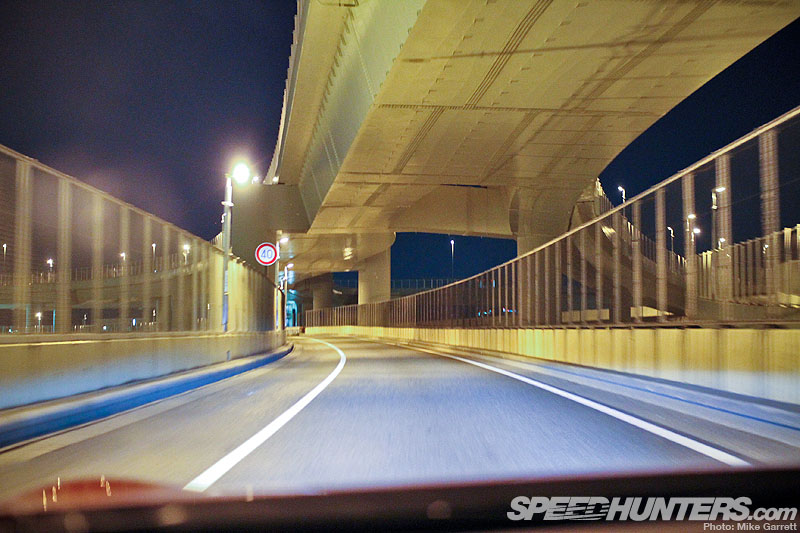 If that's not enough to justify its place as a Temple of Speed, Daikoku PA also happens to be connected to the Wangan Line – a highway route known the world over as a playground for ridiculously fast machines and legendary Japanese tuners. Daikoku happens to be the place where you'll find them warming up and cooling down.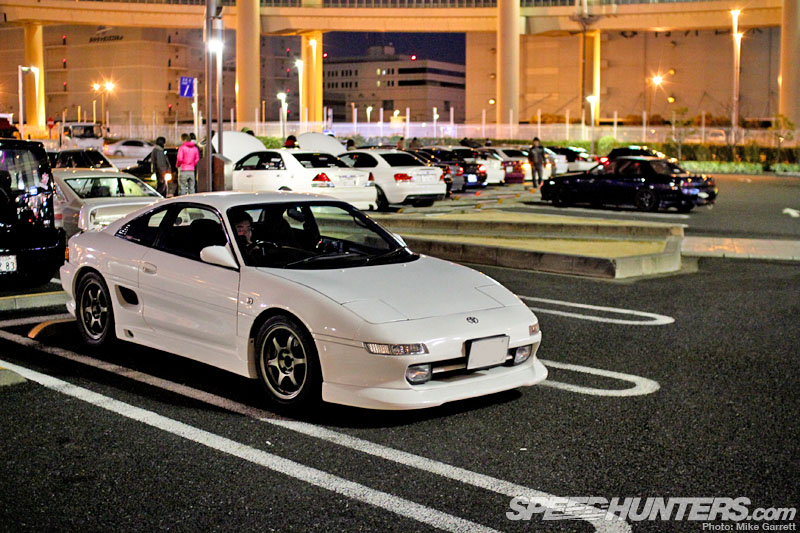 Before I go on though, I figured I should briefly describe the parking area and it's location for those that might not be familiar.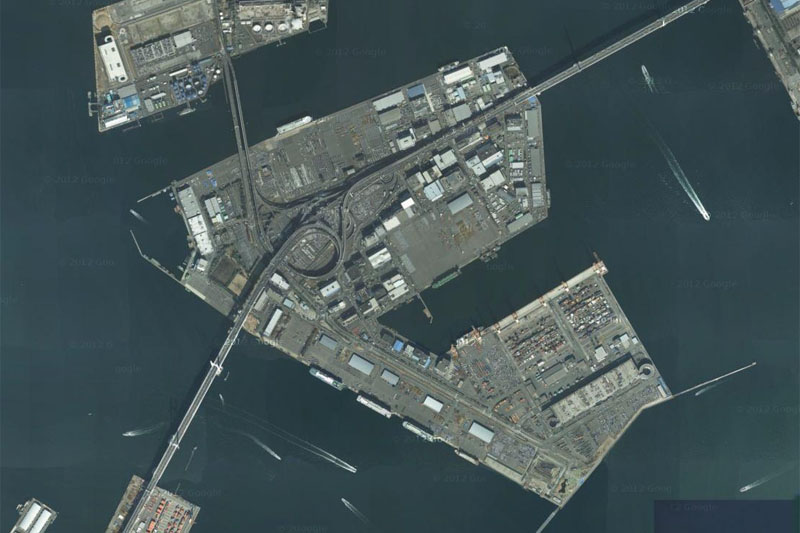 Daikoku Futo itself is a man-made island that sits in the middle of Yokohama Harbor, with the parking area only taking up a small part of its area. The rest is filled with warehouses, container terminals, and loading facilities for vehicles being exported from Japan. In fact, there's a chance YOUR Japanese car may have departed from Daikoku Futo before making its way to distant shores.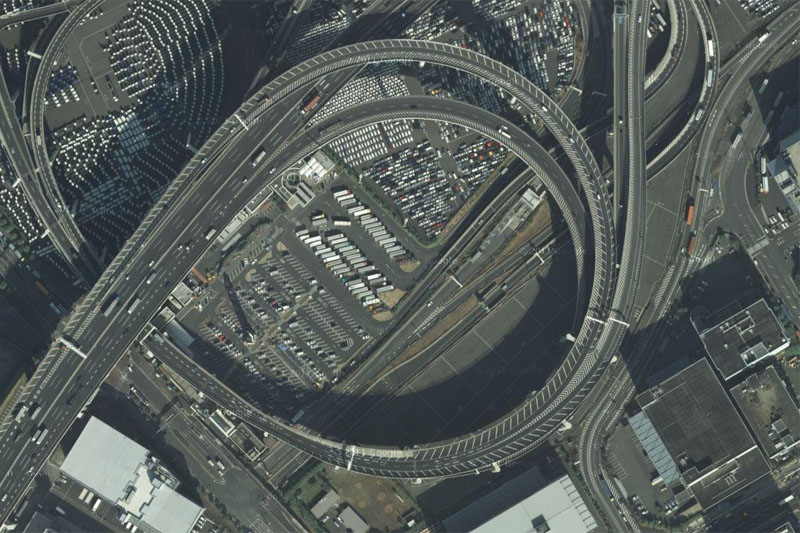 Zooming in closer on the Google satellite image, you can see Daikoku PA itself nestled beneath the towering highway overpasses. Primary access comes via the aforementioned Wangan Route. To the east it's an arrow straight shot across the industrial harbor landscape toward Haneda Airport and on to Tokyo beyond. To the west, it's a short trip across the Bay Bridge into the heart of Yokohama.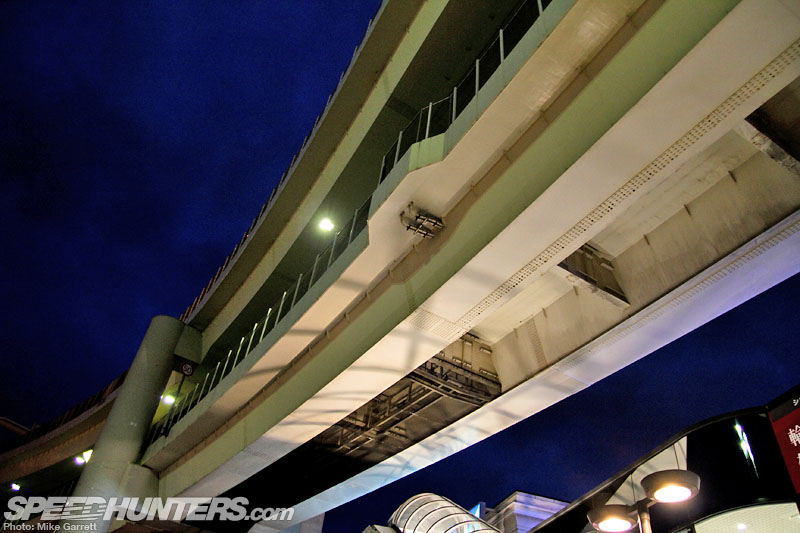 Even if you completely ignore the cars, Daikoku is a fascinating place. There have been books published on the architectural aesthetics of Japan's highway interchanges, and the maze of routes and ramps that circle Daikoku is one of the most impressive in the country.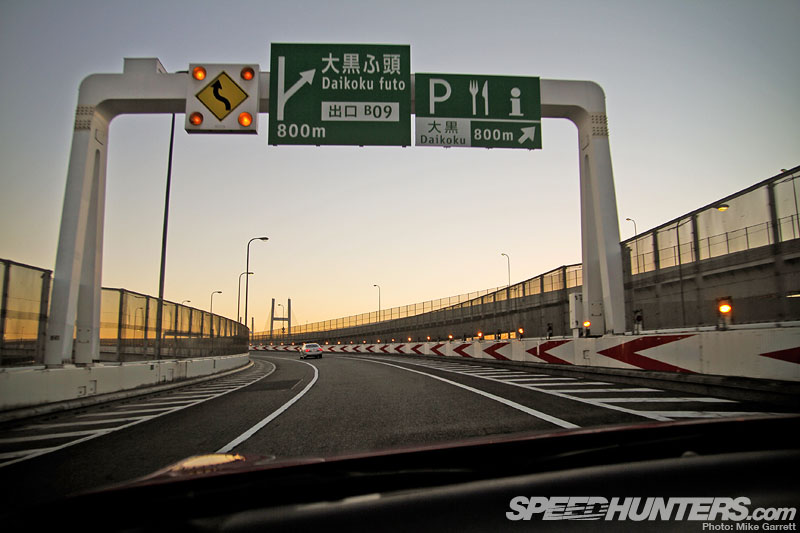 Just heading off the highway and down the off-ramp to the parking area is rather enjoyable in itself, with a long perfectly circular route down to ground level. I'm also told you can tell which cars are for real or not when you hear their exhaust notes coming down from the highway.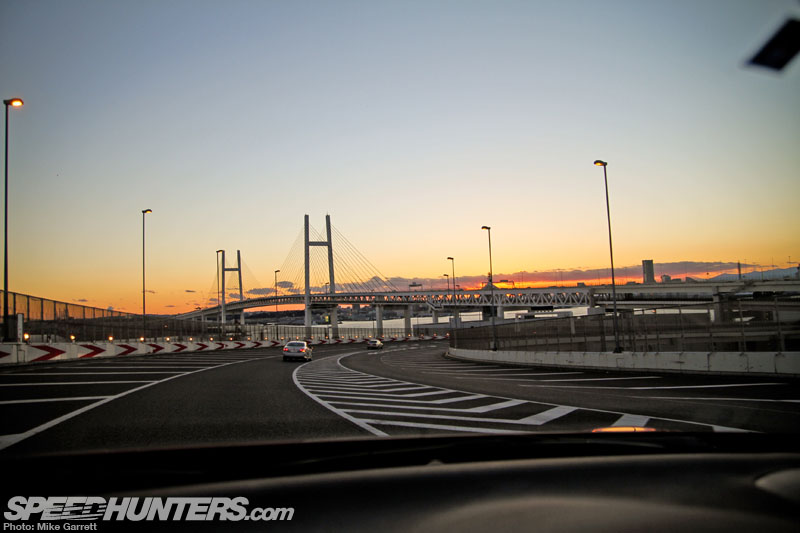 From here you can also find some very nice views of the nearby Minato Mirai skyline and the Yokohama Bay Bridge…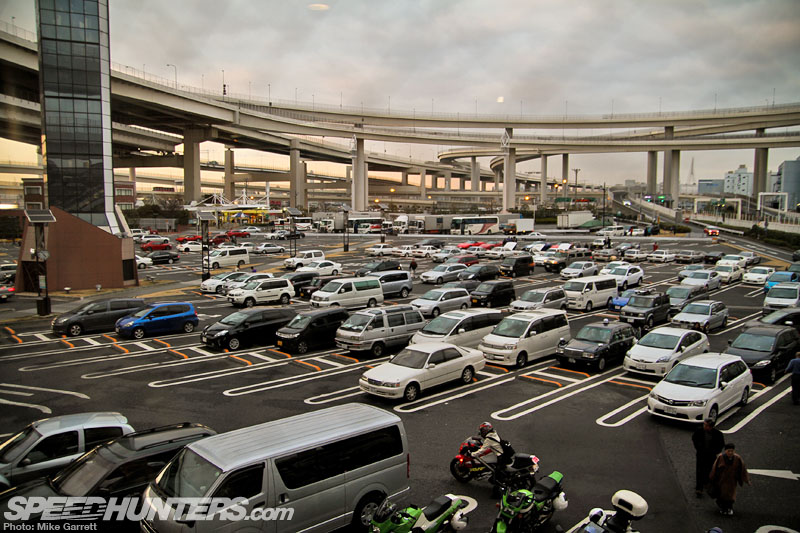 Of course Daikoku Parking Area is much more than just a gathering sport for gearheads. It's also an extremely busy stopover point for highway travelers passing through the area. I'll discuss some of these roadside amenities in just a moment.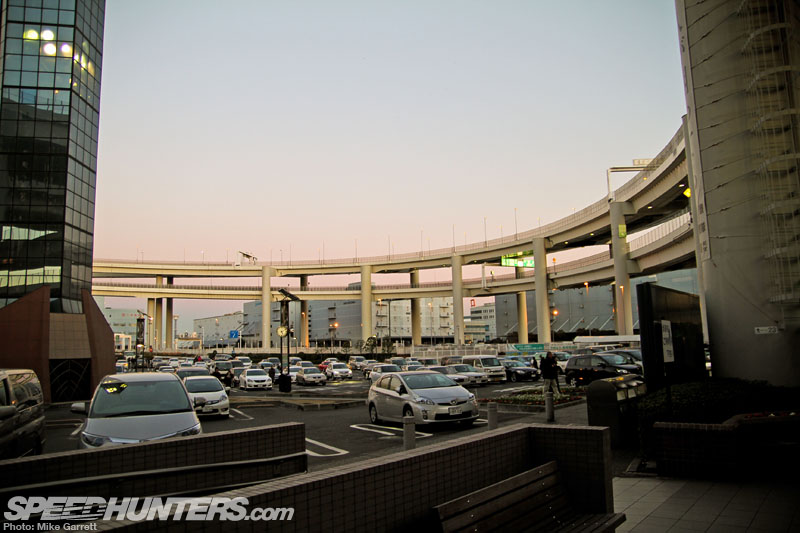 As with everything in Japan, there's a certain sense of order and politeness at Daikoku. The people that come to hang out and talk cars stick to the peripheral areas of the parking lot, leaving plenty of space for the normal people that are just passing through to grab a bite or use the restroom.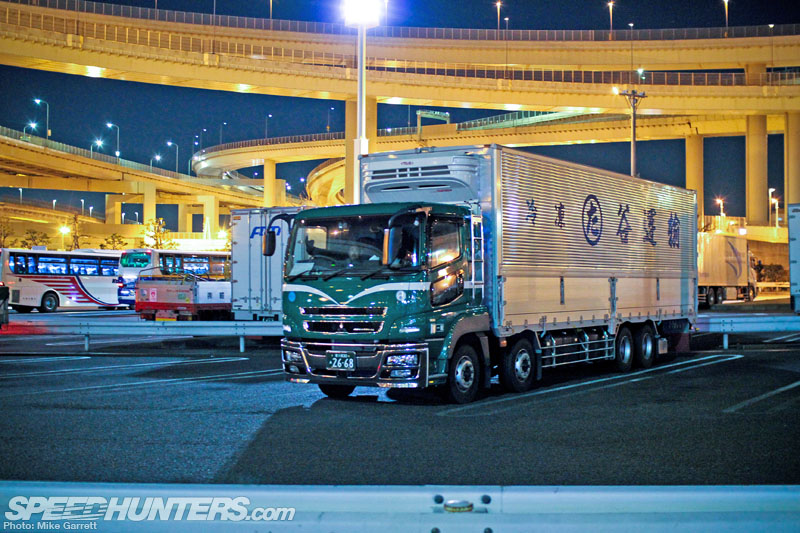 In addition, there's a separate area for highway buses and truckers – some of whom are passing through on long hauls across country, while others are serving the local harbor area.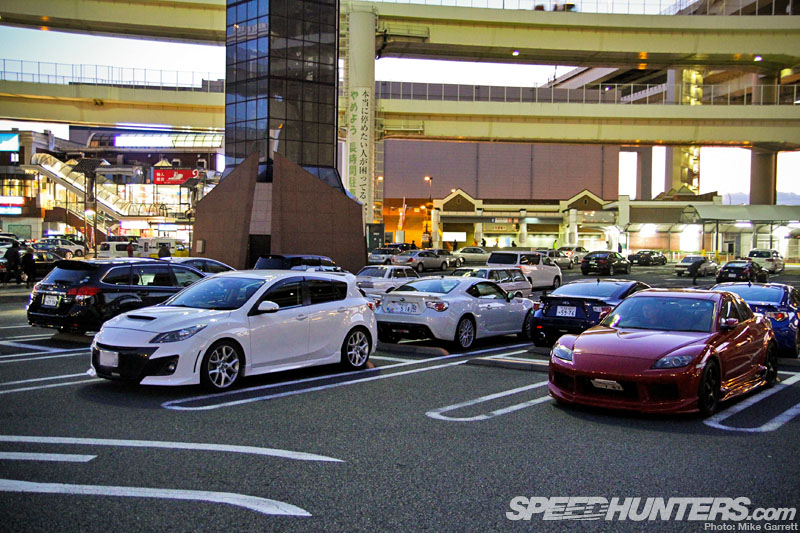 While there's activity at Daikoku 24-7, weekends are the most popular times for car people. From what I've been told, Saturday nights usually get broken up pretty quickly by police, so Fridays and Sundays are the preferred days for most people.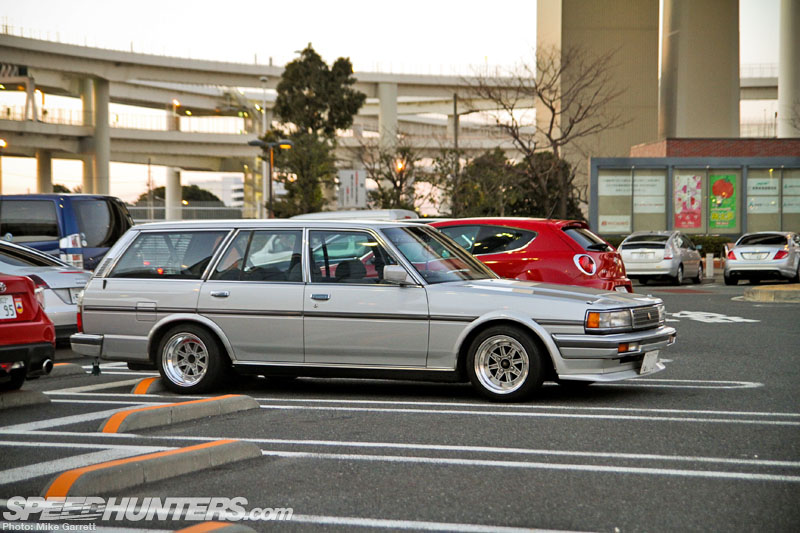 Before I share some of the interesting machinery I found in my visits to Daikoku, I thought we should also take a look at some of the amenities offered to both highway travelers and the enthusiasts who gather here.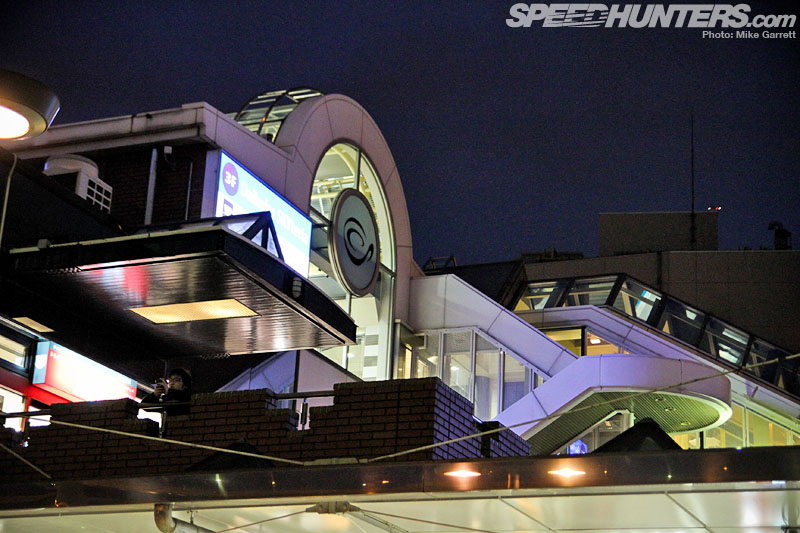 I know this will vary depending on which part of the world you come from, but here in the USA roadside rest areas typically have some bathrooms, a vending machine or two and that's about it. You really don't want to spend any more time at one than you absolutely need to.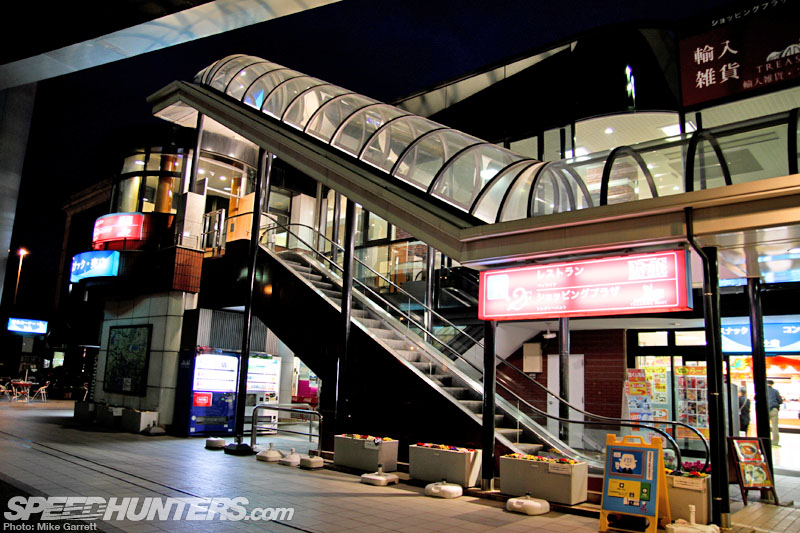 Japan's take on the roadside rest area couldn't be more different. In fact, some of these highway parking areas (Daikoku included) are almost worthy of being destinations in themselves.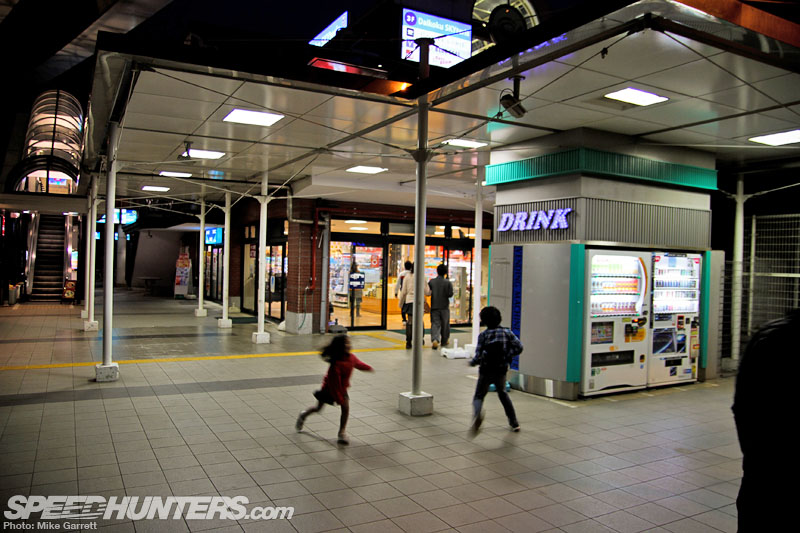 To put it another way, the feeling is more "mall" than it is "rest stop".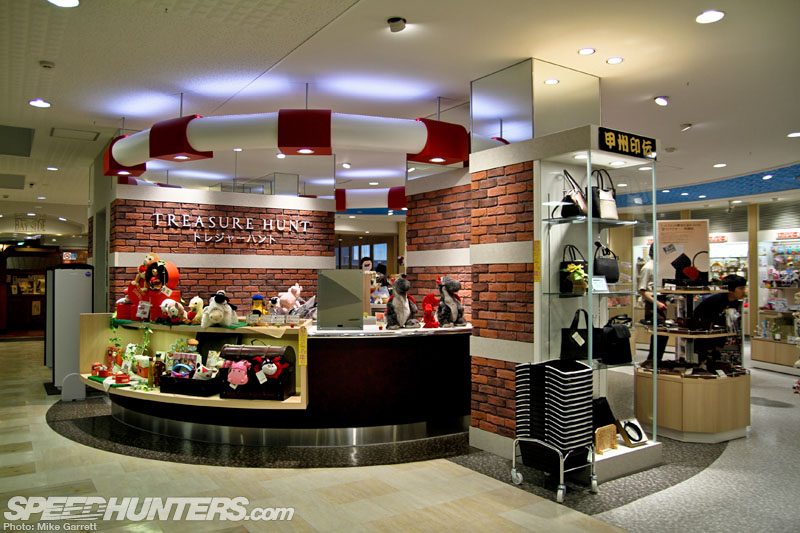 Take a look at this photo and you might think you were in a department store somewhere in the middle of Tokyo. Nope, this is the "gift shop" at a highway parking area!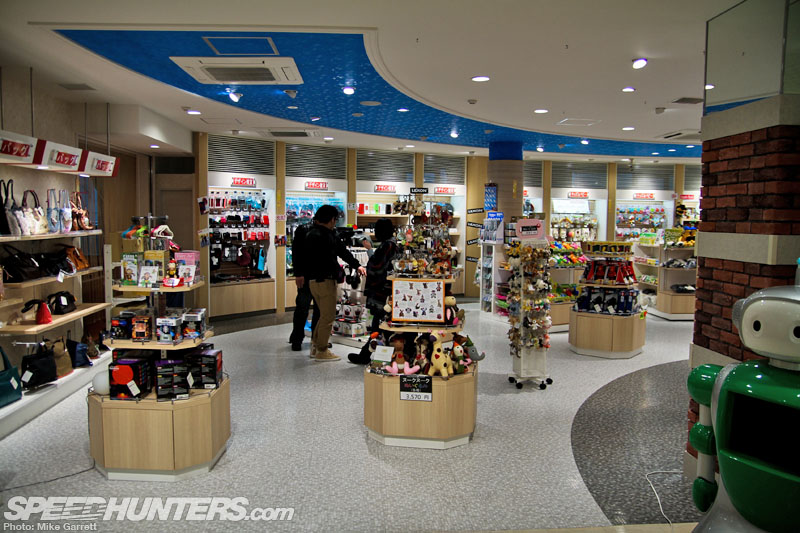 Again, I'm not exactly sure what the roadside amenities are like in other countries, but as an American it's hard to even imagine something like this…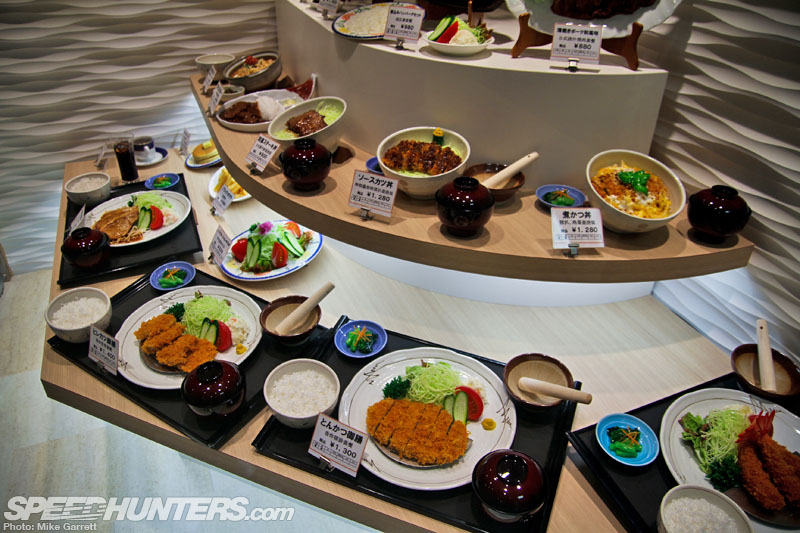 Hungry? There are a few different restaurants to choose from at Daikoku.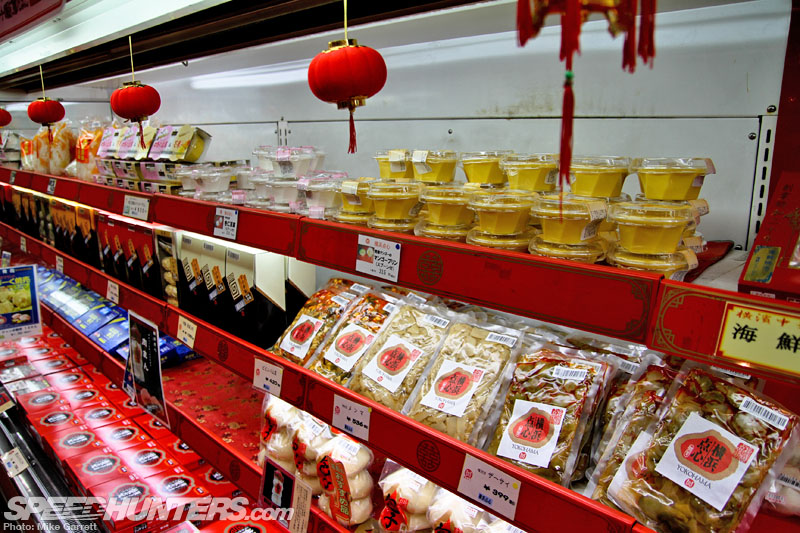 Like a lot of Japan's parking areas, the store at here is stocked with lots of specialty items and local cuisine from surrounding areas. The idea is you pick up this stuff as omiyage (souvenirs) for your friends and family back home.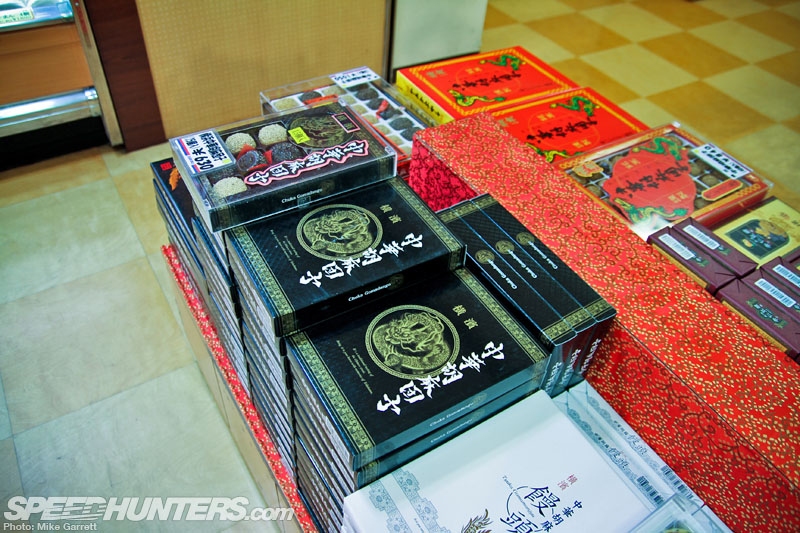 Here are some goodies from Yokohama's famous Chinatown, which is located just across the Bay Bridge.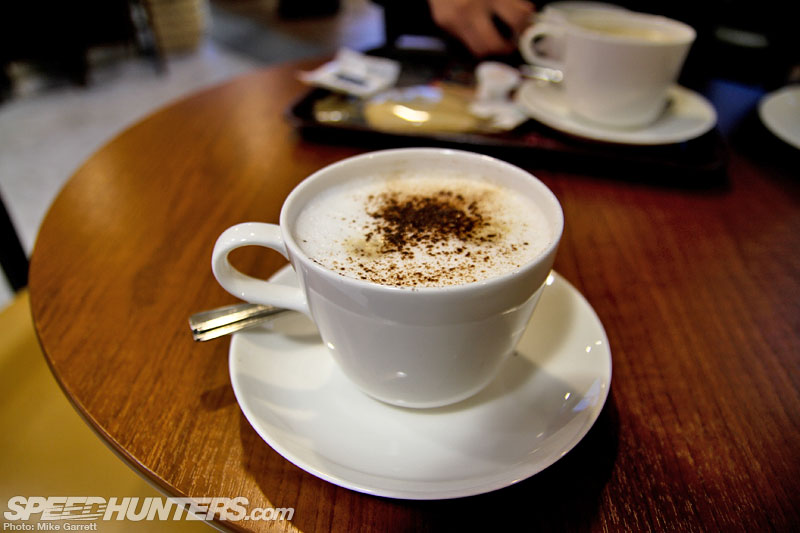 On the upper floor is a nice little cafe with the plenty of room to sit down and relax. What's better after a cold night of looking at cars than a nice hot cup of cappuccino or tea?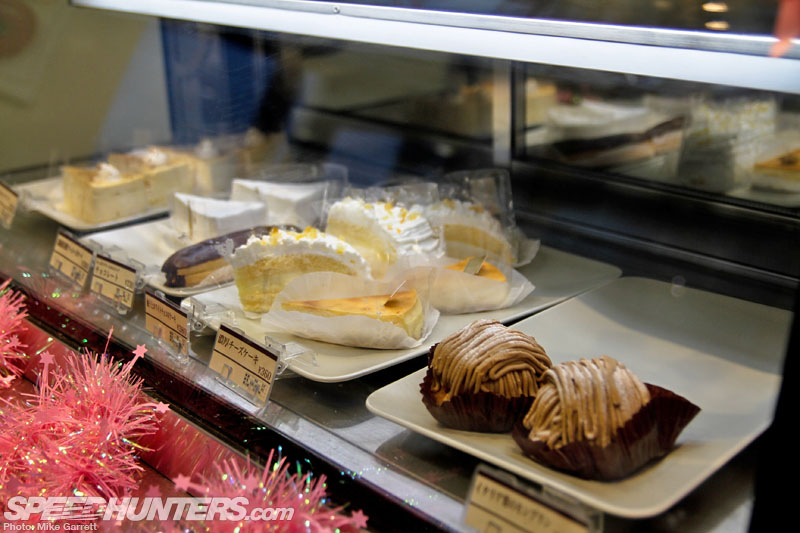 Nope, that's surely not your typical roadside cuisine…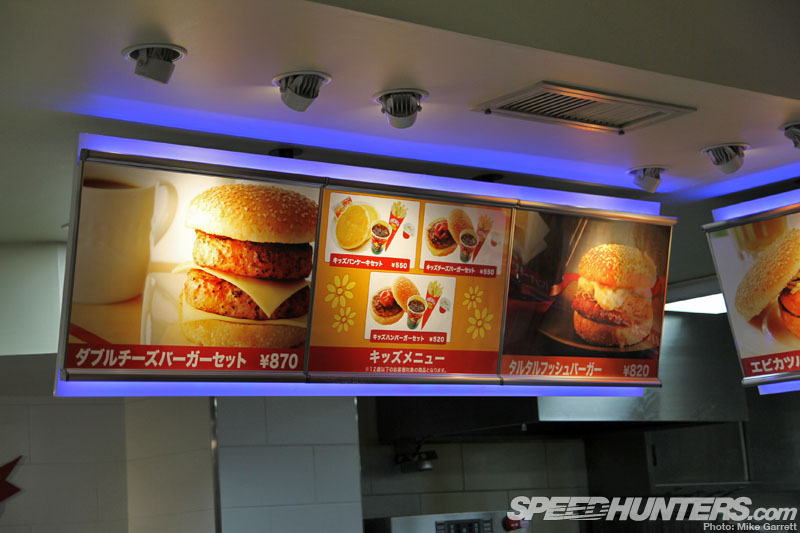 Double cheeseburger anyone?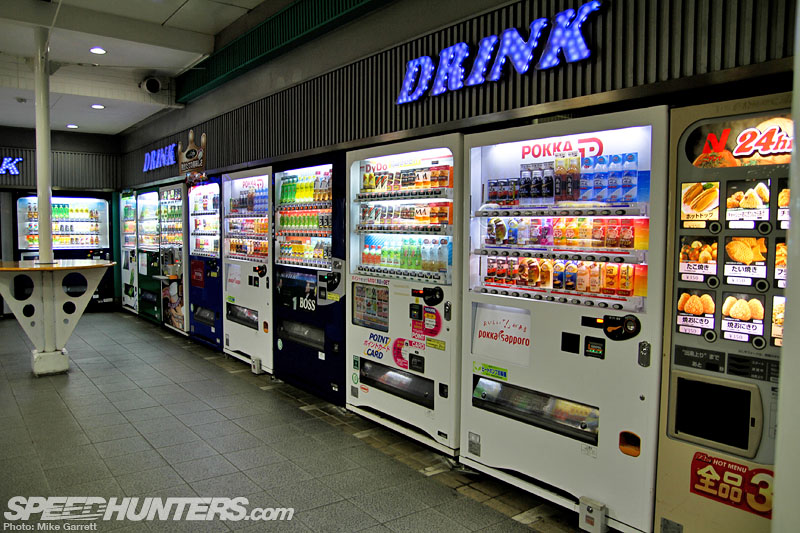 For those who are in a hurry, there's also an enormous vending machine area. I'm sure anyone who's familiar with Japan knows that they don't mess around when it comes vending machines.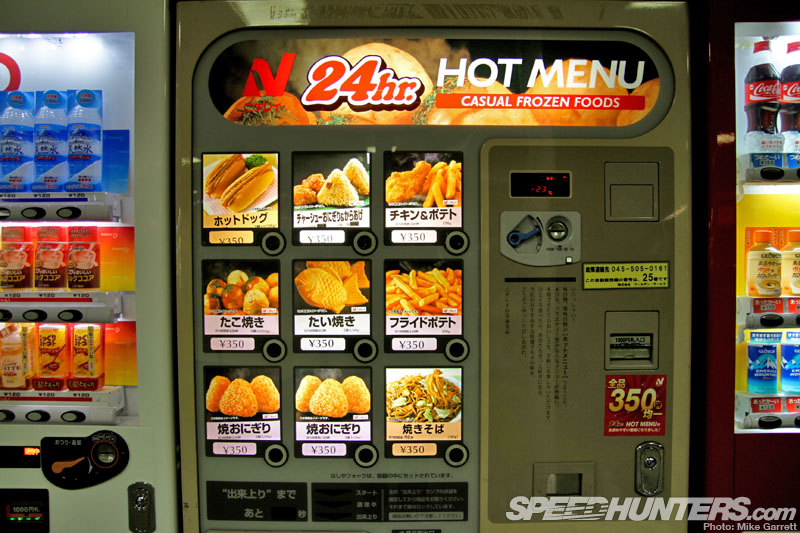 Besides every beverage imaginable, there also machines that sell hot food. In the mood for some Taiyaki, Onigiri, or Yakisoba? 350 yen and you're covered.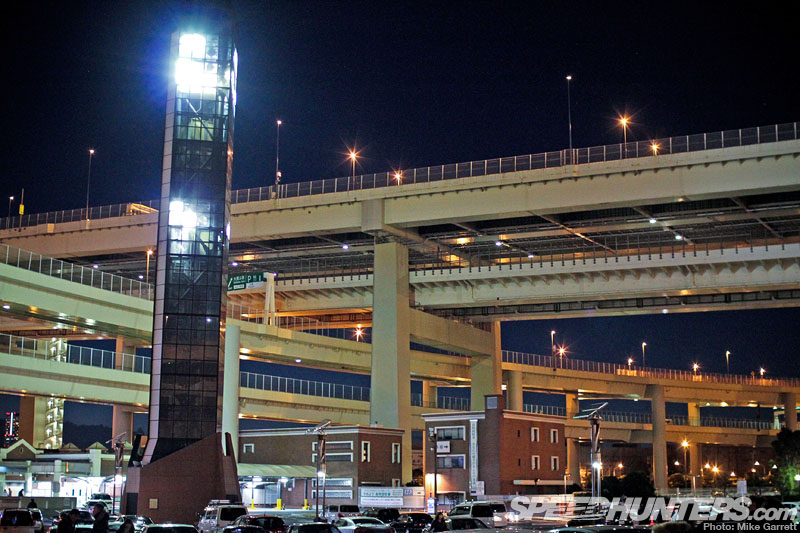 Back outside now, you may have noticed the giant tower that rises up from the middle of parking lot. I was wondering exactly what this was, but it turns out it's just a big light tower. I was thinking it was some sort of high tech control room or something.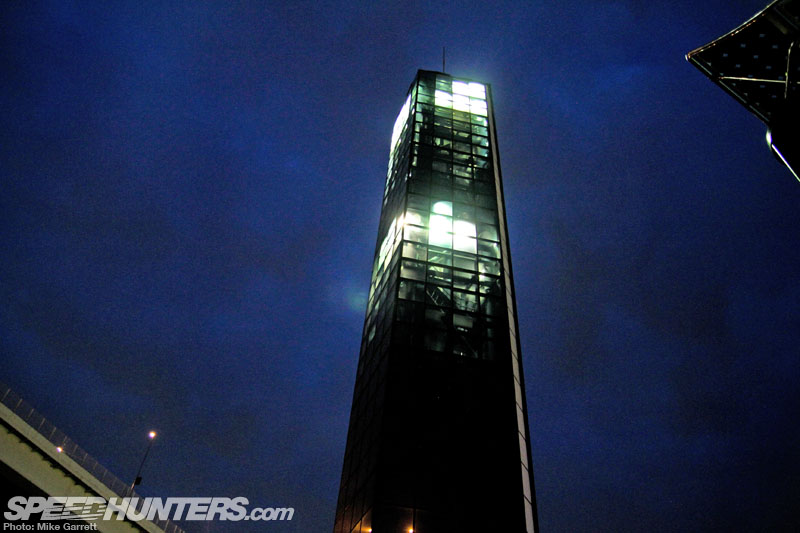 Whatever the case, it just adds another sc-ifi touch to what's already a fairly "Blade Runner" looking environment…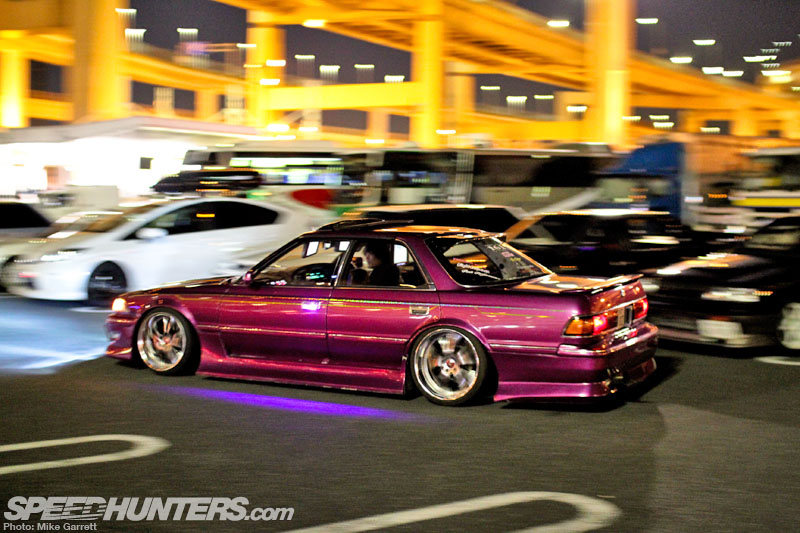 I really don't even know where to begin with the cars of Daikoku. Perhaps the coolest thing is the variety of machines you see rolling in and out. VIP, drift, classic, import, exotic, dress-up – Daikoku is a gathering point for them all.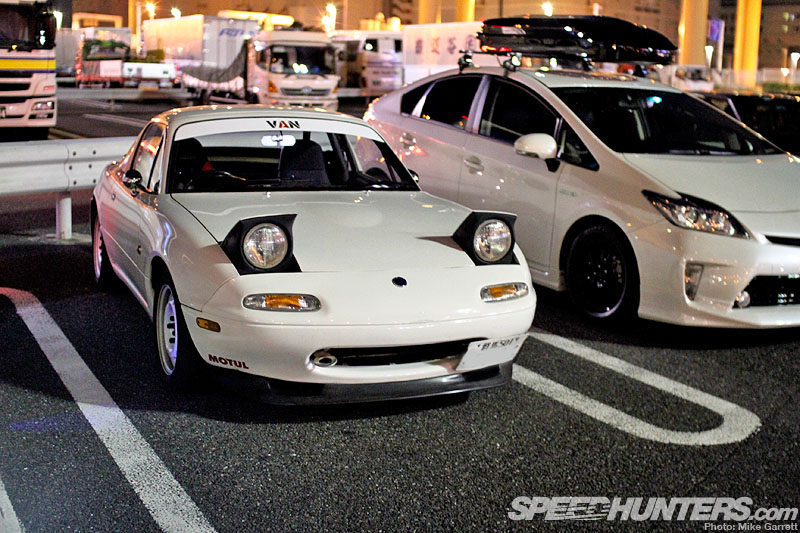 As an example, you'll see a humble little Eunos Roadster…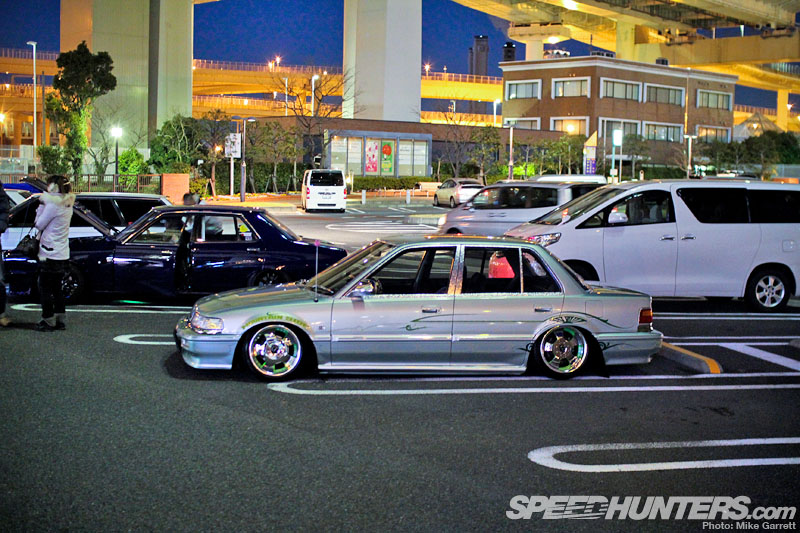 …parked steps away from an EF Civic sedan Lowrider.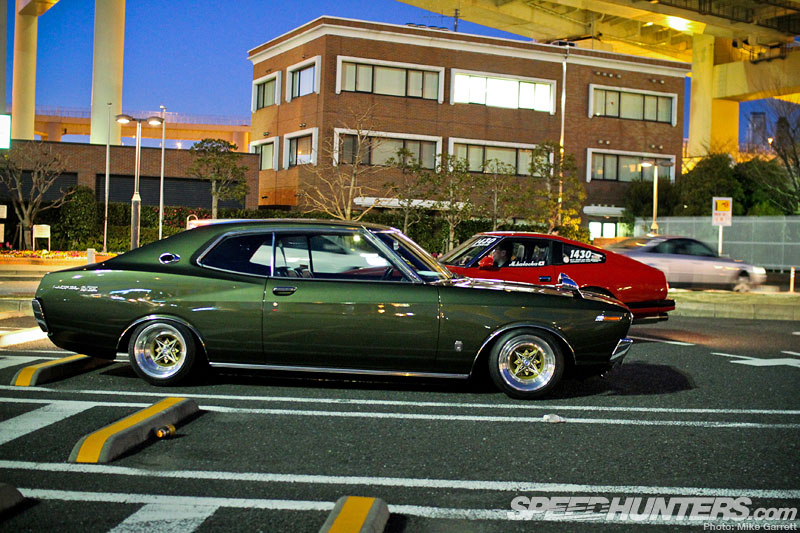 The evenings I visited had a particularly strong turnout of vintage machinery, like this beautiful C130 Butaketsu Nissan Laurel.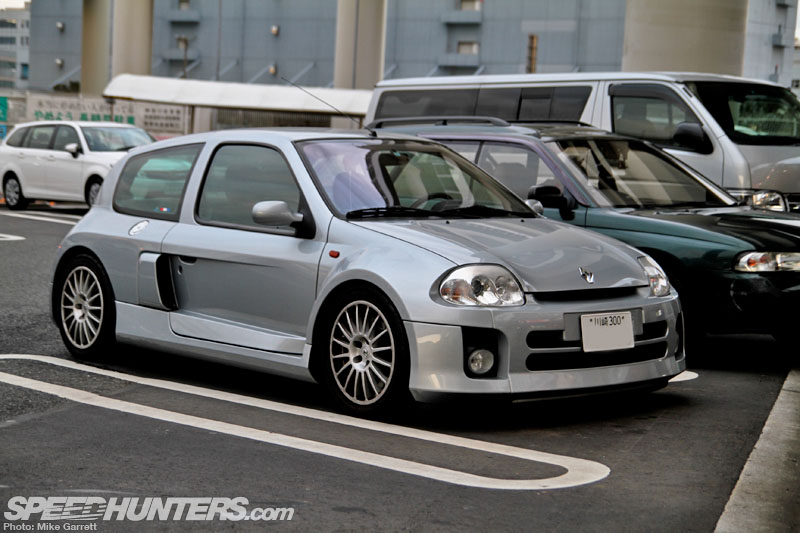 Imported cars are almost as common as their domestic rivals at Daikoku. Here's a Renault Clio V6 I happened across.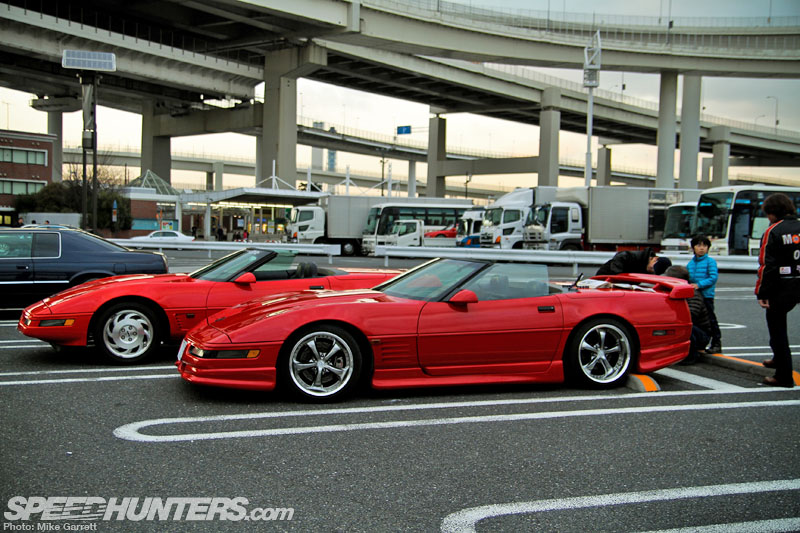 I also spotted small group of C4 Corvettes, including this tough looking drop top fitted with a set of Work VS-KFs.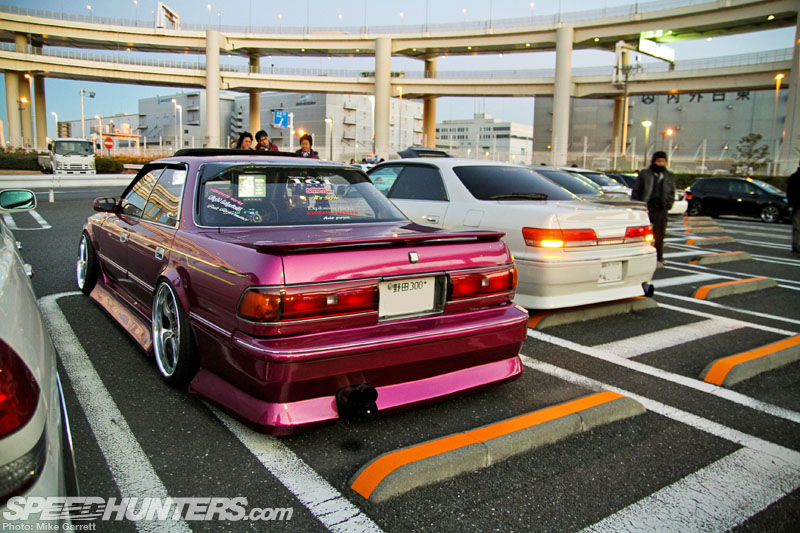 While some come to Daikoku alone, it's also very popular as a gathering spot for car clubs and owners groups.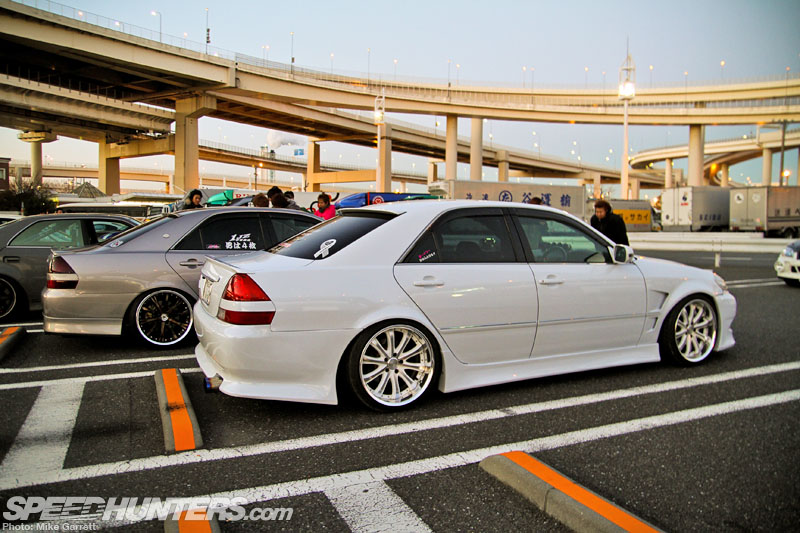 One evening a group of street style Chasers, Mark IIs, and Crestas had gathered up for an informal hang out session.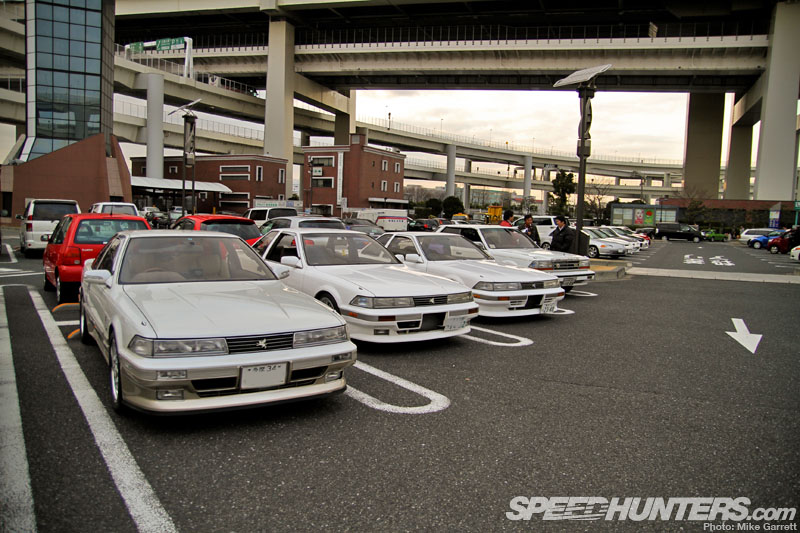 On another day, a sizable crowd of Z20 Toyota Soarers were lined up in a throwback to the boxy cars of the late Showa period.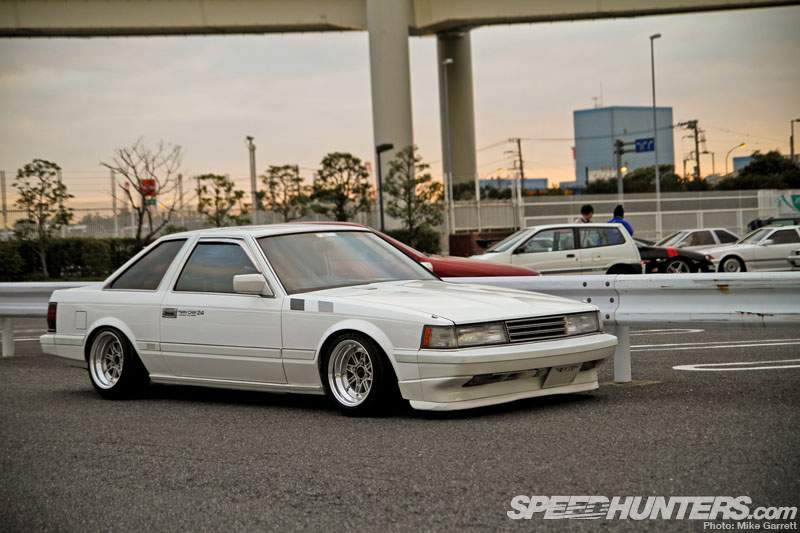 Parked a short distance away from the line of Z20s was an earlier Z10 model looking just right on SSR Mk.IIIs.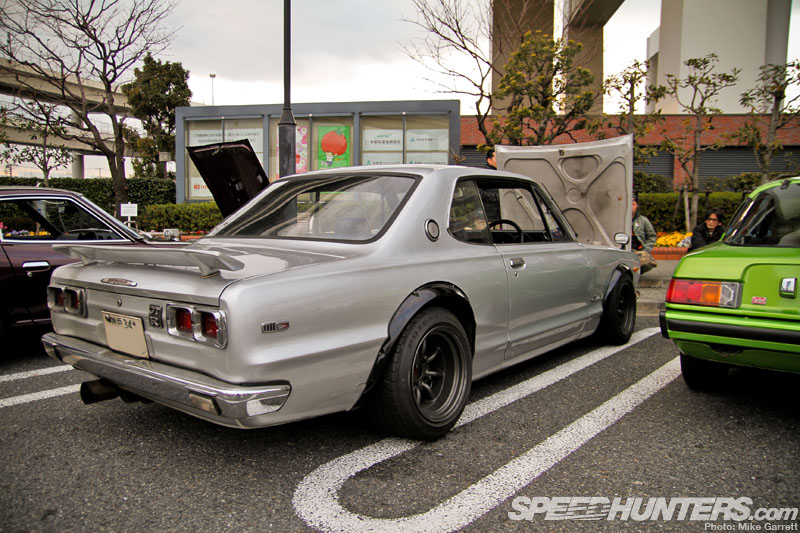 Of course you don't have to always have to drive the same exact car as your buddies. One group of guys I met came out with an S30 Fairlady Z, a Hakosuka Skyline…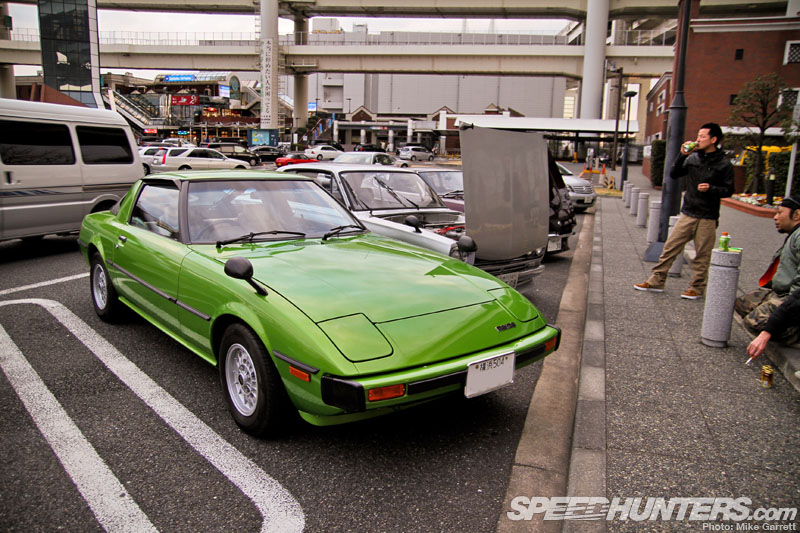 …and this completely original SA22C RX-7 that was in showroom fresh condition.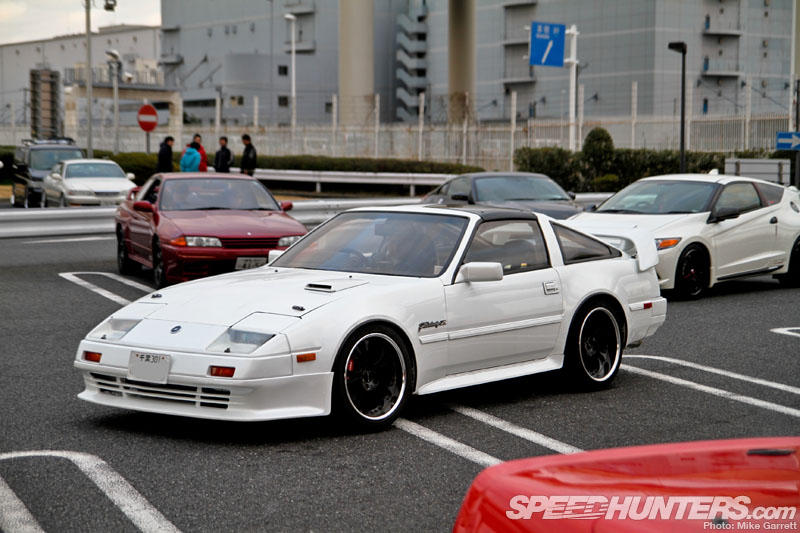 Another Showa throwback with the largely unseen Z31 variant of the Fairlady Z…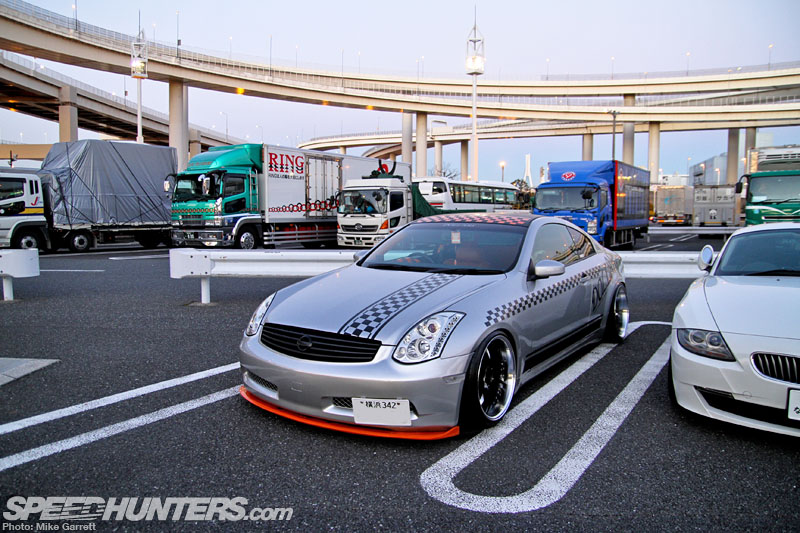 An interesting look for this V35 Skyline Coupe. Again, the variety of the cars you see at Daikoku is unbelievable.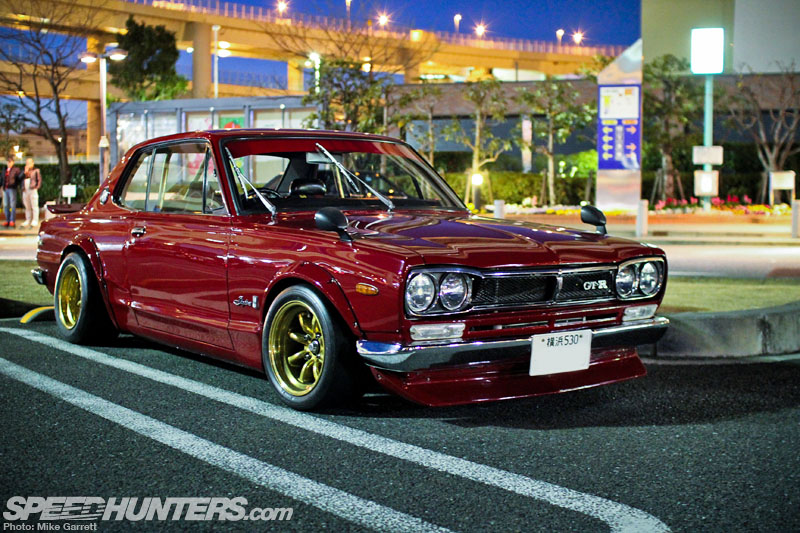 The most memorable machine I saw during my time at the parking area had to be this red KPGC10 Skyline GT-R. Not only was it a stunningly beautiful example of the rare Hakosuka GT-R, but it was also rolling around on full racing slicks.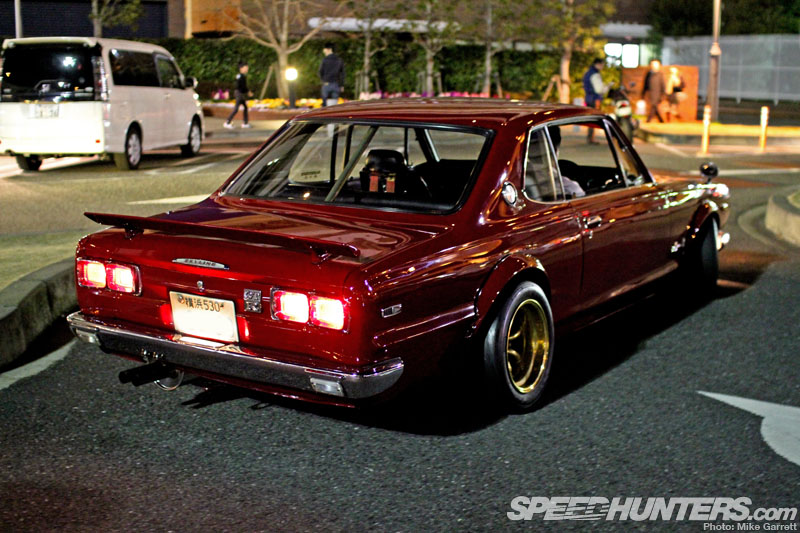 Any doubt of the car's legitimacy was quickly erased upon hearing the sound of its S20 scream it jumped back onto the Wangan. Yup, reason number 4,267,325 why Japan is the coolest place in the world.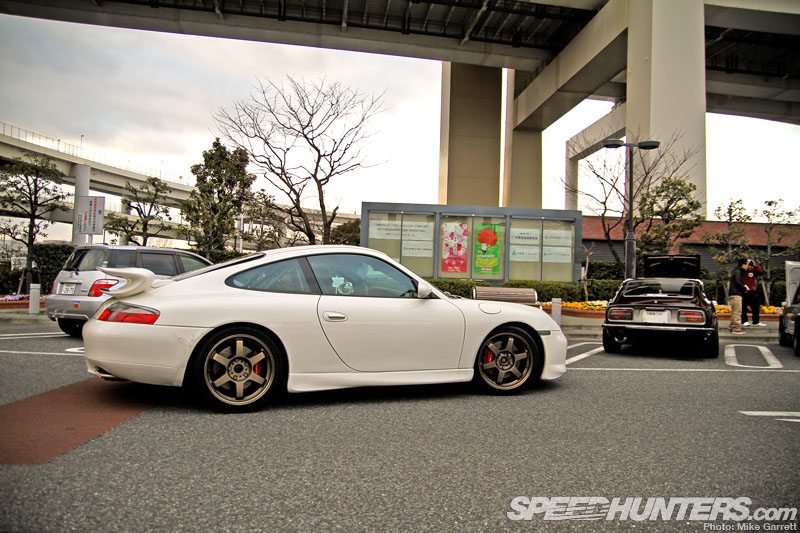 Needless to say, I quickly found out why Daikoku Parking Area is such a legendary spot. More than anything though, I realized that Daikoku is everything that's great about Japanese car culture concentrated into a single place.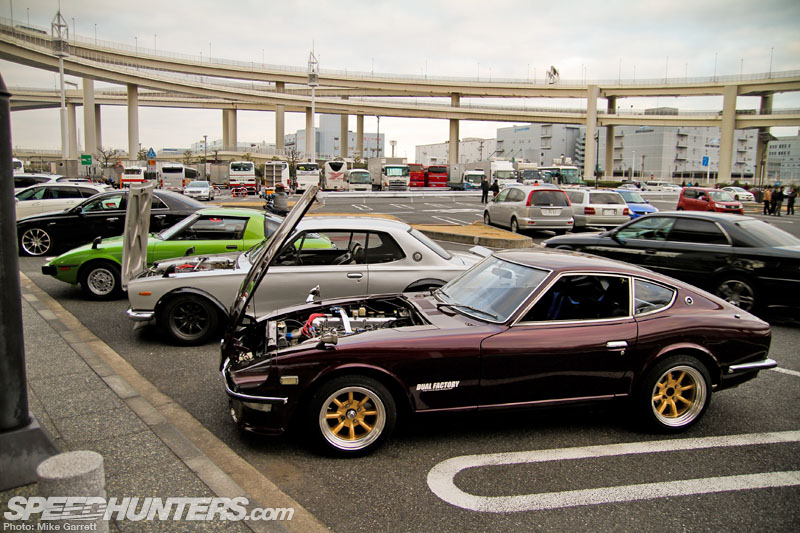 To put it another way, to visit Daikoku is to see most amazing automobiles under the most casual of circumstances…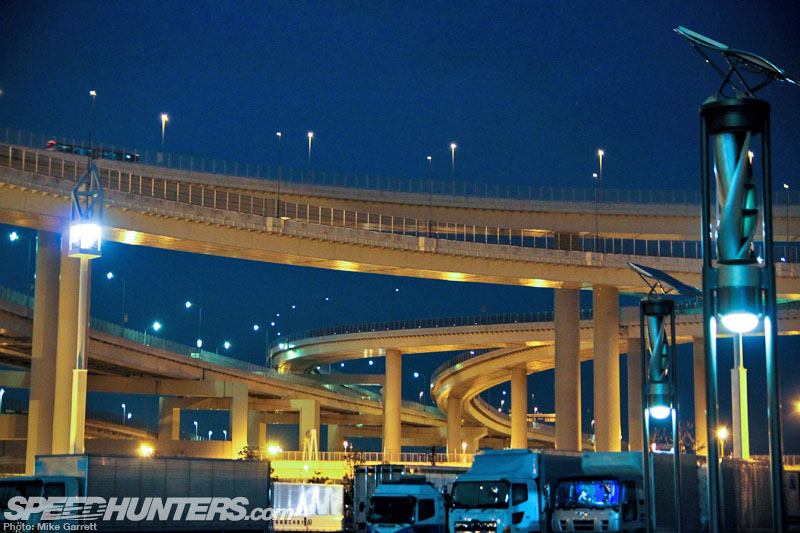 The cars are fantastic, the people are friendly, the vibe is relaxed, and the atmosphere is second to none. There's even great food. What more do you need?
If you have the chance to visit Japan, I highly recommend hailing a cab, begging a friend for a ride, or just plain doing whatever it takes to see Daikoku for yourself.
-Mike