I can't quite explain it, but I've always been fascinated with turbocharged engines. I have always found the idea or harnessing exhaust gasses to help force-feed the intake side of the engine such an ingenious solution. While we are currently living through a massive comeback of the turbocharger as more and more modern engines, big and small, make use of this type of forced induction, I can't help but have admiration for the pioneers of these systems. The eighties were when the turbo really caught on, and while road-going applications were often plagued with massive lag and less than optimal power bands, it was the motorsports side of things that were the most exciting. We all look back to the turbocharged era of F1 as one of the most memorable, where drivers had to fight with featherweight cars boasting power levels up to and beyond 1000 HP. These were F1's golden years, where innovation and experimentation was being pushed continuously, be it with those wild 1.5L V6 turbocharged engines as well as the use of composites. But as interesting as this period in F1's history was, it's actually the experimental side of rallying that I want to touch on, and in particular the amazing work that the FIAT group was doing through their racing departments at Abarth and Lancia. While Group B (1982~1986) cars like the Lancia Delta S4, Audi Quattro S1 E2 and Peugeot 205 T16 defined the pinnacle of turbo application in rally, it was what was to come after this that was quite interesting. Group S was the proposed replacement of Group B, a class that would have limited power to 300 HP and forced manufacturers and race teams to experiment in new technologies, without relying on extreme power outputs and high speeds. However following the death of Henri Toivonen and his co-pilot Sergio Cresto in the '86 Corsica rally the FIA banned Group B, and with it its replacement, Group S. From then on it would be Group A that would take over, where rally cars had to be based on true production cars, a class that wasn't varied until 1997 when WRC rules came into effect, a sort of reintroduction of what Group S was supposed to do from 1987. However, before Group S was cancelled by the FIA, some manufacturers like Lancia managed to do a lot of development on what was to be a worthy replacement for the Delta S4.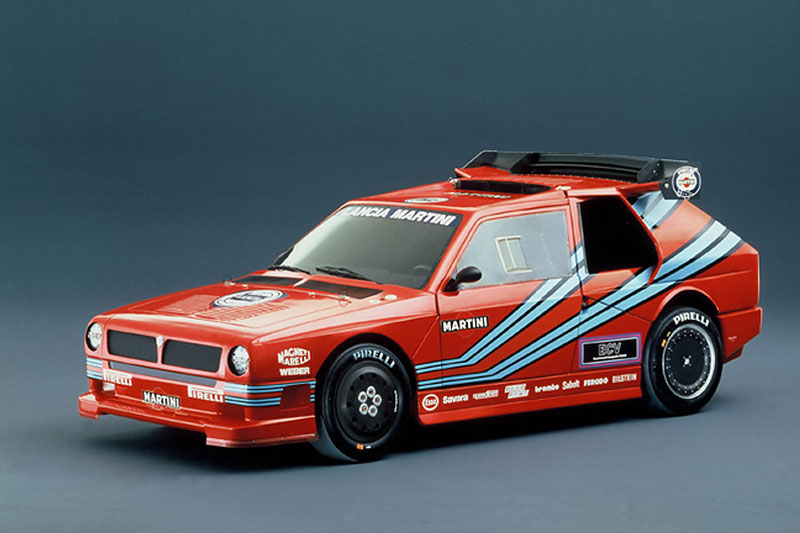 The Experimental Composite Vehicle, or ECV1, was what they came up with, a completely new car with the semblance of a Delta but boasting carbon fiber and Kevlar construction and a curb weight of 930 or so kilograms. Even the wheels were carbon fiber (6kg for an 8Jx16″ rim)! Mounted back under that awkwardly styled rear cowl was Lancia's prototype "Triflux" engine, the motor I want to look at in this post. As you can see from the opening image this was unlike anything that had been created until then, and since.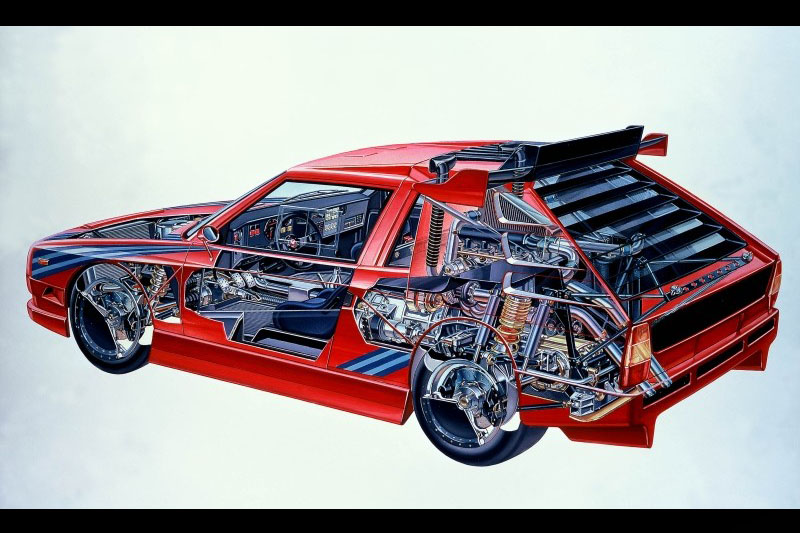 This 4-cylinder engine boasted a capacity of 1,759 cc, two turbochargers, a "Triflux" intake & head and the potential to develop up to 600 HP…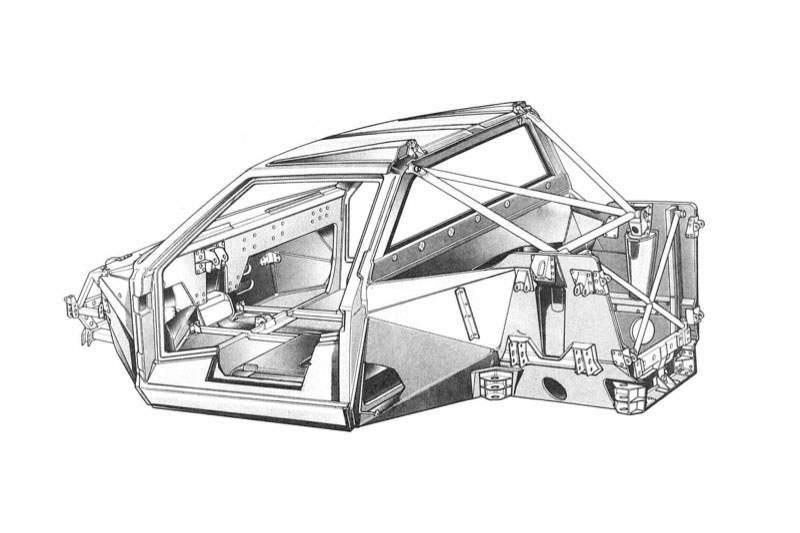 …from its mid-mounted position in the carbon fiber chassis, where it powered all four wheels through a rear mounted 5-speed gearbox.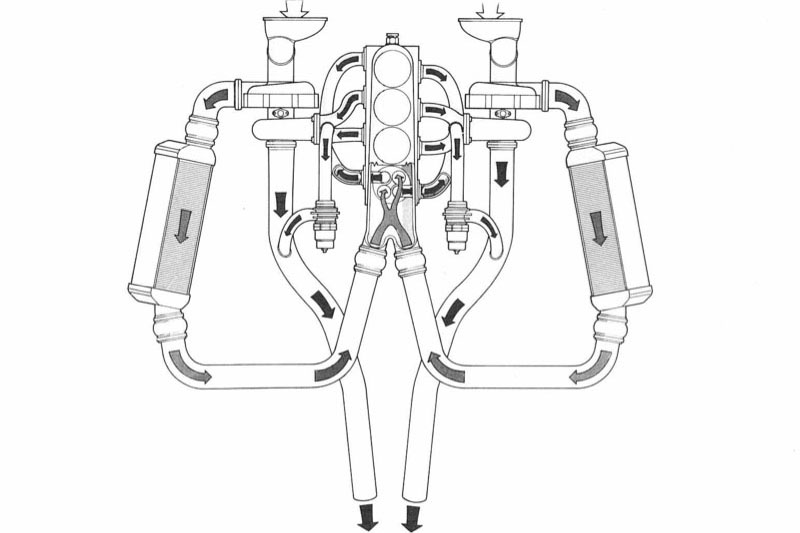 Claudio Lombardi was the engineer that came up with the Triflux head/intake design, the same man who had worked on the S4s twin-charged motor and later moved to Ferrari to head the F1 engine development there. The idea behind this motor was to come up with a small capacity and compact engine design that would not only yield a high power output but also allow for a linear power delivery thanks to the use of two turbochargers. The problem however was how on earth would you be able to feed and utilize two separate turbos from a 4-cylinder layout. Lombardi came up with the brilliant idea of feeding the four valves of each cylinder in an alternating pattern. So instead of having a conventional "hot" and "cold" side to the head where two pairs of valves are fed the intake charge and the other two dump exhaust gasses, the valves are  fed according to a crossed layout or FID (Flusso Incorciato Doppio or Double corssed flow) as FIAT called it and patented it. This meant that the two top-fed valves (imagine an "X" pattern) would allow the compressed charge into the combustion chamber, and the other two would dump exhaust gasses out each side of the head.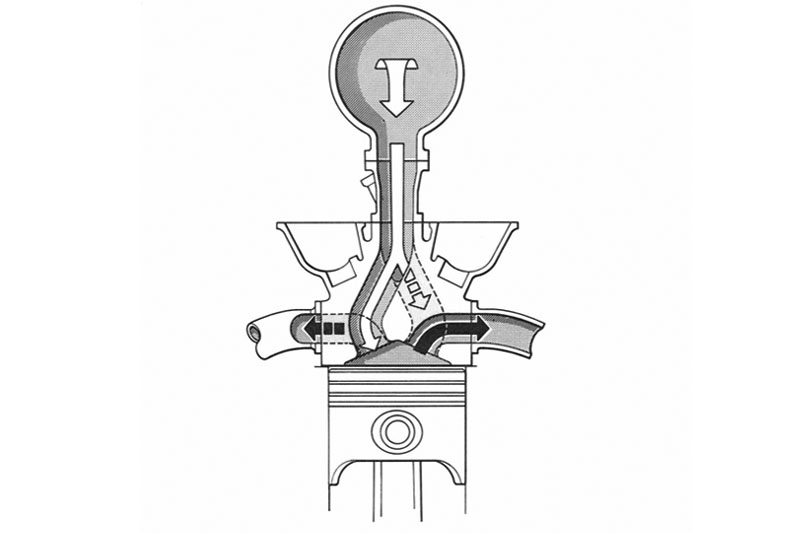 This is where the "Triflux" name comes from, as there are three distinct paths of flow, one for the intake and two for the exhausts. You can see this on the diagram above. Aside from the top-feeding inlet plenum, (which splits at the bottom around the spark plug to feed the two diagonally-opposed valves) and two separate exhaust manifolds, the Triflux also called for special camshafts that would be able to actuate 1x intake valve and 1x exhaust valve for each cylinder. On top of allowing the use of a twin-turbo set-up this solution had other evident advantages when applied to competition/motorsports. First of all by eliminating the conventional "hot" and "cold" sides to the head, there would be a far more uniform distribution of heat over the head itself. The more homogeneous heat dissipation means less chance of the head buckling under high loads as well as being far easier too cool through the liquid cooling system.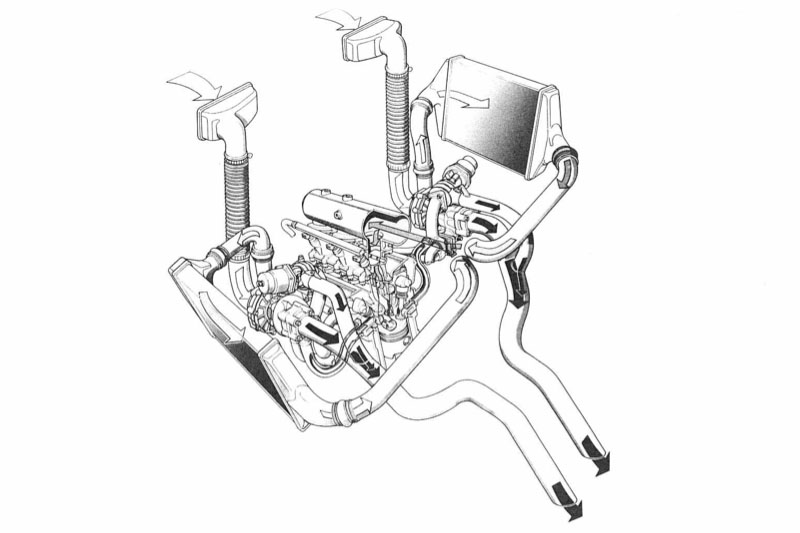 The layout of the manifolds, turbochargers, piping, intercoolers and again the piping feeding the intake plenum are also completely symmetrical.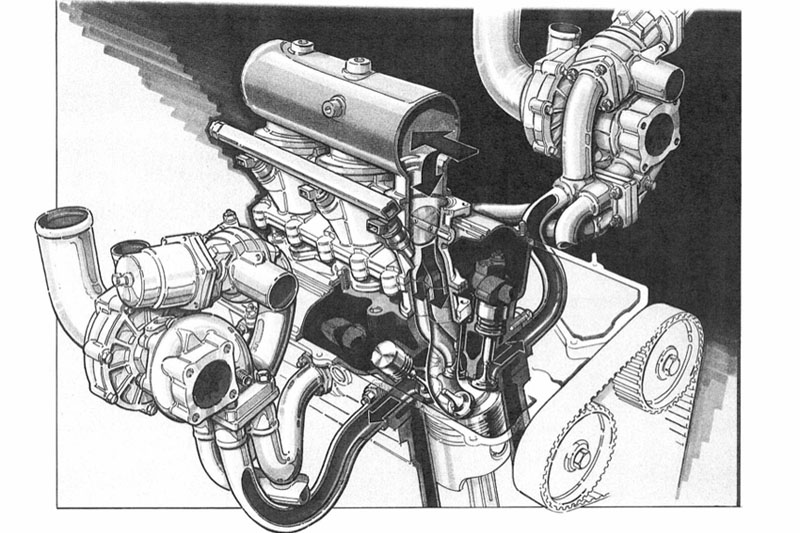 They also planned that once variable vane geometry turbochargers would be ready for use it would be possible to remove wastegates altogether , to further simplify it all.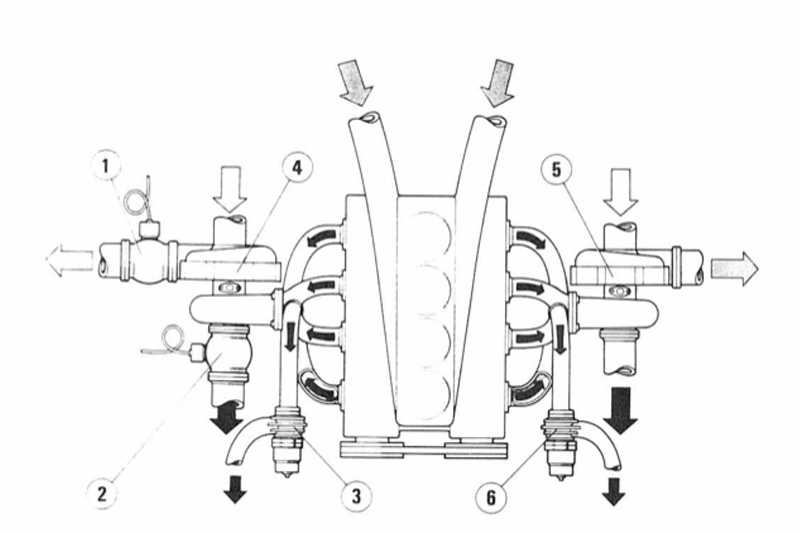 The Lancia engineers also came up with an application where a sequential turbo charger set-up could be used. Here, as you can see above, two electronically controlled valves (1 & 2) can be added to the larger turbo limiting either or both the outputs of the compressor and turbine sides to allow a smaller turbo (5) to be ran at full capacity on the opposite exhaust side. When this one runs out of puff the valves can be open and the lager one (4) can take over. 3 & 6 on the above diagram point to the external wastegates. Lancia learned a lot on the S4 with the car's twin charger set up which utilized both a supercharger as a turbocharger to guarantee explosive acceleration at any rpm.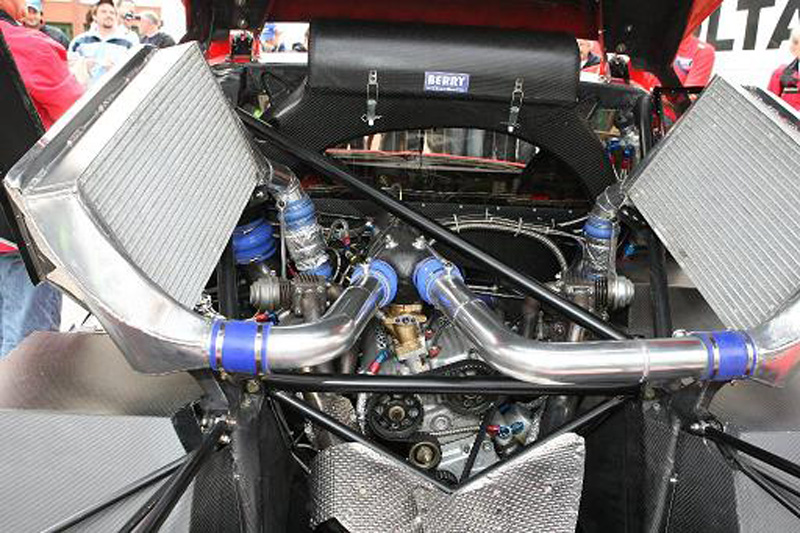 This image of the Triflux engine in the back of the ECV1 is from the Walkers Garage website, the guys that supplied the intercoolers and radiators to the recently rebuilt ECV1 prototype.
http://www.youtube.com/watch?v=E47Hk5ObWYQ
The car was shown at the 2010 Rally Legend event in Italy where rally legend Miki Biasion got the chance to put it through its paces.  The EVC1 was put together and restored from the parts that were left after its development 25 years prior by its current owner and another rally legend, Giuseppe "Beppe" Volta, famed for building the Volta Fiat 124, Fiat 131, Lancia Stratos, Lancia 037 and the Lancia Delta S4.
Volta is quite handy behind the wheel himself as you can see above, where he plays around with the 600 HP ECV1 during a photoshoot.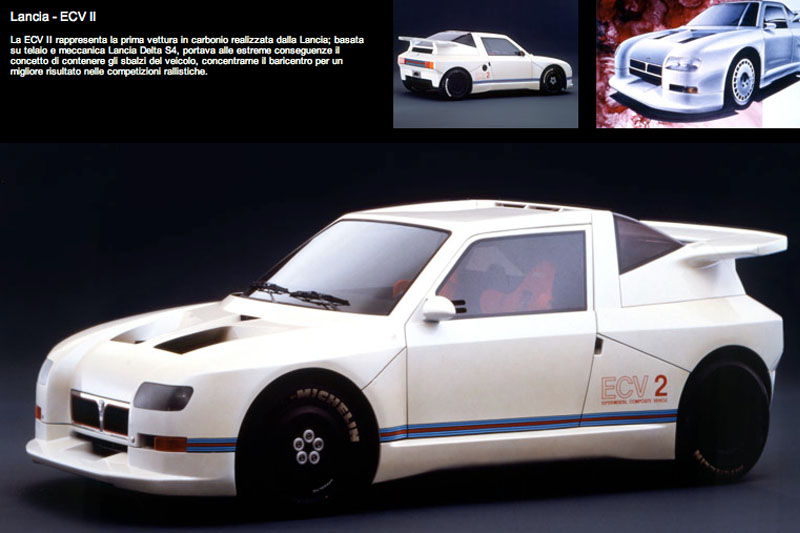 Despite Group S being cancelled, Lancia decided to go ahead and improve on the EVC 1 and built the ECV2 which was in all effects a rebodied ECV1. The same carbon fiber and Kevlar chassis was used as was the Triflux engine, albeit with some more compact ancillaries as the rear of the car was quite a lot more compact. The body was designed by Carlo Gaino of Synthesis Design. It's hard not to wonder what would have happened if the Triflux engine would have been allowed to prove itself in motorsports. Despite this it still stands out as an ingenious solution and hopefully one that – as turbocharging continues to grow in the pursuit of better performing and more economical engines – we might see come back in the future.
Lancia Triflux engine specs:
Power: 600 HP @ 8,000 rpm
Torque: 540 Nm (398 lb/ft) @ 5,000 rpm
Layout: In-line 4
Bore x stroke: 88.5 mm x 71.5 mm
Capacity: 1,759 cc
Compression ratio: 7.5:1
Head: "Triflux" with "FID" double-crossed-flow
Force Induction: 2x KKK K26 with twin intercoolers
Ignition: Weber Magneti Marelli IAW electronic fuel injection, electronic boost control
Lubrification: Dry-sump
Many thanks to Lancia for supplying the original research documents for the Triflux engine and Delta ECV1.
-Dino Dalle Carbonare