One of the things that fascinates me most about car culture is the different ways automobiles are perceived and loved across the planet. The cars themselves be nearly identical physically, but as you visit new places you begin to see them in different ways.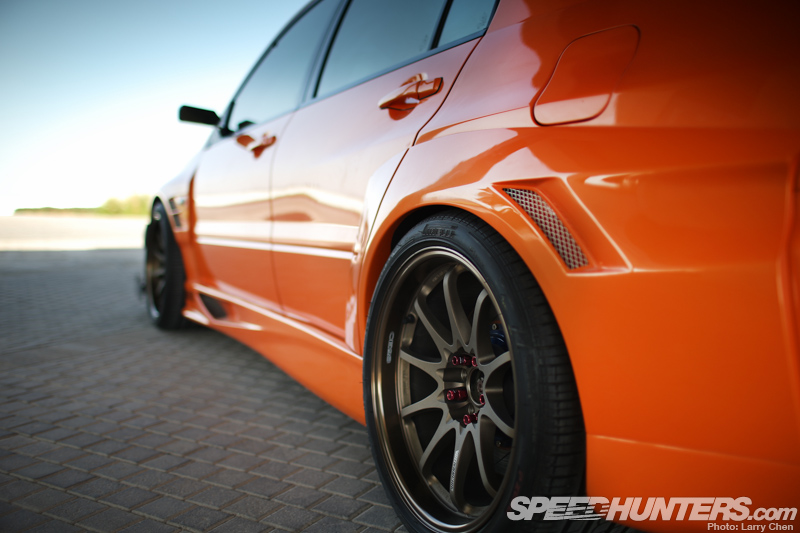 The Mitsubishi Lancer Evolution in particular is a car that will have a very different following depending on which part of the world you come from. You may live in a place where the Evo was known and loved since its debut 1992, when it began dominating rally events and building its legendary reputation.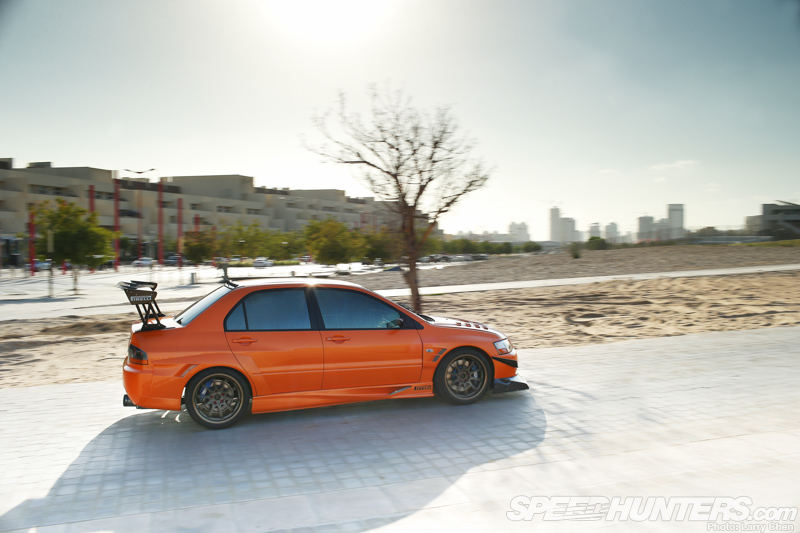 Here in the United States for example, the Evo has a slightly different history. For most of us Americans, it was through the magic of video games that we were first exposed to this and other high performance AWD cars from Japan. I can clearly remember playing those games as a youngster and wondering how these strange four door cars could be so damn fast.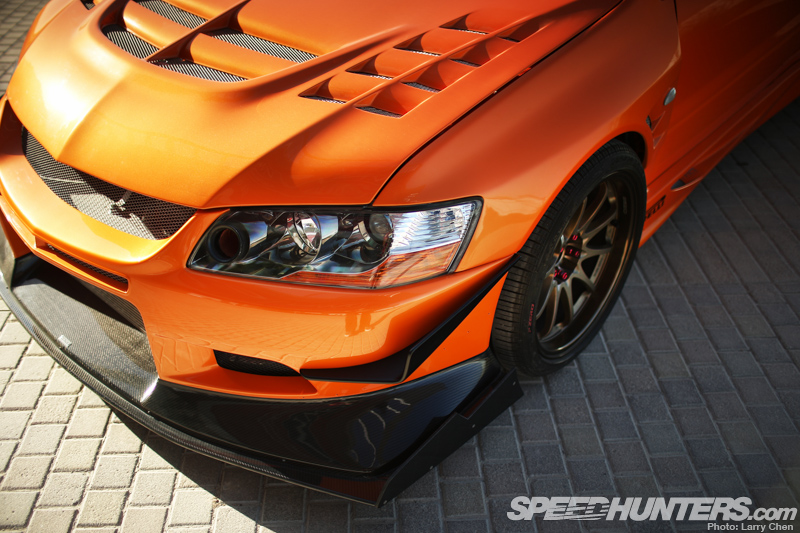 It wasn't just a case of using the car in the game because we really liked it. No, using the Evo was simply the easiest way to win money and advance through the game. A lot us had never even seen one with our own eyes, but we dreamed of driving one of these Lancer Evolutions in real life.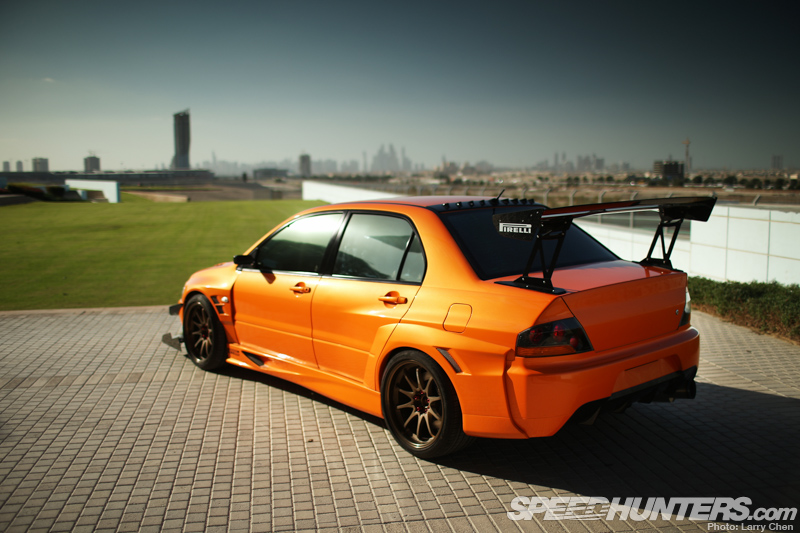 It wasn't until 2003 that Mitsubishi finally wised up and decided to import the Evo 8 to the USA. The rest is history, and a fascinating example of how a car's reputation can be built.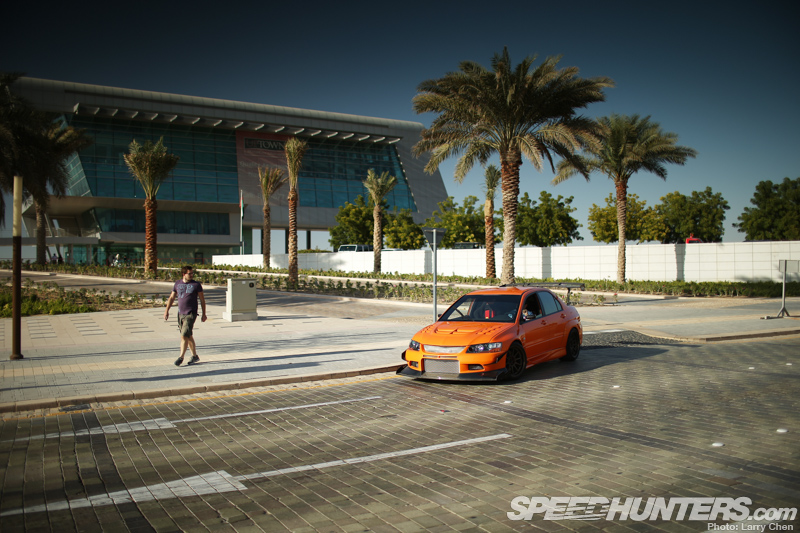 Across the world in automobile-obsessed Dubai, Motaz Abu Hijleh also dreamed of owning a Lancer Evolution. Working as an aircraft tech for Emirates Airlines, Motaz had always loved mechanical things, cars in particular. He had driven and modified everything from a Volkswagen GTI to a Mercedes E-Class, and a Honda Type R. What he really wanted though, was an Evo.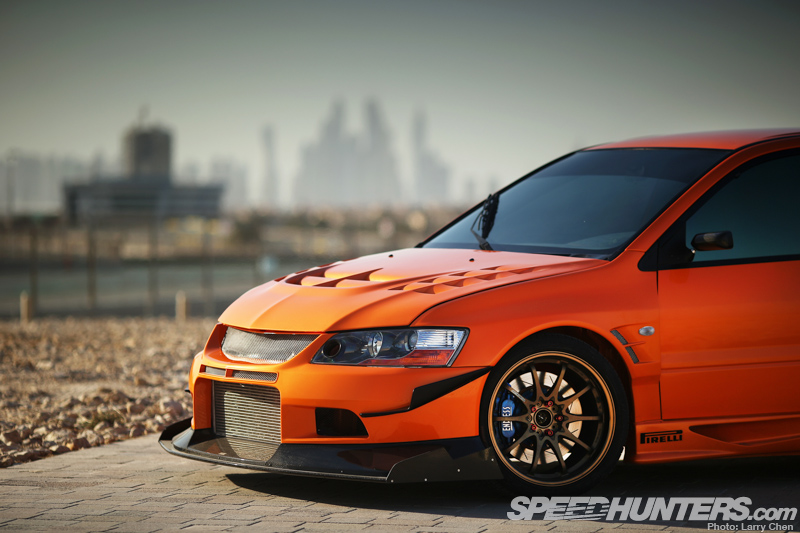 In 2007 after being encouraged by his friends, Motaz finally headed to the dealer to make the dream a reality. I'm not sure how popular the Evo was in Dubai at this point, but Motaz says he had to convince the salesman that the Evolution model actually existed.  After some argument (that included turning down the base model Lancer that dealer tried to sell him), Motaz had ordered his Evolution. A white Evo 9 GSR to be exact.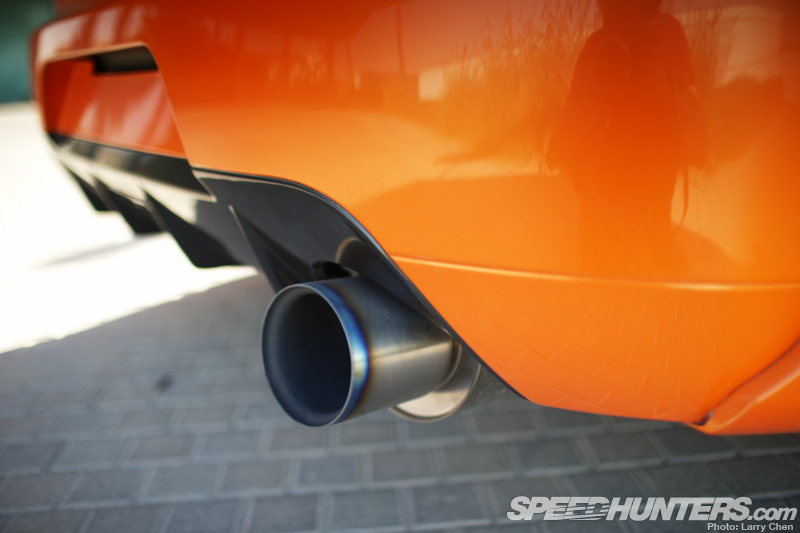 The Evo is not the sort of car you buy just to cruise around town, and right after taking possession Motaz was hitting every track event he possibly could. As he learned the car and honed his driving technique, he began installing modifications that would enhance the driving experience – adjustable HKS Hypermax coilovers, and HKS titanium exhaust for example.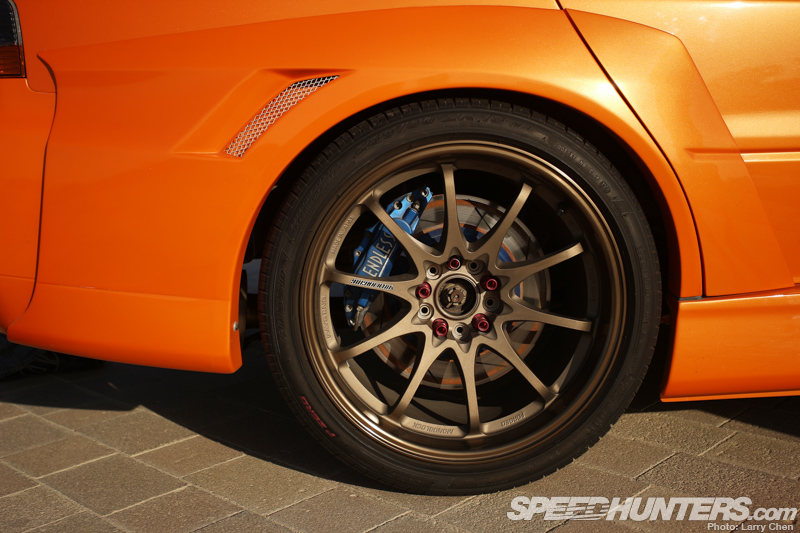 He also beefed up the stopping power with a set of Endless brakes with CCRG pads. Motaz says he'll never forget feeling the braking power under his foot for the first time. As the modding continued, he had a clear concept of building a functional and reliable track beast that he could punish without worry.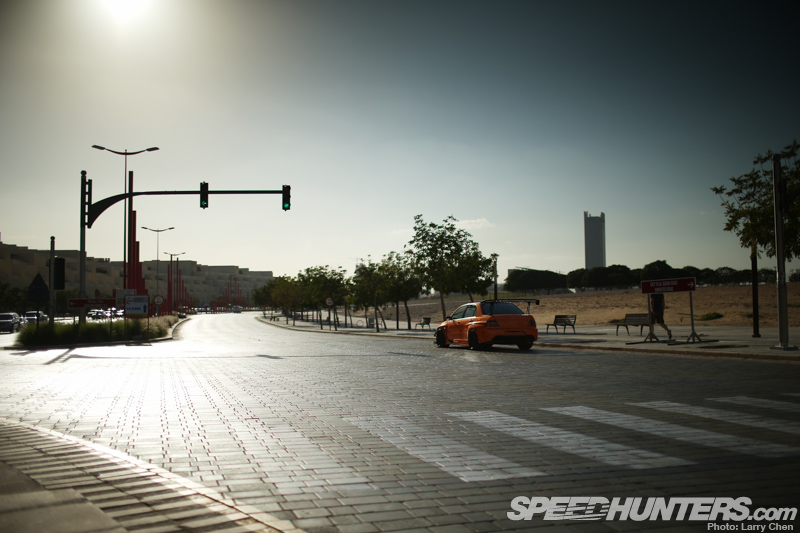 Around this time, Motaz began working at a shop called TAM Auto Engineering. The Evo became one of TAM's official projects, and the modifications were taken to the next level.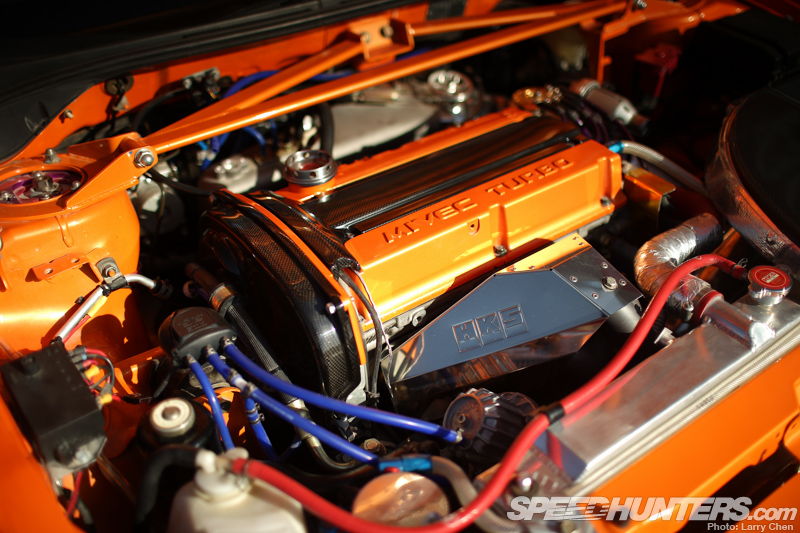 In between working on customer vehicles, TAM fully attacked the engine of the Evo. The entire thing was rebuilt as 2.3 liter stroker with a heat-treated crank. With reliability being the primary goal, all of the engine's internals had been upgraded for maximum strength.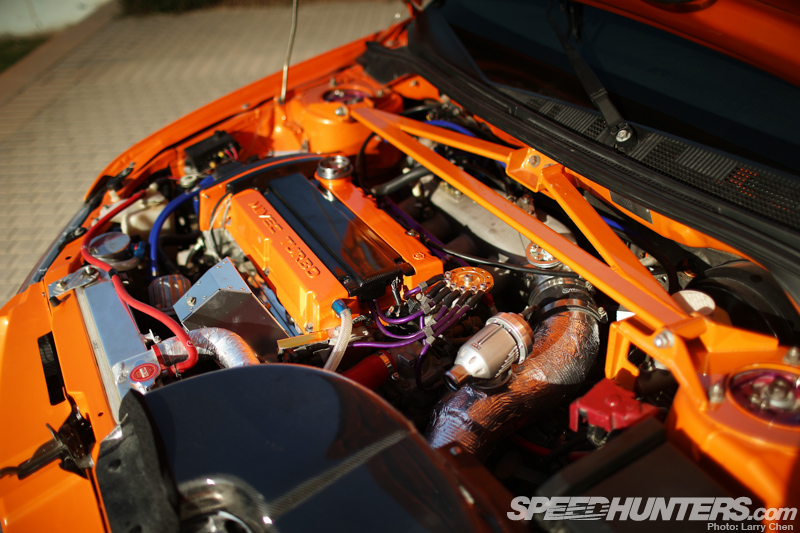 When it comes to building a hot 4G63, there are fewer brands trusted more than HKS. The head gasket, 264 cams, cam gears, injectors, fuel rail, and more were all sourced from the Japanese tuning giant.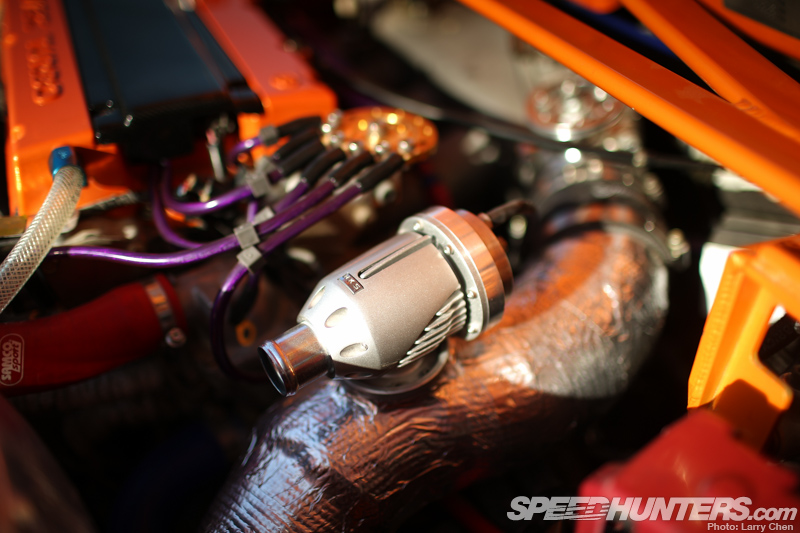 HKS was also called upon to supply the its potent GT3240 turbo kit, along with the downpipe, blow off valve, and R type intercooler.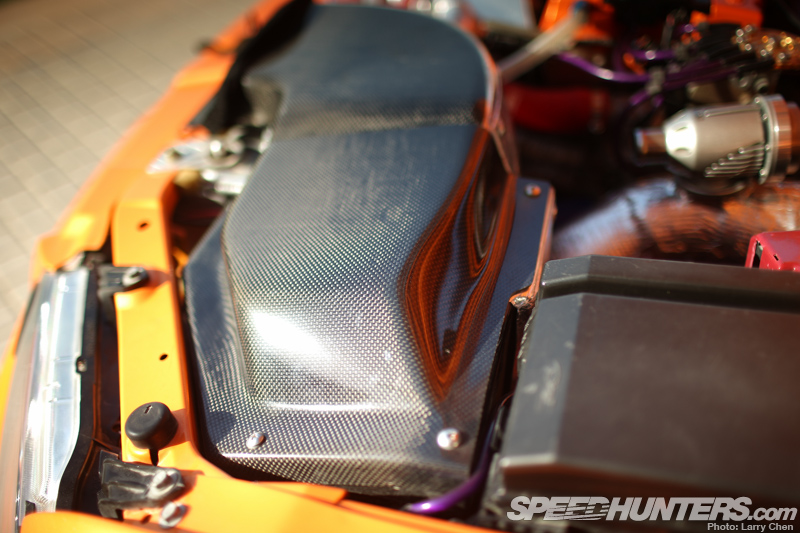 The tuning of the motor was handled by MPS Engineering from Germany, who came to Dubai to lend a hand. Running on C16 fuel, the car made a stout 465 horsepower to the wheels. The MPS guys wanted to push for more power, but since he wasn't attempting to build the fastest Evo around, Motaz figured that number would be sufficient and ensure reliability.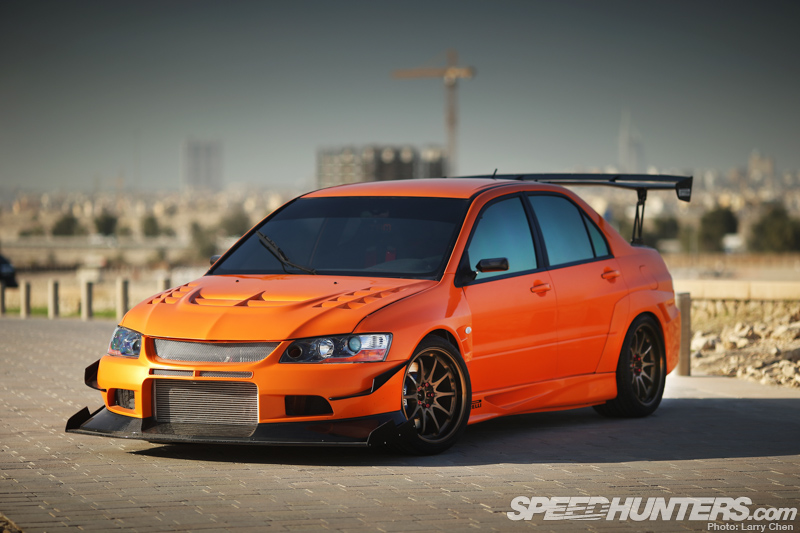 With performance being upped significantly from factory spec, it was also decided that the Evo's exterior needed a makeover. Not just for looks, but for function as well.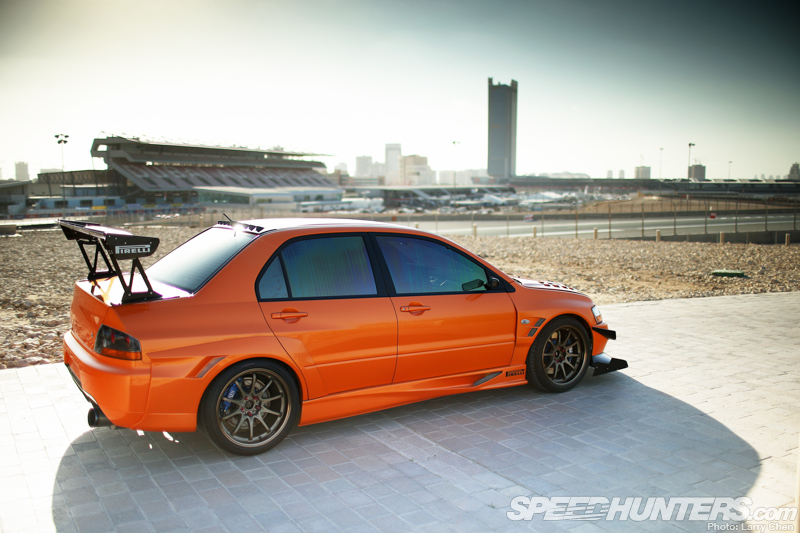 There's really no one better at making functional aero parts for the Evo than Voltex. The entire car was stripped down and sent off for body work, returning with a full Voltex wide body and a completely custom orange paint job. Motaz says it took several tries before the color was perfected to his liking.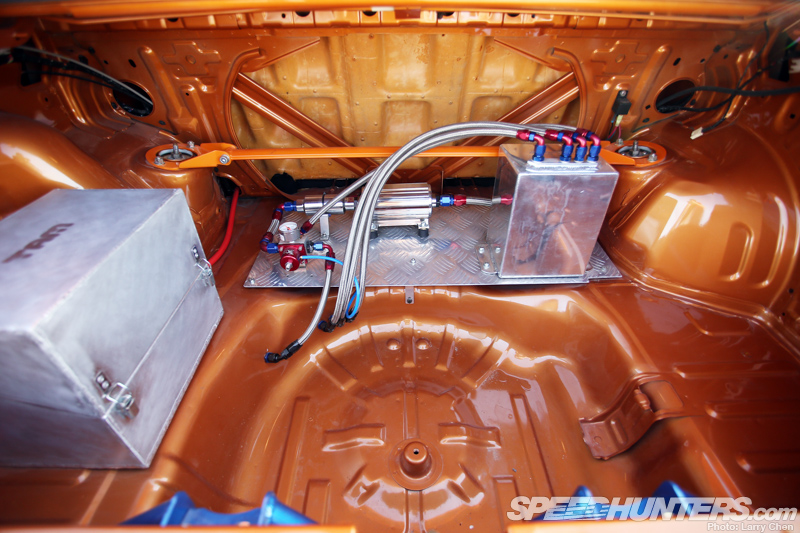 With the body redone in orange, the interior  coated in a custom bronze color.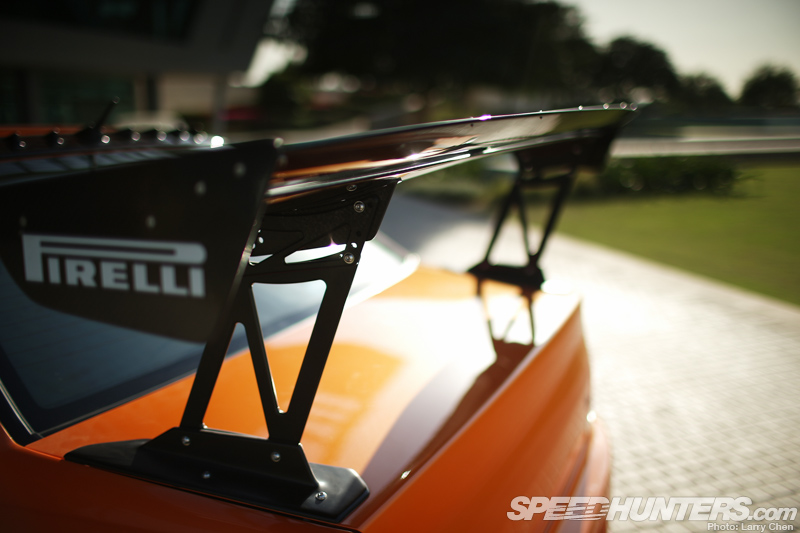 It would just be wrong to have a Voltex aero kit without a matching Voltex wing, wouldn't it?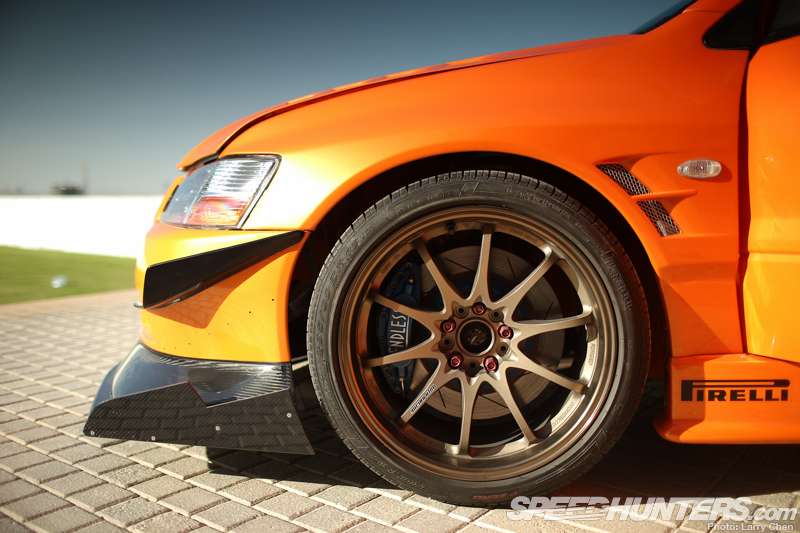 Sitting beneath the pumped out fenders are a set of 18″ Volk Racing CE28Ns with 265-35-18 Pirelli P-Zero tires. The car also runs more aggressive Pirelli race-spec rubber during track sessions.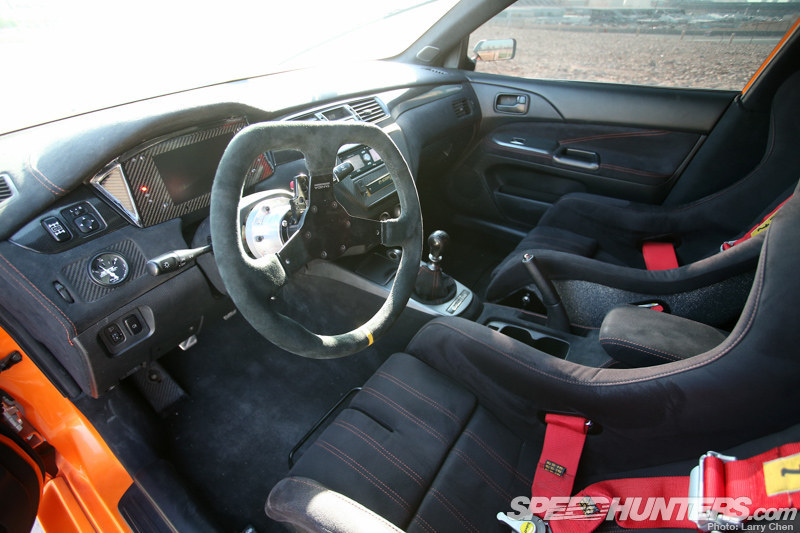 The interior of the Evo is actually very civil given the fully built motor and wind-tunnel proven exterior treatment. Custom alcantara was laid over the headliner, dashboard, door panels, and the pair of Bride Zeta III seats. The matching alcantara steering wheel is from Tanida Motorsport.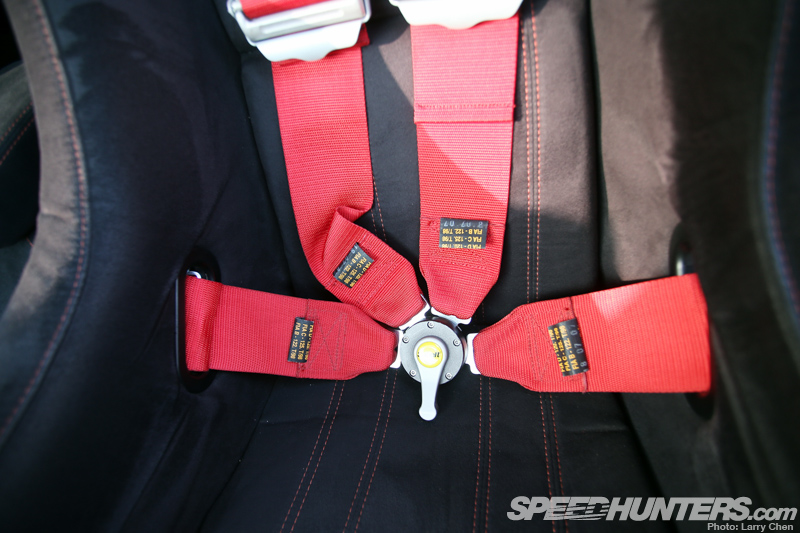 Sabelt harnesses are also there to keep the driver and passenger secure during those track day adventures.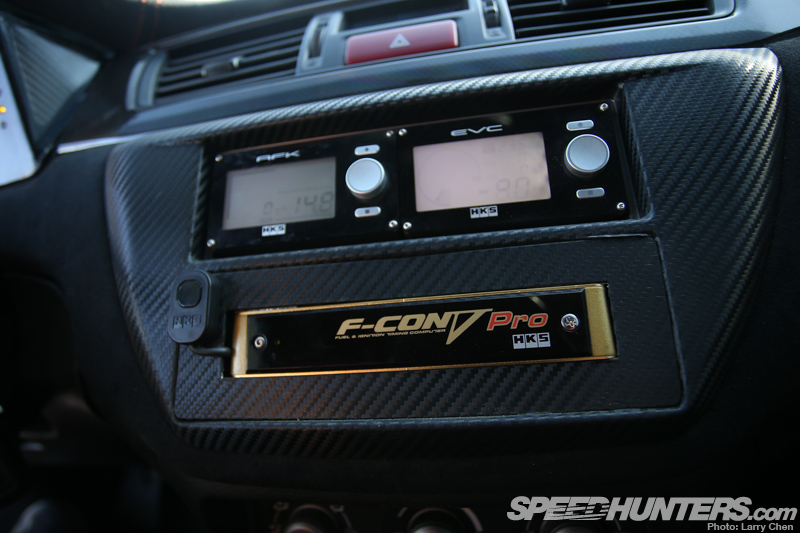 A custom carbon fiber mount was built to house the HKS EVC controls and F-Con V-Pro system.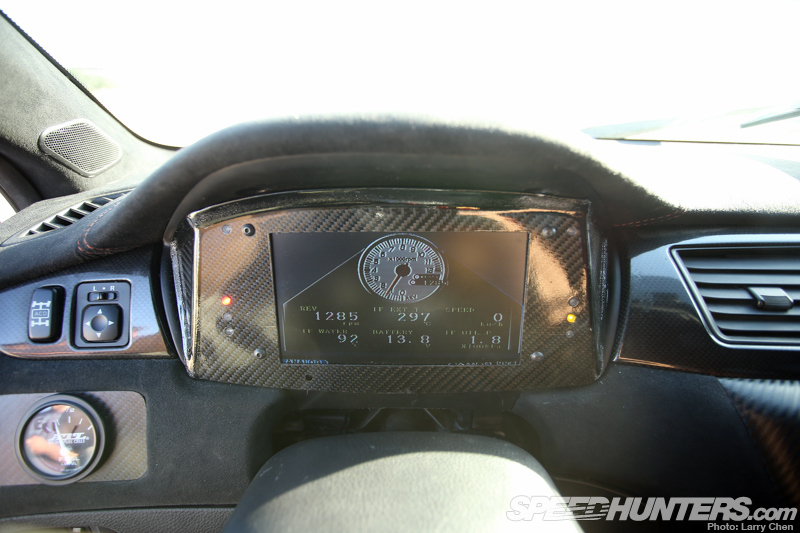 The factory gauge cluster was also replaced with an HKS Camp 2 system, mounted with its own carbon fiber housing.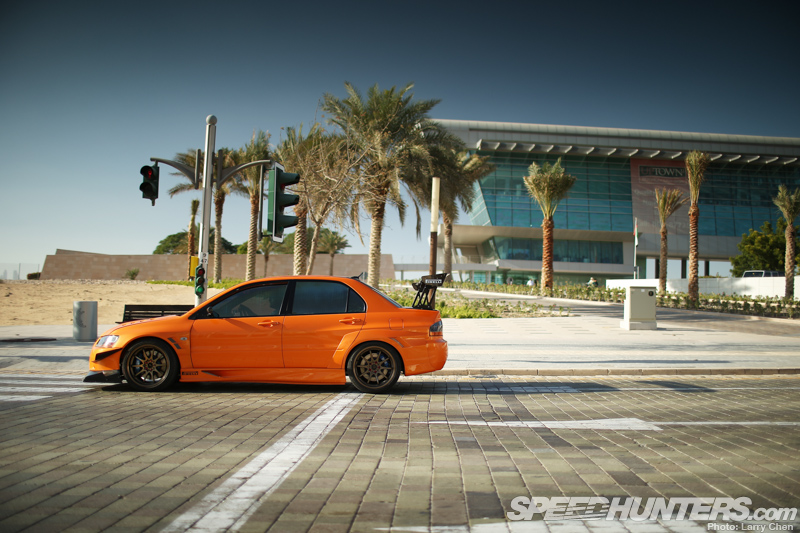 The car you see here has been a long time coming. There were many times when the Evo project had to be set aside to focus on customer cars or other ventures. Motaz recently opened his own business, Parc Ferme Workshop, which specializes in car storage and tuning. It was only recently that he was able to put the finishing touches on the Evo project.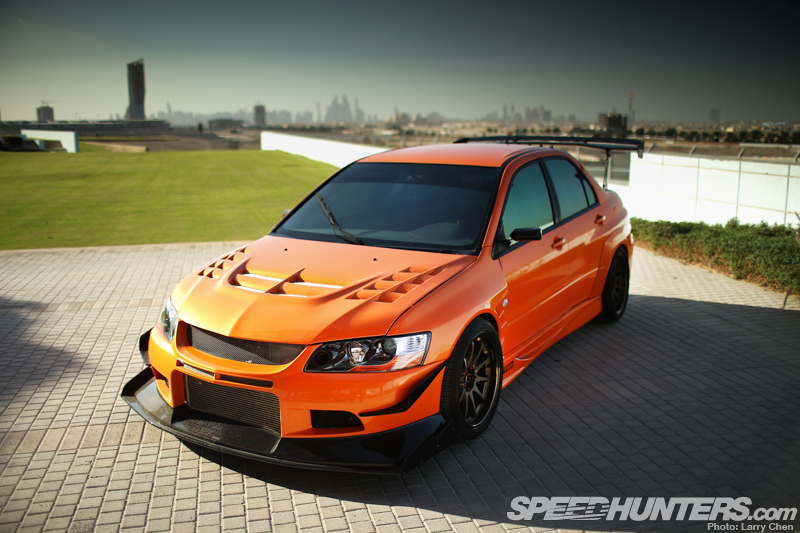 While Motaz is very satisfied with the car in its current state, we all know that project cars are never truly "done". Next on the list is to upgrade the differentials and perhaps add a sequential transmission.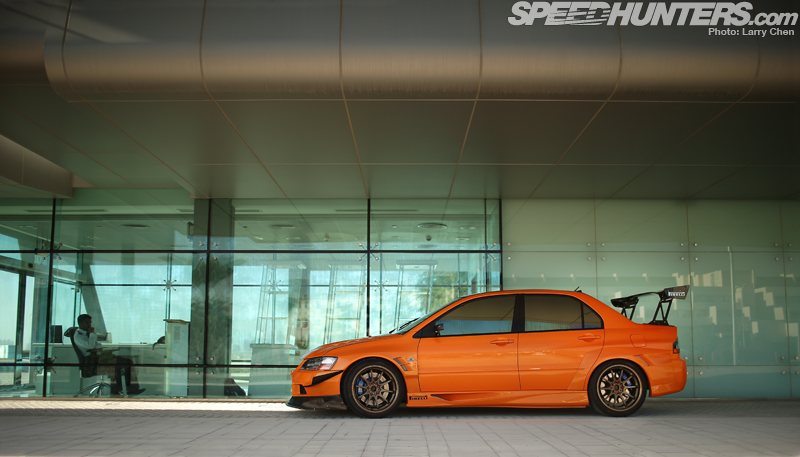 The Lancer Evolution is car with loyal fans across the world, all of whom discovered it in different ways.
I'd say Motaz has done the legendary name well on the skyscraper-lined streets (and race tracks) of Dubai.
-Mike
Photos by Larry Chen
Mitsubishi Lancer Evolution 9 GSR 6-Speed
Engine:
2.3 stroker kit with heat treated engine crank
274 HKS cams intake and exhaust
HKS valve springs
1mm over sized valves
Port and polish job
ARP head and block stud kit
HKS Kansai intake manifold
Big throttle body with custom idle valve control unit
HKS super SQV
HKS 1000 cc injectors
HKS fuel rail
HKS 1.2 head gasket
HKS 3240 turbo A/R .70 with HKS manifold
HKS down pipe
Port and polished head
HKS cam gear
HKS engine belt and timing belt
Air-condition and heater has been deleted
HKS heat range 8 spark plugs
HKS spark power upgrade
HKS earthing system
Cusco oil catch tank
HKS air intake 3" with MAF delete
HKS Kansai carbon fiber air intake box
Carbon fiber coil cover
Carbon fiber cam pulley cover
HKS oil cap cover
HKS titanium exhaust straight no cats
Cooling:
HKS R type intercooler
Custom upper intercooler pipe
HKS custom engine oil cooler
HKS power steering oil cooler
Koyo radiator
Slim line fan with controller
Samco silicon hose kit
HKS Radiator cap
HKS oil thermostat
Fuel System:
Surge tank
Aeromotive Pro Series external fuel pump
Aeromotive Pro Series 100 micron fuel filter
HKS fuel pressure regulator with gauge
HKS fuel rail
Aeromotive steel braided fuel lines
Aeromotive fuel connectors
Walbro in-tank fuel pump
Electronics
HKS V-Pro gold box with all sensors
Mivec HKS valcon controller
HKS EVC  boost controller
HKS A/F knock amplifier
HKS Camp 2 system
Gearbox
HKS twin plate clutch
HKS flywheel
Aftermarket release bearing
Chassis, Suspension, & Brakes
Endless 6 piston front and 4 piston rear caliper upgrade kit with CCRG brake pads
Endless RF650 brake fluid
HKS Hypermax suspension
Cusco full body re enforcement kit
Front fender triangle bars
Front and rear camber kits
HKS camber/caster plate top mounts
ARP wheel studs
Aerodynamics:
Voltex Circuit Version wide body
Voltex Type 5 rear spoiler adjustable
Vortex generator
Carbon fiber formula mirrors
Tires and Wheels:
Volk Racing Ce28N 18″
Volk Racing wheel studs
Pirelli 285/35/18 Pzero tires
Pirelli slick tire and semi slick tire
Paint:
Custom orange paint job,
Bronze interior body paint
Interior:
Bride Zeta III seats front with brackets
Sabelt harnesses for driver and passenger
Tanida Motor Sport alcantara steering wheel
Custom center display panel
Custom driver information display screen with carbon fiber screen mount