In yesterday's post I tried to give you guys a sense of the madness and sensory overload that was the 2013 M&L Party. Today I'd like to continue with some additional scenes and observations from this late night extravaganza on the Osaka harbor front.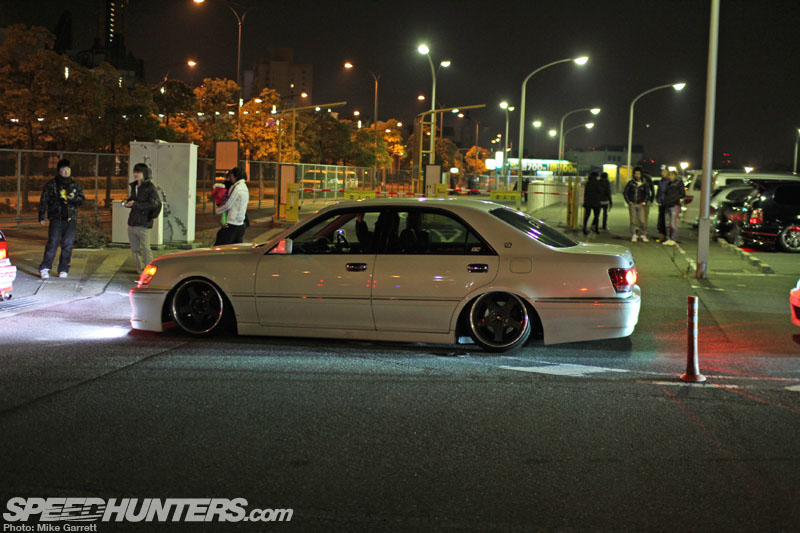 Because I had spent the entire day beforehand shooting at Osaka Auto Messe, I was feeling a little exhausted by the time midnight rolled around. At a certain point, everything started to blur together and I felt like I was in a dream state. Isn't that the case with a lot of our best memories?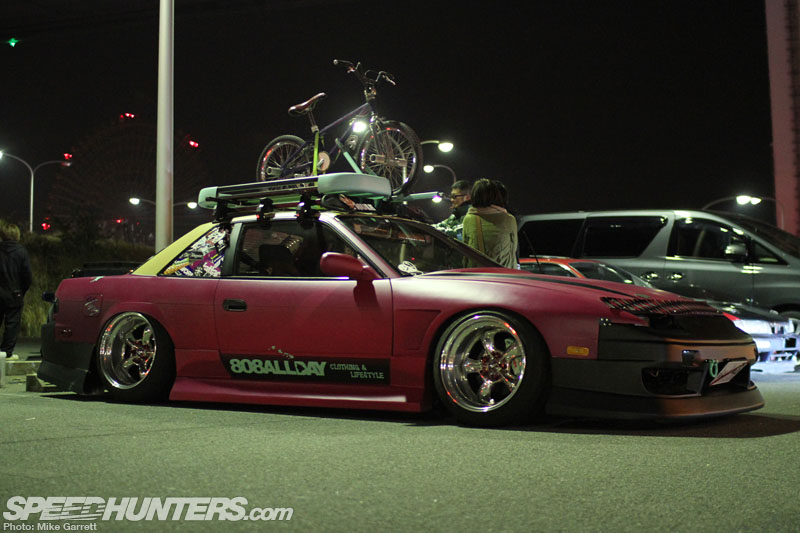 With the popularity of USDM style at an all-time high in Japan, plenty of cars at the M&L Party were done with a heavy American influence. This One-Via from Nagano Koubou in particular takes its inspiration from the 808 State.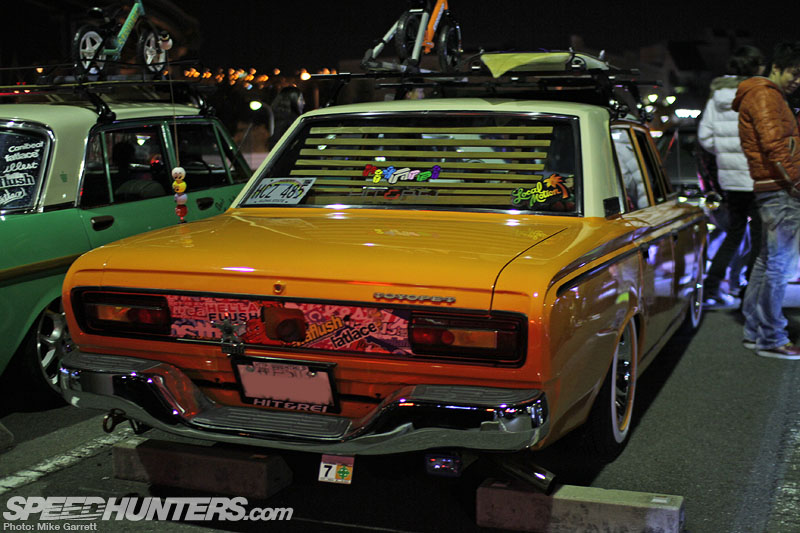 This 50 series Toyota Crown was also done with a strong Hawaiian vibe. It looks like the owner affixed a minitruck rear bumper to the back of the car. Interesting as the rear bumper for my own Crown Wagon is severely damaged and I've been thinking of ways to replace it…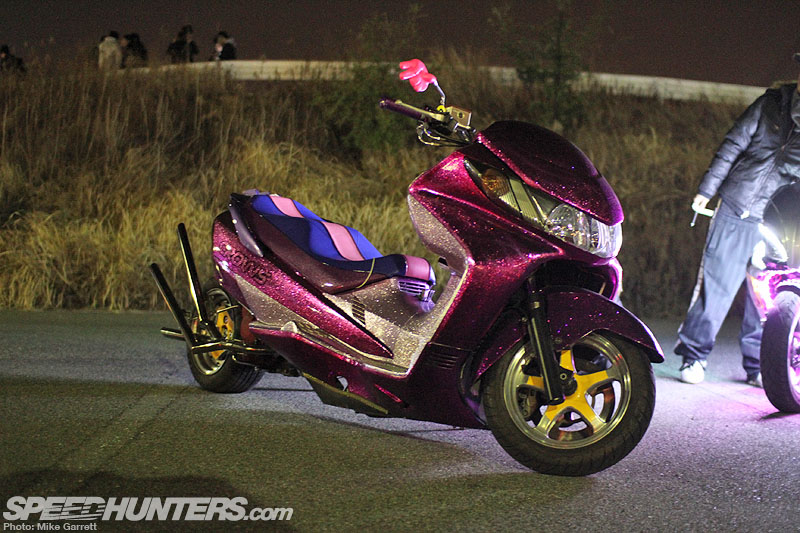 While there were lots of USDM style machines that came out, there was an equally large number of "purely Japanese" vehicles. It doesn't get much more Japanese that a pink metal flakeed "big scooter" with an Advan wheel in the back.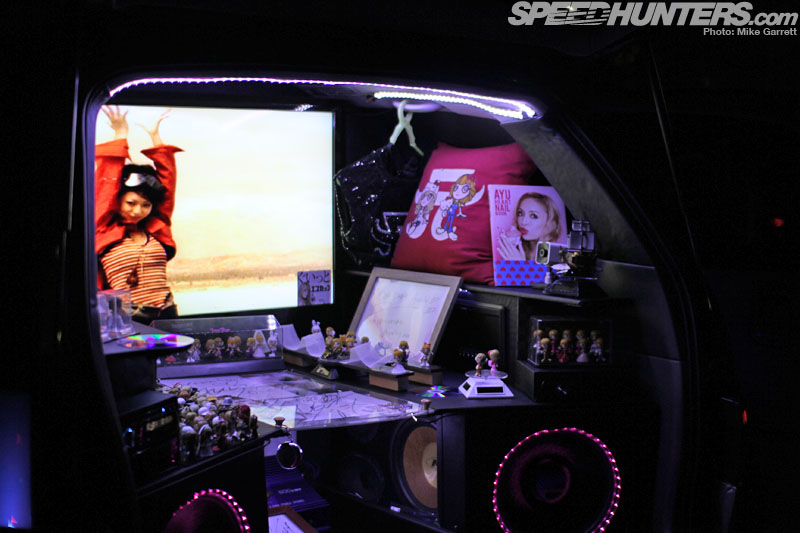 Another thing you probably won't find outside of Japan is a car built as a rolling shrine to pop singer Ayumi Hamasaki. There was actually a whole group of Hamasaki super fans that brought out their custom vehicles.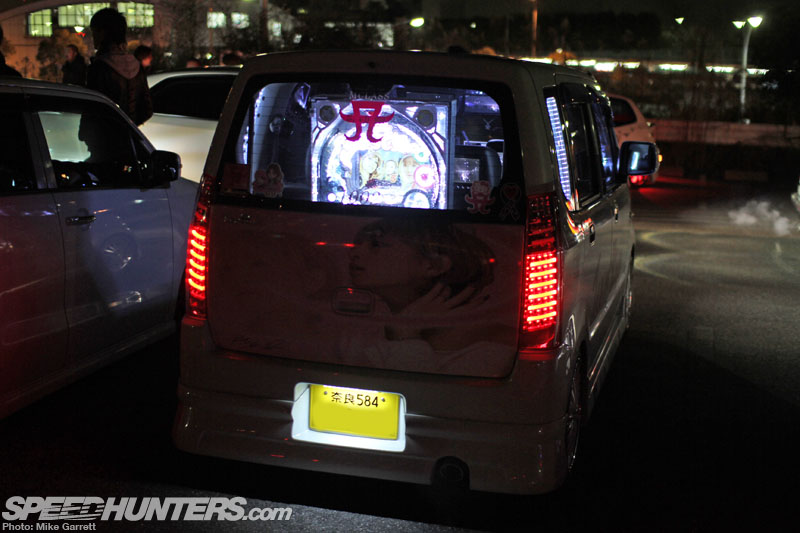 One of the kei cars even had an Ayu-themed pachinko machine mounted in the back. Only in Japan.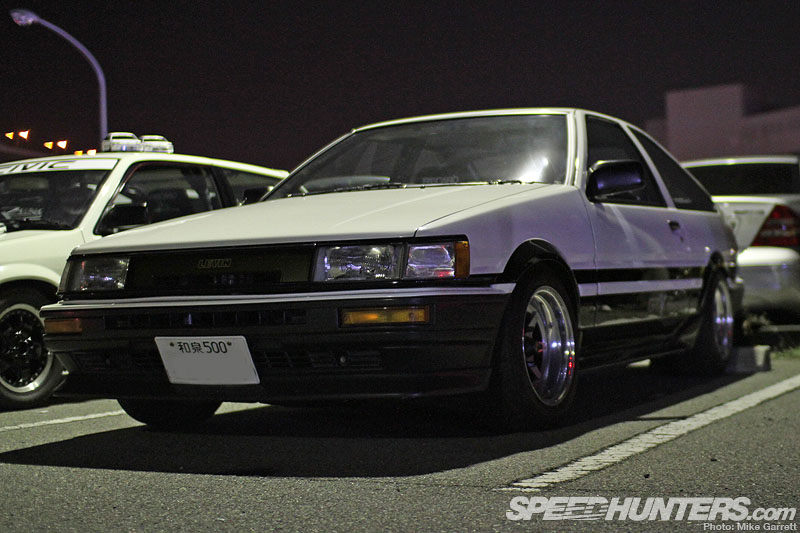 The diverse group of cars also included a decent selection of traditional Japanese Showa era machines, like this simple and clean AE86 Levin riding on Longchamps.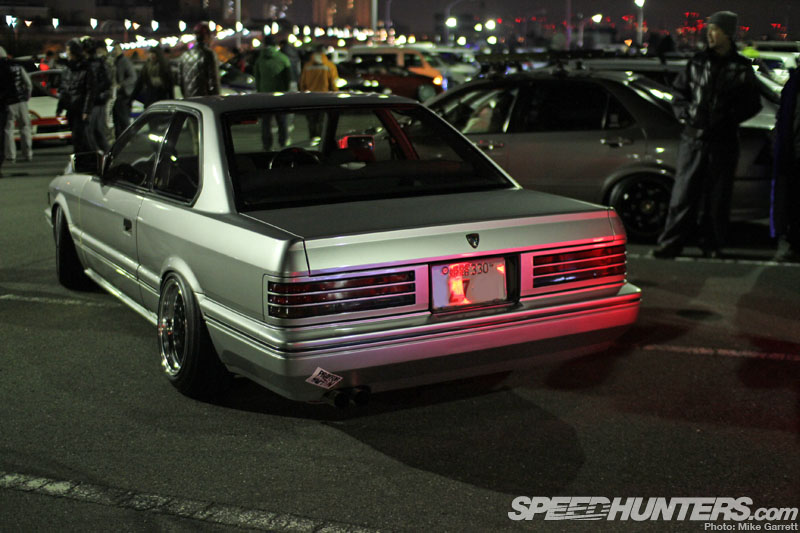 Another nostalgic machine that showed up was this tough F31 Nissan Leopard. If this car were mine I'd leave it just like this, but add a red light on top and roll around Abunai Deka style!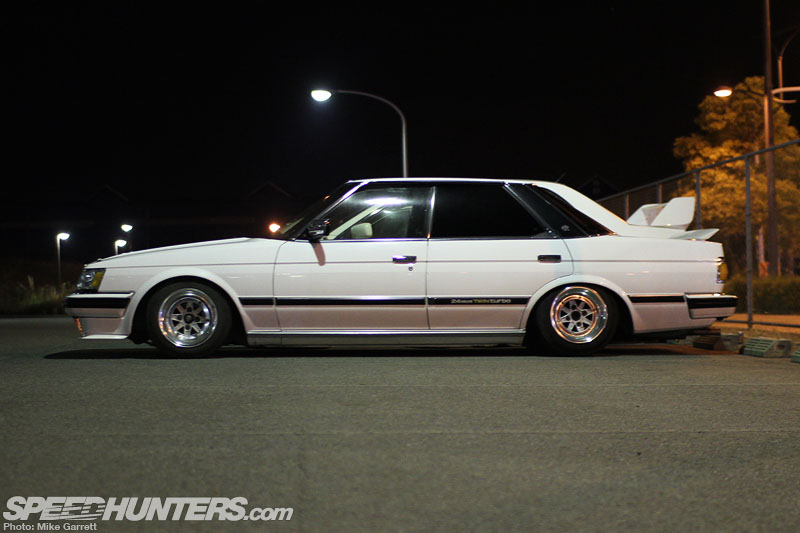 How about a GX71? This one was very clean and original looking, save for a healthy drop and set of Mk.IIIs to provide the right attitude.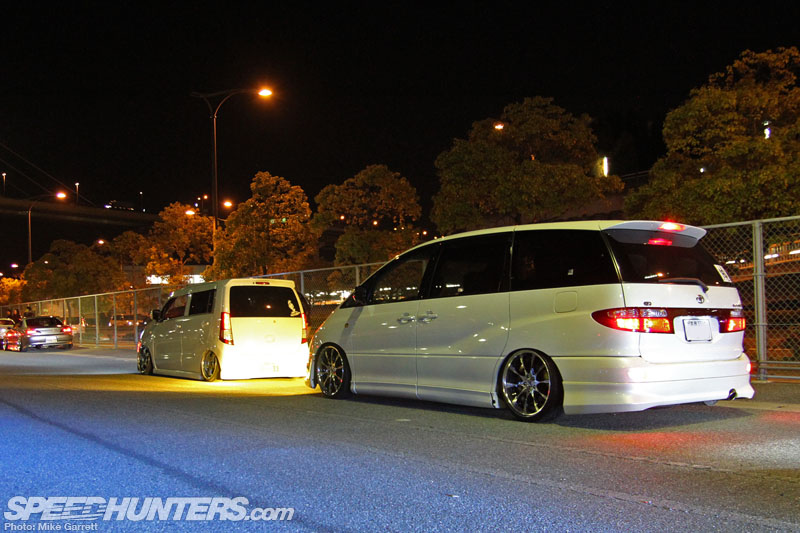 I didn't have the time to really break down every vehicle that came out, but at a glance the spread between different genres seemed very even. It goes without saying that the custom van scene had a strong representation.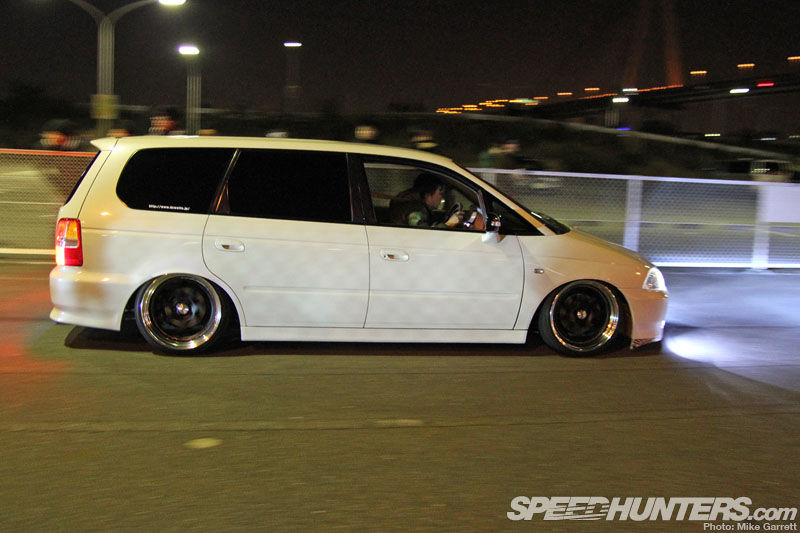 Each time you'd hear the sound of chassis touching the ground, look over and see some sort of slammed creation (in this case a Honda Odyssey) rolling through.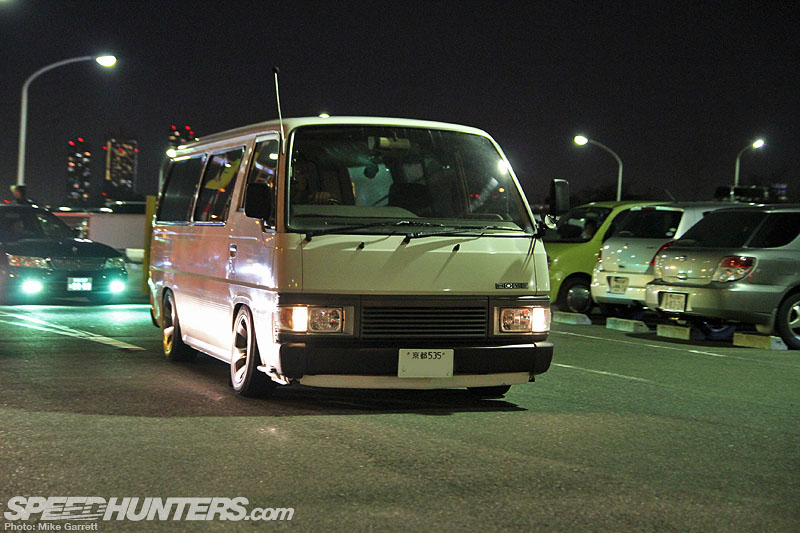 It's a bit strange I know, but I love old boxy vans like this dropped Nissan Homy. Just the fact that it's called "Homy" is reason enough to get a thumbs-up, right?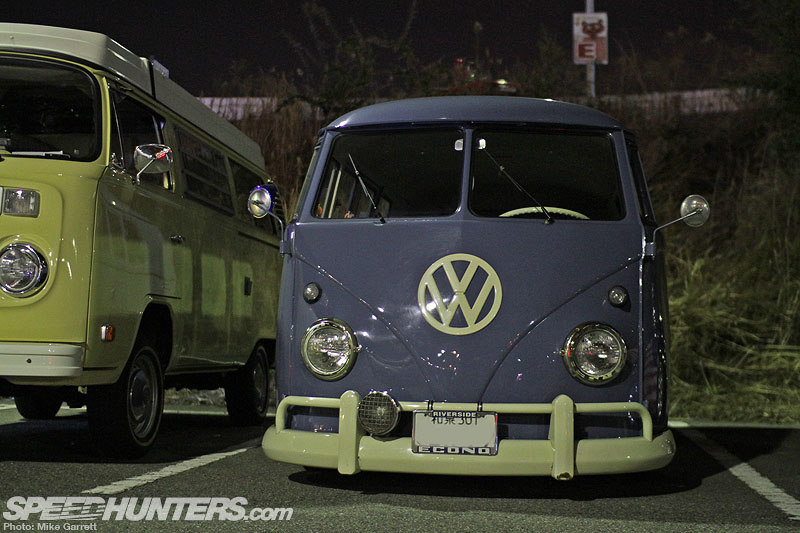 Another "old" van. Dig the old school Econo plates, which classic Volkswagen fans will surely know the significance of…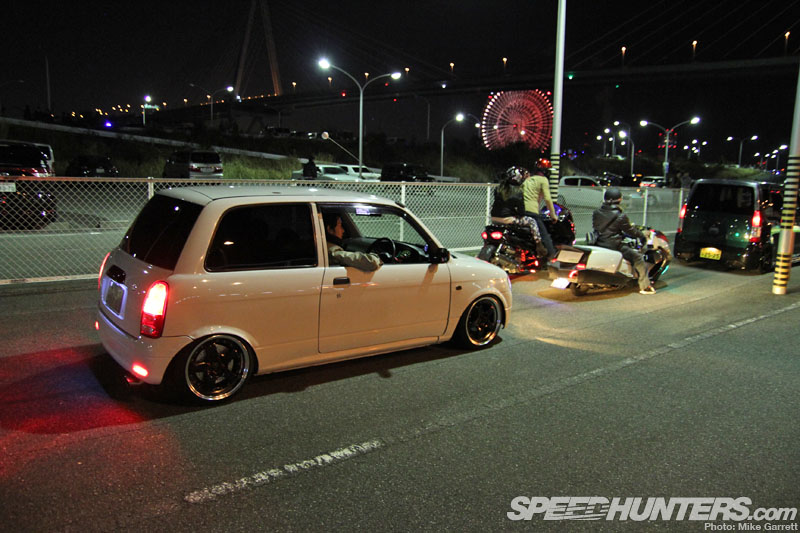 The kei cars also came out rolling just as low as their bigger, white-plated counterparts.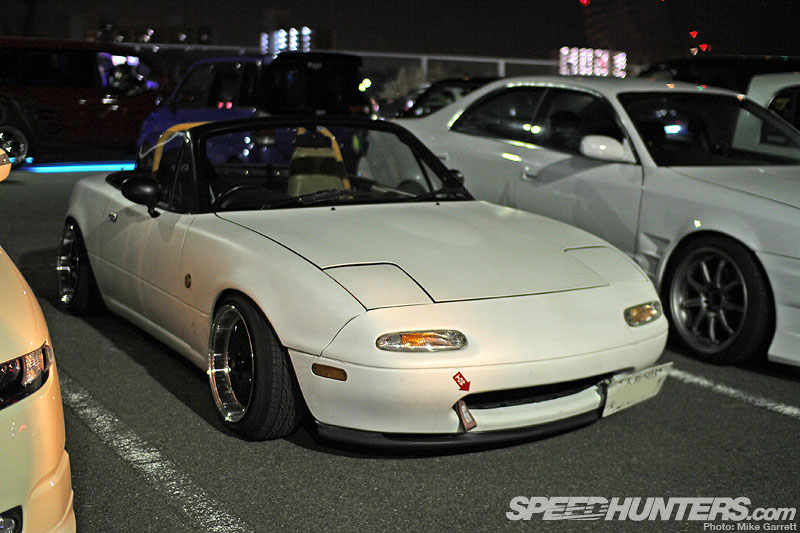 It was a chilly night in Osaka, but not cold enough to deter the owner of this Eunos Roadster from running top down. The wide Enkei 92s make for an aggressive look.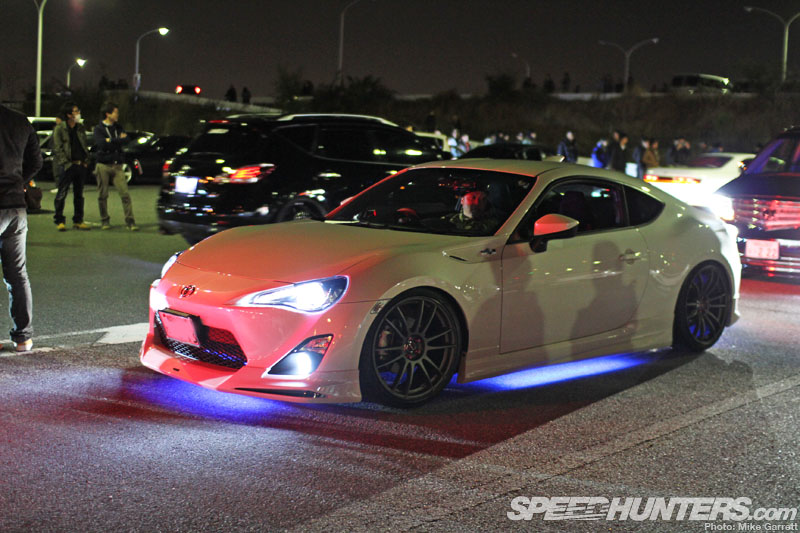 It seems you can't go anywhere in Japan these days without running into a few modified Toyota 86s, and the M&L Party was no exception.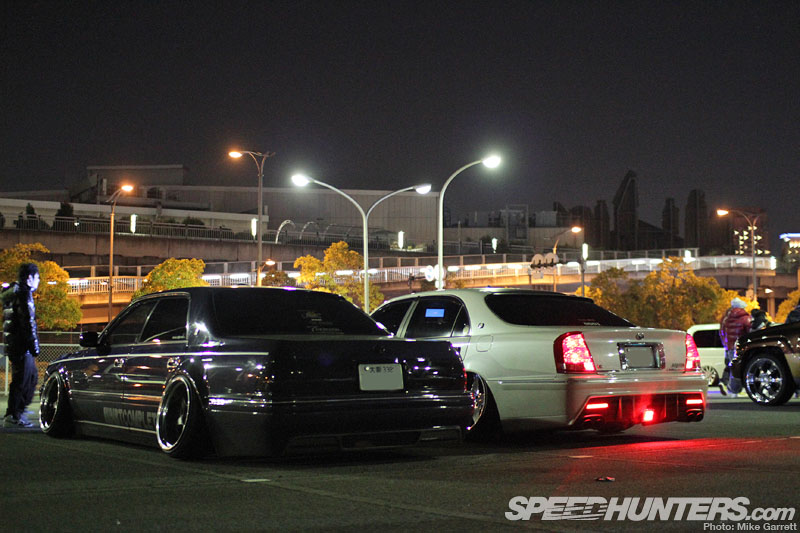 The VIP selection at this meet alone was worthy enough to be its own separate event, but on this night they were just one part of the giant custom car sea.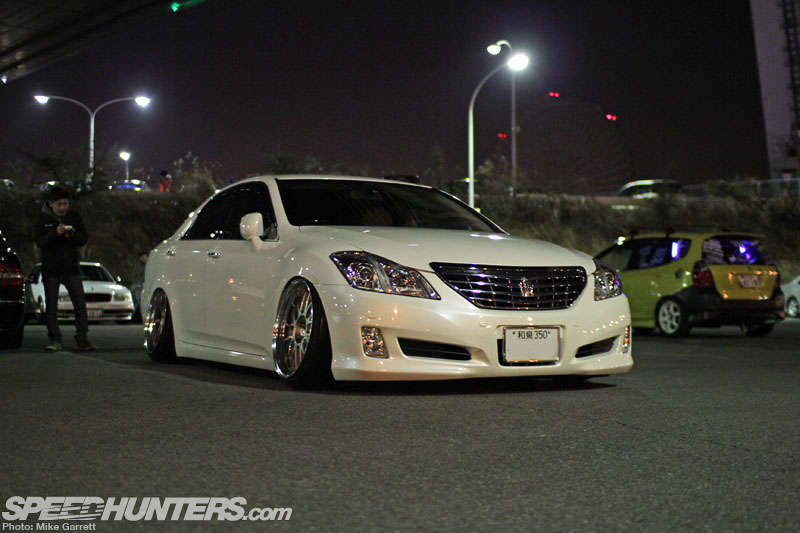 Of the VIP cars, the venerable Toyota Crown seemed to be the most popular. Here's a 200-chassis model with a mad stance and copius amounts of negative camber.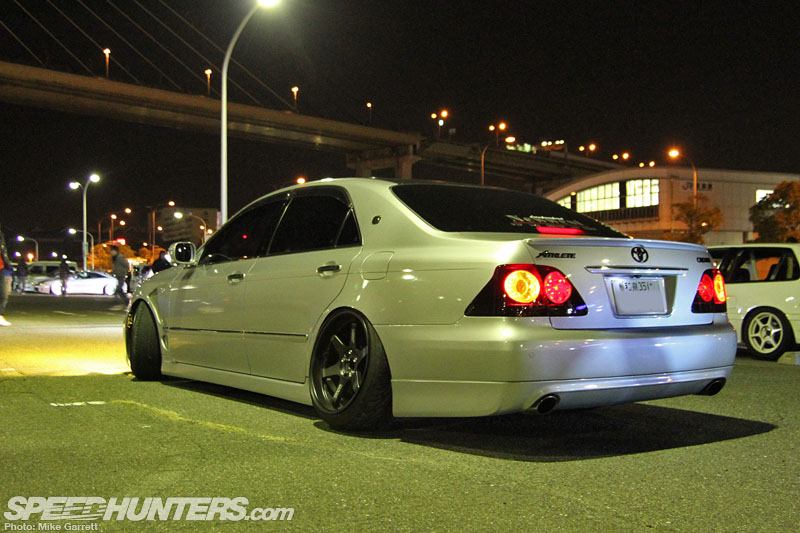 Another Crown, this one a GRS180 set on black TE37s. The Crown may be a luxury car first and foremost, but the "sporty" TEs manage to look right at home here.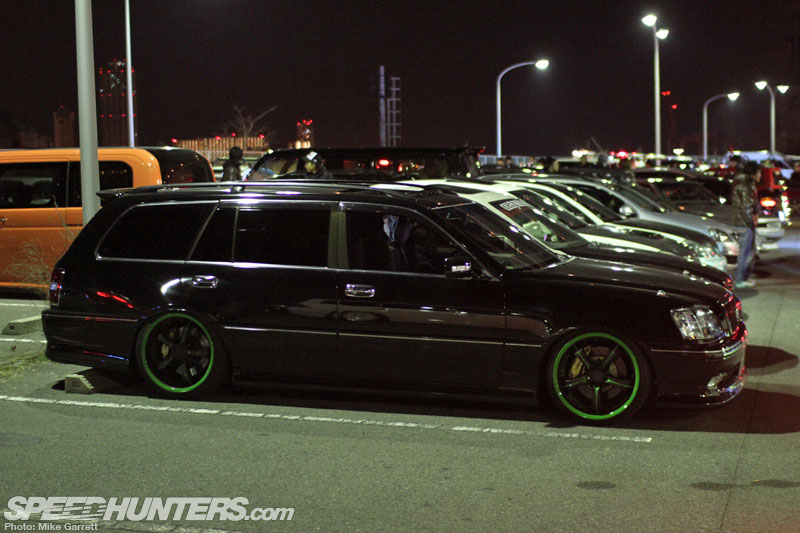 Let's not forget the long roof Estate version of the Crown either. I've heard this one actually serves as a Kanjo racer support vehicle…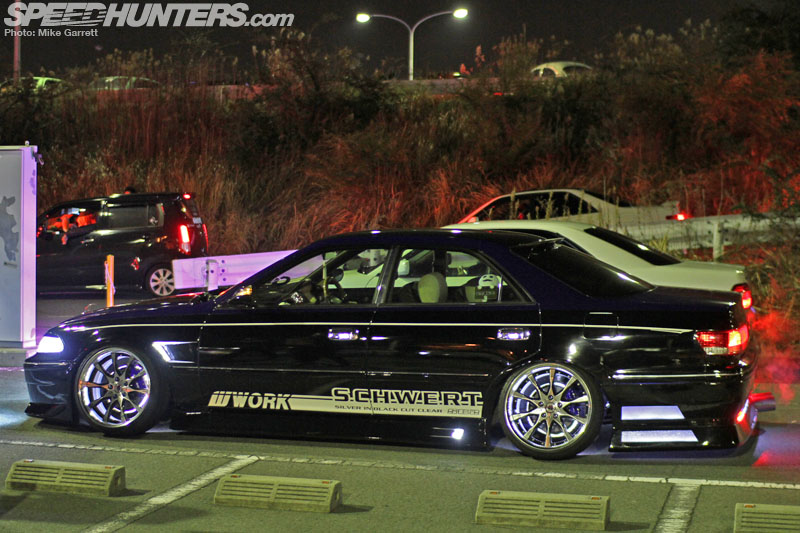 Keen eyes will recognize this JZX100 Mark II from my Auto Messe parking lot coverage. Here's what the same car looks like in full night mode.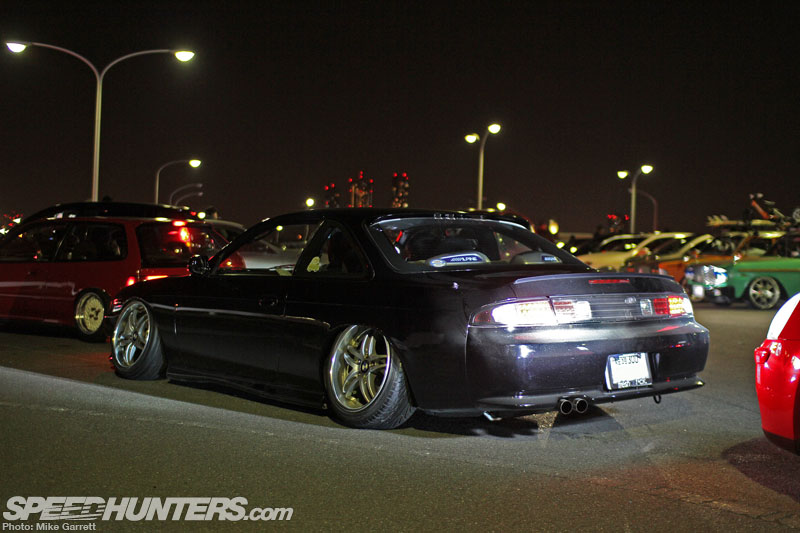 There's low, and then there's low. This S14 Silvia is most definitley the latter.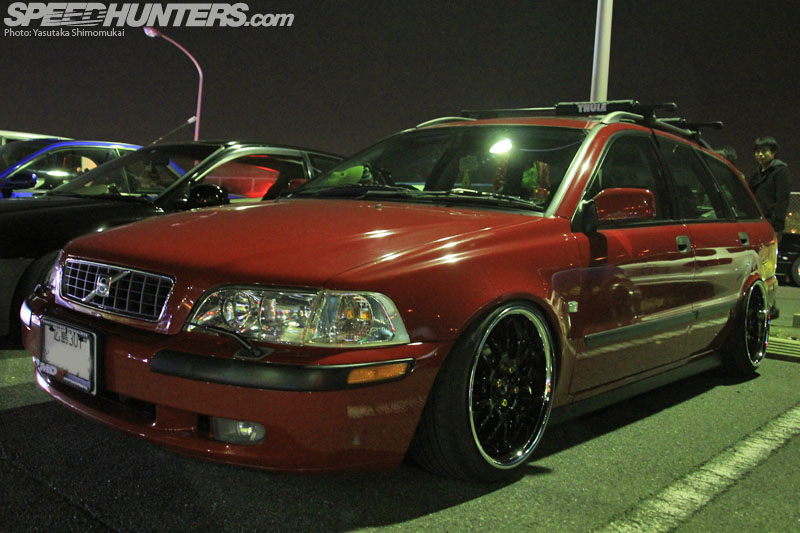 A Volvo wagon? Not expected, but very cool to see.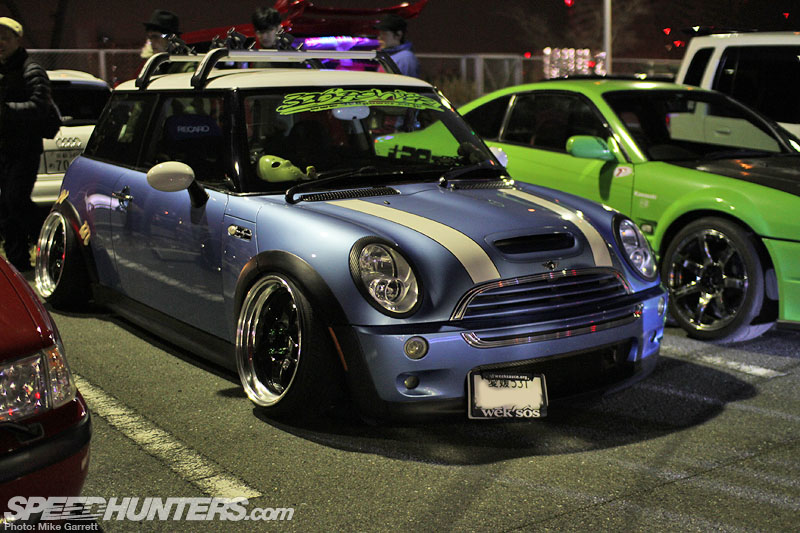 Another one of the cars that brought home an M&L Party award was this Mini Cooper S. I enjoyed the concept of a European base car done with a blend of both US and Japanese custom elements.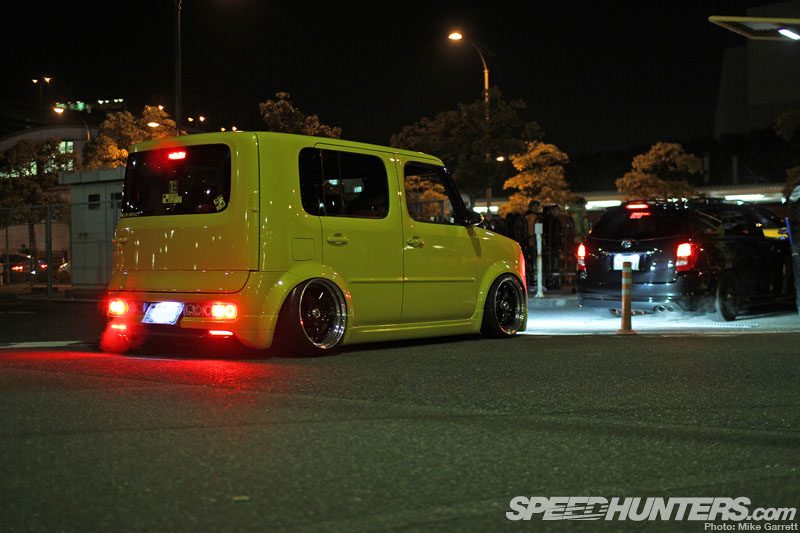 The words "bright yellow Nissan Cube" might raise a few eyebrows on paper, but when you actually see the car it all starts to make sense.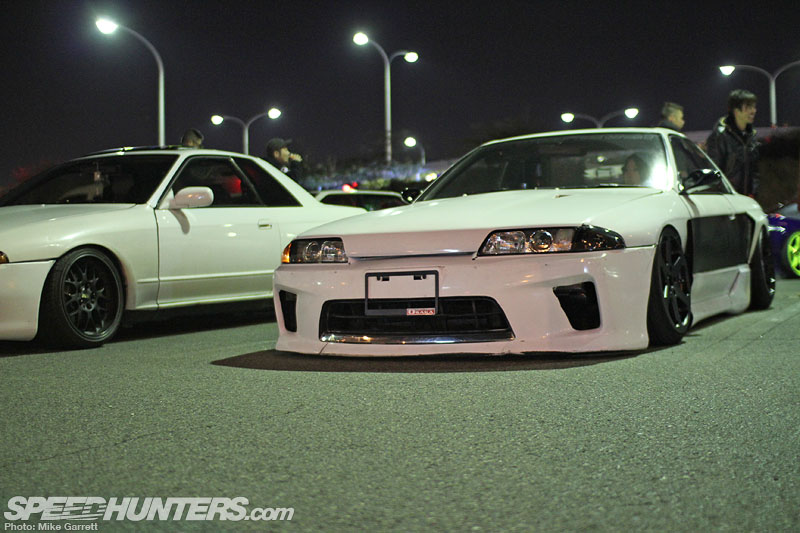 One of the craziest R32 Skylines I've ever seen – and a perfect car to sum up the wild, no rules nature of the M&L Party.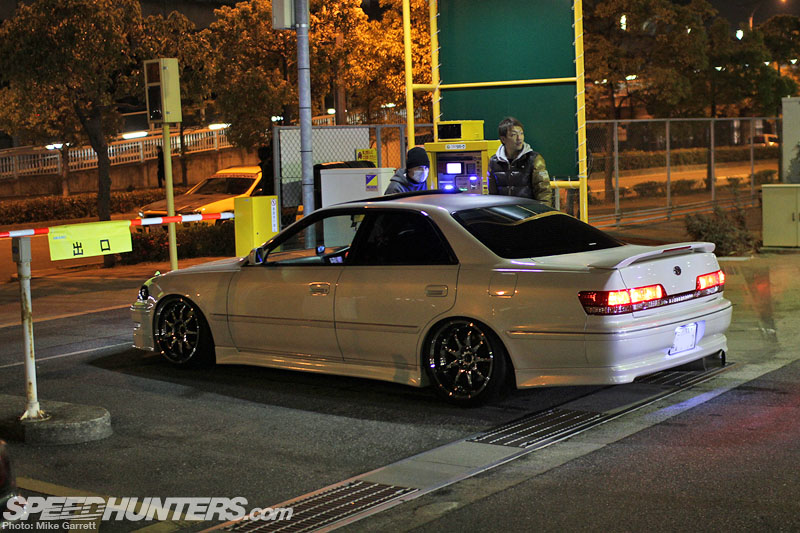 While the event lasted for around four hours or so in total, with so much to see it seemed even shorter than that. Around one or two in the morning, the hundreds of cars began to head out. With just two exit gates the lines were long, but nobody seemed to mind.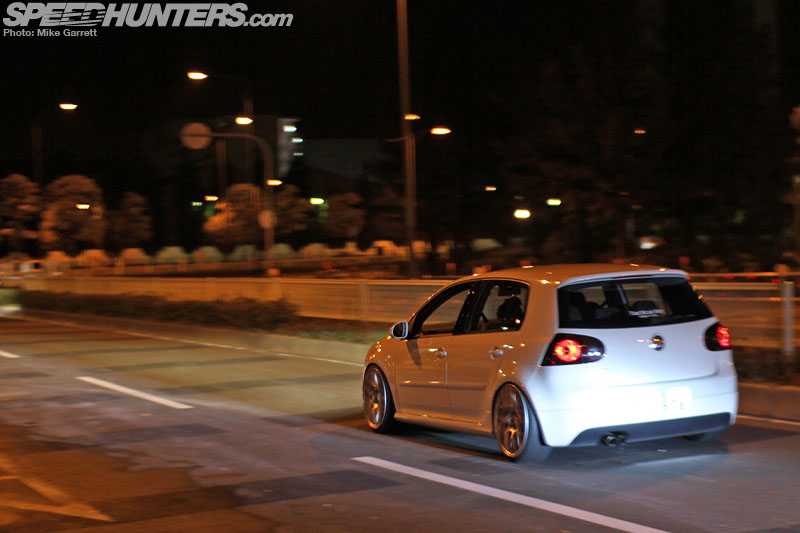 Normally at this hour these streets would be completely deserted, but now they were packed with modified cars making their way home after a night of fun.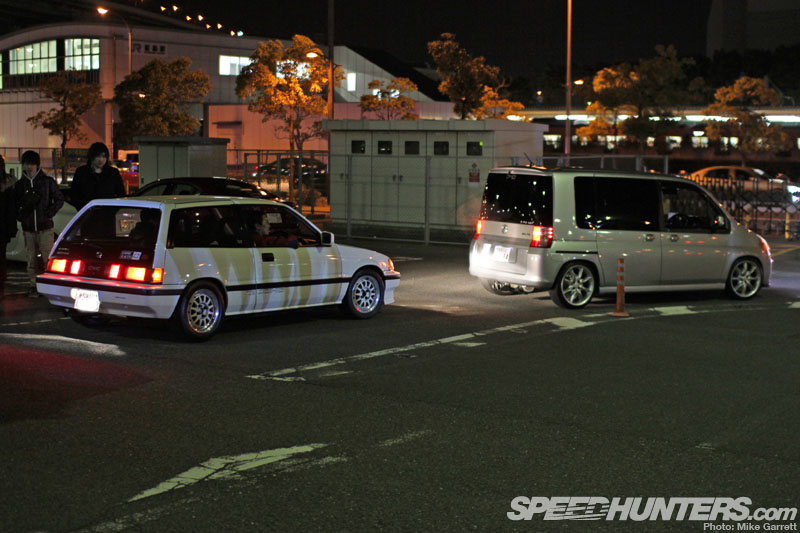 It was already past 2:00am, but my adventures were not yet over. After this, we would head out to rendezvous with some of Osaka's notorious Kanjo racers, but you'll have to wait until next week to see that.
A huge thanks goes out to all of the participants and especially the M&L Party organizers and volunteer staff for their dedication and warm hospitality. I can't wait until next year!
-Mike