Choosing Speedhunters feature cars is not an easy thing to do. At a glance it might sound pretty straightforward, but there are always certain things we consider when looking at potential feature machines. In our travels we see lots of cars we like. and cars that all of us would be happy to have sitting our own garages – but a feature car should go beyond that. It's not necessarily a physical quality we look for, but a certain extra appeal that makes a car stand out.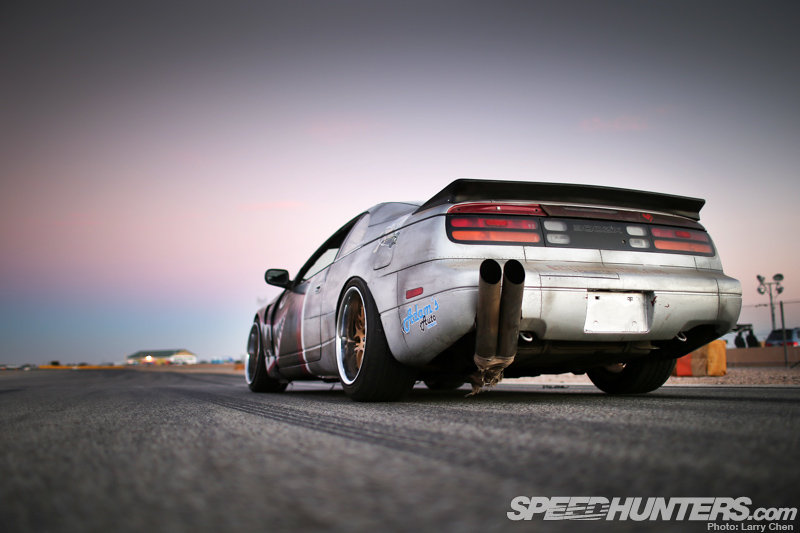 It's not about being the "nicest" either. I'm sure you all know that we are just as open to featuring a beat down rat machine as a spotless show car. In our world a low budget backyard build can be just as exciting as a factory-backed race car, but no matter what it is – we want our feature cars to inspire and excite.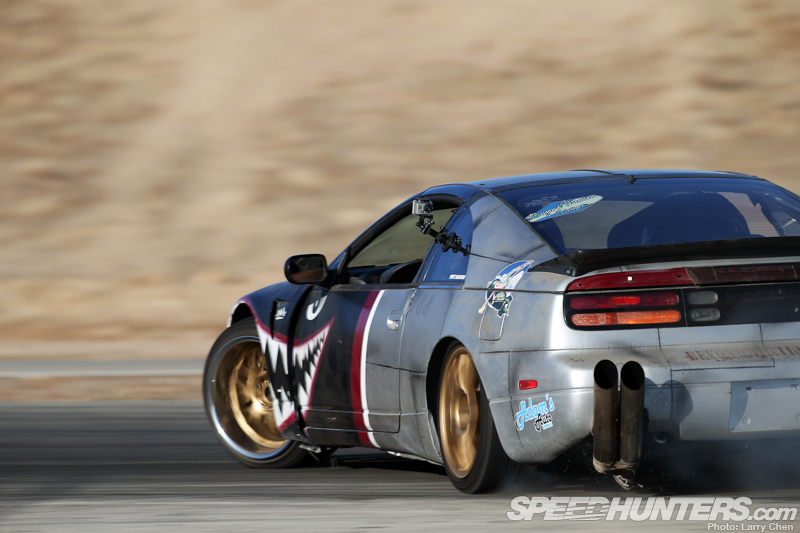 There are any number of ways that a car can do this. It can be a vintage machine with a ton of history behind it, it can be a brand new model with pioneering customization, it can be a familiar and popular platform done in a groundbreaking way, or a less common machine being exposed for the first time.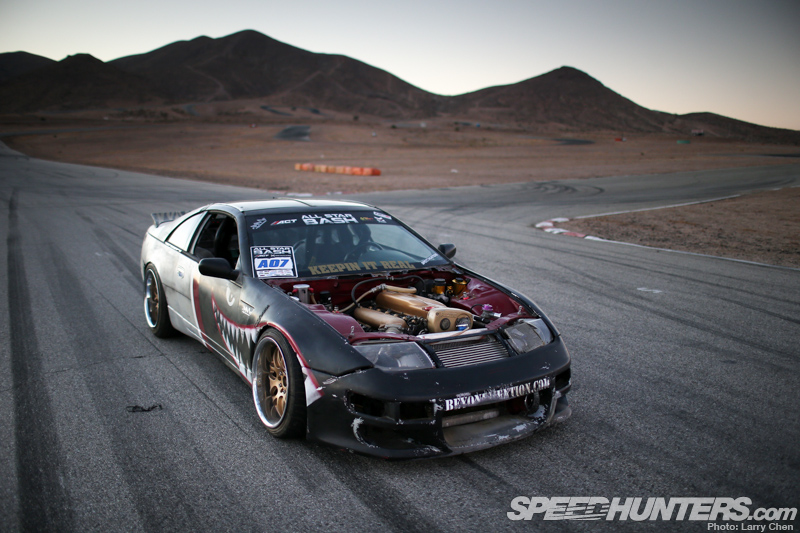 When we came across Brendan Commins' Z32 Nissan 300ZX at All Star Bash we immediately knew we had a feature-worthy vehicle our hands. Naturally we were drawn to the World War Two fighter plane-inspired paintwork, but beyond that, the Z is one of the most unique grassroots drift cars we've seen in a while.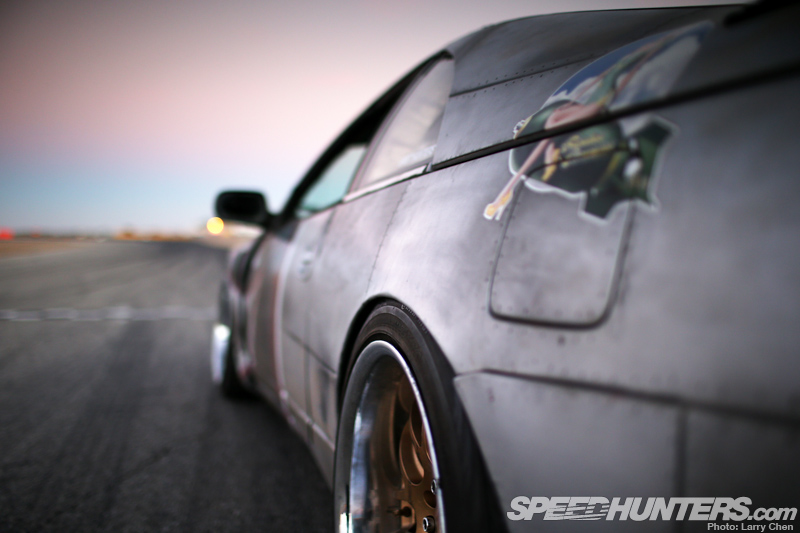 The fact that the car was built out of a Z32 was in itself worthy of investigation. Zs of this era just don't pop up a whole lot these days, particularly at drift events. Brendan says the rarity factor was one of the things that lead him to choosing the Z32 as his drift chariot. His fascination with drifting began before he even had a car or a drivers license, and he liked the idea of drifting something a bit more unique than your typical S-chassis. He had always thought the Z32 was a cool, under-appreciated car so he picked up a cheap non-turbo Z and began to have some fun with it.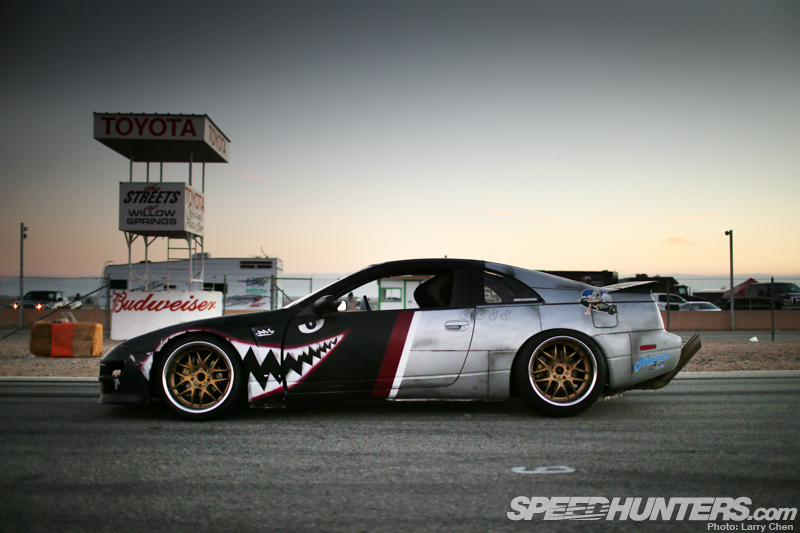 As Brendan got familiar with his Z, he began to discover some of the things that kept aspiring drifters away from the chassis – the heavier weight and more complex engine setup for starters. These things didn't dampen Brendan's excitement for the Z though. In fact he welcomed the challenge. He began getting a feel for drifting the Z late at night during Central California's long winters and his technique progressed pretty well.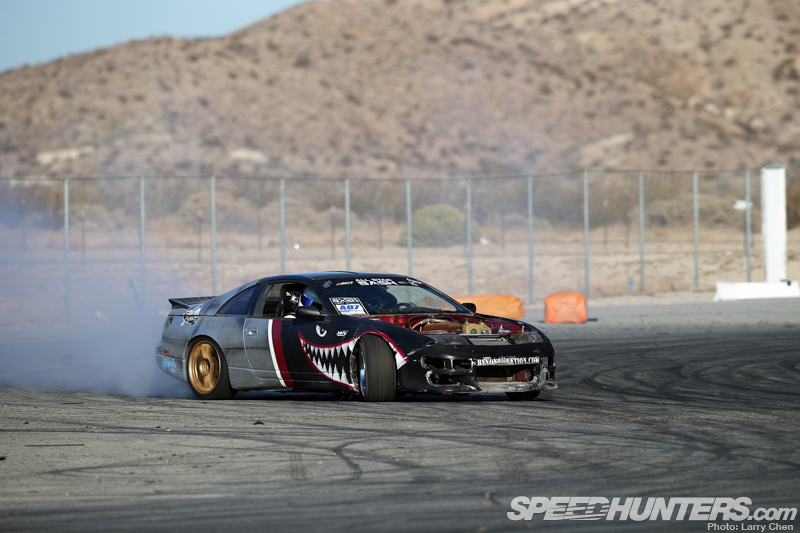 He had plans to eventually drop a VG30DETT into his a naturally aspirated Z, but that plan was put on hold about two years ago when he found someone at a local repair shop selling a non running Z32 2+2 for just $150. By this time wreckless driving tickets were piling up, so Brendan decided to buy the Z and turn it into the track-only car you see here.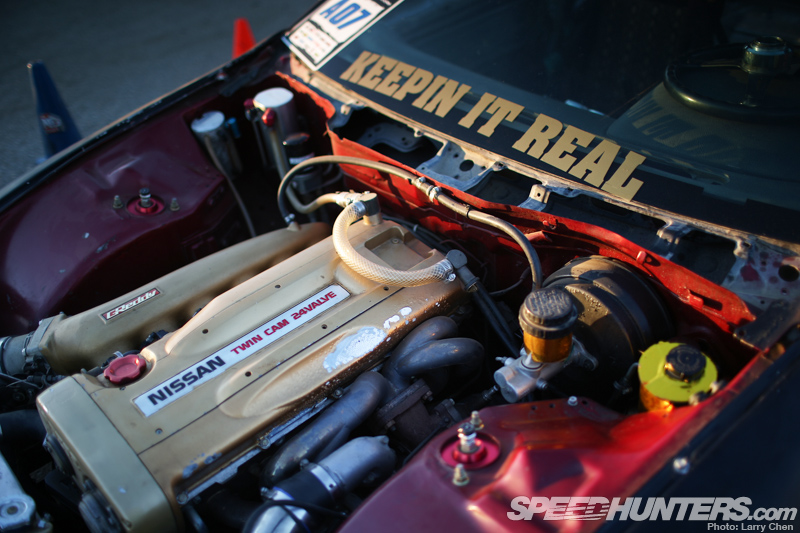 After doing a plenty of research, Brendan came to the conclusion that using the original VG V6 might not be the best idea for him. They can be built to make plenty of power, but anyone who has glanced at the engine bay of a stock Z32 knows they aren't laid out for easy access. This is important as he would be doing all the work on the dirt in his own backyard.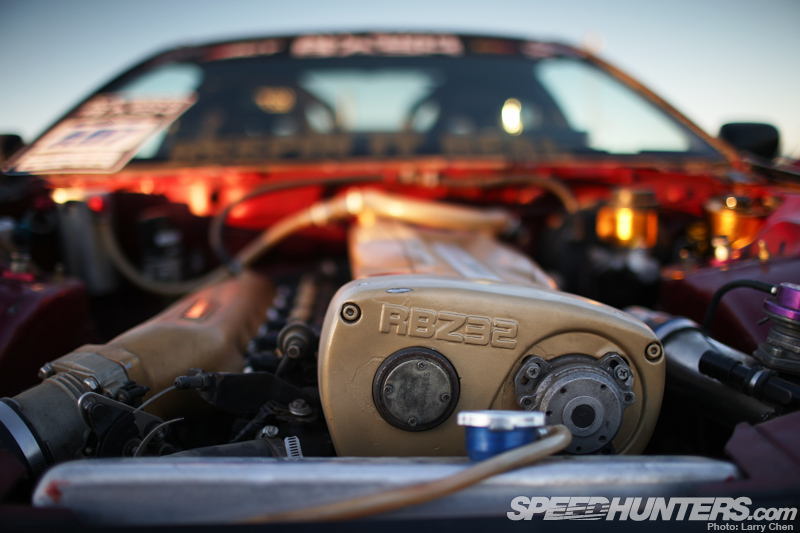 The natural choice was to swap in an RB motor. They offered plenty of power potential, had a great sound, and it would even free up some extra space in the Z32's engine bay. He originally planned on doing an RB26, but he came across an RB25 for sale cheap and locally and decided to move forward with the swap. Prior to this Brendan's only experience with engines had been doing basic bolt-on stuff, and this would be his first attempt at building a motor. He figured if others could do it, then he could too. He downloaded an RB25 factory service manual and got to work.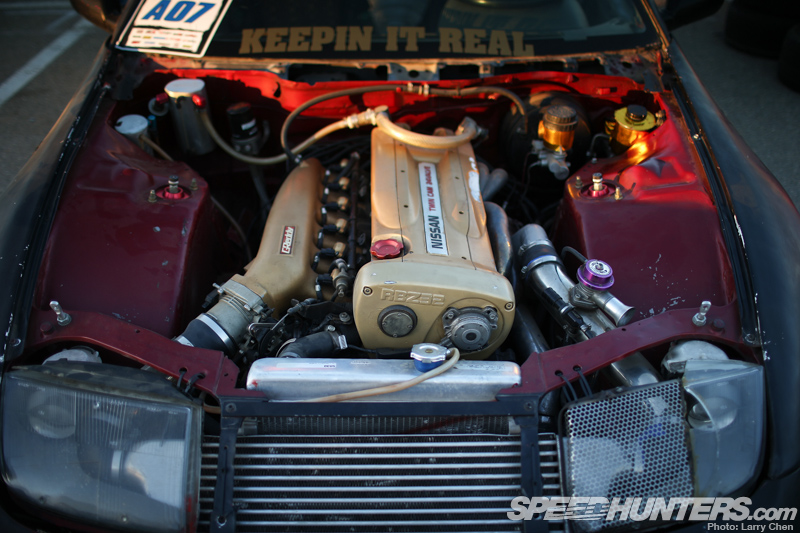 The motor was rebuilt to factory spec and equipped with a few popular power-making RB goodies like a Greddy intake manifold, Greddy intercooler, a Q45 throttle body, and a Mine's ECU. To fit the RB into the Z's engine bay, he also built custom mounts, modified the crossmember, and lightly massaged the transmission tunnel with a sledge hammer to make sure the RB trans would fit.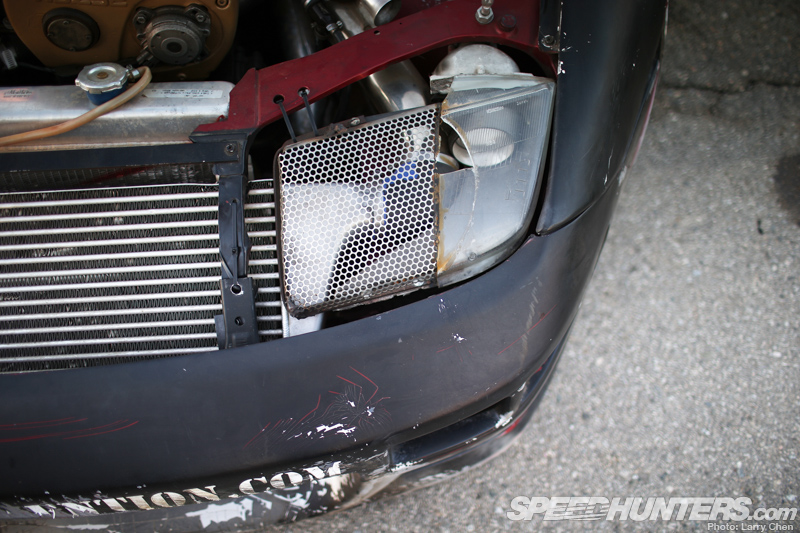 Running the intercooler piping took a bit of creativity, with Brendan deciding to run the pipes through the high beam area of the stock Z32 head lights and the piping itself coming from a friend's S-chassis exhaust. Because the RB is longer than the original V6, a custom radiator setup also had to be figured out. After some research it was found that an aluminum radiator from a '69 Mustang of all things would provide the best fit.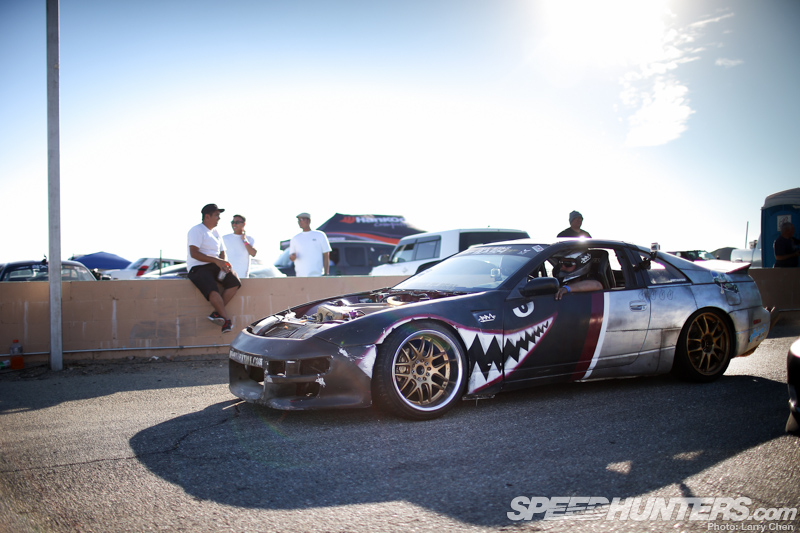 At the same time, the chassis was stripped down and all the non-essentials were removed to rid the car of as much weight as possible. Sometimes it's amazing just how much you can lighten a luxury-laden car the Z32.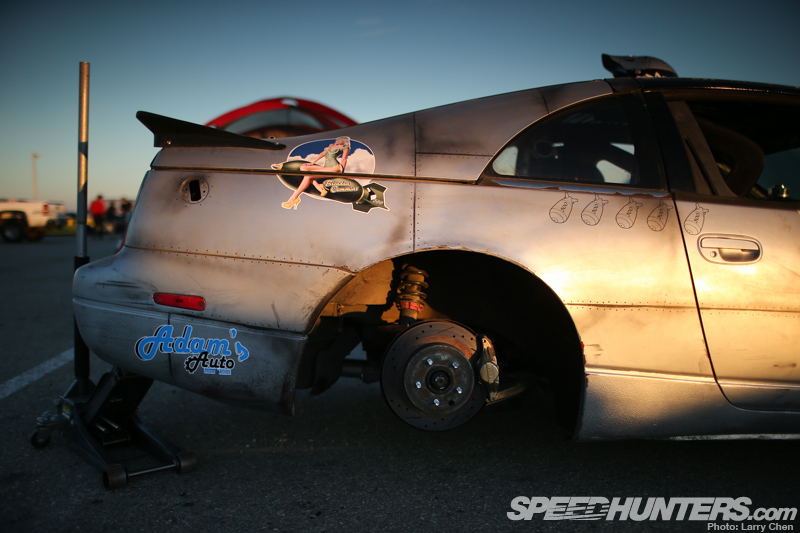 While the Z32 may not have the same following as the S-chassis, there are still plenty of chassis and suspension parts available for the car. During the process of his build Brendan added a selection of adjustable arms and rods from Circuit Sports and modified the front LCAs, bump stops and added steering rack spacers for more angle. The coilovers are fully adjustable units from Megan Racing.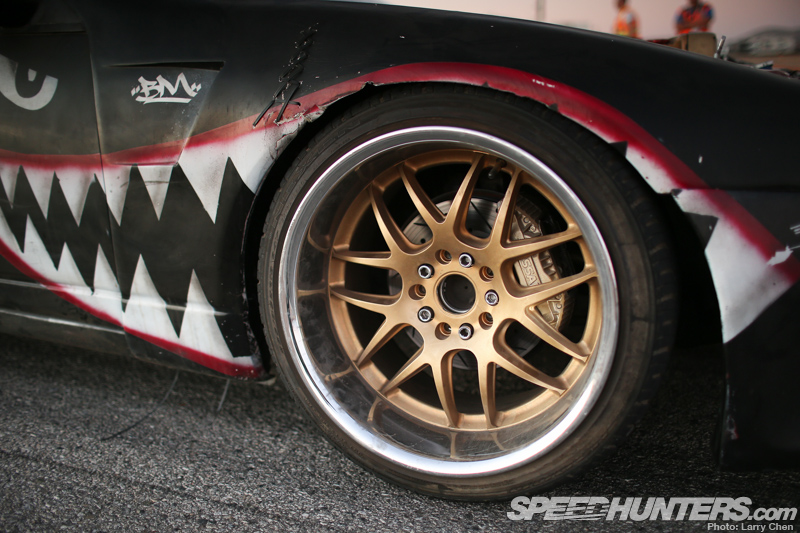 Wheel-wise the car usually runs a set of XXR 526s 18″x10.5 at each corner, but Brendan also has a set of 18×9 Work Emotion CR Kais that are used as drift spares. The brakes are stock but with drilled and slotted rotors.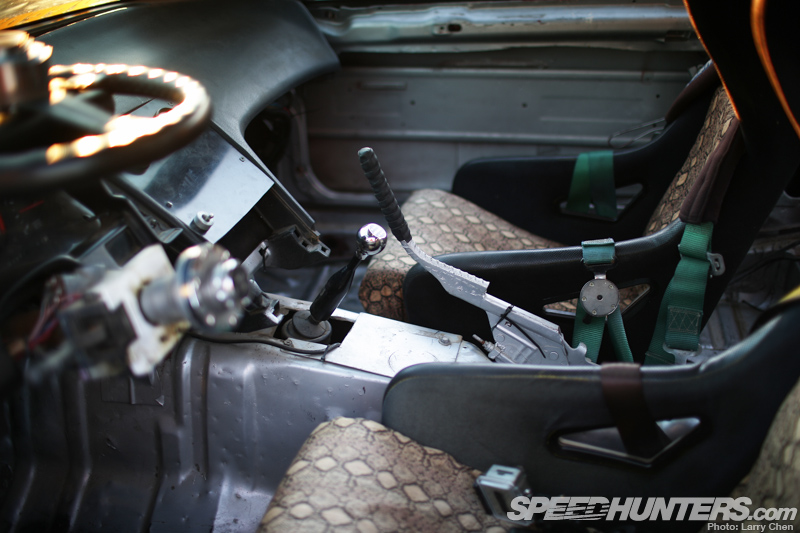 The cockpit of the Z is a spartan place. Anything not necessary was thrown out, and besides the pair of Sparco bucket seats you can see the custom-built handle for the e-brake. Eventually he plans to replace it with a full hydraulic setup.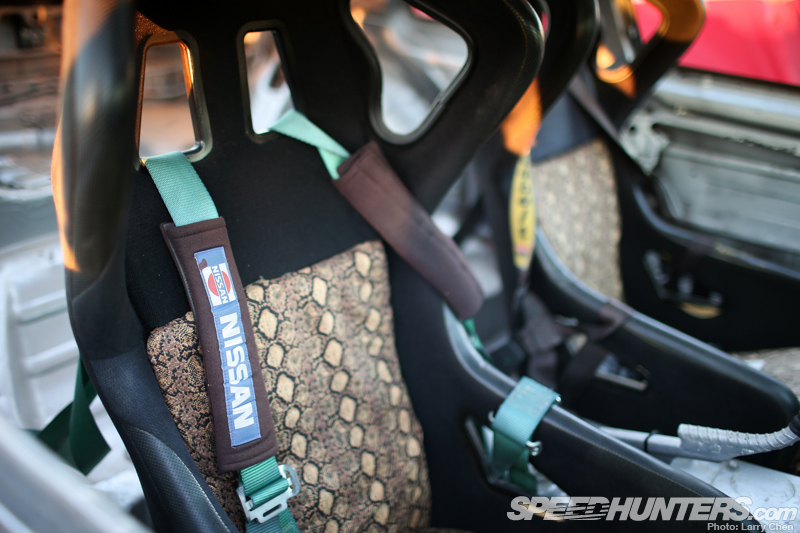 The one thing you may notice the interior lacks is a roll cage. A full cage will actually be installed soon as Brendan plans to use the Z to compete in Top Drift next season.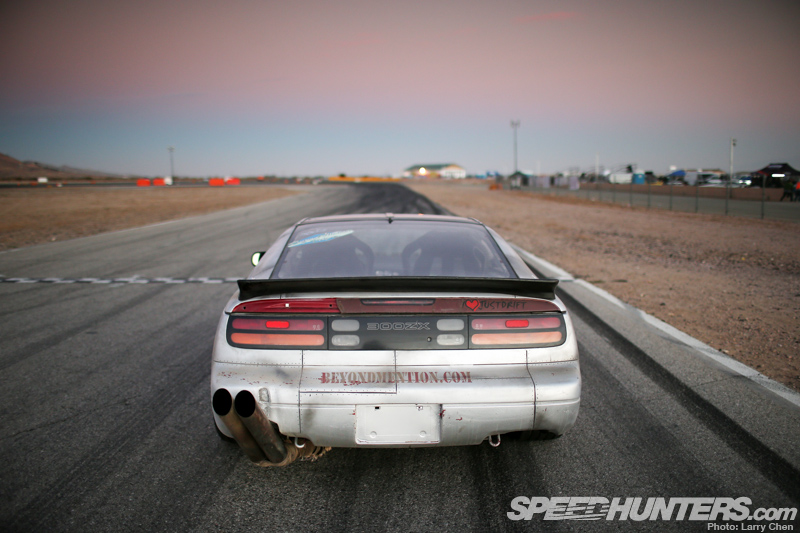 The body of the Z is fairly stock, save for the front bumper, widened front fenders, hood vent, and rear spoiler – which actually comes from an early '90s Chevy Camaro. There's also the huge double exhaust tips that were custom made.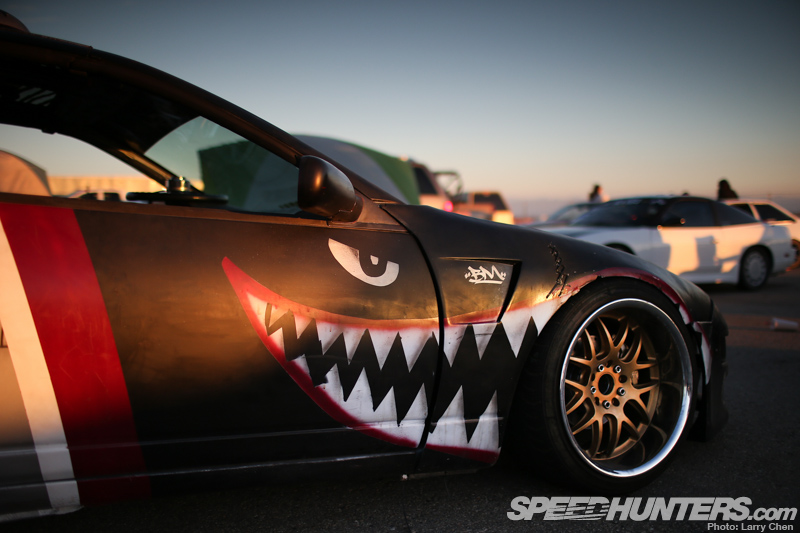 But what really sets the car apart is its Warbird paintwork, which was all done by a friend on a weekend day with a bunch of rattle cans. The grinning shark mouth is something that aviation nerds will know was made famous by the P40s of the Flying Tigers volunteer group that fought in China during the early years of World War Two.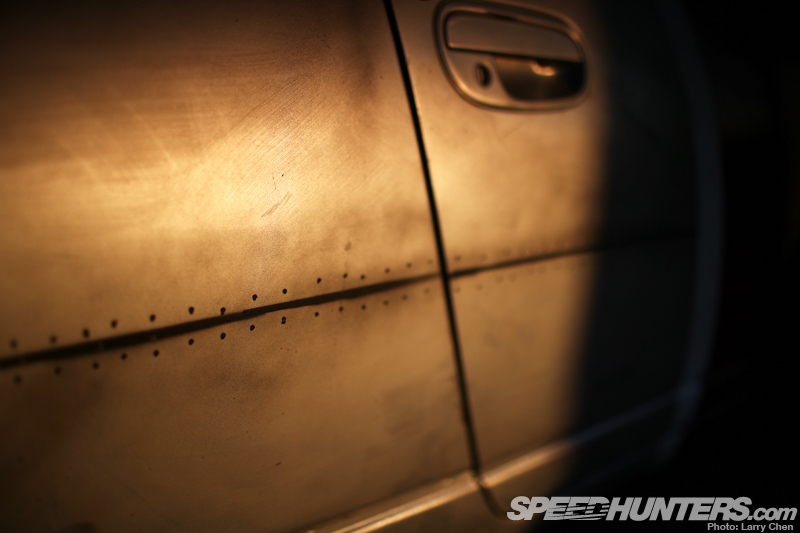 The paintjob also includes simulated rivets…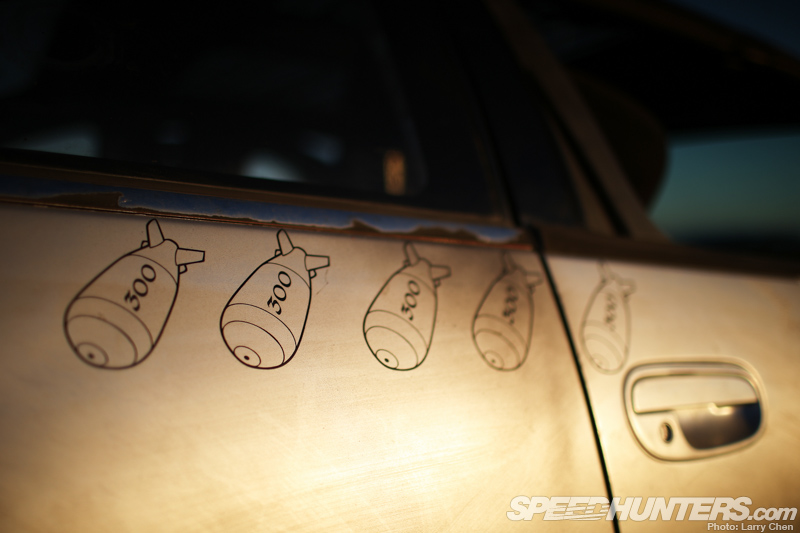 …as well as bomb decals which were used to mark successful missions during wartime. It also happens that war plane paint scheme works with any battle damage the car may receive during drift events…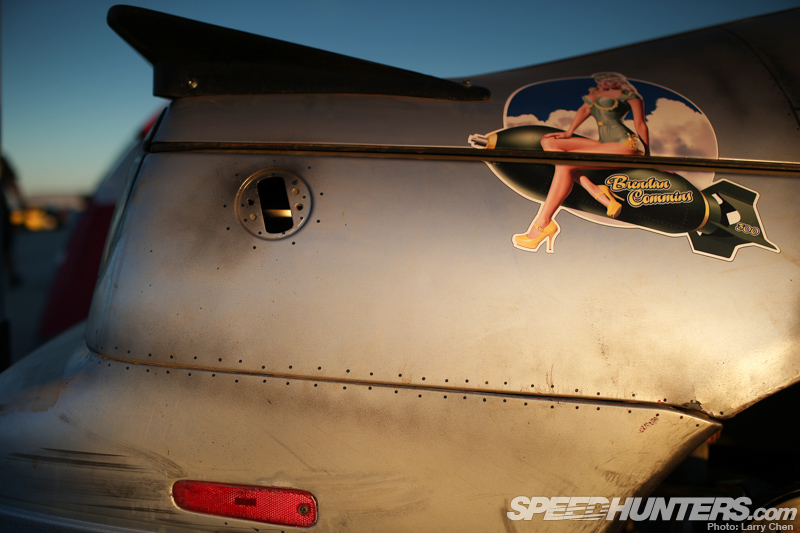 There's even some proper vintage style nose art, or in this case "tail art".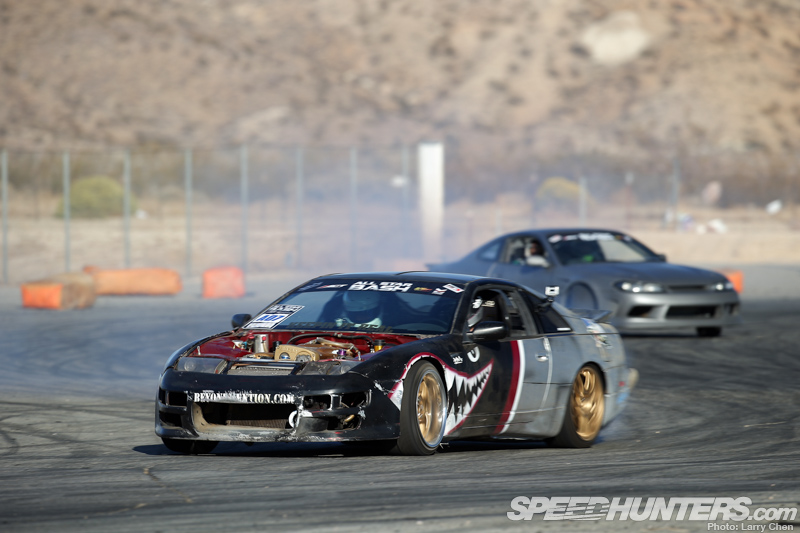 So to go back to my opening thoughts about what makes a good feature cars, I'd say that Brendan's Z32 checks several of those boxes. It's cool, it's unique, it functions, and better yet it was built on a budget.
In short, it's exactly the thing we are looking for.
-Mike
Photos by Larry Chen
SPECS
Engine and Transmission
RB25DET Engine and Transmission Swap
Fresh OEM Rebuild on Block and Head
Mine's Tuned ECU
Hallman Pro RX Boost Controller
Walbro Fuel Pump
Tomei Timing Belt
Tomei Headgasket
OEM T3 Turbo on 13 Lbs of Boost
Tubular Turbo Manifold
Greddy Intercooler
Custom Intercooler Piping (Self-made)
Custom Throttle Cable Bracket (Self-made)
Custom Intake Piping (Self-made)
Greddy Intake Manifold
Q45 Throttle Body
Circuit Sports Oil Relocation and Cooler Setup
Greddy Oil Cooler
Greddy Oil Catch Can
Universal Coolant Overflow
Greddy BOV
"RBZ32″ Modded Cover from RB26 Timing Cover
Custom 3 Inch Exhaust and Downpipe w/ 3.5″ Boso Tips (Self-Made)
Custom Powersteering Bracket to Fit Z32 Pump (Self-made)
Performance Radiator and Electric Fan from '69 Mustang
Custom Radiator Hoses and Mounts (Self-made)
Custom Wiring Harness (Outsourced to a Friend)
Custom Engine Mounts (Self-made)
Custom Transmission Mount (Self-made)
Spec Stage 3 6 Puck Clutch
Z1 Stainless Clutch Line
Custom Driveshaft (Outsourced from Local Shop)
Chassis, Suspension, & Brakes
Custom Crossmember Cut Boxed and Modified to fit RB25 and Oil Pan (Self-made)
Tubbed Front Wheel Wells
Custom Sway Bar (Self-made)
Suspension and Brakes
Megan Racing Adjustable Coilovers
Drilled and Slotted Rotors
OEM 30mm Aluminum Calipers
Custom Rebar E-brake Handle
Threaded Rack Spacer with 2 PBM Slip-on Rack Spacers for Angle
Front Lower Control Arm and Bump Stops Modified for More Angle
Stillen Adjustable Front Upper Control Arms
Megan Racing Adjustable Tension Rods
Circuit Sports Adjustable Toe Rods
Circuit Sports Adjustable Traction Rods
Circuit Sports Adjustable Rear Upper Control
Extended Wheel Studs All Around with 13mm Spacers in Front
Exterior
Rattle Can Warbird Paint Job
Polyurethane Front Bumper
Rear Spoiler from Early '90s Camaro
Hood Vent
Wide Front Fenders
Rear Fenders Pulled and Rolled
Vinyl Wrapped Tiger Design on Hood, T-tops and Spoiler
Interior
Custom Gauge Pod
Nardi Steering Wheel
Greddy Shift Knob
Sparco Bucket Seats with Custom Brackets
Sabelt Seat Harnesses
AEM Wideband
Autometer Coolant Gauge
Autometer Boost Gauge
Wheels
XXR 526 18×10.5 +20 All Around
Work Emotion CR Kai 18×9 +25 (Drift Spares)
Thanks: I'd like to thank my family and friends for helping me throughout building the car and a thanks to Beyond Mention and Adams Automotive for also helping me out.