After a rather impressive debut at the last round of the Formula D Asian series in Jakarta, Fredric has had a little time to think about what was a great and fun weekend for all involved. I thought I'd ask him a few questions about his time in Indonesia, driving one of the cars that initially fuelled his passion for drifting, and of course his experiences of driving for Team RS-R for the first time. So despite us being on the opposite side of the globe, thanks to the wonders of the internets, we were able to put this question/answer session together…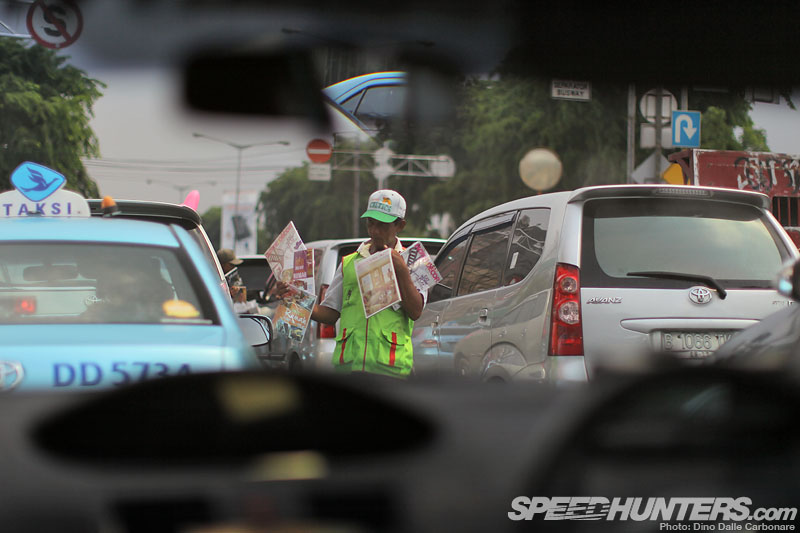 Dino: So Fredric as you said this is as far south as you have travelled into Asia. What are your overall thoughts on Indonesia, Jakarta city, the traffic, its people and their appreciation for drifting.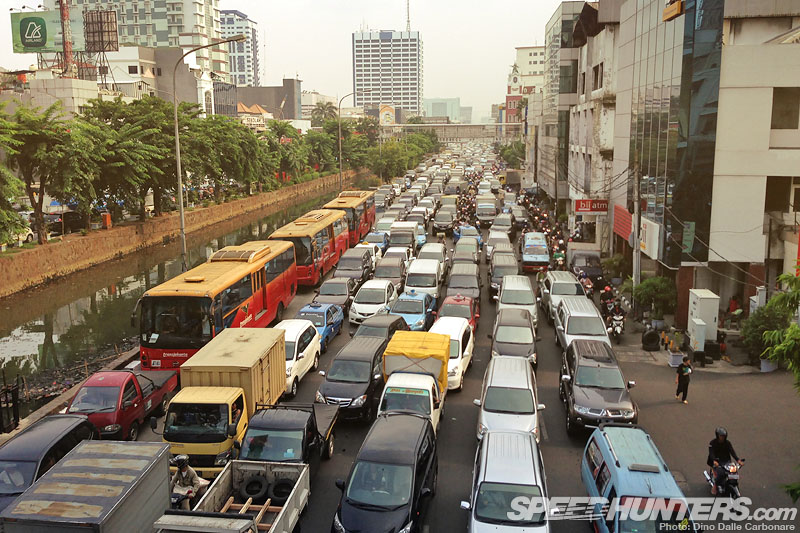 Fredric: My initial thought was "Wow, I'm far away from home"! But I am getting pretty used to being far away from home at this point, and after a couple of days in Jakarta I started to see past the mind-blowing first impression of the crazy traffic (close to 20 million people live in or around Jakarta) and the incredibly humid weather. What I witnessed was a very diverse and friendly culture who reached out and welcomed us to Indonesia.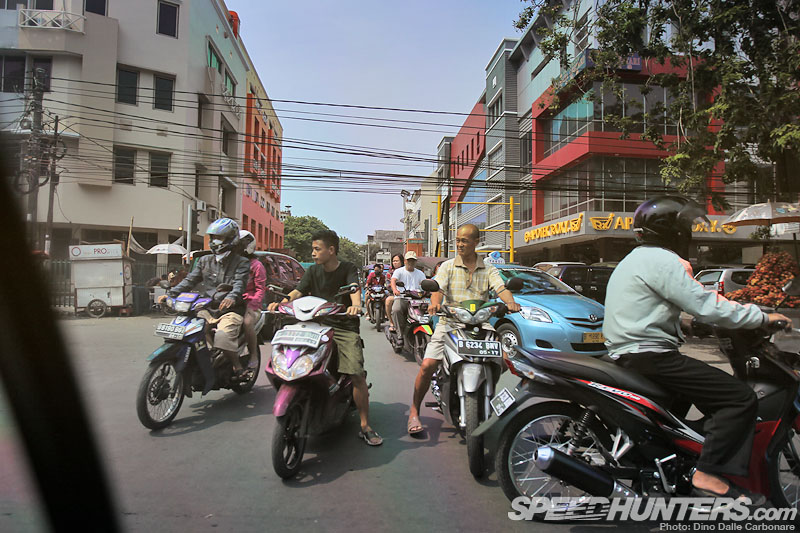 The traffic is actually pretty efficient for so many cars and scooters being crammed in on these roads. People just carve through wherever there's space and keep their momentum up, occasionally honking their horns to let the guy in front know they're coming through. It's almost like they have this racing spirit in them – a constant focus on the next opportunity, and never looking back!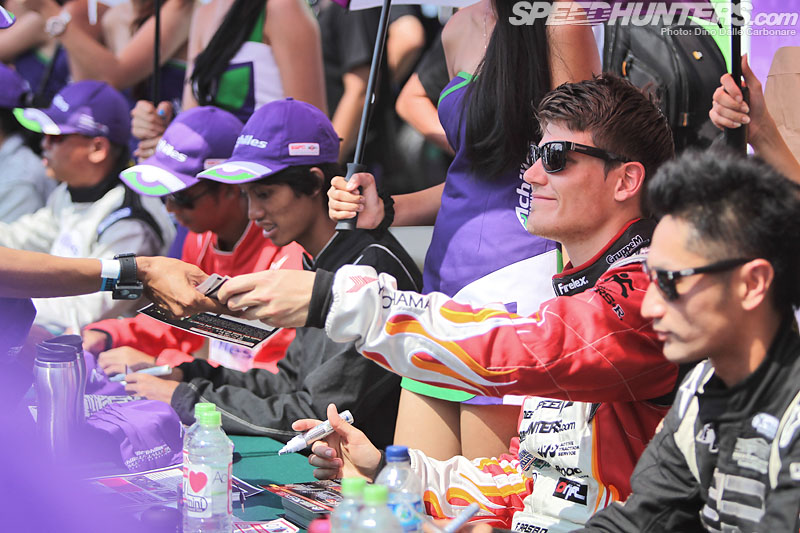 Dino: You mentioned that the RS-R Supra was one of those cars that back in the day served as something to look up to, something that in a way pushed you get into the whole drifting thing. It must have been a dream come true to get to drive this legendary car.
http://www.youtube.com/watch?v=rvmpmKwhUyU
Fredric: Yes, whenever I get a chance to slow down the pace and actually think about what's going on, it gives me the chills. Growing up watching Orido and Taniguchi ripping up the now legendary tracks in the far east was a huge inspiration for me. Now I'm wearing that flame clad fire suit myself… I remember dreaming of "how it would be", driving these cars, in competition, against some of the top drift drivers in the world, and now I am getting the chance to actually do it.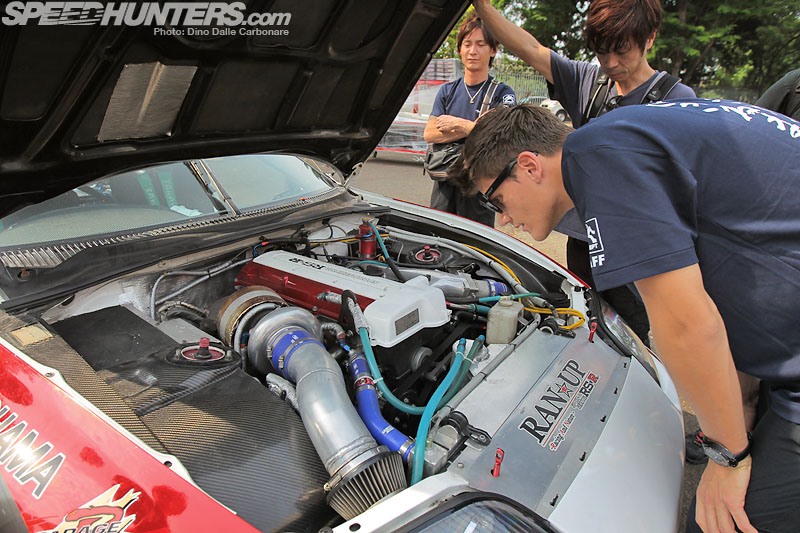 Dino: You spent some time looking at the Supra on Thursday as the car and the container's contents were being unloaded. What were the first few things that you noticed?
Fredric: I've been doing numerous Formula Drift-events outside of the US schedule over the last couple of years, in Abu Dhabi, Qatar, Texas, Panama… As different as those places and events were, some things have remained constant: We are always on a very limited schedule. Knowing the RS-R Supra would be pretty different from the Supras I used to drive, I was very eager to check out the car in real life to see what exactly was different and what we needed to move around to even make me fit in the car. Orido is a fair bit shorter and a little less "big boned" than me.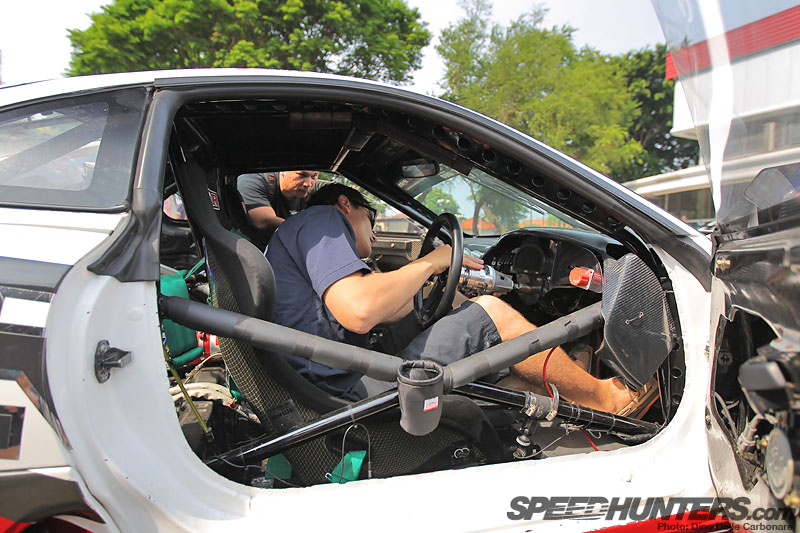 Aside of the seat position, one of the key differences was how stiff all the pedals and the handbrake were. The master cylinders were so big there was hardly any travel! At first it felt really awkward. The pedal feel wasn't like a leverage arm that I am used to, but more like a pressure based system similar to what you would find in a jet fighter. Interesting! Perhaps this is Orido's experience from Super GT racing coming into play here.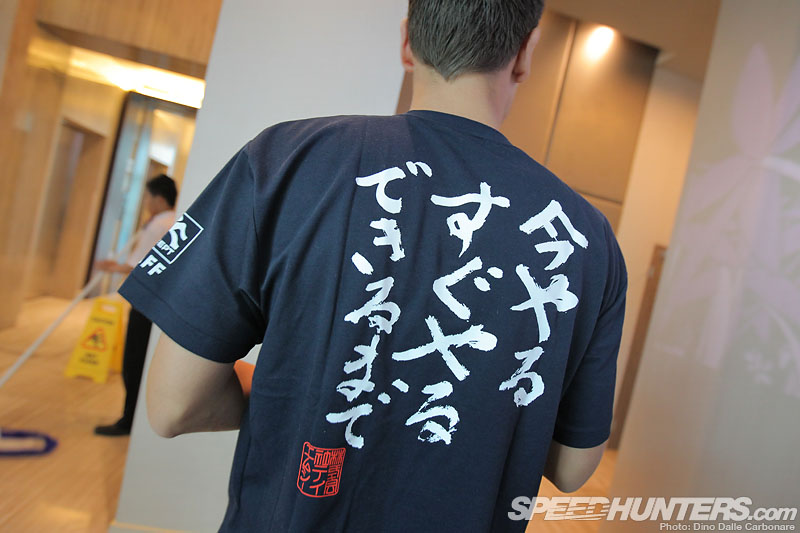 Dino: This was also your first time driving for a Japanese team. How did that go? Any differences between the RS-R crew and what you are normally used to…and also how did you communicate?
Fredric: The RS-R team is huge! All in all, we were ten guys involved with this one car. My immediate thought was "Oh lord, this has to be chaotic!" knowing how it would be if I had spawned myself into ten persons. But, and I believe this is a very Japanese thing, it all worked butter smooth. The RS-R crew is so dialed and they all know their specific role in this machinery. I was very impressed witnessing how they would fulfill each other taking care of everything surrounding our competition weekend with the utmost care and respect.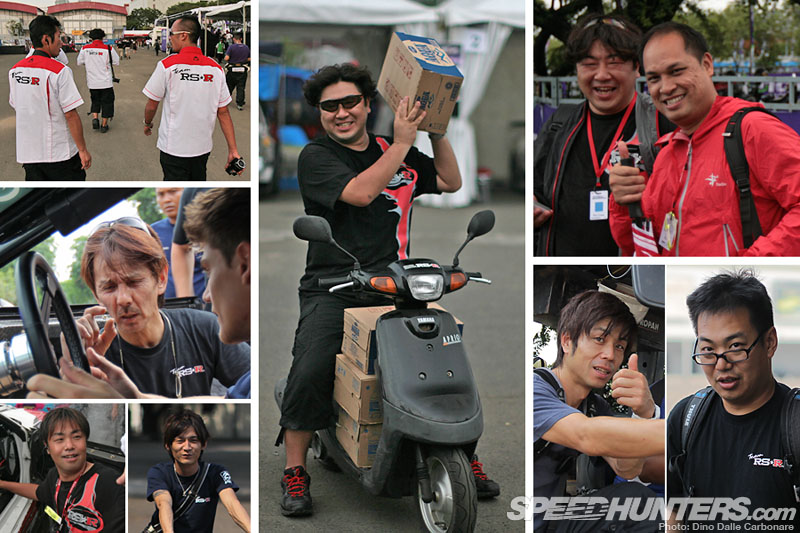 For example, Terai-san, who is the Executive Director of RS-R, oversaw everything and made sure everyone got fed, had water, got to and from the track, and so forth. Mr. Sugahara was in charge of the pits, and he made sure all the mechanics had everything they needed. All of their spares, tools and equipment was meticulously organized and it was just a really, really cool experience seeing how these guys work.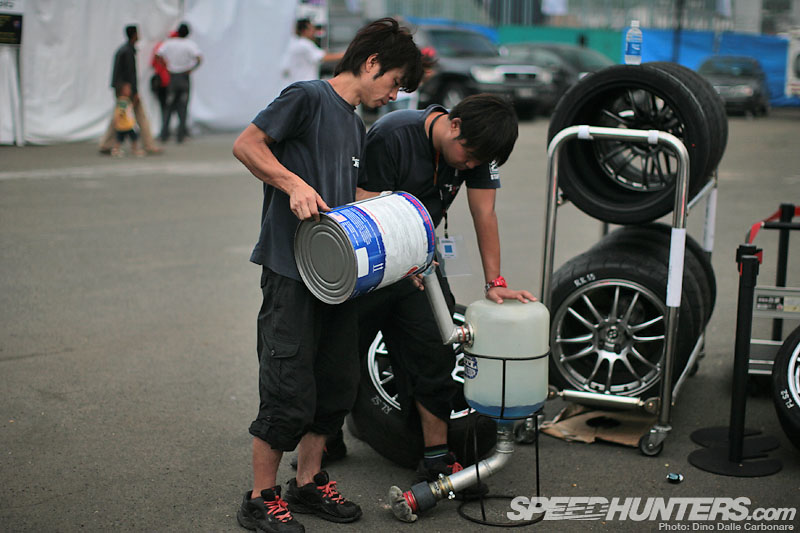 Dino: Tell us about the initial work that was needed to set up the Supra to your liking.
Fredric: Once the car and the equipment got cleared from customs we got right to work. The RS-R crew moved the seat in a heartbeat and made as much room around the pedals as possible. The lingo was a mix of English, Japanese, "Engrish" and hand gestures. My translator, Go, helped out along the way but overall the words of drifting are pretty universal.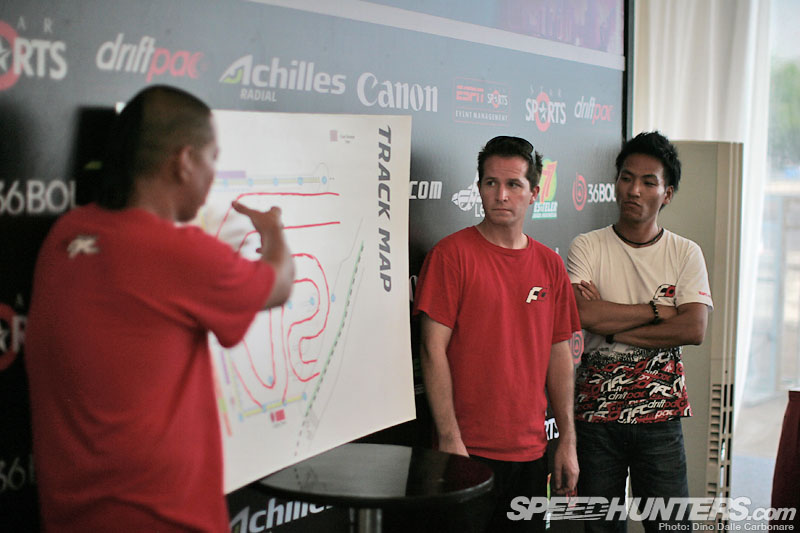 Being very specific about my Supra setups, I also brought our Euro Supra steering knuckles from Norway, which are set up a little differently to the RS-R ones in terms of Ackermann characteristics and so on. I don't necessarily think these are better than the ones on the car, but they are what I am used to and that's why it was important for me to put them on.
I believe that in drifting, being used to the car sometimes is much more important than always having the "best setup".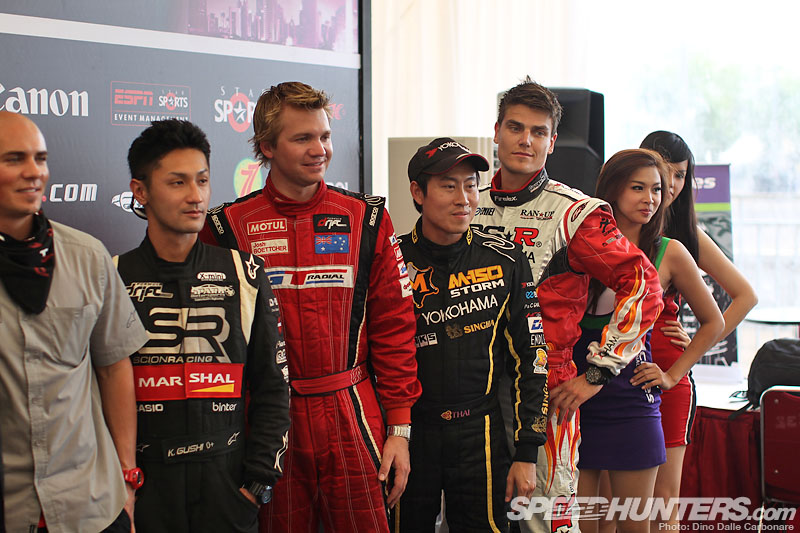 Dino: About the event itself, how would you describe the atmosphere? Must have been cool but a little strange to be surrounded by a lot of the same drivers and people from Formula D in the US but on the other side of the word?
Fredric: Haha, yeah, but then again I'm starting to get used to seeing these faces at the most random places. I mean, I remember Jarod DeAnda wearing a full desert sheep herder outfit in Qatar, and Halloween with the Formula Drift community in Las Vegas is a different story.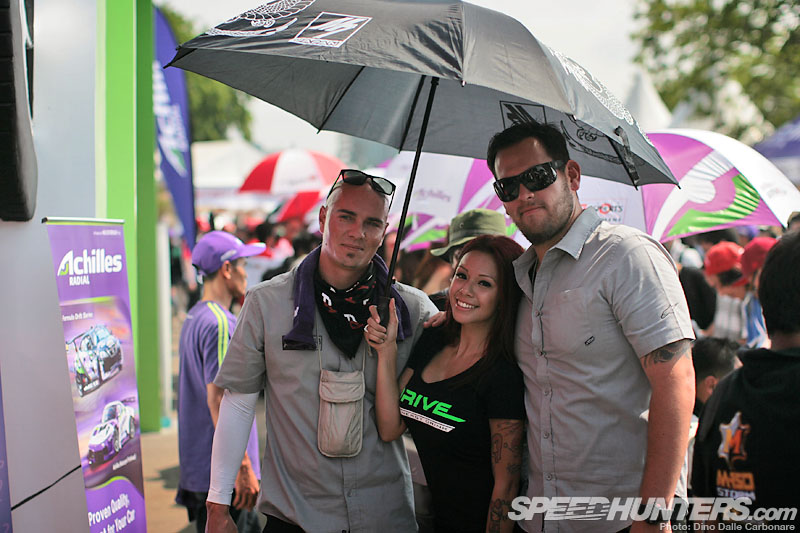 The atmosphere was absolutely great, and that seems to go for any drifting event! I know it's a cliché by now, but drifting is such a tight knit and friendly community across all borders and continents. The locals and the rest of the Formula Drift Asia teams, drivers and drift fans were all super nice and I was blown away by how closely they follow our US and European programs.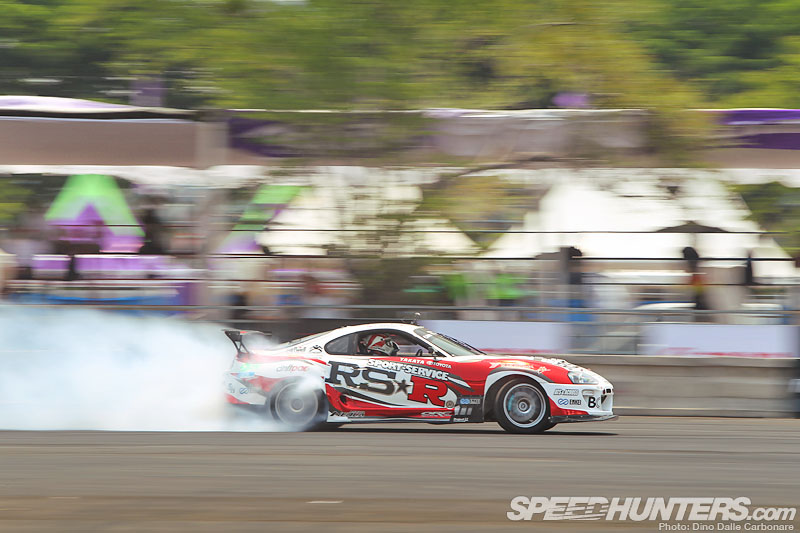 Dino: How did the car feel when you first went out for that initial practice on Friday.
Fredric: The pedal feel was very different, but almost immediately I started appreciating the short throw pedals and handbrake in the car. It was a lot more efficient because almost no movement was needed.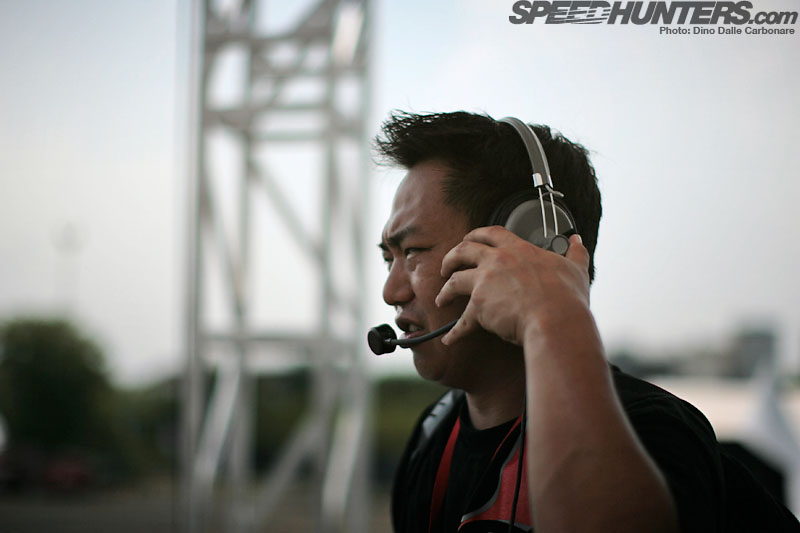 Going out for those first runs, you are on a very steep learning curve, and all your senses are alert as you try to navigate through the course and learn the car. Ben, the RS-R spotter and my point of contact with RS-R USA, and I started working on our communication right away.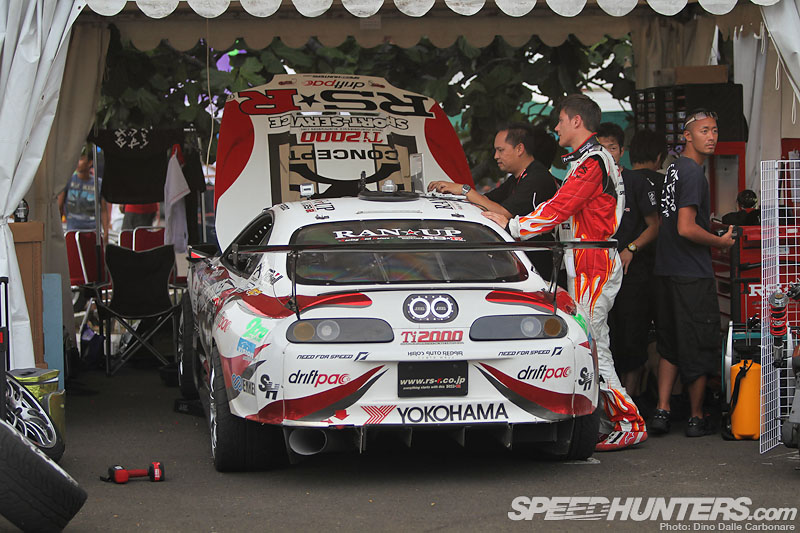 Dino: This was the first time that you tried out NOS. Thoughts?
Fredric: I think I'm an addict now. Lol! The engine was very well tuned and even without NOS the spool was very good. Even on low boost there was plenty of torque, which is a testament to Nate, the tuner, and the potential of the BC stroker kit.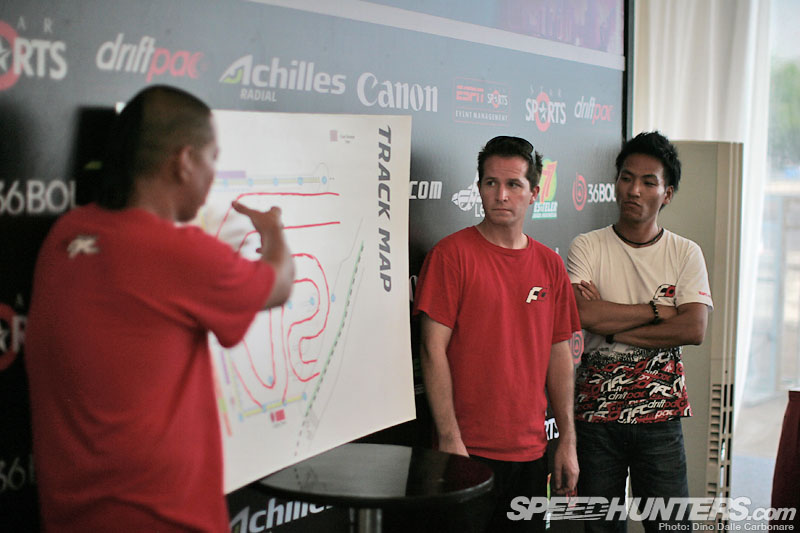 Dino: What did you think of the track? Did you have to make some changes to the car after the practice session?
Fredric: The track was a fun variation built in true Formula Drift fashion, with a decent speed first turn with an outer clipping section, leading up to a big transition (hold stumt!), before the second outer clip. A tight S-combination with double inner clips rounded out the course.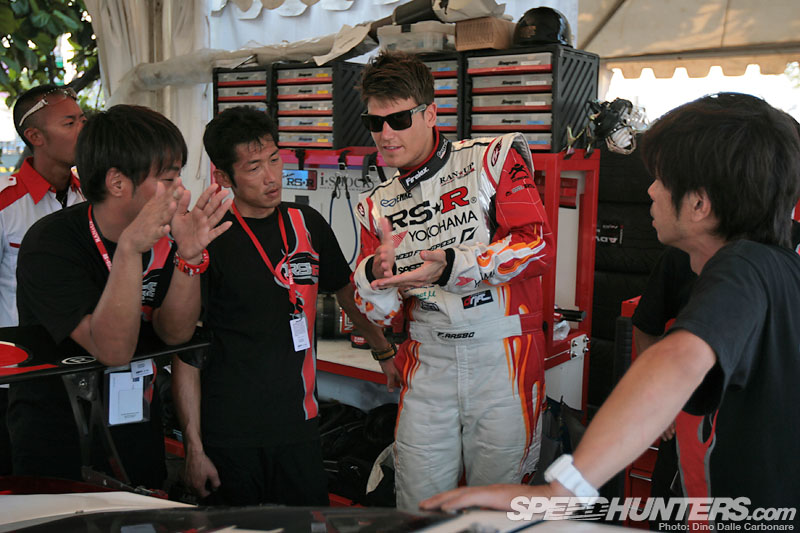 After getting the feel for the car, we did some minor alignment changes in the rear. Again, this was to dial the car closer to what I am used to, and not necessarily better.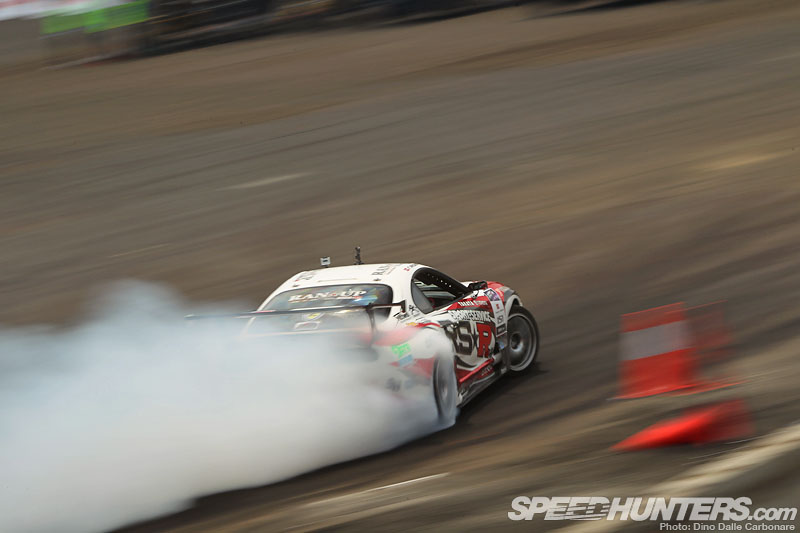 Dino: You did great in qualifying, a fourth place in a car you had no experience in. Were you happy with the result?
Fredric: Yes, I was happy with the qualifying result, and I feel like we got our whole team operation dialed in quickly, which was a big key to it all. Feeling comfortable with the people you work with is so important, because a race operation is only as good as the people that run it!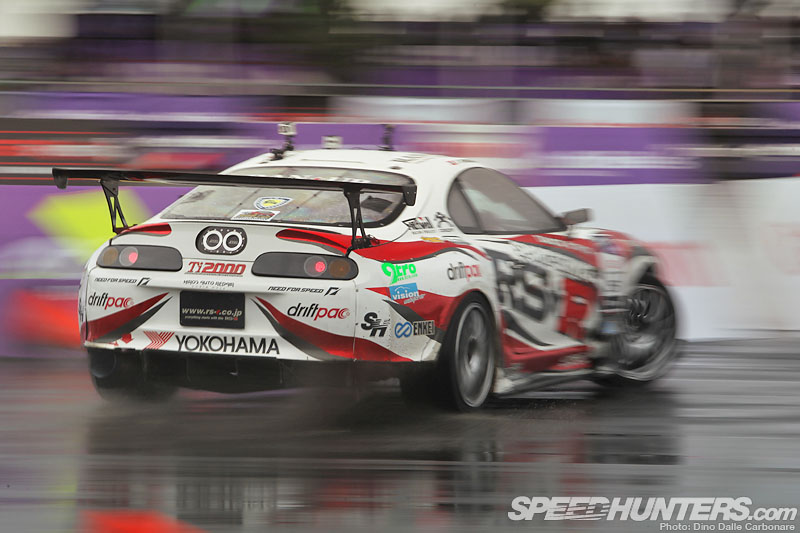 Dino: The weather turned for the worst on Sunday morning, how did you approach the slippery conditions and what did you and the team do to make the car more drivable on the wet surface.
Fredric: We made no changes. Zero! If we knew it was going to remain consistently wet, we would have tried some changes, but since it almost certainly would be a mix of wet, dry and inconsistent conditions from then on we decided to stick with what we had instead of heading into the unknown and possibly losing our focus.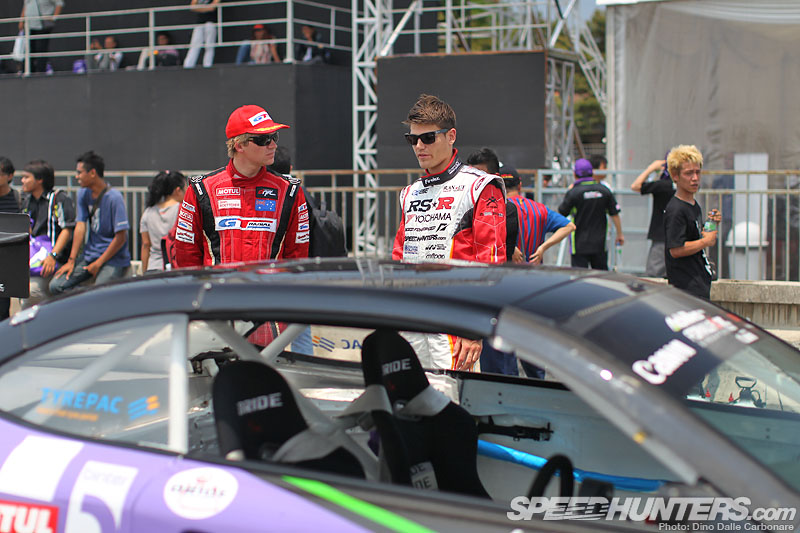 Dino: You moved up to the semi final without much issues in the main competition. What did you think of your opponents?
Fredric: There is a bunch of really solid talent in Formula Drift Asia. Some of the locals have developed their own super aggressive style, and some of the foreigners are champions from some pretty competitive series.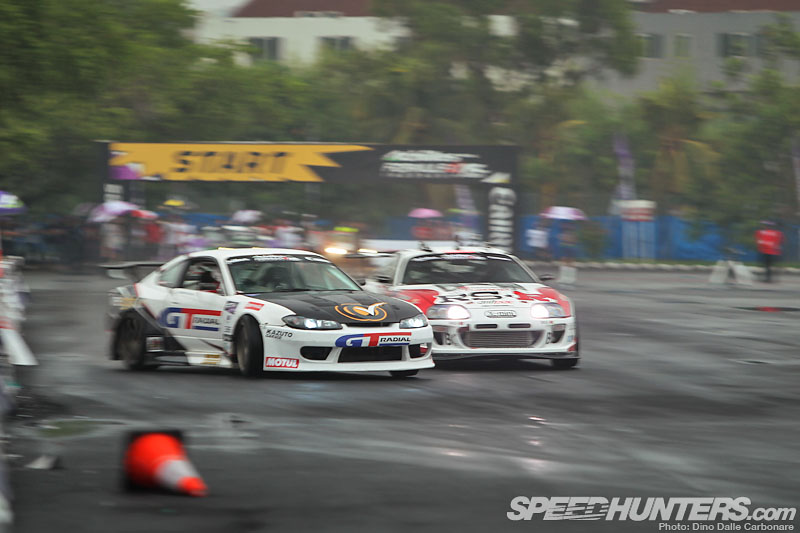 One of these guys is Australian Champion Josh Boettcher, who is now a household name in FD Asia. He is a super solid driver and we had a really close battle. I have been working hard on improving my chase game and the times I get it right is so much fun! This initiation behind Josh is probably the run I am the most happy with from this weekend.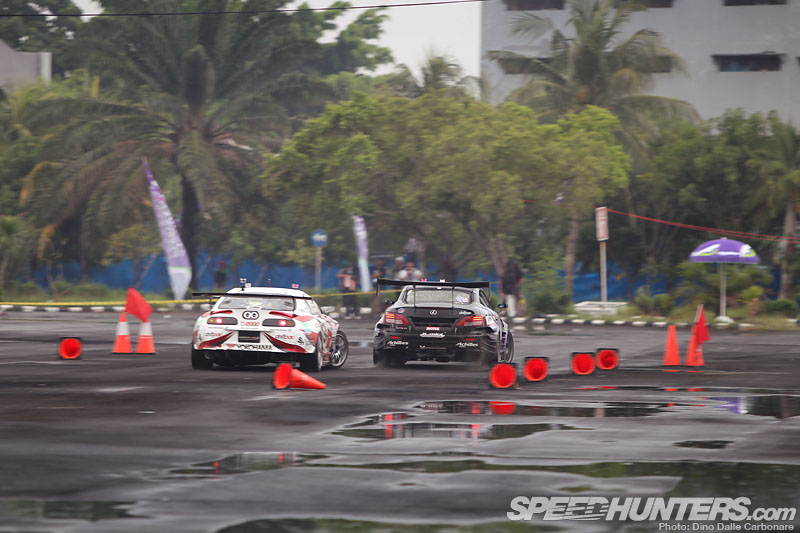 Dino: Tell us about your battle against Daigo Saito.
Fredric: Daigo… I called him GOAT (Greatest of All Time) at the press conference and Jarod agreed. We had a great weekend but the one major mistake I did was in the launch of my chase run with Daigo. I wanted to go a little bit before the light dropped, which you are allowed to in the chase position, in an effort to stick with him. It turned out to be a little too soon, I let off and lost him as the light dropped.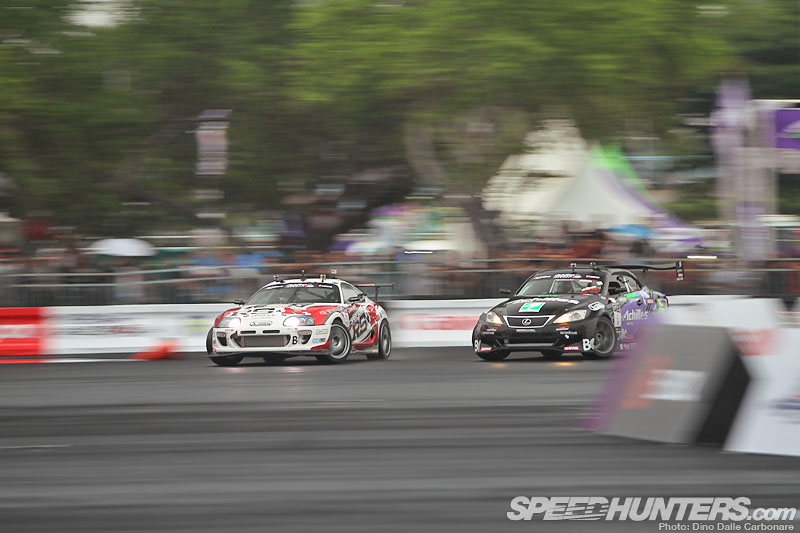 I guess we're even, after us taking him out in Atlanta earlier this year. Thanks for a fun battle, and congrats again on a truly impressive and inspiring season, Saito-san!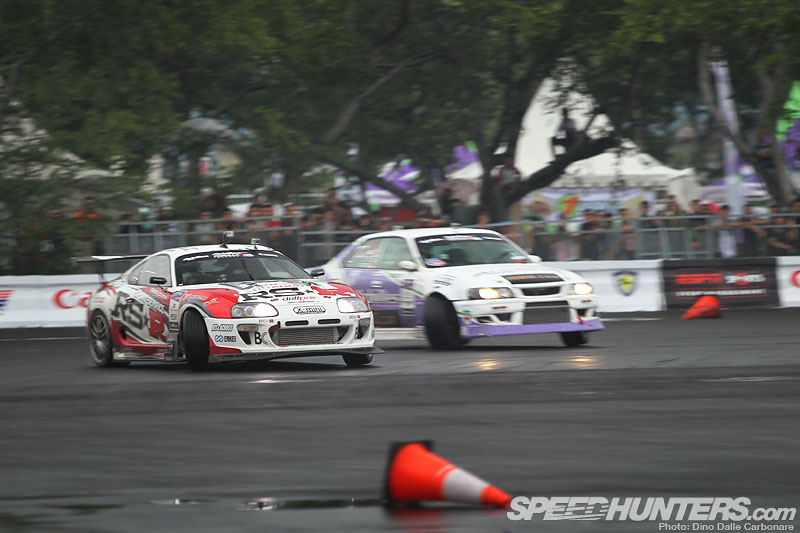 Dino: You had to go against Robbie to decide who the third place finisher would be, was that a tough series of runs?
Fredric:  Yes, they are all tough and Robbie was on fire. Since it was wet, it's a waiting game and all about being careful. Luckily we had great speed in the car, but after taking out Robbie I had mixed feelings because he truly deserved an FD Asia podium there. But then I remembered Irwindale and it felt fine again! Next time, Robbie!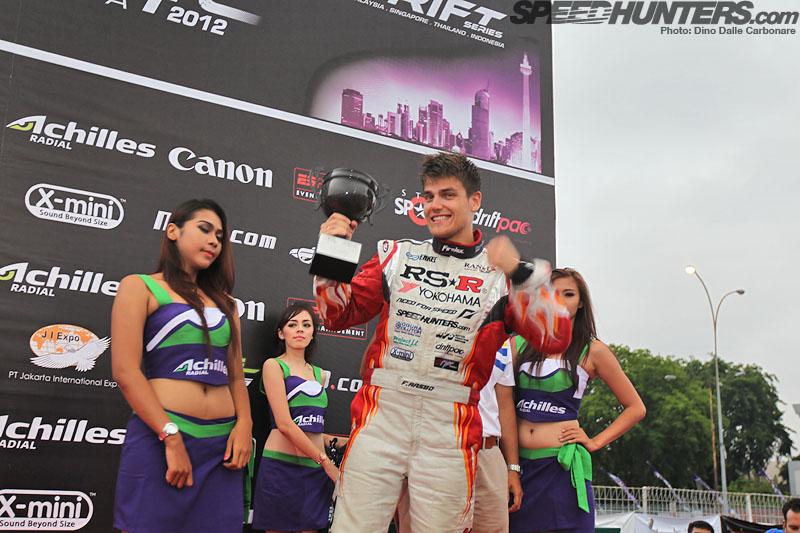 Dino: First time at Formula D Asia, first time behind the wheel of the RS-R Supra, you must be more than happy to have finished in third place.
Fredric:  Yeah, the podium is one thing but I am much more proud of the entire team overcoming language barriers and growing tight in such a short time, and in the end putting on a decent performance to finish on the podium. To all of you at RS-R: I am extremely grateful for the opportunity. Tusen takk! Arigatou Gozaimashita!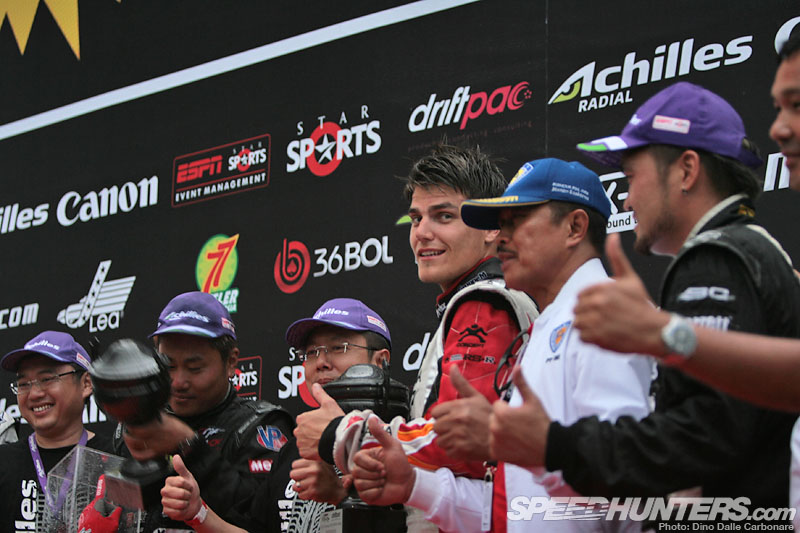 Dino: If the opportunity arose once again, would you like to hit more Formula D Asia rounds in 2013?
Fredric: Yes, definitely. My main focus is on the Formula Drift US series, but I would love to go back, keep pushing and learn more about the different cultures and drift scenes out there in Southeast Asia.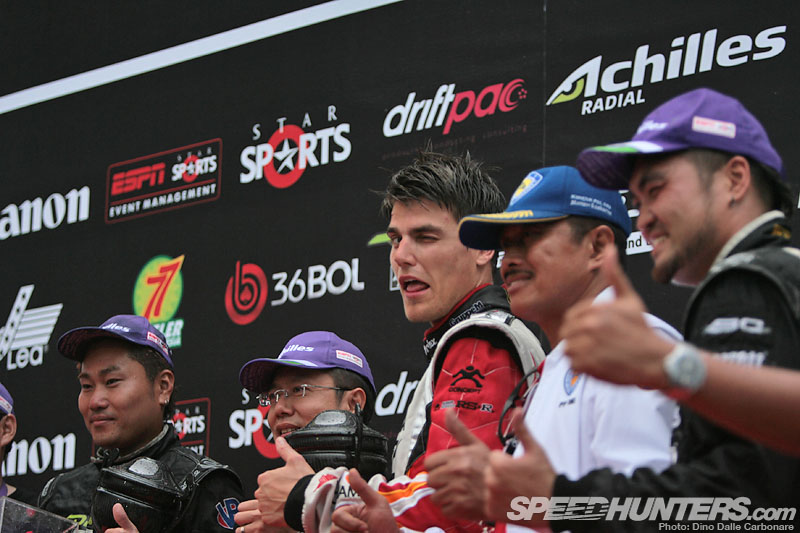 Plus, I think I'm getting pretty decent at eating with chopsticks, but I still need all the practice I can get!
Formula D Asia – Jakarta Round Coverage on Speedhunters
Fredric Aasbø official website
-Dino Dalle Carbonare & Fredric Aasbø