This is the last race track in Los Angeles County. The next closest track to downtown LA is 35 miles further away than Irwindale Speedway.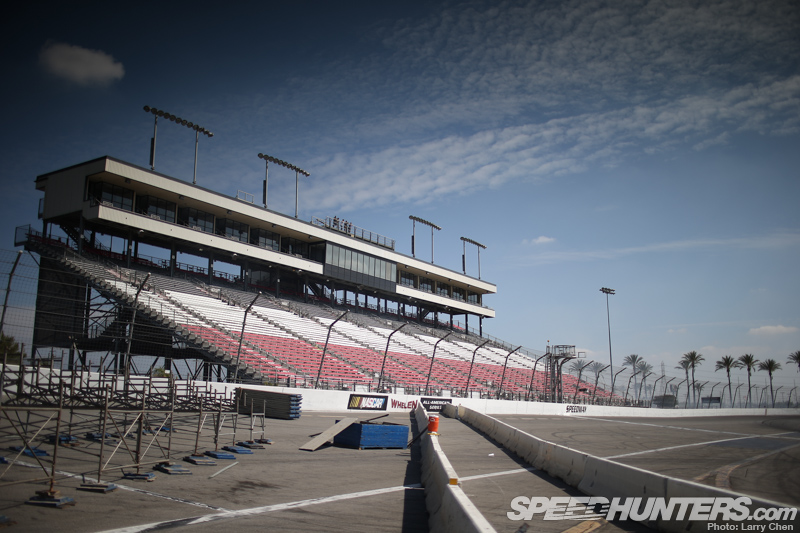 Just a few days before the Formula Drift finals I decided to check out this empty track. It's cool to see it like this because I am used to being there during events when it is absolutely packed.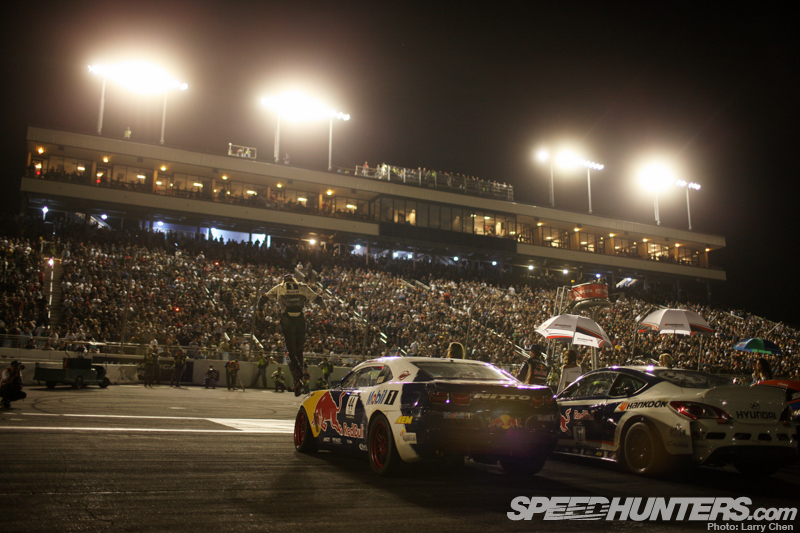 Last year's Formula Drift finals saw a sell-out crowd and the biggest since the opening of the track in 1999. There will be more stands this year so most likely it will be even more crowded. No wonder this place was dubbed The House of Drift.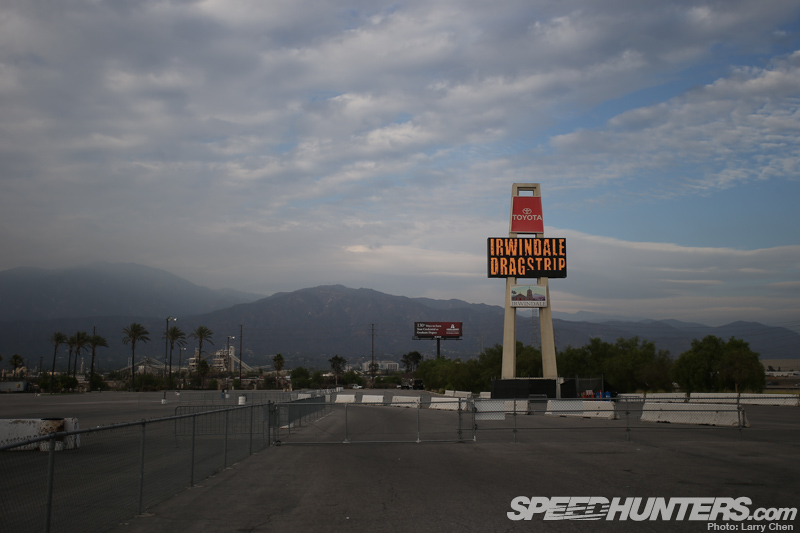 I actually live just two miles away from Irwindale Speedway. I pass by it almost everyday. On Thursday nights they usually have drag racing on the 1/8th-mile drag strip.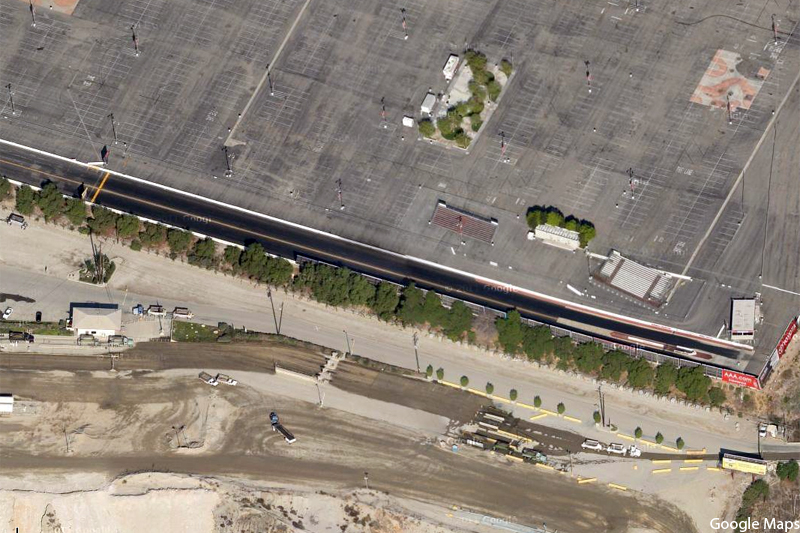 The clouds of burnout smoke billow onto an adjacent freeway. I bet people driving by wonder where all that nasty smelling smoke is coming from.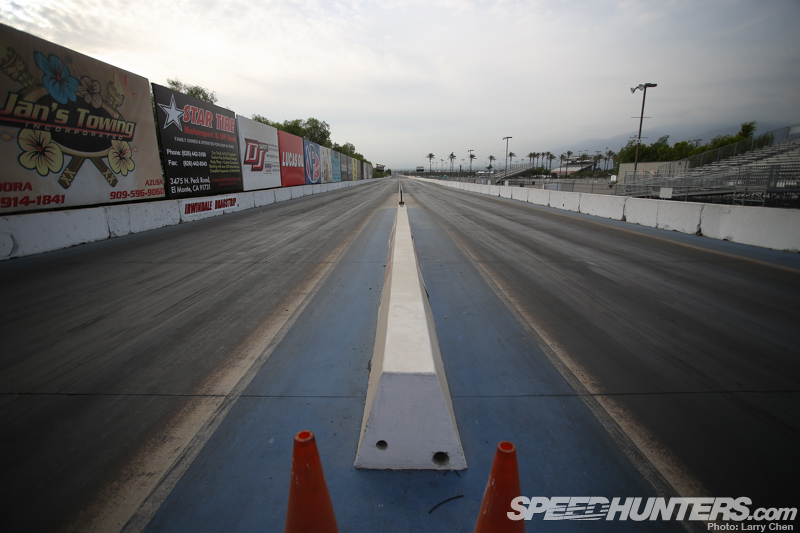 This is the perfect place to practice your launch and 60-foot times for when you drive the 1/4 mile strips.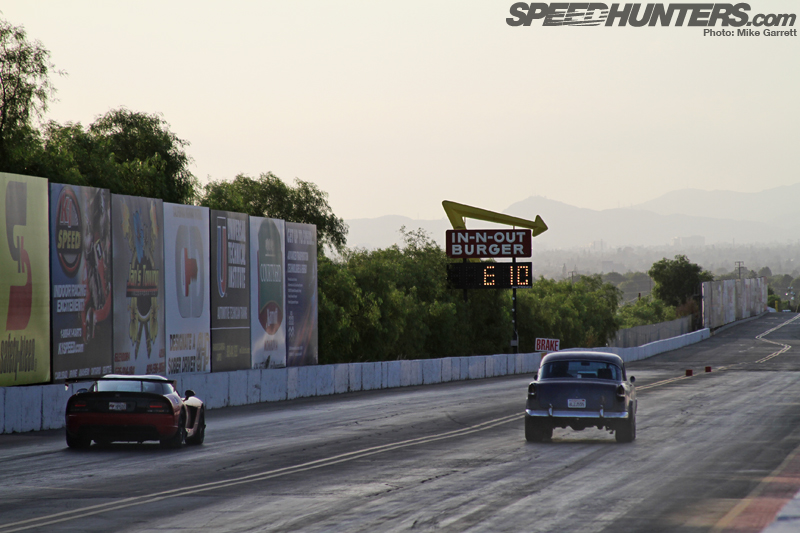 They also host events like the Mooneyes Christmas Party at the strip, and of course they have a massive car show in the parking lot.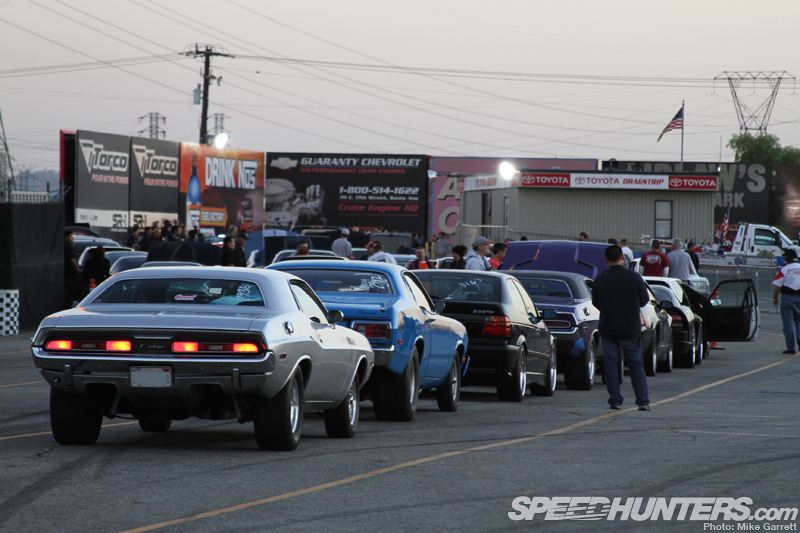 There is actually a program that if you get caught street-racing or speeding, the police officers can hand you a free entry to the drag strip where you can make a few passes. It's a great way to keep people off the street and introduce them to legitimate racing.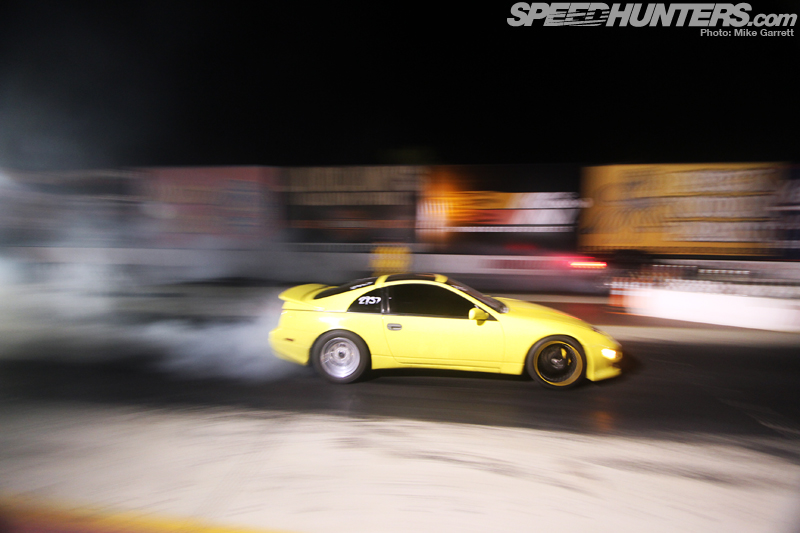 Even though the track is only a few miles from my house I don't actually hear any of the drag racing. The city of Irwindale has very few residents. It is mostly industrial warehouses and there are many mining operations that are dotted around the area, so somehow or another it soaks up the sound.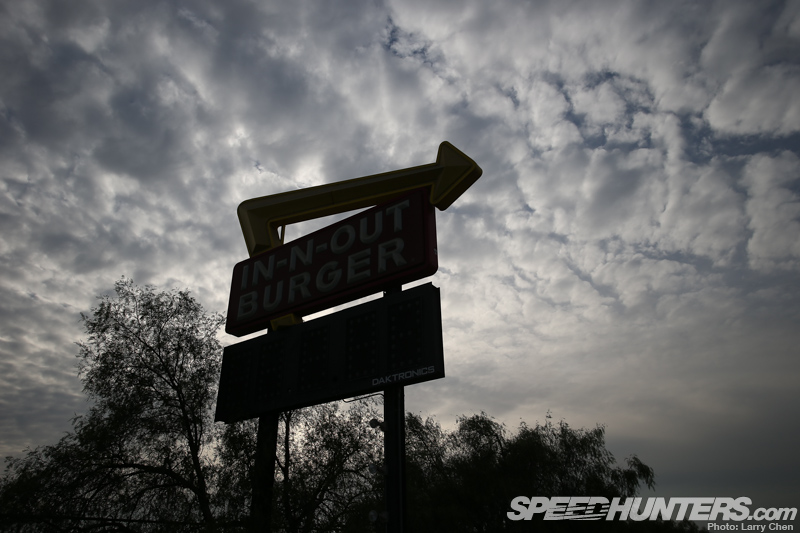 I can only imagine how many people have looked up at these timing boards just to cheer in joy after seeing a good pass.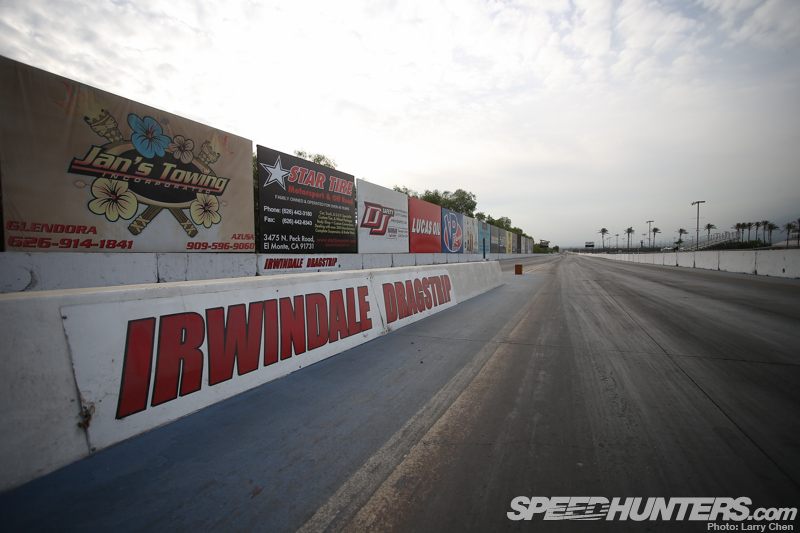 The next closest drag strip is about 18 miles away and they don't usually open to the public, so this strip is really your best bet to get your drag racing fix if you live in Los Angeles.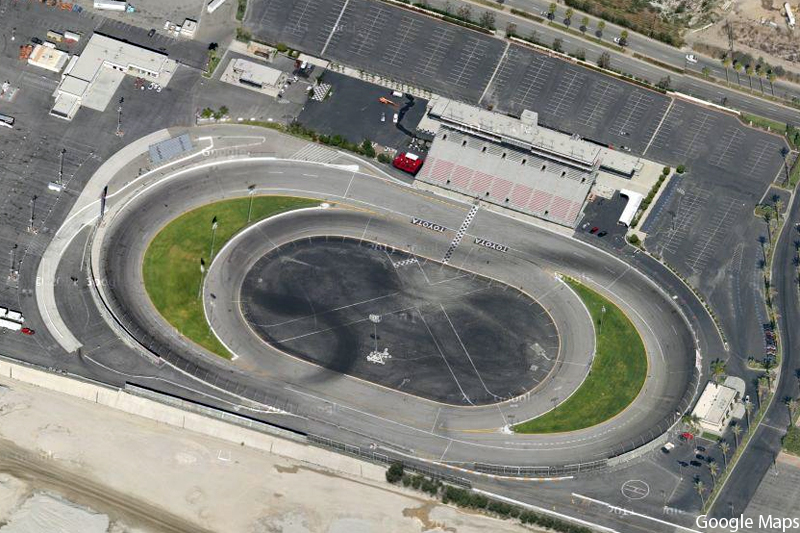 The outer oval is exactly half of a mile and the inner oval is a third of a mile. Minor-league NASCAR ran on this track since its opening but in 2011 they announced that they will be dropping it from the schedule. Soon afterwards the company that managed the track filed for bankruptcy.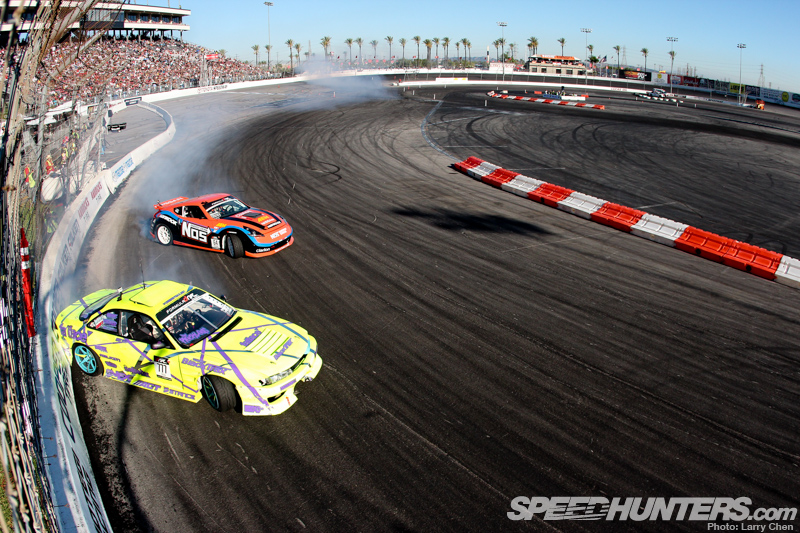 The whole drifting community was up in arms as everyone was afraid that we were going to lose our beloved House of Drift.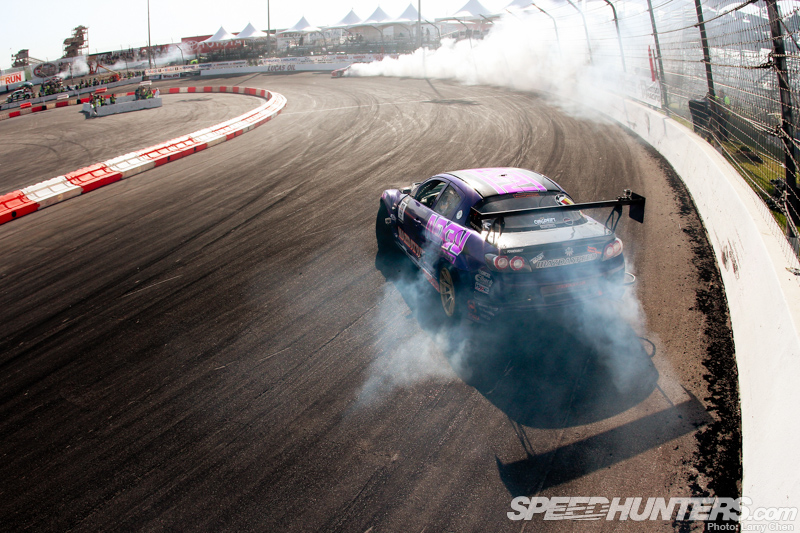 Luckily another company has stepped in and Irwindale Speedway has been saved.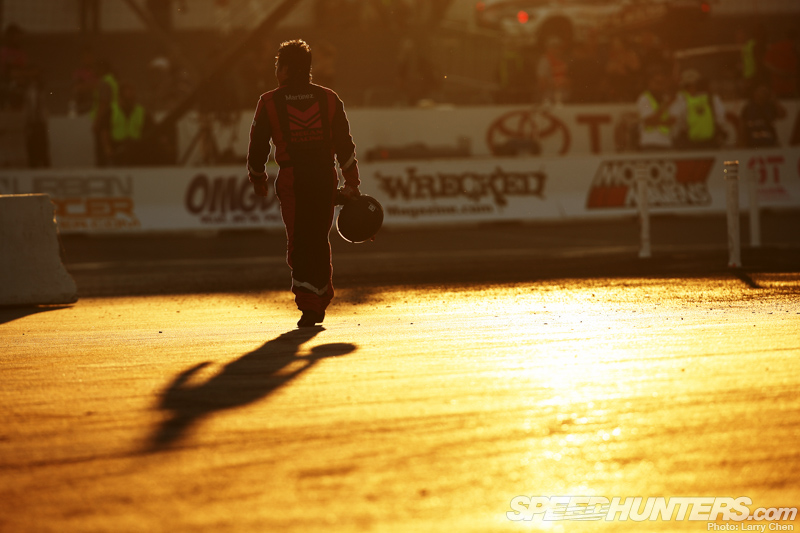 So many champions have been made here and so many people's dreams have been crushed. This is the most unforgiving track in North American drifting.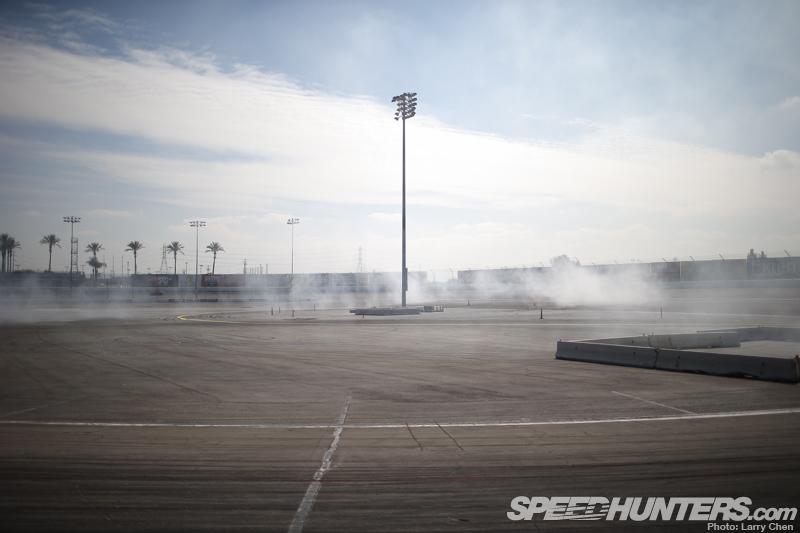 Just like Wall Speedway in New Jersey it fills with smoke very easily as it is a bowl shape.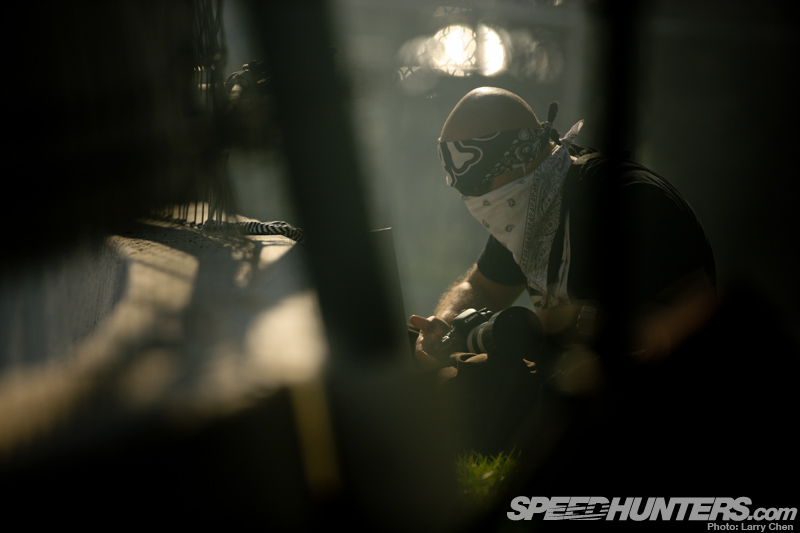 It does tend to linger around, but luckily most of us have gotten used to the smell.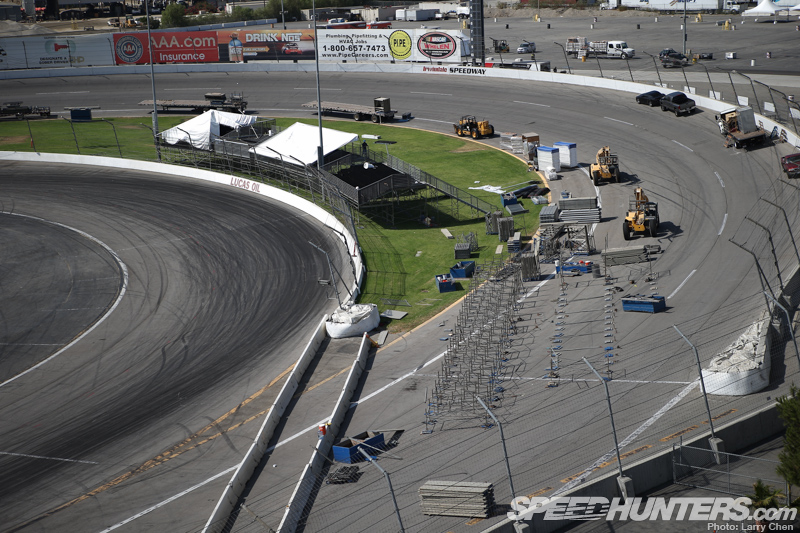 Formula Drift was just a few days away so they were still setting up the judges' stand as well as the temporary grandstands.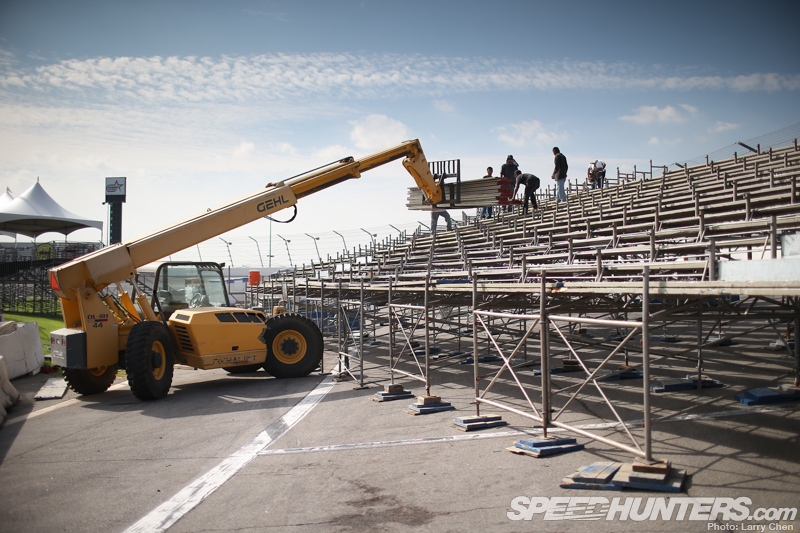 With the addition of the grandstands they can seat over 50 per cent more people than when the track first opened.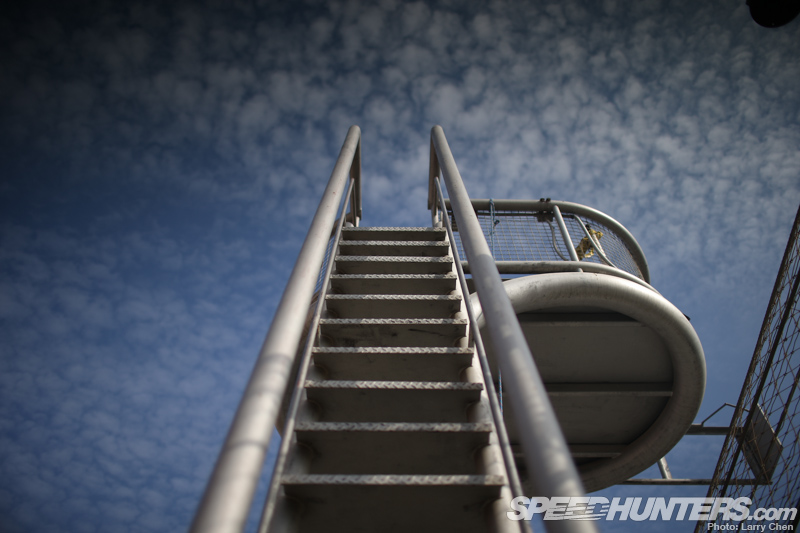 I decided to walk around and take it all in as I won't be able to do that in a few more days.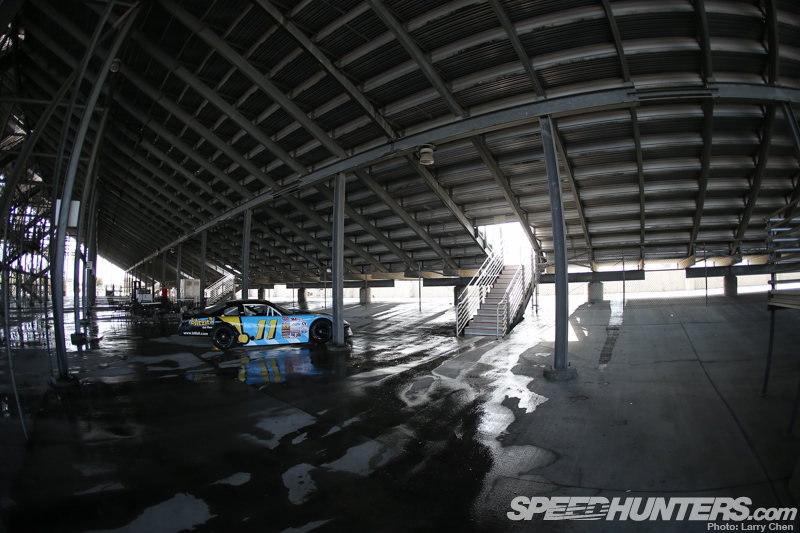 Underneath the main stands was a relic from this track's past. Who knows, maybe NASCAR will decide to come back in the future. I remember watching NASCAR a few years back and boy was it fun to watch.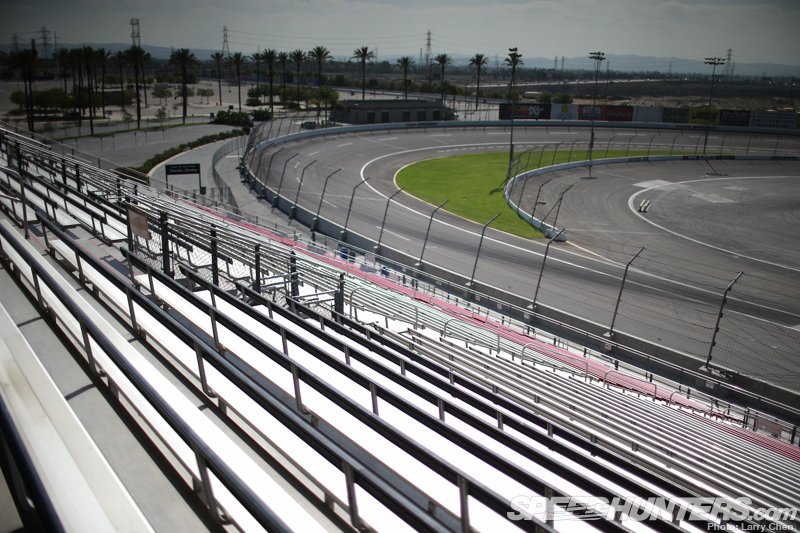 The lap times are very short – in fact the lap record for the half-mile track is only 18.023 seconds with an average speed of 99.823 miles per hour in a Grand Am Modified NASCAR.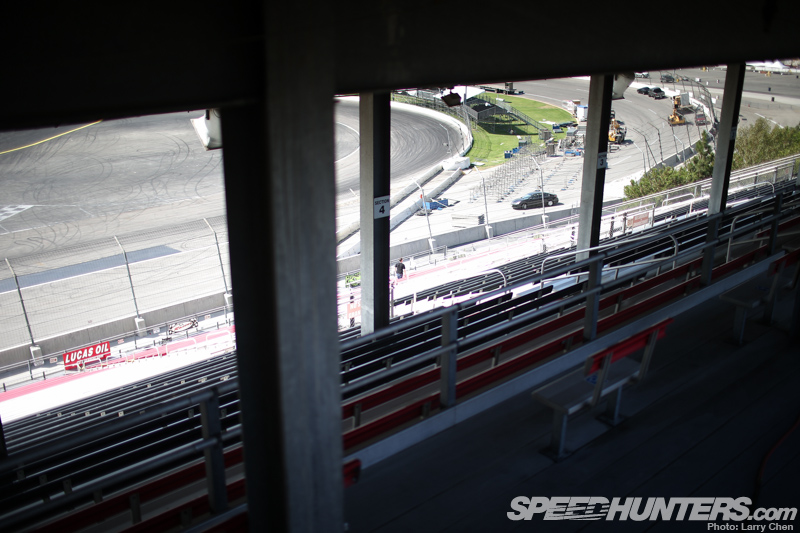 You can get a great view from anywhere in the grandstands.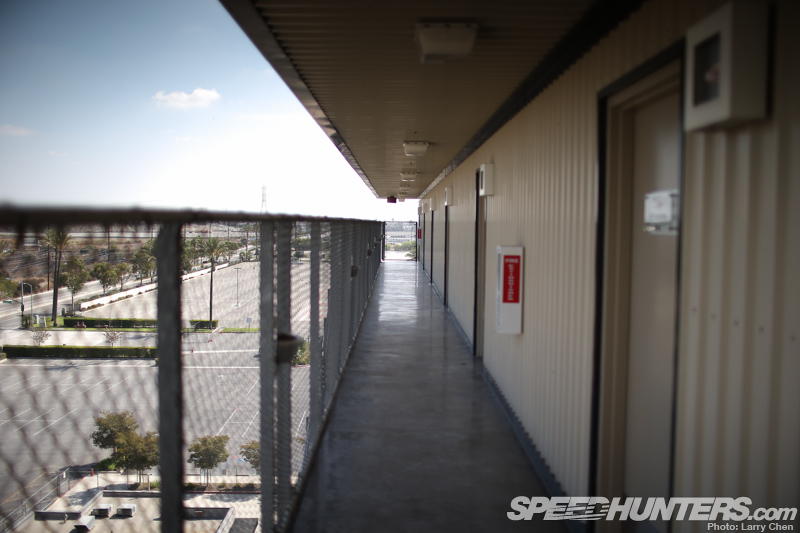 On top of the grandstands are the executive suites. They have 10 of these and you can have catered food and drinks. Sounds like a great way to spend a race weekend.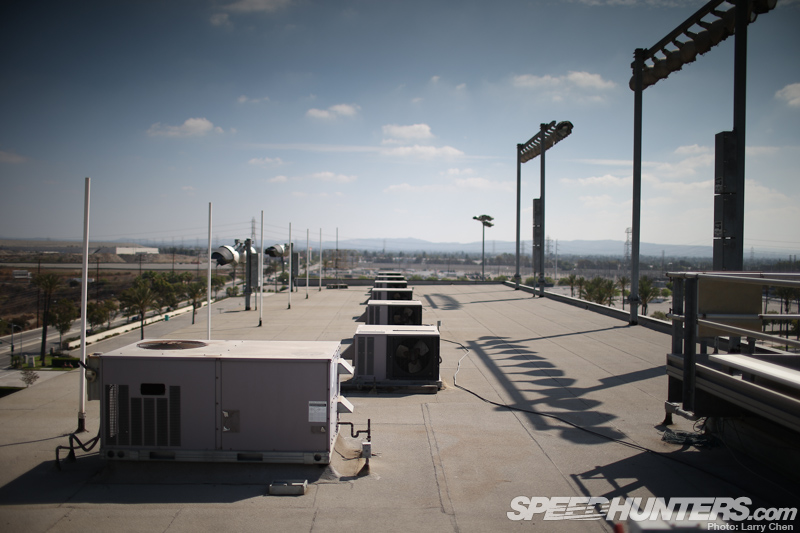 The roof is a really cool place because you get a great vantage point of the track and the surrounding Los Angeles County area.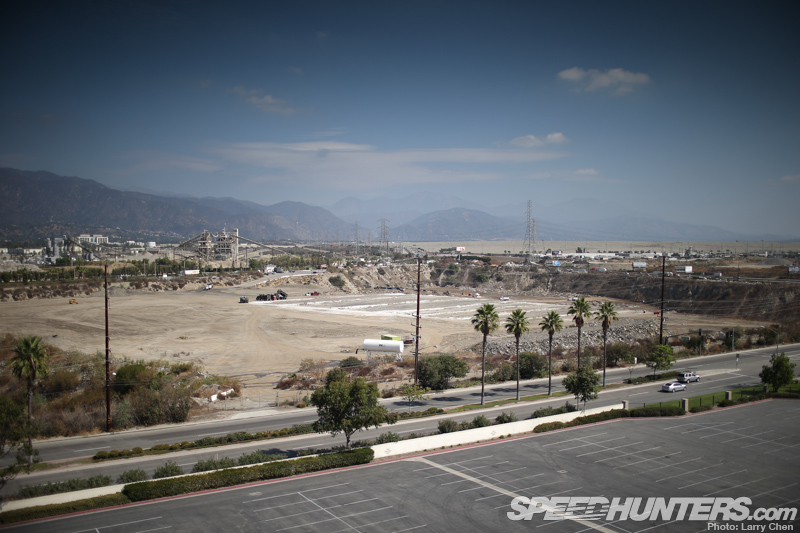 Behind the Speedway you can see some sort of mining operation.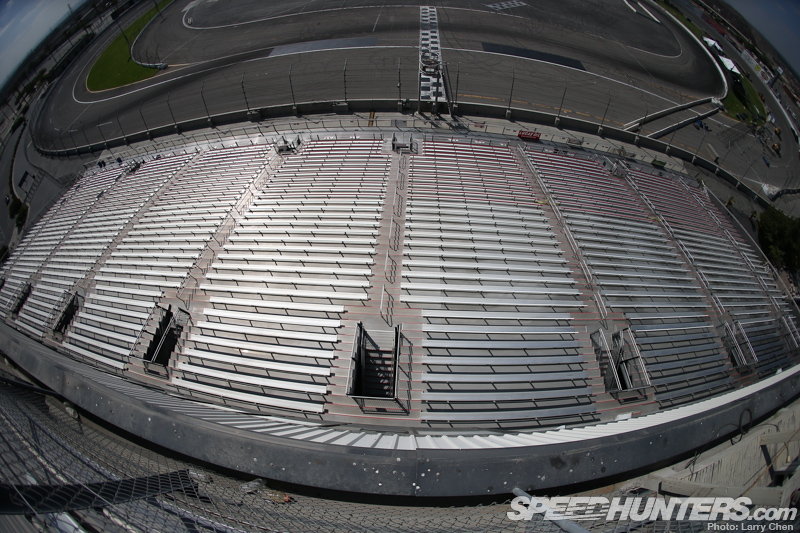 This is the view from the roof. It is quite a long way down so it's not for anyone who is afraid of heights.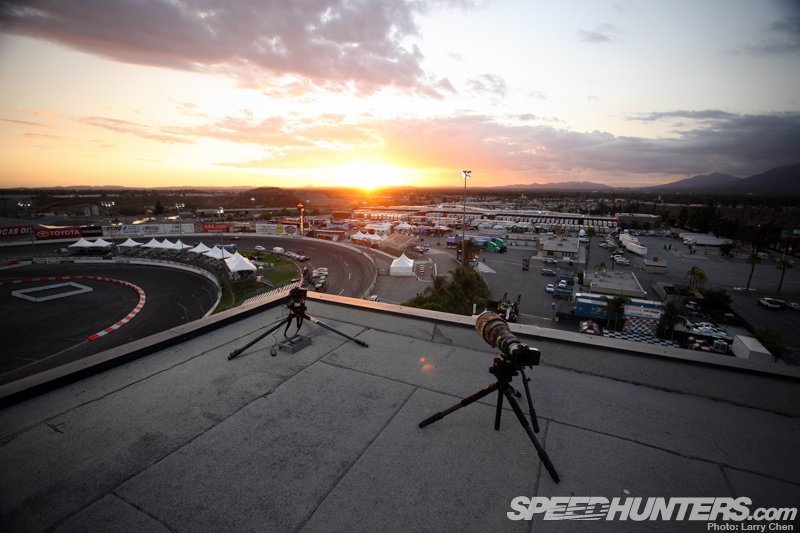 Last year we camped out on the roof and watched the sun set over downtown LA. The resulting shot?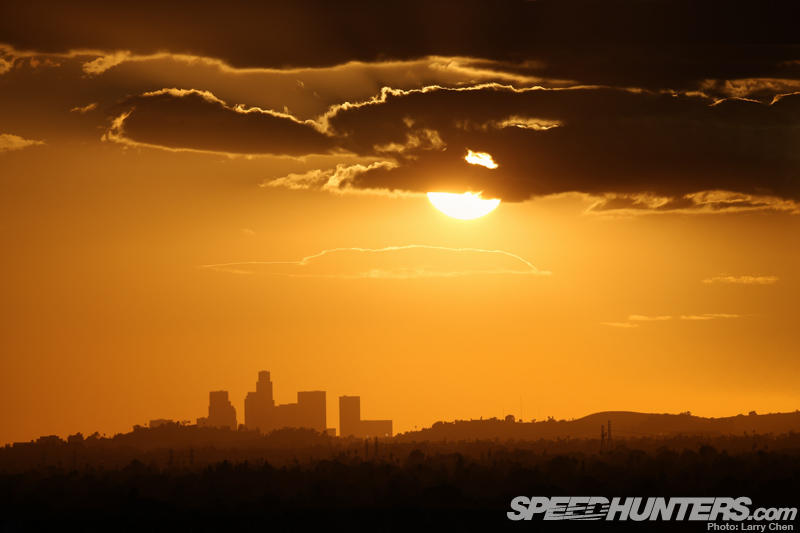 Some days you can even find some beauty through all the smog and pollution.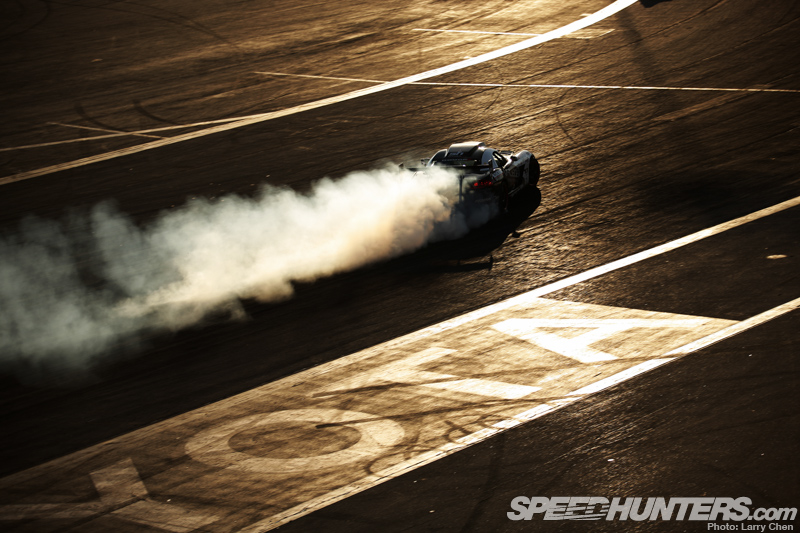 It gave us quite the scare when we thought we would lose our beloved race track for good, but it's back and hopefully it will stick around for much longer.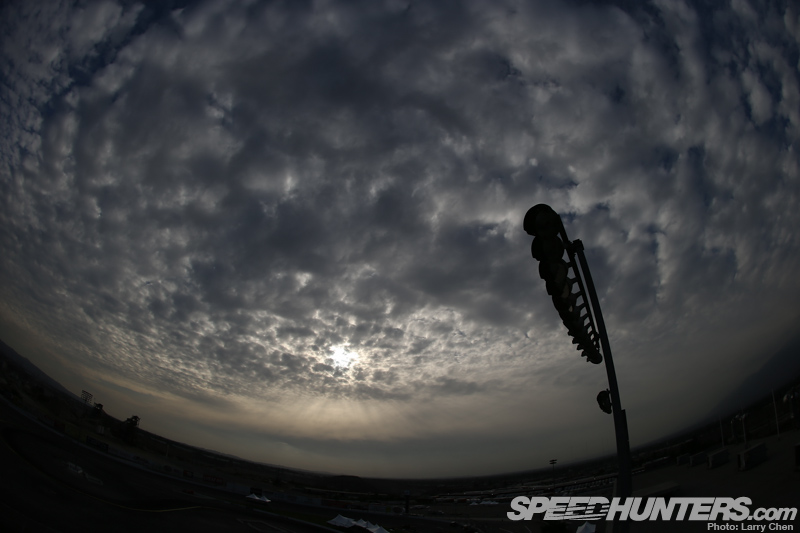 Either way you Speedhunters out there should come by one day and check it out. There is nothing like watching racing under the Irwindale lights….
Larry Chen
larry@dev.speedhunters.com
More temple of speed stories on Speedhunters