Had enough of GT-Rs yet? Hopefully not as I've got one final selection of pictures from what was one epic gathering of Japan's best Skylines. It's so hard to decide what to show, as there are so many generations of the GT-R, it's often hard to satisfy everyone, but I think I'm not wrong in saying that the Hakosuka is one model that seems to be mutually respected by lovers of the brand.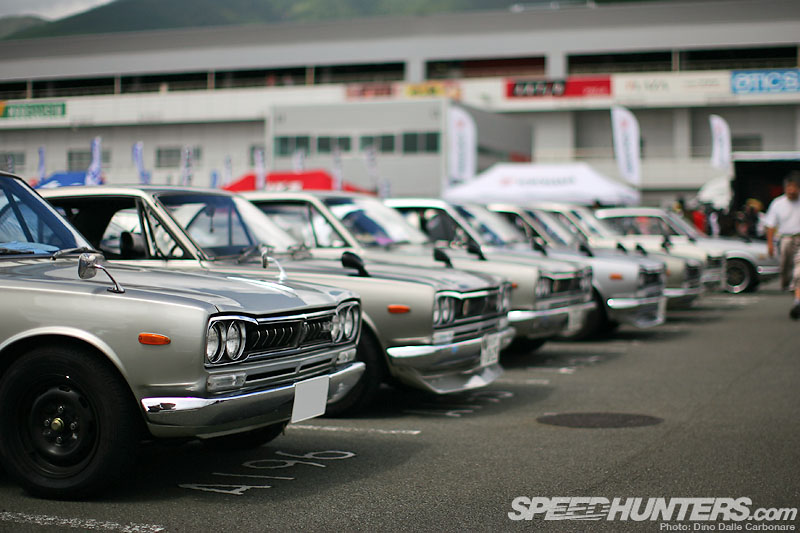 The older Rs took up only a very small section of the paddock at Fuji Speedway, but they had a constant stream of onlookers admiring their classic lines.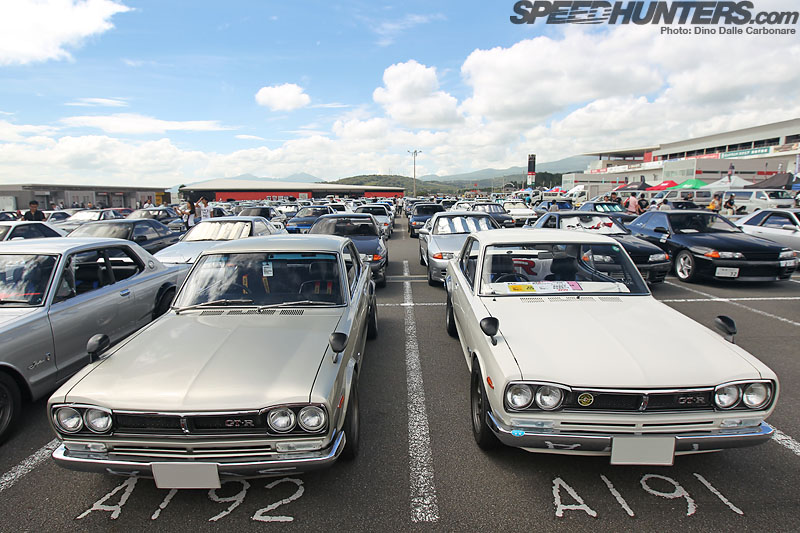 I always wonder what it must have been like to own one of these awesome cars back in the early seventies. In only a few short years Nissan managed to make one hell of a killing in the domestic motorsport scene, this angular race tuned sedan and coupe managing to beat famous brands like Porsche, taking consecutive win after consecutive win.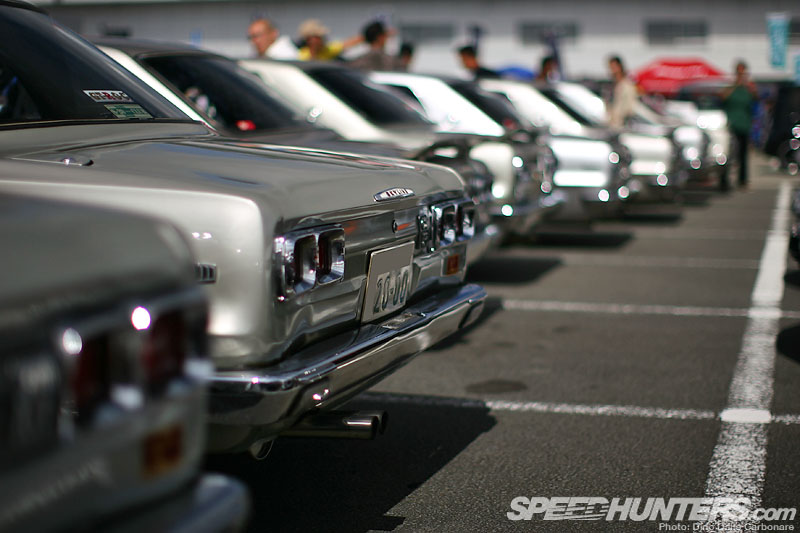 It was an instant hero car and Nissan, like the fans, have never forgotten what the GT-R badge stands for.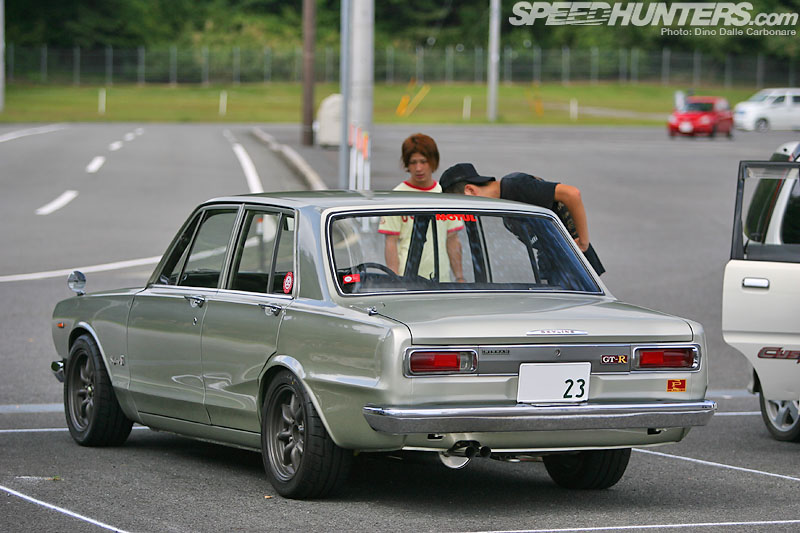 And to see even the younger generation today paying an obvious interest in these older machines, is something very special. From the first…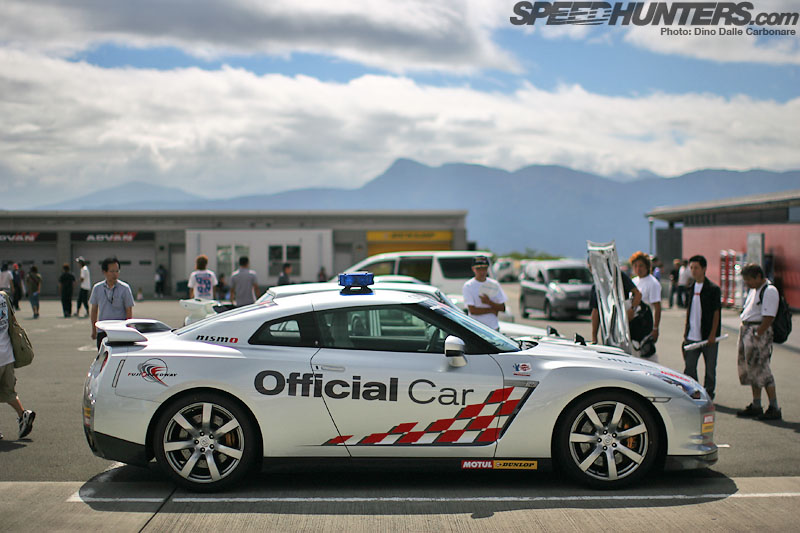 …all the way to the last, the GT-R stirs up a lot of emotion and it is something the Japanese feel very proud about. This particular R35 is one of Fuji Speedways' pace cars, it joins a couple of Lexus IS-Fs in the first pit garage.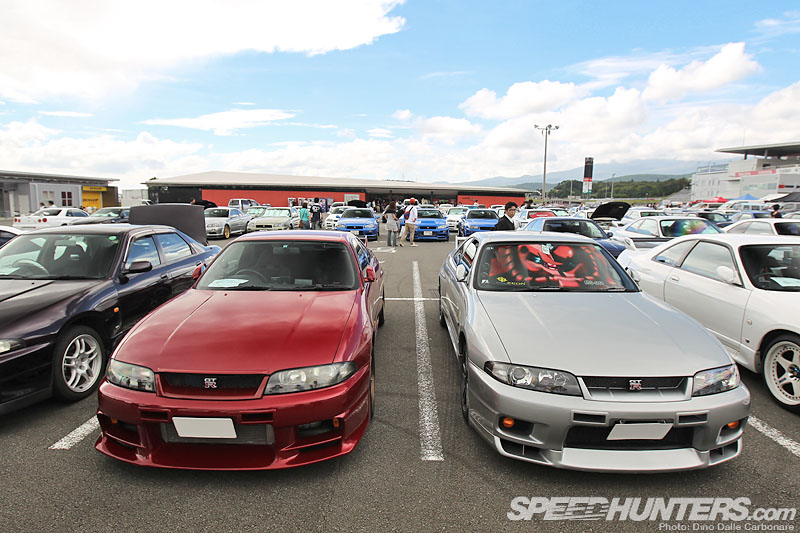 The BCNR33 (1995~1998) is quite a special generation of the GT-R. Along with all its accolades in JGTC and Super Taikyu/Gr.N it was the first and only GT-R to ever participate in Le Mans (1995 & 1996) with that crazy JGTC-derived widebody GT-R LM. It was also the first GT-R that Nismo based a complete car on, the 400R…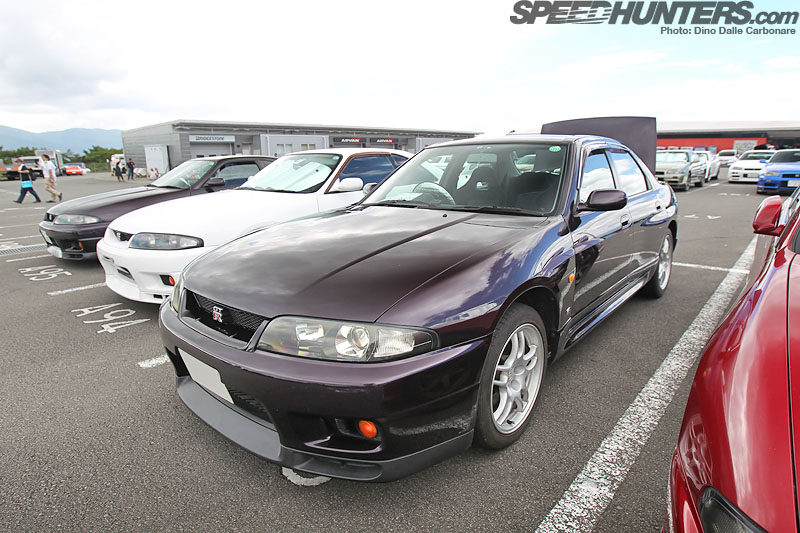 …and of course Autech made the limited edition run of the 4-door 40th Anniversary special…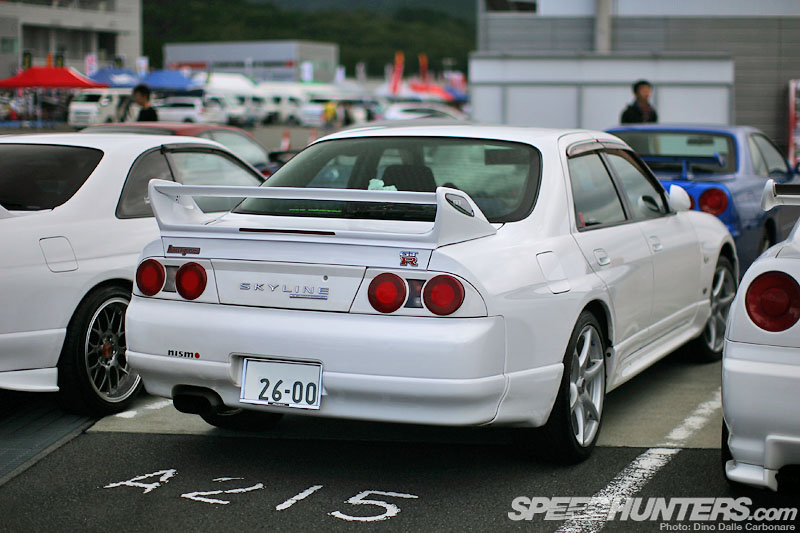 …of which there were quite a few to see at Fuji. Nissan even used the running gear from the BCNR33 to create the Stagea 260RS…making the san-san quite the prolific model!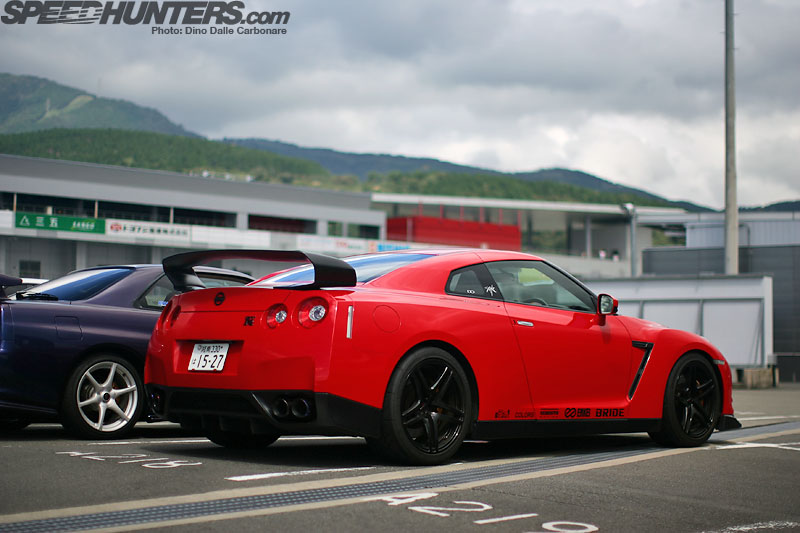 On one far corner of the paddock, next to a rare Midnight Purple 3 BNR34 I found the Shadow R35 demo car, sitting on those stunning forged-magnesium wheels that are made by Enkei. Loved the carbon rear spoiler too…all $6,000 of it!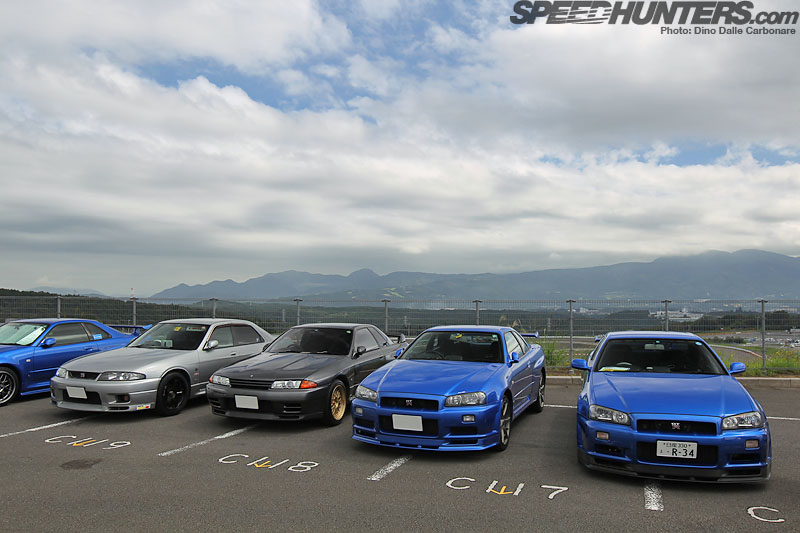 One of the biggest things for readers of GT-R Magazine is to appear in the pages of the bi-monthly publication. At every R's Meeting, provided you send in your application in time, you can line up with your car at the event…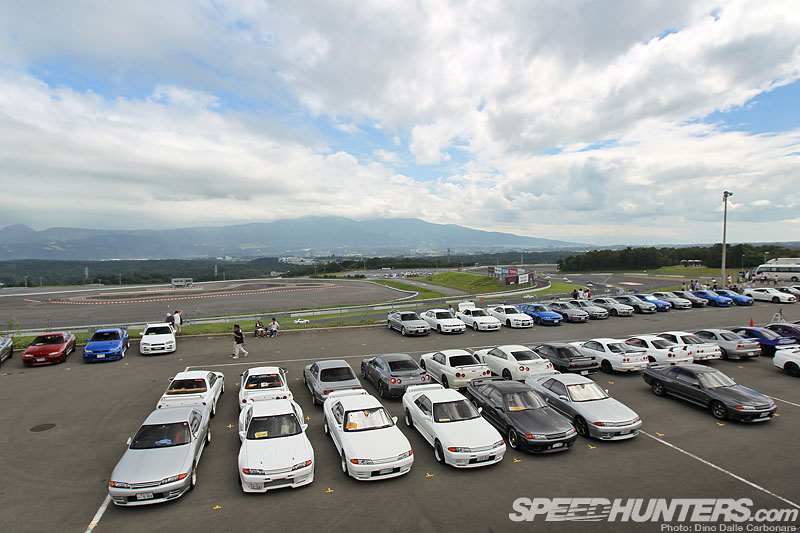 …and get your picture taken. All shots will then be published in a special Owner's edition. As you can see there were quite a few cars waiting…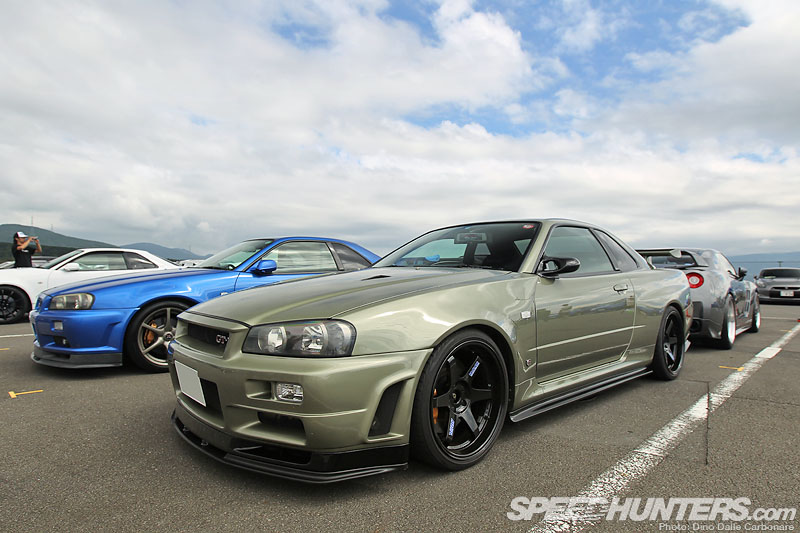 …which is also where I spotted this V-specII Nur on 19-inch TE37s. I liked the contrasting black Nismo skirts and Ganador mirrors. Certainly stood out.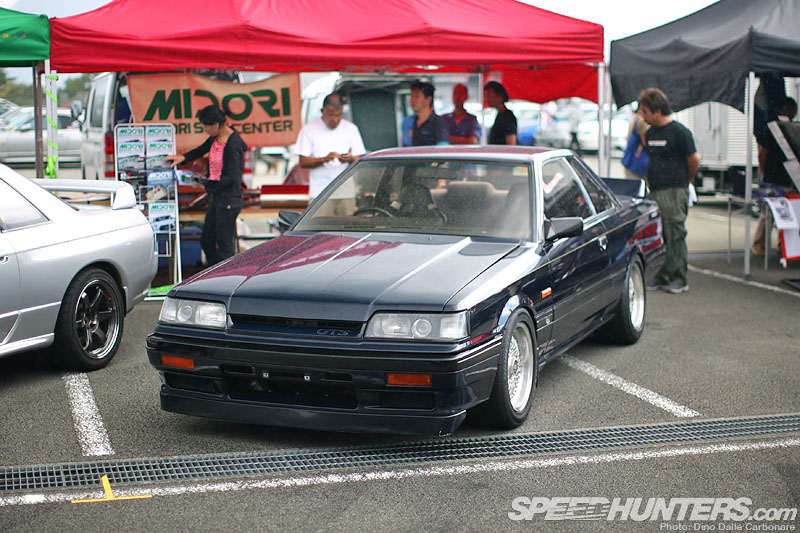 Ok yes this isn't a GT-R but they did make a GTS-R version of the R31, so there is one "R" in there somewhere! This however isn't it…it was a normal GTS on display at Midori Seibi Center, still a very appreciated generation of the Skyline and one which is becoming rarer on the streets.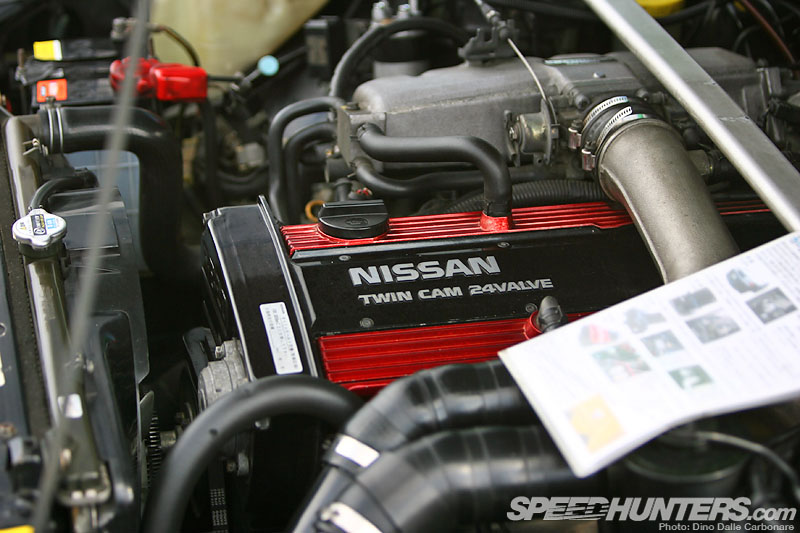 Under the bonnet it runs an RB20DET, which had recently been refreshed by Midori.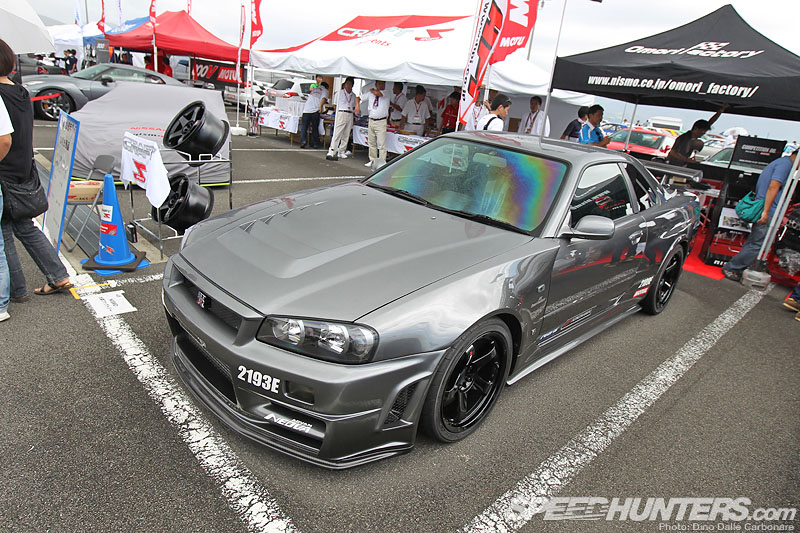 Nismo Omori Factory brought their latest demo car, the Z-tune inspired Clubman Race Spec BNR34. It packs pretty much all the Nismo catalogue parts, as well as a refreshed chassis, carbon fiber Z-tune body pars, R-tune bonnet, R35 brakes, shorter final drive and a lot, lot more.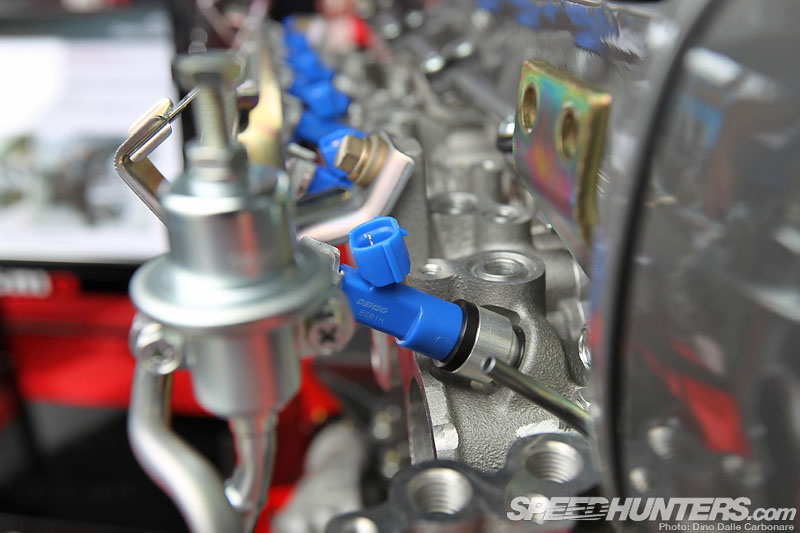 Nismo was actually the first to develop a kit to fit the 12-hole R35 570 cc/min injectors to the RB26, and the silver demo car above is fitted with them.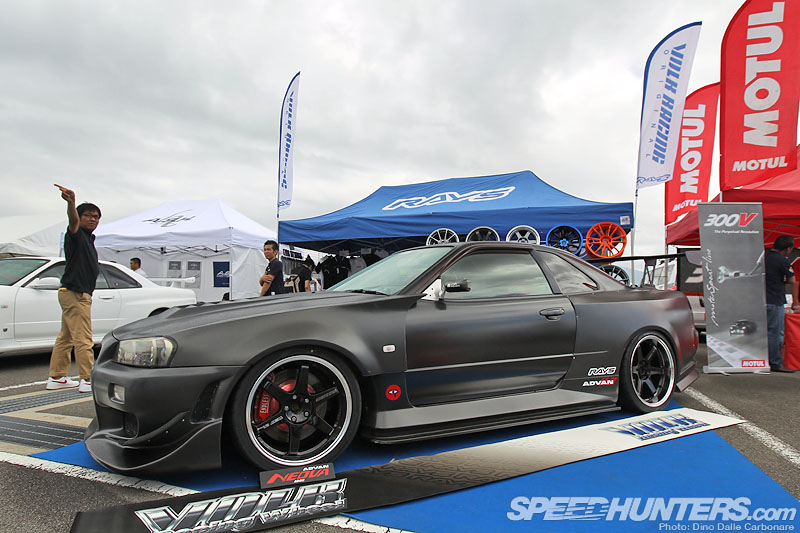 Great to see the Sun Line Racing BNR34 demo car, still looking amazing wearing that widebody conversion. The car was on display at the Rays booth sporting a set of TE37 Tokyo Time Attack wheels.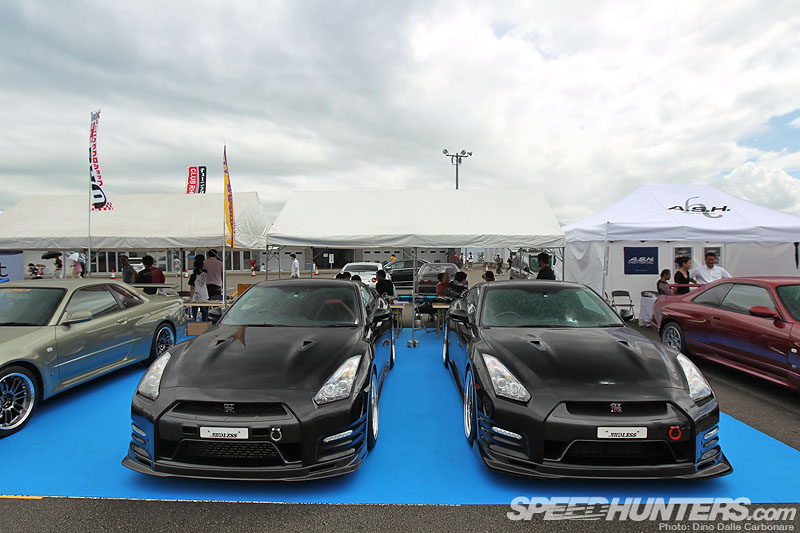 Famous drag shop Endless, long time member of RH9, came up all the way from Kobe with a few of their demo and customer cars. This is one place I've been meaning to visit for years but distance has always made it hard. One day…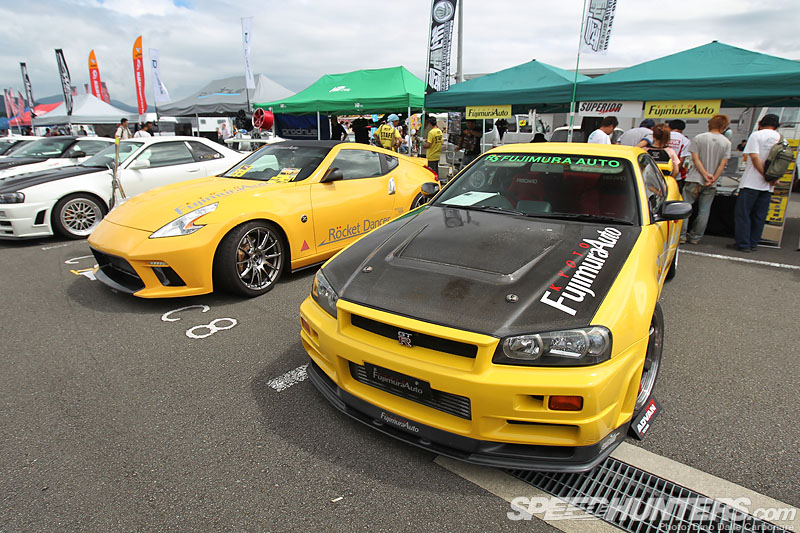 The tuner line up also included Fujimura Auto which strangely enough also had a Fairlady Z on display.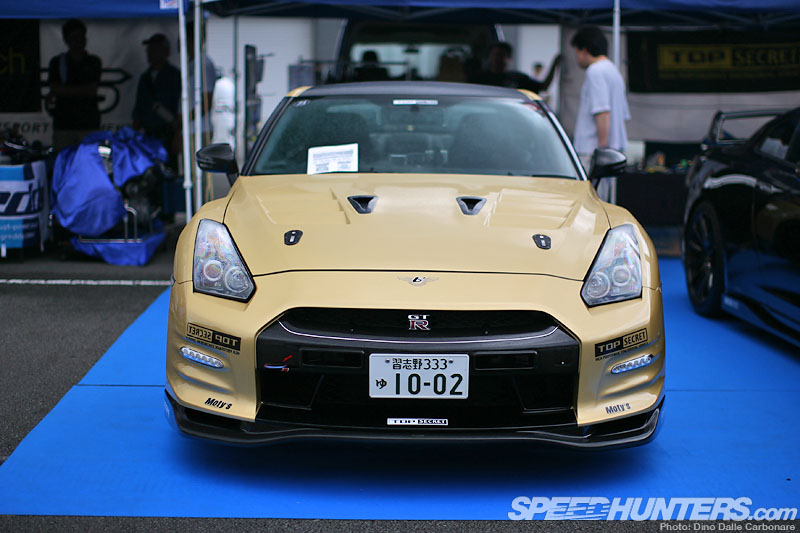 Do I even need to mention where this car was built? Smoky has been very busy getting the most out of the R35 and probably won't give up until he creates the wildest one in Japan.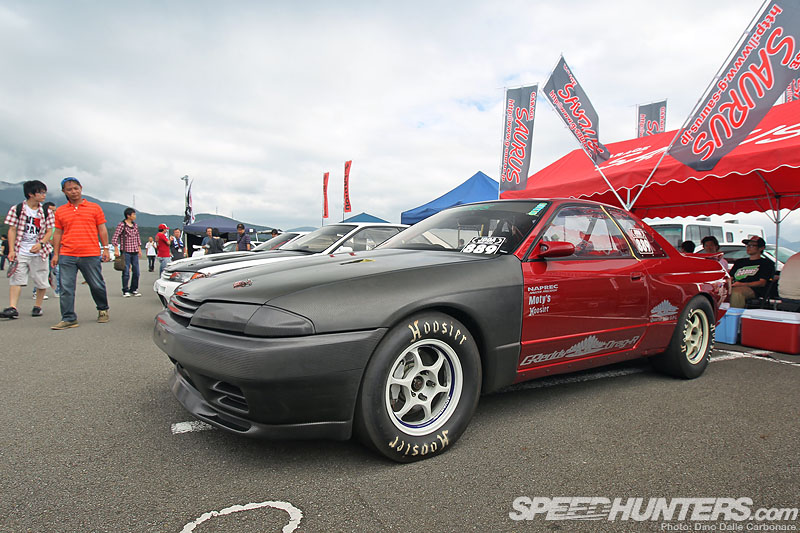 It was great to see Hayashi-san at Garage Saurus participate in the event, one of my favorite GT-R shops by far. His passion for drag racing has never subsided despite the market and magazines pushing for other types of tuning. And it looks like he has been very busy building another crazy R32 beast. I really do need to stop by his shop one of these days, I haven't been there in years!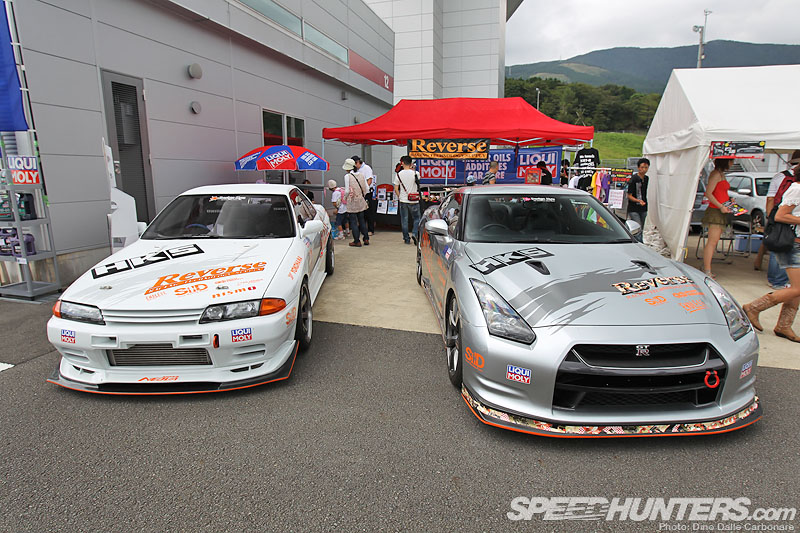 Reverse is a tuning shop we have been seeing a lot more of at time attack events like the yearly Super Battle.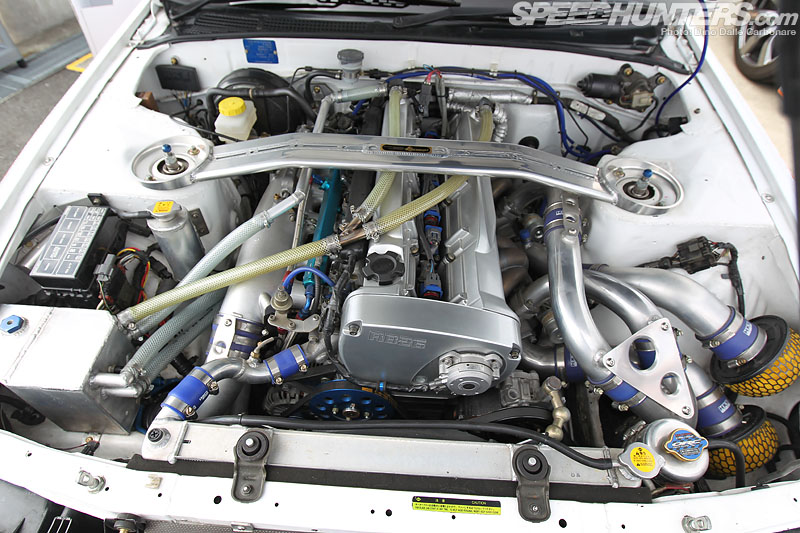 It's hard not to like their style, they keep it simple and concentrate on the mechanicals. It's hard coming across engine bays this clean and uncluttered on GT-Rs.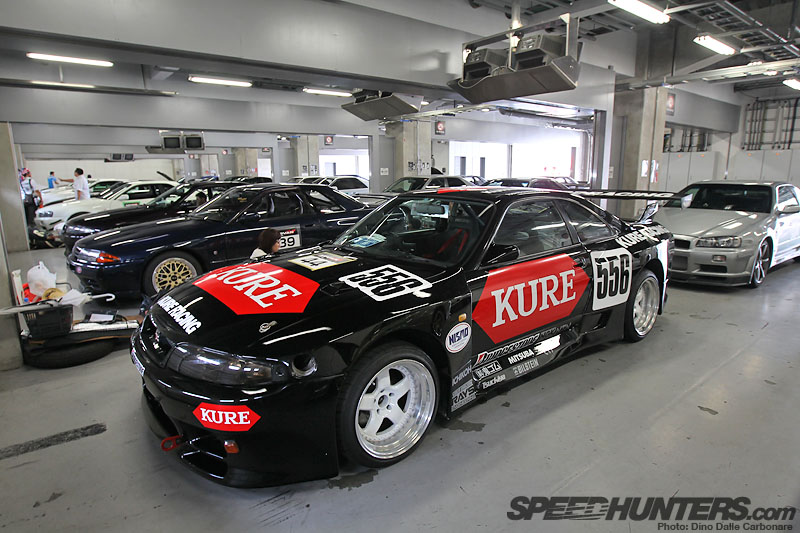 All the owners that signed up for the timed sessions spent the day in the cool pits, waiting for their turn to head out on track. It was there that I found this crazy widebody BCNR33, inspired by the 1996 Kure Racing JGTC racer.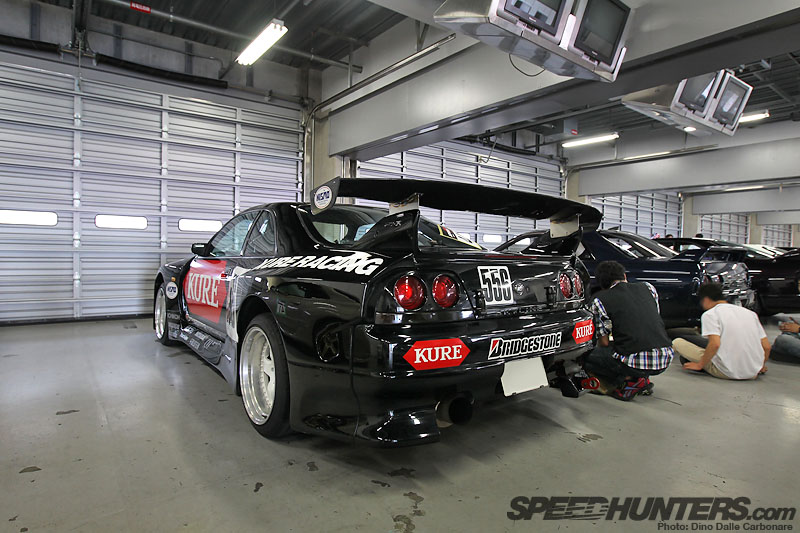 The black body sort of hides the true girth of the conversion, which I think may have been made by Behrman.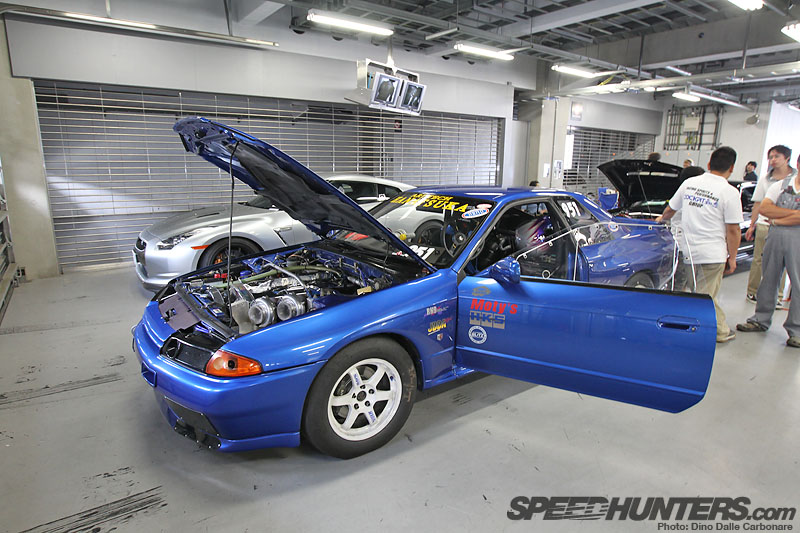 Further up the pits the RH9 guys were lining up with their cars. Like I mentioned before it was so refreshing seeing some good old highly tuned GT-Rs up close, and better still seeing there are quite a lot of shops that still cater to this wilder side of the GT-R world. This Art Tech Hanatsuka BNR32…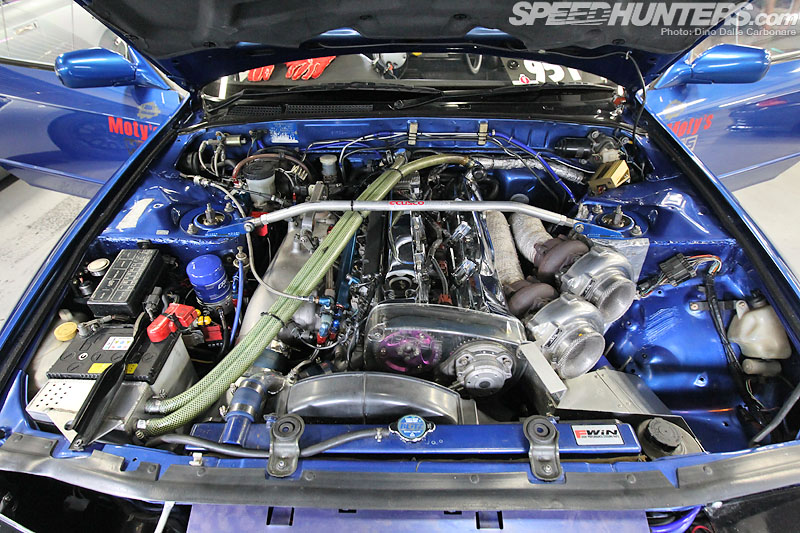 …was looking pretty serious with a pair of top-mounted GT-3037s. A set up like this, with supporting mods, will have no problem yielding 900 to 1000 HP.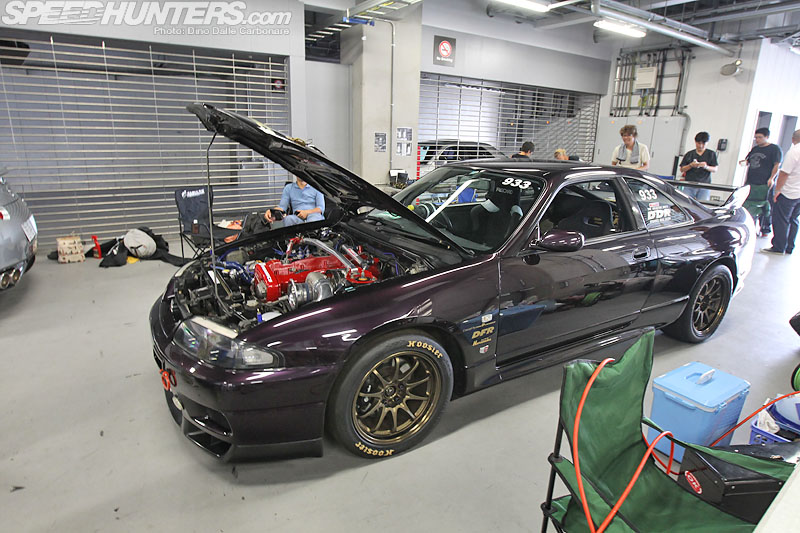 Drag cars looks so aggressive, even just sitting there!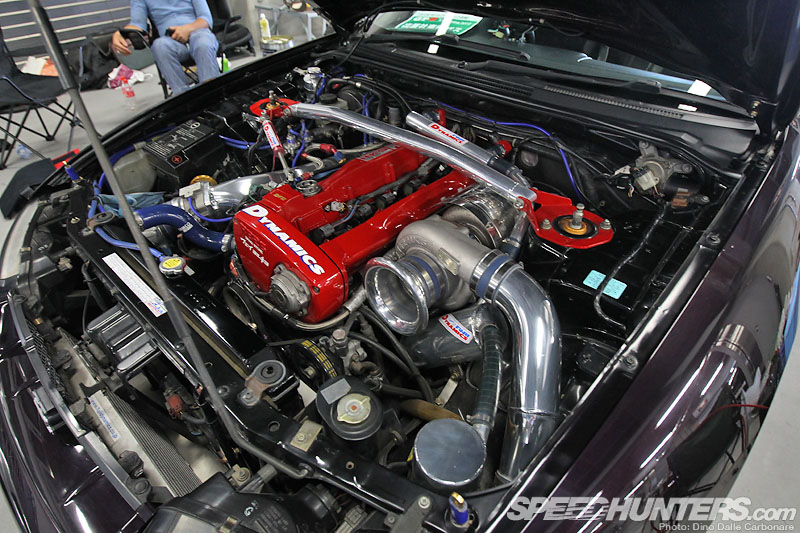 This Fujii Dynamics R33 prefers to develop power with just a single turbine, an HKS T51R, which has been used in many 1000 HP builds.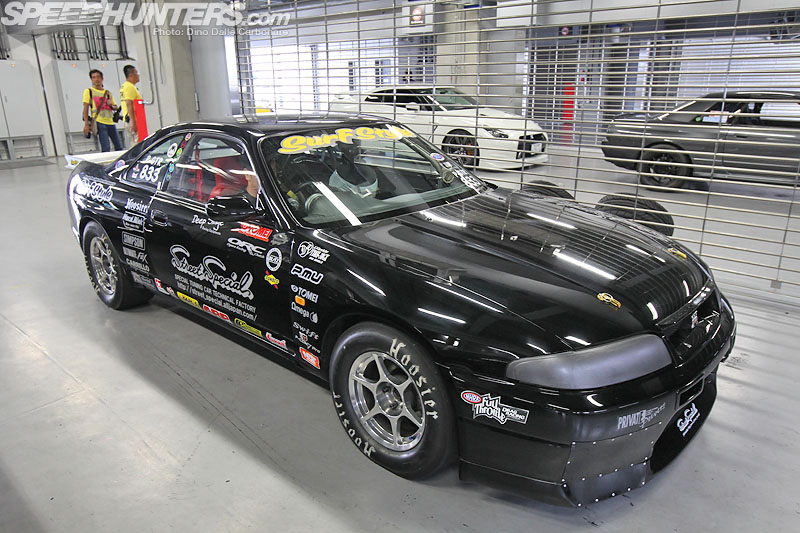 Another R33 was this proper drag car from Street Special Garage Yawata. Crazy looking thing!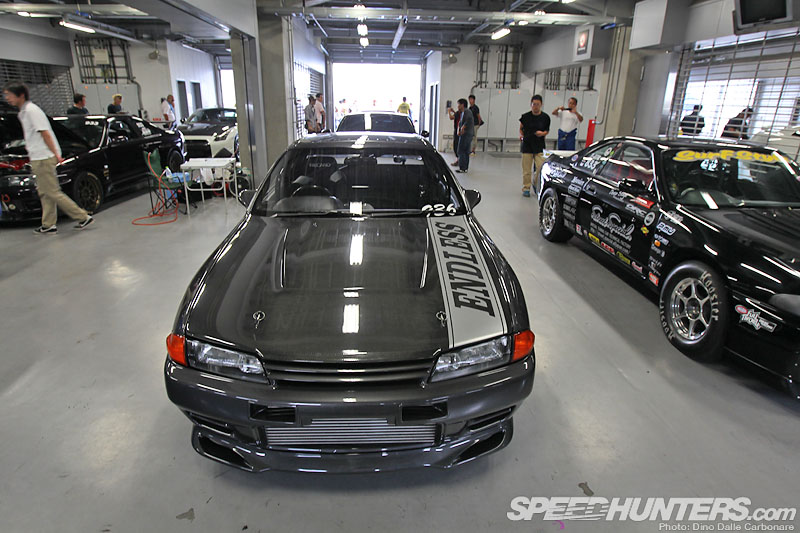 The Endless R32…which later demolished a fully tuned R35 GT-R.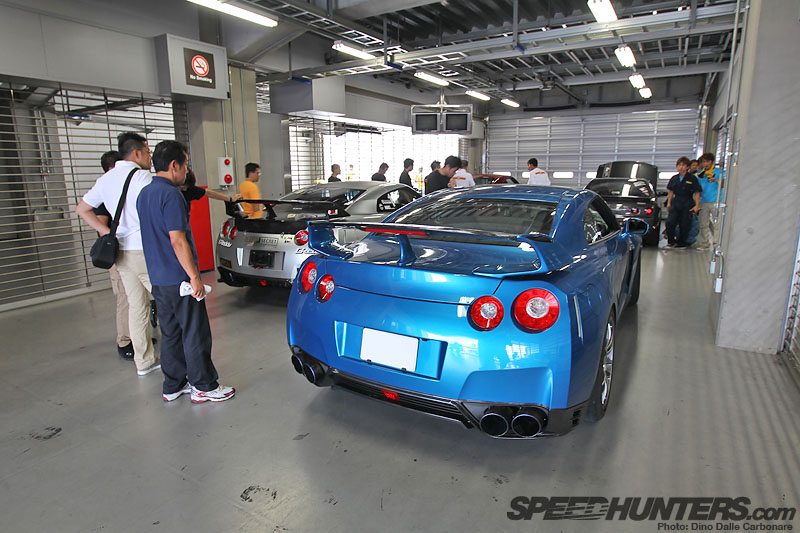 This is the Option Magazine R35 project car built in collaboration with Top Secret, which on top of some basic engine tuning, has also received a full respray in a what can best be described as a lighter version of the BNR34 Bayside Blue.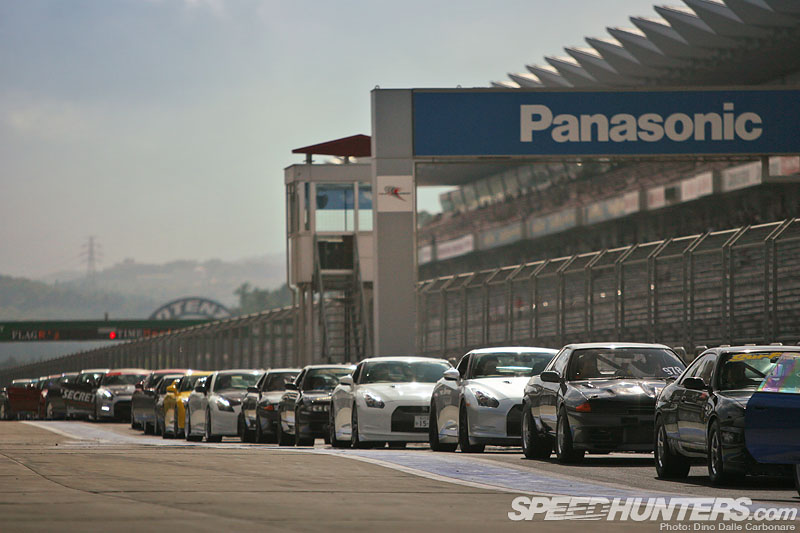 All the tuner cars were made to line up along the pit lane…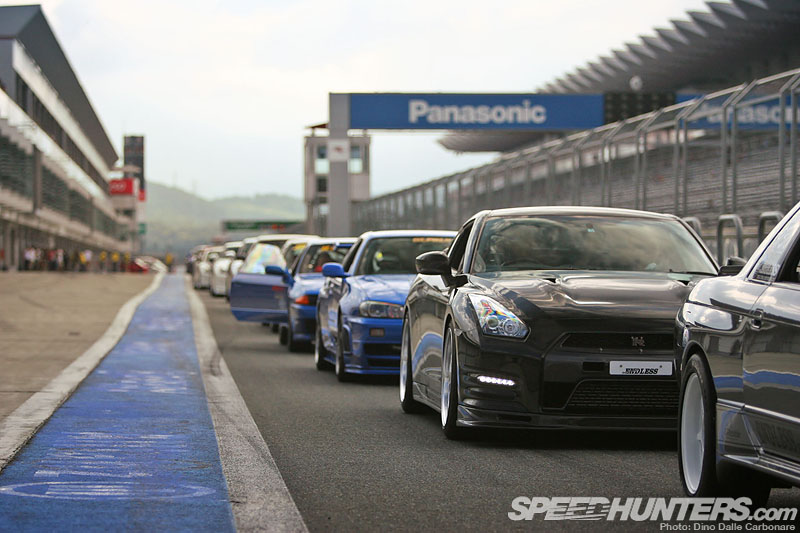 …before being given the green light to enter the track. They had to do an almost whole lap before stopping about half way down…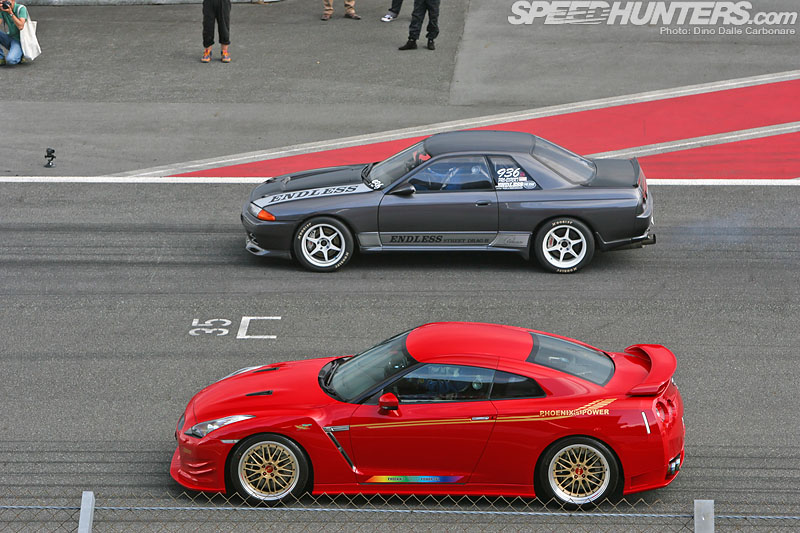 …the main straight, where the un-timed drag races would be held from. Here is the Endless car getting ready for its battle against the Phoenix's Power R35 shop car.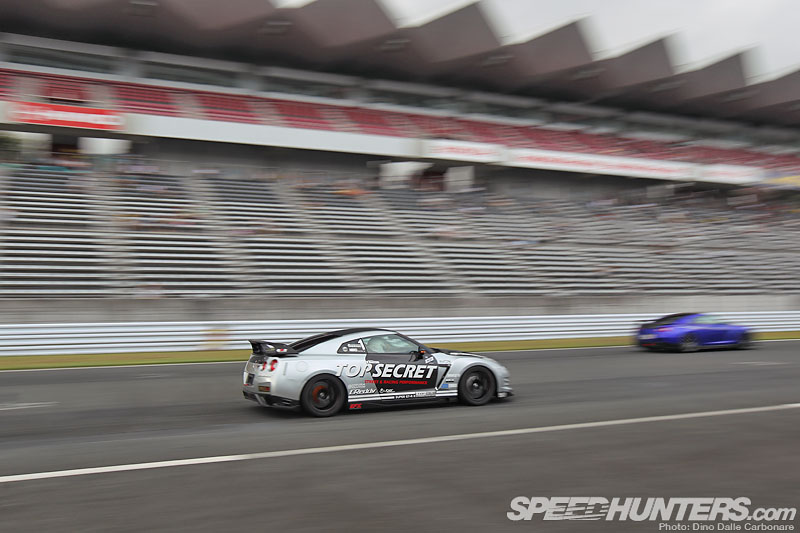 Smoky went head to head with the other Phoenix's Power R35, messing up the start but later catching up towards the end. It seemed quite a few R35 drivers were having trouble launching off the line, either that or it was a sort of preventive measure to not put unneeded stress on the dual clutch transmission.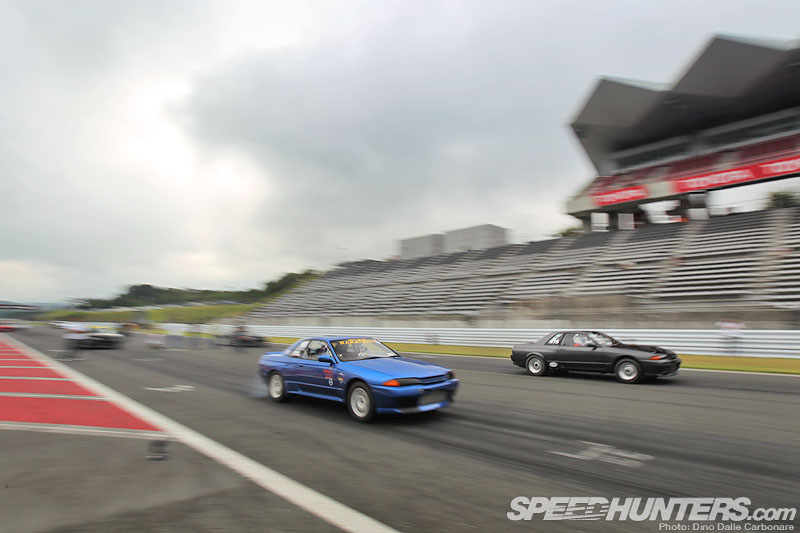 For the older GT-Rs it was a simple exercise of selecting rpm, usually right against the fuel-cut, and sidestepping the clutch.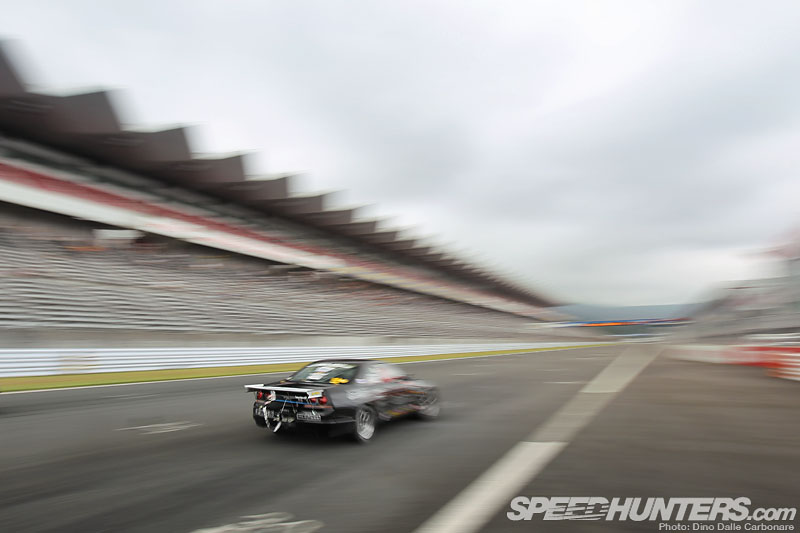 It does make for quite a show!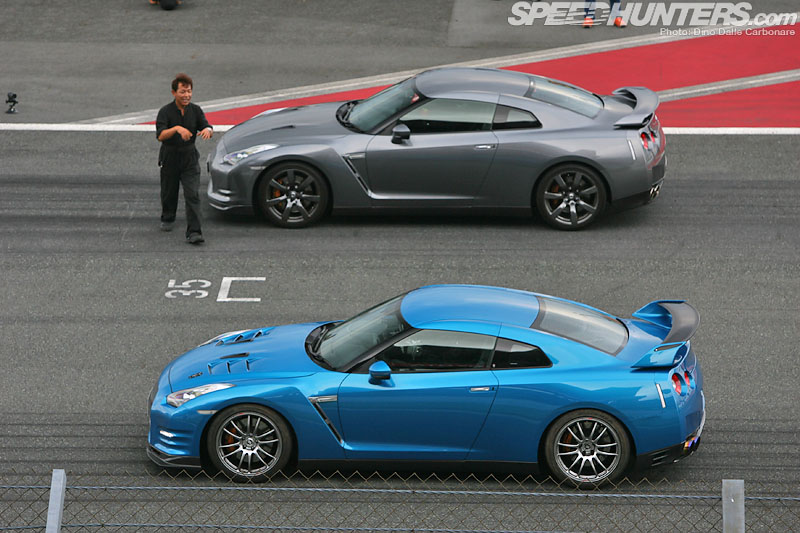 One of the battles was magazine vs magazine, GT-R Mag's silver san-go, against the Option Mag blue project car.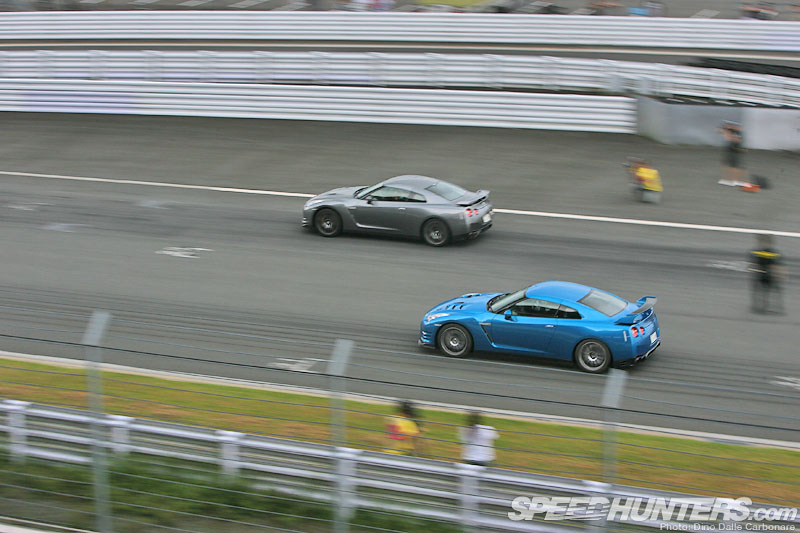 The GT-R Magazine got an awesome, electronically assisted, launch off the line and ended up winning the run.
I hope you enjoyed this year's R's Meeting coverage. As ever it was a fun event and one that I already can't wait to cover next year. Make sure you scroll down and download some desktops!
-Dino Dalle Carbonare
---
---
---