There are two very distinct schools of thought when it comes to approaching modern day classics. A lot out there appreciate authenticity, striving to bring back a particular car's beauty and performance without striving too far from its originality. There are others of course, that think quite differently. Tomoya Watanabe belongs to the latter group.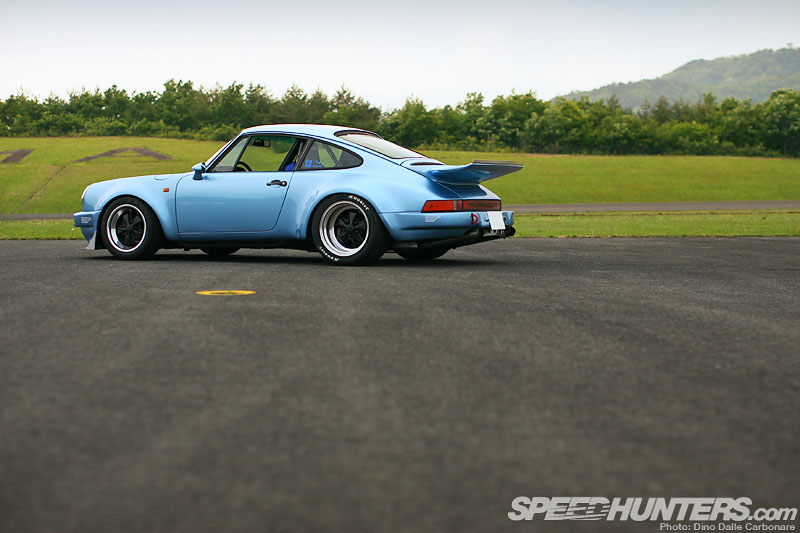 He is the man behind Supermachine, a specialist shop dealing in customizations of all sorts offered on a vast variety of European and American cars. His exposure to great machinery has lead him to develop his very own distinct style…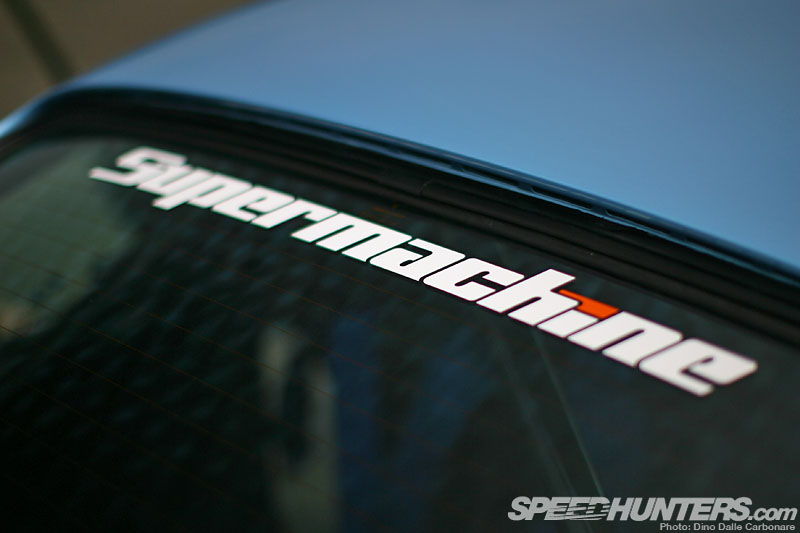 …a way of doing things that may or may not appeal to all, but certainly gets him noticed. It's probably his love of American cars that sort of lead to the creation of the car you see here…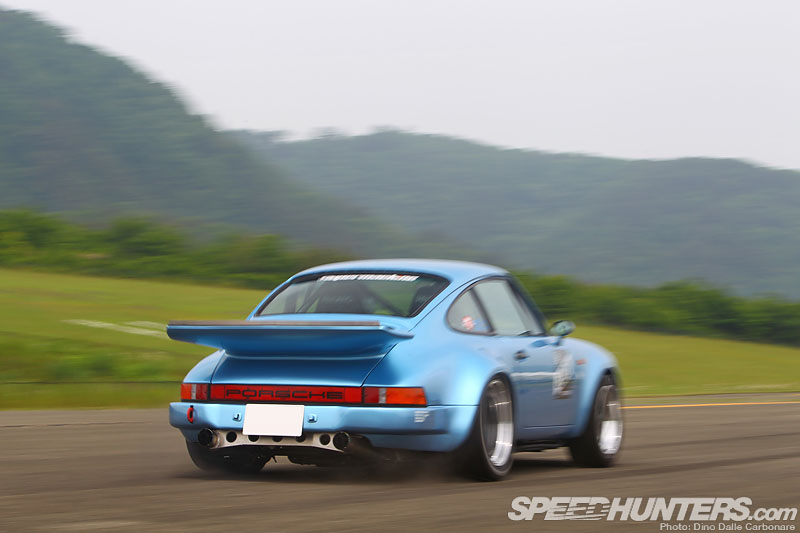 …a project he has been working on for a few years and that now.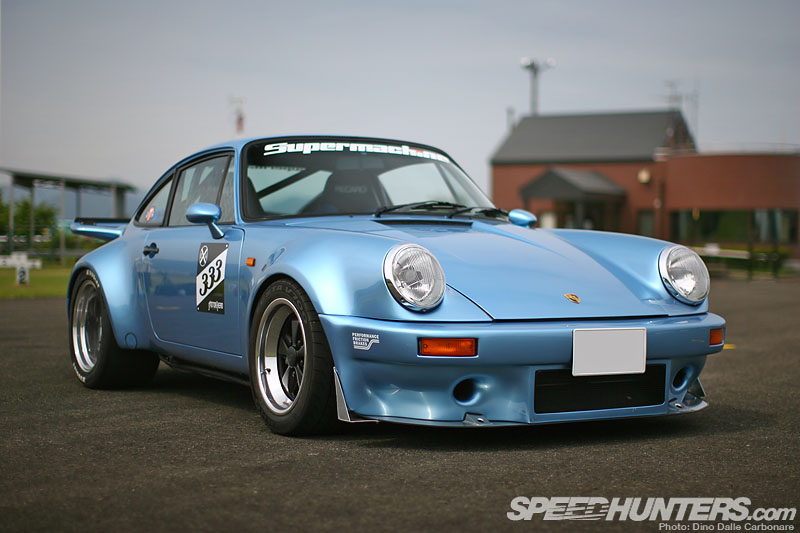 Prior to encountering the Supermachine 930 at the Motor Head Zero Yon event a couple of months back, I had heard of its existence by word of mouth. I then saw a feature of it on an issue of Motor Head magazine where it was tested at Fuji Speedway, managing to record a very impressive 1'50″59. Just to put that into context a very well driven Porsche 997 GT3 RS wouldn't be able to get within 5-seconds of that time.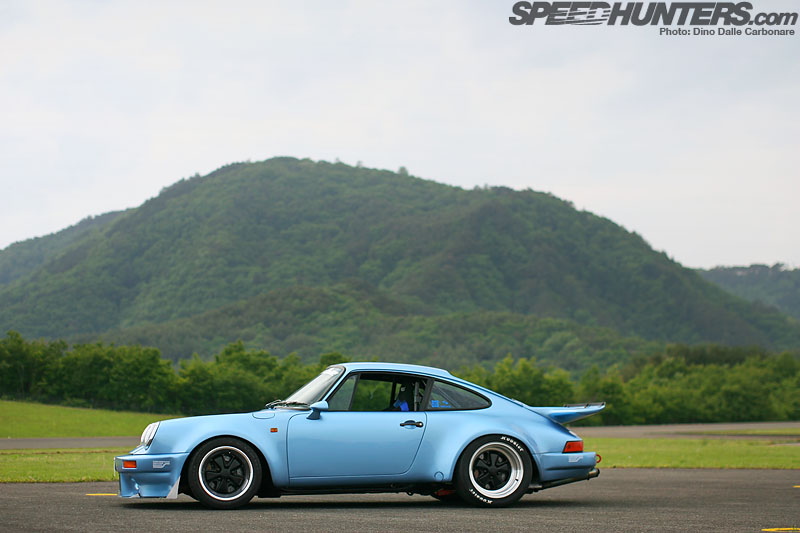 Looking at the car aesthetically it presents itself like a very well prepped 930; Watanabe-san decided to go for an International Race of Champions (IROC) feel, inspiring himself to the Porsches that competed in the series back in the seventies. The 930 runs a '74 RSR front bumper, sporting some additional custom aerodynamic add ons like the splitter and canards, which Watanabe-san made himself from sheet aluminum.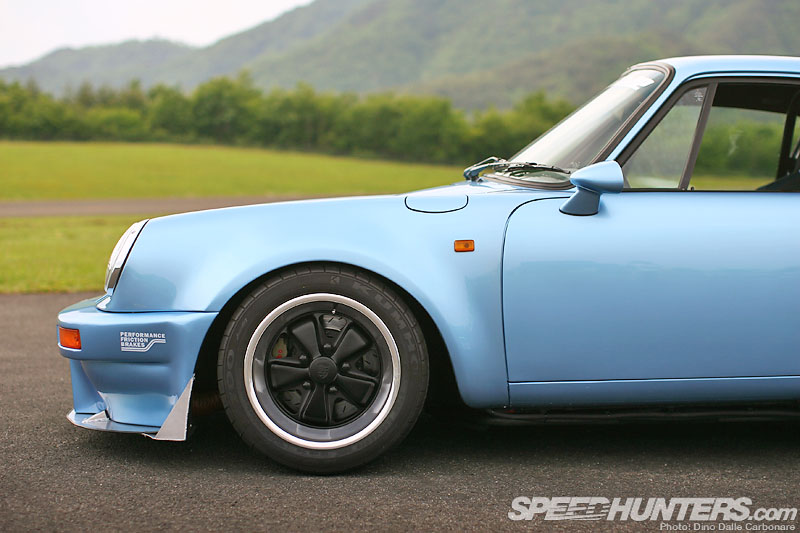 There is no mistaking the fact that this car is set up for functionality, the ride height on the adjustable Sachs dampers set low for handling benefits, rather than "stance." A ton of work went into the suspension with a Tarett Engineering 935 front suspension kit being fitted, replacing the 930's factory suspension arms and cross member. The Sachs coil overs that Watanabe-san custom built were then mated to Hyperco 350 lbs springs and fitted along with Elephant Racing quick change camber plates, so that optimal rates of negative camber could be set. A sway bar kit from Tarrett Engineering completes the work to the front end.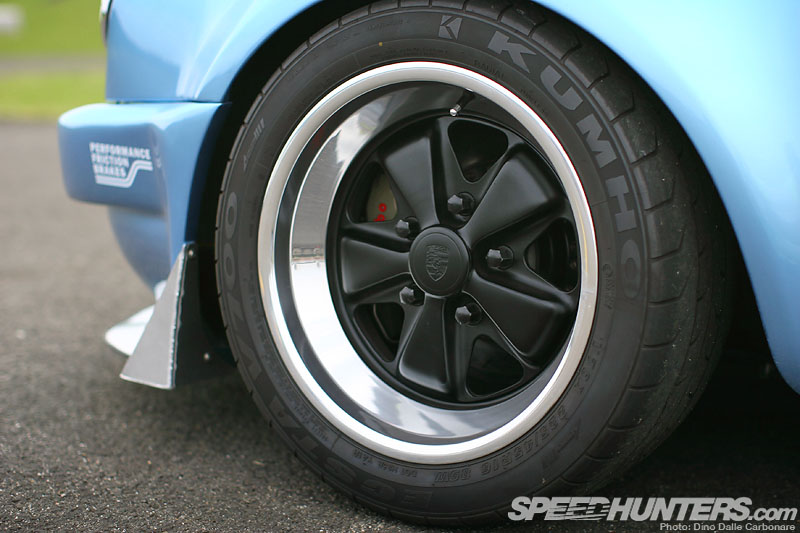 For a period-correct race look Watanabe went with a set of 16-inch by 8J Fuchs wheels, running Kumho V700 rubber in 225/45 sizes.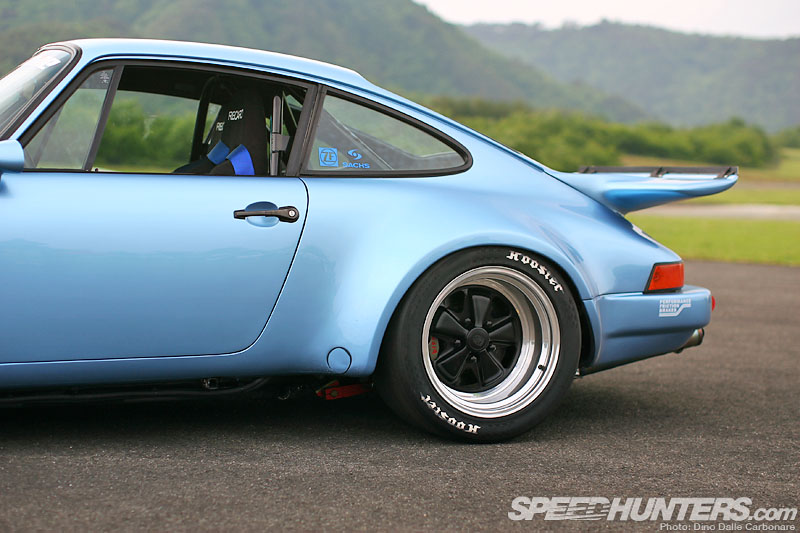 The coilover conversion at the rear comprises of Sachs struts & Hyperc0 450 lbs springs mated to Tarett Engineering 935-style spring plates. Tarett Engineering sway bars & a drop link kit complete the work to the new layout which further benefits from Elephant Racing monoball cartridges for better feel. 17-inch by 11J Fuchs wheels were shod in…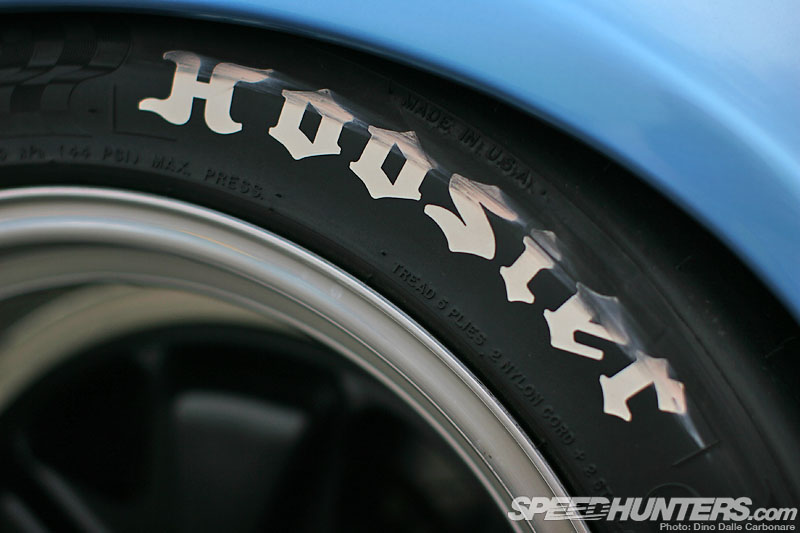 …Hoosier drag radials for the Motor Head Zero Yon event, measuring a whopping 315/35 to help the vintage Porsche hook up well off the line.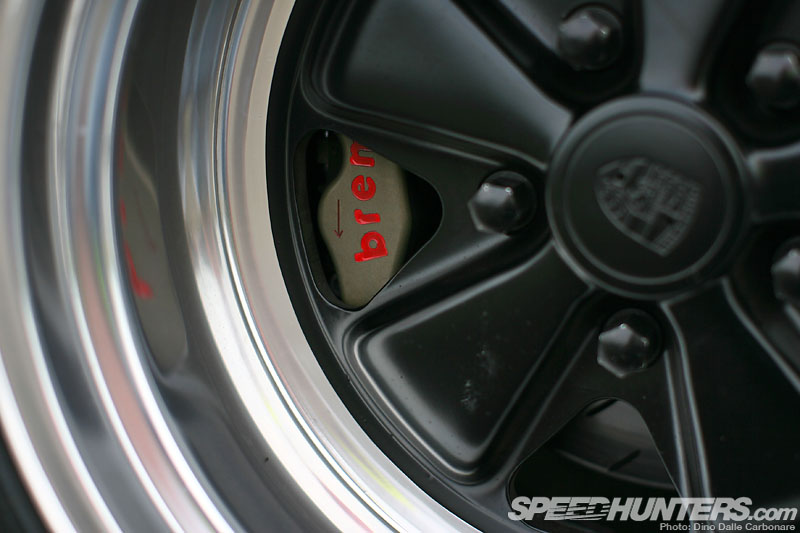 Watanabe-san created a custom upgraded braking package based around 4-pot Brembo Racing calipers, used both front and rear.  PFC discs complete the upgrade, measuring 323 mm x 29 mm up front and slightly smaller 313 mm x 25 mm at the rear.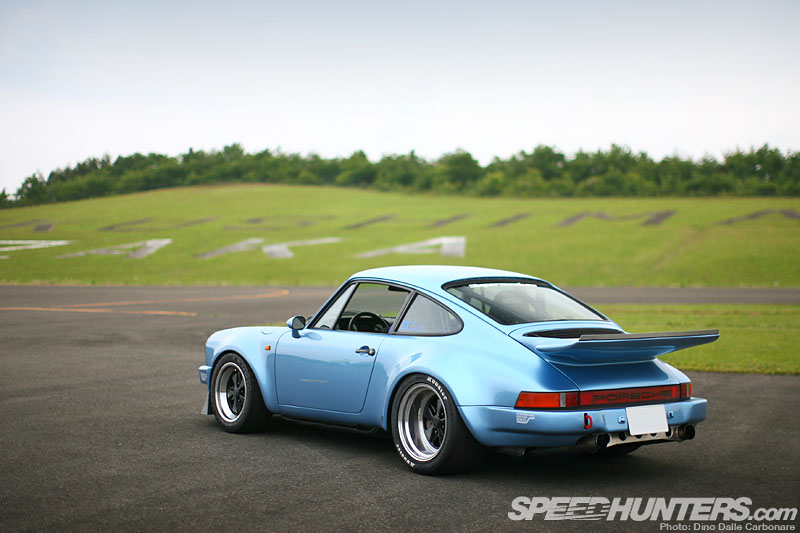 At the back the 930 sports a '74 RSR bumper, but of course it's the massive…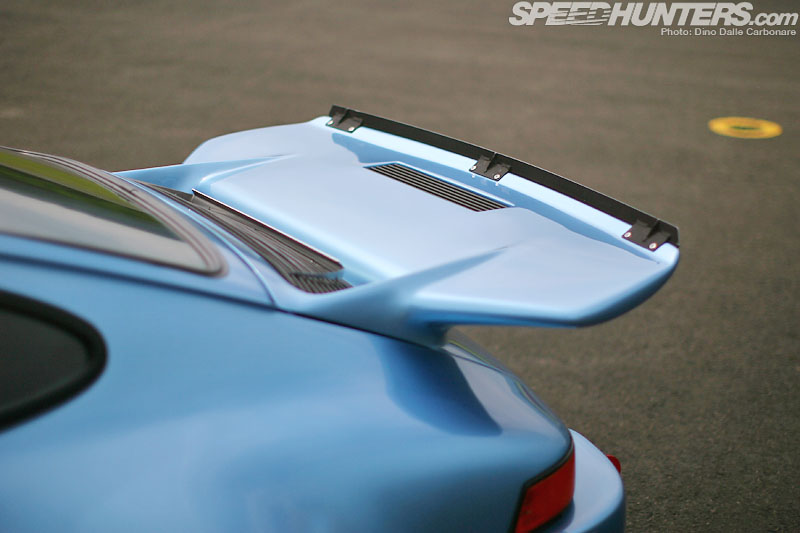 …IROC whaletail spoiler that dominates the rear end.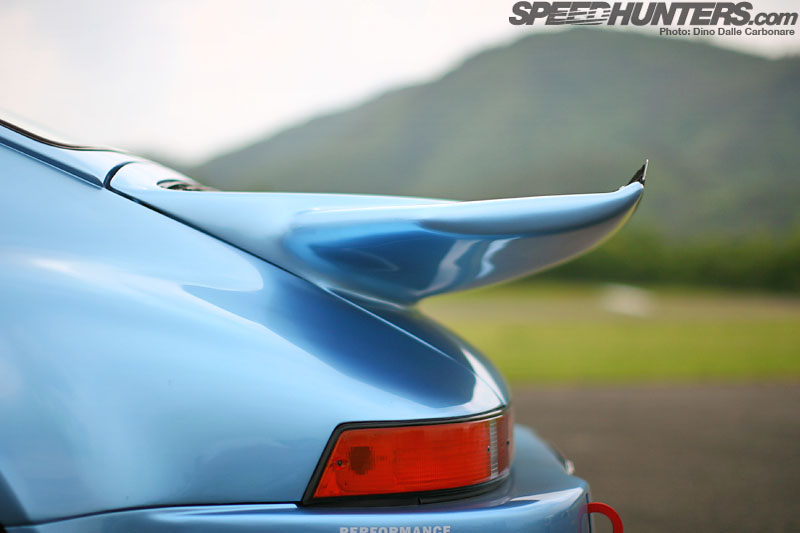 Watanabe-san added a gurney flap to increase aerodynamic efficiency, a nice touch to the car's over all profile.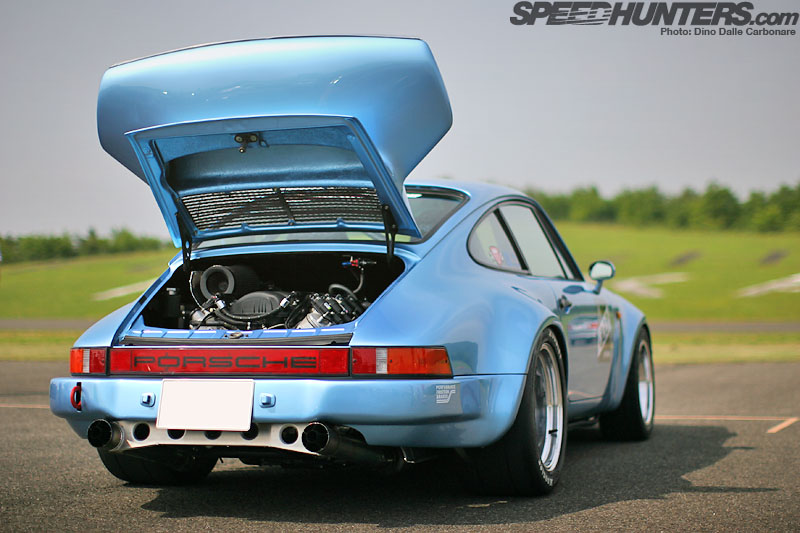 However the real jaw-dropping begins when you swing open the rear engine cover…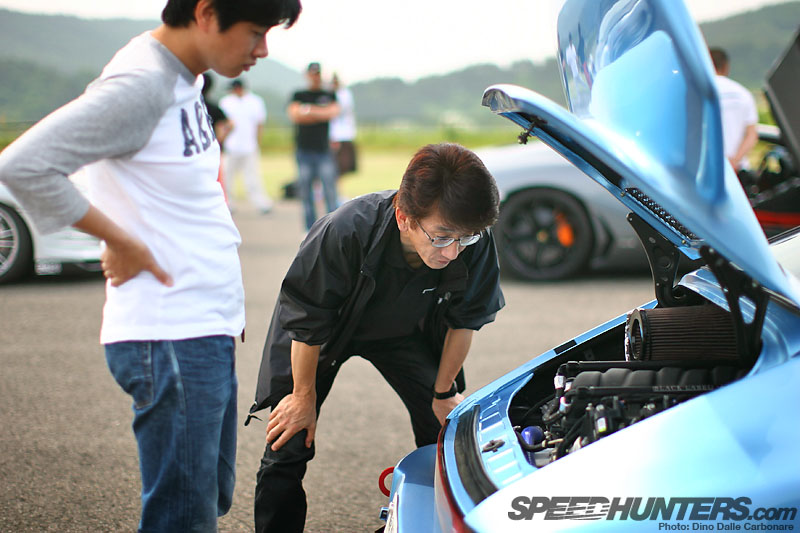 …because what lies beneath is something that had even Nagata-san, aka Smoky, from Top Secret stare in awe.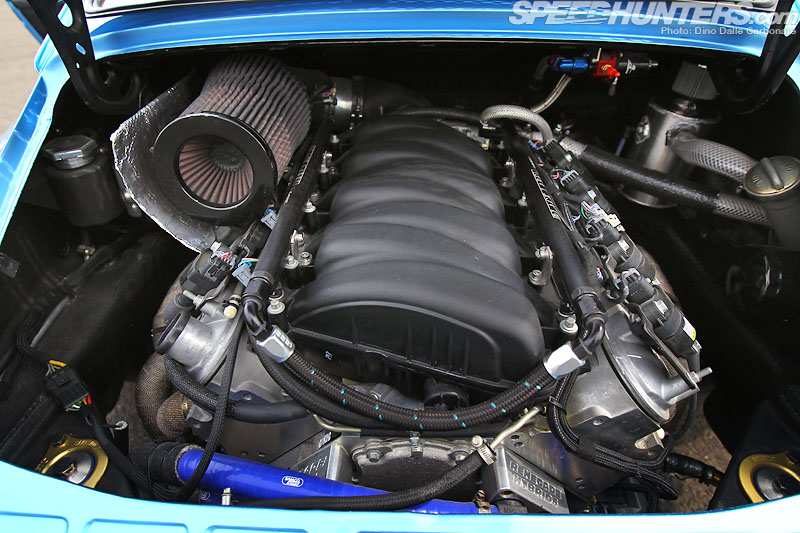 Due to all the work Watanabe-san does on American muscle, the idea to get rid of the flat-six motor and drop in a 7L LS7 engine had probably been maturing in his head for some time, something that would make a lot of Porsche enthusiasts look away in disgust. But it was more of a challenge to see just how well he could make the car perform.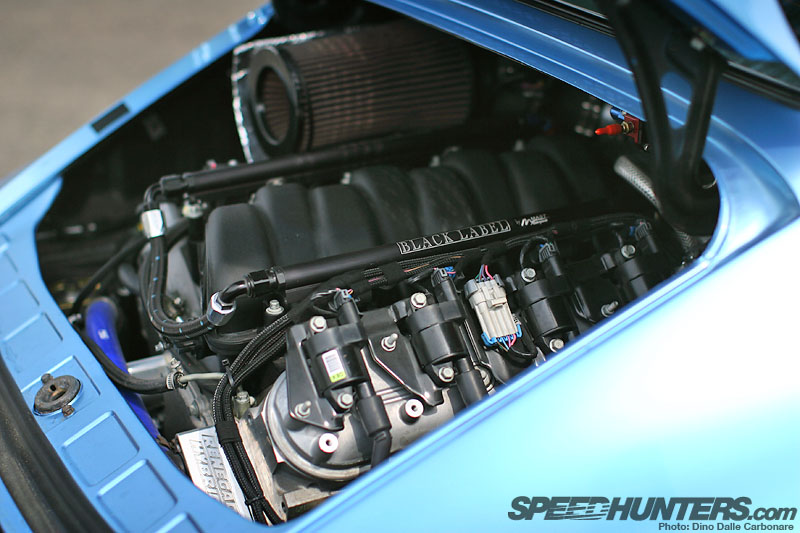 So thanks to a Renegade Hybrids V8 conversion kit Watanabe proceeded to fit the LS7…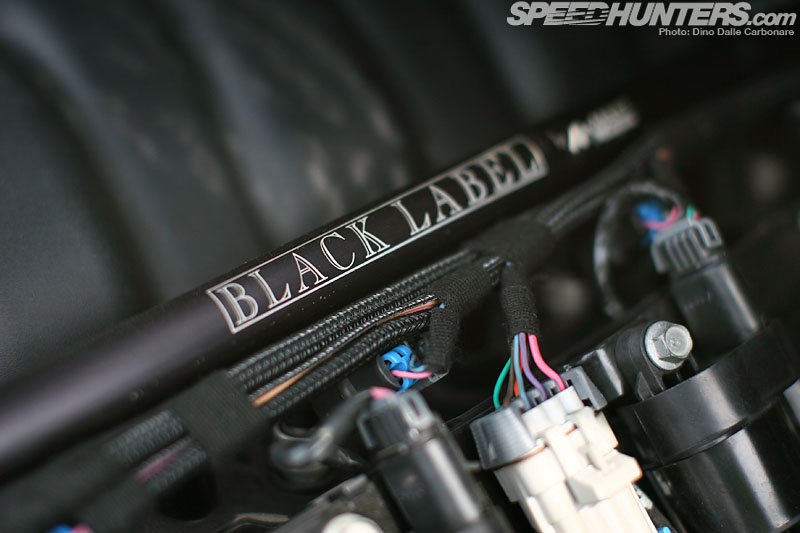 …as well as taking care of some additional modifications like converting the motor to dry sump lubrication and fitting Mast Motorsport Black Label fuel rails along with a Bosh Motorsport 044 fuel pump.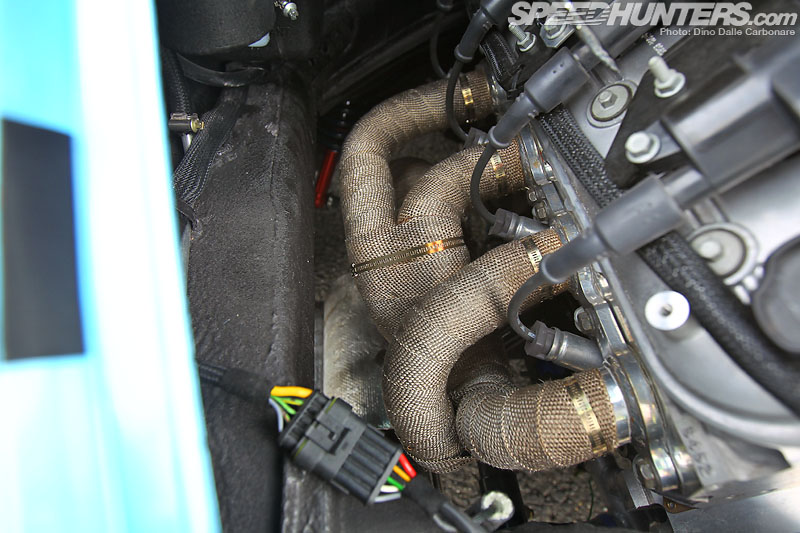 Headers followed, wrapped to help lower engine bay temperatures so that the motor doesn't suck in too much hot air through the K&N cone filter. I was quite surprised to see just how vast the 930's engine bay actually is.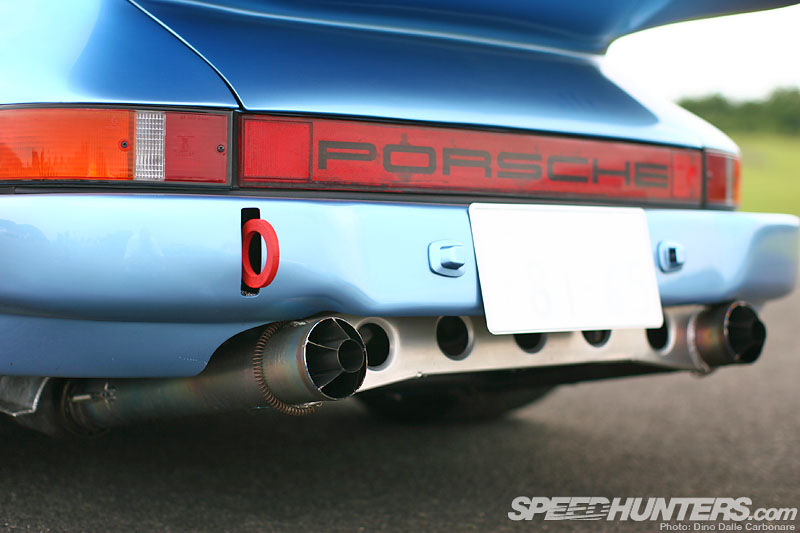 Watanabe-san then fabricated his own titanium exhaust system…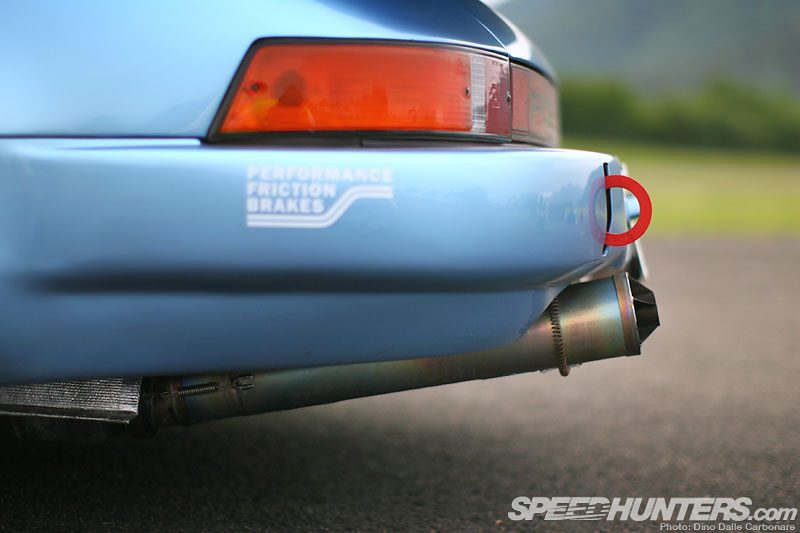 …nothing short of a work of art! With a custom ECU map the free-flowing exhaust and custom intake help to bump power from the stock 505 HP to around 540 HP. Watanabe-san runs a 930 Turbo transaxle gearbox with custom bellhousing to match up to the LS7. Lots of upgrades were carried out to guarantee reliability, things like hardening of gearbox components as well as adding a transmission and LSD cooler.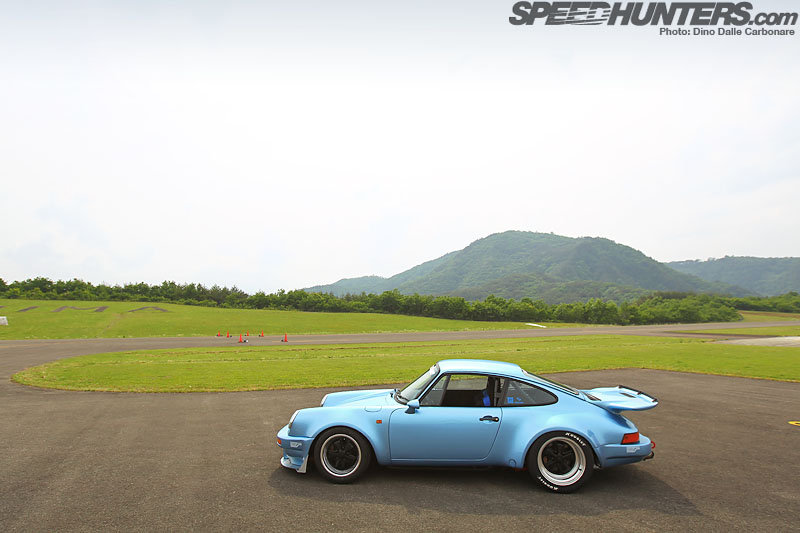 With all the amount of work that has gone into this 930 it's not surprising that it was among the favorite cars at the Zero Yon event.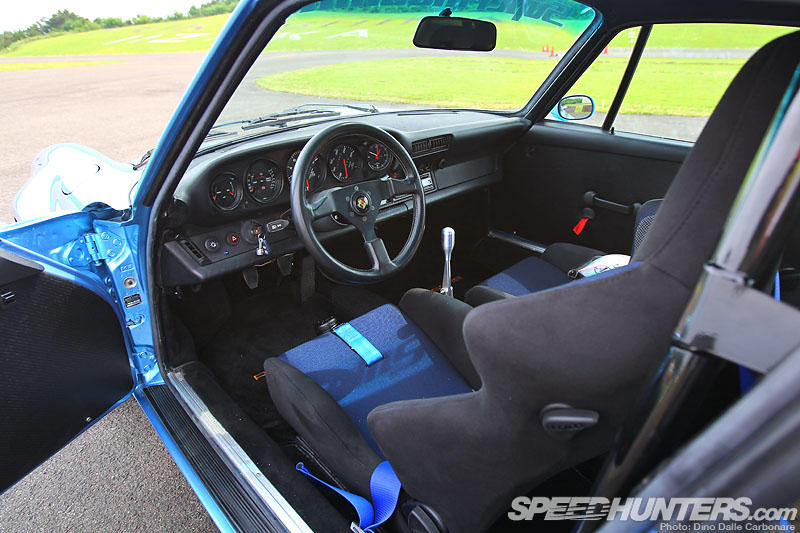 The amazing attention to detail continues inside where we find a pair of Recaro reclinable bucket seats…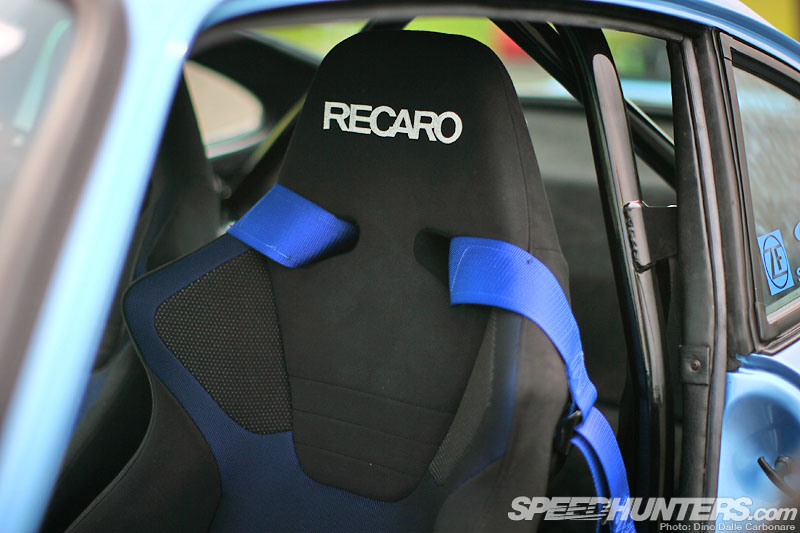 …the driver's side one sporting a 5-point racing harness.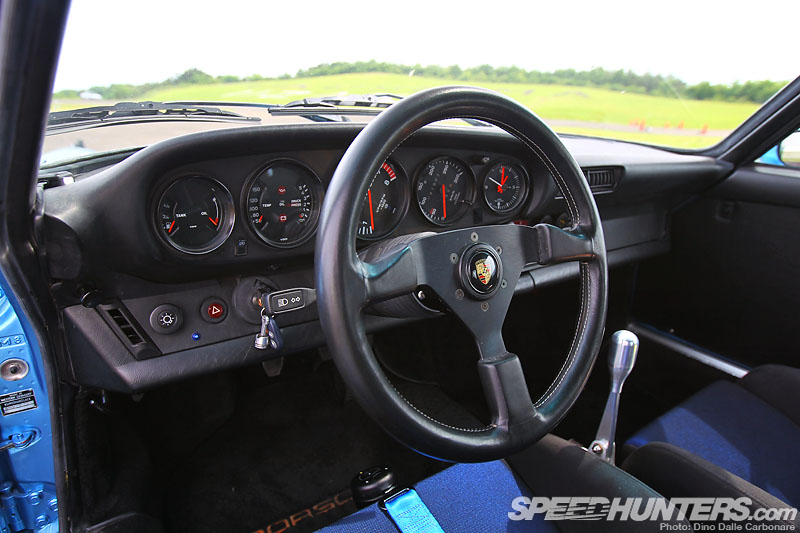 The cabin is full of small subtle touches like the half-roll cage and the billet shift lever…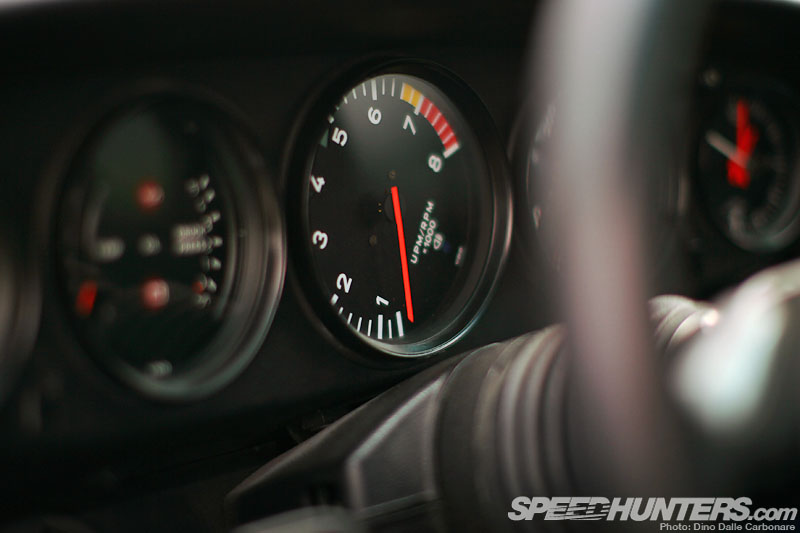 …not to mention the rotated tachometer and speedometer, a proper oldschool touch.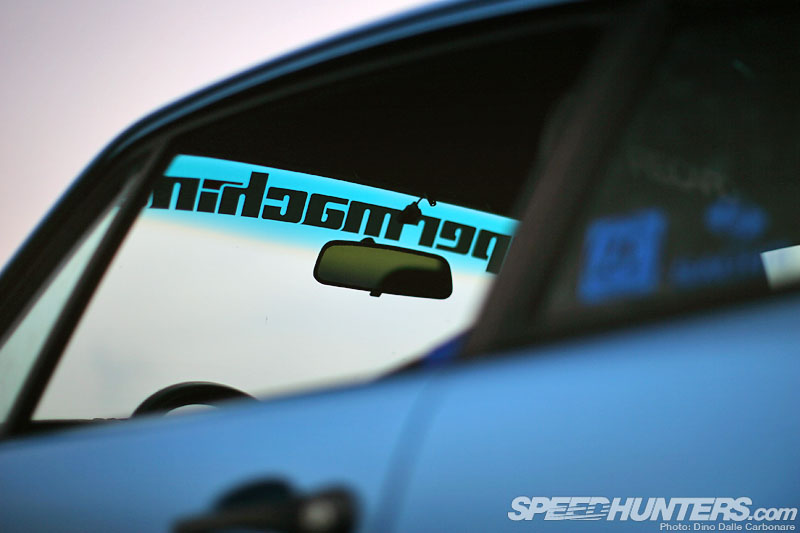 Watanabe-san has definitely put together a very unique Porsche; while the V8-swap may not be something new, the way he has approached the built is what sets it apart. Creating a capable street car that is as satisfying to drive around challenging circuits…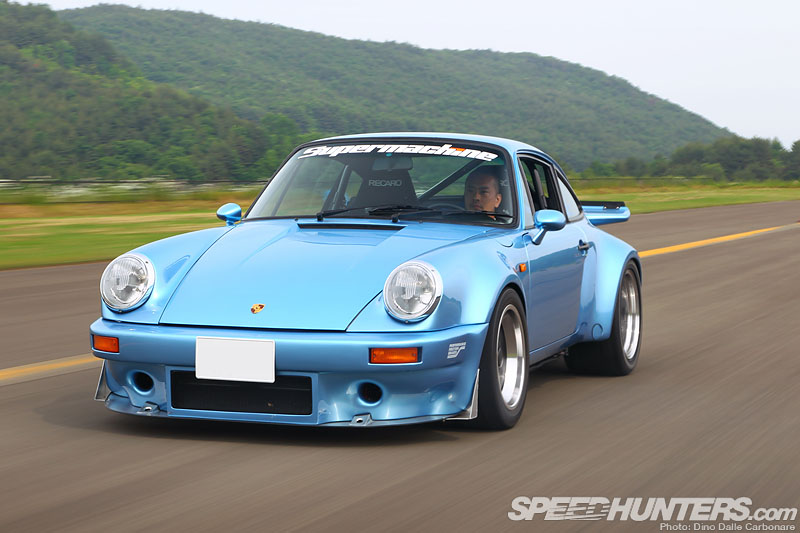 …as it is around tight mountain roads is not easy, but with quality race-derived suspension upgrades and a think-outside-the-box approach he has definitely accomplished his goal.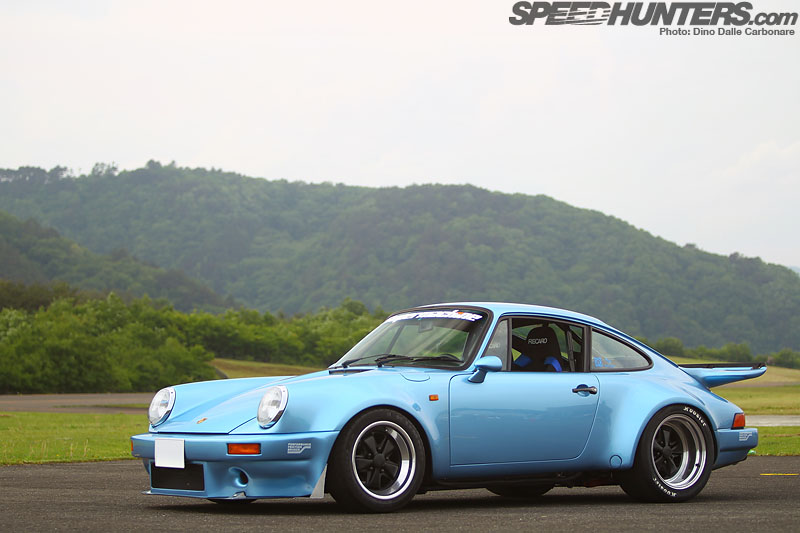 At the Zero Yon event in Fukushima the car did pretty well down the strip too, all its rear weight giving awesome traction off the line as the Hoosier drag radials did their thing.
Hit play on the short video above to see for yourself!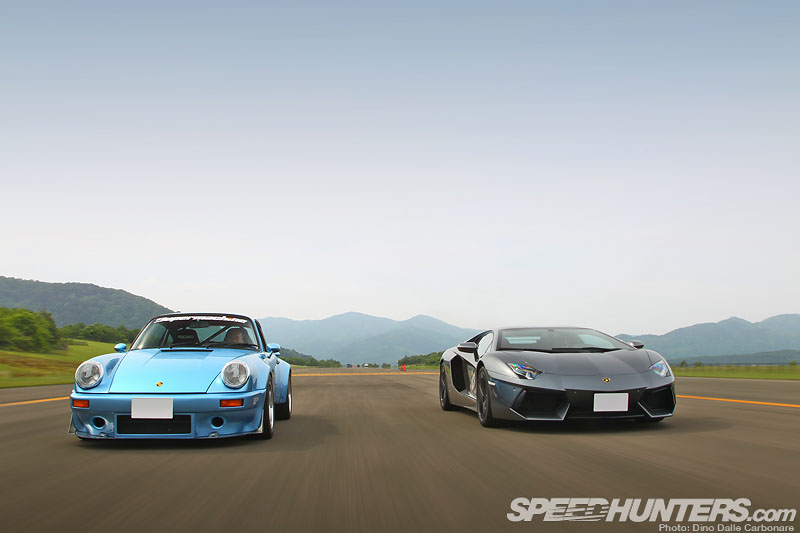 Watanabe-san is pleased his creation met all the goals he set for it; but now, with the 930 up for sale, it's time to think of a next challenge. I bet I'm not the only one wondering what it will be!
Specs:
Engine: GM Performance LS7 swap, dry-sump, Sand Buggy exhaust manifolds, Supermachine custom exhaust system
Driveline: 930 Turbo transaxle gearbox, custom short bellhousing & mainshaft with LSD, heavy duty custom axle shaft, KEP lightened HP clutch, custom hardened components & ring gear, diff & transmission oil cooler system
Front Suspension: Sachs coilover struts & Hyperco 350 lbs springs, Tarett Engineering 935 front suspension kit, Tarett Engineering sway bar kit, Elephant Racing quick change camber plate
Rear Suspension: Sachs coilover struts & Hyperco 450 lbs springs, Tarett Engineering 935 style spring plate, Tarett Engineering sway bar & drop link kit, Elephant Racing/Monoball Cartridges trailing arm
Brakes: Brembo Racing 4-pot front & rear calipers, 2-piece slotted discs
Wheels & Tires: Porsche Fuchs 8Jx16″ (front), 11Jx17″ (rear), Kumho V700 225/45R16 (front), 315/35R17 (rear), Hoosier drag radials 315/35R17 used for Motor Head Zero Yon event.
Exterior: 934 RSR look front bumper, Custom front canards & lip spoiler, RSR look rear spoiler, spoiler gurney flap
Interior: Recaro seats with harnesses, custom roll-cage, racing steering wheel, billet shift lever and knob
-Dino Dalle Carbonare