How many of you remember the moment in time you fell for a slice of certain automotive metal? The moment that all your waking thoughts began being channeled towards one make and model. The moment when you just knew you had to to have that car. New Zealander Steve Wilcock – the owner and creator of arguably one of the best TRD N2-spec AE86 race cars on the planet – remembers his moment vividly…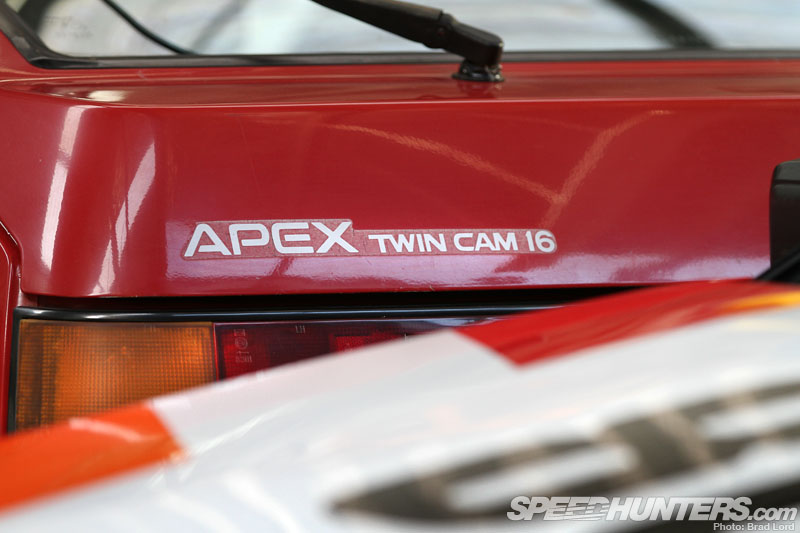 In the late '80s Steve found himself co-driving a near-new AE86 during the grueling week-long gravel fest that used to be Rally New Zealand. He knew what an AE86 was, but like most people had no comprehension of what the compact, naturally aspirated and rear-wheel-drive Toyota was capable of. But that week calling pace notes from the passenger seat changed everything.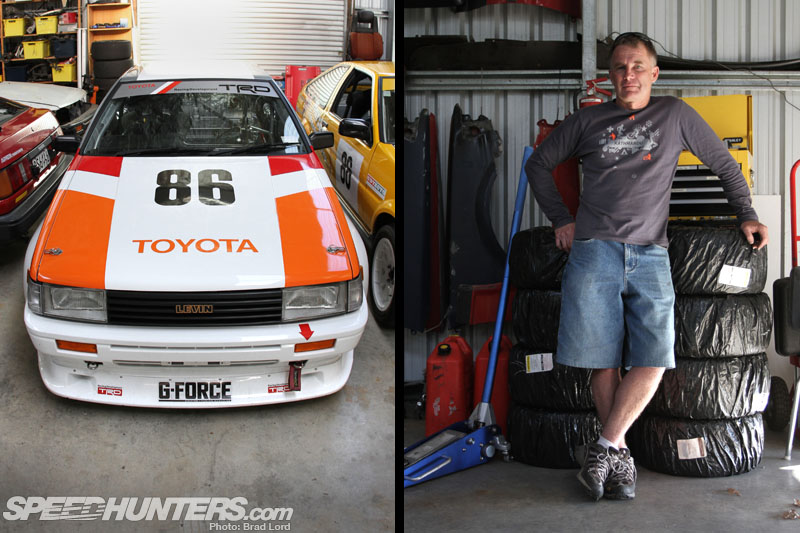 Before long Steve had an AE86 in his driveway, but little did he know at the time, it would be the first of more than 30 AE86/AE85 examples he'd end up owning over the next couple of decades, nor that he'd end up with workshop full of parts dedicated to the Hachiroku preservation cause.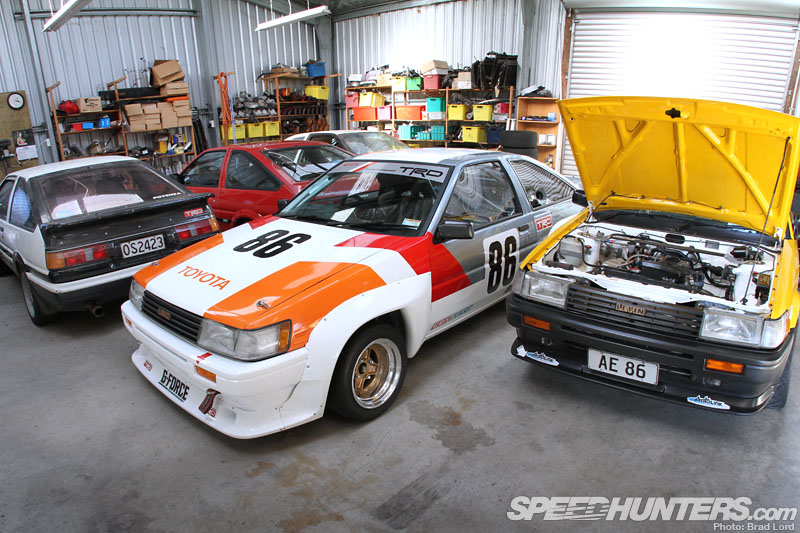 A couple of weeks ago I packed up my gear, hit the road and ended up at Steve's place a couple of hours out of Auckland to be greeted with a scene that definitely made the drive worthwhile.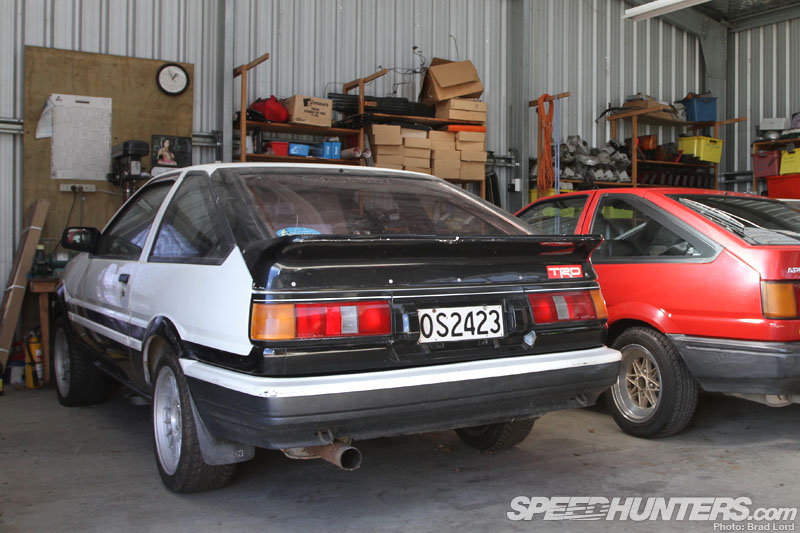 At one point Steve had more than 10 cars of varying AE86 and AE85 specification occupying space in his workshop. These days there are just five cars in the collection, including this very-straight Levin  JDM-import panda Levin which Steve lucked across a few ago and has yet to decide exactly what to do with, and bright yellow tarmac rally car (which you'll read about further through this post). The red Levin is his daughter's car, and another white Levin next to it is currently being stripped.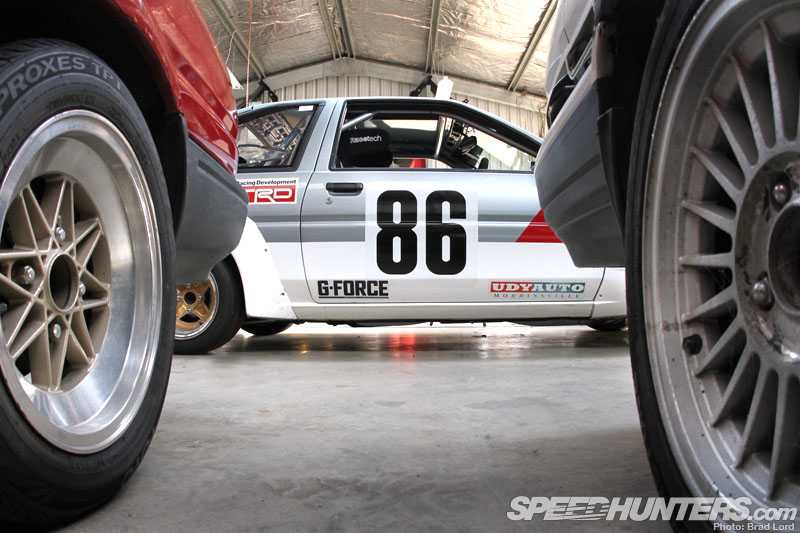 There's one car that stands above all others, though. A car that took many years to come to fruition. Steve's nod to Toyota Racing Development's Japanese AE86 N2-class race car of the mid 1980s.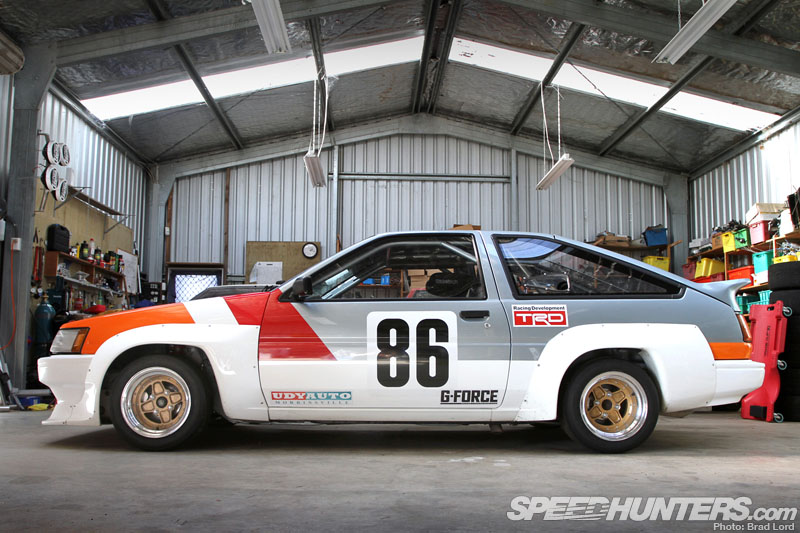 In his eyes the N2 AE86 is the ultimate embodiment of Toyota's legendary Corolla-based chassis, so following TRD lead as mapped out in its old school Sports Modification handbook seemed like the right place to start. Steve wasn't hell-bent on creating an inch-perfect replica of the TRD machine, but rather marrying as many correct and genuine TRD parts as he could get his hands on, with modern safety apparatus and the odd high tech device. You're looking at the result of more than five years hard graft, hundreds of hours spent scouring classified and following leads on the internet, and a lot of money.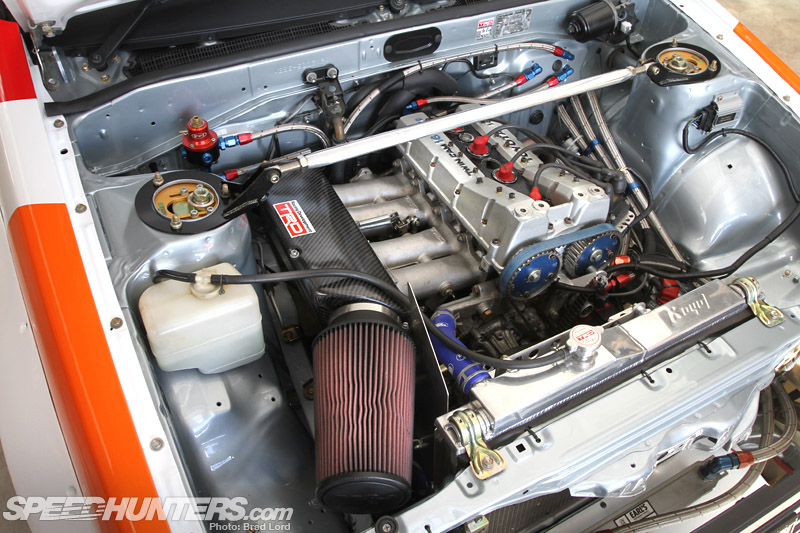 To build a proper N2 car Steve knew he'd need the right engine. Luckily he found the base he was looking for in a genuine Formula Atlantic-spec (aka TRD N2) 4A-GE that had originally found its way to New Zealand from the USA mounted in a Swift DB4 single seater chassis. Although the actual origins of the engine were unknown, chances are it would have originally been built by either Hasselgren Engineering, or Loyning's Engine Service. The N2/Atlantic specification features a heavily modified cylinder head with long duration and high lift TRD camshafts, forged TRD high compression pistons and a TRD billet crankshaft, among a host of other power-making and strengthening upgrades.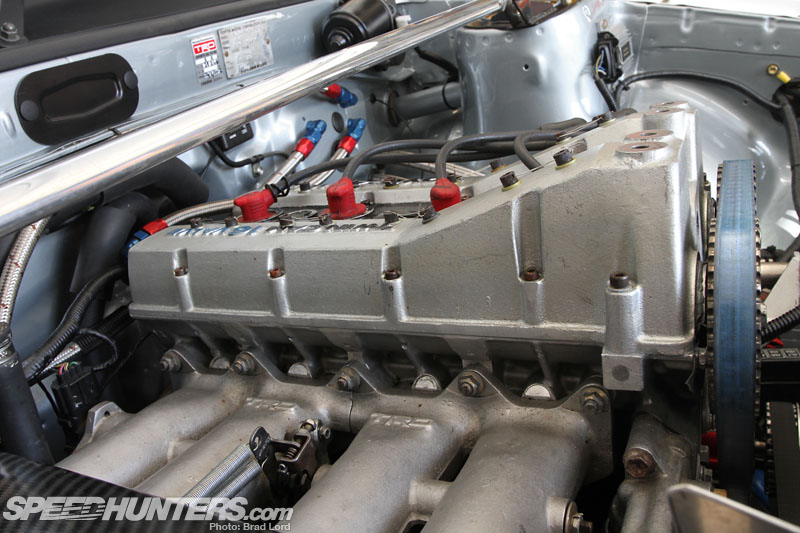 As the engine had been stripped of its factory mounting lugs there was little choice but to rebuild a new bottom end around a production-spec 7-rib block, but using the original as a guide. And this is what he's ended up with. AE86 N2 cars ran twin carburetors, but for tune-ability Steve opted to use a TRD electronic fuel injection system with firing orders coming by the way of a New Zealand-built Link Engine Management G4 ECU. The raised cam cover design is unique to Atlantic 4A-GEs and allowed the engines to be mounted up into open wheeler chassis frames.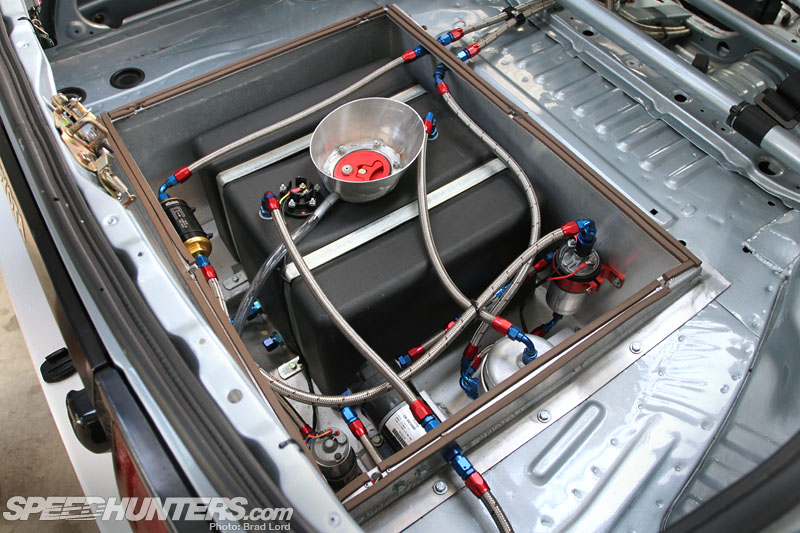 A serious engine build requires a serious fuel supply set up, and neatly fitted under a sheet metal panel in the rear you'll find a Jaz fuel cell, an aluminum swirl pot and a high-flow Procomp fuel pump, all connected through stainless steel braided fuel lines and high quality Earl's fittings.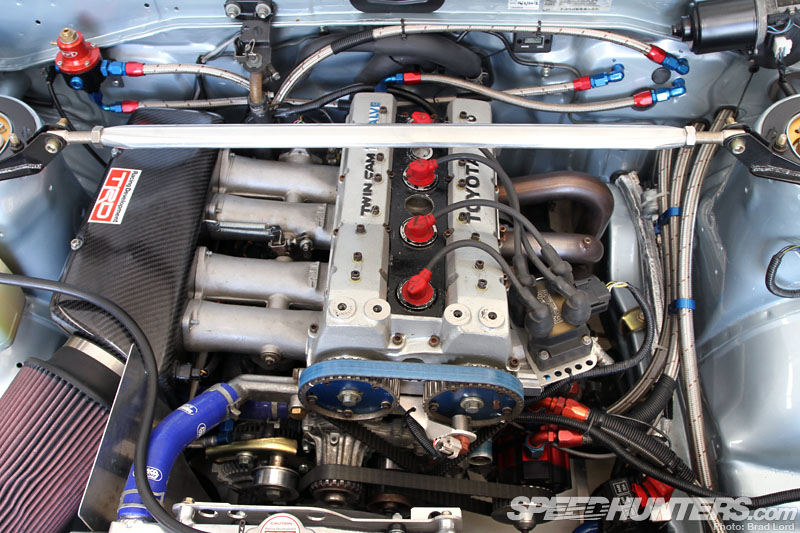 It all adds up to hard-tuned 4A-GE engine that sees peak output of 200hp finding its way to the Levin's back wheels, at 10,000rpm. Thanks to the fine-tuned fuel injection, that's slightly more power than the 215hp/9,000rpm peak output published in the aforementioned TRD hand book.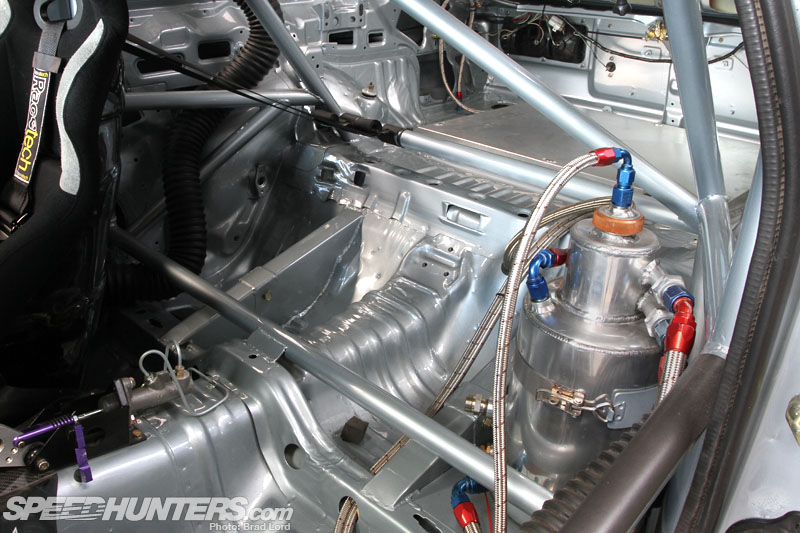 Looking back inside the Levin, both the custom fabricated equal-length rear trailing arm boxes and the roll-cage were fabricated by Steve himself. The interior is also home to a remote oil tank for the engine's TRD dry sump arrangement…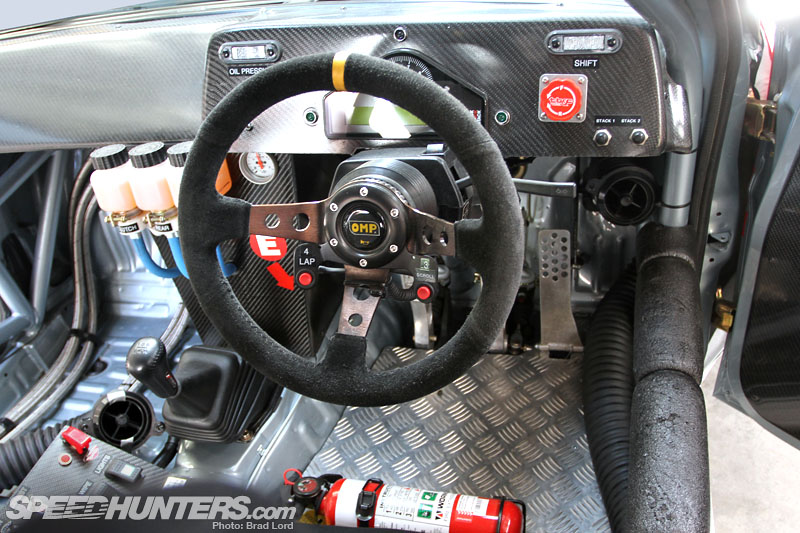 …and a whole lot of carbon fiber – again, all Steve's handiwork. A lot of time was spent perfecting the driving position, a job not made easy by the AE86's floorpan and its limited floor-to-ceiling height. Eventually Steve got there, though, but only after the Tilton adjustable pedal box was modified and a custom Racetech seat was manufactured especially for the car.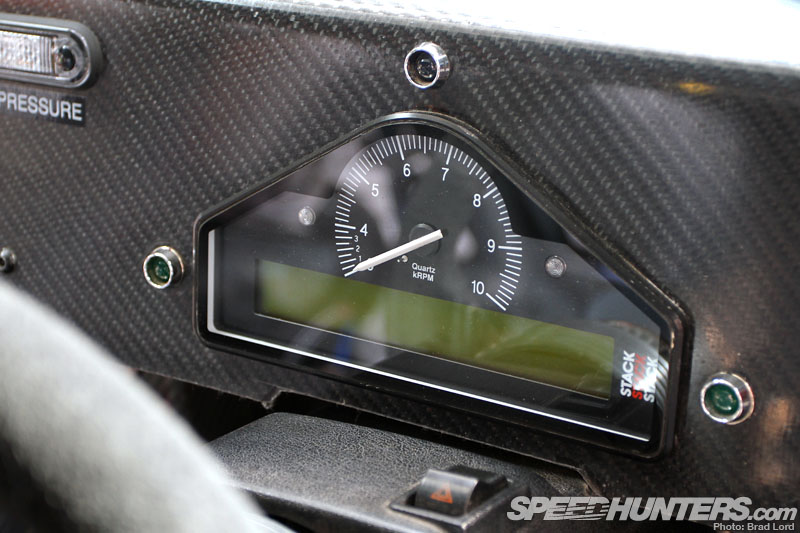 The most high tech detail in the interior is the Stack digital display mounted in the carbon dash. If you live in New Zealand and have been lucky enough to have seen, or  more specifically "heard" this car on the track, you'll know that Steve uses every last notch on that RPM dial, too!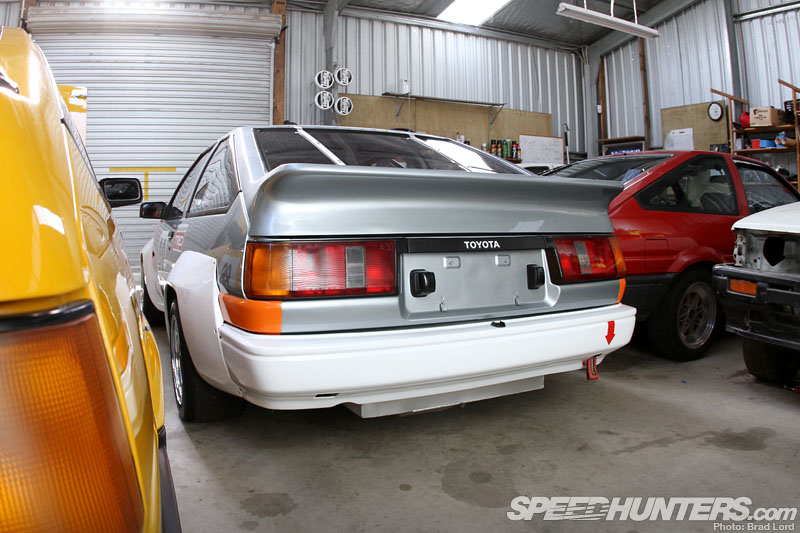 The wide fender bolt-ons definitely suit the lines of the AE86. Steve managed to track down a genuine – and long discontinued – TRD N2 fiberglass kit and got busy in his workshop reproducing new panels from it. Then, using small photos as a guide, the TRD paint and livery scheme was reproduced in paint and vinyl…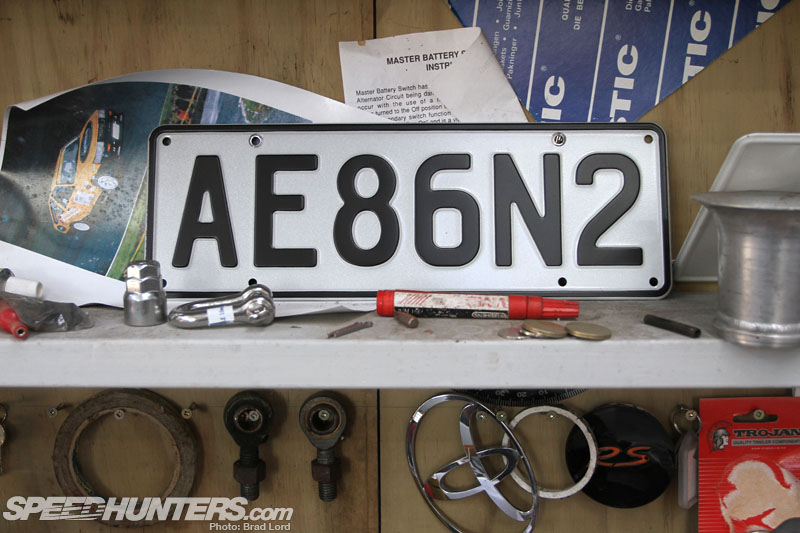 …before the car was finished off with an apt personalized license plate. Oh yeah, it's been built to be road legal, too…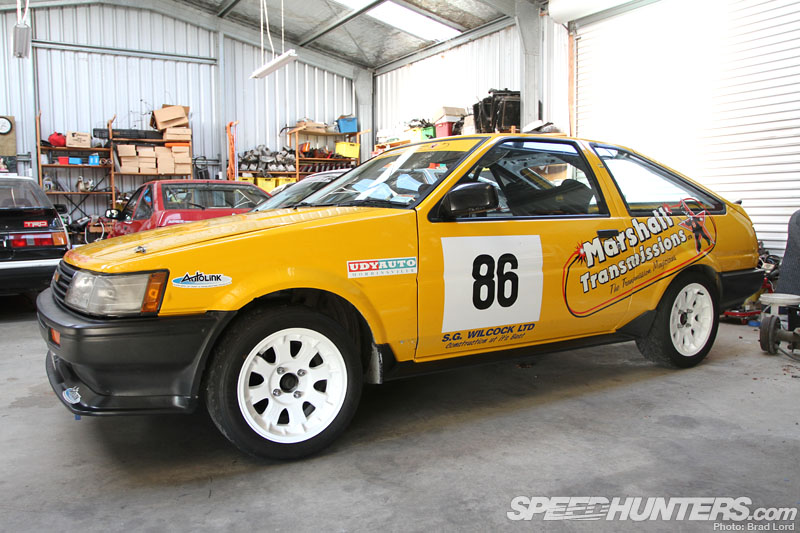 Speaking of the road, mid-way through our shoot Steve threw me the keys to his other competition toy – a highly competitive tarmac rally and hill-climb car – and told me to not be shy in "giving it some." It would have been rude not to, right?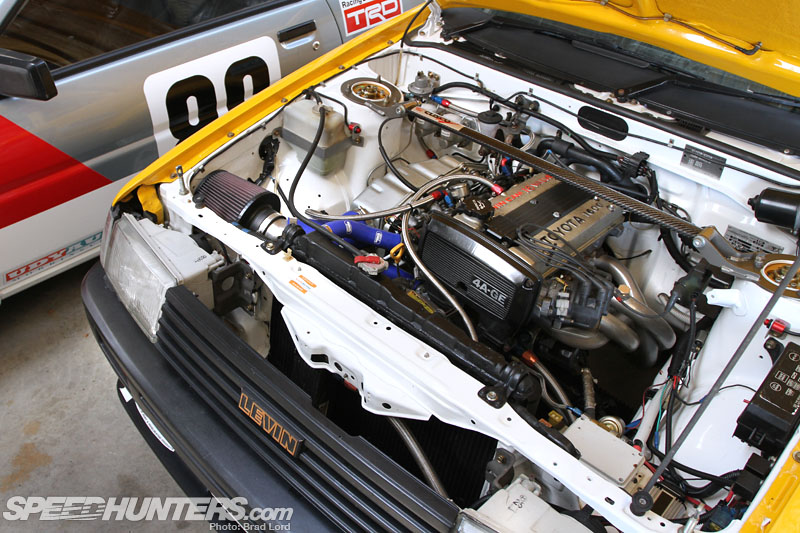 Although not quite as extreme looking as the engine in the N2 car, at the Levin's heart is a race-prepped small-port 4A-G engine (kouki AE92) running 4A-GE 20V quad throttle bodies and a tuned exhaust system, and backed up by a TRD-spec gearbox. According to Steve it was the attention to detail during the build that's helped net a peak output figure just 20hp shy of the N2 package.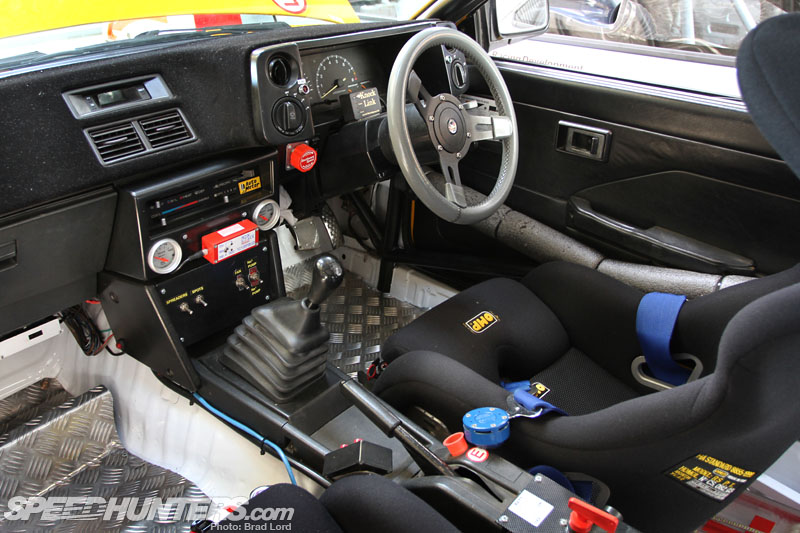 Even though I only spent a short time in the driver's seat, this car definitely put a grin on my face. I can only imagine how much fun it would be to drive it in anger on an actual closed road course. Plenty I'd presume!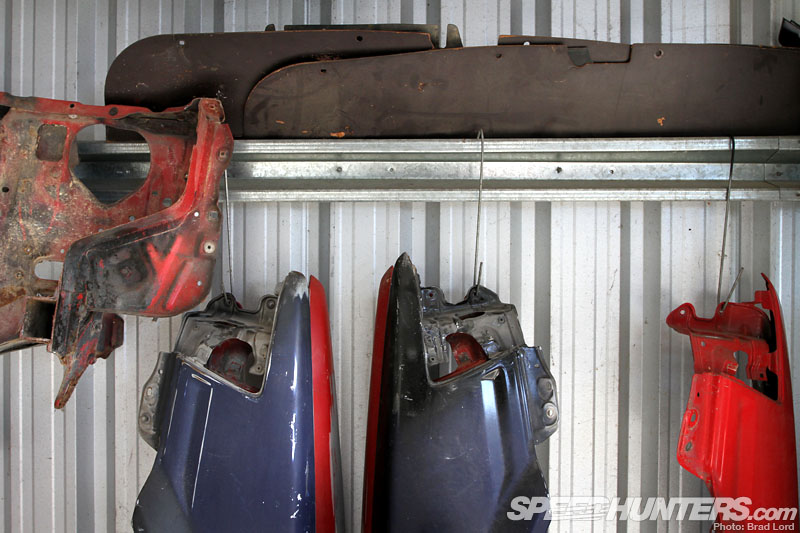 After many years playing around with AE86s I knew that Steve was the owner of a decent collection of parts. But I had no idea just how decent until I saw it for myself…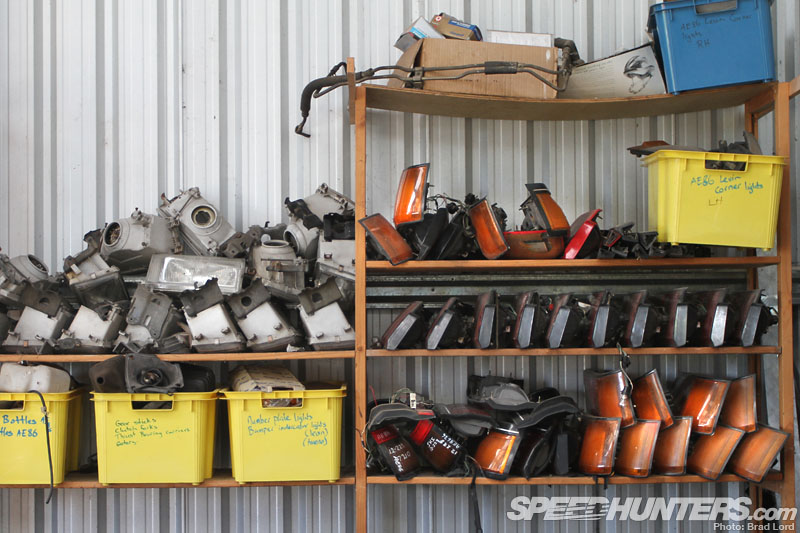 Suffice to say, I don't think Steve is ever going to be short of an AE86 spare part should anything ever break, or be bent. Stacked up against one wall of the workshop is a collection of head lights and tail lights…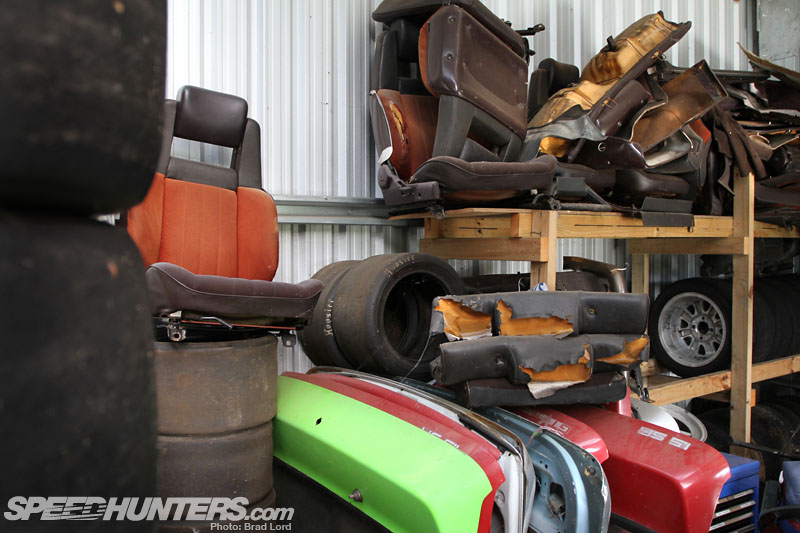 …While on another wall there's a collection of AE86 seats of varying condition, as well as wheels and tires and a selection of rear hatches.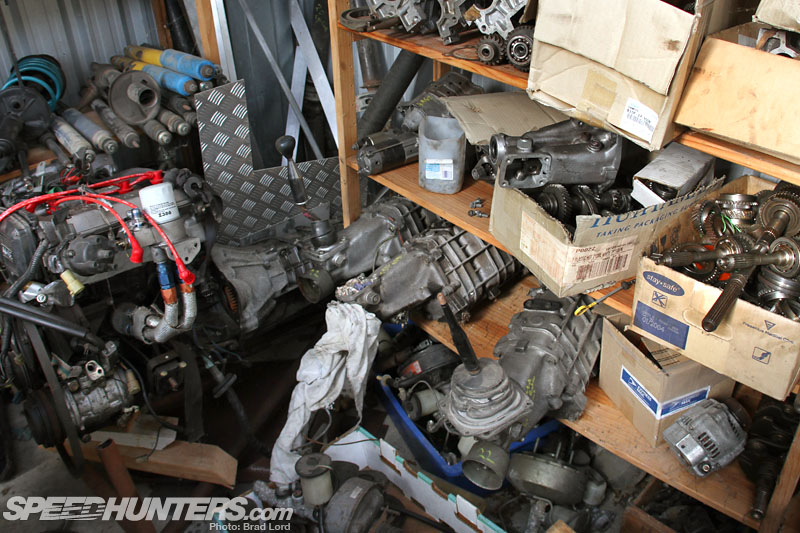 Of course, Steve's spares inventory extends to mechanical gear as well. In this corner of the workshop I found a tuned 4A-GE engine pulled from a kouki (facelift) JDM Levin, and a selection of factory AE86 T50 five-speed gearboxes.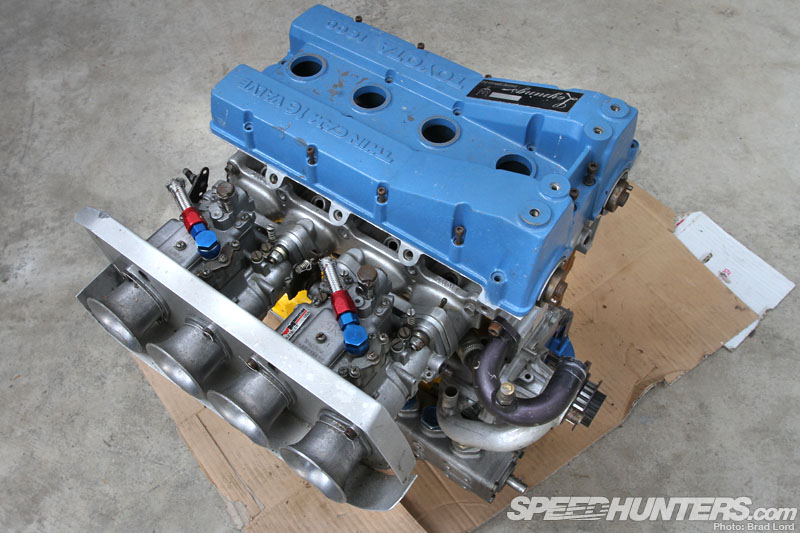 It's also the place I found this engine that Steve's in the throes of building up. As you can see the 4A-GE is currently set up with a  a pair of Japanese SK brand side-draught carbs and features a Loyning's Engine Service Atlantic-spec raised cam cover. I'm not sure whether or not Steve was joking when he said it would make a nice coffee table, but with a clear sheet of glass mounted on top it would be pretty cool, and a definite talking point!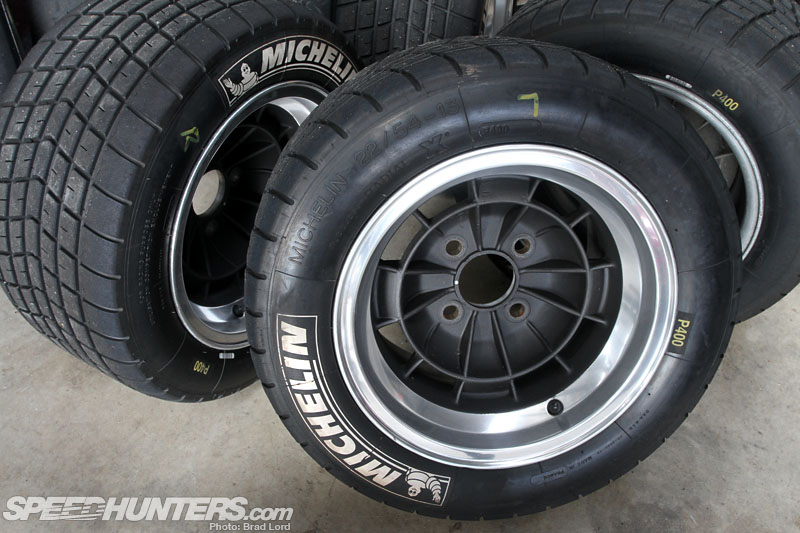 Of the parts he's acquired over the years one of Steve's finest acquisitions has to be this set of vintage 13″ Toyota Racing Development (aka Tosco) racing wheels.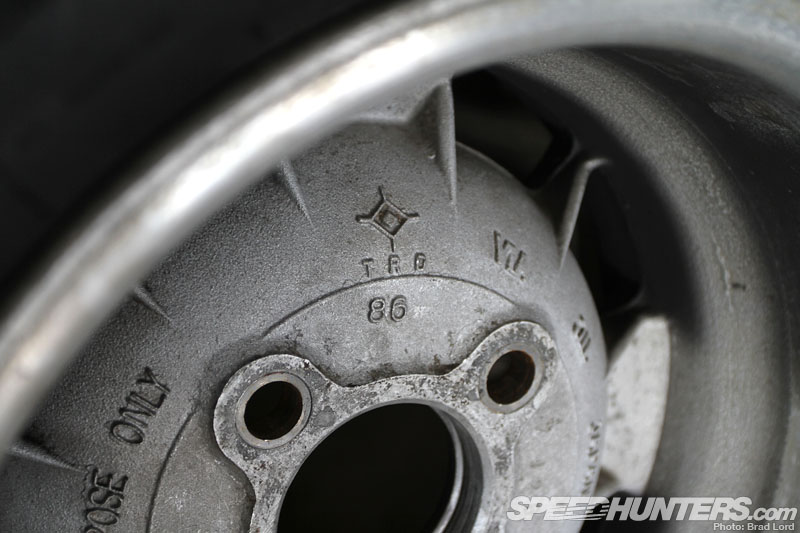 Not only are these wheels quite rare, but they're proper AE86 TRD N2-spec items to boot. This particular set was tracked down in Indonesia and is currently fitted with wet tires for use on the N2 car on soggy race days.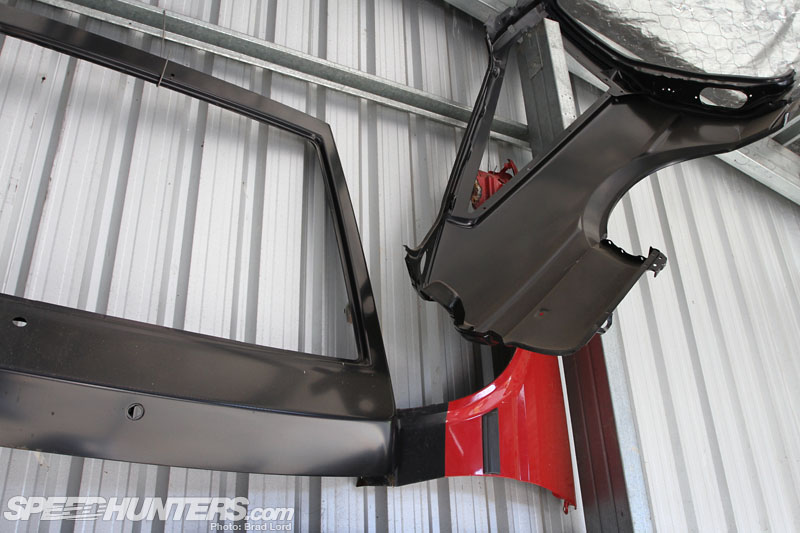 Along with the used OEM stuff, Steve has managed to buy up a large number of new parts. Many of the AE86 panels – like this hatch and outer rear quarter –  are now discontinued by Toyota.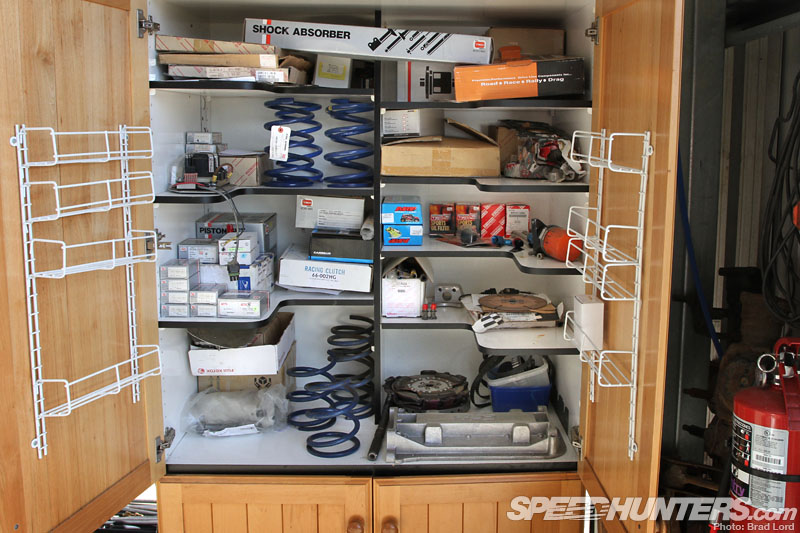 He's also amassed an impressive collection of all-but-unobtainable TRD AE86 N2 performance parts from all around the world…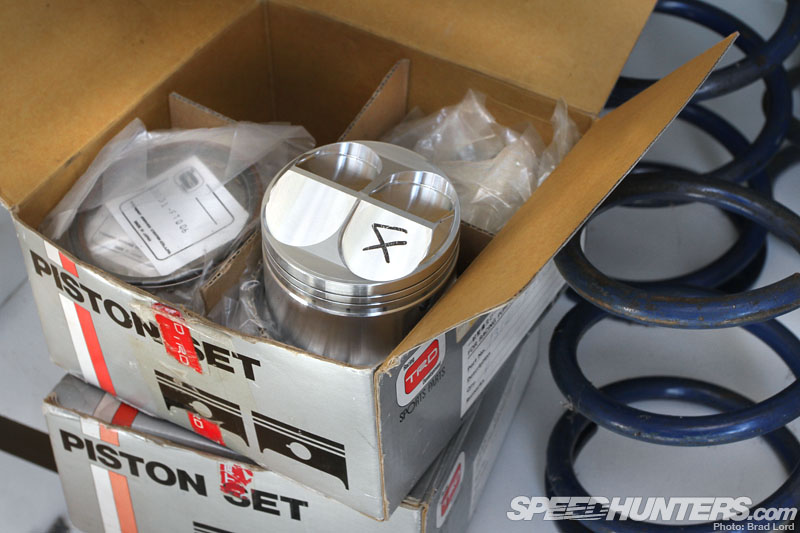 Just try finding a set of unused TRD N2-spec forged pistons…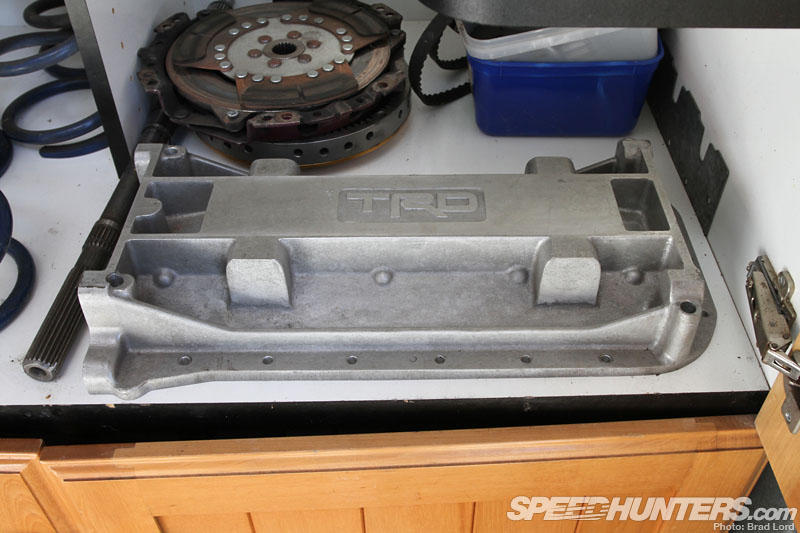 …and I'm sure 4A-GE TRD dry sumps (a spare in Steve's case) are pretty hard to come by as well!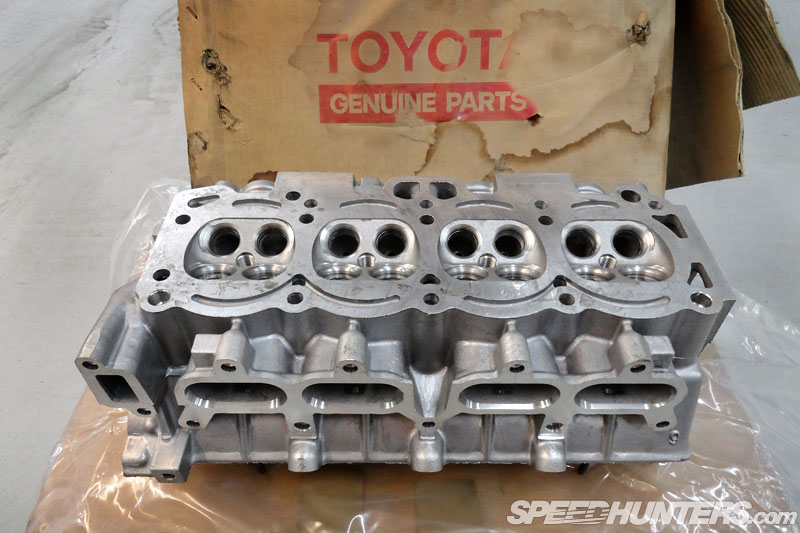 His latest acquisition is another complete N2/Atlantic engine set up that he found in the US. The haul includes a brand new 4A-GE cylinder head which will brought up to TRD N2 spec in due course.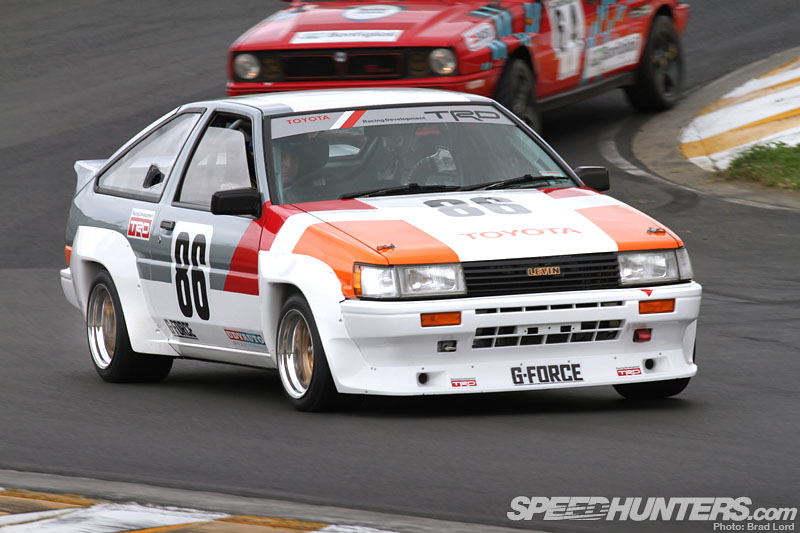 That engine will then serve as a spare for the N2 car, which Steve puts to good use on a regular basis. Because N2/Atlantic-spec 4AG-E engines are highly-strung pieces of hardware with lifespans measured in hours rather than miles, having another engine ready to go will not only be good piece of mind…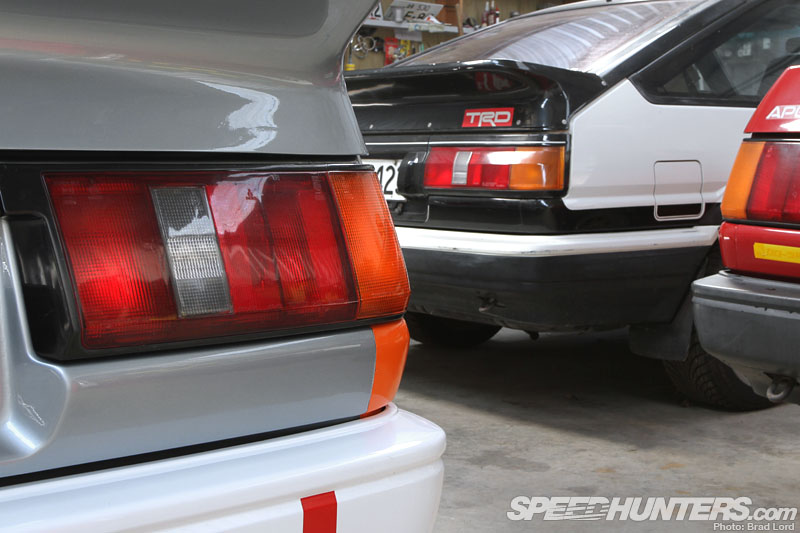 …but It'll ensure that Steve will get to enjoy his car the way it was intended to be enjoyed, for many more years to come. In the meantime there's the other cars to play with, fellow Kiwi AE86 owners to help out, and just maybe, just maybe, a brand new Hachiroku on the horizon. This 86 aficionado wouldn't have it any other way..
– Brad 
1984 Toyota Corolla Levin GT-V
Power: 200hp @ 10,000rpm (at rear wheels)
Engine: TRD N2/Formula Atlantic-spec 4A-G, N2-spec block, TRD high-comp forged pistons, TRD steel billet crankshaft, TRD-spec cylinder head, TRD 320-deg/10.6mm-lift camshafts, TRD N2 valvetrain, TRD electronic fuel injection, Bosch 460cc injectors, carbon fiber plenum, K&N air filter, Jaz fuel cell, alloy fuel anti-surge tank, Pro Comp fuel pump, RS*R stainless steel headers, 2.5″ stainless steel exhaust system, Dytech muffler, Link G4 engine management system, TRD dry sump, Barnes dry sump pump, Earl's oil cooler kit, Koyo aluminum radiator, Samco hoses, Cusco engine mounts
Drivetrain: TRD-spec T50 five-speed gearbox, TRD close-ratio gear set, TRD bearings, TRD synchros, TRD short-shift kit, Tilton twin-plate clutch, lightweight flywheel, TRD limited slip differential, diff oil cooler, Tilton diff oil cooler pump
Suspension: TRD adjustable dampers, TRD coil-over springs (front), Tein adjustable camber plates (front), TRD race springs (rear), TRD sway bars, adjustable front castor arms, adjustable rear arms, adjustable panhard rod, Tilton pedal box, Quaife quick steering rack, alloy front strut bar
Brakes: Wilwood 270mm (10.6″) discs front/rear, Wilwood four-pot callipers (front/rear), stainless steel brake lines, D2 hydraulic handbrake
Wheels/Tires: 13×8″ -20-off 41˚ Rev wheels , 215/50R13 DOT-R tires (front), 13×9″ -20-off 41˚ Rev wheels, 235/45R13 DOT-R tires (rear)
Exterior: TRD N2 fiberglass body kit, TRD N2 replica livery, Lexan windows, front fiberglass undertray
Interior: Multi-point roll cage, Racetech 4009HR FIA seat, Racetech five-point FIA harness belts. OMP suede steering wheel, carbon fiber dashboard, Stack digital display, carbon fiber switch panel, carbon fiber door cards