Vaughn Gittin Jr. has sealed the deal once again by taking outright victory at Formula D Seattle. He needs to watch his back though, as he's leading in the points championship by a mere seven and a half points.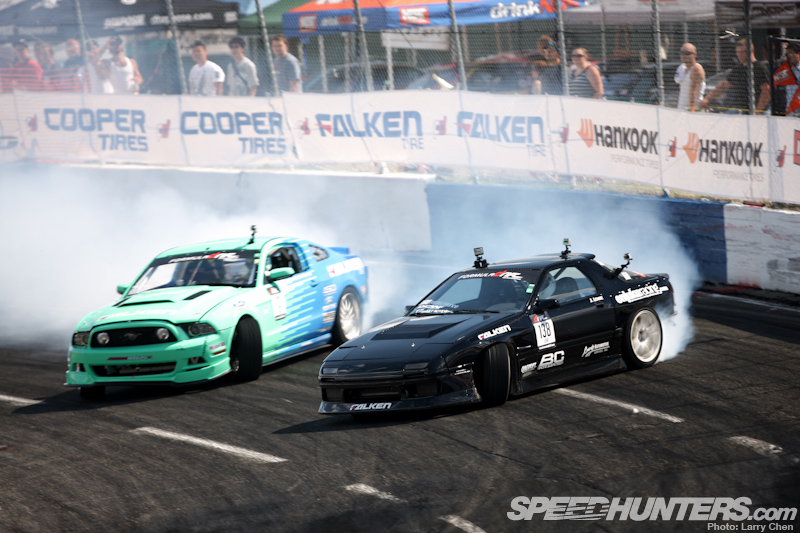 His job was made all the easier when Justin Pawlak knocked himself out, by putting two tires off course in his lead run against Jeremy Lowe in the Top 32 bracket. Justin now drops to 3rd overall in the championship.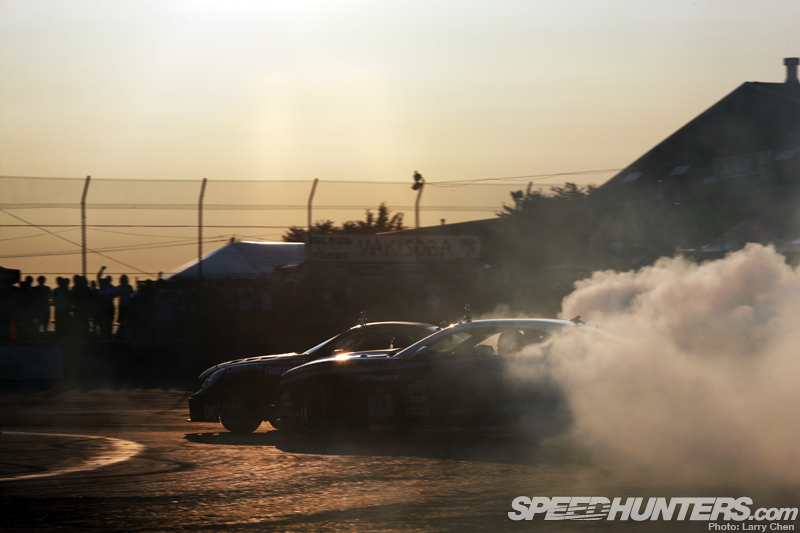 2nd overall now belongs to Daigo Saito who got knocked out by Conrad Grunewald.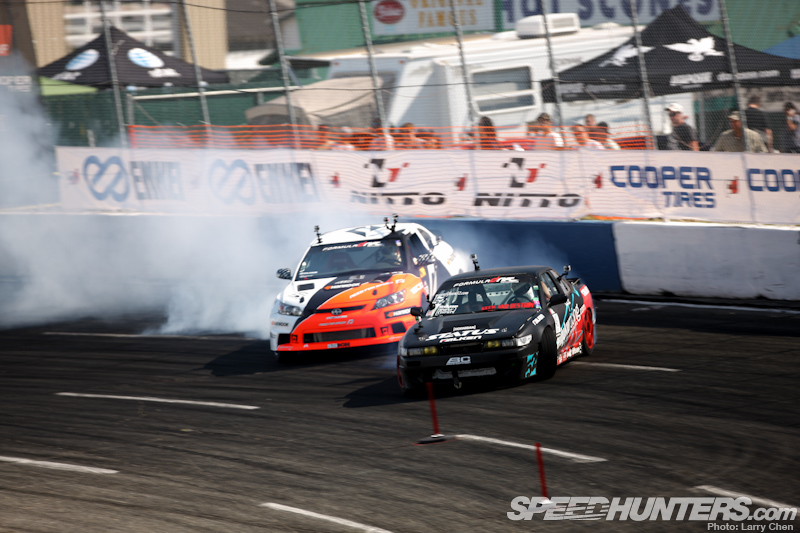 Our very own Fredric Aasbo looked great all weekend and made it into the Top 16 without a hitch.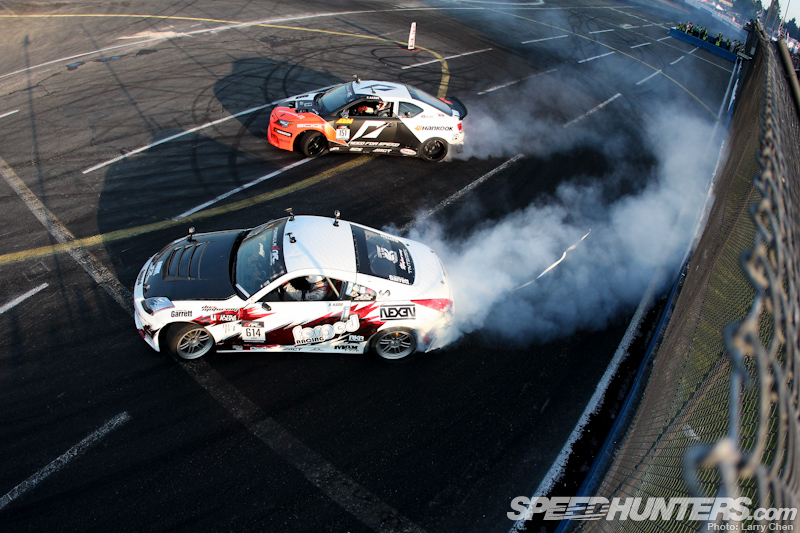 However, just when looked like he would take the win versus Ryan Kado in his 350z, Fredric made a fatal mistake at the last corner and hit the wall.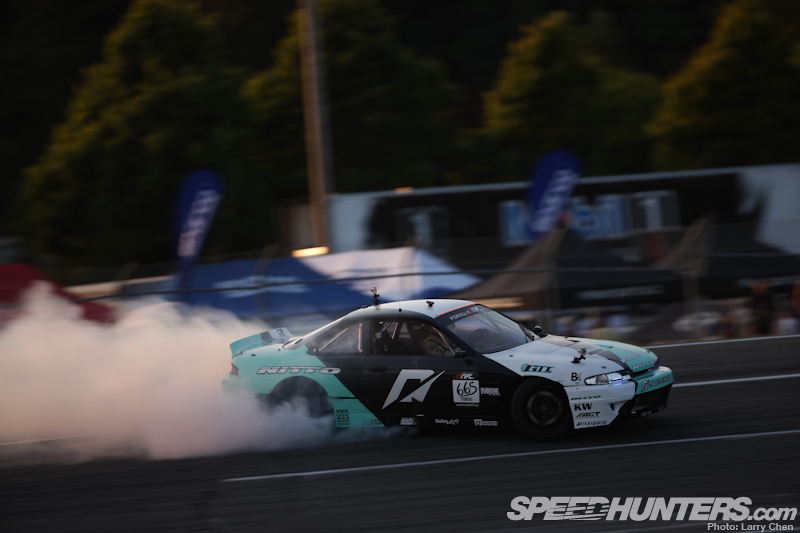 Fredric's NFS teammate, Matt Powers, was also having a great weekend. It was his birthday after all, so I am sure he was in a great mood.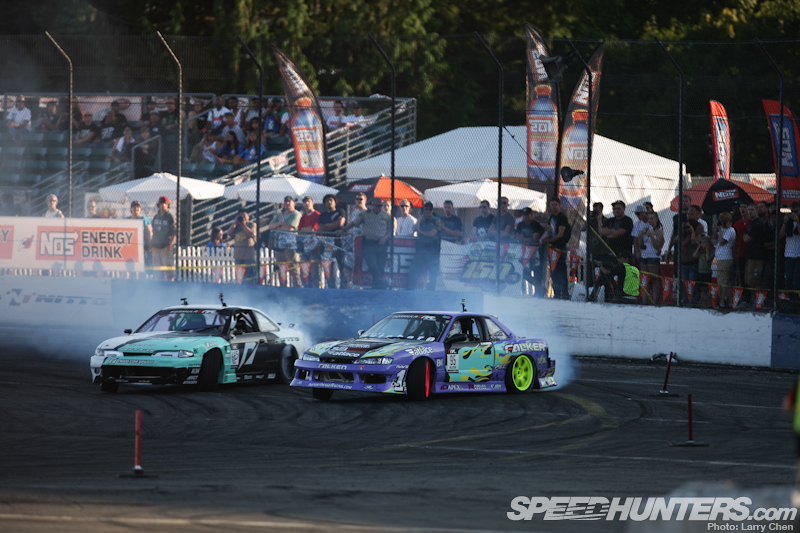 In Top 16 he met with local favorite Walker Wilkerson. Both drivers put in a great fight…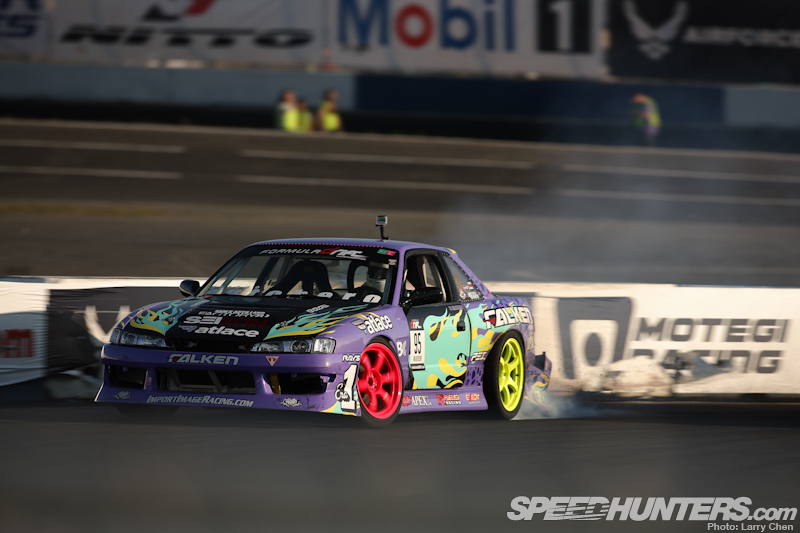 … but Walker gifted Matt the win after hitting the wall on his lead run.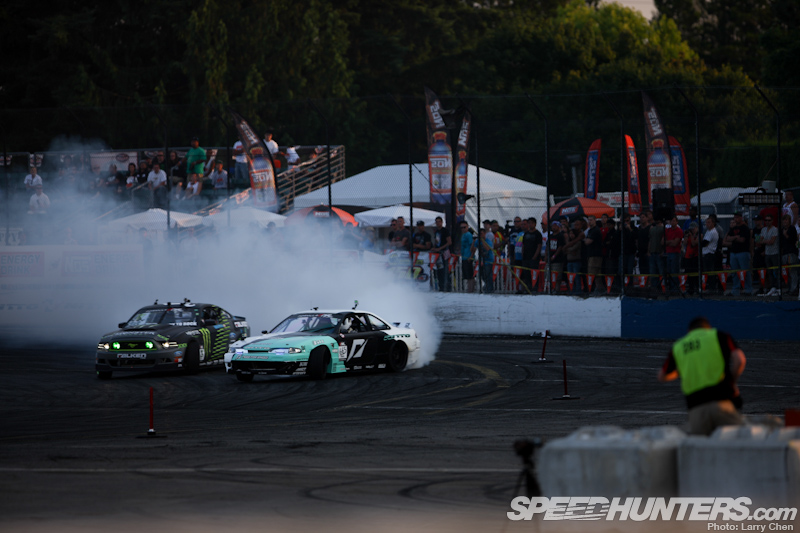 Matt would meet Vaughn Gittin in the Top 8 bracket. He was out for revenge after losing to Vaughn at Formula Drift New Jersey but it was JR who advanced.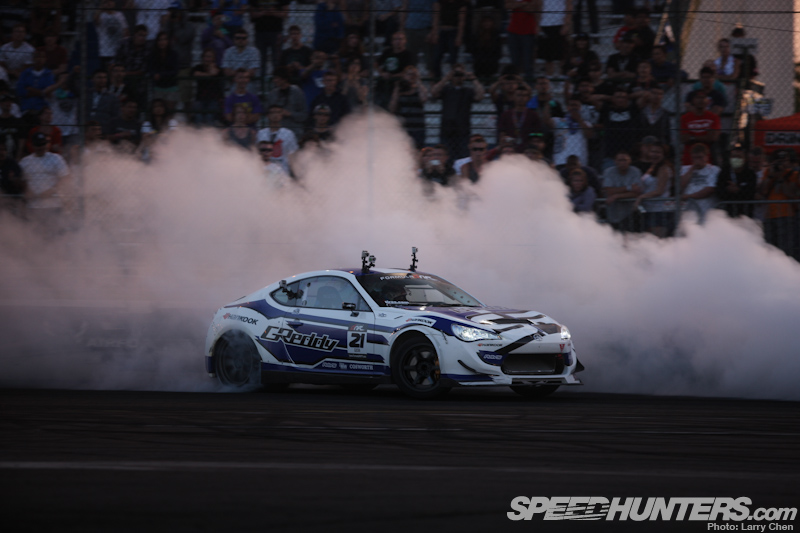 One driver that had an obvious breakout performance was none other than Ken Gushi.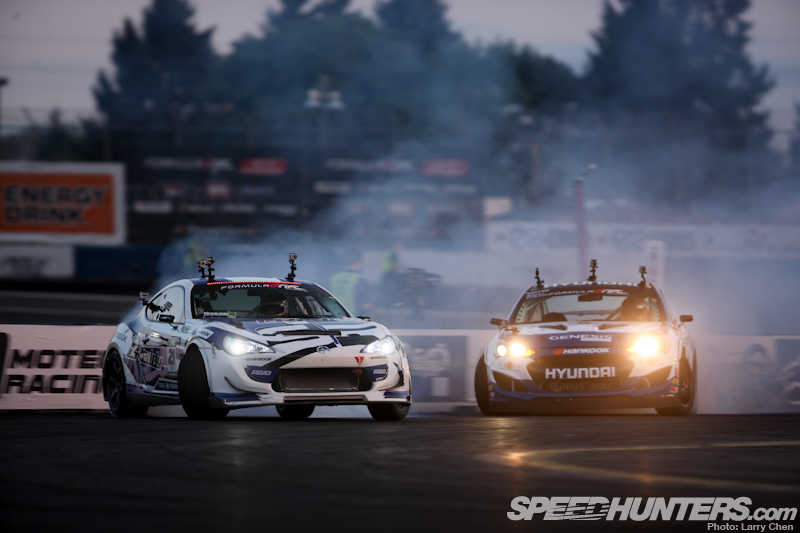 It looked like he'd make it to the podium but those dreams were crushed by Rhys Millen in the final four bracket. Rhys would go on to earn a 3rd place finish.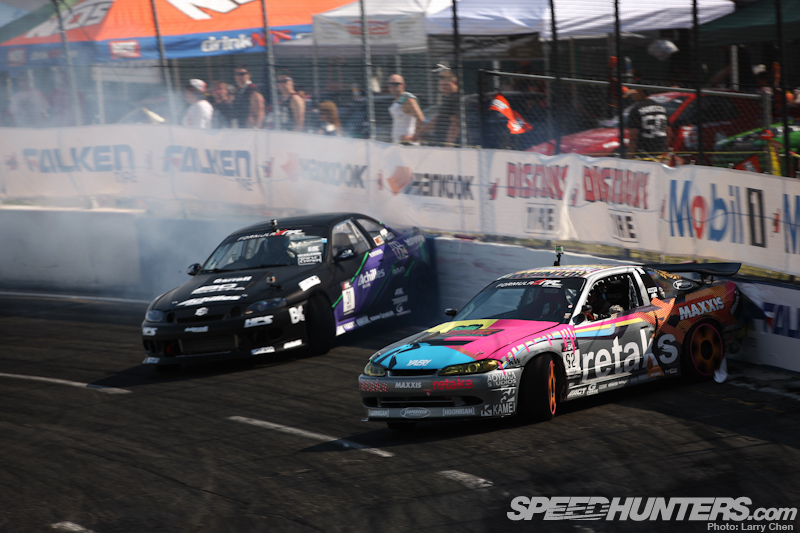 2nd place went to Formula Drift veteran Ryan Tuerck. He had a fairly close call in the top 32 bracket with Robbie Nishida as both scraped the wall pretty far.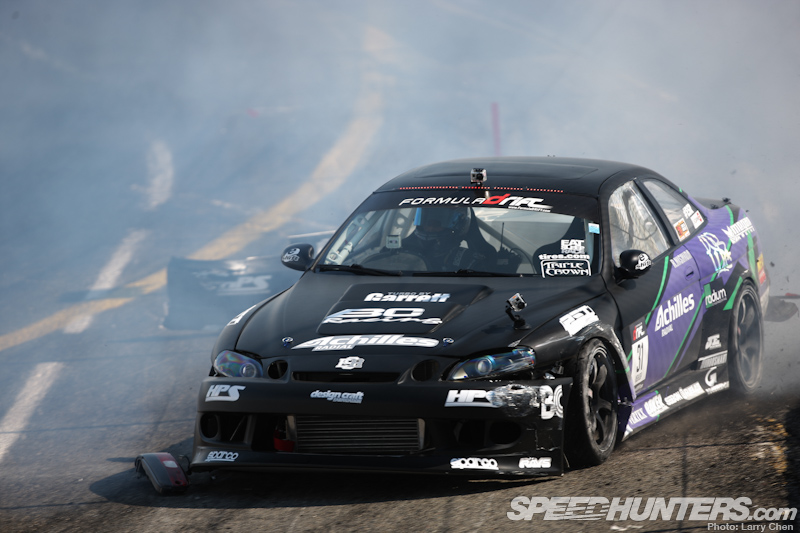 Ryan pulled out of it in time however Robbie Nishida was not so lucky. The team called five minutes, but they could not repair the car in time.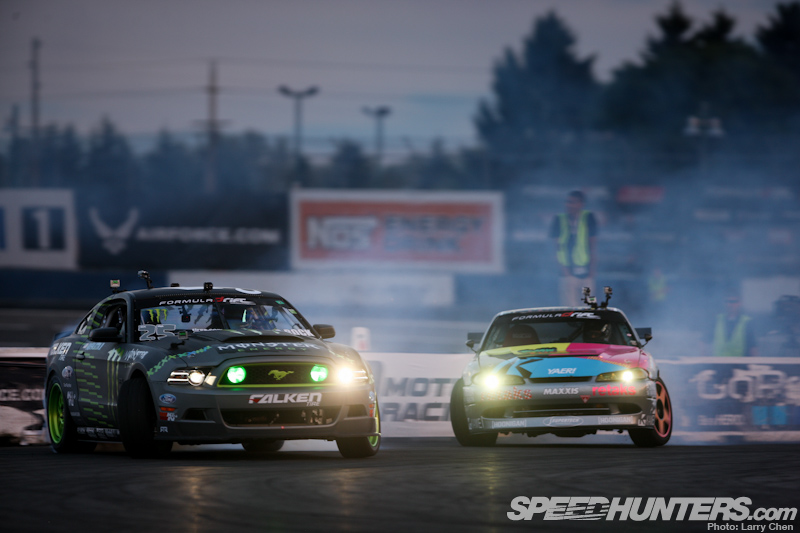 The finals consisted of two Drift Alliance brothers who practice tandem in their missile cars on a regular basis.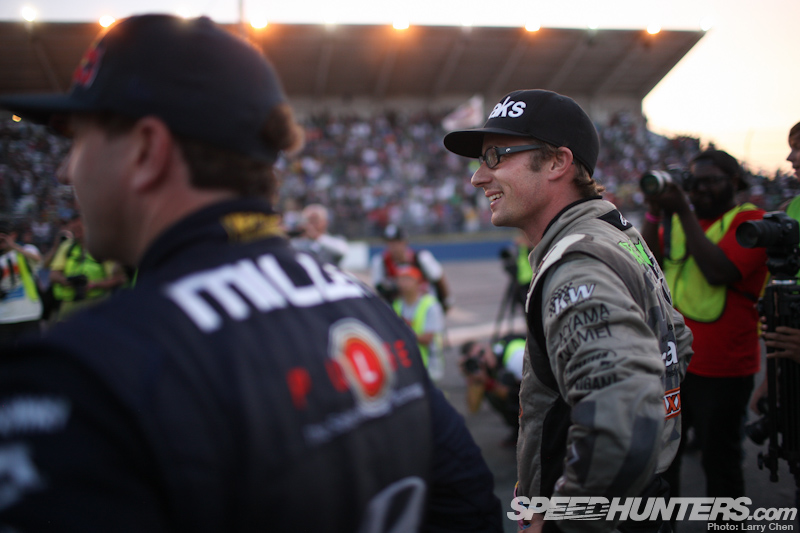 Ryan moves up a couple places in the championship, now holding down 5th place.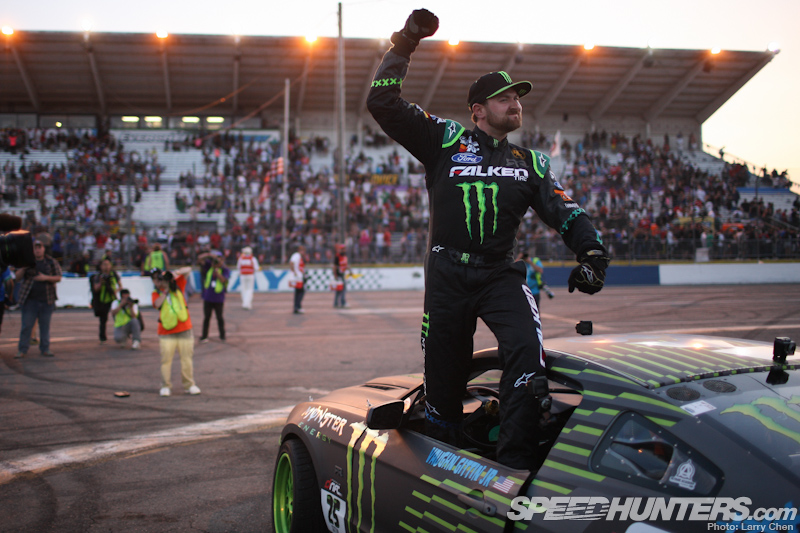 Vaughn could not celebrate enough! This was his chance to show the world he could win another Formula D championship.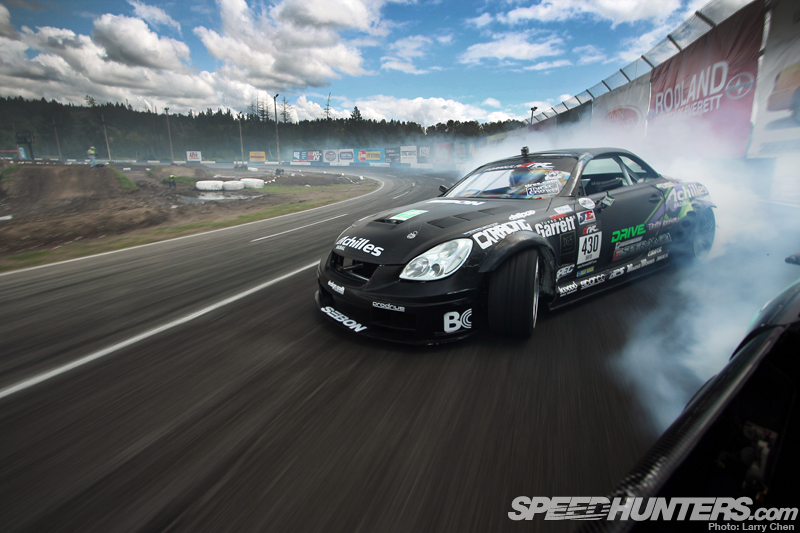 Daigo Saito still has a commanding lead over all the other Formula Drift rookies. He's only a few points behind Vaughn, with a big chance he'll lead the race for the championship at one point or another.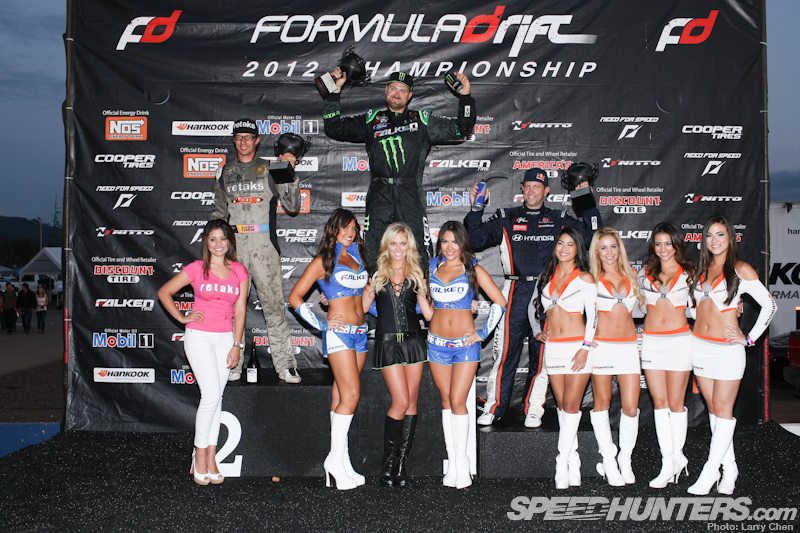 That's it for a couple of quick trackside updates. Stay tuned for more from Formula Drift Seattle.
-Larry Chen
larry@dev.speedhunters.com
More Formula Drift stories on Speedhunters
More stories by Larry Chen on Speedhunters
Round 5 results:
| | | |
| --- | --- | --- |
| 1. Gittin Jr., Vaughn | Monster Energy / Falken Ford Mustang | Winner |
| 2. Tuerck, Ryan | Team Retaks Nissan 240SX | Second Place |
| 3. Millen, Rhys | Hankook / Rhys Millen Racing Hyundai Genesis Coupe | Third Place |
Points standings:
| | | |
| --- | --- | --- |
| 1. Gittin Jr., Vaughn | Monster Energy / Falken Ford Mustang | 391 Points |
| 2. Saito, Daigo | Achilles Tire / Bridges Racing Lexus SC430 | 383.50 Points |
| 3. Pawlak, Justin | Falken Tire Ford Mustang | 376 Points |
| 4. Yoshihara, Daijiro | Discount Tire / Falken Tire Nissan S13 | 347 Points |
| 5. Tuerck, Ryan | Team Retaks Nissan 240SX | 328.50 Points |
| 6. Millen, Rhys | Hankook / Rhys Millen Racing Hyundai Genesis Coupe | 318.25 Points |
| 7. Aasbo, Fredric | Need for Speed / Papadakis Racing Scion TC | 295.50 Points |
| 8. Forsberg, Chris | NOS Energy Drink / Hankook Nissan 370Z | 293 Points |
| 9. Powers, Matt | Need for Speed / Nitto Nissan S14 | 275.50 Points |
| 10. Bakchis, Aurimas "Odi" | Bakchis Motorsports Nissan 240SX S14 | 267.75 Points |
| 11. Gushi, Ken | Greddy / Hankook Scion FR-S | 266.50 Points |
| 12. Grunewald, Conrad | Hankook Chevrolet Camaro | 238.50 Points |
| 13. Essa, Michael | GSR Autosport / Nitto BMW ZR4 | 232 Points |
| 14. Moen, Kenneth | Lutz Performance Nissan 350Z | 231 Points |
| 15. Kado, Ryan | Forged Racing / Nexen Tire Nissan 250Z | 226 Points |
| 16. Yoshioka, Toshiki | RS*R Nissan S15 | 224.75 Points |