I've always wondered what caused the demise of drag raging in Japan. Back in the eighties and nineties it was by far the most popular form of racing, something that tons of enthusiasts and plenty of tuning shops like Top Secret built their reputation around. It helped fuel the need for power in the nineties and pushed parts makers like Trust, Tomei Powered and HKS – to name a few – to design and develop tons of goodies to sustain the thirst for performance. Then all of a sudden, it went out of fashion. With time attack and drifting coming into the limelight, popularity for zero yon, as the Japanese refer to "quarter mile racing," kind of died away. Admittedly prepping a car for serious power and decent times called for a substantial investment; add to that a lack of new tuner-worthy cars as well as the non-stop economic downturn Japan has been on ever since that famous bubble burst over two decades ago, and the resulting shift in interest is kind of understandable.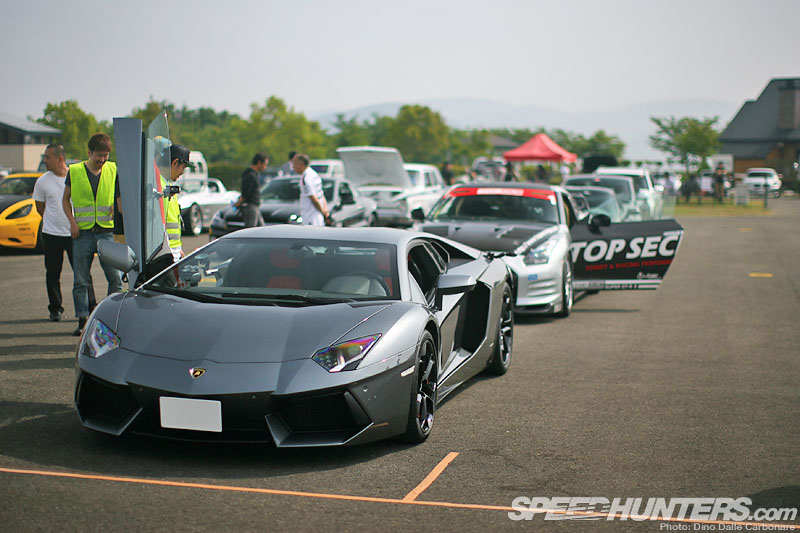 There are still drag racing events going on at Sendai Hi-land and Central Circuit but it only really attracts the diehard fans. So when I was recently invited to attend a closed event put on by Motor Head magazine, I was very surprised to hear it was a quarter mile race.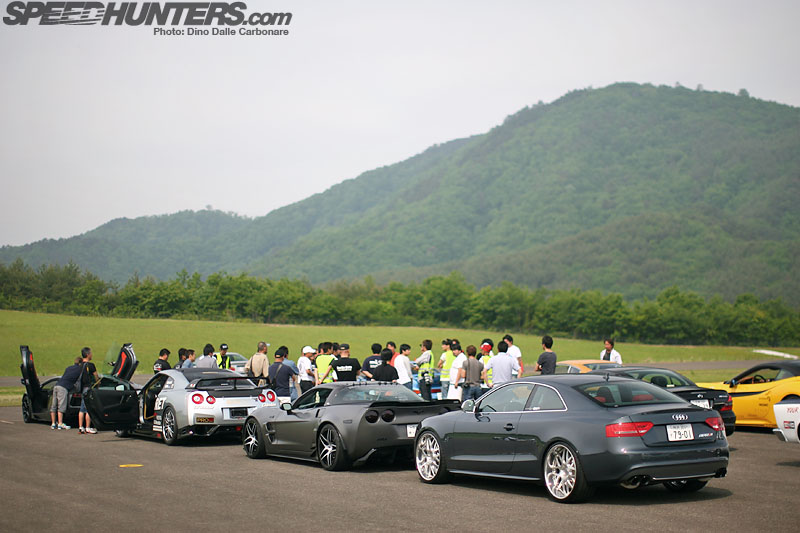 As Takada-san, the editor of Motor Head explained, it would be a rather interesting mix of cars pitched against each other in order to create an interesting multi-page feature for their upcoming issue. So at the beginning of the month, when I arrived at the deserted Fukushima Sky Park air strip about 300-miles north of Tokyo…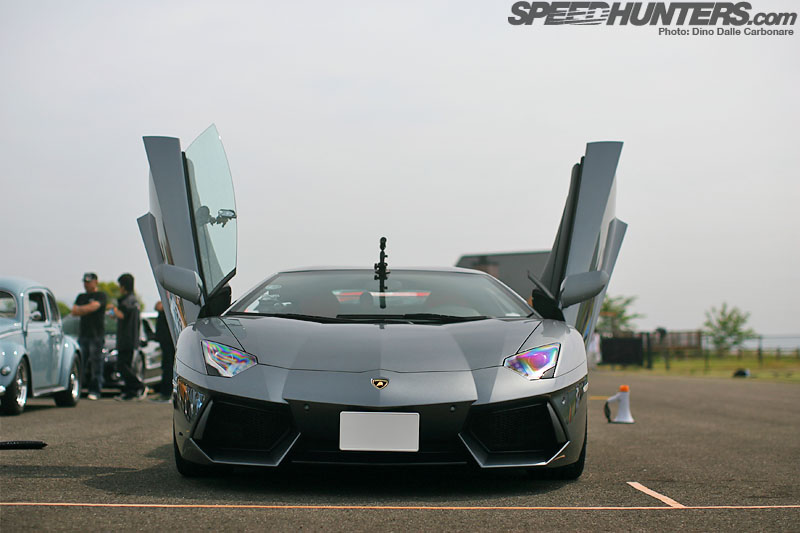 …I was literally blown away by what I found sitting in the paddock along with this brand new Lamborghini Aventador!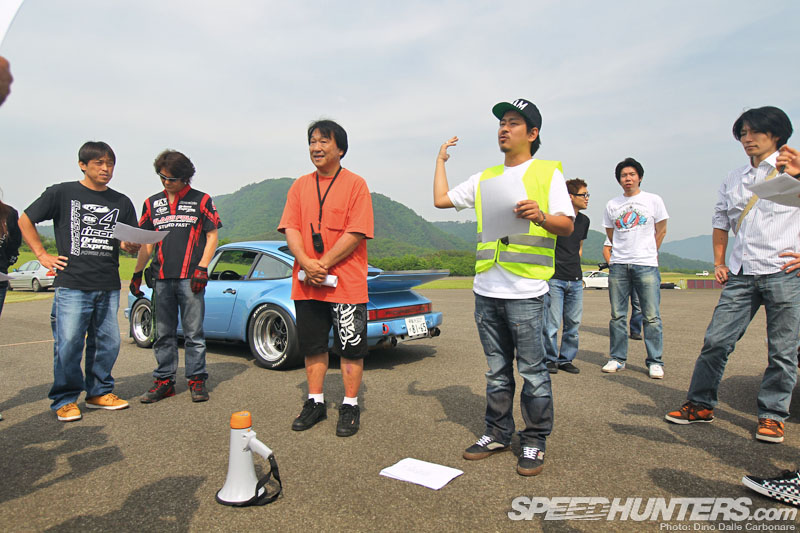 In typical Japanese fashion it was all run with clockwork precision, and within ten minutes of my arrival Takada-san called all participants round and went through the schedule and layout of the event.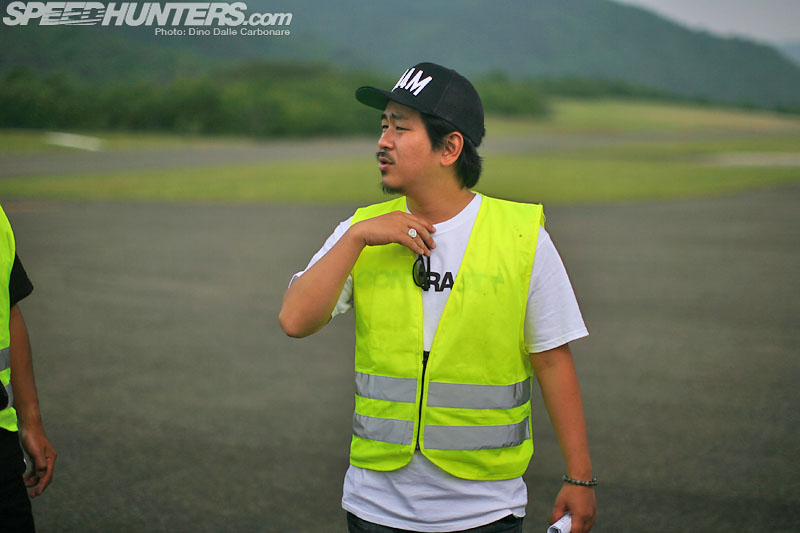 Takada-san had a lot on his plate on the day, as on top of the actual practice and drag racing runs he and his team of photographers and staff writers had to actually set up countless photo-shoots to get every car shot and each angle of the event covered. It was actually great seeing precision and great organization at work, seeing how a high-end publication like Motor Head goes about its business. It's all about efficiency and just observing, I learned a lot.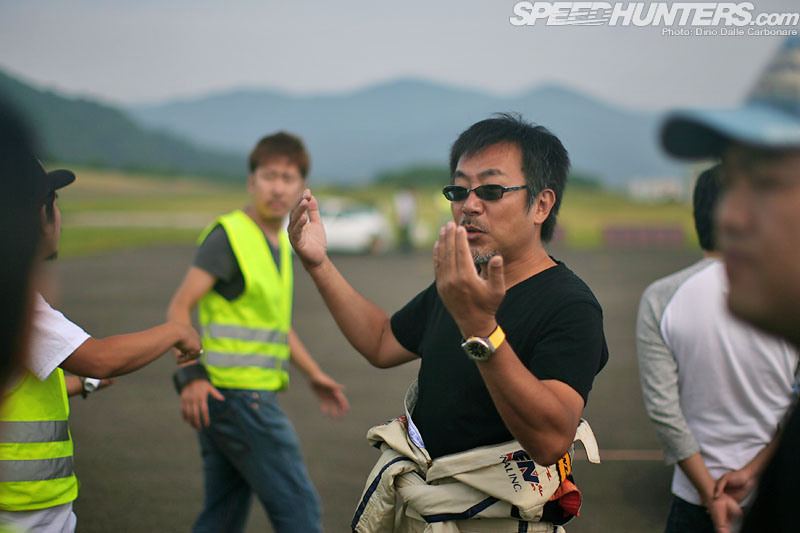 Pro-driver Ooi Takashi, who is also a full-time journalist and driving instructor, was on hand to drive most of the cars that were invited to participate. I had the pleasure of being taught by Ooi-san at a Caterham Drive Experience back in 2010 and was amazed by his skill behind the wheel. He also still holds the FF record around Tsukuba, which he set a few years ago with the 5Zigen Civic Type-R.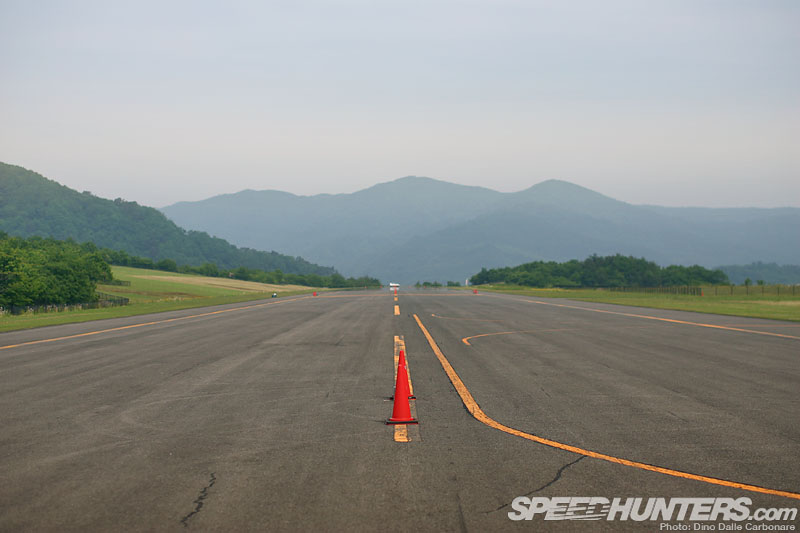 Seeing this mouthwatering line up of cars and an empty runway, made the 3 am start worthwhile! Things would get rolling nice and early with a series of practice runs for each car so that Ooi-san, and the few other drivers, could get used to the cars and grip available.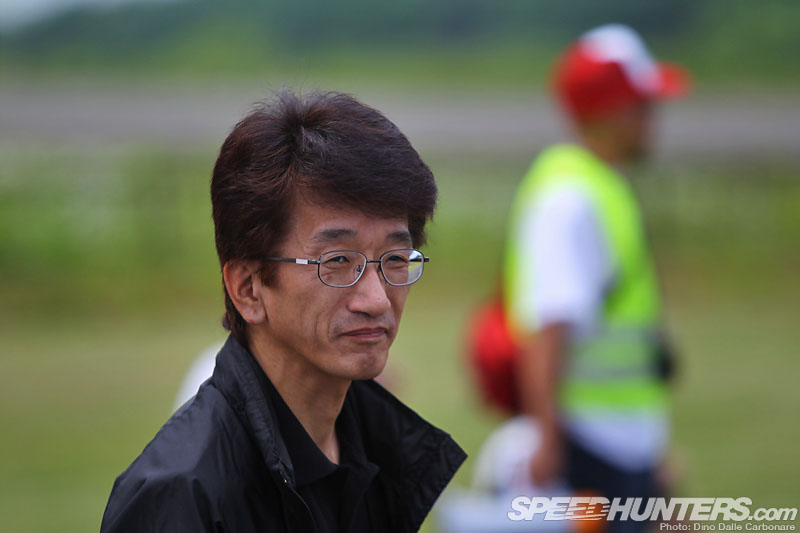 I was very glad to see Nagata-san, aka Smoky, participating in this "Motor Head Zero Yon" day. Like many tuning shops he built his business around drag racing and big power builds and still continues to do this with his current cars. Smoky drove up with Top Secret's most powerful R35 demo car…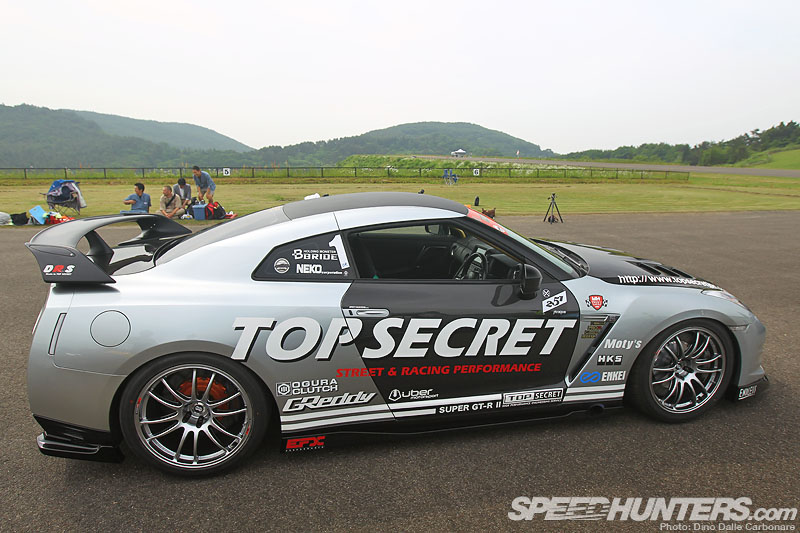 …this 1000+ HP silver beast!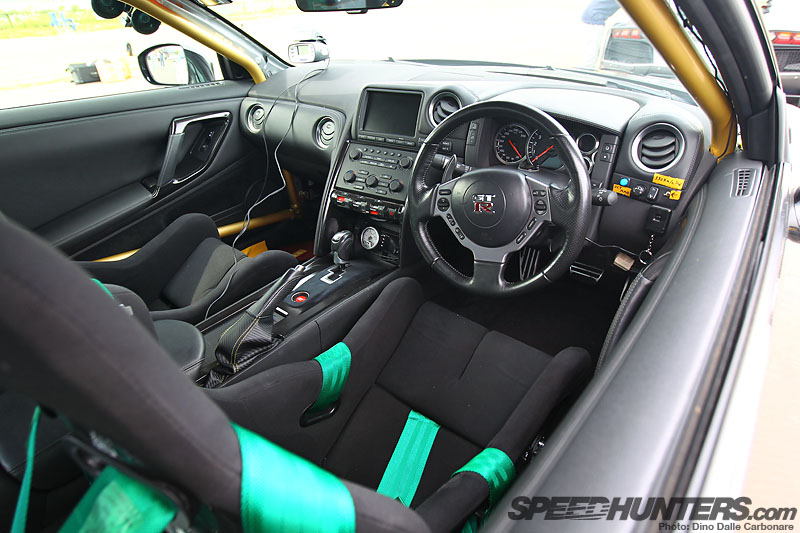 The car has been built for a bit of everything, drag racing, wangan racing and time attack. On top of a fully rebuilt engine with big Trust TD06-25G turbos Smoky has also put a lot of work into the interior fitting a multi-point roll cage and racing buckets.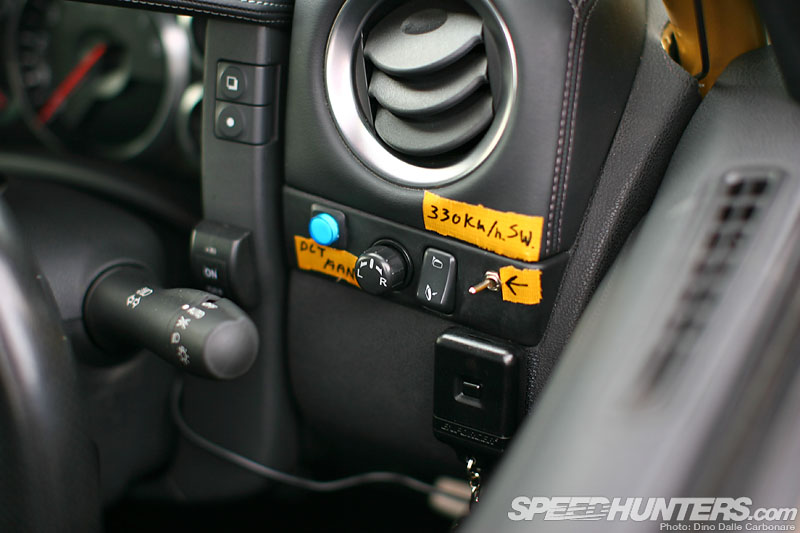 Like most people at the event Ooi-san was a little concerned at the curious "330 km/g switch" on the dashboard. Smoky simply said, if you hit 33o km/h hit it! Can't argue with that!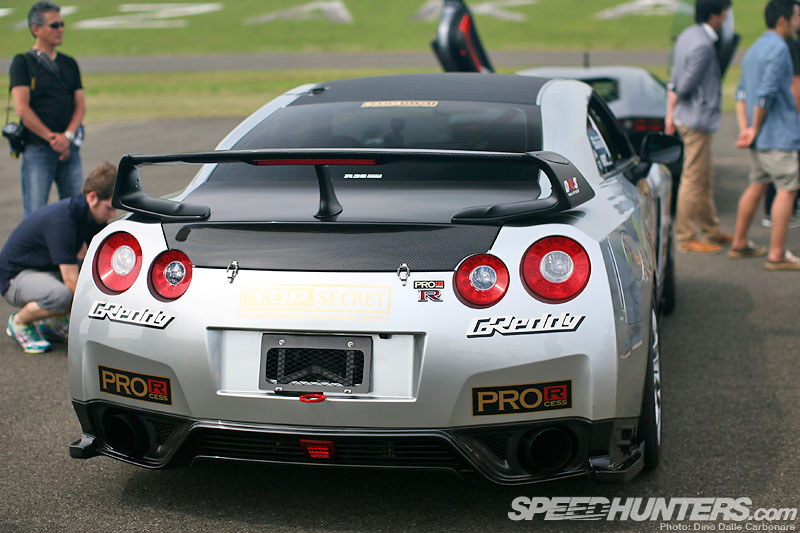 The Top Secret R35 sports a few carbon fiber aerodynamic additions like the big rear wing and front lip spoiler, designed to give the car more stability at high speeds.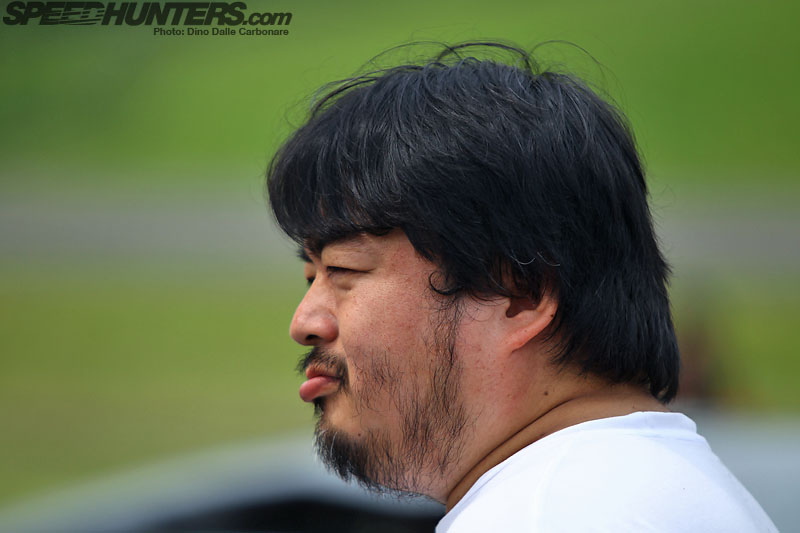 It was cool to catch up with Otsuka-san from The Check Shop who drove up to the event in…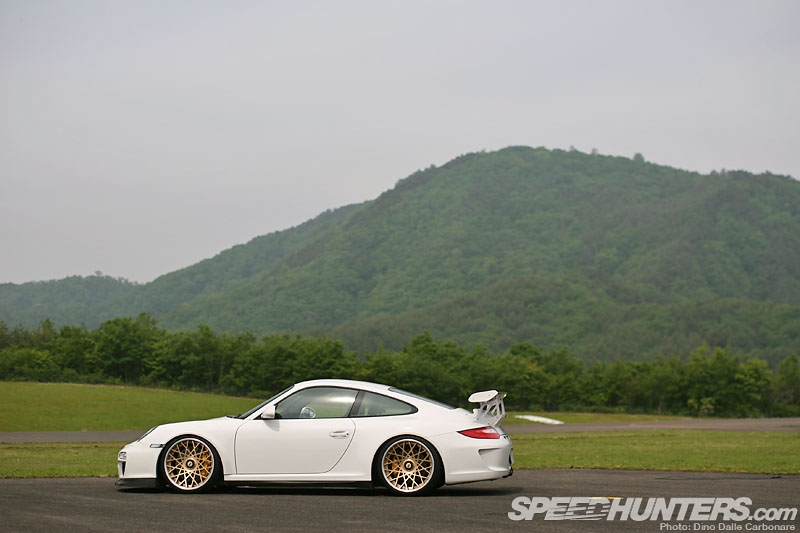 …this USDM 997 GT3 RS 3.8 he has recently imported from California. The car was riding on single lug 20-inch Agio Absolute TWM Ultra CCV wheels rocking a seriously mean stance. The wheels were shod in sticky Michelin Pilot Sport Cup tires, so there is plenty of grip on offer! I was literally drooling over this GT3 all day!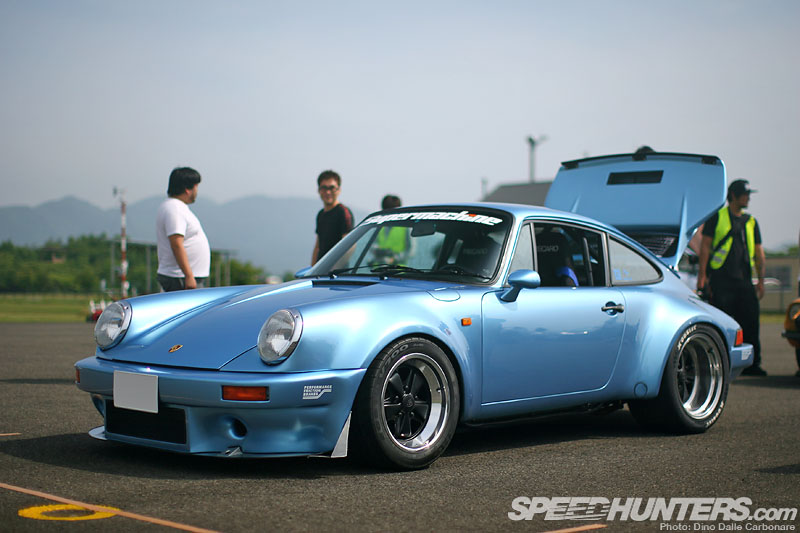 But there was another 911 in the line up that got tons of attention…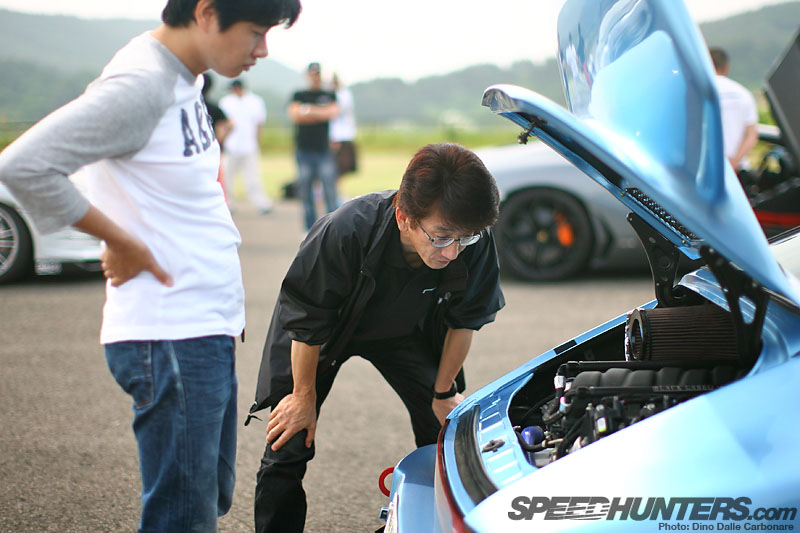 …even by Smoky himself. Nagata-san was there for a good few minutes sticking his head around the engine bay of the Supermachine 930…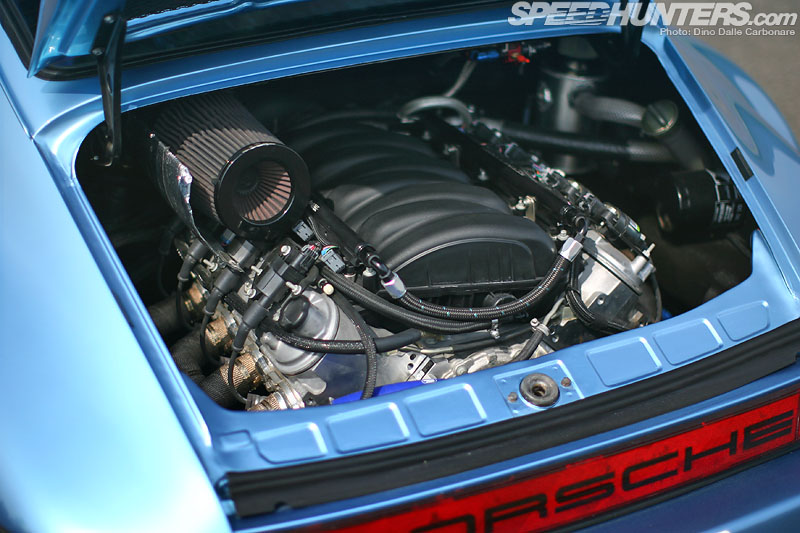 …trying to figure out the work that was done in order to fit the LS7 powering this beast! More on this very special car, as well as the white RS 4.0L above soon.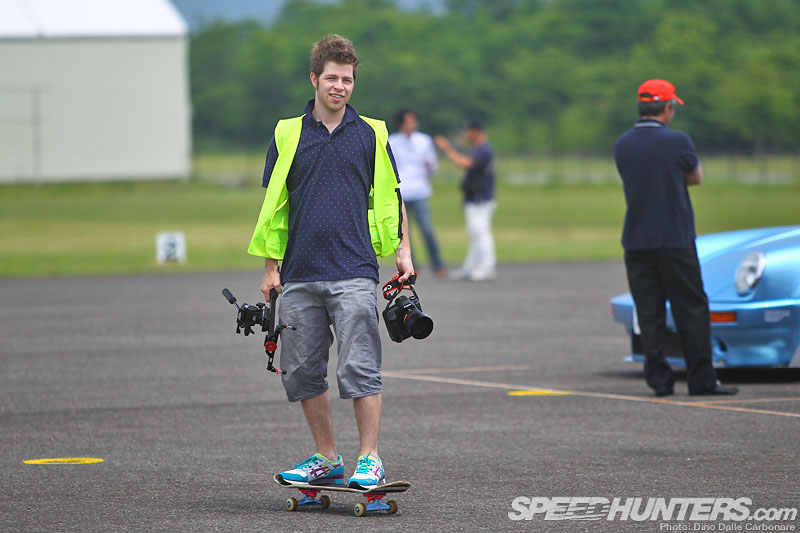 Luke Huxham of Maiham Media was busy filming all day, and you have probably already seen the sick video he put together for the Motor Head crew yesterday. He also grabbed footage from each of the cars so you can expect to see more soon.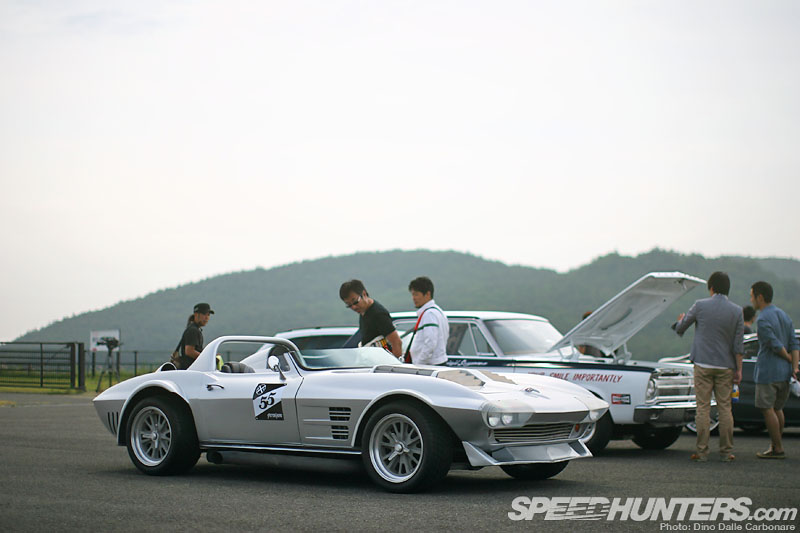 This was a curious entry, one of the C2 Grand Sports that were used in the Fast Five movie. Another car that sounded awesome and definitely one that would be cool to see shoot down the runway.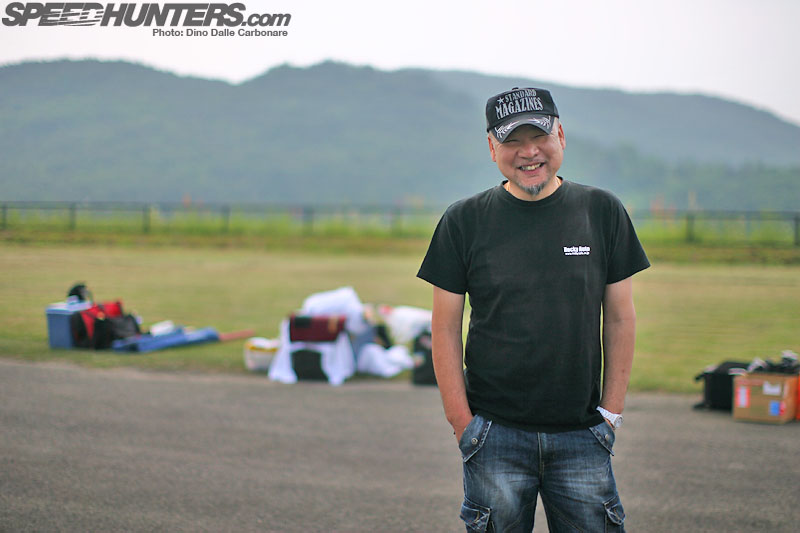 Watanabe-san of Rocky Auto drove about 600-miles all the way from Nagoya to be at the event with his purposely-built vintage drag car.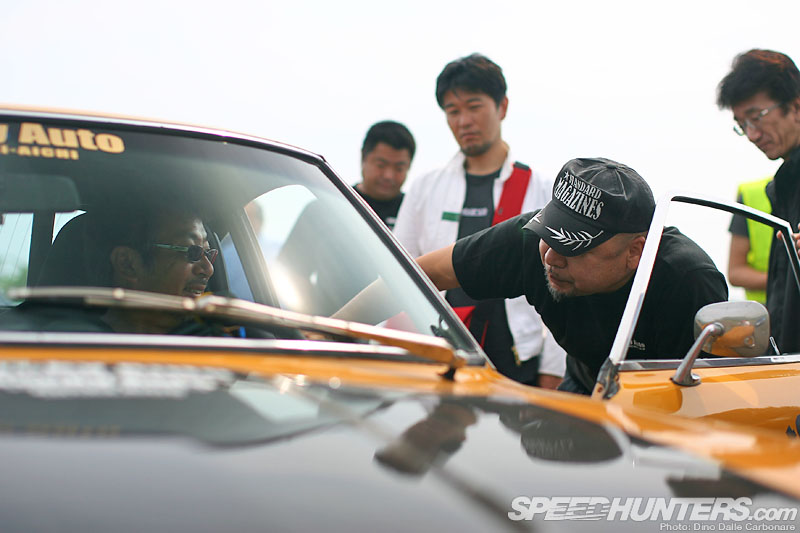 Here he is walking Ooi-san through the line-lock system…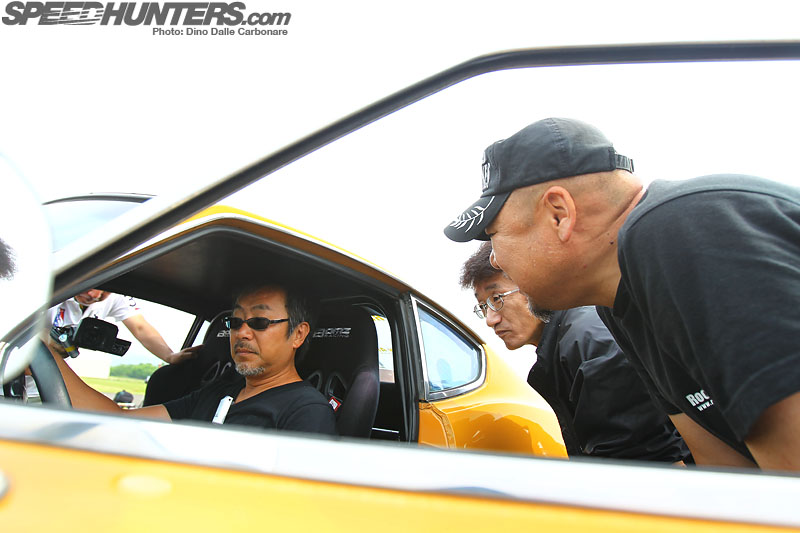 …so that he could hold the car on the line when warming up the rear rubber with a nice cloudy burnout.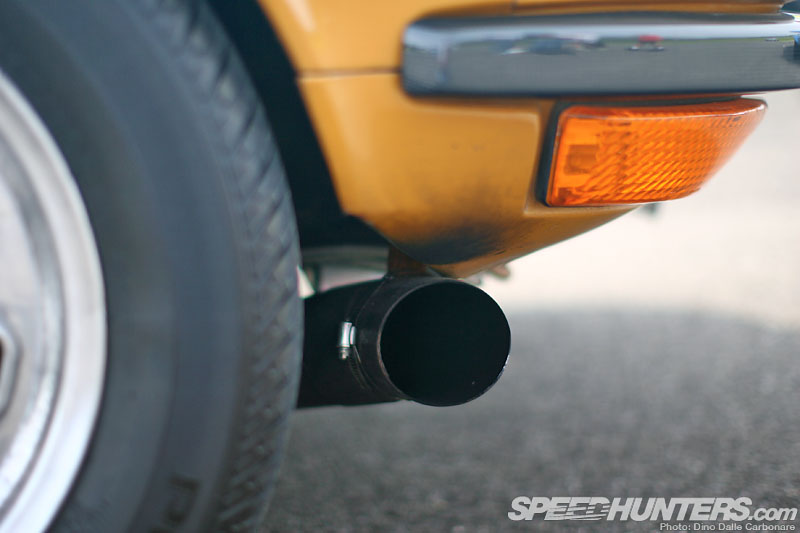 As with every Rocky Auto creation you can always expect a few surprises in the engine department; this curious front-mounted side-exit exhaust was a small clue.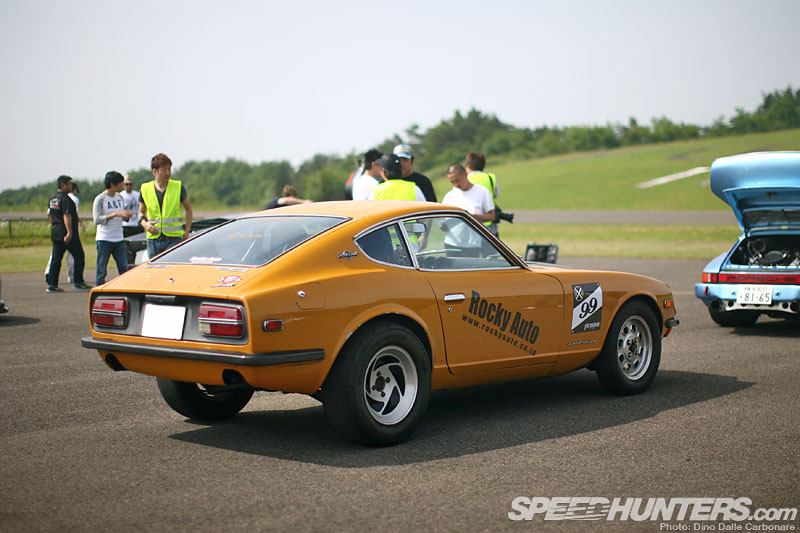 This US-sourced Datsun 240Z was powered by a single-turbo LS3 and sounded nuts out on the runway!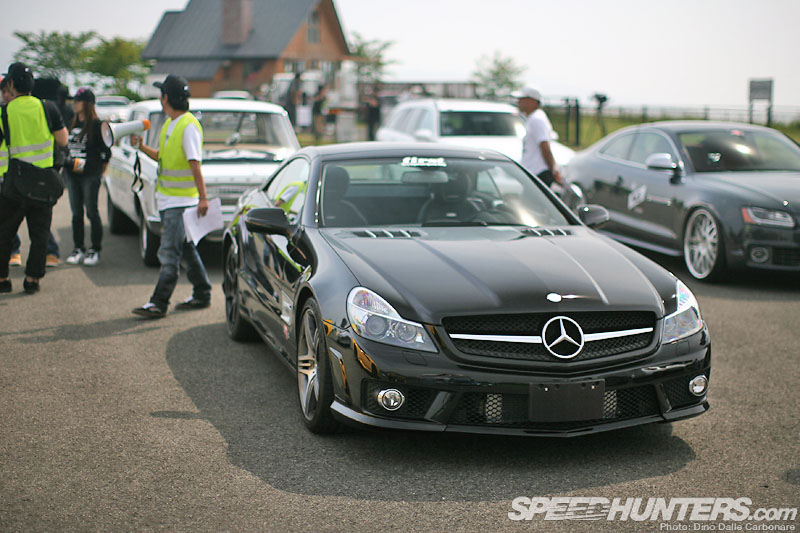 Among the mix were plenty of modern day exotics and luxury cars like this AMG SL63…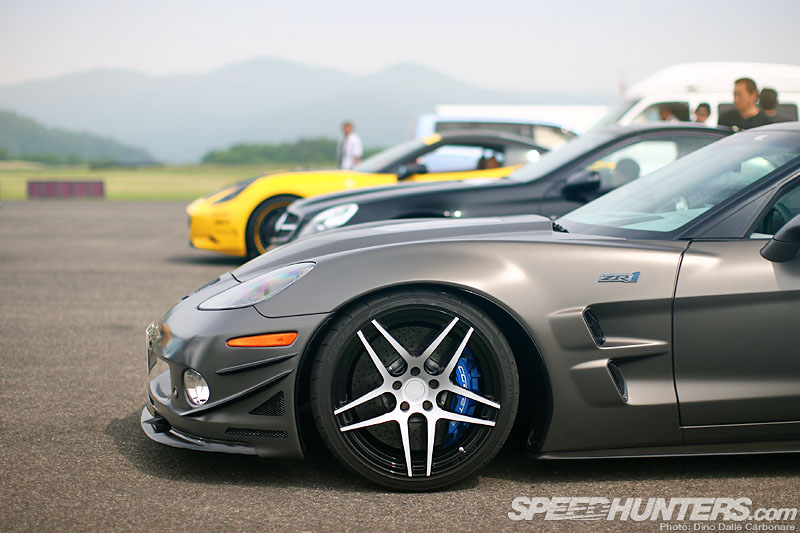 …as well as a ZR1 from Rip Just Balance. I was really curious to see what the big Corvette would be able to do against the other cars there.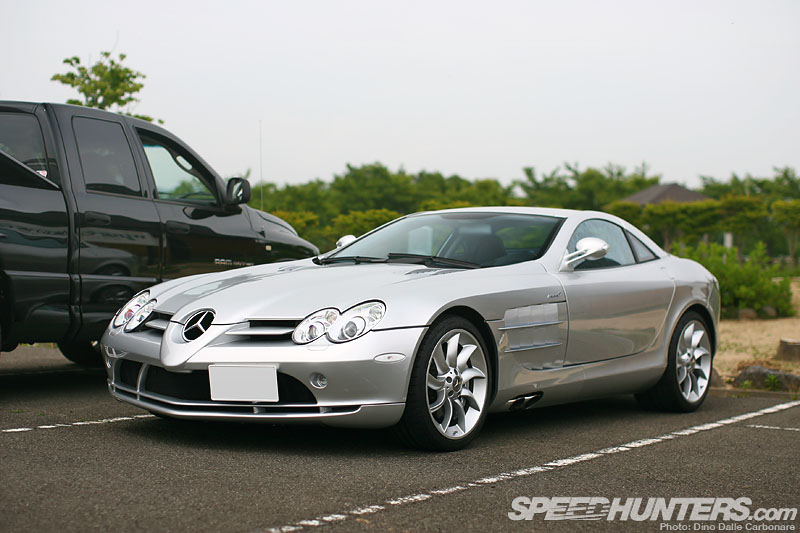 When I arrived earlier in the morning I spotted a couple of awesome Benzes in the parking lot and I just had to head back there later on in the day to get a couple of snaps, after all it's not every day you come across a McLaren Mercedes SLR…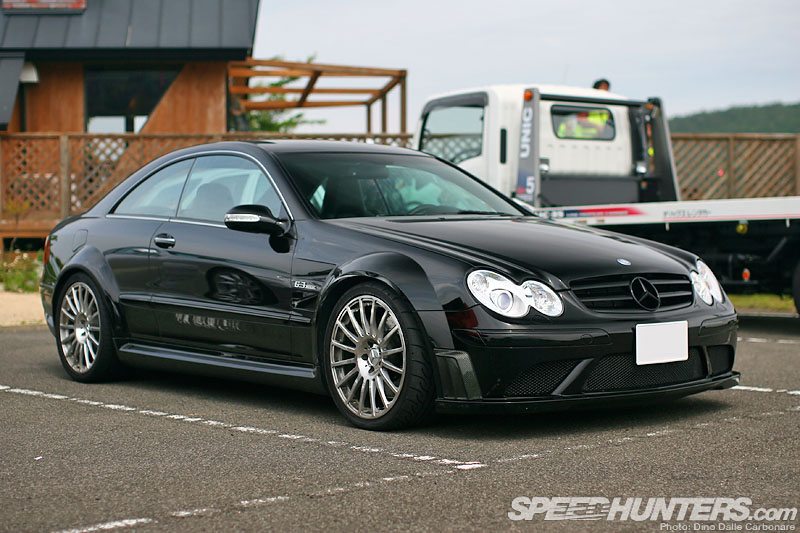 …and an AMG CLK63 Black Series!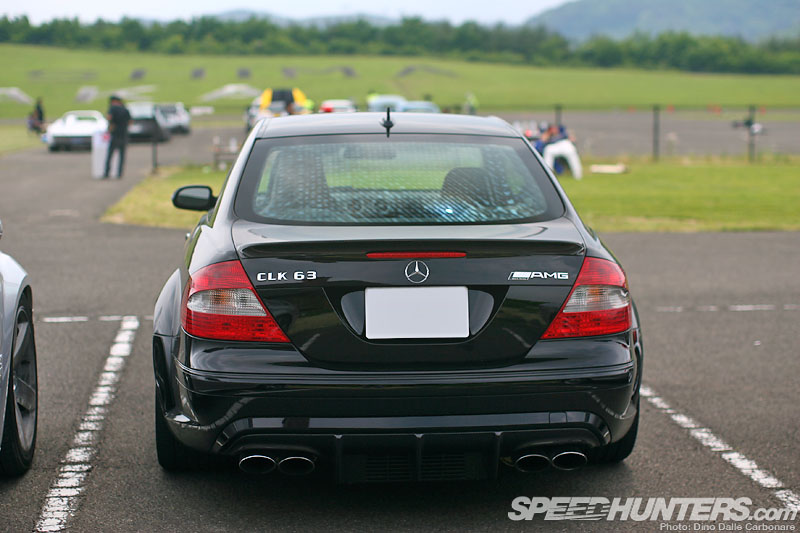 Awesome looking car, just look at that rear end. Too bad these cars didn't compete!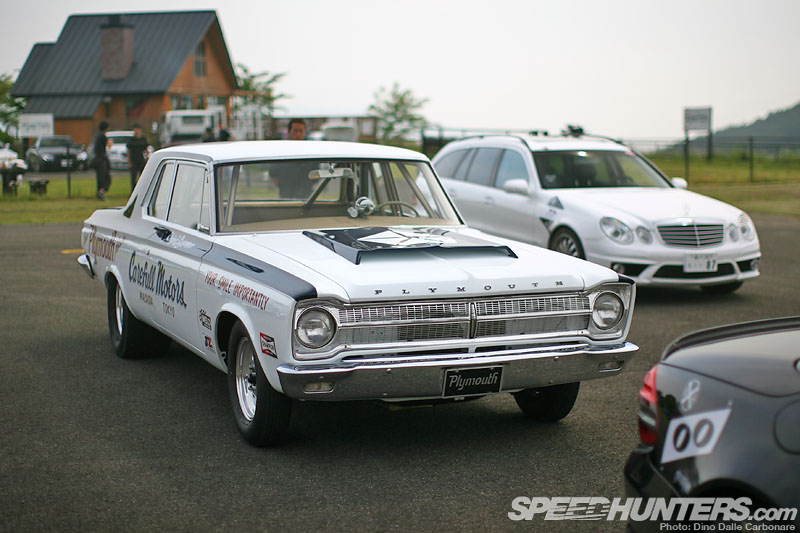 Back in the makeshift paddock I took some time to look over the only actual drag-prepped car there, this 1965 426 Hemi…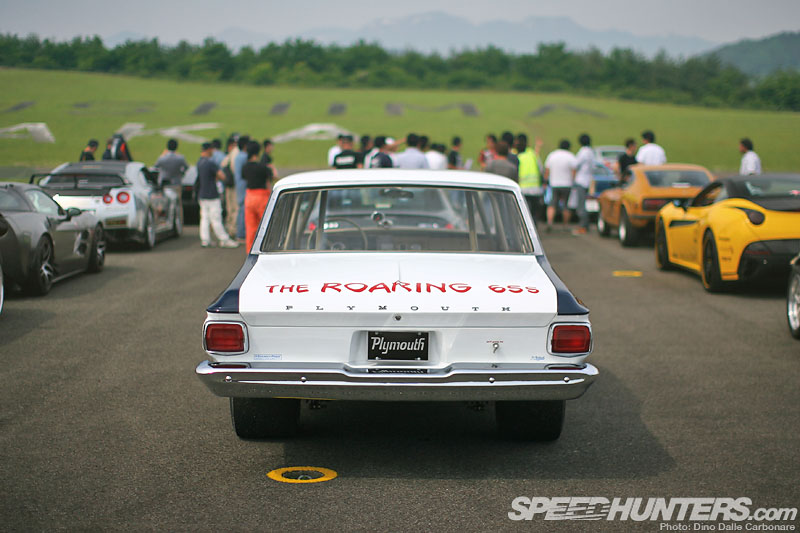 …sporting the sort of stance you expect to see in a vintage drag racer like this. It was big, loud and in your face…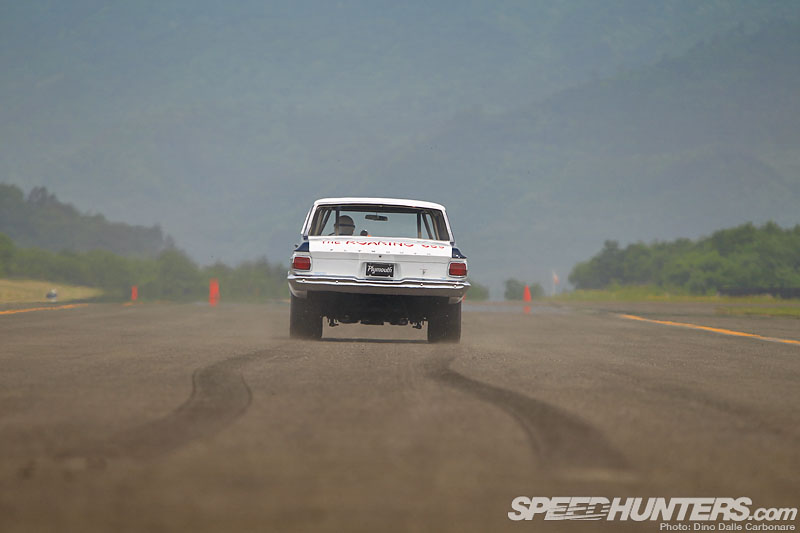 …and was probably the most dramatic car that powered down the strip!
I've got plenty more to show you  from this awesome event, and for those that are in Japan don't forget to pick up the latest issue of Motor Head which is out this Friday!
-Dino Dalle Carbonare