I have been photographing Daijiro Yoshihara since 2006 and I've even followed him to China once, but I've never sat down with him for an interview. Well I figured Formula Drift Round 3 at Palm Beach would be the perfect place to do just that. He was wreaking of champagne and he still had a bit of an adrenaline from his 3rd place finish. I asked him if he wanted to change into a fresh set of clothes but he declined. I guess I would bask in a race suit consisting of my own juices and victory champagne if I was in the same situation. So it went something like this…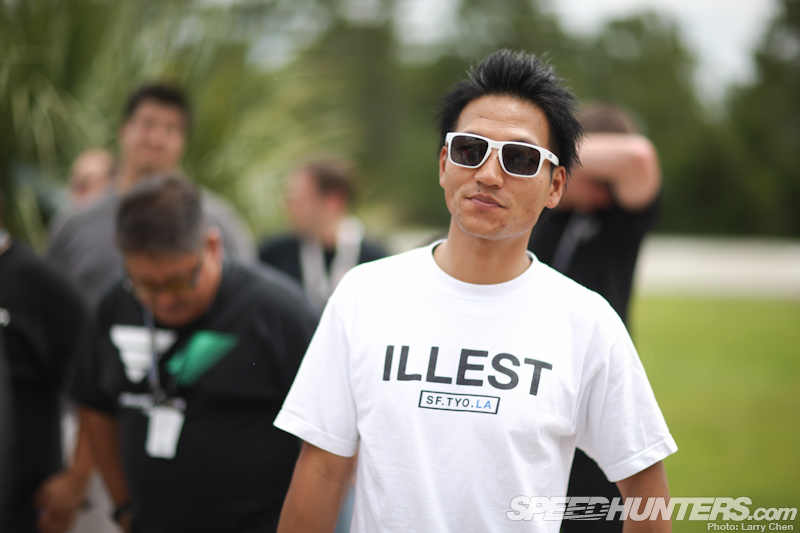 Larry: Dai, You are the current Champ, but things have not been going so well for you this year compared to last year. What do you think about the season so far?
Dai: I got a podium finish in Long Beach but in Atlanta I got knocked out in the Top 32. I feel like it wasn't so long ago when I got a podium, but then again it feels so far away because I got knocked out in Top 32 just last round.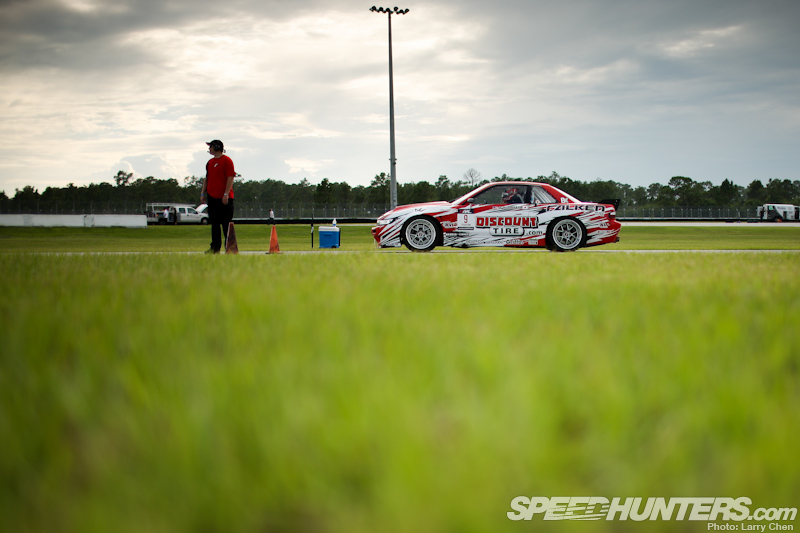 So, coming into this round I really wanted to do well, you know? Winning was not really on my mind, but I wanted to do my best and perform at 100 percent.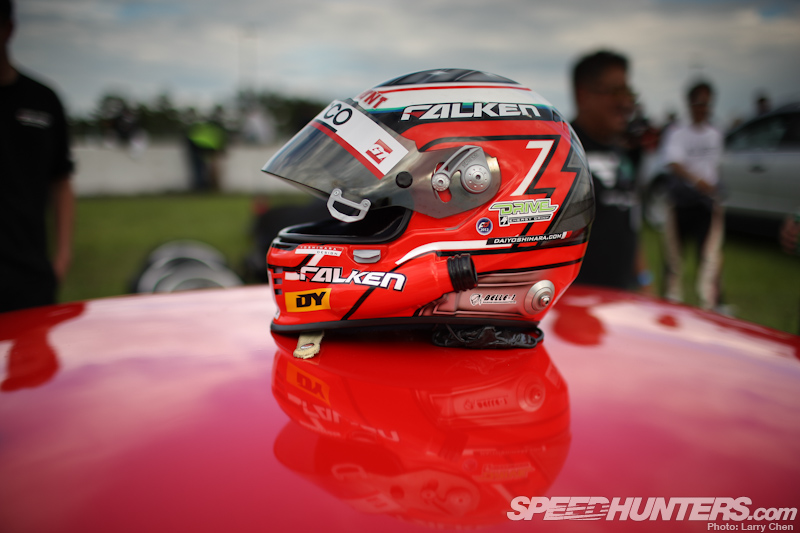 That was pretty much my goal going into this round. This was my second time running this track and it also had a new layout so it was kind of challenging.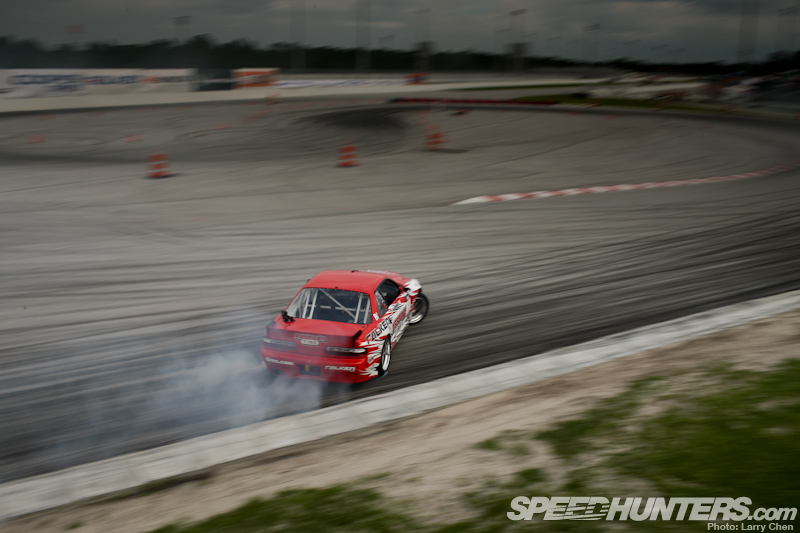 During practice I was struggling, but I was getting comfortable as I drove more and more. Before I knew it, I was driving like I normally do.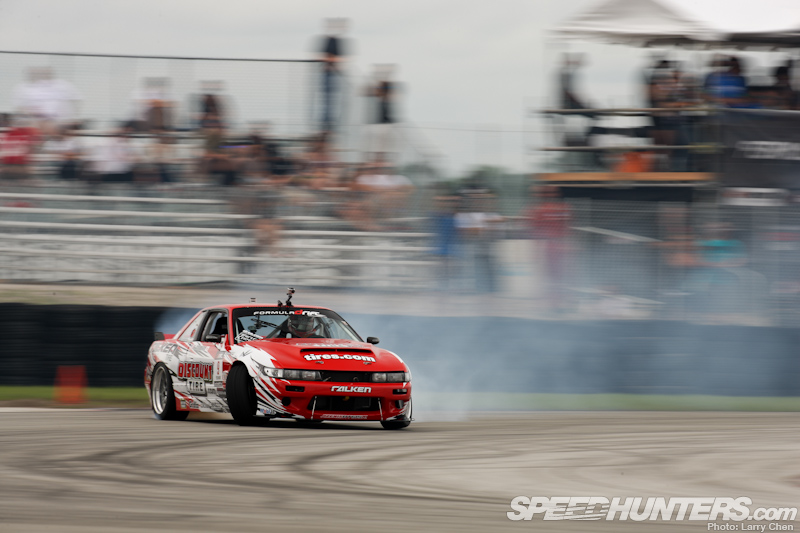 For qualifying I did ok in the first run and I know I had room to make a better 2nd run, but unfortunately it rained a little bit so the surface was very slippery.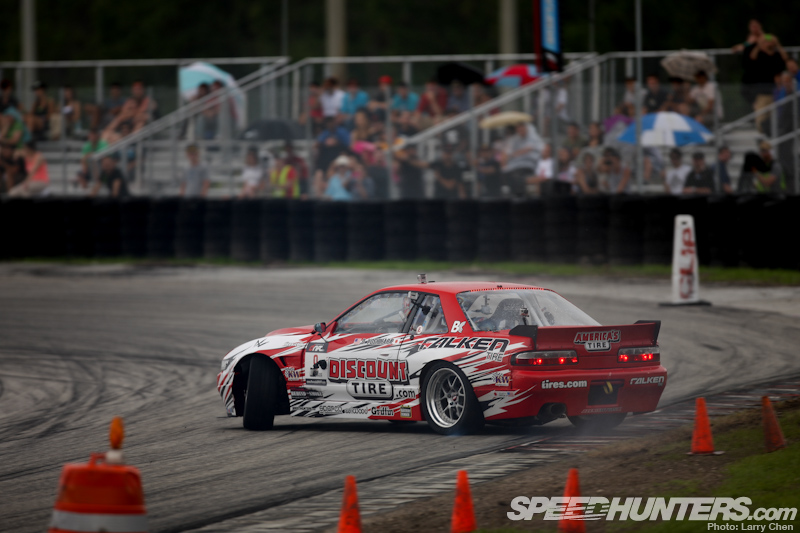 I couldn't do my best and I had to be conservative to keep the car from spinning out. I did really well, but the score was not very high. I got 83 points in the first run so that put me in 14th place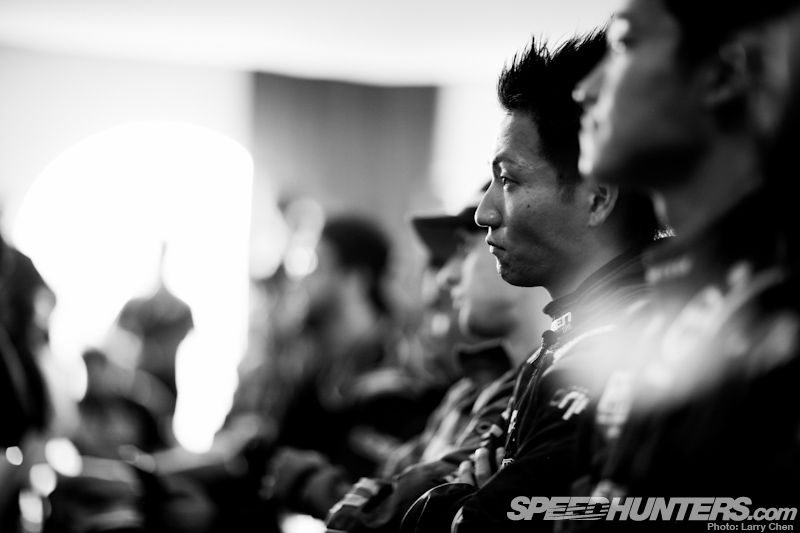 Larry: Were you disappointed? I noticed your team was pretty upset.
Dai: I was disappointed, but it is what it is.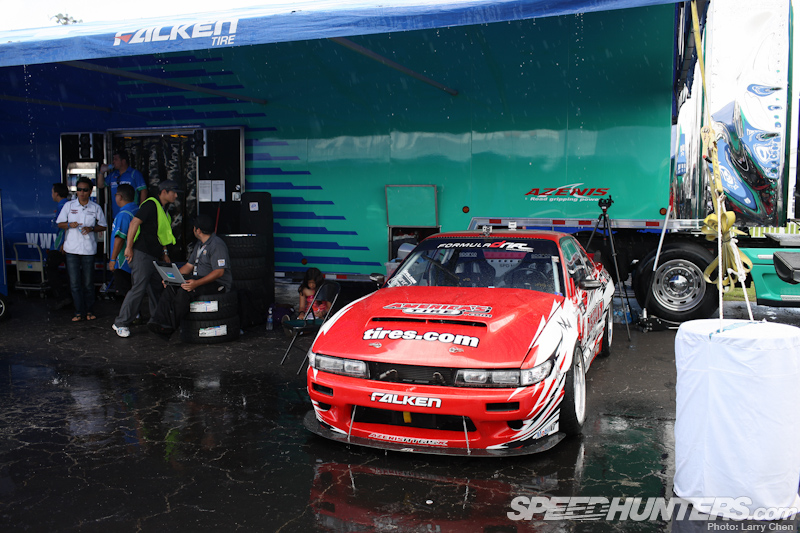 Larry: You can't really do anything about nature.
Dai: Yeah you are right. I was thinking to myself I would do  better come Saturday.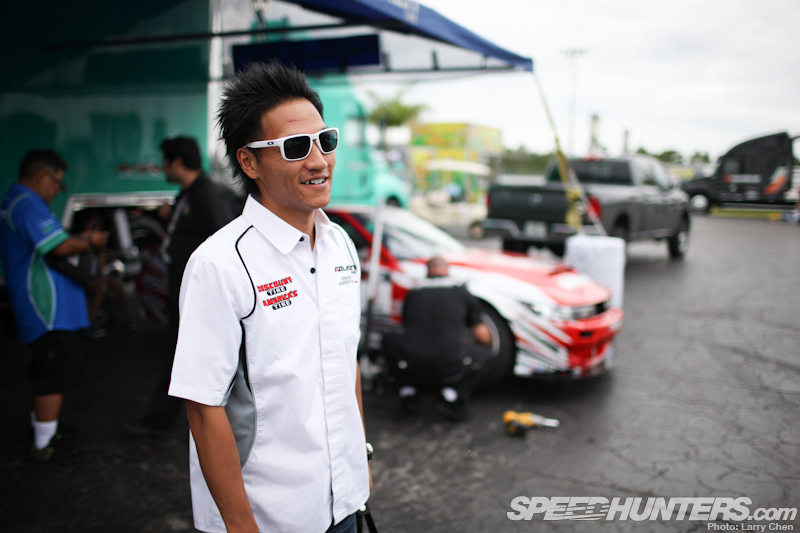 Larry: What were you thinking when you woke up this morning?
Dai: I was thinking I was going to take the battles one round at a time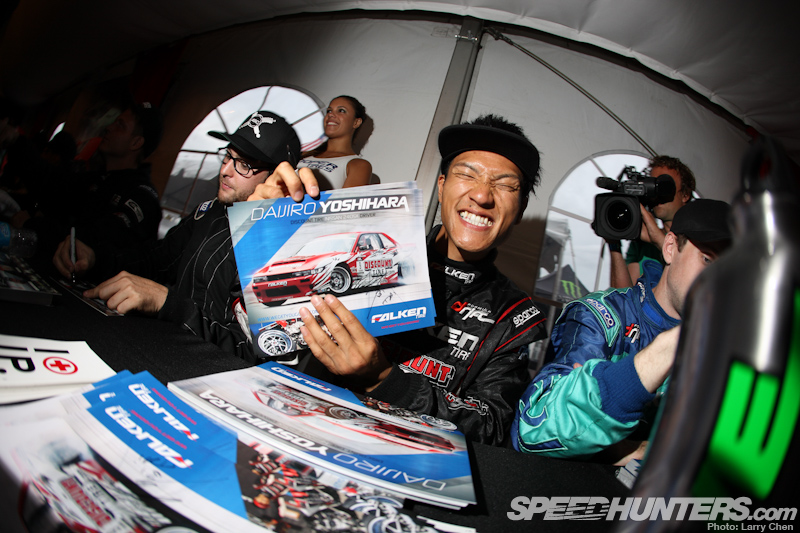 I just forgot about what happened yesterday and focused on today.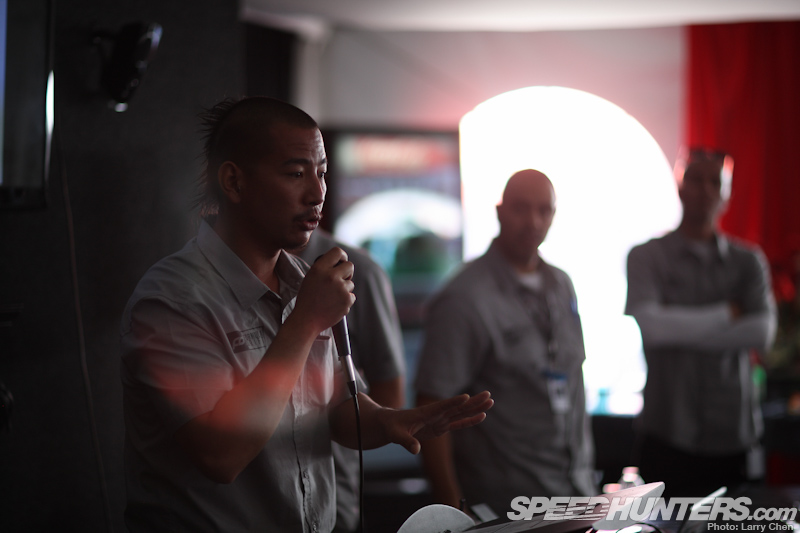 In the drivers meeting they talked a lot about proximity and passing.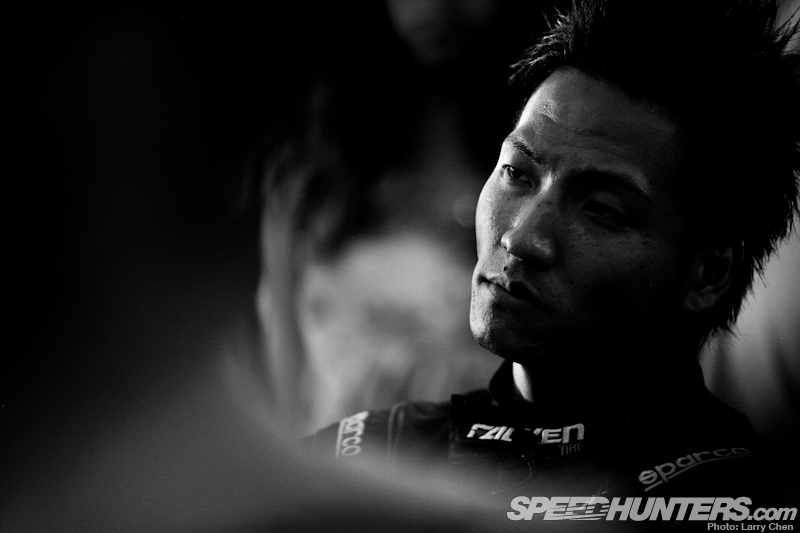 This year and especially on this track the judges are focusing on those new things. I know it will be super fun so I focused on proximity during practice.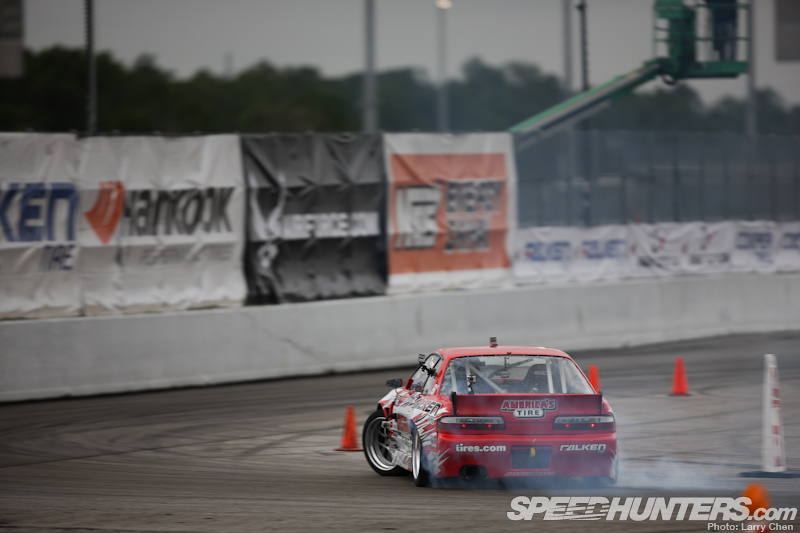 It went ok, because I can't hit anybody, so I have to be semi conservative. But I was trying to find a way to get really close.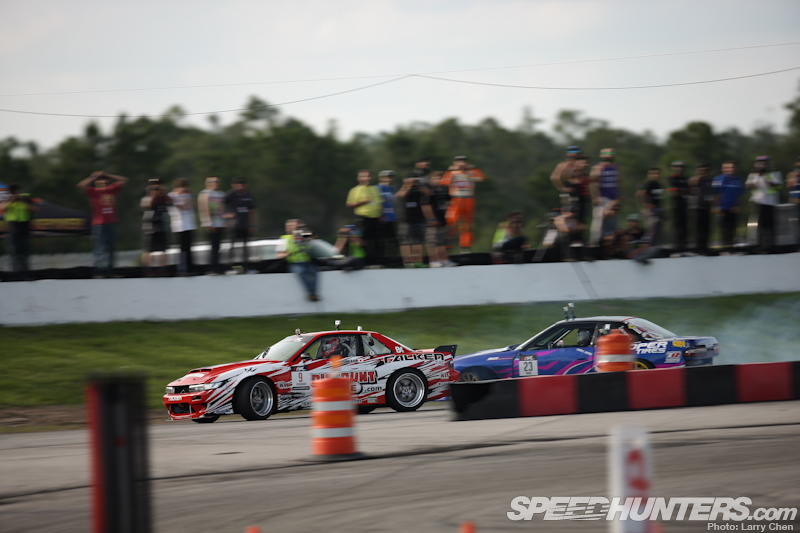 Larry: So tell me about your Top 32 battle with Chris Ward.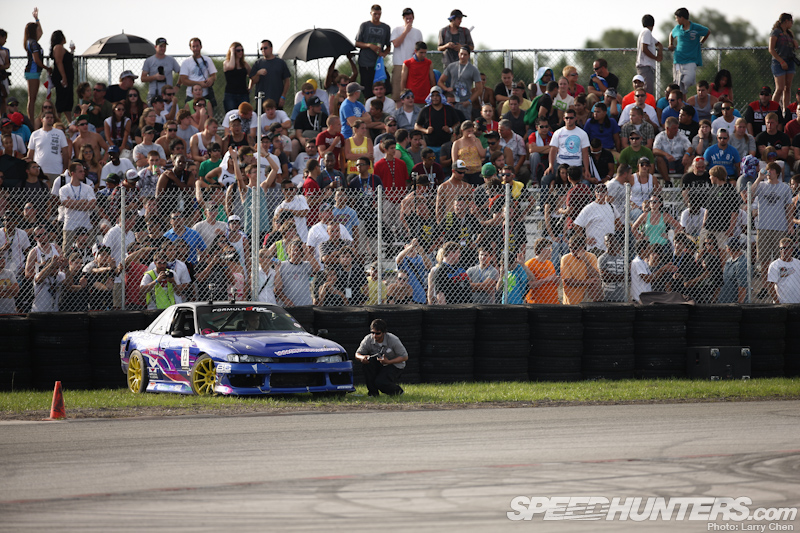 Dai: Actually when I was leading Chris Ward hit me so we didn't even finish the run.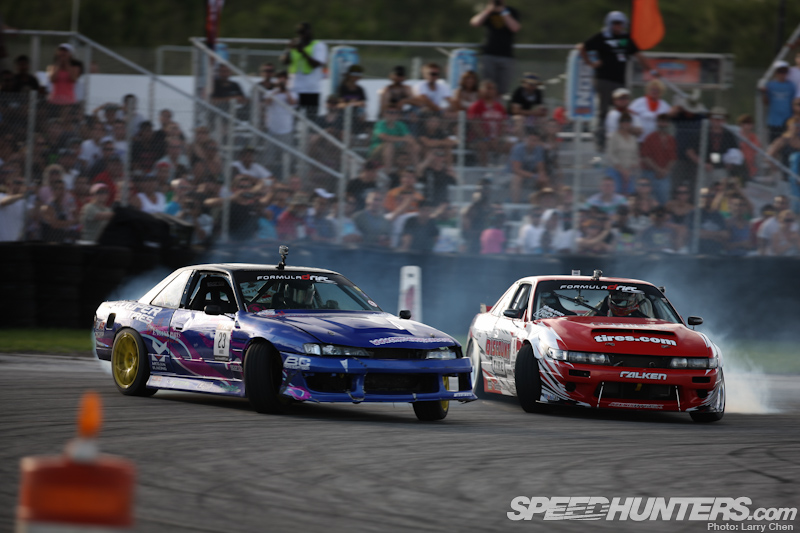 And he fixed the car in time for the follow run. I think I followed pretty well, so I moved on. Of course I had a big advantage from my lead run. I don't want to say it was easy at all, but when he hit me it was a big enough mistake to give me the advantage.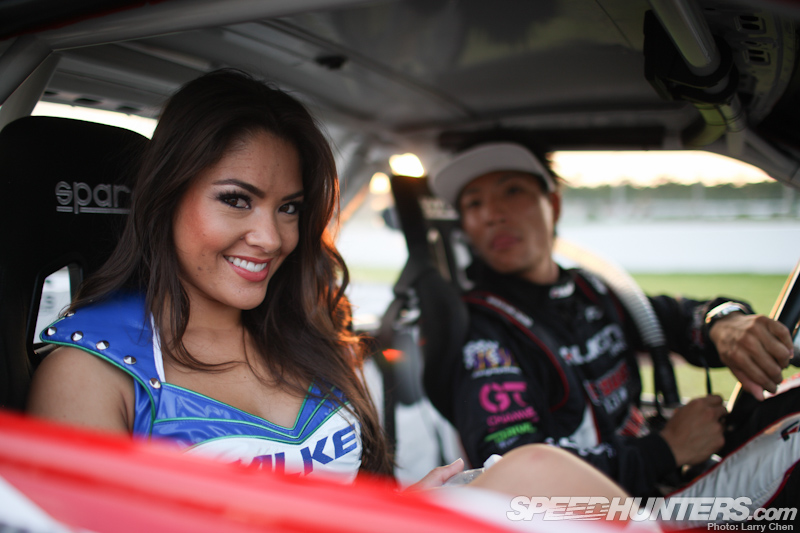 Larry: Were you relieved to make it into the Top 16?
Dai: Yeah….yeah seriously. I really really really  wanted to make it to Top 16. That was my goal.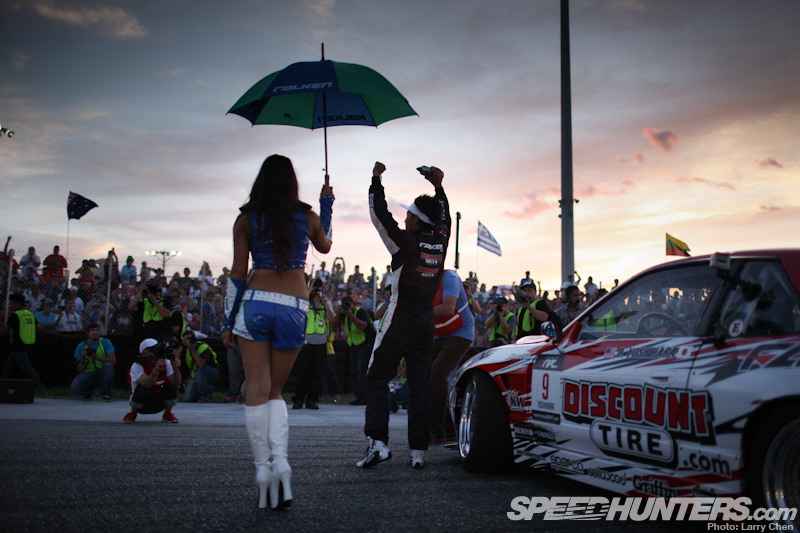 It was more important for me to make it to the podium at that point, because I was taking it one round at a time and I was really happy about it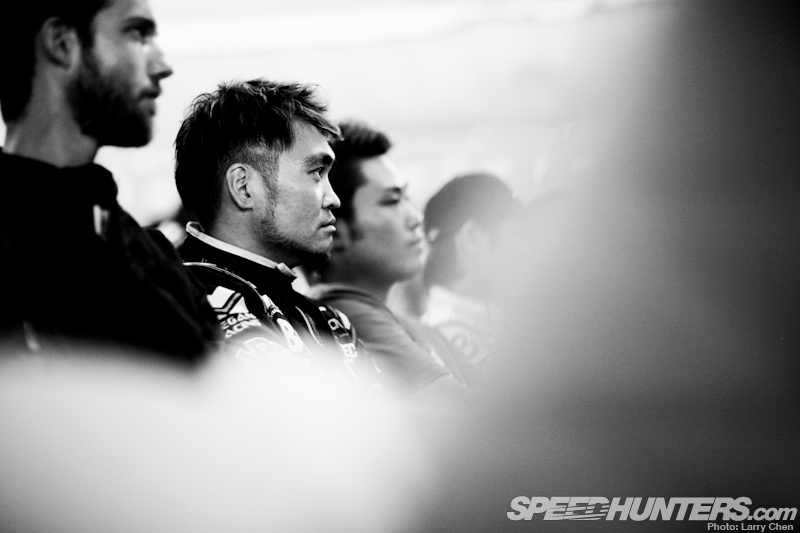 Larry: So what happened in the Top 16?
Dai: Top 16 I ran against Robbie Nishida.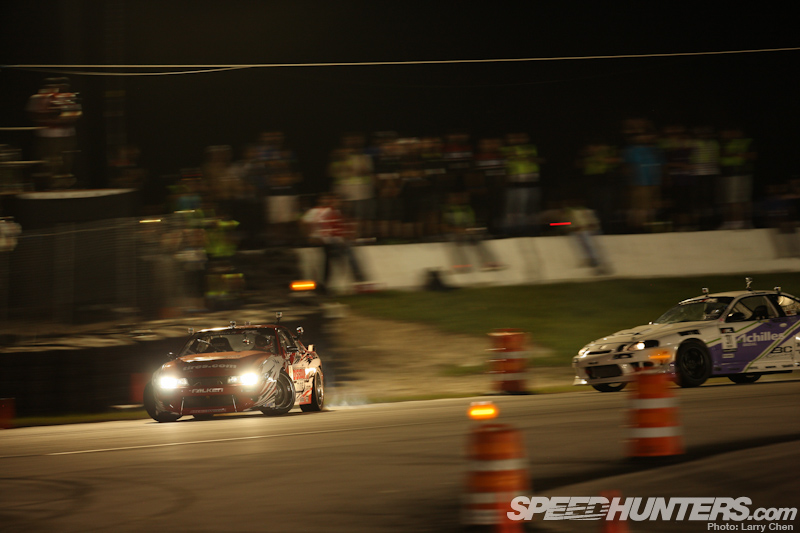 I know the judges were looking for a close battle. Even though it was Top 16 I drove 100% percent, like it was the finals.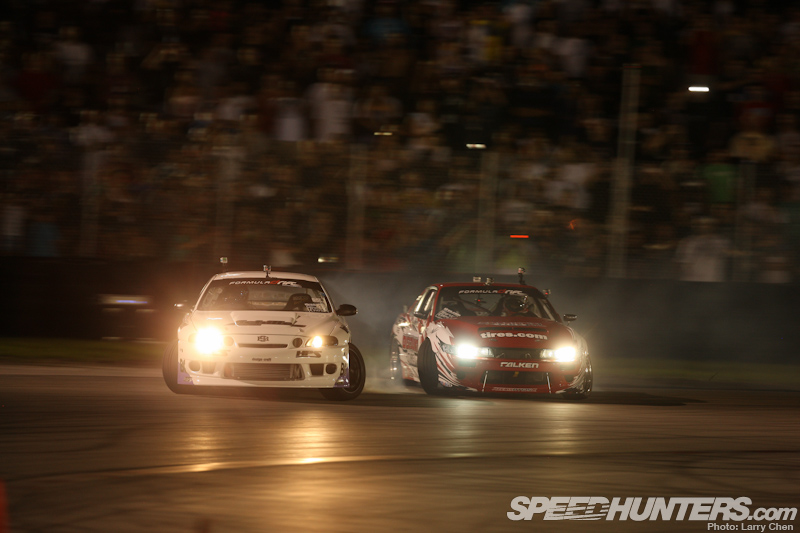 I know Robbie and he drives very straightforward. He does not play games or anything.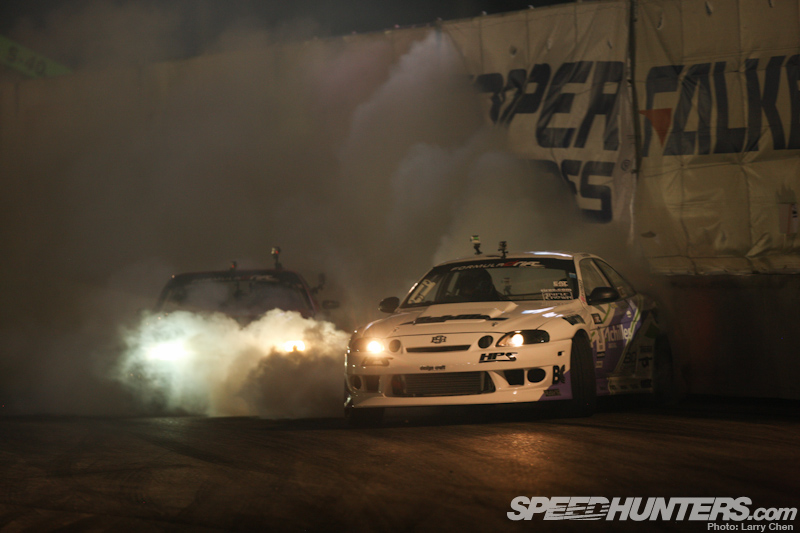 I was confident I could follow closely and I ended up winning.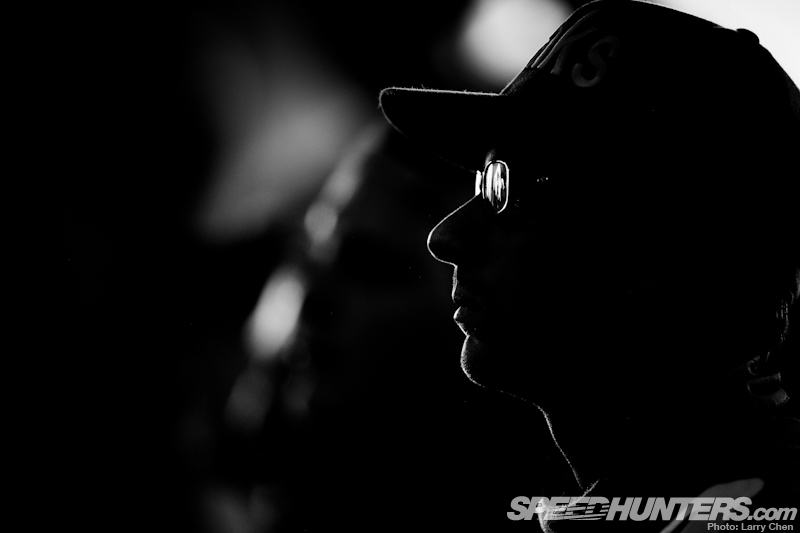 Larry: And Top 8?
Dai: Top 8 was against Ryan Tuerck.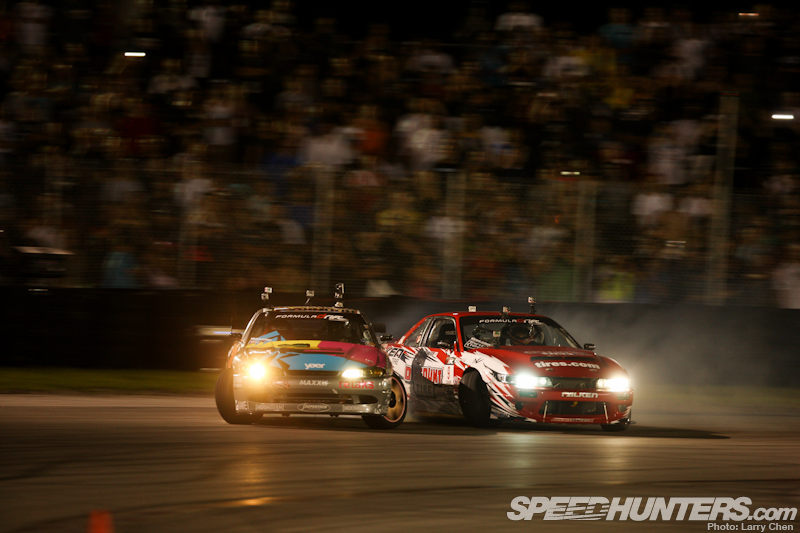 It was a really close battle. I think i did really good when I was following him.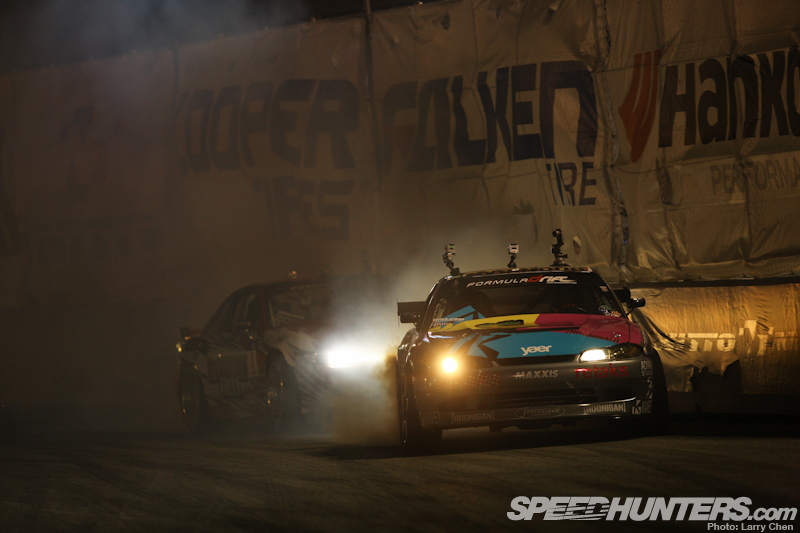 Unfortunately, I hit the wall at the last corner and bent the wheels, control arms and everything.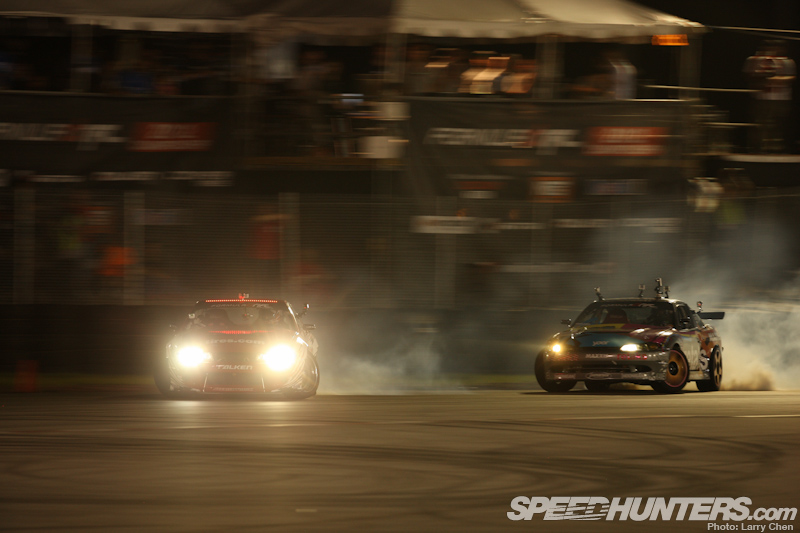 That is why I could not drive to my best abilities while I was leading.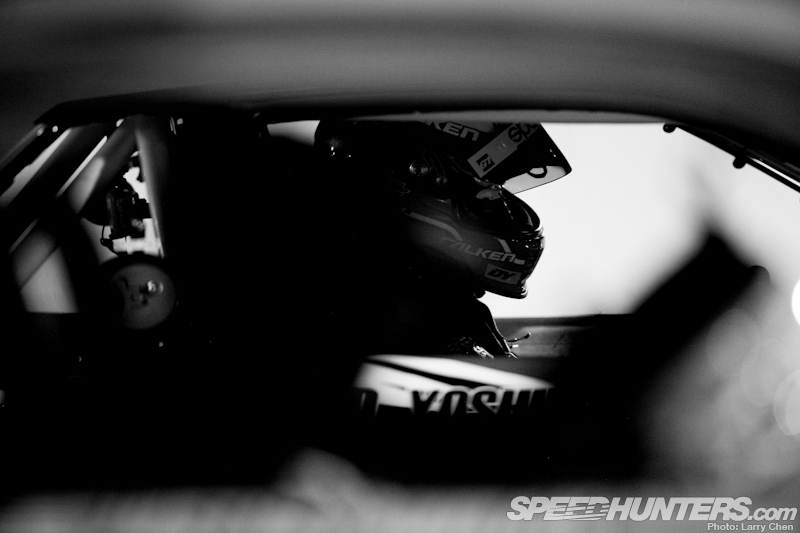 So the judges called for a one more time….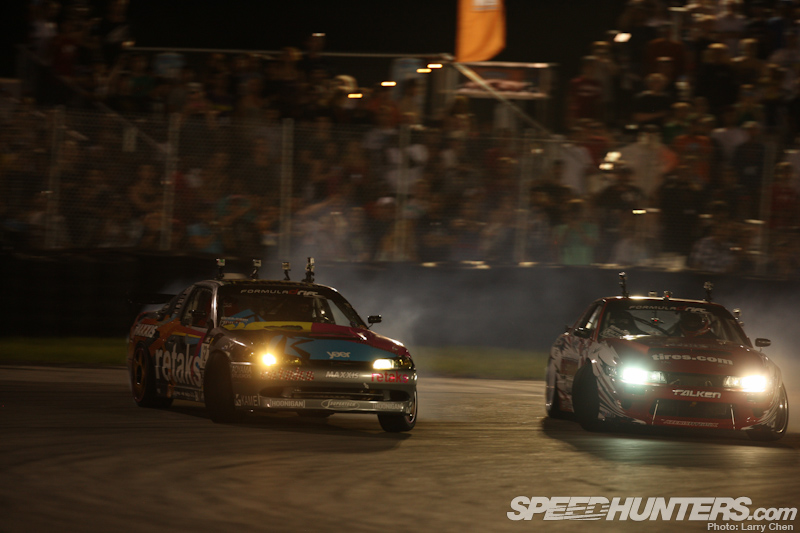 But we fixed the car. We called 5 minutes and my team worked very hard to fix the car in less than the allotted time.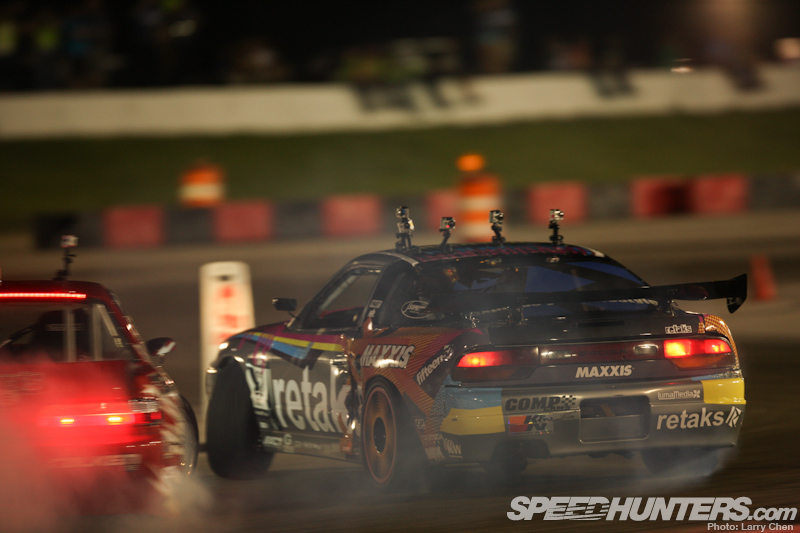 The one more time was another super close battle, but luckily we moved on.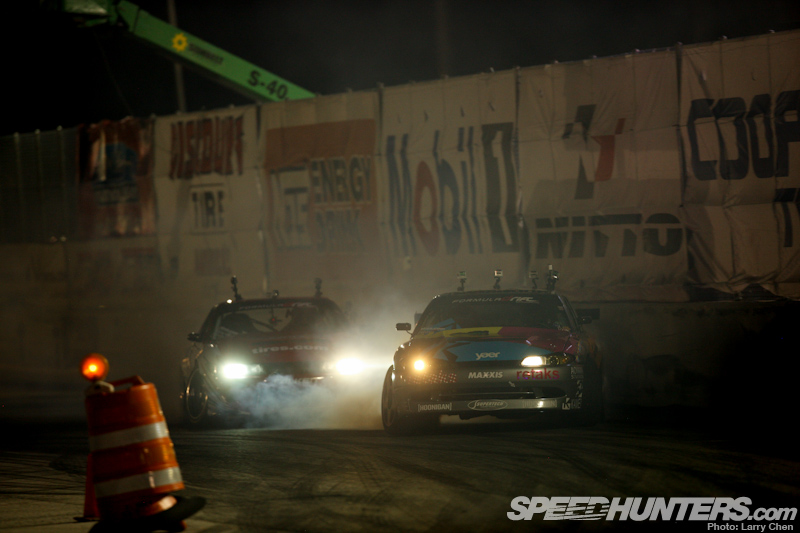 Larry: I noticed you added lots of angle as you closed in, and the rear of your car was super close to your opponent as you were following in the second corner.
Dai: Oh really, I didn't know that. I just trying to get close without hitting them.
Larry: Haha!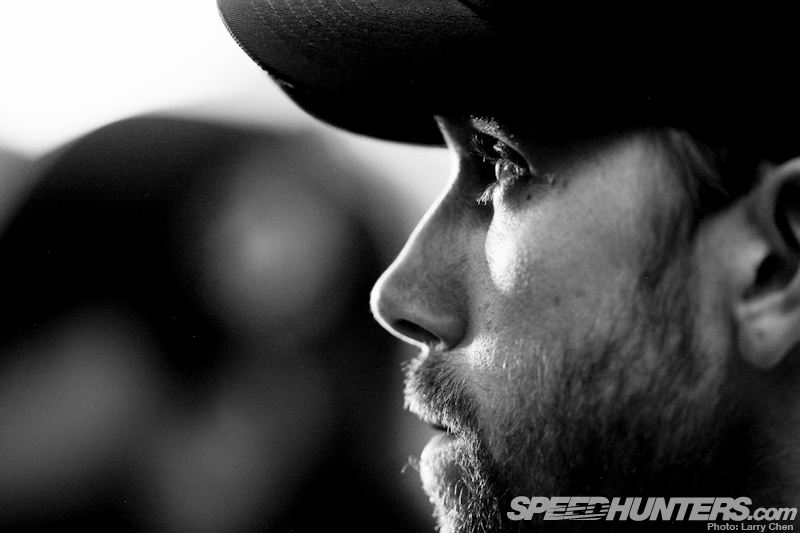 Larry: So tell me about your Top 4 battle with the 2009 champion.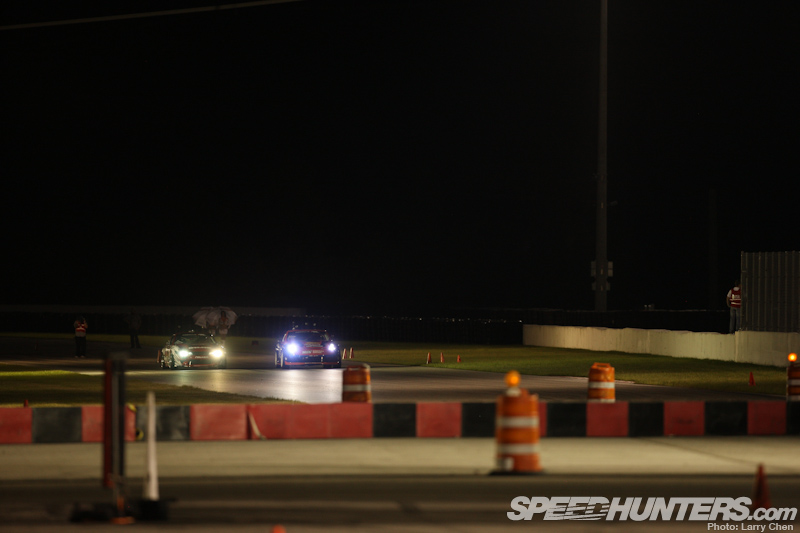 Dai: Top 4 was Chris Forsberg and everyone was telling me he was driving really really good that night. They were also telling me I had to drive harder than I had been in order to beat him.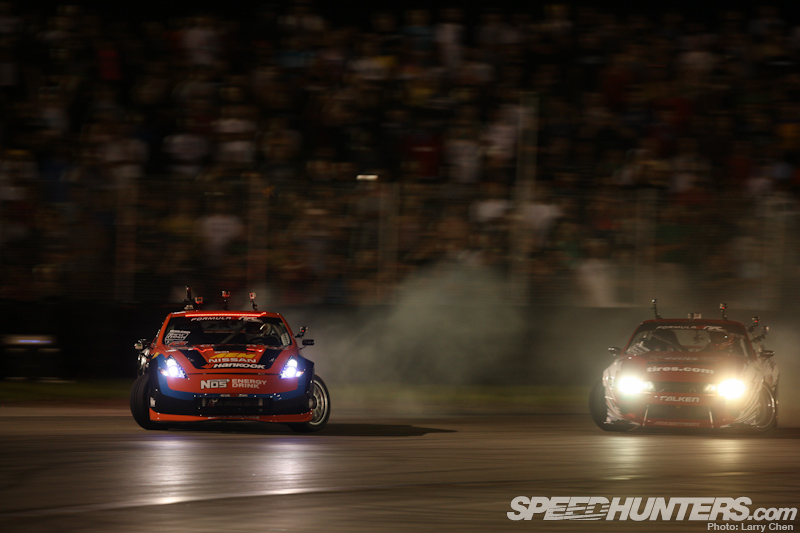 Since he was leading first I knew I had to get really close to his door. I was close to him in the first corner but his car was too fast and he created a pretty big gap.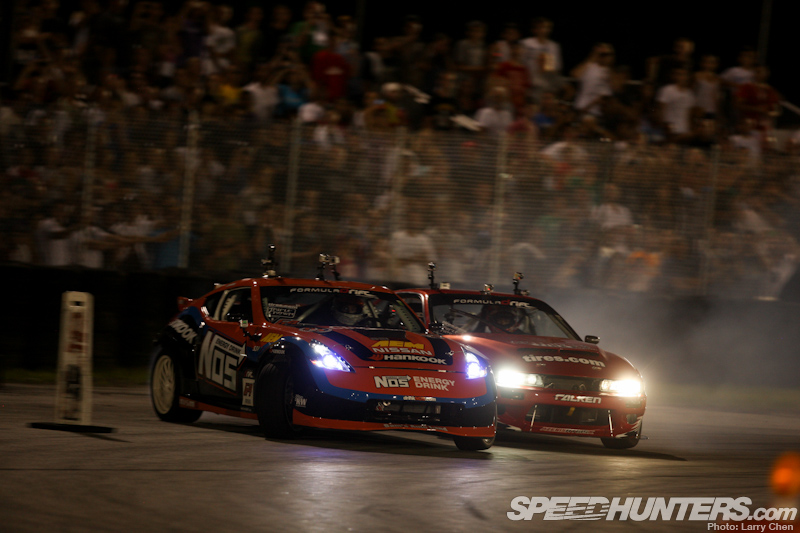 As we transitioned to the 2nd corner I thought I had the right speed, but it turned out I was going in too hot. I hit Chris' door and straightened out. He ended up moving on.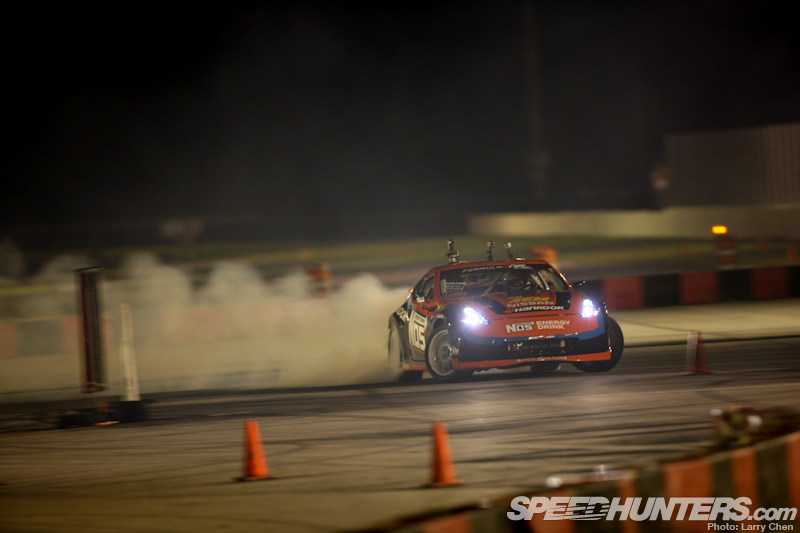 Larry: Did you know Chris was driving without an E-brake? His stopped working after top 32 apparently.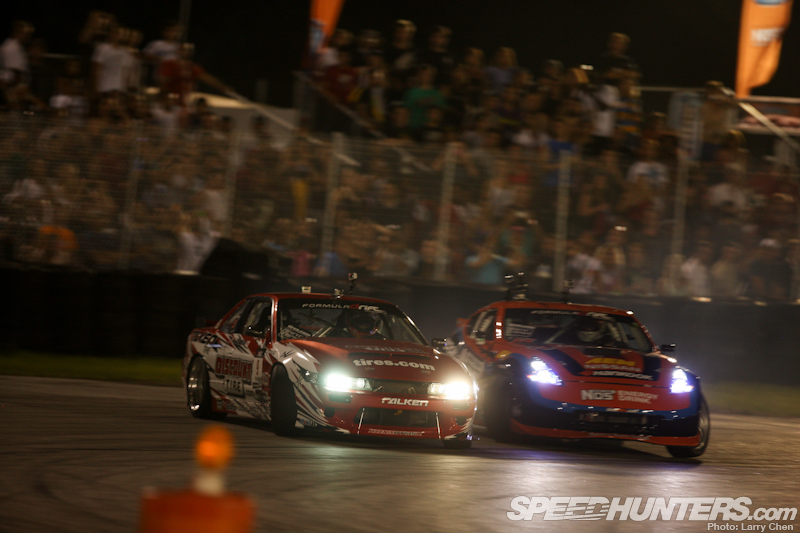 Dai: I know, it's actually pretty amazing that he did that well, because my car was working properly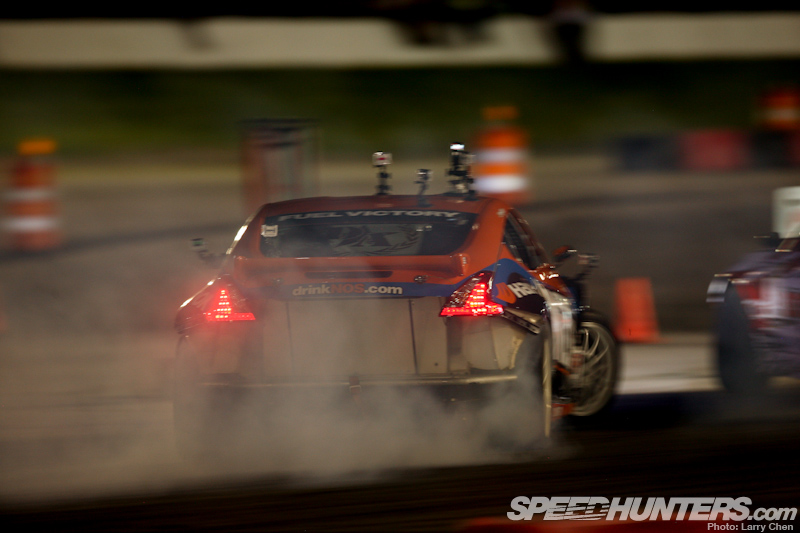 Larry: Do you think that affected the battle between you two?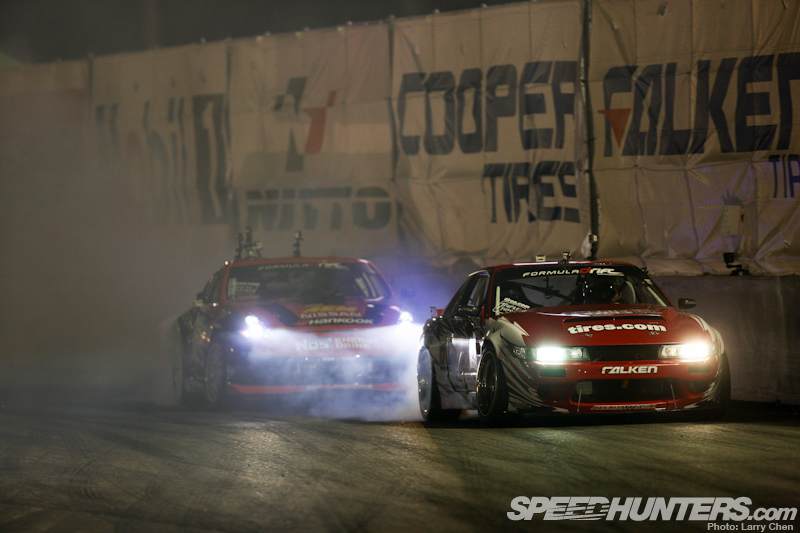 Dai: I don't know how he did that, I thought I could handle going against him but I just couldn't do it.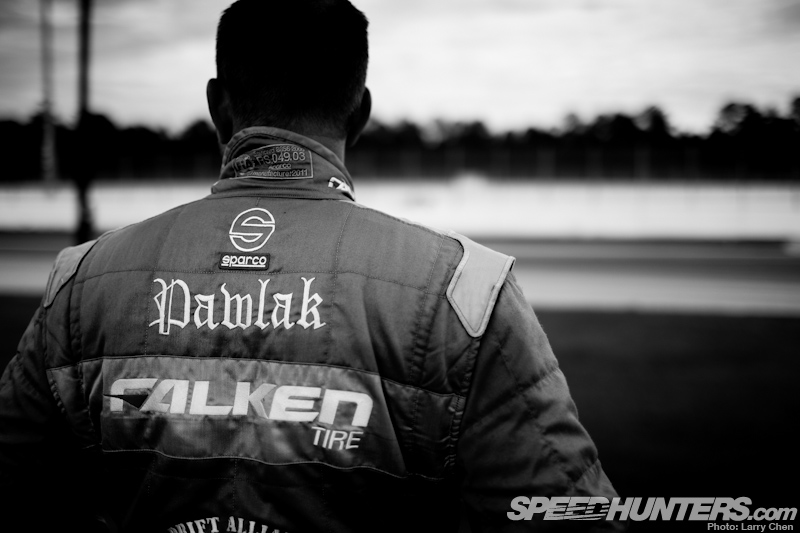 Larry: Your last battle was pretty epic to say the least.
Dai: Going into the third place battle against Justin Pawlak, my front wheel was totally messed up since I hit Chris' door.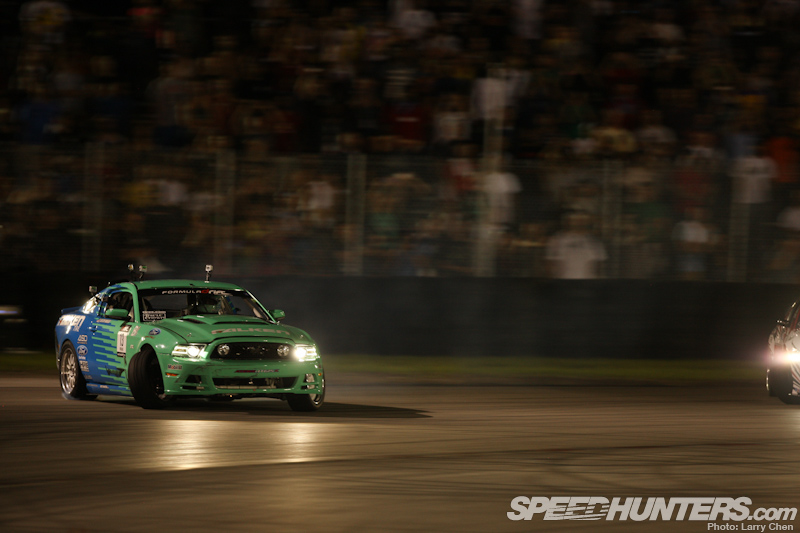 It was toe'd in about an inch and a half. I knew it was totally messed up, but since I already called five minutes going against Ryan Tureck, I could not call another 5 minutes. Even though I knew it was messed up, I still had to do my best.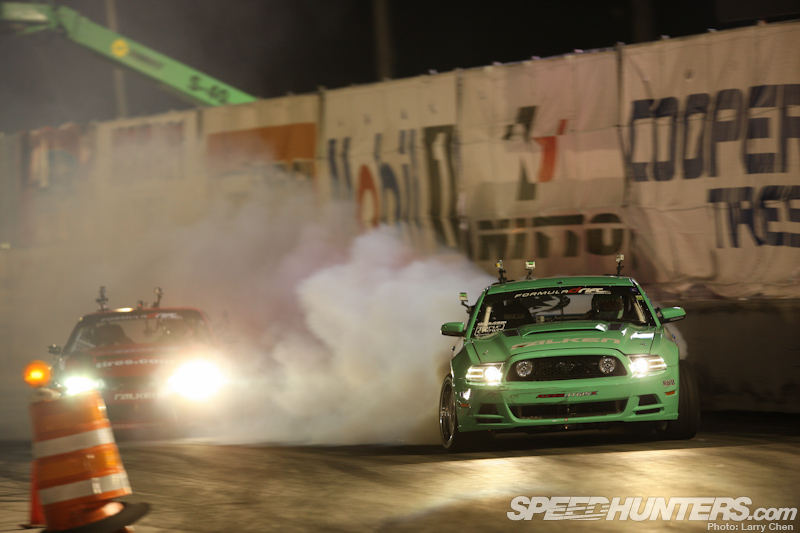 When I was following Justin the run was kinda…..whatever. Ya know, because my car was not well it wasn't a very close battle and I think Justin did a lot better. He definitely had the advantage.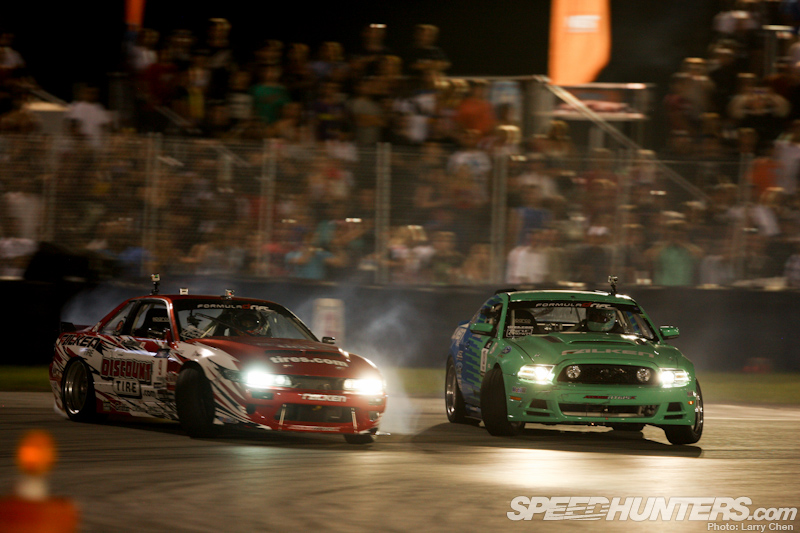 But when I lead for some reason I had a really good run and Justin was having a hard time keeping up with me. In the end he spun out right before the last turn.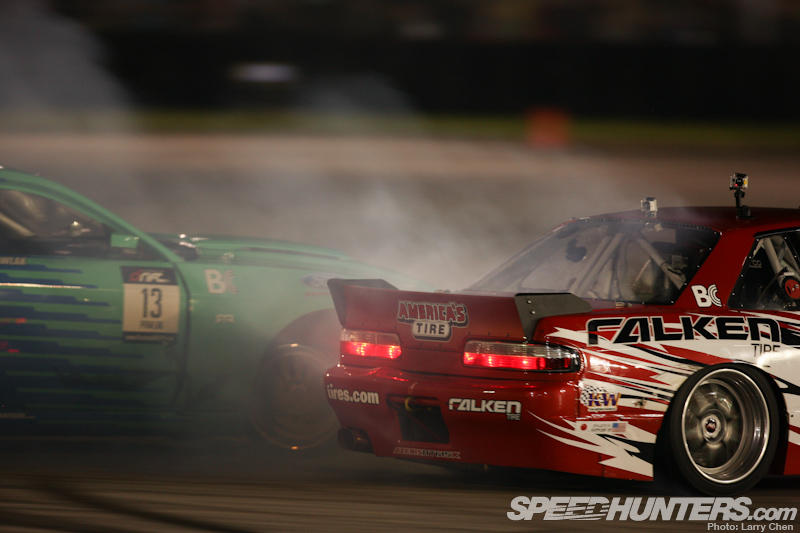 So in a way that was lucky, but I think I drove my ass off and somehow he couldn't keep up.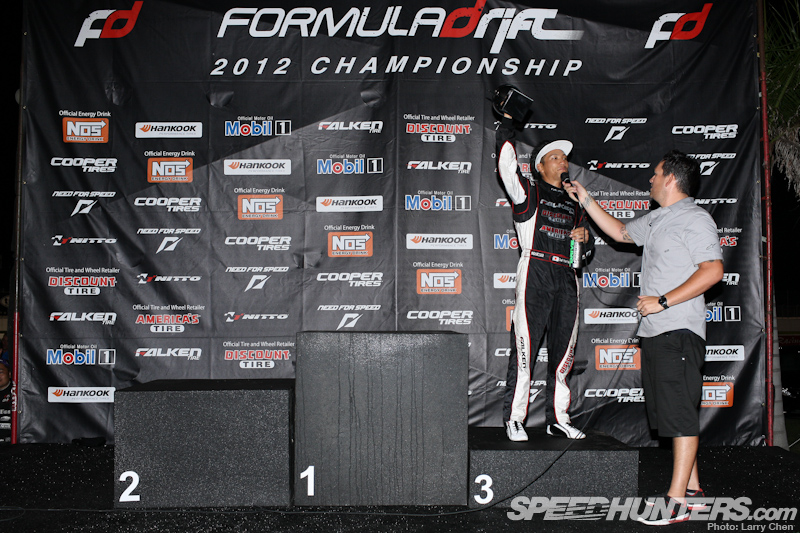 Larry: So what do you think about the rest of the season?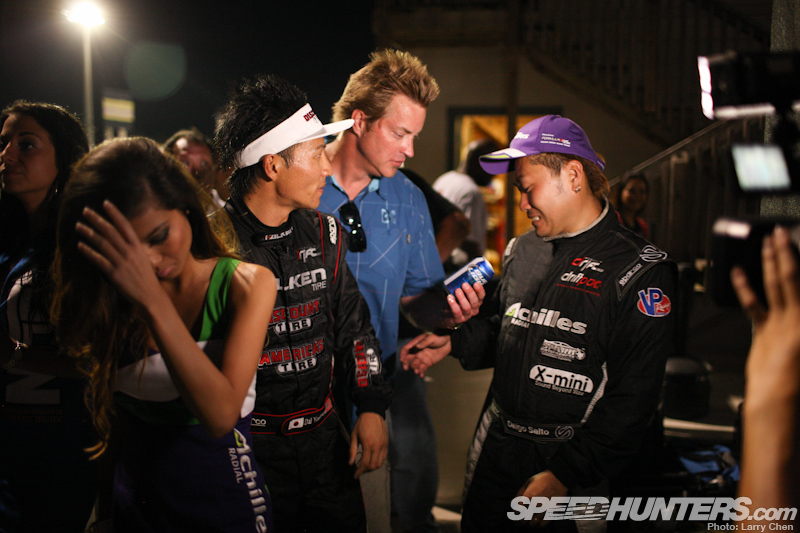 Dai: Well this year we got Daigo competing in Formula D and I don't know if he is leading but I'm sure Daigo and Justin are really close. I am probably in 3rd or 4th but there is still a big gap between them and me.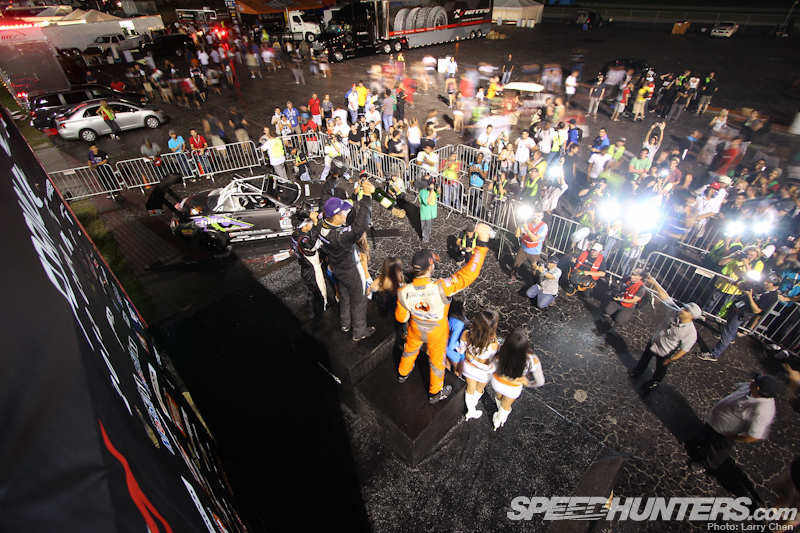 I still want to win the championship again but this year the game has changed. and the judges want to see closer proximity during tandem battles.
I think I need more practice. I want to do missile car practice when I have time.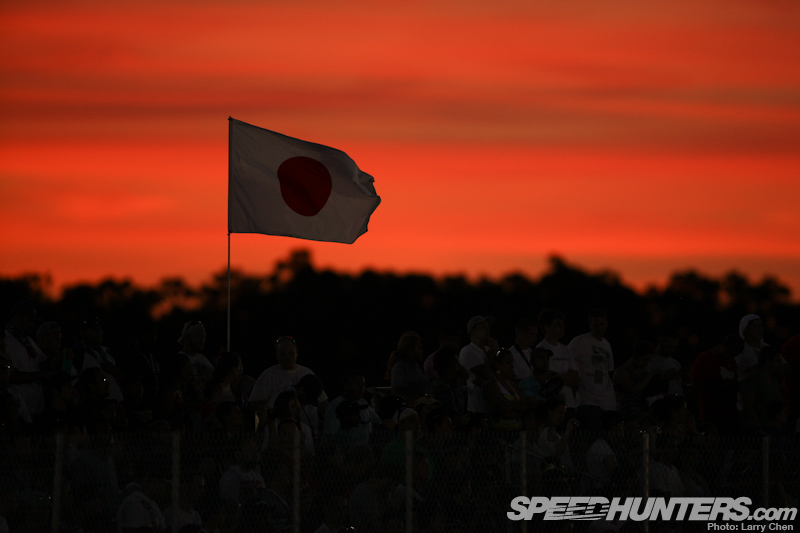 Dai: I think the battle for the championship will be really tough this year.
-Daijiro and Larry
More stories from Formula Drift Palm Beach on Speedhunters