I just stumbled on a little folder of pictures deep in one of my external hard disks labeled "SSCT Fuji." You see at times, when I get a little bit of time I attempt to go back and sort through non-work related pictures, folders that have been sitting for months waiting to be looked at. Except it wasn't a party or a day out in Tokyo shooting scenery, it was images from an event that I attended with a bunch of friends back on December 24th, the day before Christmas.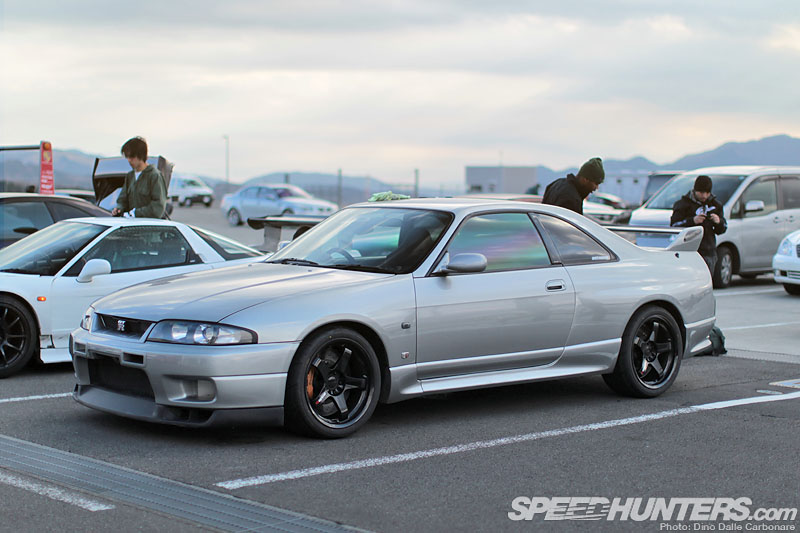 Throughout the year the Skyline Sports Club Tokyo, together with the Nissan Prince Motorsports Division, organizes a bunch of track day events, known in Japan as soukoukai, at places like Tsukuba Circuit and Fuji Speedway. I heard nothing but great things about these days, so when my friend Aki…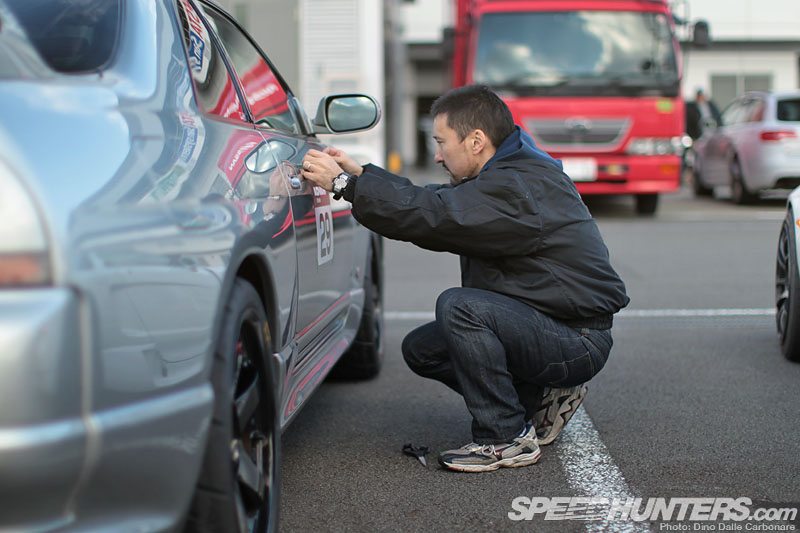 …who runs his own blog dedicated to the R33 GT-R, asked me to come along and check things out at the last one of 2011 in FSW, I packed up my camera bag and grabbed a lift with him. His silver R33 was used along with my R34 by Tomei Powered to design and create their new line up of titanium exhausts, and seeing he had just fitted his a couple of days prior – along with a full R35 GT-R brake conversion – I really wanted to check out how these mods transformed his car. A perfect day to nerd out on GT-Rs!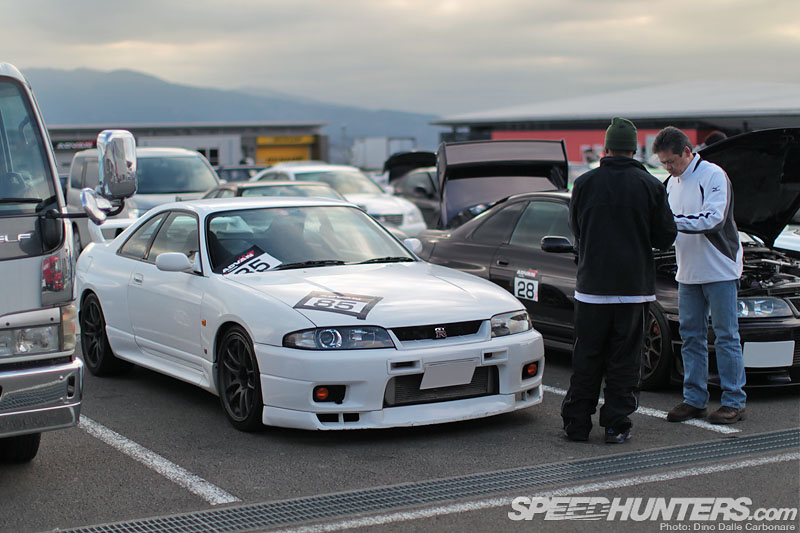 We met up with a few more friends who had come by from the local US bases with their own R33s GT-Rs ready to drive them around Fuji. So while these guys got ready setting up their rides for the two half hour sessions I did what I usually do when I'm out at a race track, I wondered around the paddock and did a bit of Speedhunting!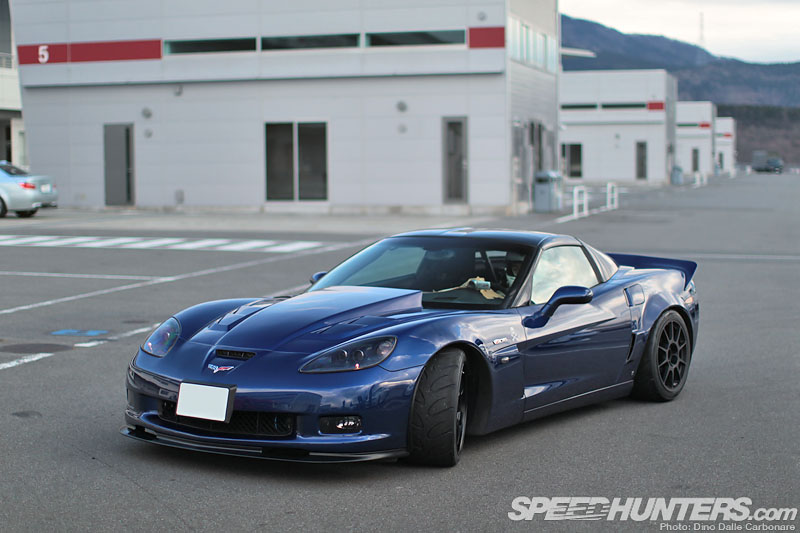 Seeing we arrived there nice and early there were still a few mixed sessions driving out on track, which meant a good variety of cars. I spotted this wild Z06 warming up and heading out towards the pit entrance.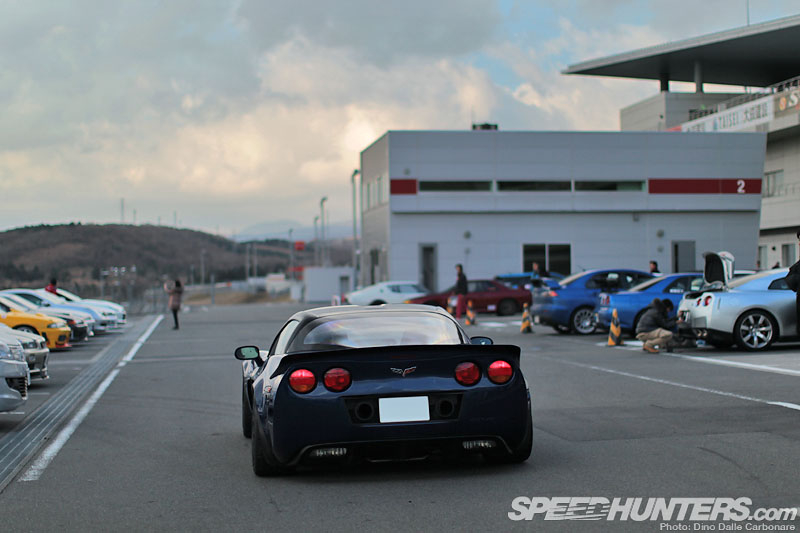 This thing was running some cool aero parts and a rather loud exhaust, a perfect example of how Japanese enthusiasts just can't keep their cars stock for very long!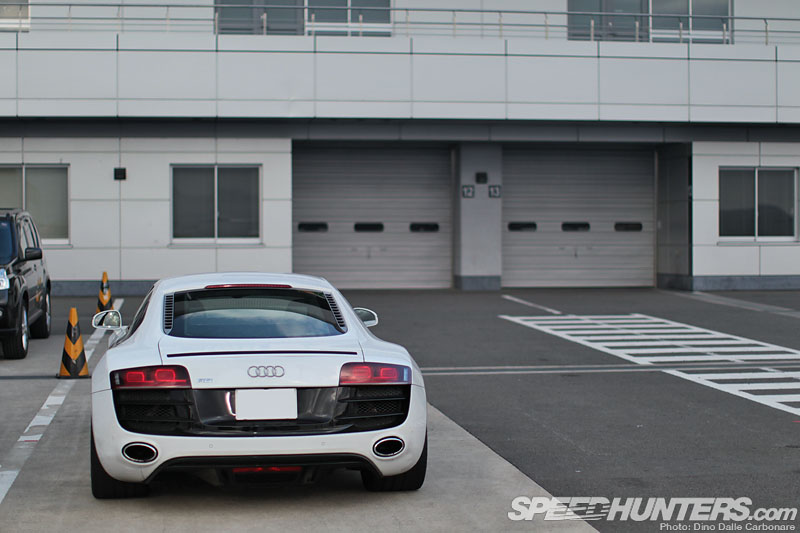 This is actually the same Audi R8 V10 I drove all the way down from Sendai Hi Land to Tokyo back in 2010. The paddock at Fuji Speedway is always a great place to bump into friends, and the owner of this very special car – who also happens to have one of the wildest R35 GT-Rs in Japan – came over to see what was happening that nice and crispy December morning.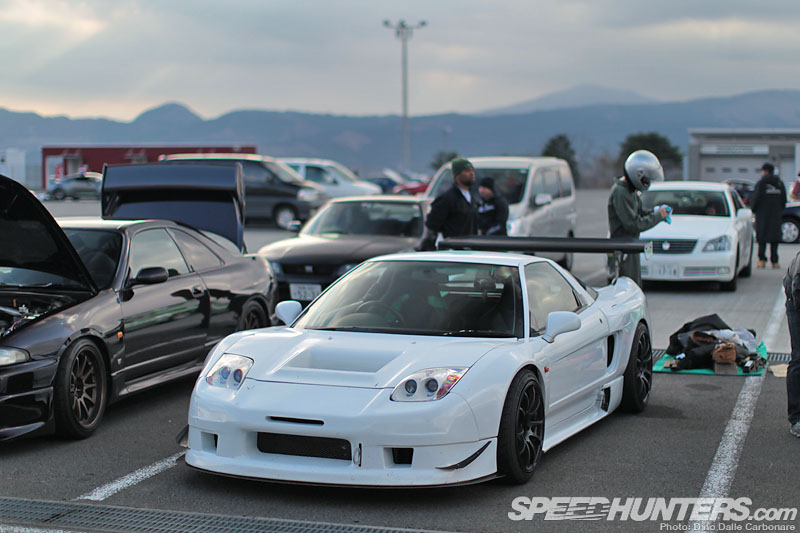 Among all the GT-Rs that had quickly invaded most of the paddock, was this lonely wide body NSX…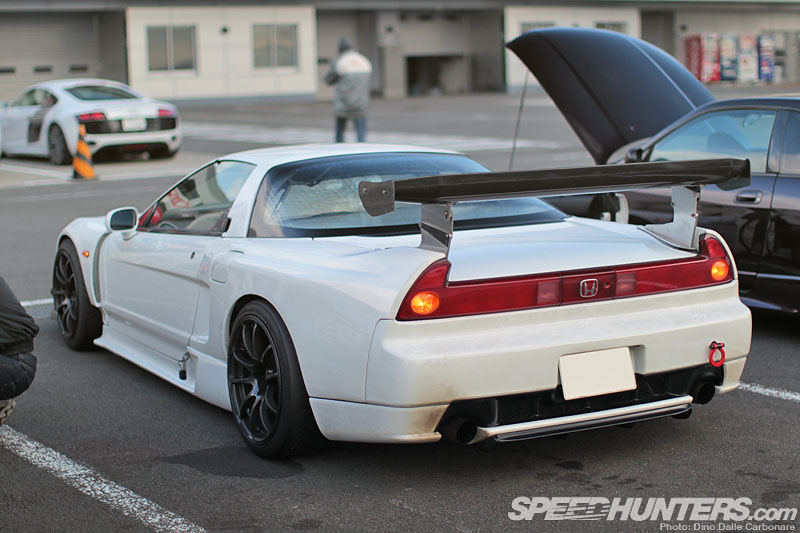 …which you will be glad to hear was being driven very hard out on track!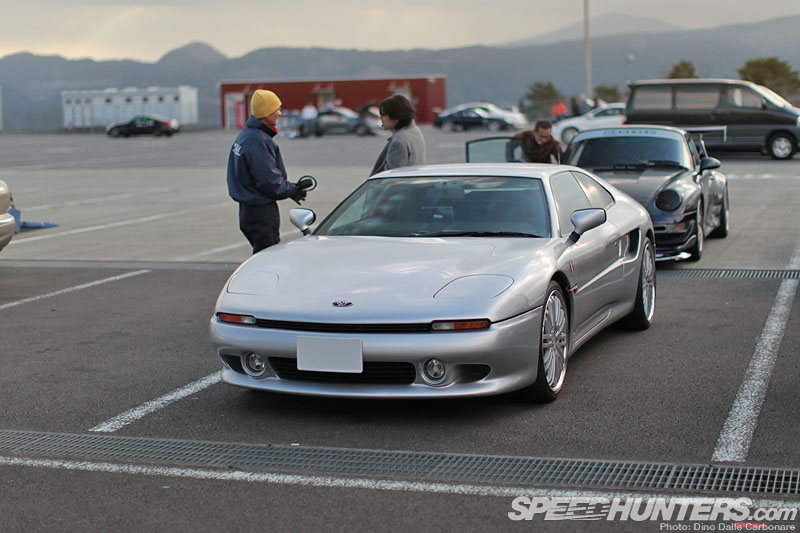 I had to do a double take when I walked past this car. I bet there aren't too many of these Venturi 300 Atlantique in Japan!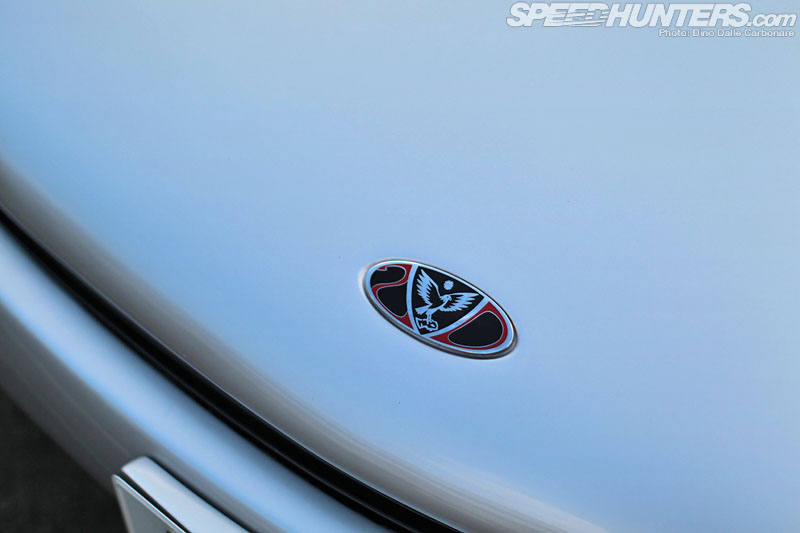 But whatever is rare, will sell well in Japan, where there is always a need to stand out from the crowd.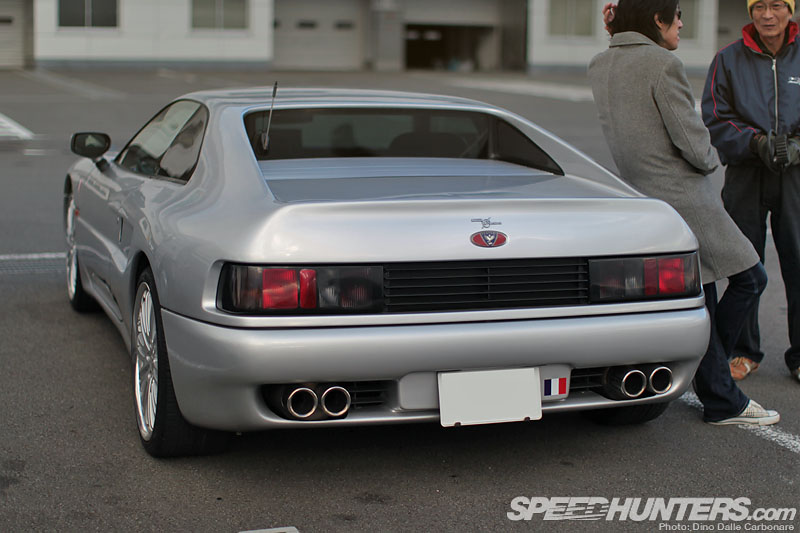 The French-built Atlantique used a lot of Renault parts including the mid-mounted V6 PRV engine and manual gearbox. Not a bad looking car, it definitely has presence.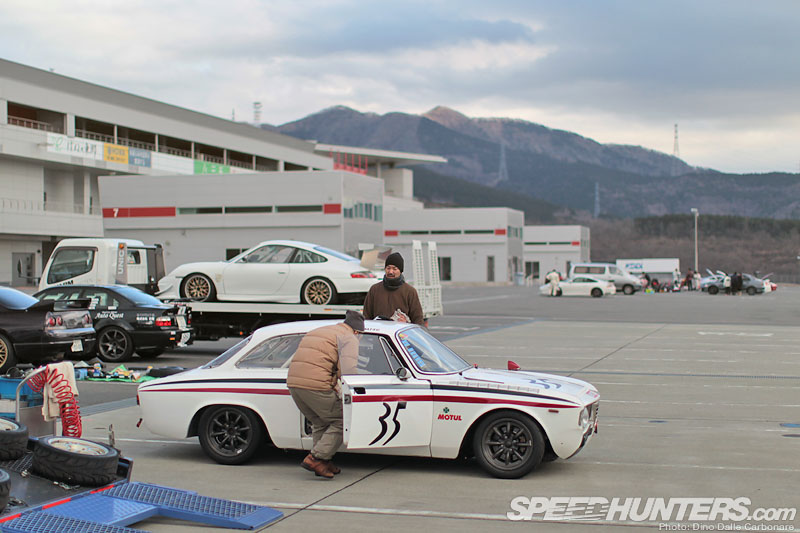 Of course there were a few vintage cars around too…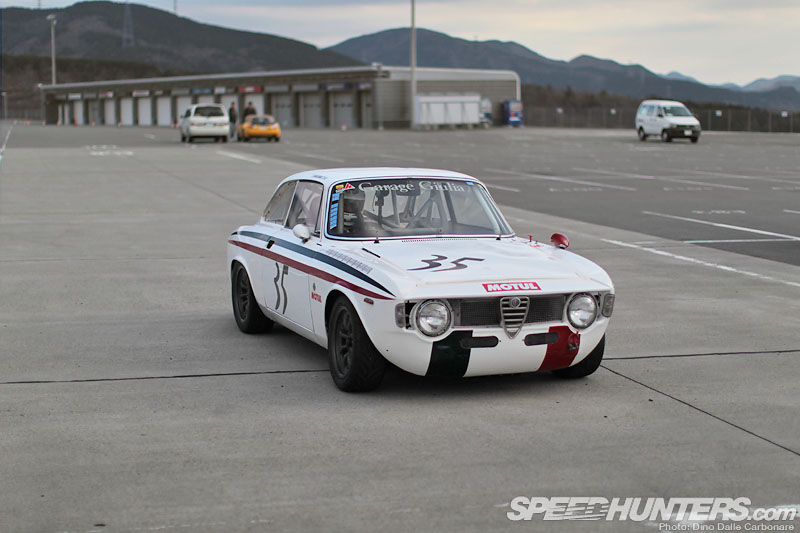 …like this Alfa Romeo Giulia Sprint GT.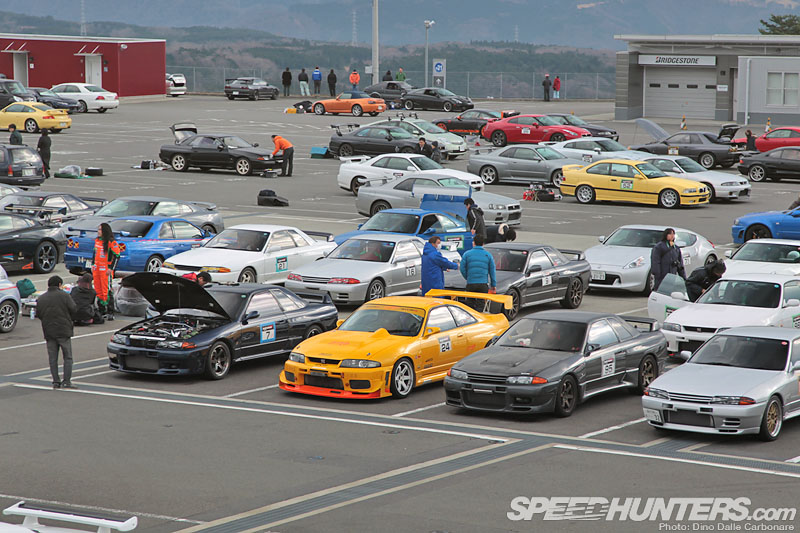 In no time the GT-Rs had already taken over the paddock with a good turn out from all generations.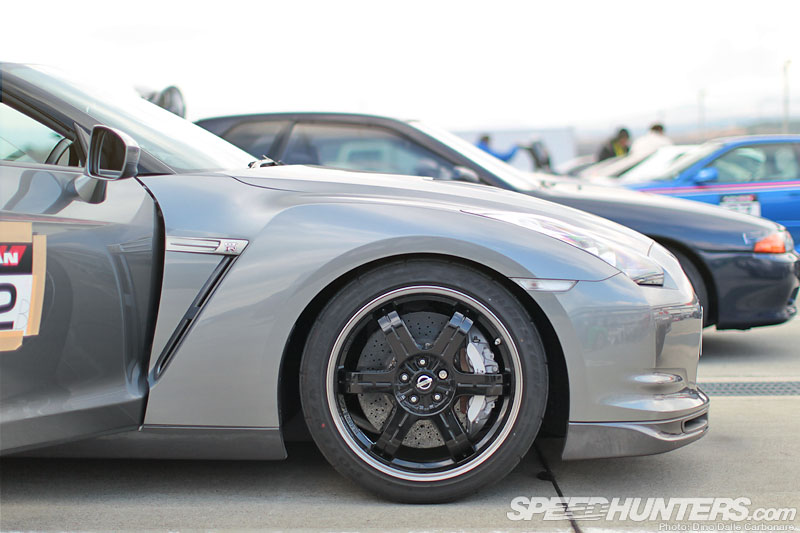 There was even a rare and Japan-only R35 SpecV, easily recognizable thanks to those carbon ceramic discs and silver Brembo calipers.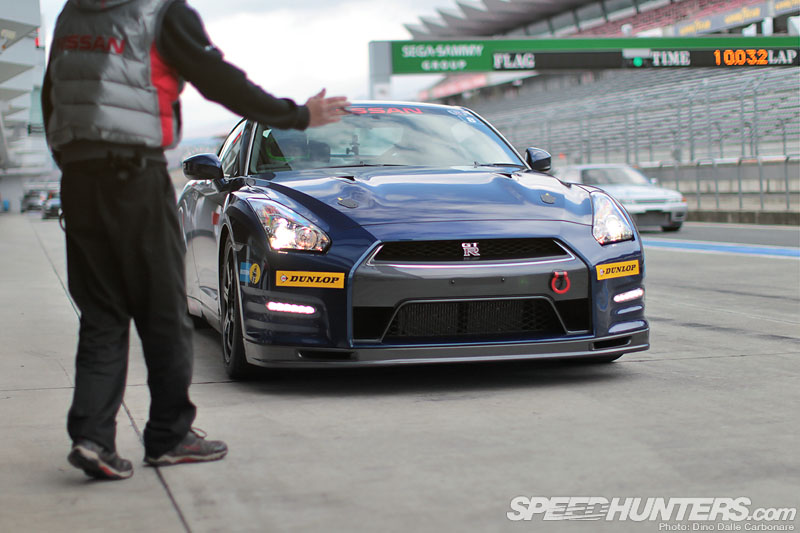 And on the subject of R35s the Nismo crew was out on a little unannounced test of the 2012 Club Track Edition GT-R. This car, offered through Nismo, Nova Engineering and Nordring is a race-ready version of the new-gen GT-R that you buy along with full race support, and are able to use it in the various time attack events and races that are organized throughout the year.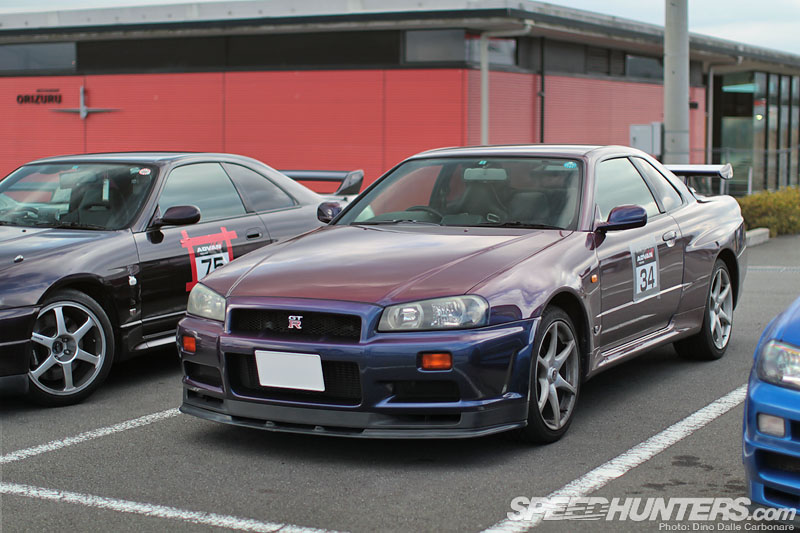 The Midnight Purple 3 BNR34 was only offered for a brief period of time so there aren't many over 100 or so that sport this lighter chameleon-type purple hue. You can tell these apart from the darker Midnight Purple 2 cars (of which 300 were made) as they were fitted with silver wheels and had a silver rear spoiler blade.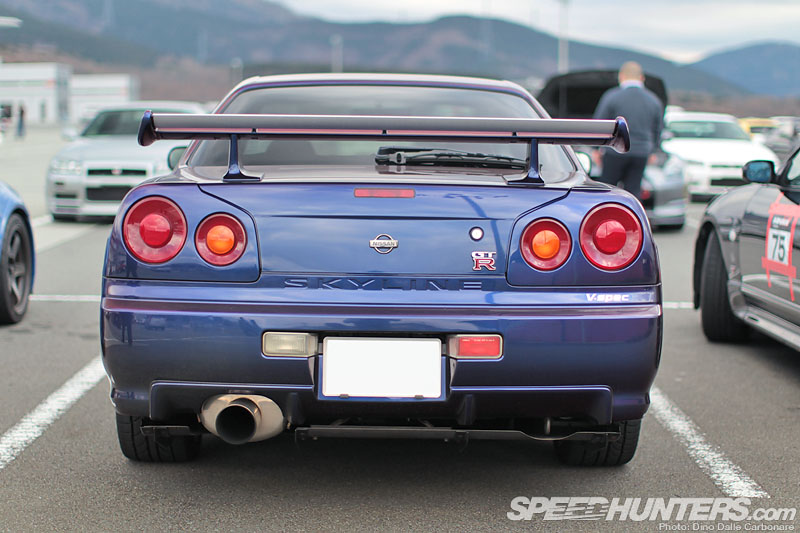 It's a very nice color and really pops in the light.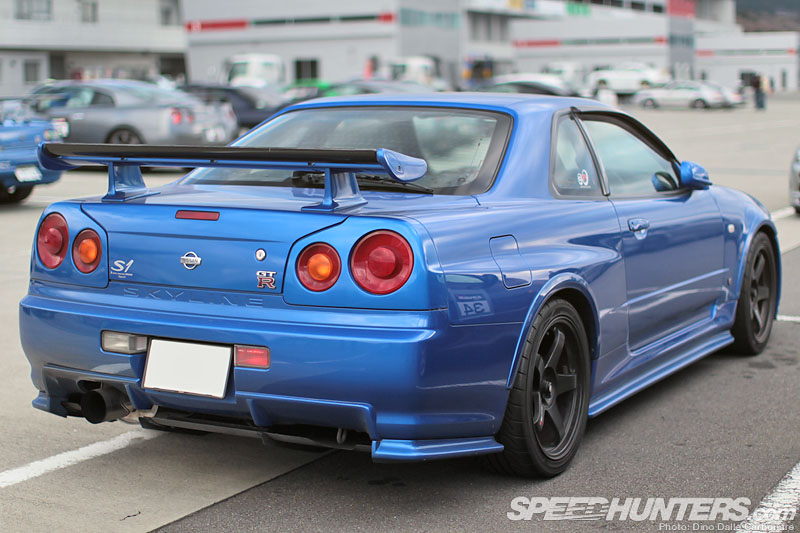 This Nismo modified R34 runs the S1 engine, a lightly tuned 400 HP RB that Nismo Omori Factory offers.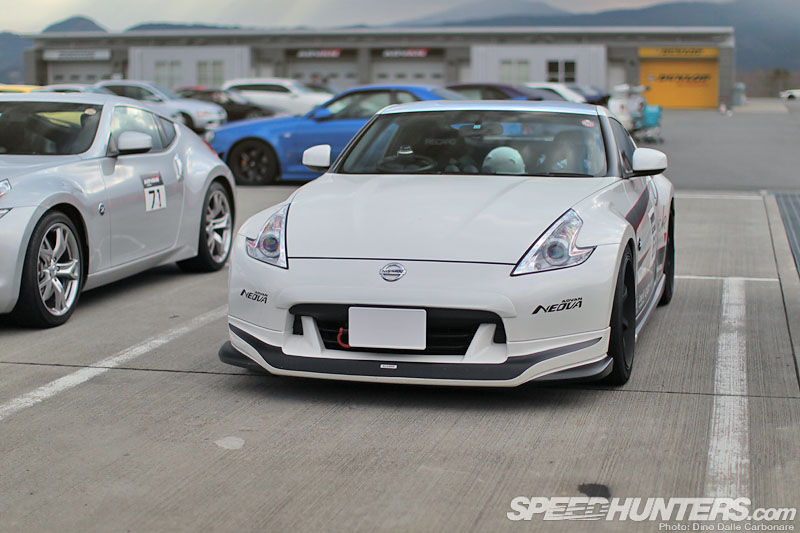 It wasn't all GT-Rs, well almost…aside from these two Zs!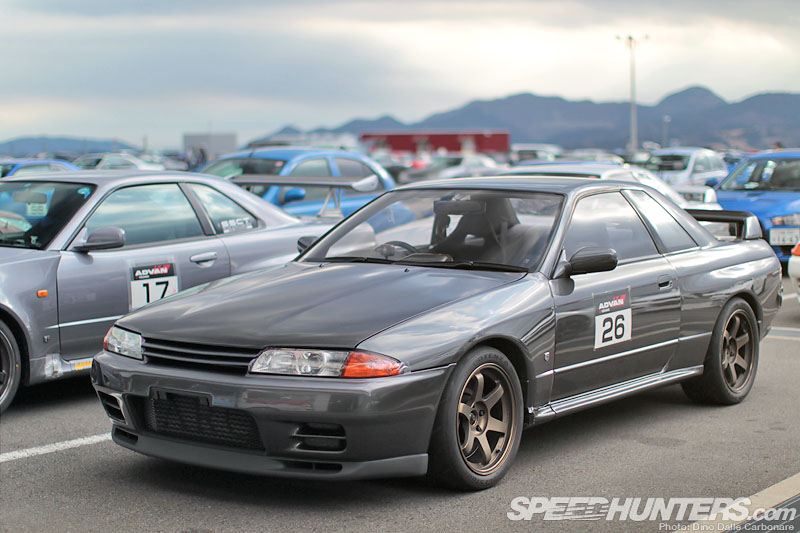 No matter how many I see the BNR32 always looks its best with a stock body, and lowered on a set of nice wheels. Of course TE37 is the most popular choice…it works and looks just right!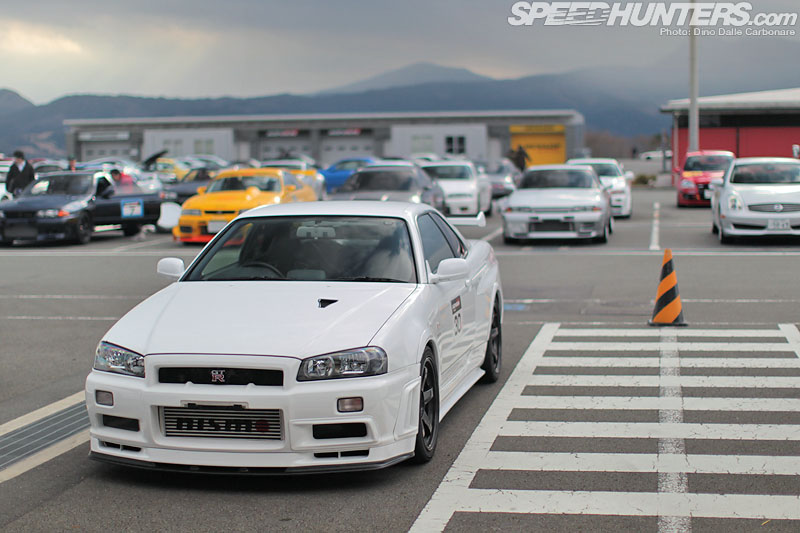 This V-Spec II was running the Nissan dealer option oil cooler which added that asymmetrical air intake & outlet. A good oil cooler is pretty much the first mod you should ever fit to your GT-R, especially if you intend to run the car on track. This particular car however had a little more fitted than just an oil cooler…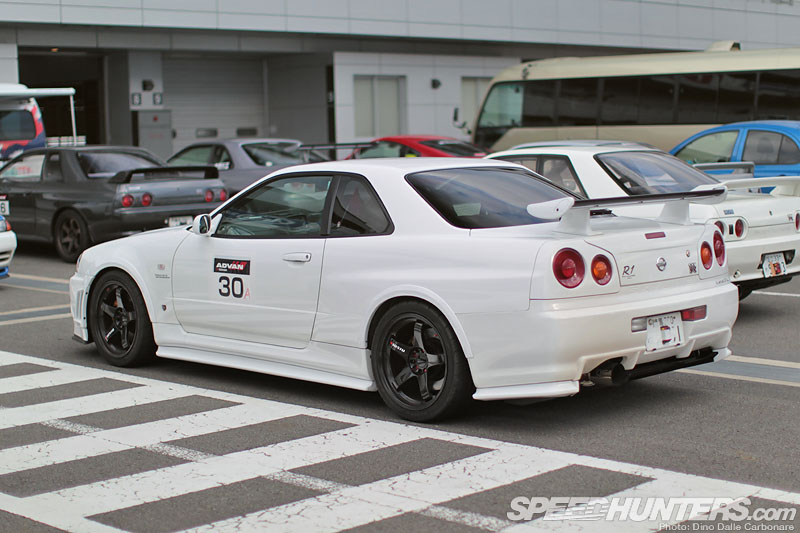 …but a Nismo 450 HP R1 engine. There is only one engine package on top of the "S" and "R" of course and that is the "Z" as fitted tot he Z-tune. None of those around that day, as they are pretty rare!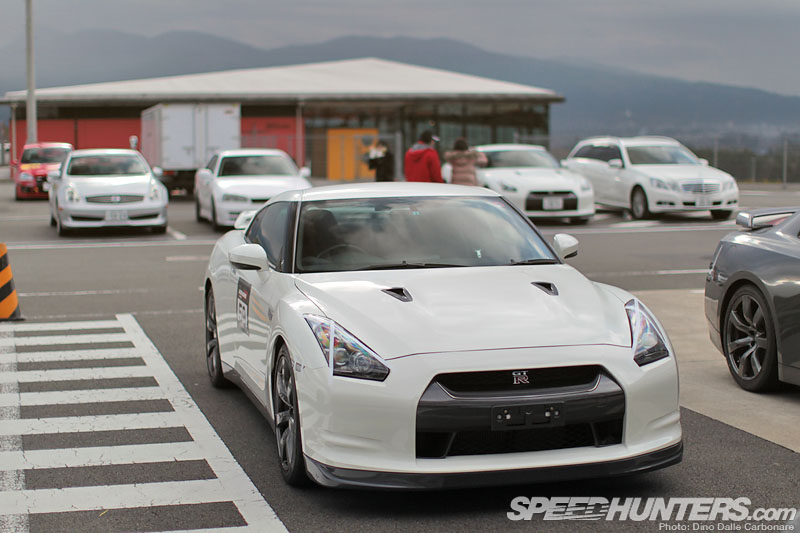 Unless fettled with, the race track is just about the only place you can enjoy your R35 GT-R over 112 mph in Japan. If left with the stock ECU the JDM R35 is limited to 112 mph (180 km/h) and only when you engage circuit mode through the MFD/Navigation screen can you turn off the speed limiter. On top of that, if you drive your car on track and are still within the warranty period you are requested to do post circuit run maintenance to the car like changing fluids, alignment and checking for brake disc & pad wear, not to mention tires. Tracking R35s can be a very expensive hobby!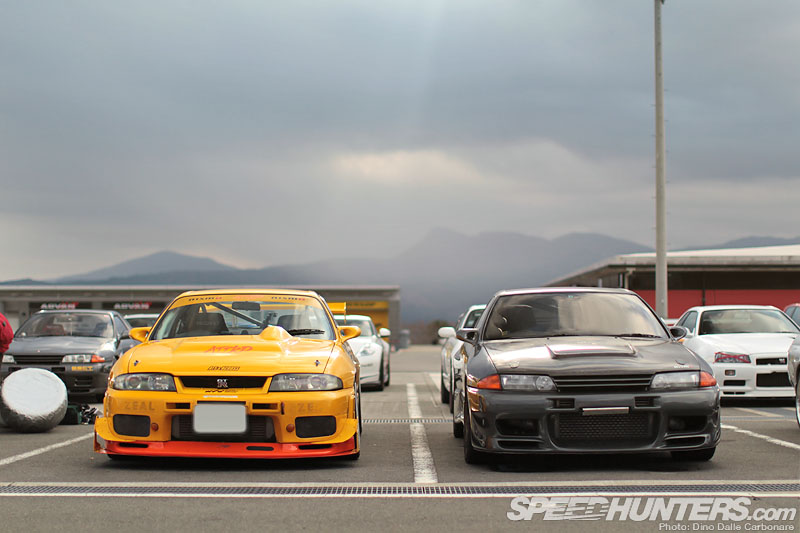 A nice pair! You may remember seeing this ex-Jun demo car parked outside the Autech Tsukada pits at the recent HKS Premium Day. This R33 was the fastest car of the day!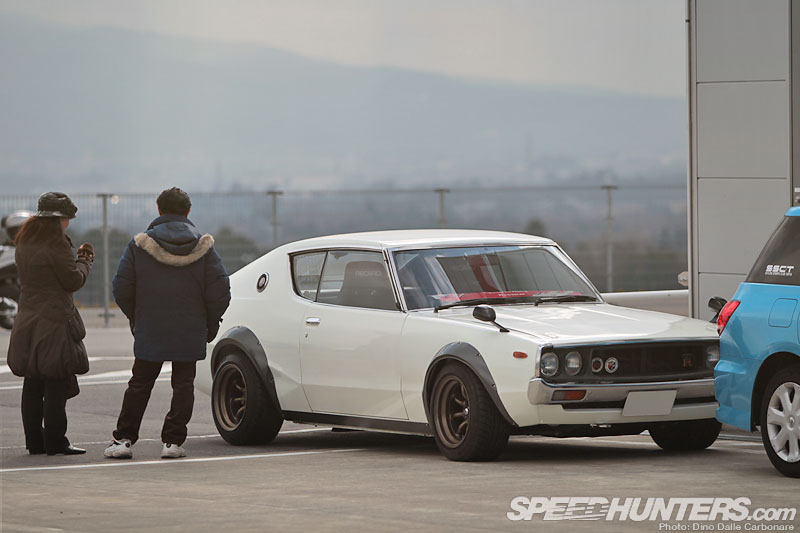 Now we are talking! Ken & Mary goodness!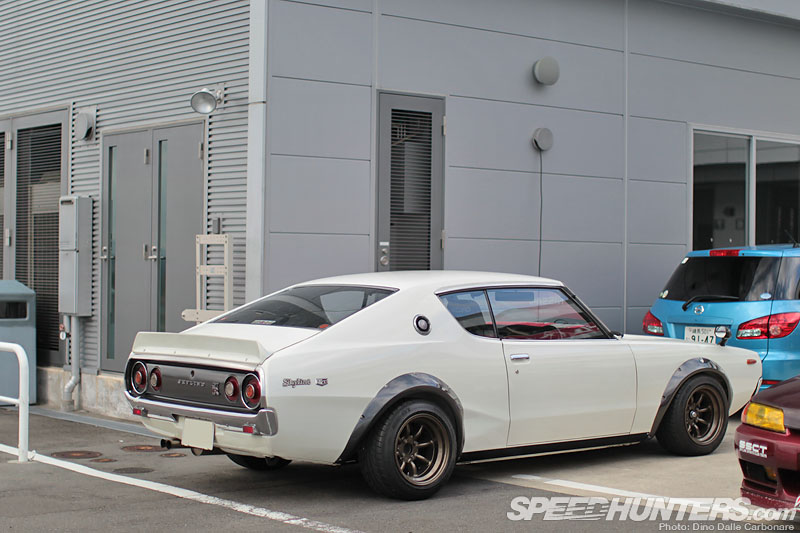 The KPGC110 is by far my favorite of the vintage GT-Rs. Too bad this particular car didn't go out for a drive around the track that day!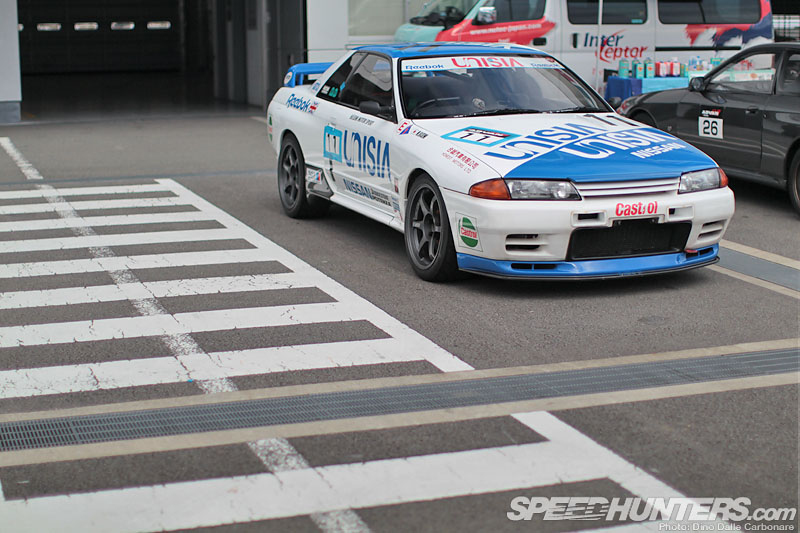 There is a whole bunch of these Gr.A replicas that always participate at these SSCT events, we already saw one in the opening shot.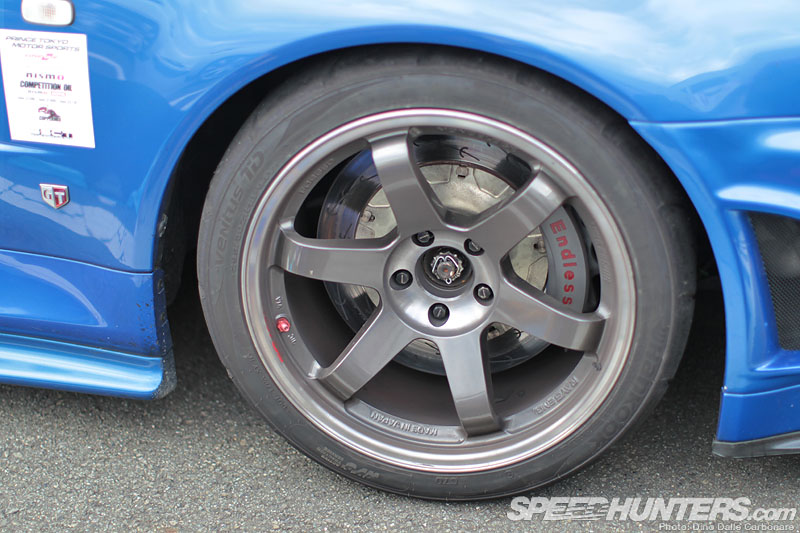 While Aki's R35 brake conversion was attracting a lot of attention from the copious number of GT-R otakus roaming around, I did see some awesome other upgrades like this R34 fitted with 6-pot Endless mono bloc calipers.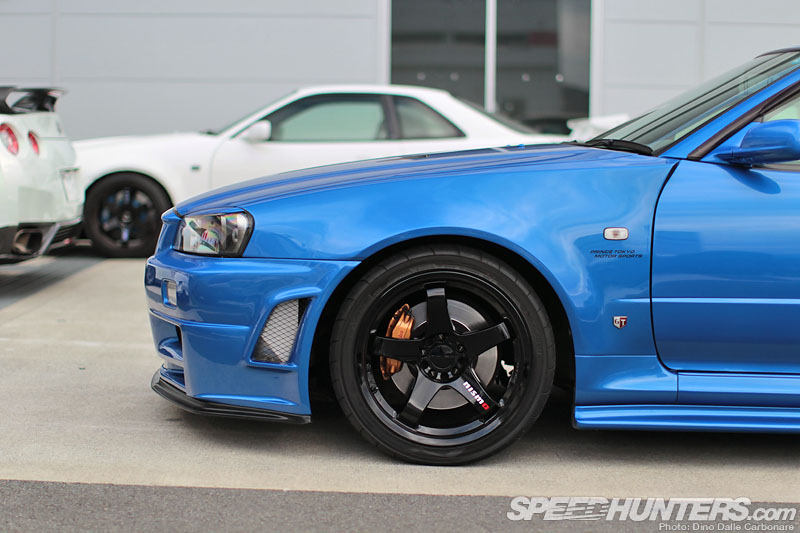 You can get a way with a couple of laps on track with the stock set up, provided you have good high-friction pads, but after that you can say bye bye to your middle pedal as it becomes all mushy and goes straight to the floor. Braking is where cash-strapped Nissan saved a lot of money on the BNR34 project back in 1998-9!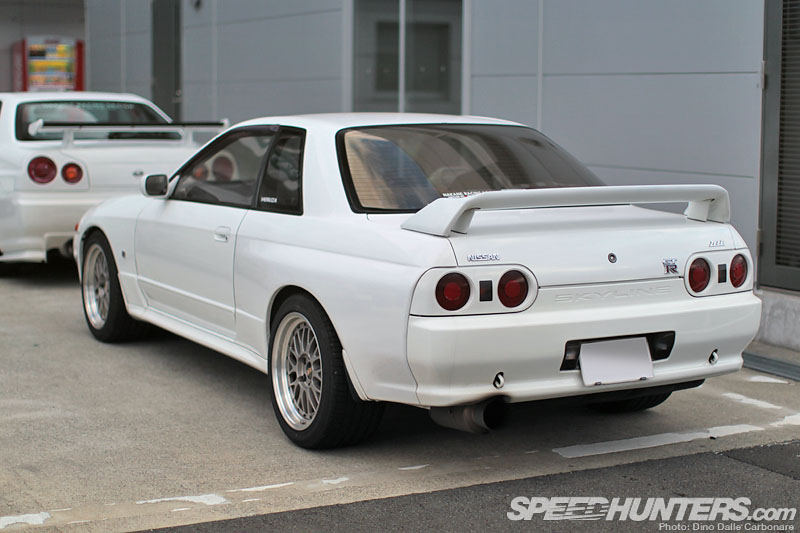 A Zele sourced BNR32. Zele International has unfortunately gone out of business but back in the day it was the place you went to if you wanted to get your hands on the best low-mileage, unmolested GT-Rs.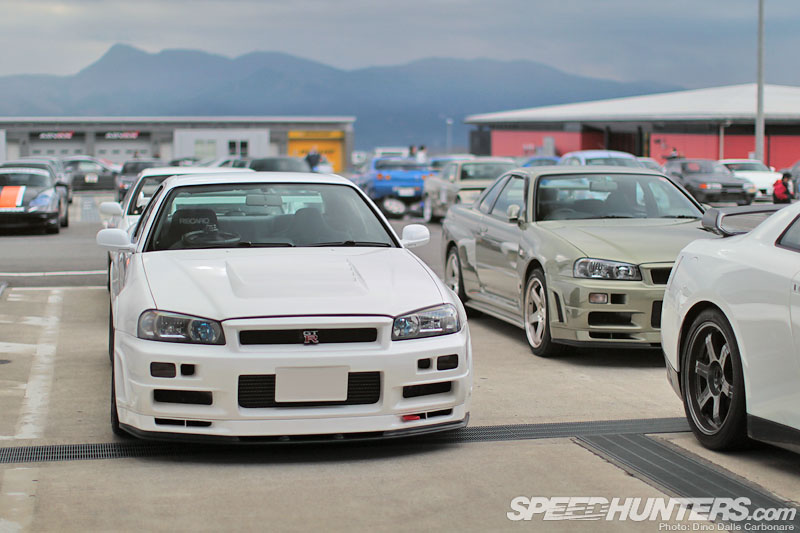 The Nismo R-tune carbon hood, as fitted to this R34, is a work of art and prohibitively expensive. This car was also fitted with the series 1 Nismo front bumper…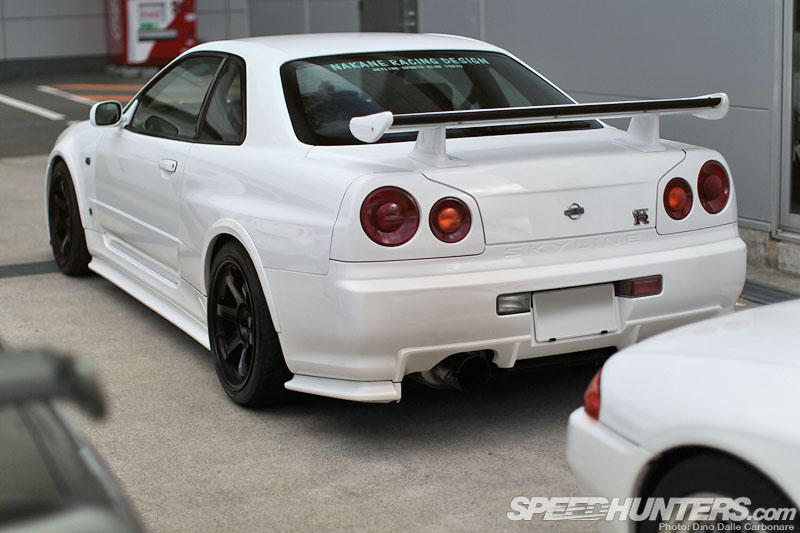 …as well as the Nismo side and rear skirts.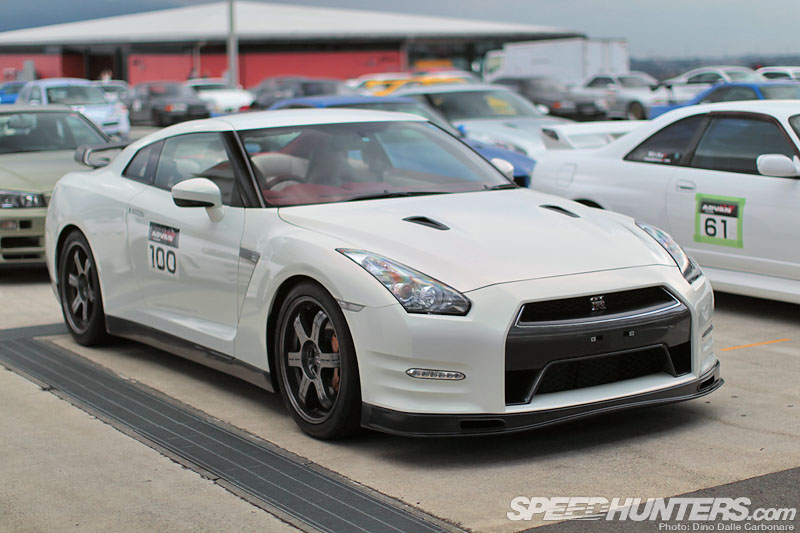 Another JDM-only R35, the Egoist! This is the most expensive of the GT-Rs and on top of SpecV parts like the ceramic brakes, carbon spoiler and titanium exhaust is outfitted with a special interior covered in soft hand-stitched leather and suede.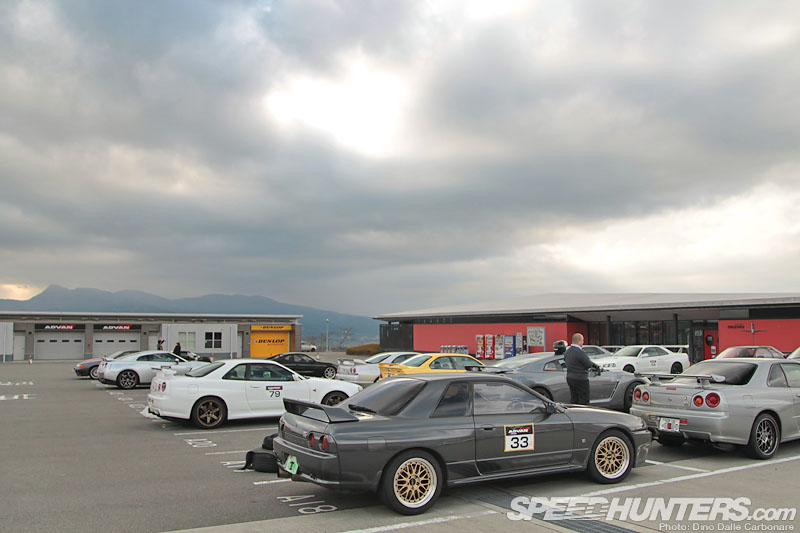 Some sessions had already gone out on track but it was my day off, so I didn't sign up for a media pass and head out on track to shoot action shots. We Speedhunters need to relax too sometimes!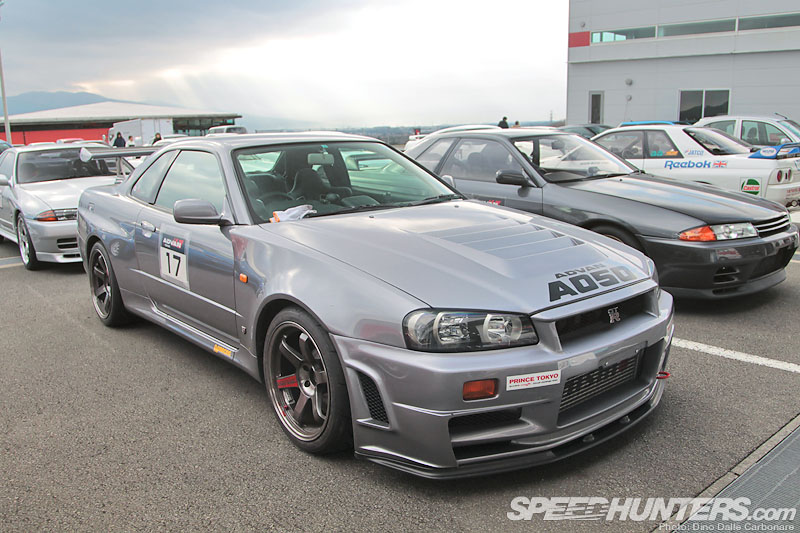 To Z-tune fender my GT-R, or not to Z-tune fender my GT-R…that is the question!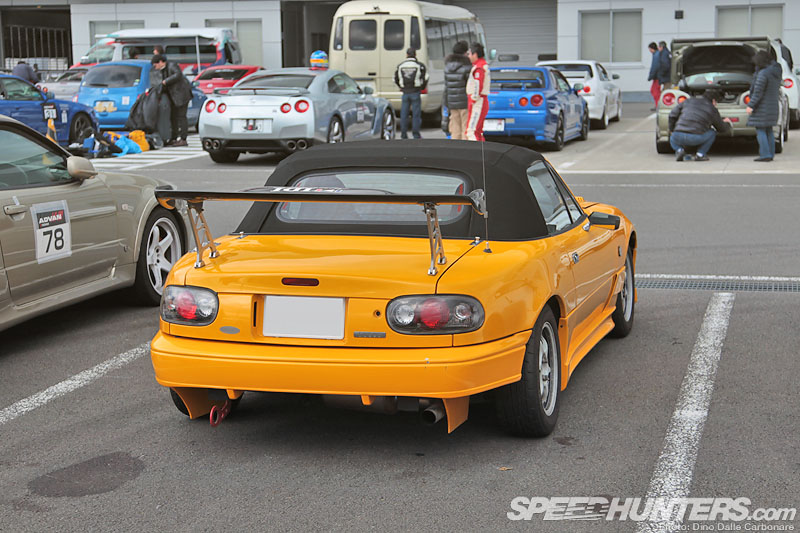 The Fuji straight must look like a very long stretch of tarmac for this Roadster but I bet it's a ton of fun through the twisty bits. Check out that cutout rear bumper!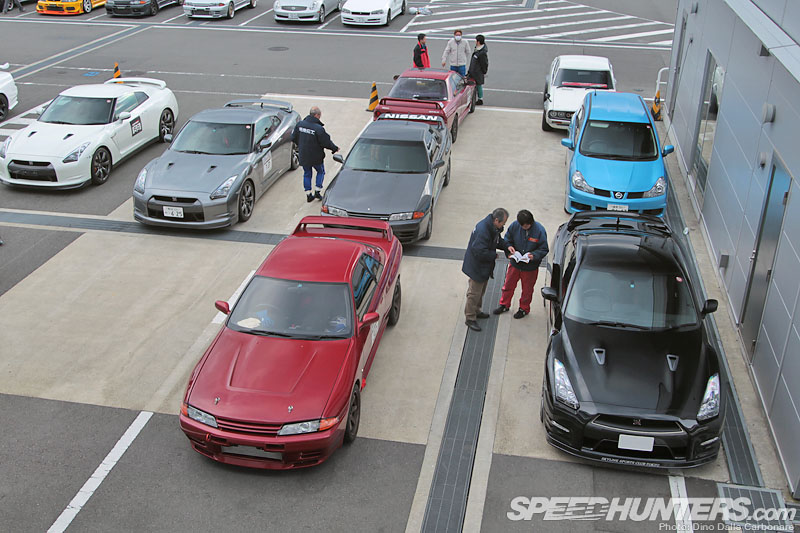 This is the view of the paddock from up on the second floor…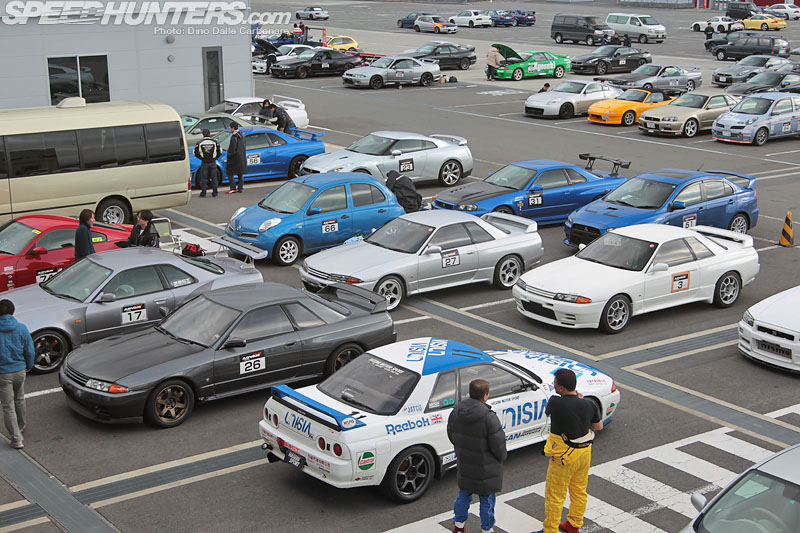 …of the main pit building. I got a quick couple of shots before heading into the pits…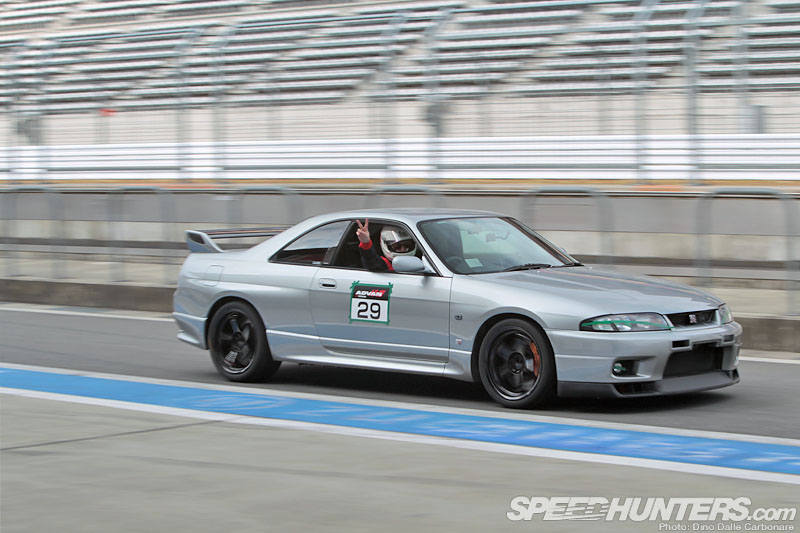 …as Aki headed out on to the track.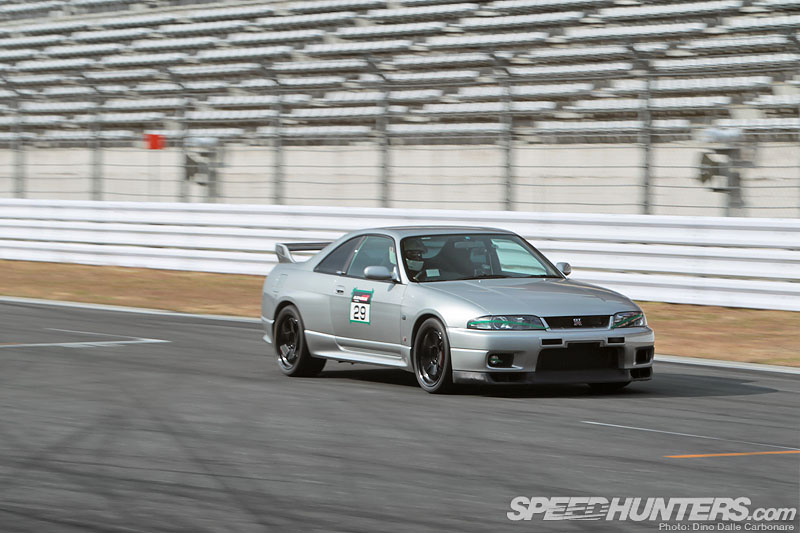 Seeing as I would also, eventually, be fitting a Tomei Powered titanium exhaust system to my car I really wanted to hear what it sounded like at full rpm. Aki's car runs a Mine's complete engine so the sound would be a little bit more special than my stock-ish RB. Still I was very impressed, it manages to fuse that special straight-6 growl with an almost motorcycle-like aural quality. Hatanaka-san of Tomei, the engineer who single handedly designed the exhaust, used to work at Yoshimura, so he definitely knows how to give a proper sound to his exhausts!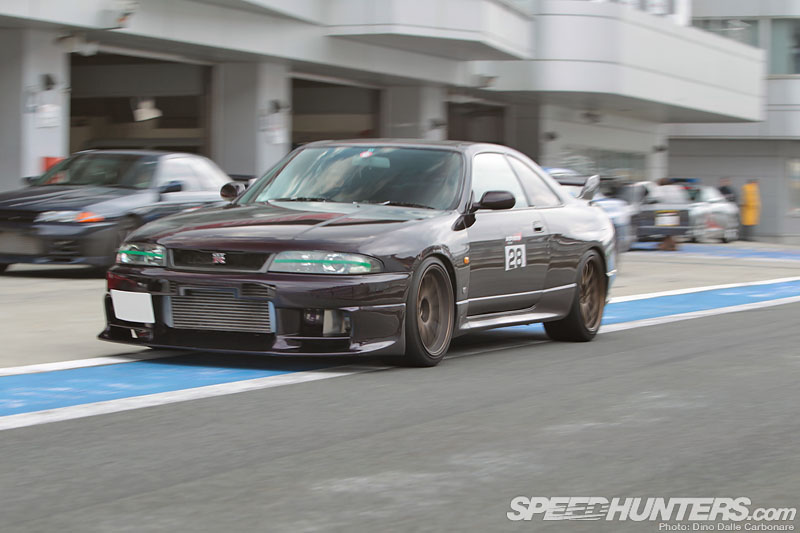 Here is another member of the crew, Thomas in his Midnight Purple R33.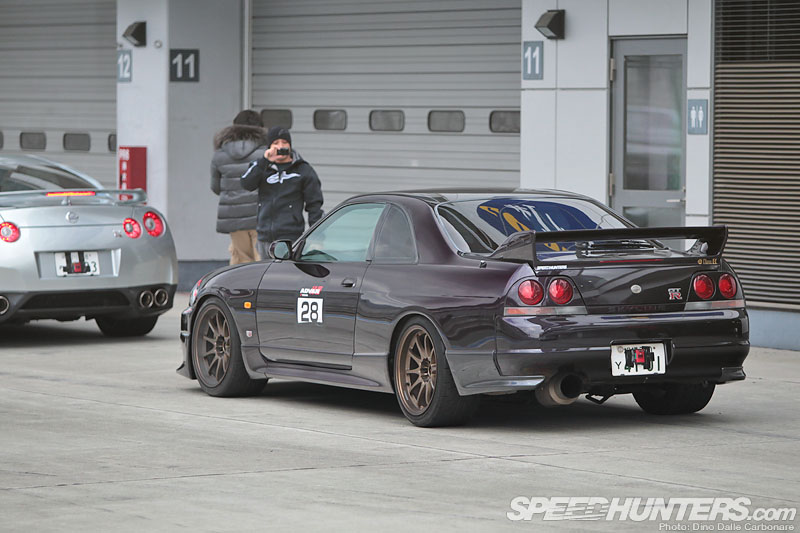 He has recently fitted 18-inch CE28Ns and, like most of us, is on a continuous quest to perfect his ride.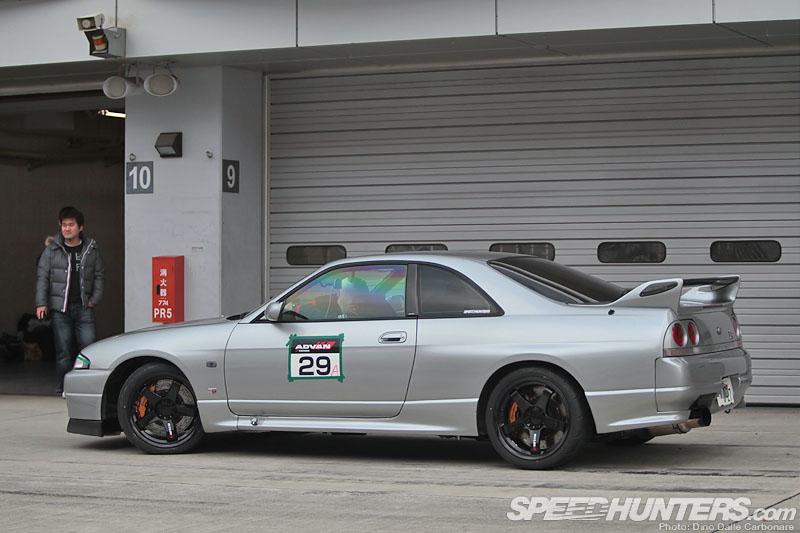 Aki came in for a quick tire-pressure check before heading out and enjoying the rest of the session. He was smiling from ear to ear, happy with how his R35 brakes were holding up to the abuse he was giving them.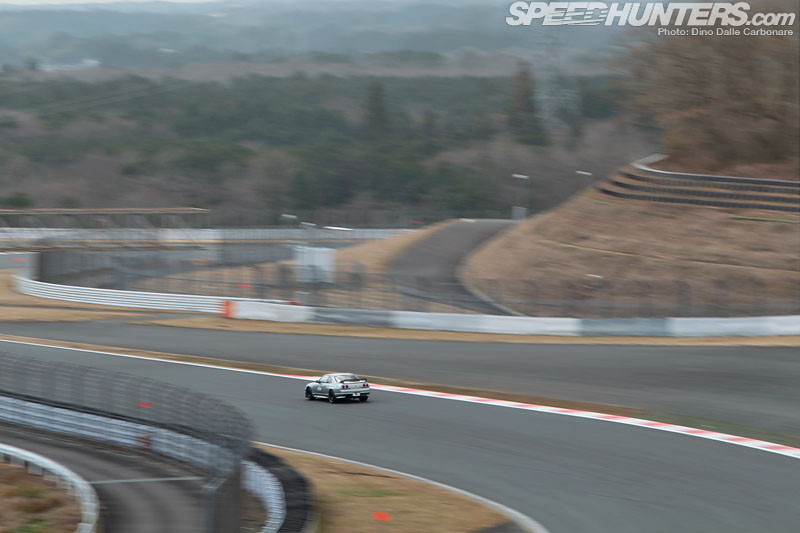 Anyway I hope you guys have enjoyed this little look at what your typical soukoukai looks like. I hope to be driving this particular end-of year event myself in December! All I have to do now is get the car all tuned up and ready to go!
Nissan Prince Tokyo Motorsports Division
-Dino Dalle Carbonare