… you're in for a big surprise. No, you really are in for a big surprise. The official figures from last weekend's Nürburgring 24HR indicated that somewhere around 235,000 people attended the event. Regardless of how you look at it, that's quite a lot of people converging on the same place for the same purpose. Well, almost the same purpose. I think the term 'festival' probably best describes the atmosphere at the N24, a week long party and celebration of a magnificent event.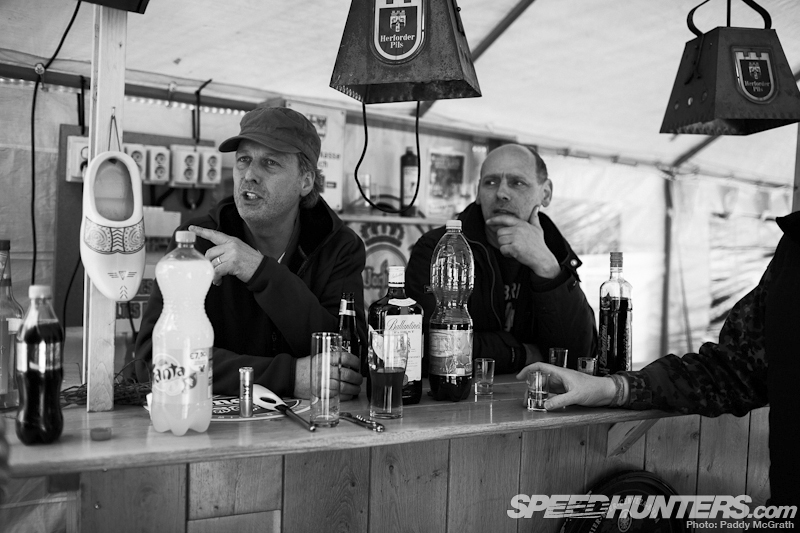 These very kind gentleman had travelled from the Netherlands to watch this year's event. Asides from building their own bar and VIP area at the side of the track, they also came well prepared.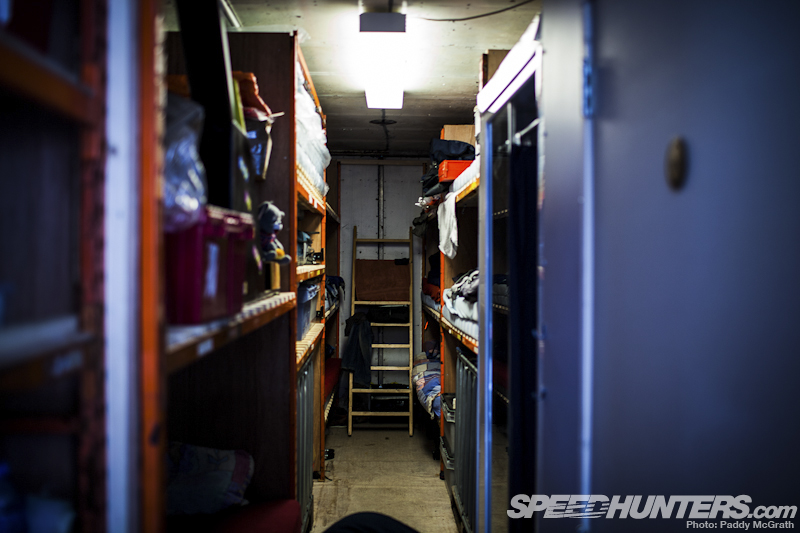 Their articulated lorry trailer comfortably slept all of them (the term comfort is relative at the N24) along with 1200 litres of fresh water to shower and bathe themselves. They also had a complete kitchen and bathroom area. At. the. side. of. a. race. track.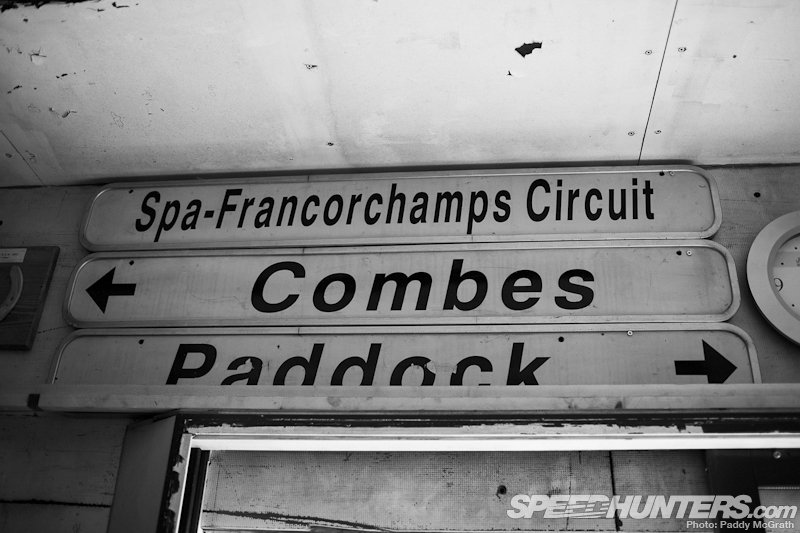 They also seem to have acquired a memento or two on their travels …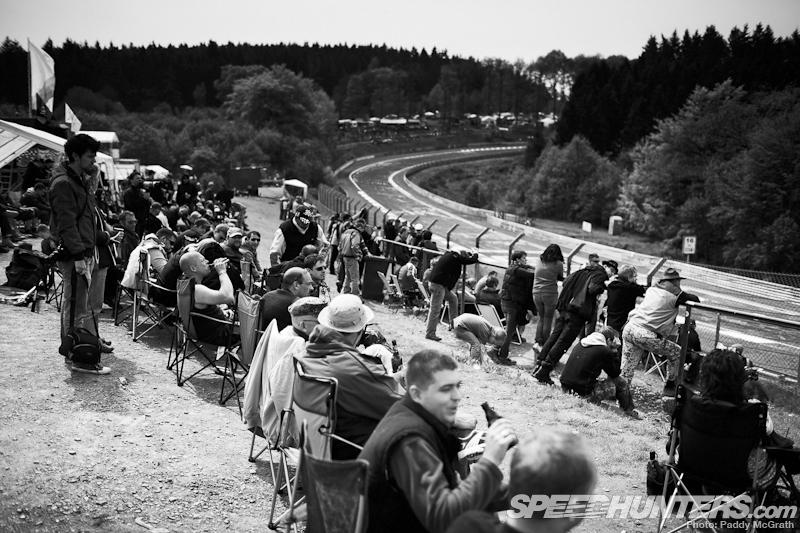 Spectators begin arriving at the circuit long in advance of the first on-track session Thursday morning. A simple recipe of relax, enjoy a beer or several and watch the action from the comfort of their 'homes'.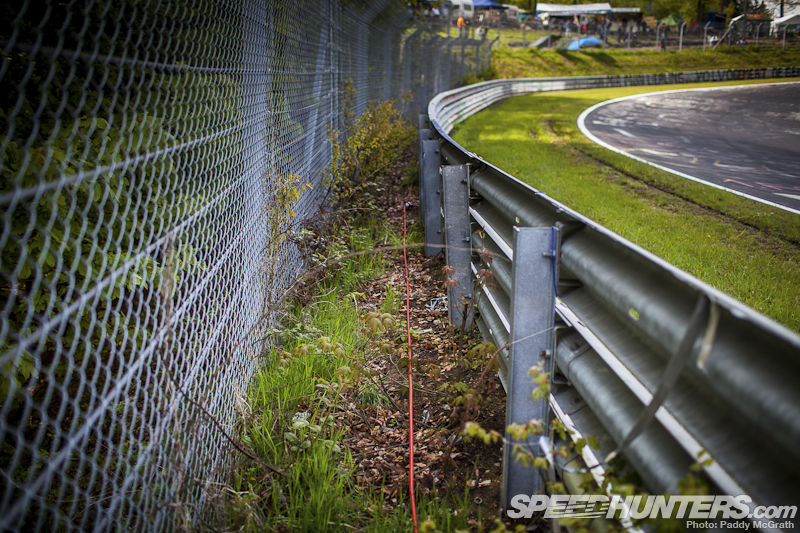 From a media perspective, making your way around the circuit can be a complete nightmare at times. I think it's the only circuit where a machete to cut through the undergrowth would be welcomed.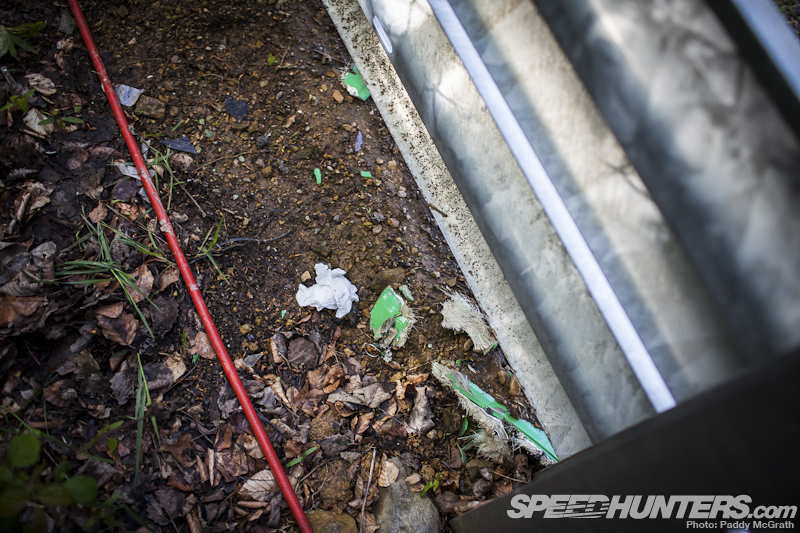 Generally speaking, shards of fiberglass and carbon fibre mean that this is probably not a safe spot to stand. Best to keep moving so.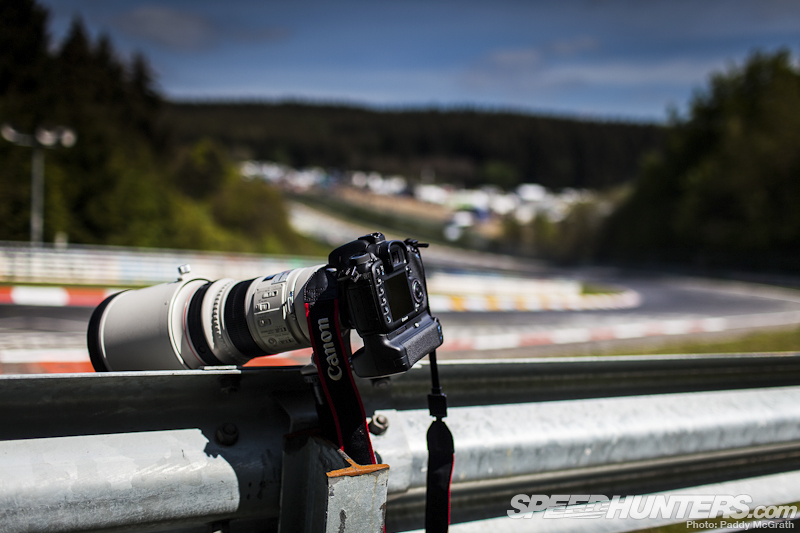 With a circuit that's nearly 16 miles long, sometimes it can take a while for the action to kick off. If there's a delay, there is usually no way of knowing what's causing it or when you can expect things to kick off again.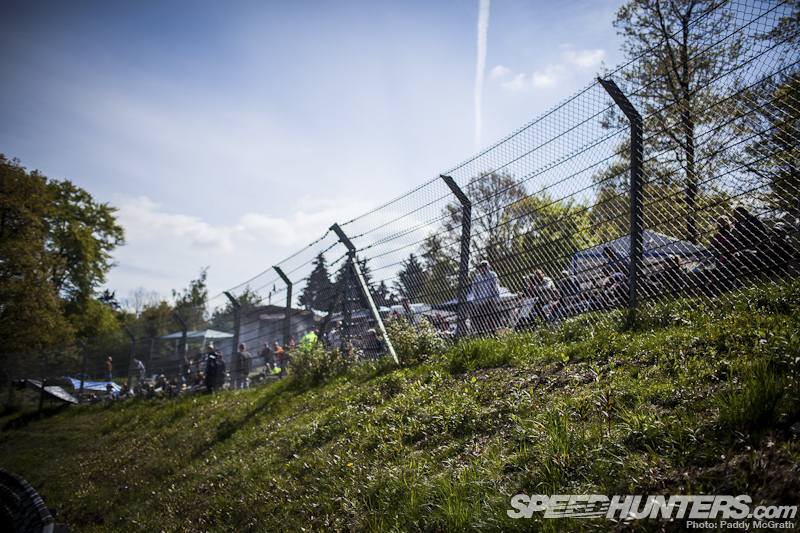 It's a shame our light capturing devices can't catch sounds or smells as well. If you want to experience the N24 but can't make it – try listening to some German folk / techno hybrid music whilst setting things in your living room on fire for the rest of this story. It should give you a pretty accurate idea …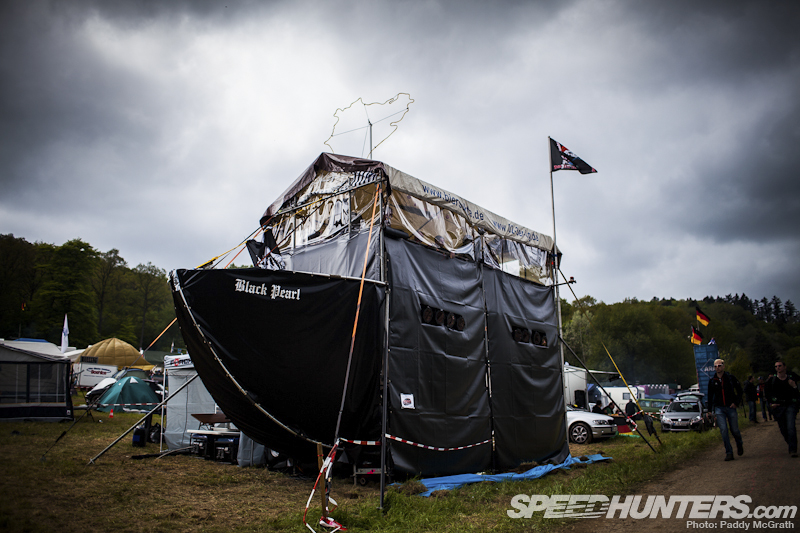 I don't know about you guys, but the first thing I want to do when arriving on the side of a mountain is to build my own pirate ship complete with cannons and its own PA system.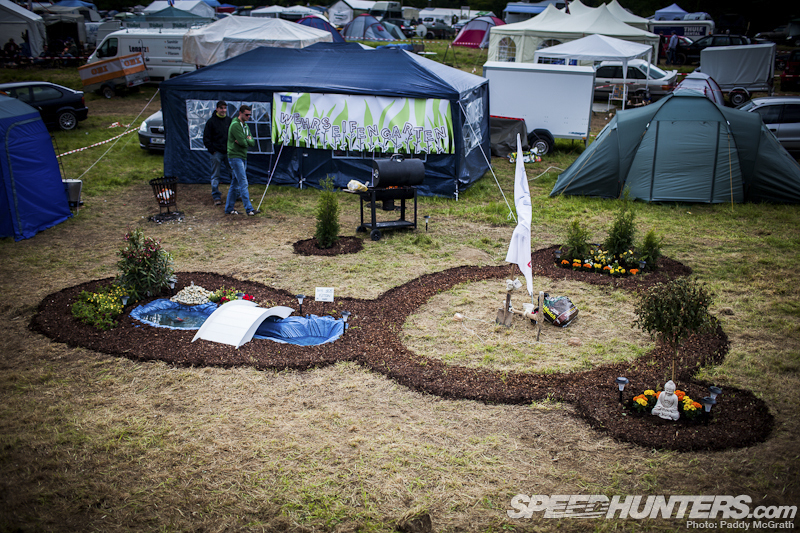 Maybe if you have the time, you might prefer to carry out some landscaping? Perhaps with a nice water feature?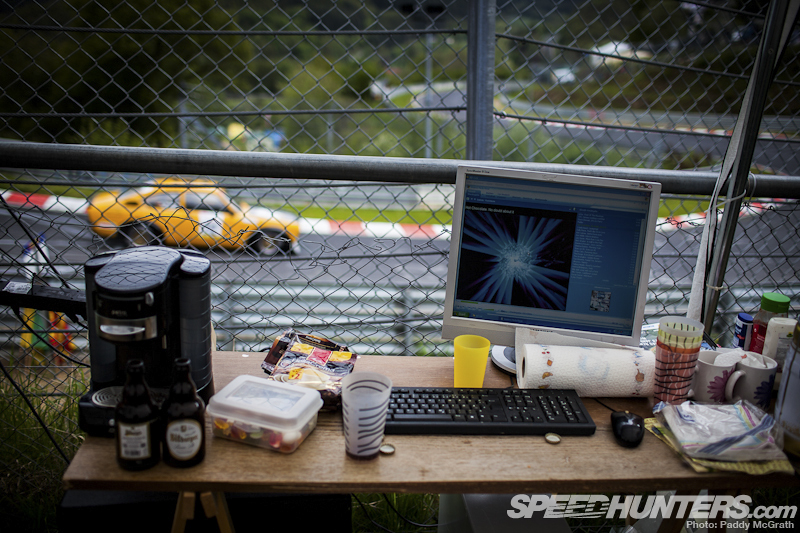 Camping doesn't have to mean you can't bring the modern world with you.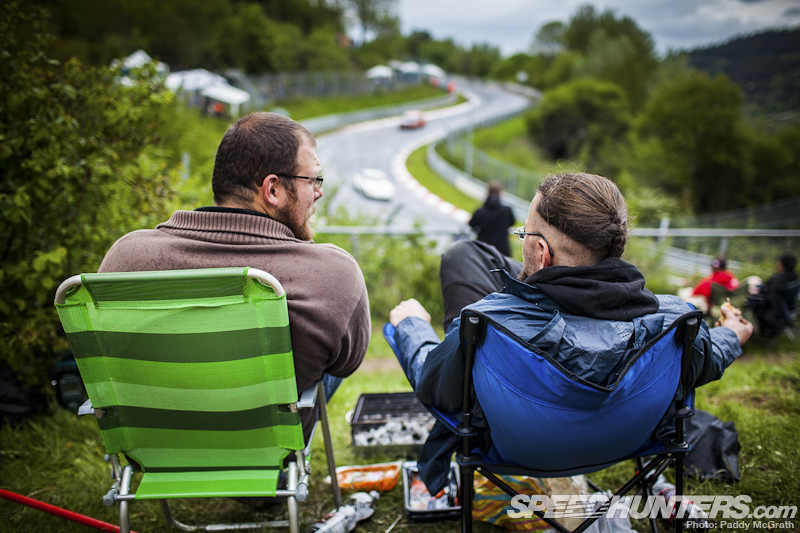 I have to admit that I was a little jealous of those who had the pleasure of just sitting back and soaking everything in. In saying that, I know I'd probably get bored after five minutes and want to go back shooting.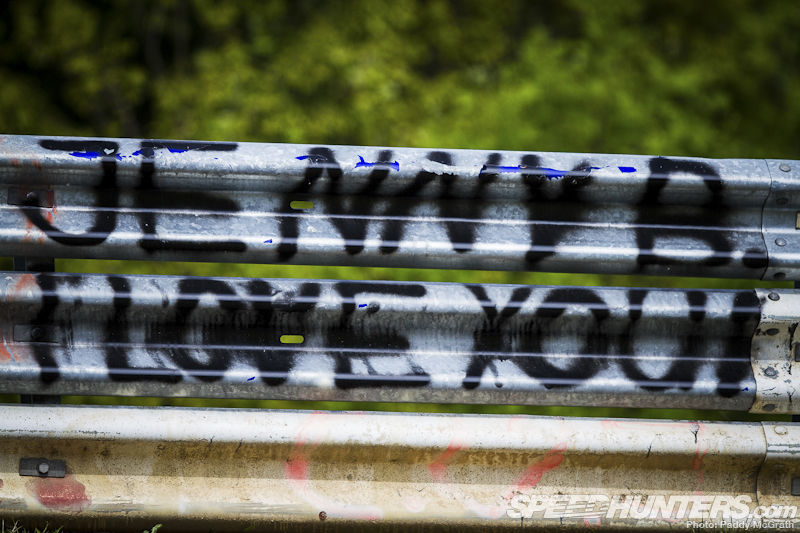 I don't know who Jenny B is, but she sure is loved – I lost count of the amount of romantic messages written on the barriers / track.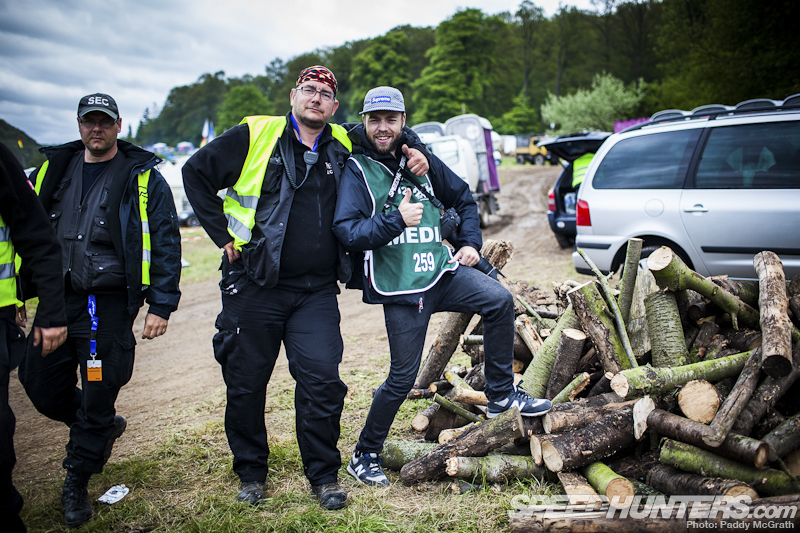 This security guard was congratulating Sean on his wood. We were all proud of Sean getting his wood.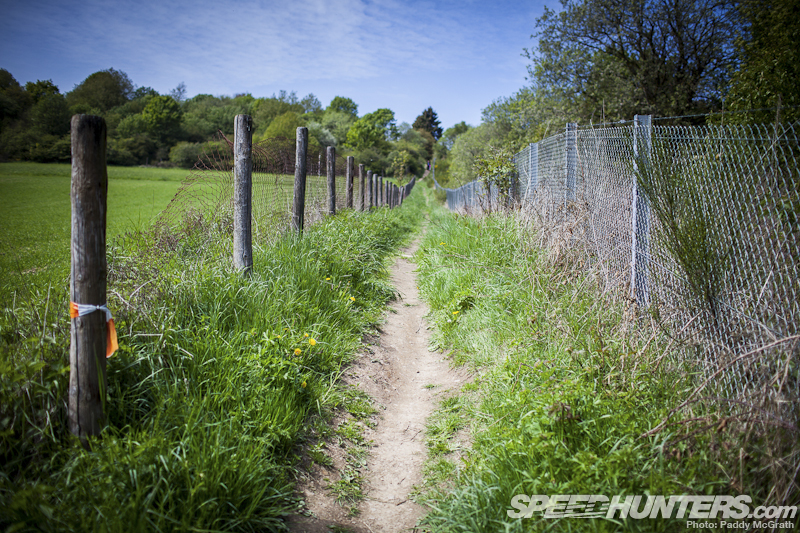 This is the reality of shooting the Nordschleife – long narrow paths which you're never really certain what way they will lead you.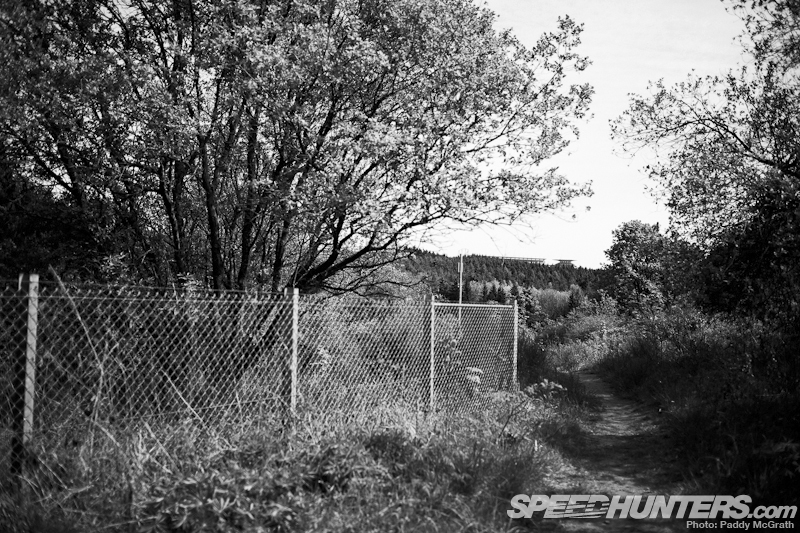 You're often reminded of just how far from civilization you are. That's the Mercedes stand of the GP circuit on the horizon taken from a location which is pretty much at the start of the Nordschleife. This place isn't small.
Some parts of the track are remarkably easy to get to. The Pflanzgarten area in particular is located immediately beside a main road.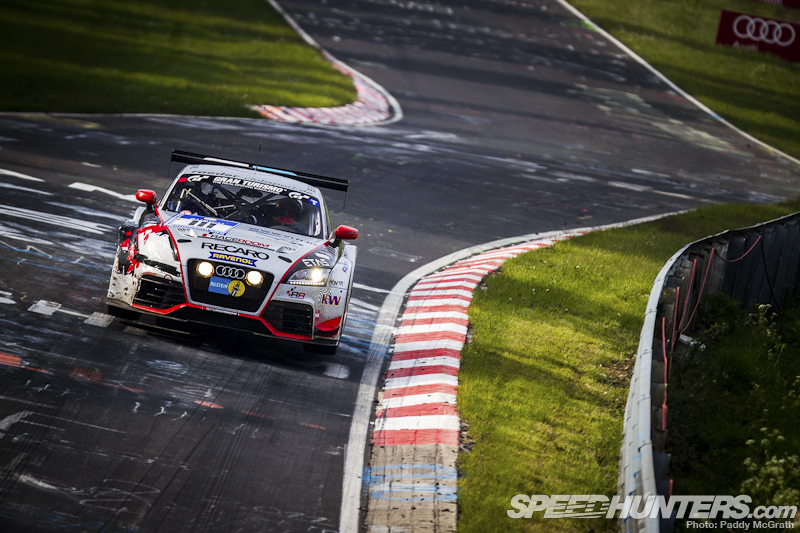 It's also a particularly dangerous area to shoot from. Last year, a car ended up between the armco and catch fence and this year another car attempted to move the armco back a couple of feet. When the organizers say an area is a 'red zone' for media, they aren't kidding or doing it for the sake of it.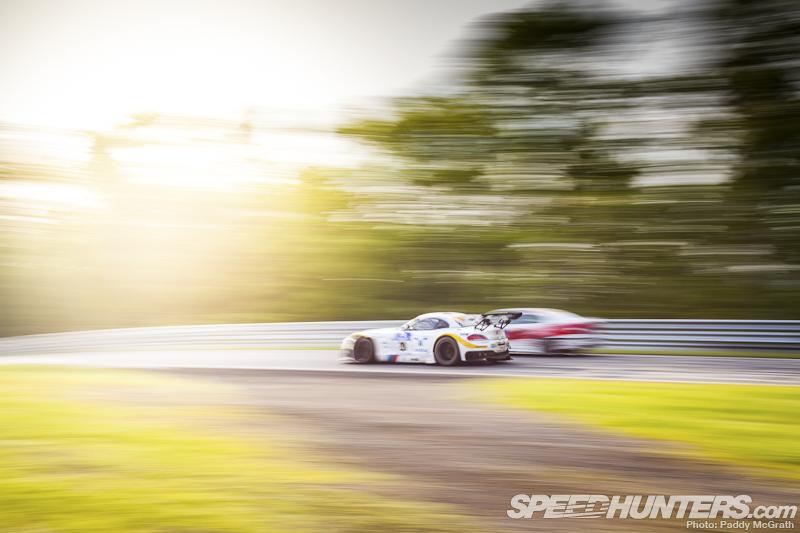 Something Sean and I spoke about quite a lot over the weekend is how you can literally move five or ten feet and get a whole new look on the place. You never want to stop shooting here.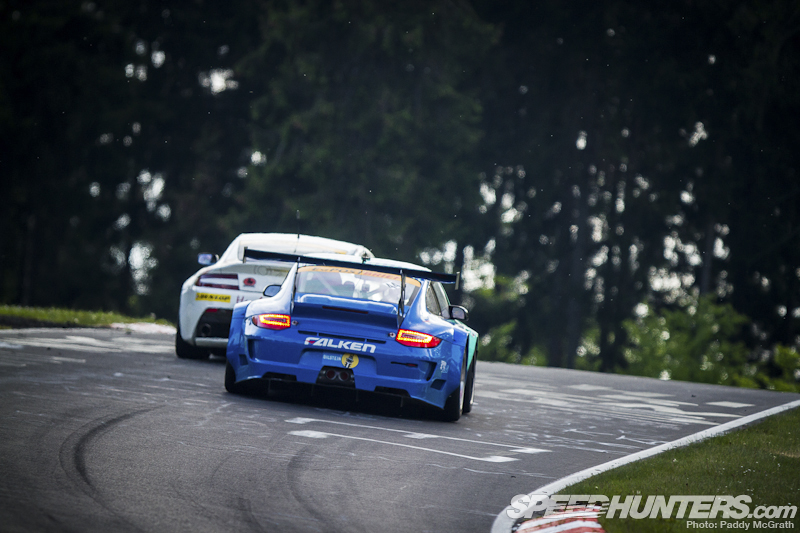 This shot is taken maybe twenty feet away from the shot above (at a difference time of the day too). You couldn't ask for more variety from the one circuit. It's just incredible.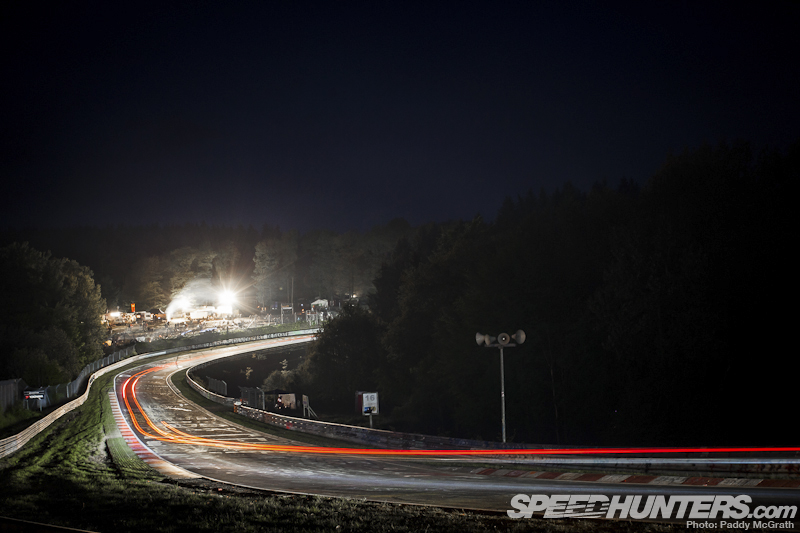 When night falls, everything changes again. It's as much a test of endurance for the media as it is for the drivers.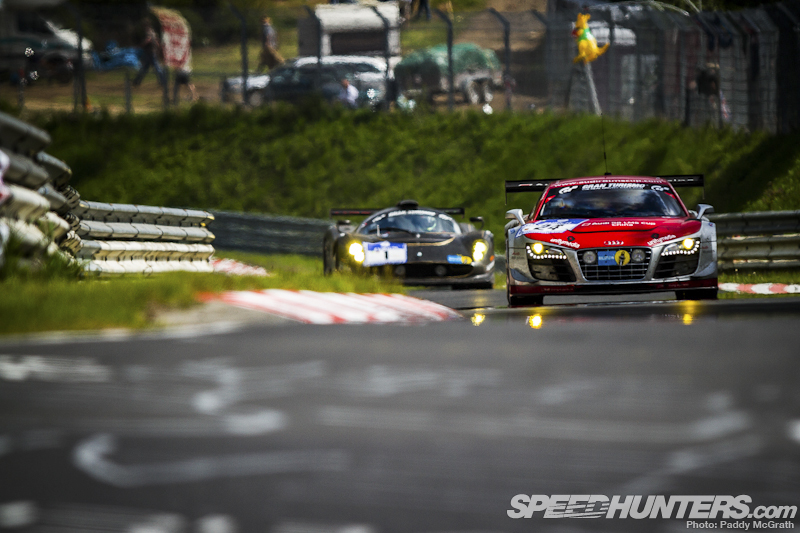 Since we're talking about shooting, I don't think we can get away without mentioning one of the most famous corners in motor racing – the Caracciola Karussell.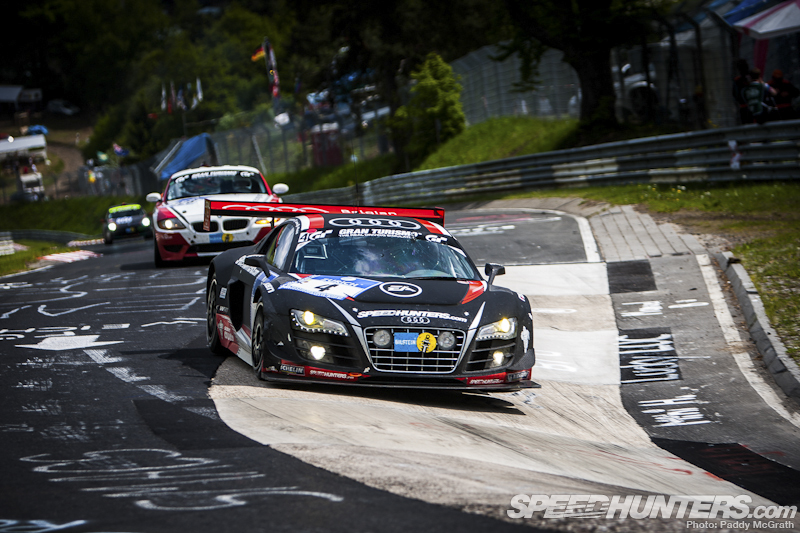 I'm working on a Temple of Speed story on the Nordschleife at the moment so I'll go into a little bit more detail in that.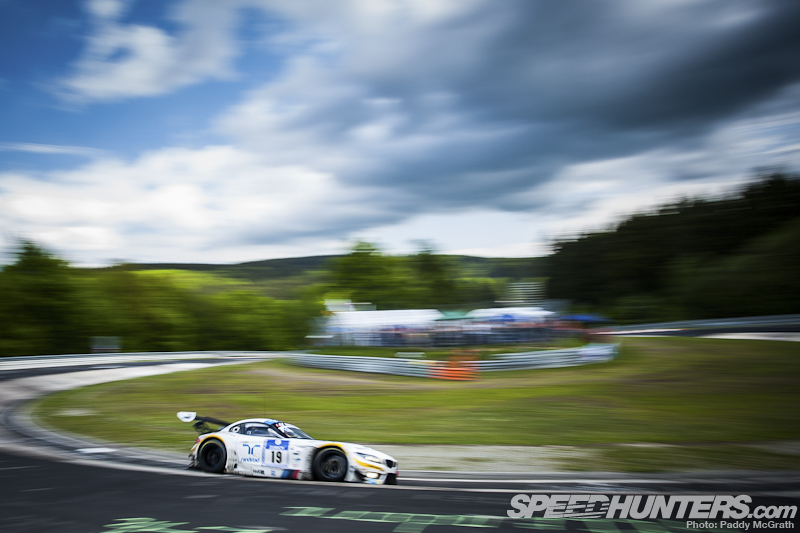 Photographing the Karussell is actually a lot tougher than you would think. Getting the typical Karussell shot is easy enough, but coming up with a unique and fresh perspective proves a lot more difficult. Slow panning shots are difficult with the cars bumping up and down over the slabs of concrete on the berm.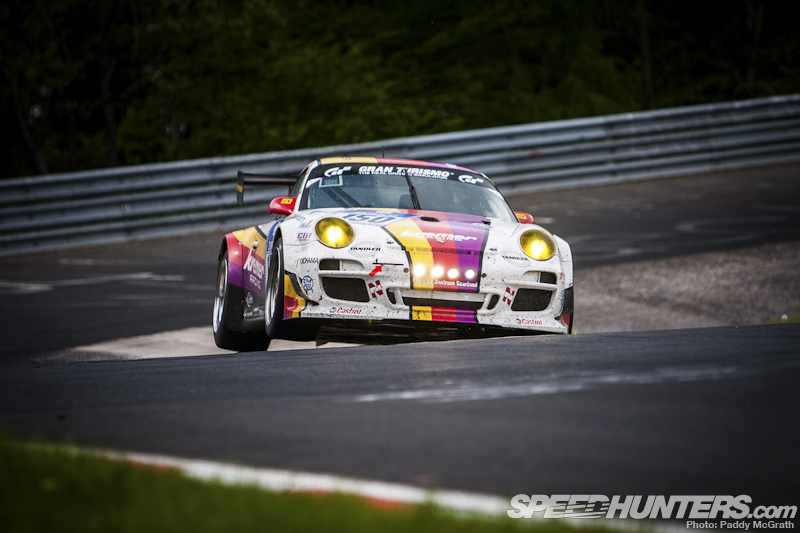 Watching the cars exit the Karussell is highly entertaining – some are graceful with their exit whilst others just explode out of the corner.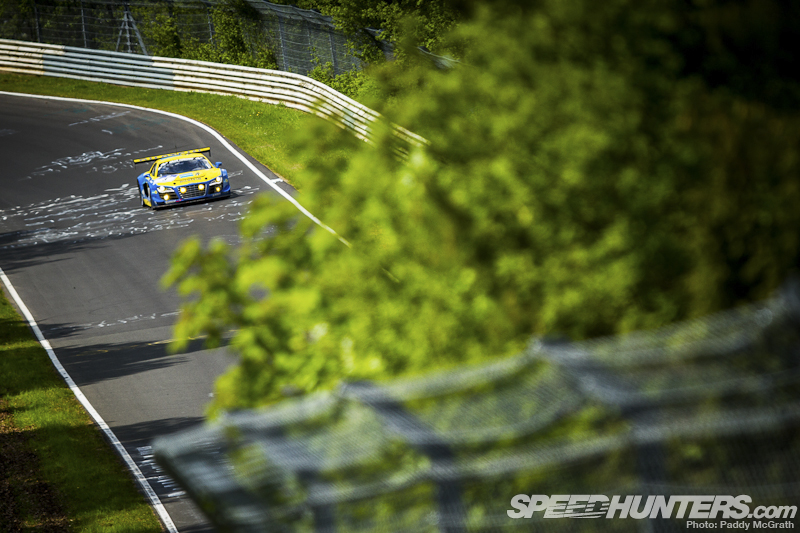 I think I'd go as far as saying that there isn't one single corner on the Nordschleife that isn't interesting to shoot.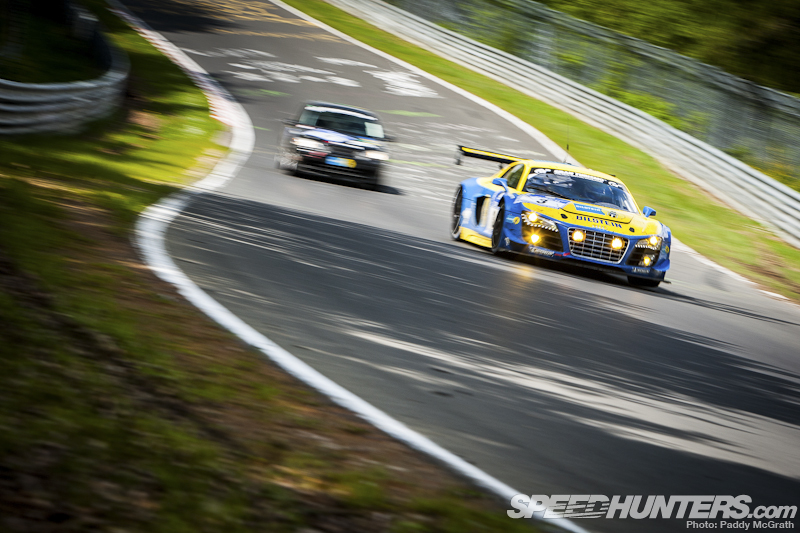 Especially when the light is good, the place is just magical. It's for this reason that if I could only shoot one event per year, it would be the N24.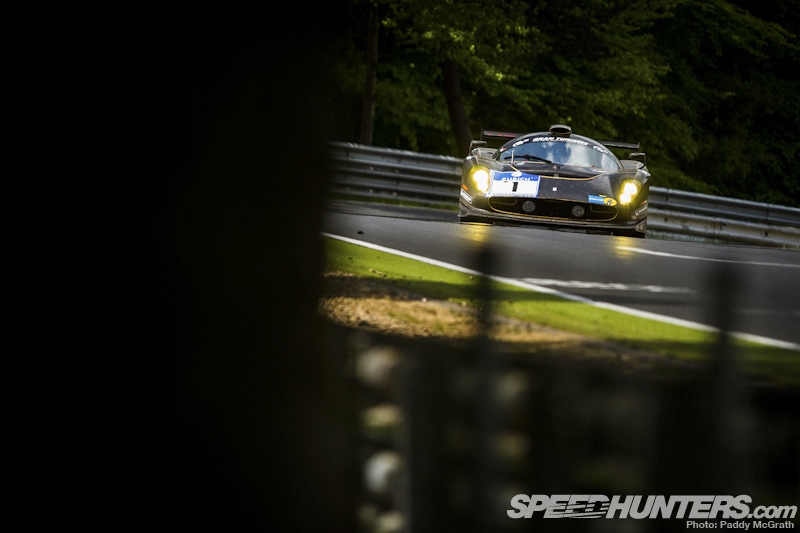 Even the spectator areas can be just as good if not better than the photographer only areas. They're certainly a lot safer too. Well, except for the snakes. I hate snakes.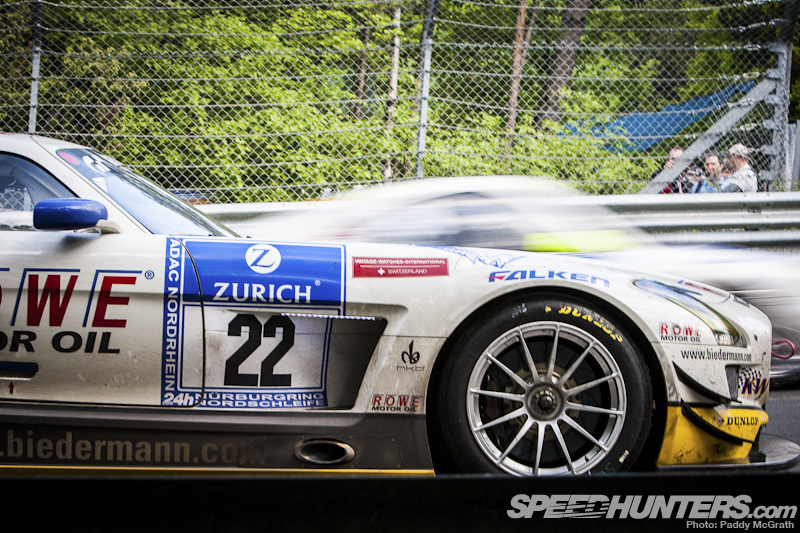 Getting a shot which relates to an important incident during the race is nothing short of pot luck. The chances of it happening near you are pretty much a thousand to one.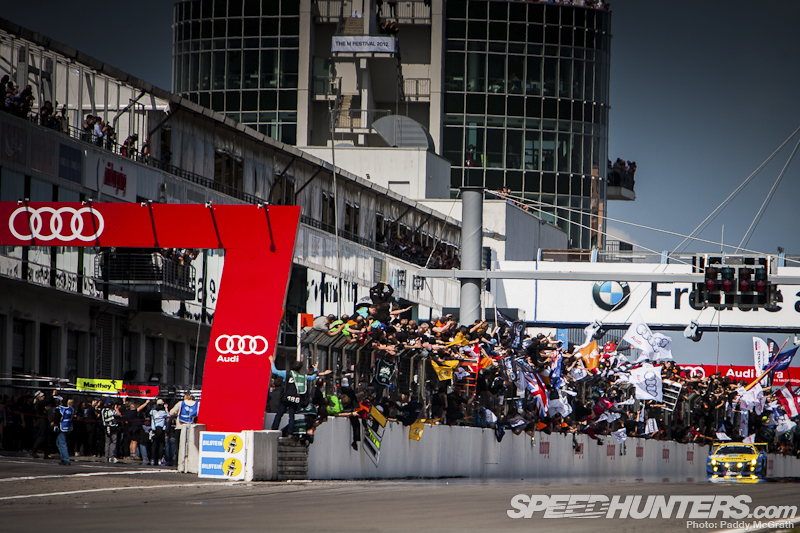 With the race finally ending after what feels like a fast eternity, you always feel that you could have done more (even if you physically could not have). It's an event that you never really feel you can beat, but that doesn't stop you wanting to go back again and again each year.
Until next year my old foe, we shall dance again.
–
Paddy McGrath
e: paddy@dev.speedhunters.com