Some say there is no such thing as coincidence, that everything happens for a reason. To these people, my seemingly chance encounter with one of the most incredible Mango Corollas I've ever seen was not by chance at all. They even have a phrase to describe such a strange encounter – fate.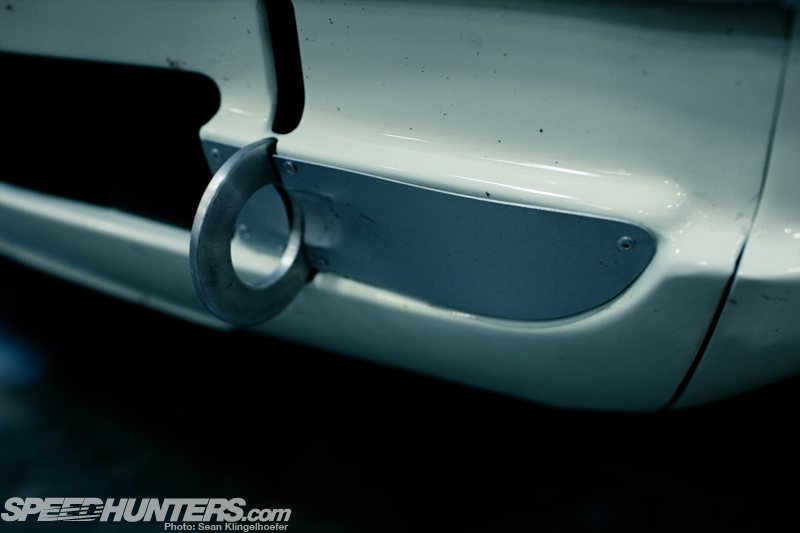 Whatever it is that you might believe, I can say with a fair amount of confidence that you are going to be just as blown away by this car as I was. It might not be the fastest or the most expensive car I've ever seen, but it is without a doubt one of best executions I've encountered. The fact that I literally happened upon it added a further level of excitement.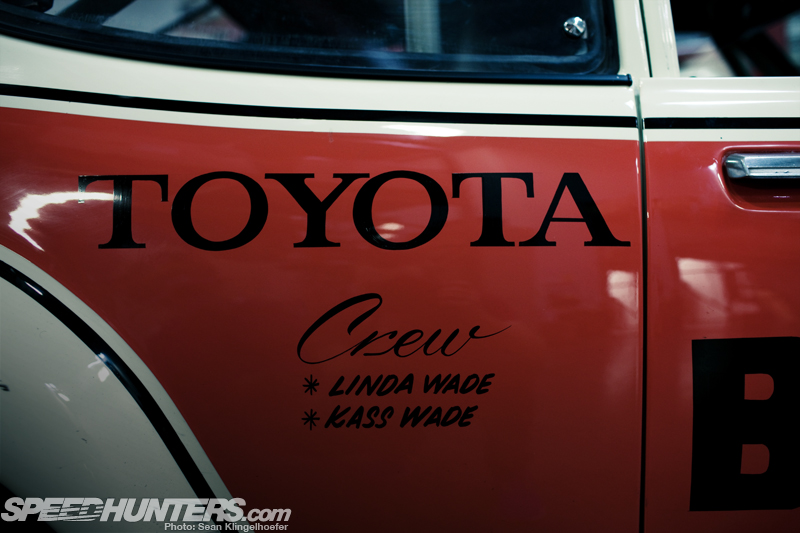 When I left my apartment in Hollywood on Tuesday morning I knew two things, that I wasn't looking forward to the traffic on the I-405 south and that I was going to shoot something incredible at Toyota's corporate headquarters in Torrance California. What I didn't know was that it would begin to precipitate on my drive down, which would all but negate the purpose of my trip.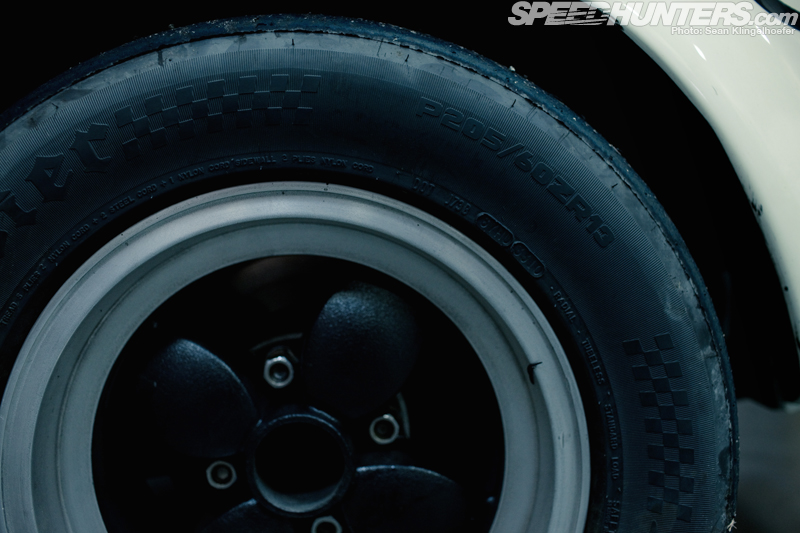 When I arrived at Toyota's museum, my previous agenda seemed to be out the window, as the cars I had intended to shoot would not be permitted to go outdoors with the current weather forecast. I knew I would have to reschedule my planned shoots for a sunnier day, but I figured since I had braved the morning rush hour I might was well shake some hands while I was there.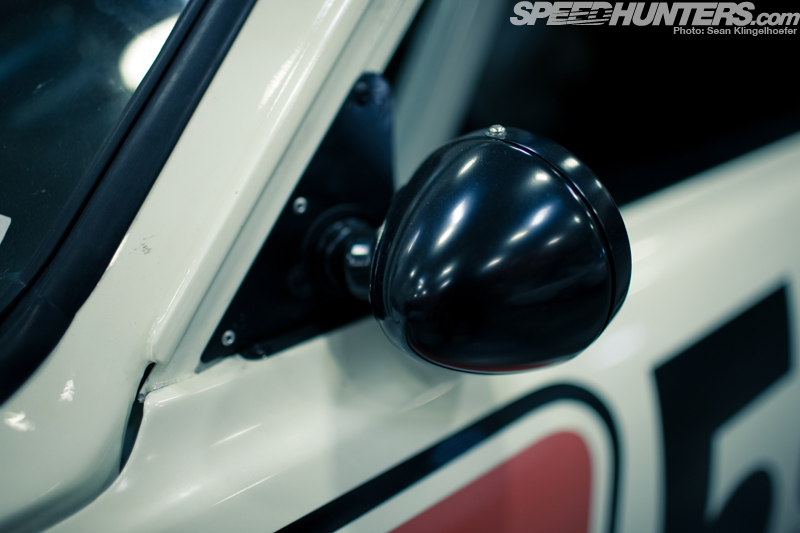 I was told that the person I'd need to talk to about setting up the future shoots was a man named Chuck Wade, the Director of Toyota Motorsports Technical Center, Inc. (MTCI). At the far end of the museum I was guided through an open roller door and rounded a corner to enter another expanse of warehouse filled with pallet racks and many of the Scion tCs used at the Toyota Grand Prix of Long Beach Pro/Celebrity Race.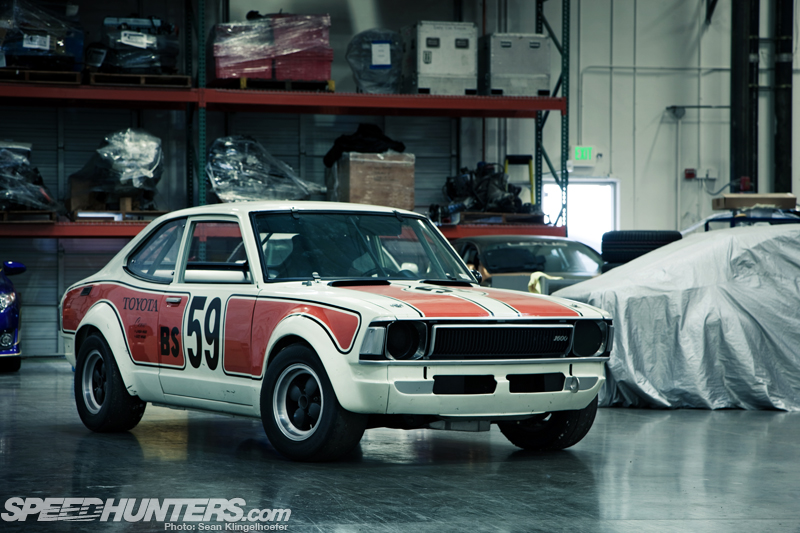 When I finally made my way past the last pallet racks I hung a sharp right when it hit me. There amongst all the pace car liveried current Toyota models was one of the most pristine TE27 Corollas I've ever seen – and I've seen more than a few. I was shocked, but before I had time to catch my breath an older gentlemen walked over and shook my hand. "My name is Sean" I said, "and I work with a website called Speedhunters." He smiled and introduced himself as Chuck.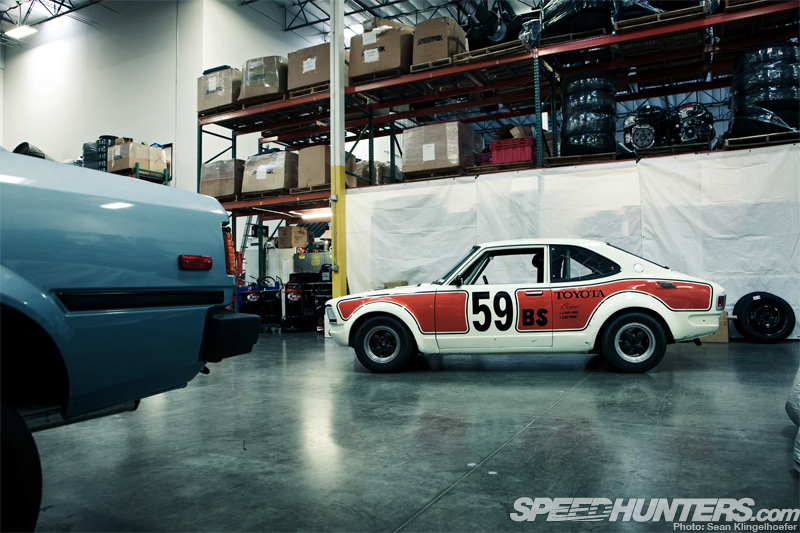 We chatted for a bit and I told him about my original plans to shoot a couple of the Celicas in the museum, all the while I couldn't help from looking back over my shoulder to catch another glimpse of the Corolla. He said that they were always working on new cars and that if I ever wanted to shoot anything to let him know, which seemed like the perfect segue to ask about the Mango.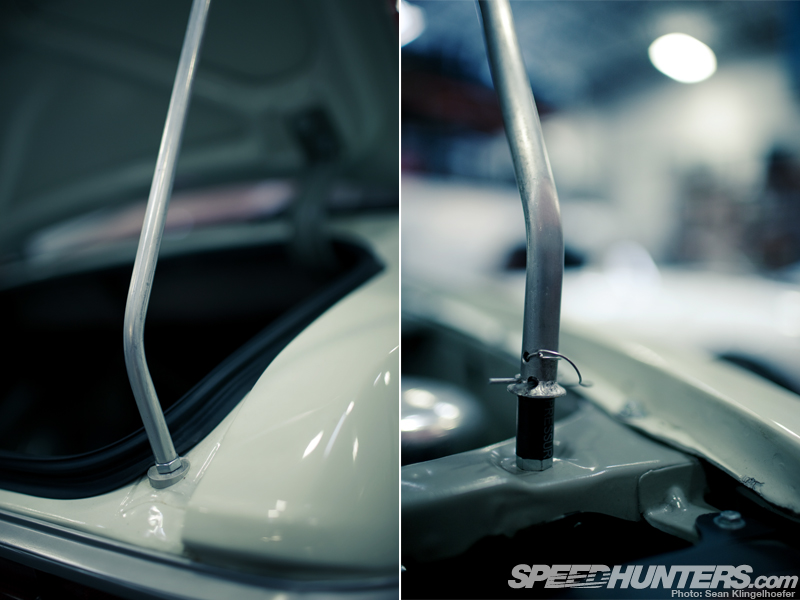 As luck (or fate, depending) would have it, the little Corolla is actually one of Chuck's personal cars. "Sure" he told me, "you can shoot it." We walked over to the car and immediately the attention to detail began sticking out. When he popped the hood I knew I was in love, and I hadn't even glanced at the engine yet. No, his ingenuously over-engineered safety pinned windproof prop rod was what won me over. It was just a slender rod with one perfect bend, then length perfectly calculated with just enough tolerance to clear the hood fully open. At the base there was a flare to accept the hood pin and a hole to secure it. And there was one for the trunk as well. Too cool.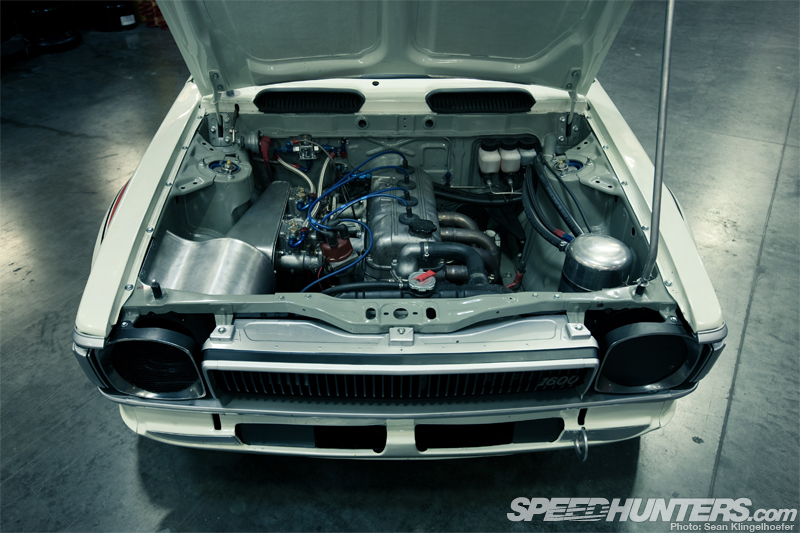 When I finally took a gander at the engine bay I can't say I was surprised by what I saw, given the indications of greatness I had already witnessed, but it wasn't exactly an ordinary view either. The heart of the Corolla is a 2TC as you'd expect, surrounded by a simple but expertly executed maze of wires, hoses and hydraulic lines with bits of custom fab and impeccable metalwork to seal the deal.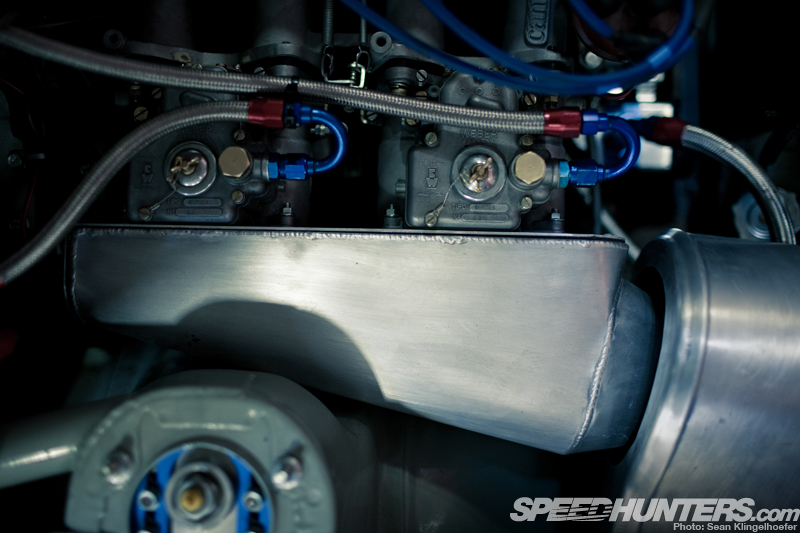 But of course this isn't your average wheezing 1.6L engine from the '70s, no this one is quite special. When I finally finished admiring the custom intake plenum that Chuck's company constructed, I noticed a pair of Earl's stainless-fed 45mm side-draft Weber carbs mounted to a Cannon manifold. Forty fives are pretty big for an engine this size, and it's not the first time I've seen them slapped on a 1.6L, but it is the first time that the owner had good reason for them to be there.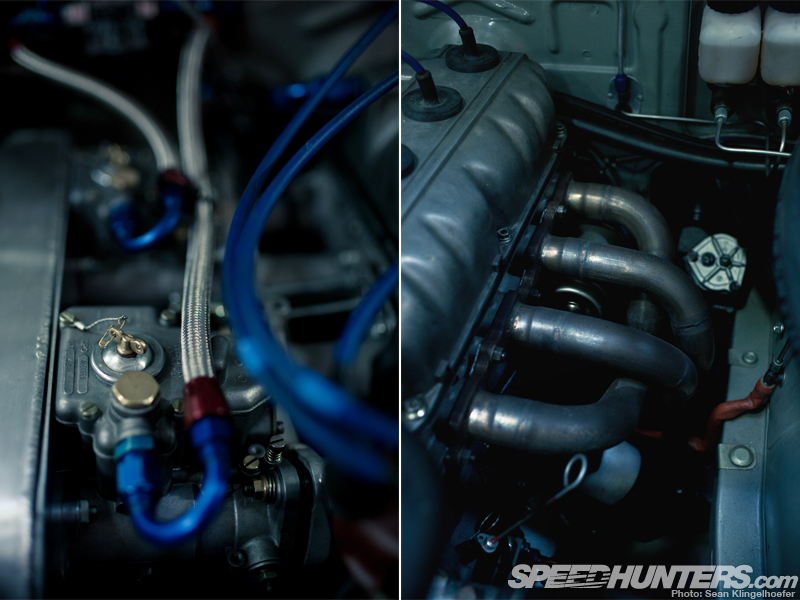 One look at the safety wire securing the wingnut on the jet-inspection cover and you know this baby means business. On the opposite side of the head was a set of bespoke long-tube headers, another MTCI original fabricated by Mr. Wade. At this point I had to ask for some more information about the engine and the specs were shocking. Chuck has several variants of the engine that he switches out at will, all of which produce around 200hp.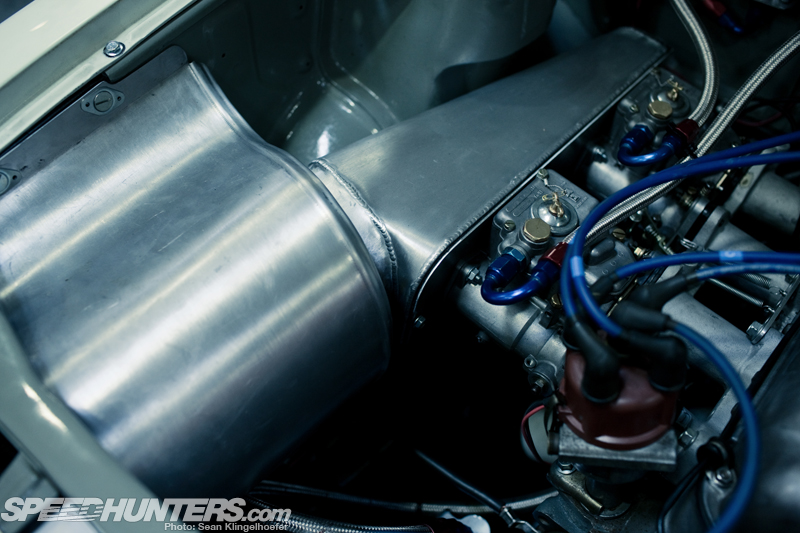 The one currently in the car is 1620cc, has a compression ratio of 12.5:1 and revs to 9k. Even by today's high-tech fuel injected DOHC standards, 200hp from 1.6L (125hp/ liter)  is an incredible feat, for a carbureted OHV engine from the '70s it's astonishing. But of course this is not your typical pushrod engine, in fact even the pushrods are very high-tech. Built by Manton in Lake Elsinor California, the rods feature a tapered design where they are larger in diameter in the middle than at the ends. After the manufacturing process is complete they are sent over to the UK where they are tempered in Arsenic for extra strength.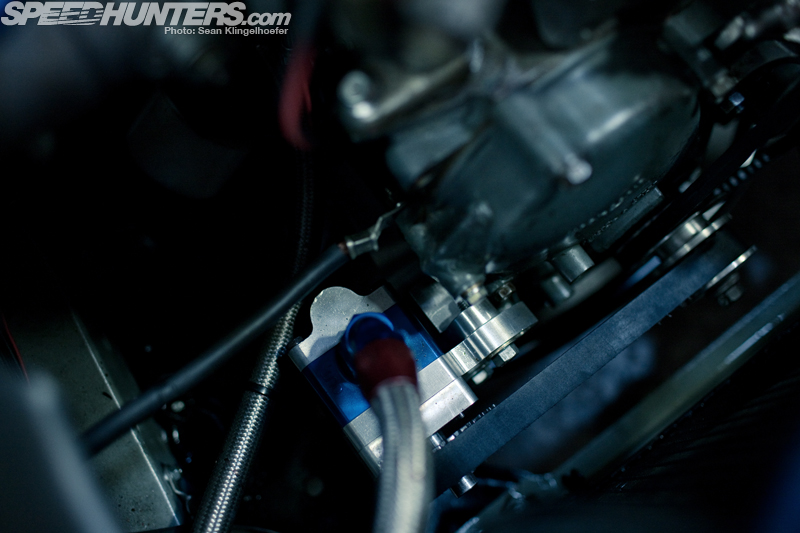 The more I learned about the engine setup the more I was intrigued by it. Staring at the front of the engine I noticed what appeared to be an oil pump, but it wasn't for a dry-sump setup, just an external oil pump. When I asked Chuck about it he mentioned that the oil pump was a common failure on high RPM 2T engines since both the distributor and the oil pump were driven by the camshaft. Very clever.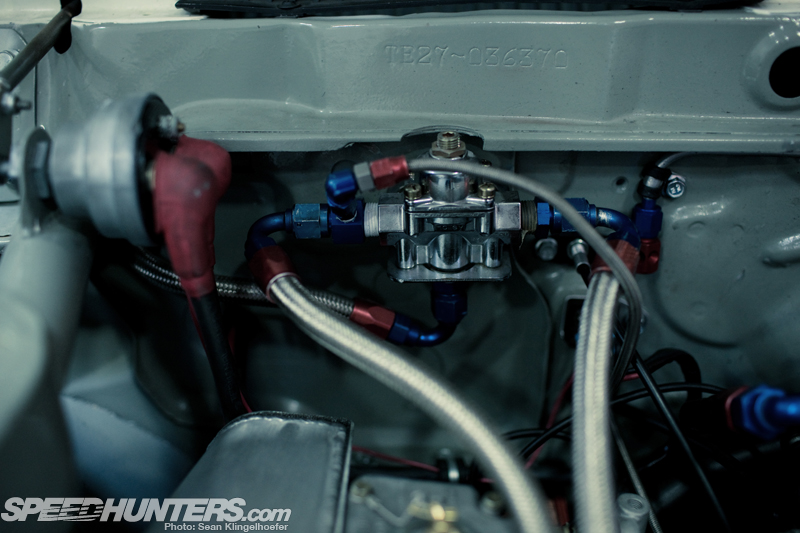 Elsewhere in the engine bay are items I was used to seeing, like a firewall mounted fuel pressure regulator. But I can't say I recall ever seeing this many AN fittings in a second gen Corolla bay. Everything is routed with form following function and again the attention to detail shows that this car is meant to be driven hard, not hard parked. Little rubber grommets to prevent hose fraying and notched sheet metal to allow for proper fuel pressure adjustment are the norm.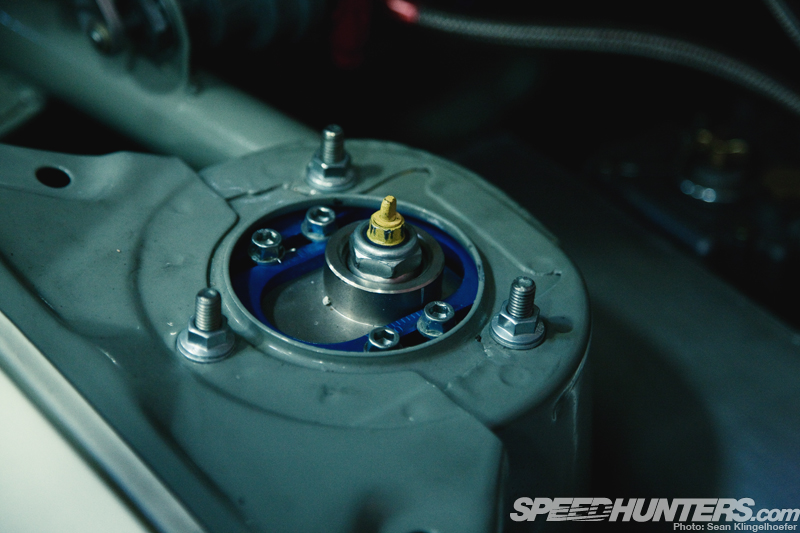 When I saw the Cusco shock mounts I had another "ah ha, I know that trick" moment. Over the years I've seen quite a few suspension components for newer vehicles adapted to older chassis, but this time I was wrong. Chuck informed me that Cusco actually offers a kit for the TE27. Radical.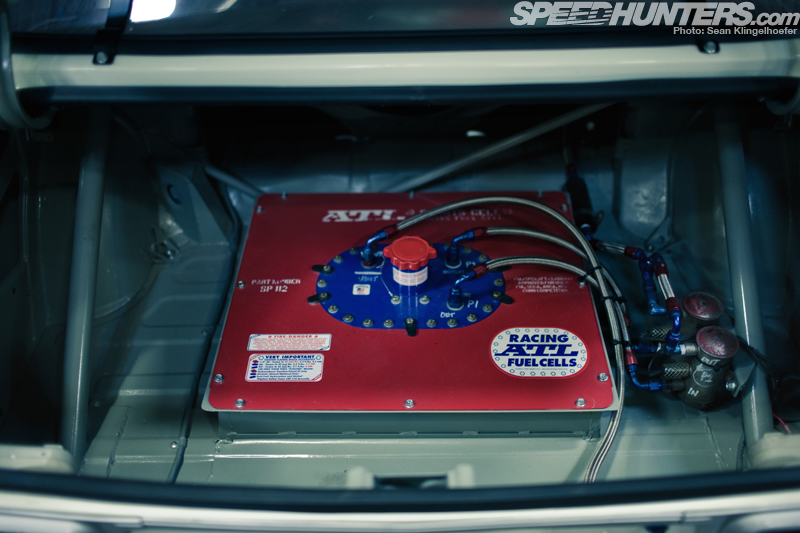 In the trunk is more anal retentive perfection. I mean honestly, tell me that the ATL fuel cell doesn't look like it came in the car standard. Even look at the thickness, length and spacing of the welds, incredible. No nonsense paint pen markings allow for quick trouble shooting or replacement on the fly if or when one of the Bendix fuel pumps goes out.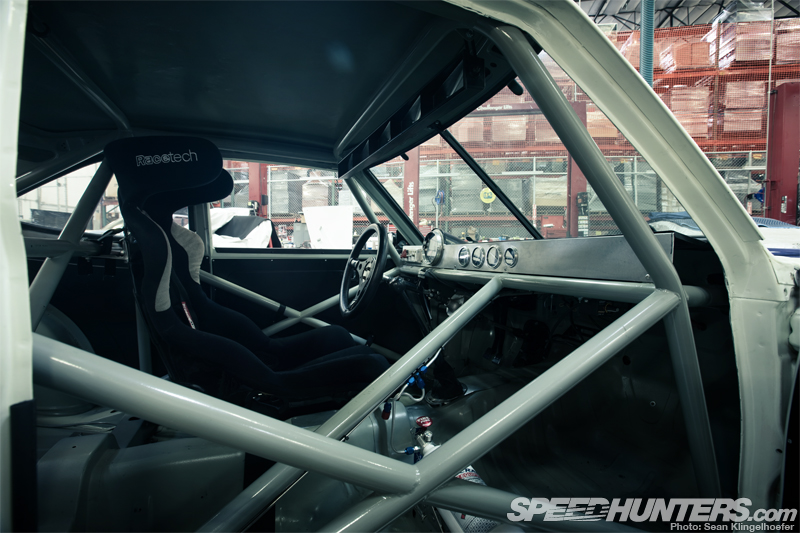 Inside the car the same level of perfection continues, at this point my brain began to melt. The craftsmanship is astonishing, and I've seen some pretty incredible fabrication but this is seriously up there. The rollcage is yet another of Chuck's creations built in the MTCI facilities. At this point I wanted to rip my hair out, as I know first hand how long it would take to do this kind of work to my car… and that's not counting the next twenty years I'd need to spend perfecting my welding.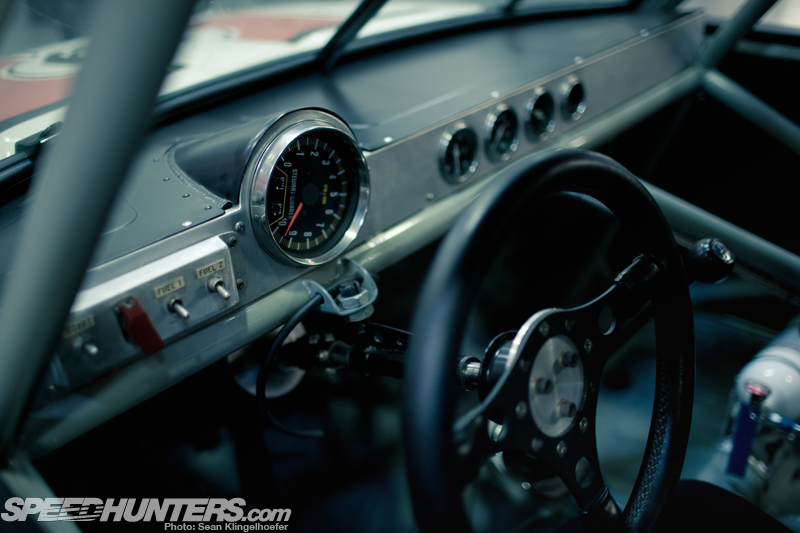 The dashboard couldn't be more simple yet it's so special. The metal work is mind blowing, the precision with which every last corner is perfectly rounded and the sheet metal stamped and embossed is delightful. Even the color coordinated rivets and the sectioned pop-up for the tach bezel are well thought out.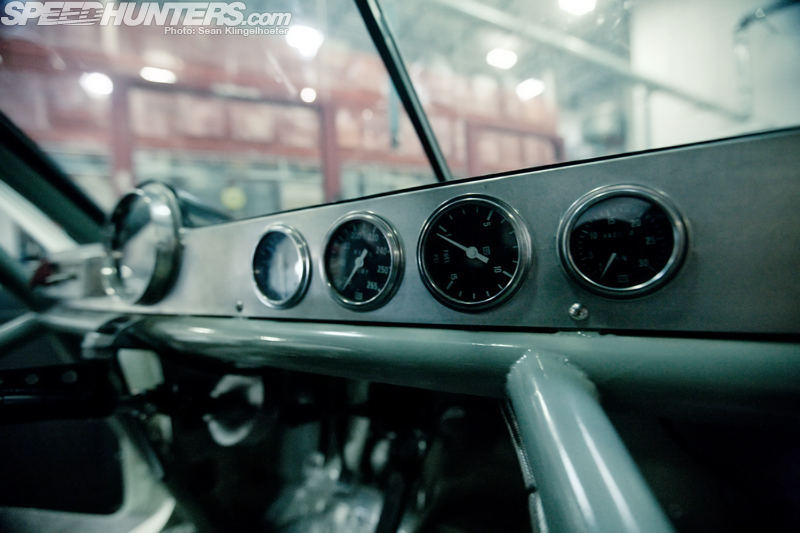 The way that the panel containing a series of Stewart-Warner gauges is hard mounted directly the roll cage speaks to methodical approach Chuck has taken to rebuild this car. It was clear this wasn't Mr. Wade's first rodeo, so to speak.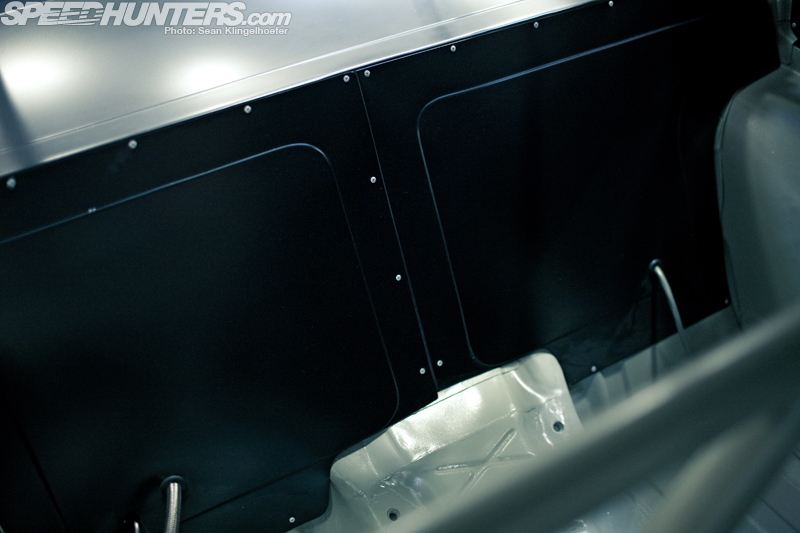 Seriously how could you not fall in love with that? Aluminum deck lid, black panels, grommets to protect the plumbing. Top notch stuff.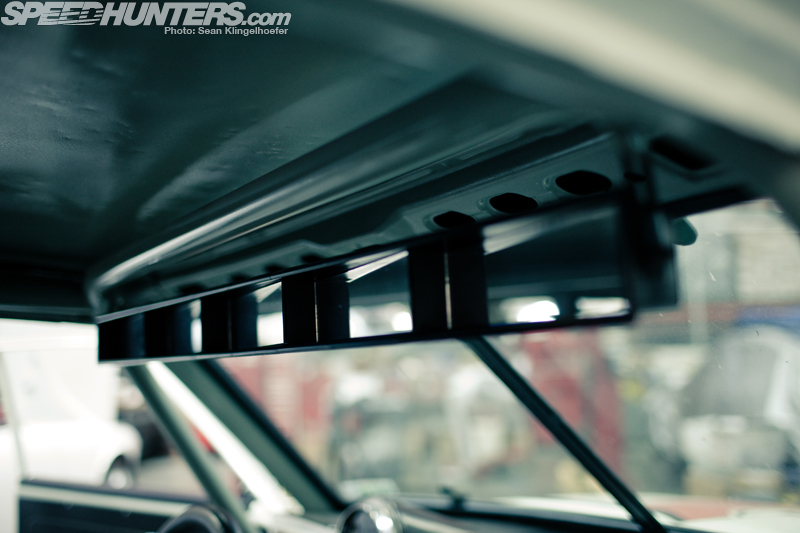 When I saw the rear view mirror there was a brief moment of attainable familiarity.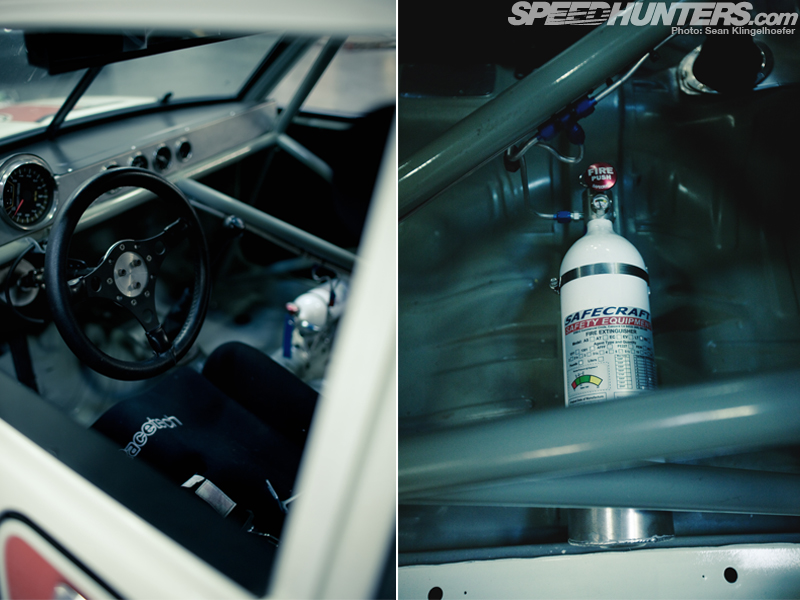 After gathering my wits I poked around inside for round two. The Formula France steering wheel was a popular item amongst Japenese-Americans in SoCal during the late '70s and early '80s as they begin to find their niche modifying JDM cars . Ironically Chuck told me he didn't even think of it, it was a left over item he had laying around from his days when he worked at Renault Racing. Coincidence or fate? You decide.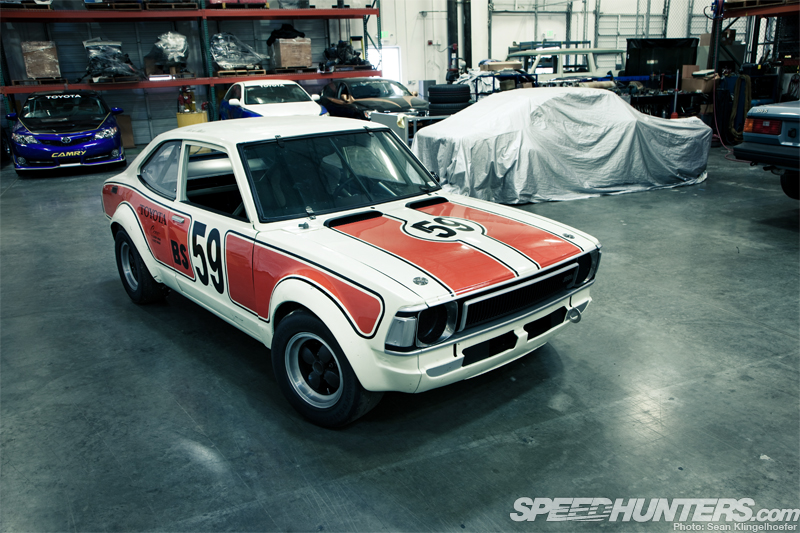 At this point I needed to stand back and take a minute to let everything soak in before my head exploded. No more than an hour ago I didn't even know this place, let alone this car, existed. Sitting here right under my nose all this time. I asked Chuck a little more about the car and that's when things went to the next level. As it would turn out he is the seventh owner of a car steeped in racing history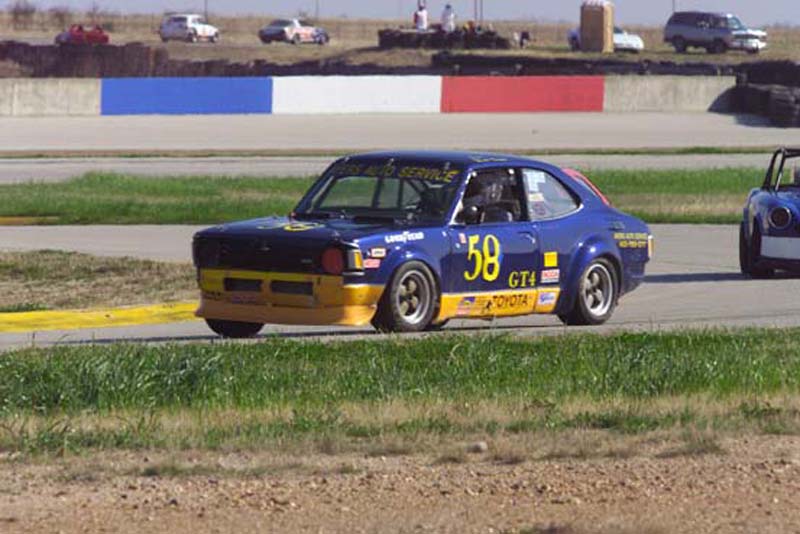 Chuck picked the car up in pretty poor condition, a mere shadow of what it once was. The front end had been sectioned and tubed and in Chuck's eyes it needed a complete overhaul, and that's exactly what he did. His goal was to restore the car to it's original track-record-setting condition, including reverting back to the original livery. The transformation that the car underwent is the stuff of legend, but then again so is the car's past.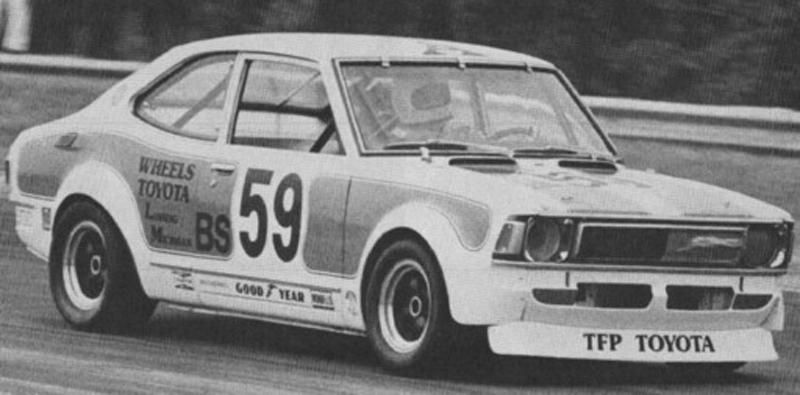 Originally purchased brand new in 1972 by Marv Thompson, a former SCCA National champion, the car was driven straight from the dealer to his home where it would be completely dismantled and transformed into a competitive B Sedan racer. During its day the Corolla's main competition was Bob Sharp's Datsun 610s (like the one Adam Corolla (Corolla, ironic) Owns) , and although he made it to the Nationals each year from '72-'75, due to some questionable tactics by the Datsuns, Thompson was never able to take the top spot.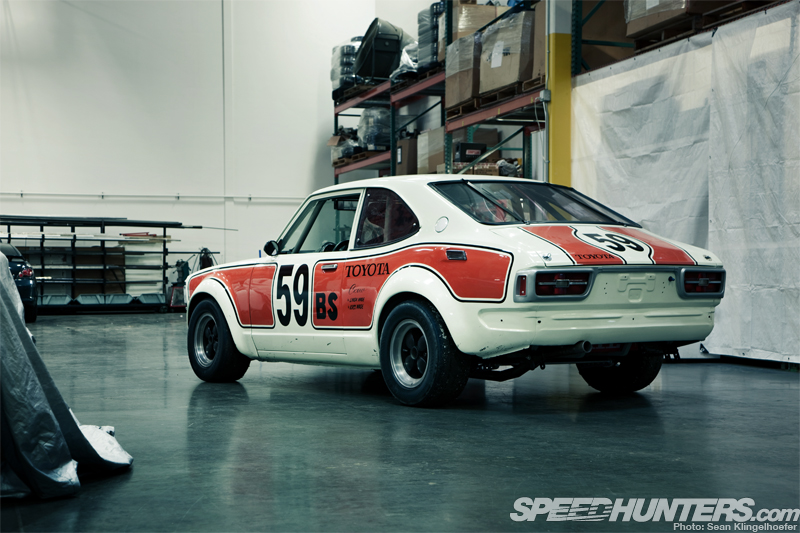 Eventually Marv was forced to sell the car due to pressure from his employer, GM for whom he was an engineer, to race one of their own products. Over the next couple of decades the car would change hands many times and in the process qualify for SCCA Nationals eleven times. Once in Wade's possession he stripped the car down and addressed what needed to be done. In the end Chuck decided it would be best to start virtually from scratch so he salvaged as much as he could from the car and underwent the painstaking task of performing a body swap.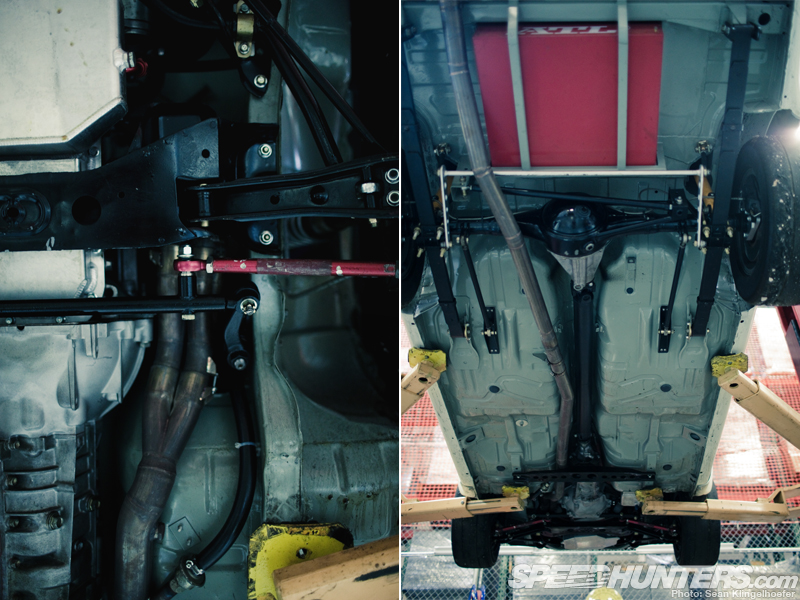 Nearly all of the underpinnings remain period correct items with only minor updates like the rear brake conversion and slightly modified anti-bumpsteer steering geometry changes. One interesting thing to note is the use of a Datsun 510 wagon rear end, the only variant of the 510 to be sold with a live axle rather than IRS. Back in '72 when Marv originally bought the car there was virtually no support for the factory rear end so he swapped it with the Datsun unit in order to run readily available gearing and limited slip differentials.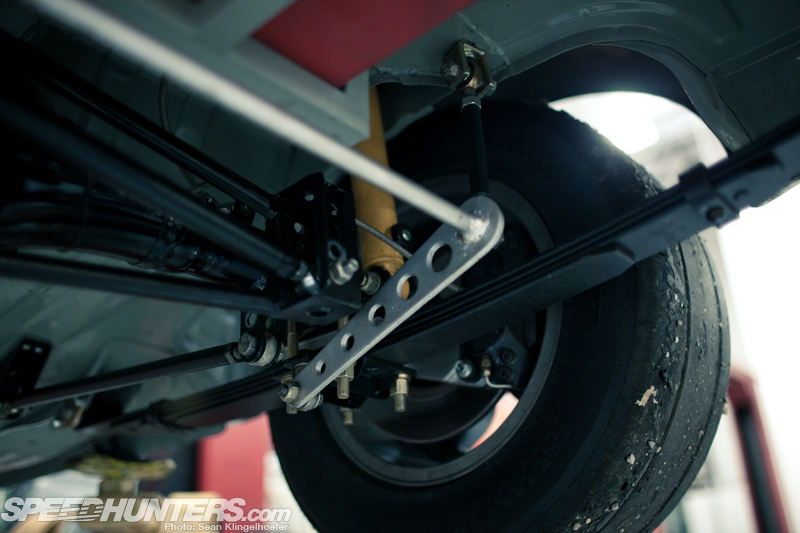 As I mentioned Chuck updated the rear brakes with a custom setup using his own brackets and Wilwood calipers. The rear sway bar has also been replaced with a custom unit, but aside from that the rear suspension remains as it was originally setup in the seventies. Virtually every link is adjustable and uses heim joints for minimal deflection.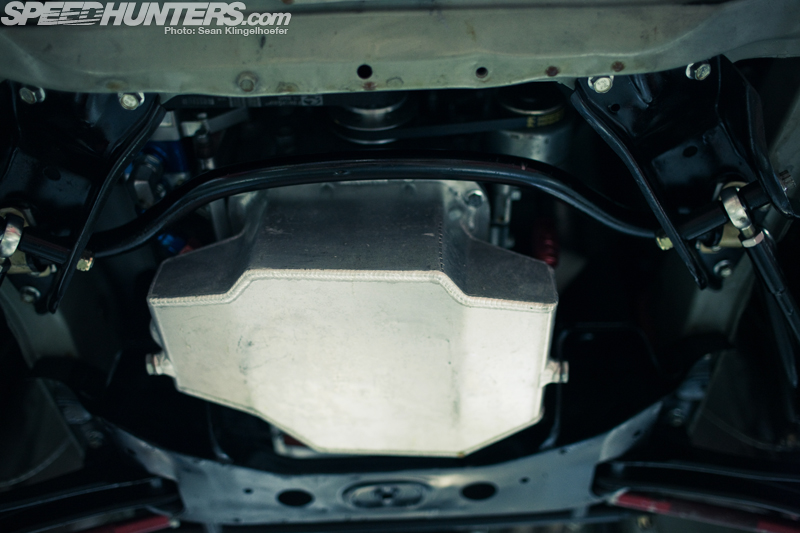 Up front it's the same story with the majority of the original components remaining. The tension rods have been updated, but the rest of the links are from the bad old days, as is the Addco front sway bar which snakes around the increased capacity Moroso oil pan. Marv's original Hurst Airheart front brake calipers are probably the rarest component of the bunch.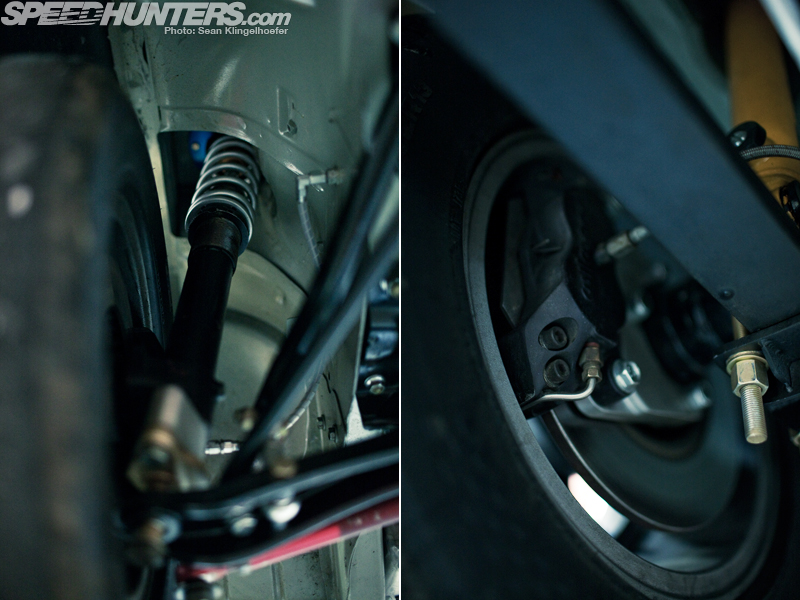 The beautiful thing about older cars is how simple everything is, which makes them much easier to modify. Up front a simple spacer on the bottom of the  McPherson strut creates better LCA angle and corrected roll center. Out back we can see the clever brake caliper bracket that Chuck made during off hours at MTCI.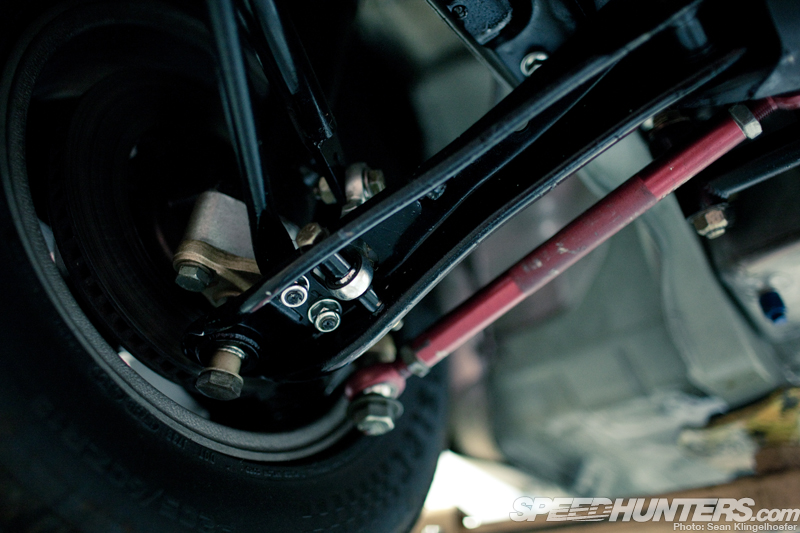 Simple, yet very complex. I'd imagine that the deflection of the front suspension is minimal, significantly less than modern cars packed with sophisticated bushing compliance.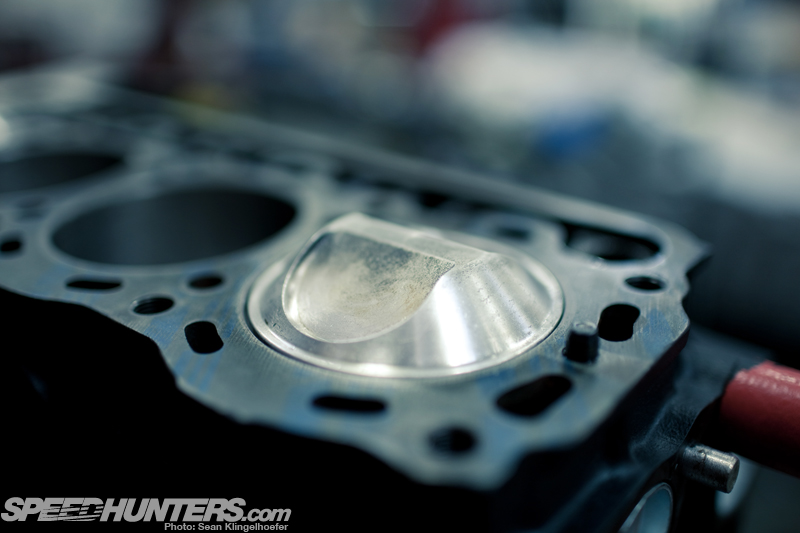 Before leaving I stayed and talked a while with Chuck and he showed me one of his spare engines that he is rebuilding. If you thought I was kidding about the compression ratio, just have a look at that piston dome. Chuck tells me that once completed, this motor should be good for right around 220hp. Stuffed inside a featherweight Corolla that tips the scales at just under 1700lbs (770kg) that's a recipe for success.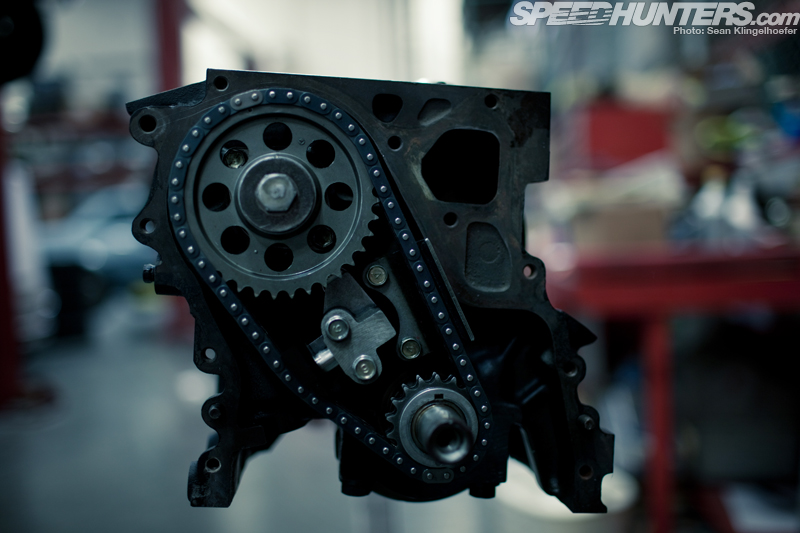 When the engine is back together I'll have to tag along with Chuck to the track and see how the TE27 gets on. As I packed my gear he told me about future plans of taking the car to Chuckwalla, the only track in SoCal he hasn't been to, something we have in common. We shook hands and I told him I'd be in touch because I have to see this thing in action. While I didn't end up accomplishing anything that I had set out to on Tuesday, it was certainly a day I won't soon forget. Whether it was fate or coincidence, I may never know.
1972 Toyota Corolla TE27
ENGINE
1620cc 2T-C; 197hp @ 8800RPM; Cam Techniques camshaft; Arias 12.5:1 pistons; Sainz connecting rods; Manton tapered pushrods; Holley low pressure FPR; Bendix fuel pumps; Earl's stainless lines, rubber hoses and AN fittings; Moroso oil pan; TruCool M7B oil cooler; external oil pump; custom MTCI header, exhaust, intake box, intake plenum, breather catch tank, prop rods; Weber 45 DCOE carburetors; Cannon intake manifold; ATL fuel cell; NGK high-tension plug wires
DRIVELINE
Toyota T-50 5-speed gear box; TRD close ratio gear set; Datsun 510 Wagon rear axle; OS Giken LSD
SUSPENSION / CHASSIS
Custom MTCI rollcage, tow hook, rear sway bar; Koni shock absorbers; Cusco upper mounts (front); Addco sway bar (front); Eibach springs (front); Deaver leaf springs (rear); custom adjustable linkages with heim joints all around
BRAKES
Hearst Airheart calipers (front); Wilwood calipers (rear); Saab rotors; stainless lines; Tilton fluid reservoirs
WHEELS / TIRES
13X7″ American Racing Libre wheels; 205/60ZR13 Hoosier R-6 DOT radial tires
CABIN
Racetech Trans Am bucket seat; Formula France steering wheel; Stewart-Warner gauges; MCTI metal dash, door panels, rear panels, switch panel; window net; fire extinguisher; wide rear view mirror
BODY
Original SCCA B Sedan / GT-4 livery and numbers; wide bubble flare fenders; GT 300 door mirrors;
More Corolla articles on Speedhunters
More stories from Sean Klingelhoefer on Speedhunters
-Sean