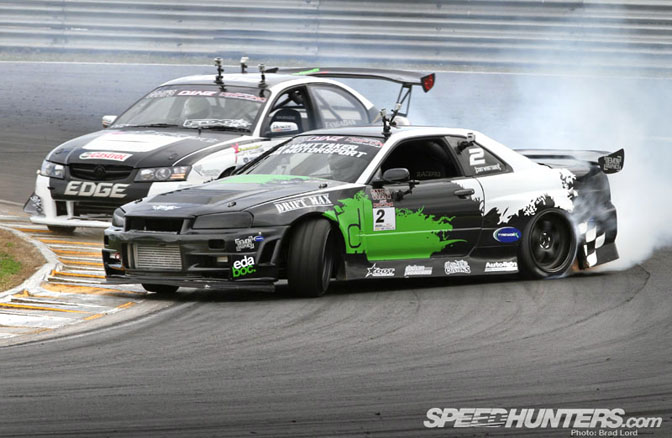 The 2011/2012 Cody's D1NZ National Drifting Championship will go down in the history books as one of the best. After five tough-fought events contested all over New Zealand's North Island, the season drew to an end last weekend still very much wide open. Heading into the sixth and final round just a handful of points separated the top drivers, and that set things up for a very exciting finale.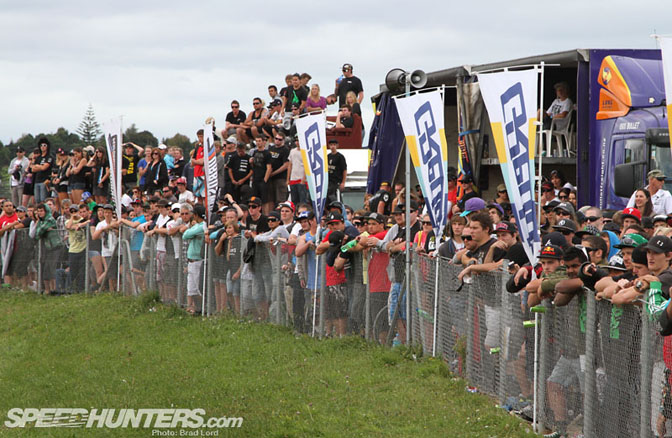 Whether it was D1NZ Grand Final fever, or the extended Easter weekend, or simply a combination of the both, there was a huge crowd on hand at Hampton Downs Motorsport Park south of Auckland to witness the action over two days. Come battle time the fence along the entire judged section looked a lot like this…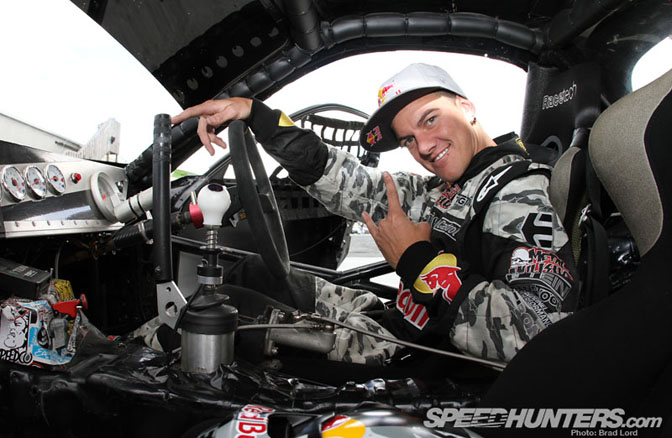 Holding a small points lead Speedhunters' own Mad Mike Whiddett went into the D1NZ final round as the man to beat. Unfortunately for Mike at a test session the week prior a driveshaft fault indirectly damaged the output shaft in his RX-7's HKS sequential gearbox. With no time to repair the tranny there was little choice but to install the spare 'box complete with gear ratios totally mismatched for the Hampton Downs judged section. He wasn't going to let that slow him down, though!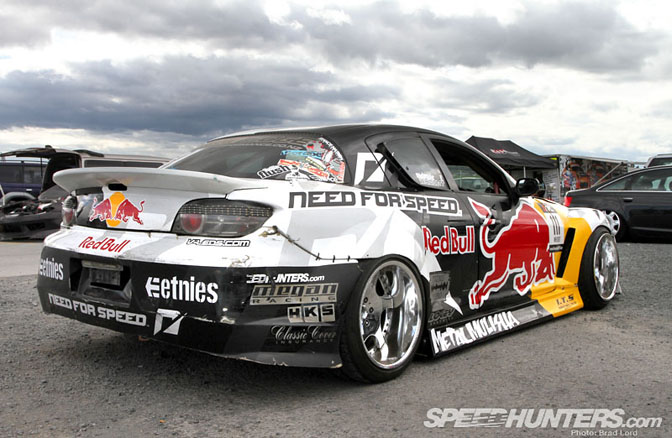 Alongside the drifting, this season D1NZ hosted its inaugural New Zealand Time Attack Series. While the formula didn't manage to attract a large number of entrants, competition within the Pro and Street class ranks was fierce. We'll take a look at how things shaped up for the grip racers in our next installment…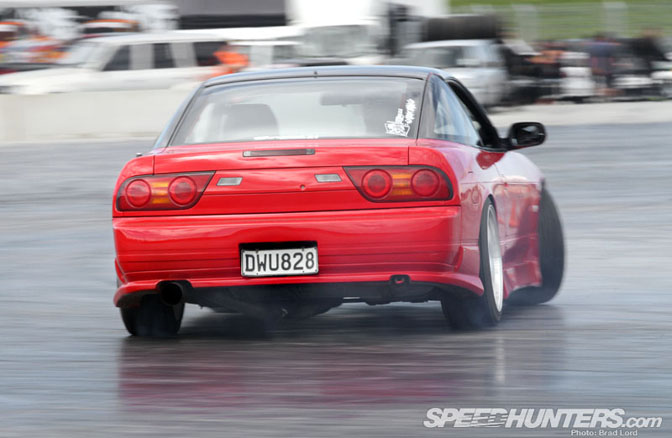 While the country's top drift talent was out on the track, Hampton Downs' huge concrete skidpan was put to good use by less serious, and up-and-coming drivers…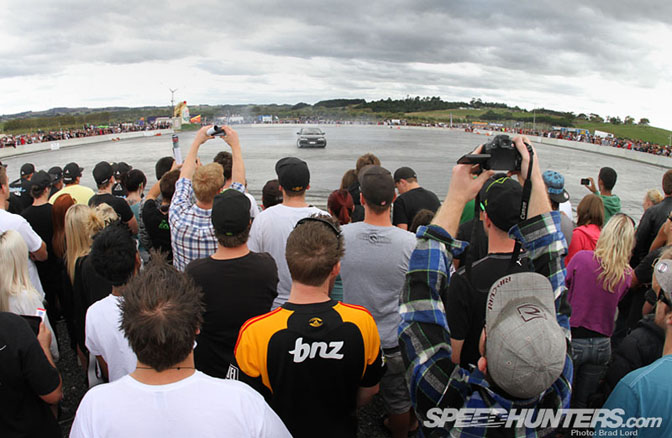 … As well as playing host to a new sub-event dubbed the 'Heli Nats'. Open to anyone with a 4WD vehicle, competitors had a couple of minutes in front of the crowd to whip up some donuts. Because the polished surface is slippery there was a lot of understeer and not much smoke, but a couple of seasoned professionals managed to get their cars pirouetting on the front wheels.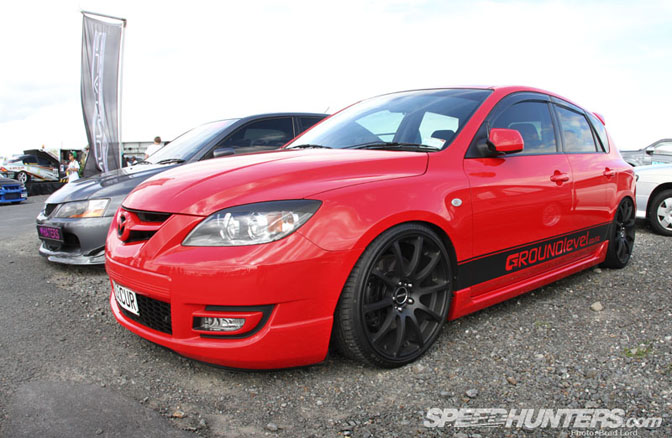 There was also a special parking area in the infield for the 'D1NZ Hardpark'. I like the black treatment on this bright red Mazda 3/Axela Mazdaspeed version…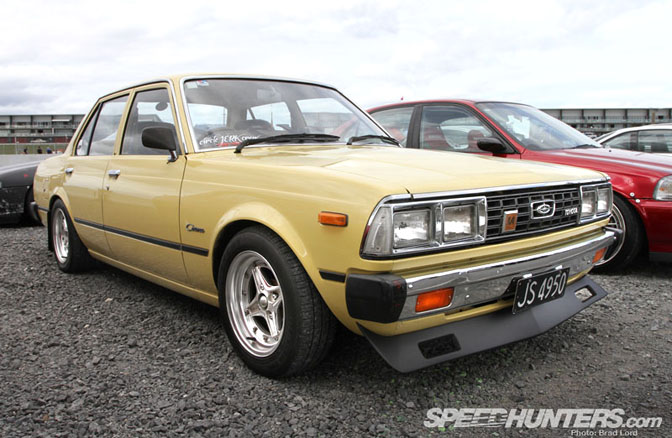 … As well as the simplicity of this very original looking 1980 Toyota Corona sitting on what appear to be a set of rare SSR Bright Speed Racing wheels. Am I right?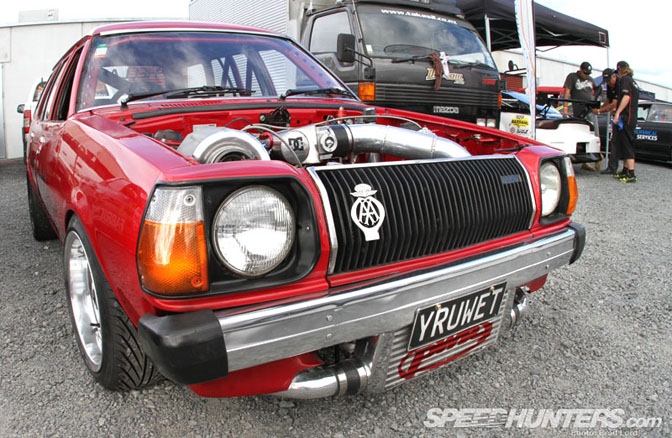 This Mazda 323 hatch was one of the more serious street cars on display. I imagine it might be a little bit of a handful to drive given the size of that turbo peering out of the engine bay! The vintage 'AA' badge on the grille is the New Zealand equivalent of Japan's 'JAF' badge, just in case you were wondering…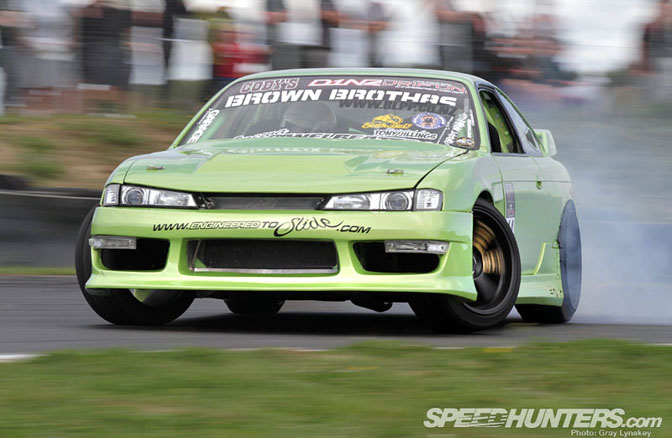 What the fans had really come to see, though, was the drifting. All of the regular names in the New Zealand pro drift scene were present, as were a couple of special guests. One was Nigel Petrie from Engineered to Slide who was over from Australia and borrowing Matt Sellers' Silvia S14 for the weekend…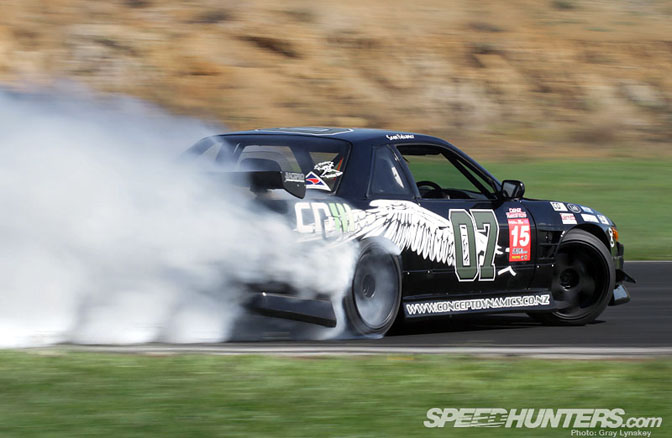 …Another was Sean Falconer – a talented drifter from D1NZ's early years and one of only a handful of Kiwi drivers who competed in the D1 Grand Prix World All-Stars event held at Irwindale Speedway in 2006. Sean was looking good out on the track in his Silvia as he got some seat time in preparation for an upcoming trip to China…
… But ended up tangling with MADBUL as Mad Mike practiced running some deep angles into the judged section. The damage was only cosmetic, but it meant that Mike ended up missing the rest of practice day.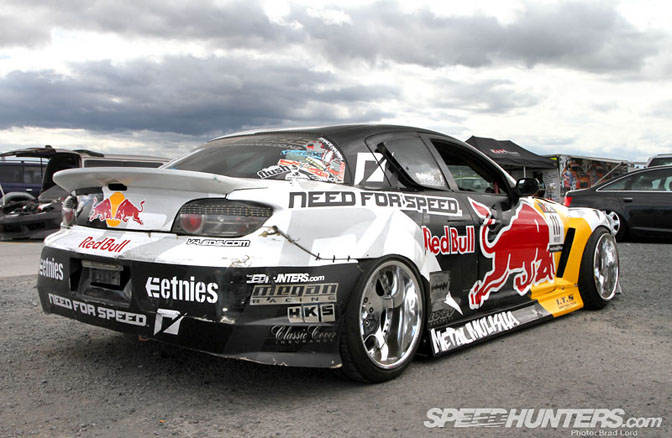 Although fixing up the RX-7 was the priority, Mike had another car on his mind – his Formula Drift RX-8. 'BADBUL' had arrived back in the country from the US and was in a shipping container at the Port of Tauranga (around two and half hours drive south of Hampton Downs) waiting for customs clearance. Because of the aforementioned gearbox issue in the RX-7, Mike had hoped that his team might be able to get the RX-8 off the port and to the racetrack in time for him to use it. As things panned out they did get it to the track, but just as the final practice session on Saturday morning was ending, leaving no time to shake the car down before qualifying. Although the option to use the car was there, Mike decided it was a much safer bet to drive the RX-7 in its less-than-ideal state, rather than risk everything with the untested RX-8.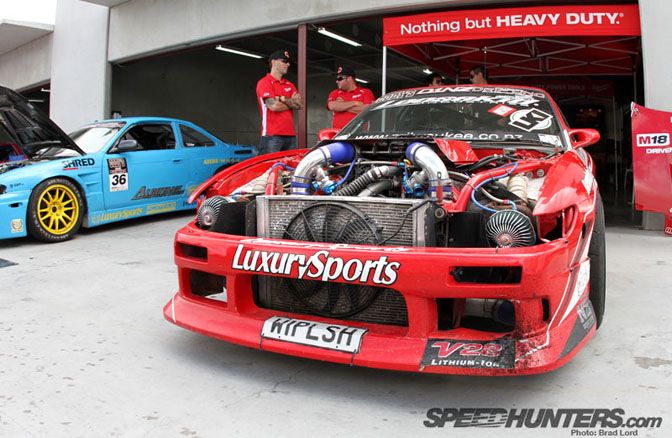 For other competitors, making it to qualifying didn't happen at all. Mac Kwok's popular twin turbo V8-powered S13 Silvia was one that bowed out of contention with mechanical problems before he could put any points on the board.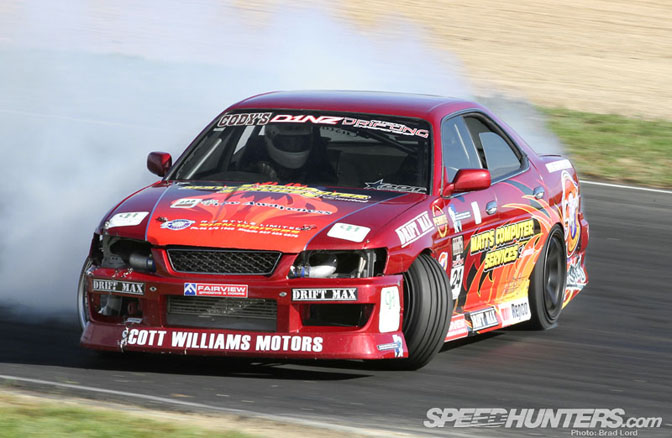 Of the 17 cars that did make it to qualifying here's how the top 10 performed. Newcomer Darren Benjamin showed good angle and produced plenty of smoke in his Nissan Laurel but sometimes struggled finding the right line through the first right-hander. He placed 10th with a 77.50.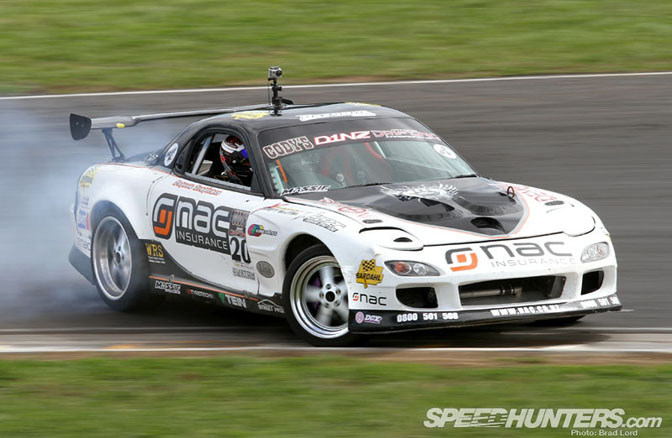 Daynom Templeman's team pulled out all the stops to get his RX-7 ready to rock after a seal in its engine blew during one of the Friday practice sessions. The rotor motor was rebuilt overnight and Daynom made it to the start line and qualified in 9th spot with a best pass of 78.50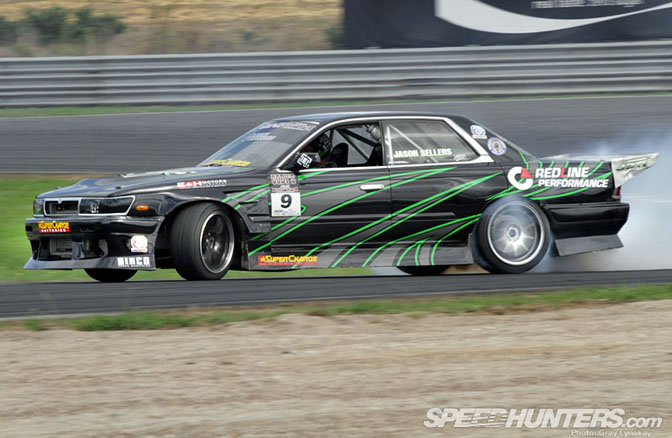 Jason Sellers' Nissan Laurel was back to its best after he wrapped around a lamppost at the previous D1NZ round which was held on a closed road course. He scored 80.00 to tie with…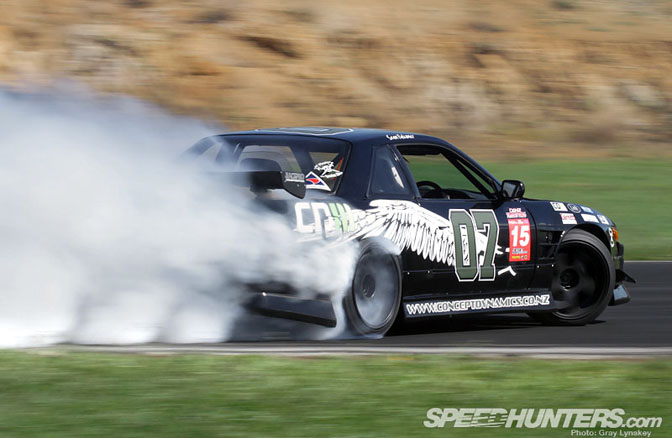 Mad Mike for seventh… Having watched him run perfect lines through judged section a couple of weeks prior, it was obvious that Mike was struggling to come to grips with the RX-7's setup.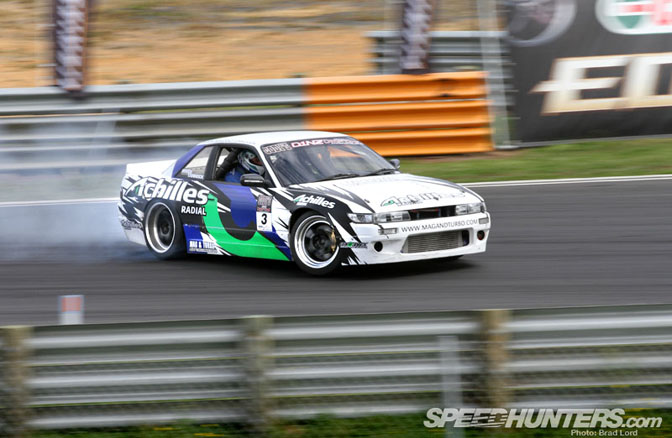 The sixth qualifying spot went to Bruce Tannock in his Nissan Silvia S13 with an 80.50…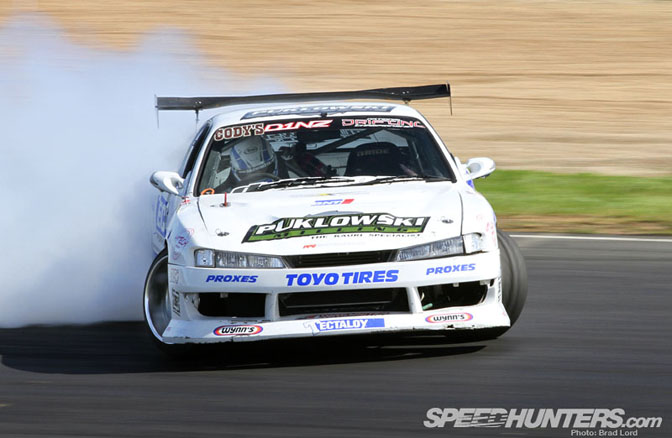 … While defending D1NZ champion Gaz Whiter – who was dealing with engine issues – took fifth spot with an 81.00 pass.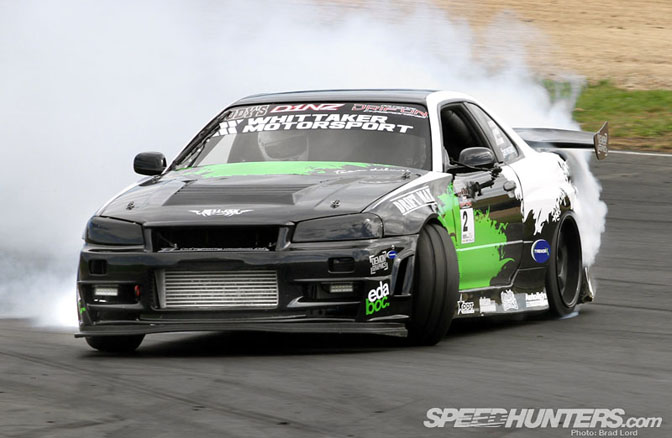 After crashing in practice on Friday, Curt Whittaker bounced back with an 82.00 run to take fourth…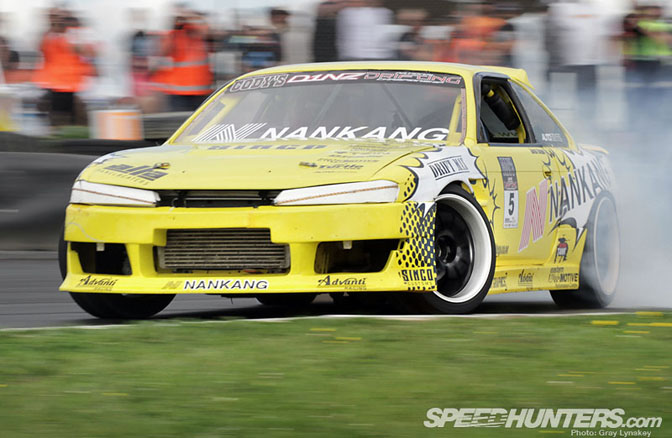 …And an on-form Andrew Redward placed third running 85.00.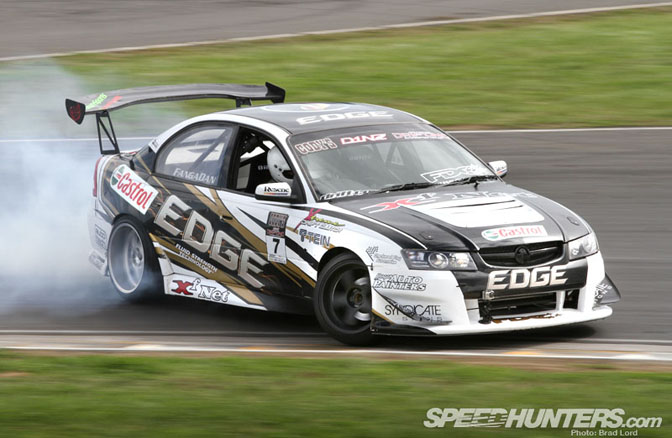 Always one to watch, Fanga Dan Woolhouse cut perfect lines through the judged section to earn an 87.50 scorecard and second spot on the qualifying list.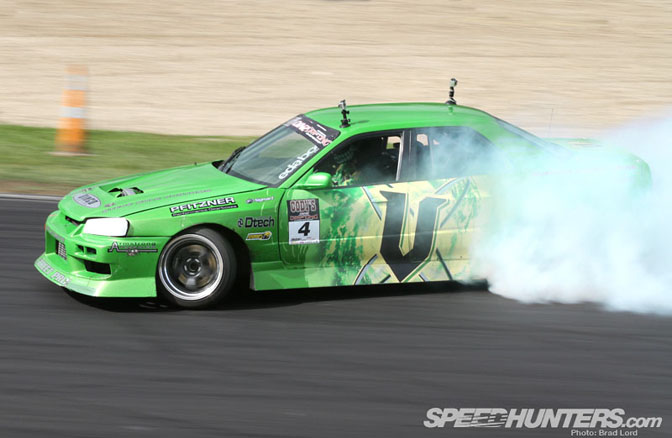 But it was Cole Armstrong who put on the best performance, top qualifying with an 88.50 – a nice reward considering he lost two gearboxes and required an engine rebuild after troubles at the previous round…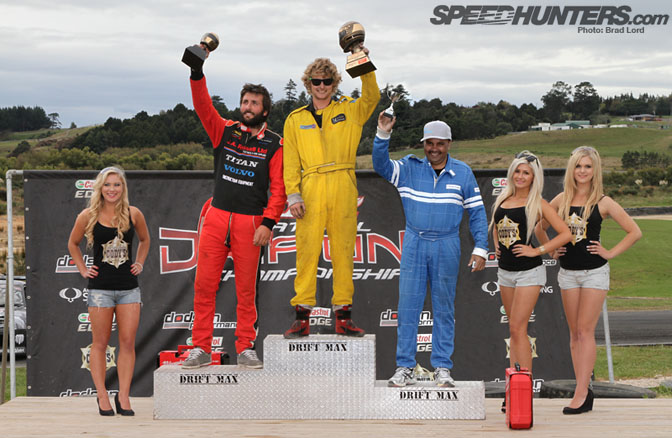 We'll round out this post with photo of the top three place getters in the 2011/2012 D1NZ Pro-Am series, which ran alongside the main D1NZ event. Flanked by the Cody's girls, William Foster (left) placed second, Cam Vernon (center) placed first and Vincent Hopkins (right) placed third. All three drivers will join the D1NZ Pro ranks for the 2012/2013 season.
Stay tuned for more coverage from the Cody's D1NZ Grand Final this week!
– Brad Lord