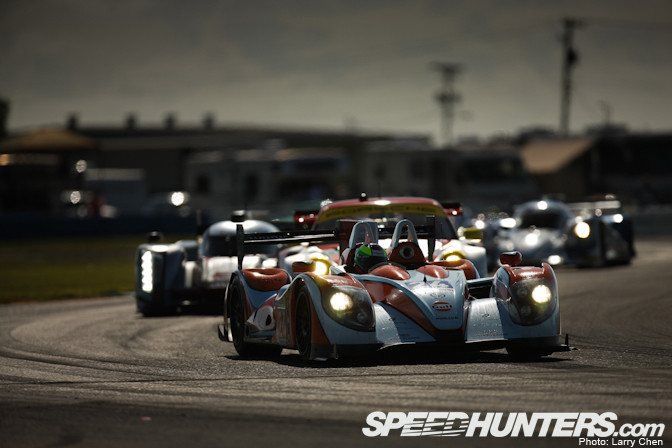 While the grid of 64 cars racing in the 60th annual 12 hours of Sebring rolled out one by one for their first practice session, spectators literally ran to the fences as the cars paraded by for their warm up laps.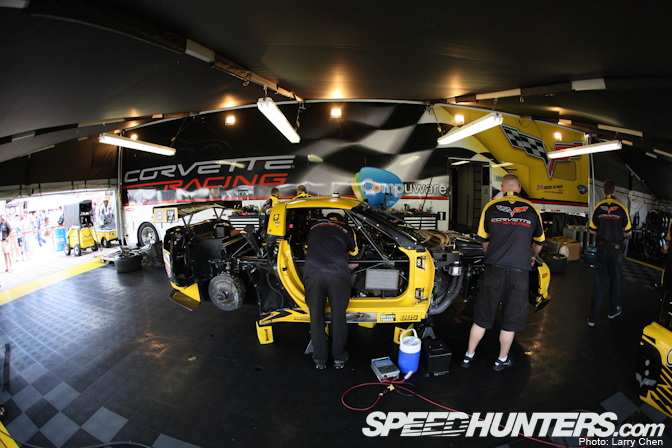 Earlier in the day the Corvette racing team was prepping the C6-R for their shakedown run. They had a very large pit area so I decided to check it out.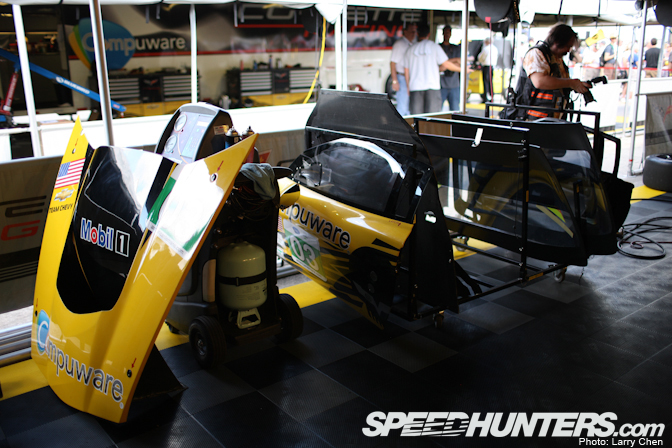 I love the custom cages that were built just for putting the expensive dry carbon body parts on. What a great way to keep the clutter to a minimum.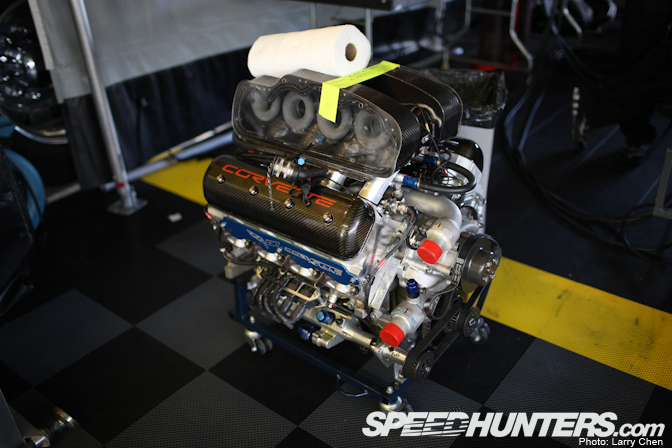 Laying around was an extra race motor. I guess it's good to have one spare of everything.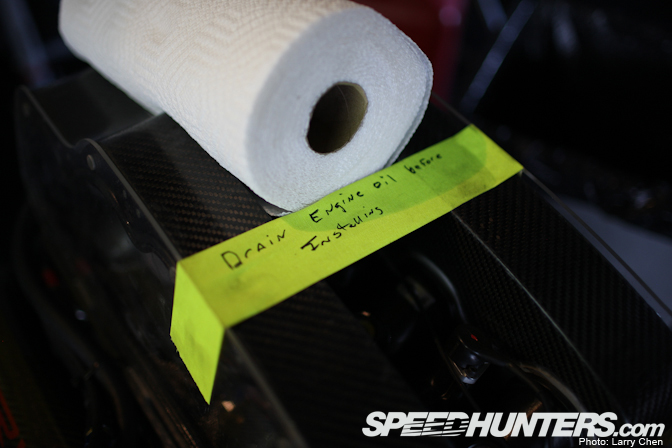 The motor came with some simple instructions. I'm sure that is needed, because in the heat of the moment little things like engine oil are easily forgotten.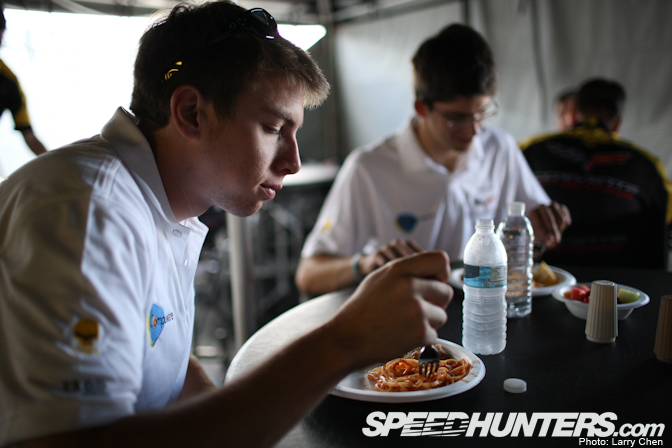 I caught up with Tommy Milner and his teammates, Richard Westbrook and Oliver Gavin while they were getting a quick meal in before practice.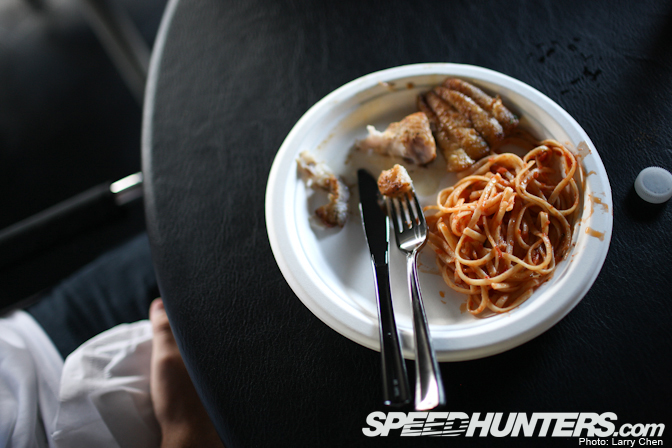 The worlds fastest runner, Usain Bolt, ate chicken nuggets before his record breaking run in the Beijing Olympics. Tommy is eating fish and pasta before getting in the driver seat. Every athlete is different I guess. He is definitely going to need those carbs for sustained energy since there is also a night practice that goes all the way to 10pm.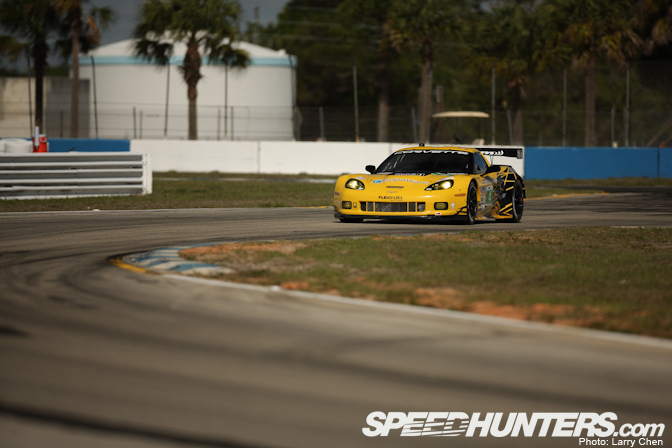 I hope some of that fish digested before he hit the track.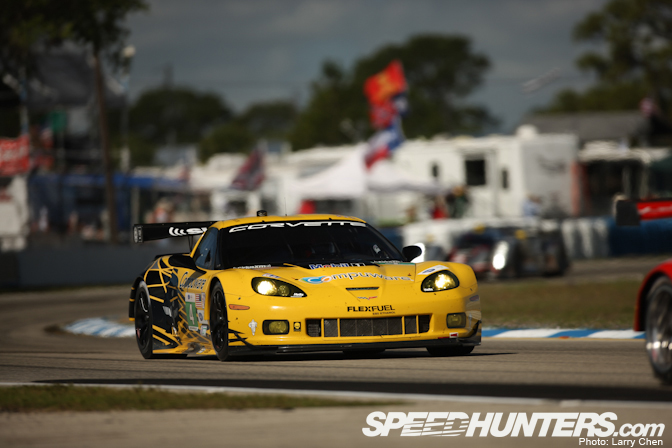 The team ended getting the car down to 2:01.514, which was the fastest in GT class.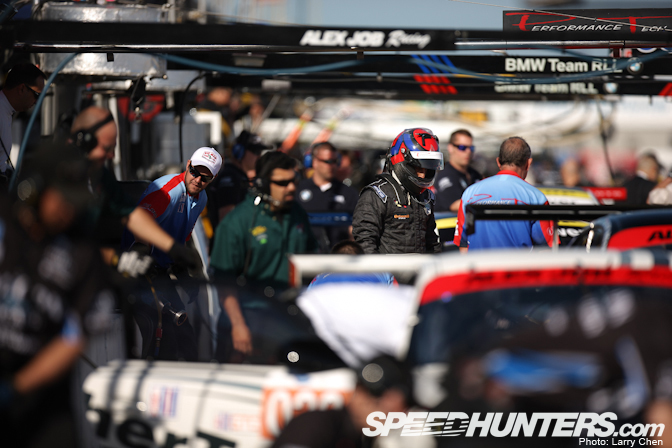 As practice went on more and more cars rolled out of the hot pits.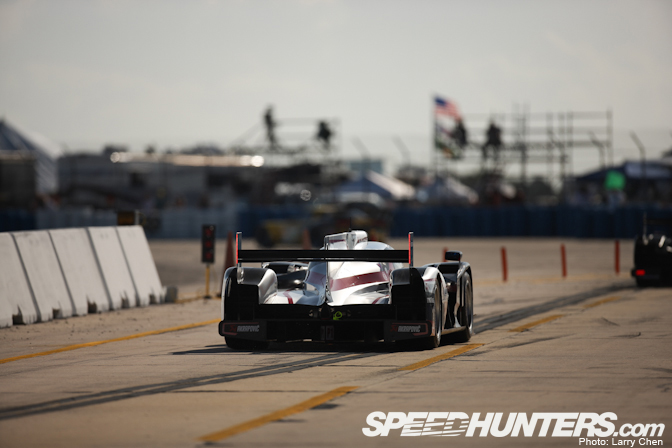 I actually felt my heart pumping as I got more excited about seeing these cars run on course. I have not seen sports car racing since last years Long Beach Grand Prix.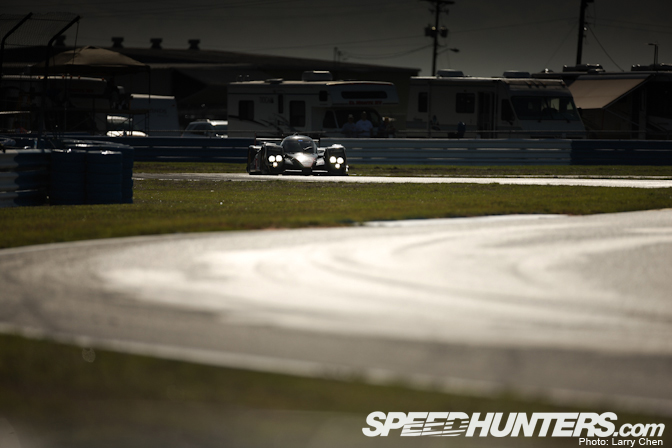 Everyone took it easy for a few laps, but as soon as their tires warm up they push it to the limit.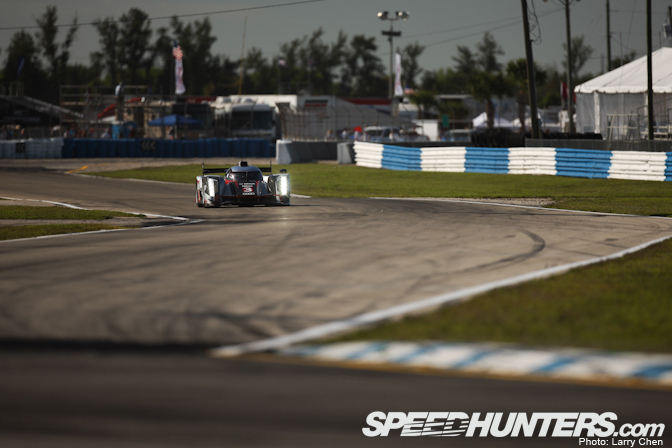 I was really looking forward to seeing the R18 for the first time. It definitely did not disappoint.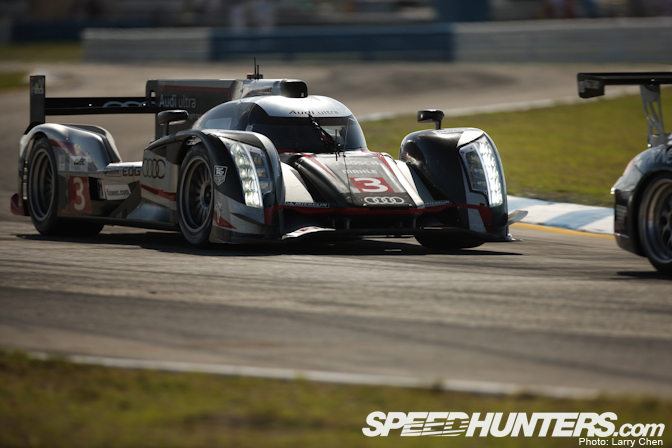 That thing just looked incredible with those 16 headlights. What amazed me was how quiet it was. It is just as quiet as the previous TDI powered race cars.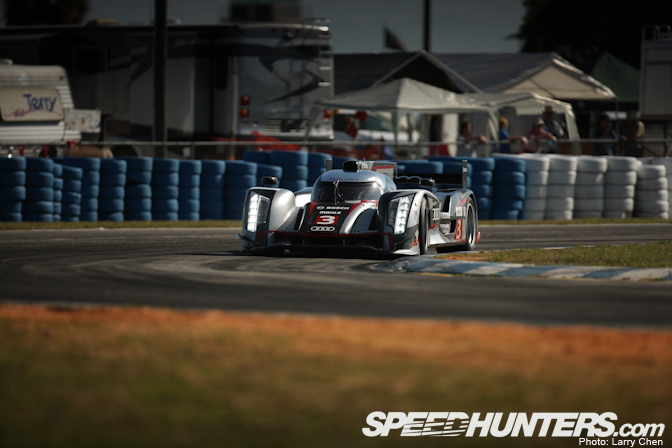 It sounded more like a street Audi A4 than a monstrous LMP1 race car. The loudest sound coming from the R18 as it drove by was tire noise and transmission whine.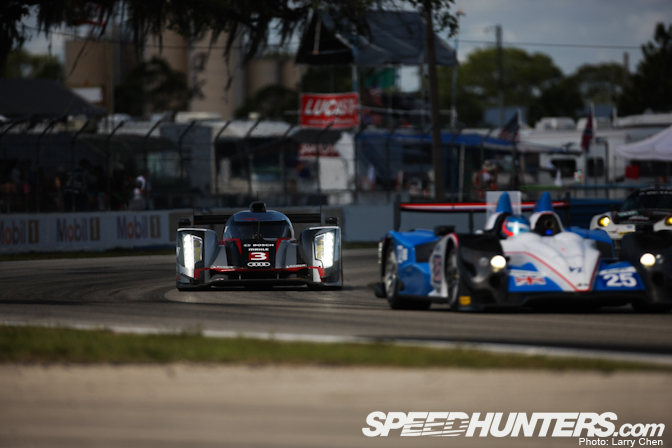 It had such a presence, I can't imagine what goes through your head when you see the R18 in your rear view mirror. It was almost unreal the way it accelerated and braked.The way it darted around the course made it look like a toy. It constantly flashed it's high beams because it was always telling other drivers to get out of the way. In fact it was very hard to get a sharp photo of it because of how fast it changed direction, I had to shoot at a much higher shutter speed for you photo nerds out there.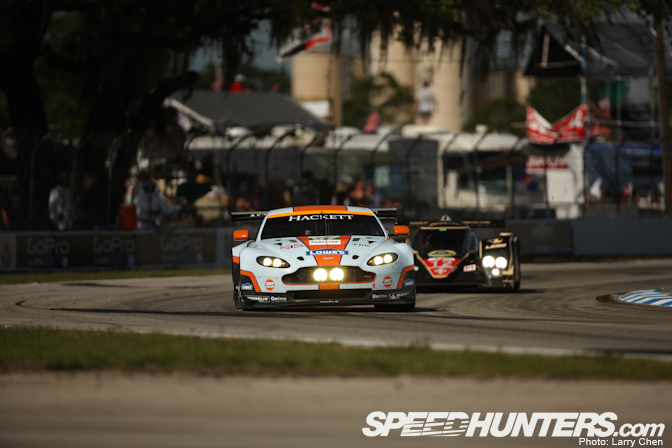 The Aston Martin V8 Vantage was definitely my favorite sounding car. It has a very deep and throaty exhaust note that you could feel deep in your gut.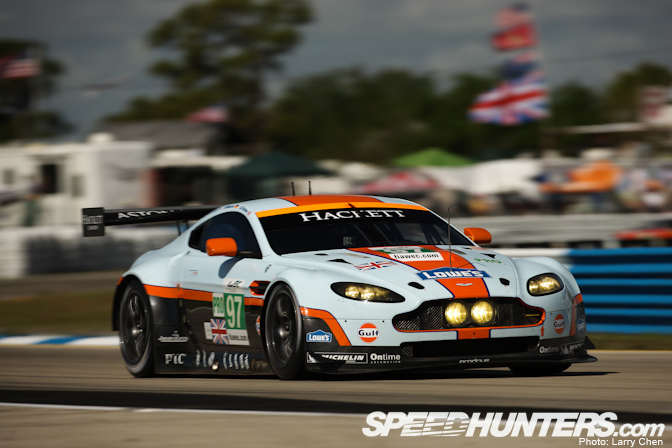 Normally I would wear earplugs when I shoot ALMS, but I had the pleasure of hearing these cars raw. the track was designed with a lots of run off areas, so the photographers are kept a good distance away from the cars.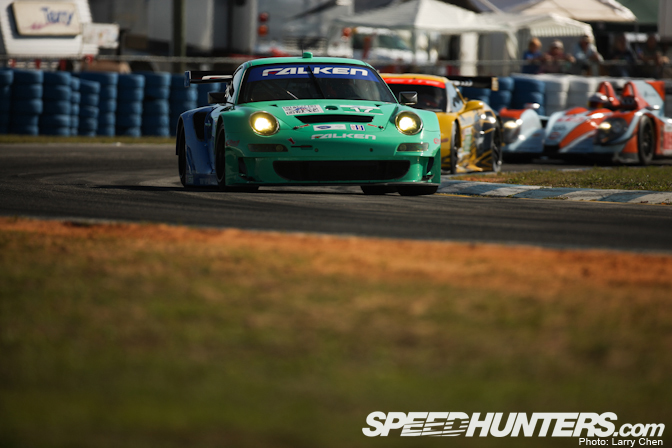 Falken is still fairly new to ALMS, but they already have a very strong presence at these races. They brought their A-game this year, because they are running a new Porsche 997 RSR chassis. Make sure you check out the video here. They managed a very fast 2:03.337 in the first practice session.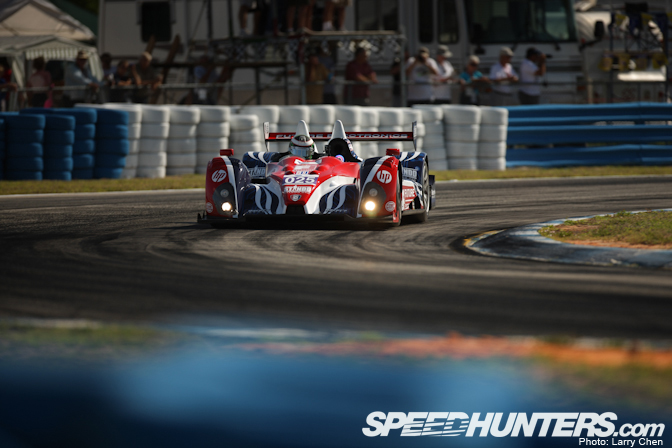 Mc Dreamy, also known as Patrick Dempsey is the co owner of this number 025 LMPC Oreca FLM. Whenever I try to get a photo of Patrick in the pits, I get ran over by a horde of middle aged women.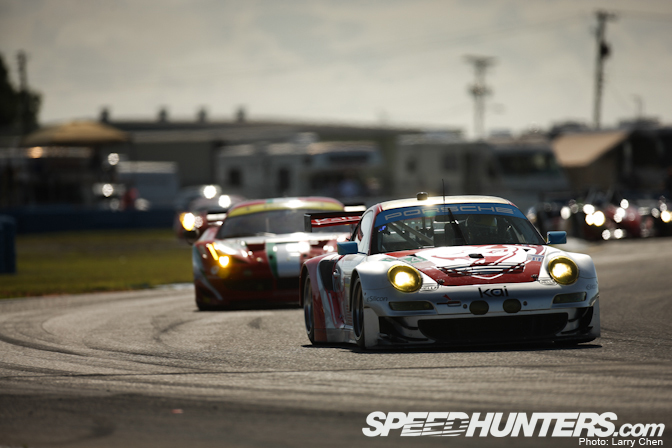 The Flying Lizard team is always a crowd favorite. They have a great livery and their cars are always very photogenic.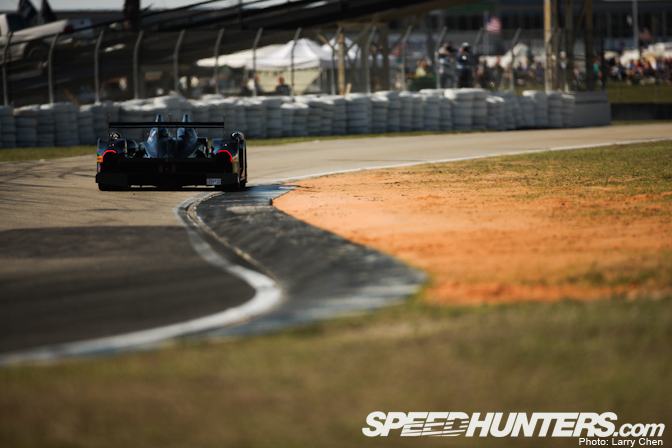 I have a feeling there will be less and less grass on this corner (turn 6) as the week progresses.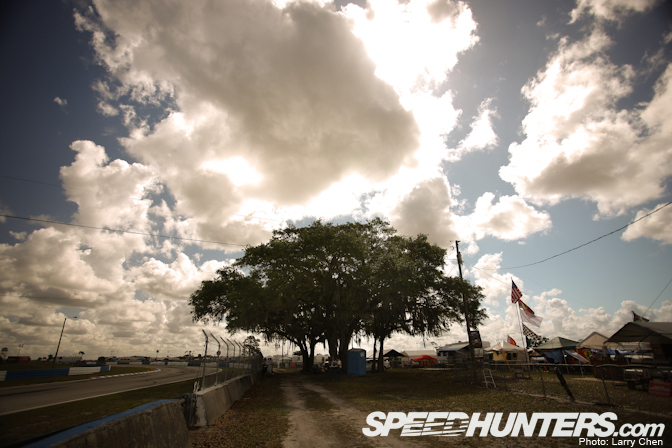 In between sessions I found sanctuary in a tiny blue shack under these magnificent track-side trees. The central Florida sun is very unforgiving, even in the middle of march.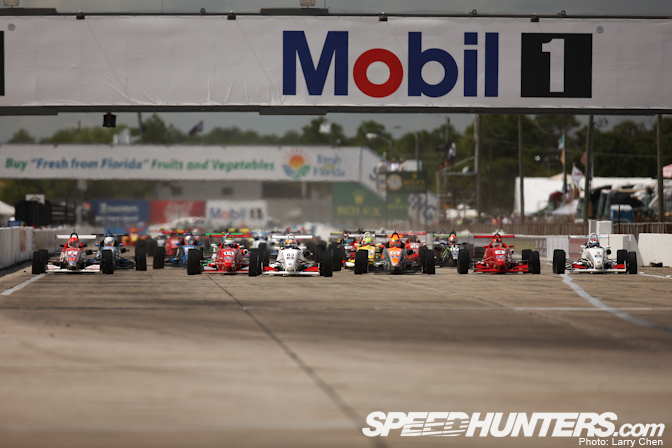 As the day went on some of the support races were held. Here is the start of race one of the USF2000 series. It was amazing to see them go six cars wide going into the first corner. It is warranted considering the race only runs for 30 minutes. It was very important to fight for position as early as possible.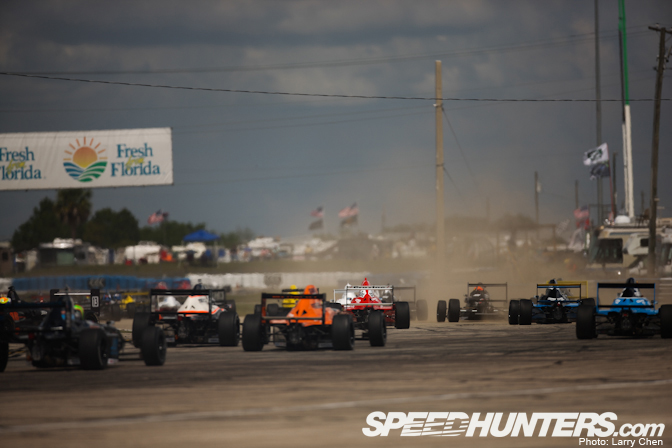 As predicted, six cars wide going into the first turn was a recipe for carnage.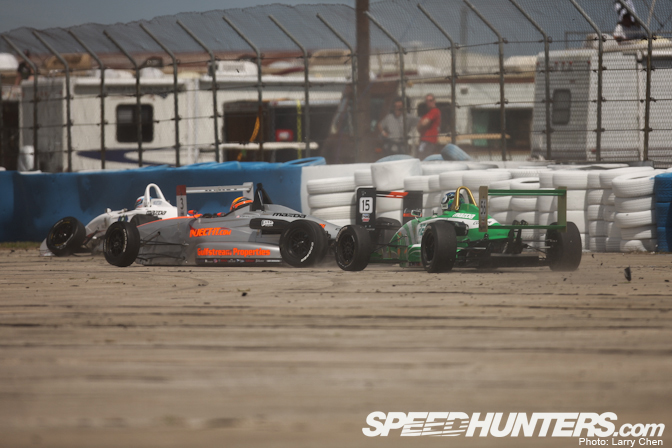 There were quite a few casualties. Many of them were pulled of the track for the rest of the race.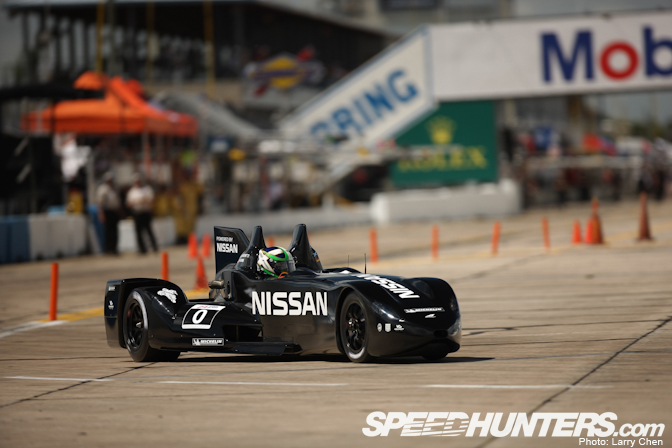 I was very surprised to see Nissan's brand new Delta Wing at Sebring. I guess they figured it was a good place to show it off to the world.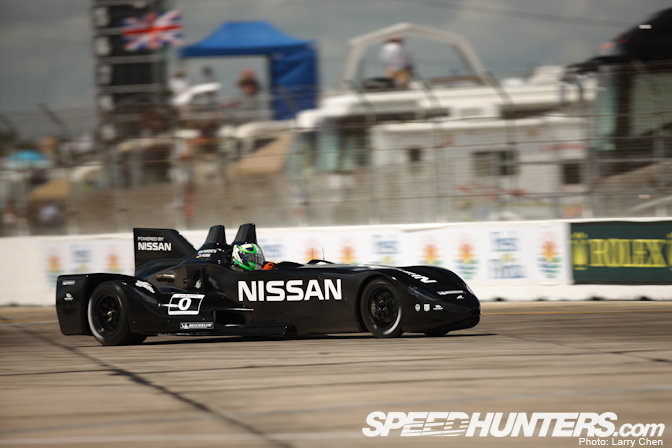 For those of you wondering, Yes! It turns! I could not believe it, and on top of that it sounds really good. That 1.6 liter is putting out 300 horsepower, which is just nuts! They did not push it hard around the course, and they only did two laps. I am ecstatic to see Nissan returning to Le Mans, even if it is in a bat-mobile.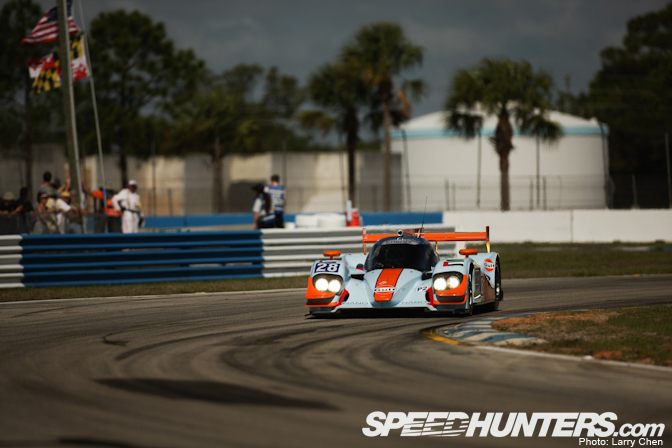 Next up is night practice, which is when the real chaos begins.
Larry
More Sebring 12 Hours coverage on Speedhunters