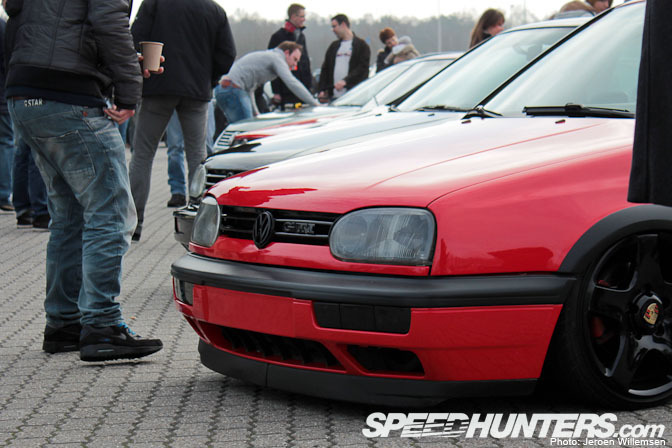 After my visit to the 10th edition of the
Midwinter meeting organized by Team VW Speed I noticed that going low is still a big
thing. The event attracted almost 1100 cars and 2000 visitors. For lots of
people, this is the first event to show off their cars after the winter period. But I
also missed a lot of the familiar faces and the cars. Afterwards, I spoke to some friends and it became apparent that a lot of cars were still hibernating or were in the
middle of new builds.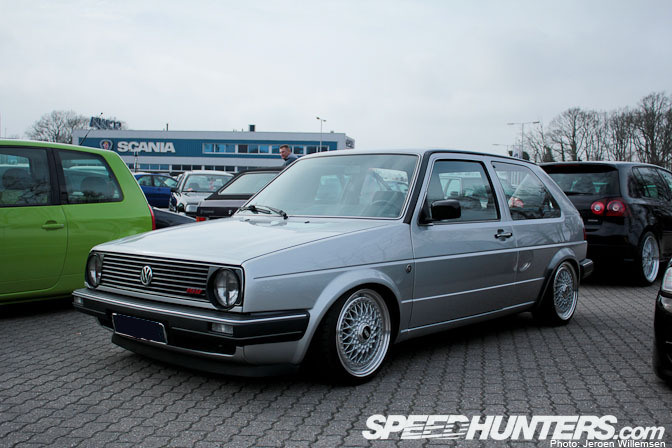 But there were enough new faces like this
awesome MKII on BBS wheels.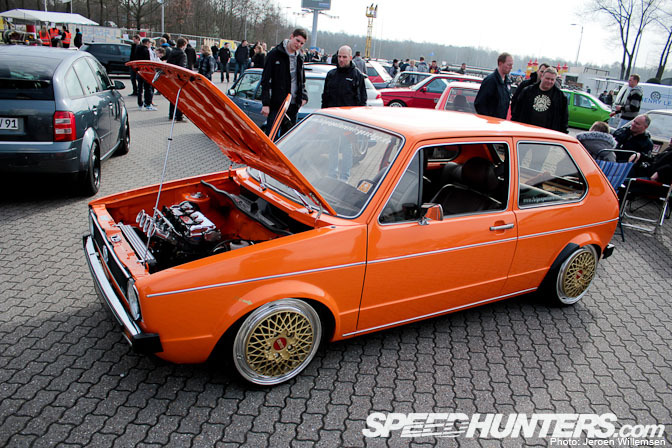 I also spotted this familiar face that I
spotlighted last year. It still attracts loads of attention with its awesome
attention to detail.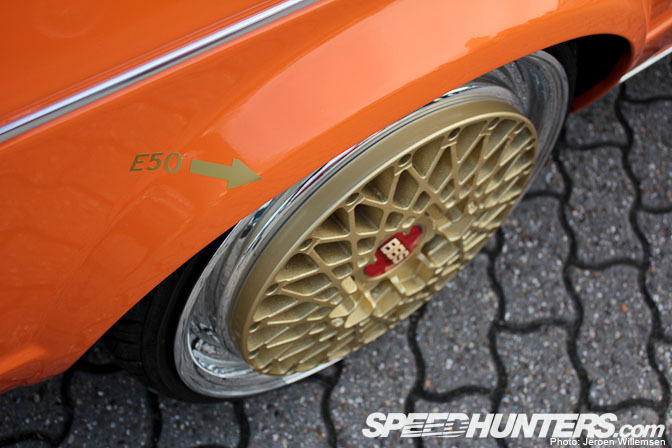 Zero-lip anyone? The owner made sure that
there aren't any mistakes about the type of this BBS wheel.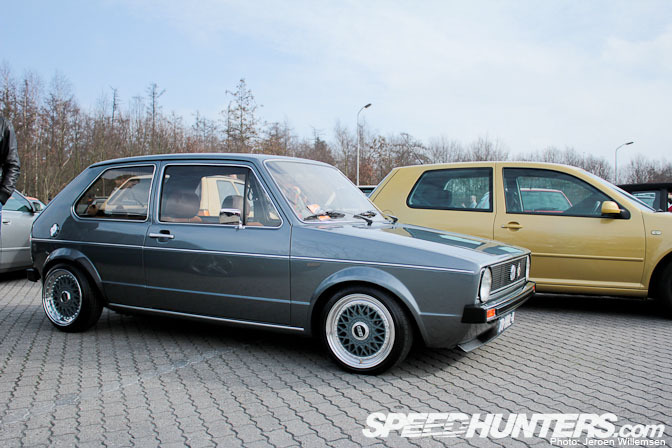 The MKI came in all shapes and sizes, some
owners went with the old school feel while some went with a more modern
approach.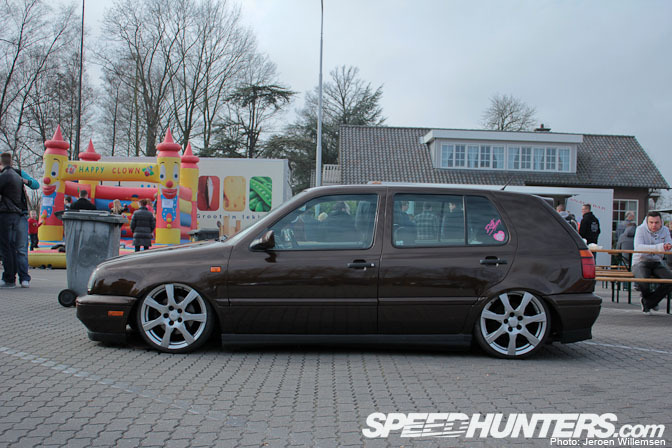 This car attracted my attention right away,
especially because there was a crowd gathering around it. But the crowd wasn't
there for the stance or how low it was, or were they?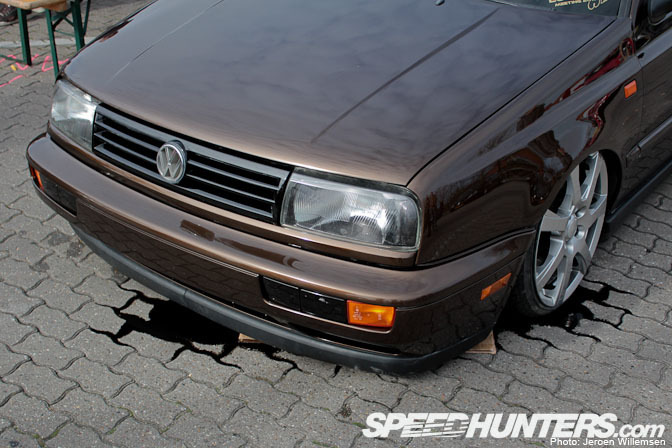 It seemed that the owner misjudged one of the
bumps on the parking lot and destroyed his sump in the process. The end result
was that the oil started to seep from under the car and had to be brought
home on a trailer.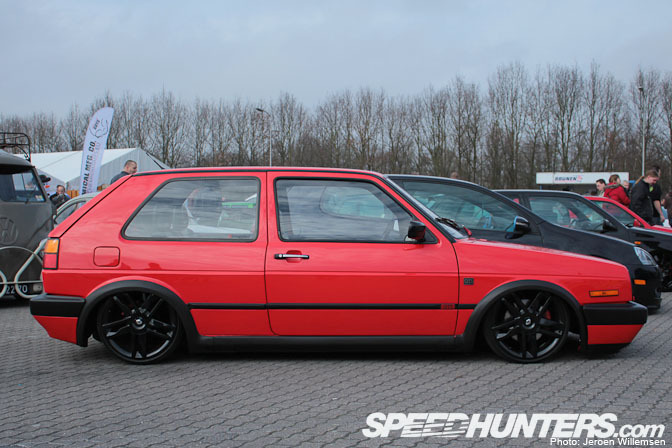 This MKII looked even lower than the brown
MKIII but he drove away unscathed. The wheels on this car came from a Renault
although I'm not sure which model.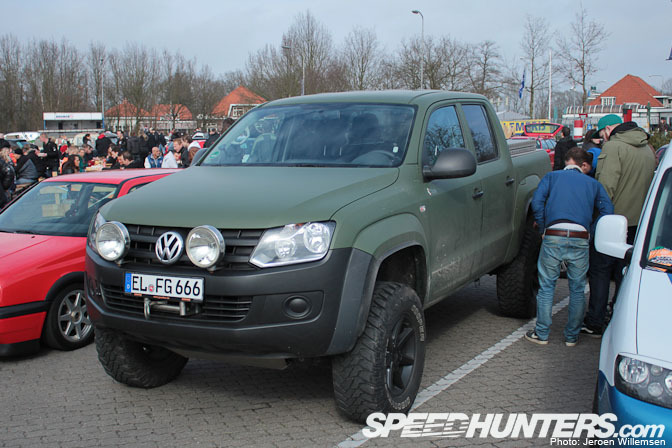 Volkswagens really do come in all shapes
and sizes.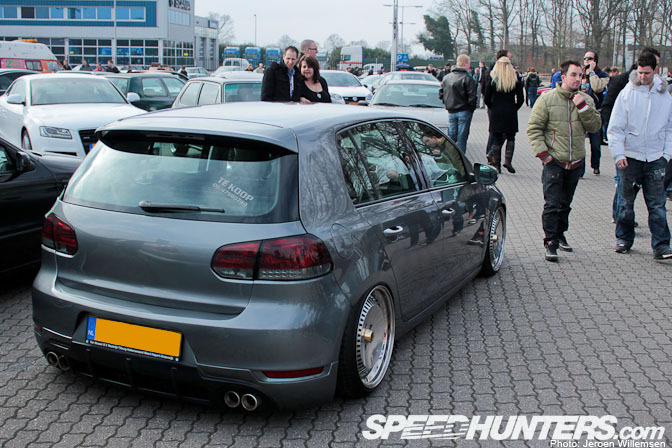 This latest generation Golf had a set of
Schmidt wheels. I wasn't completely sold on the overall look but I still wanted
to share it with you guys.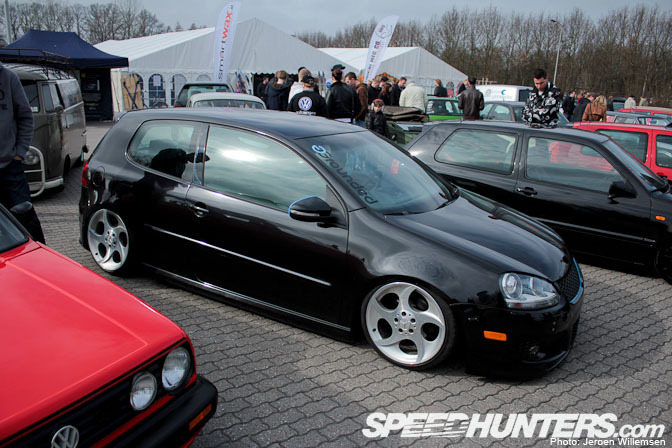 The Alphards are still a popular choice on
the newer generation Golfs. This particular Golf had some nice blue accents
that really added to the look.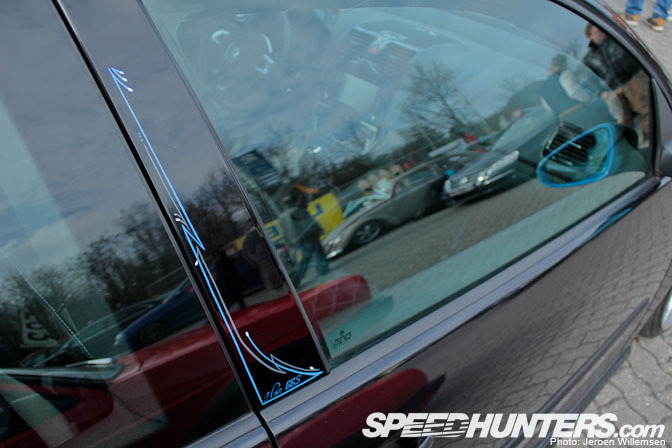 It even had this small pinstripe design on the
door pillar.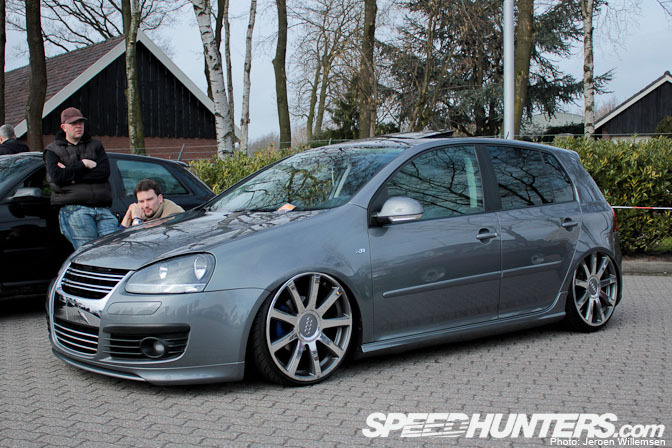 This was my favorite MKV at the event. It
just looked very clean and nothing looked out of place.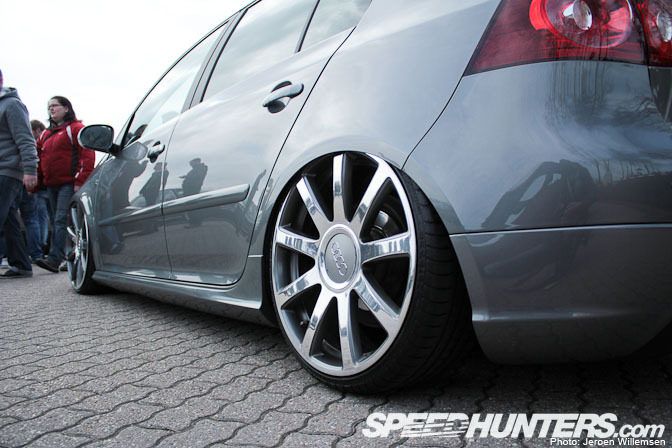 Airbags allow the car to lowered to its lowest, allowing the audi wheels to tuck into the arches.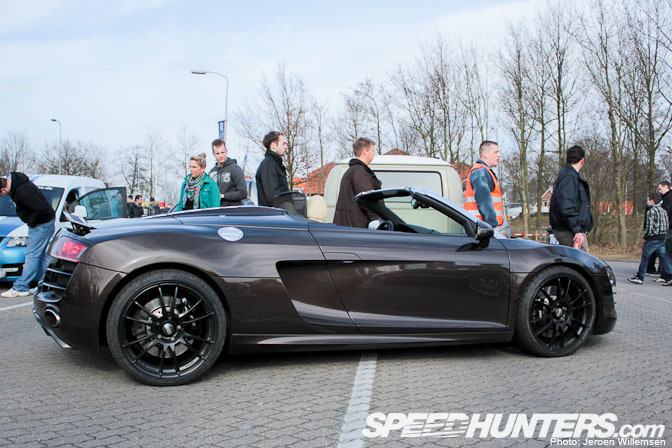 Half way through the day, a friend of mine dropped
by with his V10 powered Audi R8 Spyder. He just recently swapped the original
wheels for these ultra lightweight 20″ OZ wheels.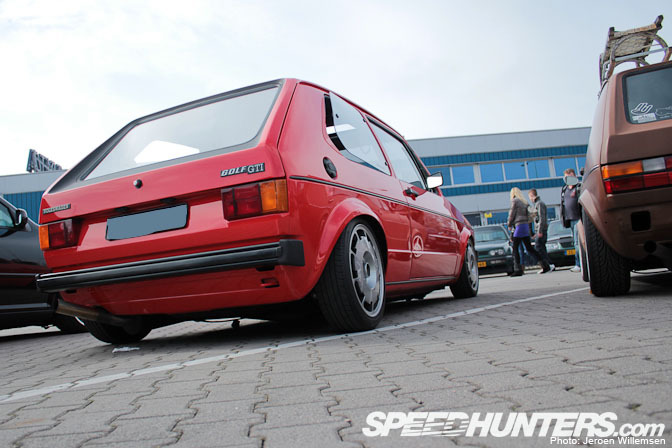 I was amazed at the amount of MKI's that
showed up, none of them were alike. This cool red one had a set of original
Pirelli P slot wheels.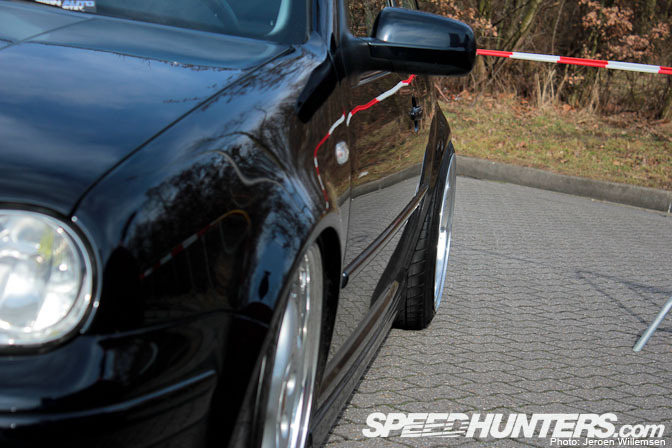 The best stance belonged to this Golf MKIV.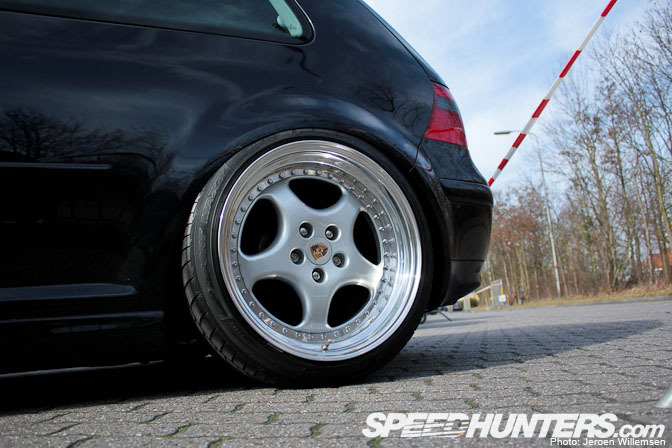 The arches were perfectly filled by these
old school Porsche C2 wheels.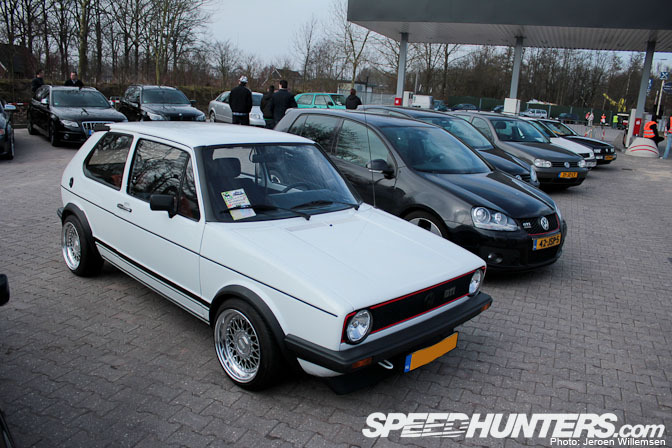 Another familiar face was this MKI that I drove and spotlighted back in October last year.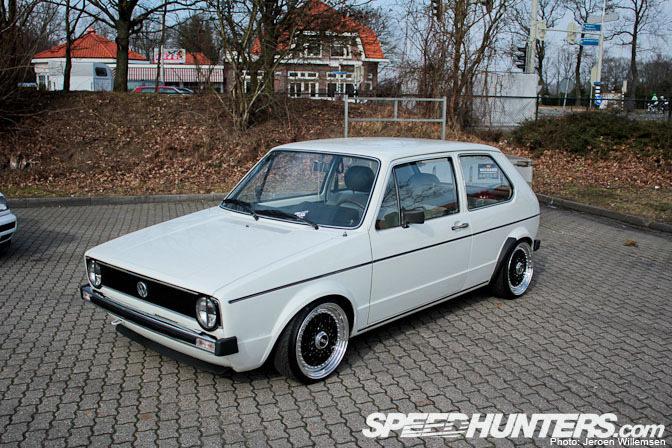 In a corner at the parking lot I found this
little gem.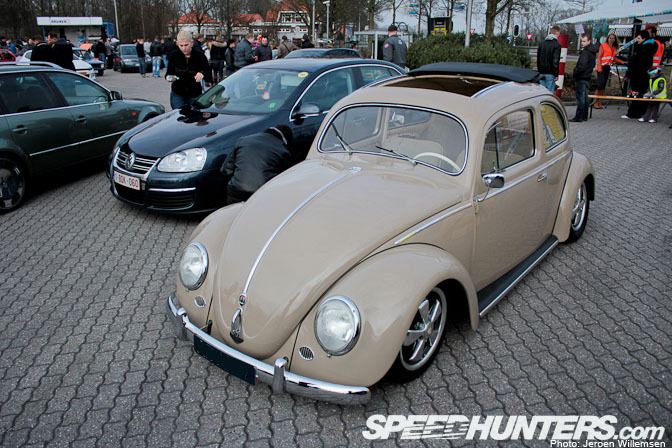 The Volkswagen Beetle still attracts me, especially when it is as immaculate as this one.
I still have part two coming and two
spotlights so if you like your Volkswagens than you're in for a treat this
week.
-Jeroen Willemsen