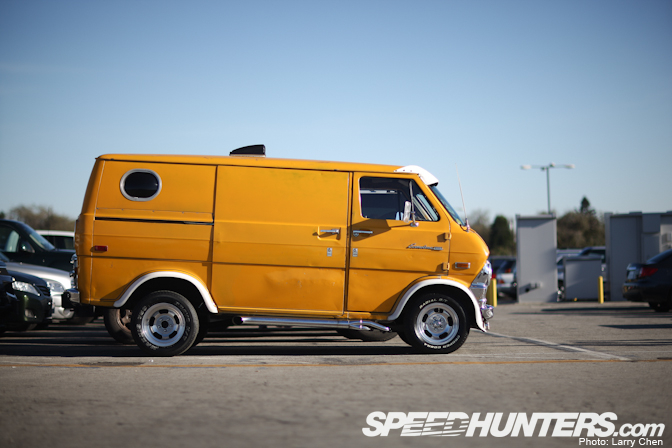 Day one of the Grand National Roadster Show was unbelievable, seeing the Watson cars and The Rodfather's ride were a big deal for me. So as day two started, Larry and I had our best insoles on to take on another photographic pass at this colossal show. It was a real task to try and see everything, the Fairplex fairgrounds are massive but we were determined!
Even the parking lot of the show was peppered with gems, like this 1973 Ford Econoline with a 70's-lite boogie van treatment with the flared fenders, mags and bubble window.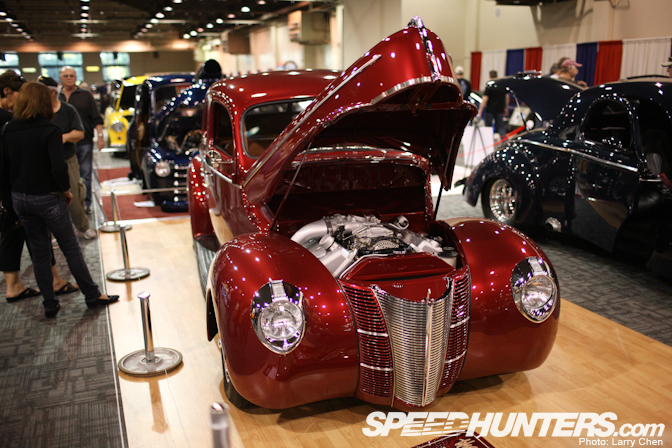 Here's a shining example of a 1940 Ford, another popular car for customizing.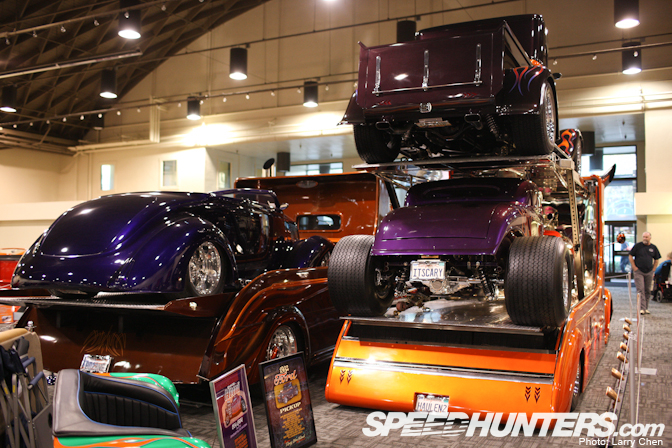 A couple of insane haulers! The engineering here on the two car hauler is a feat and a half, but I think the key words here are shiny and shiny!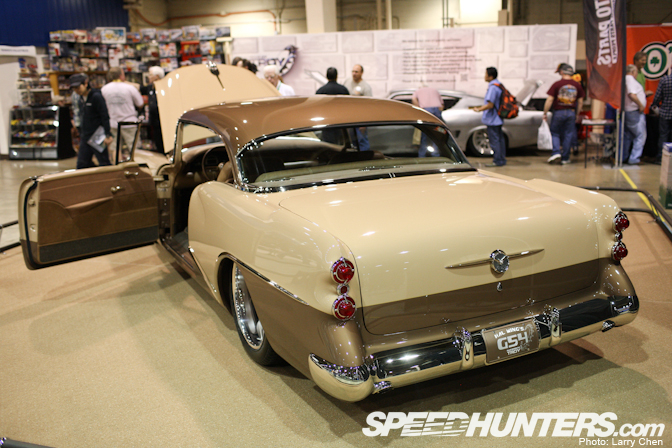 We saw this beauty at SEMA 2011, another success by Rad Rides by Troy, and I am always in awe over the gorgeous craftsmanship that Trepanier and his team consistently turn out.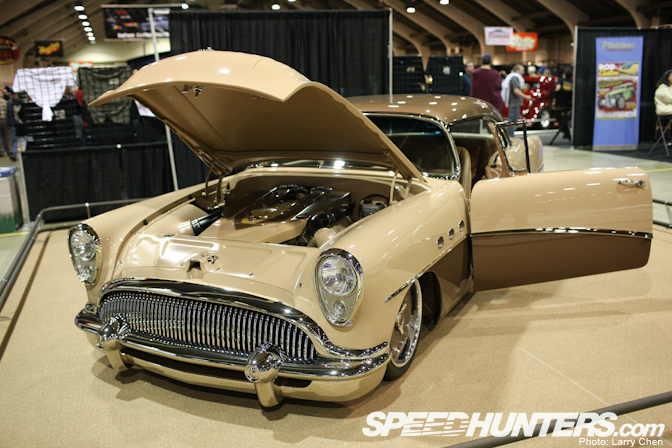 The 54 Buick body is supported by a Morrison chassis and a 2007 Mercedes G55 powertrain, wiring and all. Simply put it's a G55 Mercedes wrapped in a Buick.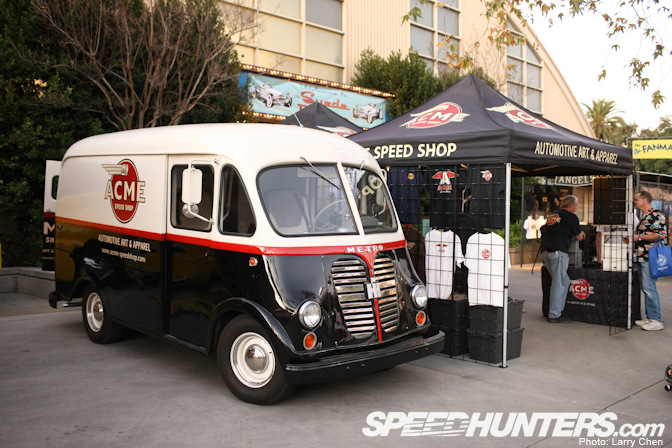 Larry stepped outside and came across Acme Speed Shops van, a 1961 International Metro. They completely restored it from the ground up and breathed new life into it. I love the look of this!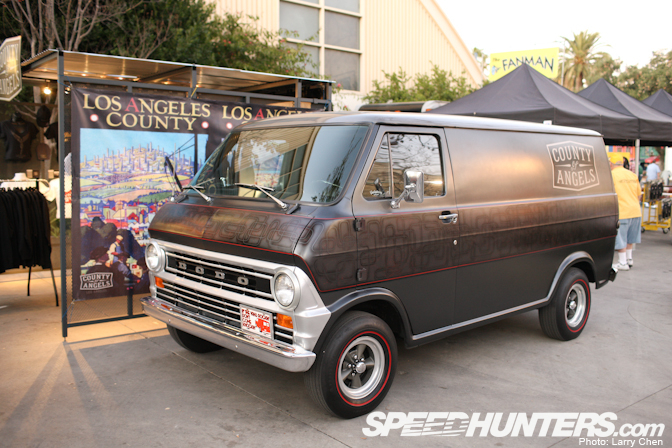 Vandaleros member County of Angels' Econoline. I love the stylized 60's paint job and the redline tires and Cragar S/X's are a bitchin' combo!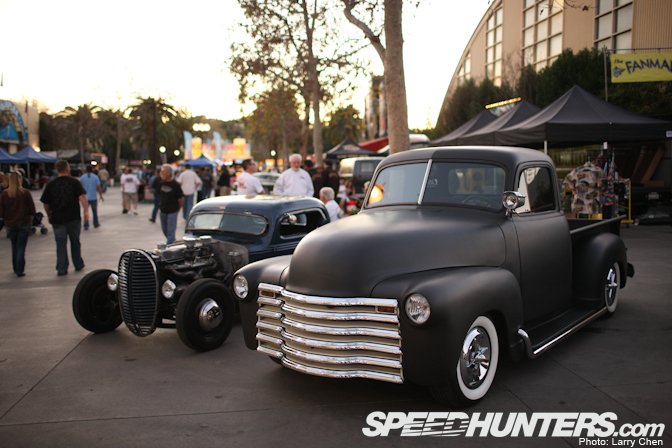 The magic hour for outdoor photography highlights this classic duo of flat black truck and rat rod.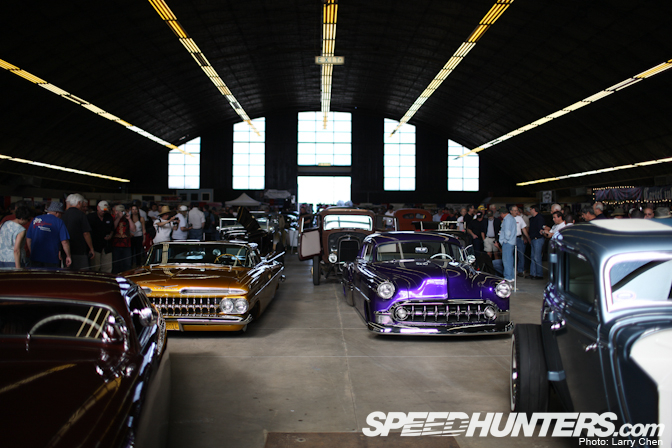 Into the Suede Palace we go and are greeted by four stunning beasts.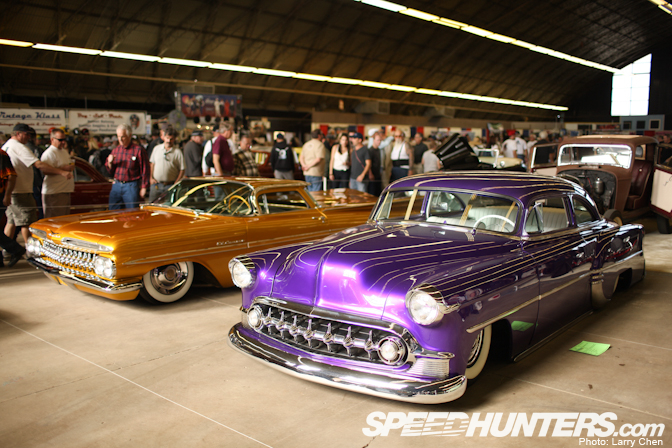 A golden 1959 El Camino and a '54 Chevy Belair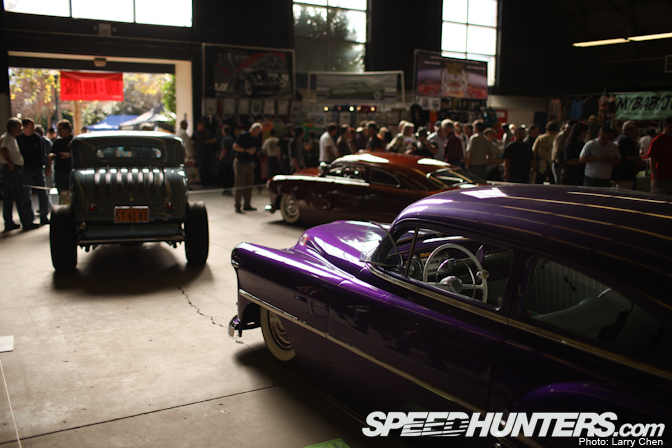 Chocolaty goodness of a 1950 Ford Shoebox and an icy blue '32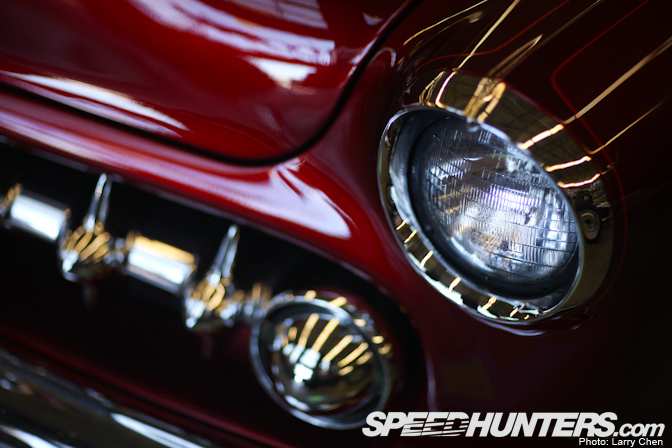 Eye candy is another word of the day.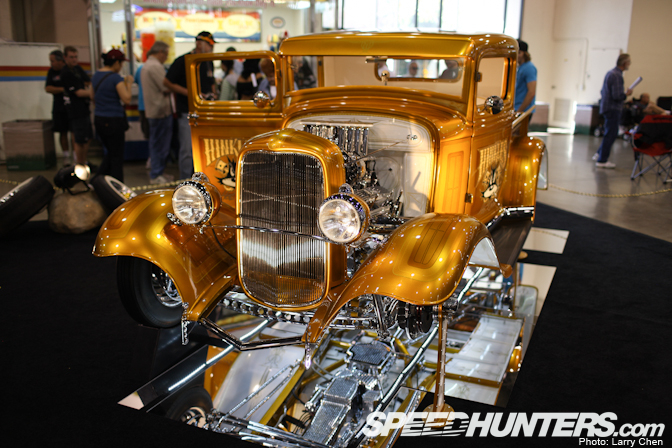 Heading over to the Lowrider section, coming across "Gold Rush" seemed to be an excellent segue.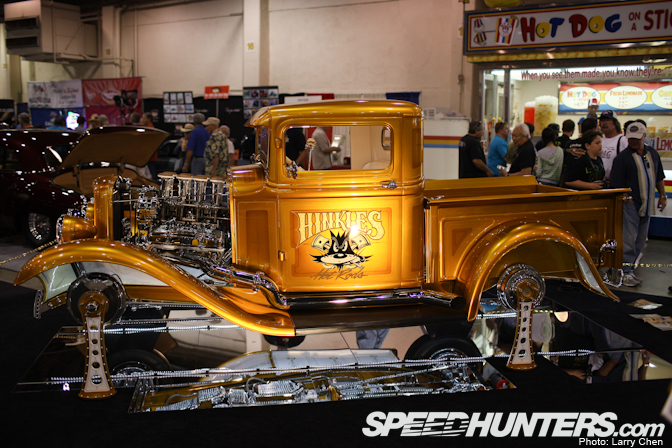 This gold candy coated 1932 Ford truck has been chopped by 4 inches,  and it is a full metal body, no fiberglass here.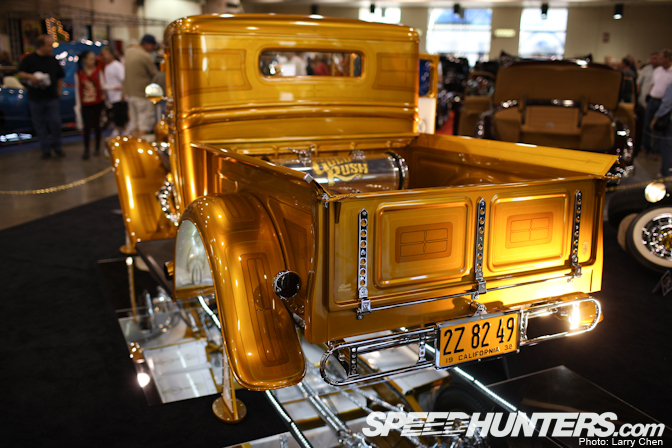 Attention to detail is turned up to 9 here, with pinstriping on the inner fender walls and underneath the truck. (I think it was turned up to 11 – Larry)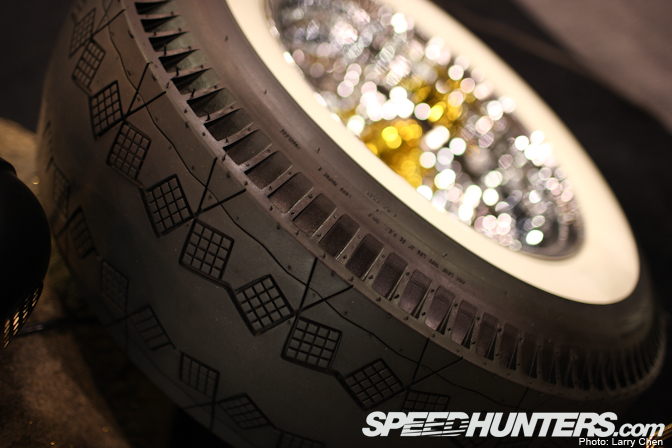 Even the tires are out of the ordinary…wonder what the traction is like with those?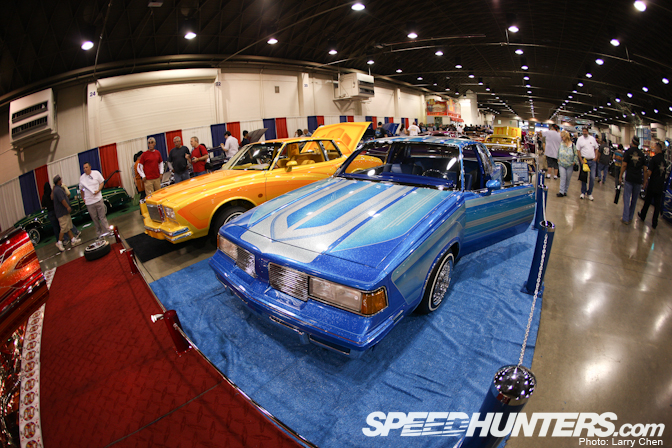 Larry thought that "Gold Rush" was an 11, but he hadn't seen the Lowriders yet…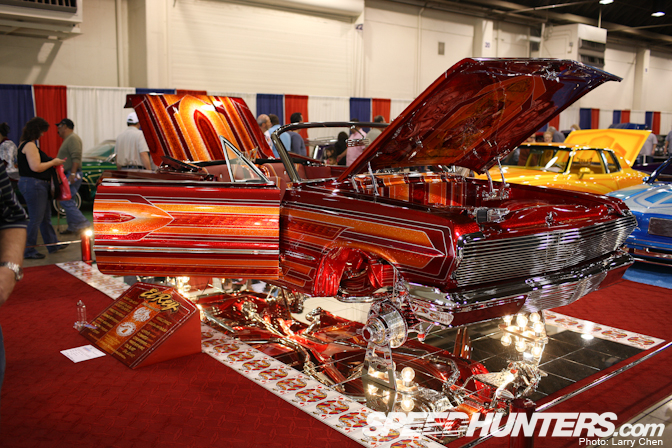 Now El Rey…this car is definitely turned up to 11! I know Andy covered this car at SEMA 2011, but I thought it would be great to revisit it and show all of the work involved. I know some people think these cars are gaudy, but you have to appreciate the craftsmanship and dedication here. When everything is extreme like this car, it makes sense.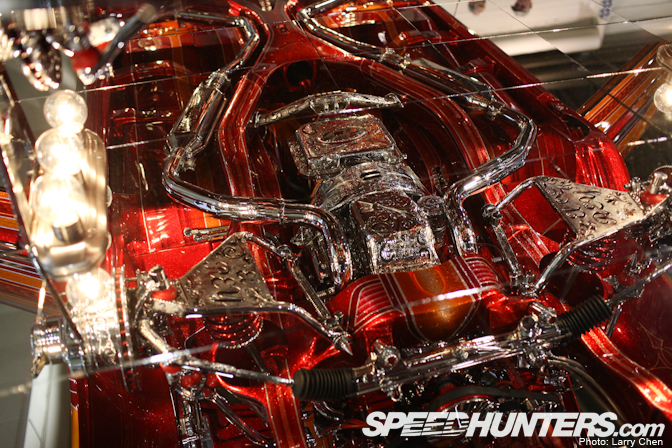 This is the undercarriage of the car, can you image if this sort of detailing was done on modern cars?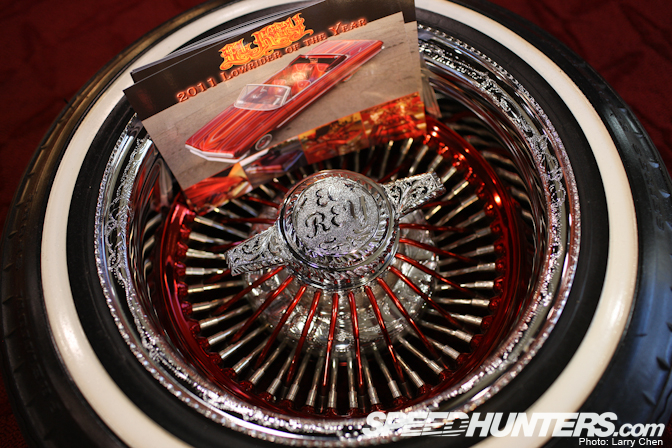 I think it will be interesting when these sort of extreme details will filter down into modern cars, the way that flat black has shown up as a factory option on the likes of BMWs, Porsches etc.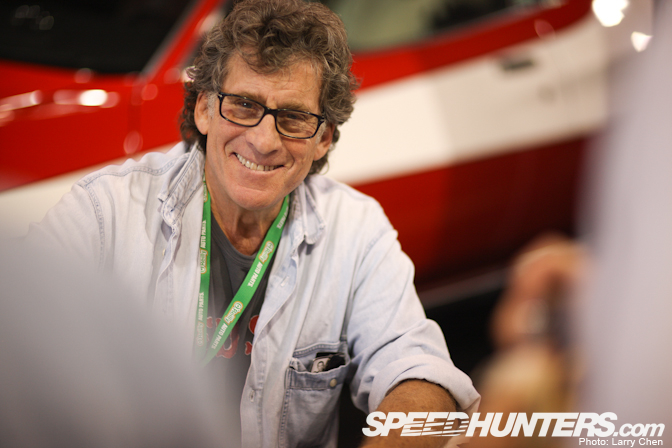 The GNRS always has a celebrity on site, this year it was Starsky and the iconic 70's red and white Ford Torino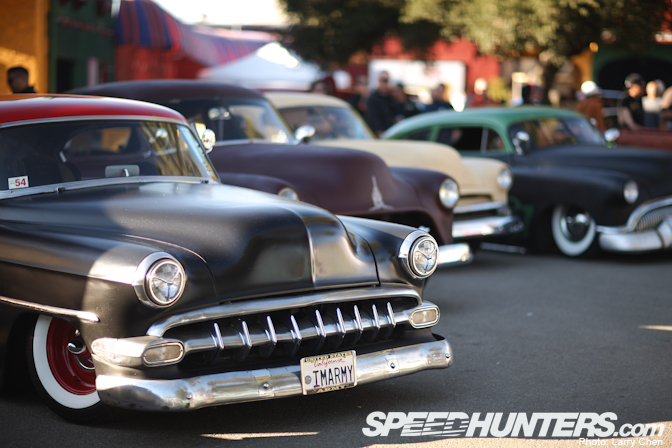 The cars outside are a little less shiny than their indoors brethren.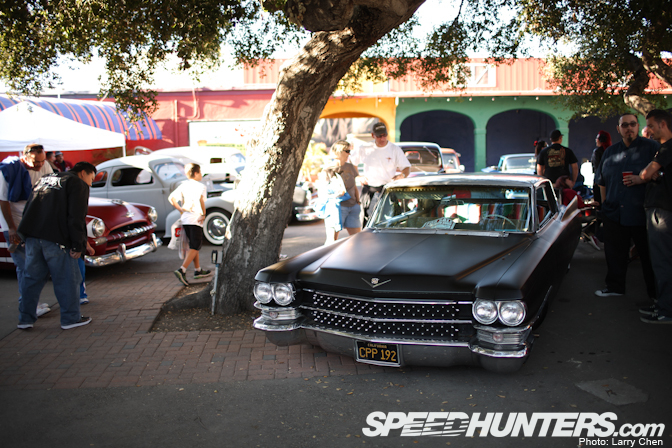 A flat black Caddy and a little bench racing under a shady tree is a pretty darn good way to spend an afternoon.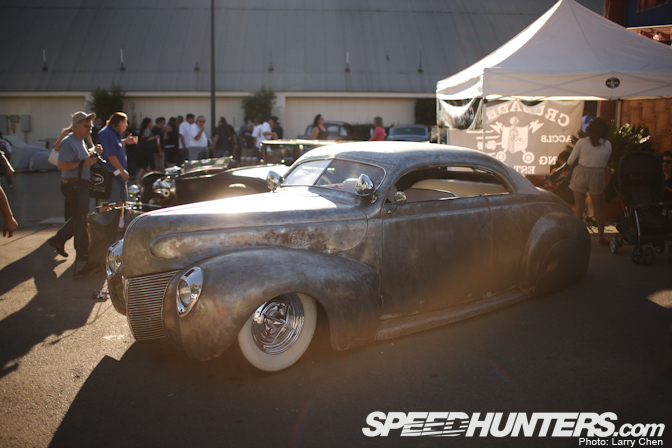 A bare metal 1940 Ford Deluxe catching a few rays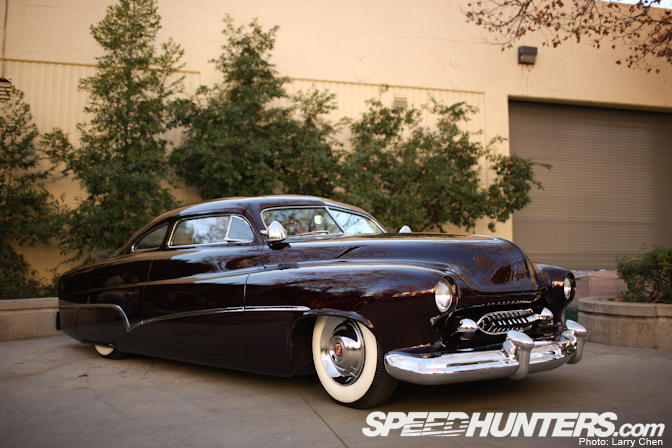 There were hundreds and hundreds of beautiful cars parked in every nook and cranny of the Pomona Fairgrounds, including this stunning 1950 Mercury.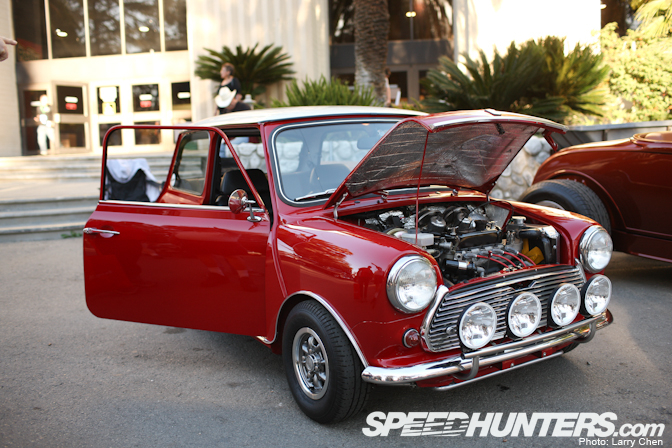 Look what snuck in under the fence!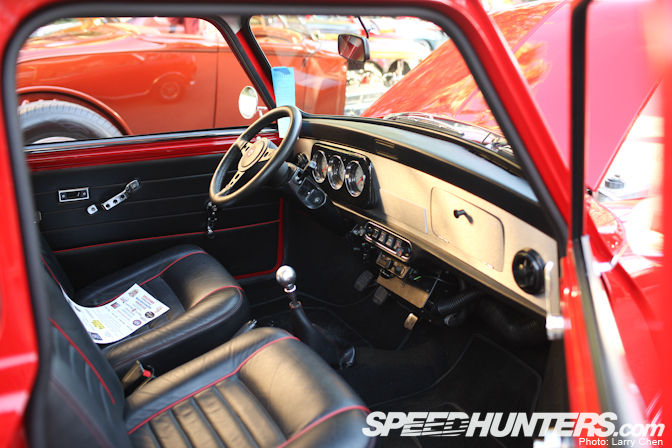 Sweet interior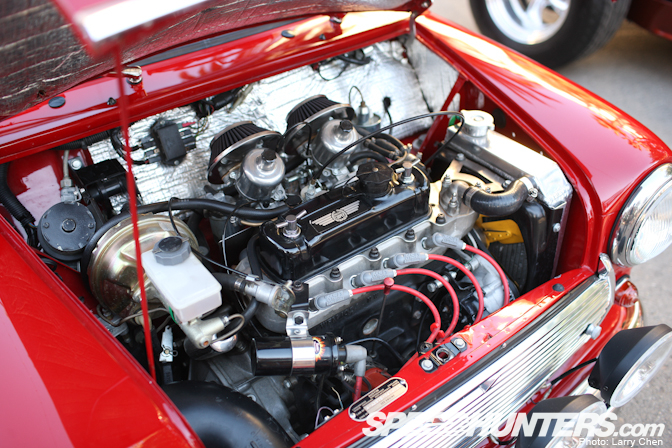 Tidy little engine too!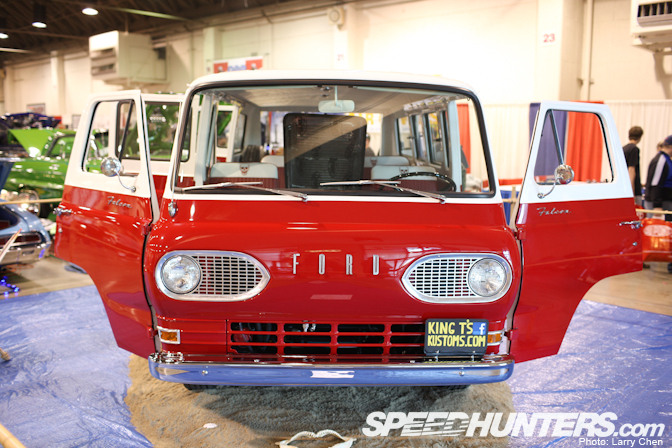 The resurgence of retro vans is a super fun addition to the automotive scene, and I can't think of a more owner suited one than this 1965 Ford Falcon van.. You know when they say owners are like their pets? Well I think the same thing goes for vehicles.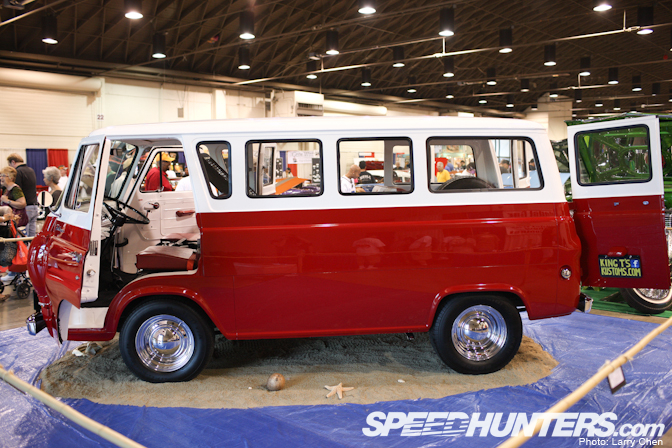 Immaculate inside and out, it's a pristine example of a good time van.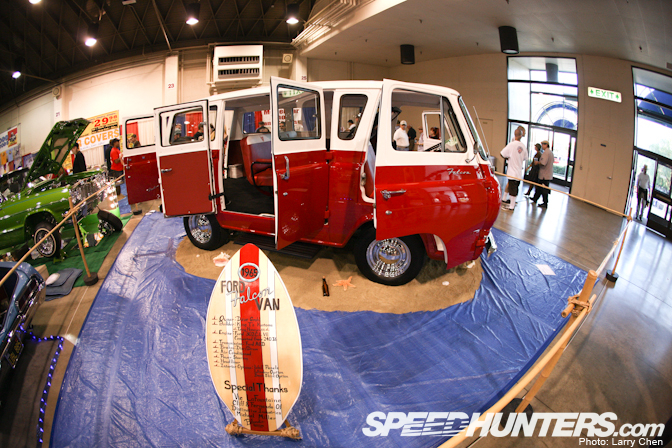 I was really tempted to hot wire it and drive right out of the building!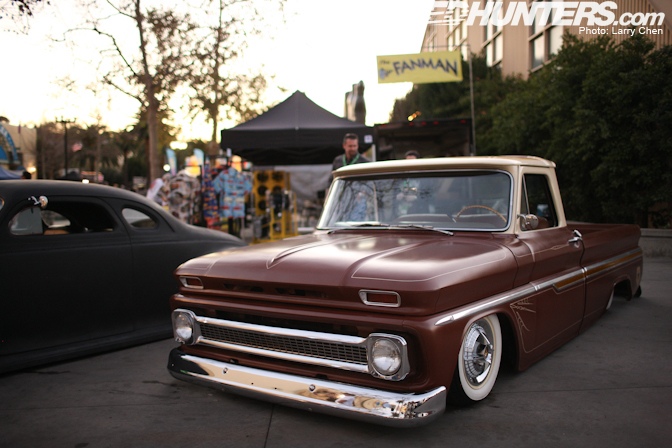 Here's a mid-sixties lowered Chevy truck, and flat brown paint. I've noticed that brown is getting a second chance at being a car color again and this time around it actually looks good. There were more than a few gorgeous cars that were sporting the chocolaty goodness of brown paint jobs.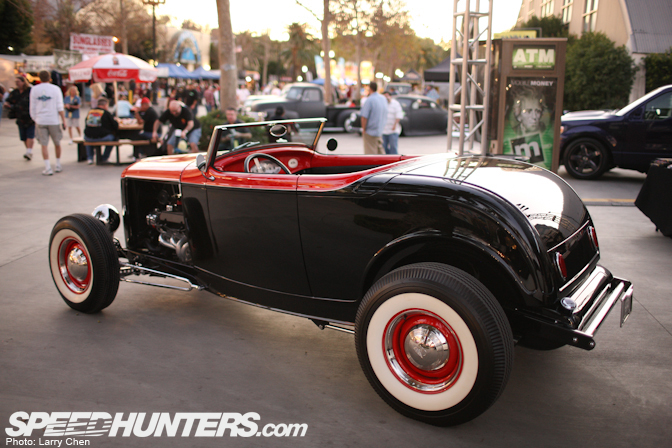 A textbook roadster, black with red accents, Coker wide white walls and red trim wheels with dog dish discs. Can't help but love it!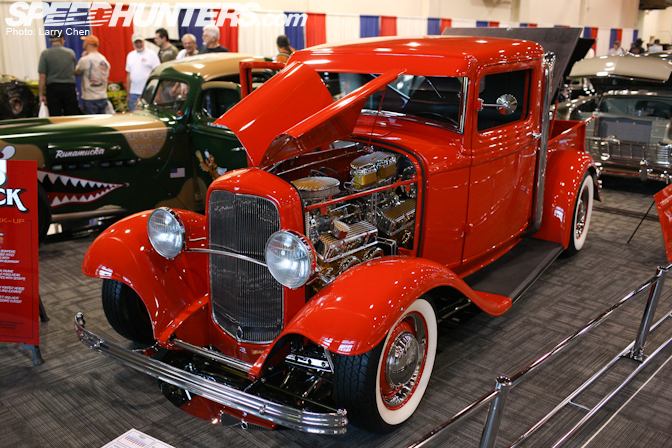 A classic pair of early 30's Ford Trucks, the colors would work as color negatives.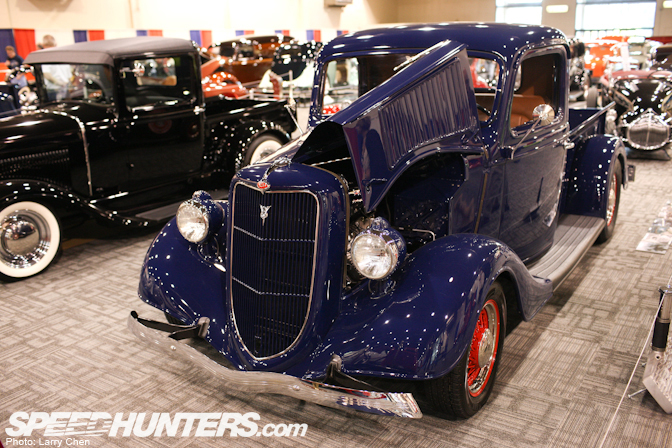 Both are mildly customized, a bit of a chop, a little lower… but keeping true to the original look of the cars.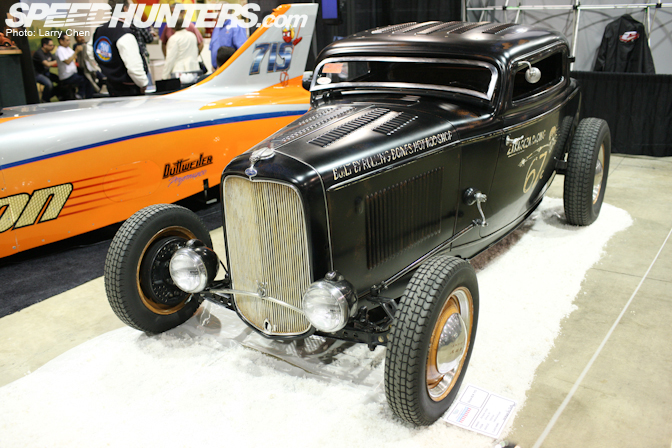 Here's yet another awesome roadster by Rolling Bones Hot Rods. Most likely this car has done some time on the salt flats at Bonneville. The louvers are done just right  -you can't mess up with those, one mistake and it's a long road of hard work to correct them.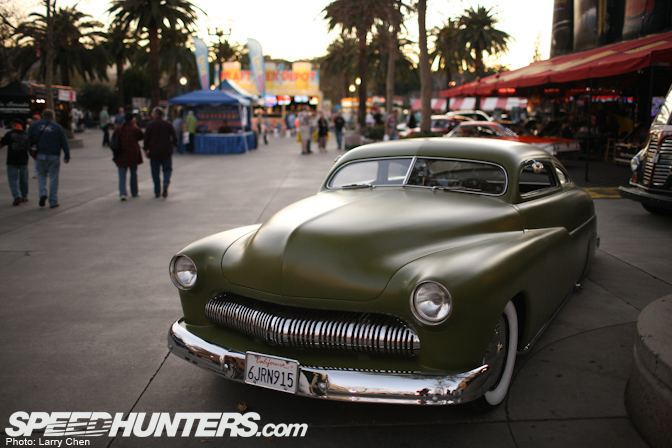 A Mercury lead sled classic with an unusual matte color. It seems that brown isn't the only earth tone making a comeback.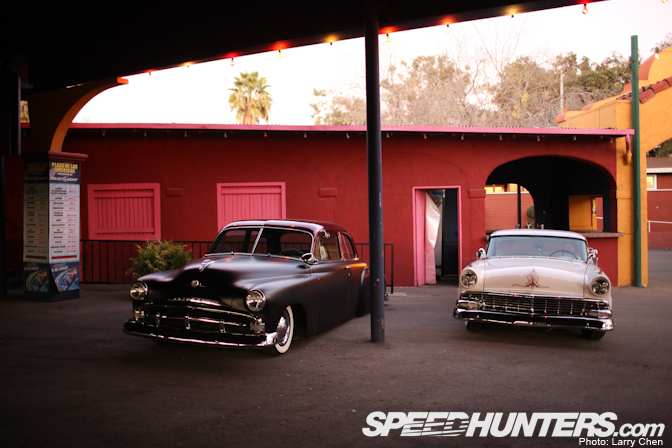 A the end of the day, Larry took a last glimpse over his shoulder and spotted these two beauties.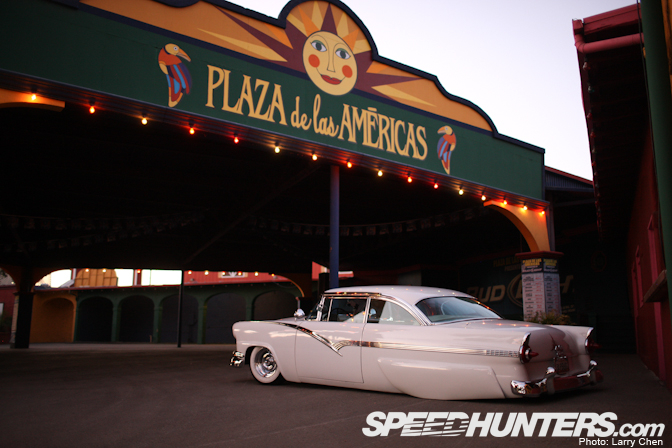 So he took this fantastic shot of this this mid-fifties Ford.
Stay tuned for part 3 where we cover the AMBR (America's Most Beautiful Roadster) contenders. For those who don't know, the AMBR award is the most prestigious title in the hot-rodding world. There are other awards out there, but this one is specifically for the Roadster – it's the ultimate hot-rodding car and the backbone of custom culture.
-Melinda
Photos by Larry Chen
More Grand National Roadster Show 2012 coverage on Speedhunters