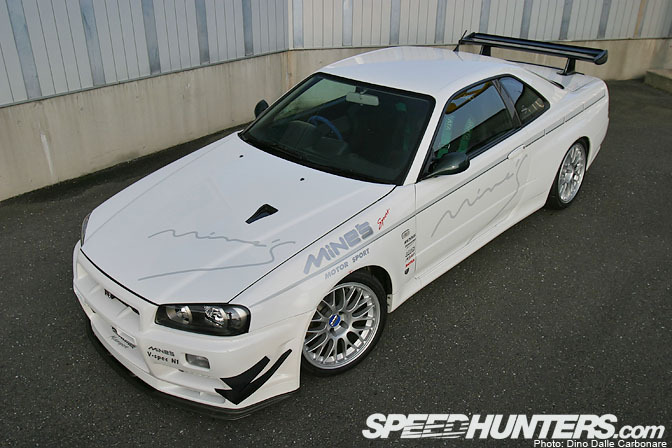 It was in the winter of 2005 that I headed down to the Mine's HQ, not too far from Yokosuka city, to take a detailed look at a car that for years had been creating lots of confusion among the Japanese tuning world. Indeed, if there has ever been one big game changer over the last decade or so, the Mine's BNR34 was definitely one. How could such a sedate and simple looking car be so devastatingly quick? I still remember Manabu Orido and Keiichi Tsuchiya being utterly amazed at how quick it was around Ebisu in an old volume of Hot Version, continuously saying hayasugi, it's too fast!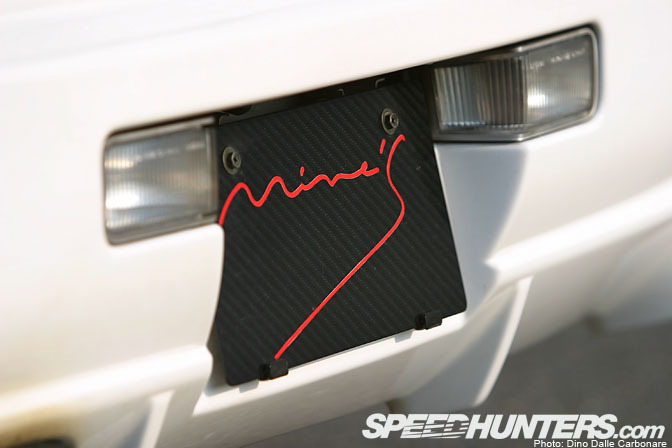 But for anyone with a remote interest in the world of the Skyline GT-R will know, keeping things simple is a defining factor of the Mine's tuning philosophy.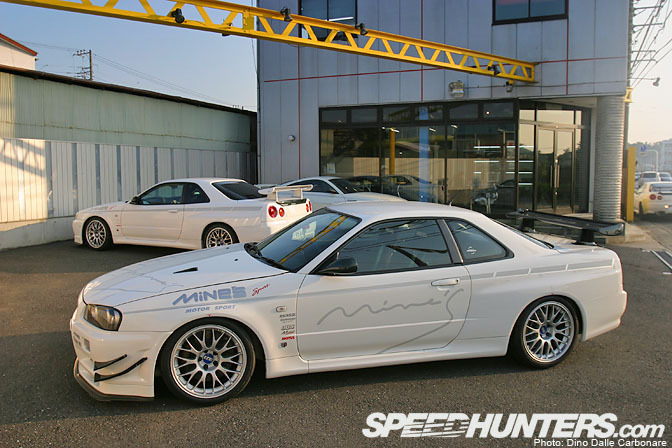 That day I had a chance to fully comprehend what makes Mine's so different from most tuning shops…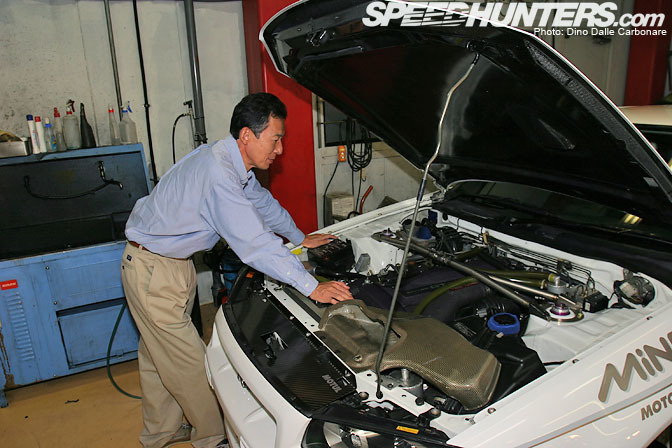 …starting with a nice chat to Niikura-san, the president of the company. Niikura is a man of vision and knows exactly what it takes to make fast cars even faster. Years and years of research and development are put into each part Mine's has ever released, and as he put it "we just concentrate on the things that make a difference." This is precisely why the BNR34 demo car looks so simple compared to other GT-Rs from different shops. Niikura-san has always believed that a brand should always have a focus, and Mine's has always concentrated on functionality, rather than appearance.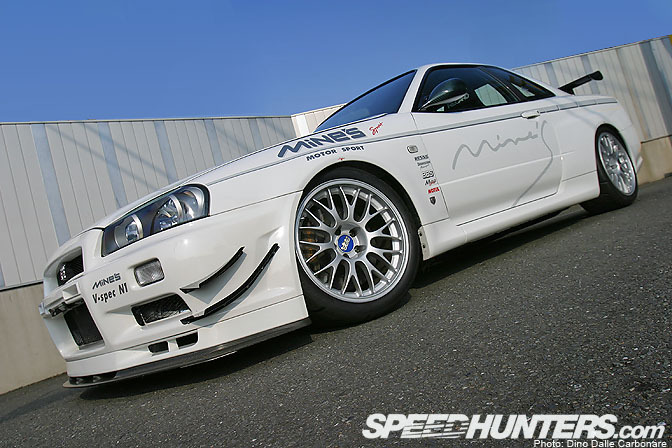 Every upgrade on the BNR34 demo car is there because it is in some way better than the part it replaces; take the 10.2J wide 18-inch BBS RE-Mg for example.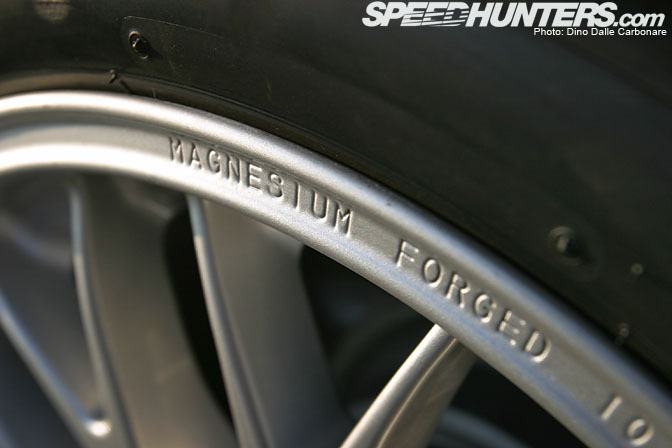 Sure they suit the car perfectly, but the reason they were chosen was due to their forged magnesium-alloy construction making them weigh in at only 8.2 kg a corner. Their extreme offset allows an increase in front and rear track to aid grip, also thanks to use of wider semi slick rubber.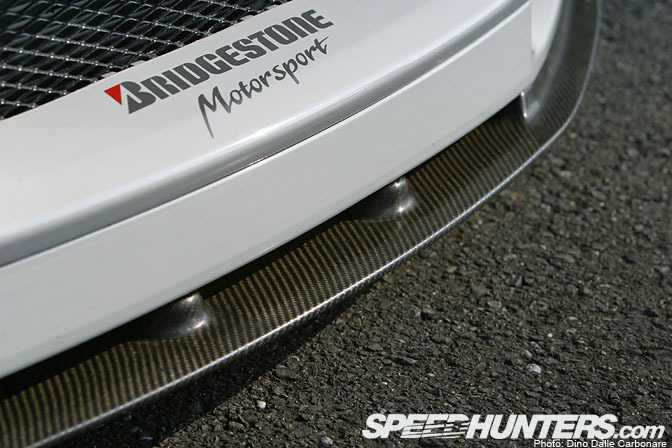 The general design of the front stock diffuser was retained, slightly modified in profile to increase front downforce and created in carbon fiber to shave precious weight off.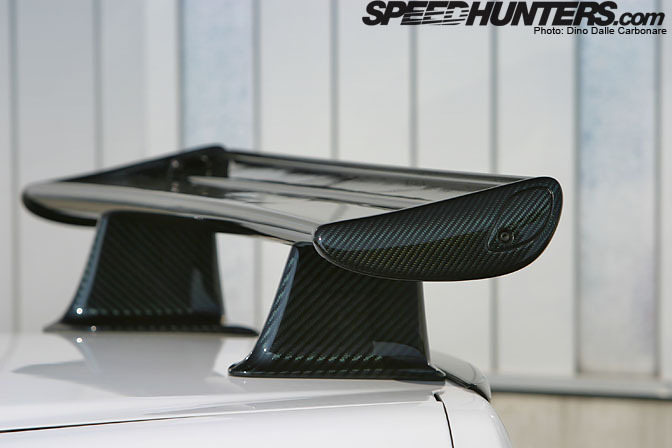 Same with the rear spoiler and wing stays; stock looking but thanks to carbon fiber construction much lighter, with the stays a little taller (+30 mm)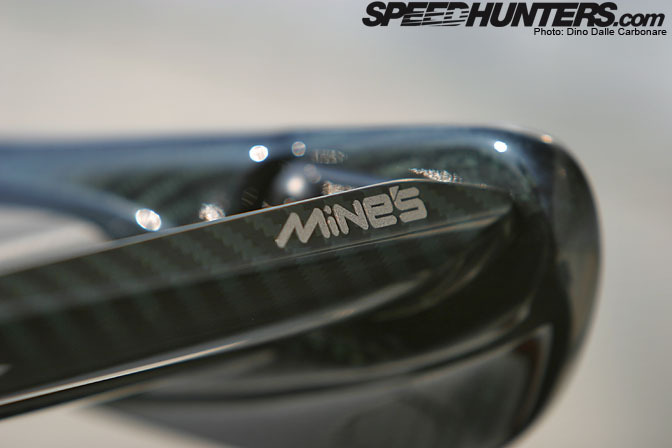 The adjustable lip has a built in Gurney flap, there to create more downforce.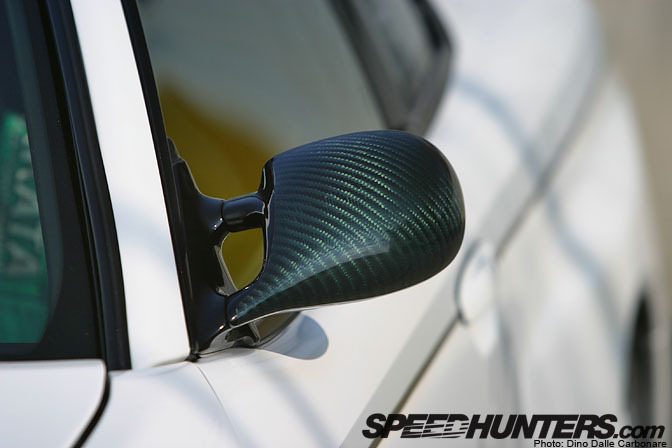 The M3-style mirrors are far more slippery than the stock Nissan items, and again use carbon fiber to match the other composite details around the car.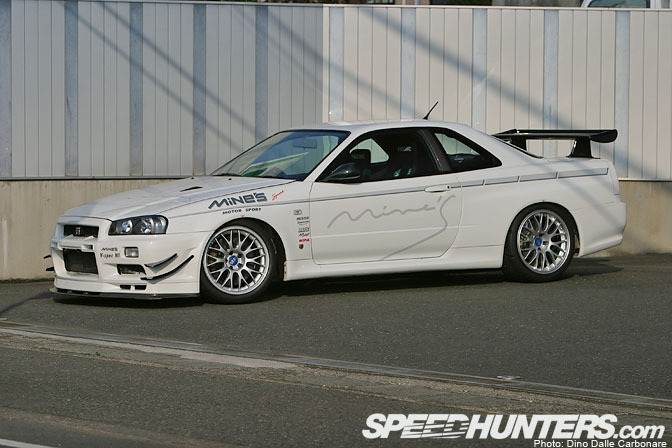 The result is something extremely special, probably one of the most recognizable R34s ever created.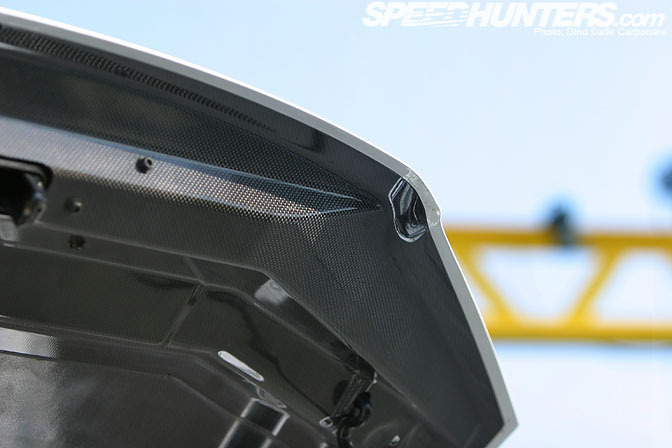 The carbon fiber hood is a factory item that was fitted to the V-spec II, a perfect addition that shaves off a little bit of weight, introduces a NACA duct to direct cooling air towards the turbos and retains that all-important stock-look.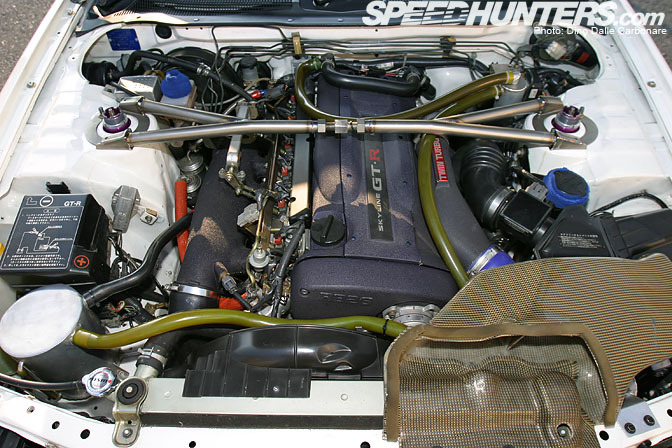 The engine bay is as minimalistic as the rest of the car, which is actually based on the extremely limited edition N1 version of the zenki BNR34. The Mine's Spec 2 RB26 retains the stock 2.6L capacity but has been extensively modified starting with the lightweight internals, courtesy of Tomei Powered. The crank, H-section con rods and forged aluminum pistons are finely balanced to very high tolerances to boost throttle response at all RPM for that electrifying immediate surge of power Mine's engines are so well known for. Porting and polishing of the intake and exhaust tracts further boost response while the complete valvetrain has been upgraded with higher quality valves and springs able to cope with high RPM usage since this engine revs well over 9,000 rpm depending on configuration. The cams are far from extreme, 260º duration and 10.2 mm lift on the intake and 252º with 9.5 mm lift for the exhaust side. Modified HKS GT2530s are the turbines of choice, a perfect trade off between power and response. These dump spent exhaust gasses via the Mine's turbine outlets into the titanium front pipes and on to the VX titanium exhaust, which gives that very special and unique Mine's motorbike-like wail.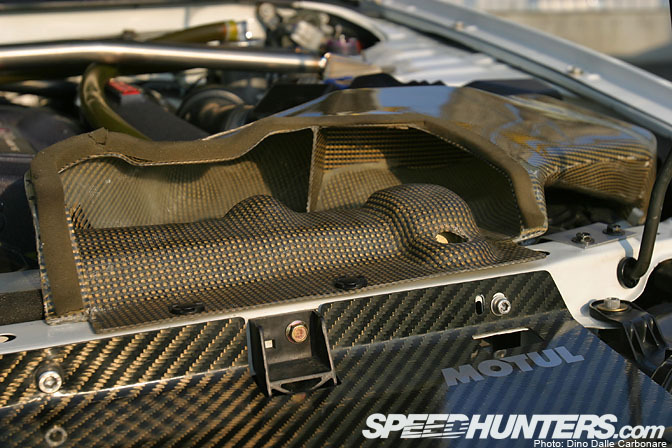 A closer look at the Kevlar guide which feeds air into the stock airbox. Most other engine ancillaries seem to have remained stock, like the silicone hoses that feed the turbos, the "Twin Turbo" turbine outlet pipe and the intake plenum. For a lot of years even the intercooler was stock but eventually they went with a very small volume, high-flow item. The Spec 2 engine is good for 600 HP at 7,200 rpm and 464 lb/ft at 5,400 rpm, all handled via a stock Nissan/Hitachi ECU modified with a custom Mine's VX-Rom module.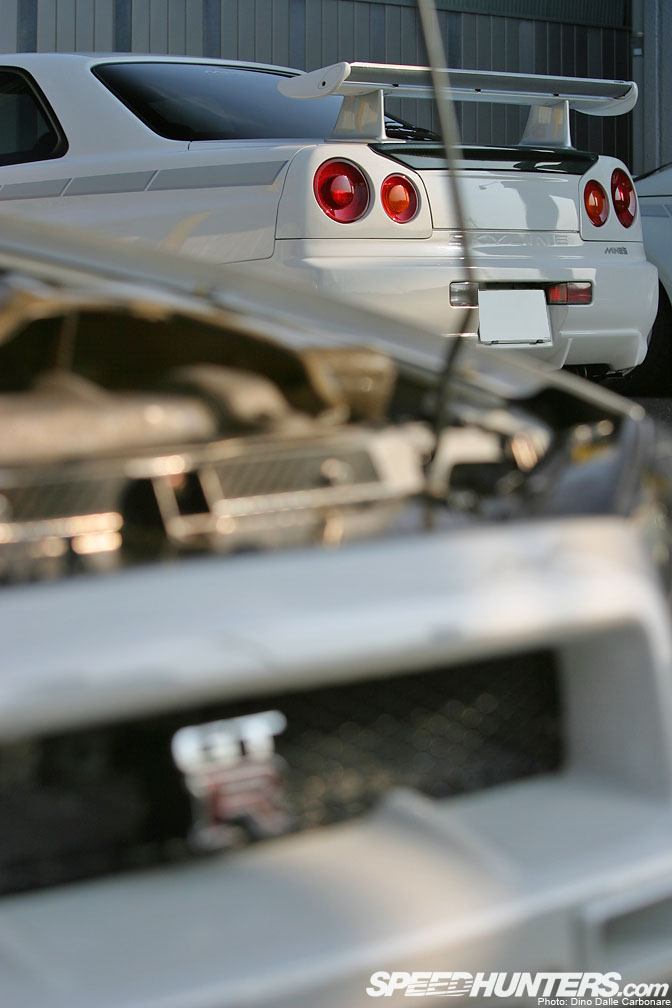 A little glimpse at the street-spec version of the R34 that Niikura-san used to drive around in back in 2005.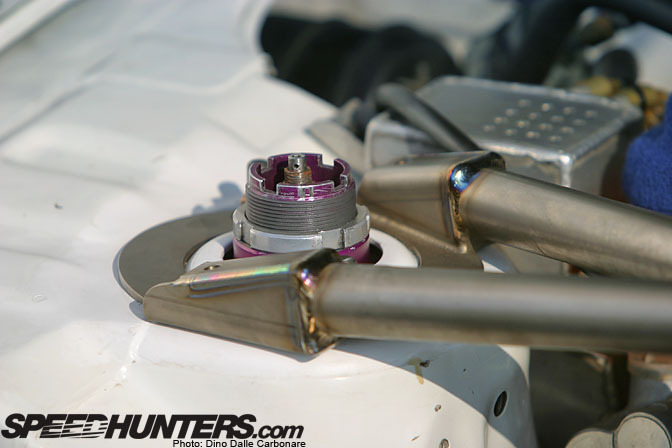 A little close up of the front struts where you can see the titanium bar and the top part of the Dynamic dampers.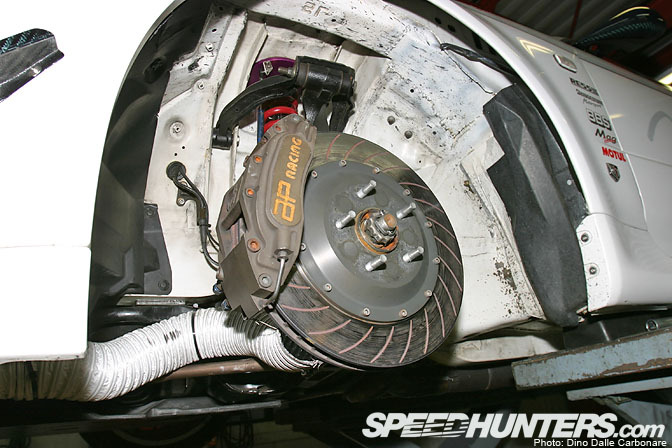 Niikura-san allowed me to get really detailed shots of the interesting bits under the car starting off with the front suspension and AP Racing brakes.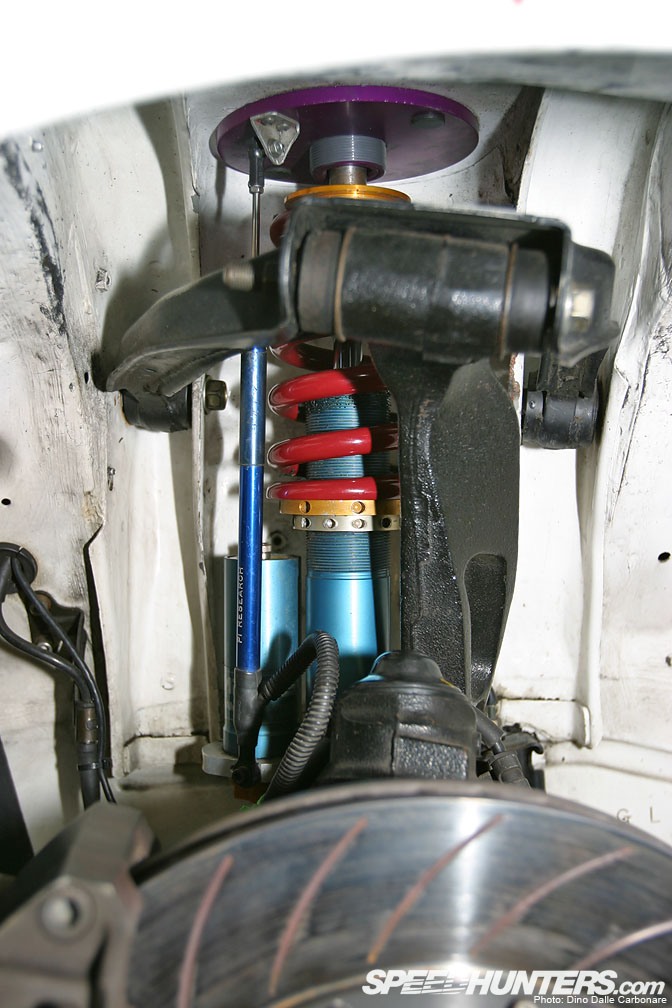 The 3-way Dynamic dampers are fitted with a variety of springs that are changed depending on which track the car is driven on. You can see the damper also has a separate rod to log telemetry to help fine tune bump and rebound adjustments.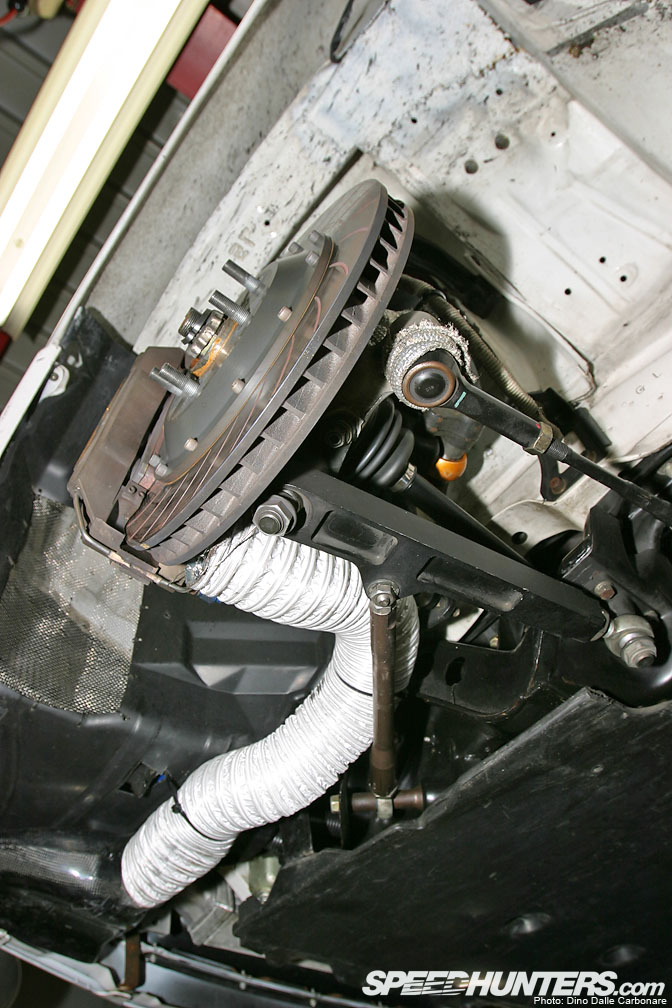 A look from underneath reveals the lower arms which are also fitted with roll center adjusters. Everything is on pillow balls to eliminate any slack, while most bushes are also swapped out for solid metal replacements.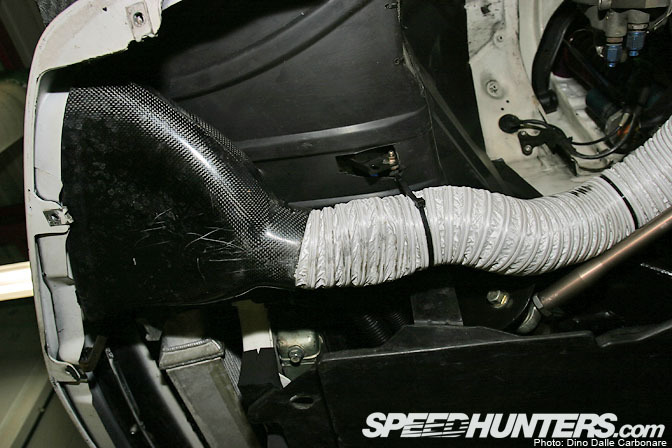 Keeping the big 355 mm Rdd 2-piece front rotors cool is very important, so big diameter ducting channels air from the carbon fiber bumper intake towards the brakes. The 6-pot AP Racing calipers are fitted with competition spec Performance Friction brake pads.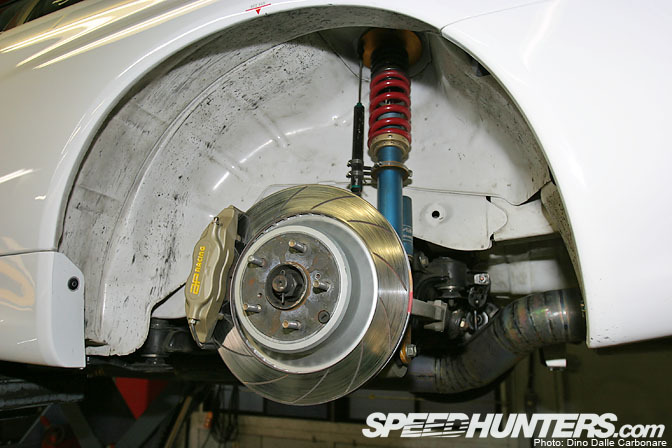 A look at the rear set up, where smaller 4-pot APs bite down on 335 mm discs. You can get a glimpse of the lobster-tail-like titanium exhaust system too from this angle.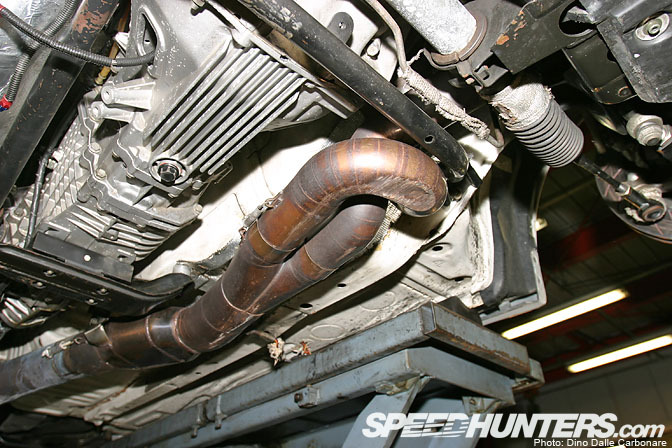 Here are the hand-welded titanium front pipes which are directly attached to the VX sports catalyzer, no cat-replacement pipe here!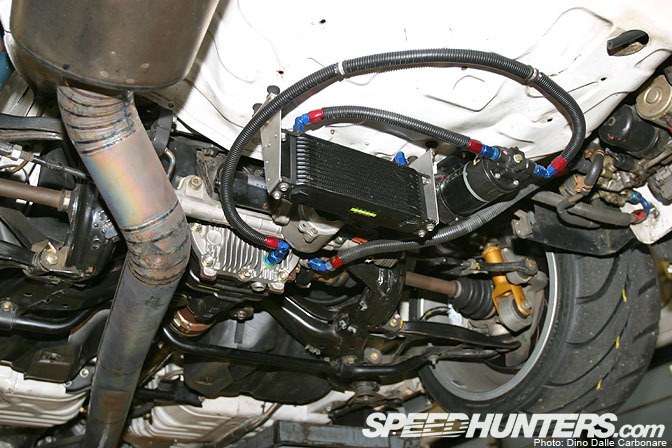 The rear LSD is joined by a shorter 3.7 final drive to help get the most out of the stock Getrag 6-speed transmission, around short tracks like Tsukuba and Ebisu Higashi. A cooler was also added to keep temps in check. Other driveline upgrades include a twin-plate carbon clutch and a carbon propeller shaft to lighten rotational masses as much as possible.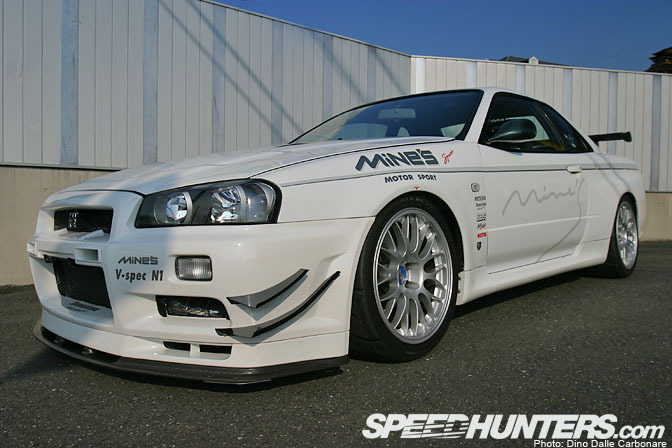 Other little external details include twin carbon front canards and little metal plates under the corners of the diffuser to protect from unavoidable scrapes through tighter corners.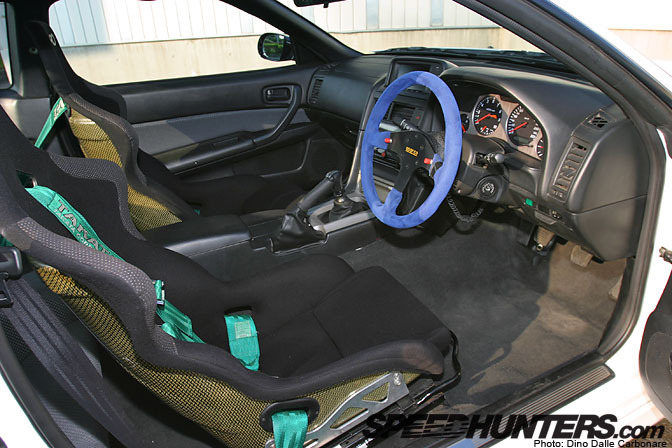 The functional and simple theme is carried on in the exterior where none of the trim has been stripped out and removed. Recaro carbon-Kevlar seats and a blue alcantara Sparco steering wheel are the only additions…not to mention the Takata racing belts of course, a must have on any Japanese tuned car!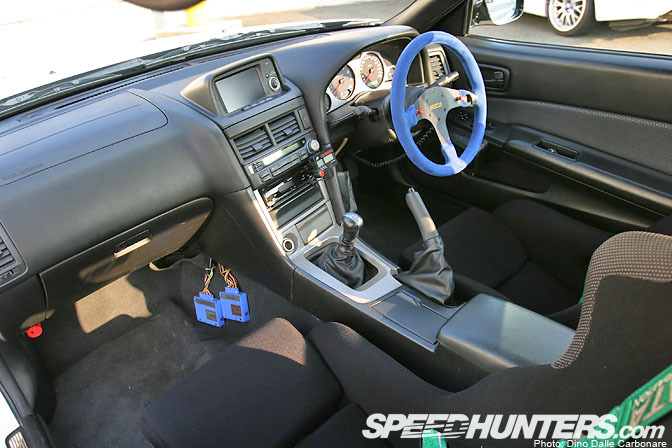 There is no A/C as that didn't come on the N1 version this demo car is based on but there is a headunit and speakers so it's all very comfortable inside! Those blue modules hanging down in the passenger footwell hold additional maps for the ECU.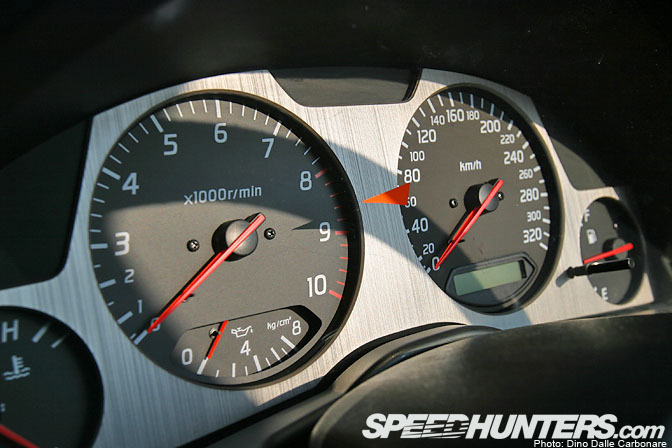 Mine's fine-tuned and perfected this Skyline GT-R throughout the better part of the 2000s and in that time it went through a variety of slightly different engines. The motor on the car when I shot it in 2005 was the same one that yielded a 57.7sec lap at Tsukuba, a time that is still quite impressive for such a conservatively tuned car. That little arrow on the rev ounter indicates the fuel cut out, just under 9,000 rpm.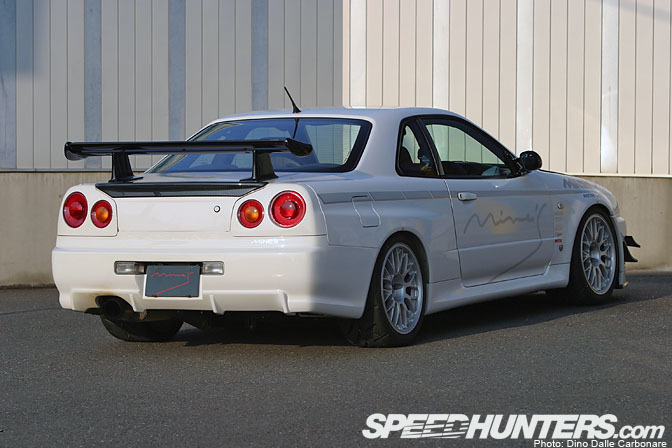 So there it is, nothing short of a legend on four wheels and a car that continues to captivate the mind of Skyline GT-R enthusiasts out there. One of my dreams still remains to drive this on track, any track! Might have to do some begging next time I see Niikura-san!
Game Changers features on Speedhunters
-Dino Dalle Carbonare