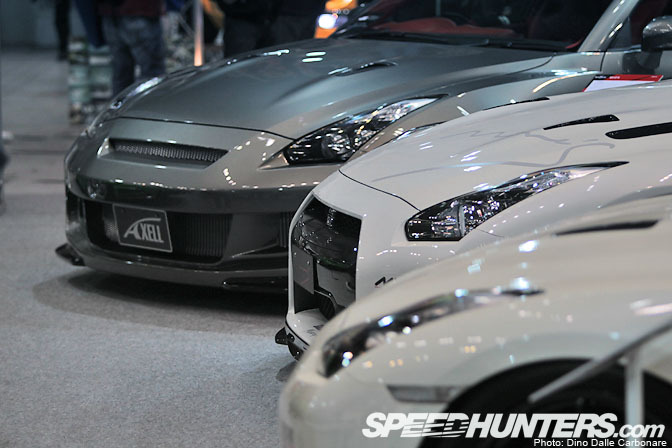 For me the second show day at the Tokyo Auto Salon started with a freezing walk through the parking lot before heading into the warm halls of the exhibition center. Having seen thousands of people lining up at the entrance, hours before the doors were due to open at 9 am, I made good use of the time I had to shoot as quickly and as efficiently as possible before pretty much every car on show was going to disappear behind the crowds.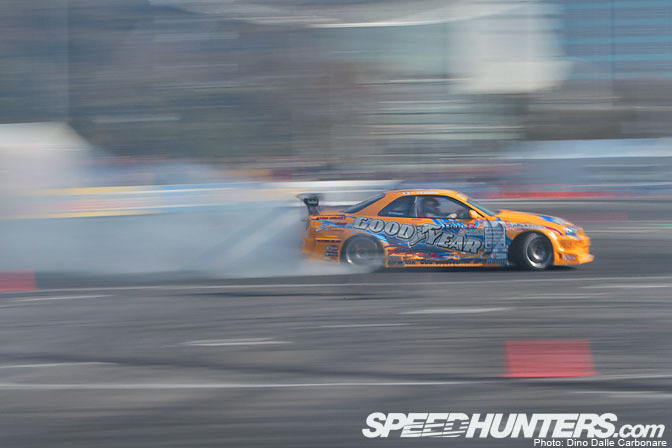 On top of the show cars there was the action out on the makeshift track that I had to head over to…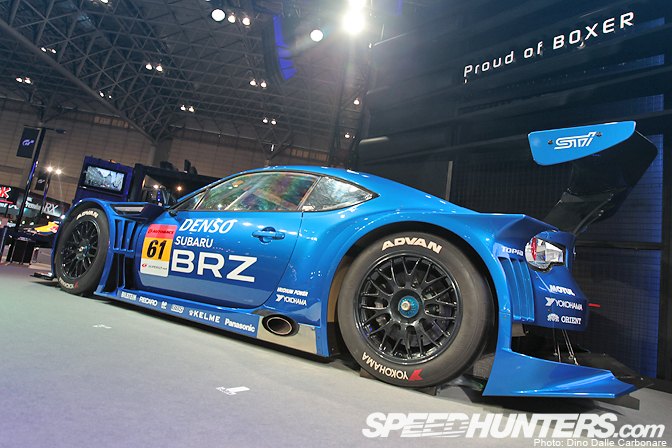 …but not before I finished inside. With virtually nobody around I was able to get some nice and clear shots of cars that were almost invisible behind the swarms of VIP ticket holders on the Friday. Cars like the Super GT GT300 BRZ a car that makes me want to head to at least one Super GT race this year…just to see Kouta Sasaki in action.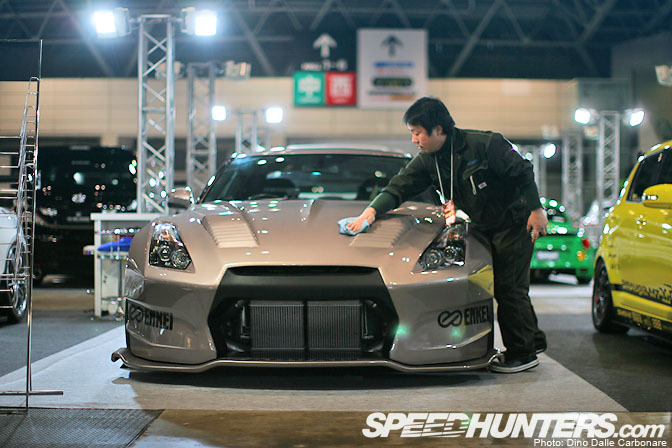 The Champagne gold BenSopra R35 gets its final bit of polishing done. For a company that has virtually come out of nowhere BenSopra has certainly made a name for itself! I can't wait to see what else they come up with next!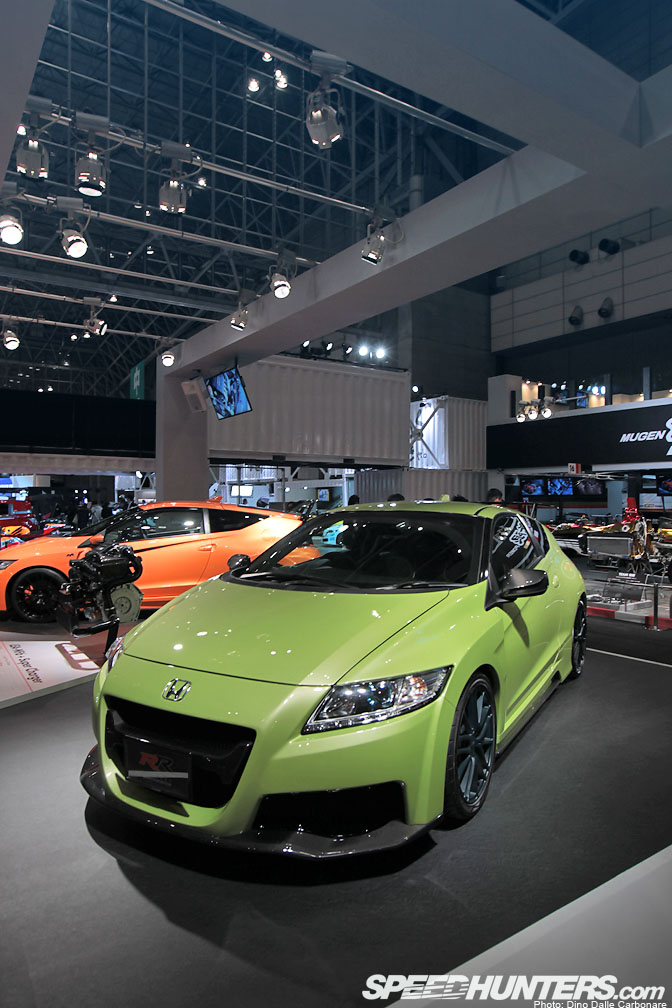 I returned to the Mugen booth to take a closer look at the CRZ RR and this green CRZ RR Pre Production Model. The supercharged motor in this car is definitely going to address the somewhat lacking performance level of the base CRZ and I can't wait to sample it on some twisty roads!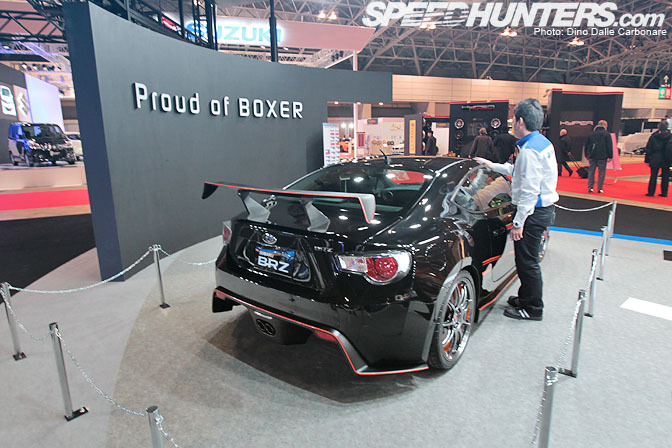 Another car I can't wait to have a go in is the BRZ, especially the STI or Prova versions!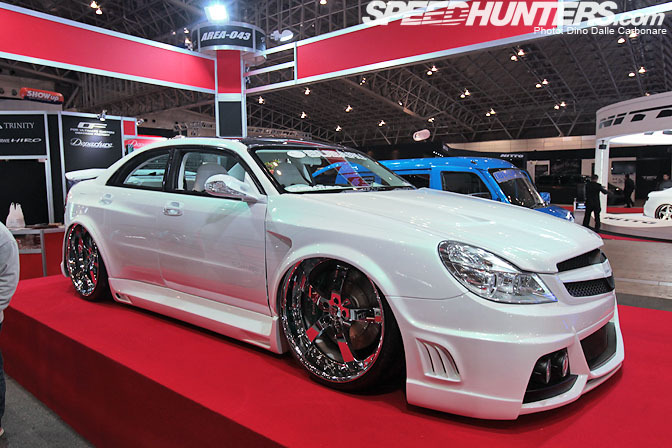 And talking of Subarus, ever wondered where that roof-chopped, time-attack GDB from CS Hiro disappeared to? Well it looks like it's been through yet another reincarnation! I found it as a center piece at the Obayashi Factory stand sporting a new Benz SLK face as well as a few other aero tweaks.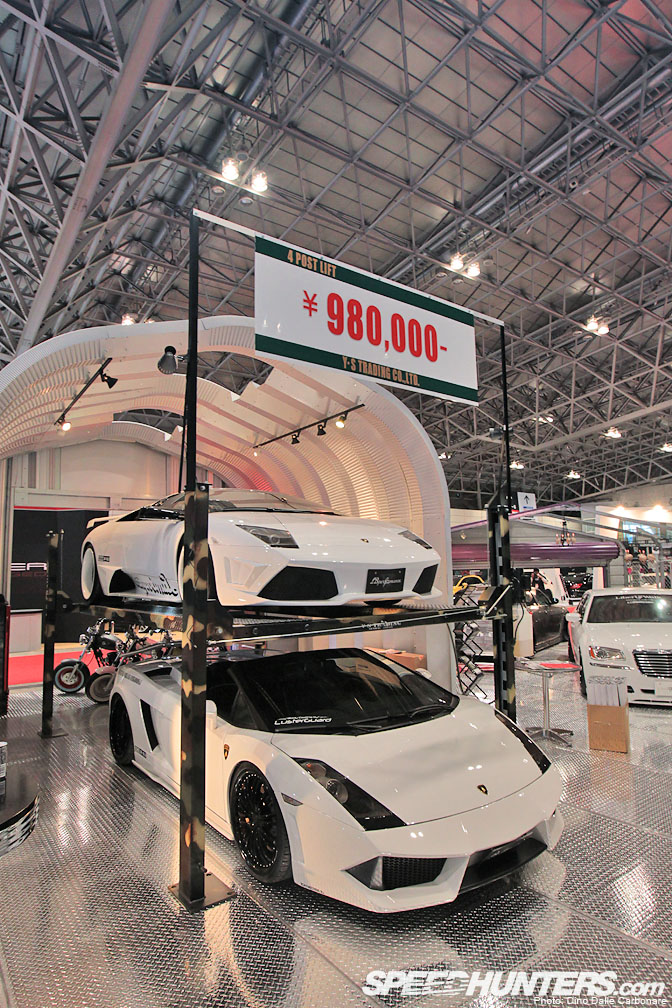 The guys at Liberty Walk were so cool they let me dump my camera bag and gear at their booth! Every time I went back there to change a lens or grab my jacket before heading out to the drift events I couldn't stop drooling over this car lift on which a pair of Lambos were stacked on. If your garage has enough vertical space you can literally double your parking spots. With space at such a premium in Japan, car lifts like this, especially this well priced, certainly get the brain thinking!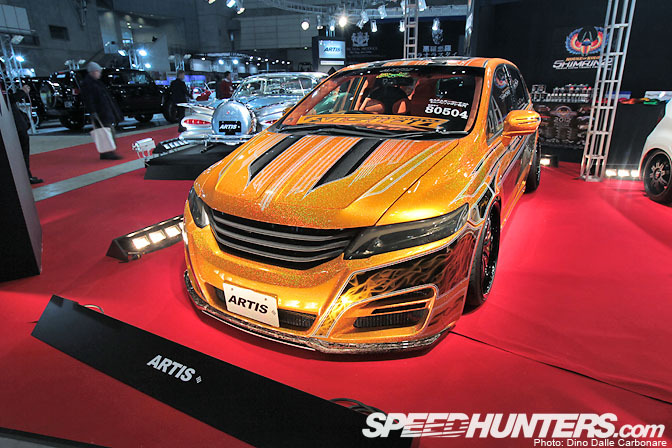 It was hard not to admire the level of skill that has obviously gone into painting this Artis Odyssey…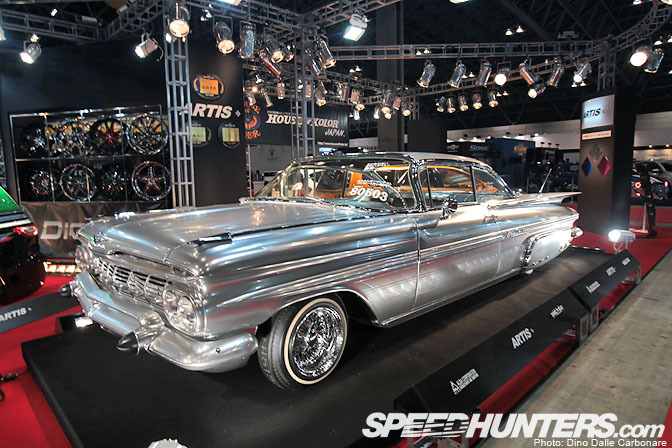 …as well as this Chevy. The almost bare metal work and embossed detail is all paint, "no vinyl" as one of the signs on the car said!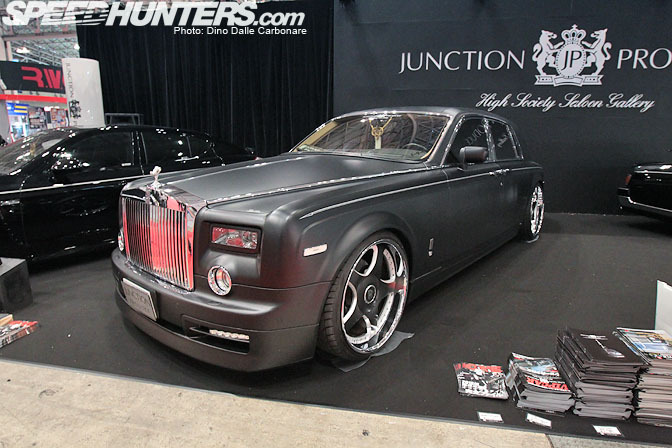 The Junction Produce Roller has traded its shiny black paint for something a little more opaque.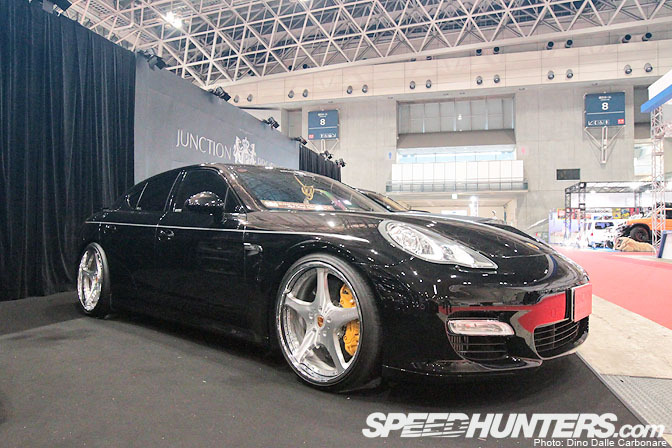 I guess the 4-door Panamera classifies as a sedan, so with the JP treatment it is now a VIP Porker!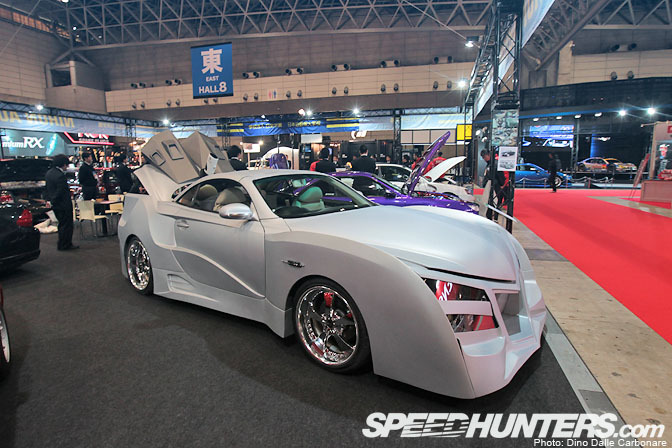 You can always count on finding some of the most bizarre cars at TAS when you head to the Nihon Automobile College (NATS) booth. These students are all trying to come up with the wildest possible conversion and it shows. This is based on a Toyota Soarer…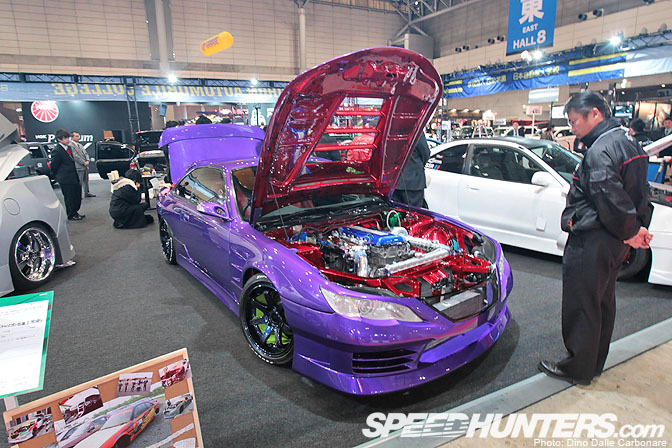 …this on an S14 Silvia! Bet it would make for an interesting drift car, especially with what looks like MarkX headlights.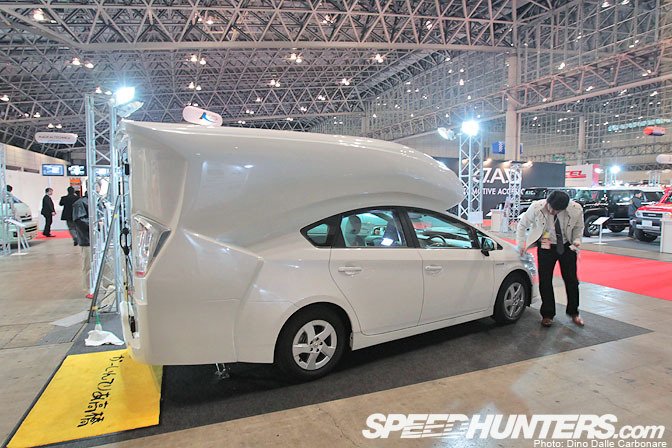 Ever wondered what a Prius Camping Car would look like? Well the "Relax Cabin" is the answer. There is plenty of space in the back and on top of the roof to have a reasonably comfortable snooze but the resulting shape of the vehicle might be a little offensive to some.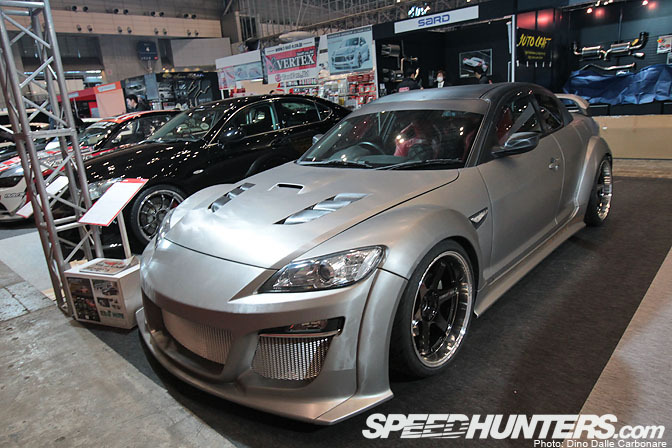 I had to touch the brushed metal finish on this RX8 to make sure that it wasn't a wrap. You never know these days.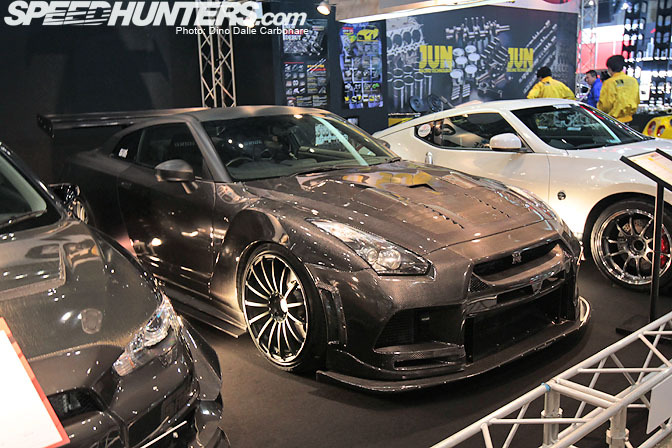 Here is a car you can expect to see featured sooner or later, that's when Nob Taniguchi is done tuning it! It is only right that one of the best and most recognized modern day drivers in Japan rides around in a mean looking beast like this! This car will soon be receiving the HKS GT800 kit, giving it performance to match that racecar-like carbon fiber exterior.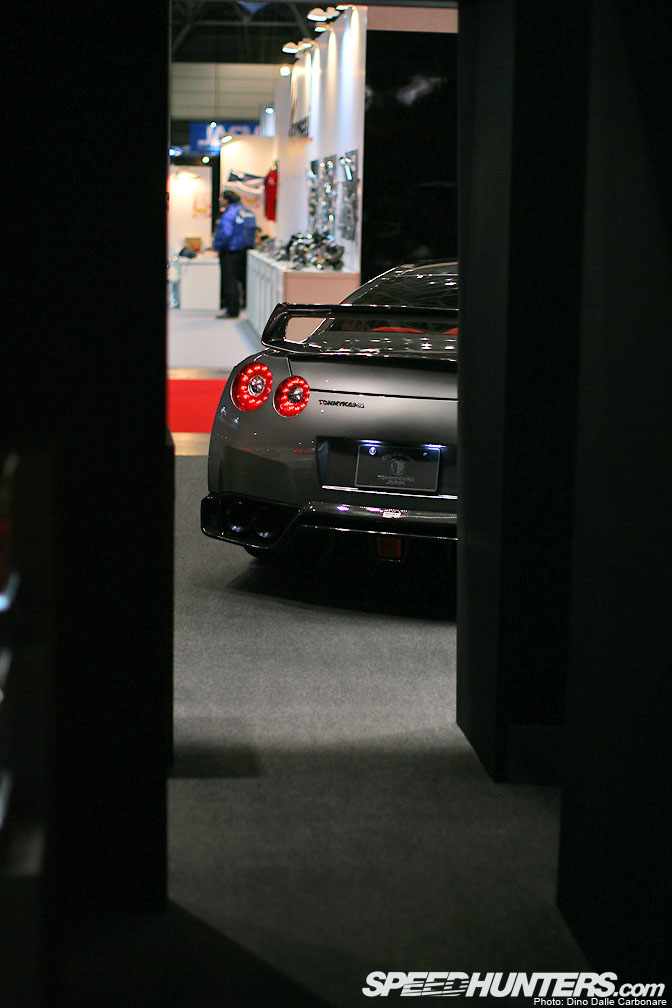 Here is another R35, this time from Tommy Kaira.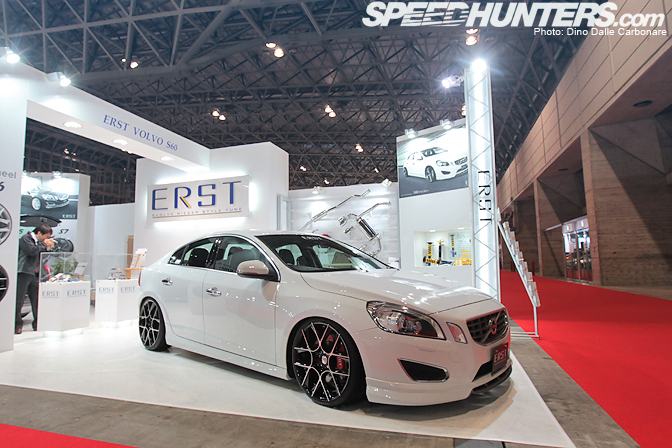 Volvo tuner ERST had this nice S60 slammed on some massive wheels. I've never though of Volvos in this way but that's one good looking car.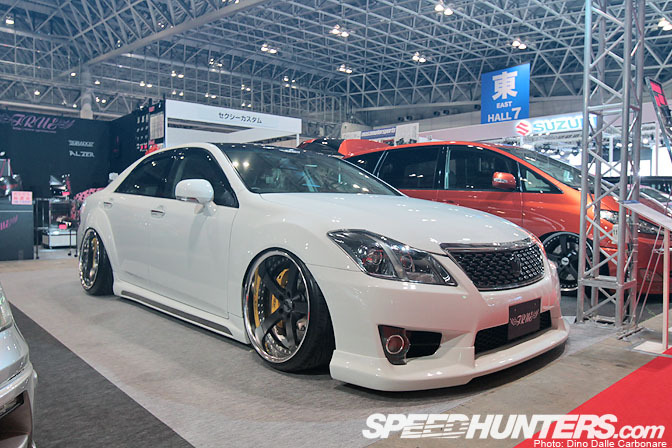 I'm pretty sure this is the first Crown Athlete I see running rear overfenders. True have done an amazing job, adding tons of aggression yet keeping the overall look subtle.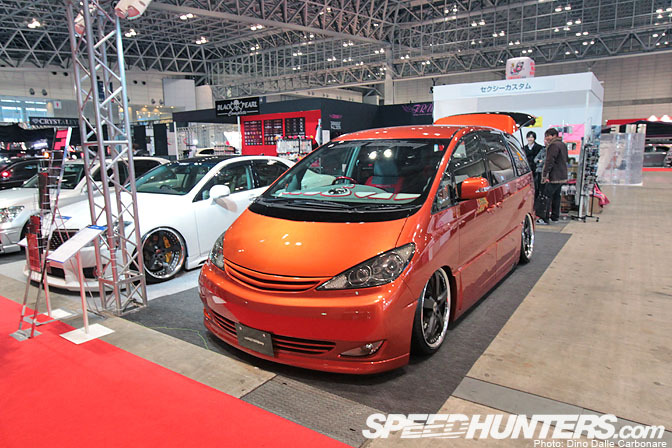 The Sexy Customs Estima right next to it was done in a similar style, big wheels, plenty of stance and nice smooth aero. These would both make some pretty mean daily drivers!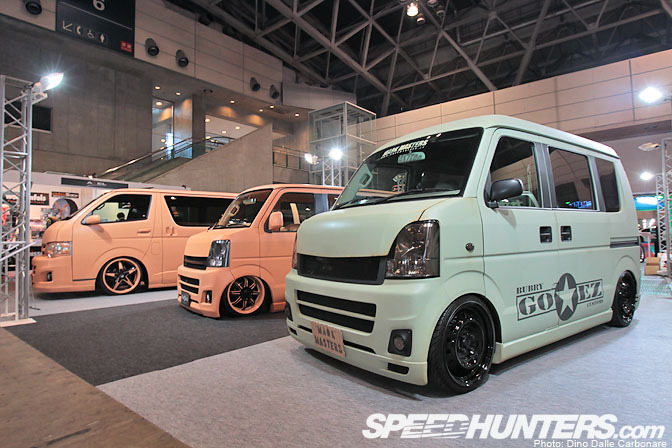 See I told you vans in Japan come in all shapes and sizes.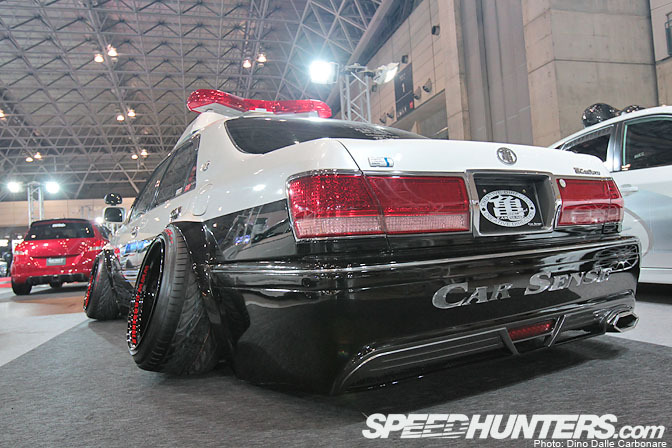 I talked to the owner of this Police Crown last summer at the King Of Sedan Festival. Not surprising the car is not street legal as it impersonates a real "patoka" or patrol car, so has to get moved around on a flatbed. The new fatter wheels certainly accentuate the crazy negative camber. Gotta love the bicycle tire contact patch!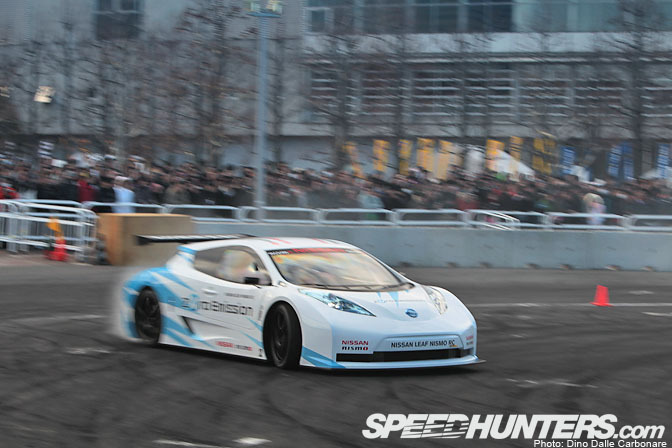 One part of the race car exhibition was a rather quiet Leaf Nismo RC drifting and doing donuts. If this is what racing will sound like in the future they will have to add a couple of speakers and a selectable engine soundtrack to the cars! Inline-6 turbo or V8 today? Uhm…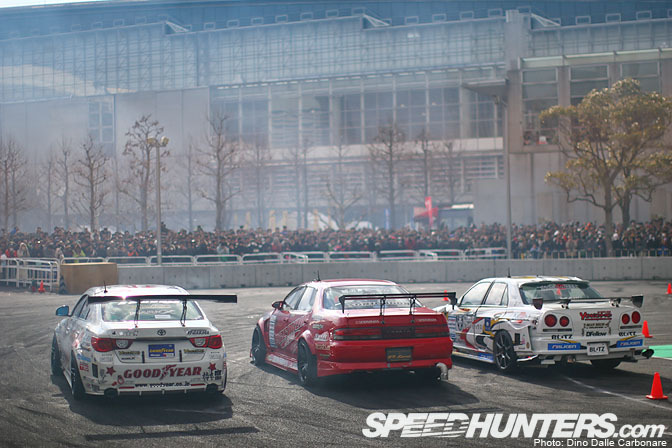 Every year D1 drivers get together for a little competition to kick off the drifting season for the new year.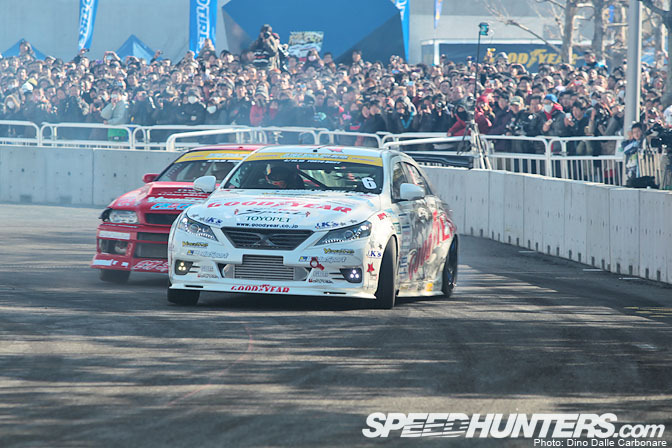 It's always impressive to see guys like Saito and Kunnys thrown their huge, massively powerful Toyotas around such a tight course.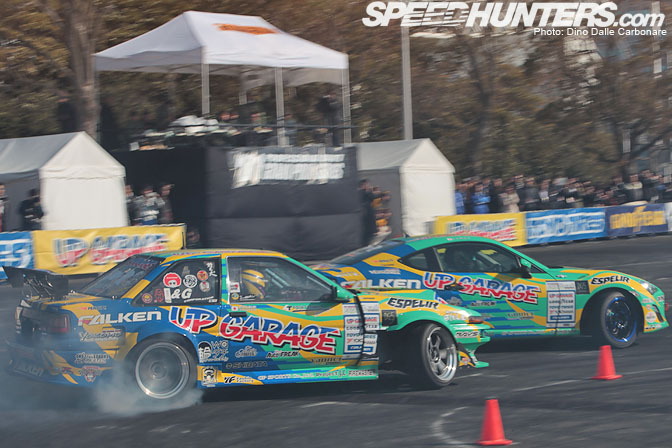 And while we are on the subject of Toyotas here is Hibino taking his new 86 out for a little battle against his old AE86. Can't wait to see the 86 in competition this year!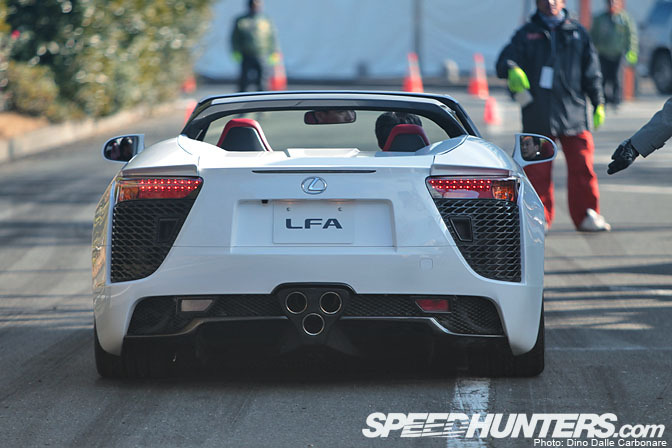 Surprise of the day was being able to drool over the LFA roadster concept. Akira Iida was in charge of showing the crowds what the V10 supercar can do. I wonder if it will actually make it to production, it looked pretty much ready.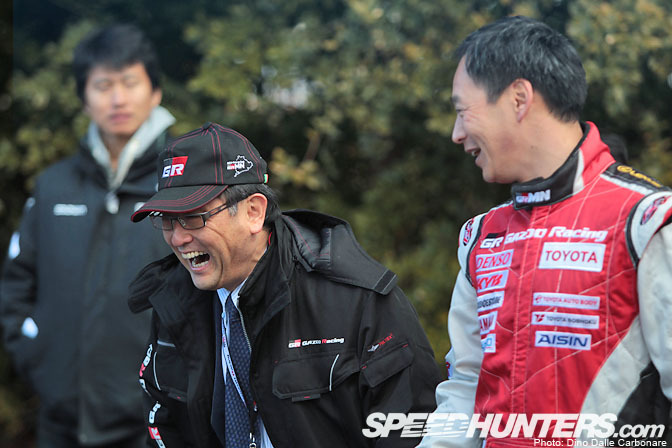 Toyoda-san and Iida-san had a good laugh when he got back from his LFA demo run.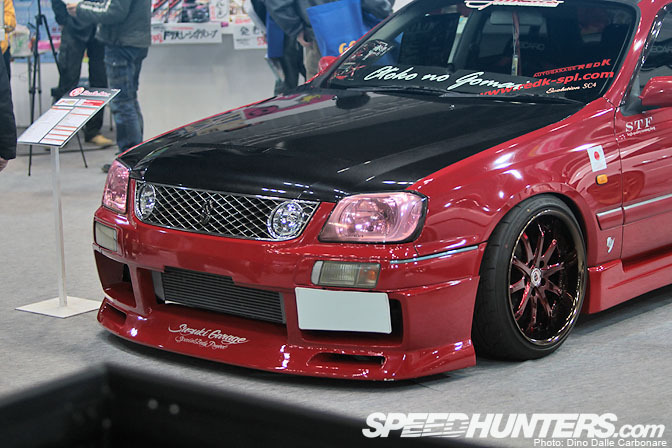 In a little arena separate from the main halls, Option set up the Tuning Car Gallery, a special exhibition to celebrate the 30 years of the magazine.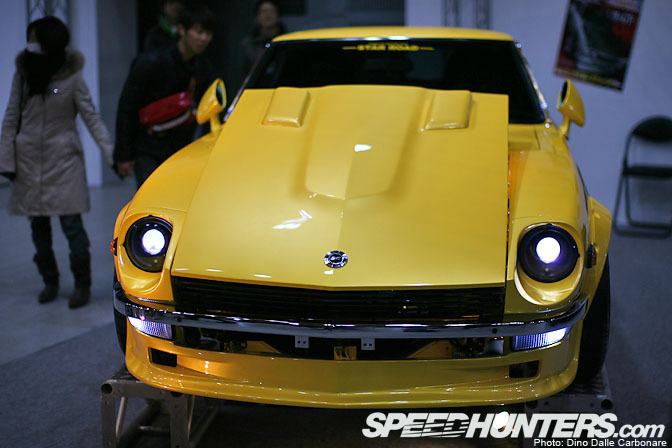 Some of the coolest and most well known cars from the Japanese tuning world were there, some old, some new like this latest S30 project from Star Road.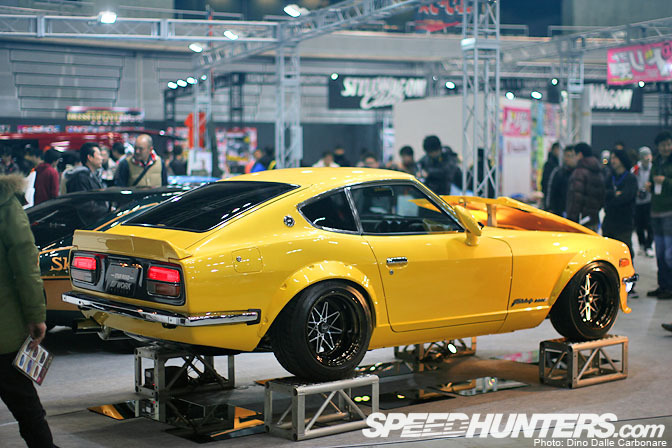 This has just been completed and on top of the super clean body…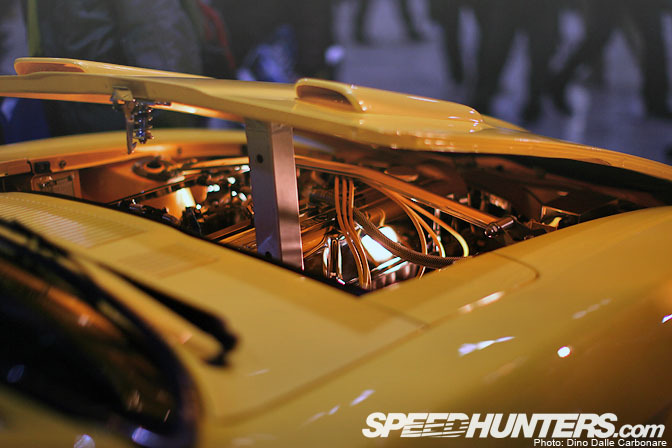 …there was an impressive 3.2L, fully tuned L28 sitting in the engine bay. This straight-six is good for 320 HP. Needless to say I will have to visit Star Road this year to see what else they are hiding in their workshop!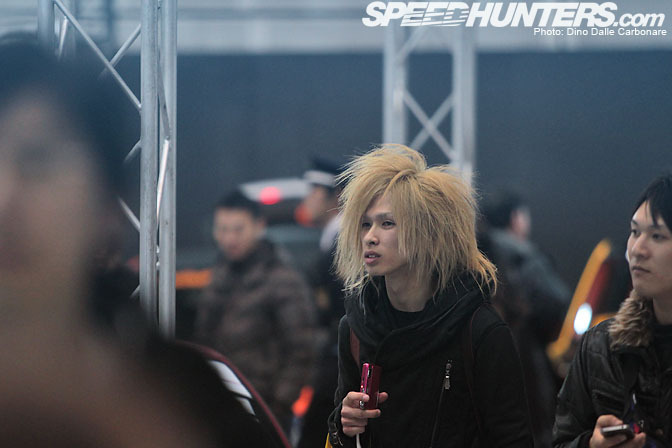 Sometimes you just can't help but grab shots of non-car related subjects.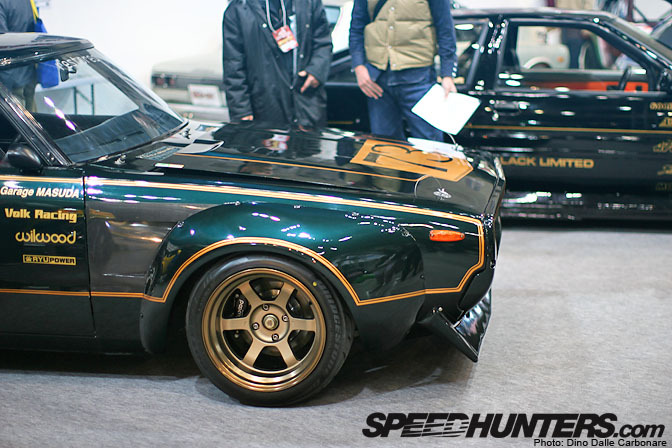 KPGC110 race car replica on TE37Vs. Drool!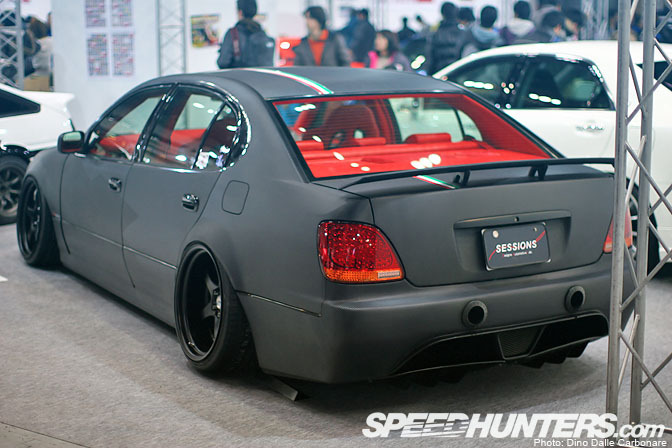 It's been a while since I've stopped by Sessions in Yokohama. Yamada-san has obviously been busy. Love the exhausts shooting out from the bumper!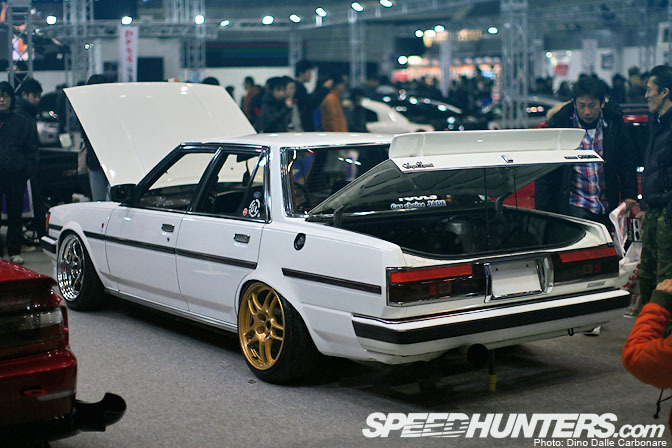 Now we are talking! Nice Cresta from Car Choice Jade.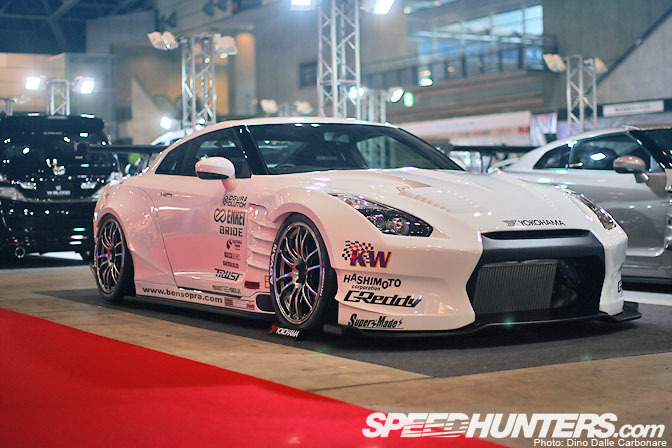 This is the third time this particular R35 GT-R makes a showing at the Tokyo Auto Salon. You might remember having seen it at the Blitz booth, lifted in a way that allowed you to see the custom driveline consisting of a Hollinger sequential, R34 GT-R rear differential and subframe. You might have also seen a video of Nomuken drifting it around Nikko circuit last year. However now that Blitz has dropped the project Ueda-san from BenSopra got his hands on it. I mean if you are going to create…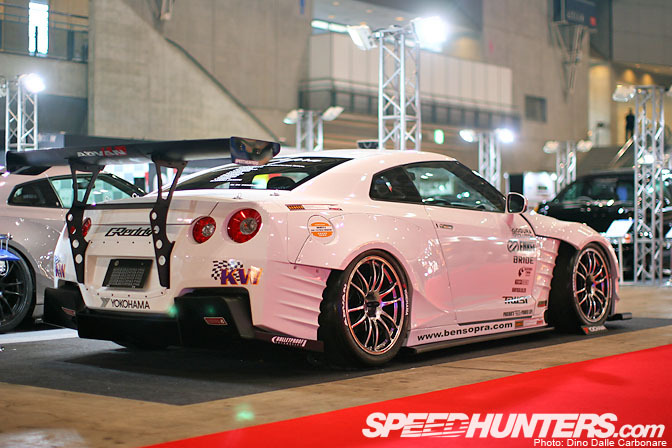 …the wildest R35 GT-R aero conversion you might as well base it on something equally special. Hands up if you would like to see this 1000 HP beast smoke its rear tires around a drift track!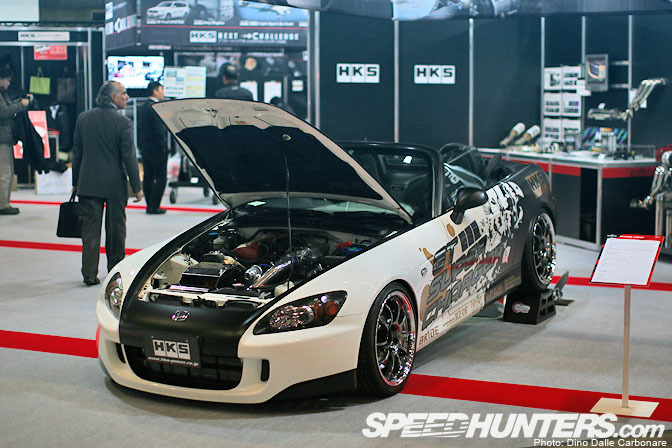 I bet the HKS S2000 has to be a lot of fun to drive, if maybe a little tricky. Thanks to the new a new Supercharger kit it is able to develop 350HP, about 100 more than it came with from factory.
I'll start dividing up the coverage from the next part and start with GT-Rs, as there were just far too many this year not to take special notice!
TAS 2012 features on Speedhunters
-Dino Dalle Carbonare