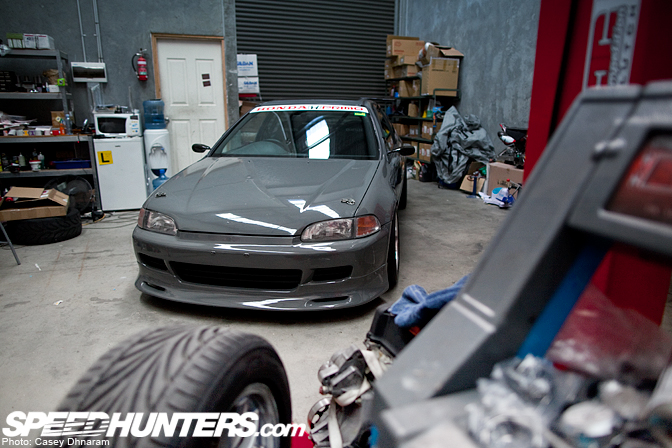 It has four cylinders, a 2.4 litre capacity and no turbo in sight. On paper that's hardly the recipe for a quick car. So for Yonas Liu, the owner of this battleship grey EG Honda Civic, he's heard it all. It's gutless. A grocery getter. Shopping trolley. Wrong wheel drive. But none of the insults faze him, probably because he knows that his little creation can hold its own on the street, strip or track.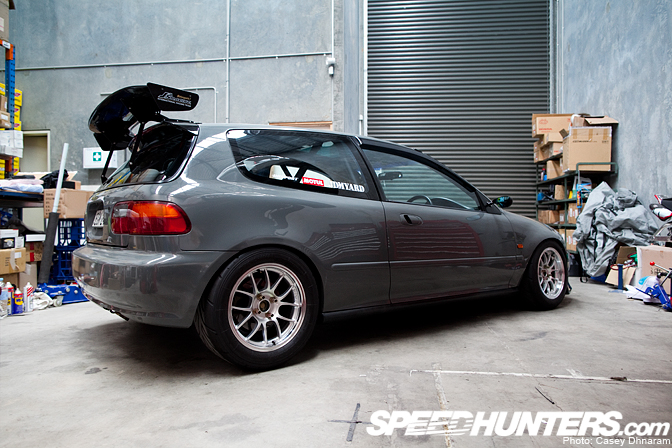 Yonas has always had a soft spot for the EG hatch shape, and in 2002 he had saved up enough to finally buy one. Back then it was a blue non-VTEC Si; now, some nine years later, the only thing that remains intact is the chassis. Over the course of those years Yonas – who works at JDMyard, a parts importer – has put his Civic through countless evolutions. This is a car that is constantly changing; one day it has Enkeis, the next it has Bogarts. One day it's powered by a B-series swap, the next a K-series.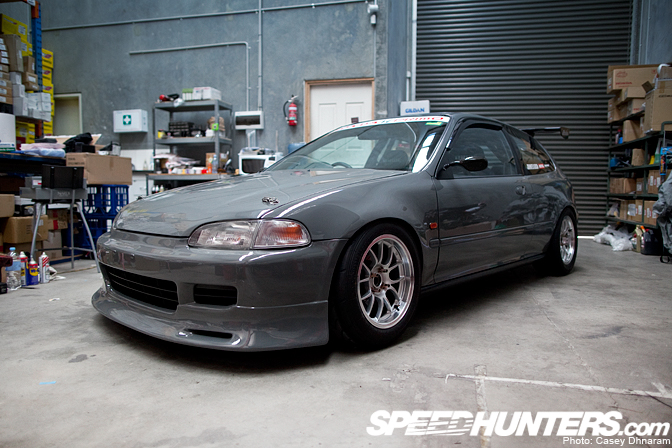 While this Civic is very much a street car, Yonas often uses it for extracurricular activities. Over the past few years, his addiction was drag racing, with this naturally aspirated 2.4l EG recording an 11.73 @ 113.17mph down the quarter mile. That's a blisteringly quick time for a car that still retains the stock bottom end, let alone one that is perfectly happy to trundle down to the shops afterwards.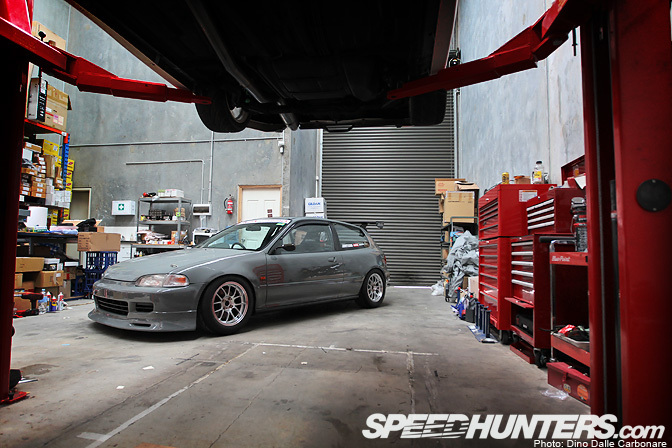 Recently circuit racing has caught Yonas' attention and his Civic has started to evolve away from its former drag racing focus. It's put on some weight since its lean and fit days on the drag strip where it weighed a featherweight 858kg – or 920kg if you include Yonas as well. But in spite of additions like the wing and roll-cage, Yonas is confident that it is still under a tonne with full tanks. Around Wakefield Park Raceway, this Civic's best so far is a 1:07.4sec.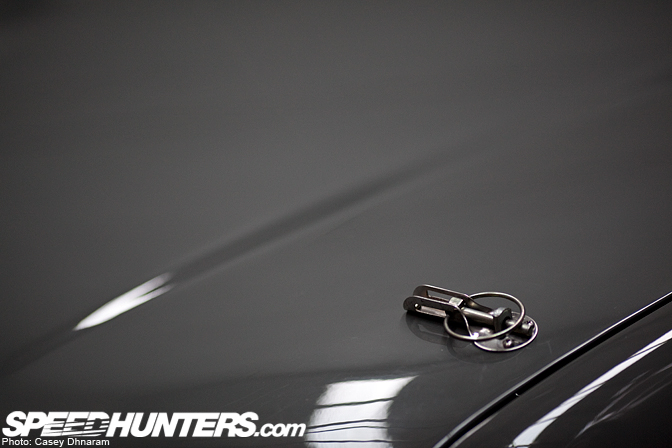 What obviously makes this EG so quick is its power to weight ratio. Wherever possible, Yonas has looked for ways to not only increase its power output, but also reduce its weight. An example of this is the Spoon carbon hood, which has been painted to match the body colour.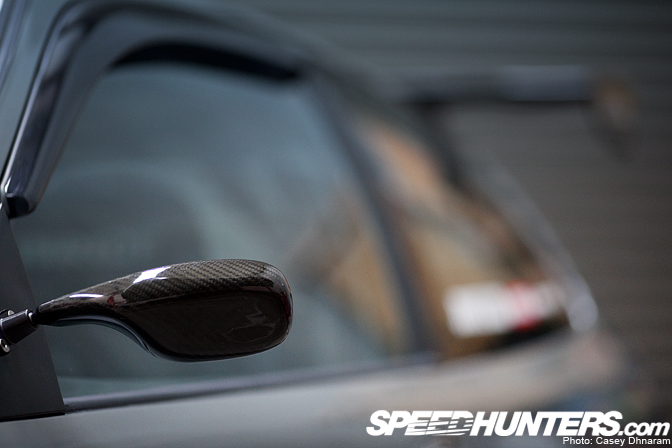 Of course, working for a parts importer means Yonas has access to some neat components for his own car. Like the droopy ear Vision Type DC mirrors…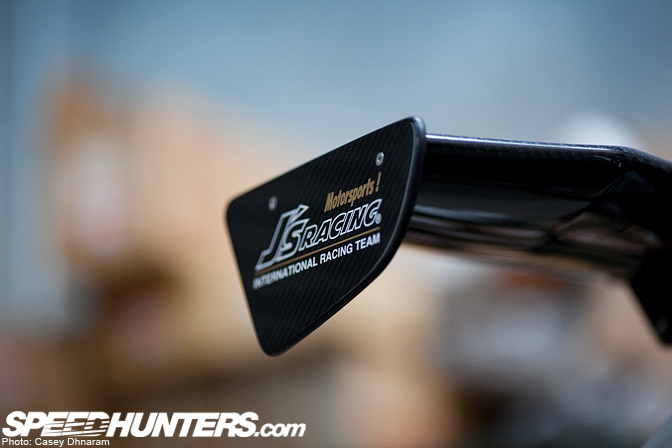 …And the J's Racing GT wing that's mounted onto the EG6 wing.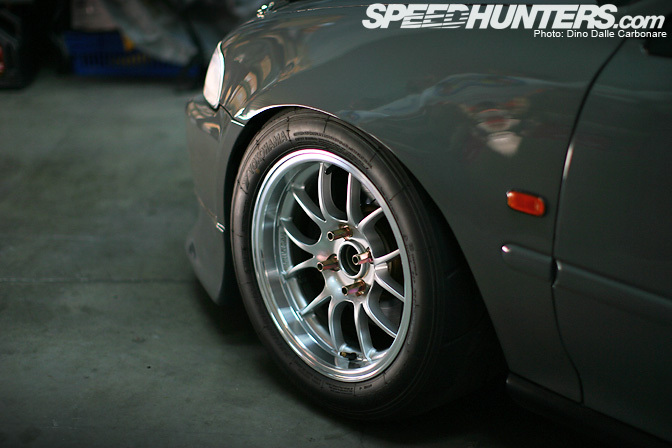 Yonas also has a few sets of wheels in his garage. For drag racing he runs Mickey Thompsons on Weld Racing fronts and Bogart rears. Currently on the car are 15-inch 949 Racing wheels, with 9-inch widths up front and 8-inch rears. In this photo you'll also spot the front fenders have been massaged to accomodate the widened track.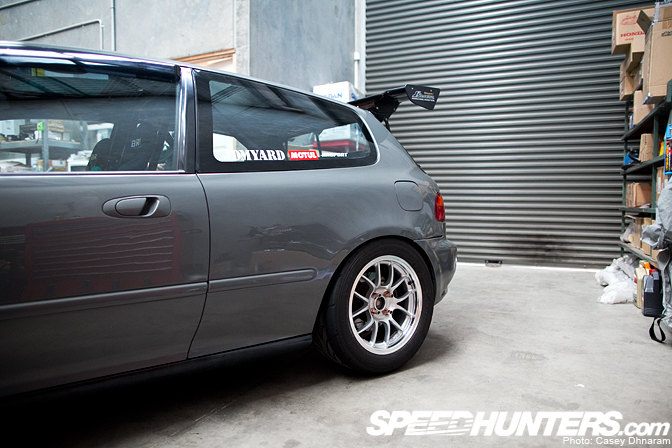 Yonas wasn't entirely happy with the TODA Fightex DA coilovers that used to be on this Civic, and has since swapped to Tein Super Racing with external reservoirs. The spring rates are certainly on the hefty side: 22kg/mm on the front and 14kg/mm on the rear. Beneath the rear are Function 7 lower control arms and an ASR brace to strengthen the points where the DC2 Type R swaybar is clamped to the subframe. The rear trailing arm bushings have been replaced with spherical bearings, while Mugen and Spoon urethane bushings can be found elsewhere.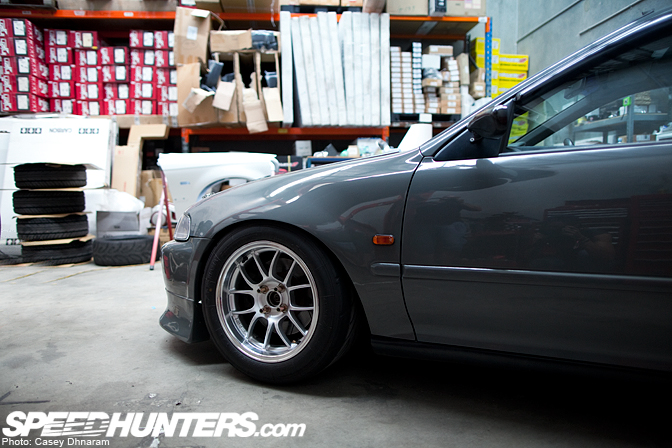 A Full Race traction bar – fitted during its drag days – is accompanied by Hardrace roll centre adjusters, front and rear camber kits and a Whiteline caster kit.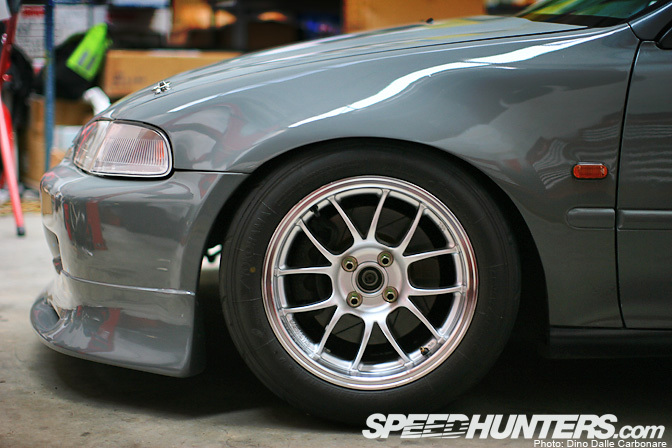 Yonas uses NSX calipers that are mated to 282mm slotted rotors, APP braided brake lines. A DC2 Type R has donated its booster and 1-inch BMC.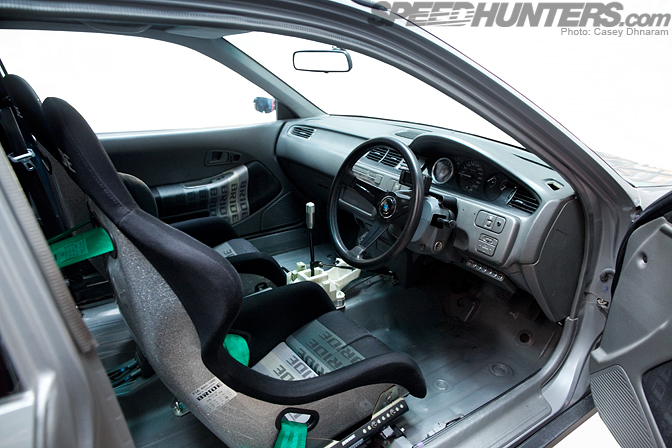 In the interests of saving weight, the interior has been gutted. Nothing but business inside here.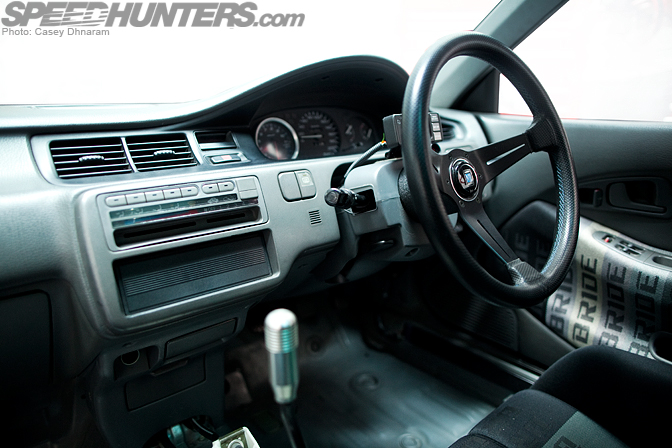 This street car had to make some sacrifices in the quest for quicker times. The air conditioning has been binned, while a JDM block-off plate covers up the hole vacated by the head unit.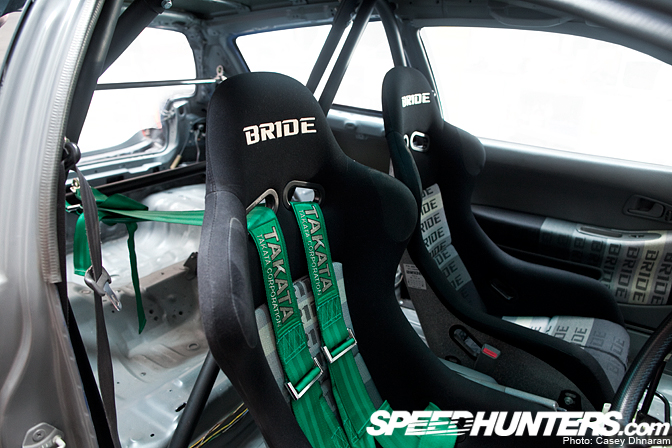 Behind the pair of Bride Zeta III seats you'll spot a C-pillar brace.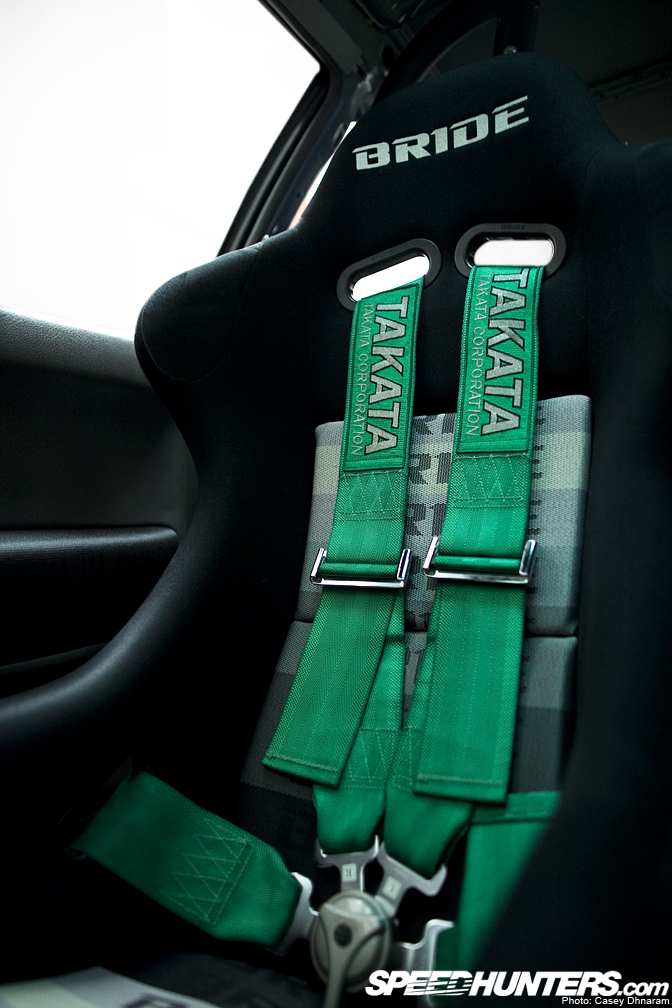 The driver also gets the trademark green straps of a TAKATA four-point harness.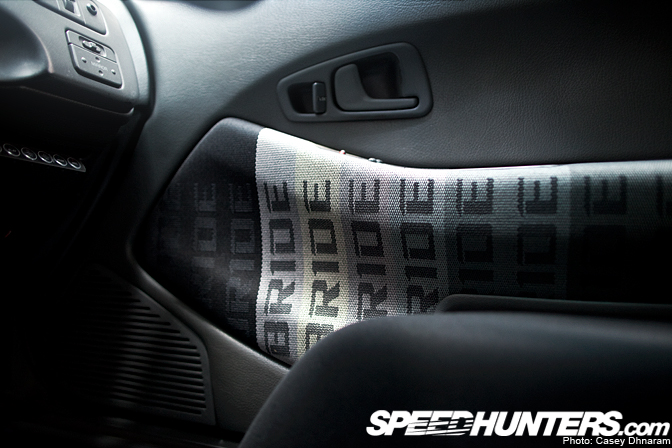 The faded door cards have been retrimmed with Bride fabric.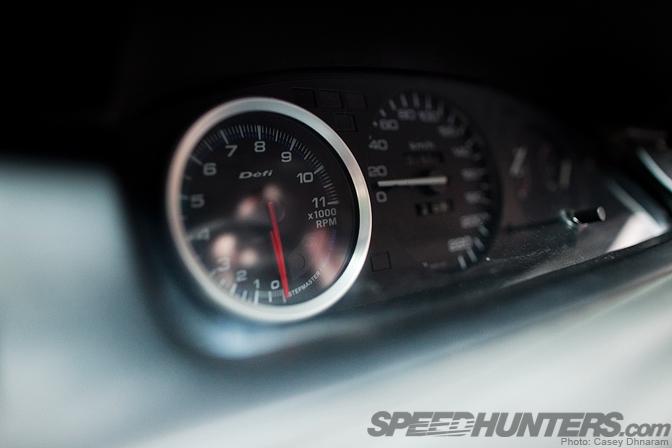 Yonas has modified the gauge cluster so that a Defi tachometer could slot in neatly.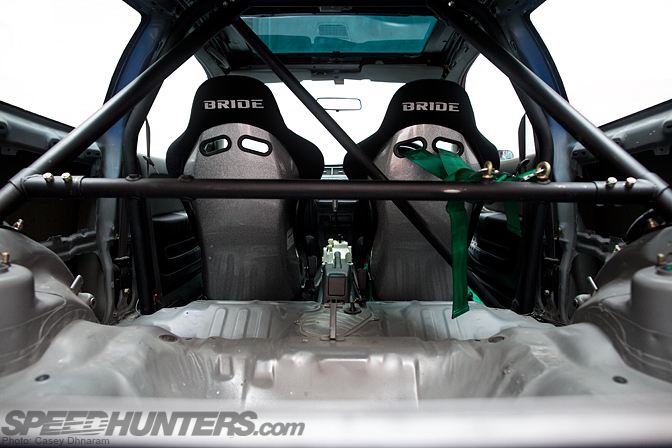 Once the sound deadening had been removed, Yonas gave the floor a coat in matching battleship grey. With its new circuit duties, the back seat has been tossed to make room for a Bond Roll Bars cage with harness bar.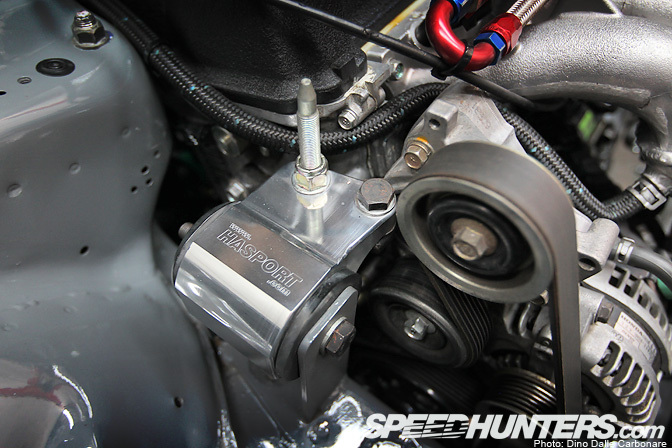 Hasport has played an influential role in Honda's continued popularity amongst enthusiasts. Their mounts were like the key to Pandora's Box; opening up a world of engine swap possibilities.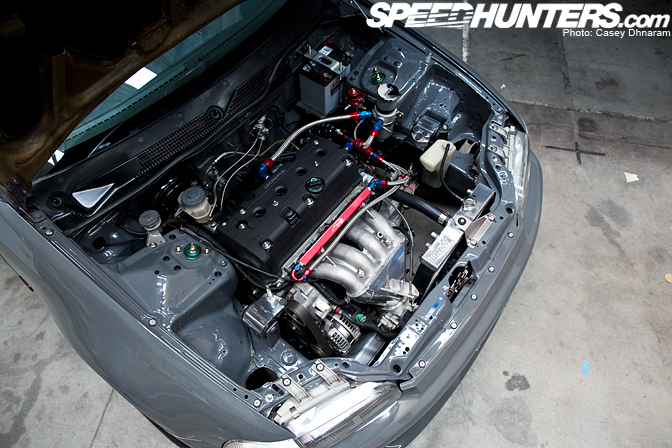 At the heart of this EG is a K24A. Although the bottom end is still stock, it pushes out 245hp/183kW at the front wheels.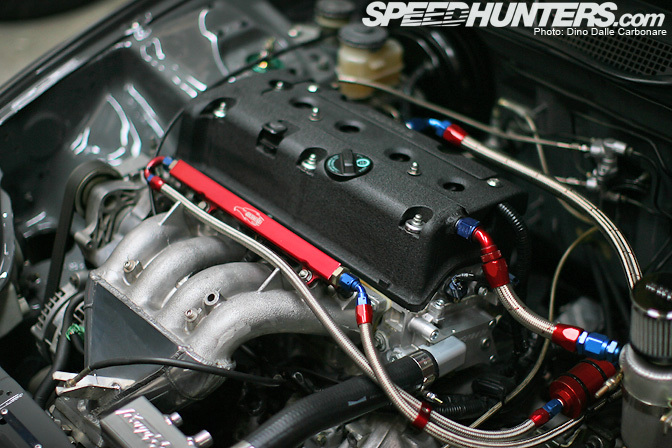 When dropping in the motor, Yonas also did a mild wire tuck to improve the engine bay presentation.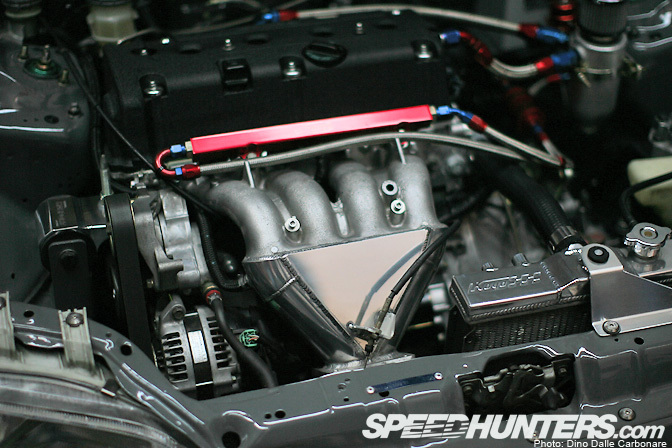 At the front of the motor is the JDMyard intake manifold that Yonas helped develop. While the Civic runs a filter on the street, a velocity stack is fitted for drag racing, which peeks out from the bumper's opening. On the other side of the motor is a JDMyard 4-2-1 header that leads to a 3-inch stainless exhaust. This too, can be swapped at the strip for a Burns megaphone with reverse cone, essentially turning it into an open header.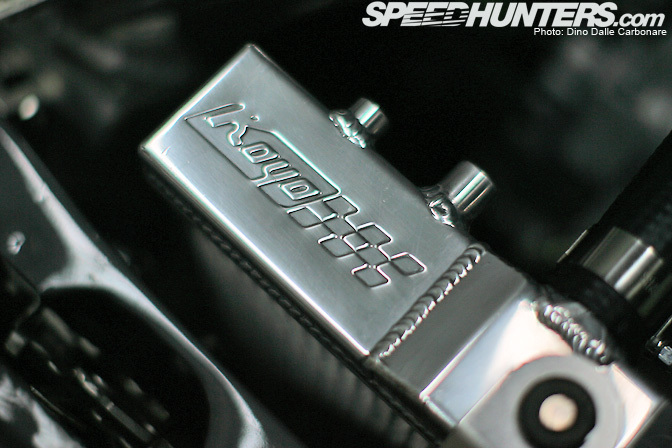 A half-size Koyo radiator has been used as it provides the necessary clearance for Yonas' intake setup.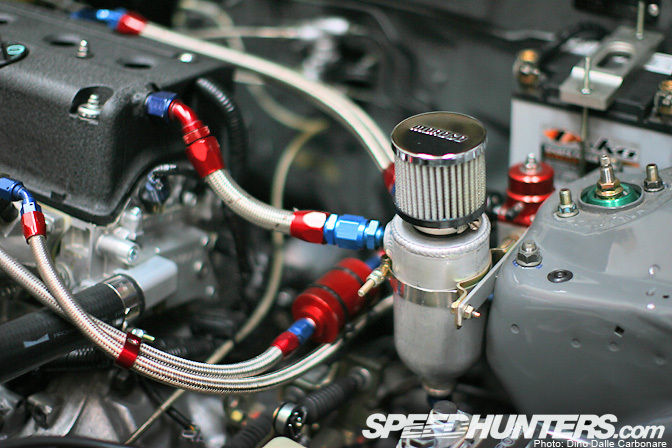 Mounted off the strut tower is a Moroso breather can.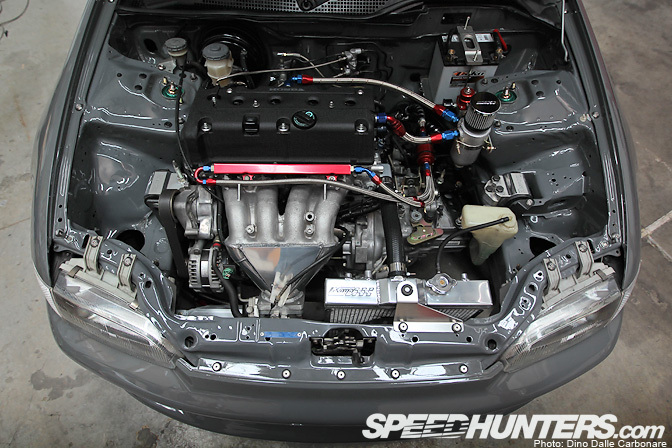 In spite of the K24A's bottom end remaining stock, it's proven to be more than capable of handling constant abuse. "I'm not sure how many runs it has done to be exact" Yonas said. "It would be close to 70 passes down the strip and over 20 track days at Wakefield Park thus far."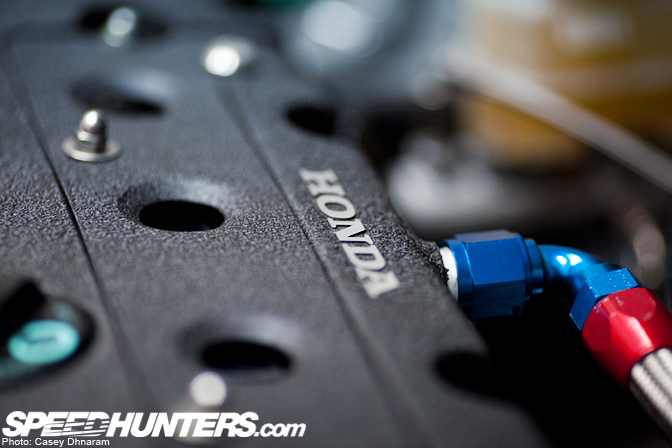 A host of changes have been done to the head. Within there's a set of rather lumpy Buddy Club N+ camshafts – running 298 degrees and 13mm lift on the intake side, and 293deg and 12.5mm lift on the exhaust – alongside matching valve springs and titanium retainers. Yonas has also fitted the valve spring seats and 50 degree VTC from a K20A. The rocker cover and Circuit Hero coil pack cover have been given a nice coating of black crinkle paint.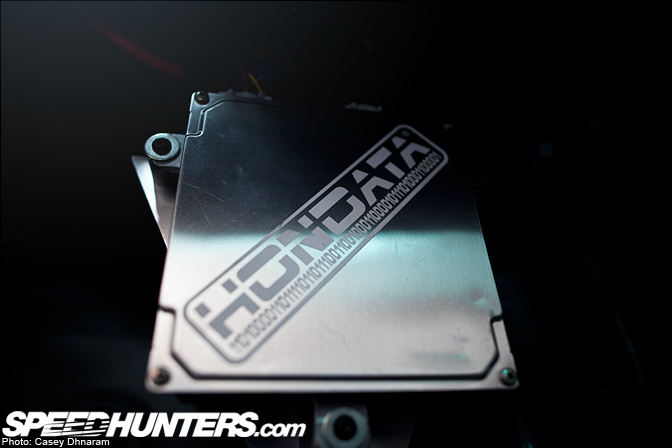 The brains of the operation is a programmable Hondata K-Pro.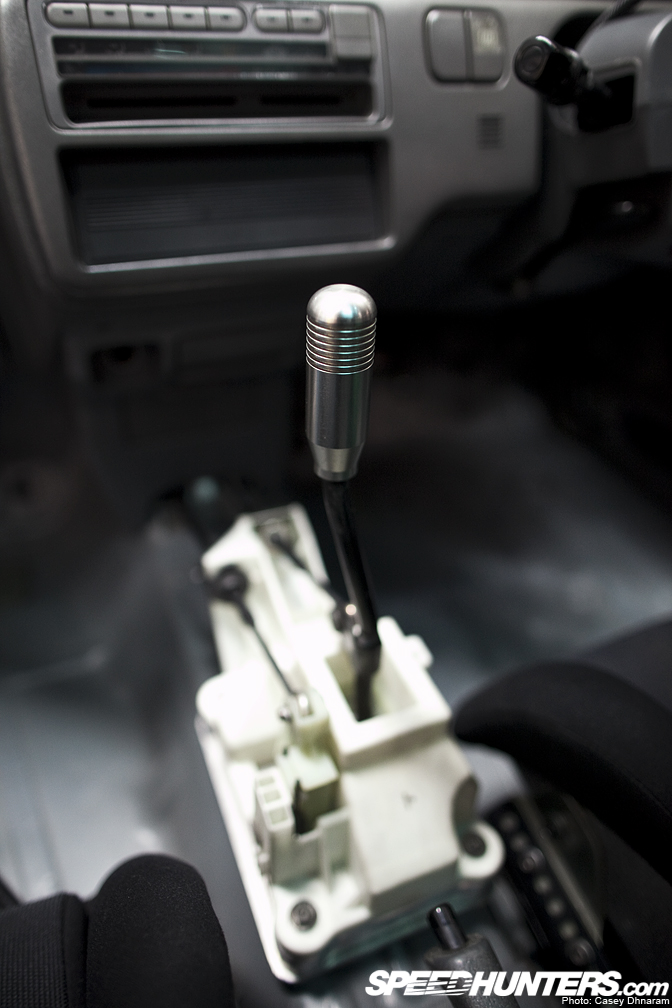 The EG is now a six-speed thanks to a DC5 Type R transmission filled with a 4.7 final drive and LSD. The shifter box – from a DC5 Type R – has been raised up with an extender and Rcrew mount plate.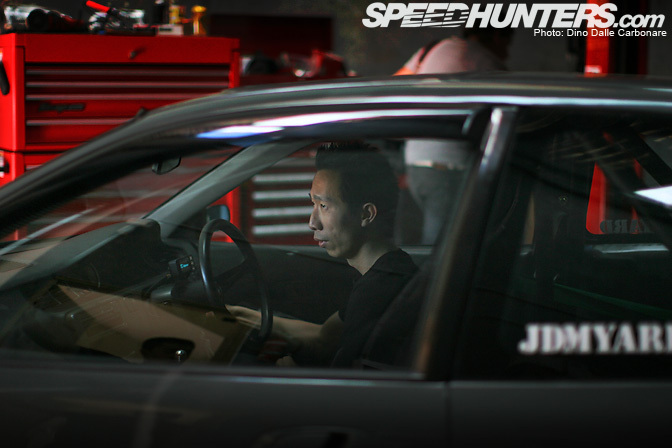 Standard DC5 Integra Type R driveshafts and midshaft have stood up well to the combined punishment of grippy tyres and Yonas' left foot. On the strip, Yonas' best 60ft is 1.64sec.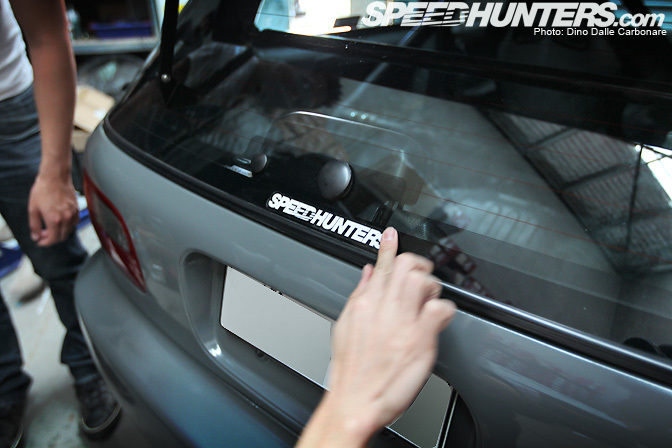 Speedhunted for your viewing pleasure.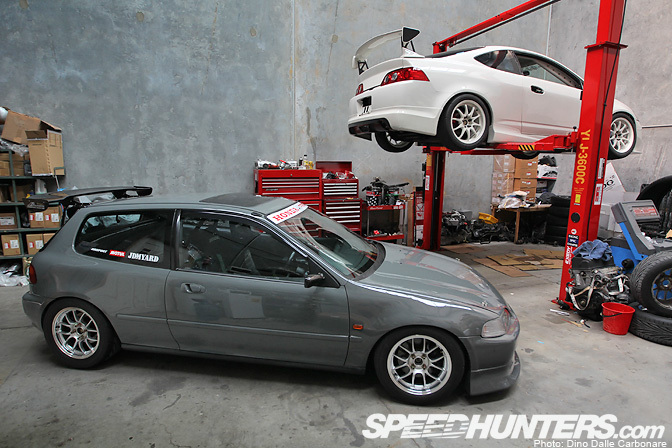 The EG is currently back on the hoist getting an interesting addition to the motor. All we'll say for now is this little hatch will be packing considerably more grunt the next time it hits the streets. Stay tuned to Speedhunters for an update!
– Charles Kha
Photos by Dino Dalle Carbonare and Casey Dhnaram
SPECIFICATIONS
OWNER
Yonas Liu / JDMyard
RIDE
1992 Honda Civic Si
ENGINE
K24A3 2.4-litre in-line 4-cylinder i-VTEC
ENGINE MODIFICATIONS
K24A engine conversion, EGK1 Hasport engine mounts , lightened and welded Hasport mount brackets , Moroso breather can , CIrcuit Hero coil pack cover , K-tuned upper coolant housing ,  Hondata KPRO, Buddy Club N+ camshafts (intake: 298 degrees, 13mm lift; exhaust: 293 degrees, 12.5mm lift), K20A 50 degree VTC, Buddy Club valve springs , Buddyclub titanium retainers, K20A DC5R valve spring seats, Toda chain tensioner , Walbro GSS342 255lph fuel pump, Golden eagle fuel rail , Aeromotive Adj Fuel Pressure Regulator , Earls fittings with braided lines , Mugen fan switch, Koyo half-size aluminium radiator, Spoon Radiator Cap , JDMyard radiator stay , JDMyard intake manifold, 80mm Wilson throttle body, JDMyard 4-2-1 header, custom 3-inch stainless exhaust ,EP3 idle pulley kit , K20A2 Crank pulley , Earls 19 row oil cooler , Earls sandwich plate , Swappable Burns stainless megaphone w/ reverse cone exhaust and 200mm Velocity stack for drag racing use
DRIVELINE
Y2M3 K20A (DC5 Type R) six-speed gearbox, 4.7 final drive – LSD, Exedy 3-puck racing clutch, EP3 flywheel, K20A DC5 Type R driveshafts and midshaft , Rcrew shifter mount plate with raised up extender , DC5R shifter box , DC5R shifter cable with corsport shifter bushing.
SUSPENSION & BRAKES
Tein Super Racing coilovers – external reservoir (22k front spring rate , 14k rear spring rate), Function 7 rear lower control arms, Full Race traction bar , ASR subframe brace , DC2R front and rear sway bar kit, 282mm slotted front brake rotors, Ferodo DS2500 front pads , NSX front caliper , 260mm slotted rear brake rotors , DC2R rear caliper , OEM rear pads , APP braided brake lines  , 1-inch DC2R master cylinder and brake booster , Hardrace Front and rear camber kit , Hardrace Roll Centre Adjuster ,Whiteline Caster kit. Spherical bearing rear trailing arm bushings , Spoon and mugen bushings.
WHEELS & TYRES
13×8-inch Weld Racing front wheels, 15×3.5-inch Bogart rear wheels, Mickey Thompson 24.5x9x13 front and 24×4.5×15 rear tyres
15×9 +36 949 Racing wheels with 10mm spacer on the front (extended studs) . 15×8 +36 949 Racing wheels with 3mm spacer on the rear.
225/50/15 Yokohama AO48 , 225/45/15 Hankook z214.
INTERIOR
Stripped interior, removed sound deadening, Bride Zeta 3 fixed seat , Bride seat rail ( ightened) , Bride retrimmed door cards ,  Takata 4 point harness , Nardi Deep Corn steering wheel w/ blue stitching, HKB 80mm long boss kit ,  Defi tachometer with custom surround to OEM cluster, Defi Shift light , Defi link meter , Defi link control unit 2 , Mugen shift knob, JDM OEM single-DIN block-off plate , Bonds Roll cage with harness bar , JDMyard ECU tray.
EXTERIOR
J's Racing Front lip , EG6 rear wing with J's Racing GT wing , Custom Wide Front Fender , OEM Honda Antenna block off plate , Spoon Cf Bonnet , Sparco Bonnet pins , EG6 plastic headlights , Vision Type DC side mirrors , Rear wiper delete kit , Custom Battleship grey paint.