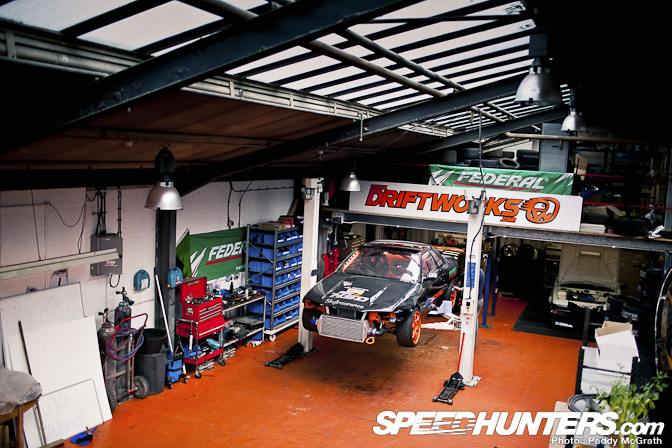 At this stage, anyone with an even passing interest in drifting will know the name Driftworks. Their 700+BHP 2JZ powered S15 is recognised around the world, their website is one of the most active drifting website's on earth but none of this was achieved overnight.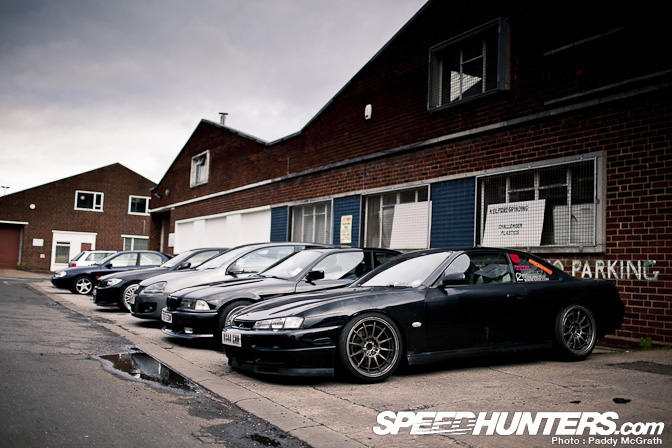 I remember first joining the Driftworks forum back in 2004 when it was still in its relative infancy. I don't think anyone at the time could have ever guessed just how big they would become.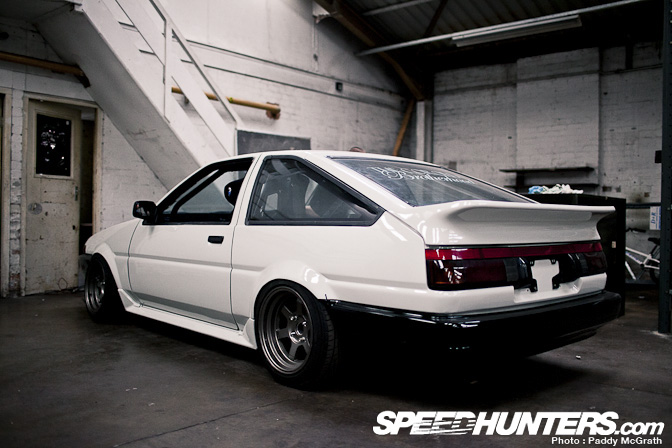 What started as a backroom operation between a couple of friends has evolved into a huge business which employs ten people in the UK.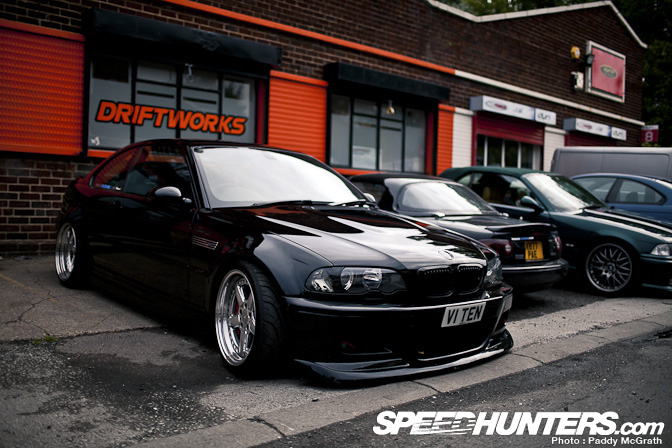 Located in a sleepy industrial area of Birmingham, the Driftworks team continue to evolve from strength to strength.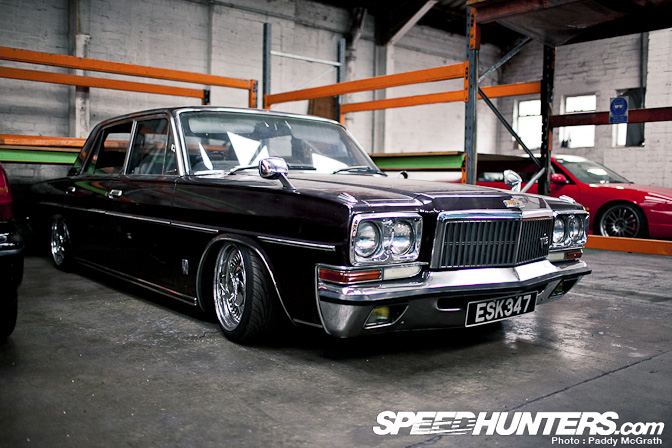 When I visited they had just take over the premises next door and were already in the process of expanding from their own workshop …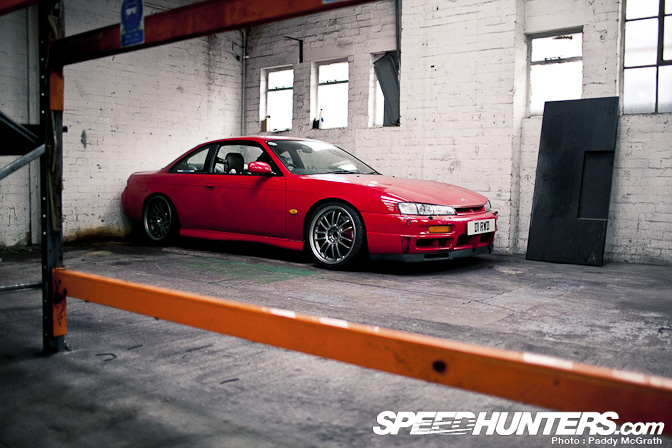 … and making room for some of the staff project cars.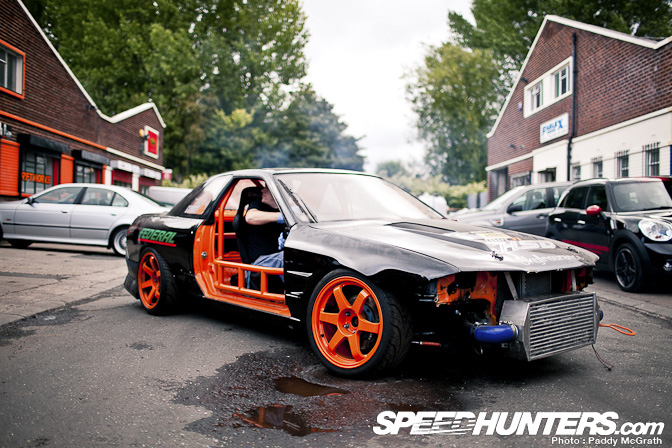 The company has been built around the mantra of for drifters, by drifters. They're not some faceless corporation trying to cash in on the next big thing, these guys have experience of what its like starting out in the drifting world. Everything they've learned has been through experiences both good and bad and they are always willing to pass this information and wealth of experience on to their customers.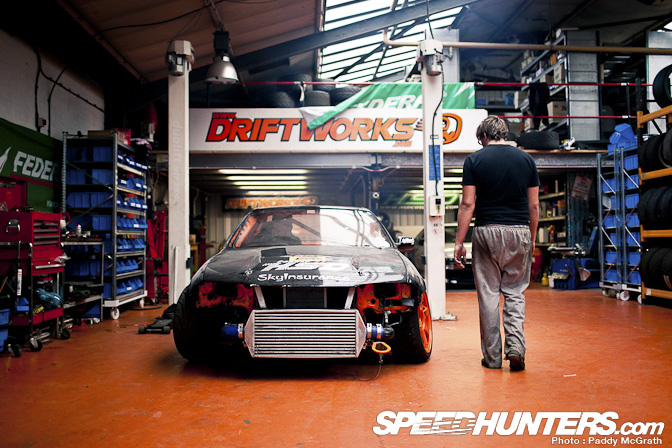 I'm trying not make this story sound like a blatent plug for Driftworks but I know most of these guys personally and they really are some of the most genuine and passionate guys around.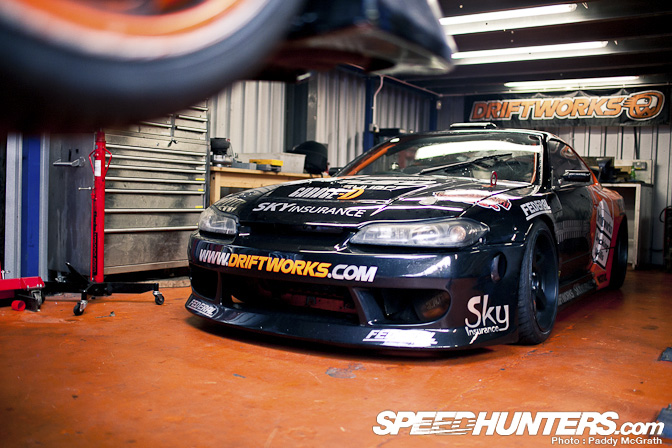 The Driftworks forum is probably in itself responsible for the rapid evolution of drifting in the United Kingdom. It's become the automatic go-to resource for anyone looking to learn about drifting and how to get involved.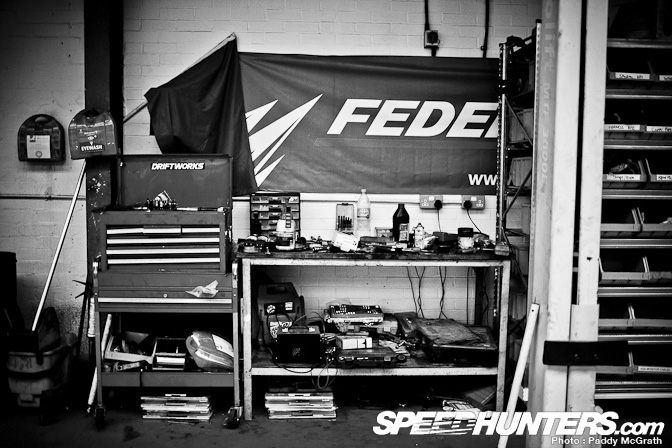 Their workshop may be humble in comparison to some other tuners but this is a place of constant work and the quality of the work they produce is top drawer.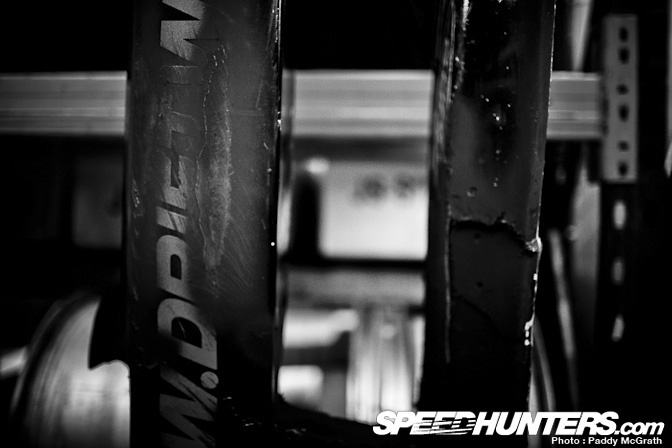 There are plenty of war trophies and souvenirs from past battles hanging around the area.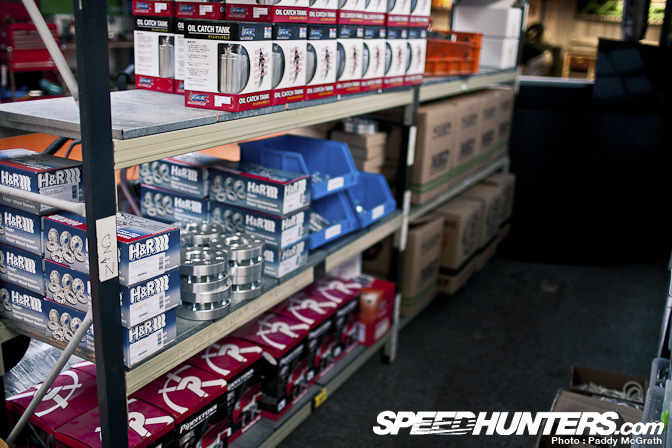 Driftworks have also recently expanded from drifting into the traditional trackday market with their new brand 'Track Culture'. You'll be hearing about their E60 V10 powered E46 M3 quite shortly along with a quick look at their 20 valve '86.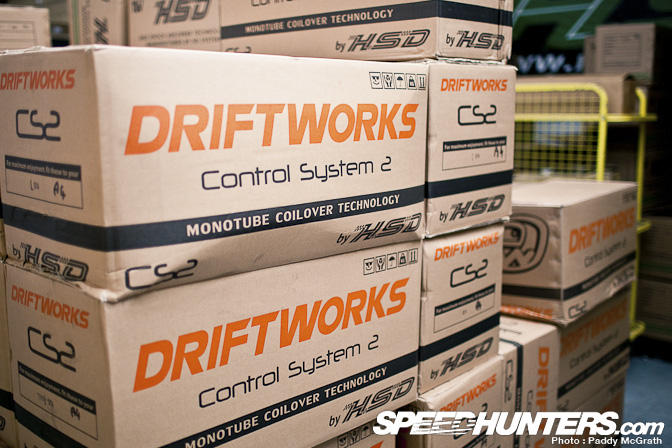 Working closely with HSD, one of their biggest products would be their range of control system coilovers along with adjustable arms and their highly respected GeoMaster race hub knuckles (which our own Matt Powers runs on his Team NFS S14)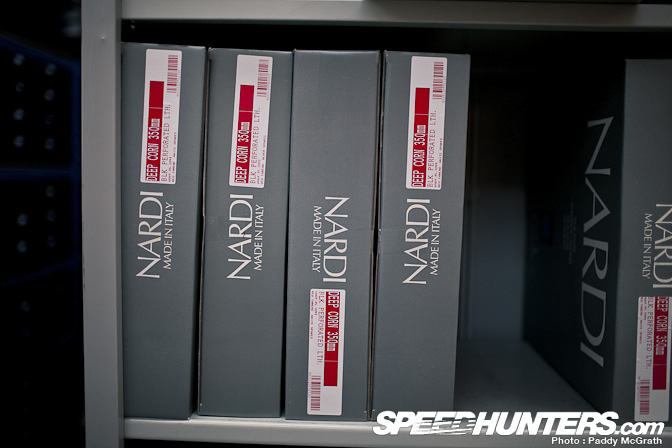 They've also recently become a distributor for Nardi wheels (unfortunately I couldn't hide any under my jumper when I was leaving)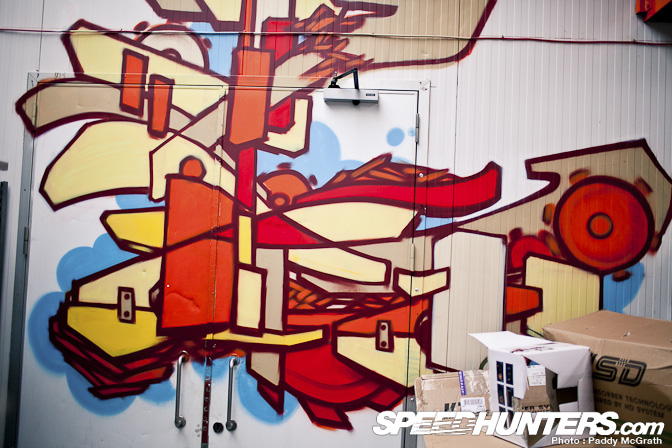 I quite liked the random graffiti which decorated the workshop.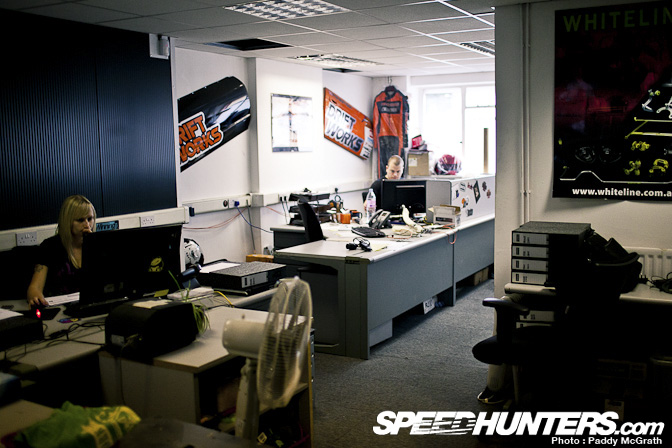 The office as they say, is where the magic happens.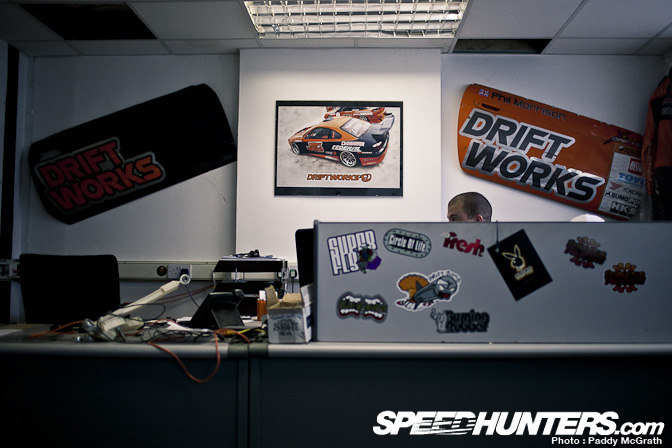 Phil has decorated his own desk with the door skins from his S14 and S15 …
… whilst Bon prefers trophies, champagne bottles and random pictures of monkeys decorating his.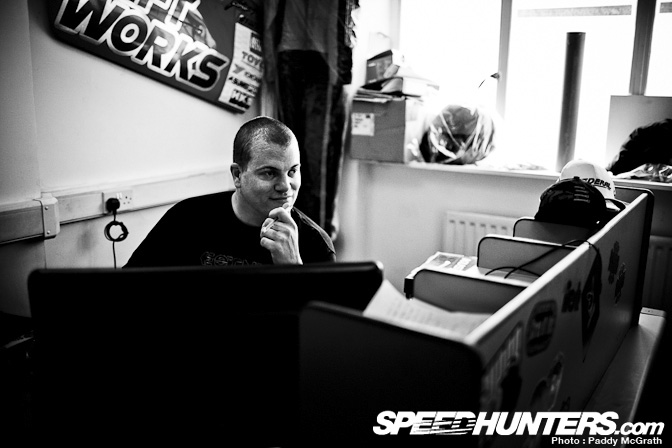 The Driftworks family are living a dream. They've taken something they love doing and have created a succesful business around it.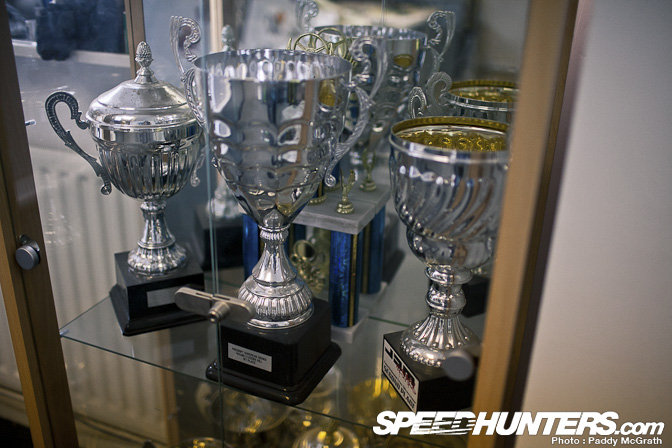 The success has come about because it's something they love doing.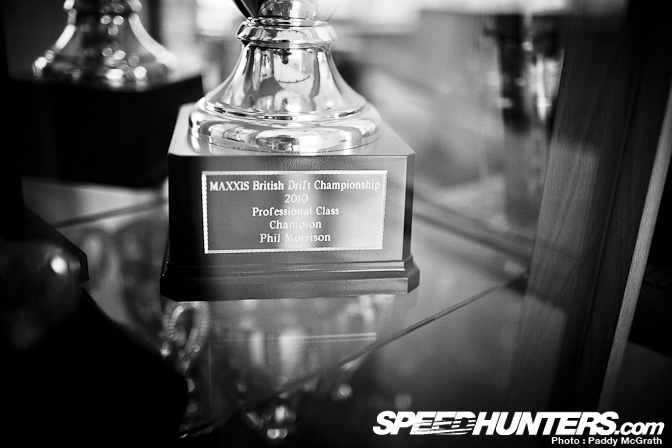 What's that they say about if you do something you love, you'll never work a day in your life?
–
Paddy McGrath