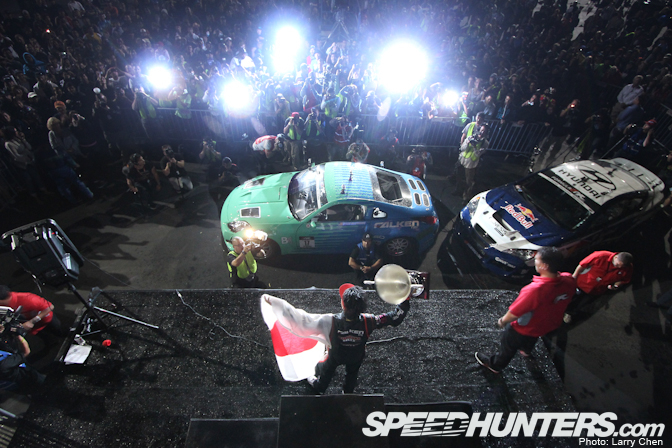 My job is to follow these hardened souls known as race car drivers. They have to be emotionless. It is all too easy to make a mistake driving on the edge. And when they win, emotions pour out freely. That is when I come in to capture that faint moment in time.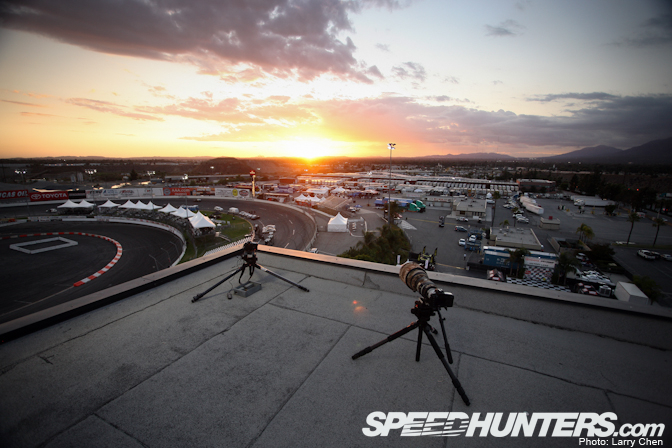 I treated the Formula Drift finals at Irwindale like the I was shooting the Olympic games or an inauguration of a new world leader. I wanted to be the first to bring that style of photo journalism to the sport of drifting. It may not be important to the general public, but it is a life changing event for this tight nit group of people in the drift community. I hope someday Reuters, AP and Corbis will have staff photographers shooting beside me at FD.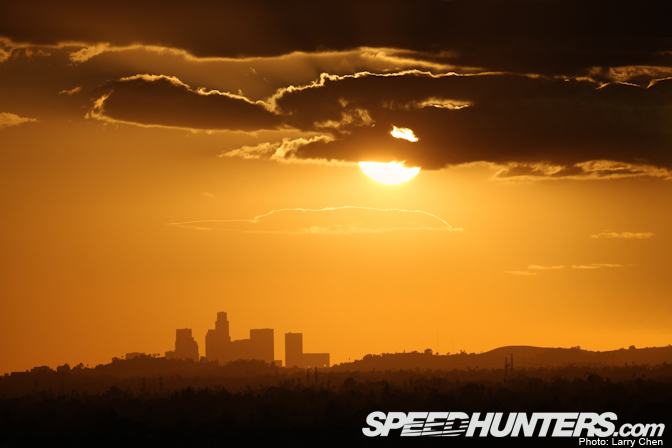 The backdrop was the sun setting over downtown Los Angeles, our stage was Toyota Speedway at Irwindale. I setup sniper positions with my 400mm lens as well as two cameras set for timelapse.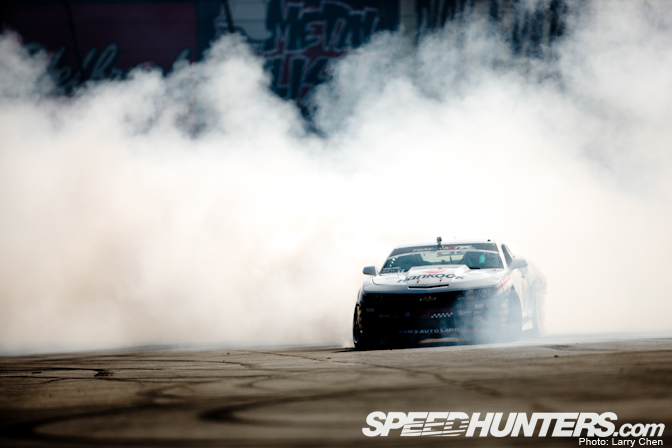 On Thursday, many of the teams lined up early to try out the new course. The drivers only had a few laps before they found out the new layout was too harsh on tires. I was glad I got to snap a few photos before they changed the layout forever.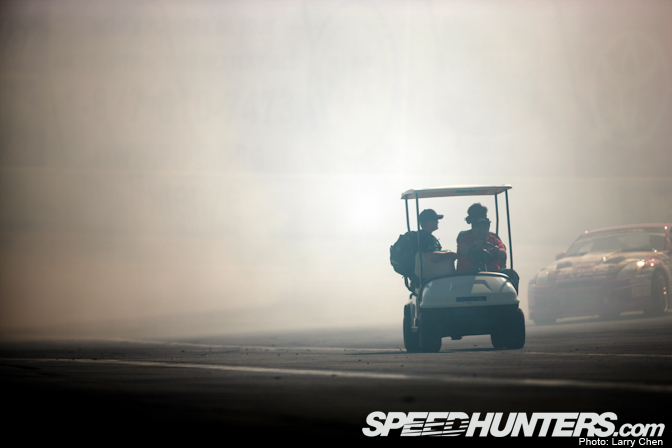 The new course proved to be very smoky. It was hard to shoot, but luckily there was a constant breeze that blew the tire smoke away every few minutes.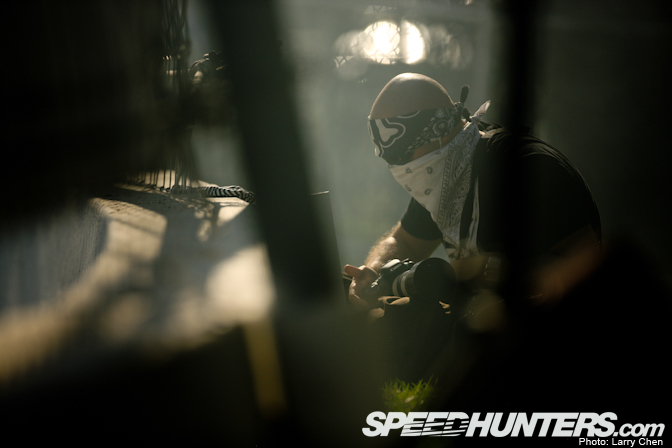 Some members of the media were not used to smelling tire smoke. There were over 300 media at this event. The most in Formula Drift history.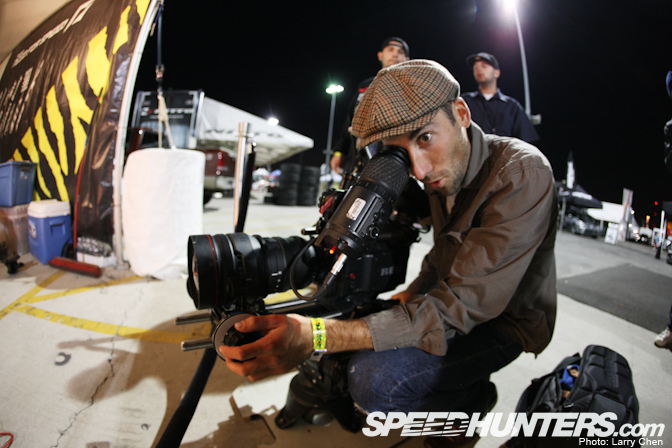 I was not the only one who brought the big guns. Speedhunters videographer, Will Roegge, brought out a RED ONE camera.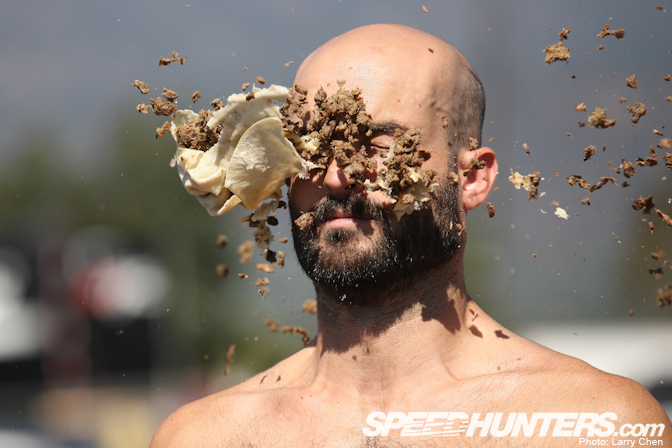 The RED is capable of shooting at 120 frames per second. It was good to see he put it to good use. I shot this with my still camera at 1/5000th of a second to freeze the bits of beef projectile.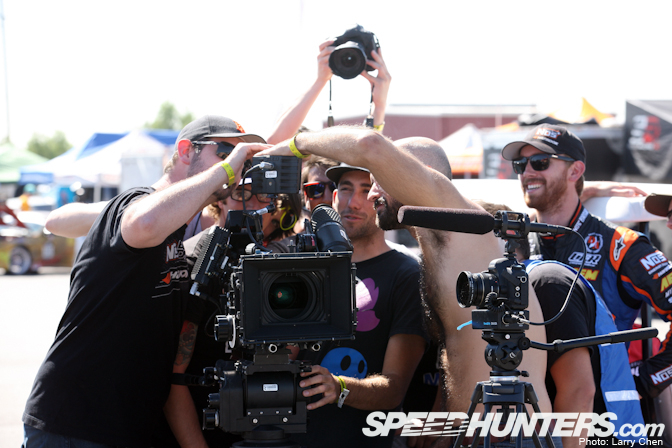 You can check out the footage of Jarod Deanda throwing a burrito full force at Andy Laputka's face here.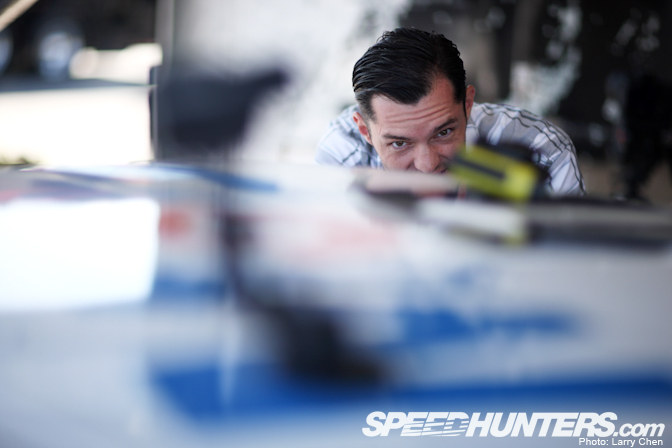 Ryan Davis, of the YAER Productions fame, is living proof that drift videos can have a story line.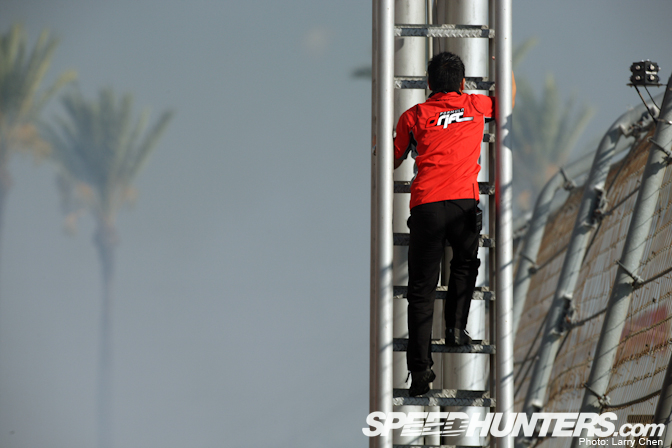 It is always interesting to watch Jim Liaw, one of the biggest fans of drifting. Of course, he is also the president and co-Founder of Formula Drift. I caught him climbing to one of my favorite shooting positions at Irwindale.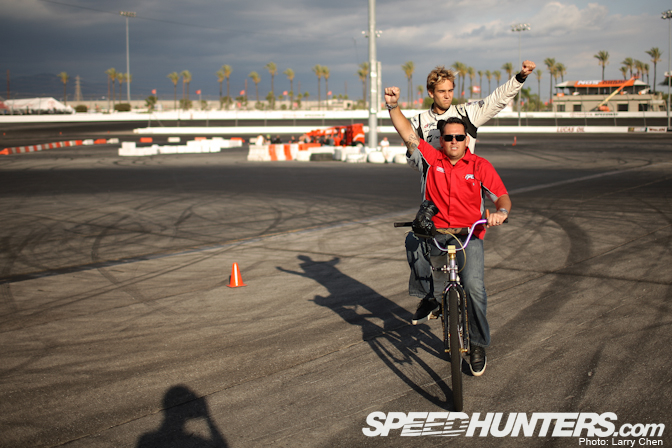 The "Voice of Drift," Jarod Deanda, mentioned he has watched every single competition run in Formula Drift history. I'd like to know how many runs it actually is –including the "one more times."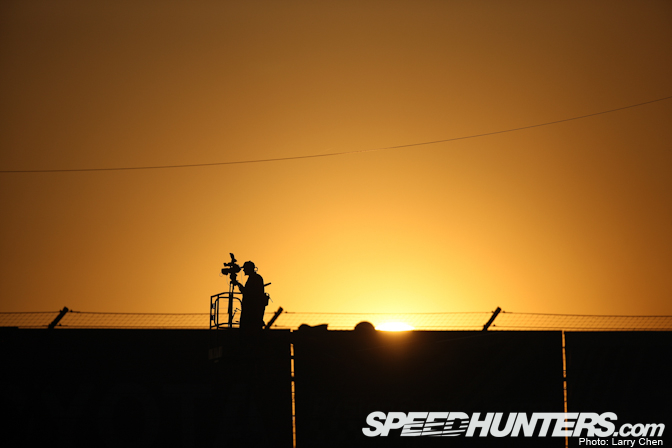 As always the Formula DRIFT TV and the live stream crew were on point to capture all the on track action. I'm sure they go through quite a bit of sun block.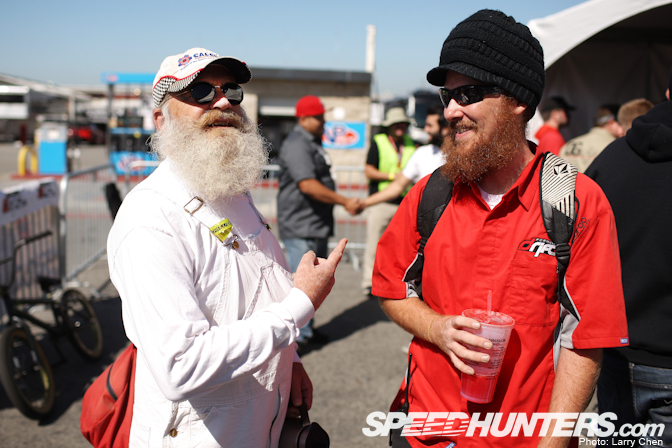 Luke found his father. It turns out he has been working for SCCA for many years.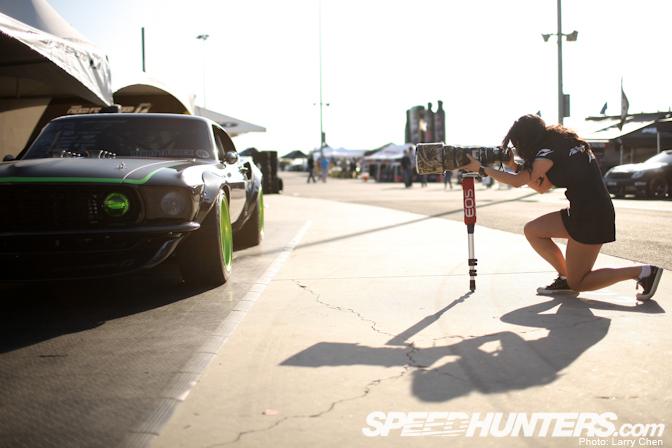 As always, the Team Need for Speed girls were hard at work. Miki practiced her photo stance as usual. This time, she borrowed my gear to shoot all the different hood pins in the paddock.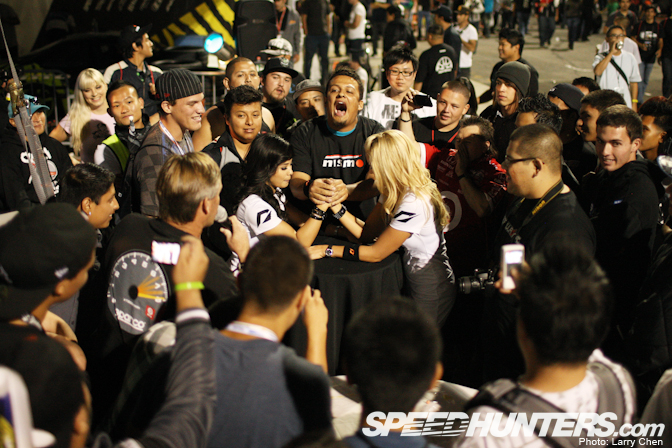 Victoria and Courtney know all about hard work as they joined the guys in a arm wrestling contest. I really had to push and shove to get through this crowd for a clean photo.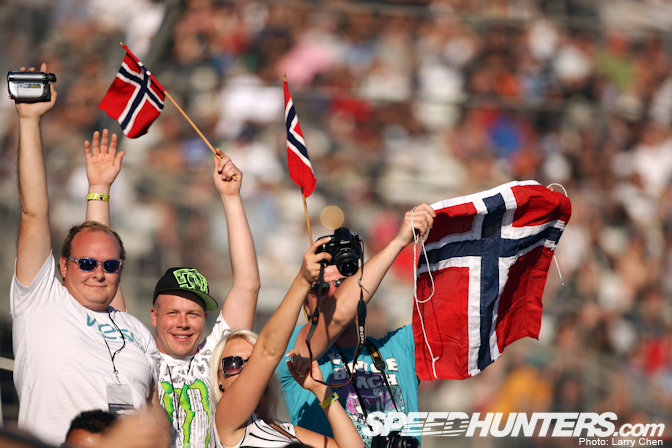 It amazes me how dedicated these fans were. They flew all the way from Norway just to see their favorite vikings drive. I try and show the crowd and the "fans of drift" at every event.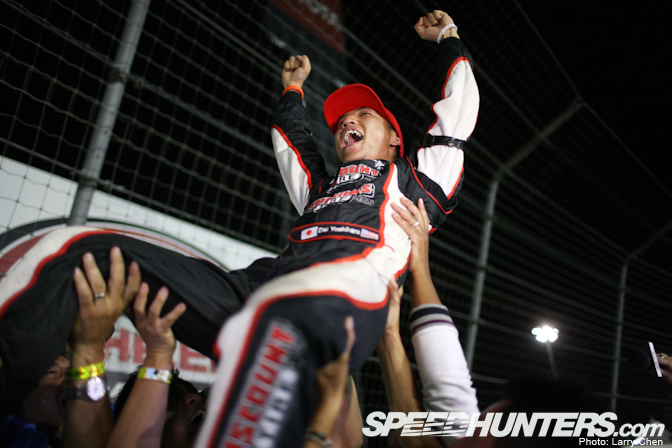 Since there was a five way battle for the championship, it was very hard for me to keep up to date on who to follow since the lead was changing from run to run. I ran straight to Dai as soon as there was a chance he would take the championship. It paid off as I got to Dai a few seconds before everyone was hit with the news.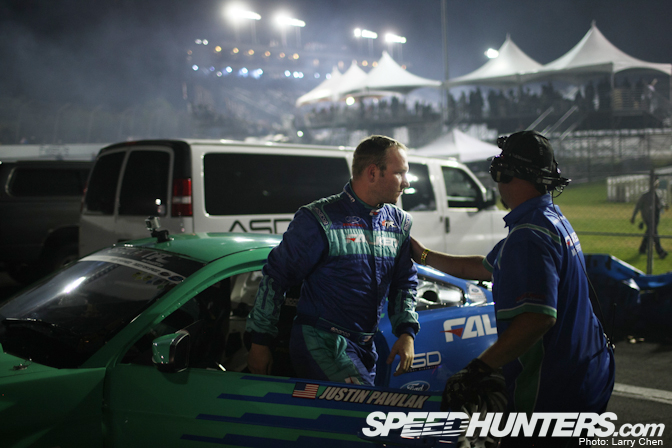 I was also on my toes the entire night following Justin Pawlak. Many people were confident it was going to be his year to win the championship.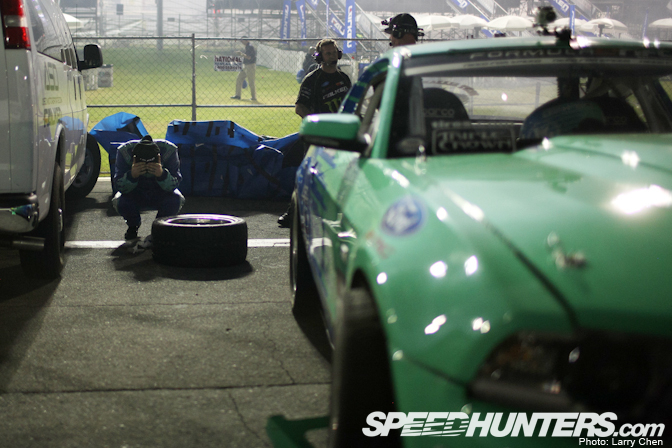 I kept my distance but I also wanted to show how badly Justin wanted it. He lives for drifting.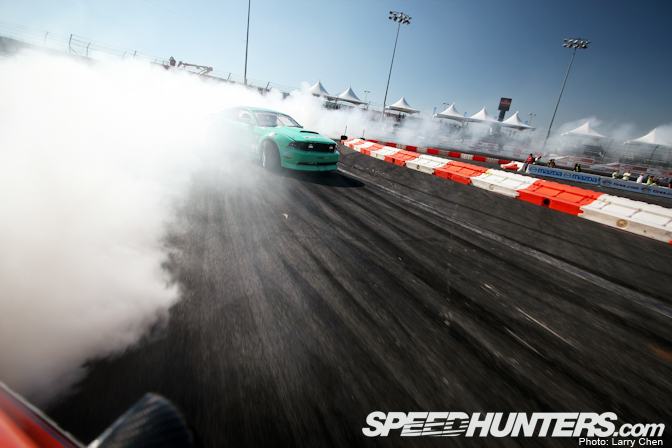 One of the things that I admire about Reuters and other news agencys is their proprietary remote triggering equipment they develop for their photographers. In this photo, I used Pocket Wizards to shoot JTP from Dai's car. It's a crude but efficient way of shooting from car to car.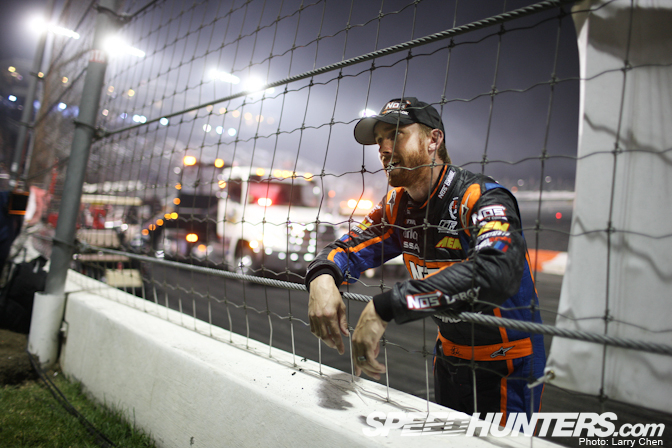 Another driver that I followed around was Chris Forsberg. It would have been interesting to see him win his second championship. Chris is a sucker for standing on top of his car, which always makes for great photos.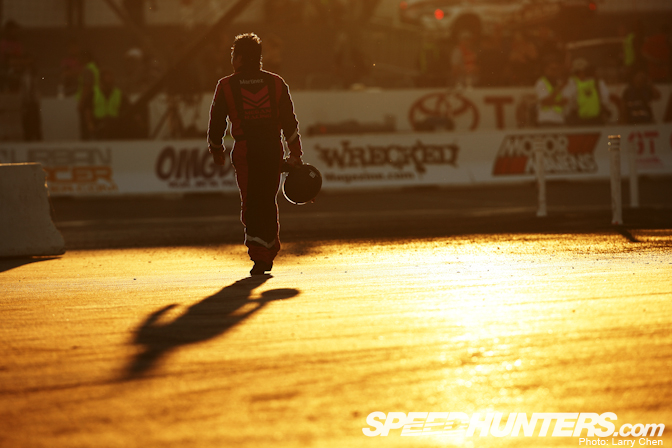 Irwindale and Seattle are the only two rounds of Formula Drift that have competition during golden hour. It's when your shots look like they were taken on Mars.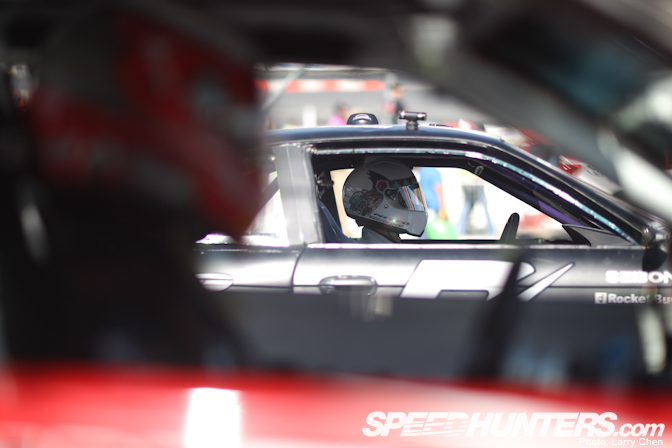 I find it very easy and rewarding to shoot Matt Powers.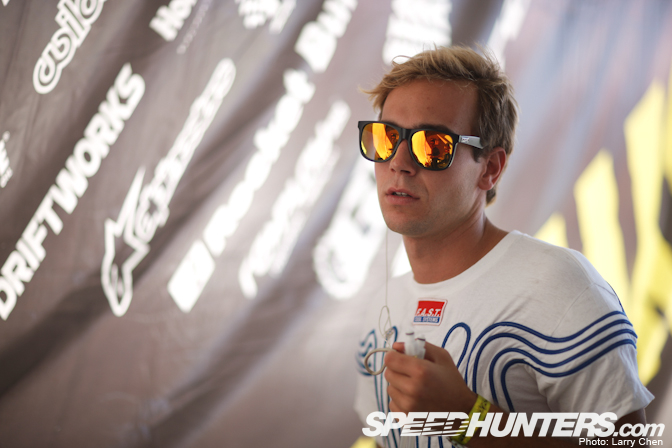 He does not even notice my camera pointed at him anymore. It helps after being in the spotlight for a while.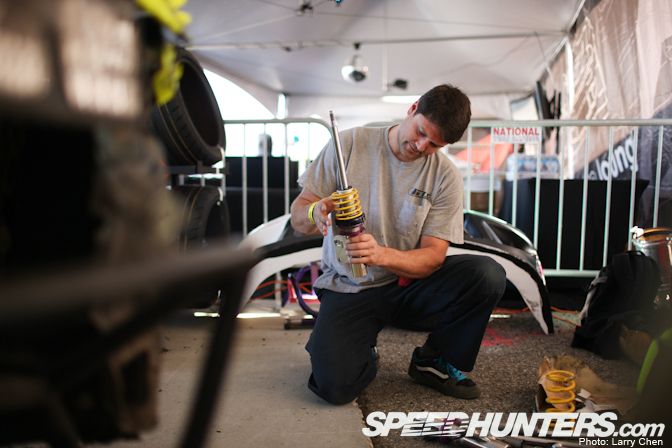 However, I still have to perform a sneak attack on Matt's mechanic, Costa, owner of Gialamas Technical Innovations.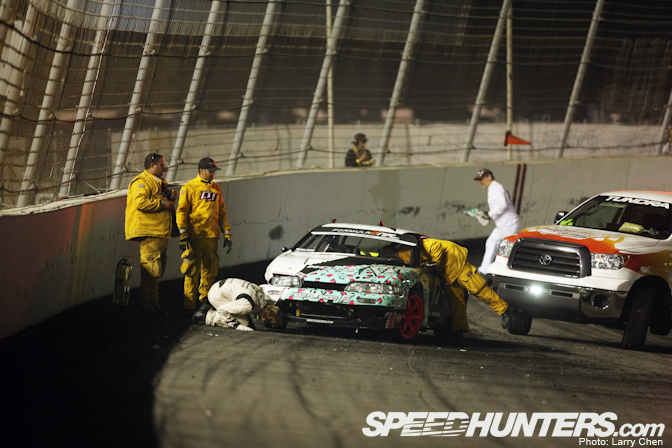 It was hard for me to photograph Matt doing poorly…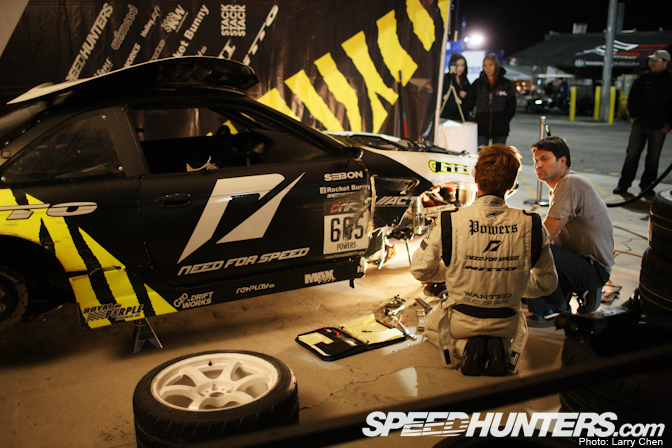 …I have been following him ever since he started driving the local Just Drift "Top drift" events.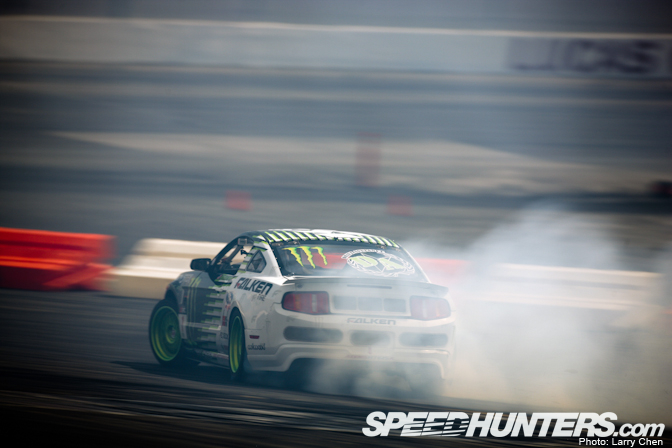 Vaughn Gittin Jr. is always an interesting character to shoot on and off the track.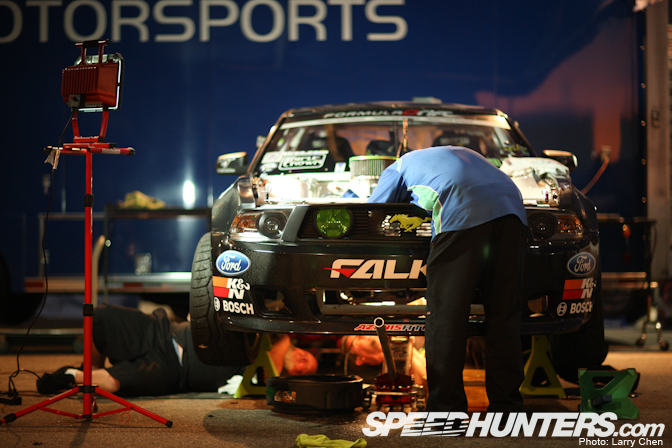 He qualified even though his Mustang was running on seven cylinders.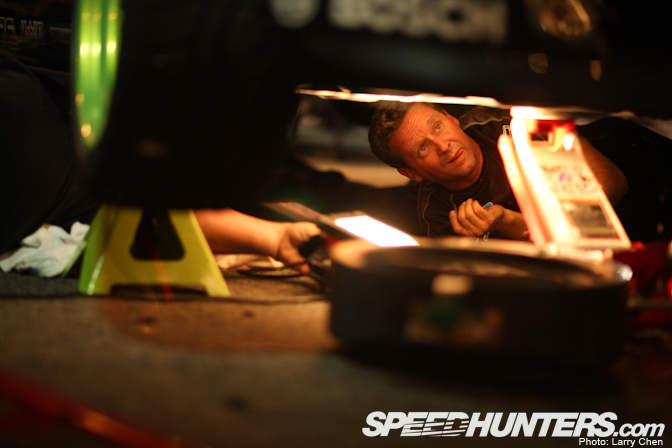 I love showing the faces behind the scenes when they are in their element. Rick, from ASD dove in head first when it was time to pull the motor.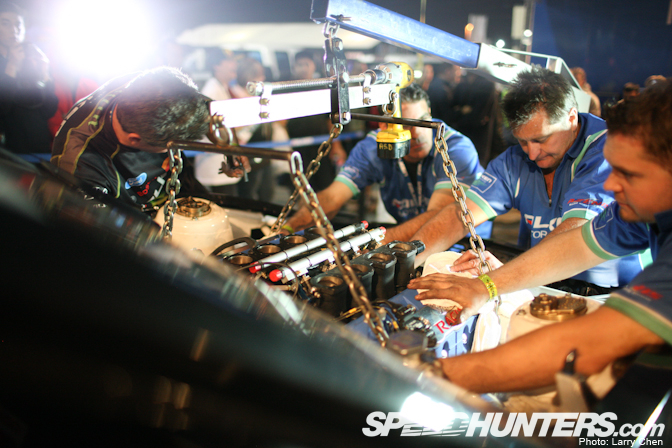 There are never too many cooks in the kitchen at the Falken pits. Shooting with available light is the way to go in the FD paddock at night. That natural glow coming from a work light sets the scene off.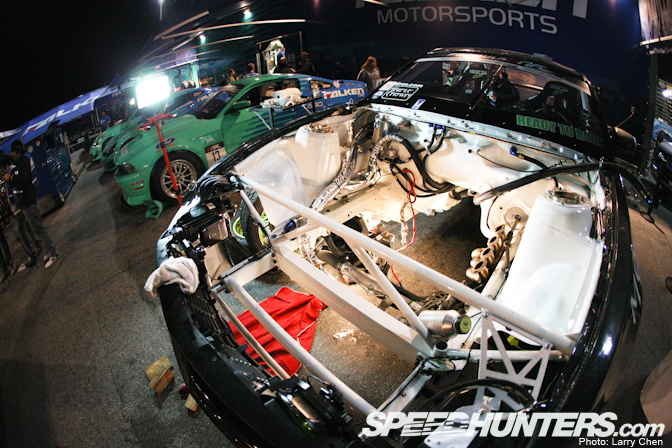 9 PM on a Friday night and the work has just begun. I try to minimize the use of a fish eye lens, but I always try to include one or two shots just to give my posts some variety.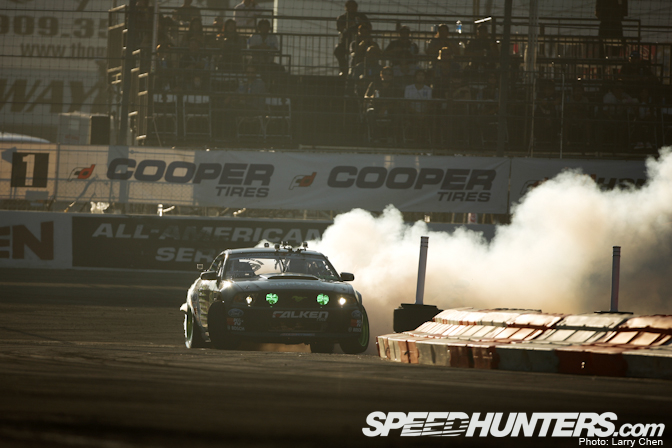 The drama of Vaughn struggling during the 2011 season was hard to photograph. I want to see everyone do well, but of course that is impossible.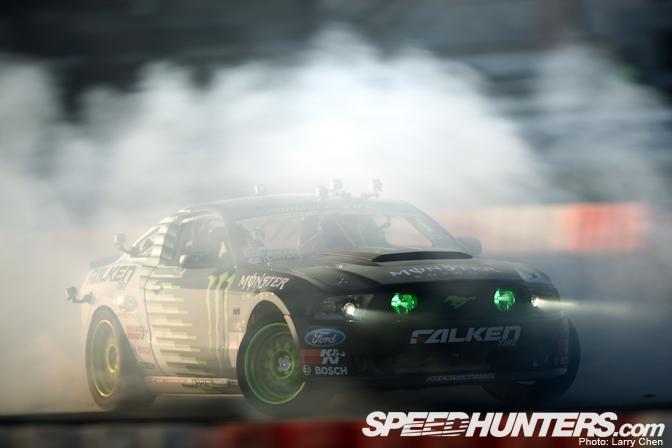 I am curious to see what Vaughn and the Monster drift team has in store for us next year.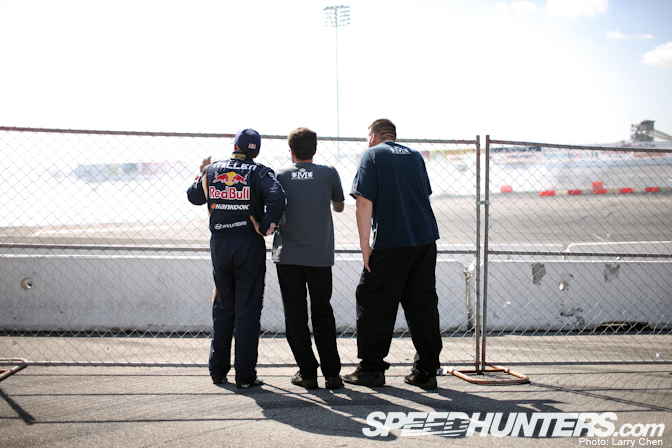 I heard drivers complain on multiple occasions about the visibility issue when following another car.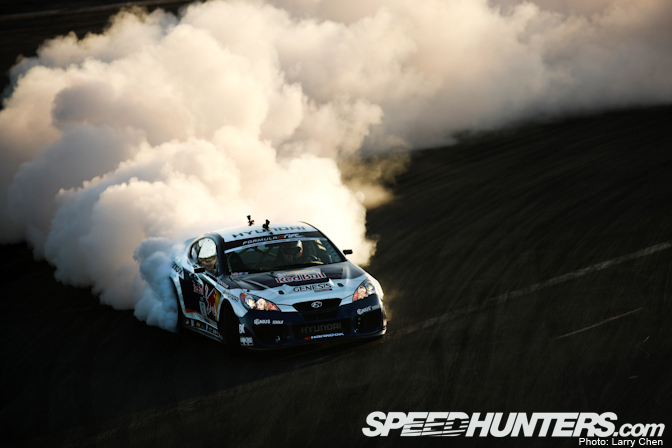 I can only imagine how hard it was to see when the drivers were on their follow run.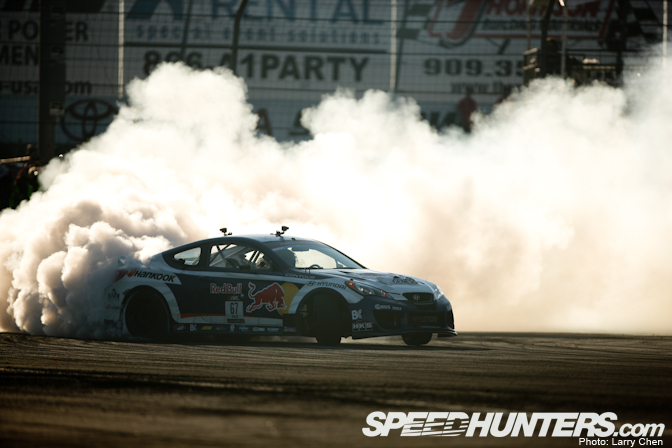 Especially following Rhys Millen. This is a photo of Pat Cyr following Rhys. I don't know about you, but I can't make out an AE86 anywhere. It is nice to see Rhys finally driving the Genesis Coupe to it's true potential.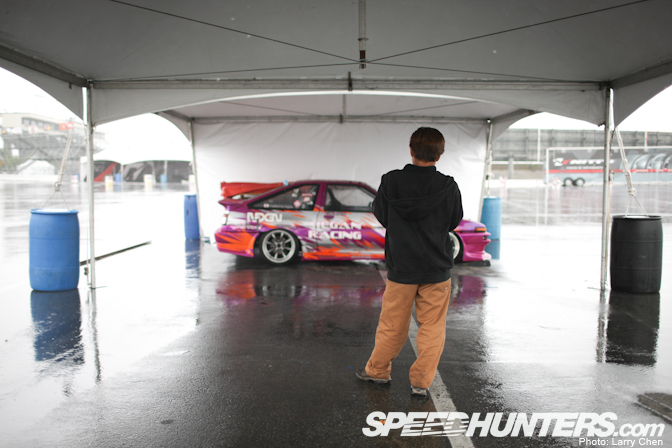 I decided to take a peak at who showed up early on Wednesday during the rain and I was not surprised at all to see the purple Megan Racing corolla. Taka Aono is always the first at the track and the last to leave.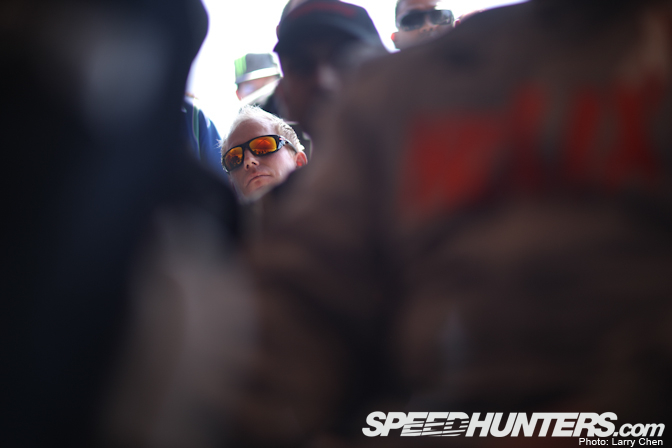 It was nice to see Kenneth Moen back in his 350Z. I love these foreground blur shots. I have to admit, a little bit of Linhbergh is rubbing off on me.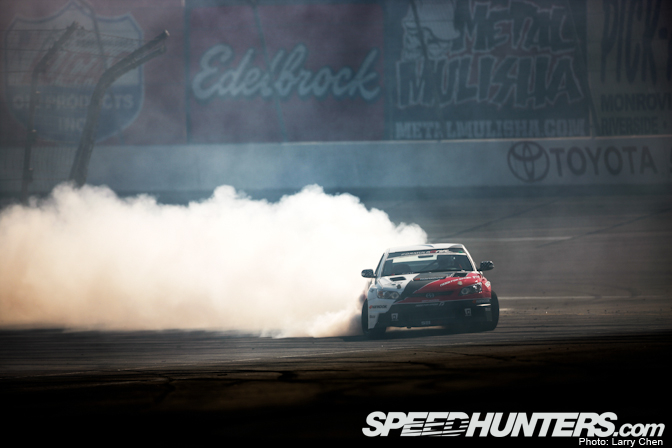 Fredric Aasbo, the more gentle half of Team Need for Speed, had all sorts of troubles at Irwindale this year.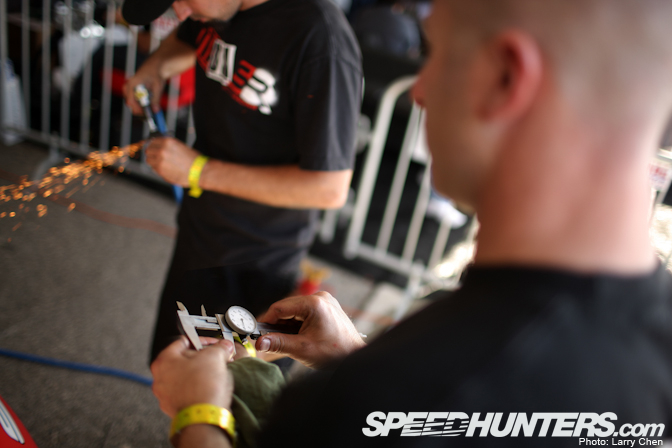 This photo pretty much sums up what the team had to go through. Stephan measured while Shawn grinded away pieces of the valve train.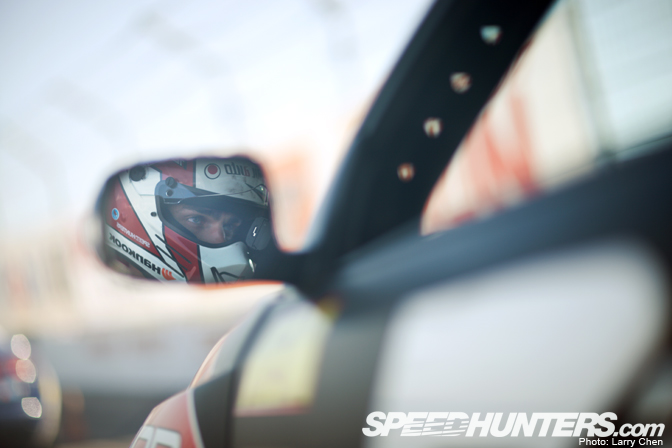 Finishing 12th in the season with a brand new car was no easy task.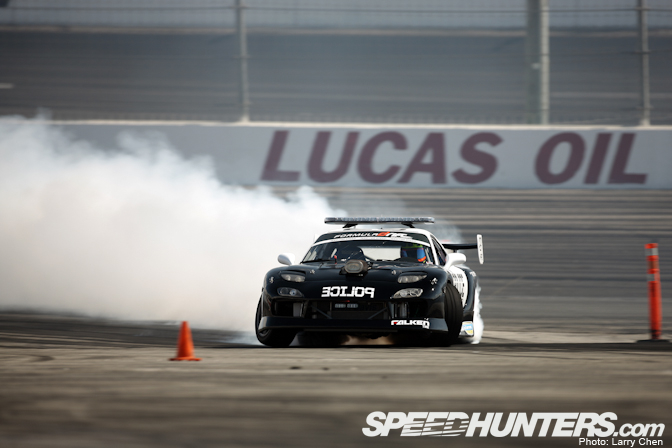 When I saw Jim Guthrie's new livery, I immediately thought of Dan Pina's drift patrol Mustang. I'd like to see Jim come back next year with a more competitive car that suits his driving style.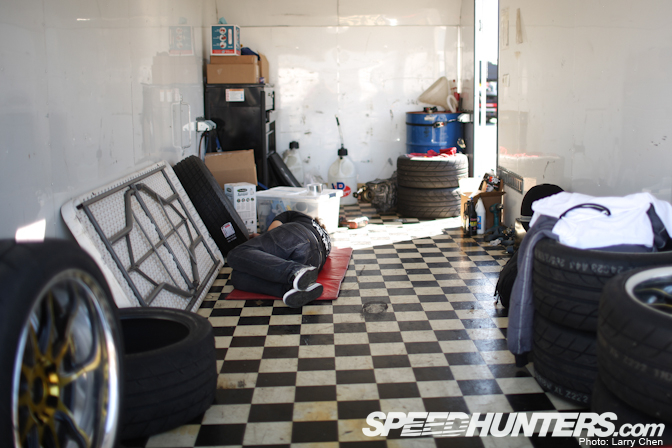 Sometimes privateers have to stay up all hours working on their cars. Robbie Nishida decided to take a power nap before qualifying. Being sneaky helps when you are trying to capture wild animals in their natural habitat.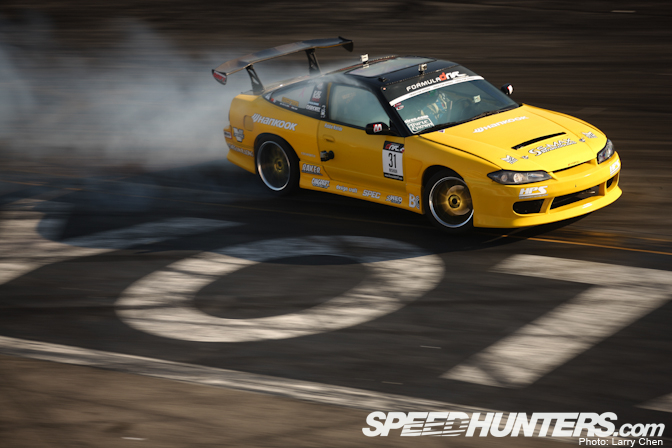 The power nap must have worked, because Robbie qualified a very solid 8th place. He went on to the top 8 after beating Conrad Grunewald in the top 16.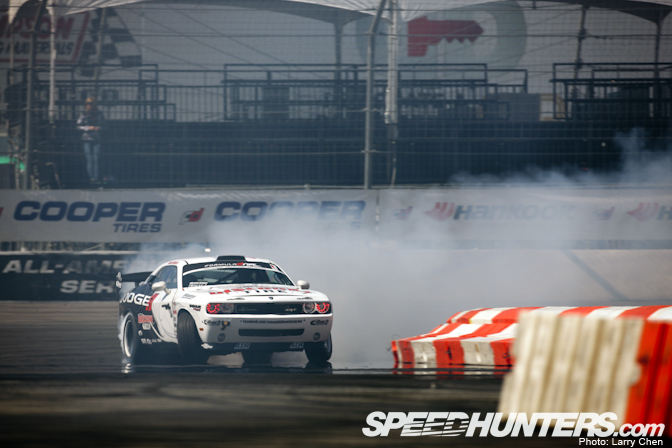 One of the most fun cars to photograph in my opinion was Samuel Hubinette's Dodge Challenger. Those red LED headlights makes the front end look very mean…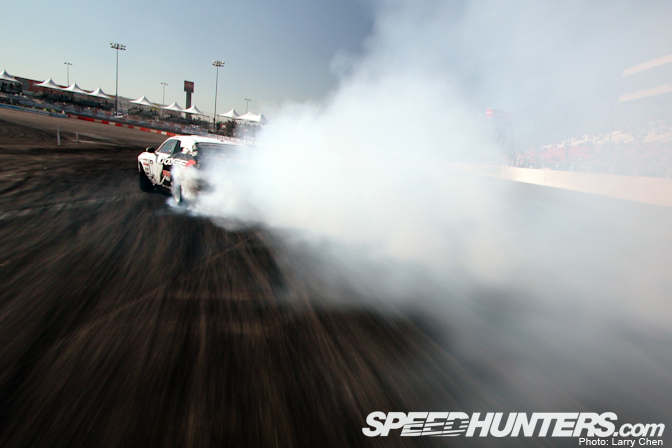 …the car also make tons of tire smoke.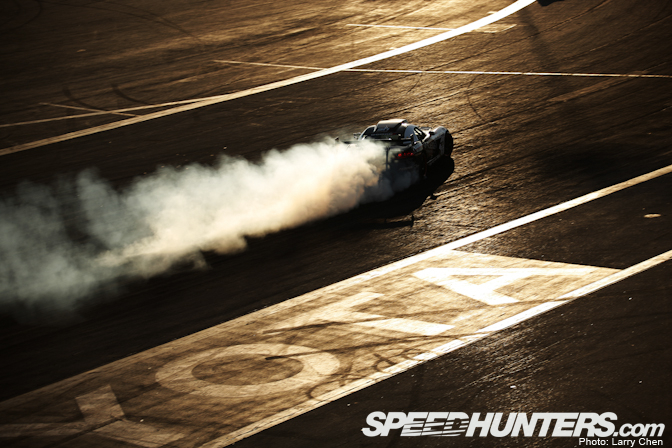 It's hard not to produce nice images from the flag tower at Irwindale. Especially during golden hour.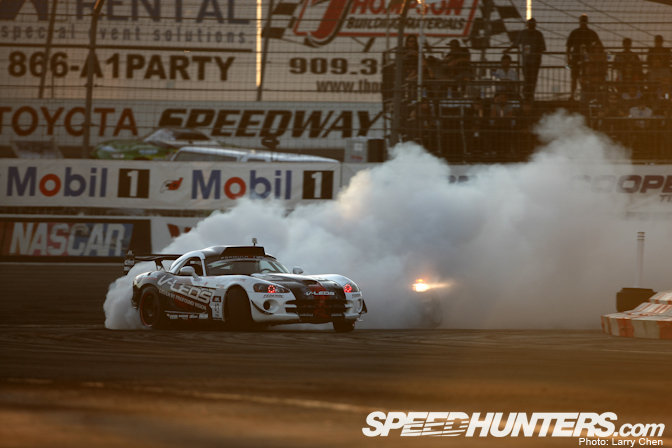 Sam's teammate, Dean Kearney also looked great all weekend. It seems like he has finally gotten used to driving a left hand drive car.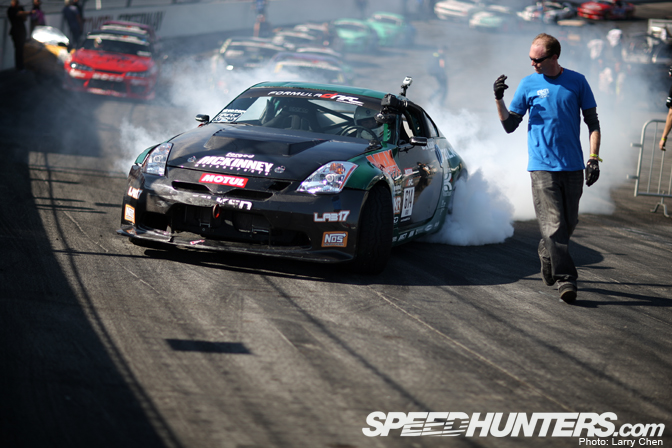 This years rookie of the year race was very interesting to watch. I've followed Ryan Kado since he started showing up at the local events. His driving style is very fun to watch.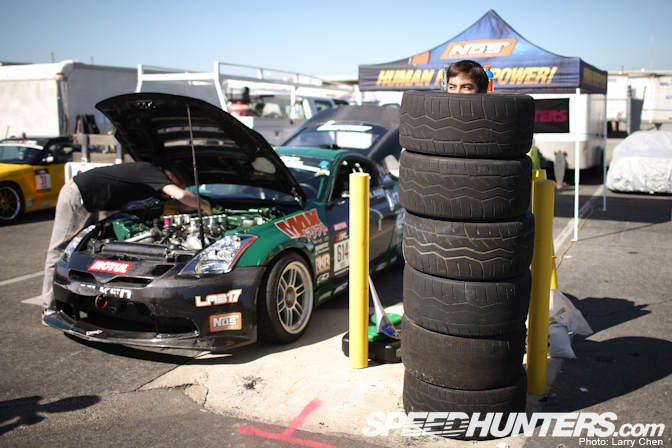 Unfortunately, the team has been plagued with electrical problems all year. Hopefully they will figure out a solution for next year.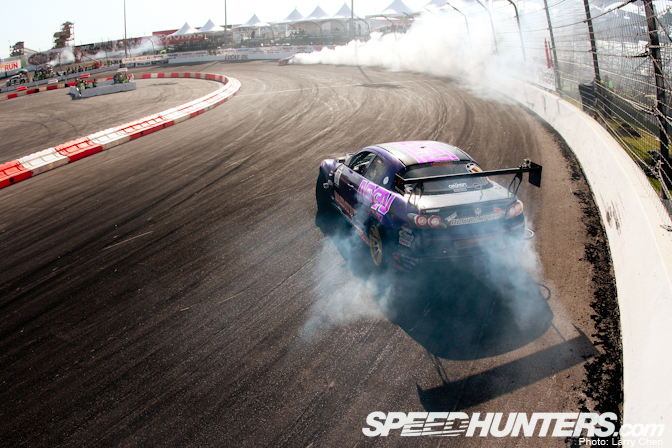 Kyle Mohan is the second highest non V8 powered finisher. He is doing everything legal to keep the rotary lifestyle going. I admire that and I think that is probably why he as a cult following. These remote camera shots are always hit or miss, but they can be very rewarding. Sometimes it can be hard to predict what settings to use as conditions and the amount of light changes throughout the day.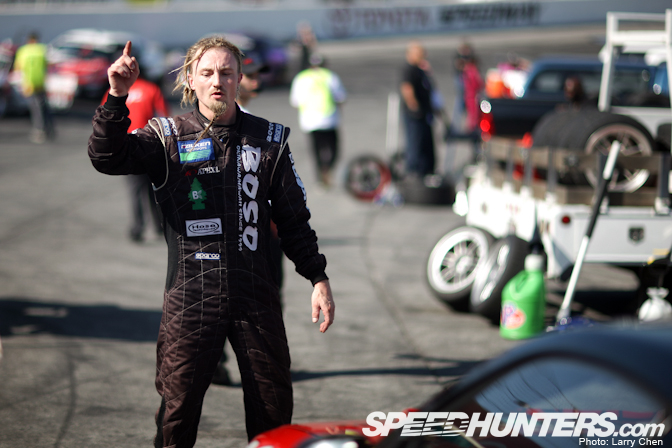 It's never a dull moment when photographing Ross Petty. I always hear him saying "I'm not an actor, if it happens it happens." In this photo Ross was checking out his beloved S15 after receiving a love tap from Vaughn Gittin Jr. on the 1st inner bank.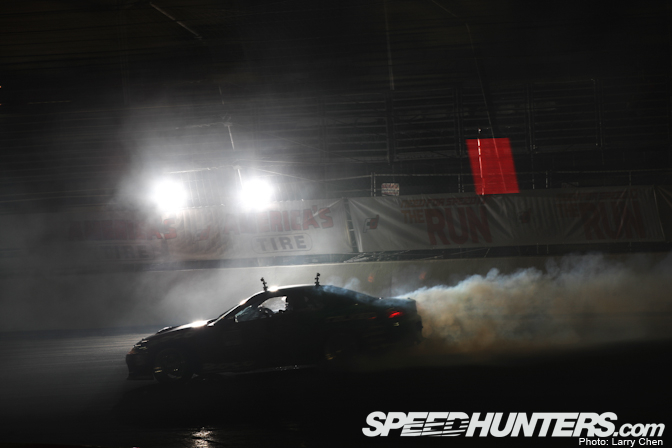 One of the media brought out his strobe set, so I found myself trying to catch his flash on purpose. Here is Ross passing by the high powered flashes as I shot him at 1/20th of a second.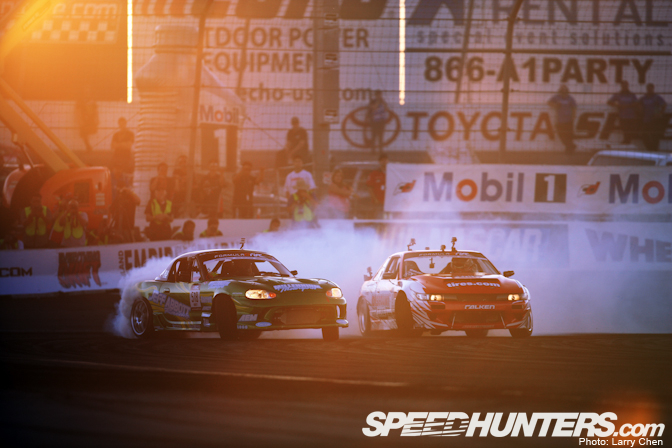 Some people don't like to shoot straight into the sun, but I like how it produces all sorts of interesting effects and colors out of the camera. Jeff Abbot was one of the drivers who stood in between Daijiro Yoshihara and his 2011 Championship. Jeff put on a good fight but just could not keep up with the highly developed S-chassis.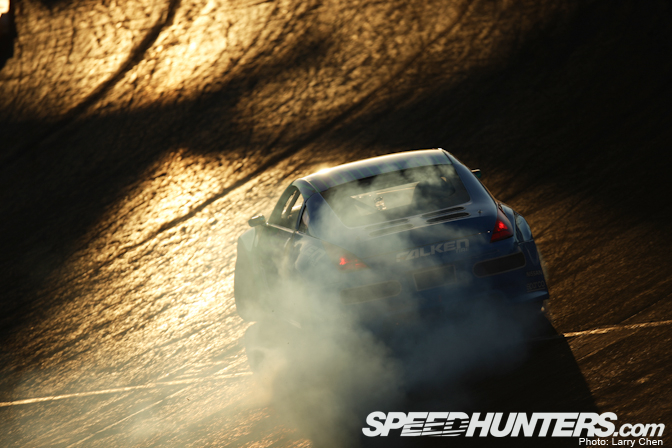 The Nissan 350z driven by Tyler McQuarrie produces some of the coolest trails of smoke. The way the car is designed forces smoke out the back window.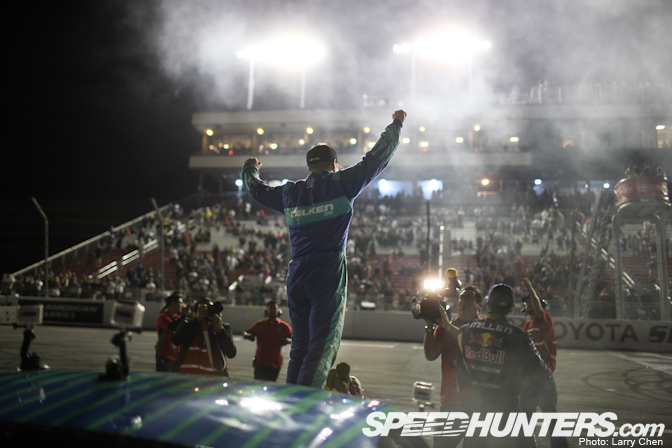 It was great to see Tyler go out like a gentleman. I hope the best for him and I hope he continues to drift professionally.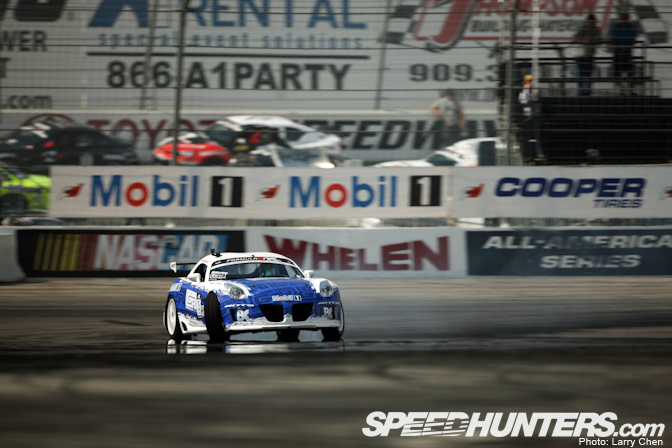 Shooting with long focal lengths can be rewarding, but it is not always easy. One of the things that I deal with all the time are heat waves. They make everything in the photo very soft. Although, sometimes it produces a nice reflection on an otherwise boring track surface.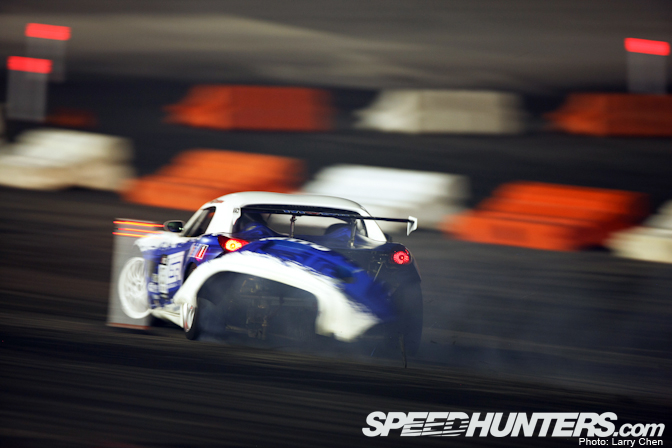 The nice thing about shooting at night is the absence of heatwaves. It is a trade off however, since there is not much available light.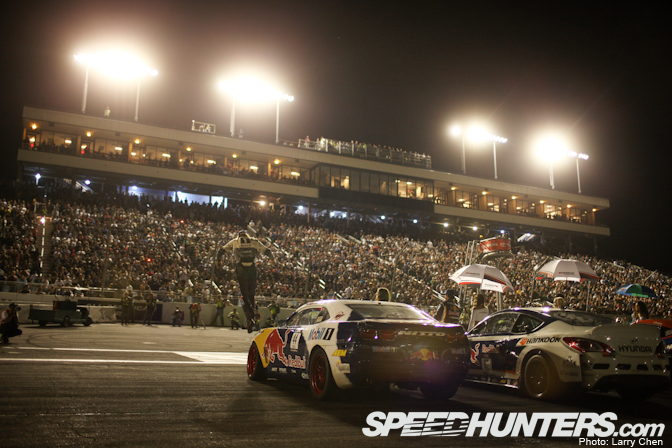 Ryan Tuerck does his best Batman impression as he leaps off the top of his car. It was nice to see the stands so packed. It's a great sign for the future of professional drifting.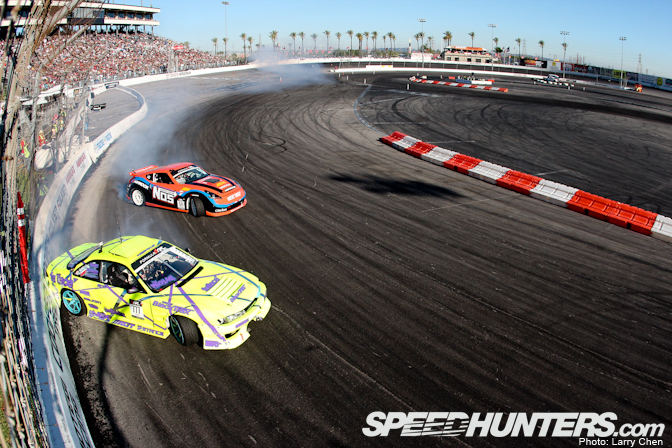 I like getting the angles you would not normally see with remote cameras, but it is always hard to tell if my camera is firing or not. One time I ended up with an empty memory card after a day of remote triggering. Not fun.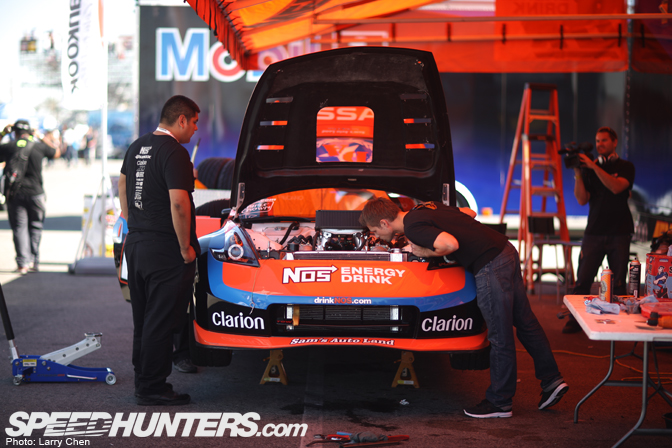 Chris Forsberg and the NOS team had problems right off the bat, but it was good to see them pull it together and almost take the championship.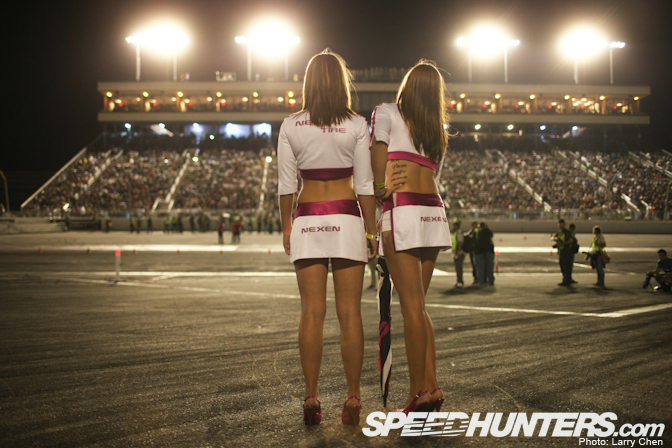 Even the umbrella girls were amazed at how packed the stands were.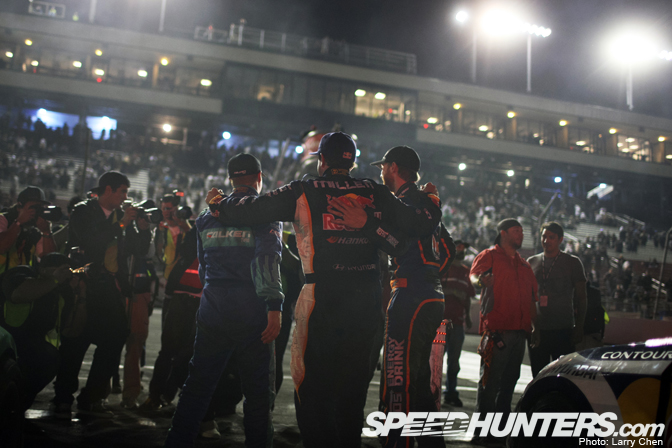 It was great to see such an all star cast of drivers on the podium of the biggest event of the year. I had a great time covering this massive event and I look forward to seeking out new angles and telling more in depth stories next year.
Larry
More FD Irwindale stories on Speedhunters