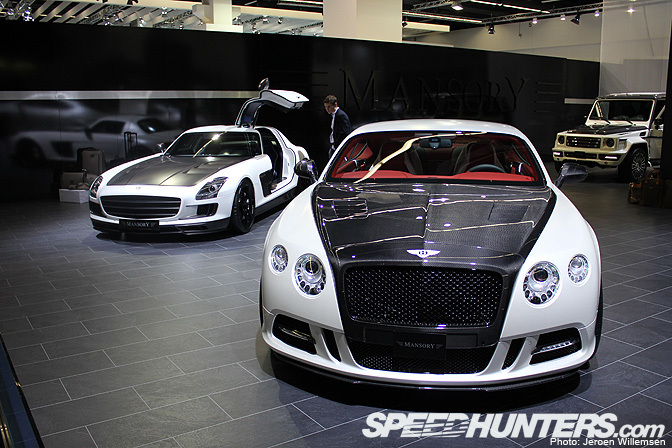 Before I
start with my final report on the IAA, I wanted to take a small detour and show
you some of the companies that make a living by improving the cars from some of the major manufacturers. Although the term improving is up for debate. One of those
companies that keep churning out car after car is Mansory. They had a considerable stand with some of the most desirable cars all in a black and white theme.

Mansory
calls themselves 'The address when it comes to the exclusive
customisation of luxury cars'. One fo their latest creations is this brand new Bentley Continental GT. It has a new
frontbumper, rear bumper, front fenders and even a new hood all made from ultra
light prepreg autoclave carbon. They also addressed the W12 6 liter bi-turbo
engine with a reprogrammed ECU, sports air filter and a new exhaust. With these
modifications they have boosted the power to 672hp and 780Nm.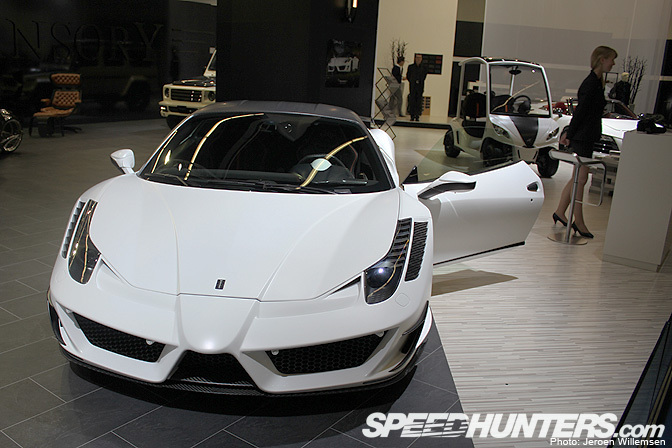 The main
attraction on the Mansory stand was their take on the new Ferrari 458 Italia. They
call it the Mansory Siracusa. It all starts at the front with a new frontbumper
that extends into the fenders.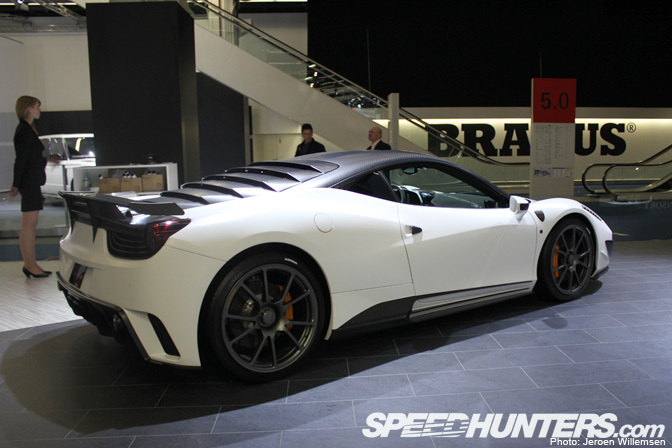 The rear window
has been exchanged in favor of carbon blades. Together with the rear spoiler
and the integrated diffuser it stabilizes the rear during high speeds. I still
find it amazing that there is a market for these kind of cars.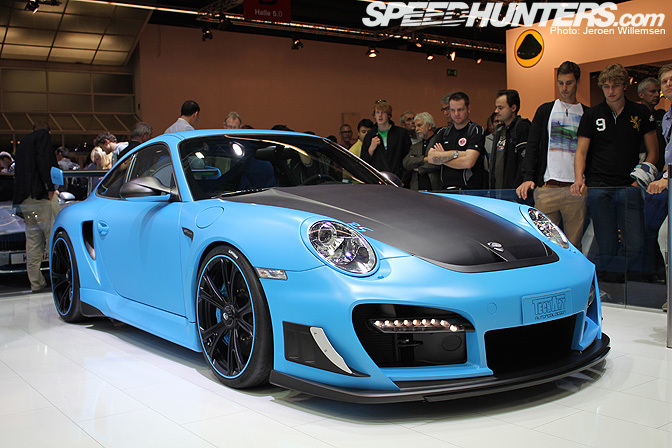 One of my
favorite German tuners has always been Techart. Their latest creation is this
GTStreet RS based on the Porsche GT2 RS. I was told that this blue creation was
built for a Chinese customer who had the car delivered at Techart after he
bought it from Porsche. We all know Porsche will only build 500 GT2 RS so this
is one very exclusive car.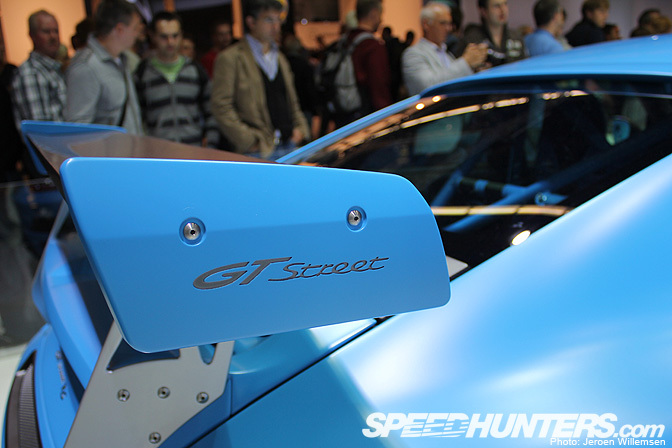 The
GTStreet logo adorns the new rear spoiler.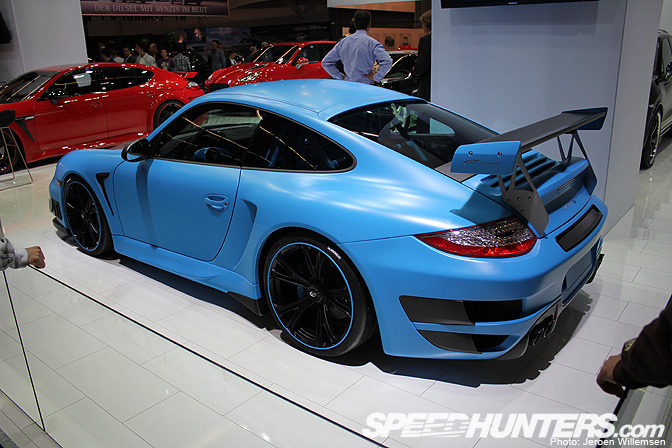 The car can
do 0 to 100km/h in 3.3 seconds and won't stop until it reaches its top speed of
352km/h. Techart gave the car 720bhp and a massive 900Nm of torque.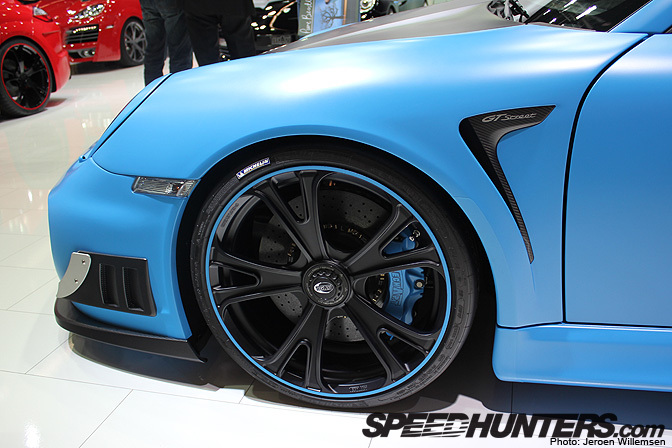 Techart also
offers these 20″ Formula Race lightweight forged centerlock wheels.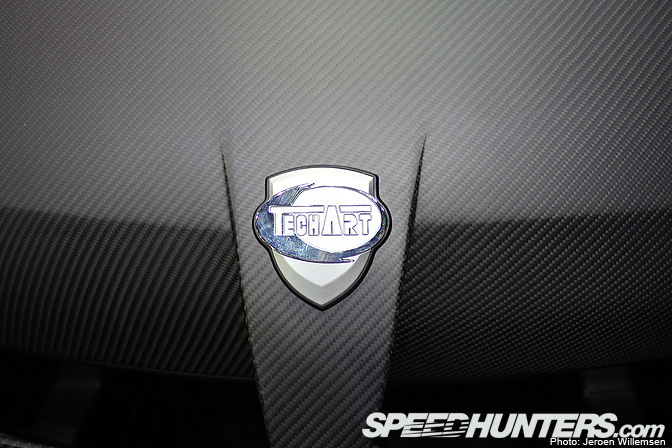 But Techart
does more than improve on the latest Porsche offerings.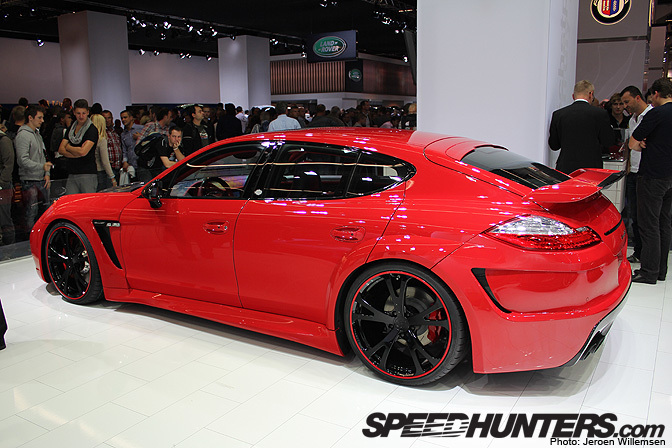 They also
brought a red version of the Porsche Panamera Grand GT. I already featured the
last year when I visited the Essen Motor Show.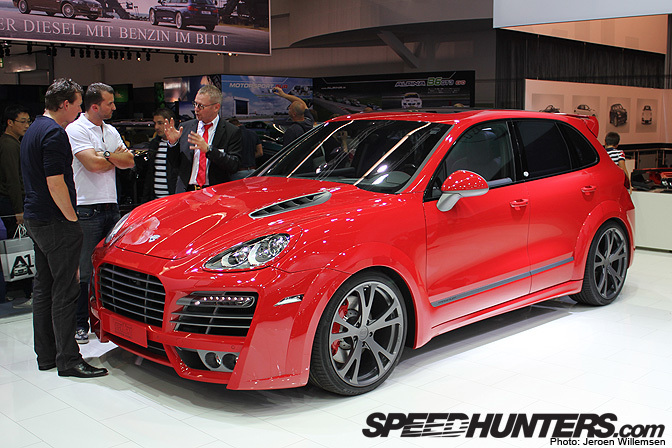 It seemed
that red is making a comeback. A lot of the big manufacturers had red cars on
display so Techart anticipated this and brought out a red Porsche Cayenne.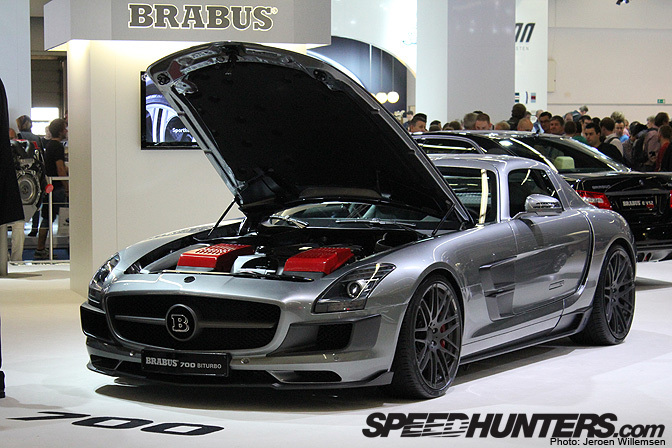 Brabus is a
major player in German tuning scene and always brings a few new designs to the
shows they attend. This year it was this new Mercedes SLS AMG 700 Bi-turbo. They
fitted two turbos on the already potent 6.2 litre V8 giving it 700bhp and
850Nm.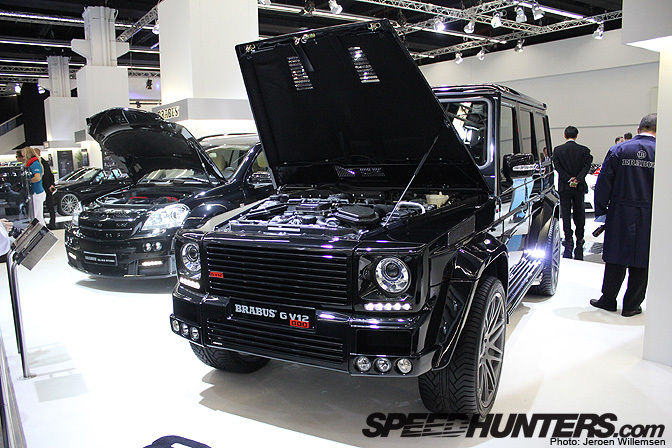 This has to
be the ultimate G wagon with a 800bhp V12 under its hood.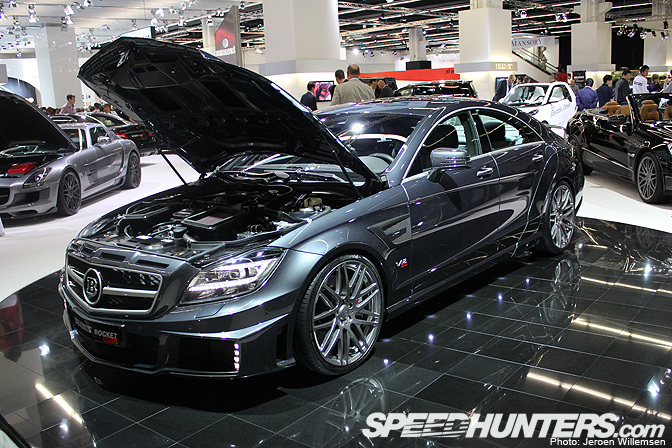 This is a
half a million car we are looking at. It's called the Brabus 800 Rocket based
on the new Mercedes Benz CLS.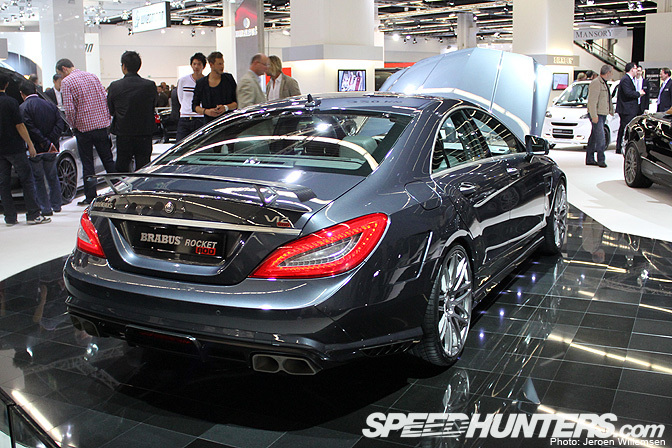 A small
badge on the rear of the car reveals the engine that powers this behemoth. The idea
alone that you are driving a 800bhp power car that can do 370km/h and reach 200km/h within 10 seconds is staggering.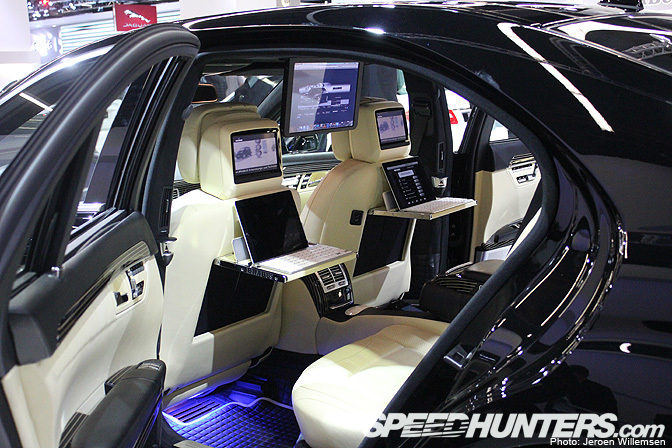 If you don't
like to drive yourself because you are busy businessman you can always choose
the ibusiness cars. The entire car is filled with almost everything that Apple
has to offer.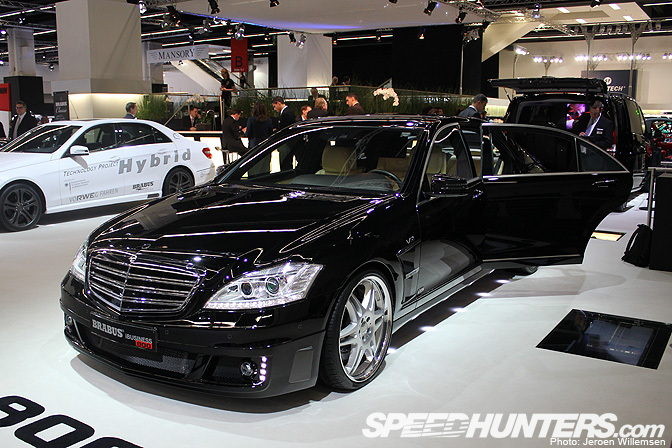 You will be
driven in luxury and I guess that the chauffeur has a smile from ear to ear
behind the wheel.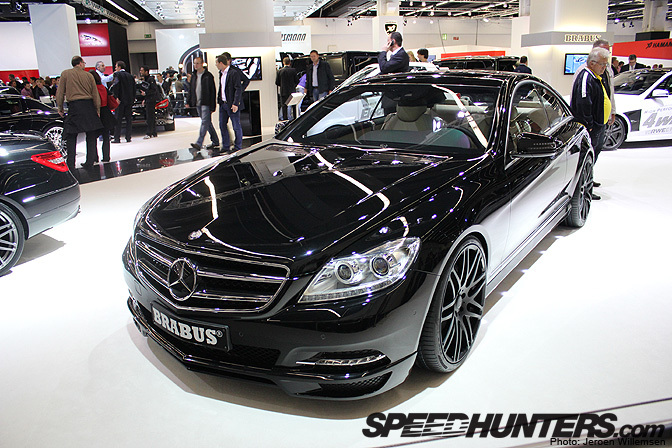 The last
car on the Brabus stand that caught my eye was this new CL with its sleek
design.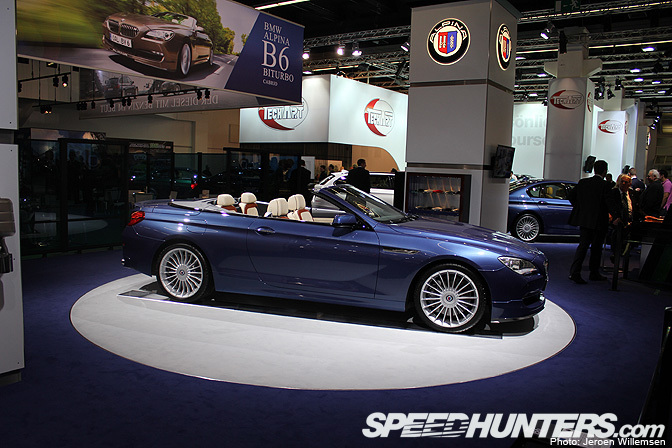 Alpina is
known for their BMW's. Although I'm not a big fan, this new B6 Biturbo looked
pretty cool.
Now it's
time for one final part where I will show you the Mercedes hall, Lotus and a
piece of the Audi building.
-Jeroen
Willemsen