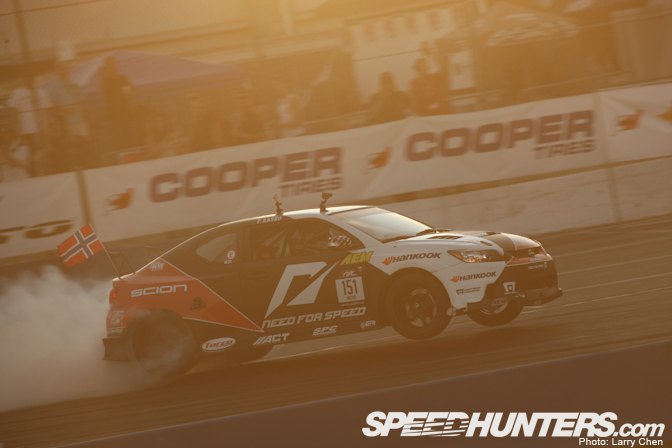 Here is my driver blog from Formula Drift Round 5. which was held at Evergreen Speedway just north of Seattle. For us, it was one for the books and it was a weekend of extremes – in either direction…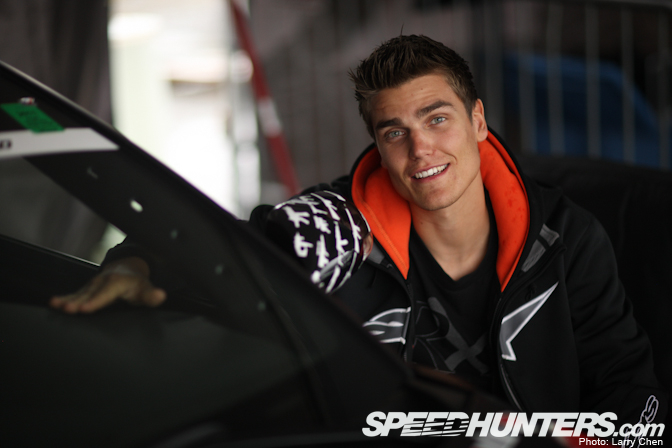 I had just flown in to Seattle from what had been six crazy weeks in June and July. We did five events over the course of four weeks, traveling between two continents. There had been a lot of sights and incredible experiences, and I was not done digesting it all.
First up, we competed at Formula Drift Round 3 in Florida the first weekend of June, before we went on to Ultimate Drift in Texas, where we drove the Supra to victory. Then, we ran Formula Drift Round 4 in New Jersey, before we travelled back to Norway for a drift demo at the European Rallycross Championship round of Norway. That same night, we travelled 8 hours overnight to judge a competition and run a new demo at the Powerdrift Norwegian Drifting Series round in Oslo.
Finally, it was Gatebil, which was greatly covered by the Speedhunters.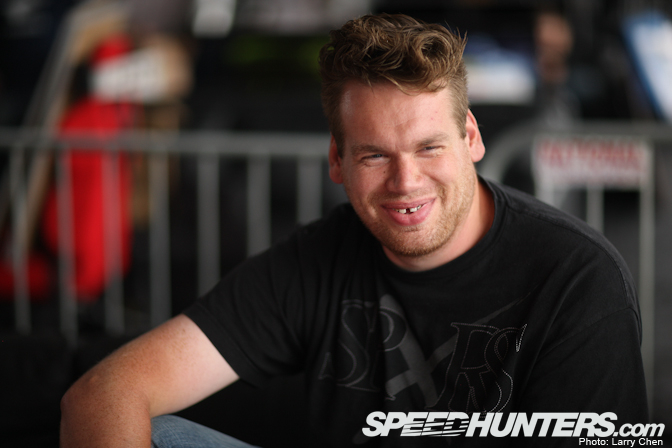 My spotter and partner in grime Steffen joined in for the all of the shenanigans, from exploring New York at night to trying to find a tire machine in Dallas, Texas. A couple of weeks later we would trade places as I was to change tires for Steffen when he was to compete at a round of the TopDrift ProAm series.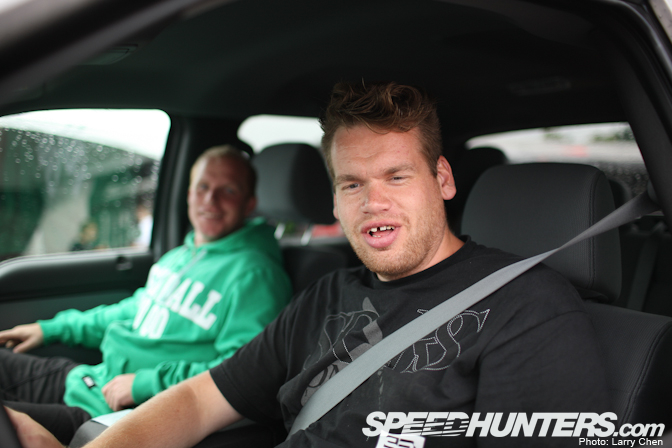 Kenneth Moen had also flown over from Norway to Seattle to compete in Samuel Hubinette's Dodge Challenger as Sam was competing in an off road truck race. Unfortunately it wouldn't go down to well for Kenneth, as the team experienced a motor failure during the competition.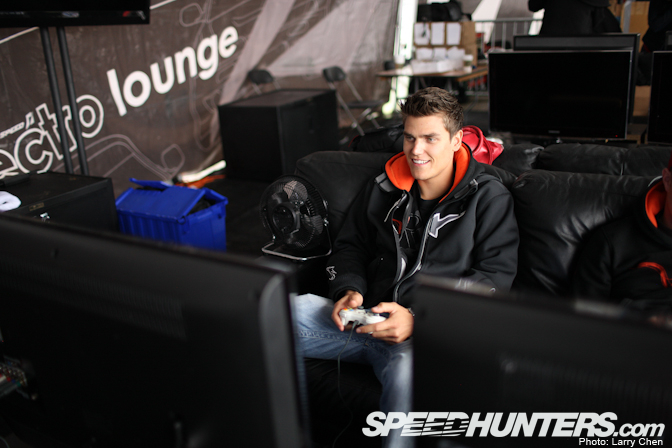 As we arrived Thursday for practice, it turned the session was cancelled due to heavy rain. That meant it was time to play!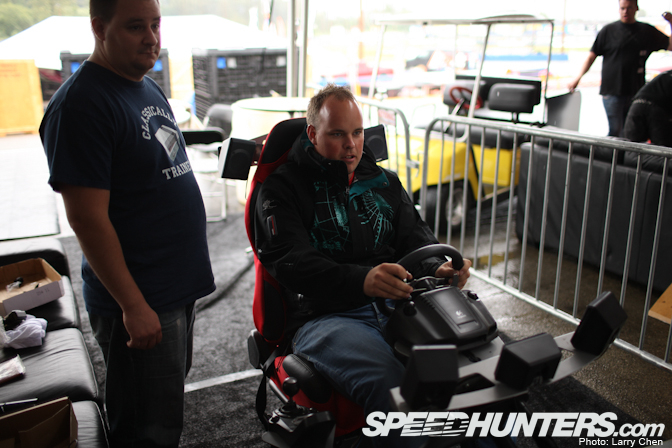 Gaming starts out as fun, but it always ends up just as serious as any form racing…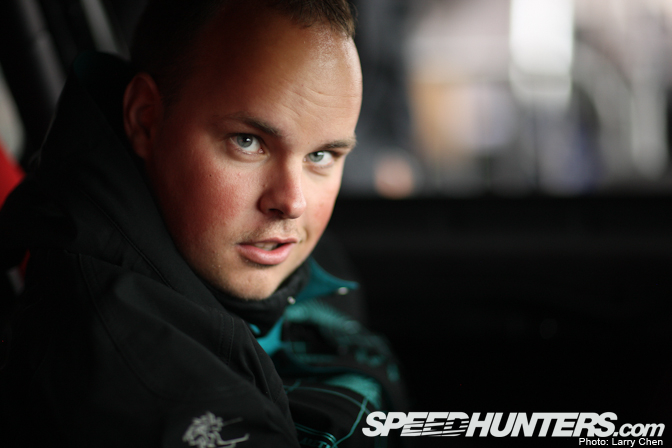 A couple of our Norwegian friends came over for the event. This guy, Jan Tore Brustad, is co-founder of Drive for Life ("Kjør for Livet"), an ideal organization giving teens a chance to be a part of the cameradery and team work motorsports has to offer. I'm an ambassador for the organization and I had just met all the guys at the Norwegian Round of the European Rallycross Championship.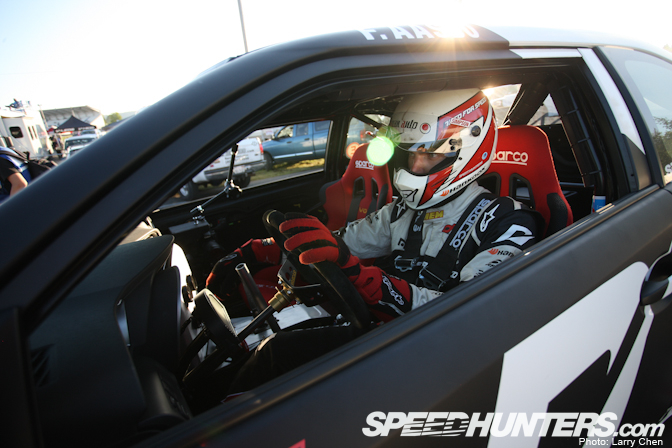 For this Formula Drift round, however, the term drive for life had a much more serious tone to it. As we were trying to get ready for practice and qualification at Evergreen Speedway on Friday July 22nd, the worst massacre to ever hit Norwegian soil since World War II was unfolding back home.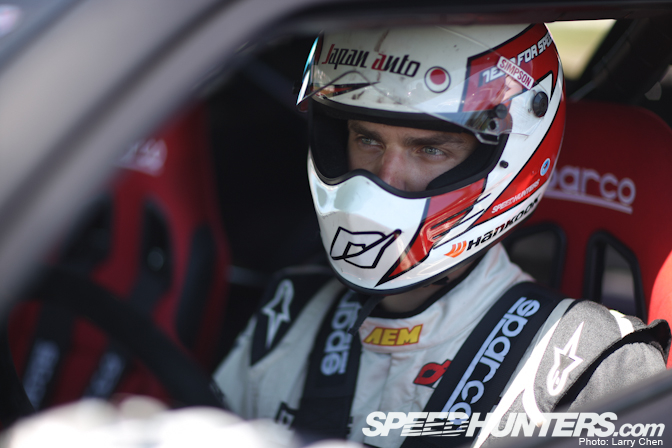 At first, I didn't grasp everything that was written all over the internet. My home country Norway has been considered one of the least dangerous countries in the world; a safe haven in an otherwise unpredictable world.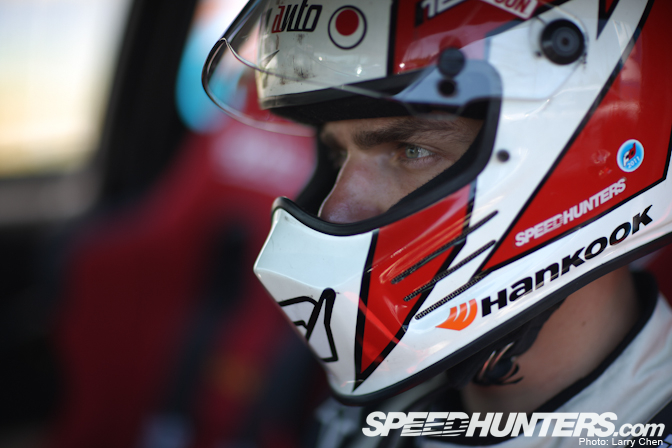 That illusion was ripped apart that Friday afternoon.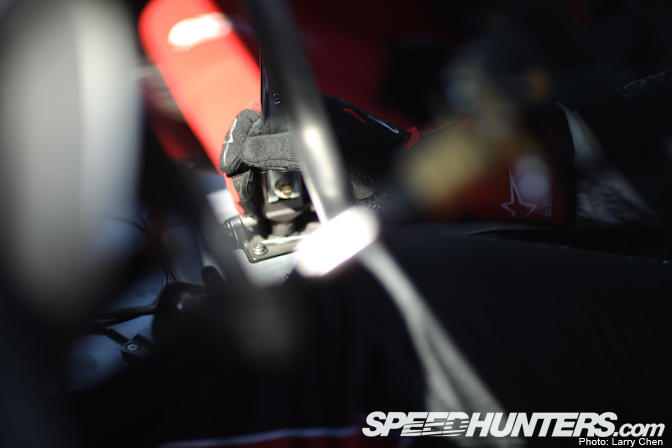 The right wing extremist that stood behind it placed an extremely powerful van-sized bomb in the heart of Oslo and blew the prime ministers offices and everything surrounding it to pieces, leaving eight people dead and sixty wounded. Then, he dressed up as a police officer, went to a youth summer camp at an island just outside of Oslo and gunned down 70 people. Most of the victims were kids, aspiring to become the future politicians of Norway.
They wanted to help the world become a better place. Instead, they were killed by lunatic human scum.
He abused and exploited everything our people has to offer when it comes to trust, inclusion and democracy, killing completely innocent kids by pushing them up in a corner with no escape. How can anyone turn into such a calculated, cruel creature?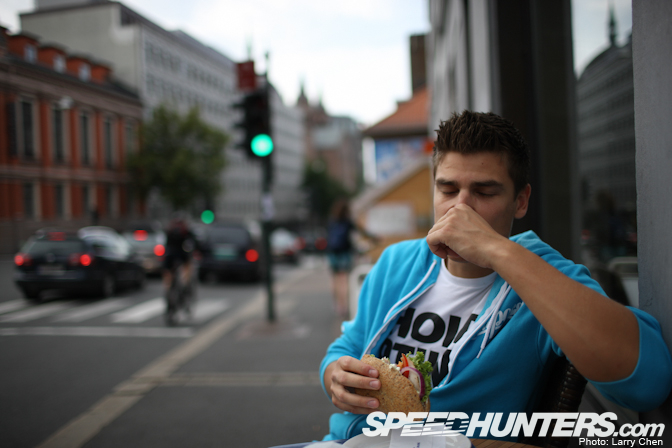 Norway is a small country, and to put things in perspective: This picture was taken by Larry Chen during his Norway trip for Gatebil. We were having breakfast at a curb cafe before we headed to a nearby radio station for an interview.
Two weeks later, the bomb went off about half a quarter miler down the road from where this picture was taken, sending shockwaves throughout the city.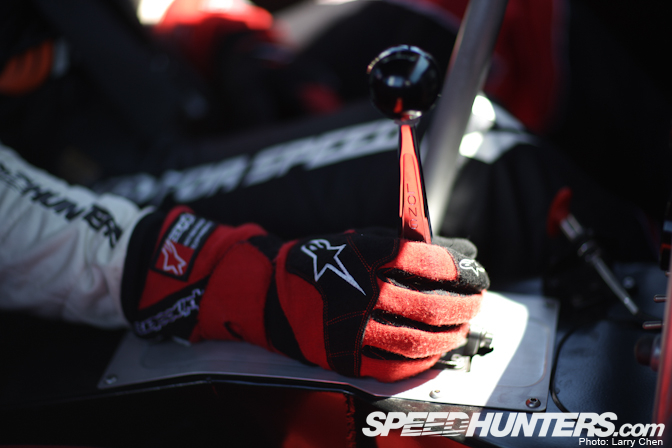 Norway is a small country, and the guy that did the massacres should know that his plan has FAILED. Rather than split the people, everyone has come together even closer – across religions, skin colors and political views. This is the exact opposite of what he wanted to happen.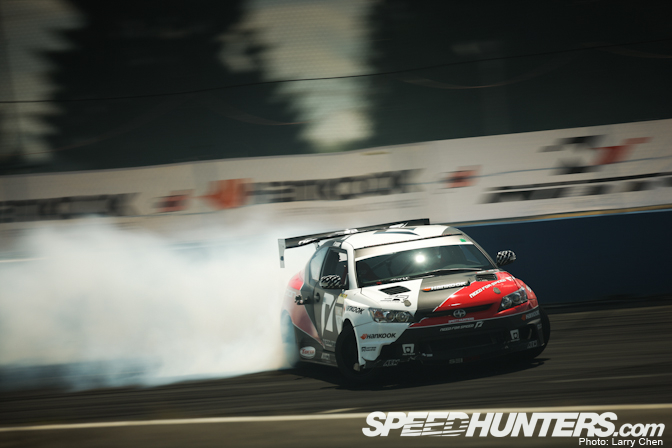 As I was about to hit the track for practice and qualification, I didn't know what to think. I had been in touch with my folks, and knew that they were physically alright, but they were in shock as was the rest of the world.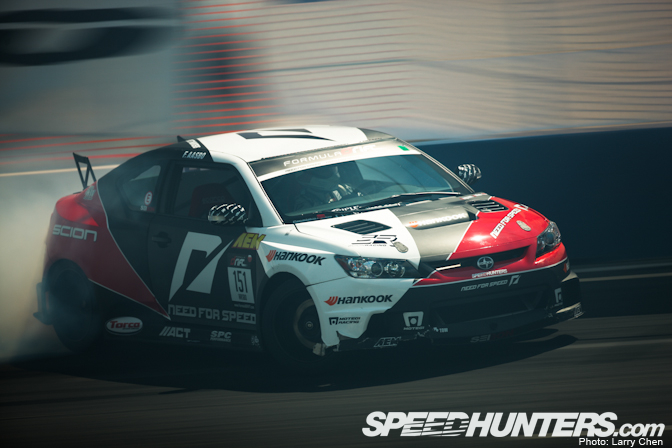 How I managed to drive, and work with the team on moving forward through practice and qualification, makes you think. Are drivers such as myself egocentric douches that can lock everything "not relevant" out and only care for their own little bubble?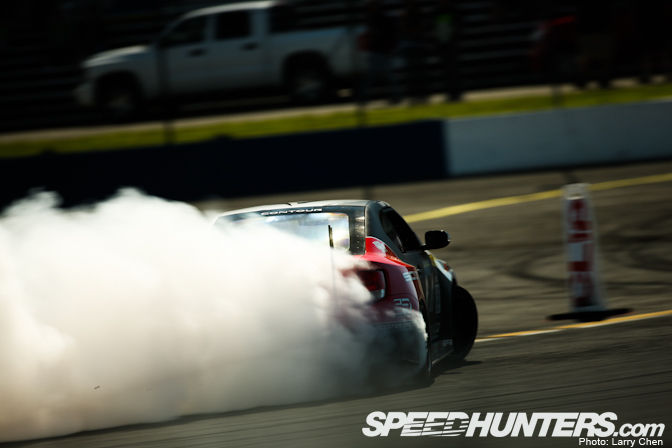 In some ways, and as sad as it sounds, I guess we are.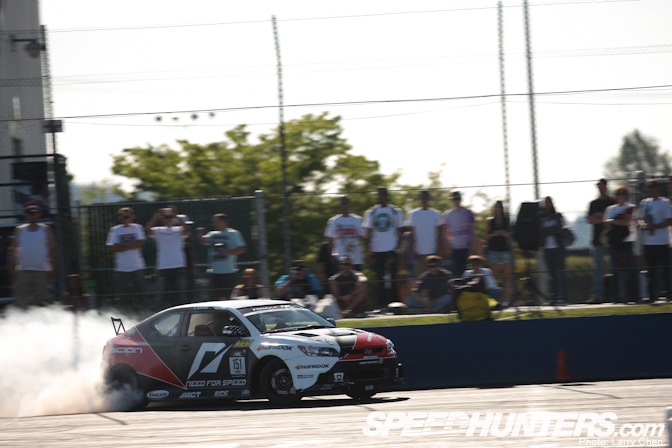 In other ways, it can be said that we are there to compete and do a job, having incredible support from the people that believe in us. I believe in us as team players, even during crazy and tragic times like these. My deepest condolences go out to the fallen ones and their families.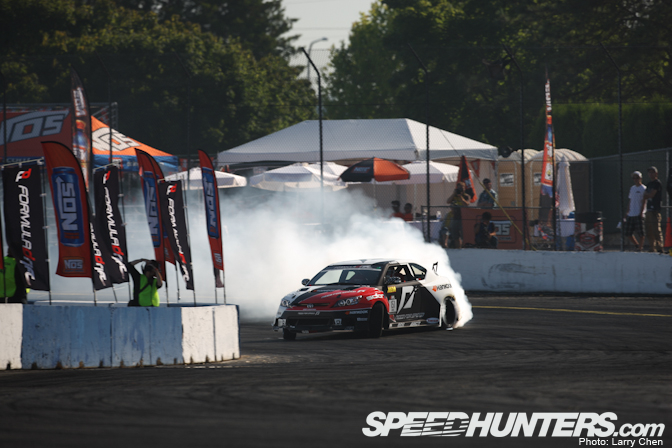 At the same time, I think it is important to remember the following: If you allow terrorism to direct your life, terrorism will win.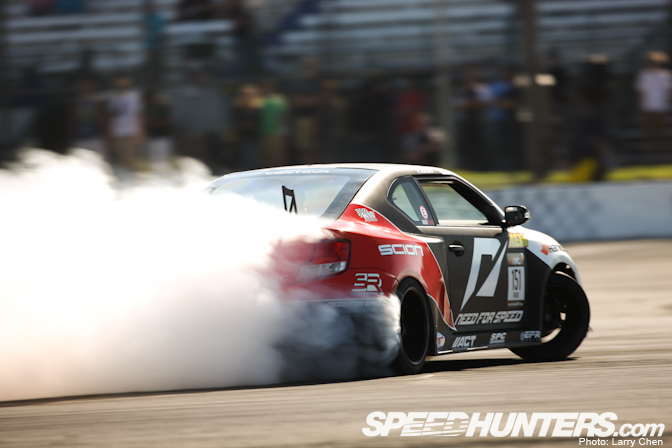 That's why my mission still was to hit the track as prepared as I could, work with my team as closely as ever and bring out everything I had.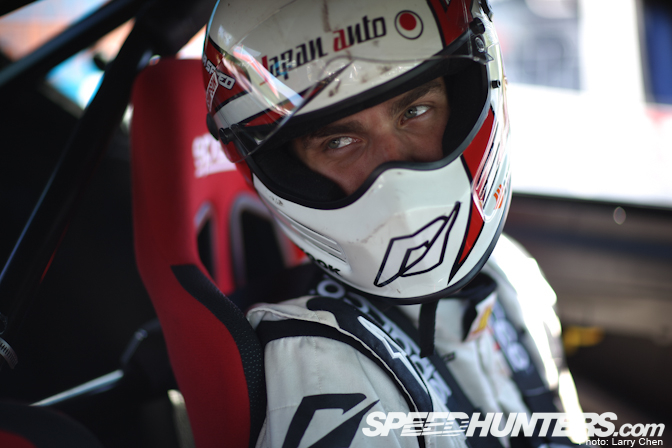 We qualified 8th.
That night, as I read up on everything that had happened back home, I came to think of a Norwegian flag I got from a friend in New Jersey (thank you!). We had kept it in the trailer, and we decided it was time to run it on the car. It wasn't a clear cut decision as the last thing I want to be a part of is exploiting tragedies in order to push the presence of something else, but that was not what this was about. This was about knowing where you come from, and showing support to your people.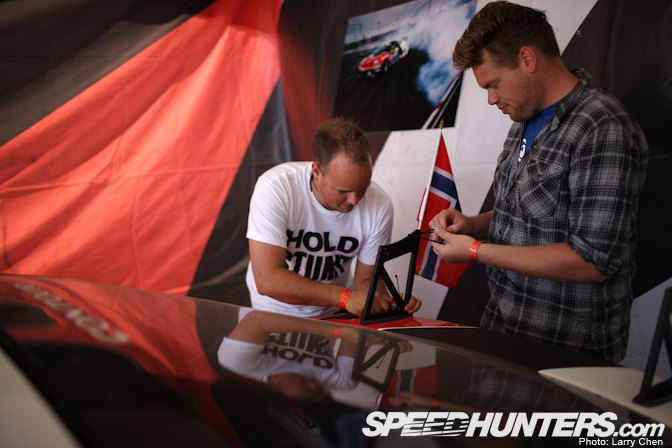 Jan Tore and Steffen kindly put the flag on the wing mount of the tC as I was getting ready to go out for practice. Jan Tore also made a black ribbon that I wore for the competition.
Additionally, Formula Drift put on one minute of silence in honor of the victims, which I think was a incredibly honorable thing to do, and something that speaks volumes about the scale of this tragedy.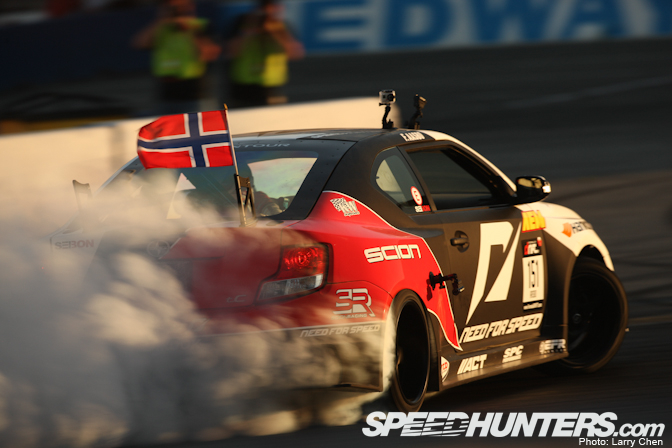 On my end, I wasn't just driving for our team, sponsors, friends and the crowd anymore.
I was driving for Norway.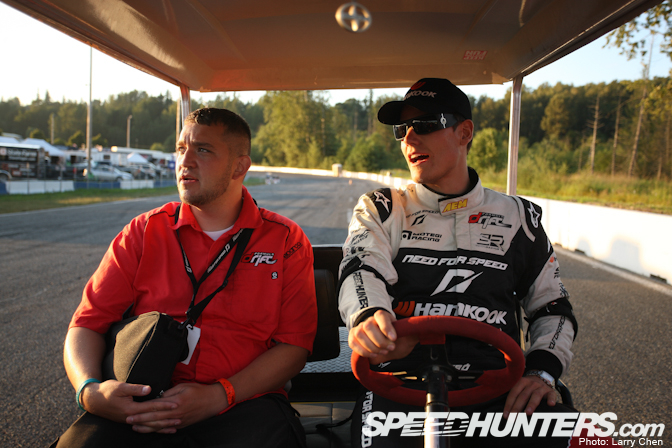 Tom and the Driftstream organizers had me drive through the course with Jarod, explaining how I attack the course as part of the broadcast. It felt strange since I am definitely not among the most experienced drivers at this course, but it was good fun hanging out with Tom, Jarod and the rest of the crew. They were crammed into a small compact rental for the trailing shots and it must have been a pretty funny sight seeing us go around the bank.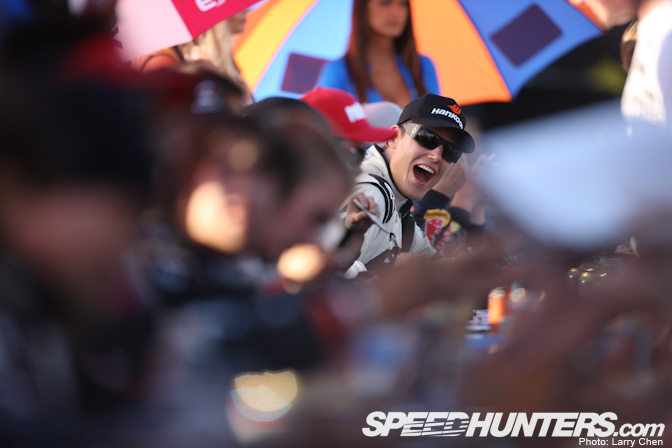 I was lucky enough to get to drive this same round last year, and I had been looking forward to this track all year. It's an extremely fun course, and the best part is that you are on throttle for soooo long coming through the bank!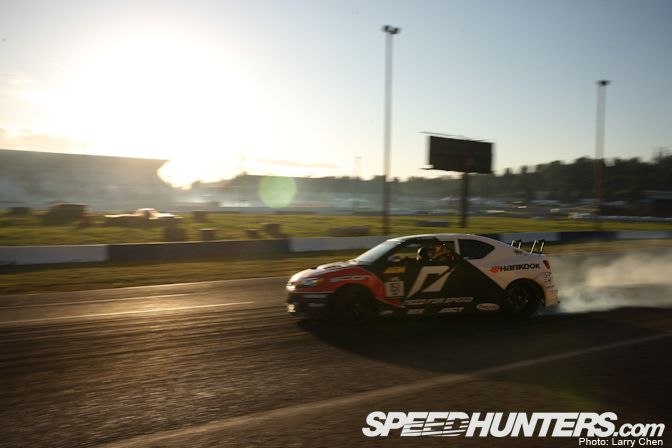 The team had carried out a few very important changes to the car for this round, and one of them was more caster in the front to help self centering. I have not had a good steering feedback, and I have been struggling with bad steering corrections all year. Adding more caster effectively made the car steer similar to a Nissan S-chassis, and it had been on the to do-list from the previous events. It made a big difference. I could now let go of the steering wheel and catch it where I wanted in a much more fluid and natural way.
Just like the pros!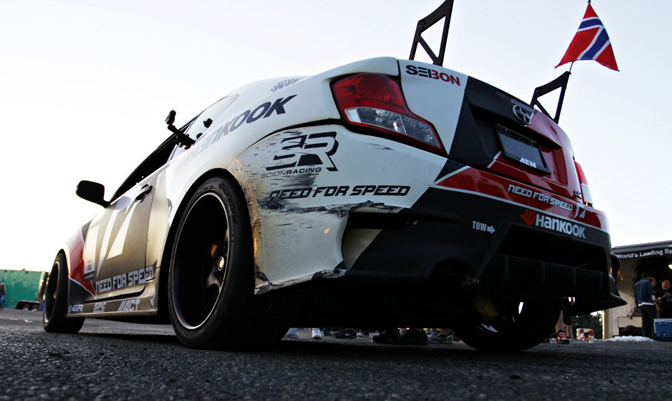 That said, I have always had a soft spot for black wheels as my favorite idol race cars all ran black wheels. Hence, we have black wheels on the Supras and when I first saw the renders of the tC I also voted for black wheels, but it's good to change things up a little bit. When it comes to wheel colors for judging and the claims that black wheels give an automatic advantage, I do not agree. I think that for instance a lighter color would show off steering lock and steering angle better. I notice people analyze all that stuff down to the core, which I think is really cool as overall progress of the sport is all in the details.
If things go well, maybe we could do a poll on the livery scheme and wheel colors of the car and make it a collaborative effort in the future. I gotta say I think black wheels look great, but I have some thoughts on colors to mix it all up that I would love to get some feedback on!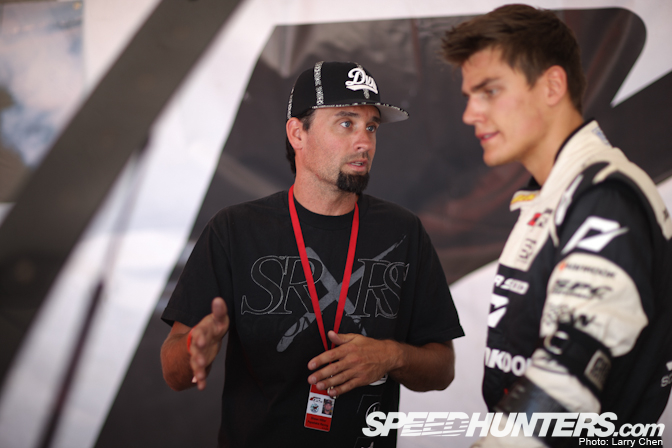 Shawn is my man in the pits and always a step in front. We work together on tire pressures and minor setup changes as we try to battle the various conditions and the competition.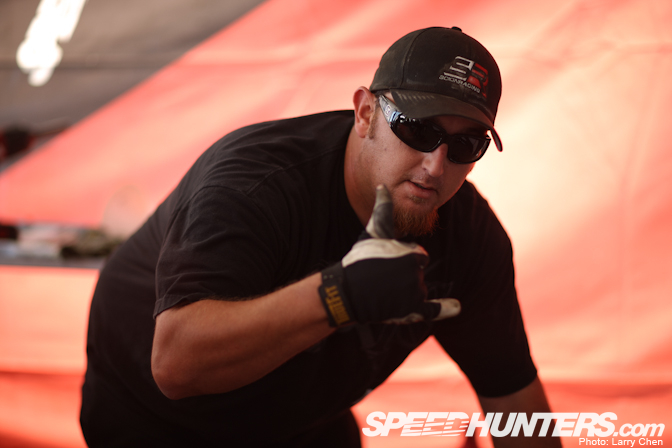 Aldo is one of those guys that looks incredibly tough on the outside, but is a complete panda bear on the inside. Aldo cracks people up for a living and it's an absolute blast hanging out with him!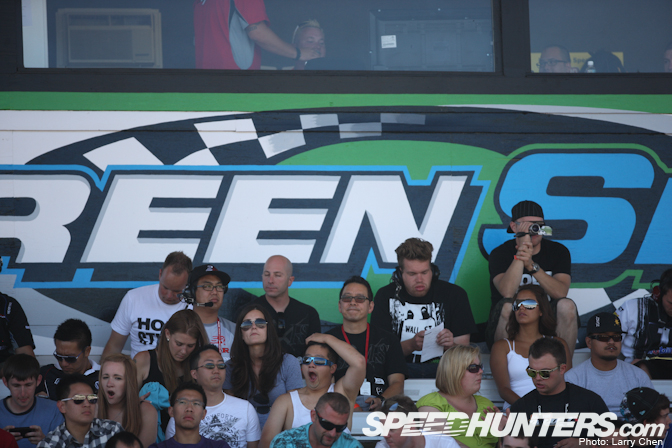 This would be the extremely enthusiastic looking crowd and the spotters hard at work up there in the grandstands. "Drifting – a high intensity motorsport that keeps the crowd on their toes!" Or maybe not, haha! That said, fact of the matter is that this event was completely sold out, and the crowd is amazingly loud!
Even though it looks like Steph is all dreamy over some chocolate chip cookies, Scion Marketing Manager Steve (in the middle of the picture) wishes he was at the golf course and Steffen is probably browsing Facebook on his phone, the truth is that these guys are all extremely passionate about our team and what we do.
It was time for Top 32. I was up against Ross Petty and his Garage BOSO S15. Frank Siharath, Ross' partner at BOSO, has helped us out with tuning the Supra back in '09 and they are all a great group of guys that certainly stirs things up on – and off – track!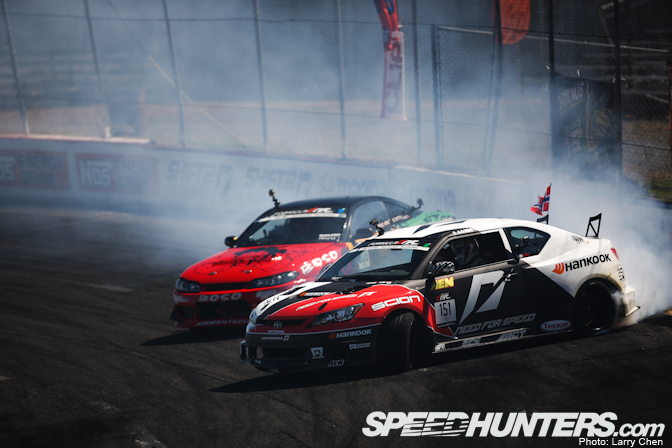 Since I qualified higher, I would lead first. I went for it with all I had, knowing Ross and his BOSO machine had the power advantage. I stayed high on the bank and were able to put down a run close to my absolutely best. Steffen advised that I should have the advantage going into Ross's lead run.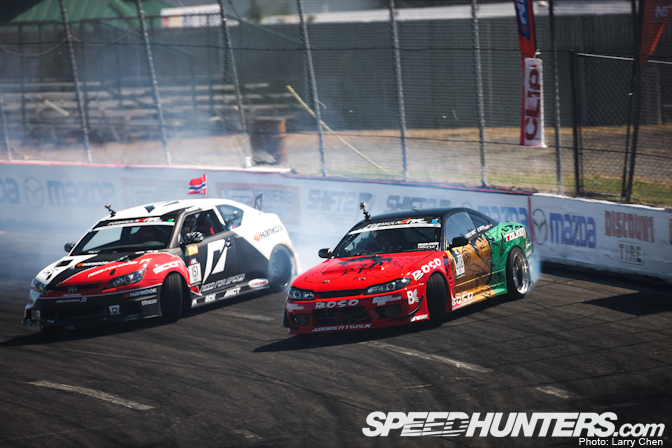 When Ross led, I dove in there and had better proximity to Ross than he had to me in the previous run. I had a slight waiver on the bank but was able to stay high and run the wall.
Coming down from the bank I noticed that Ross went very wide, ending up far towards the infield of the track. I knew that meant he would have a rather wide swing through the power alley, and speed would be low. As soon as I saw him go that wide I started applying left foot brake to continue drifting and still keep the speed low to keep myself behind him. It was hard.
Then, as Ross came back through the power alley and transitioned for turn two, I was very close and on the inside. In order to not get too close and hit him in the transition, I had to either go off throttle and straighten out or keep the throttle planted with a lot of left foot brake all the way through the transition. There was no way I was straightening out! So I kept full throttle and a lot of foot brake through the transition.
And then, I spun. Very clever!
If I had not been left foot braking so hard and eventually spun, we would probably have crashed in the transition to turn two. It felt like my only other option would have been to let off the throttle coming down from the bank and reduced speed by the handbrake, but that would most likely have caused me to straighten out or get a very shallow line.
Maybe with more experience I would have been able to foresee what would happen and react in a better way, which should definitely be my focus moving forward.
As we both stopped by the end of the course to get the judges verdict, my head was hanging. Not because I was completely sure that I was knocked out, but because I felt like I hadn't done my best.
Then, all three judges unanimously gave me the win! What? WHAT? I probably looked like a giant question mark sitting in the car.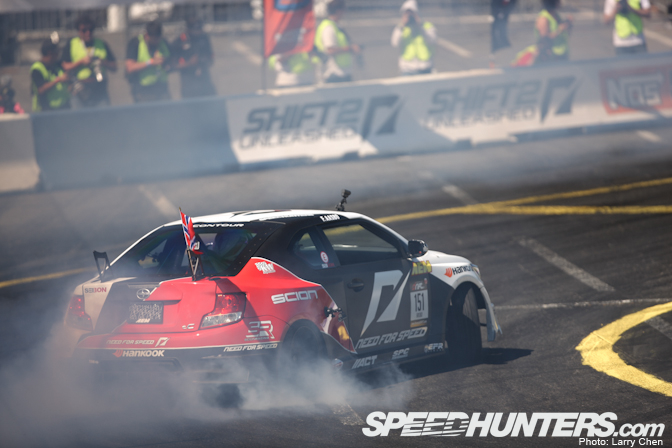 What I didn't grasp at the time as I was so set on chasing him, was that Ross had brought a total of three tires over the yellow line, meaning he was per definition off course coming down from the bank. Hence, we were both given a zero, but I had the advantage from the first run and was given the win. You can watch the runs for yourself here.
In hindsight I understand the reasoning behind the call and it's in line with previous judging. Still, when I came back to the pits, I went over to Ross to tell him that this was not how I wanted it to go down, asking for his point of view and giving him mine. He was all cool about it, but didn't agree with the call. "Now you have to go win this thing!", he said, and I think that was an extremely cool thing of him to say in a situation like this.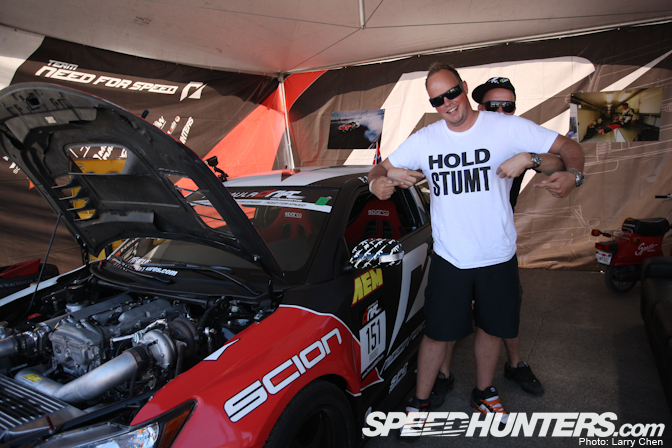 Jan Tore and Marius were having fun at their first FD event!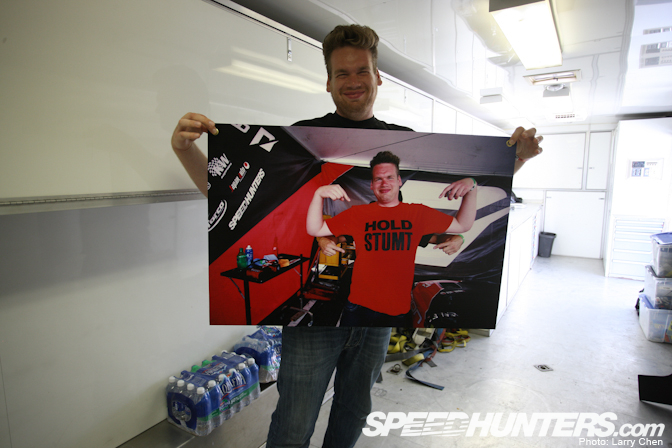 Steffen was happy!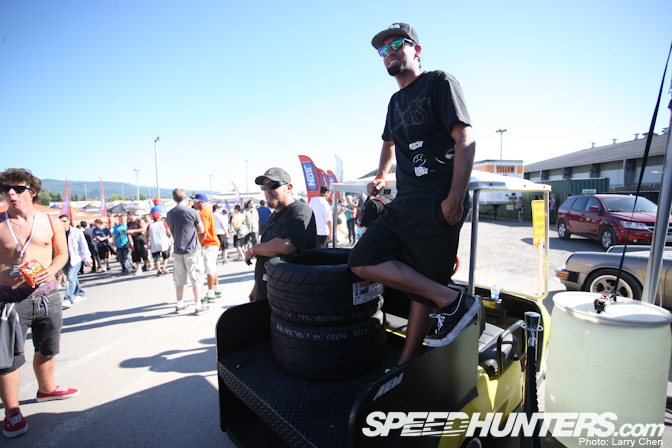 And so were Shawn and Aldo! After a couple of tough breaks in the last two events we were in Top 16!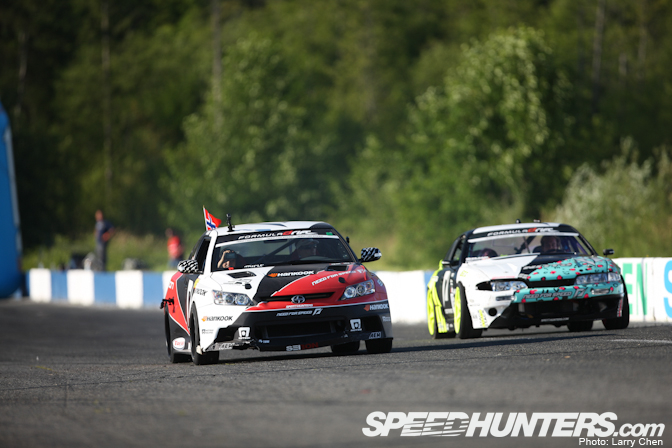 I rolled out with Miki, alongside Matt and Victoria.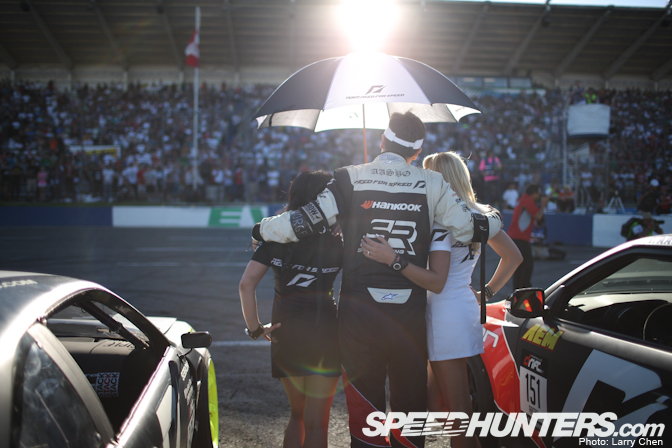 Who's with me when I say that FD needs some girl drifters with male umbrella guys? Dennis Mertzanis having Wrecked Magazine editor Joey Redmond as his umbrella girl doesn't count, but it was a nice try, guys!
I think some of the stuff that goes down at the Top 16 driver presentation is quite funny. This time Cyrus Martinez' dance was the best – feel free to look it up as it is definitely Youtube quality!
I was paired up with Irish competitor Dean "Karnage" Kearney for Top 16 in the SHR Dodge Viper, one of the most legendary machines of FD. Dean is very dedicated as he has gone all in and worked extremely hard to earn his seat.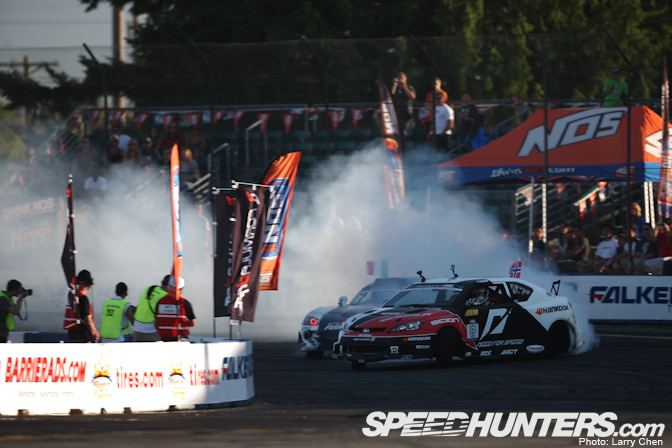 I lead for the first run. Dean was low on the bank and was off line through the power alley, giving us a strong advantage, but he went on to put on a great lead run. However, we got the win!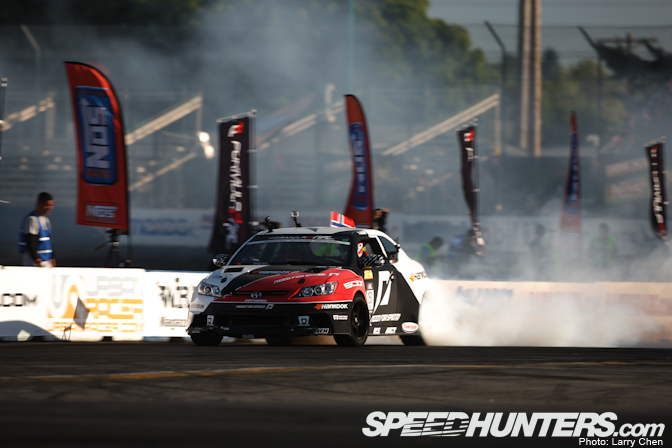 We were in TOP 8!!
And with that, we were on to battle the titan: Number one qualifier Tyler McQuarrie.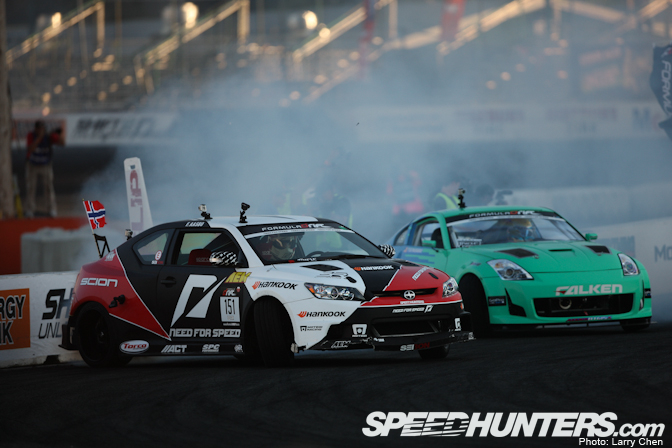 It was incredibly tough trying to hang with Tyler and his straight up bad ass powerboat of a car. We ended up getting not one, but two one more times with Tyler!
It certainly was six quite interesting battles. In the first run, Tyler gapped me by several car lengths but dropped a tire off course coming down from the bank. I was on the line chasing him decently, except in turn two where I didn't hit the inner clipping zone. For my lead run, I put down one of the more gangster runs I had all weekend, tapping the wall, but Tyler was right there all the way.
Tyler and I have different styles. He is very fast and precise in his driving, whereas I might bring more excitement in the form of transitions and angle at certain places of the course. Tyler, however, has laid down some of the absolutely most mind-blowing runs I have ever seen, such as his one qualification run at Long Beach last year.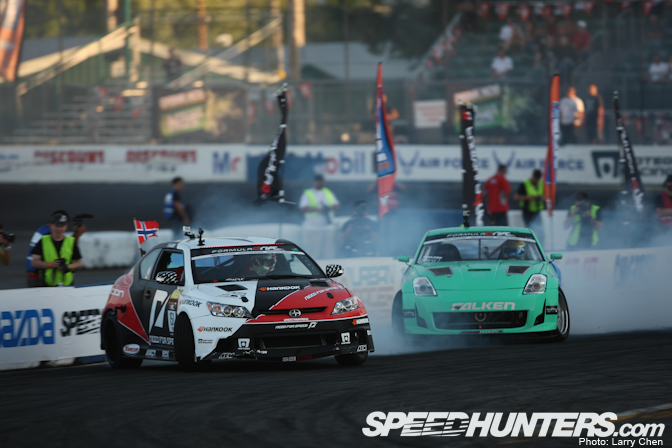 Tyler is a race car driver – as race car driver as they get: Well prepared, a great sport, ruthless on track and incredibly FAST.
As we blasted through the course for the final one more time, I was able to keep it together whereas Tyler had a correction through the power alley.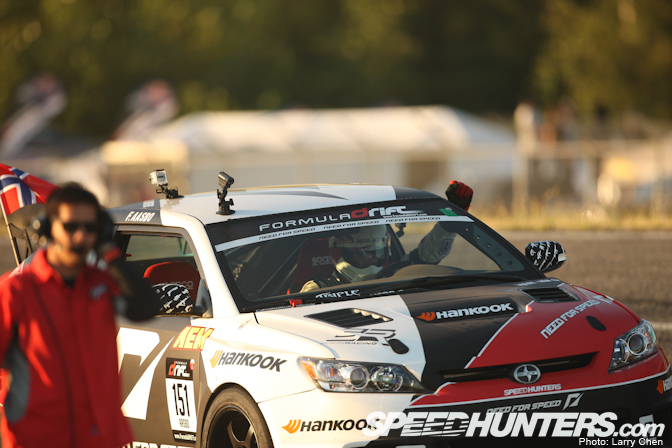 We got the win!! I couldn't' believe it. WE WERE IN TOP 4!!!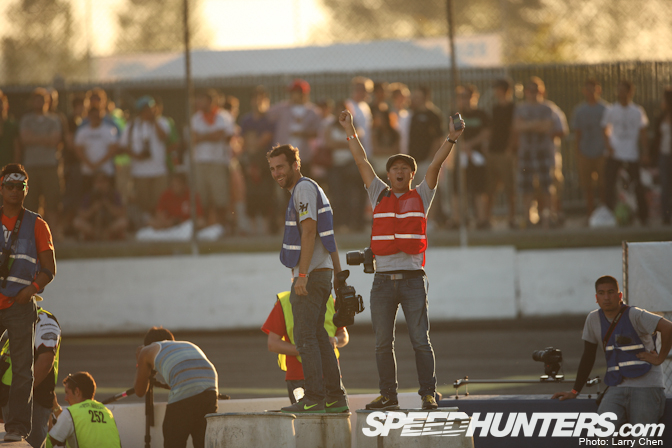 Linhbergh was screaming for joy! Larry, on his end, was frantically running around in circles in front of the car. The two of them are definitely two of the greatest mascots of our team. Thanks so much for the inspiration!!!
Trying to look at it from an outside and unbiased point of view, the judges have changed up their criteria since the New Jersey final. Now, they look less on the proximity of the cars, while they judge more on the style and flair of each driver. The effect of all of this is that power and grip are seemingly not as important as before, as the speeds are not as crucial, and the finals become less of a competition of seeing who can gap the chase driver the most.
I think the new style of judging makes for a more even playing field, bringing more rookies into the sport and slowing down the increasing costs of staying competitive. There are obviously a bunch of short term effects, and change in itself is costly, but I think that the end result is to the better for the sport.
Since drifting is still so new, the dynamics of the sport and how it is regulated is up in the air as organizers work to even out the playing field and teams figure out how to get better. As new rules are imposed, competitive advantages are shifted around making people get creative in so many different directions. In drifting, very little is actually set in stone, and that's a big part of what drives my passion for the sport.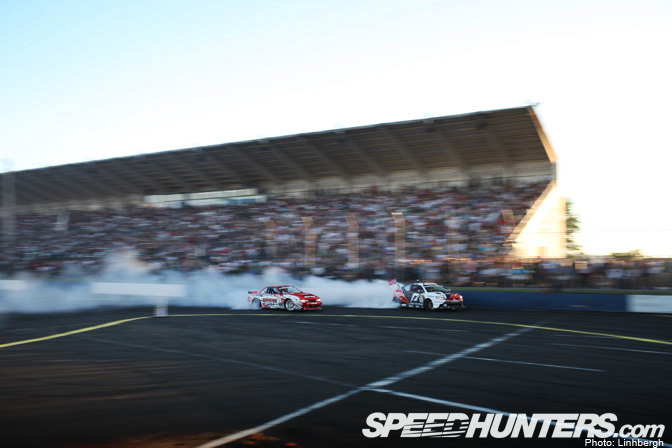 What is certain, however, is that V8 motors are here to stay. V8 equipped cars have filled every podium so far in the season, and as we were facing a certain Dai Yoshihara in the Top 4 I knew that if we wanted to stop that streak we were in for a crazy tough battle.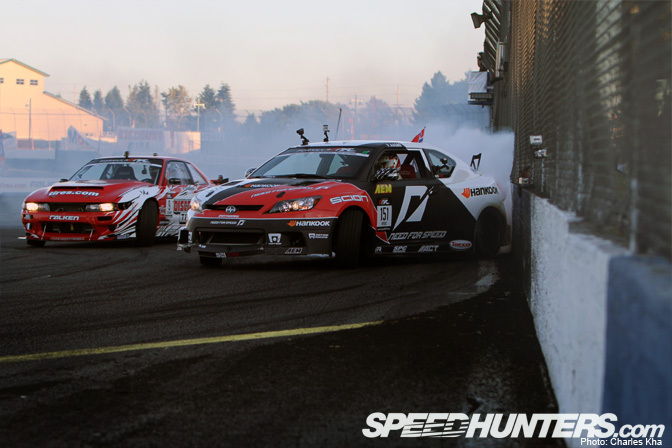 I took off as hard as I could but, and so did Dai. In short, he ran two flawless, super fast runs. I would say we had two pretty close and fairly identical runs, but I might not have been as fluid. Dai was able to gap me and I was playing catch up.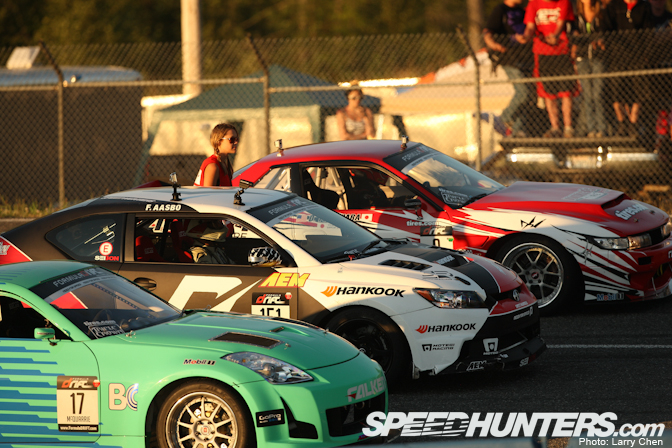 Dai took the win. Still, I am very happy with the runs and this is definitely how I want to battle – thanks for two great runs, Dai!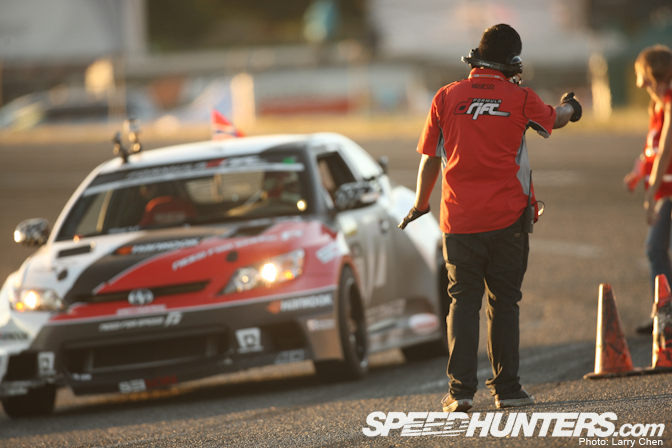 You can check out the battles for yourself here.
But we were still not out.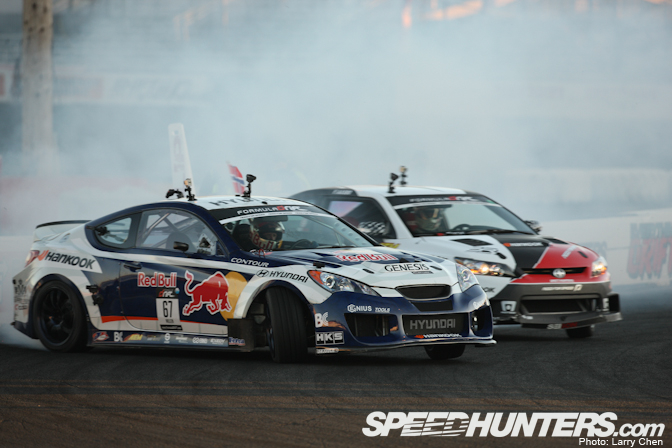 For the consolation round, which determines the third place finisher and the last podium spot, I went up against a certain Rhys Millen. The 2008 Red Bull Drifting World Champion is as experienced, decorated, witty and straight up skilled as they get.
If Alex Pfeiffer is the Doggfather of drifting in the US, Rhys Millen is certainly the Godfather.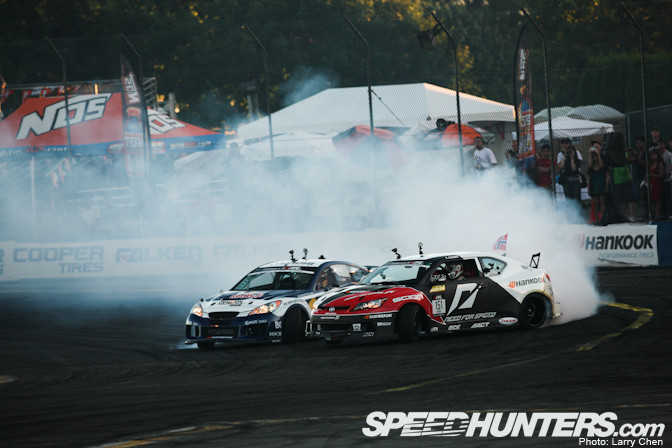 I was able to chase Rhys one time in practice, and I remember he hooked up and took off like crazy through the bank. None of the other drivers did it the same way. The Falken drivers had more of a fluid, all over fast run, but Rhys took off and left a Hankook smoke screen so thick that it was very hard to know where I was going coming down from the bank.
As he lead first, he ran very similar to what I saw in practice. And yet again, my jaw dropped as he went into warp mode and took off.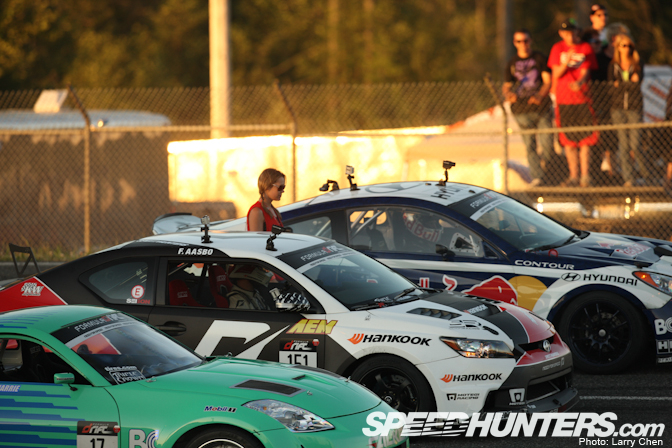 Rhys has a big heart, and despite us being fierce competitors he has given me setup hints and words of wisdom along the way. I hope I can channel some inspiration to other people too, but there is so much left to learn before one reaches Rhys' Master Drifter level.
Rhys was on fire the entire weekend and looking at the Driftstream footage I think he definitely left the greatest impression on me. His super close chase runs, with the inner wheel locked up all the way through the bank, were out of this world!
He definitely had the advantage after the first run. Sticking to our game plan, Steffen and I quickly conversated and we agreed on doing the same thing over again, and I went out as focused as I could and was able to put down a good run, but not as good as Rhys' lead run.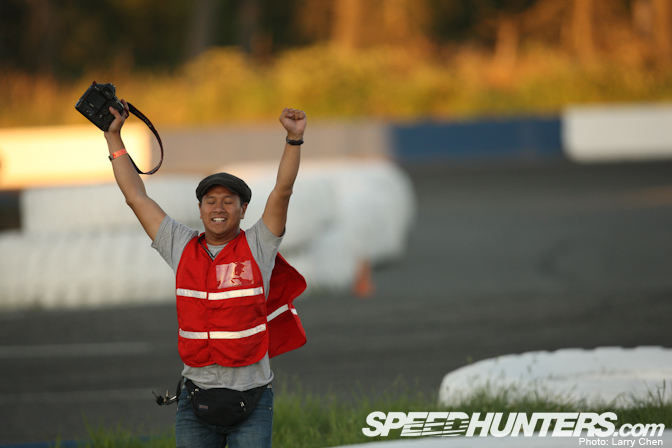 But wait? Why is Linhbergh running towards us in slow motion, with Tina Turner's Simply the Best streaming out of his fanny pack?
Rhys had lost it coming down from the bank, straightening out through the power alley. It was his only major mistake during the finals.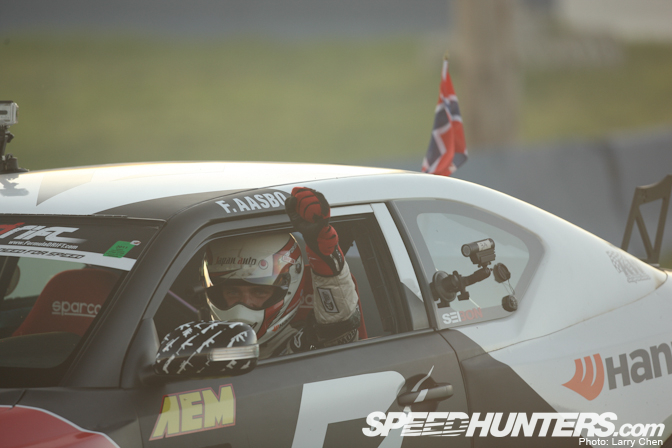 The verdict was clear. Fellow Speedhunters – we had achieved our very first FORMULA DRIFT PODIUM with a third place finish at Round 5!!!!
YESSSS!!!!!!!!! Excuse the exclamation points!!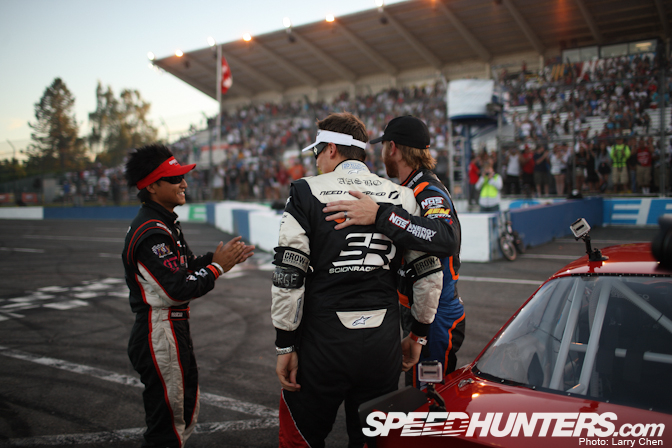 And then, I couldn't stop giggling and laughing like a Disneyland kid on a sugar high for the first time. I was laughing and jabbing like crazy, and I think at this exact point I told Dai that one of my mom's favorite T-shirts is his Dai-abolicial shirt.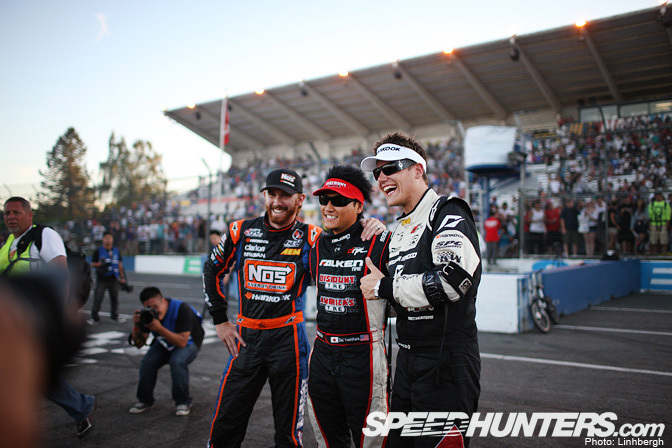 Chuck Norris on the right was more than happy too!!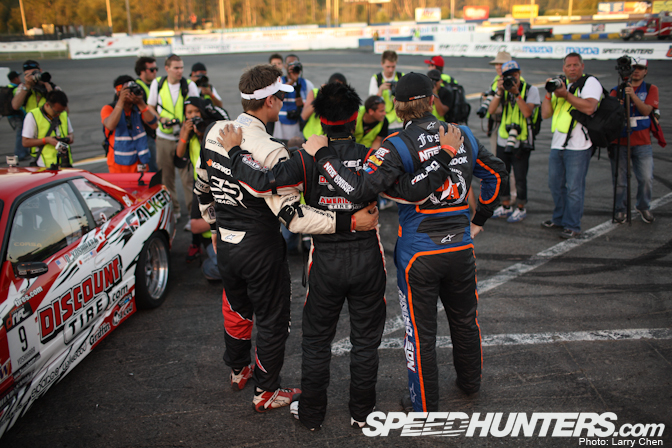 Scenes like these are when Larry's paparazzi experience and true dedication really shows. He will jump up and down shouting "look here, look here", all while producing super steady shots. It turns out for this one he has already taken his front shots and rushed around to get that other view. The different view.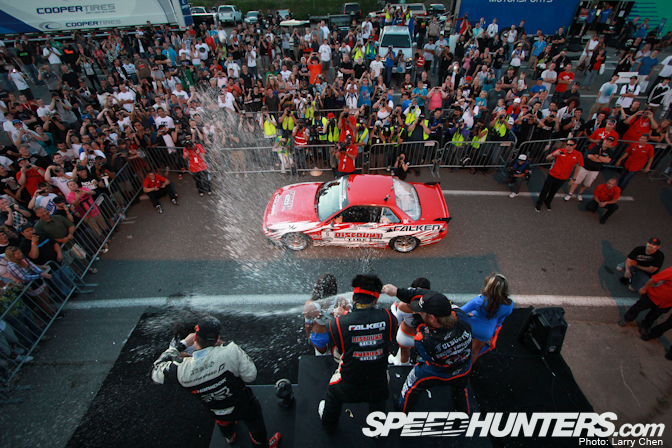 When I first got in touch with Larry in 2008, he told me he takes "drift photography very seriously, in fact more seriously than anyone else". We have since laughed and joked about that slightly bold statement, but I think he proves over and over that he was right.
He just keeps amazing me.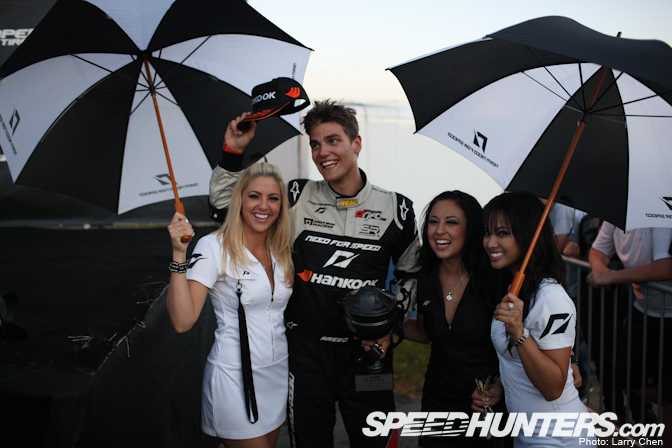 As I went for the podium ceremony, I had my usual Hankook visor on. Then, Hankook Motorsports Manager Paul smiled at me, looked me in the eyes and said: – this is the hat for you, blinking his one eye in a way I've only seen in mafia movies. He then gave me one of Hankook's trophy hats. It is for very limited use, and has a laurel bill, in true motorsports fashion.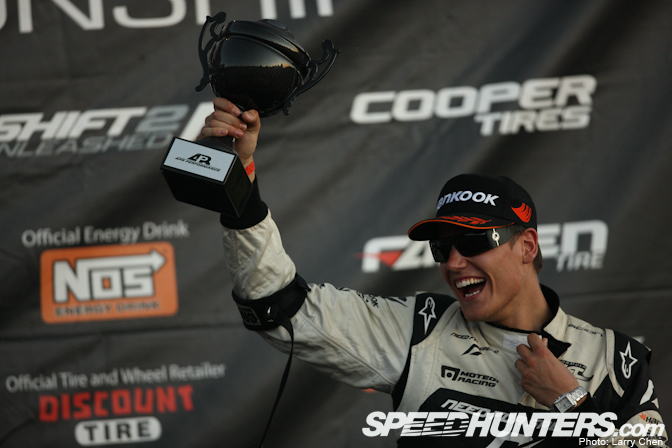 That was when it all dawned on me. I had been able to podium in the world's toughest drifting series, and my crazy dream that was born 8 years ago had become true. It had all come together thanks to incredible support from friends, sponsors and a whole array of milestones along the way that have been down to luck, dedication or maybe a little bit of both.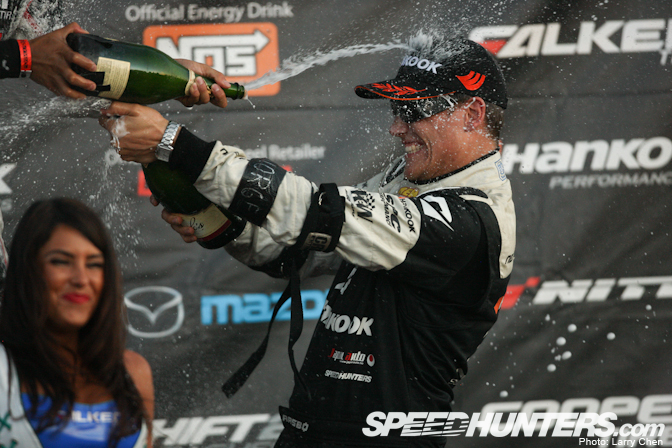 I was the last one to open the champagne…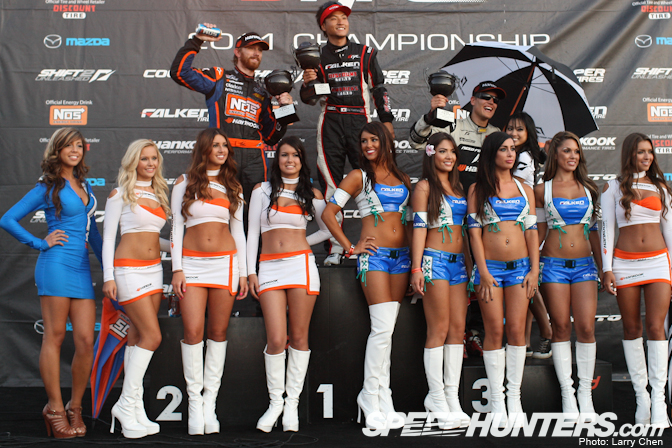 … and when it first opened I managed to spray Victoria straight in the kisser. I am sorry, Victoria!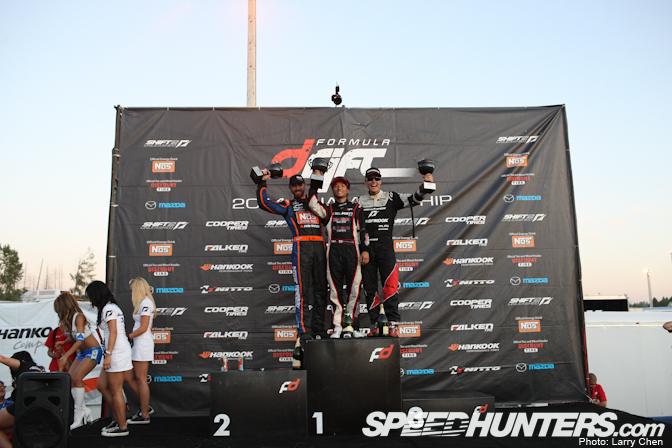 She took it like a champ though, smiled and said she'd return the favor in Vegas!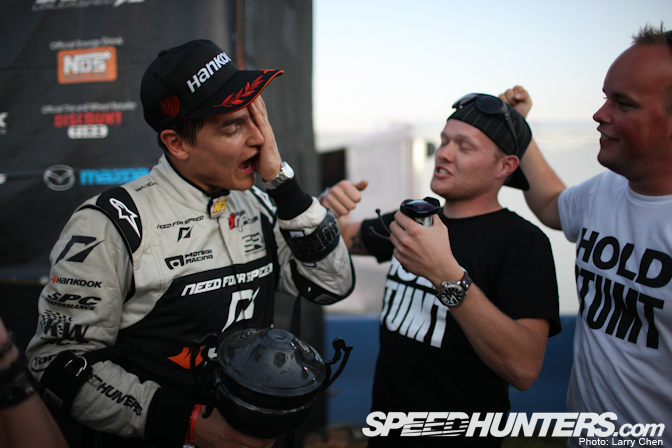 Our Norwegian friends where in awe after their first Formula Drift event!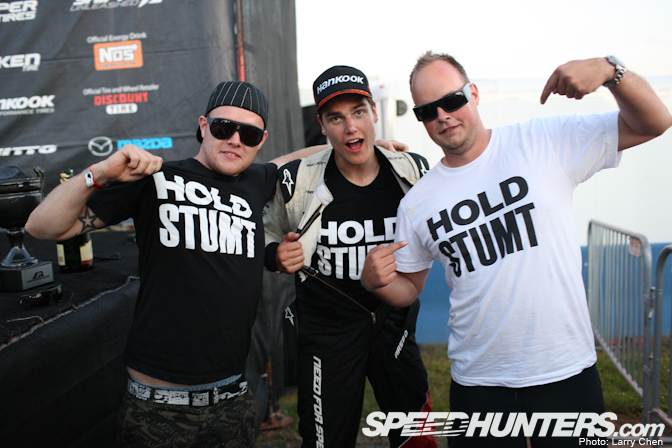 Right now, they are back home, selling up and preparing to come back for Irwindale. You can sleep at the couch anytime, as long as you bring couches and share with the Swedes!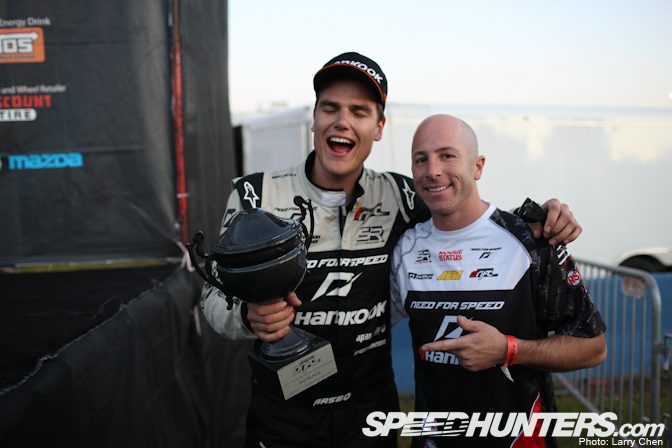 Steph has tried to teach me that winning pose… To no avail, it seems.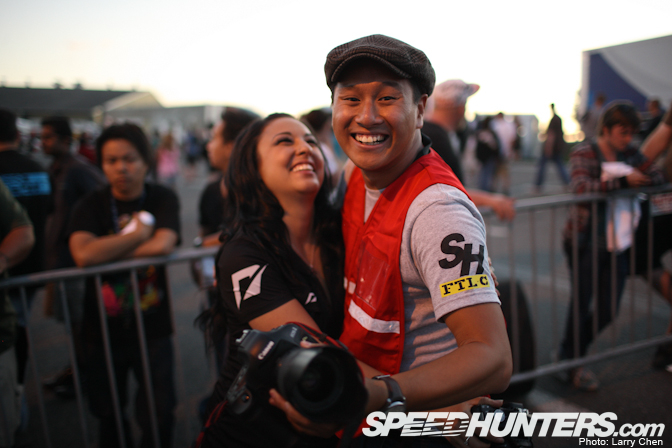 Did I tell you Linhbergh and Miki were happy?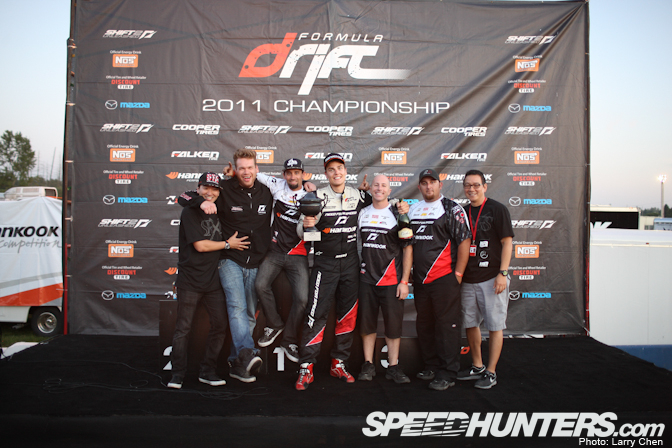 We did it!!!! From left: Fred Chang (Scion Marketing), Steffen Moy (spotter), THE Shawn Hillier (mechanic and mental support), myself (Speedhunters blogger), Stephan Papadakis (crew chief), Aldo Villagran (mechanic, truck driver and high fiver) and Steve Hatanaka (Scion Marketing Manager).
WE DID IT!!!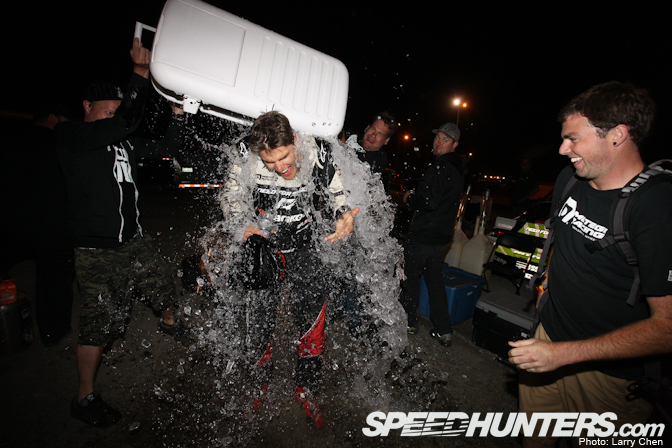 Jr. came by and kindly congratulated us as he knew this was our first podium. He quickly took off, though, when he saw what was going on. His "I'm outta here" pose cracks me up, though!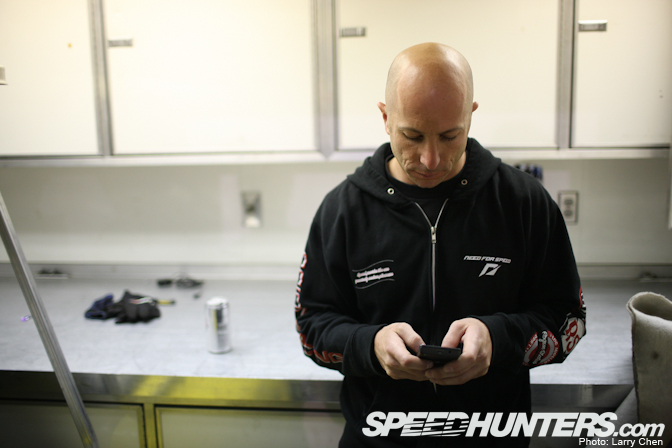 It might look like he is texting, but I wouldn't be surprised if spreadsheet genius Steph is running some calculations on his phone.
We run the tC motor at about 440whp at the moment, whereas for instance the ASD cars are running above 800 motor hp. That said, the 2AR motor in our car has an incredibly drivable power and torque curve and I am very impressed by how it hangs with the big NA power plants, but there is one portion of the course where we are at a disadvantage: The last stretch of the entry straight. As the cars hook up in 3rd and 4th, the more powerful cars gap me as we enter the long bank. For the most part we were able to keep that distance throughout the course, but being at a loss due to limited power is something we are definitely addressing.
If there is one thing Steph Papadakis and his gang know how to do, it is to make power out of four cylinder. I have a lot of faith in how they have carried out the motor program, considering the 2AR stroker motor build is a project that has never been done before. We have been testing the limits and improving on it step by step, rather than leaving a trail of oil, shrapnel and blown motors behind us.
With that said, I am eagerly anticipating the last two rounds of the season.
Next up for us is Formula Drift Las Vegas, before we head out for our mini United Kingdom drift tour to compete at BDC/TRAX Silverstone and Prodrift Mondello. I can't wait!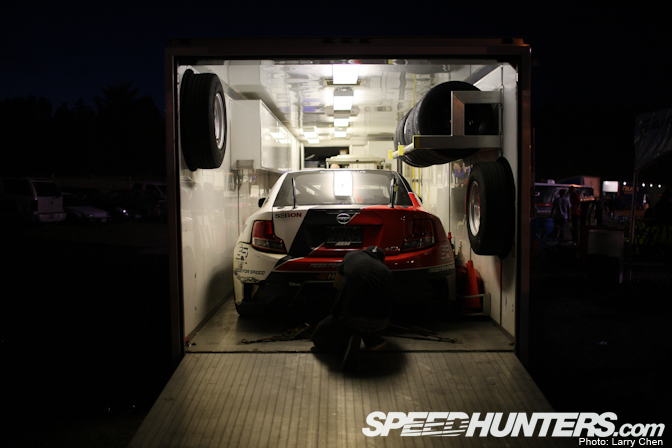 Right now, however, it is time for me to slow down and realize how fortunate I am. Very few are lucky enough to have their dreams come true like I did this past weekend, and tragically not everyone is even allowed to grow out of their teens.
My thoughts are with the ones that didn't make it through the massacres back home at Utøya and in the heart of Oslo.
Thanks,
Fredric