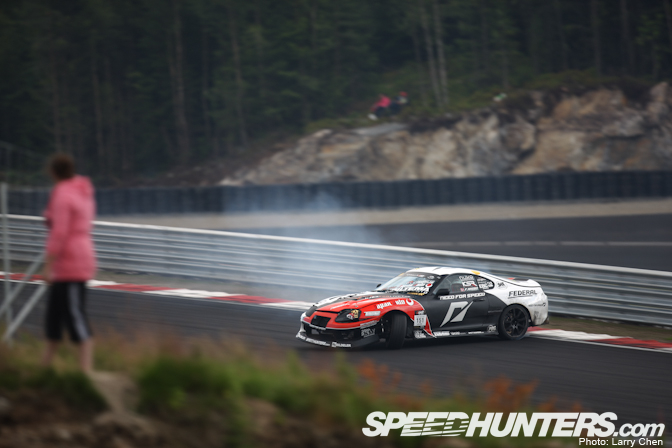 Hello dear Speedhunters!
Gatebil has already been amazingly covered here on Speedhunters, and I've had a blast viewing it all through the eyes of Rod, Larry and Paddy. In this driver blog, I'll try to bring you a little deeper into Gatebil as experienced by myself as a driver, and show you what it was like being back at the Rudskogen track after a year of literally drifting around the world.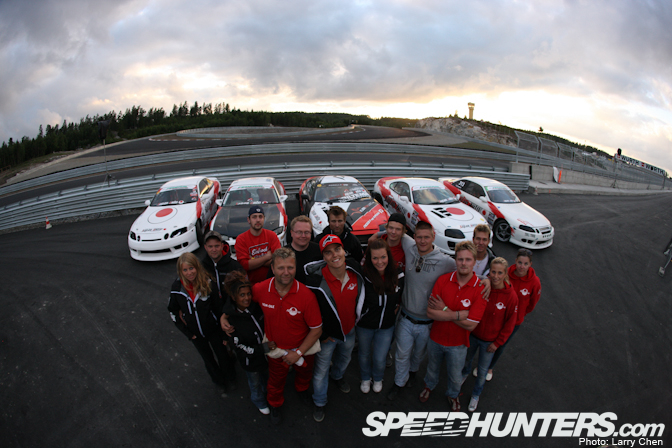 To me, it's the little things that make Gatebil so great. For the most part, it's a festival about cars and friendship in an environment with very few rules.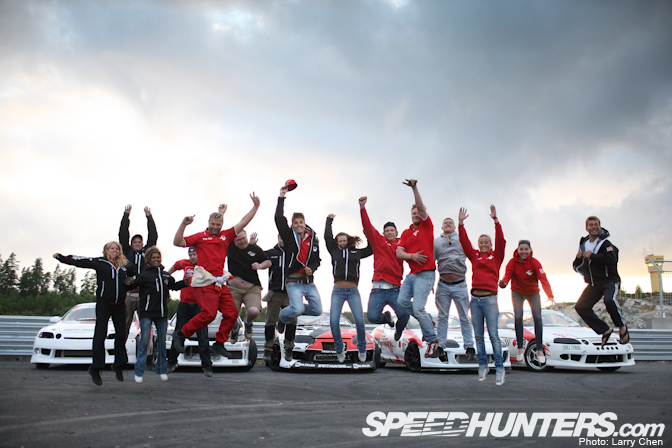 And the rules that do exist, are usually being stretched as the Gatebil weekend passes by…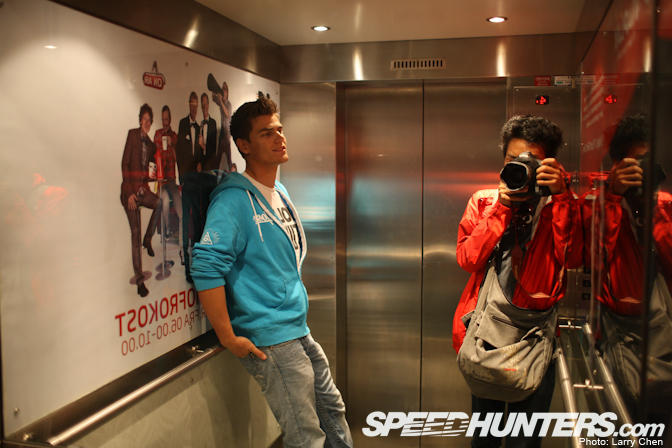 For me, the weekend started when Larry Chen of Speedhunters photography fame arrived in Oslo, the capital of Norway, on Wednesday 6th of July after leaving Los Angeles 20 hours earlier. The annual Gatebil main festival was just around the corner, and part of his mission on the other side of the world was to be a fly on the wall as we prepared ourselves and the Need for Speed Japan Auto Supra for a weekend of car craze. Larry would stay with us, eat with us and pretty much be a part of how we mess around come crunch time.
His first response after sleeping a night at my parents' house just outside of Oslo had us all laugh. 'It's so quiet here' he said. 'I didn't hear a single police helicopter all night!'
Life in Los Angeles certainly differs from life in the Norwegian country side!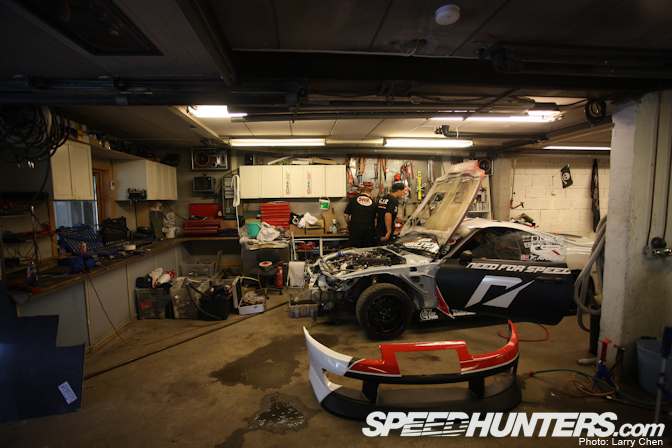 My parents were gone for the weekend, and my girlfriend Wenche, buddy and FD spotter Steffen, sister Camilla, Bjørn, motor wizard from Skunk Works Performance, Thomas, our friends and myself had occupied their house and garage. This is where we built the two Japan Auto Supras in '08 and '09.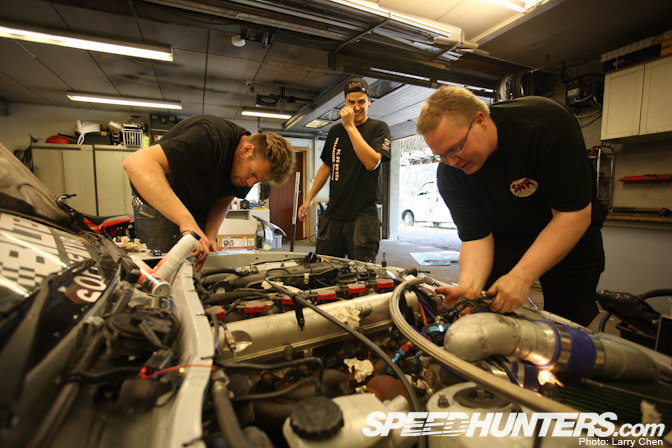 My dad used to fix and paint cars at this very spot and for a few years he and his friends ran a small rear wheel drive rallycross program with a BMW 2002tii. As I grew up I somehow took over the duties. Or maybe all my stuff started floating around everywhere, not leaving room for much more…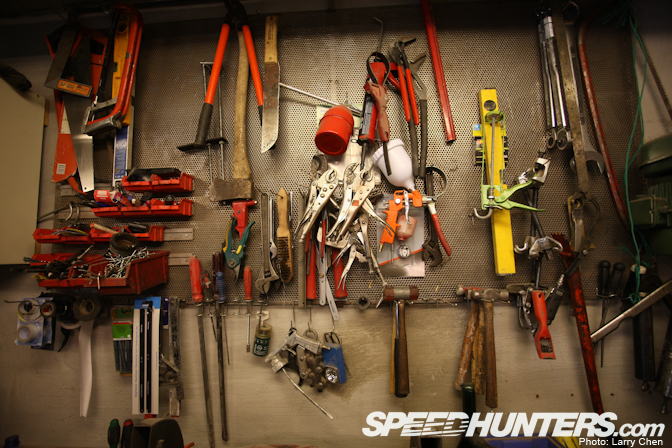 We might not have the most fancy tools, but as was already pointed out here on Speedhunters, there is "nothing like a Supra built with a machete"!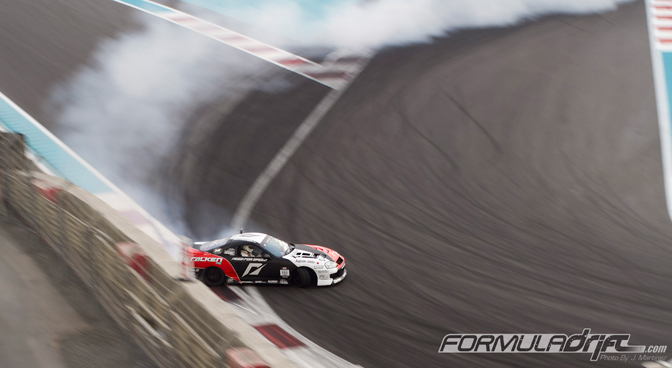 The car and equipment had just come back from our Middle East adventures in Abu Dhabi and Qatar, and before Gatebil I had run a drift demo at the Norwegian round of the European Rallycross Championship and a couple of runs at the Norwegian Powerdrift Series. It was time to clean up the car, apply some cooling mods, straighten out the rear right corner (which my dad did) after a hard hit with a Qatari tire barrier and generally make sure Chucky's sister was ready for the weekend.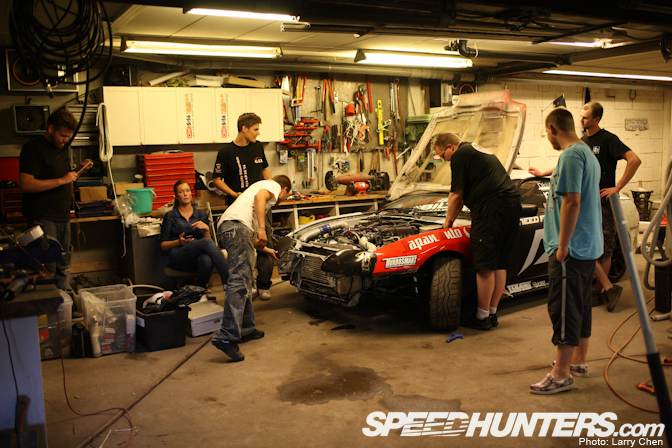 These are some of my closest friends. Looking back, we have had a lot of fun at this place and I couldn't be more thankful for being allowed to grow up the way I did with my friends from Bru.
Back in the day, the lake behind our house allowed for 4 horsepower outboard motors to be used. So, 10 years ago when I was a kid I had a 5hp Johnson two stroke outboard, sporting a 4 hp badge, a custom milled down head for increased compression and a lifted exhaust port. My friends and I had the tiniest boats imaginable, but we raced each other down the lake all summer long.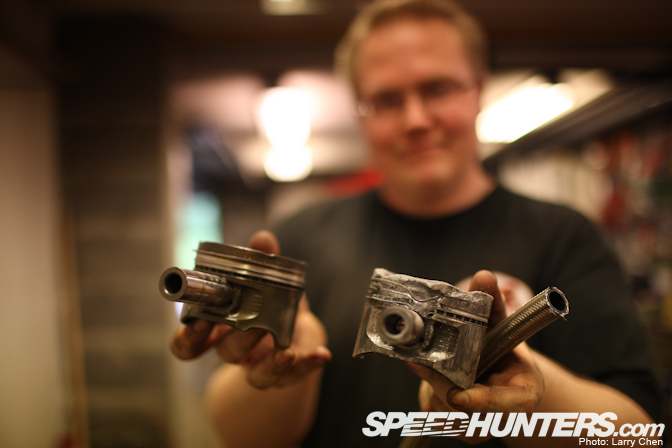 I have learnt – and failed – a lot between these walls, playing with everything from RC cars to lawn movers.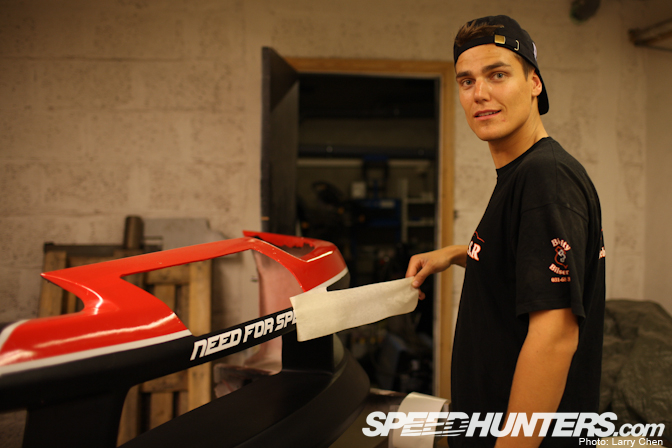 And as we prepared for Gatebil July yet again, it all came full circle.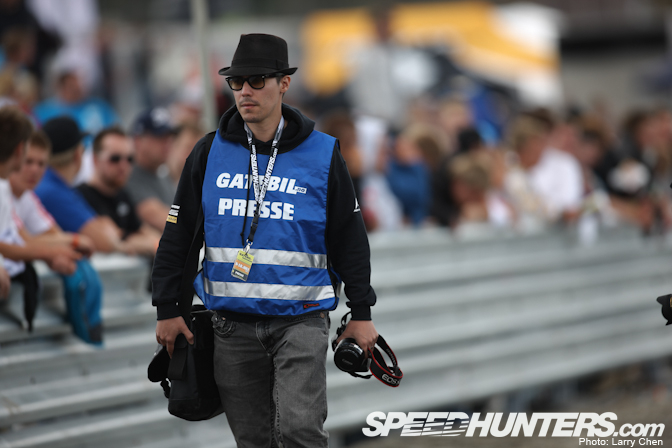 In addition to Larry, quite a few other Speedhunters and Need for Speed personalities came out in full effect… Rod Chong was there, hunting speed as always.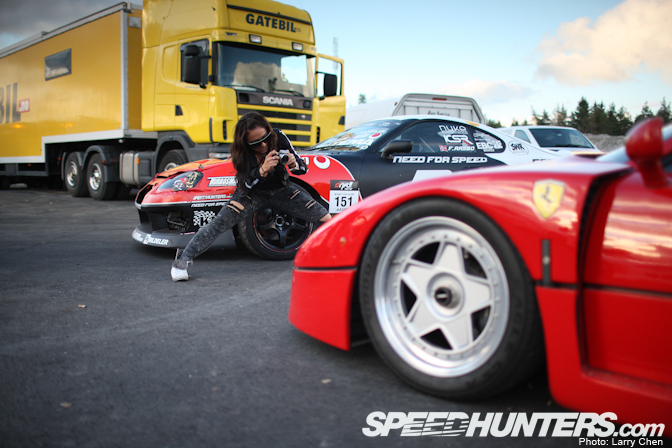 Miki Taka flew in from the US West Coast, bumping her DJ mixes all day long in our mini version of the Need for Speed Electro Lounge.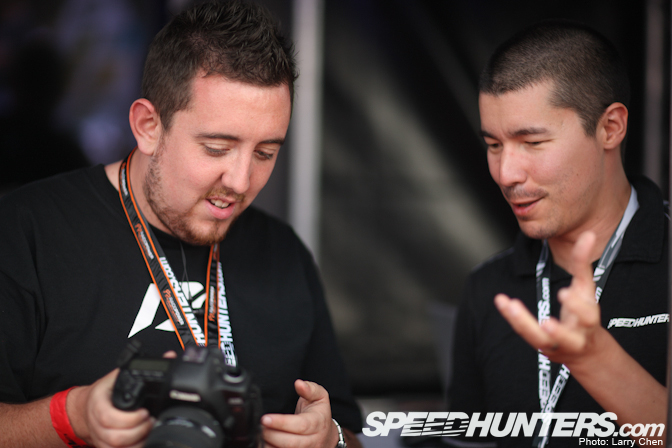 Paddy McGrath flew in from Ireland, and was picked up by my friend Thomas in a white, very Irish looking Transit van to make him feel at home. He was shooting for Speedhunters and an upcoming magazine feature. Paddy told me after the event that it was one of the best weekends he can remember working at, which was very cool to hear! I hadn't seen Paddy since 2008, when I first met him, but I have been keeping tabs on his amazing photo stories from the Irish and UK scene ever since.
As for other international guests, Gatebil is growing bigger and more internationally recognized for every year.
For instance, when Steffen and I were settling in our L.A. apartment in April, we came by a picture of a fairly stock looking BMW E30 Touring sporting an unusual stance and great steering lock. I instantly recognized the setup as what I dreamt of doing to the E30 I started drifting in, and after a little bit of detective work and a few phone calls to eastern Europe I finally found the phone number to the creators of this machine. I called an Estonian phone number and reached Mr. Ardo Kalda, who turned half speechless thinking someone was playing a joke on him when I presented myself. It turned out him and his boys had been following all of our US efforts!
That got the ball rolling. They wanted to fly me out to Estonia and test their kit, but I told them that I knew about a drift event they would probably enjoy, so I put them in contact with the Gatebil organizer Bassan. Did they show up?
They certainly did.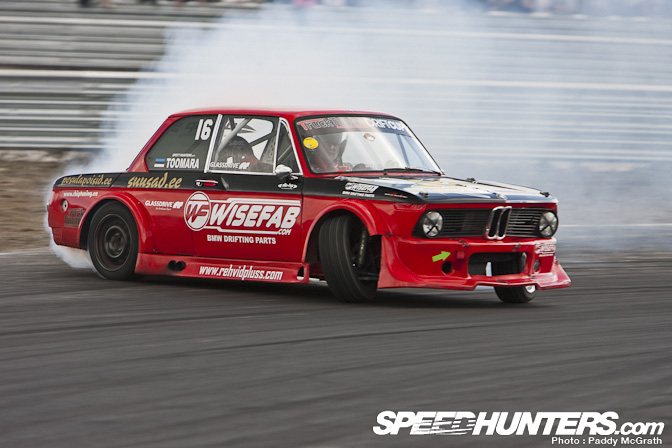 Ardo brought Taavi and his BMW 2002, which isn't really a 2002 anymore. It's a showcase of Wisefab's new steering kit, and they where ripping it up all weekend! Unfortunately the M20 motor threw a rocker and was running on 5 cylinders all day, but they still wanted me to test the car and with 600+hp on tap before the rocker arm incident they figured there was still 500hp left…
These guys are amazing. I tried the car for two laps and had a BLAST! Then, I blew the motor, with Taavi sitting in the passenger seat laughing his head off. We rolled into the pits, reeking of coolant and oil, only to be met by Ardo & co who was laughing as well.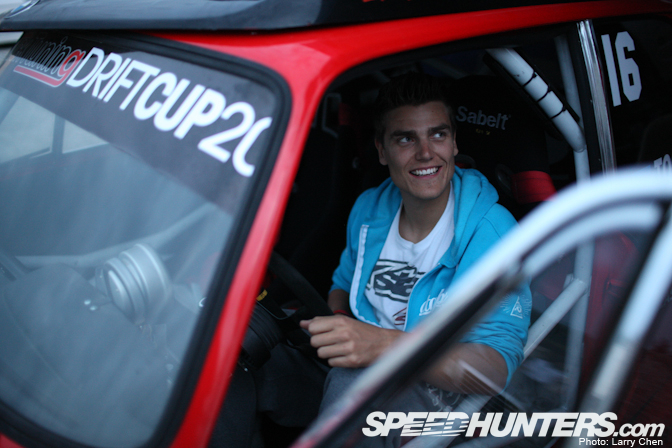 After the event, I still sent Ardo, Taavi and the guys a message that I was sorry for breaking their motor and that I was very happy that we could meet at Gatebil, thanking for the opportunity to test the car. He told me to shut up and quit being sorry, and part of his reply read like this:
"Now i just want to say a REALLY BIG THANK YOU for inviting a couple of silly Estonians to Gatebil and a REALLY BIG THANKS for helping us there in the first night and REALLY BIG THANKS for driving our car and giving us feedback on our parts. And we ARE REALLY SORRY if we bothered you too much, it's … well we don't see Aasbo every day!"
To me, that is a very touching read. Actually, I'll revise that. It's a pretty frickin' EPIC read!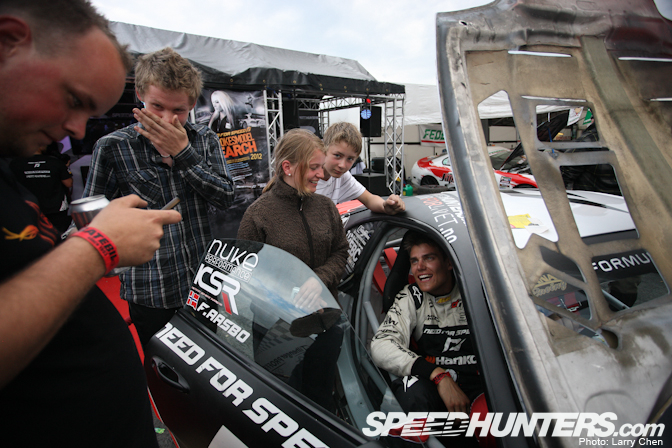 Did I mention Gatebil is all about meeting old and new friends?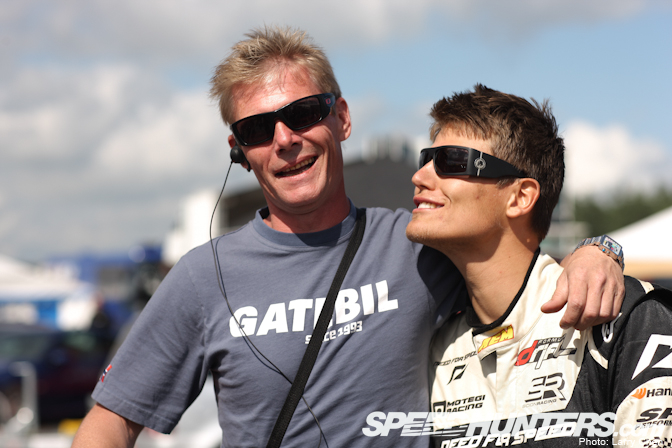 For any car festival, and especially for Gatebil, Sunday morning is remarkably silent. There are two reasons for that: Sunday is church day, and no motor activities are to be performed before noon. The main reason, however, is probably that Saturday night is party night at Gatebil. The annual babe show competition is held around midnight on Saturday, and that sets off a chain reaction of smaller and larger parties all around the various pits, fields and forest roads.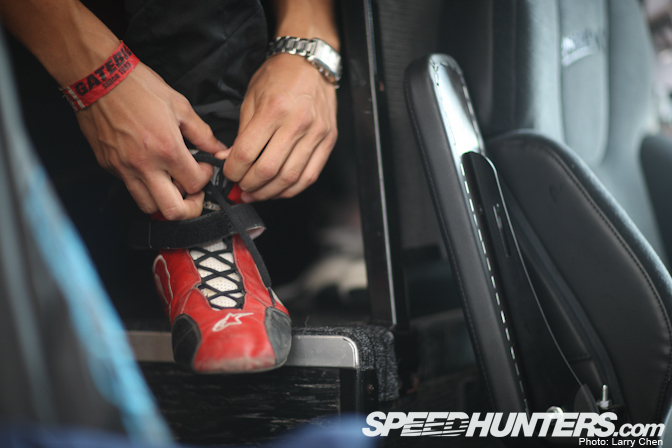 I used go around the clock like everyone else at Gatebil, but to be honest, I was probably the most boring guy ever when it came to nightlife this time around. We had some issues with the car Friday and Saturday, and everything that was going on at our booth, spending time with old and new friends that I never see anymore, organizing ride alongs and at the same time trying to stay focused and drive the track took a lot out of me. Maybe I am just getting spoiled by being more of a professional driver these days, but the response at our booth was overwhelming and I tried to devote a little bit of time to everyone that came by, although I don't think I succeeded with that.
Come Friday and Saturday night I fell asleep in a heart beat in our designated bunk bed that the Alm Audi brothers had kindly set up for us in their bus. My bed was literally shaking from the music and the parties that were held left and right, but I slept like a kid dreaming sweet dreams about the "Angst" downhill high speed section of the track.
I did get a glimpse of the party camp though, which is where most of the 40,000+ spectators camp for the weekend. It's an incredible place, where people slide around in the mud half naked and rev their motors all night long. My favorite sight was the guys that ran through the woods in the middle of the night trying to fire what looked like a chain saw! According to Bjørn that sort of activity has a name – Midnight Lumberjacking.
It looked like risky business.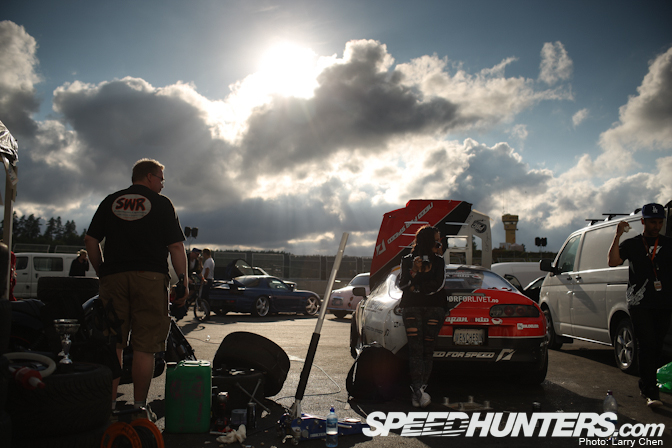 One of my favorite Gatebil moments ever was when I woke up one Sunday to the sound of the Top Gun hit Danger Zone by Kenny Loggins. I remember it matching very well with the Group B style Audis. This time around there was no music, but as the clock passed noon and the pits were coming back to life, the instantly recognizable sound of ethanol injected motors firing up were heard throughout the pits.
It was time for "Breisladden", the informal, free for all drifting competition which is the track highlight for most of the Gatebil crowd. Every car would get one single run to impress the judges, where the ones displaying the best runs were sent on to semi-finals. Then, it is narrowed down to the finals and a winner is chosen.
The spectator hill was crammed with people, and at best, you get three runs.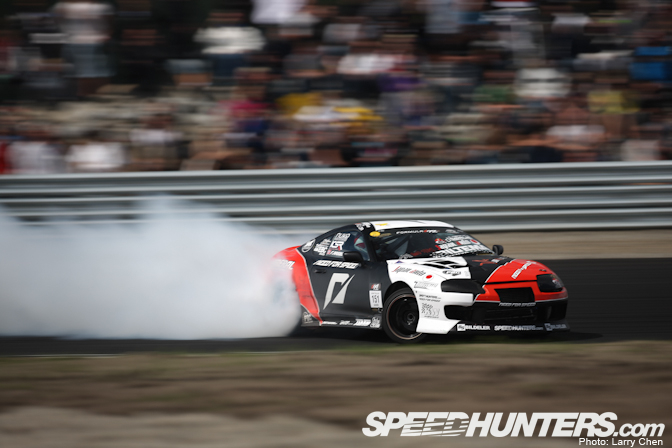 We moved on from the qualification!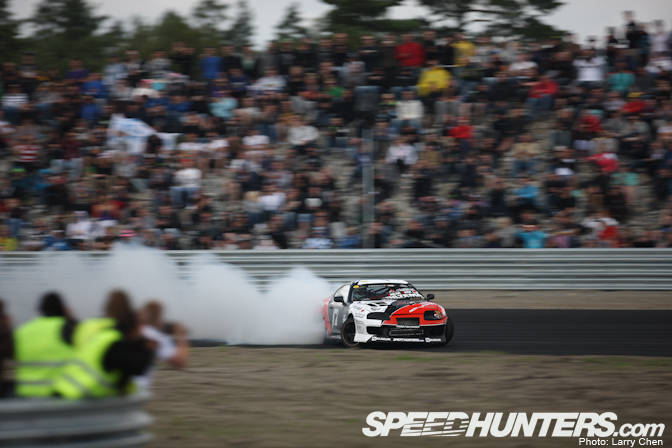 And we moved on from the semi-finals!!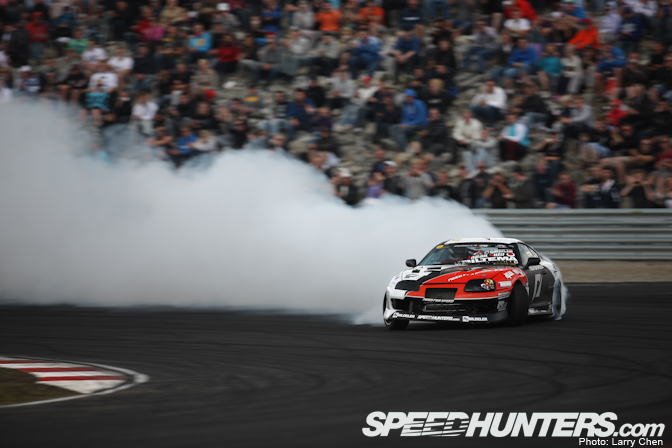 We WON! I couldn't believe we won – more on that later!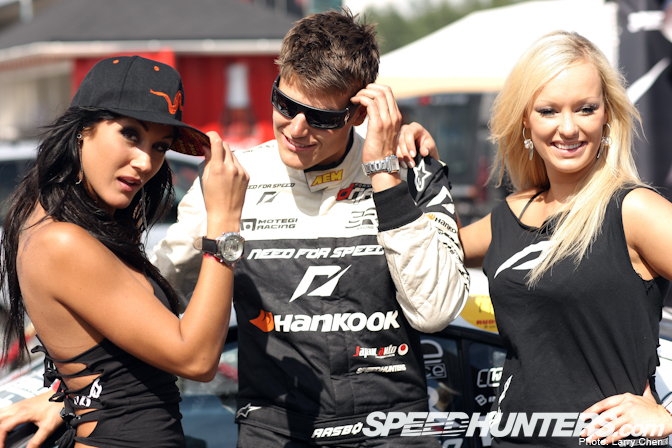 This is Malin and Julia from the Team Need for Speed Europe model search. I think these were the only shots Larry had me pose for the entire weekend (for the girls I think it was a different story).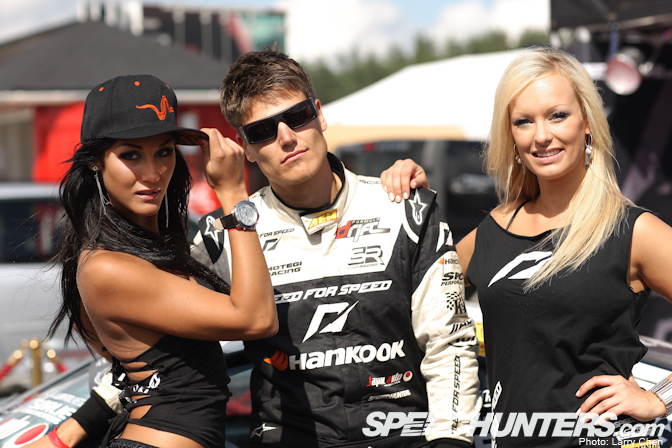 Here, he wanted us to do the WINNING pose. Is this it? No?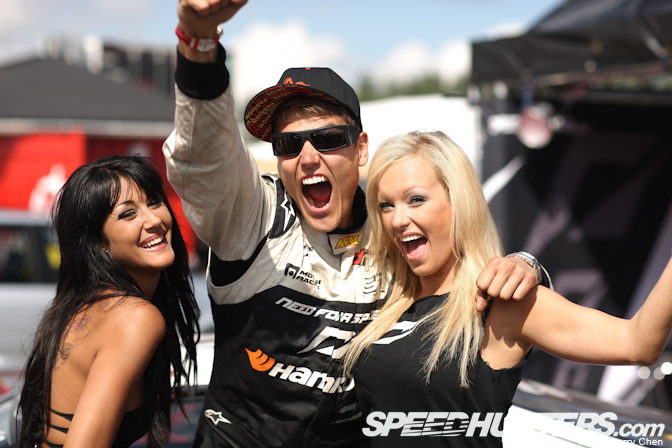 I think this is more like it! Yes? WINNING? Still no?
The Need for Speed Japan Auto Supra also won the Car of the Show award, which to me is an unbelievable feat considering the incredible builds that show up to the event. After all the Supra is a simple car built in a low-tech garage, but it has been around a little bit by now, and I think the whole Speedhunters and Need for Speed setup we were able to bring was definitely something new for Gatebil.
More than anything it felt like the Car of the Show award came down to Gatebil appreciating having us around, and I hope I am not too bold when I say that I think what the Supra achieved in Abu Dhabi this winter struck a nerve within the Gatebil community, adding to the consideration for the Car of the Show award. What we did in Abu Dhabi was pretty much what Gatebil is all about: going at it with what you have 'til there is nothing left.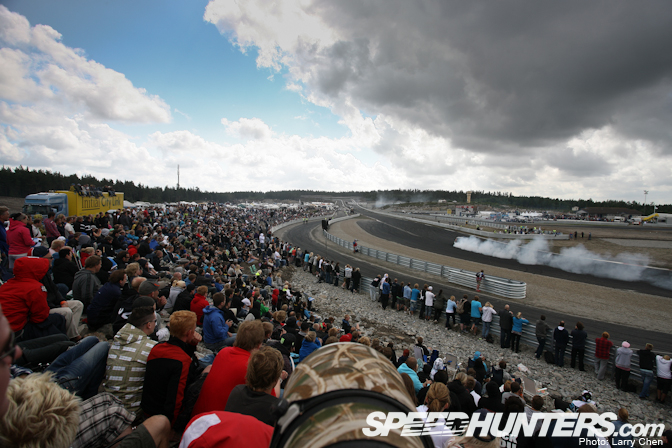 I feel like I owe so much to the whole Gatebil community, organization and spirit, who have made it possible for me to focus 100% on what I love doing.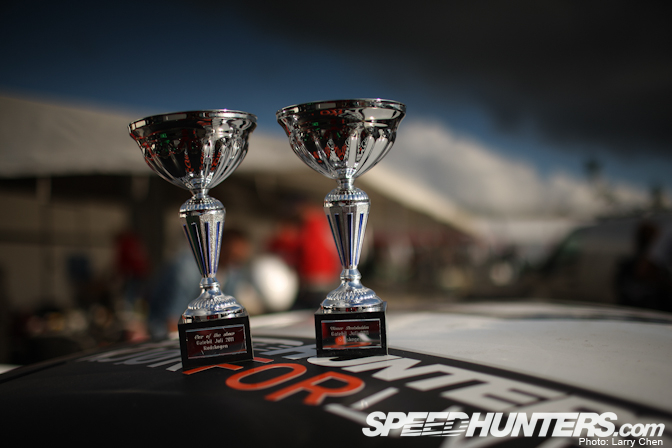 Being handed the Breisladden win that Sunday felt incredible, considering all the amazing talent and machinery that is gathered at Gatebil. I have a ton of respect for everybody going out there spending all their time and money putting in crazy efforts and giving it their all, and to me it's always more a competition of trying to see if I can hang with the most passionate ones. Thanks to all of you that cheered us on to the victory – it meant a lot to me!
That said, I felt that I lacked a little bit of excitement in my runs – I was fairly fast and steady except for one run where I could have been more on throttle, but it's hard to dial in excitement in that portion of the track as you are mostly accelerating through the turn.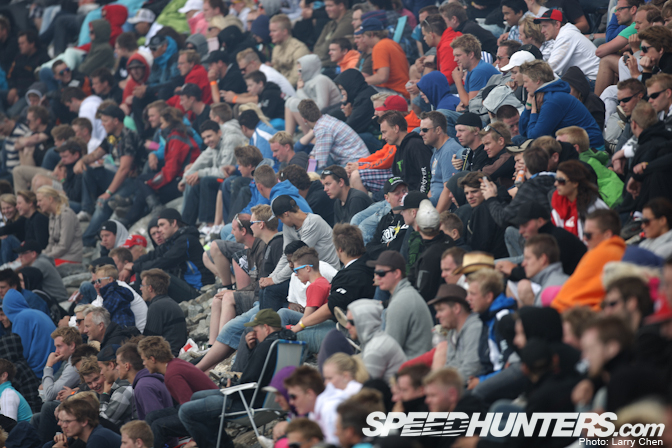 Moving forward I really want to help the progress of the sport and give the spectators what they want to see, and one thing I'd love to do is to run the Breisladd turn in the opposite direction, which would probably require some reworked runoffs and added safety measures at the track. But how cool would it be to run the track in reverse, blast down the main straight as fast as you can and flick it as hard as you can into the long sweeping main turn? I think it would make for some super spectacular drift entries, and the 4WD cars would be mind blowing!
I know what I dream of achieving, but I don't know if my vision engages others. I have always said that I wouldn't be drifting if I couldn't do it with my friends. It feels so much more rewarding doing something in cooperation with others than trying to do it on your own.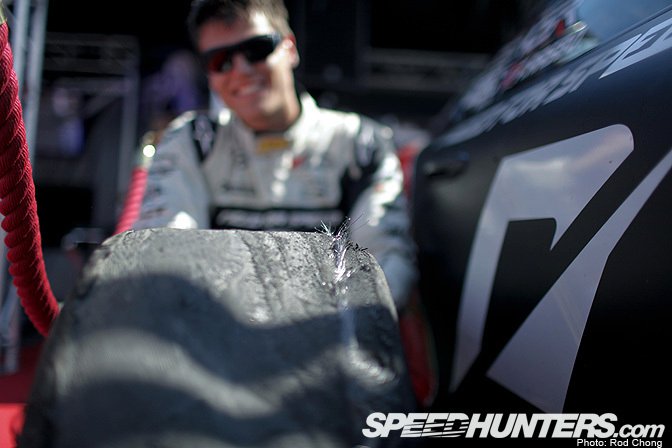 So, as the Breisladd competition was over, I told Larry and my friends that there were a few things I wanted to try. Whereas the Breisladd competition is the weekend highlight for most of the spectators, the brand new and rebuilt Rudskogen course offered plenty of hidden gems in the form of super exciting turns carved out of the orange rock formations…
To me, the coolest stretch of the new track is the reworked Slakter'n ("the Butcher") 180 degree turn and the crest going into the old pit hairpin. All weekend, I had been envisioning flicking it hard coming down the Slakter'n hill. However, It proved difficult to get a clear track without too much traffic or yellow flag action going on. As much as I love Gatebil for allowing everyone to go out at the track at the same time, which definitely helps new talent, I didn't want to hit too many cars coming over those two crests!
Patience was golden. I'll tell you why: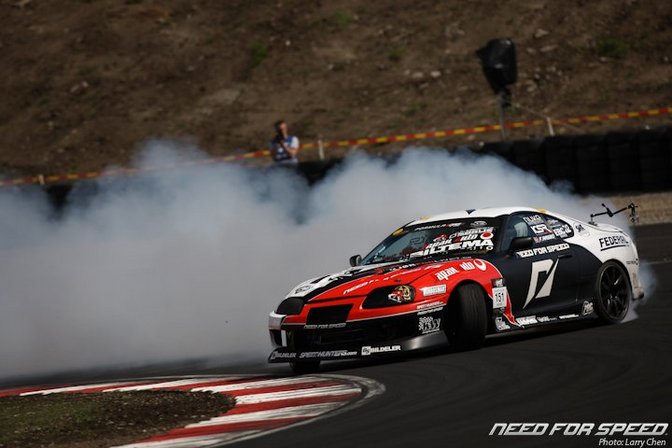 To most of the crowd, the festival weekend is an all out, no limits style summer party camp, and exhaustion gets to most people (and cars!) as the Sunday is coming to an end. Ever since I could afford to drive at my first Gatebil festival back in '06, I have always been looking forward to the last couple of hours of track time. As the event is closing down Sunday afternoon, there is less traffic on the track as a lot of cars have broken down, run out of tires or just packed up. At the same time, the marshalls are getting less strict on the track rules and those of us drivers that are left have grown more comfortable with the track…
Additionally, the spectators that are left to watch the Sunday evening sessions are usually the die hards: they're the ones that either 1) woke up trackside Sunday afternoon after passing out the night before, or 2) the ones that are there solely to watch the track action.
The die hards know what's up (no pun intended, Rod! I know you had to catch your flight, but I'd love for you to stay longer next year!)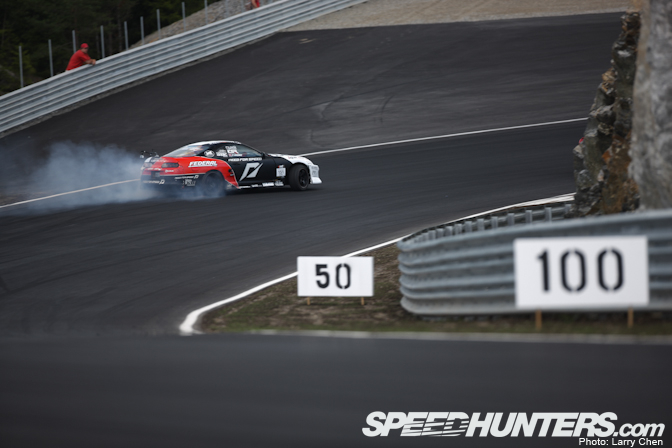 For my last set of tires for the weekend, which were the only 285s I had come by, I finally got to take Miki for a ride along.Rather than going through the tires in just over a lap, which you can easily do at a fairly long course like Rudskogen, I decided to preserve the tires a little bit. That means less smokey exits, and more entries.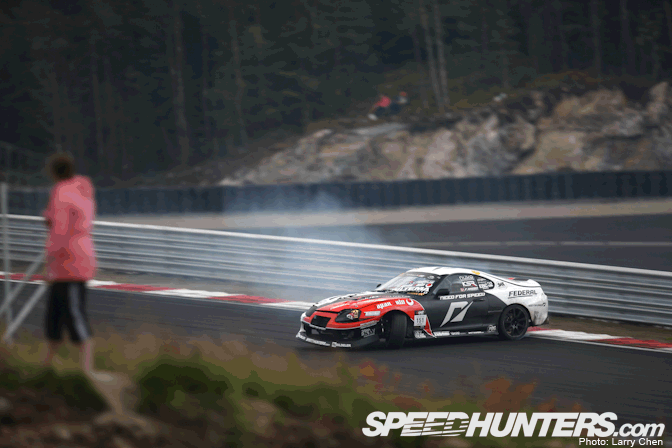 First, I got to try out the Slakter'n section of the track. It was soooo much fun!! As you can see in Larry's gif animation, my entries were far from perfect and I had some nasty corrections, but I hope you catch my drift when I say that portion of the track is pretty frickin' cool!!
Secondly, I worked on some entries down the main straight. I didn't drift the turn leading out on the main straight in an effort to see how fast I could go, and I calculated my top speed right before initiation was around 130 mph (210 km/h). Here's a video from one of the passes. Miki bounced around in there and we were having a great time!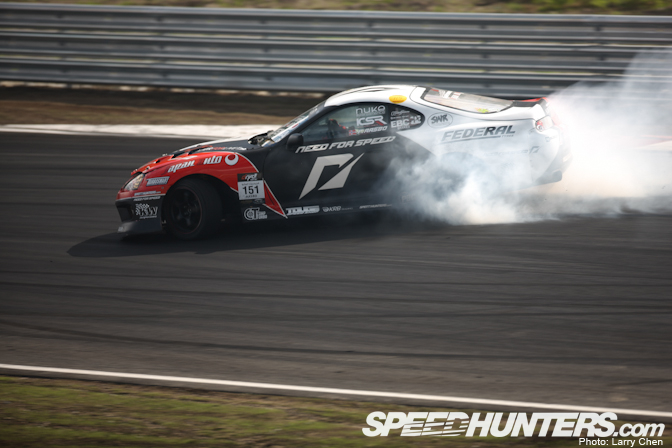 And then, the marshalls, who I have gotten to know quite well as super cool guys just doing their job, gave me my last black flag of the weekend meaning I was banned from the track with half an hour of track time to go. Apparently the track owner didn't feel too safe about it all saying I was all over the place and I guess I could agree with that to some extent. After all I am grateful for being allowed to play for as long as I did.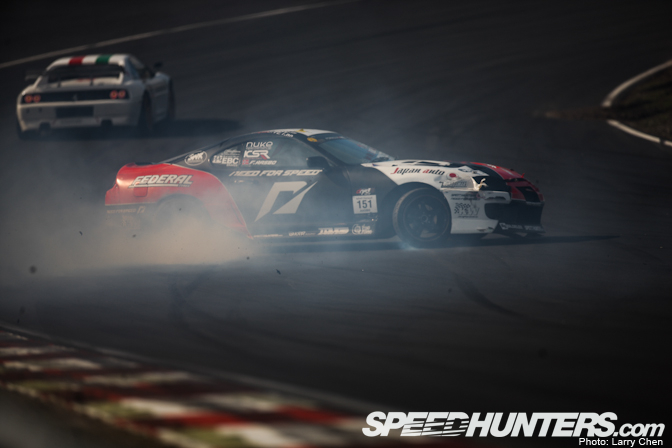 All I have to say is that I'll never forget the look of the guys waving the black flag, who happened to be smiling, cheering and clapping at the same time!
I think that's the ultimate contradiction and that very moment pretty much sums up the the Gatebil experience for me.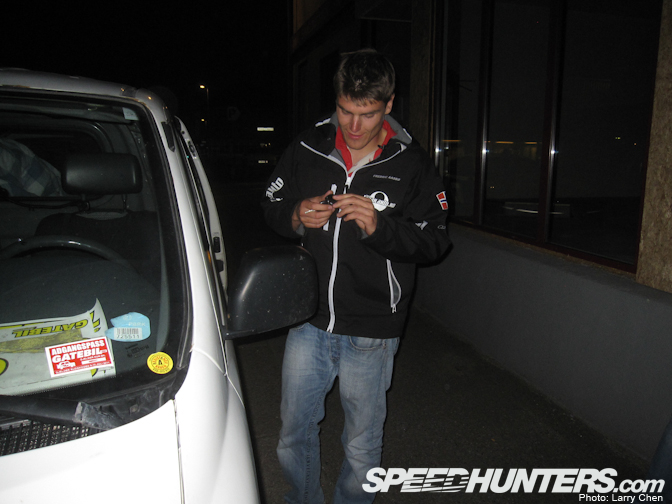 On the way home, Larry, Miki and Paddy tagged along with Wenche, Bjørn, myself and a handful of our friends for dinner at a pizza restaurant close to the track.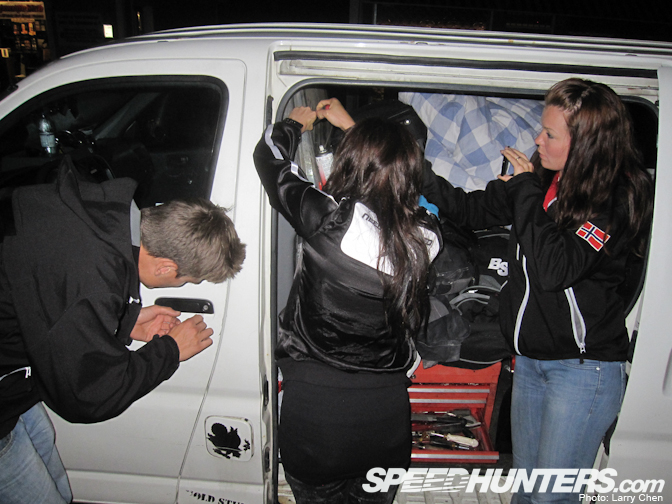 As we got back to the car, pretty exhausted and well fed, it turned out the door locks on my trusty (and quite crusty)Toyota Hiace van wouldn't open. My initial thought was that Steffen had used the key as a beer opener (it happens, haha!), but I had probably just bent the key somehow. It wasn't a problem, though, because the rear door was open and Wenche and Miki quickly popped out the compartment window and opened the door from the inside.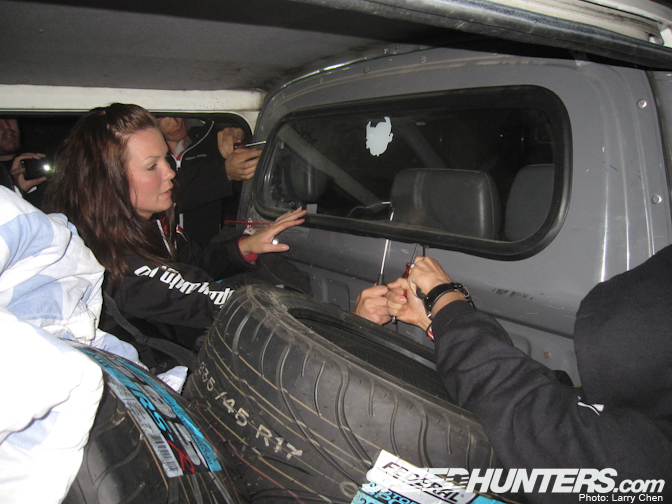 Paddy and Larry was on the side, slightly awestruck by the skills just demonstrated by the two partners in crime.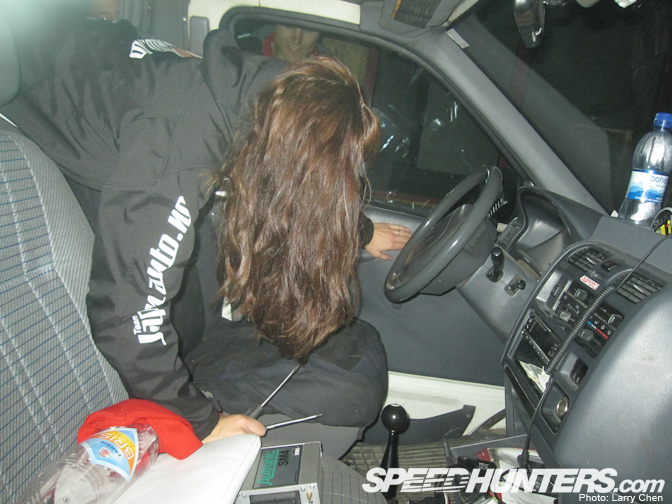 I wonder where they learnt their skills. There's a story behind everything.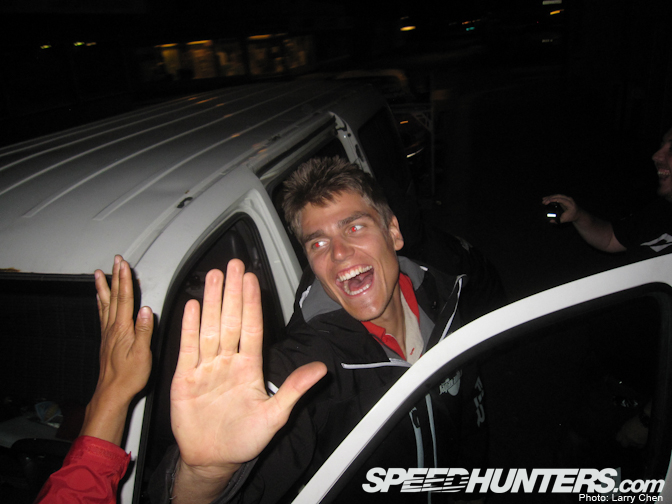 And that goes for Gatebil as well. Some of the stuff that happened over the course of that weekend will never be forgotten.
In addition to thanking all of you that came by our booth, Japan Auto, my friends and crew and my sponsors that made our weekend possible, I would like to extend a huge thanks to all of the Speedhunters and Need for Speed crew for your amazing photography and stories from the weekend. It was great to spend the weekend with you!
I think I am speaking on behalf of all of the Speedhunters readers, the Gatebil crowd and organizers when I say that you are more than welcome next year.
You are in fact signed up already.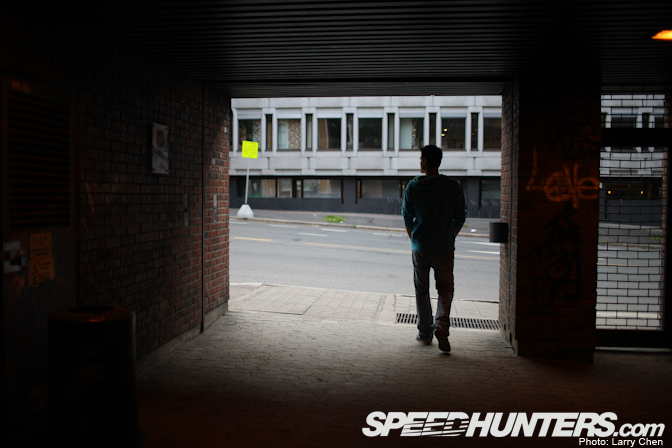 Fellow Speedhunters, thanks for your time. I've just come back from Seattle so more on that later. Bye for now, Norway.
Fredric