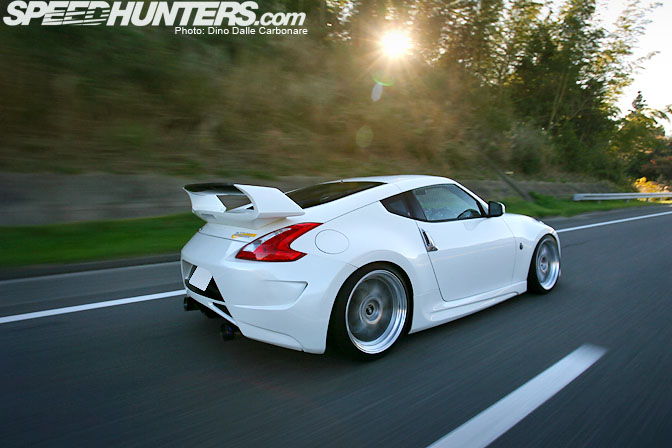 It might be close to three years already but the Japanese tuning industry hasn't forgotten one of its greatest losses. Tanabe-san of Amuse was a true innovator, a trendsetter, an ideas man. He came up with some of the most unique tuning parts, easily recognizable thanks to their sheer quality of construction and design. And then of course there are the cars; how can anyone forget the mighty Amuse S2000 GT1, the utterly crazy Carbon R BNR34 or the Z33 Superleggera.  Since 2008 his wife has been working hard to keep business going and thanks to the support of the faithful customer base the shop hasn't stopped doing what it does best, tuning cars and coming up with new and exciting upgrades.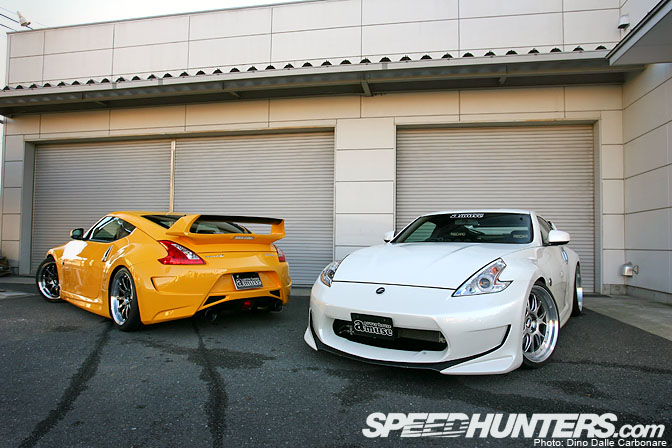 Earlier in the year Tanabe-san's wife retired, allowing the chief mechanic Hitoshi Matsui to step in as president of the shop. He couldn't be a better choice to take over the reigns, possessing the same drive and insight Tanabe-san had. I recently visited Power House Amuse to take a closer look of their latest creation, the Vestito body kit for their Z34 Fairlady Z, the 370Z to you and me.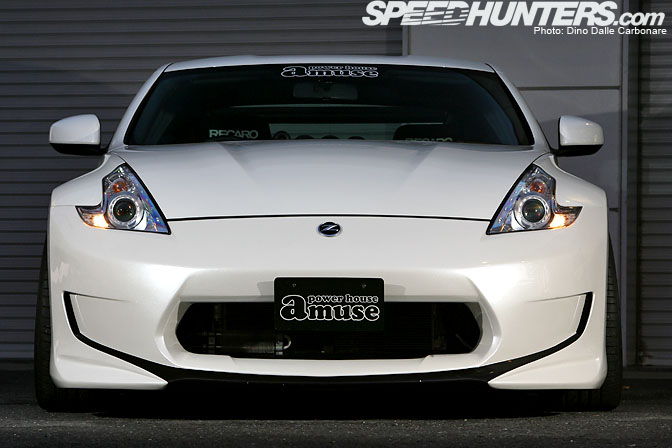 Ever since Tanabe started tuning the Z33, Amuse has been a very popular name in Z-circles, their engine upgrades and titanium exhaust systems some of the most sought after out there. So it's no surprise that once the Z34 came out, work began straight away in creating some bespoke parts for it, starting off with the Vestito aero conversion. The kit is aimed at those that want their cars to stand out and make a statement, so you won't be finding any subtle styling here, it's pure in your face aggression, from the heavily sculpted front bumper…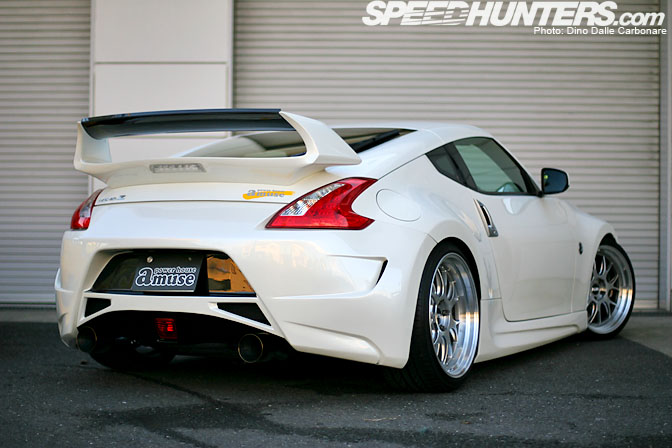 …all the way to the unmistakable rear end treatment with Amuse's R35 GT-R-like rear spoiler.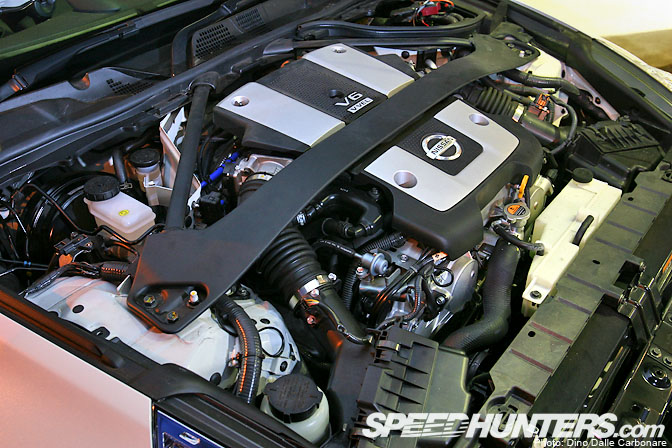 Matsui-san has built two demo cars, the yellow one we saw in the second picture fitted with Nissan's fast shifting 6-speed automatic transmission, the white the manual version. Engine-wise there are still only basic modifications on offer like a retuned Amuse Hi-Tec Rom ECU, but the white development car is already responding well to the first line-up of parts. Hand-welded titanium headers along with Amuse sports catalysts take away obvious restrictions…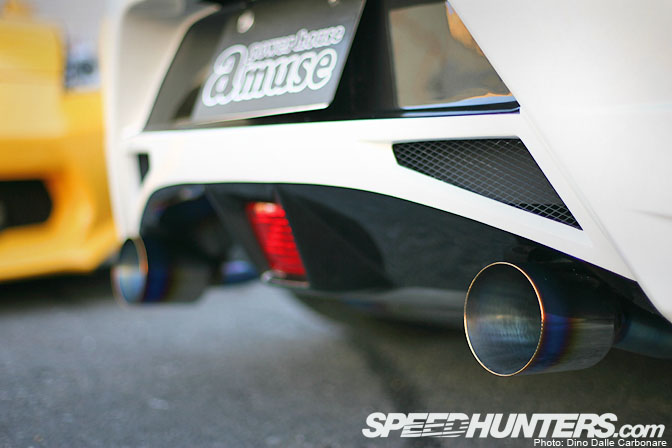 …while the beautifully welded R1 Titan Extra STTI titanium exhaust creates the single most unique sound I have ever heard a Z make. Amuse exhausts might cost more than your average aftermarket systems, but there is a reason, and you really have to hear it for yourself to understand it. I think next time I'm over there I will have to record a clip of the 370Z, as well as the Ericsson M3! Spine tingling stuff!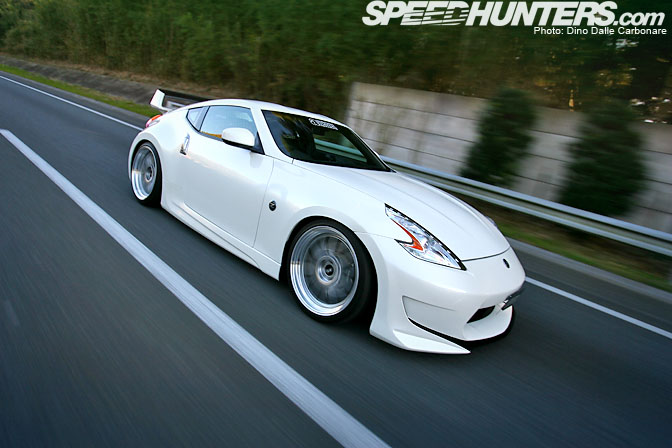 Rolling on its big 20-inch BBS LM-R wheels the Amuse 370Z is menacing and has been known to scare small children and old folks with its barking exhaust note.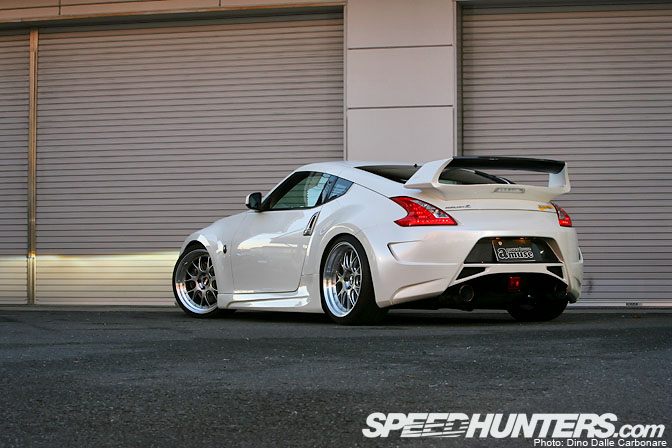 Like all Amuse aero parts, the Vestito conversion has been tested in the wind tunnel so you know every curve, opening and gurney flap is there for a reason.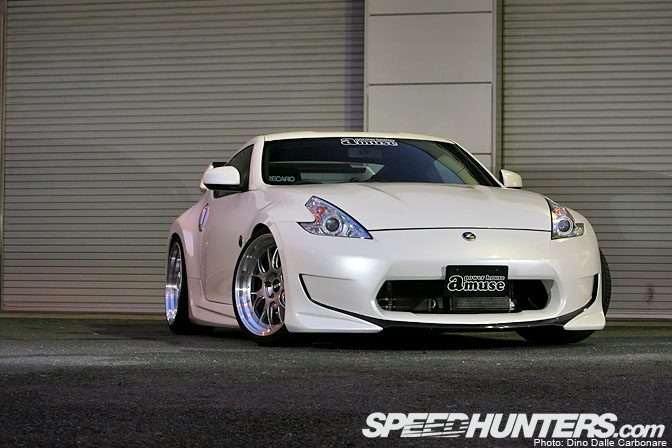 I really like how the front bumper has been highlighted with a painted black strip along the bottom splitter part.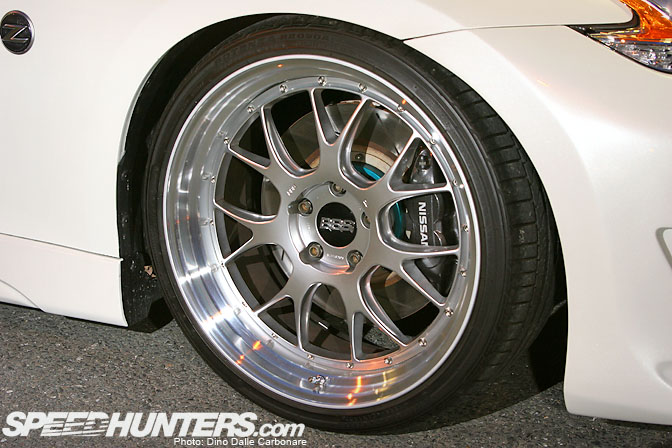 The Z34 has Amuse Hi-Tech dampers fitted, specially valved to work with the small sidewall of the 20-inch Bridgestone Potenza RE050A. The tires are 255/30R20 on 9Jx20″ rims up front and 285/30R20 on 10Jx20″ on the rear. Needless to say these LM-Rs satisfy even those with an extreme lip fetish.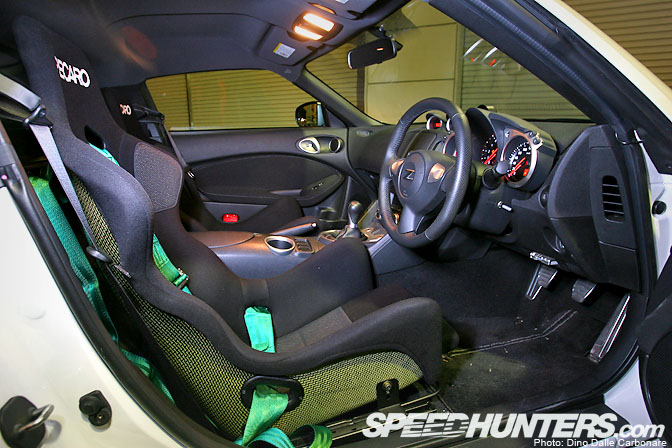 Amuse doesn't do smooth and comfortable, only hardcore! So the stock leather chairs were shown to the trash and replaced with carbon-Kevlar Recaro buckets, with the never to be forgotten Takata harnesses.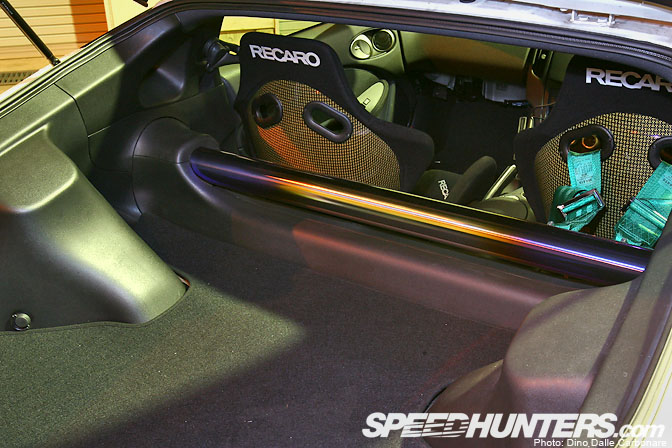 Here is one piece I really liked, that's a titanium brace bar to replace the rear built-in strut tower bar. Looks like a piece of Amuse titanium exhaust!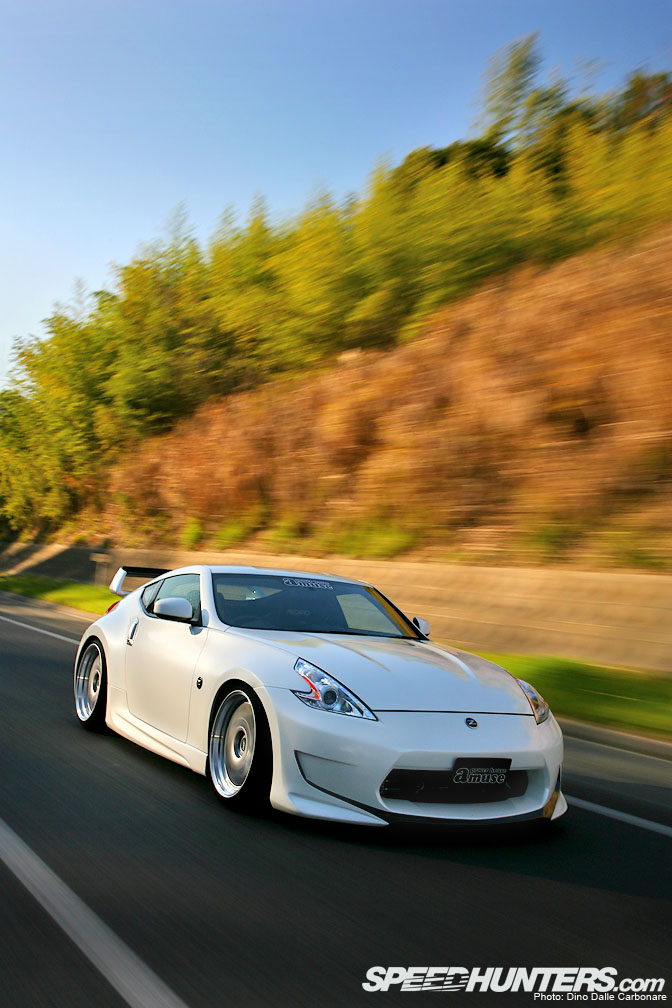 I really can't wait to see what Matsui and the Amuse guys manage to achieve with their Z34s. It's great to see such a famous name survive such a tragic loss, and I know Tanabe-san will live on through the cars and parts that will continue to roll out of Power House Amuse.
-Dino Dalle Carbonare