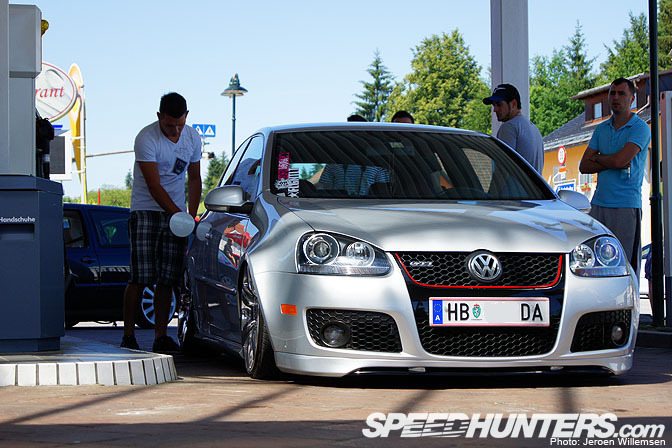 After looking through the pictures I took at the recent Wörthersee event there is only one word that springs to mind: epic! I didn't even know where to start so I thought I'll do it in a chronological way and throw in some extras. This will be my most extensive coverage of an event ever on Speedhunters so get ready for a VAG overdose in the coming days.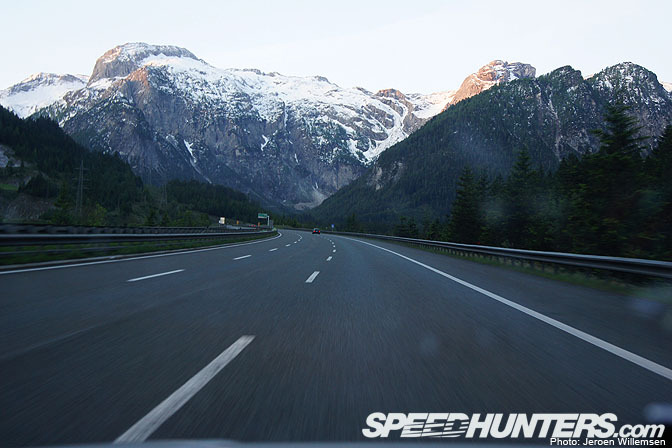 After an 11 hour drive on the German Autobahn I crossed the border into Austria. The mountain tops were still covered in snow. The spots are all the flies I killed during my roadtrip, sorry guys.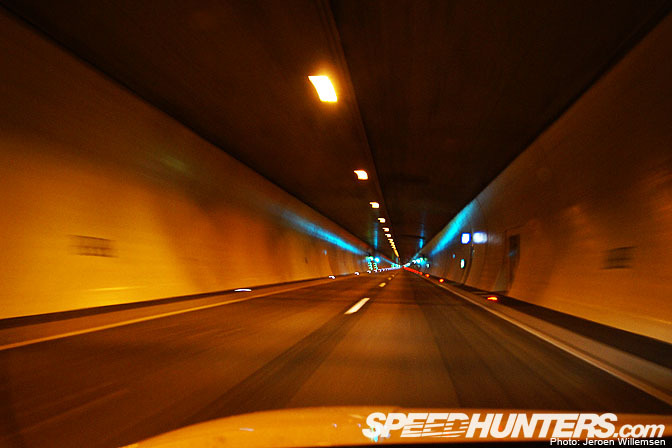 The tunnels through the mountains go on for miles and miles.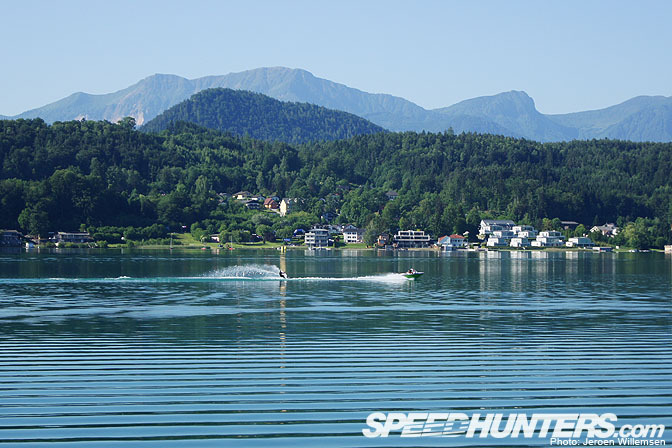 But when I got to the other side I was greeted with these almost postcard like views. You are looking at the actual Wörthersee. It is a lake that is surrounded with several villages that are completely taken over by the VW fanatics for almost two weeks. When I got to my hotel the room wasn't ready yet so I left my luggage and began to take a look around in the neighboring villages.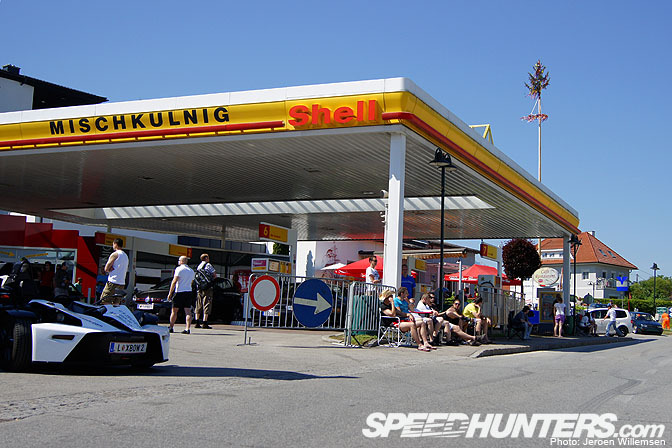 It didn't take me long to find the most famous Shell gas station in the world, at least to the VW enthusiasts.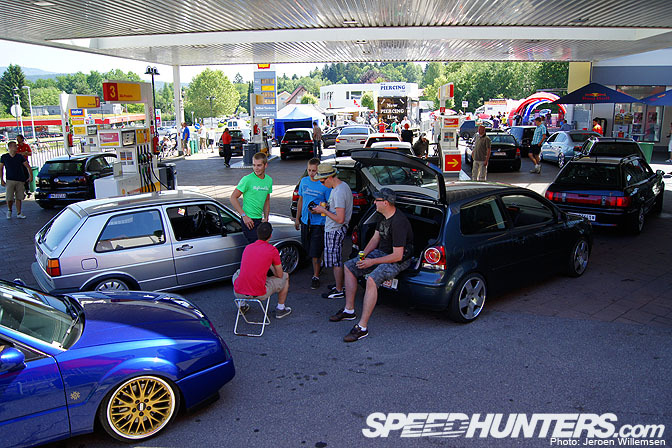 I was told this was a good place to start. I didn't know what to expect but it certainly didn't disappoint. I was there real early, in hindsight a bit too early but I didn't had a choice because of the hotel room. So I just waited and then one after the other the cars came in to fill up with gas or to get detailed in the car wash. The line of cars in the front are the ones that are waiting for the car wash. At a certain point the line grew so big that the cars were parked on the street around the corner.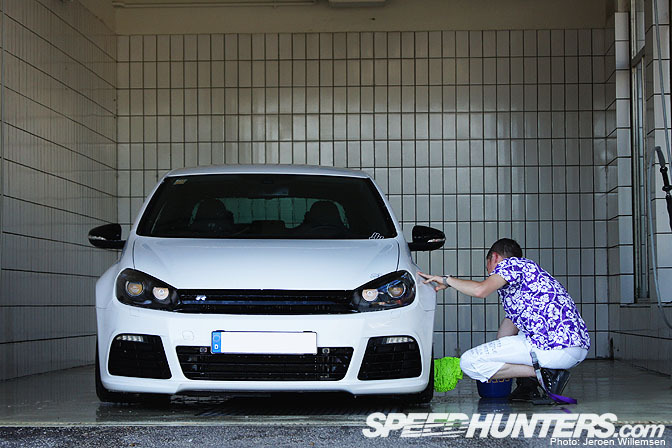 After the owner washed his car he made another round to fill up for gas.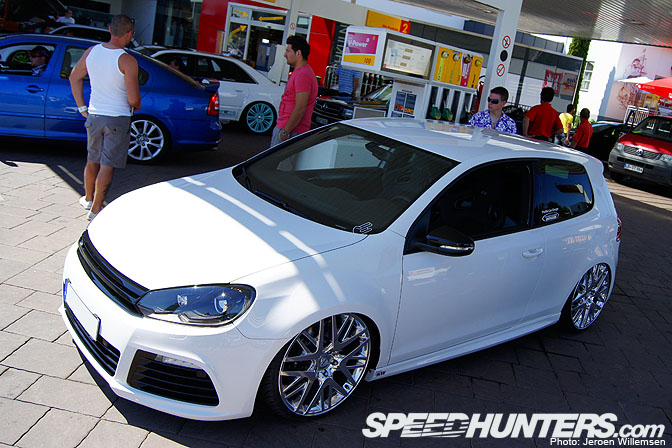 After seeing several examples at Wörthersee I have really gotten to love the latest version of the Golf. The wheels had a Maybach logo on them and looked very shiny. It seemed that it is still very popular to switch your wheels with ones from higher end cars.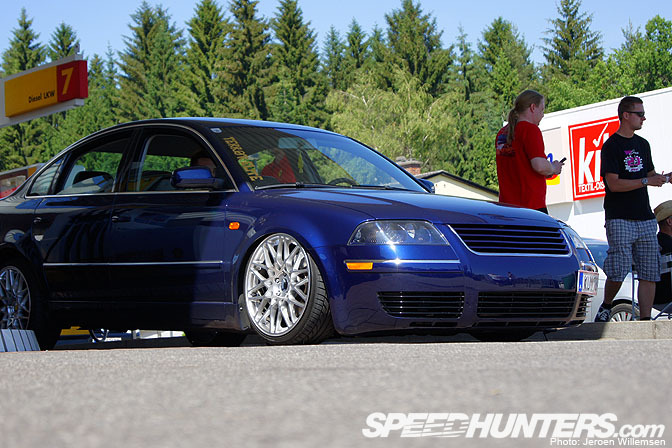 But there was a certain brand that was really making waves at Wörthersee. I'm talking about Rotiform of course as seen on this Passat.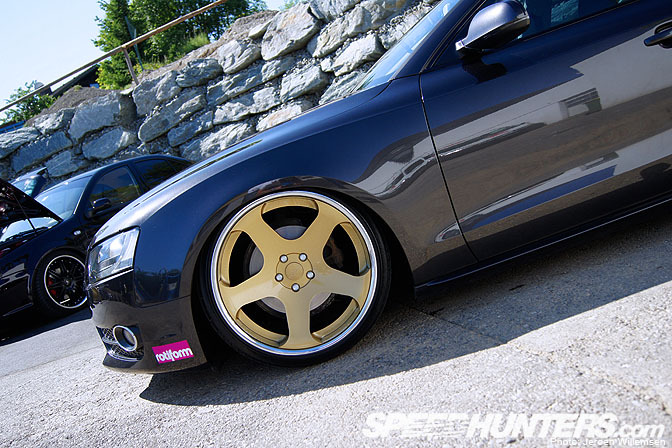 One of my favorite cars at the event was this Audi A5 Sportsback from Denmark on a set of Super concave NUE's. I'll have a feature on this car next week.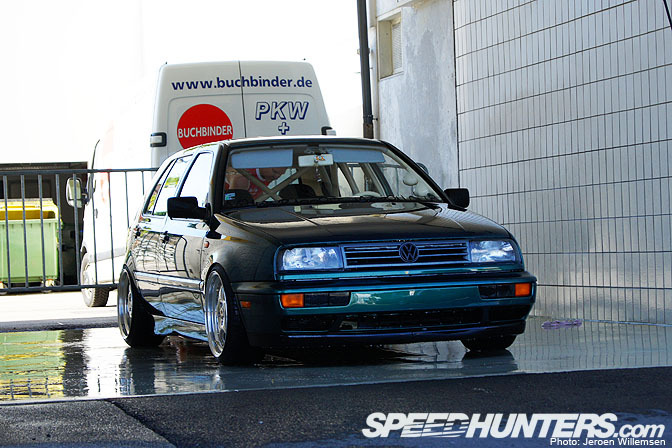 After washing your car it's time to wipe it down and get ready to show it off to the public.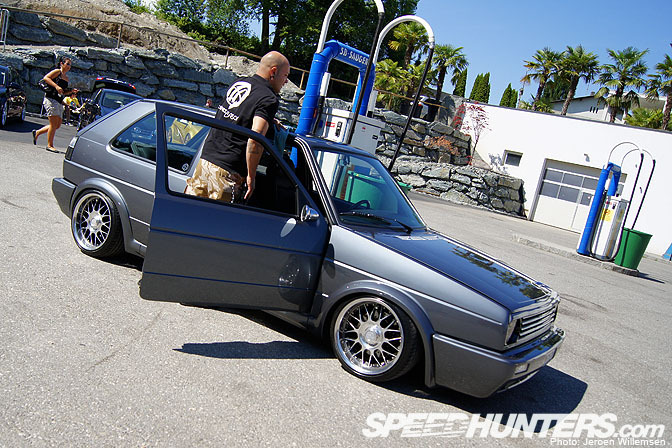 This guy with his MKII was almost ready to go after a final inspection.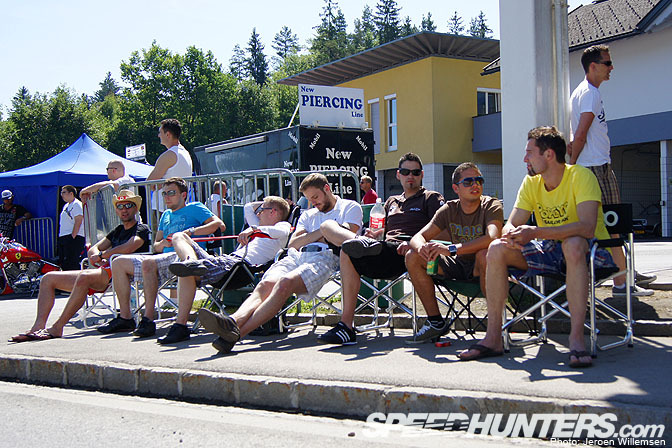 Everywhere you would go at the Wörthersee you would see people sitting in these chairs just waiting for the cars to roll by. Wörthersee isn't your typical car show where you go and pay the entrance fee and expect to see hot cars. It is more like several meets packed into one, I'll try and explain more in another post.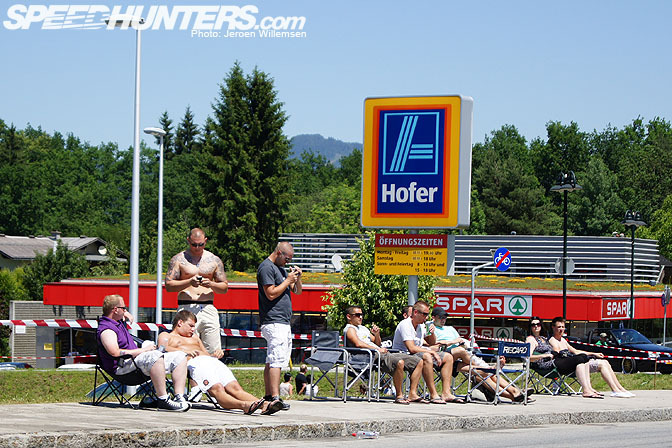 Across the street where even more people. Because of the popularity of the gas station it was a obvious choice for a lot of people to stay and watch the cars.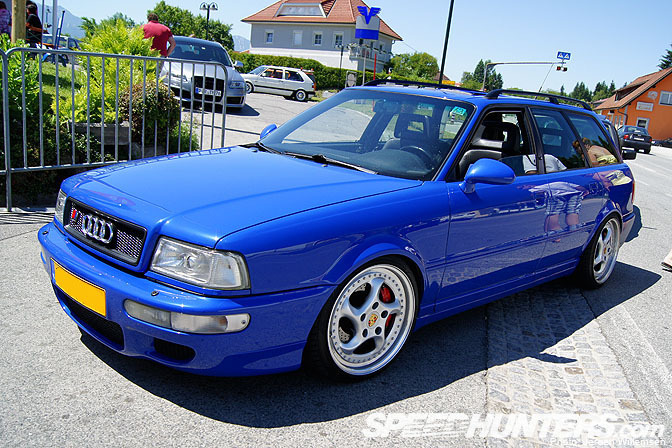 This Audi RS2 Avant was a car that came from Holland and looked perfect in standard guise.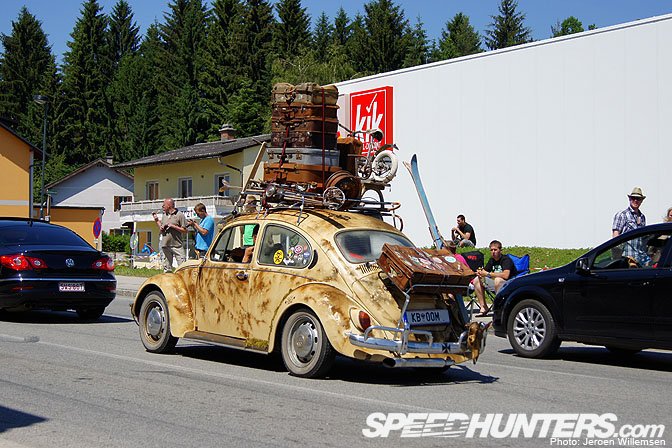 Some of the cars that didn't looked very pretty had to stand out in a different way. The license plate on this car was very fitting because every time the owner revved the car a loud bang emitted from the exhaust.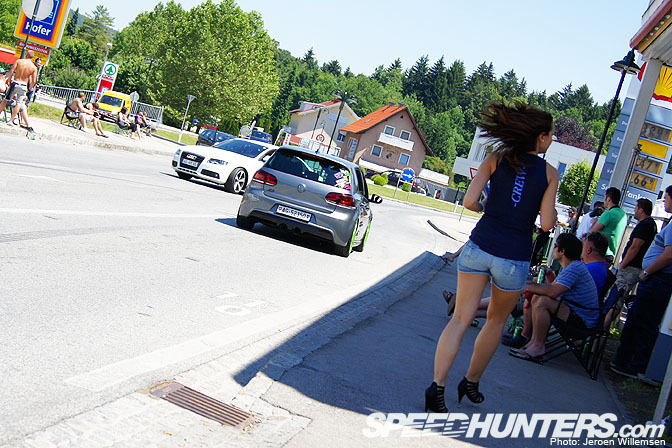 There was more eye candy then cars alone.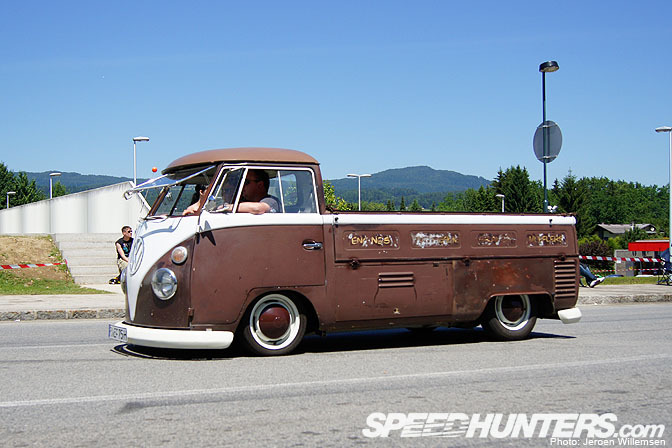 The older cars were very scarce. One of the few I saw at the gas station was this VW Bus with a ground scraping stance.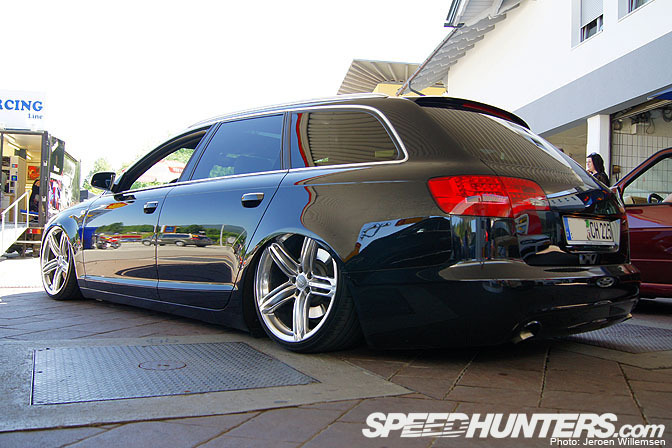 Talk about ground scraping! This Audi was loaded with airbags and the owner showed it off at every opportunity he could.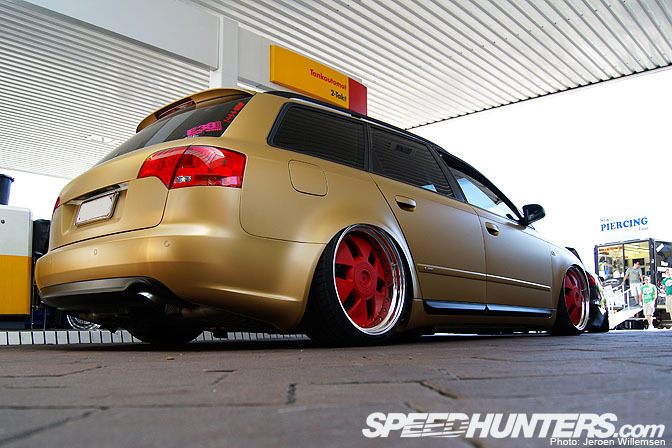 This golden Audi grabbed a lot attention with its contrasting wheels. Not sure if the gold was done with a wrap or if it was resprayed.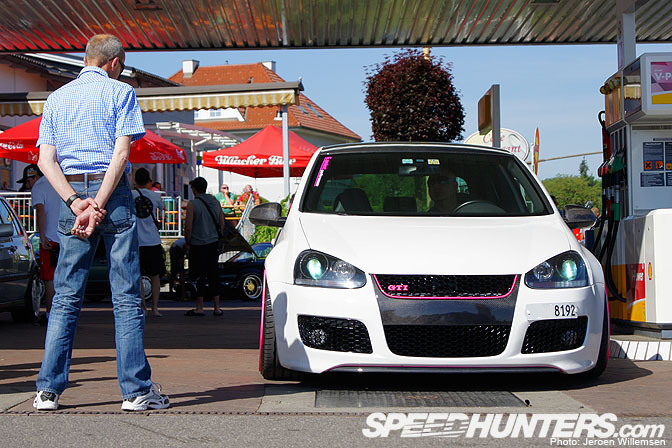 Another favorite car was this Golf MKV with pink accents. I did a special shoot with this car so expect a full feature shortly. The guy standing next to it approved of its stance.
Let me know what you think in the comments and if you have any requests about certain cars. I'll be back with a second look at the Gas station. After that I'll take a look at the show in Reifnitz.
- Jeroen Willemsen