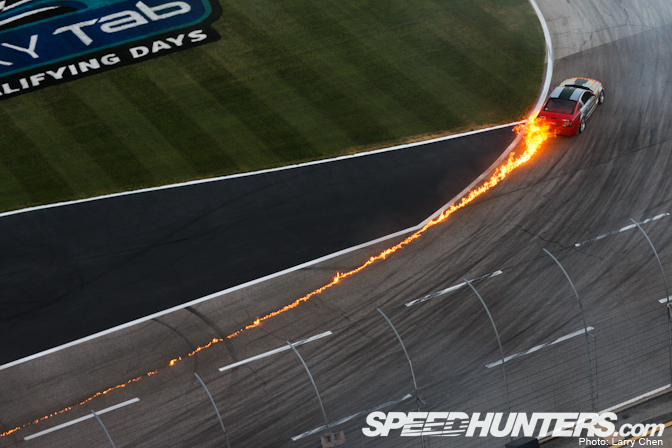 I figured day two of Ultimate Drift, presented by Formula Drift, would be much more tame than day one. How could you beat getting a ride in an Indy car? Well, I did not count on Tony Brakohiapa's flux capacitor going out after he hit the target speed of 88 mph.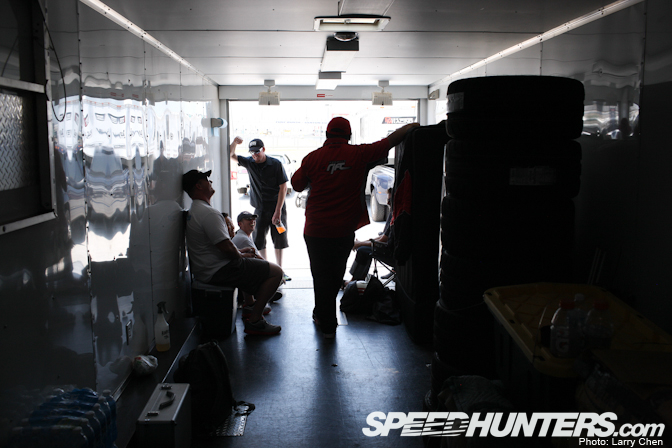 The day started with all the drivers calling their friends trying to find a SR20 transmission for Pat Mordaunt's S14.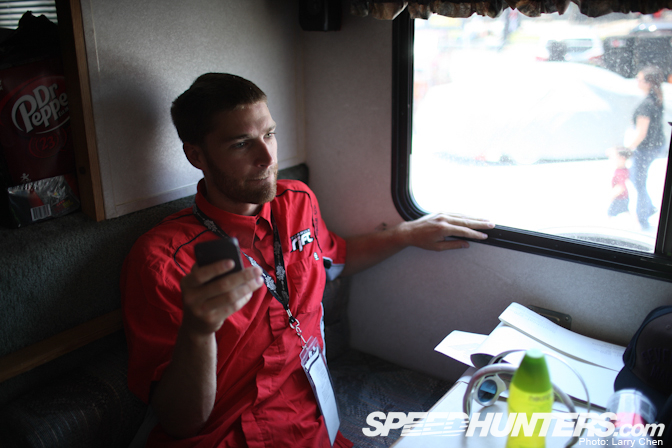 Chief safety steward, Doug, called people…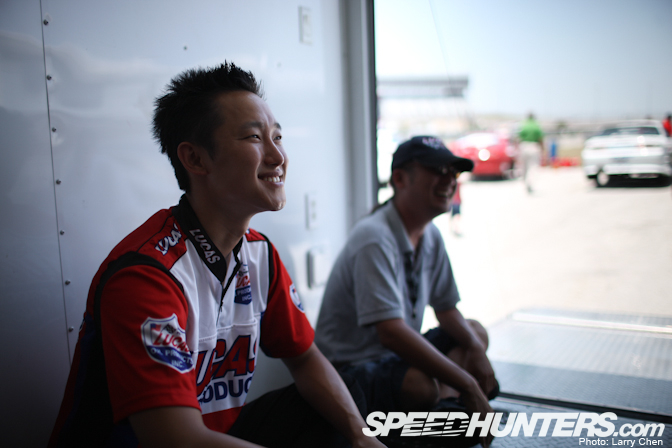 …while Joon Maeng smiled.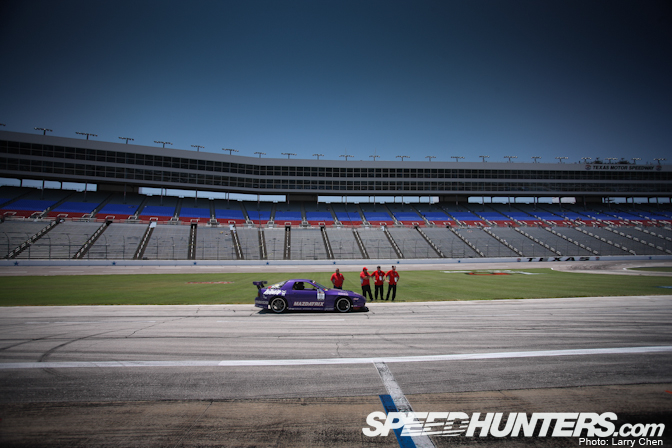 Kyle Mohan, and the rest of the crew, went out for practice on an empty Texas Motor Speedway.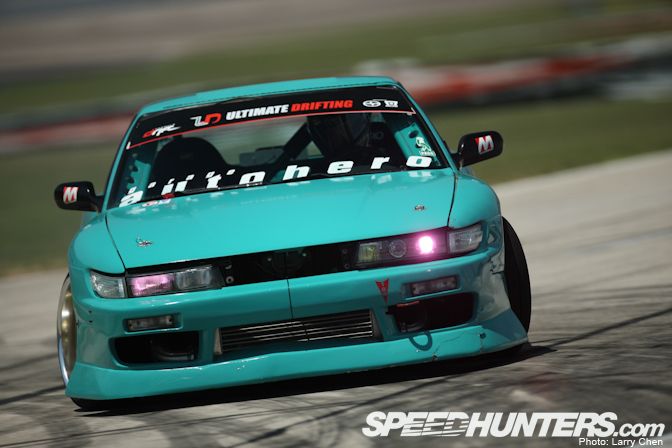 Roland Gallagher would get a bye run in the following day's 8 car competition if Pat did not find a working transmission for his car.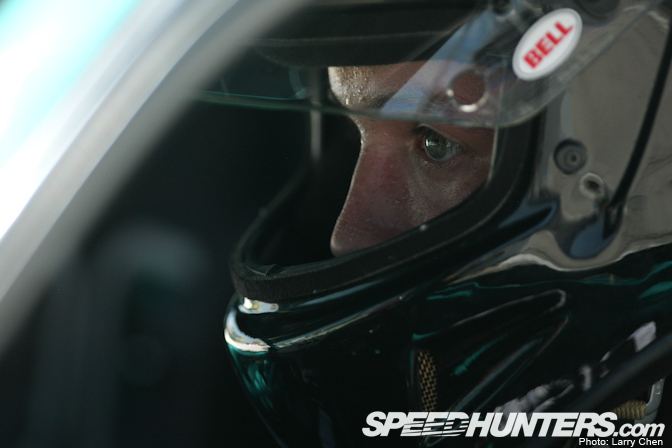 He may not have the most competitive car, but he is very dedicated to the sport of drifting and it really shows.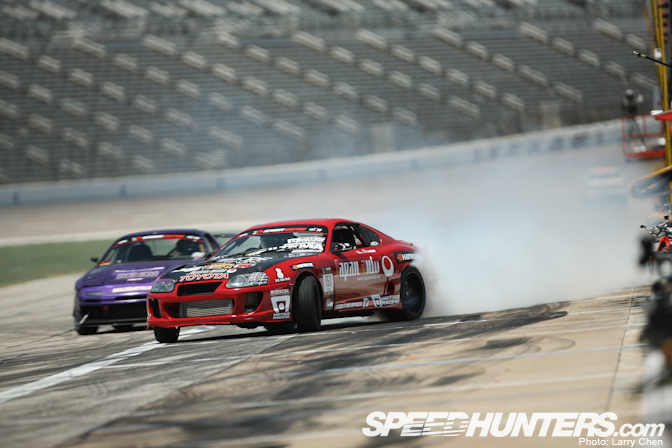 Team Need for Speed driver, Fredric Aasbo, getting some tandem practice in with Kyle.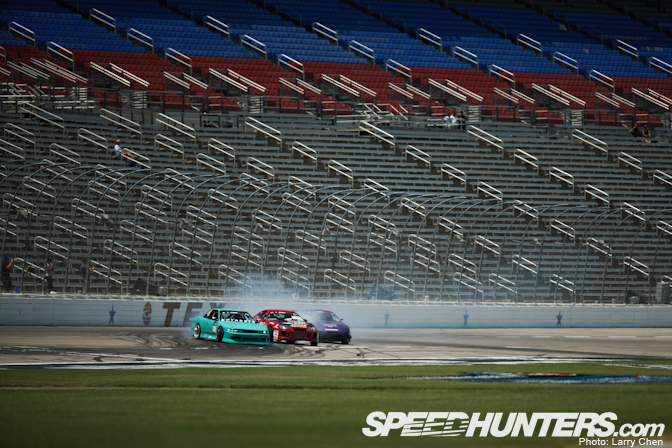 They got more and more comfortable with driving door to door, as they practiced more with each other on this unfamiliar course.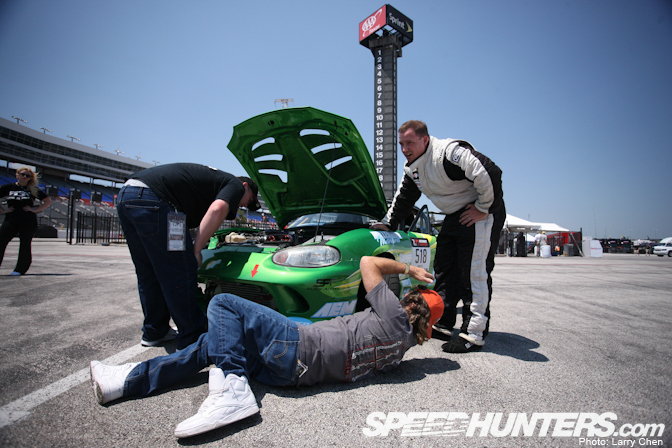 Jeff Abbott blew a coolant hose, but luckily he shut off the car before it had a chance to overheat.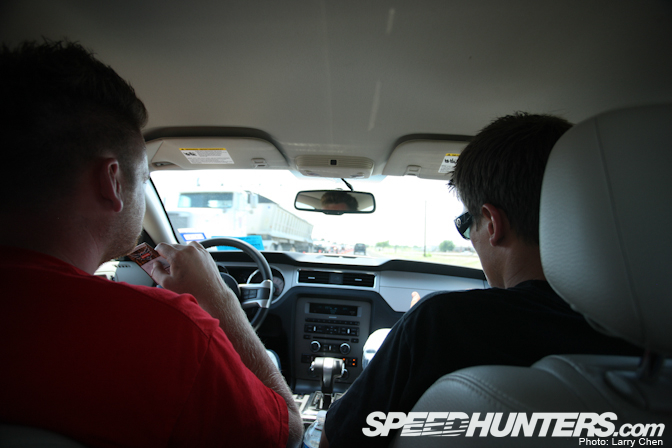 After practice Fredric and his spotter, Stefen Moy, decided go exploring. Naturally, I tagged along.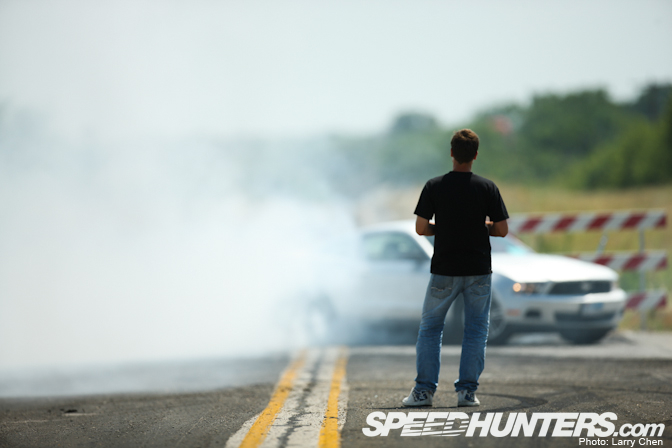 That must be one of those new self drifting Mustangs.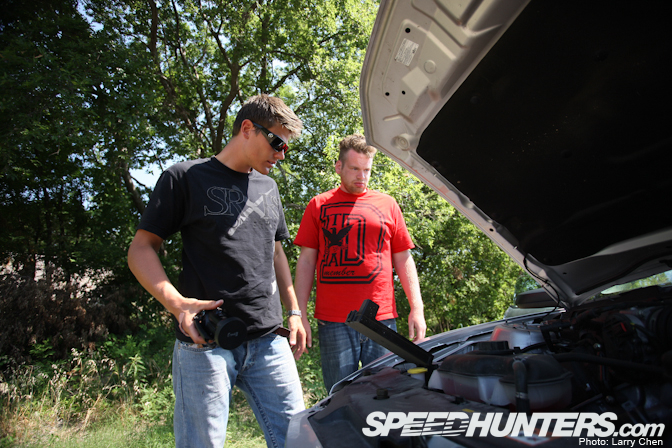 Wow, trying to figure out which fuse is what in this self drifting car is like trying to disarm a bomb.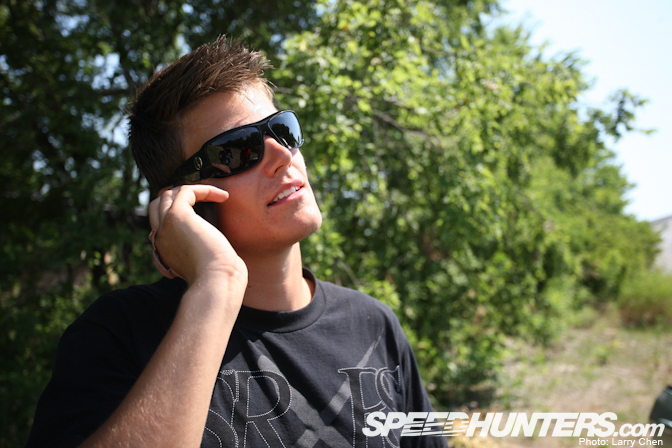 "Hello, is this Ford Motor Co.? Keep being awesome. That is all."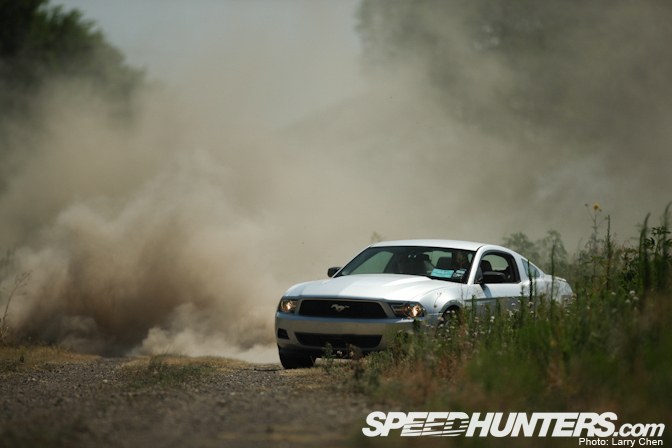 Ok, so maybe they explored a bit much. Don't let Fredric and Stefen get in a situation where they have to drift their way out of.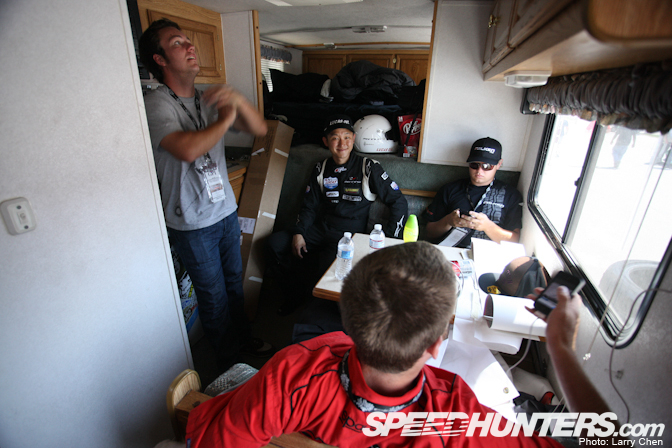 Back at Pat's trailer and still no luck finding a working transmission.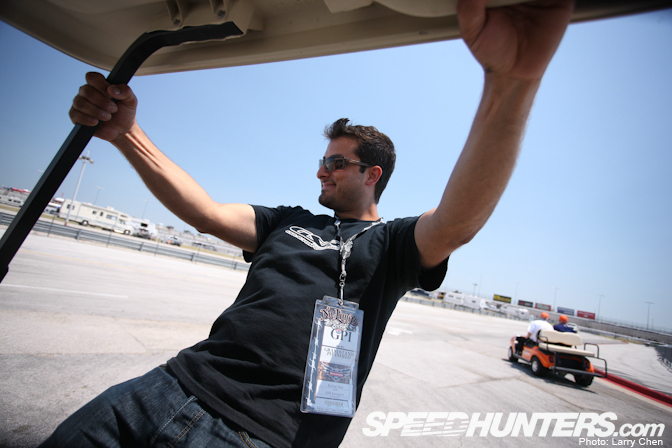 All the drivers gathered up to head off to the autograph session.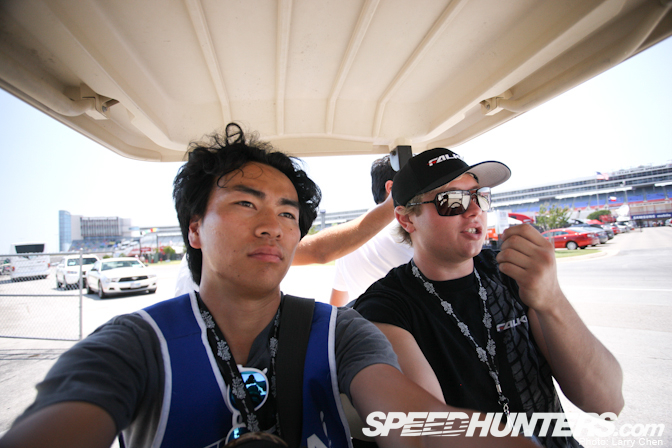 I was so thrilled when I found out I had to wear a blue bib for the entire event.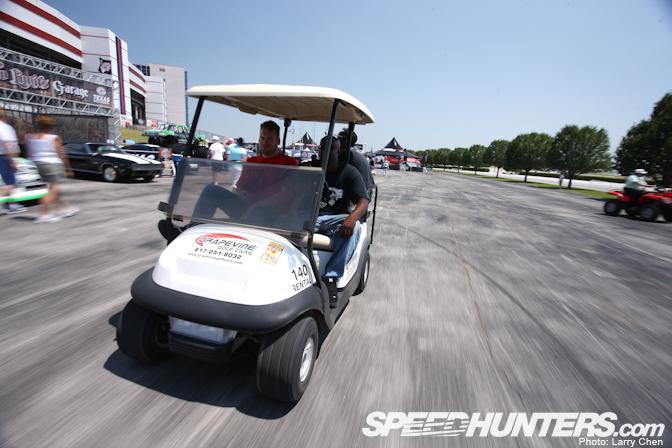 An event would not be complete without some golf cart mayhem.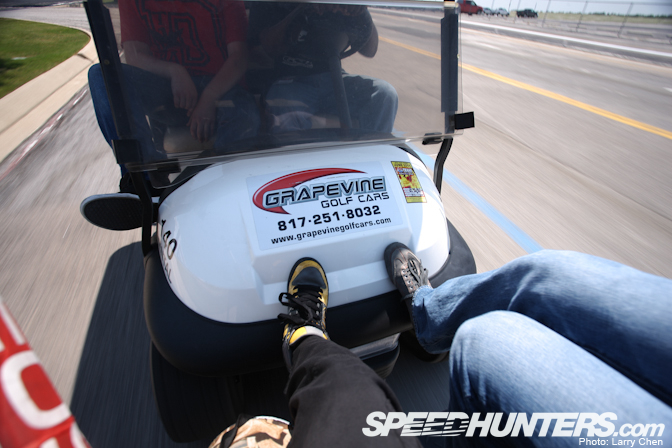 The other guys had a faster cart so they had to help us up steep hills.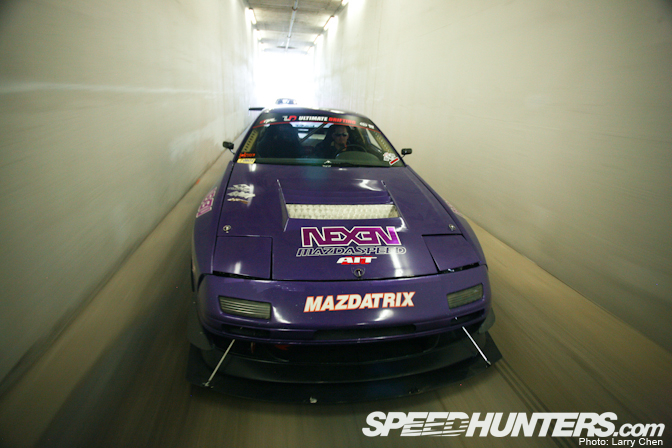 I love shooting from the back of a golf cart.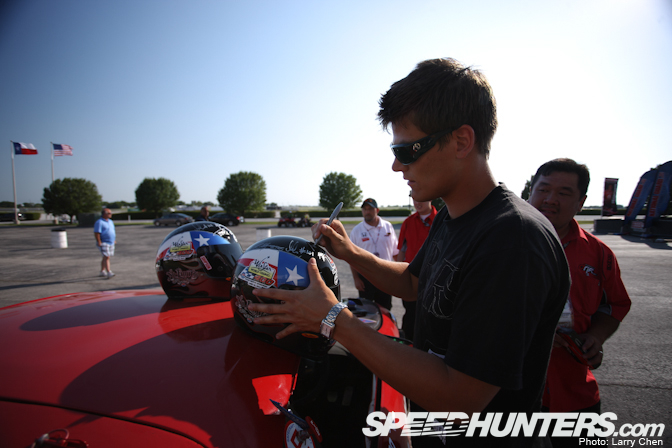 The drivers nearly ran out of ink from signing so many different things.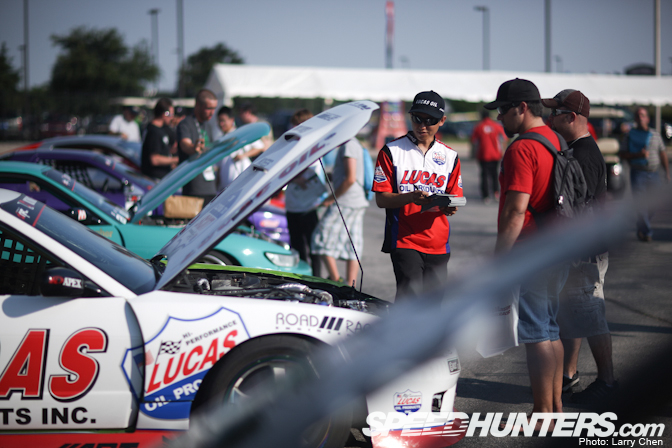 It was great to see drifting fans in the land of "left turns". Joon remembered every fans name and blood type by the end of the day.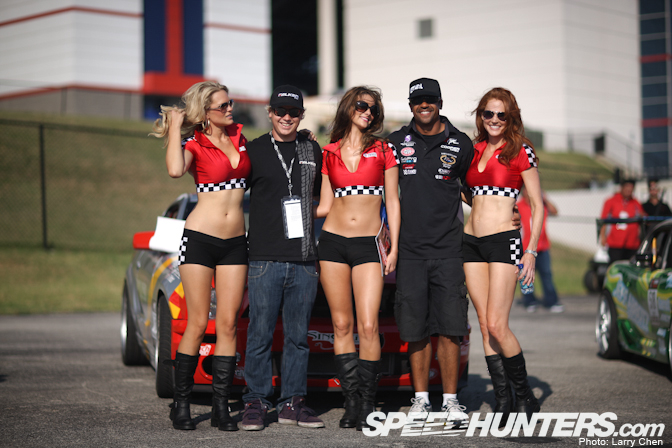 Pat and Tony made new friends with the speedway models.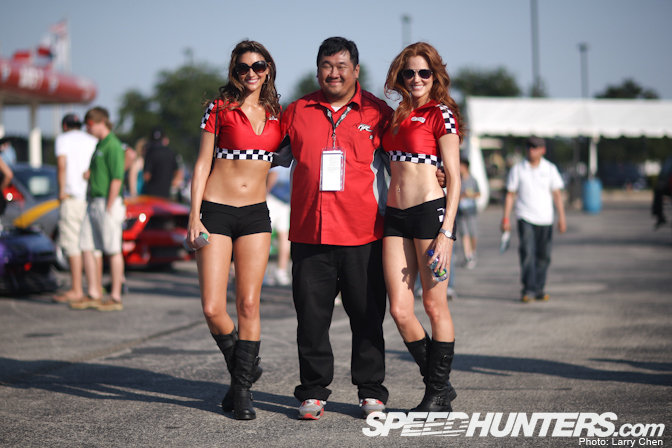 Andy Luk quickly stole Pat and Tony's new friends.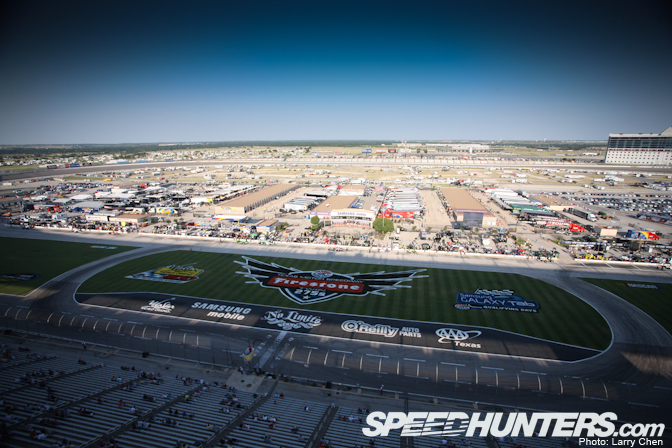 If you look closely you can make out the tire marks from all that practicing. Apparently, this is a quarter mile road course used for historic racing and many other things.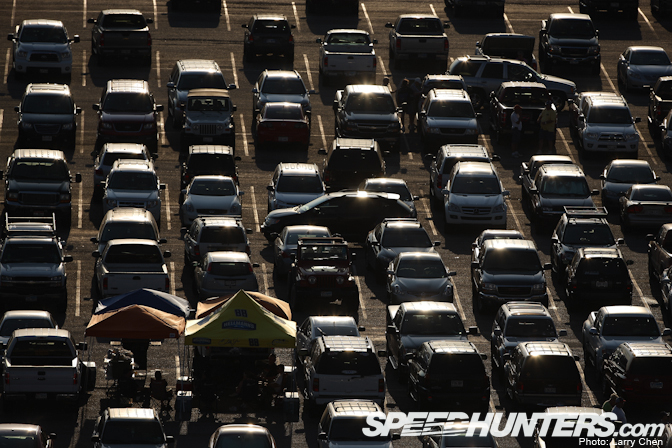 I checked the parking lot and it's confirmed that tailgating is the way to go at these type of events.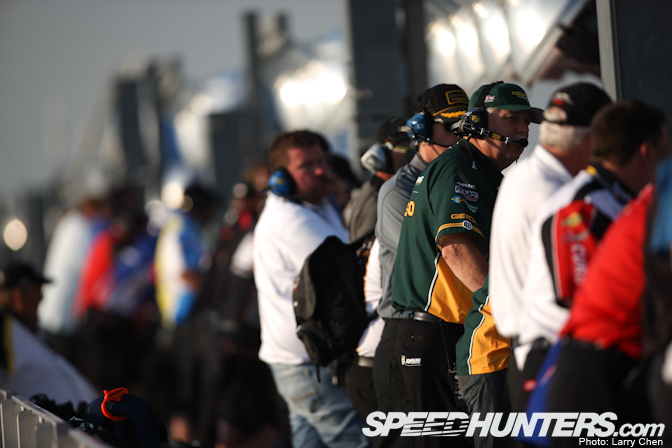 The Indy spotters do not joke around. In fact, I had to shoot this from far away because the officials would not let me near them.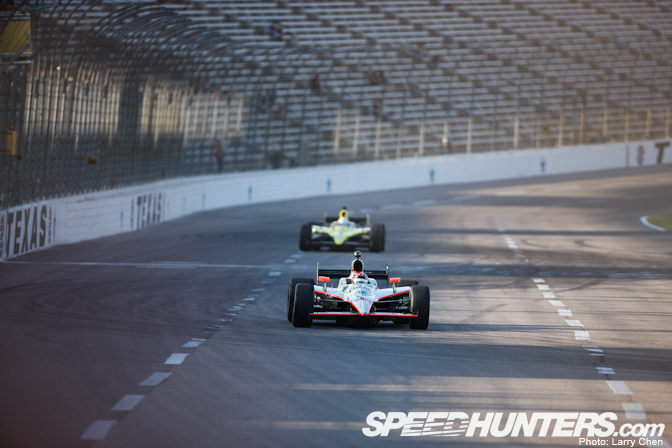 You don't actually realize how fast 215 mph actually is, until you are a few feet away from these machines.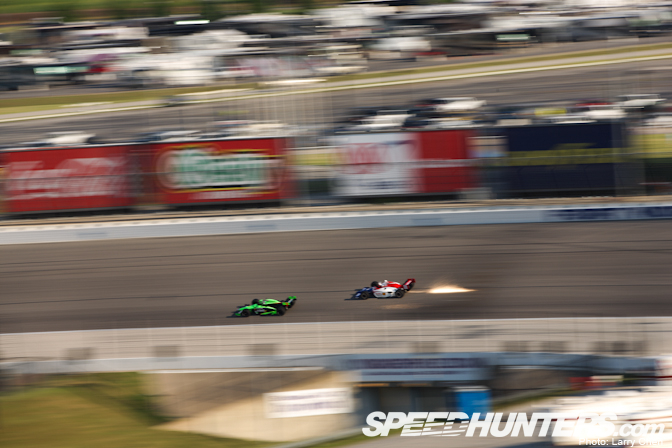 There are three bumps on this track that cause the Indy cars to bottom out. They are all from access tunnels under the track.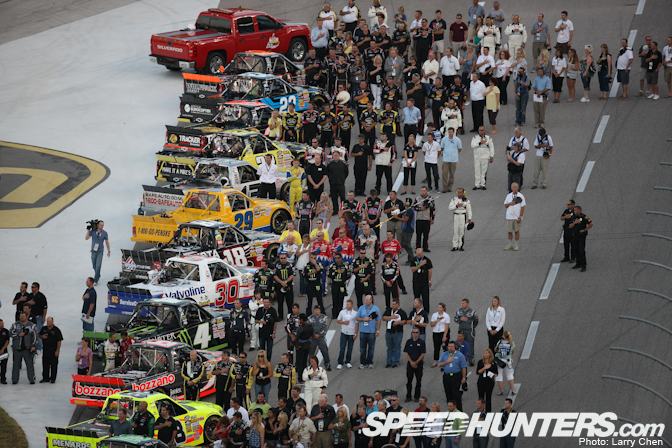 It was almost showtime as the NASCAR trucks rolled out onto grid.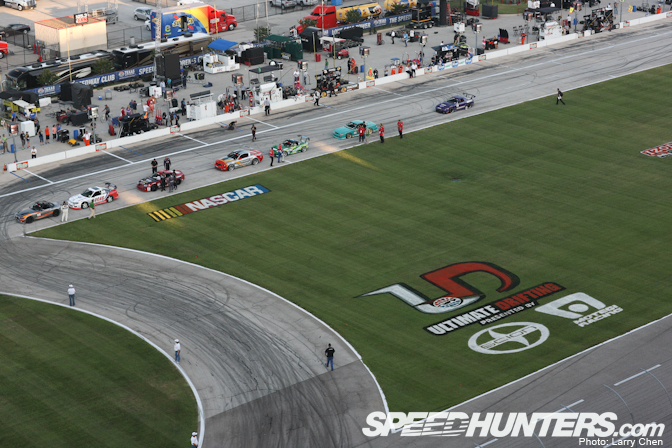 Then our heroes arrived. The crowd went nuts.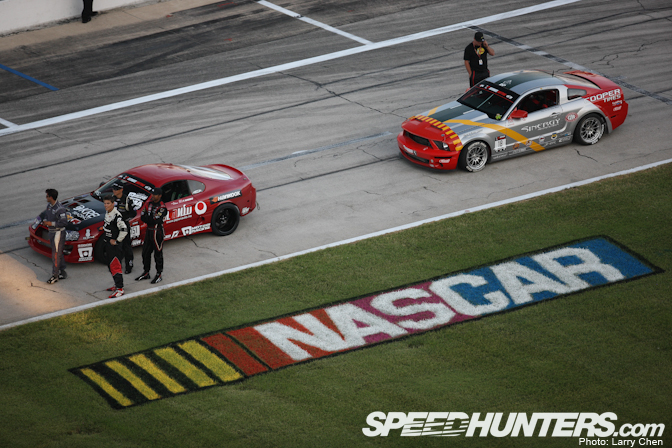 The guys had a mini driver to driver meeting discussing who would lead the 4 car train.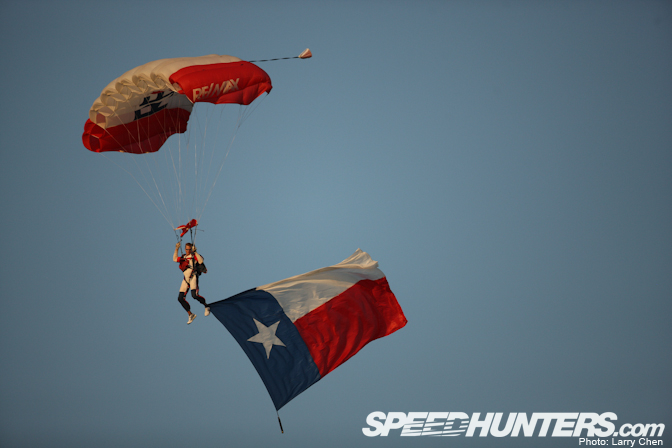 An event in Texas would not be right if there was not a giant Texas flag dropping in from the sky.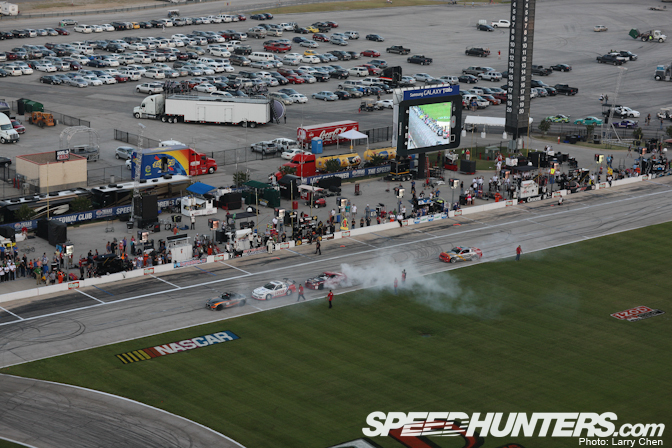 After doing some burnouts the guys were ready to put on a show.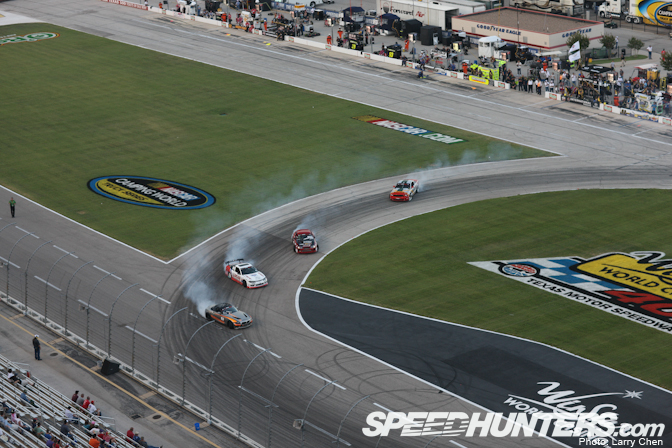 Looks pretty good so far. I was sure they would get door to door by the end of the demonstration.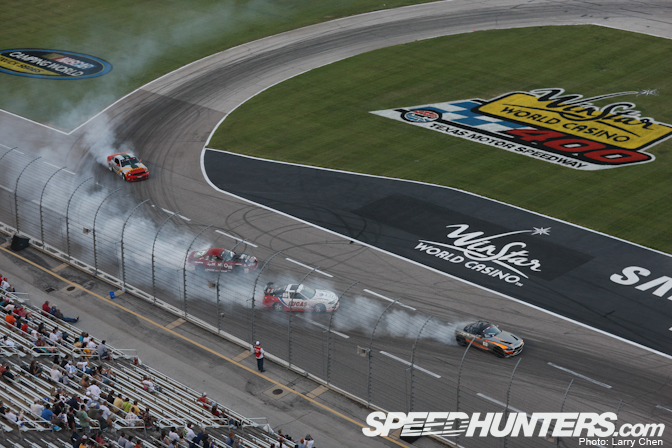 The crowd loved it. Everyone was cheering.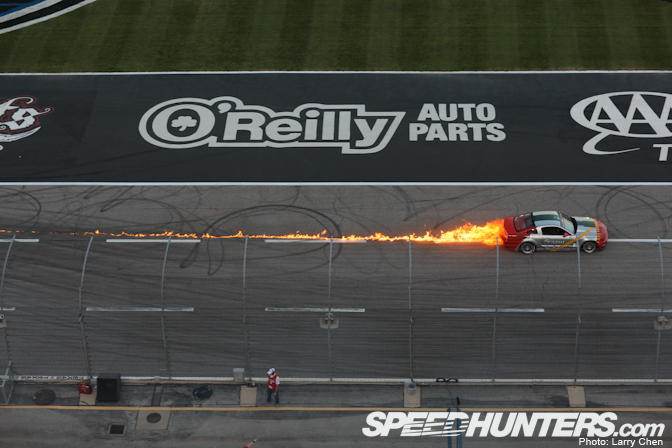 Then a fuel line broke loose on Tony's mustang.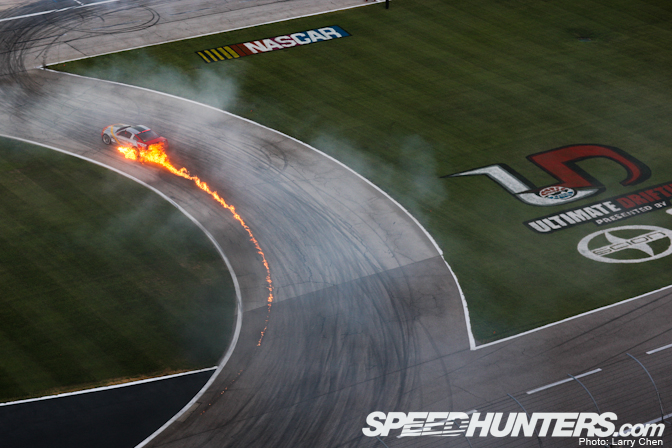 I guess only the left half of Tony's car traveled through time.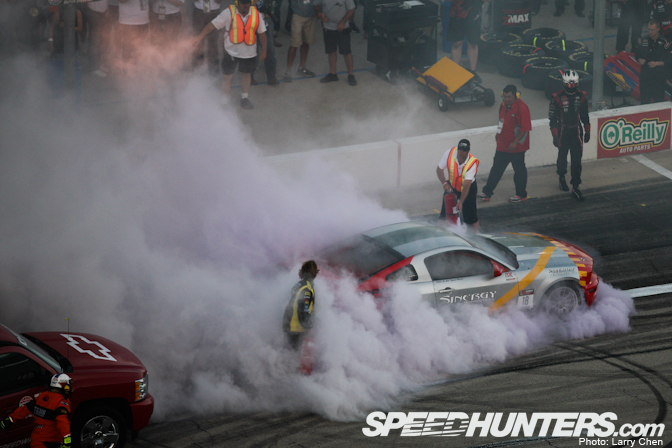 Tony was about to pull his fire system but the speedy staff safety extinguished the fire before he had a chance.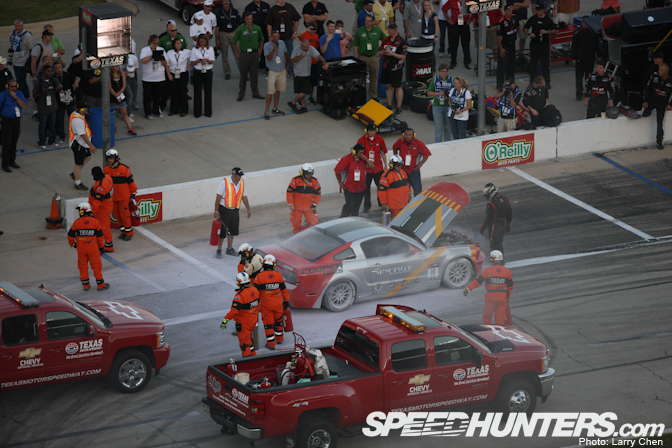 Tony checks his oil level after going back in time.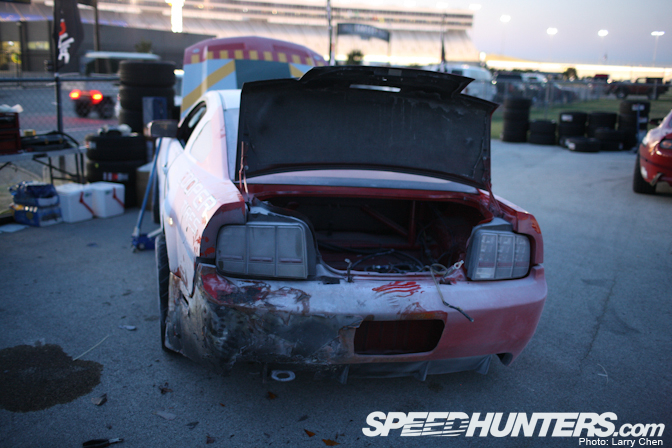 Luckily the damage was mostly cosmetic.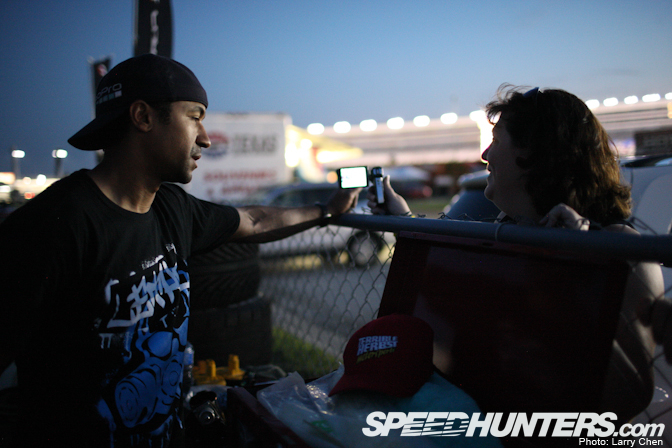 Fans came up to Tony to show him the amateur footage they got, before it goes on youtube.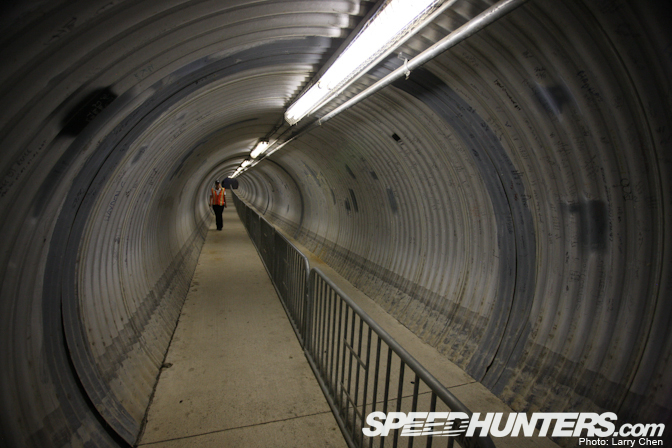 It was time for me to shoot my first NASCAR event.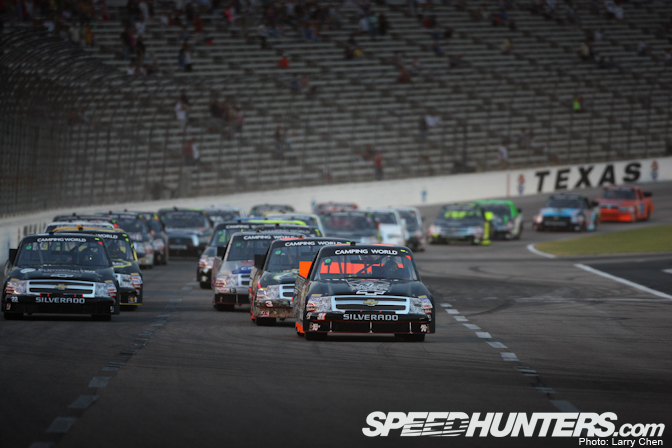 Watching these guys go around 167 laps on TV can be boring for some, but it was not the case sitting a few inches away from the entire pack whizzing by you.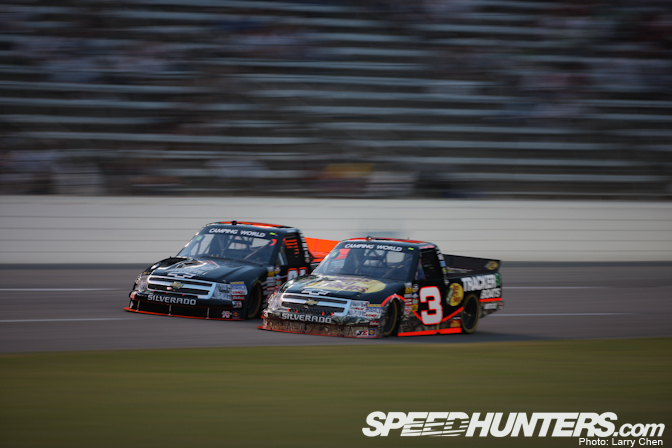 I got pelted in the face non stop with flying debris from the passing cars.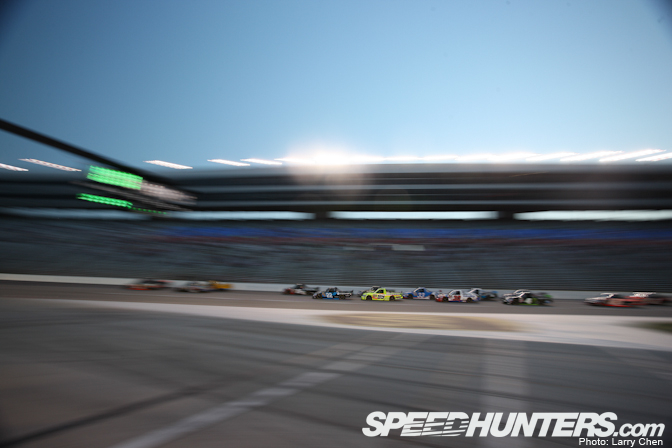 From then on, I shielded myself and my camera gear every time they passed by.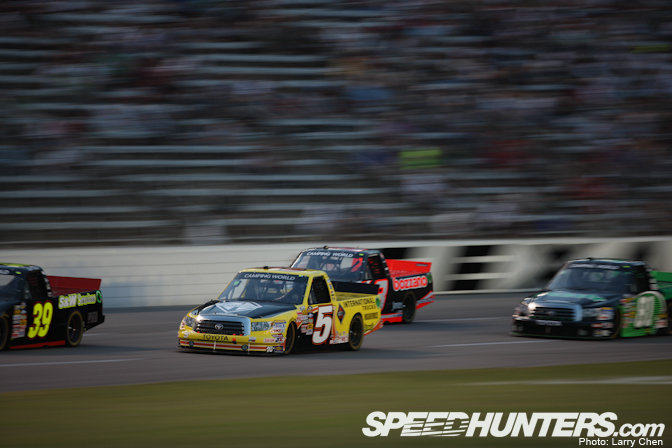 It is amazing to me how close these guys really are when they are racing. They take the "If you're not rubbing you're not racing" phrase to a whole new level.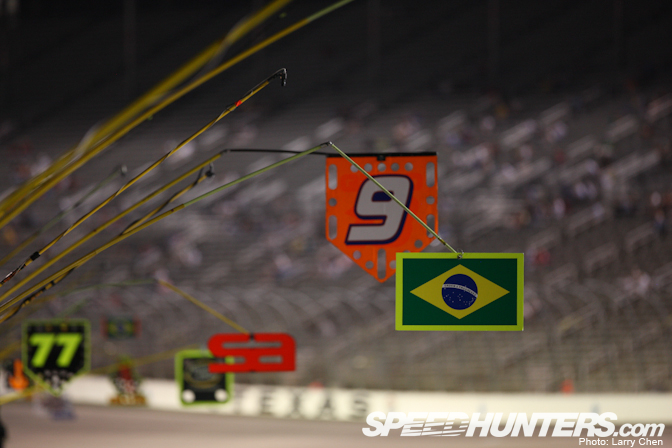 These pit signs looked like fishing poles to me. They were fishing for NASCAR…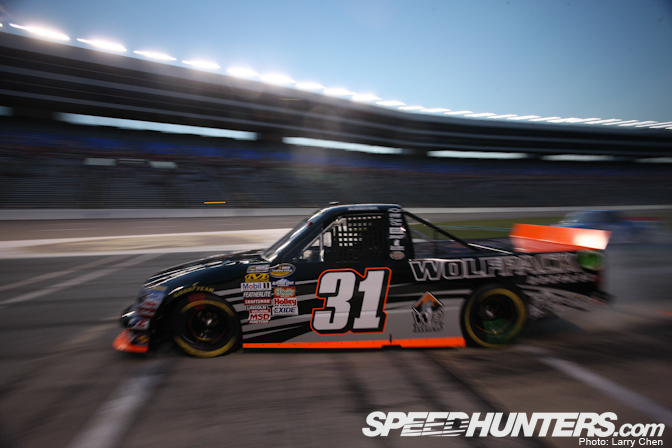 … and boy did they catch a big one!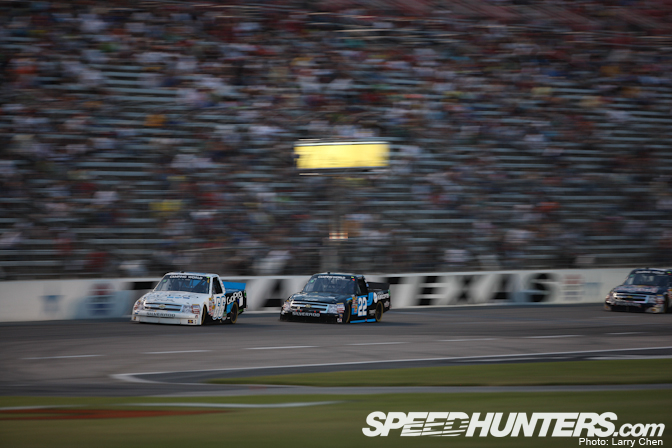 I've never been to a race at night that was so well lit. I had no problems shooting the action at all.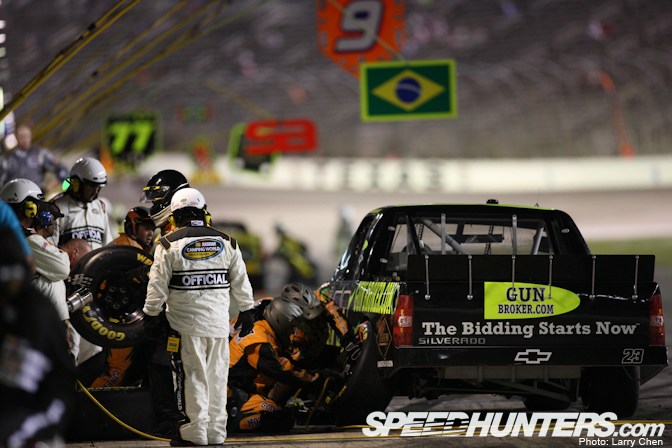 I love watching the pit stops. The crew literally trip over each other changing tires and adding fuel.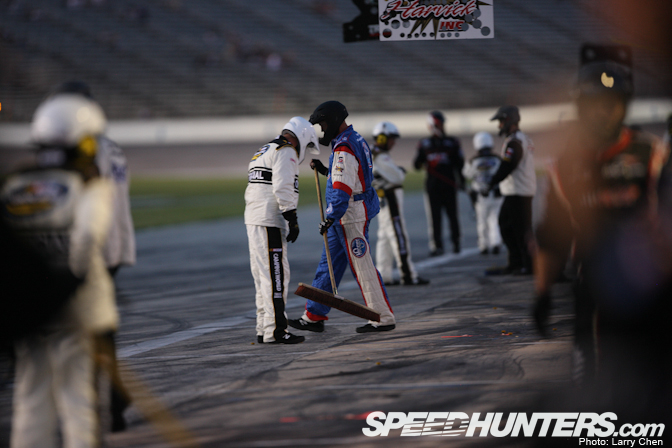 After the cars leave the pit crews break into song and dance on pit lane.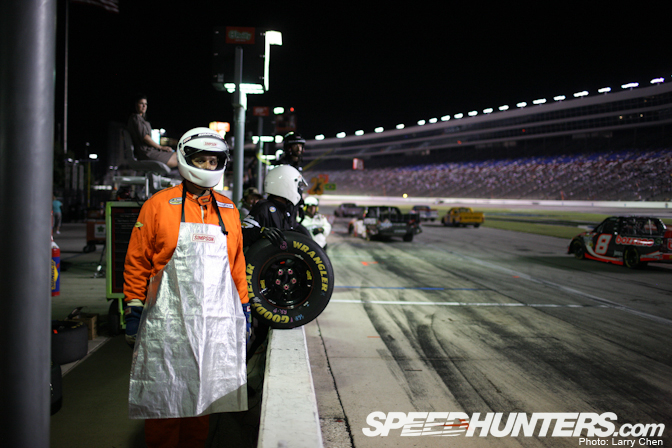 If you can't stand the heat, then get out of the kitchen.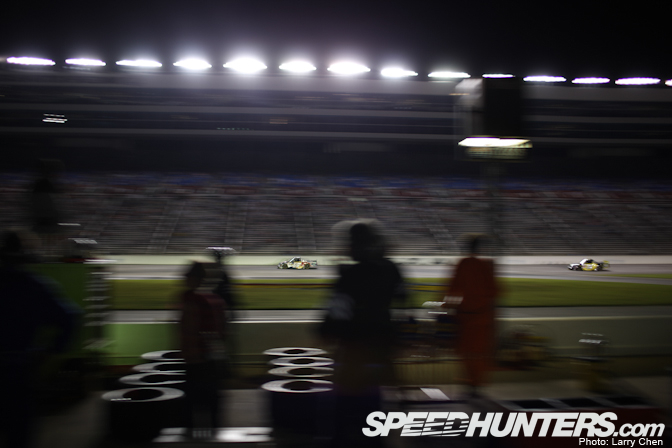 Everyone had their own job to do. No one cared that it was sweltering outside.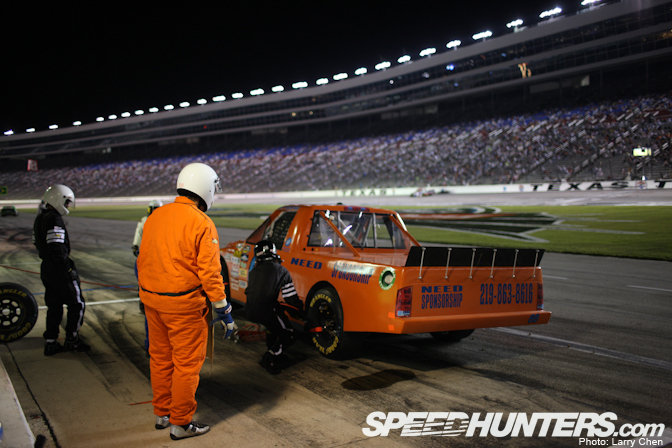 "I appreciate you wanting to sponsor me but, can I call you back? I am in the middle of a race right now."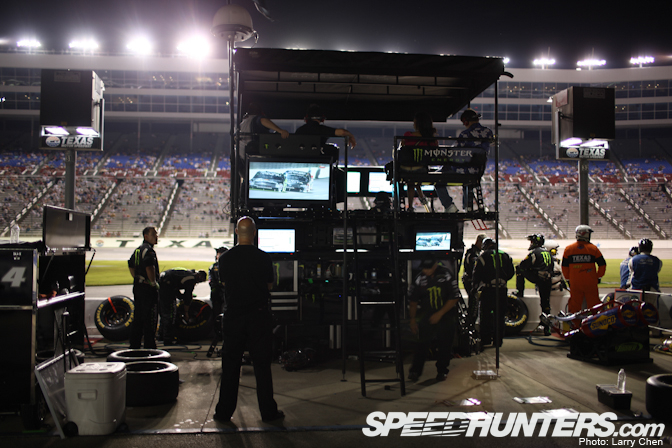 Ricky Carmichael's Monster team had the most presence on the grid.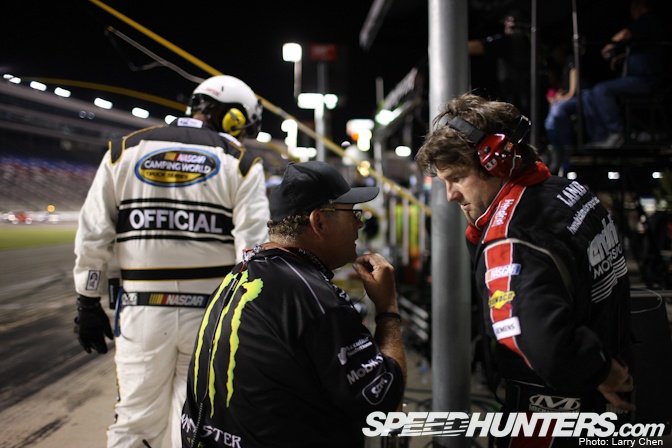 Everyone had a radio because it was very hard to hear anything over the drone of V8s.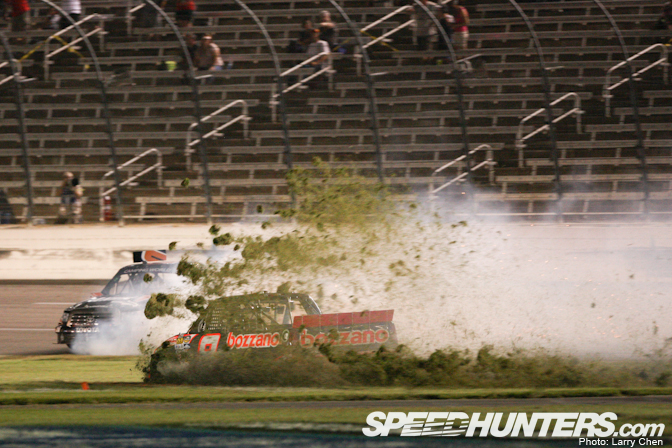 It's good NASCAR is not like golf. You can't really put back the grass you dug up.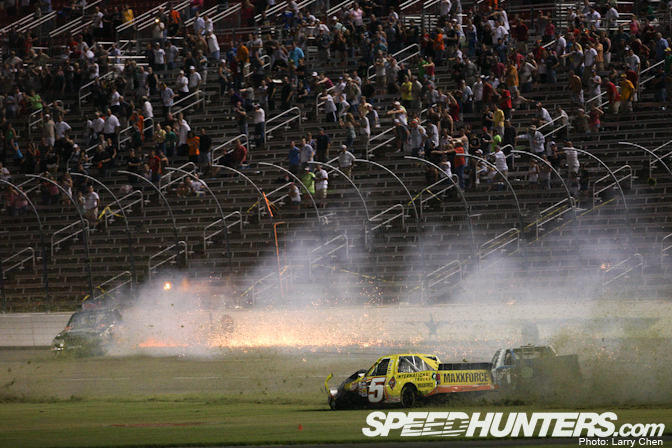 This race tied for the most cautions ever. It is amazing how these guys just bounce around and come back for more every race. These guys crossed the finish line with sparks flying.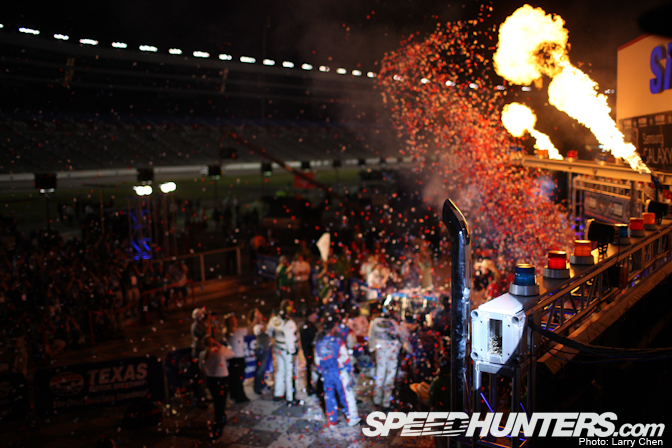 Victory lane, Texas style.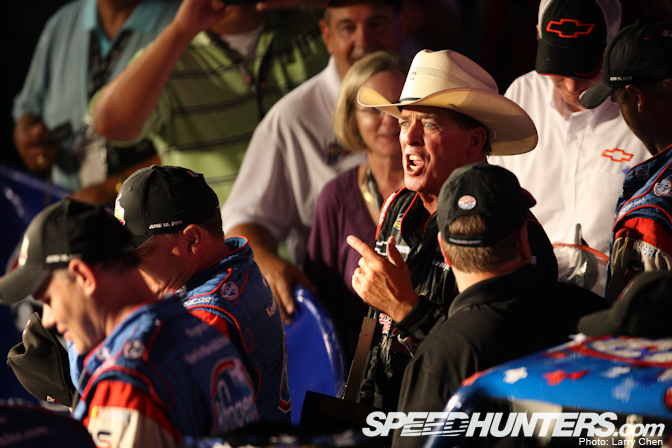 It's hard to believe but the winner actually gets a cowboy hat and a pair of six shooters loaded with blanks as a part of the celebration.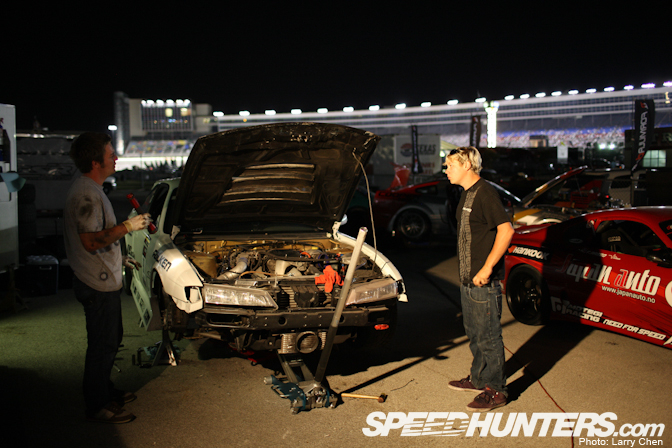 I headed back to the drift pits and I find these two staring at each other.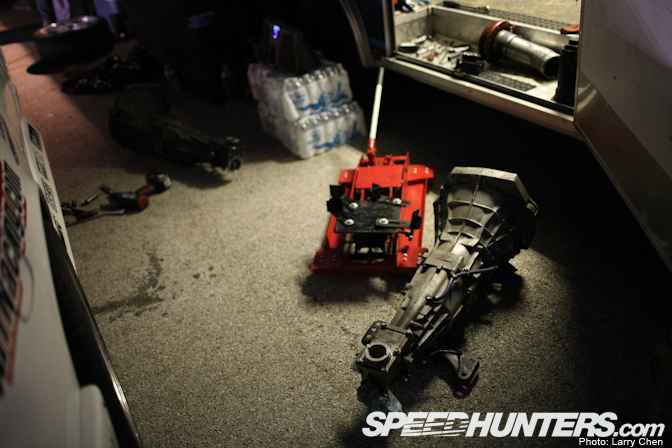 After looking long and hard, far and wide, they found a SR20 transmission for $250.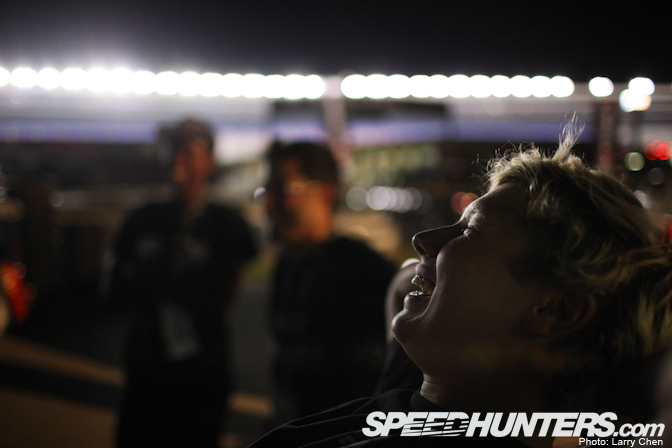 I think Pat was laughing at the fact that he will have to stay up all night swapping out transmissions.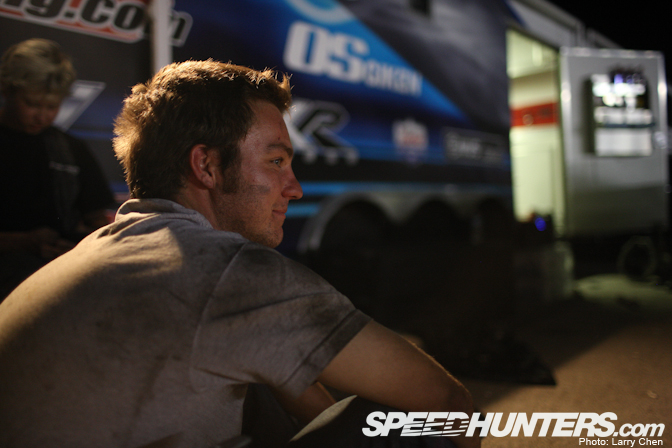 Bruce did not think it was very funny.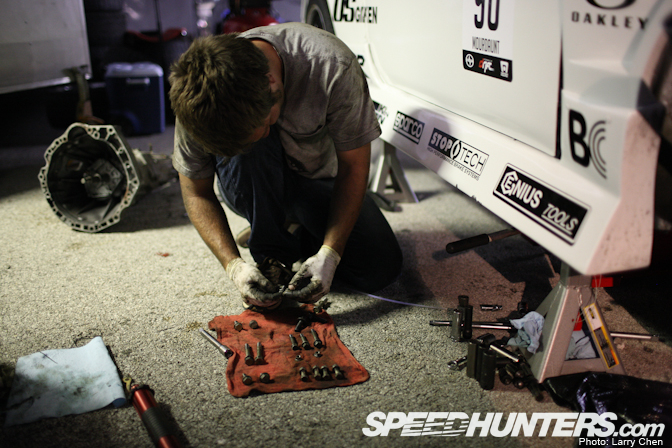 There is kind of a photo void here because I helped them get the new transmission in. I learned that you have to put it in upside down and spin it right side up because of clearance issues.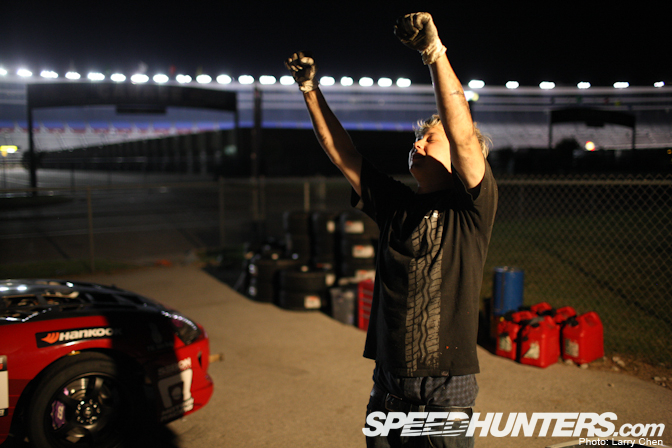 Finally at 4am we were victorious. I keep on saying this but, it would be all too easy if these drivers did not go through days like this.
-Larry