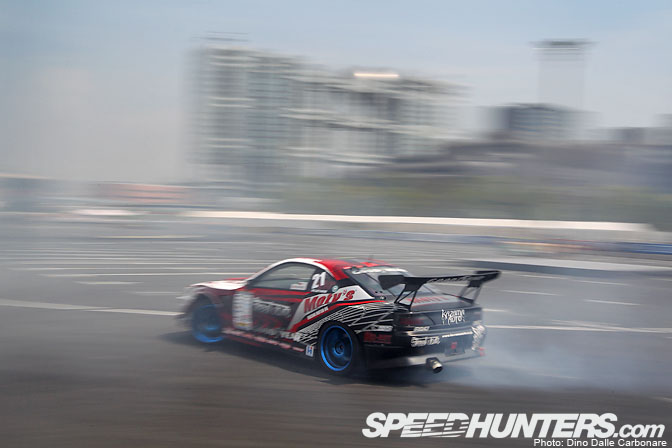 With Formula D and the GT1 happening on the same days as the D1 Tokyo Drift we have all been extremely busy trying to capture the essence of each of these series. Over in Tokyo the delayed first two rounds of the 2011 D1 Grand Prix, postponed after the March 11 earthquake and tsunami, took place against the usual breathtaking backdrop of the Odaiba side of the capital.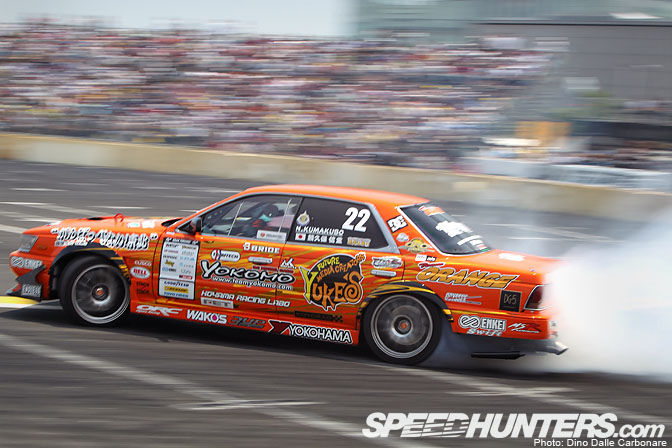 There was definitely some amazing action with drivers pushing themselves hard, but with Daijiro Inada and Keiichi Tsuchiya now gone to say the series has lost a very large slice of its appeal, would be a massive understatement.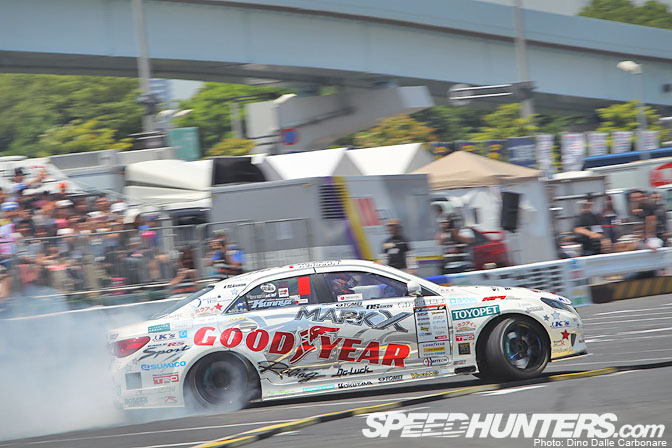 But we will get to that later. 2011 will no doubt be a tough testing year for D1, but looking at the crowds that showed up during the blisteringly hot weekend it's still the entertainment that gets spectators coming back, forgetting the politics behind it all. My full respect goes out to drivers like Kunnyz with his insanely awesome looking 2JZ-powered Toyota Mark X, as well as Kuma with his new Laurel, Tanaka with the Kazama Auto 2JZ S15, all setting themselves new challenges of competing with fresh new cars…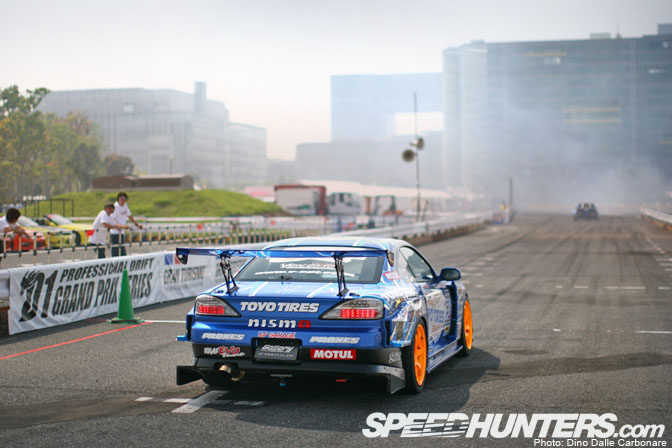 …plus the regulars we are all familiar with, cars that over the years have helped define what D1 is all about.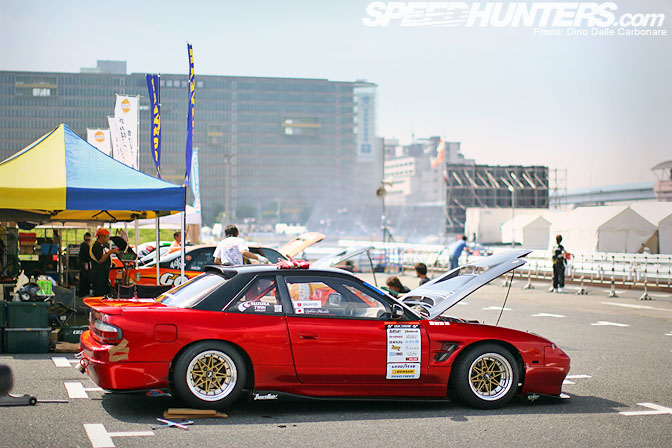 Super Made Onevia, oozing the true essence of drift style.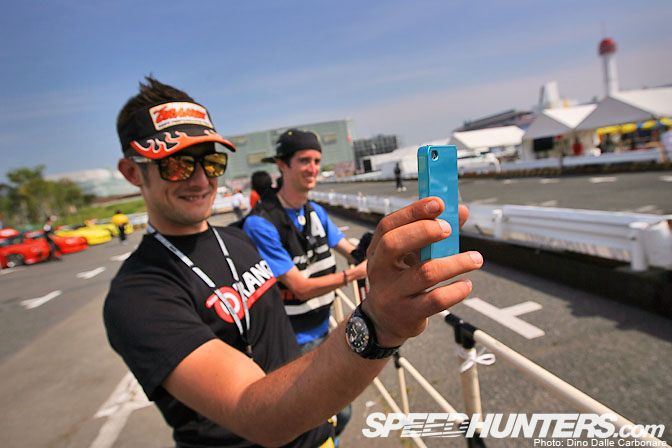 Federico Sceriffo flew all the way over from Italy to meet up with the Team Orange guys. He was back behind the wheel of his Impreza trying his best to do what the new judges requested from the drivers, something that apparently kept changing throughout the weekend.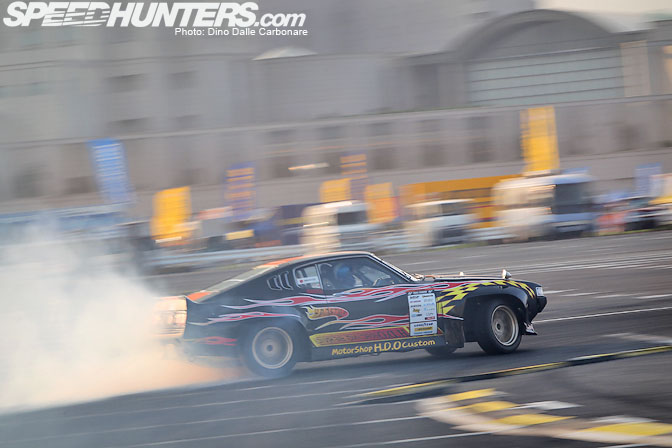 Oldschool simply rules!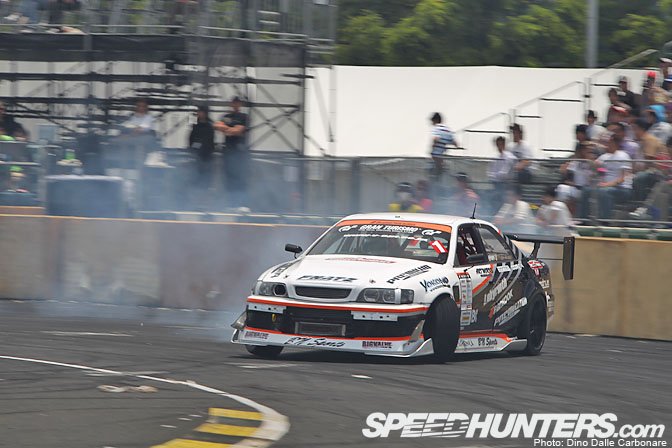 On top of the cool new cars for 2011 some others have received new coloring due to sponsorship changes like Saito's JZX100, now wearing an unmistakable Hankook livery…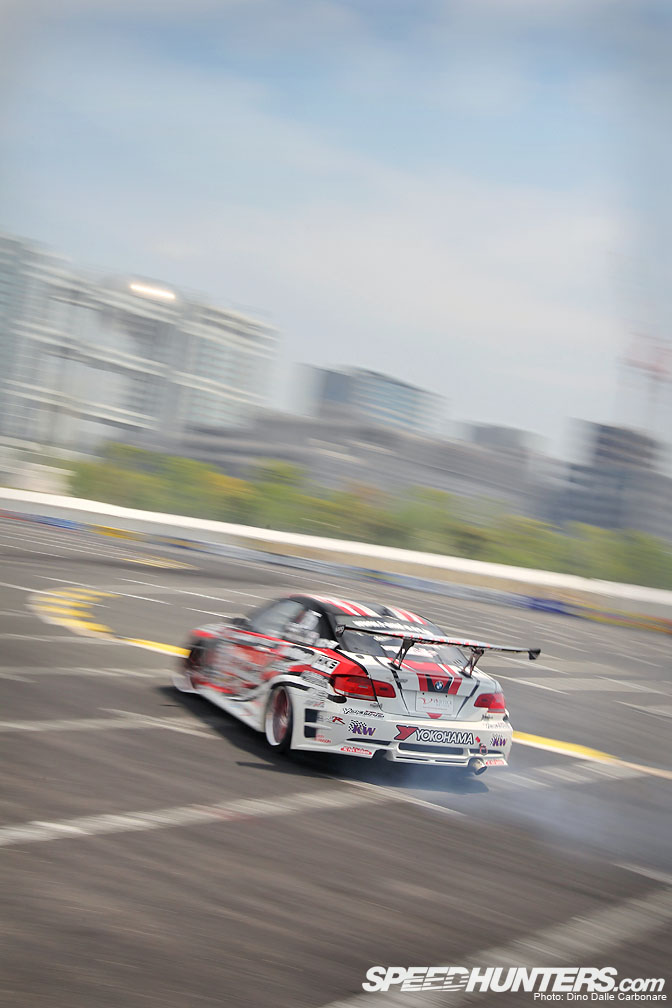 …and Ueno's 2JZ-BMW looking better than ever. Yokohama may have pulled out as a main sponsor this year but it was great to see that they haven't just abandoned their teams, still supplying rubber to Ueno and Orido as well as the Team Orange guys. Hats off to the Yokohama crew!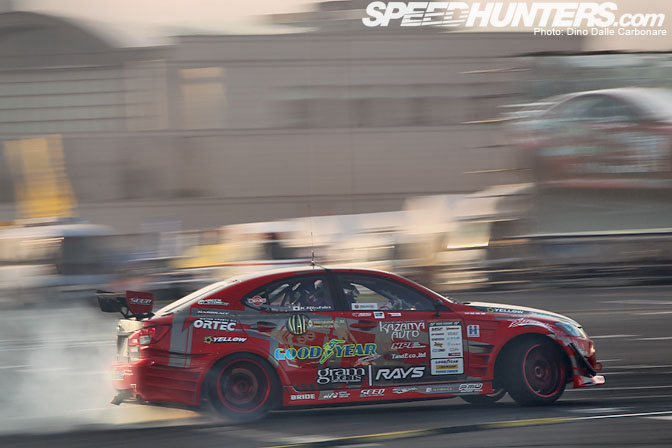 It's finally great to see Kazama Auto taking the step up from D1 Street Legal and mixing it up with the big boys in GP. It will no doubt be a steep learning curve for the team, but they are already off on a very good start by campaigning two of the most aggressively styled cars on the whole D1 grid, Kinya Nishio's widebody Lexus IS…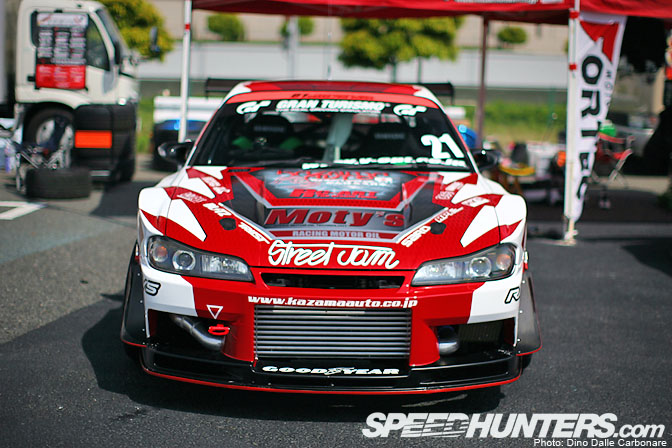 …and Tanaka's wild S15, both running 2JZ power. In fact there are so many more cars powered by 2JZ's this year, like Kazuya's DrooP Lexus SC and Matsui's S15…the 2JZ has quickly become Japan's V8!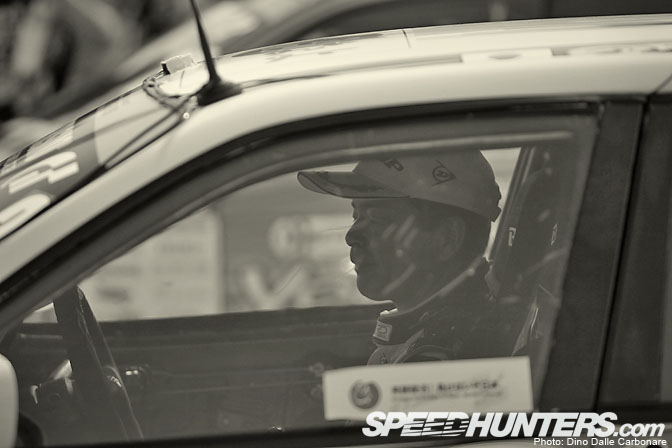 Nomuken, hasn't traded his trusty and consistently-performing ER34 Skyline. Will we see the R35 this year? Your guess is as good as mine!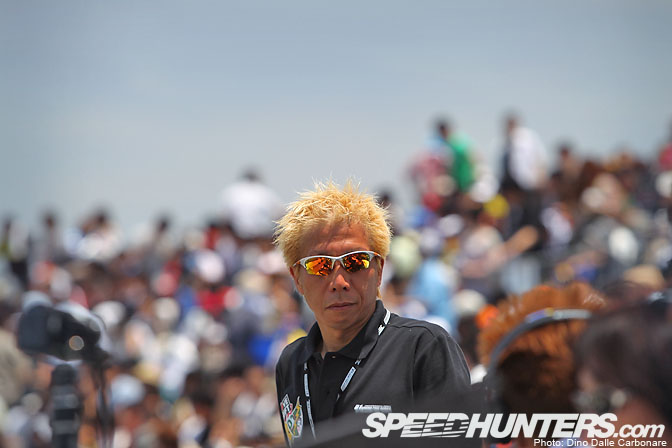 The line up of judges this year include JDM driver-superstar Tarzan Yamada…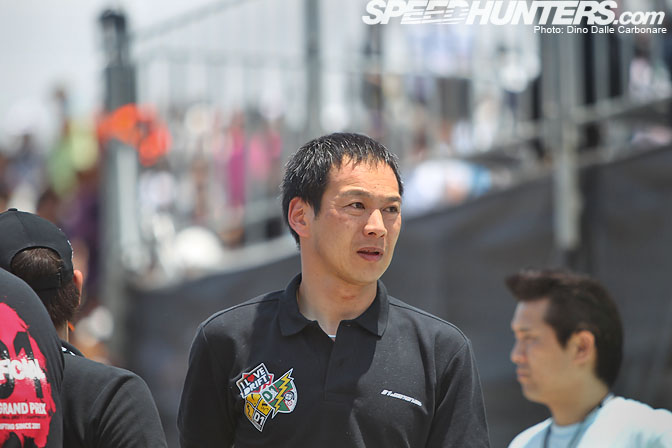 …and Super GT driver Akira Iida…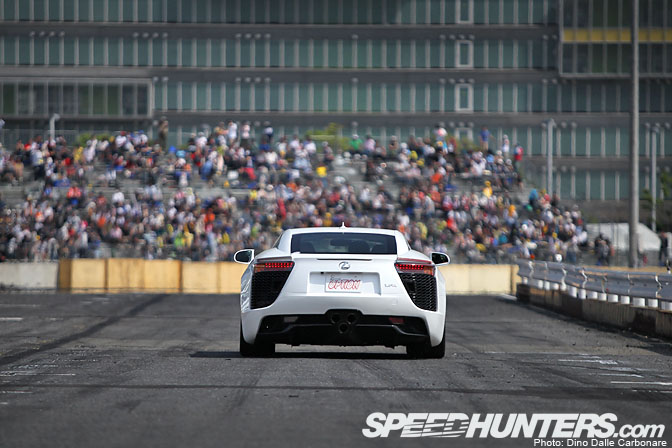 …who also entertained crowds during the afternoon with a very cool drift demo in the LF-A he borrowed from Lexus! Want to see a prohibitively expensive Japanese super car smoke tires and drift around a D1 course? Well don't miss the upcoming D1 coverage!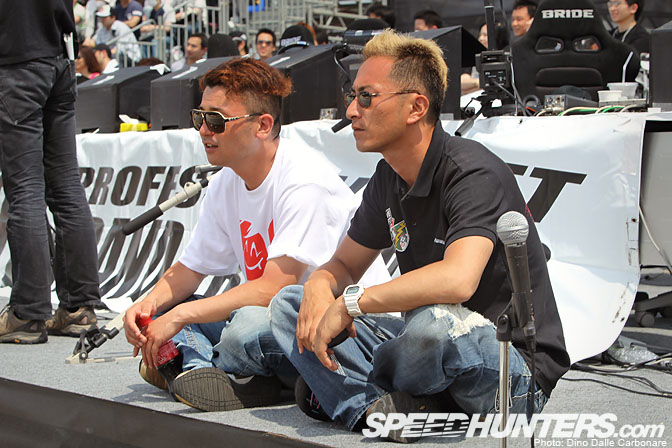 Doriten editor Kawasaki-san is also one of the 5 judges along with Kamimoto and Yamaji.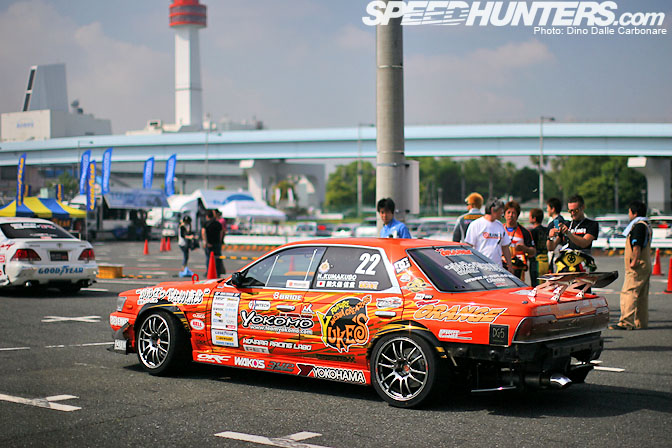 Kumakubo waiting to head out for his practice run minus a rear bumper. Later on during Saturday's Round 1 his rear wing was removed, as the big Nissan probably didn't need any downforce out on the tight Odaiba course.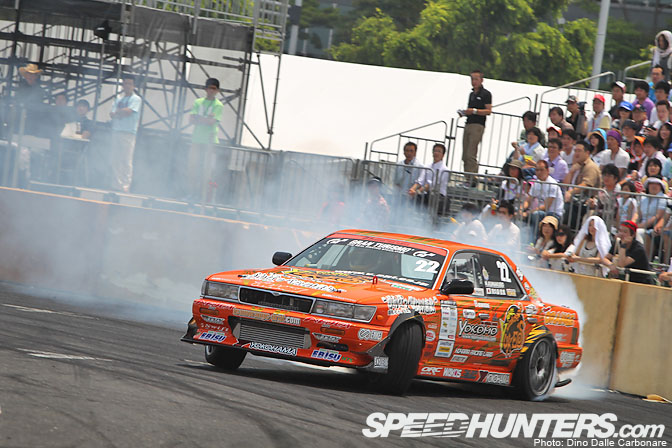 Looks better spoiler-less right?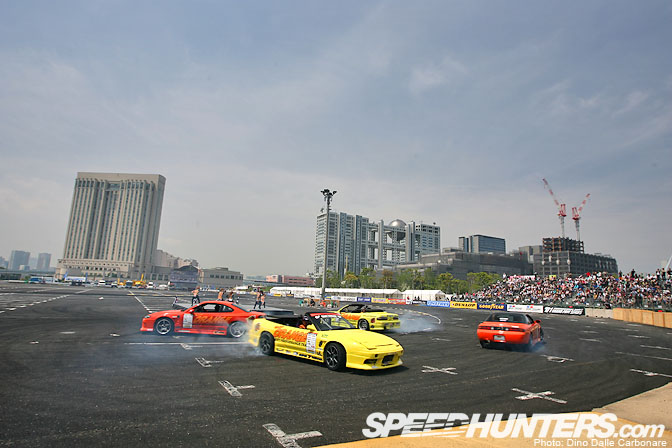 And speaking about Team Orange drivers, they never miss an opportunity to entertain the crowds with their cool synchronized drifting show…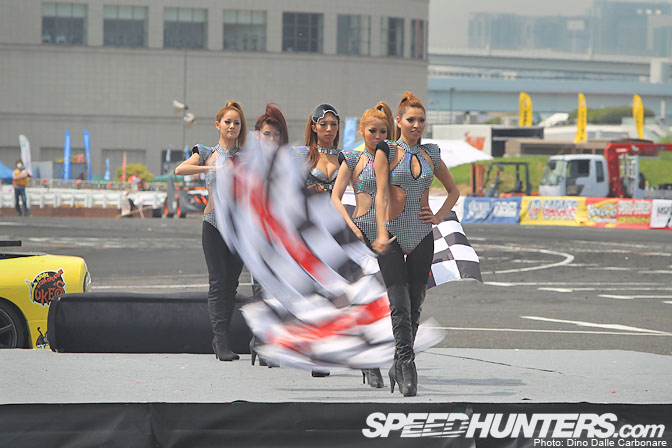 …mixing tire smoke with the cute C.J.D. dancers.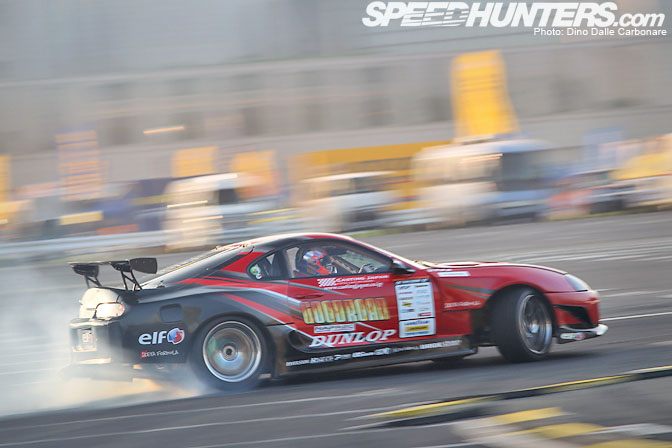 Great to see another Supra join in the fun, this is Ikuo Murata with his Team Good-Road JZA80.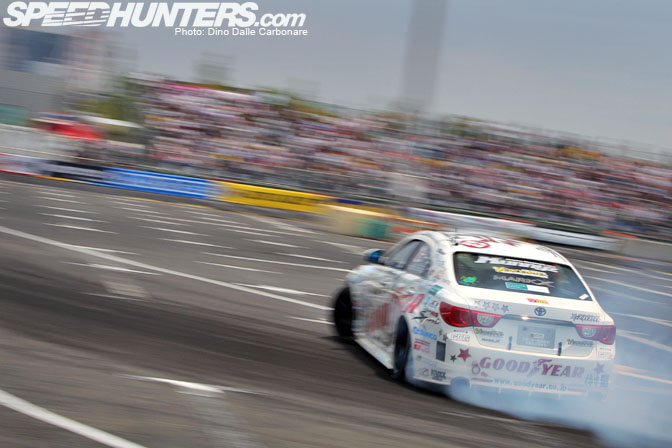 I just couldn't keep my lenses off Kunnyz MarkX, it's brutal in every way, from its beyond perfect stance to its rev-limiter-bashing 2JZ. I've got a spotlight coming on it soon, the engine bay is to die for!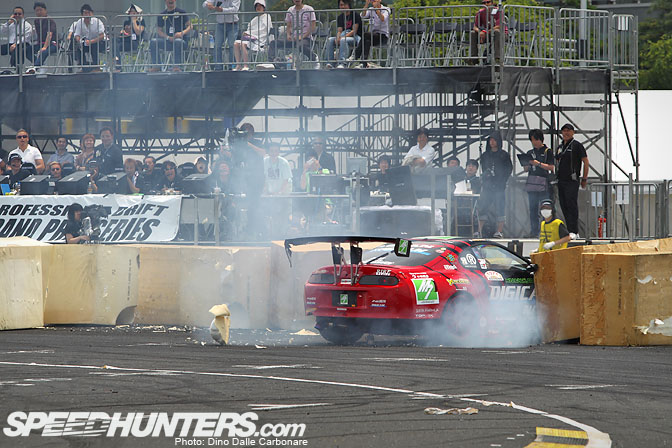 Manabu Orido was not having the best of weekends. It was proving extremely hard to keep out of the sponge barriers. This particular impact caused some pretty serious damage to the front end and suspension but his mechanics managed to fix everything up in time for his next outing.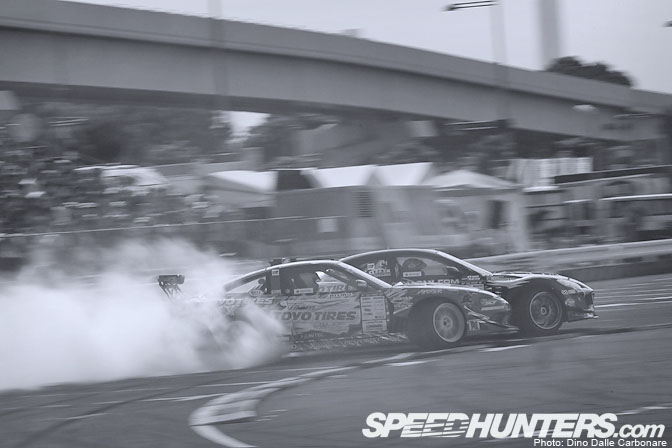 As the D1 Corporation continues to restrict the spots where non-official photographers and cameramen can shoot from in Odaiba, it was quite challenging to come up with new angles…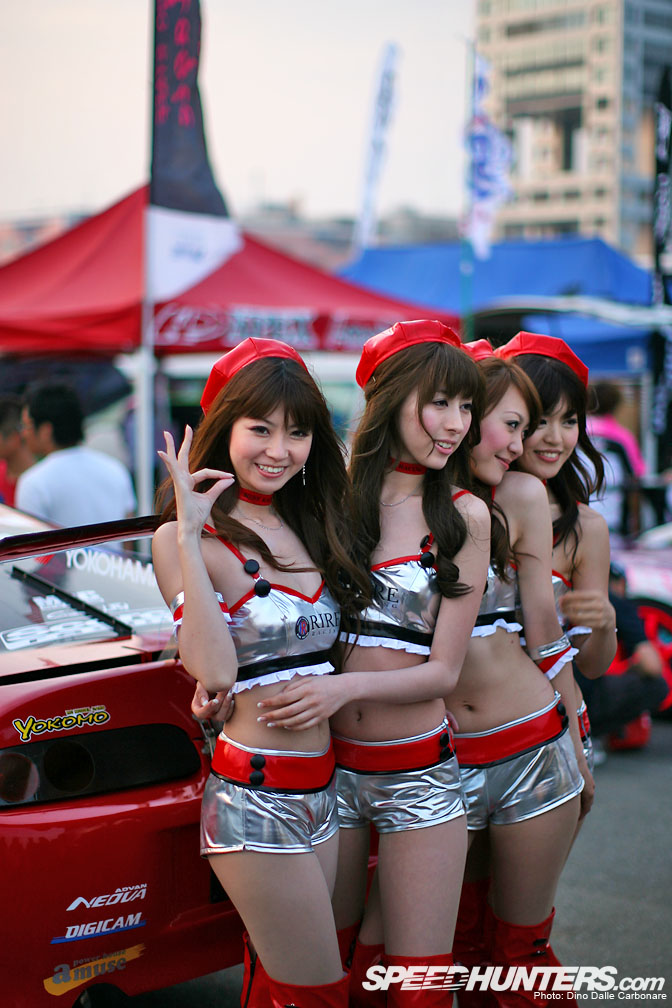 …so when it all started to get a little too repetitive it was time to head to the pits in search of some race queens. As ever Orido's girls are always willing to pose for the camera.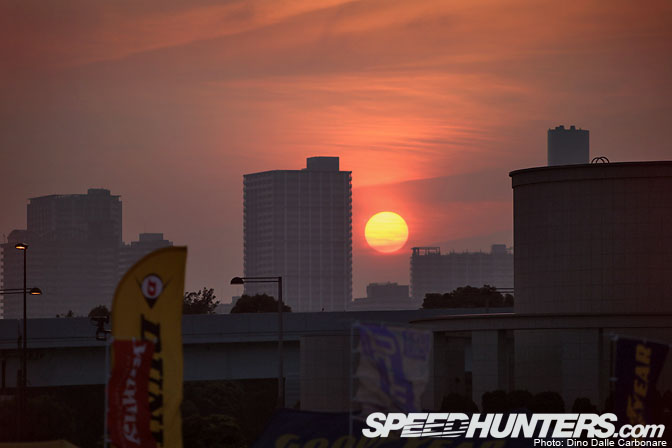 With Round 1 on Saturday and Round 2 on Sunday there is definitely a lot of action I want to share from this past weekend, so make sure you don't miss what I've got lined up.
-Dino Dalle Carbonare