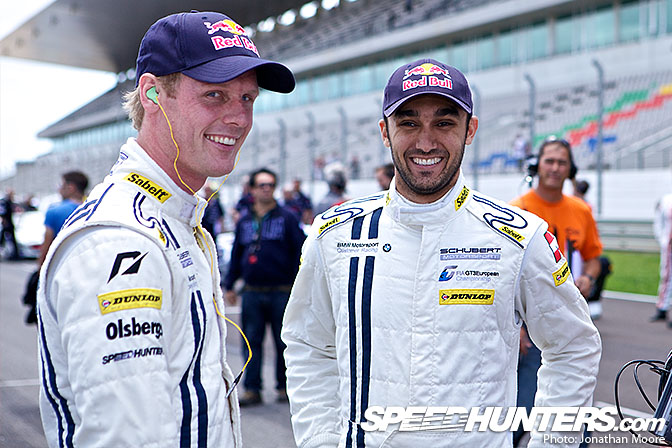 Edward: Hi there Speedhunters fans, I'm Edward Sandström and I'm racing the #6 Team Need For Speed BMW Z4 GT3 in the European FIA GT3 series and at the Nurburgring and Spa 24 Hour races this season. The season has just started and I must say I have been looking forward to getting back in the car since our Dubai victory back in January. In the meantime I have been doing a lot of sport to keep in good shape. In Sweden we do a lot of cross-country skiing in wintertime – this year I took part in the Vasaloppet event, which is a 90km skiing race. It was a real challenge without an engine! Anyway I did it in 6 hours. With all this training I have increased my fitness for this season. Apart from that I've had the dream job of setting up cars in the new Shift 2: Unleashed game. So the video game has been on the agenda more or less the whole winter. If you haven't played it yet you must!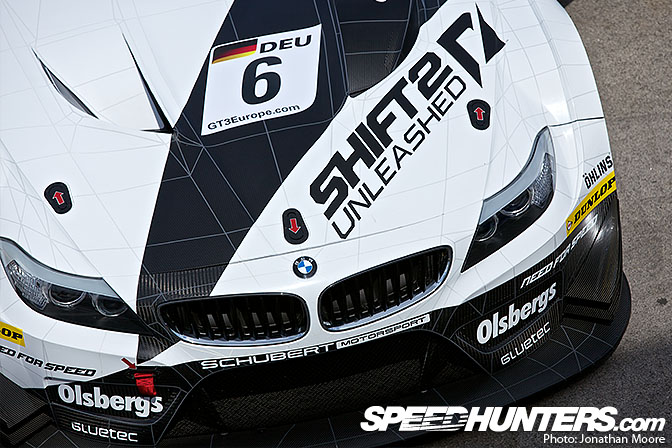 Abdulaziz: Salam (peace) to all our fans, I'm Abdulaziz Al Faisal from Saudi Arabia, racing alongside Edward this season. In the Middle East (ME) our season starts in November and ends in April which is a very good platform to keep racing all year round. For me FIA GT3 has followed on from the ME Porsche GT3 Cup, where I finished second this year after closing the points gap from 16 to 4 points by the end, winning 6 races out of 12. In a nutshell, when I'm not out enjoying racing or working then I'm on my games console!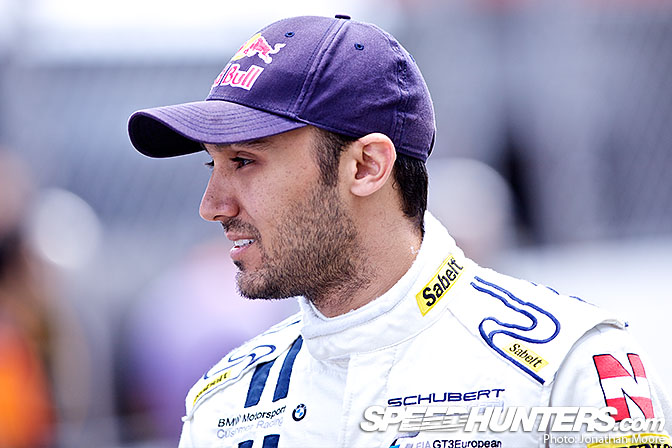 Edward: Abdulaziz AlFaisal is my new teammate since my regular driver partner, Patrick Soderlund, suffered a neck injury in qualifying last year at Zolder. Aziz is really good and I found it easy working together. He's very experienced and has won races in the Middle East Porsche Cup. Now we are working hard to win FIA GT3.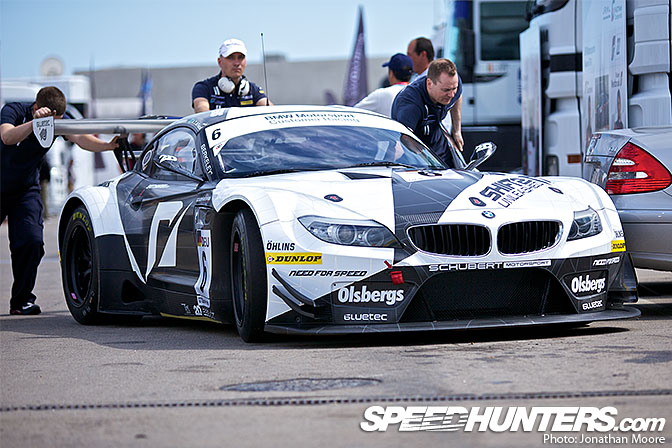 Edward: The new Z4 GT3 is awesome really. Since last year BMW Motorsport have worked hard on upgrading the car. The wheelbase is a fraction longer, the body wider, there are wider tyres front and rear and upgraded aerodynamics. It's like a brand new car! Because of the amount of changes the cars were delivered quite late, but still we managed some serious testing before we went to Portimao for the first GT3 races. We had two days at Hockenheim and then a further three more days in Hungary. It all went well, but we still have areas to improve even though I'm pleased with the performance and balance of the new machine. Oh, I forget nearly to say that the old gearstick lever has been replaced by a paddle-shift. It's nice to be able to drive with both hands on the wheel.
Abdulaziz: Edward said it all, yet how could he almost miss the fun part! The paddle shift is a great tool and I think this is the best part of this year's upgrade. The best thing is that the upgrades seem to suit our Dunlop tyres.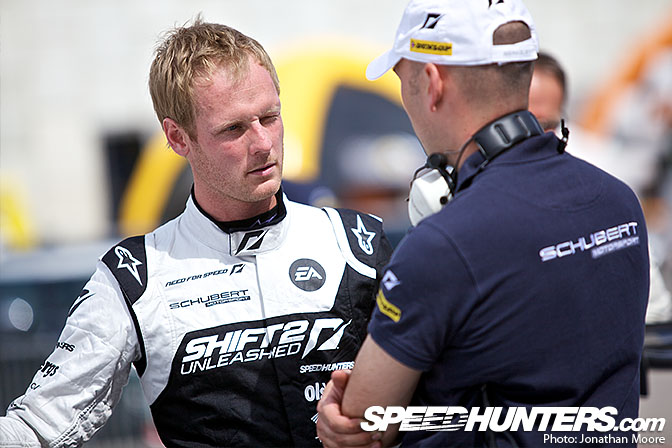 Edward: Schubert Motorsport have been very busy during the last month, helping BMW prepare the new cars plus planning their own racing season as well. I talk often to Stefan (Wendl, team principal) about how we can improve our performance. It's a never-ending story in motorsport and I like it. It's fun to work together to squeeze out every single possible bit of performance. Schubert have three Z4 GT3s for our campaign – two race cars and one in reserve in case anything happens. 
Abdulaziz: As drivers we tend to keep blaming the car and setup for our lousy performances most of the time! Yet Schubert have been working really hard not to give us the chance to nag… we are still in the early stages yet I believe we have a very good car so far.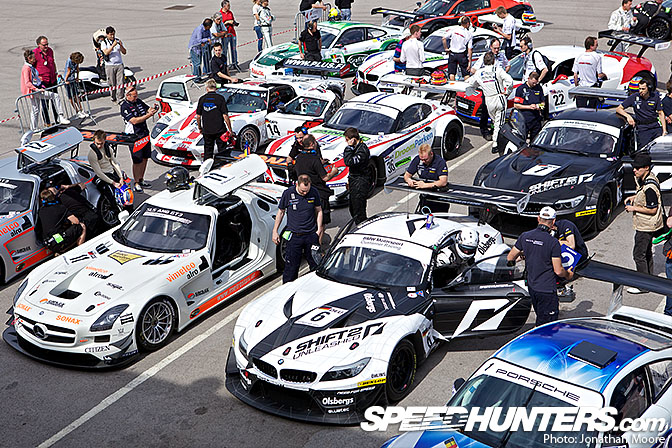 Edward: The GT3 field looks great this year. Hmm, it's hard to say which car who will be hardest to beat. In Portimao for sure the Ferrari 458 GT3 had both speed and very good young drivers from Formula 3. They showed really good pace in qualifying. Even then the Mercedes looked strong overall,  especially the French team, Graff. But with all the new cars the championship looks fantastic. They all look spectacular. I'm only disappointed to not see the Porsche up there fighting in Portimao. But I'm sure they will strike back. 
Abdulaziz: I agree… but we are also fast, no?!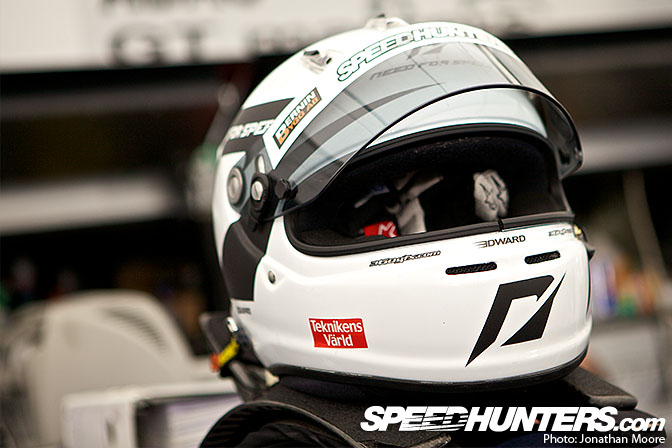 Edward: This year I've adjusted the inside of my helmet so it fits even better. I actually don't want to change it when it feels so comfortable, but maybe I will get a spare one. At least I have my new helmet dryer from Shock Doctor with me, so I can keep it dry and fresh this year.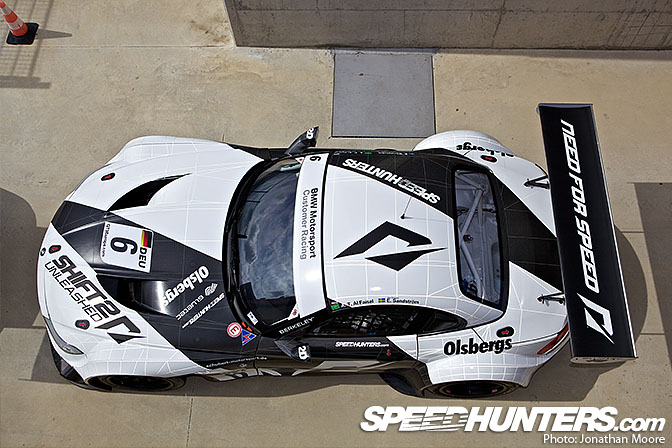 Edward: From the moment we went out in the first practice session I had a really good feeling from the car and tyres. It's more stable in the rear this season due to all changes. It makes it easier to keep a consistent pace during race evaluations and makes the fine work of the setup easier. Even then I was really nervous before the first practice. I mean then it's time to get the first picture about the opposition and how their development has been during wintertime. I was pleased to see that we had good pace – it was a real relief. I remember the hard time we had during the beginning of 2010. At Silverstone the lack of power was big and we were nearly two seconds off the pace. Now we have the pace and of course that's what you want as racing driver. But even then it isn't easy to get everything together on the first weekend of a new season.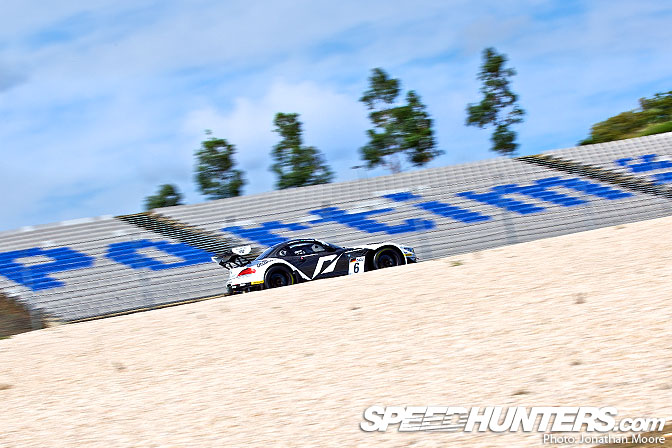 Abdulaziz: I used the practice to learn the track. It was my first time there and I was trying to push gradually without making any mistakes and getting used to the car on the circuit.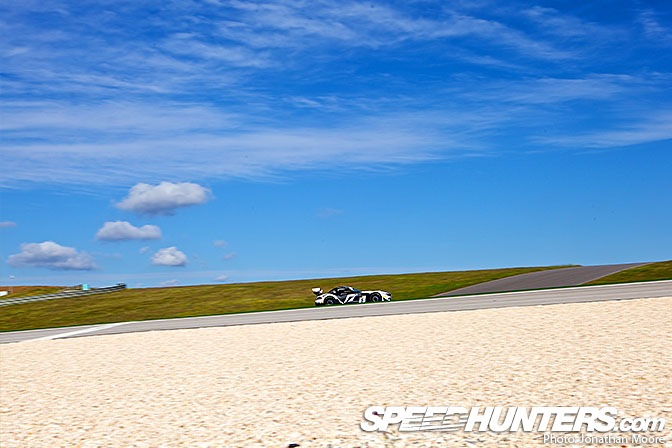 Edward: This track is one of my real favourites. I find it has a good flow. The last corner we enter at around 180km/h and I wasn't lifting off. That corner is amazing when you fly out first before the car settles heavy against the ground. It makes you want to do it over and over again!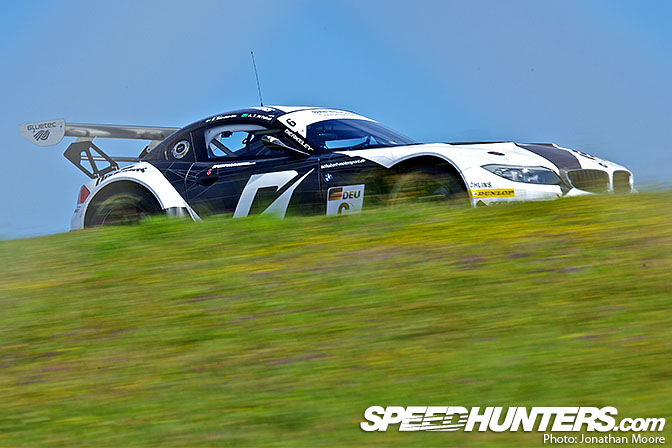 Abdulaziz: I really enjoyed the track. The change in elevations is unbelievable and there are a lot of blind corners. The challenge is to learn the track quickly, as you have limited track time – but that's also part of the enjoyment.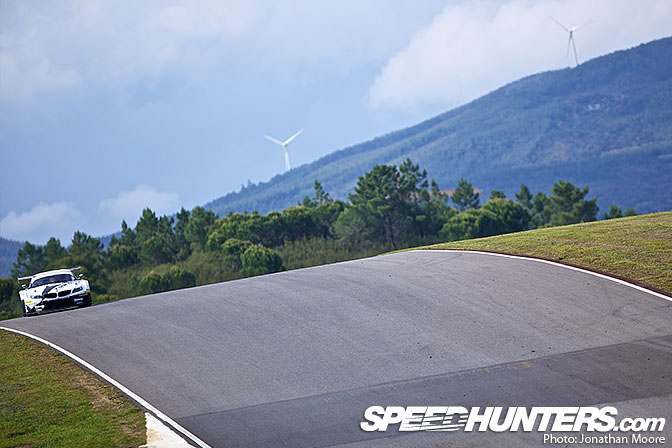 Edward: I was fully prepared to give it my all in qualifying for Race One. Some drizzle had made the track wet, but it was nearly dry in time for my qualifying run. I did an installation lap and was then waiting in the pit till the closing stages. I had my go when there were 11 minutes left on the clock. I had a really good feeling about the tyres and setup, and was about to challenge for pole position on my last lap when I got caught out by a Lamborghini who didn't use his mirrors three corners from the end – just as I was storming in from behind. Anyway it was good enough for second place on the grid and I knew we had more in the pocket.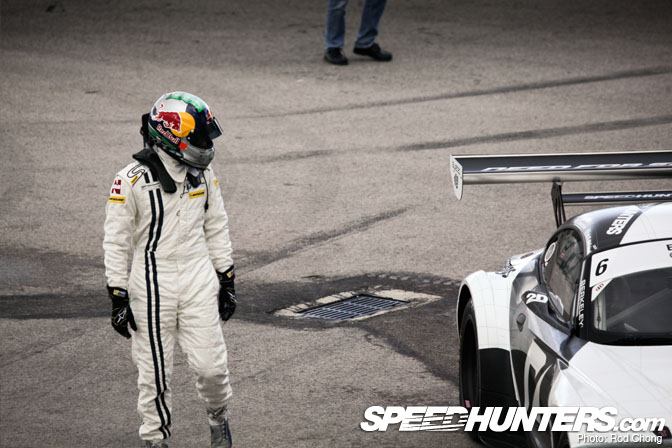 Abdulaziz: I think I should have pushed harder in my qualifying session for the second race, but weather conditions played against our tyres to be honest. I think this is why both Team NFS cars were in the middle of the pack for Race Two.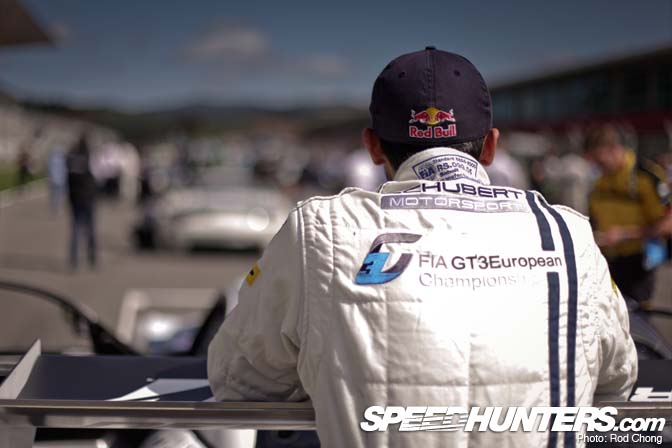 Abdulaziz: On the grid for Race One on Saturday I wished Edward good luck and made sure he did not need anything. I enjoyed the view looking back from pole position!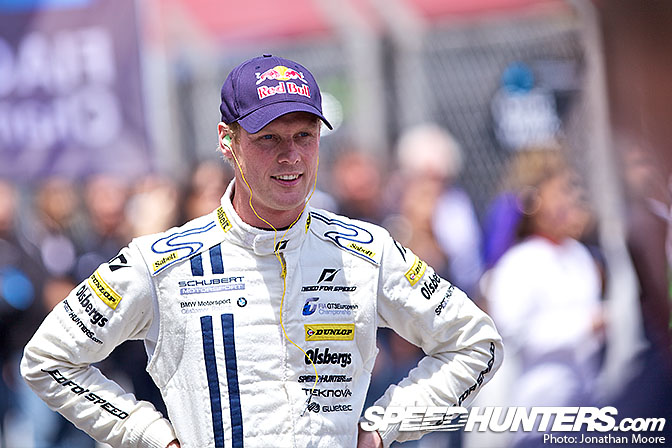 Edward: It's very much downhill before braking into turn one. I had some really hard battles into that corner. So fun! But when the Lamborghini turned into me I was a bit concerned that something should break on the car. Luckily it didn't.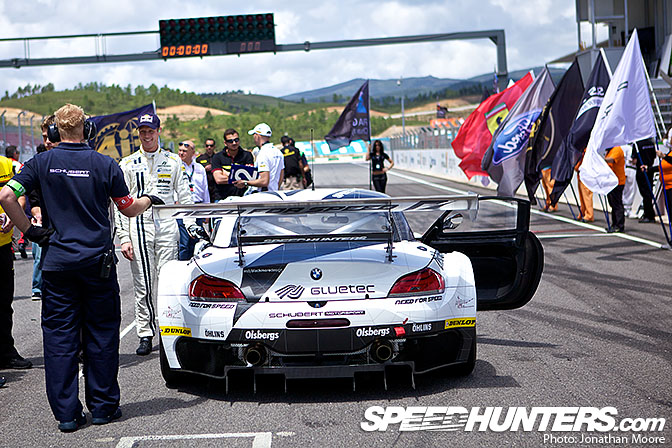 Abdulaziz: Its really amazing how you approach corner one without seeing it and with so much speed – you have to apply maximum brakes to slow down the car as you're braking downhill. It's as Edward says: lots of fun!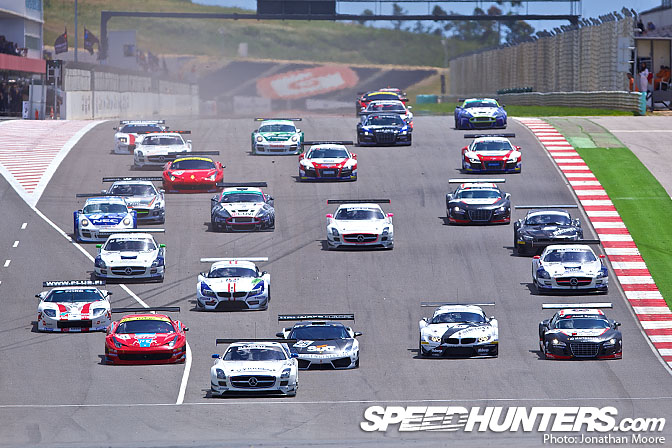 Edward: I made a really bad start in Race One. I think I was a bit surprised by the long straight and lights going out so late. Even then I was simply on throttle too late. Other cars were eating me up before the first corner. Because of a mechanical failure on the Ferrari I had been in pole position, but I came out of the first corner in fifth position. You can Imagine how angry I was… But then there's only one way to go: strike back. I did and could make a really perfect restart from a safety car a couple of laps into the race.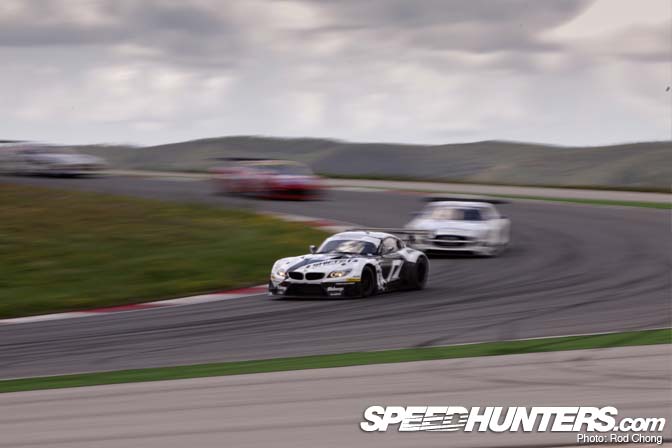 Edward: After 6-7 laps I managed to out-brake the Mercedes and retake the lead again.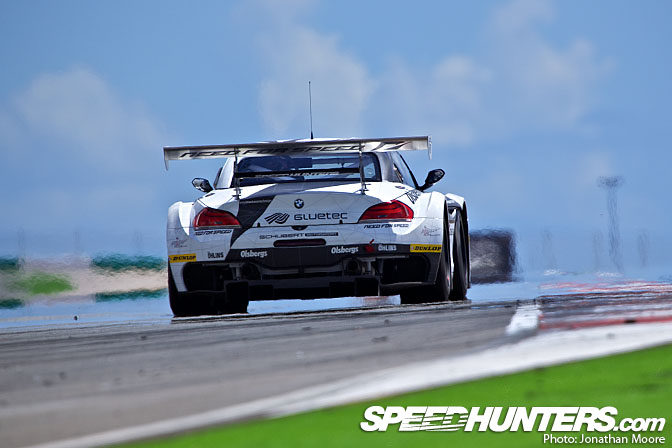 Edward: Then I pulled away and managed to get a five second gap. I simply had raw speed and was really pushing.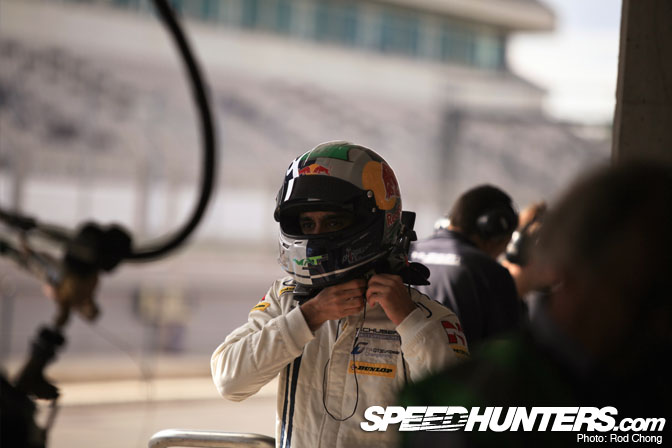 Abdulaziz: The seconds seem like hours when you're waiting in the pits to take your turn, especially when you know you could leave the pits in either first or second place.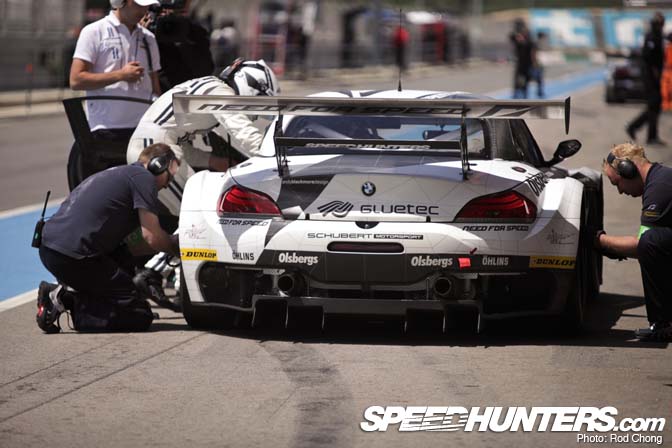 Edward: The stop worked fine. We had done plenty of practice and I felt comfortable with it. One mechanic is adjusting the tyre pressure on the left rear. We are allowed to do that, and it's really important to keep the rears in good shape.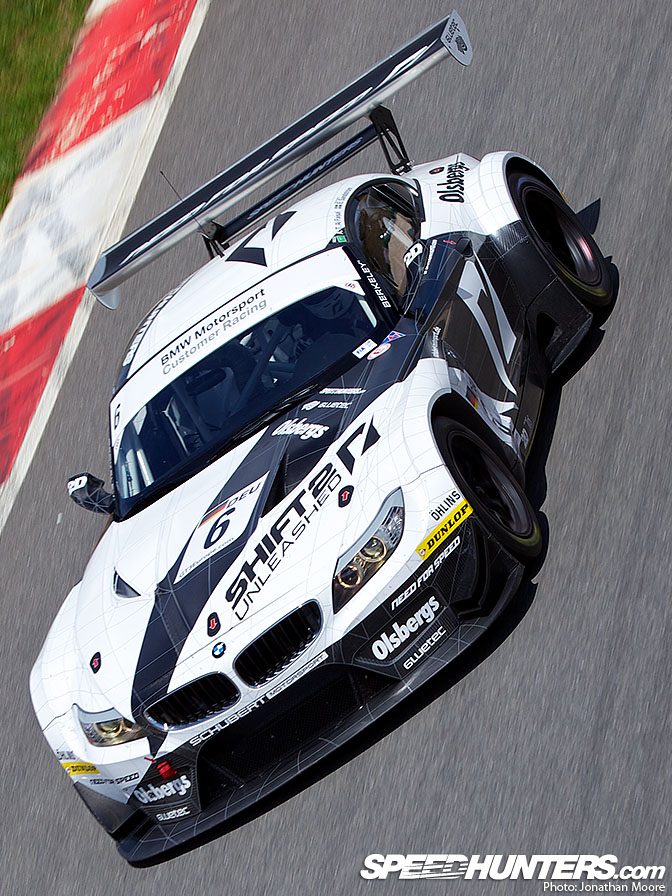 Abdulaziz: The driver change went well thanks to all the practice we've been doing. I was back out on the track in the lead.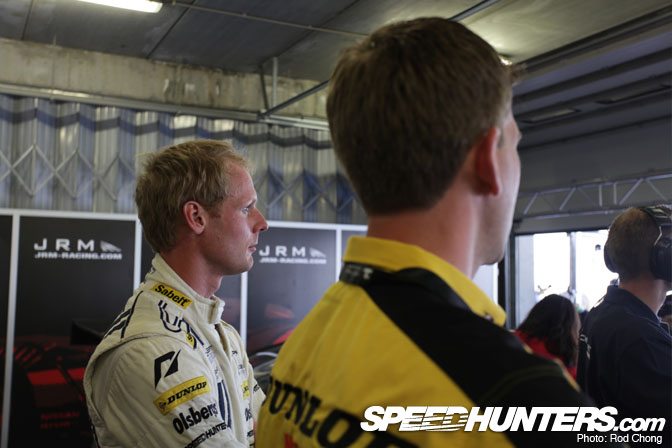 Edward: I was nervous watching Aziz during the final stint, but happy to say that I believed Aziz would make it to the flag. But remember last year when Patrick got the puncture just after he took the lead. You never know.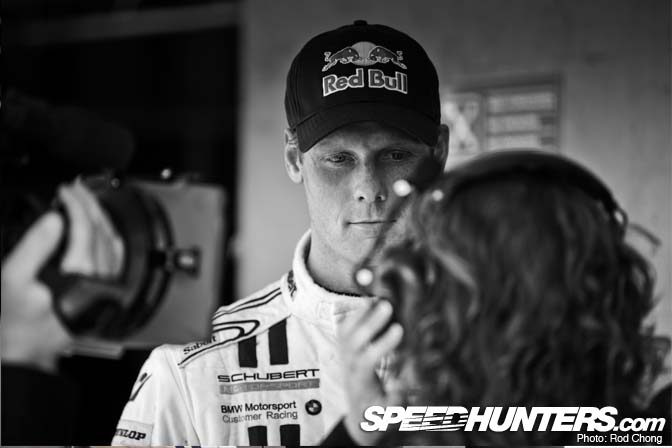 Edward: I was interviewed by the TV: I just told them Aziz will make it. 
Abdulaziz: I think you said we will do it!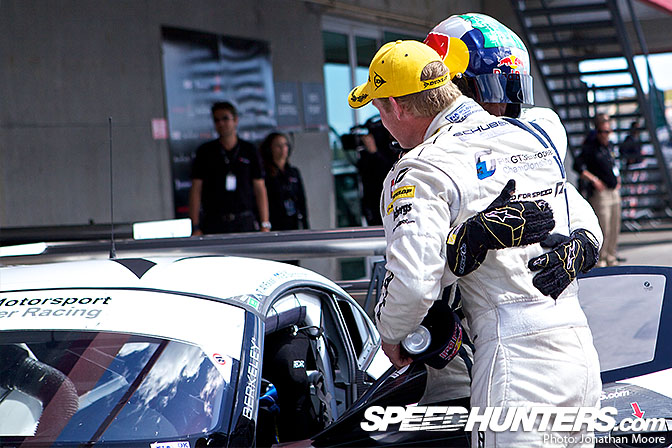 Edward: I was relieved to win the first race of the season and get the best evidence of the competitiveness of the car, team and drivers.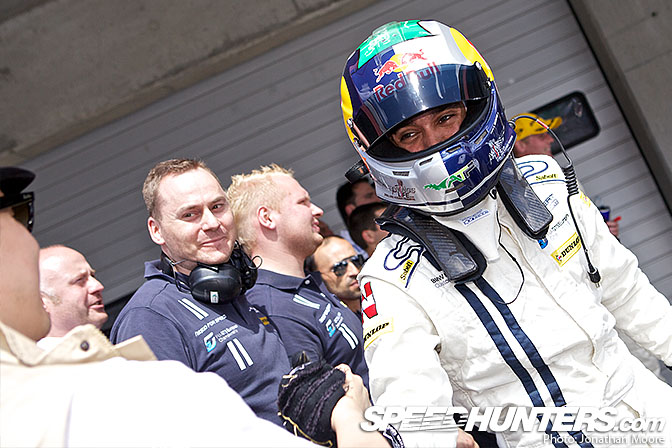 Abdulaziz: It was unbelievable for me and very emotional to win in my first race for Team Need For Speed. Hard work pays off – and thanks to Edward and the team. It was a pleasure to bring the car home in first place.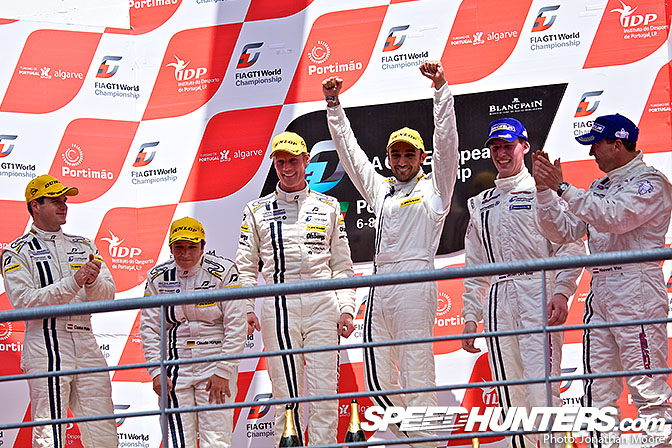 Edward: We did it. I hope we will be back at the top step in Silverstone.
Abdulaziz: As Edward said WE DID IT.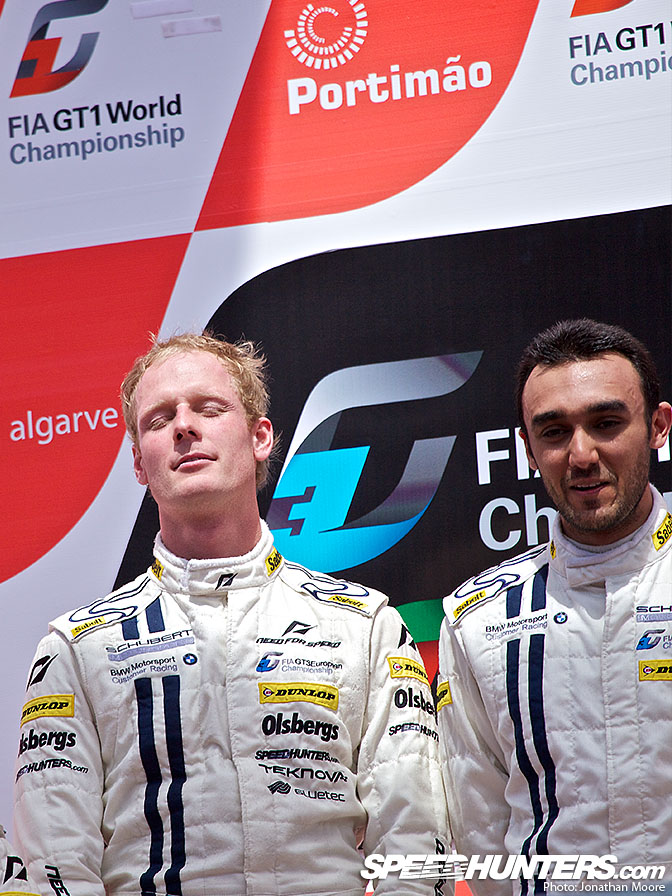 Edward: The feeling of winning is something special. I like to close my eyes and let the feeling sink in, to say thanks to myself and the people that inspire me. Since Zolder we have a good record: three wins! We have to keep this up!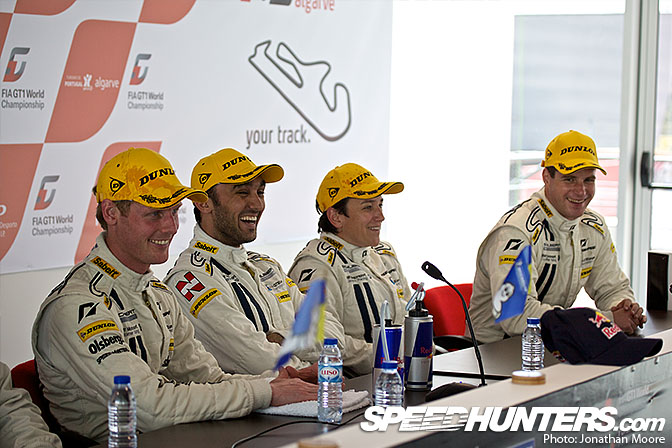 Edward: The top three cars were all BMWs: I'm sure they were as happy in Munich as we were in the press conference!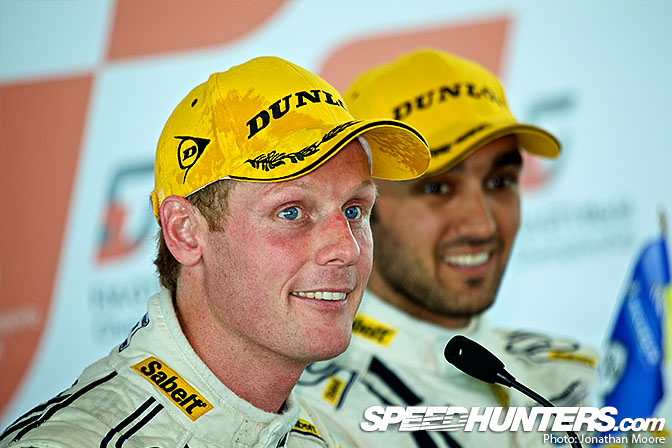 Abdulaziz: An all-BMW podium says it all. It couldn't have been better.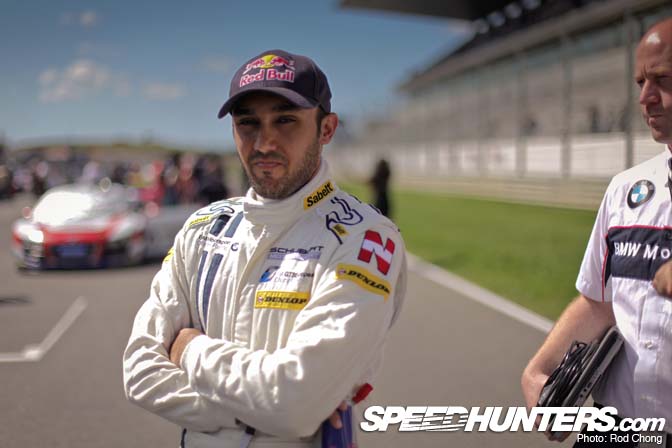 Abdulaziz: On Sunday for the second race I was very calm and relaxed: I had a good sleep after the win on Saturday.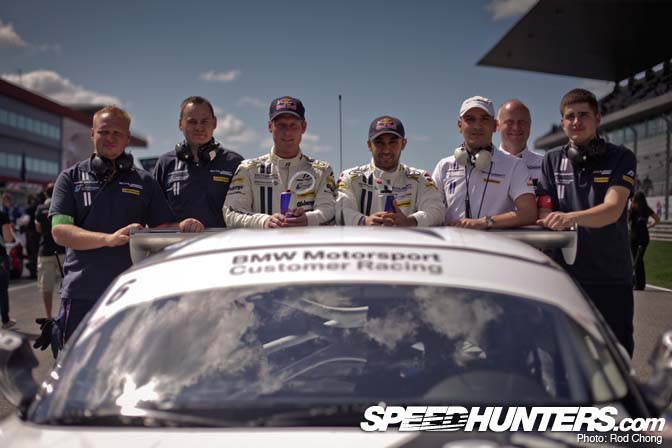 Abdulaziz: The 10 minutes on the grid were long before getting in the car, but I think it was good for our fans who came to take few shots with us. Our strategy was to maintain the gap between our position and the front row.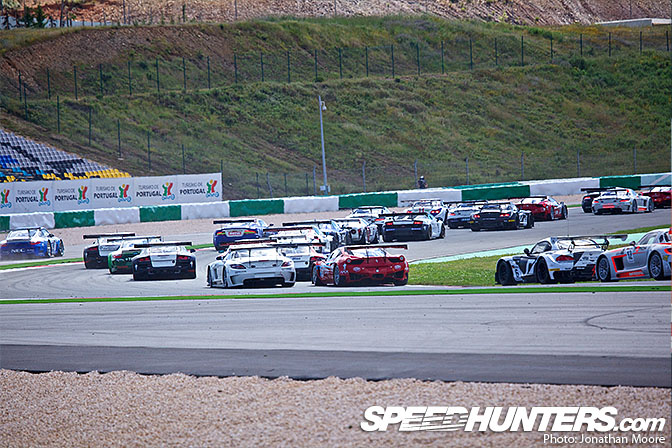 Abdulaziz: To be honest, I was very disappointed with the start – not from myself, but from the others. The same thing that happened to Edward yesterday happened to me today at the rolling start. Drivers from the back of the pack started to accelerate early and overtook me before the green lights came on! I was controlling my speed when the car in front hit the brakes just seconds before the green lights – I had to slow down, meaning I lost momentum and the cars behind came past me on the straight before the first turn.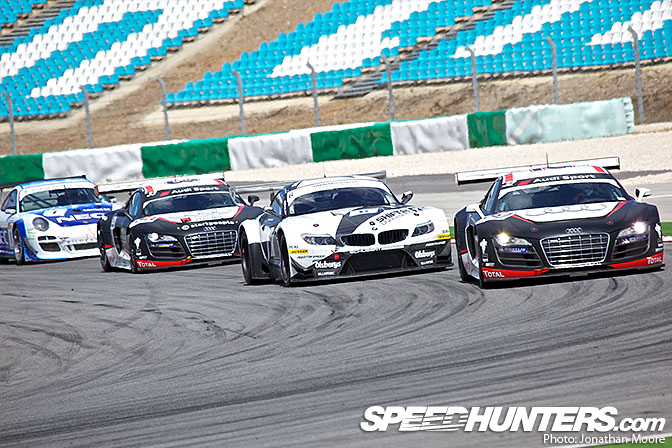 Abdulaziz: I had to fight back not only to keep our strategy on track but because the cars in front of me were slower than me. I had to overtake car after car: I was just trying to make it to the pitstop, but there were drivers with no experience blocking left, right and centre…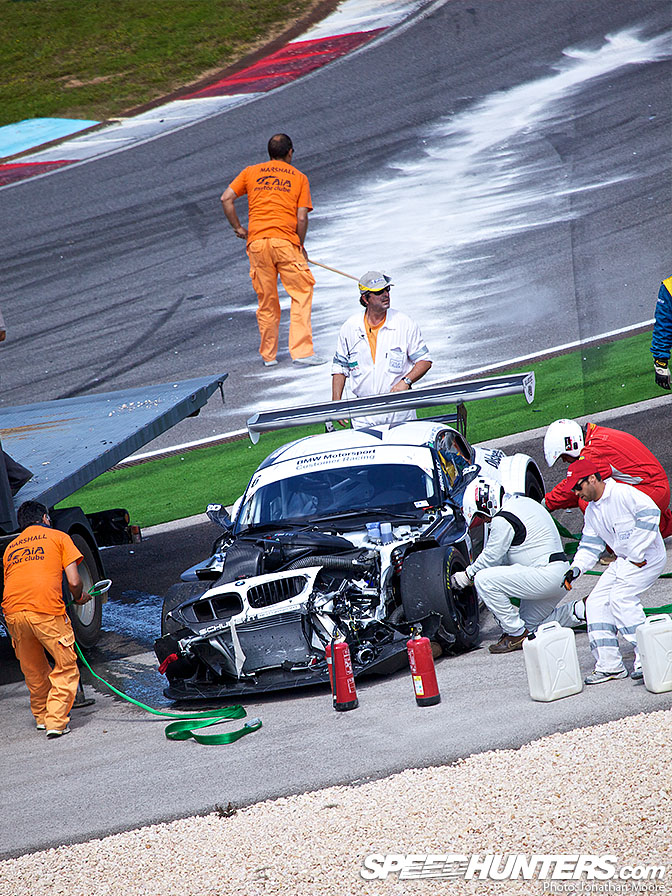 Abdulaziz: Then I had my crash… There was a slipstream combining a Ford, an SLS and our Z4 on the start/finish straight before the first turn. The SLS overtook the Ford and a gap opened up: I waited and planned to make the move into the third corner, but the Ford braked far earlier than my normal marker. I was surprised by him braking so early, hit the brakes and moved to the right (to prevent a crash), but the ABS activated whilst I was sideways on the grass. I couldn't control the car, and went straight into the SLS who was taking his apex. It was such a shame as there were only two laps to the pit stop.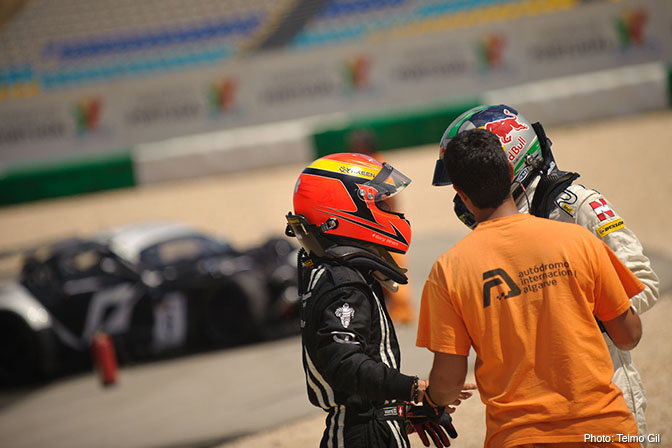 Abdulaziz: The Mercedes driver was shouting and yelling, but I was trying to explain that it was not my mistake and especially that I hadn't done it on purpose…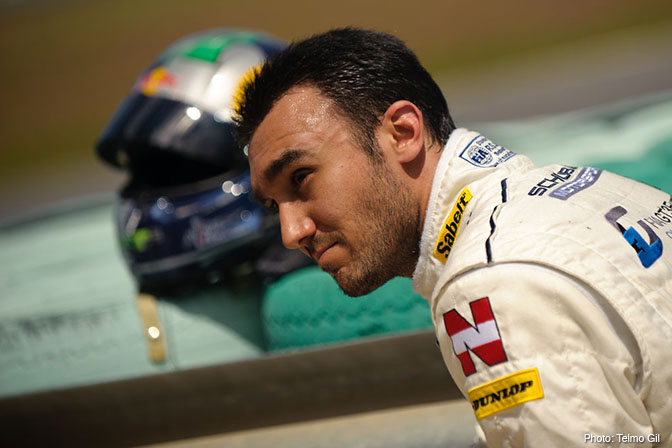 Abdulaziz: I felt really bad as I knew Edward was about to get in the car. It's the worst feeling because of all the hard work the team put in the past weeks to deliver the cars, and expectations were high after winning the first race. I guess I had the best and worse scenario in one weekend – but that's what makes racing exciting.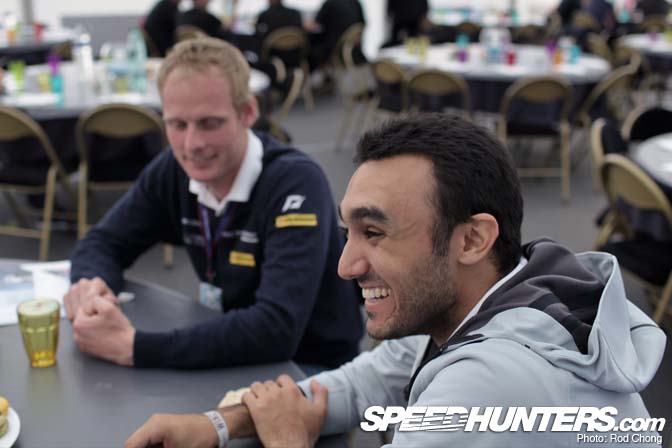 Abdulaziz: Our focus on the Silverstone race has already started. The crash is history: I'm keeping up my physical training routine and doing some promotional work in the Middle East.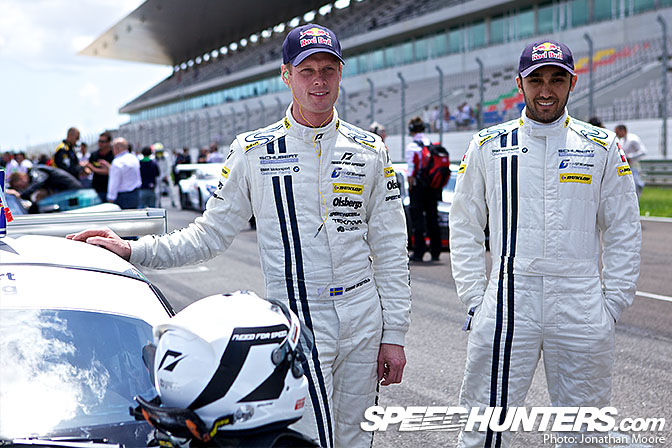 Edward: Looking back at the weekend, we had great speed and got maximum points in the first race. We leave Portimao only three points adrift in the championship. Now I'm looking forward to Silverstone – I can't wait! I will step on it and go for pole position!
Autódromo Internacional do Algarve
Team Need For Speed Stories FIA GT3