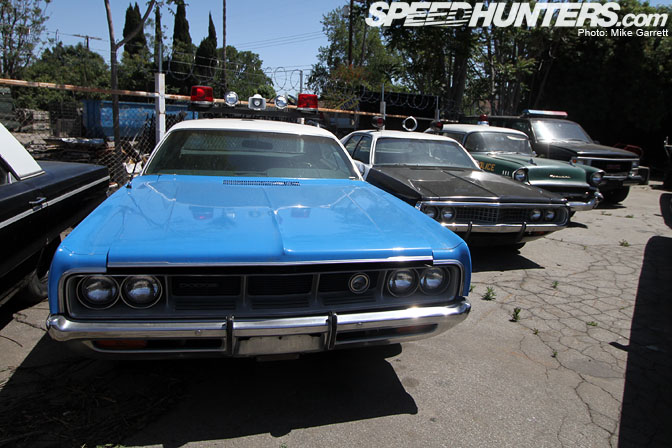 We've presented a lot of amazing garages and car builders on this site. Places that build and maintain race cars, drift shops, restoration shops, hot rod builders, and more. The place we are about to look at though, is unlike any of those.
The Picture Car Warehouse supplies and builds vehicles for use in movies, television shows, commercials, music videos, and more. It's a uniquely Southern Californian place, and I went there earlier this week to take a look around.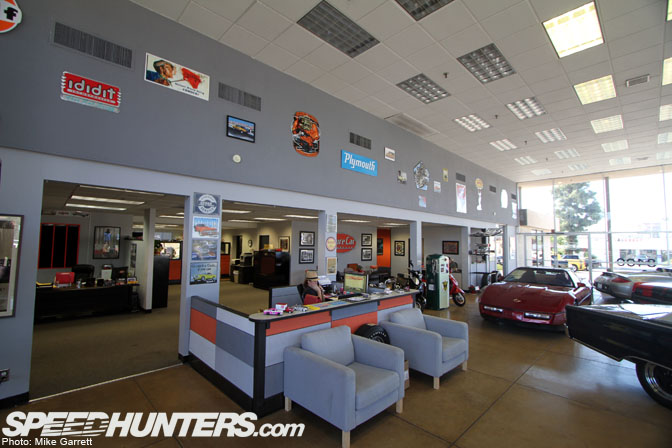 The Picture Car Warehouse headquarters can be found on Reseda Boulevard in the city of Northridge. The company has been around since 2003, and they moved into this ex-Cadillac dealership last year.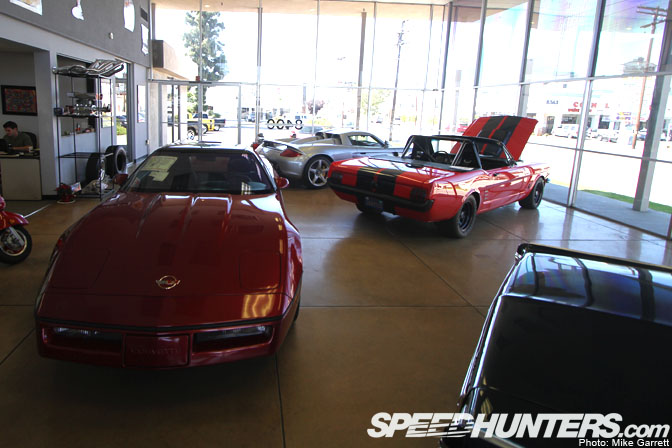 Upon arriving, I walked into the show room where I was greeted by an interesting selection of cars including a Carrera GT and a hopped up Mustang Convertible once owned by a certain Charlie Sheen. (Insert tiger blood joke here)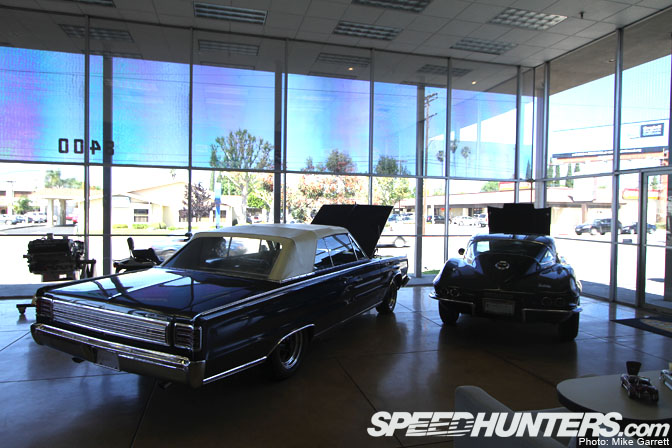 I was then met by Tiffany Fry, who would be showing around the place. Needless to say, I had no idea what to expect as we began our tour.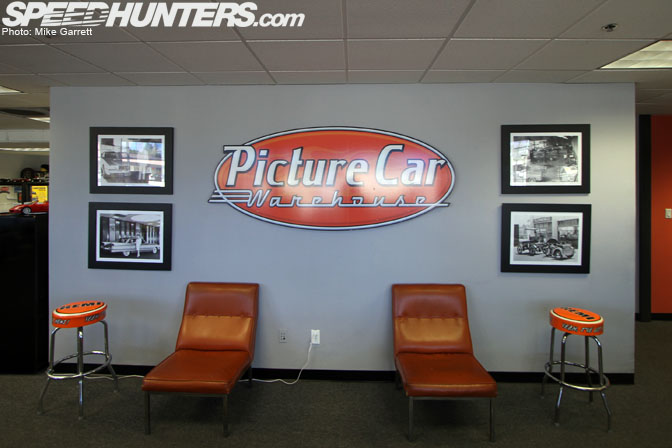 Let's say you are producing a movie and need to source some vehicles. These are the people you go to. Whether you need a bunch of police cars, some classic vehicles for a period piece, a bitchin' muscle car, or even something built from the ground up – the PCW handles it.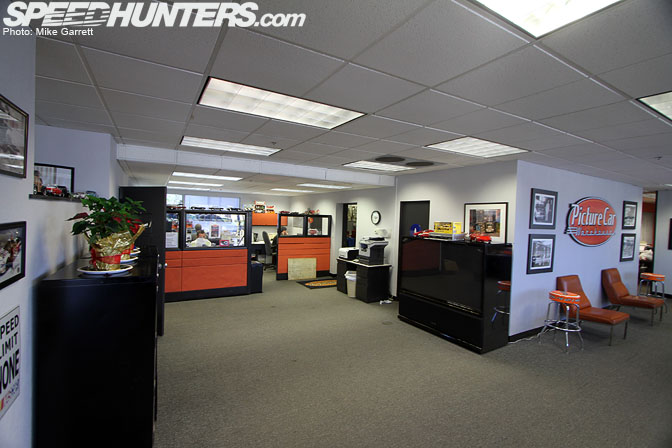 With an inventory of over 750 vehicles spread across several locations, it's a pretty massive operation.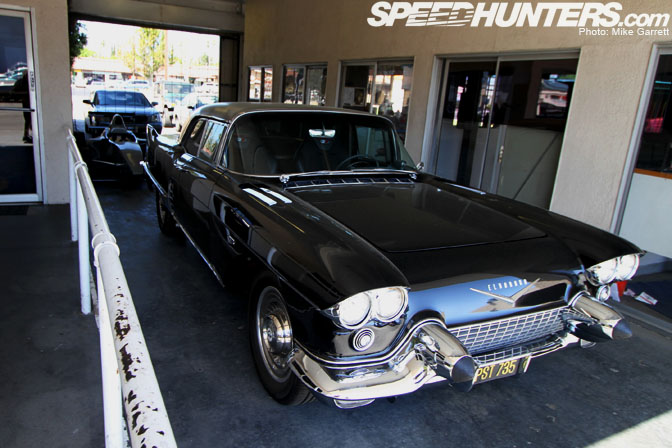 After heading outside, one of the first cars we came across was this Cadillac Eldorado that's been heavily modified for use in a Bridgestone commercial. If you look closely, you can see the roll bar and racing seats.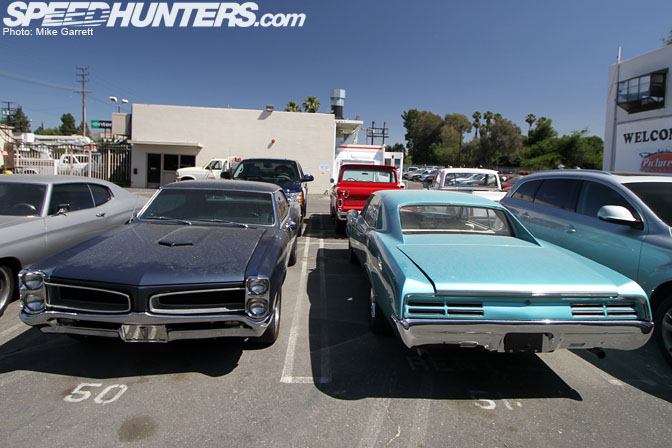 Heading out back, I was greeted by the sight of dozens of cars and trucks sitting under the hot San Fernando Valley sun. Check this pair of Pontiacs.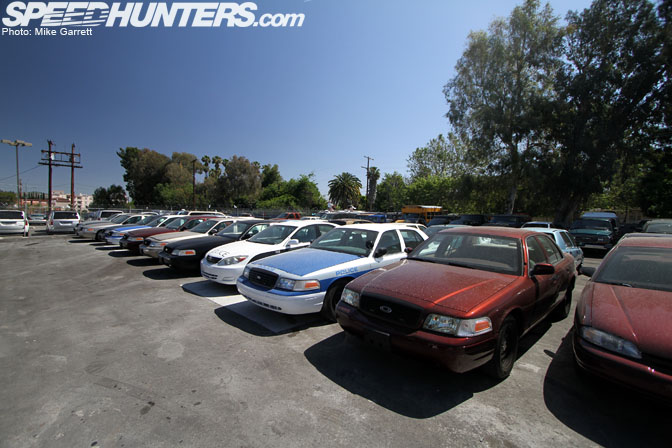 Police cars are a huge part of PCW's business, and if you didn't know better you might think you were at the city maintenance lot. Plenty of Crown Victorias to go around.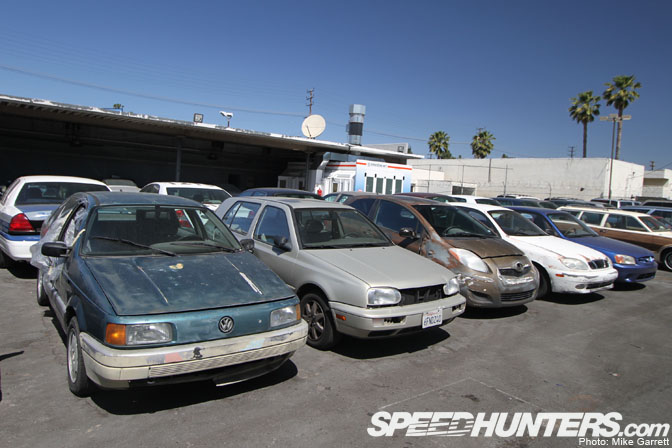 People need to use regular cars in movies too. This group of battered economy cars had just returned from Louisiana after being used in an upcoming Bruce Willis film set in the future. PCW handles not only the vehicles themselves, but the logistics of getting them to and from the shooting sites.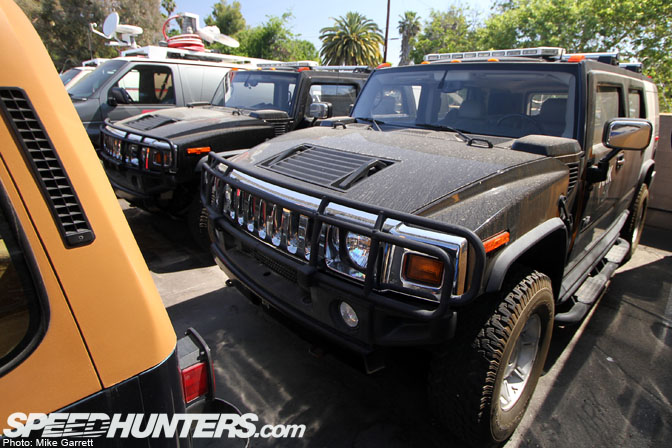 As we made our way around the lot, Tiffany was constantly pointing out vehicles that had been used in different movies and TV shows. I'm not the most up to date with entertainment, so many of the titles weren't familiar to me. Some were tough. This pair of Hummers were originally used in the film Zombieland before being redone for another production.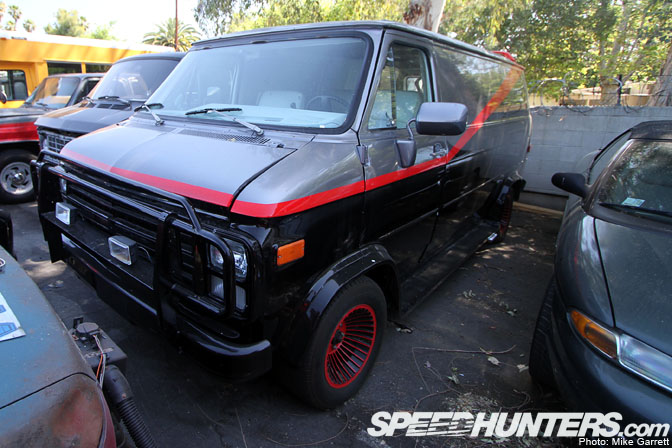 Hey, there's something a little more familiar. The A-Team van.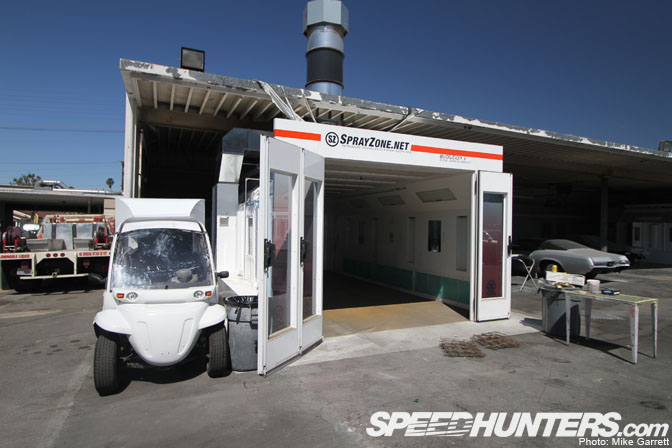 In order to build vehicles for any use, the PCW Reseda Blvd. location is fully equipped with fabrication areas, multiple service bays, and a full paint booth.
Ted Moser, the owner and founder of the Picture Car Warehouse happens to be a huge Mopar nut as well. This GTX drop top is one of his current projects.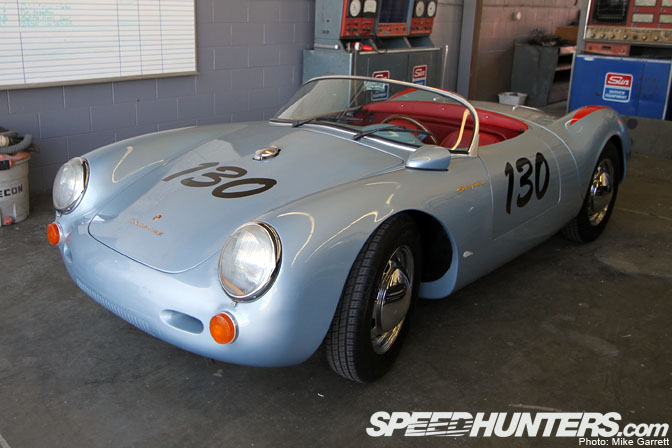 Also spotted this replica of James Dean's "Little " sitting in one of the bays.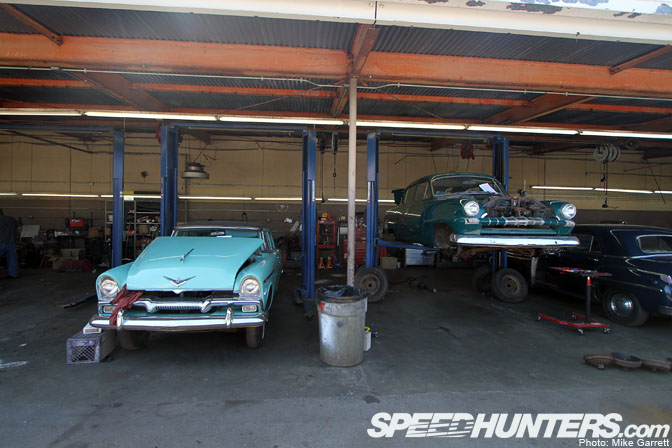 This almost looks like a dealer service area, circa the mid 1950's.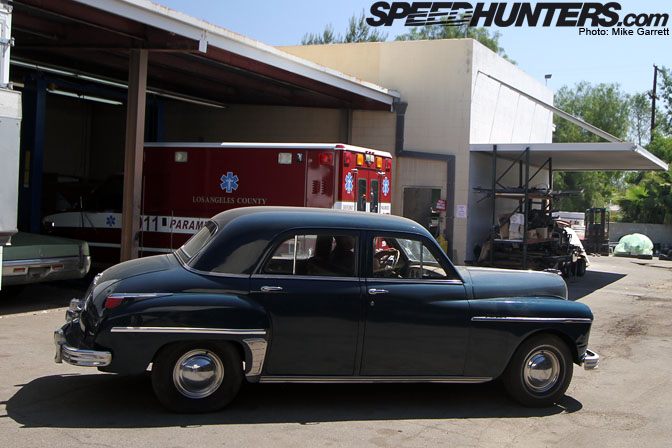 Period vehicles are a big part of the PCW's inventory. They stock vehicles from all eras.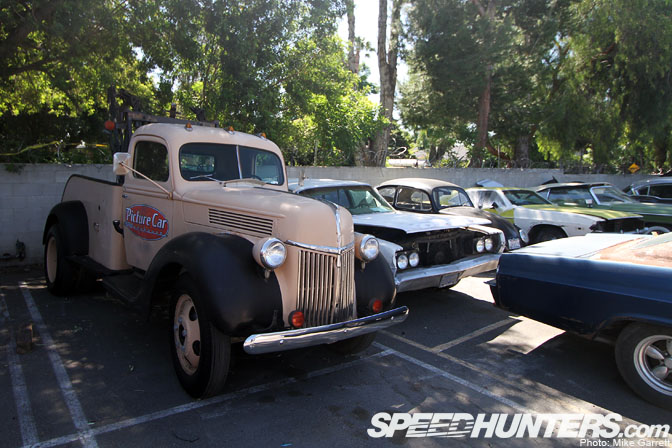 It's not just old passenger cars either, but even vintage commercial vehicles like this wrecker.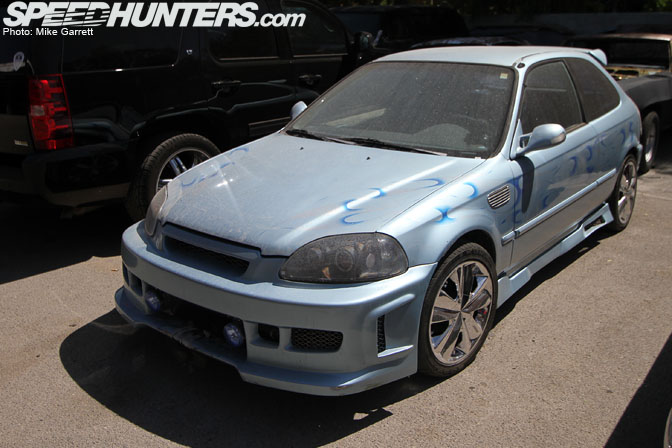 This one's for you Linhbergh!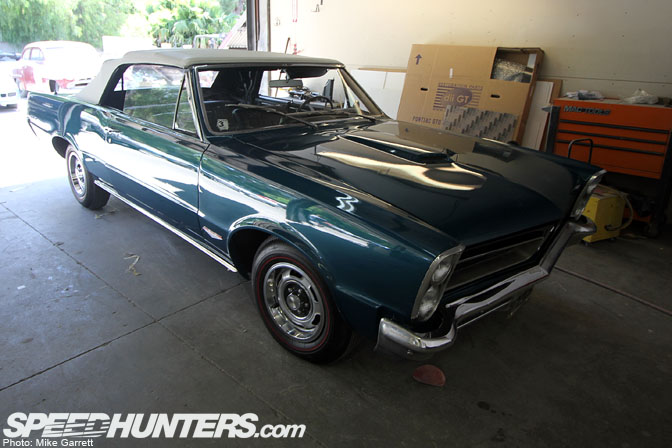 This '65 GTO convertible was damaged in a fire before being repainted for use on screen. Tiffany told me it was recently used in a music video.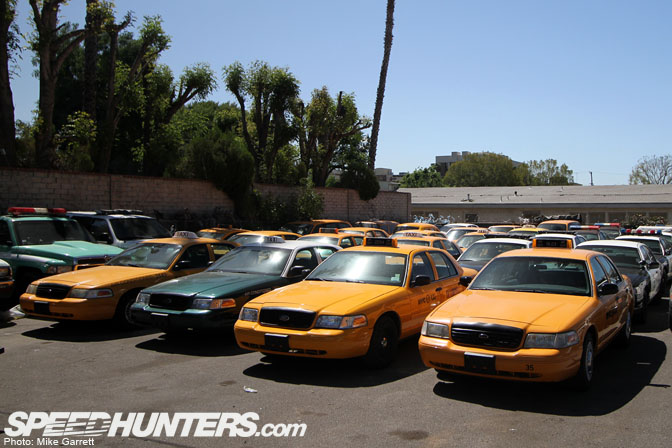 Anyone need a taxi cab?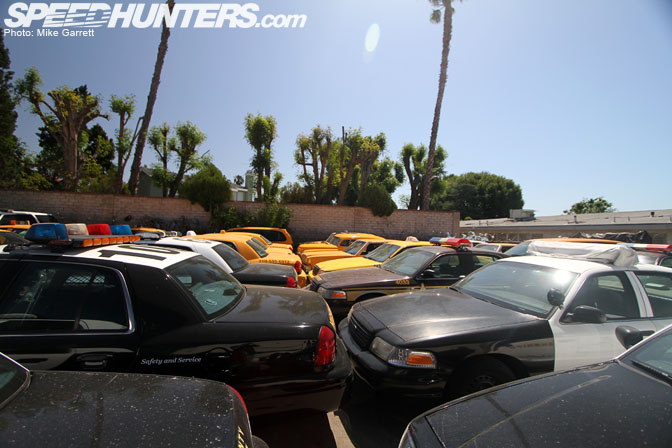 I'm not sure exactly how many Crown Vics are in the PCW inventory, but there's a lot.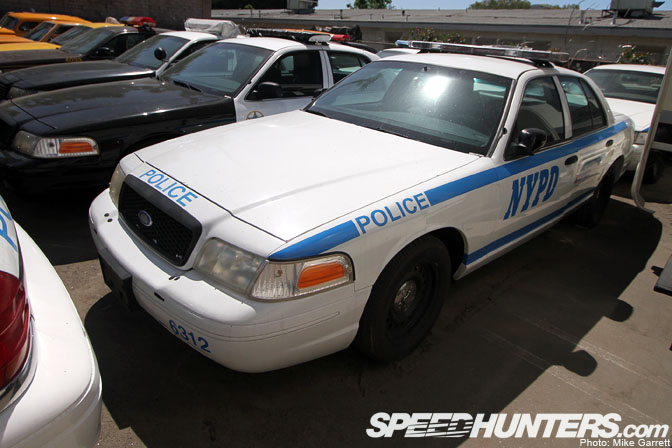 One of the few NYPD cruisers you'll find in Los Angeles. Actually, the lettering on the cars is constantly changed depending on where the movie will be set. There are also many other things, like light bars that can be changed from car to car to make them more authentic.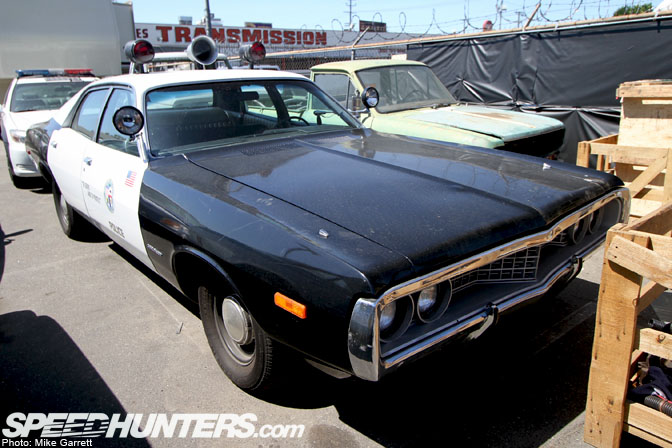 There are lots period police cars around too. Dig this old Dodge in LAPD colors.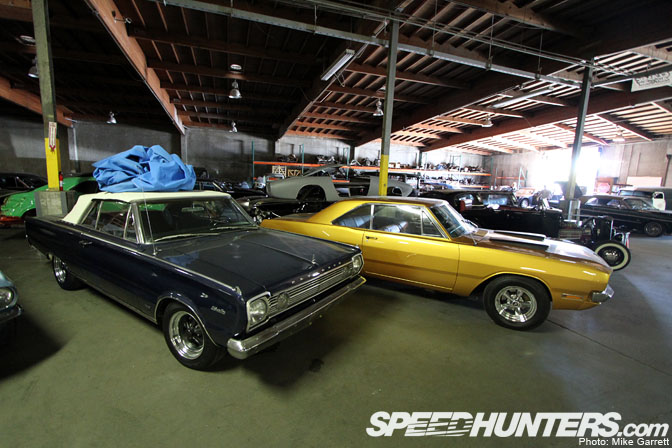 I'll go ahead and stop here, but there's much more to share from my visit to the Picture Car Warehouse.
Back soon!
-Mike Garrett