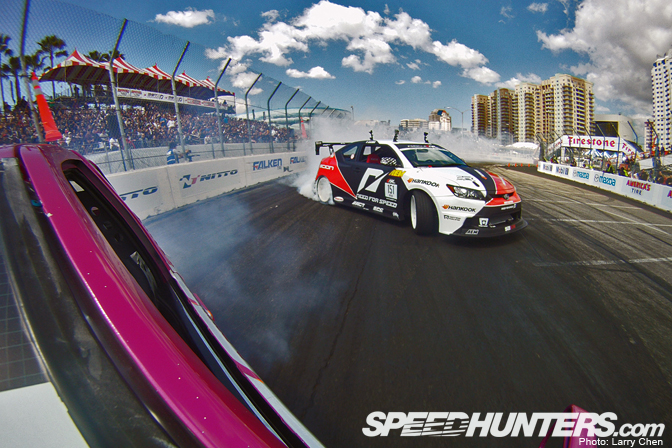 The word "epic" is easily over used in today's society, and it has lost some meaning. However, when I say this event was "epic"….. I am really sincere about it.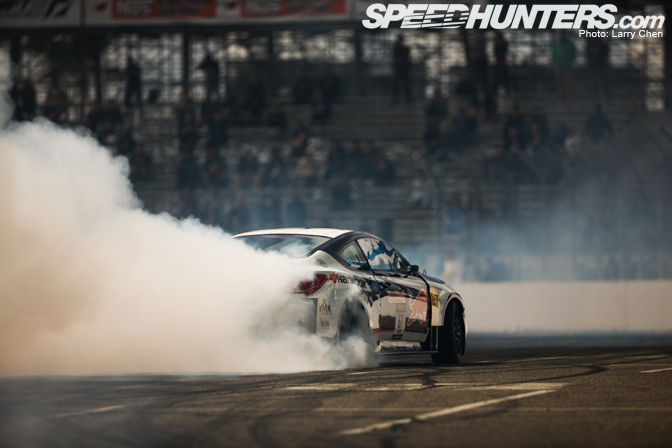 I actually felt bad for anyone who was following Rhys Millen. He made more smoke than anyone else, thanks to a wheel speed of 135mph going into turn ten of the street course.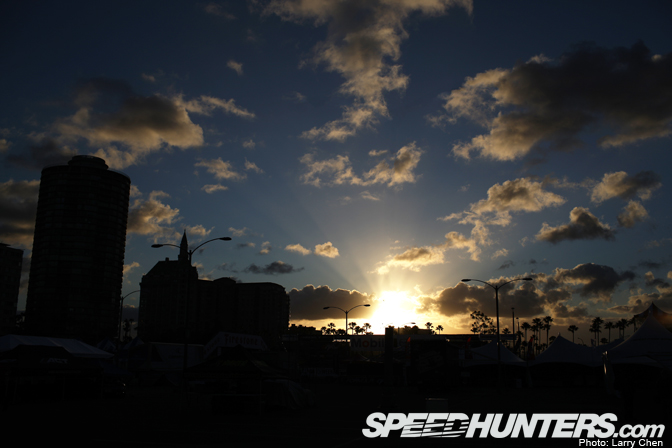 It was clear and sunny Friday morning, but as the day progressed, it rained. Luckily, it dried up before qualifying.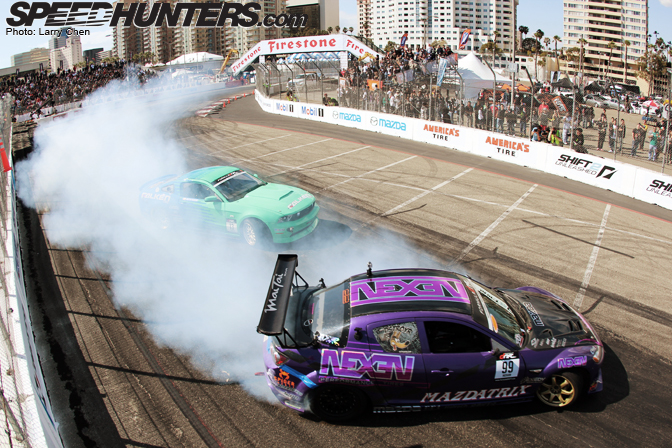 Kyle Mohan put down epic runs all weekend. He qualified 3rd, and gave Nexen tire their first top 16 ever.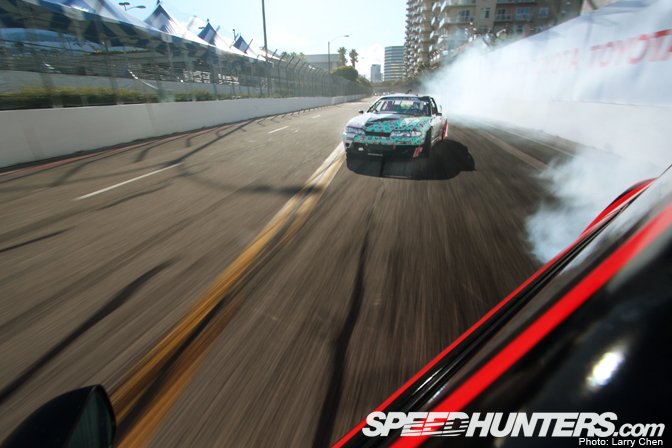 It took a while for Team Need for Speed driver Matt Powers to get his new LS7 powered S14 running the way he wanted.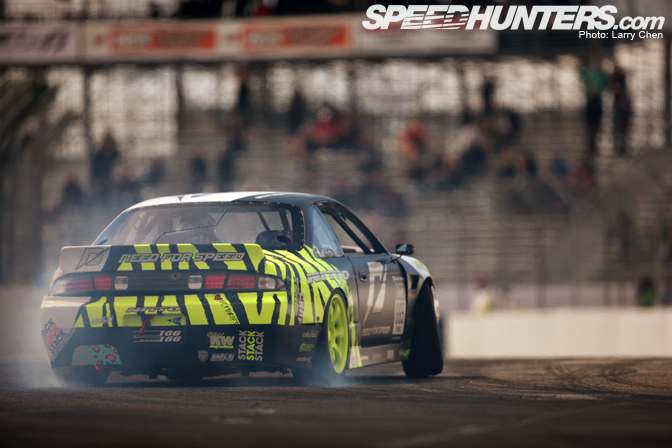 He qualified a very impressive 4th out of 45 drivers –a personal best for the young driver.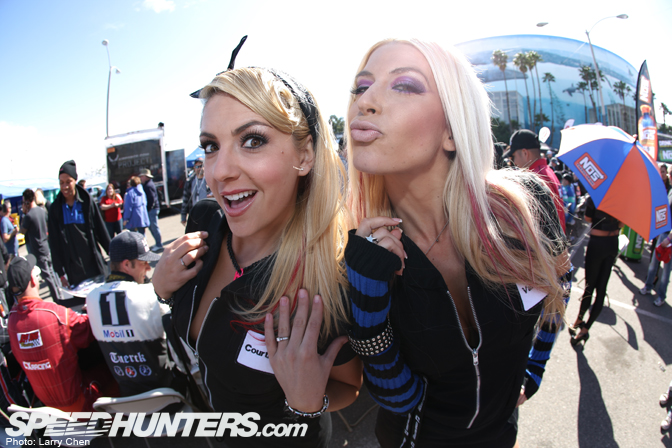 Team Need for Speed models Courtney Day and Vanessa James are rocking the pin-up look this year. The fans seemed to like it.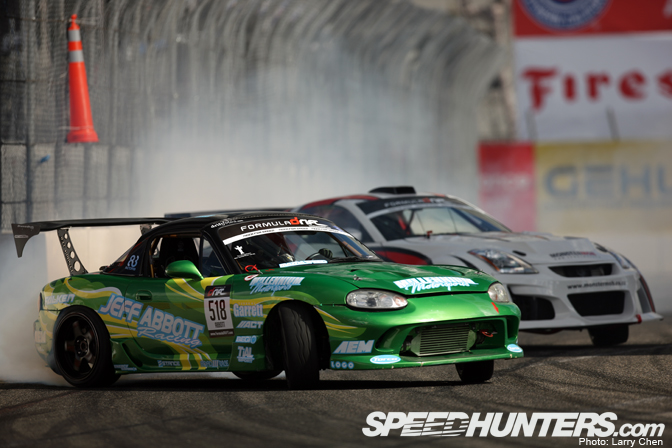 Jeff Abbott has the heart of a lion and the car of a leprechaun.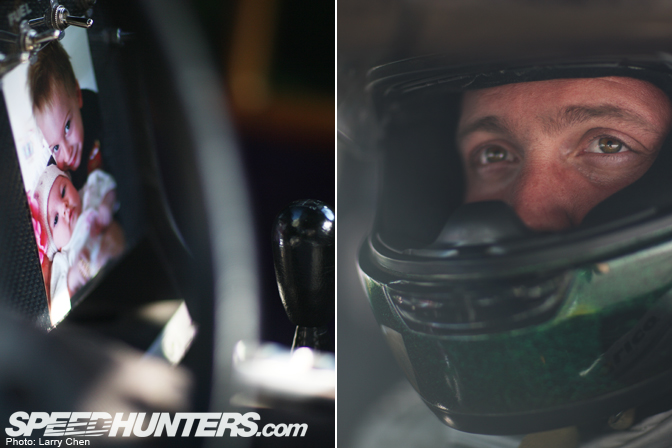 When I look into his eyes, I see the hardest working privateer competing in Formula D.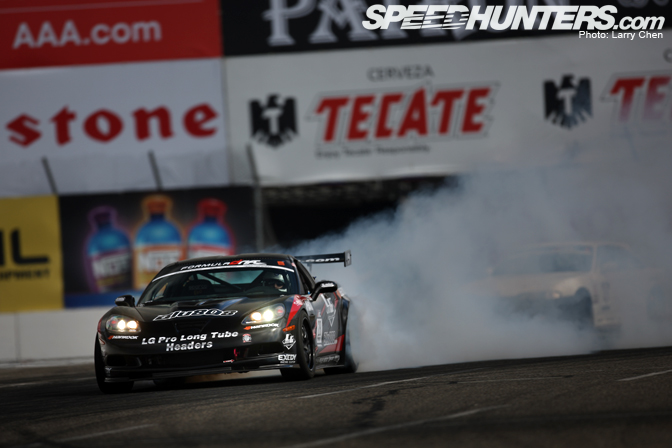 Luke Lonberger looked great during practice. Unfortunately he had a meet and greet with the wall when it came time to qualify.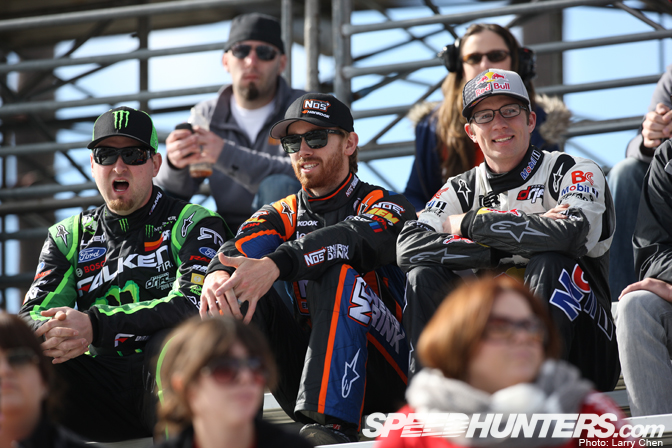 It's the three energy drink amigos!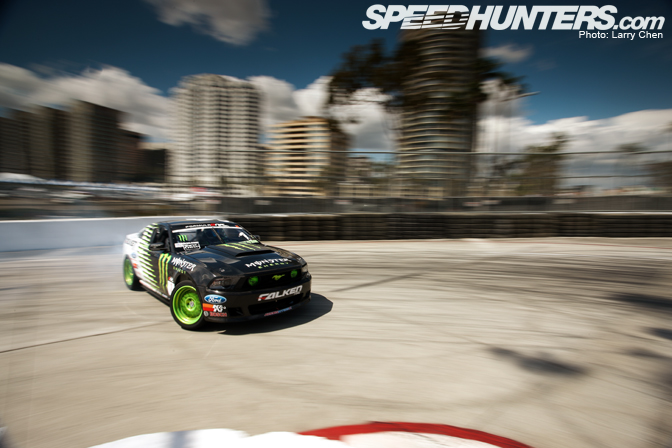 Vaughn Gittin Jr. had a string of bad luck going into the first round of the 2011 season. I am sure things will pick up for him next event.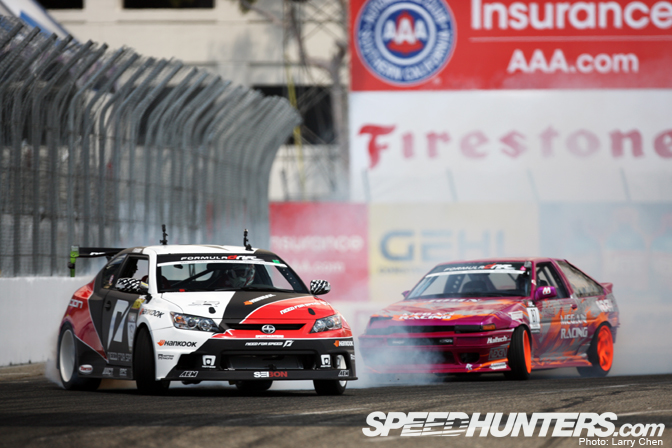 In a rare feat, Fredric Aasbo actually knocked out a much higher qualifier in the top 32 bracket. With the way John Russakoff was driving in practice and qualifying, it looked like he was going to run away with the win.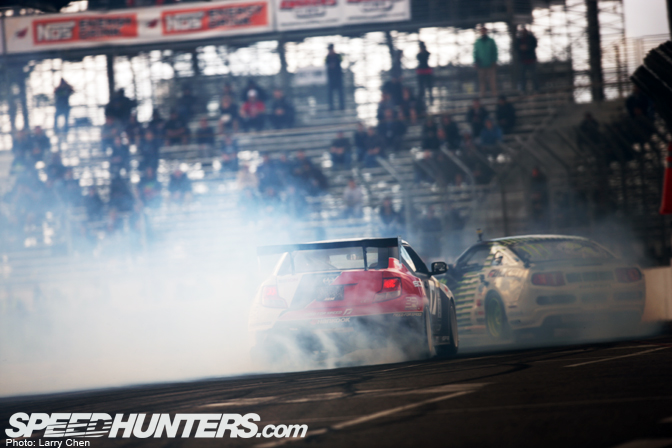 I really wanted to see the friendly Fredric Vs. Vaughn rivalry "part five". I am sure we will see the two titans clash later this season.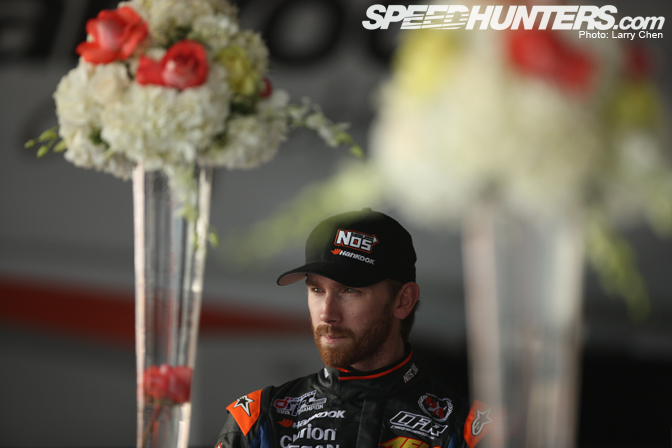 I have been hearing rumors about 2009 champion Chris Forsberg making a come back this year.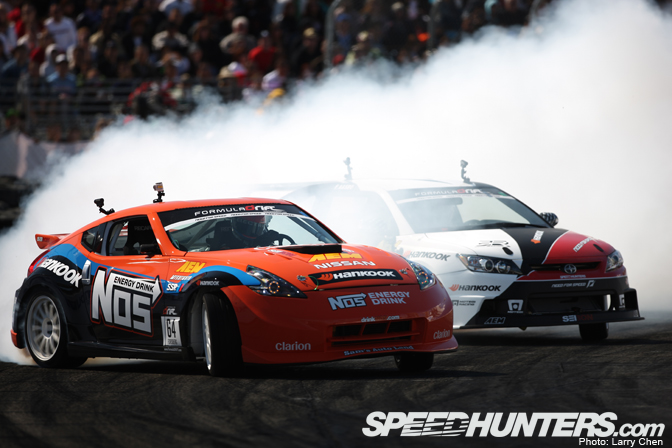 I don't doubt that one bit seeing how he was putting it down.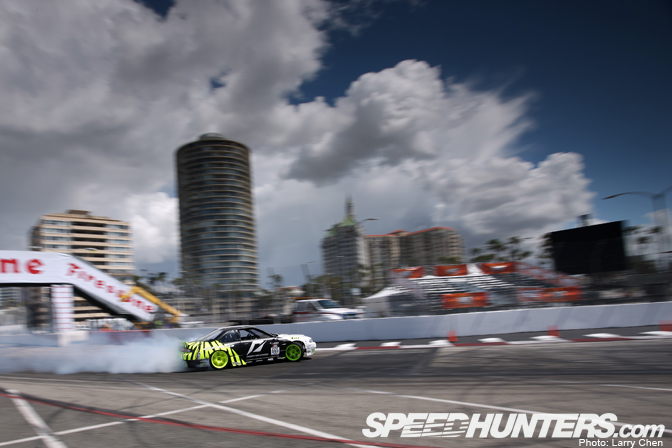 What's fun about shooting at Long Beach is you can't see what car is coming up next. Although, I can tell when Matt is running because I just listen for a LS type V8.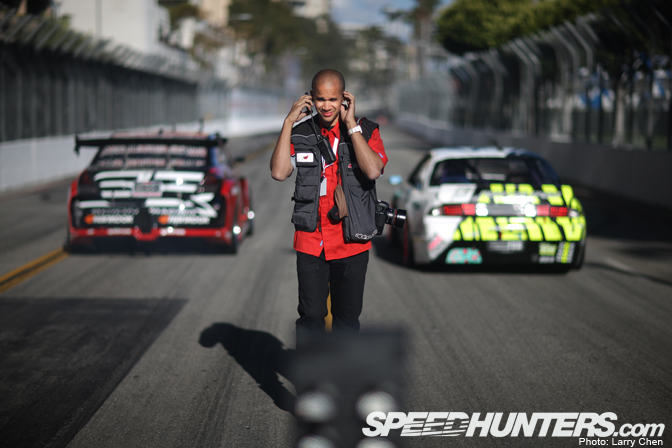 The official Formula D photographer, Jose Martinez, is in love with the engine sounds coming from Team Need for Speed S14.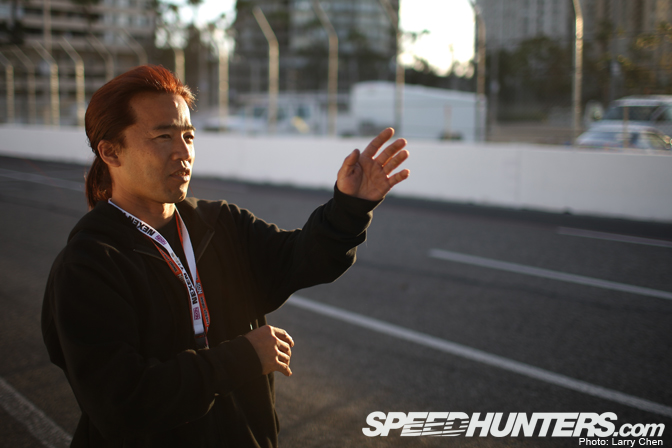 Taka Aono is the Jedi Master of drift. You can't understand half the words he says, but he can drift an X-wing out of a swamp if it comes down to it.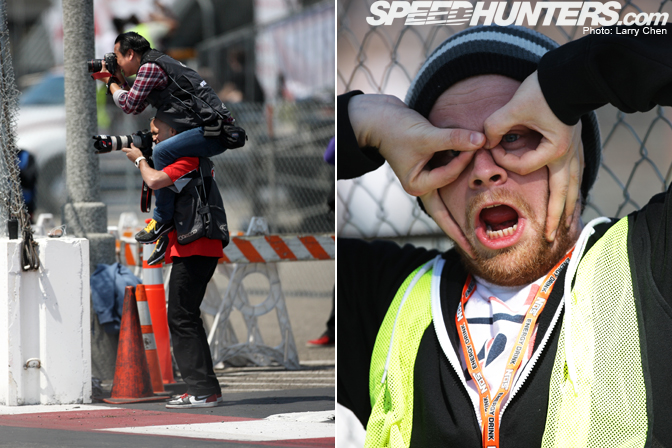 The epic drifting showed through the actions of the accredited media.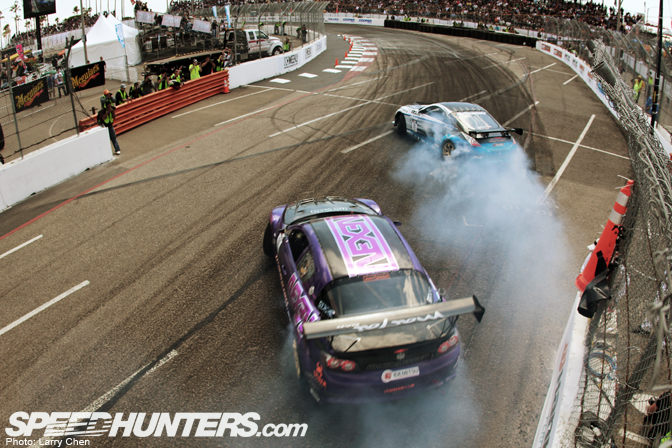 Long time rivals, Pat Mordaunt and Kyle Mohan met in top 32 competition. Kyle had a bigger wing on his car, which gave him the advantage he needed to "fly" away from Pat.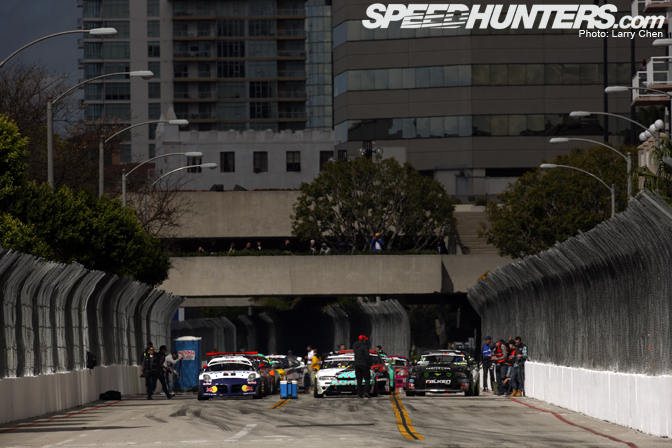 The Long Beach Grand Prix course is a very nice track. I wouldn't mind an extra round of Formula D on another street course.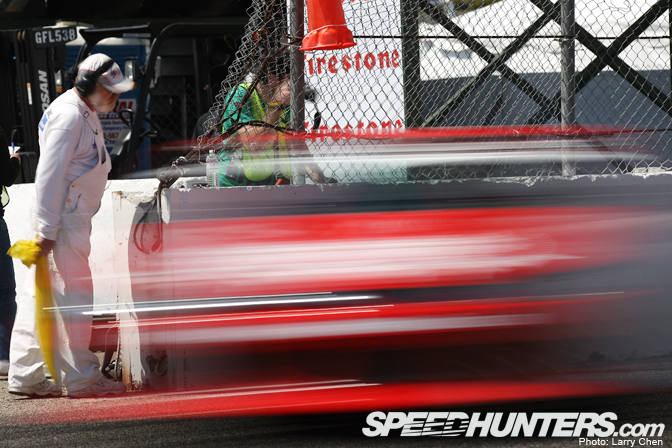 Because of all the huge wings everyone is running, Santa Claus almost got a close shave a couple times standing close as he did to the outside of turn 10.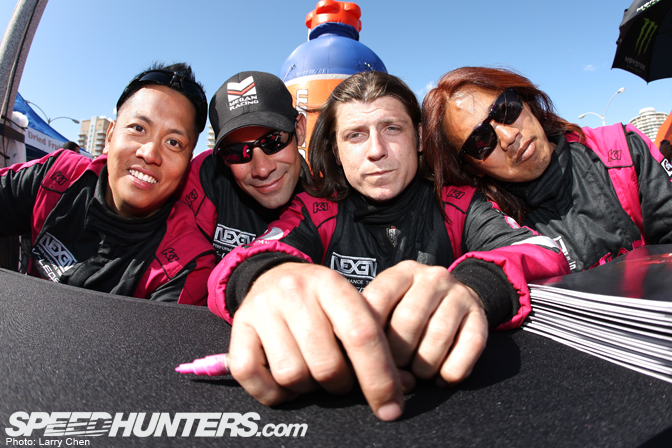 Megan racing definitely has the most fashionable drivers. And with the help of Nexen tires, the boys in pink all made it to the top 32 bracket.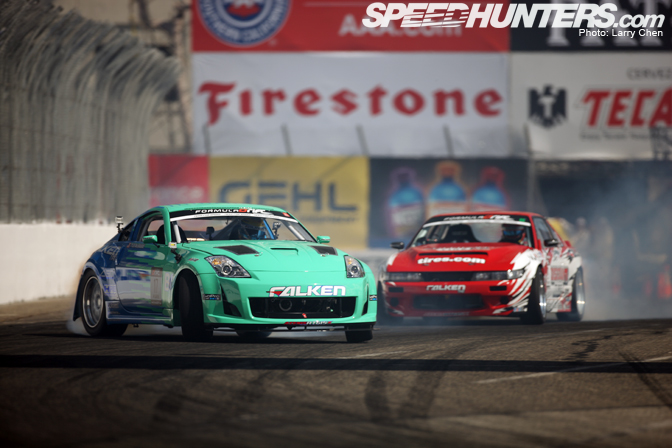 It seems like this year's trend is hard tops. Tyler McQuarrie, Darren McNamara and Chris Forsberg can now sing Justin Bieber songs in peace while in grid.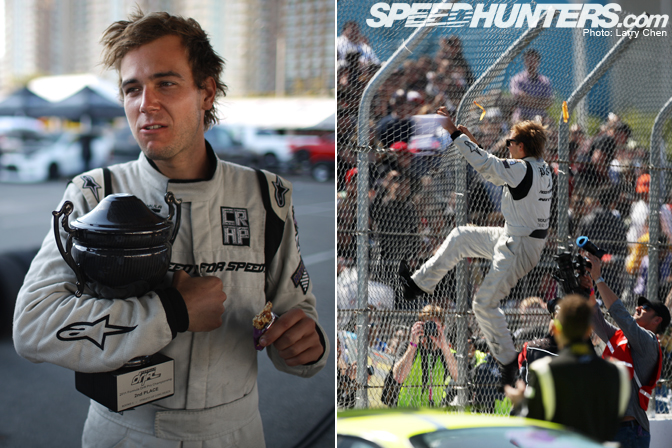 I am very interested in the drivers rituals. Matt likes to climb on fences when they are available, during the top 16 introductions. It looks like he started a granola related ritual, after getting on the podium.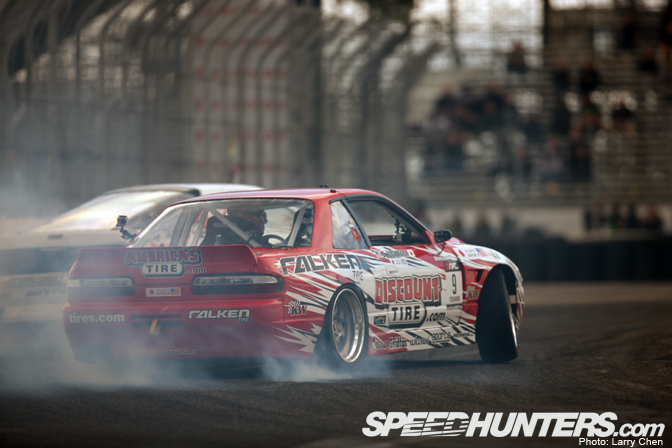 Epic drift-time.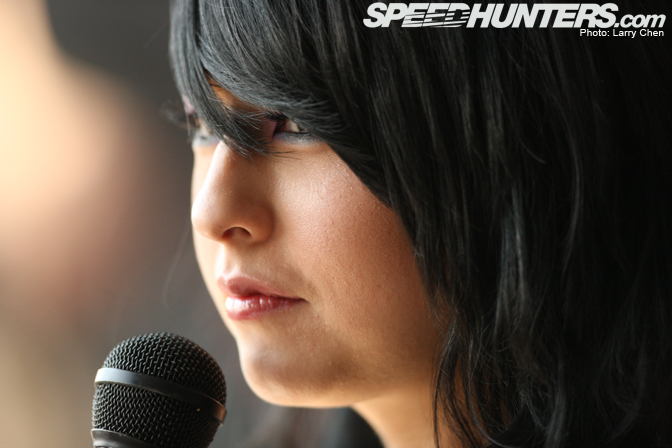 I am upset that I won't be able to hear any awesome dubstep from DJ Miki Taka, till Formula D round 2, in Atlanta.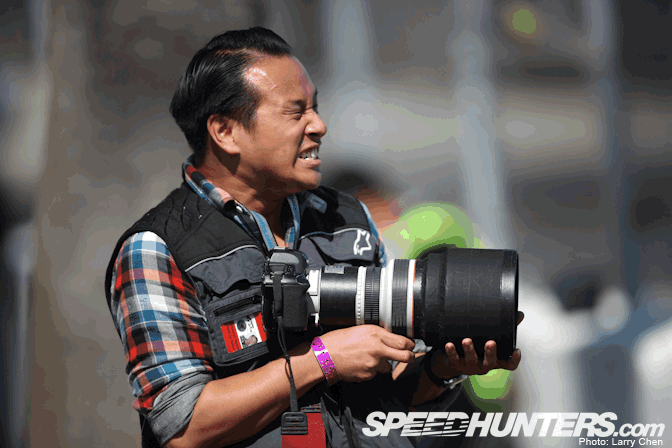 Linghbergh went "Rambo" after both Matt and Aasbo made it into the top 8.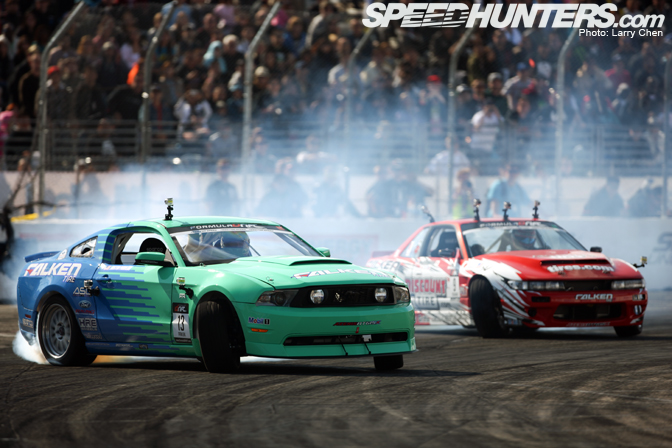 Dai just can't seem to get a break.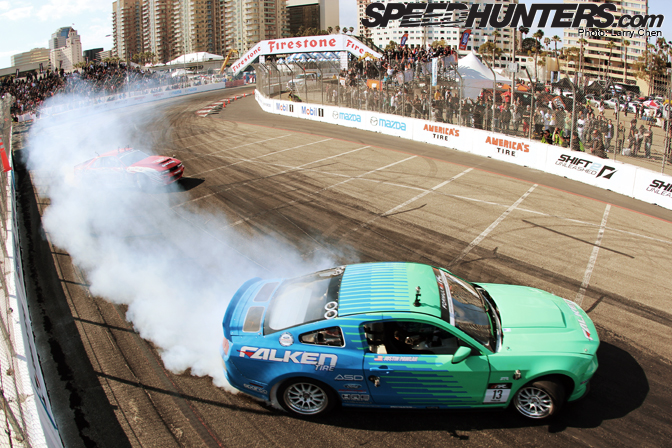 It seems like no matter what he does, he ends up battling a Ford Mustang in the finals.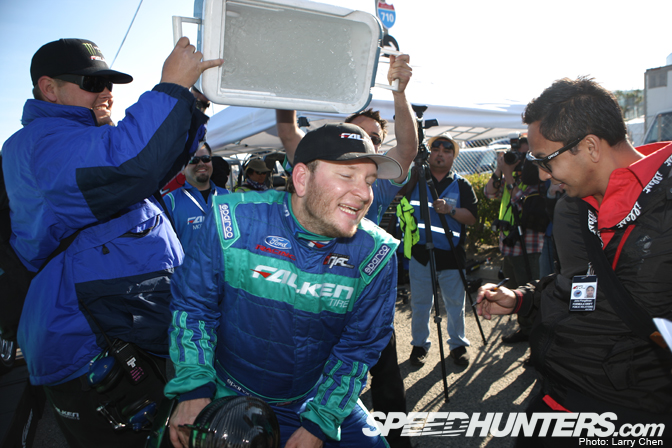 Justin chose a bad time to do his victory dance.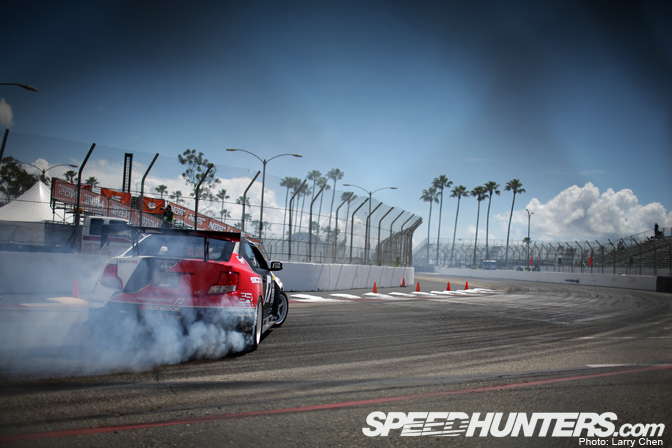 It's good that Fredric went from one large car to another. Can you imagine him trying to fit in a Miata?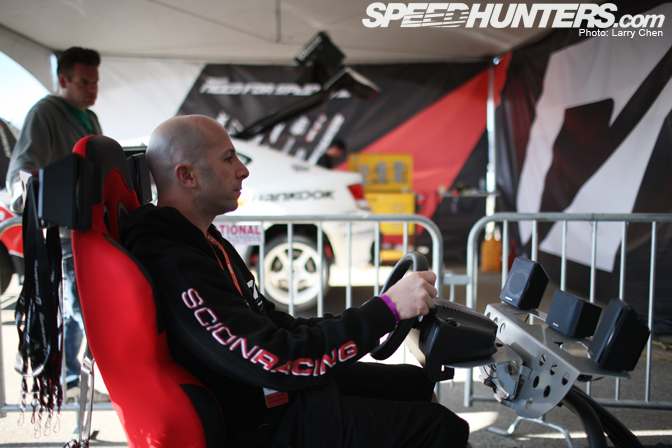 Stephan Papadakis keeping his skills sharp on and off the track.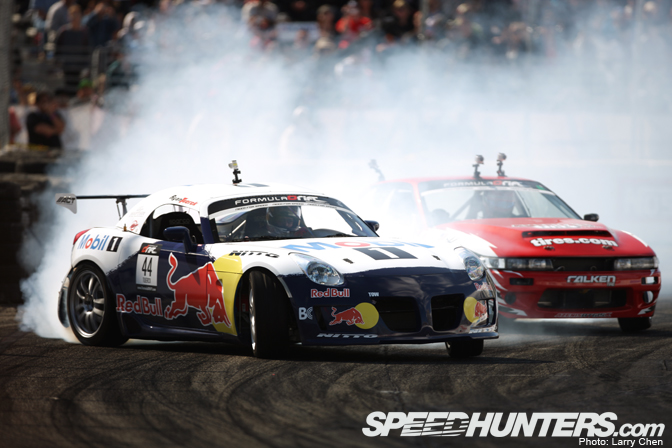 It should be interesting to see Ryan Tuerck in a Camaro for the next round. The front bumper of the Camaro is larger than the Solstice, so it can fit two more ping pong paddles.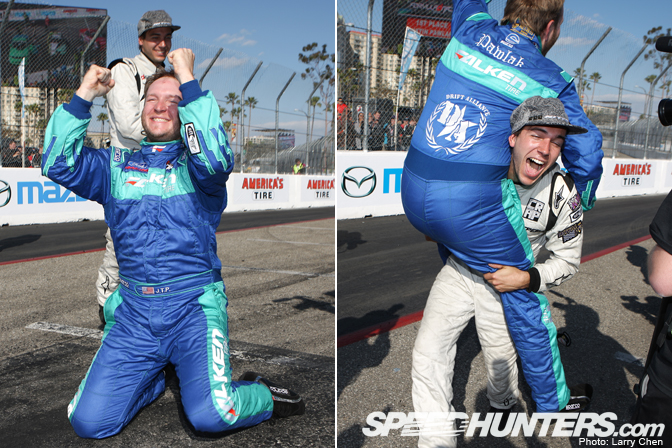 If you are going to rub it in, you will get tackled.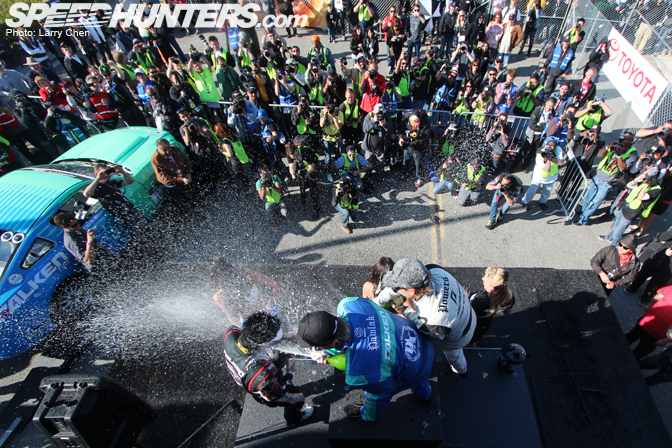 Congratulations to Justin Pawlak, Matt Powers, and Dai Yoshihara.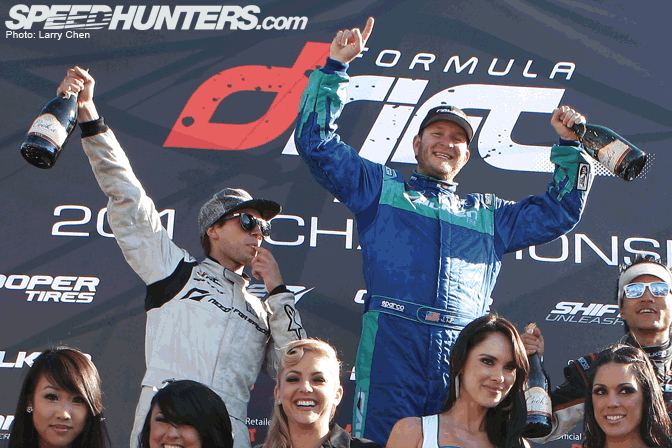 Lesson learned. If you beat Matt Powers in the finals, you get a wet willy.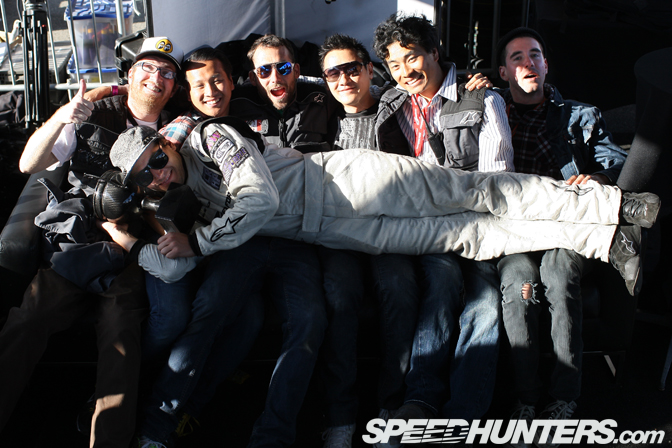 I wonder how many days Matt will sleep on his new carbon fiber pillow? 
-Larry