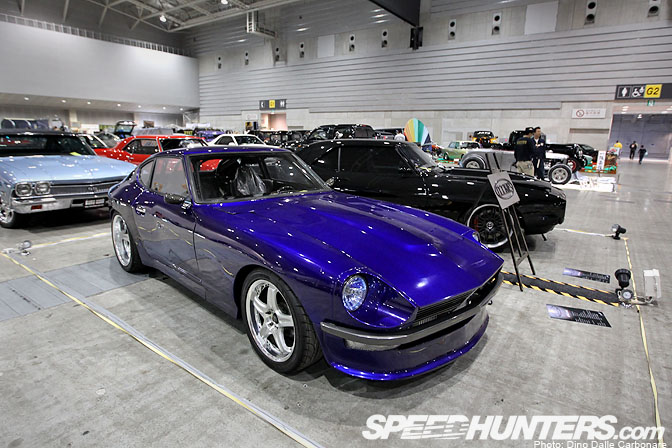 I've got one final selection of pictures for you from the Mooneyes Hot Rod Custom show so let's get right back into it with a look at one of the nicest JDM rides at the show. Well not really JDM if you consider this 240Z was actually imported from the US! The owner was nowhere to be seen so I couldn't get a shot under the hood to see what she was running…
…but the view from the rear kind of satisfied me enough. That is one wide backside, the blistered fenders kind of remind me of a Porsche 944 Turbo.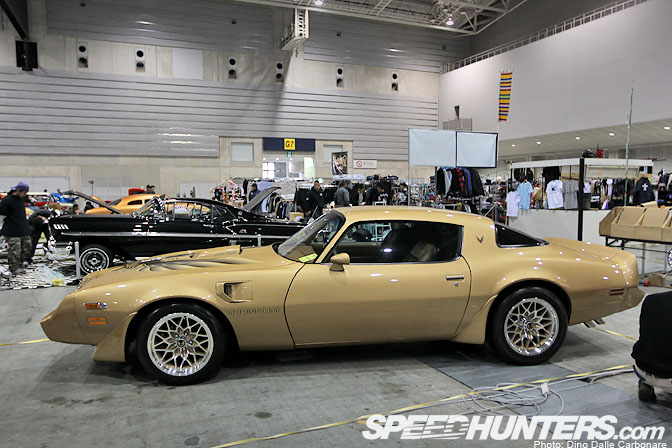 What could be more American than Pontiac Trans-Am! This is one of the finest examples I've ever seen in Japan.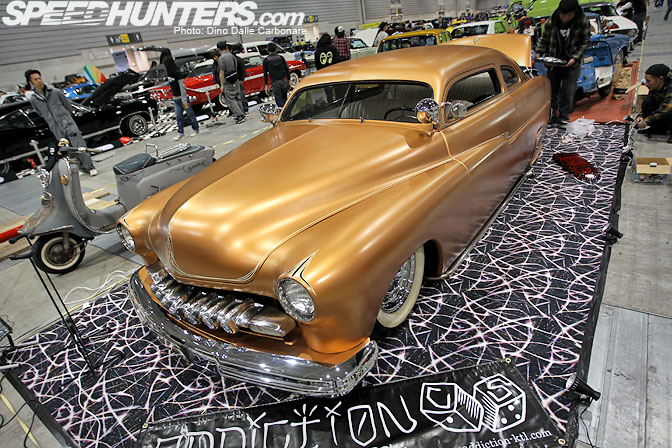 Spotted what I think is a Mercury Eight on the Addiction stand, a custom clothes label that is very popular in the Japanese rodding scene.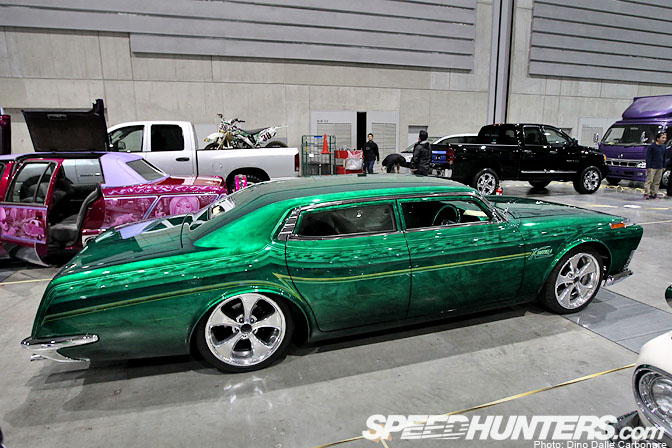 We've seen this old 1975 MS60 Crown Supersaloon before at the Street Car Nationals…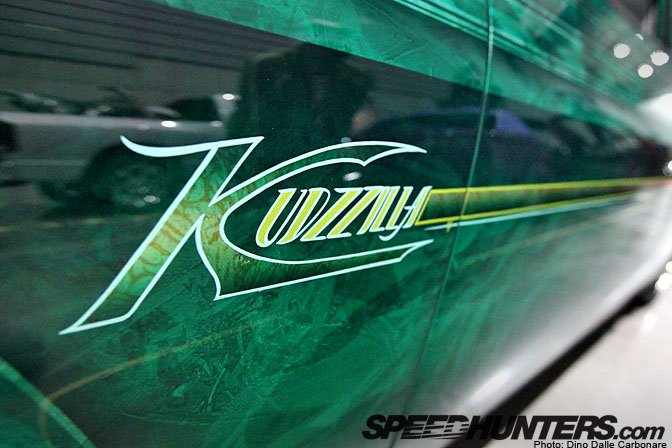 …the famous Kudzzilla!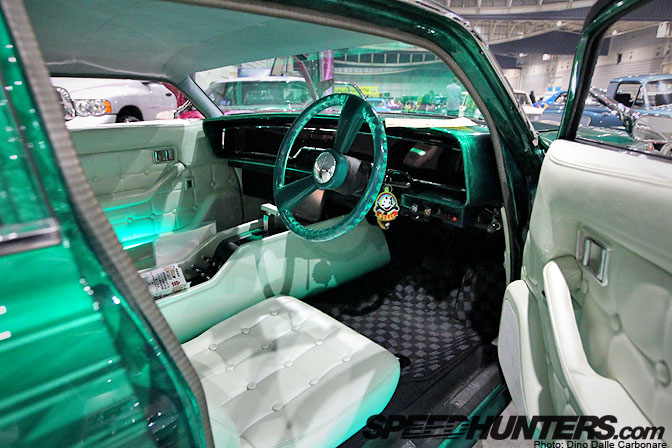 I finally managed to get a nice look inside, it definitely seems very comfy in there and on top of all the custom leather upholstering there are plenty of modern toys like a navigation system and LCD instrumentation.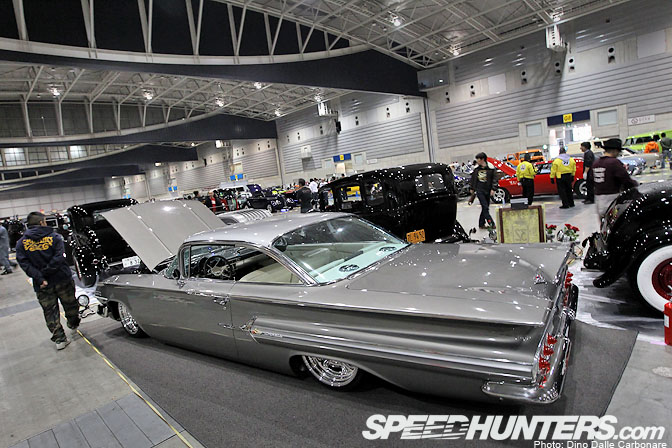 The Impala has always had a strong following in Japan and I'm always shocked at the dimensions of these things! This is a 1959 Hardtop Sports Coupe and it may hold the record for the longest rear overhang! The size of that trunk is bigger than the closet space most Japanese have in their apartments!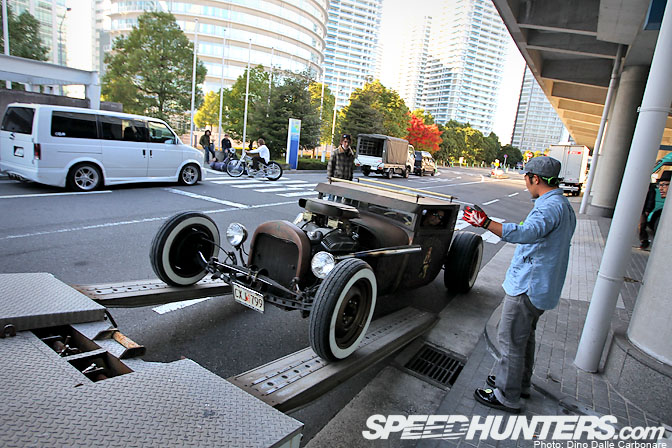 With so many old cars moving around inside the exhibition hall I had to continuously take brakes to get away from the nasty exhaust fumes that had accumulated. During one of these breathers I run across this cool Hawaiian-themed "Pines City" rat rod being unloaded from a huge American loader.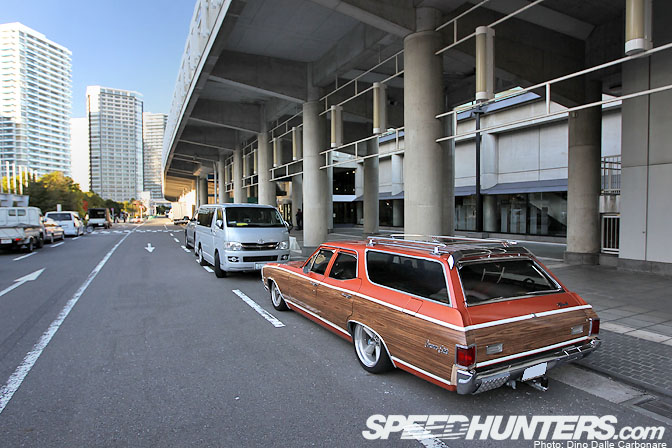 I'm glad I went for a little stroll along the front of the Pacifico building as I found what is by far my favorite car from this year's show. By now most of you know that I have a thing for station wagons and this Chevelle Concourse Estate really had me drooling. The combination of the fake wood paneling and brick body color made for one of the most original examples yet. Would be so cool to use one of these as my work car to haul all my camera gear around. Too bad it would never fit in the garage!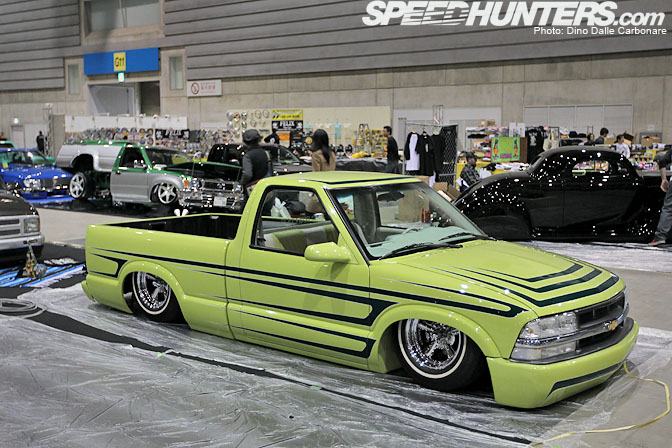 At this years show a special "Street Truck Slammed Zone" was reserved for this kind of machinery. This Chevy S10 called "Green Inspiration" was one of the many cars and bikes that were shipped over from the US.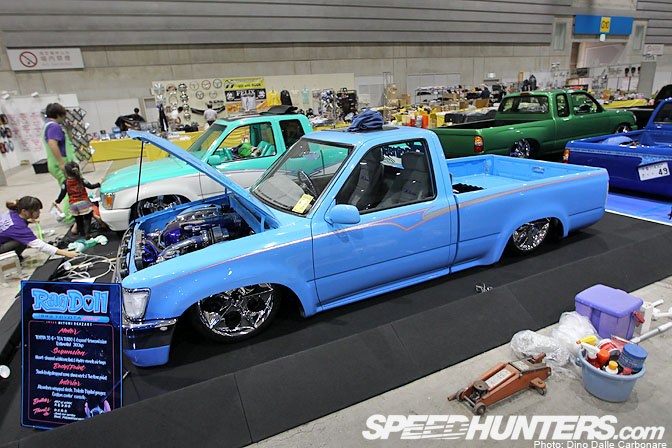 This "Rag Doll" 1993 Hilux certainly looked like it was "laying frame," I believe that is the correct terminology.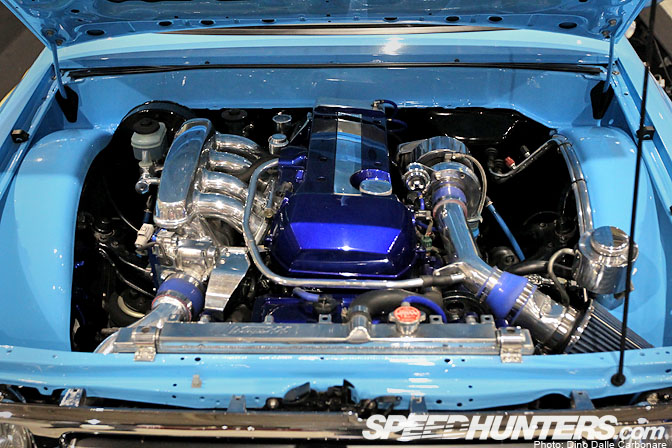 Under the hood was a 300+ HP 3S mated to a T04 turbo.  Not a bad choice for a powerplant.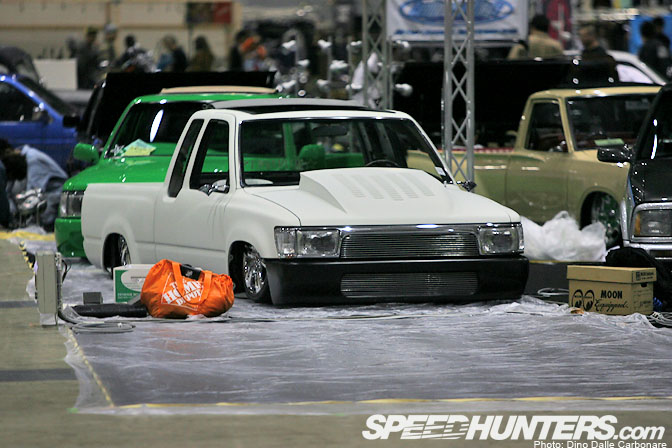 Seriously, how low can you go?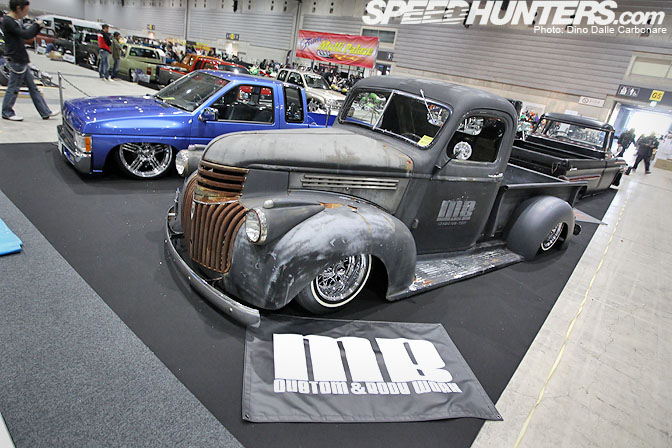 How about something a little more vintage?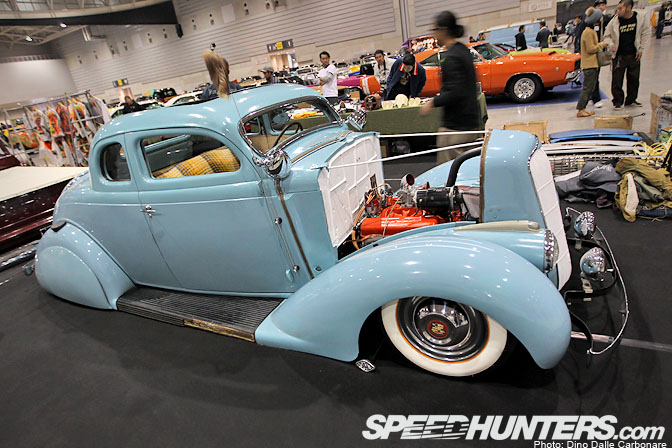 Not sure what model of Cadillac this is but it sure did have lots of presence!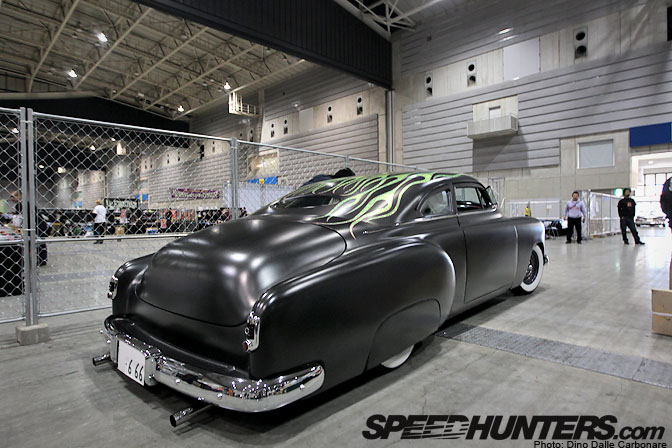 The variations of cars at the show was probably the most impressive thing but as ever it was…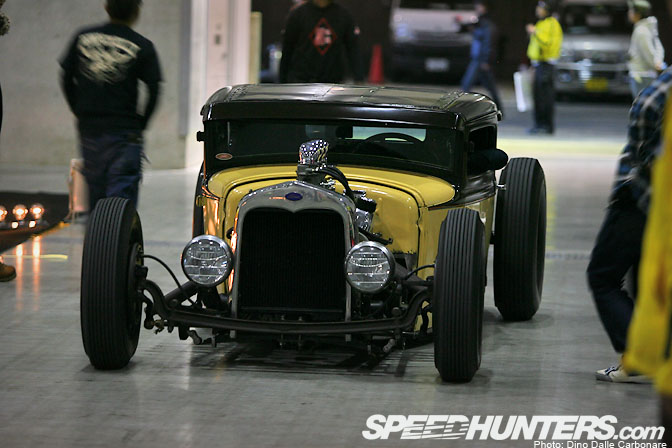 …the frame dragging rat rods that attracted the most attention. At one point a bunch of them arrived all together, the sound of their thundering V8s reverberating through the hall.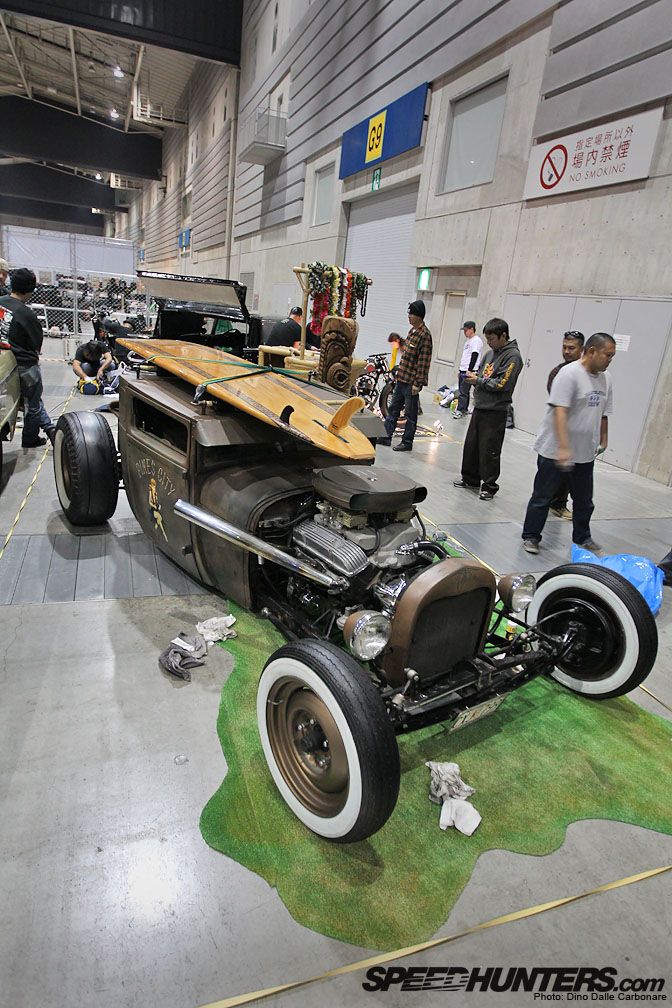 Here is the Pines City rod from before sitting on its almost finished display.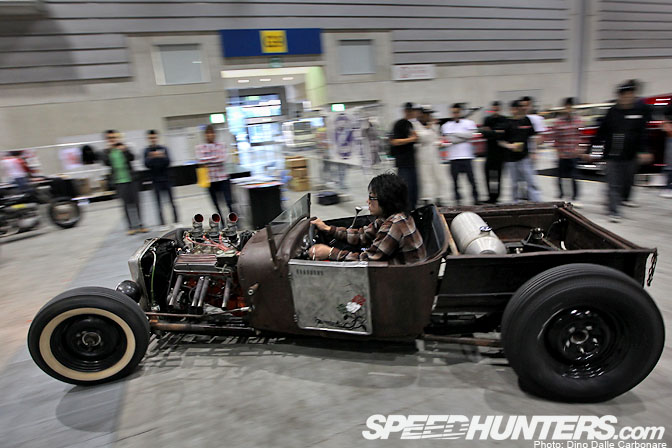 The rods kept rolling in…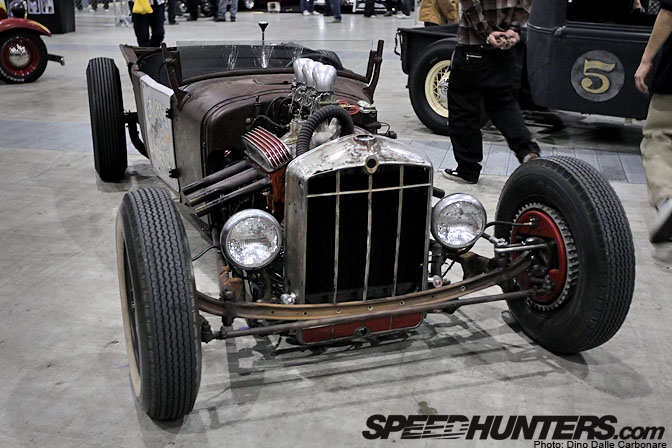 …and were all positioned in the main Mooneyes display area of the event.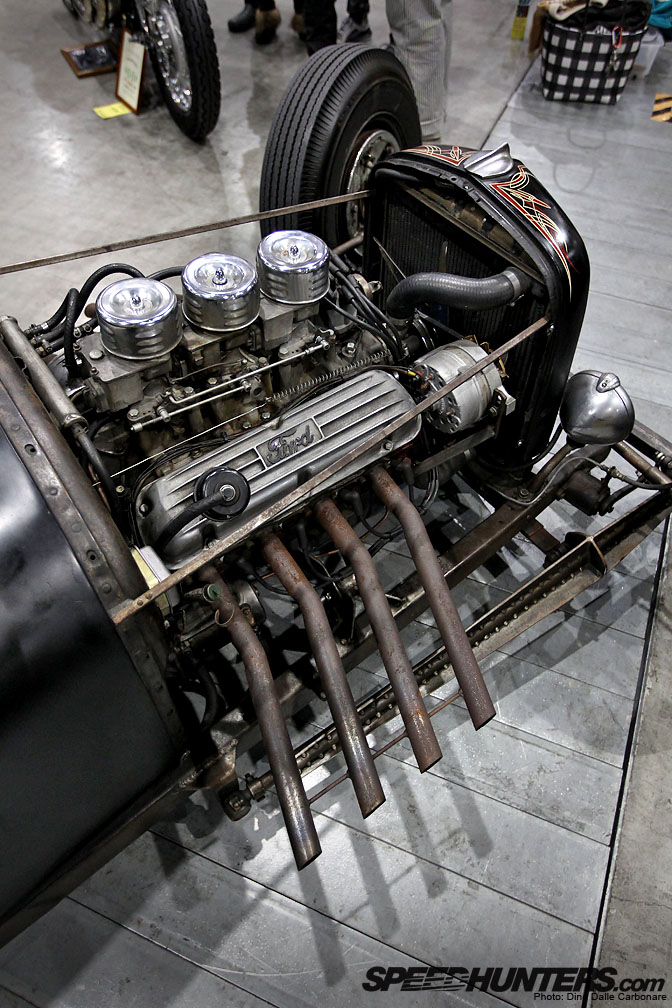 The purposely-neglected look definitely works!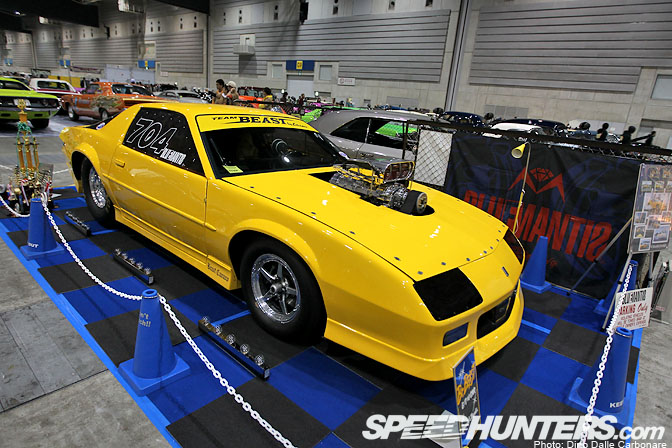 A Mooneyes event wouldn't be complete with out a few drag cars to spice the show up!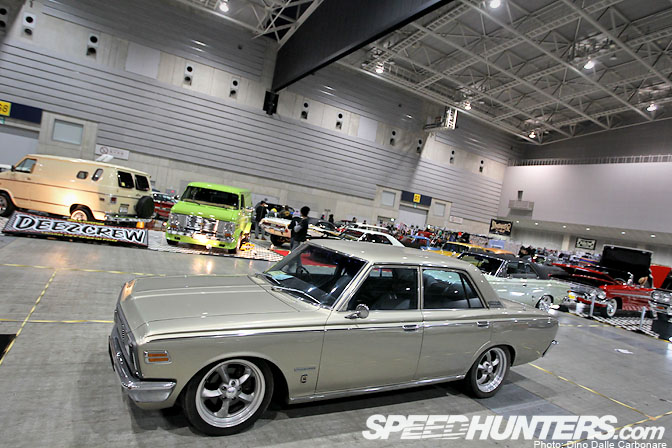 Vintage Toyota Crowns seem to be extremely popular in the world of JDM hot rods, probably due to their somewhat American styling. They suit all sorts of styles from the roof-chopped Kudzzilla to this more sedate Super Deluxe…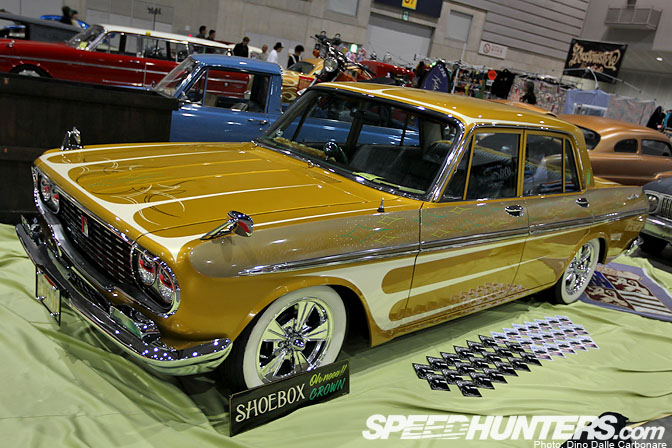 …to more colorful interpretations.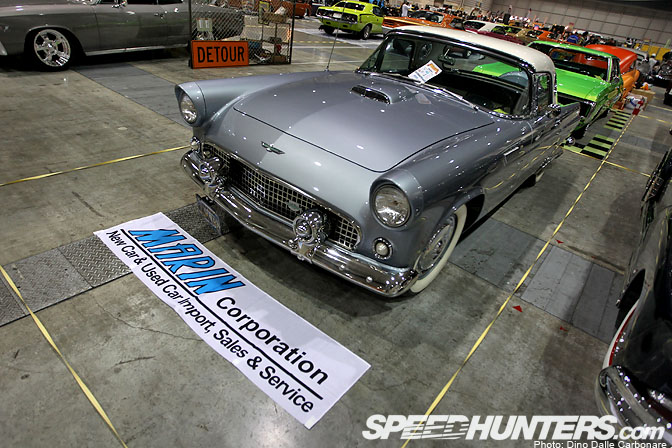 A Ford Thunderbird!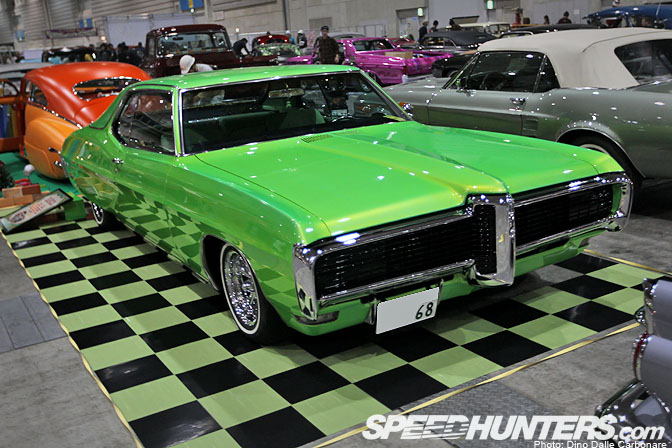 This Pontiac GP was one car that was visible from all the way across the halls thanks to its very green paint job!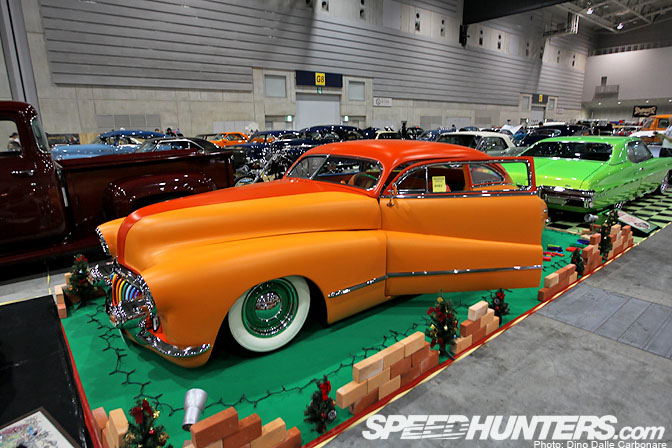 Right behind it was the fittingly named "Tropical Mango!"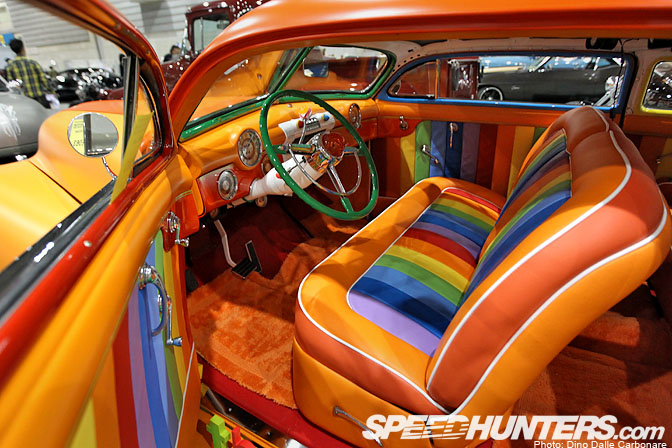 The tropical theme is carried over in the interior.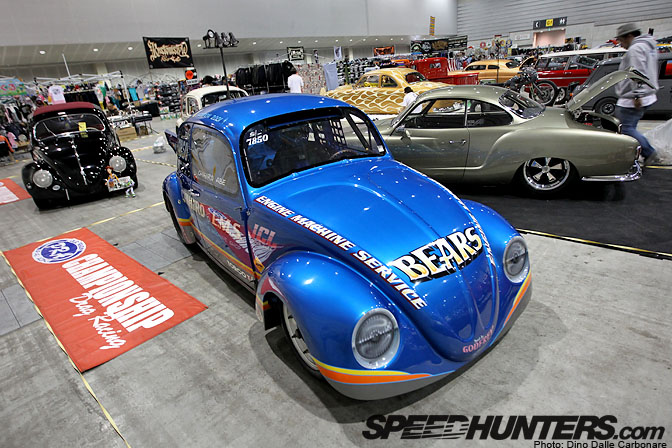 So that about wraps up the biggest and most anticipated Mooneyes show of the year in Japan and as ever my appreciation for this scene keeps growing.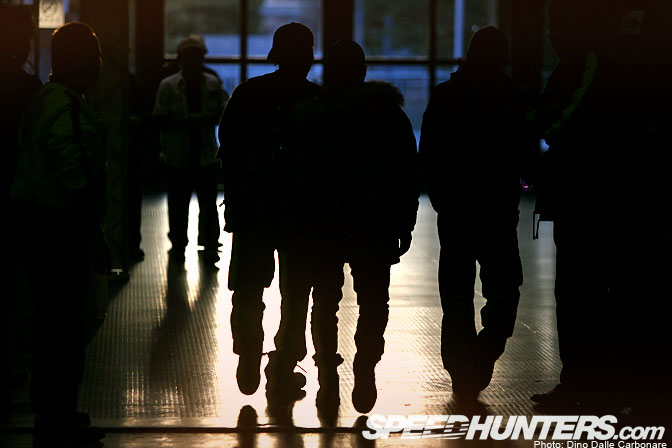 I'm already looking forward to April 2011 for the Street Car Nationals in Odaiba! Hope you enjoyed the coverage!
Mooneyes Hot Rod Custom Show 2010 – Part 1
Mooneyes Hot Rod Custom Show 2010 – Part 2
-Dino Dalle Carbonare